An Airbnb treehouse is a wonderful idea isn't it? There's just something about a treehouse that brings you back to the good 'ole days. There was something about being able to retreat to the treetops that felt like pure magic. The whimsical "houses" that were tangled in branches and greenery, perfect for escaping mom's harshest nagging.
Okay, so maybe you're a bit too old to hide away in your childhood treehouse, but that doesn't mean you've outgrown the lifestyle all together! Thanks to some imaginative designers and sturdy trees, there are many unbelievable spots around the world where you swap in the mundane hotel room for an epic treehouse rental.
Airbnb offers a surprising number of elaborate, adult-centric arboreal getaways. And these treehouses are definitely an upgrade from the nostalgic structures perched in our parent's Oak tree.
To Infinity and Beyond! 8 Los Angeles Airbnbs With Incredible Pools
6 Extremely Instagram-able Airbnbs In Santa Barbara
8 Great California Airbnb Properties That Are Perfect for Glamping
From jungle getaways to rustic mountain structures, these are the seven most remarkable homes that will help you create the same magical memories from our most creative childhood dreams – except with fewer splinters and more wine. 😉
Escape the busy city without ever leaving the city. This exquisite treehouse has been built directly into nature with a blend of Bauhaus contemporary style with rustic elegance. In the of Little Forest Hills, this home is found among the Japanese Maples.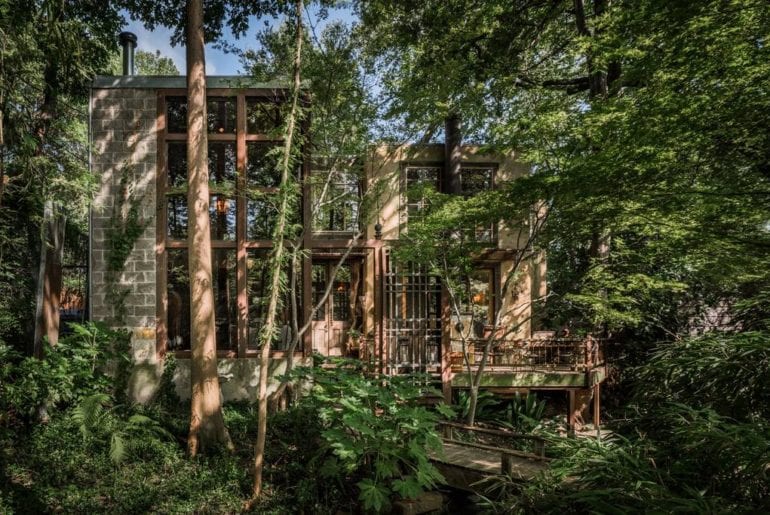 Gravel footpaths lead you through a forested canopy to a footbridge right to the home's front door. Upon entry, you'll be speechless as you take in the unique decor and welcoming amenities. The glass walls allow you to soak in all of the beauty the area has to offer and offers a sense of peacefulness.
The kitchen is perfect for cooking meals and has a gas stove, large refrigerator, dishwasher, and plenty of dining space. After a delicious dinner, soak in the master bath with a jetted tub and rain shower head. The deck is perfect for morning coffee as you overlook the tranquil pond.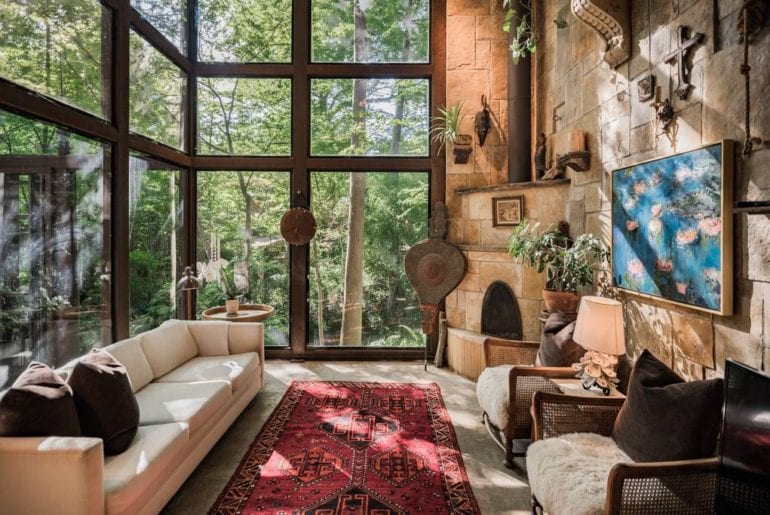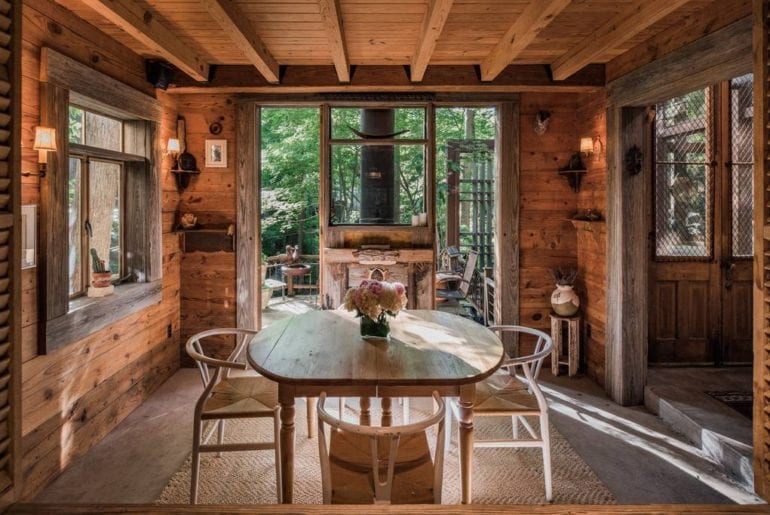 At the summit of Kilauea Volcano, you will find this custom treehouse built by the crew of Treehouse Masters. It was designed to be a honeymoon location and its pavilion counterpart a few blocks away to be a wedding venue.

The house is built on two levels and includes a living room, an outdoor shower, and indoor fireplace! The deck has a dining room and a relaxing hot tub. The bedroom consists of a memory foam queen-sized bed, a closet, and another deck. A local artist created the gorgeous stained glass windows that are found around the home.
There is no kitchen in this home, but there is a sink, coffee pot, and plenty of nearby restaurants. Also nearby is a hula halau practice where you can enjoy Hawaiian music and native chants.
Bolt Farm is found in the woods of Western South Carolina near the Chattooga River. This extraordinary home is high atop the trees hidden in 40 acres of quiet paradise. Named the most popular Airbnb in South Carolina and 11x Superhost, you won't be disappointed.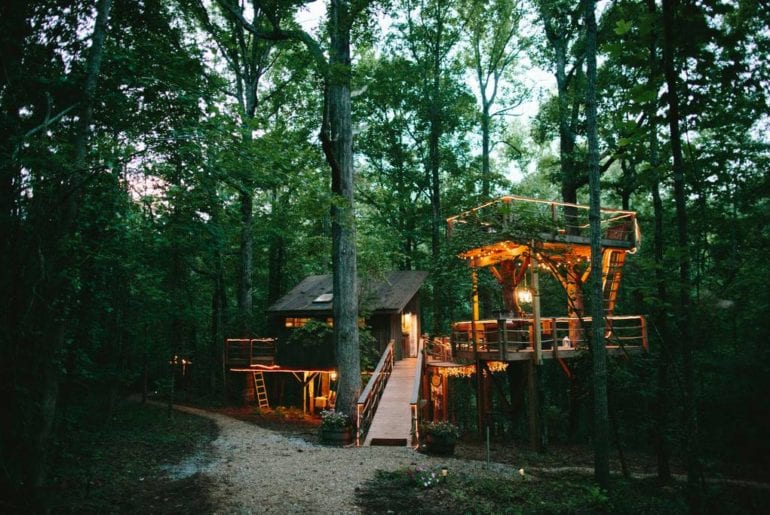 Designed by Seth Bolt, this home is guaranteed to "transport your spirit" and allow you to "feel a thrill that only can be discovered in the treetops." Enjoy the tranquility of your surroundings with songbirds, white and red oaks, dogwood trees, and 2.5 miles of trails.
The home itself includes a bathroom, and the outdoor shower has plenty of hot water for your bathing needs. In addition to the main cabin, which has a king bed, fireplace, and cozy seating, there are two treehouse decks connected that are ideal for lounging. For warm nights, head to the rope swing bed and enjoy the peaceful atmosphere.
6 Romantic London Airbnb Properties Fit For Meghan And Harry
Rad Pads: 8 Los Angeles Airbnbs Perfect for Fast Times' Jeff Spicoli and Other Surfer Dudes
8 Bangkok Airbnb Homes with Incredible Rooftop Pools
This tropical getaway is off-the-grid in a jungle ten miles from Hawaii's Volcano National Park. It is perched 15 feet up in a "canopy of local flora" and is only accessible by ladder stairs. Make all your Hawaiian fantasies come to life in this unbelievable treehouse.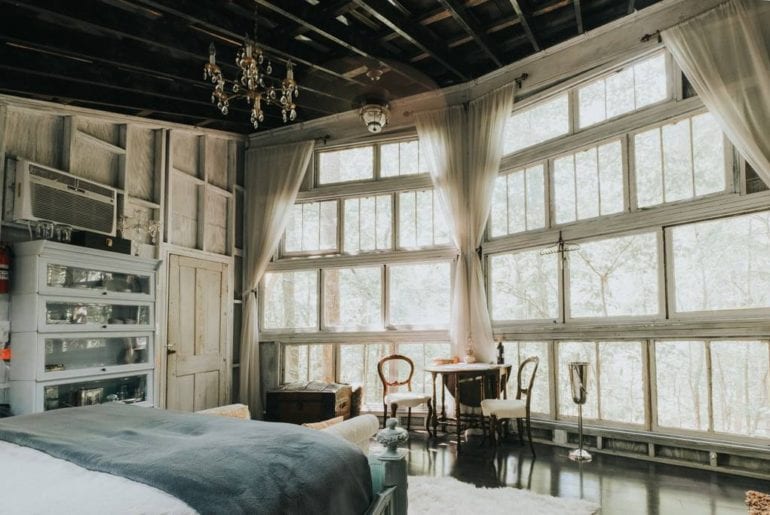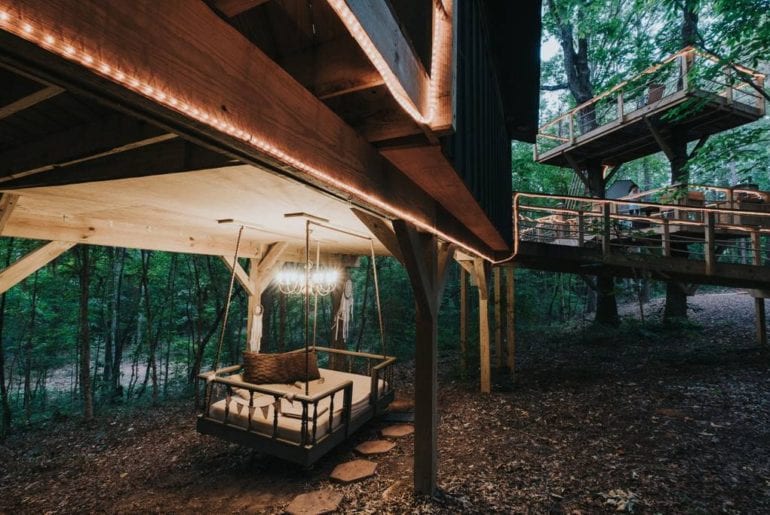 You'll be taken back by the beauty and serenity of this rental. Follow the red cinder trail to the entrance and admire the swinging bed below the main home. You'll feel immersed with your surroundings as you take an energizing shower in the nature-esq shower.
Spend the evenings with a glass of wine on the wrap-around porch or admire the view from the bedroom's sliding glass doors. Clearly embodying the natural theme with natural materials and large windows, this home is also solar powered and has a rainwater catchment system.
Overlooking a swimmable pond, surrounded by trees you won't find a more peaceful spot in Upstate New York. A short drive away from Woodstock, this cozy rental is perfect for anyone looking to unplug and relax.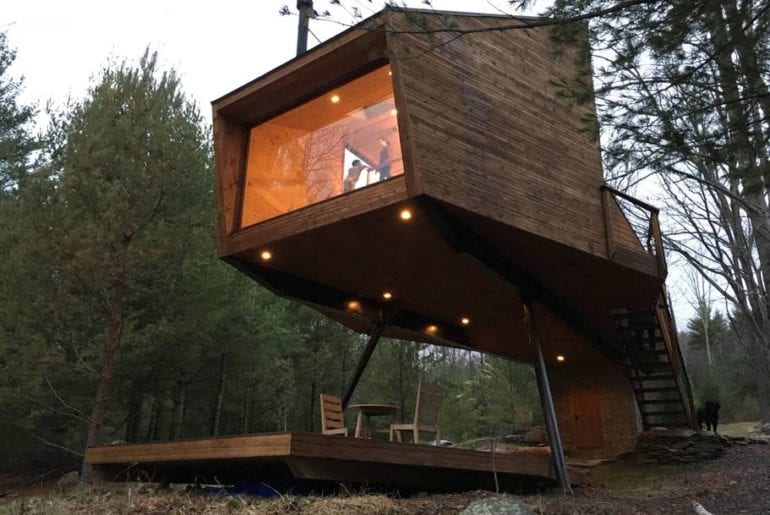 You'll find this treehouse on 34 acres of private land surrounded by natural beauty. The sleeping area is surrounded by floor-to-ceiling windows making you feel as though you're sleeping within the wilderness. Light a fire in the wood-burning stove and snuggle up with your favorite book or play a board game while you take in the calming ambiance.
If you don't feel like taking a dip in the pond, soak in the hot tub just outside of the home.
This upscale urban oasis is overlooking Downtown Atlanta and is supported by seven gorgeous trees. Included is "Old Man," a 165-year-old Southern Short-Leaf Pine! There are three distinct areas (designed to embody the mind, body, and spirit) a sitting room, hammock deck, and a bedroom – each connected by a rope bridge. This amazing home has been featured on Treehouse Masters and the Today Show.

Each room is fully furnished with natural elements and various antique objects. The living space is complete with 80-year old windows of pressed butterfly wings, comfortable seating, and unique artifacts.
The bedroom sleeps two and has high-end linens and comfortable bed. It is even on wheels so it can be inside or rolled out to a platform overlooking the stream below. The hammock deck is an open space, perfect for embracing the scenic views. Though there is no bathroom within the home, you will have exclusive access to the bathroom in the private residence of the owner. Don't fret, it's just a 30 second walk away.
Take your dream of living in a secluded cabin in the woods to new nights – literally. This two-story house is just outside Glacier National Park in Montana. Close to Whitefish, Flathead Lake, and Big Mountain. Ideal for outdoor adventurers! You are surrounded by the best skiing, fishing, boating, hiking, and golfing in the area.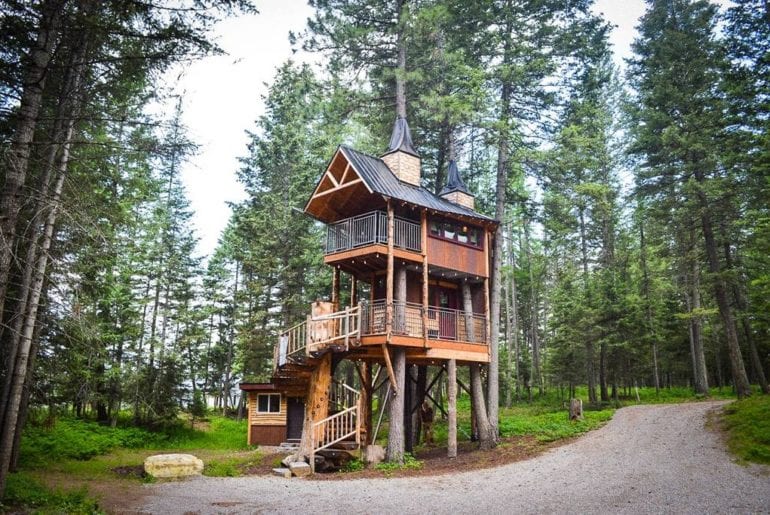 Escape to the 7-acre private forest and forget the stress of everyday life. The treehouse entrance is a grand spiral staircase custom built around an enormous Douglas Fir. With 500 square feet of living space and two outside decks, there is plenty of room to relax in this gorgeous home.
There is a full bathroom, kitchen, and a master suite with its own half-bathroom though you'll feel as though your one with nature, enjoy the luxury of modern amenities such as a dishwasher, stove, and coffee maker!