As one of Europe's most interesting capital cities, there are some Amsterdam rentals you'll just have to see to believe.
Rows and rows of slightly-askew townhouses line the streets and their iconic, gabled façades are a staple of Dutch Renaissance architecture. Back in the day, residents used pulley systems to move in large pieces of furniture or unload cargo from the canals. Today, you'll still see many of these original gable hooks in place!
Along the canal belt and in the nearby Docklands, both charming and ultra-modern houseboats sway gently in the water. So more and more residents are opting for a floating home over the limited building supply.
Many of these incredible homes are now unique Amsterdam rentals! So check out our guide below to some of the most amazing Amsterdam rentals on Airbnb.
8. A Bright Designer Loft In Amsterdam's City Centre
Located in trendy Haarlemmerbuurt, this light-filled designer loft apartment is just five minutes' walk to Jordaan and very close to the old city centre. So starting at $285 a night, this gorgeous building has been beautifully renovated with its original character still intact. Six characteristic balcony doors with huge windows open to a balcony right above the canal, offering stunning city and canal views from every room.
7. An Eclectic And Cozy Houseboat In Oud-West
Beautifully remodeled with eclectic, boho decor, this one-bedroom houseboat in Oud-West is perfect for a traveling couple. From $228 a night, the private houseboat apartment has a large, open-plan living space with dining table and fully-equipped kitchen. So watch the world go by from the cozy, outdoor terrace or go for a wander! The Foodhallen, Museum Quarter, and 9 Streets shopping district are all just a short walk away.
6. A One-Of-A-Kind Windmill Bedroom Just West Of Central Amsterdam
One of the most unique Amsterdam rentals available is actually just outside the city in the lovely Dutch countryside. This private bedroom with ensuite in an authentic Dutch windmill is only a short tram ride from the city center's main attractions. From $148 a night, an authentic windmill experience in the countryside is a great option for a solo traveler or couple seeking a truly memorable experience.
5. A Quirky, Open Plan Loft In Heritage-Listed Jordaan Building
This stylish, duplex loft in Jordaan boasts a freestanding tub, indoor fireplace, and gorgeous canal views. The bedroom is tucked away on the top floor while an open bathroom gives the space a luxurious, indulgent feel. There is a fully-equipped kitchen and spacious living/dining area, all for $143 a night in Jordaan, one of the best neighborhoods in Amsterdam.
4. A Renovated, Duplex Suite With Balconies In De Pijp
If you're searching for outstanding Amsterdam rentals, de Pijp's original architecture and welcoming neighborhood vibe could be just what you need. So enjoy that and more in this renovated, designer duplex suite with two balconies from $196 a night. The incredible master suite has a separate sitting area, office, and brand-new bathroom. There are two south-facing balconies, a cozy second bedroom, and a light-filled living room with modern kitchen.
3. A Luxury Houseboat On Prinsengracht Canal
Originally built in 1908, this former cargo vessel is now one of the most charming Amsterdam rentals we've seen. This spacious, two-bedroom houseboat on the Prinsengracht canal is docked at the picturesque and convenient Noordermarkt. So from $344 a night, this lovely houseboat with a sunny roof deck has been carefully renovated with plenty of space for a small family or two couples.
2. A Character-Filled, Top-Floor Loft In Historic And Central Building
Located near the Singel canal just minutes from Centraal Station and Jordaan, this incredible loft is on the top floor of a beautiful, historic building. So from $315 a night, few other Amsterdam rentals can compare to this character-filled gem with huge exposed wood beams, original pulley system, and iconic stepped gables. Families will love the open-feeling living, dining, and kitchen spaces while the 3 bedrooms can comfortably accommodate the whole group.
1. A Gorgeous And Modern de Pijp Designer Home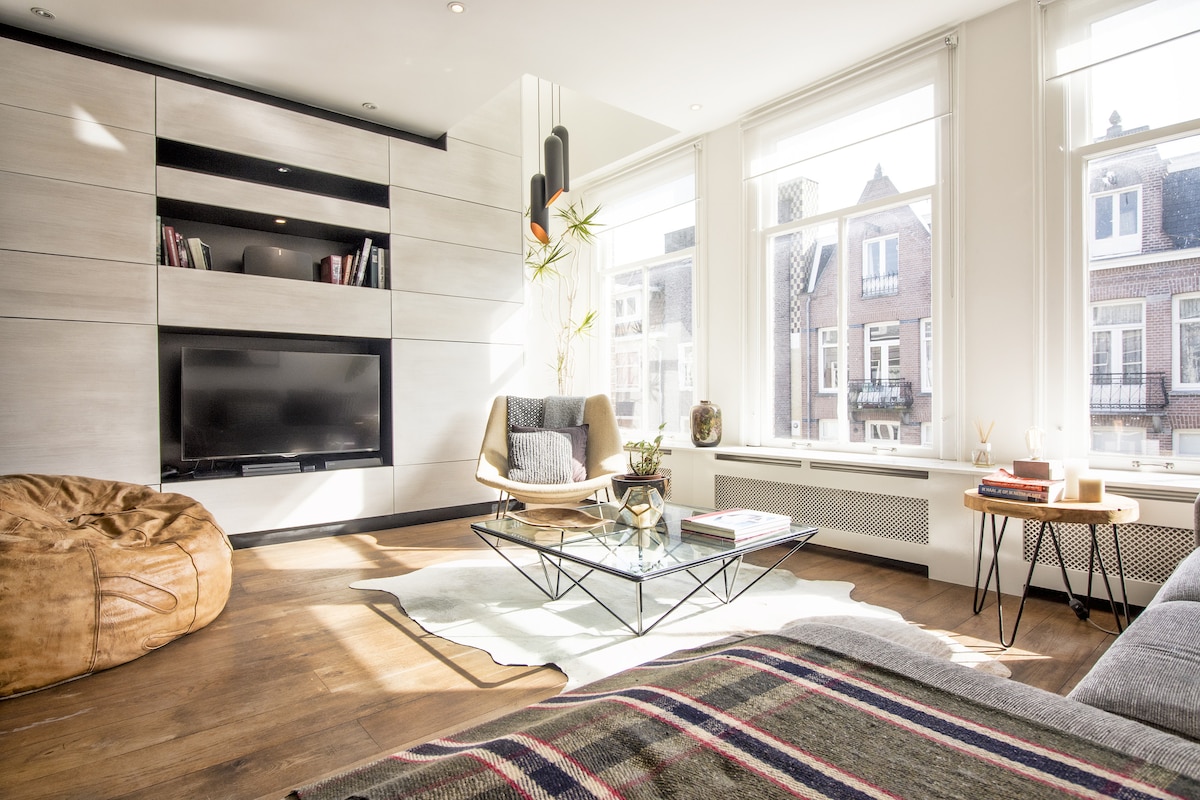 One of the most beautifully-designed Amsterdam rentals we've seen, this modern designer home in de Pijp is a real winner. Featuring a spacious living room with fireplace, balcony, and two-story storage closets which extend up to the lofted bedroom. So with a luxurious master suite and new bathroom, this spectacular home is available in one of the coolest Amsterdam neighborhoods from just $229 a night.