If there's one thing you're allowed to do on vacation, it's treat yourself! So it's always best to make sure your Airbnb rental is close to some great stores. If you're staying in Atlanta, Buckhead is the place for shopaholics to head, since it's bursting with high-end boutiques (as well as plenty of fancy restaurants to dine at once you've completed the mall).
Buckhead Village, Phipps Plaza and Lenox Mall contain some of the best stores in the country, where you can drop major cash on exclusive designer brands and clothing (or make good use of those credit cards). Once you've shopped 'til you've dropped, then you can go pamper yourself at one of Buckhead's luxury spas, or take your pick of the sophisticated cocktail bars and order a round of mojitos.
If food is the only that gets you opening your wallet, there are plenty of wonderful seafood restaurants and steak houses in Buckhead. Plus, be sure to hit up Buckhead Diner and The Ivy, both of which are super-popular, so be sure to book ahead.
Now, try out one of these Airbnb options for your Buckhead Atlanta stay…
Need smaller accommodations for your trip? Check out our Atlanta properties that are perfect for couples
Staying outside of Buckhead? Find unique homes available for rent in other cool areas of Atlanta 
Where to stay for Shaky Knees? Try these 6 amazing Atlanta Airbnb homes
8. An Amazing Luxury Penthouse Close To Buckhead Shops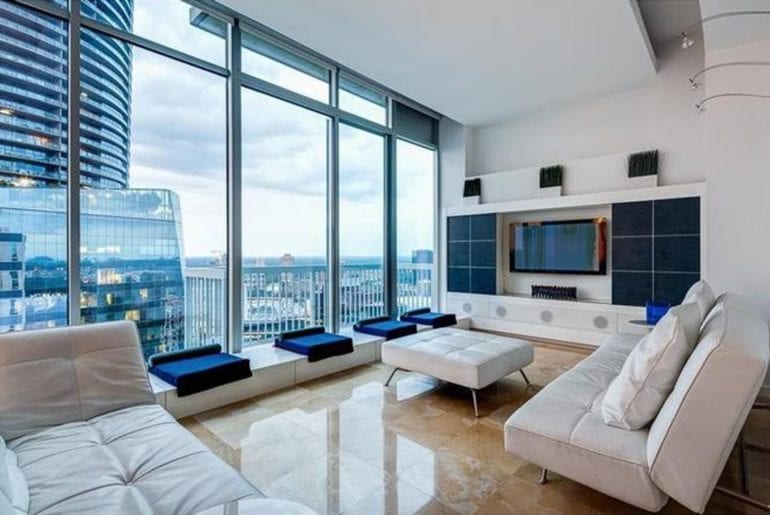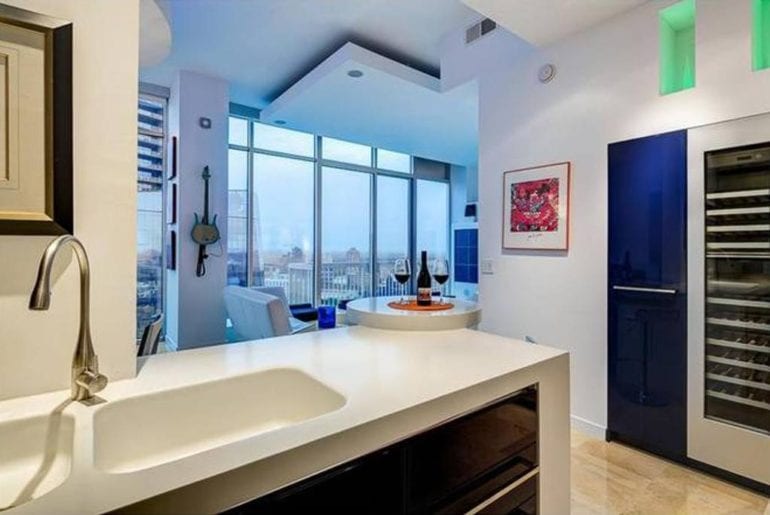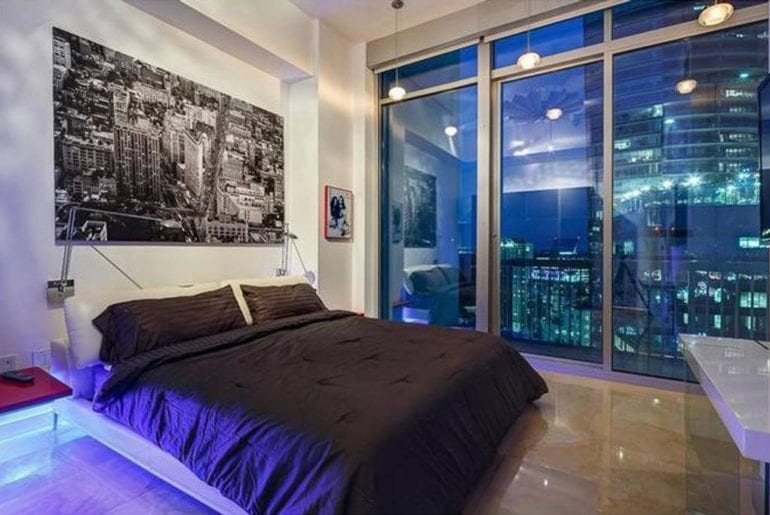 If you like your living space super-trendy and ultra-shiny, then this upscale penthouse in the heart of the Buckhead neighborhood will suit you. This luxury home features every modern amenity you could possibly need, including a steam shower, motorized blinds, and a wine cooler where you can chill your favorite bottle of fizz (pop that bad boy open to celebrate your latest purchases).
Kick your evening off with some pre-drinks on the balcony, while taking in a spectacular view of the city lights and blaring your vacation playlist over the apartment's surround sound system. Forgot to pack a bottle opener for your trip? Then there's a 24-hour concierge in the building who can sort that – and literally anything else – for you. Not bad for $500 per night.
7. Luxury Condo With A Rooftop Pool And Sky Lounge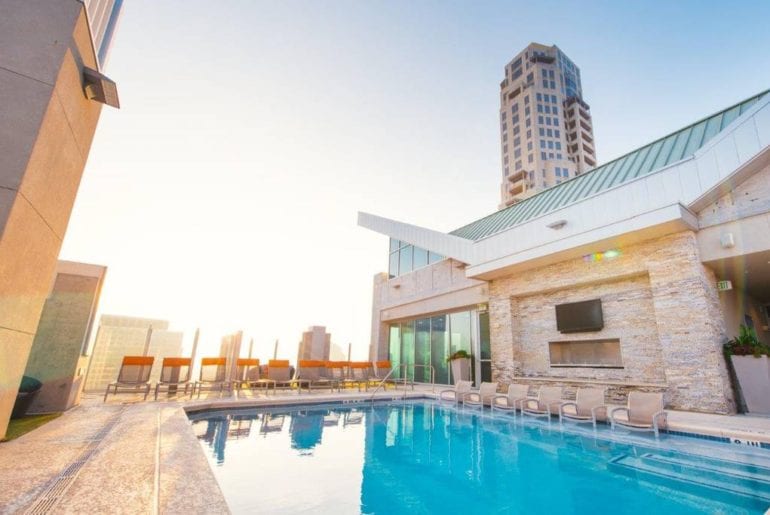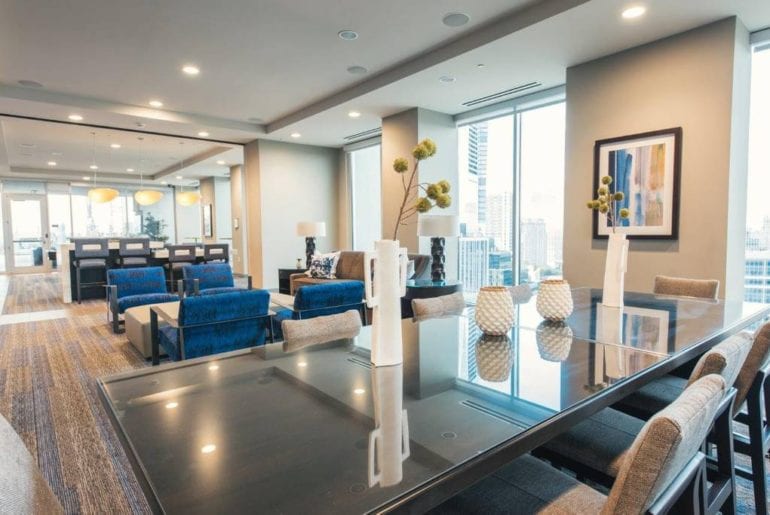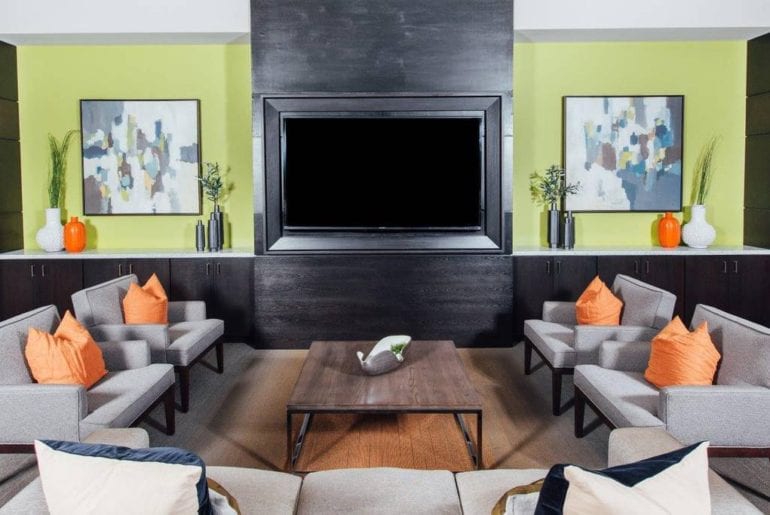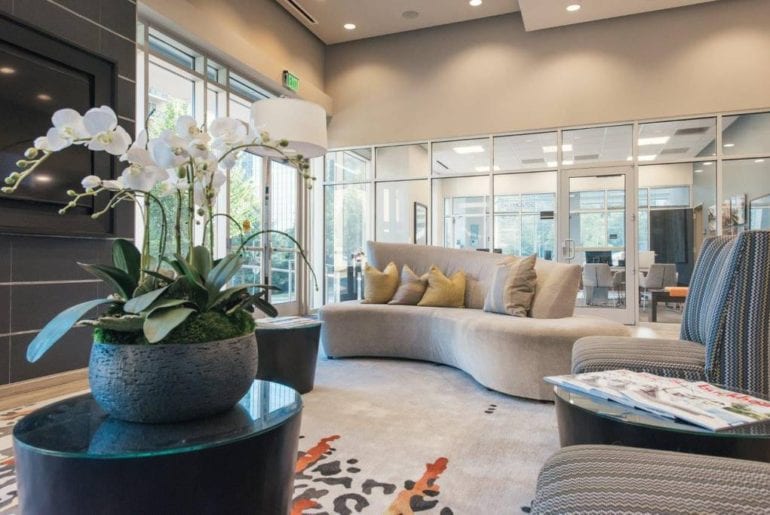 If city views are your thing, then get acquainted with this luxury sky condo. It also helps that it's super-close to everything. You can walk straight out of your door, and straight into the elegant Phipps Plaza or bustling Lenox Mall. Want to venture a little further? Then no problem! This building is attached to a train station, where you can hop aboard the MARTA (which will also be helpful when you return home of an evening a little tipsy).
If you're up for just staying put, then bring your bathing suit because there's a rooftop pool, perfect for, well, swimming… or just putting your feet up next to, and finally reading that book everyone keeps recommending. Pack your Nikes, too, because there's a well-equipped sky gym, and city views are scientifically proven to make you exert yourself 20 per cent harder (definitely not a completely made up statistic). Finally, if you're feeling sociable, the building's luxurious sky lounge is the perfect place to grab a coffee and make small talk with handsome strangers about how great it is to stay here. $1,100 per night.
6. Stay In The Beverley Hills Of Atlanta In This Buckhead Beauty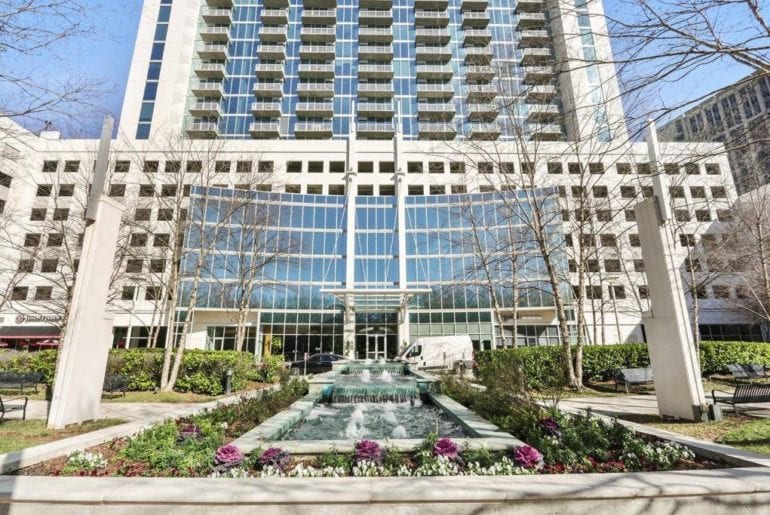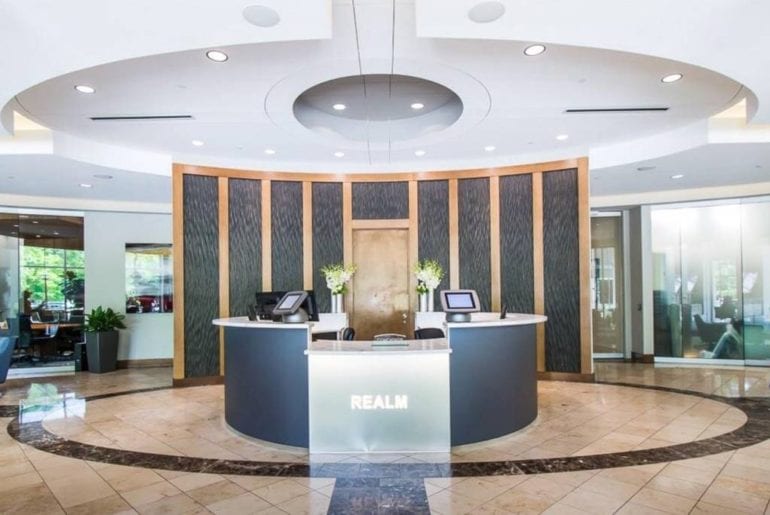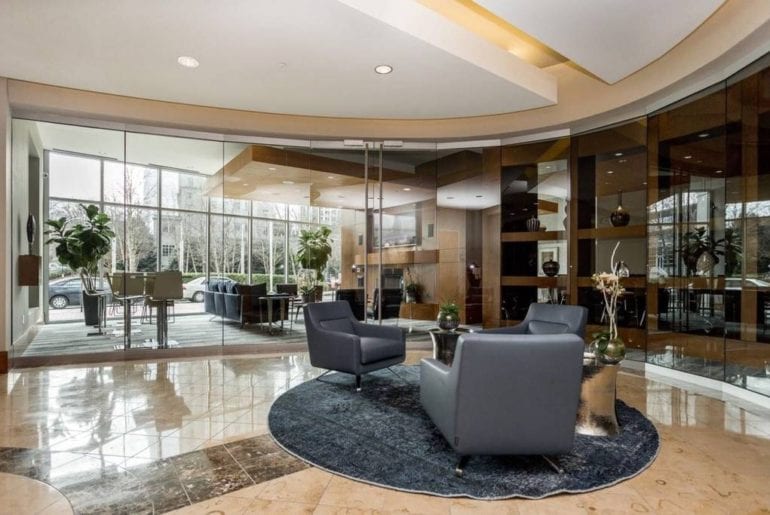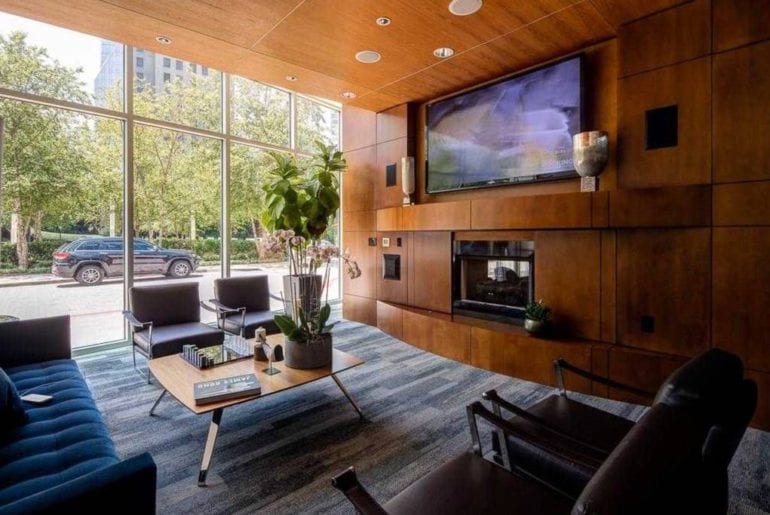 This might look like the offices of a fancy advertising company, but it's actually a luxury high rise condo that just screams style! Situated right in the center of Buckhead you can easily access the Lenox Mall and popular Phipps Plaza and experience some of the best shopping and designer stores in the city.
If you wouldn't be seen dead in The GAP and wear strictly designer names, then you better slip your Louboutins on and head to The Shops Buckhead Atlanta, which is just minutes away. There's also a myriad of upscale dining options and cocktail bars in this area of the city. May we suggest Ink, a Japanese-style bar where there is no menu and, instead, the bartenders create custom drinks based of the flavor preferences of each guest. A one-of-a-kind experience, quite literally. $500 per night.
5. A Magnificent Extra-Large Condo In The Heart Of Buckhead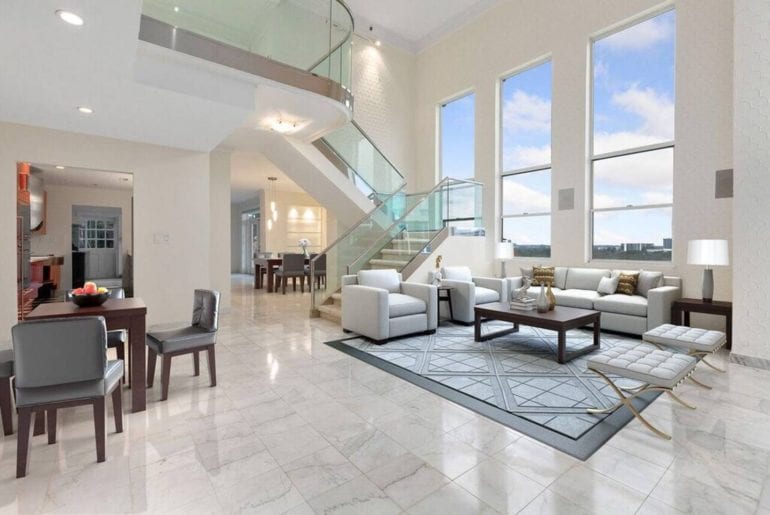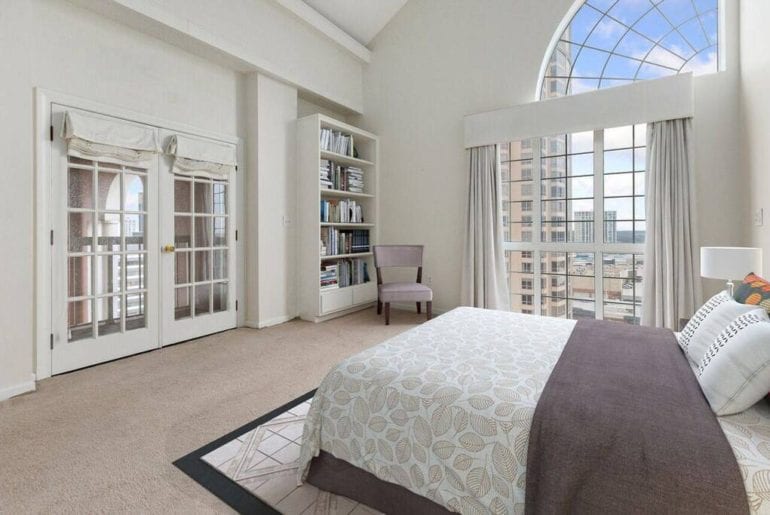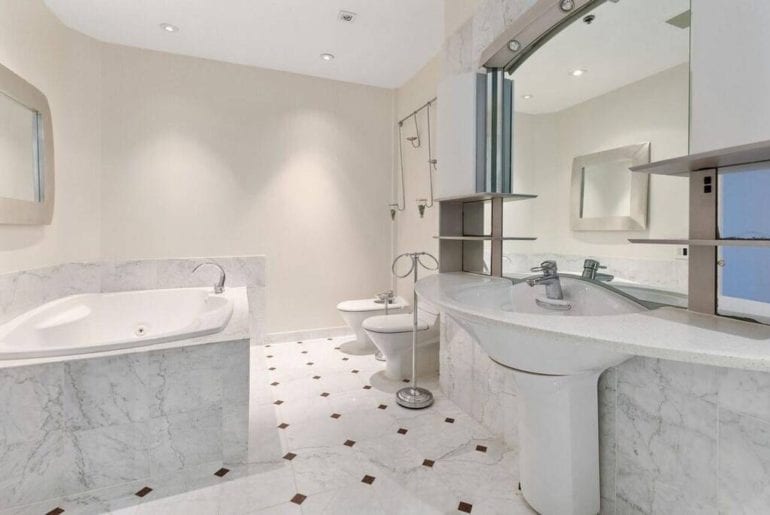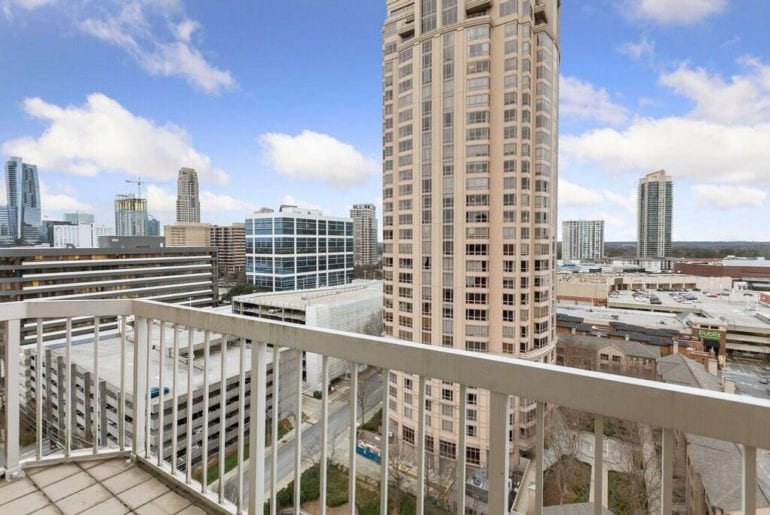 If space is what you need, this luxury penthouse has plenty. We're talking 3,000 square feet of the stuff. And since it can accommodate six guests, that's a whole 500 sq feet each, which should help counteract vacation bickering. Some of the space is outdoors on a private balcony, where you can observe the hustle and bustle of Buckhead below, or just people watch in the skyscrapers opposite.
For activity seekers there's plenty to do near by, since this rental is only 15 minutes from the Mercedes-Benz Stadium, the CNN Center (where you can take a studio tour), the Georgia Aquarium and World Of Coca-Cola. This only issue is going to be how you'll fit it all in while you're in town (and deciding which one to visit first). $950 per night.
The 6 best Tucson, AZ Airbnb homes for foodies
8 Amazing Airbnb Homes Near Atlanta's Funky Little 5 Points District
Check out 8 more of our luxury Atlanta properties
4.  A Luxury Penthouse With Marble Bath And Heated Saline Pool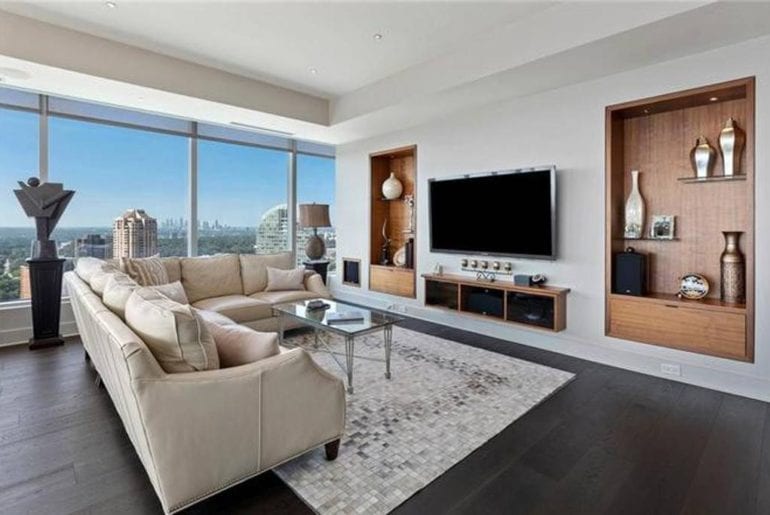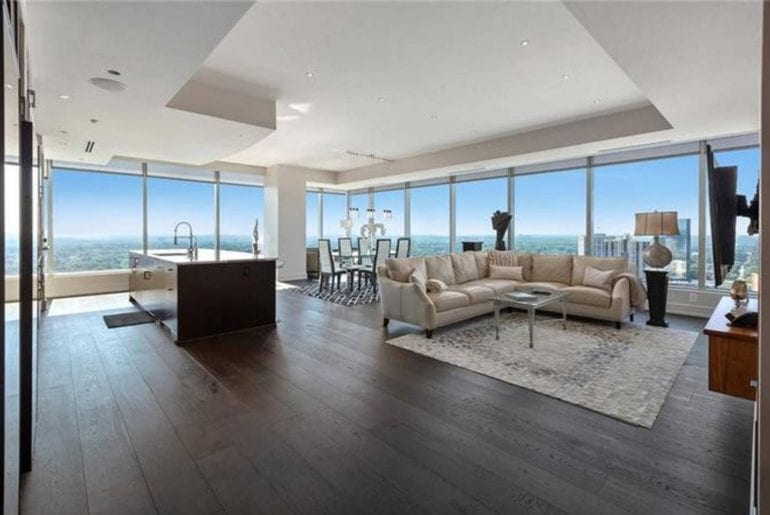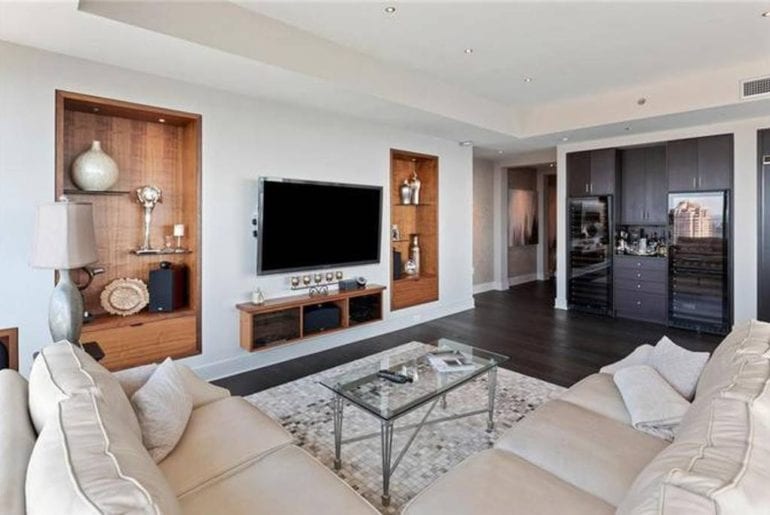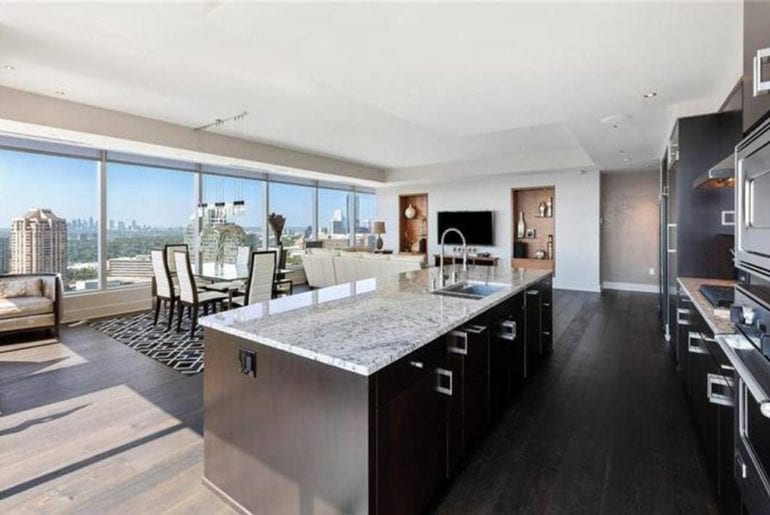 This custom-designed 21st floor penthouse is luxury with a capital L, underlined and in bold. Not only does it come with staggering views of the city, but the attention to detail here is second to none. We're talking: a Viking Kitchen, Carrara Marble Baths, auto window shades, and a year-round heated saline pool and spa that'll make you go "ahhhhhhh!"
You can order a meal in one of the two on-site restaurants (plus, there's also a deli) and have it delivered by the carry up porter service. Or, if you can actually be bothered to get dressed for dinner, visit the 24-hour concierge for information on the best restaurants in the area. You can also get them to give you directions to the malls, all of which are super close by. $6,027 per night.
3. A Stunning Ranch-Style Home With Pool And Cabana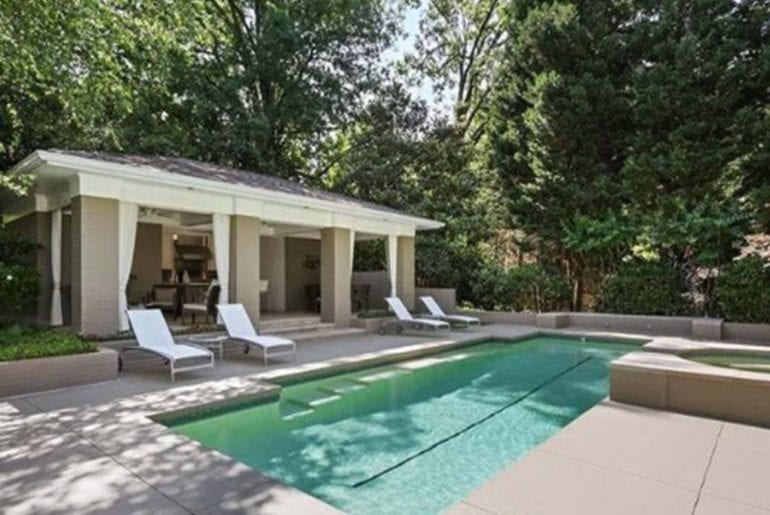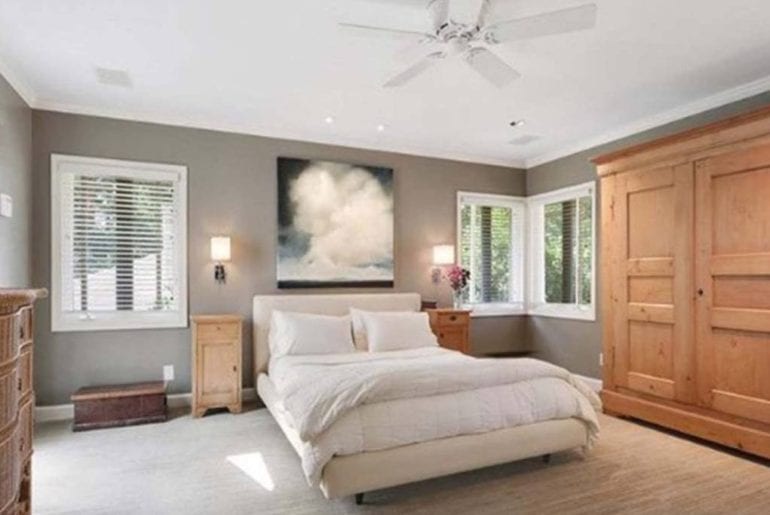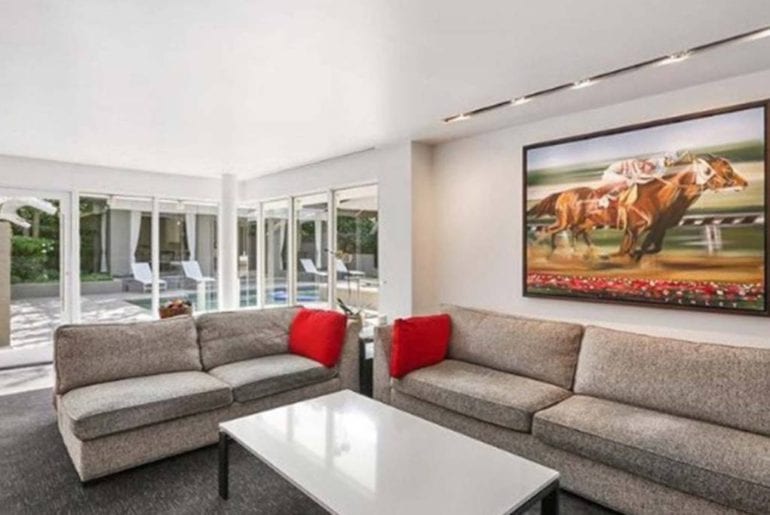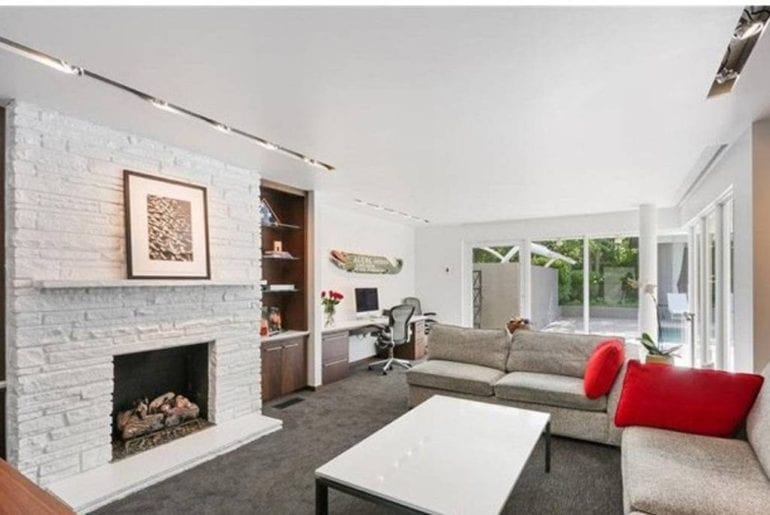 This place is a little slice of California in Atlanta. A spacious Hollywood-style ranch home with its own private yard for groups or families that need a bit more space or an alternative to condo living. After a day of taking in everything Buckhead has to offer, come back and swim in the fully-heated saline pool, or just laze around under the custom built cabana with your hand in a bag of Lay's. 
Everything you could possibly need has been provided in the house, which is stylish and tastefully decorated, whilst also being wonderfully homely. You'll love how quiet and peaceful it is, since it's situated in a serene cul-de-sac. Take a wander down the street, though, and you'll find yourself instantly immersed in the hopping Buckhead scene. $950 per night.
2. A Buckhead Luxury Home In A Secure Gated Community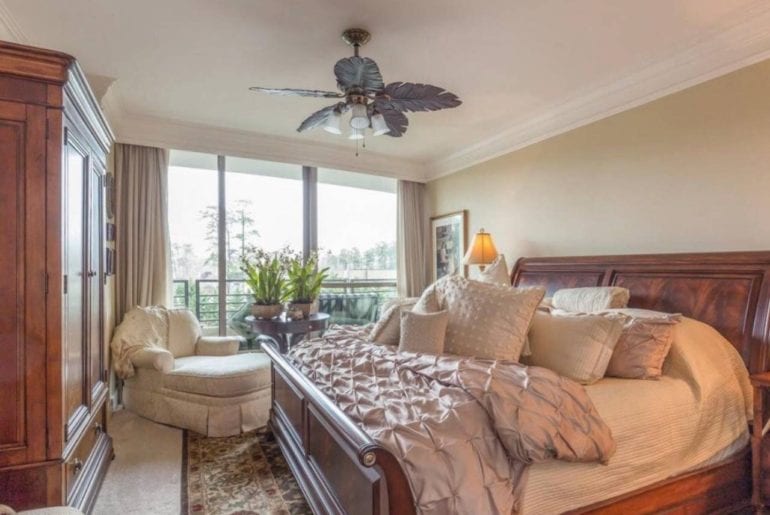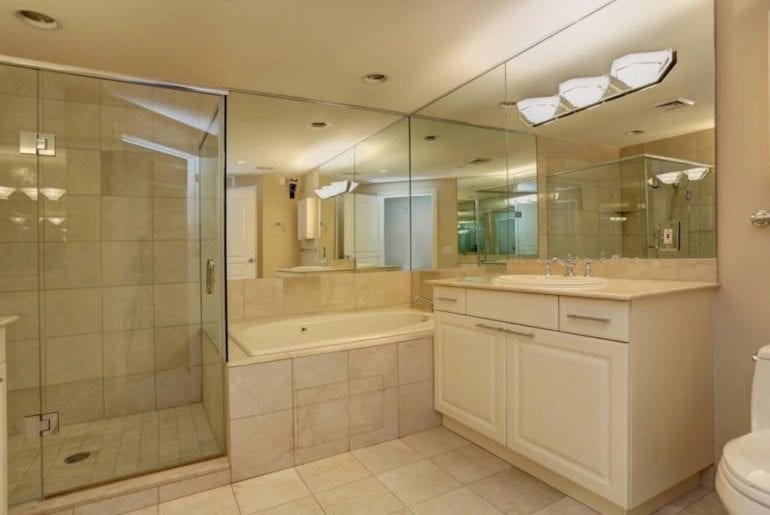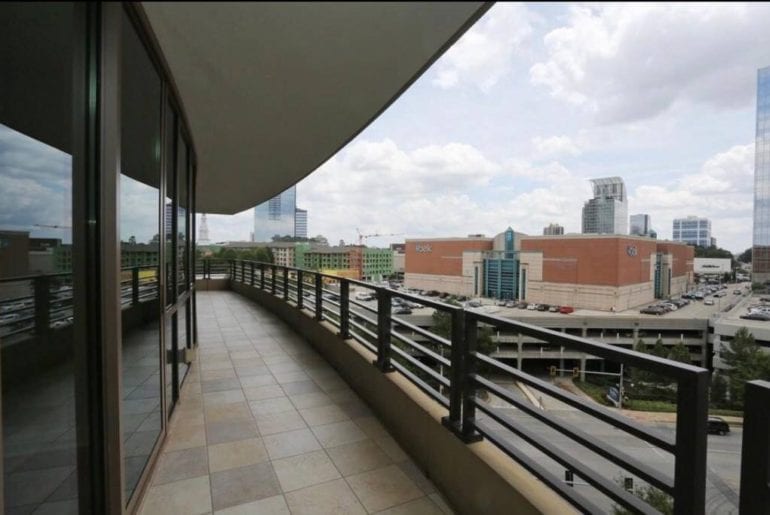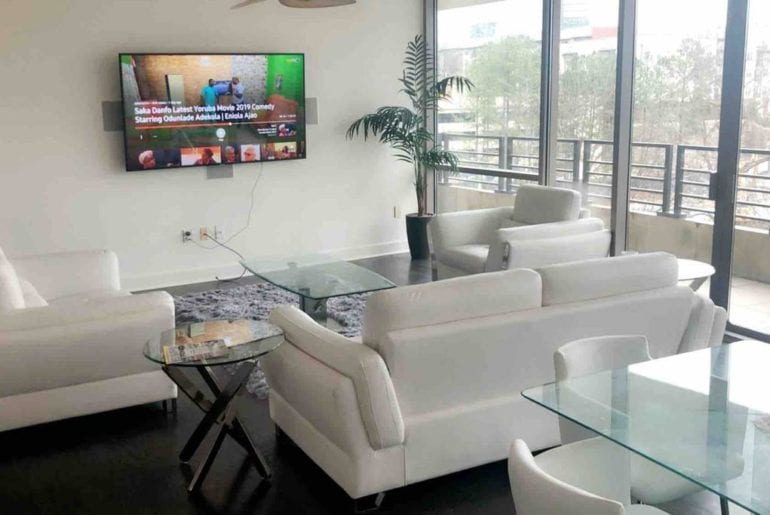 This condo home is all about safety, since it's located in a private gated community. It offers three bedrooms and three bathrooms, making it perfect for large groups of friends and families alike, plus access to a pool and exercise center (should you be of the mindset that fitness doesn't stop just because you're on vacation).
Location-wise, it's a stone's throw from Lenox Mall (literally, it's just opposite) and a three-minute walk to Phipps Plaza, which'll make carrying all your shopping home a little less painful. You can also enjoy a wide selection of coffee shops and eateries that are nearby, or hop aboard the MARTA to go visit Atlanta's popular tourist attractions for a wonderful day out. $1,000 per night.
1. A Fabulous Luxury Ritz Carlton Residence With Concierge Service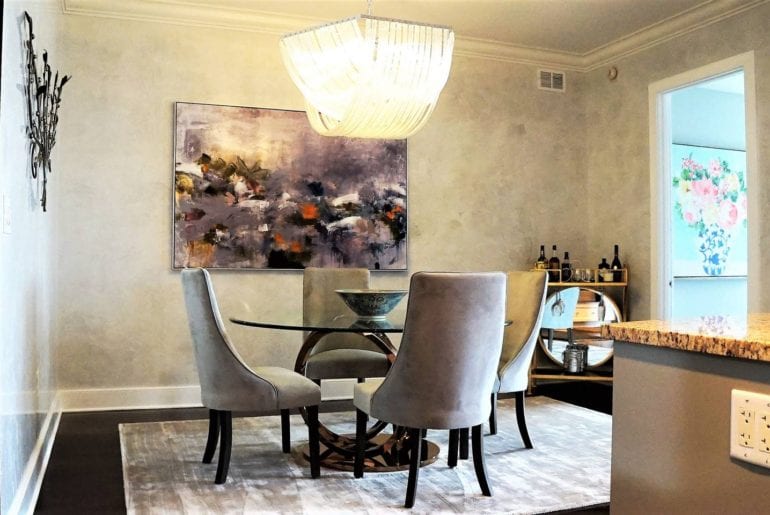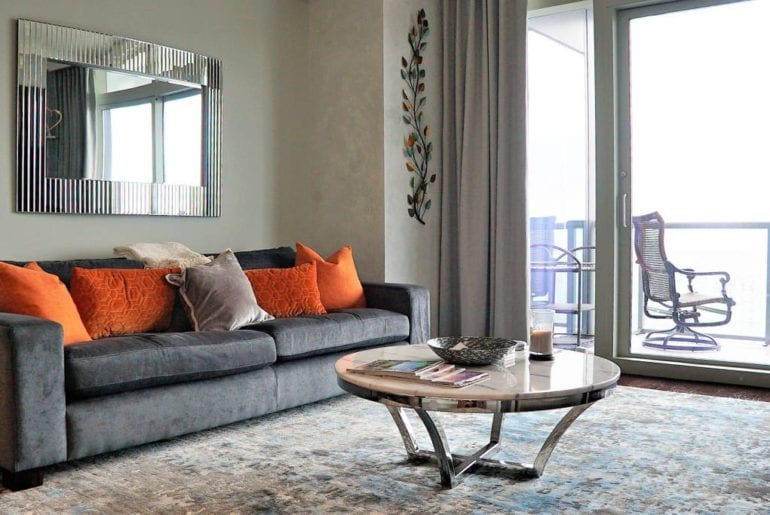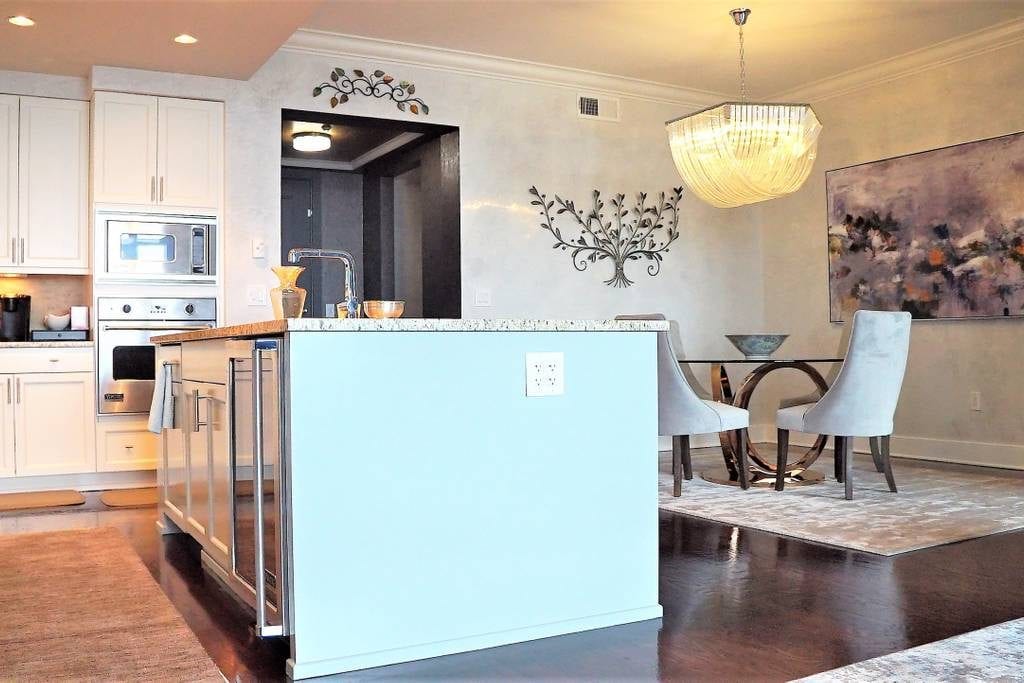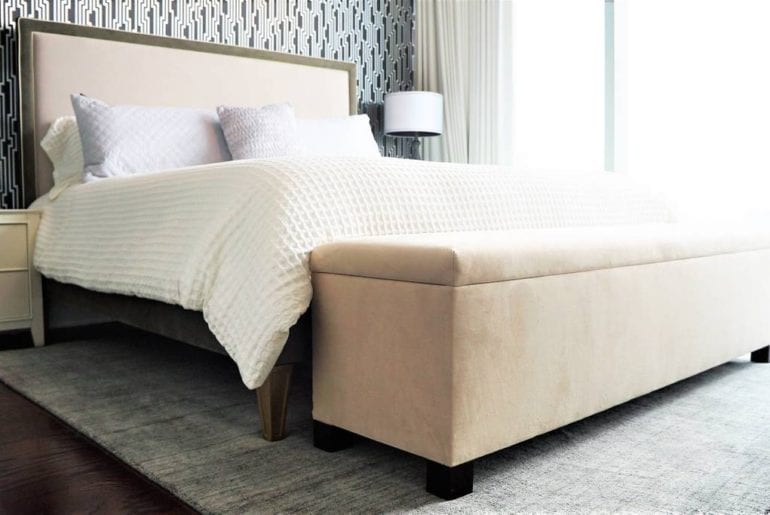 Art lovers will appreciate this high end home, in the exclusive Ritz Carlton residences right in the heart of Buckhead. Not only is it beautifully furnished, but there's a pool and spa, and two restaurants in the building from which you can have delicious food delivered right to your apartment door. You won't have to park your own car, either, because there's a valet.
When you're ready to head outside, you'll be slap bang in the center of Buckhead, so in easy reach of all the designer stores. There's a 24-hour carry up porter service, so if you've overindulged at the mall, no worries, because they'll help you with your bags. Sadly, they won't help you pay your Amex bill. Though, that would be nice, wouldn't it? $937 per night.