As anyone who's ever been to Bangkok knows, while it certainly lives up to its reputation as a party town, some of the most exciting stuff actually happens on the roofs high atop the city where you can't even see it! Some of the best restaurants, bars, nightclubs and especially pools are waaaay above street level! While you can't stay at a restaurant, there are dozens of Bangkok Airbnb homes that offer access to amazing rooftop pools waiting for you to party in or even just swim. Here are 8 Bangkok Airbnb homes with Incredible Rooftop Pools!
To Infinity and Beyond! 8 Los Angeles Airbnbs with Incredible Pools
7 Over the Top Airbnbs That Celebrities Have Rented
8 Fabulous Luxury Shanghai Airbnb Homes You're Gonna Just Love
8 Unforgettably Funky Bangkok Airbnb Vacation Rentals
8. The Muse – approx. $48 a night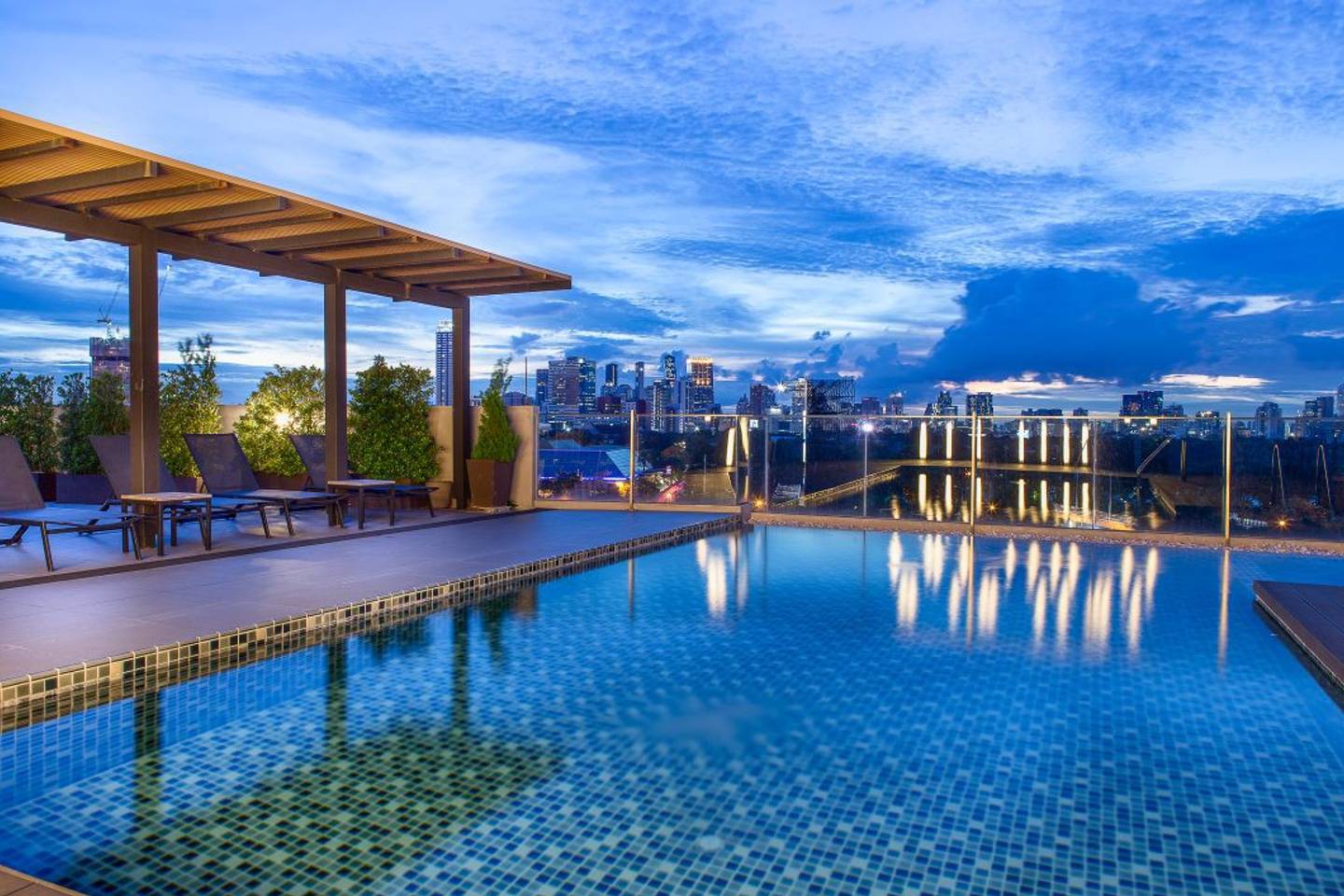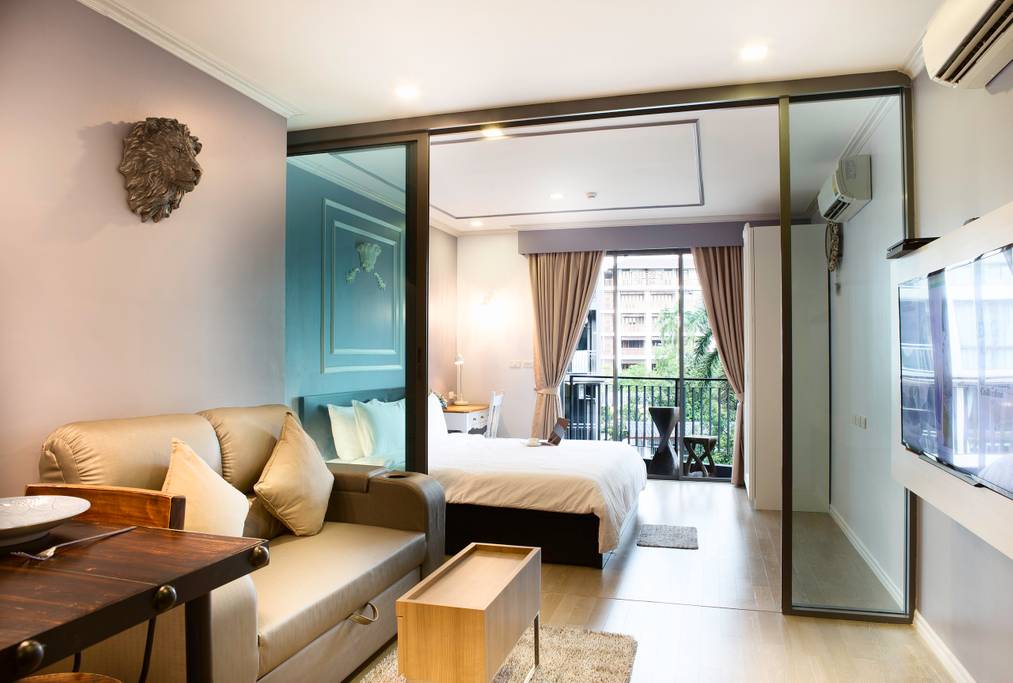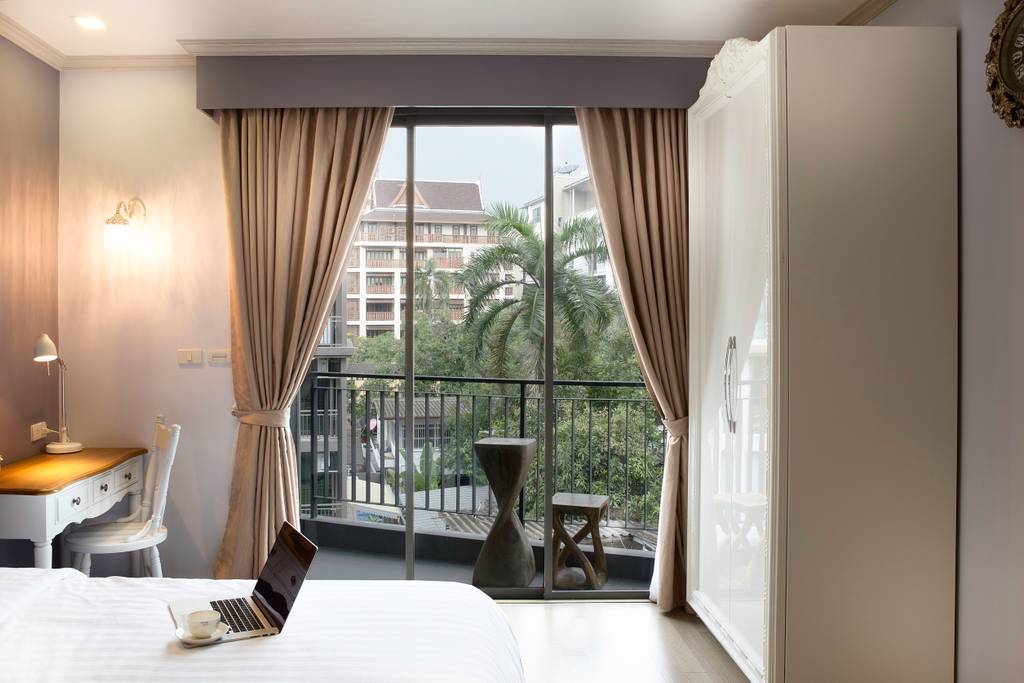 Known as The Muse, this super-sexy pool is part of a one-bedroom, one-bath Airbnb that sleeps four (and at $48 a night, that is a GREAT bargain!). With an indoor fireplace (not a ton of those available in Bangkok), luggage storage, 24-hour check-in, free wifi, and even a shuttle service to the Skytrain (which will get you to most of the important attractions in Bangkok), and a cleaning service once a week, this condo provides services that are truly over and above the norm.
With a well-equipped kitchen with large fridge and cooking area, a lovely little breakfast bar, and even a free fitness center, you might come back more fit than you were when you arrived! And your host is actually a concierge at a five-star hotel so if you have any questions, you'll got an experience concierge at the ready!
7. Outdoor Beds – approx. $43 a night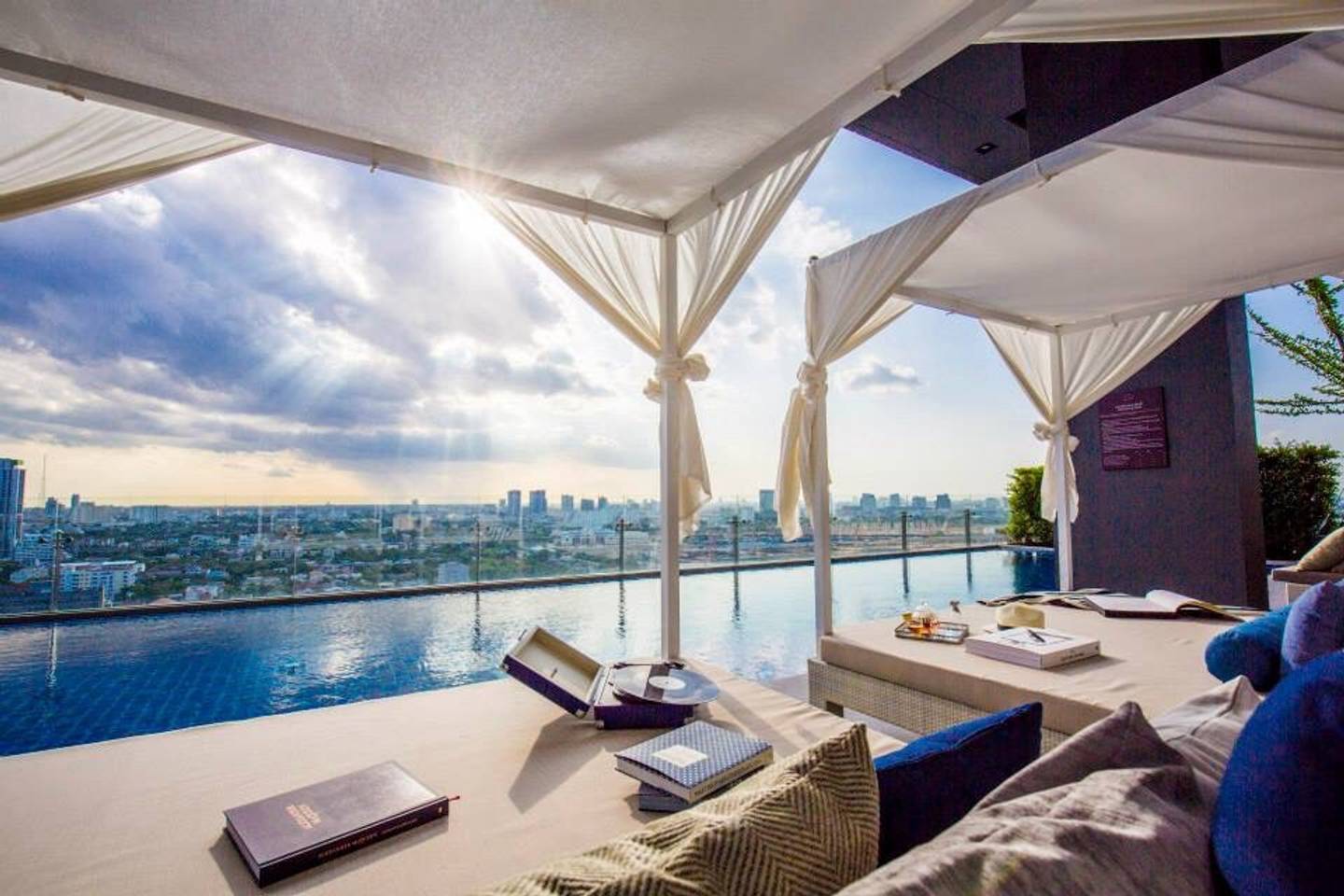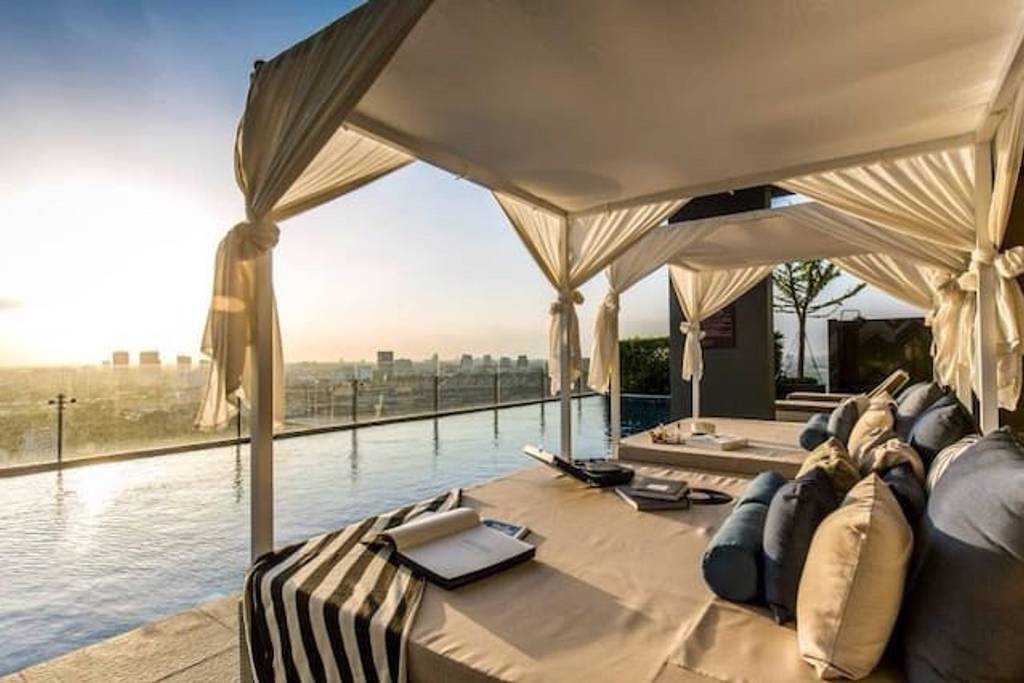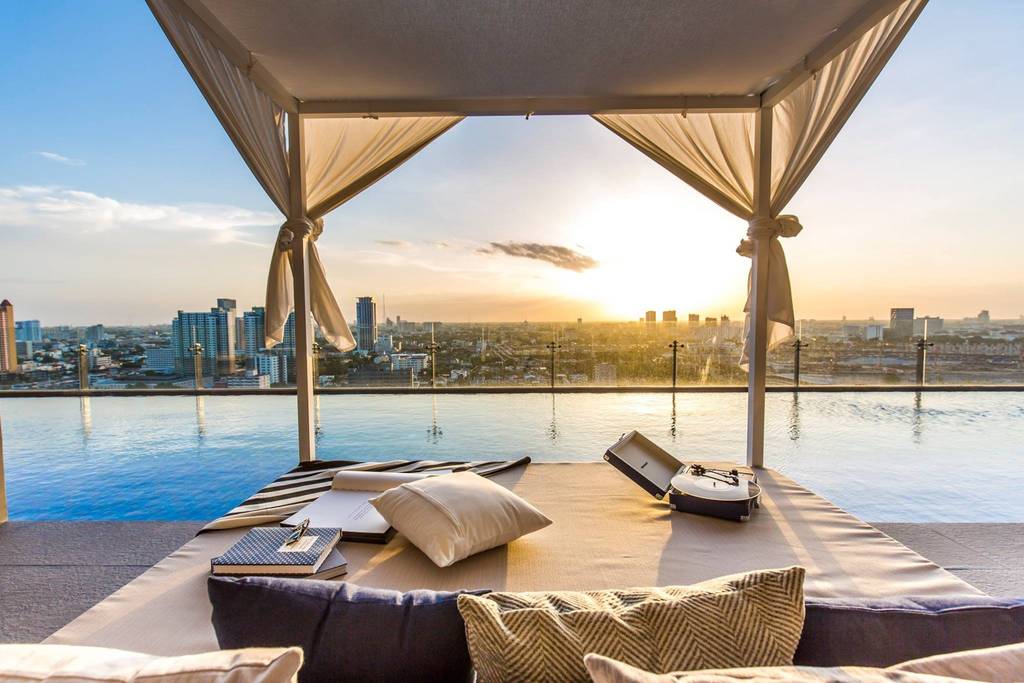 If you really want to feel as if you're on the beaches of Thailand but don't want to leave Bangkok, this is the perfect choice! With canopied lounging beds that look out over the pool and the entire city, you have a perfect outdoor reading, napping or Instagram spot! This room is on the 20th floor and will allow you access to the building's common spaces, gym, steam room and even racquet ball court!
The building itself if near the Siam Paragon mall which has over 250 stores including Jimmy Choo, YSL, Chanel, Versace, Jim Thompson and even an Aston Martin showroom! If you're in the mood for a movie, there's actually a huge IMAX theater and a great food court where you can carbo load for all those laps you'll be doing!
6. Wow, Just Wow! – approx. $80 a night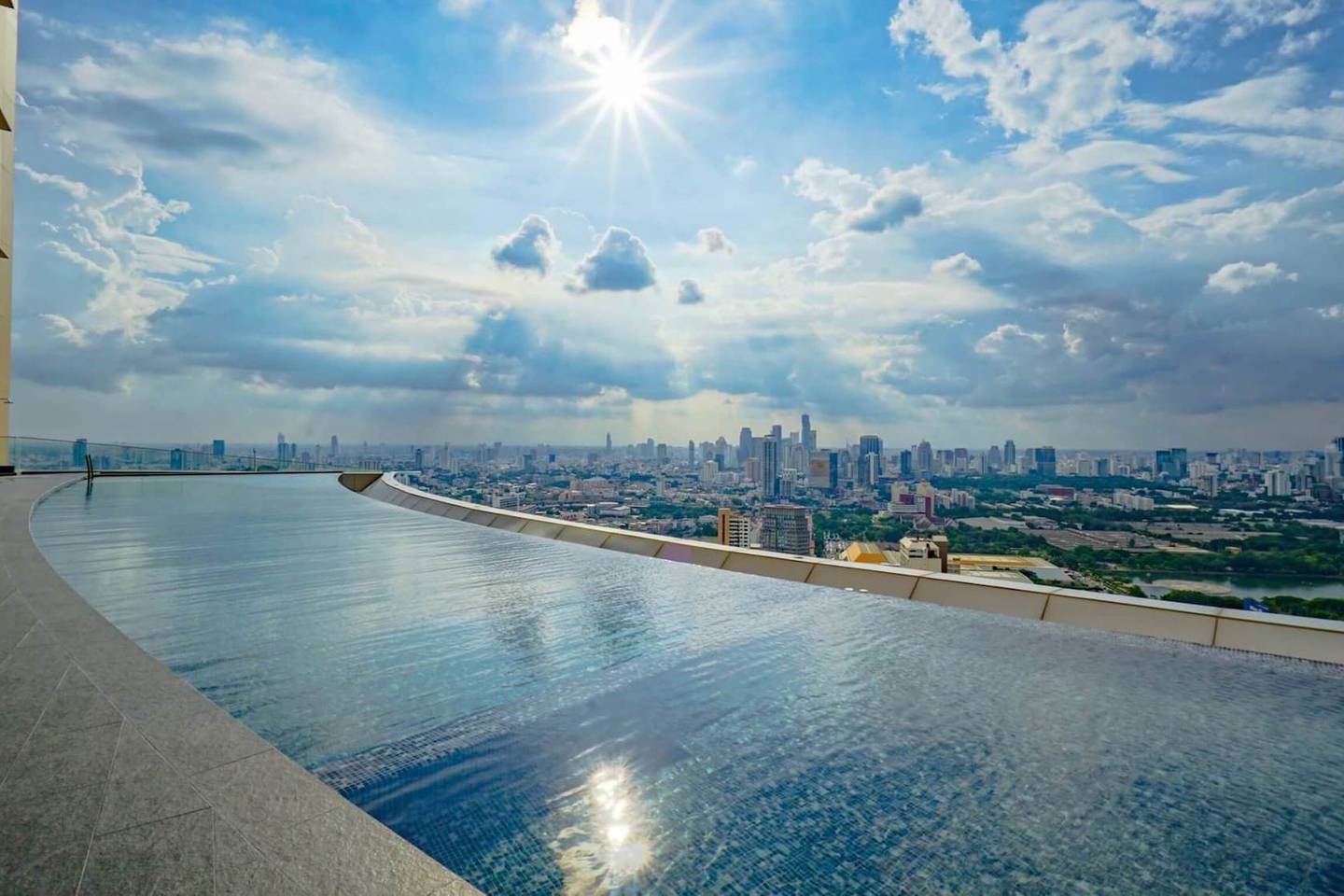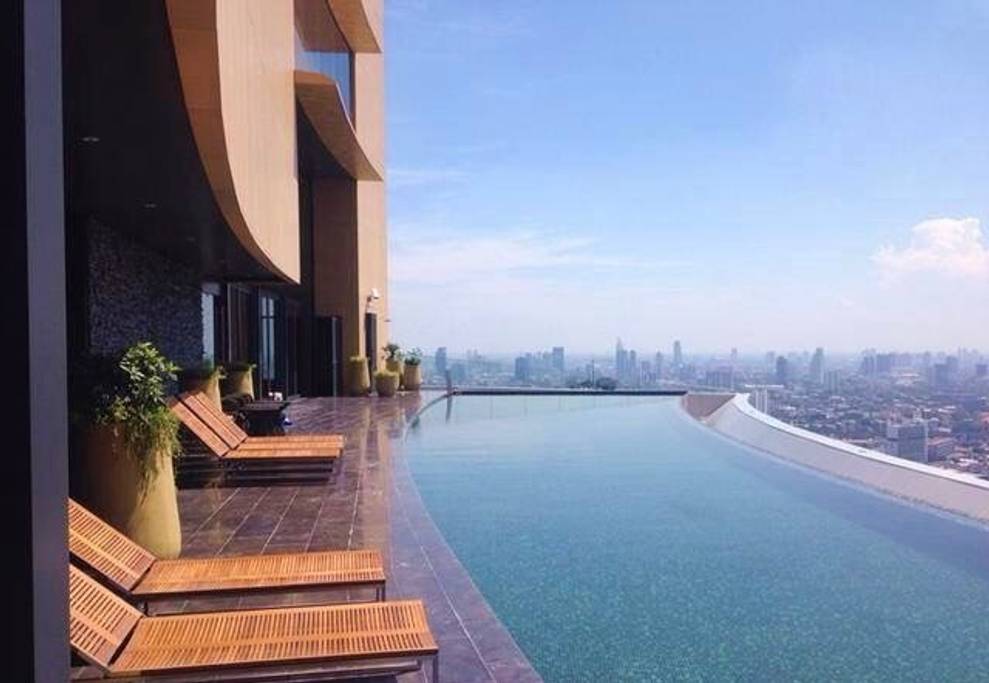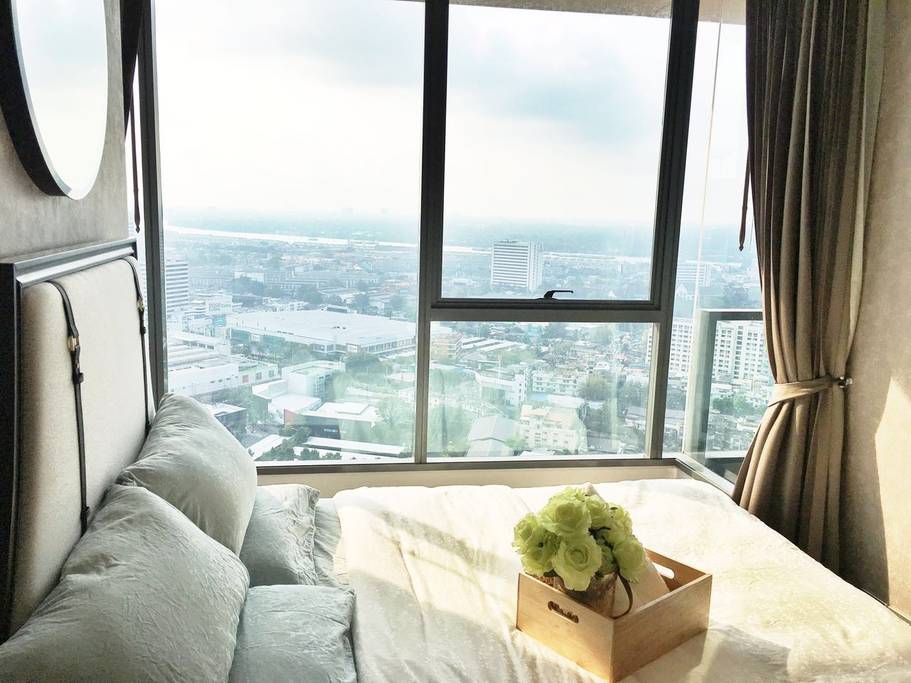 Part of the thrill of Bangkok's rooftop attractions is just their sheer wow factor and this one has it to spare. Imagine doing laps while looking out over the city from the 42nd floor of this fabulous condo (just be sure to pay attention so you don't just fall right off the the building!). Even if you're not necessarily a swimmer, this is the perfect place to just chill and look at the rooftops of Bangkok (you'll probably spot a lot of other pools!!!).
One of the five highest rooftop pools in the city, this Bangkok Airbnb offers an exceptionally stunning view of the city sunset. If you do need to buckle down and eventually get some work done, there's a library and a lounge area. And if all that swimming has you a little . . . wrinkly,       you'll be right near Benjasiri Park which is a lovely public park where you can practice yoga, get a snack, or just people watch!
5. Off the Grid – approx. $50 a night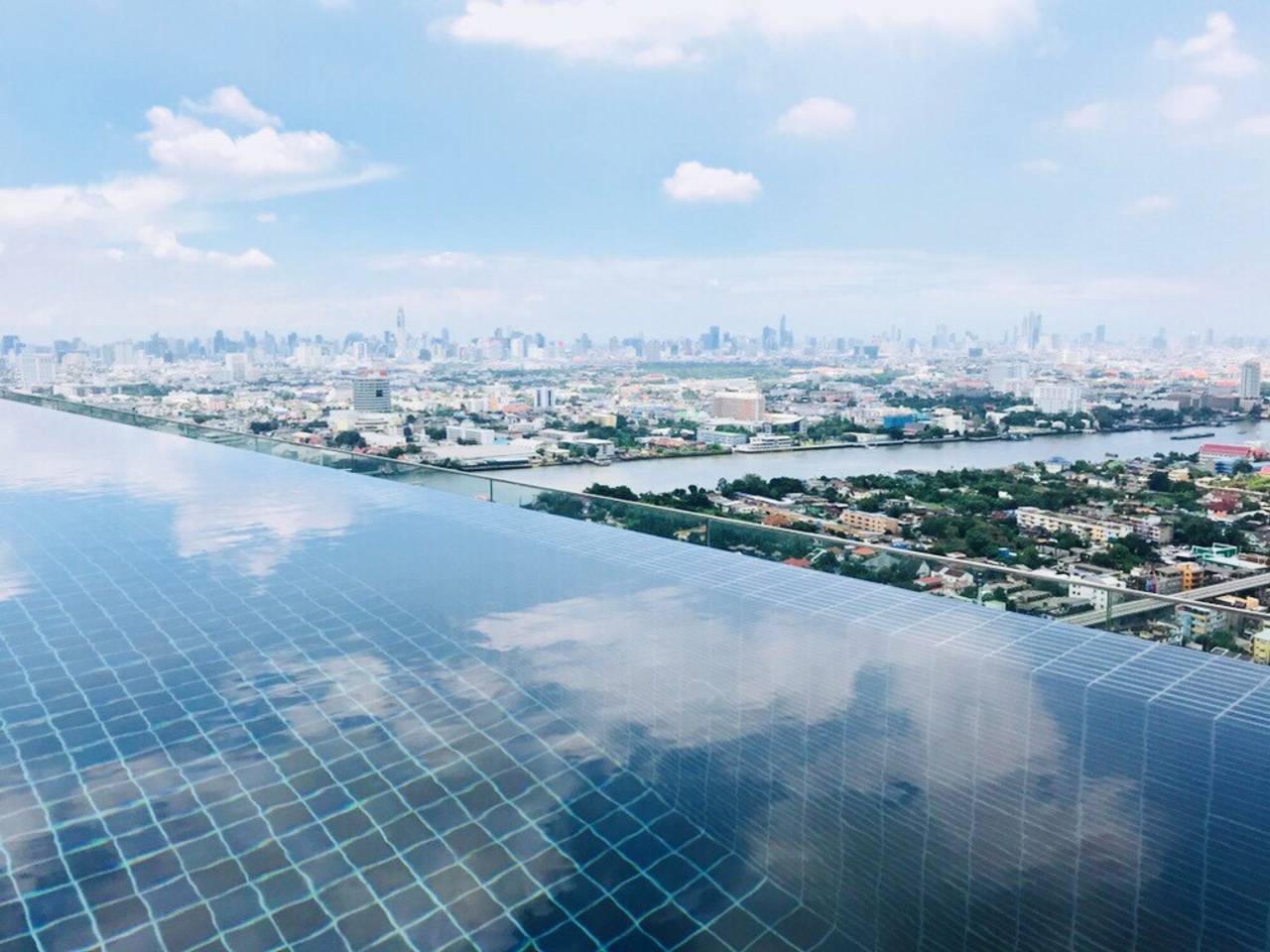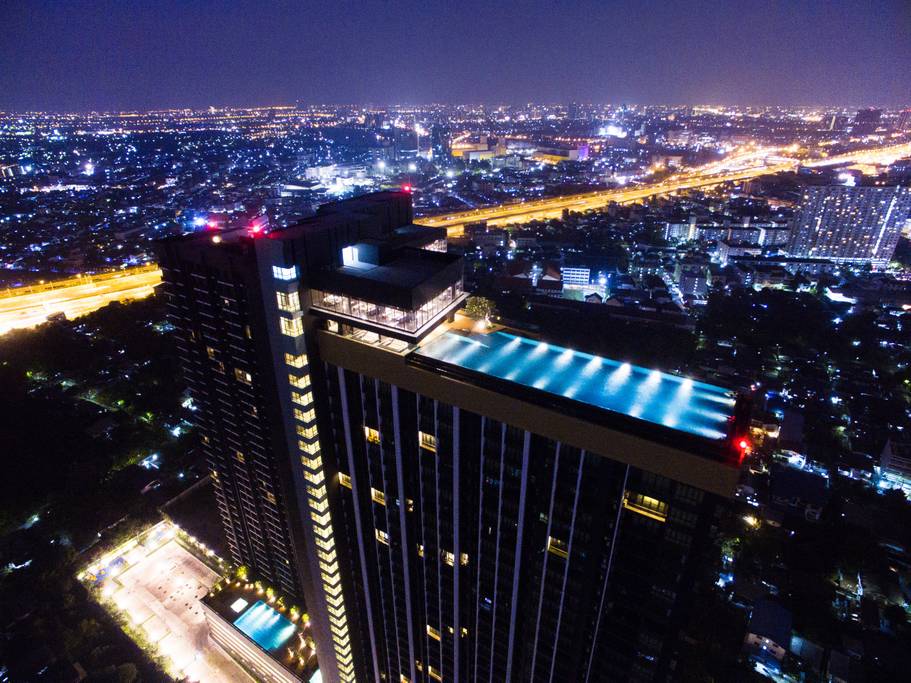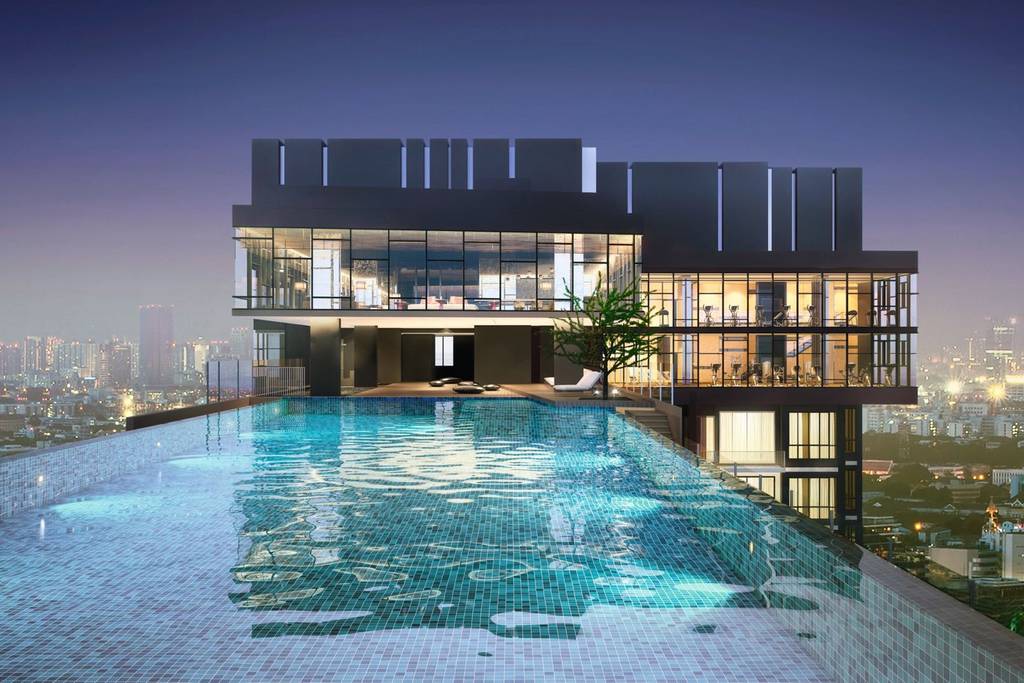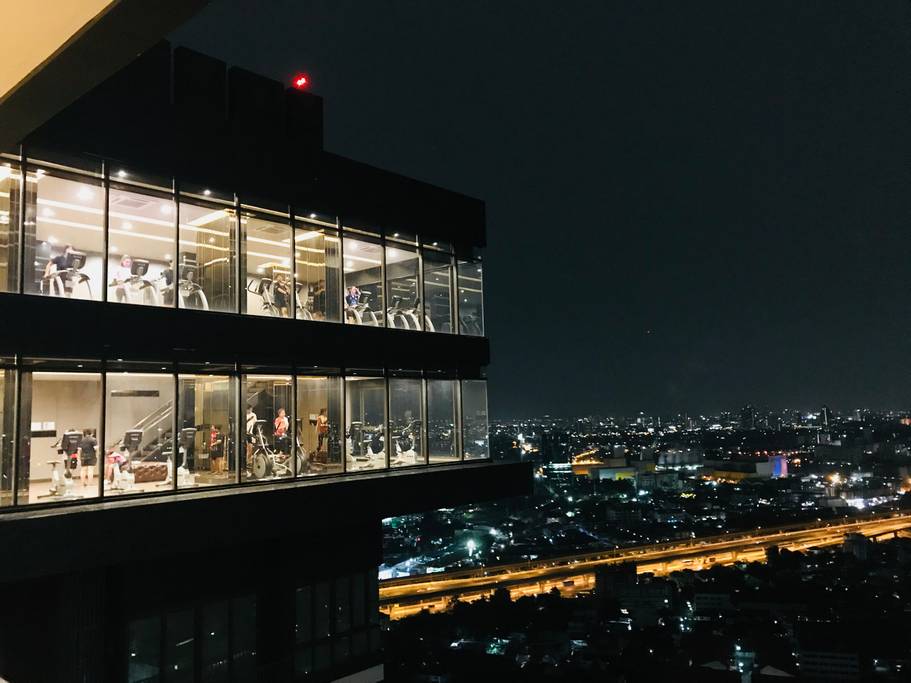 Well, we said the wow factor of the rooftop pools in Bangkok were amazing and this one proves it! Like something out of "Blade Runner," this insane pool on the 41st floor looks even more incredible from far away than up close! Although you'll probably be at the pool all night you'll be right near the night markets which is the perfect place to go for a midnight snack or even a little midnight shopping!
There's also great air conditioning which is crucial in Bangkok, a flat screen television, a full kitchen and a washing machine (which you'll need after those walks in the Bangkok humidity).
4. The Edge of Town – approx. $48 a night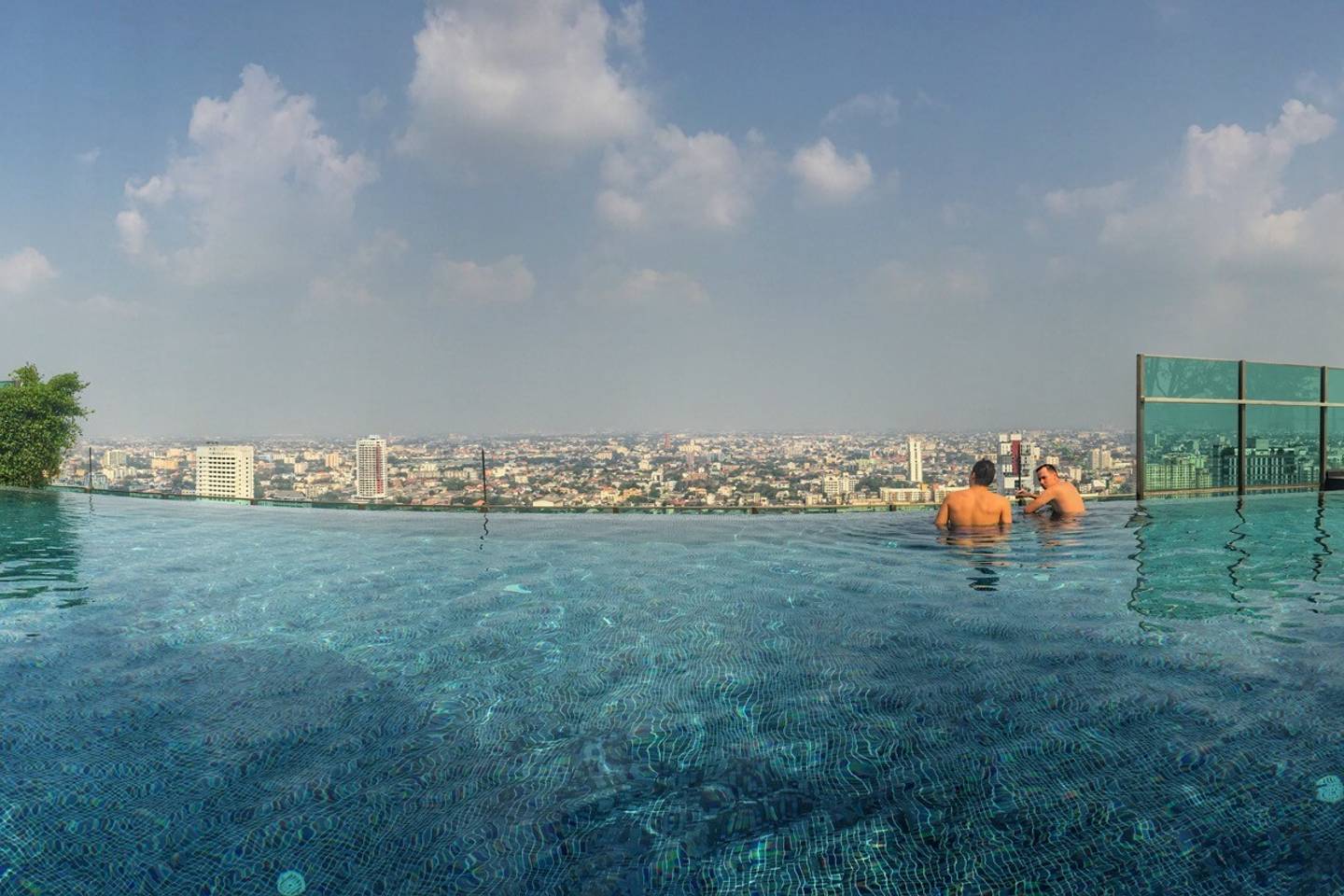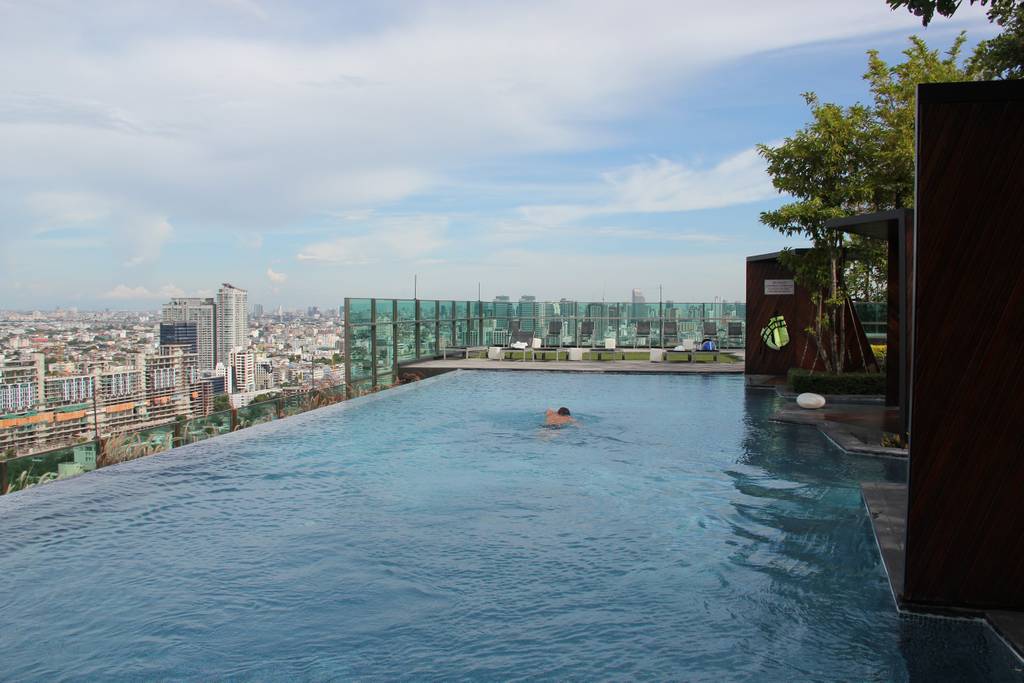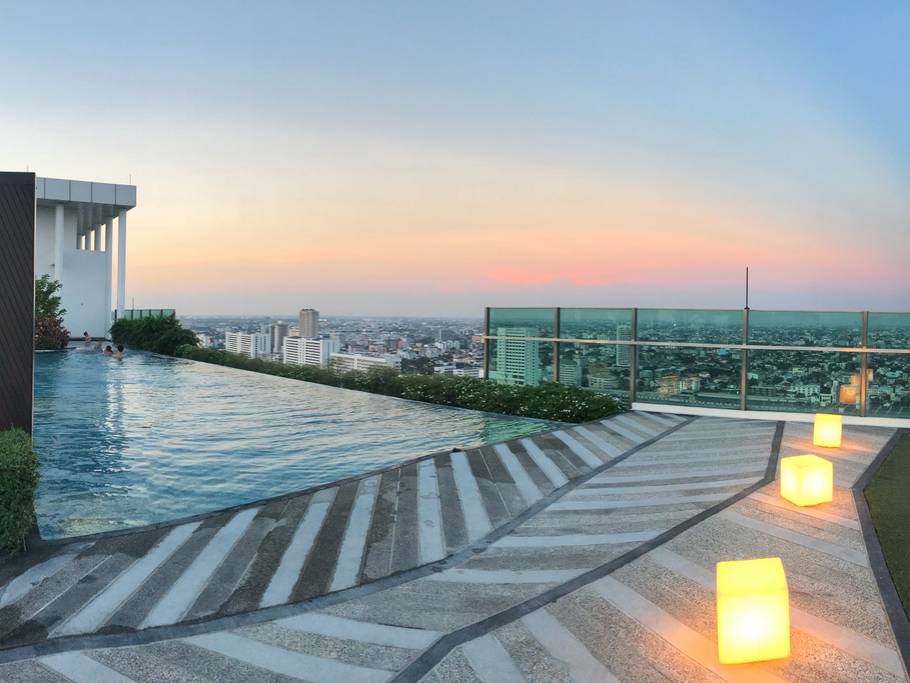 How's this for luxury: there's a garden on the ground floor and a garden on the roof! The host of this luxury Bangkok Airbnb actually won an Airbnb Bangkok Host Award 2015 so you'll be in great hands with this one (she was one of the first nine Airbnn hosts in Bangkok!). We'll get to the pool, but one more thing about this Airbnb host: she also teaches Thai cooking classes through Airbnb so if that interests you, be sure to sign up!
Sleeping four guests this place is ideal for a small family and is even situated near the Children's Discovery Museum and the Dusit Zoo! And about that pool: Not only will you have access to that incredible rooftop infinity pool with views of Bangkok, but you'll also have access to the building's gym! The room itself is on the 29th floor so you'll even have a great view without ever leaving the place!
3. Thong Lo and Behold – approx. $65 a night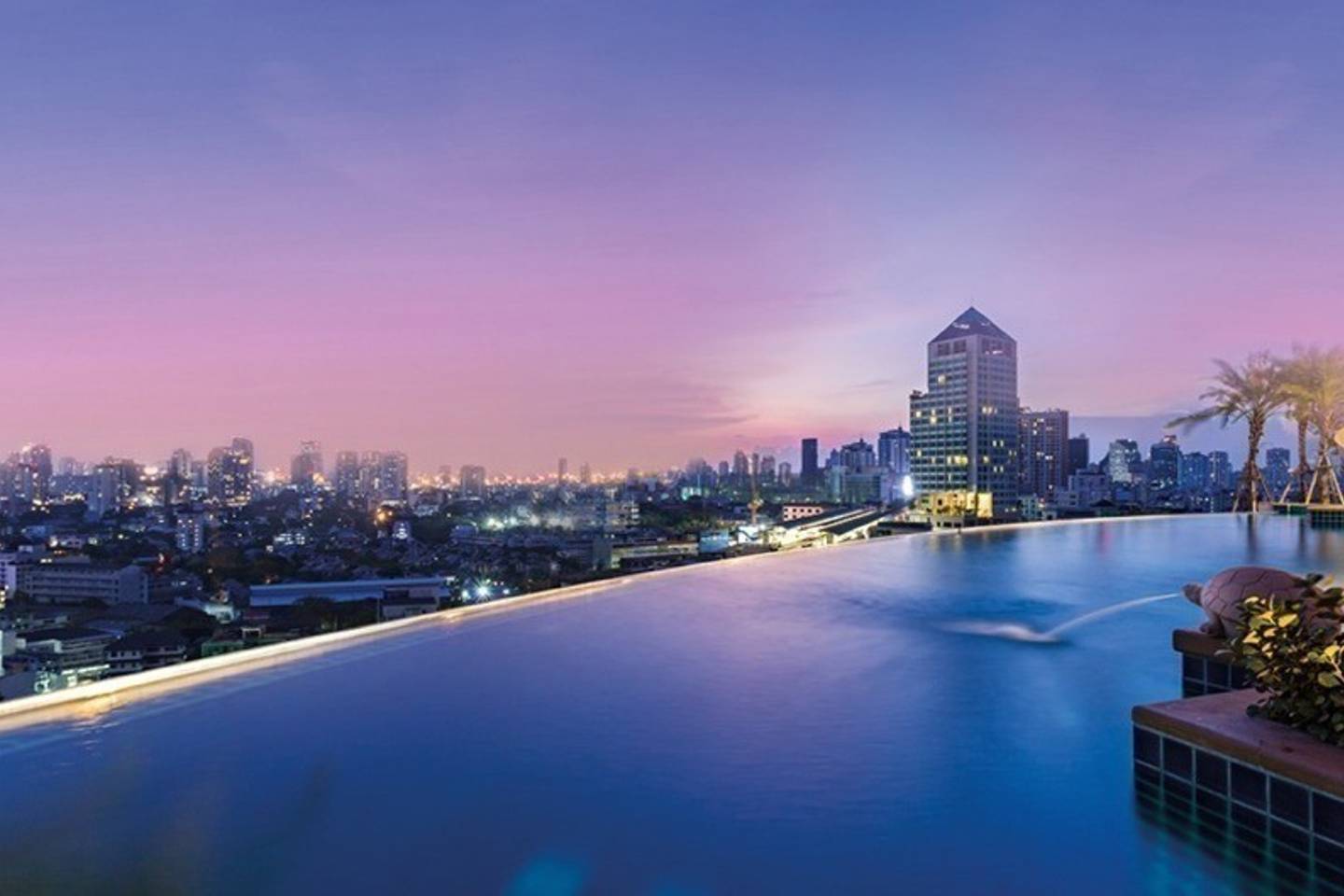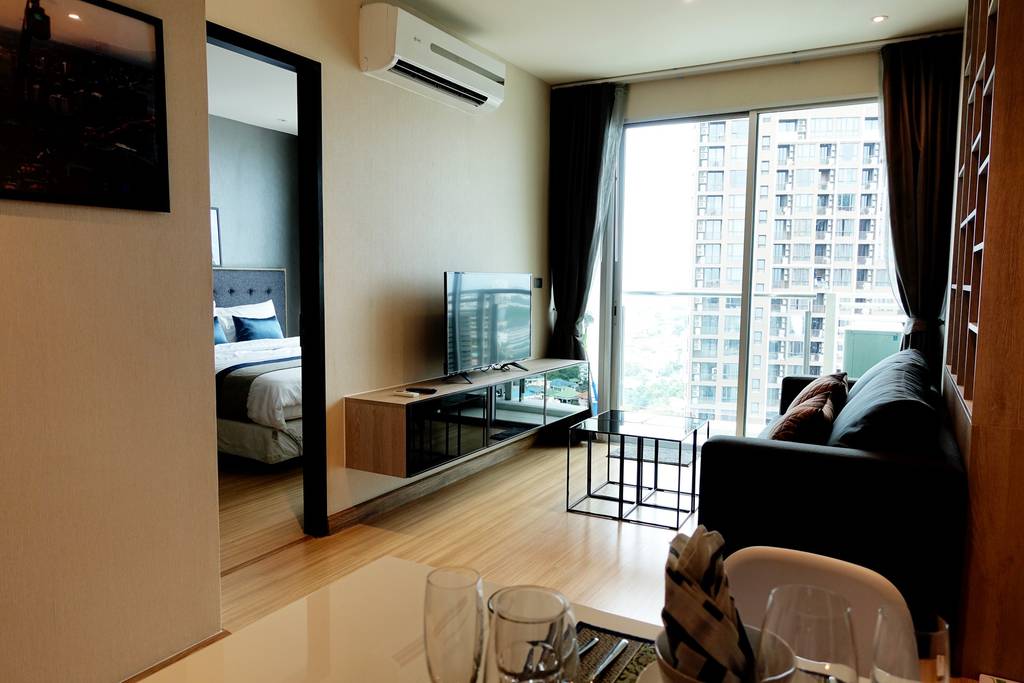 Combining the style of a hip, Thong Lo loft space with the glamour of an elegant condo, this is the perfect Bangkok Airbnb for someone who wants a little extra (or even someone who is a little extra). As a corner unit, this space gives you a little more to look at and has a lovely, airy feel as it's located on an upper floor.
Among the many amenities you'll find here are a small balcony, a state-of-the-art gym, a fully equipped pantry, a recreation room, and even a book store café! One of the best services, however, is the free tuk-tuk they provide to take you to the Skytrain stop just a short ride away! And, of course, there's that incredible rooftop pool with the stunning view of the city.
2. Wrap Artist – approx. $60 a night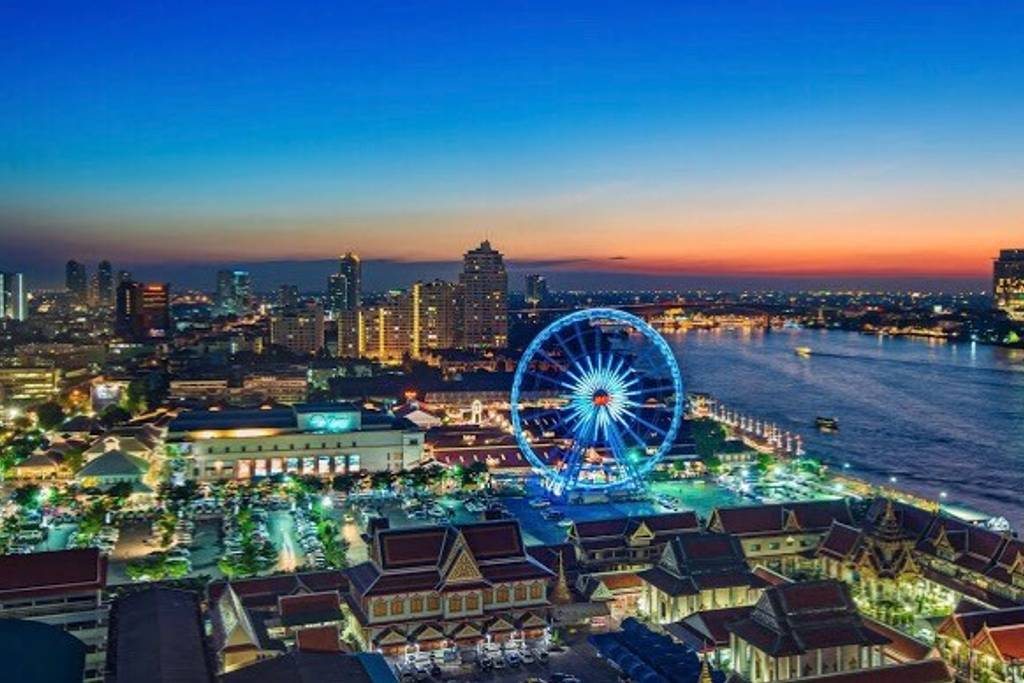 We know we keep talking about the wow factor of all these rooftop pools in Bangkok, but can you blame us? This one actually wraps around all 360 degrees of the building! Giving you a view of literally every single angle of the city! And guess what?
There's even a baby pool inside for the little ones who maybe aren't quite ready for such a dramatic pool. After you have that swim you'll want to work off your hunger at Asiatique, one of Bangkok's best night markets which is right downstairs! You'll be able to choose from dozens of restaurants and shops whether you're in the mood for fine dining or KFC. There's even a Ferris wheel there in case the view of the city just isn't from that pool!
1. Swing Time! – approx. $72 a night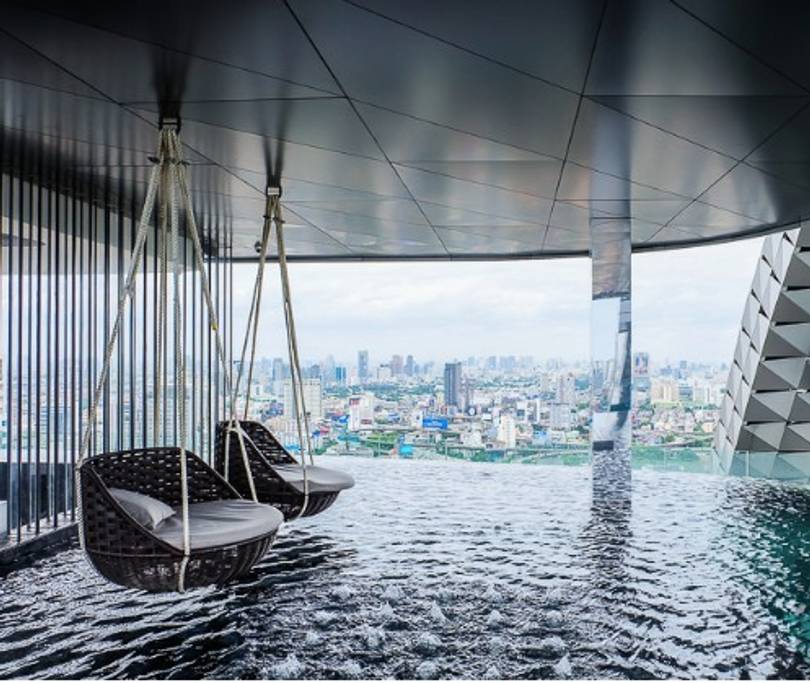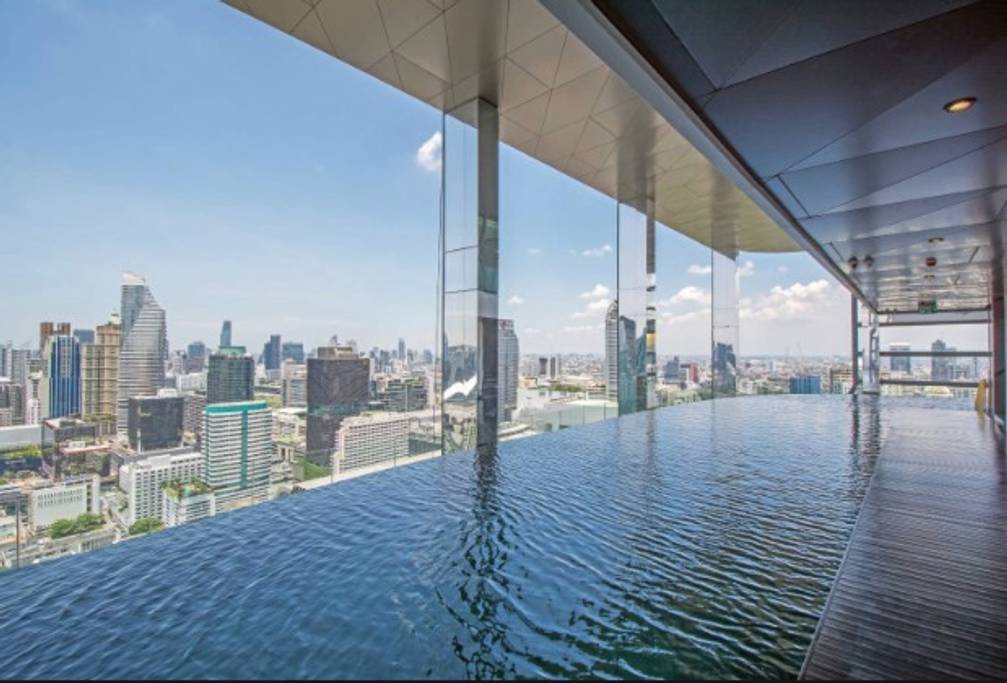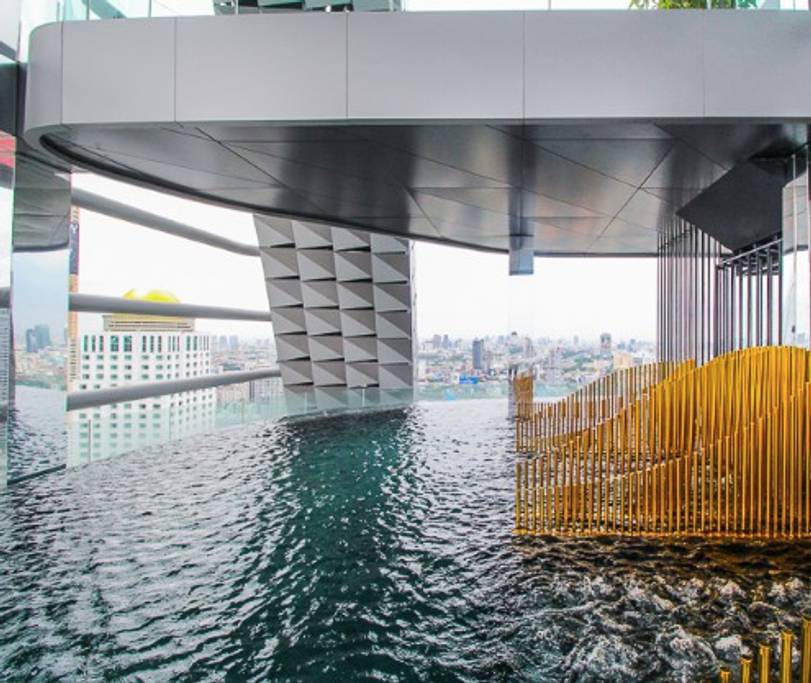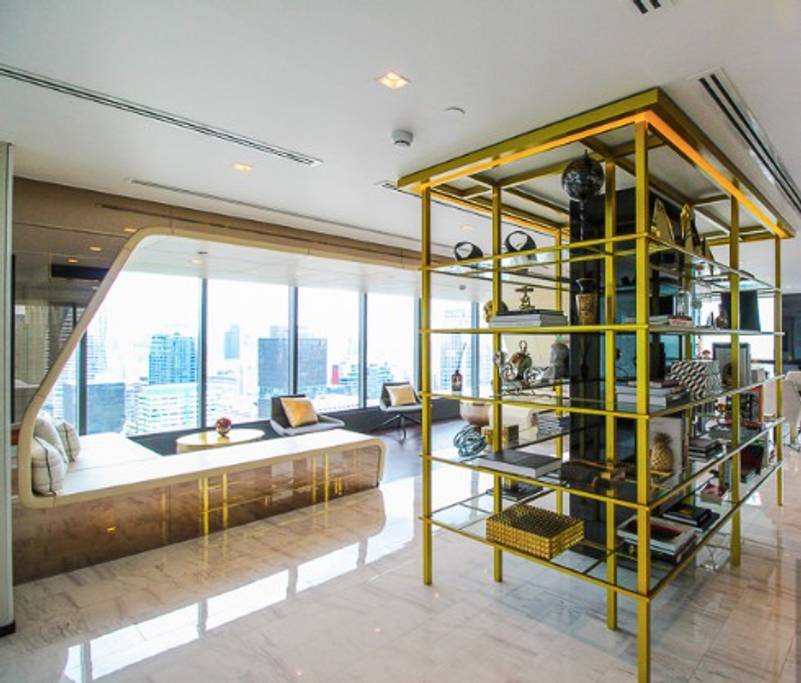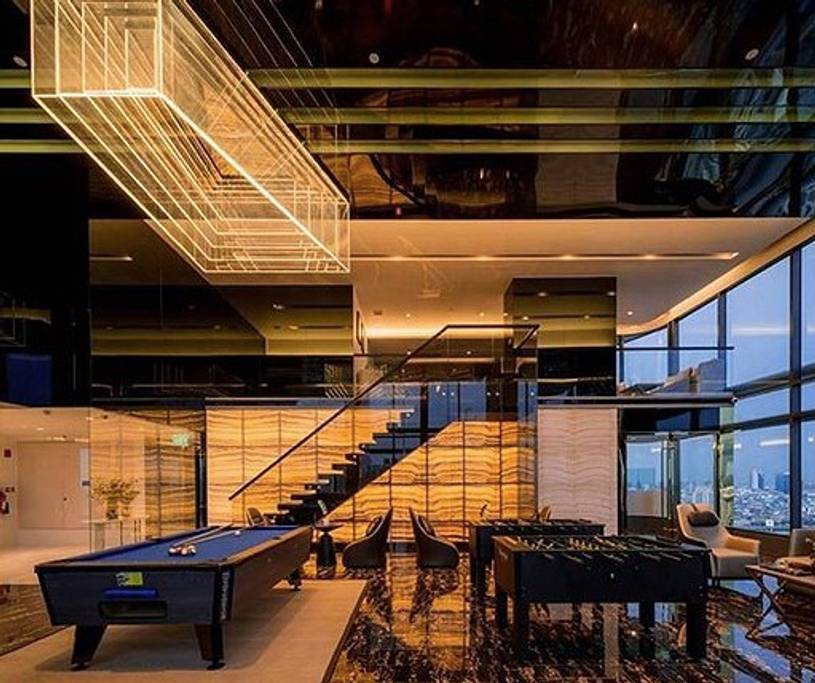 These swing chairs really put the idea of a pool lounger to shame! Giving you a full 360 degree view of the city, this Bangkok rooftop pool is just other level incredible as is the Turkish hot bath. In a building with a pool table, foosball, common areas, and baggage storage, this modern facility is a cool, hip place that will look great on Instagram!
Close to just about all Bangkok's malls including The Platinum mall, Siam Paragon and Central World, the Jim Thompson House, the outdoor Neon Market (for great nighttime shopping and street food), and the Bangkok Art and Cultural Center, you'll be super close to some great attractions. They'll even arrange a private rip to the famous floating market if that's not enough shopping for you!