Since its inception in 2001, Primavera Sound has evolved into one of Europe's premier music festivals. It now how two annual locations: the original event in Barcelona, Spain, and a newer incarnation in Porto, Portugal.
This year's Primavera takes place between 27 May and 2 June for Barcelona, and we're going to be focusing on the best Airbnbs for this event. The likes of Deerhunter, Courtney Barnett and Future will all be performing at Barcelona's Parc del Fòrum; but if there's one thing Primavera is known for, it's an enormous, diverse lineup. No matter your taste, there's a high chance one of your favourites will be playing a set.
These are the best Airbnb homes in Madrid!
8 Beautiful Airbnb Options for Your Trip to Barcelona
Here are the best places to stay during your time at Primavera:
A flat with a rooftop terrace for $225 per night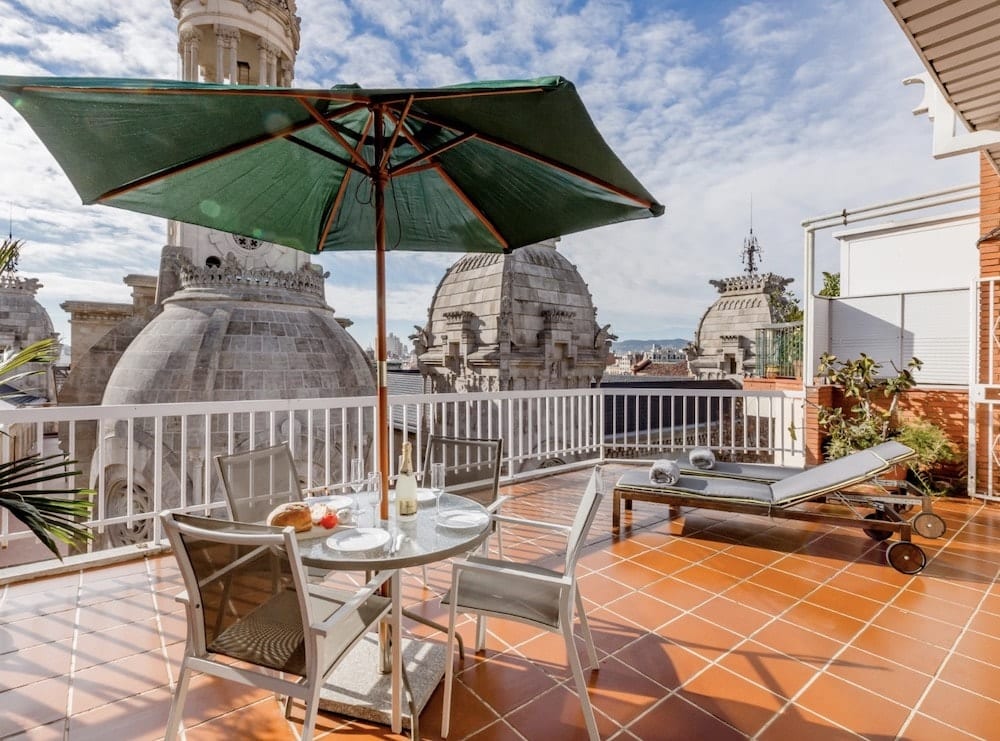 Relax right among the rooftops of Barcelona on the tiled terrace of this two bedroom apartment. Inside the living room, you can rest on the sofa beneath a painting by Picasso, while sunlight brightens the elegant Mid Century shelving and stone fireplace.
The master bedroom also enjoys access to the terrace as well as an ensuite bathroom. A kitchen and another bathroom will give you a chance to rejuvenate during Primavera, which is a short distance up the coast—a perfect excuse to stroll along the beach.
A true Barcelona home for $316 per night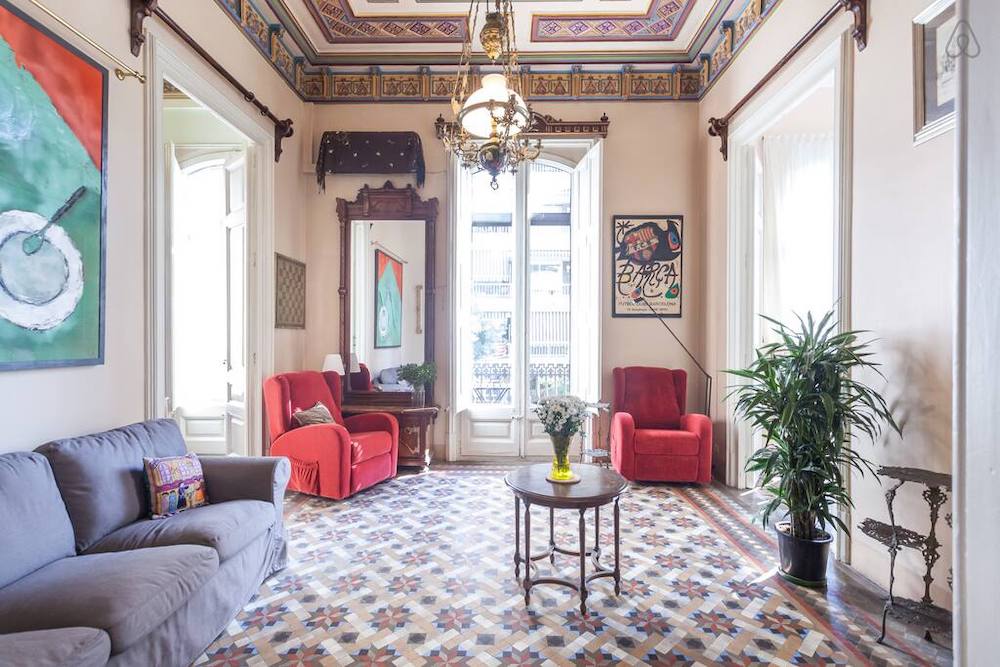 The pattern tile floors and ornate flourishes gracing the ceiling are unlike anything you'd find in a flat in another city. This is true Barcelona, and the tall windows, grand doorways and range of artwork all convey the city's rich history.
You could explore this house for a week and find a new detail everyday. But if you only want to focus on one thing, let it be the kitchen. The white and blue tiles that line the walls are a sight to behold, as is the marble sink.
This is a home of identity and heritage, and may well serve as welcome respite from the energy of Primavera.
Renovation at its finest for $283 per night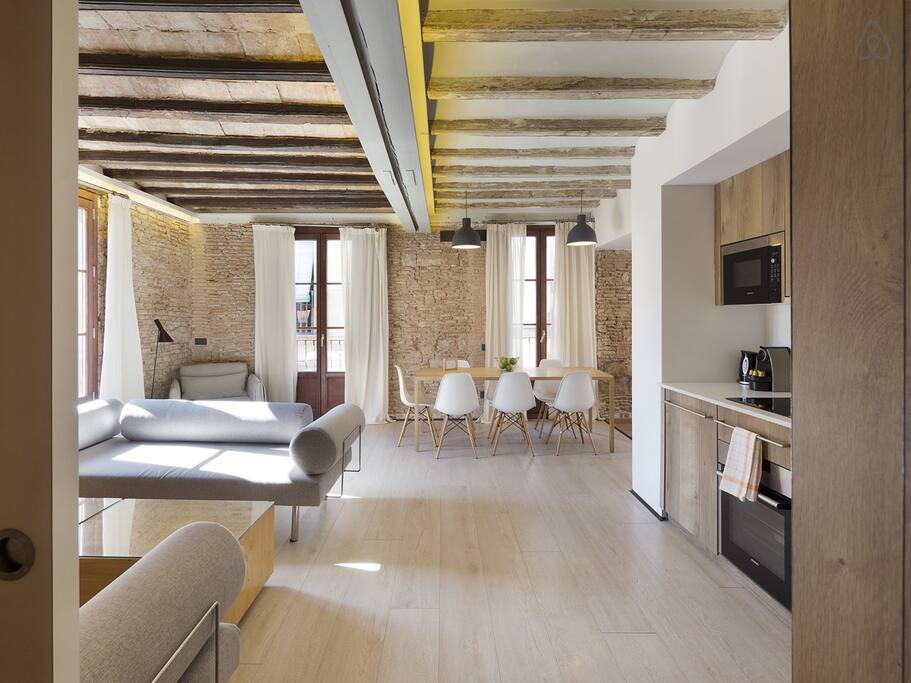 Looking at this home, you get the sense that it's one of those spaces that will cool you down when you're too hot and warm you up when you come in from the cold. Whoever renovated this three bedroom apartment is clearly a master of their craft, evident in the hardwood floors, neutral color palette, fine cabinetry and the original wooden beams spanning the ceilings.
The small bedrooms, typical of Barcelona, feel expansive due to whitewashed walls and the efficient use of space, while the bathrooms are worthy of a spa. Sliding doors allow you to shift the form of the apartment, creating a home that is at once open and cozy.
It also comes with a minibar, which is certainly a welcome addition.
A bright, open home for $270 per night
Enjoy the summer light of Barcelona as it floods this apartment through its unique wall of windows. A true sense of space comes from all this light, and is heightened by the open plan living area and kitchen.
The furniture is modern and the kitchen is fully-equipped and practical. The master bedroom is hotel worthy and ensuite, and an additional bedroom, with two beds, and a second bathroom make this home fit for five people who want a little luxury along with Primavera.
The apartment is right in the heart of the city, and close to the beach.
An apartment with a rooftop pool for $247 per night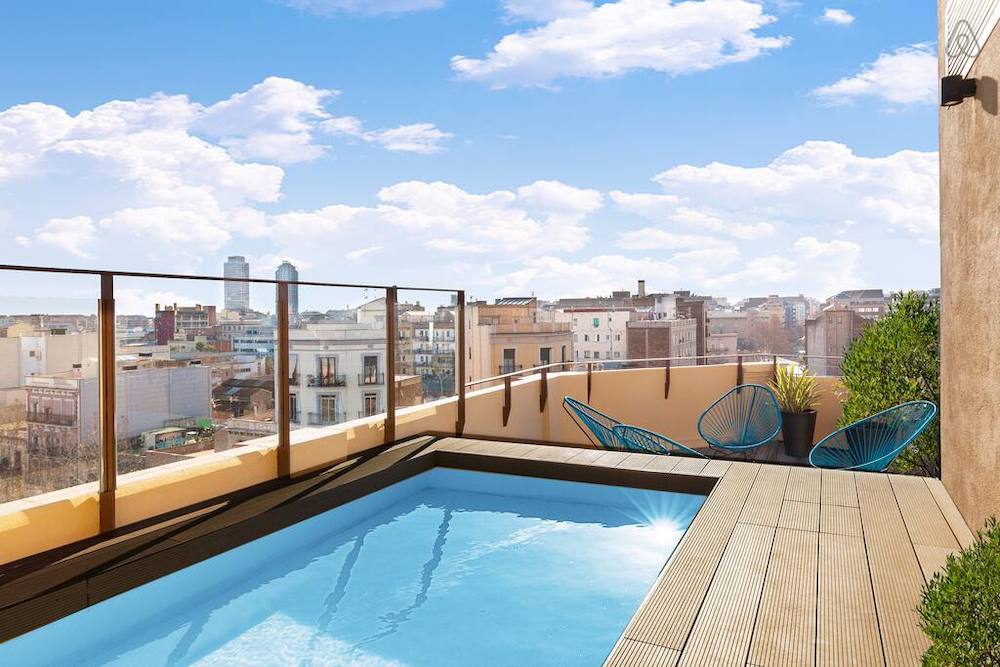 Seeing as the beach is right there, you may think a rooftop pool unnecessary. Well, after a day at one of Europe's biggest music festivals, a glass of cava in your own pool might feel more tempting than you think.
Along with this uncommon aquatic feature, there's a rooftop deck, an elegantly appointed interior and pretty tiled floors throughout the apartment. There are modern amenities in the form of WiFi and air-conditioning, and a compact yet practical kitchen.
The apartment is a 10 minute walk to the beach, from where the Parc del Fòrum is only a little bit further north.