These are the best Airbnb homes in Chattanooga. The city of Chattanooga is located in southeastern Tennessee. It is set along the Tennessee River in the foothills of the Appalachian Mountains. Visitors come to enjoy the local history and world famous aquarium. Visitors enjoy the popular Incline Railway,  Lookout Mountain, Ruby Falls waterfall and Rock City, which features sweeping views, sandstone formations, and gardens. Point Park, also on Lookout, marks the site of a Civil War battle now honored at the Battles for Chattanooga Museum.
Check out the 5 coolest Airbnb rentals in Knoxville, Tennessee!
These are the 8 best Gatlinburg Airbnb homes!
Check out our picks for the best Airbnb homes in Chattanooga here:
8. A Huge Airbnb Chattanooga Retreat for Large Gatherings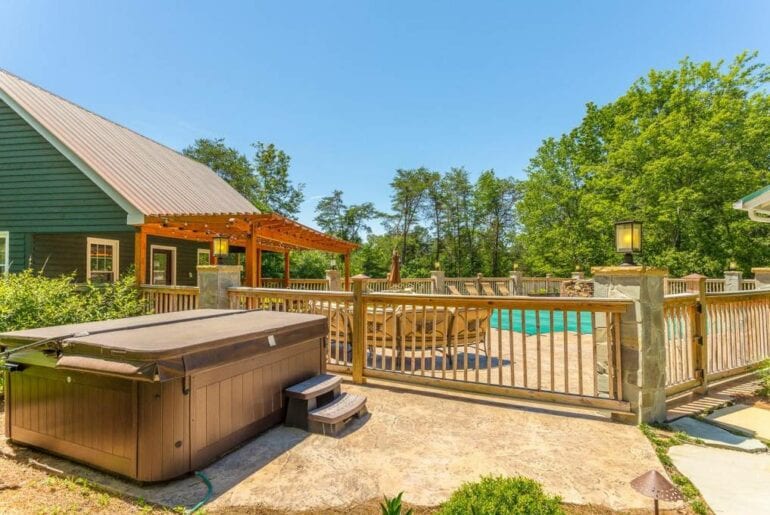 This large property can accommodate groups of up to 28 people making it perfect for reunions or family events.
Features banquets room and a large new deck over a pond area. This high-end property, boasts a large saltwater pool, numerous patios , and a private hot tub. Relax in the hot water swimming pool or sit in one of the many outdoor areas. $1253 per night.
7. A Large Log Cabin with picturesque Views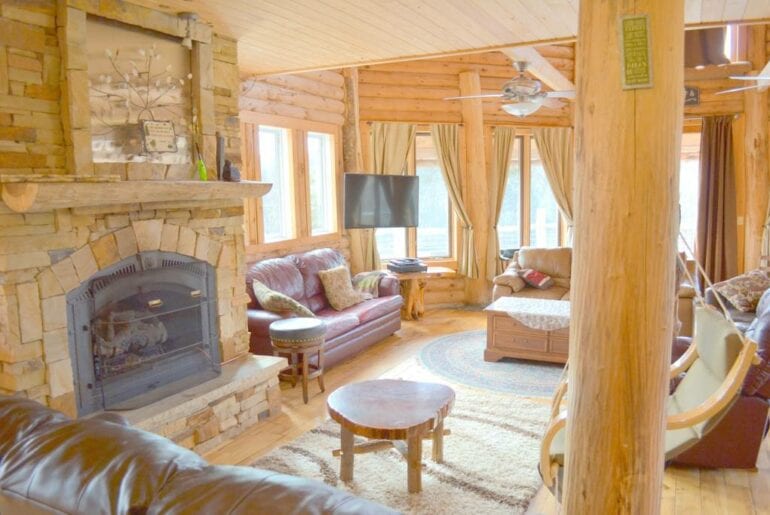 This magnificent Chattanooga Airbnb log cabin is nestled in a cove and has gorgeous mountain views. Perfect for family reunions and corporate retreats. The Lodge Of McClemore's Cove has been featured on the Bravo Channel, The Up Network, and Southern Lady Magazine. Connect with nature and watch the deer, or watch the sunset over Lookout Mtn.  Hike to the nearby creek, or visit the 80 foot waterfall. $925 per night. 
6. A Waterfront Estate on the River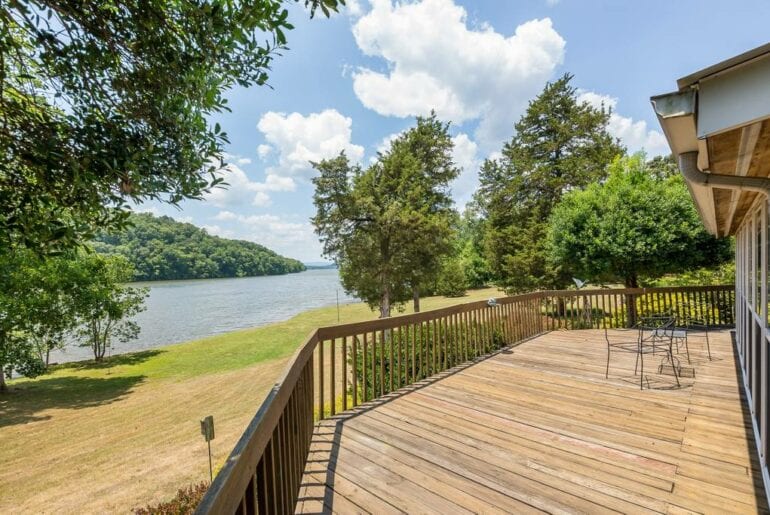 The Hiwassee Hideaway is a secluded 14 acre waterfront estate overlooking the Hiwassee River. The property i surrounded by miles of unspoiled, protected forest, and is a golfer's and outdoors man's dream. This getaway allows for endless activities, hiking, fishing, canoeing. Great for weddings, reunions, and corporate retreats. $900 per night.
5. A Luxury Southern Mansion on a Private Estate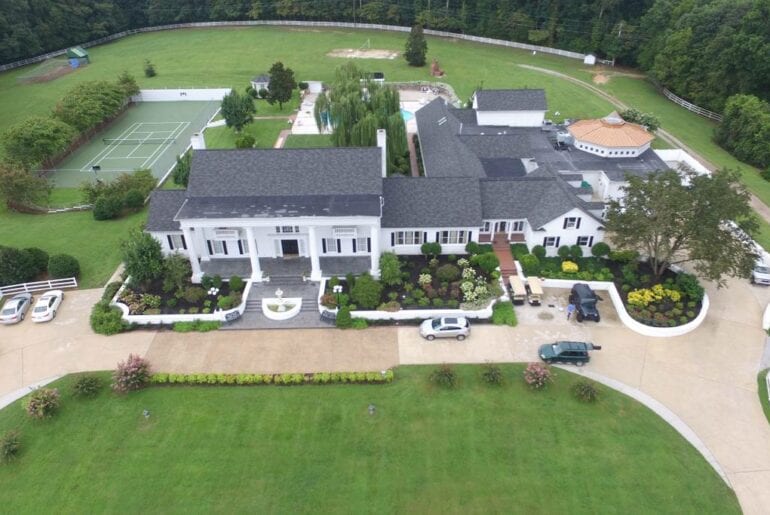 This beautiful and luxury home is Bell Mill Mansion located on a private 32 acre estate but just a short distance from downtown Chattanooga. This luxurious Chattanooga Airbnb property features a tennis court, a resort style pool, and a world class private spa. There are various outdoor games areas,a track and tennis court, a volleyball court, grill and fire pit. Perfect for weddings or large group events. $2084 per night.
4. A Peaceful and Quiet Lakehouse with Private Dock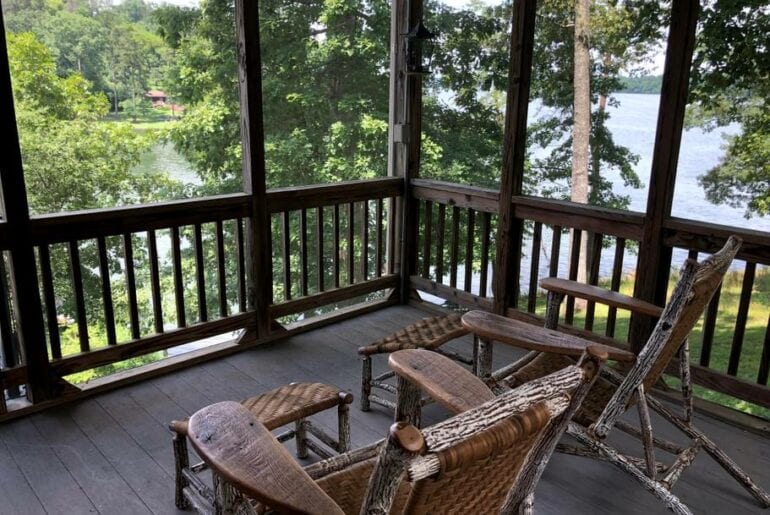 A beautiful lake house located close to downtown Chattanooga. Features access to a private dock at the back of the house with a deck to swim and fish from. Relax and enjoy the views across the peaceful lake from this quiet and serene home. The property can accommodate up to 10 guests so is a perfect getaway for larger families and groups. $685 per night.
3. A Large Home with Private Hot Tub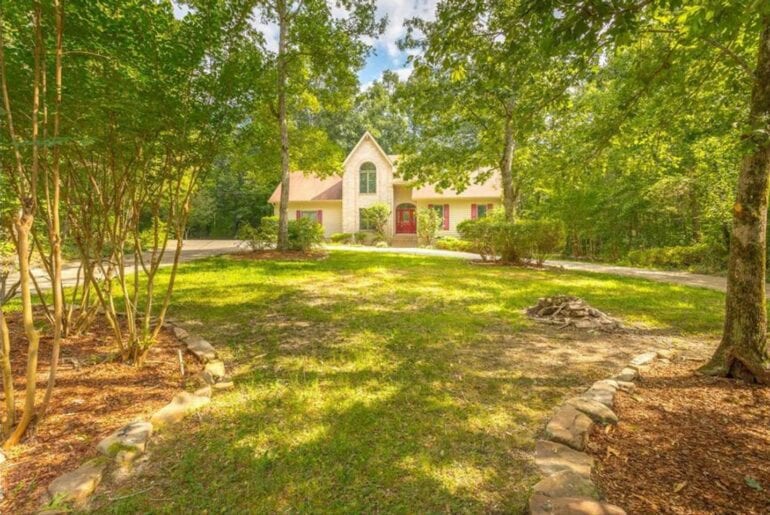 This large home features everything you could need to enjoy a private country retreat. This large and open Chattanooga Airbnb home has plenty of space, a private hot tub and a huge deck that's great for entertaining. Situated on its own private acreage this home is close to many area attractions. Ruby Falls, Rock City, and downtown Chattanooga are all just a short distance away. $656 per night.
2. A Mountain home with amazing Views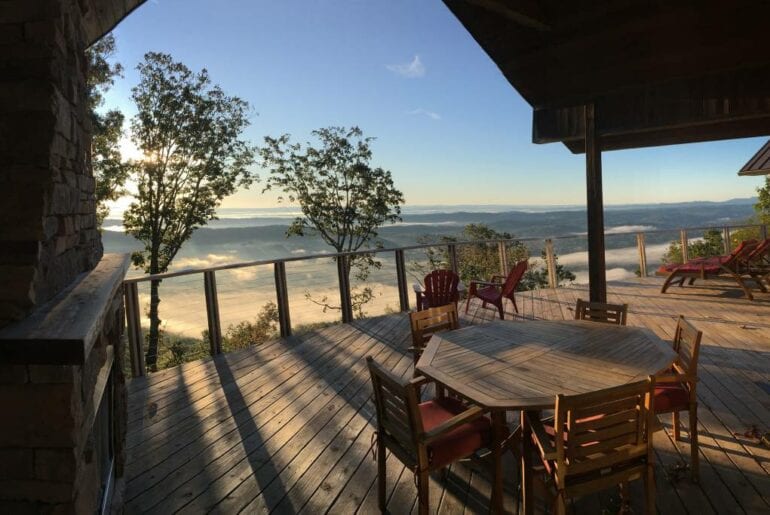 This new home is located on the brow of Lookout Mountain beside the world famous Rock City just a short way from downtown Chattanooga. This home boasts an 800 square foot deck that overlooks the valley floor. Walk to the 100 foot waterfall located on the property and enjoy hiking the private trails that lead you along the bottom of the cliff, or just relax in the large soaking tub. $440 per night.
1. A Modern and Environmentally Friendly Home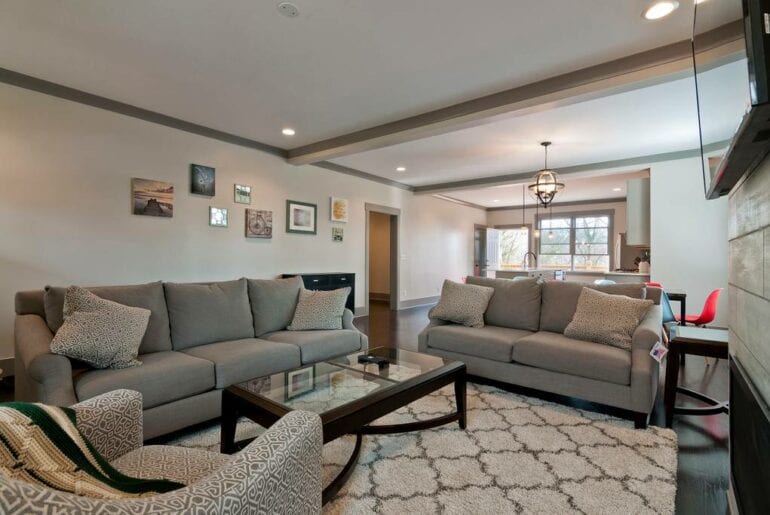 This Chattanooga Airbnb property is a brand new home that is built with green, allergen free and all made in USA materials. Located close to the Walnut walking bridge and downtown Chattanooga. Spend a day at the aquarium or explore the museums. Enjoy relaxing at the end of the day in this environmentally conscious and modern home. $425 per night.