These are the best Airbnb homes in Dallas, Texas! Deep in the heart of Texas, you'll find lots of Airbnb Dallas properties ready to welcome you with a warm touch of southern hospitality!
The city of Dallas has become one of the most popular urban destinations in the South, boasting a thriving arts community, acres of trails and green spaces like Klyde Warren Park, loads of fascinating history, and an exceptional live music scene, particularly in the hip Deep Ellum neighborhood.
These are the 8 best Texas Hill Country Airbnb homes
The 6 best Airbnb homes by the beach in Galveston, Tx
When it comes to choosing an Airbnb Dallas rental for your next trip, you'll find sleek condos with skyline views, unique tiny houses, sprawling mansions, and even a treehouse or two! We've rounded up a few of the best Airbnbs in Dallas below.
8. Architect-Designed Townhouse In Trendy Knox/Henderson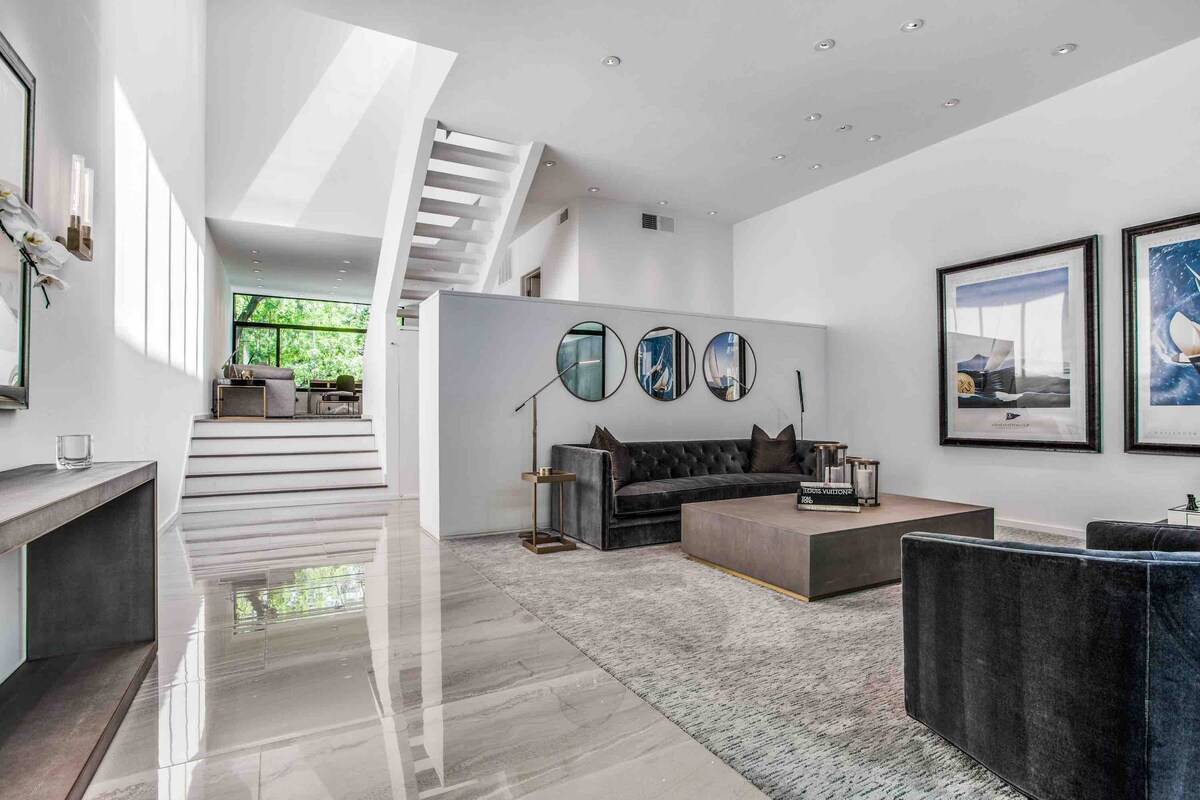 If you need a romantic Airbnb Dallas property for a glam couples' getaway, this is the place for you. Located in the popular Knox/Henderson neighborhood, this architect-designed luxury townhouse is available from $150 a night. Go ahead and leave the kids at home for this one! Indulge in some of Dallas' best restaurants nearby then return to enjoy the incredible master suite with a spa soaking tub.
7. Industrial Downtown Condo With Pool, Gym, And Theater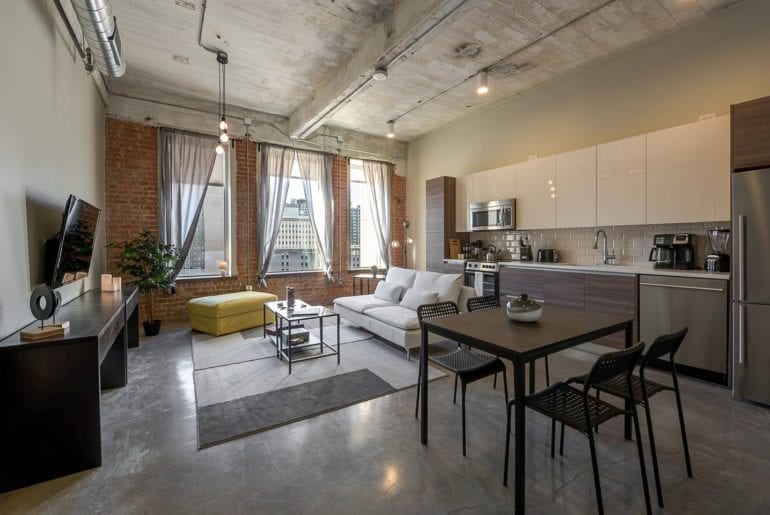 It doesn't get much more central than this! Located right in the heart of Downtown, this Airbnb Dallas with pool is only a 5-minute walk from the light rail at St. Paul Station. Gorgeous, industrial design and loft-like ceilings make this 1-bedroom condo feel open and spacious. Available from $80 a night, the building's fantastic amenities include a pool, large gym, movie theater, and game room.
6. Unique, Shipping Container Tiny Home In Artsy Cedars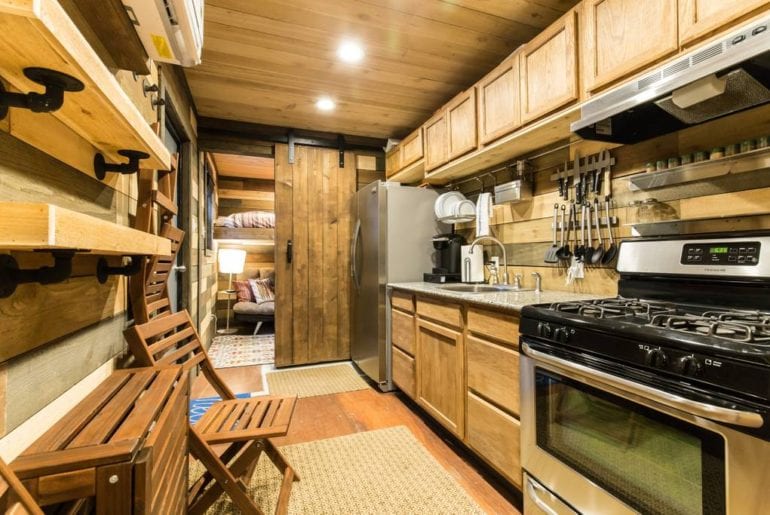 You won't be feeling blue in this unique, renovated shipping container in the Cedars! One of the coolest tiny house Airbnb Dallas properties we found can be booked from just $49 a night. This cozy home has been smartly designed to maximize every inch of the space, creating a designated master bedroom, an additional lofted bed over the living room, and a well-equipped, eat-in kitchen with full-sized appliances. Best of all, you're right in the Cedars, close to Downtown, nightlife, and many great restaurants.
5. Million-Dollar Mansion With Private Pool And Backyard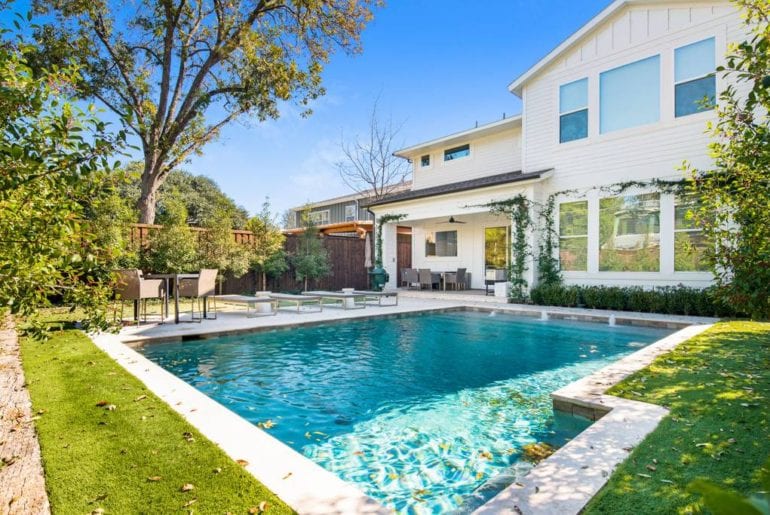 If it's size you're after, look no further than this sprawling Airbnb Dallas mansion property in Knox/Henderson. This million-dollar home with private pool and backyard is great for groups of friends or fits the whole family from $330 a night. There's space for up to 12 guests in this gorgeous, designer home, located in a prime neighborhood bordering Knox/Henderson and Greenville.
4. Secluded, Designer Treehouse In Little Forest Hills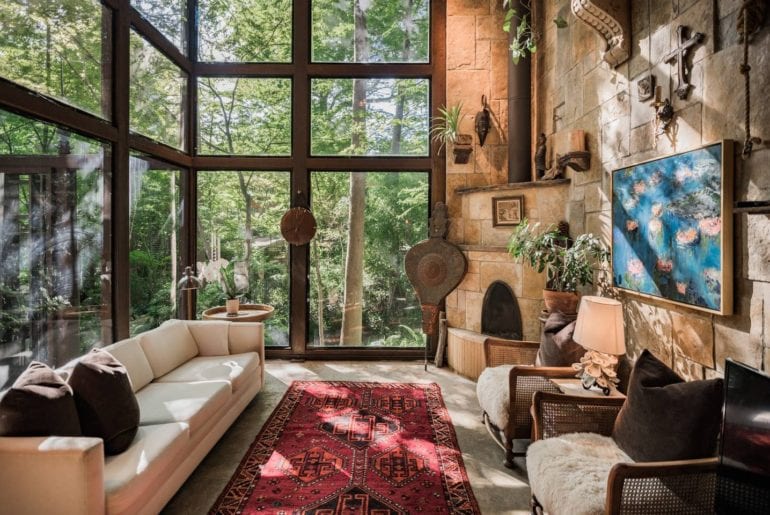 To escape the city altogether, this is the best Airbnb Dallas treehouse property available. This stunning, designer treehouse in Little Forest Hills is a peaceful, secluded retreat, surrounded by a babbling brook and lush forest of maple trees. Starting at $230 a night, this magical Dallas treehouse Airbnb is perfect for a relaxing weekend getaway, but still easily accessible to Downtown.
3. Feel Like A Kid Again In This Nostalgic Lower Greenville Gem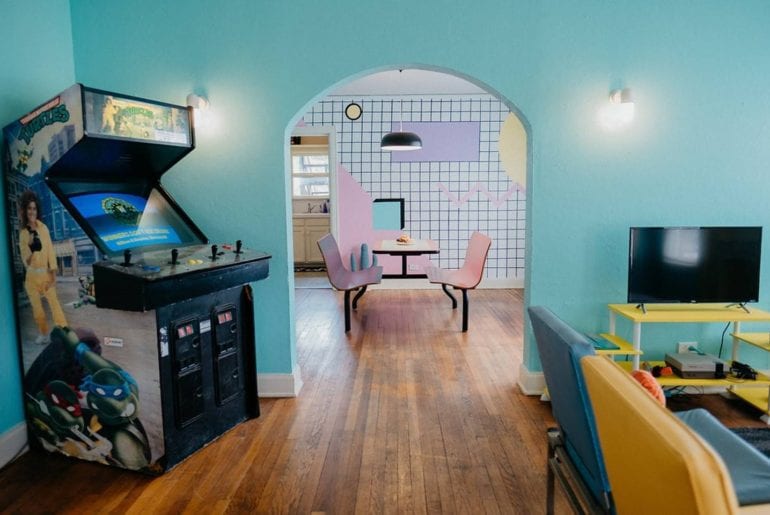 We may have just discovered the most fun and quirky Airbnb Dallas property ever! Featured in Travel + Leisure, this colorful, 80s-style home in Lower Greenville is definitely not short on nostalgia. Kids (and kids at heart) will love the funky decor, arcade games, and included daily cereal buffet. From $87 a night, this Airbnb accommodates up to 6 guests, making it a great option for an easy, fun weekend getaway with friends or family.
2. Modern Downtown Condo With Views And Resort-Style Rooftop Pool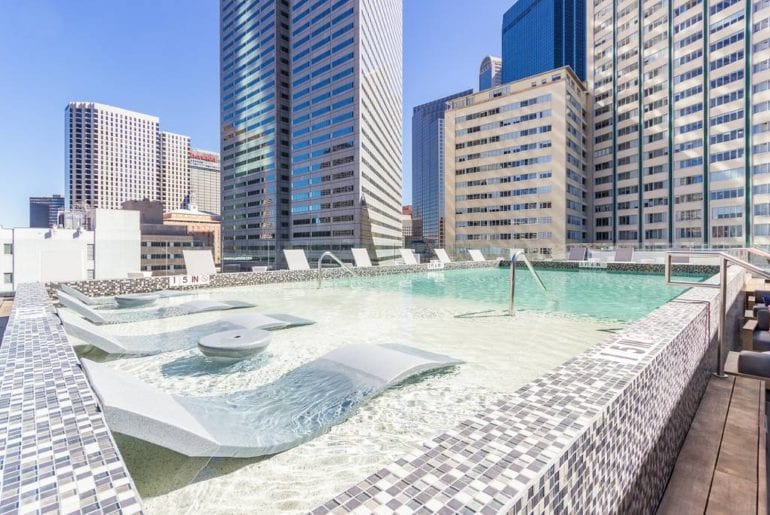 An excellent option for a business traveler or couple, this modern Downtown condo is right in the center of it all. Starting at $76 a night, this one-bedroom condo is superbly positioned near the main train station, business district, and plenty of restaurants. The building's amenities are also top-notch, making this one of the best Airbnb Dallas rooftop pool properties, with sweeping views of the Downtown skyline.
1. Original 1920s Shotgun Bungalow Turned Rustic Tiny House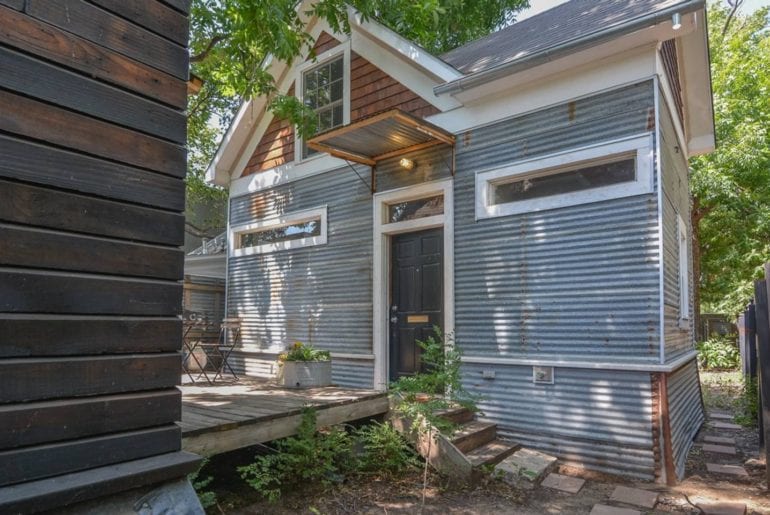 Located in the artsy, developing Cedars neighborhood, this original shotgun-style bungalow from the 1920s has been transformed into a modern tiny house with rustic charm. Beautifully remodeled using many original materials, this sweet Airbnb Dallas tiny house property has a double bedroom, bathroom, living room and full kitchen downstairs, plus a bonus loft bedroom with a vintage typewriter. Stay at this unique rental from just $78 a night.