For under $250 a night, you can still find a stylish Denver Airbnb to suit your needs, from cool urban lofts to charming row houses. If you haven't made it to Denver yet, what are you waiting for? One of the coolest cities in the US is also one of the most underrated. Discover hip neighborhoods bursting with colorful street art and dotted with craft breweries sitting cozily alongside neat, elegant blocks of stately Victorian mansions and renowned museums. For travelers in the know, Denver is quickly becoming an "it" destination, easily reached from many other hub cities and offering a wide variety of activities to entertain and delight. Check out our picks of Denver's finest Airbnb options:
Want to stay somewhere a bit more high end? Check out some luxury Denver Airbnb properties right here!
We've also made some affordable picks for Airbnb properties in the Denver area too, take a look here.
Need to know the best area in the city? Check out our Denver neighborhood guide here.
9. A Quirky, Three-Story Artist Townhouse With Roof Deck
Described by its owner as a "living art gallery," this quirky, three-story LoHi townhouse is a fun, colorful space that doesn't take itself too seriously. If irreverent, modern art makes you blush though, this may not be the place for you! From $232 a night, a private, rooftop deck with city skyline views is a major bonus, and the hip Lower Highlands location is within easy walking distance of great bars, cafes, and much more.
8. A Former Baker District Photo Studio Turned Hip, Urban Loft
Originally built in 1956, this incredible building housed the Birlauf & Steen photography studio for decades. The new owners have lovingly renovated the space, creating an inspiring, urban loft with cool architectural details like exposed beams and original wood ceilings. For $155 a night, this 3-bedroom loft is located in the Baker District, steps from the Mayan Theatre and South Broadway's Antique Row.
7. An Epic Family House With Amazing Mural And Outdoor Spaces
Bringing the entire family with you to Denver? You'll want to check out this renovated, spacious family house in the historic Highlands neighbourhood. Stay within walking distance of Mile High Stadium and close to Lower Downtown. From just $145 a night, this epic 5-bedroom home includes a surprisingly spacious backyard with BBQ, seating, and a show-stopping, original wall mural by a local artist. There are even vintage arcade games inside!
6. A Modern Highlands Town House With Private Rooftop and Skyline Views
The ultimate pad for a boys weekend in Denver, this four-story townhouse has a private rooftop deck with soaring skyline views, hot tub, dual tap kegerator, and cornhole. Located in Jefferson Park, you won't be far from the choice restaurants, bars, and clubs of nearby LoDo. Book the entire house from just $179 a night.
5. A Quirky Carriage House, Featured In Architectural Digest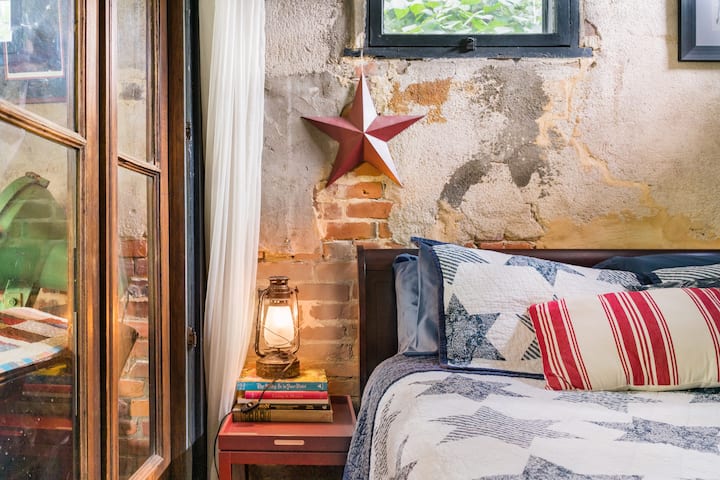 Concrete floors, exposed brickwork, distressed wood furniture create a cozy, homey feeling at this former horse stable turned quirky carriage house apartment. The owners have lovingly renovated the space, using raw materials to highlight the building's historic past while adding modern comforts like air conditioning, heated floors, Netflix, and a luxe little kitchen. Stay in Curtis Park, just moments from vibrant Five Points, for $133 a night.
4. A Private Clubhouse Unit In Renovated 1935 Temple
Built in 1935, the clubhouse of this former temple has been transformed into an eclectic, 3-bedroom home with tons of history. The home has a worldly gentlemen's club vibe to it, from the supple leather couches to the funky mix of global treasures, picked up by the owner during his extensive travels. There are little surprises in every nook and cranny of this space, which is available from $225 a night. Your host is a local tastemaker, connecting you to secret supper clubs and other cool events around the West Colfax neighborhood.
3. A Bold, Bohemian Loft With Huge Yard And Fire Pit
Moments away from the River North Arts District, this enormous, urban loft with a magnificent yard is perfect entertaining friends and family. The industrial architecture and soaring ceilings create an open, airy space fitted with a killer sound system, commercial grade kitchen, and cool mix of eclectic modern and vintage decor. Stay in RiNo, Denver's coolest neighborhood, from just $238 a night.
2. A Boutique-Quality Speakeasy Bungalow In The Highlands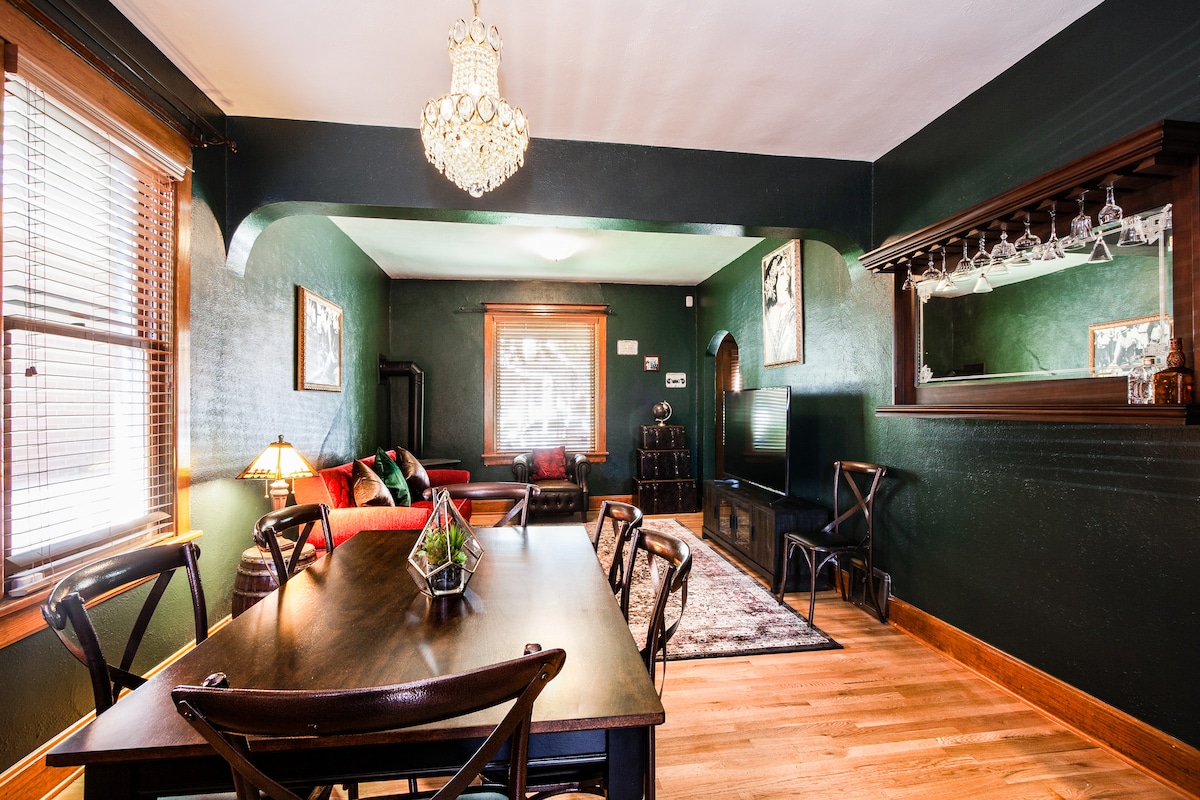 This cute, unassuming Highlands bungalow hides a secret: Inside, discover a speakeasy-style house with boutique quality amenities. Thoughtfully designed, this historic gem has a quirky, Prohibition-era vibe with an incredible, entire second-floor master suite. From $209 a night, stay in the desirable Highlands district, close to popular restaurants and bars, but still just moments to downtown.
1. A Peaceful Urban Sanctuary Near Coors Field
Escape the hustle and bustle of city life inside this modern, light-filled loft near Coors Field. This is an apartment designed for relaxation, rather than raucous parties, so come prepared to chill out. From $149 a night, this peaceful loft is just a 15-minute walk from Union Station, with its award-winning dining, and even less to Coors Field if you'd like to take in a Rockies baseball game.