These are the best Airbnb homes in Destin, Florida. Destin is a beach front city in northwest Florida, located on the Panhandle. It is characterized by its Gulf of Mexico beaches and many golf courses, as well as the Destin Harbor Boardwalk. Nature trails pass through the dunes of Henderson Beach State Park in the south, where the coastline is dotted with pine and oak trees that shelters the local wildlife. To the west are the tall slides, waterfalls and pools of Big Kahunas water park. This is a very popular spot for vacationers and 'snowbirders' looking to escape the colder northern states during winter months.
The 9 Coolest Airbnb Homes in Pensacola, Florida
We found the 6 best Airbnb homes in Gainesville, FL
8 of the coolest Airbnb homes in Jupiter, Florida
Check out our picks for the best Airbnb homes in Destin:
8. A Gorgeous Mini – Mansion in Prestigious area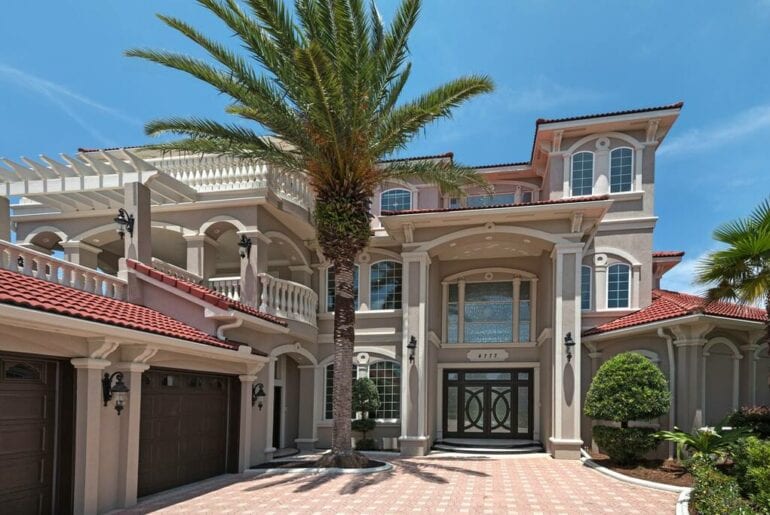 Stay in this Mediterranean mini-Mansion with its own private pool and spa. Just a short walk to the best beaches on Destin's Emerald Coast. This gorgeous home is a recently renovated with brand new designer furniture and features private balconies, multiple entertaining areas, outdoor kitchen and a massive outdoor pool for guests to enjoy. $651 per night.
7. A Luxurious beach side property with Ocean View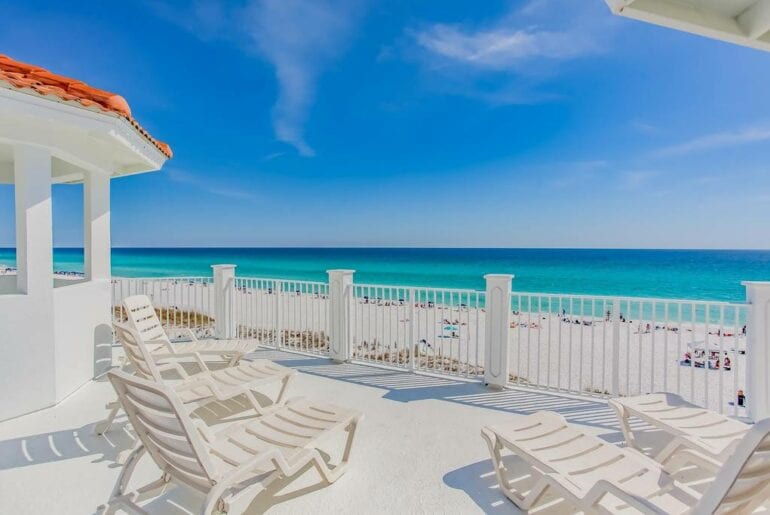 This stunning seven-bedroom home is located on the famous sugar white sand beach of Destin with the beautiful emerald green water just outside your door. This home is a large spacious property with 6,500 square feet of space and mesmerizing views of the Gulf of Mexico. Appointed with luxury furnishings and high end appliances. $731 per night.
6. A Beach House with Cabana bar and Game room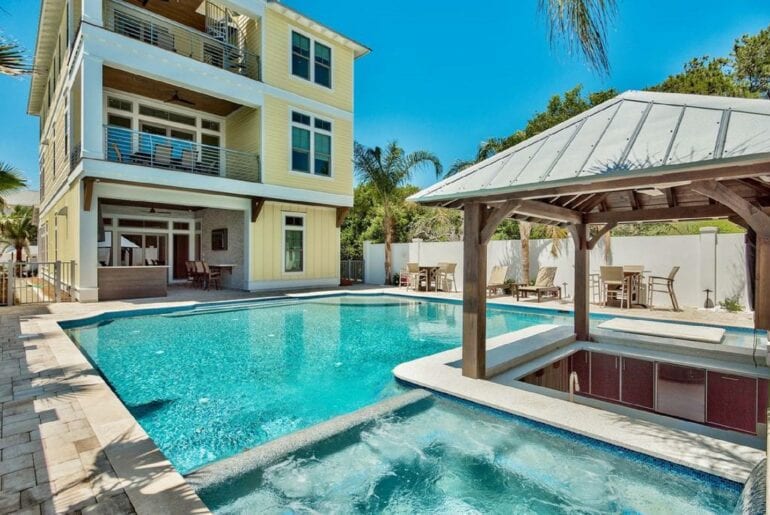 This large new recently built home sports many high end features from hardwood floors to cypress ceilings. The kitchen is a chefs delight and is perfect for entertaining.  This fantastic Destin airbnb beach house features a resort style pool and swim up cabana bar with two large screen tv's. Situated within easy walking distance of the beach. $1100 per night.
5. A Stunning Gulf front home with Massive pool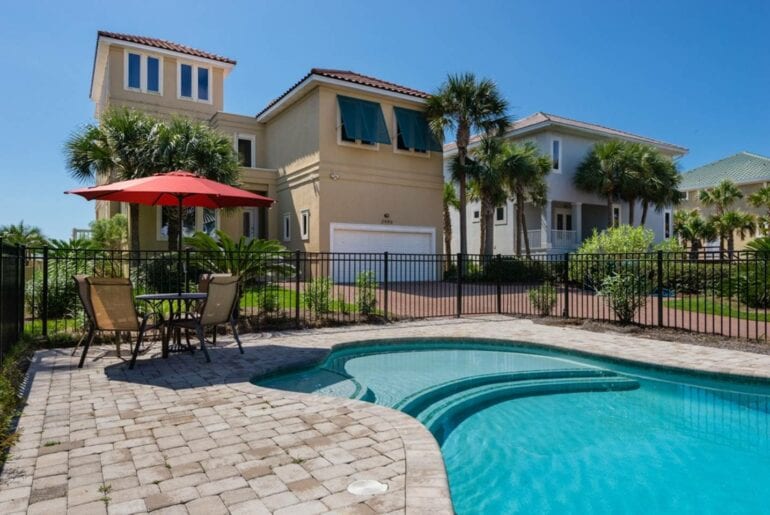 This updated five bedroom Destin Airbnb home in located in Crystal Beach. It is a stunning gulf front home with a 349 foot pool and amazing views across the Gulf of Mexico. Walk just steps to the white sandy beaches or enjoy relaxing by your own private heated swimming pool. Enjoy spectacular views from the large windows. $710 per night.
4. A Beautiful Ocean side home with Hot tub and Pool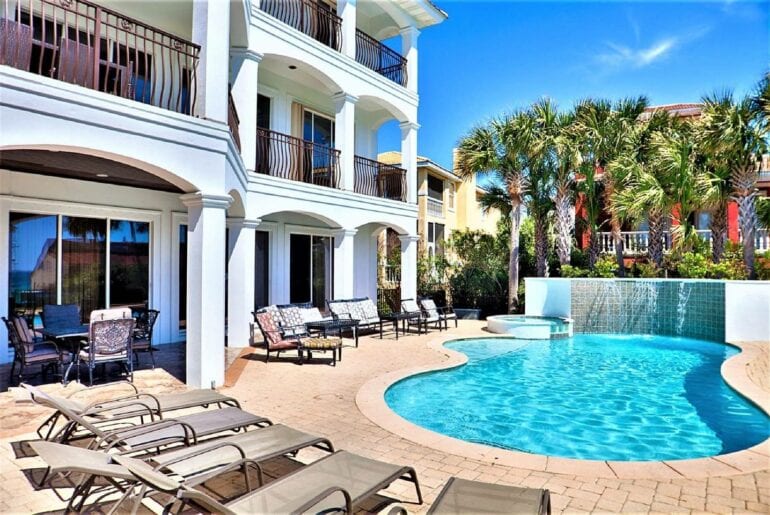 This newly renovated and beautiful gulf view home features its own elevator, a private swimming pool, and a Hot Tub and Game Room. Enjoy the ocean and sunset views from one of the 3 large decks that run around the house. Enjoy swimming in the backyard pool or walk just a few steps to the nearby beach and enjoy the sparkling ocean. $549 per night. 
3. A Luxury home right on the Beach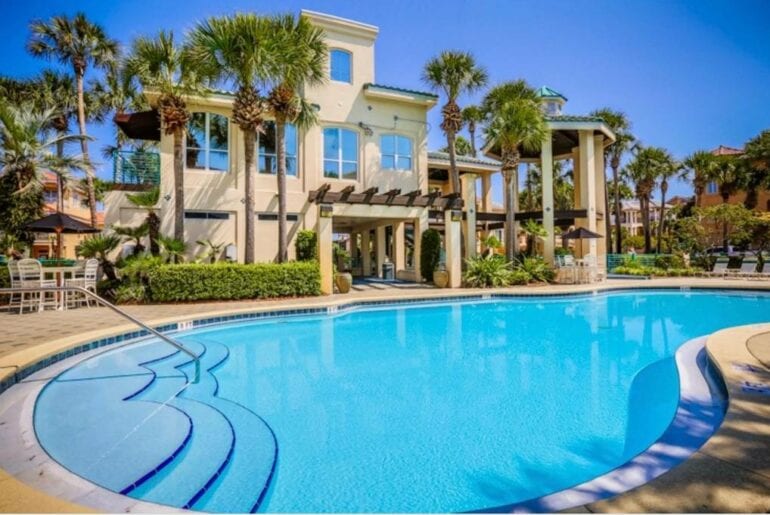 Spend your vacation right on the beach and enjoy the warm sun, soft sand, and emerald waters of Destin. Providence is a large gulf-front home located in the highly sought after gated community of Destiny By the Sea. This Destin airbnb home offers amazing panoramic views of the ocean and sunrises and sunsets from every level of this stunning Destin Airbnb home. $866 per night.
2. A Stylish Mansion with Million Dollar Views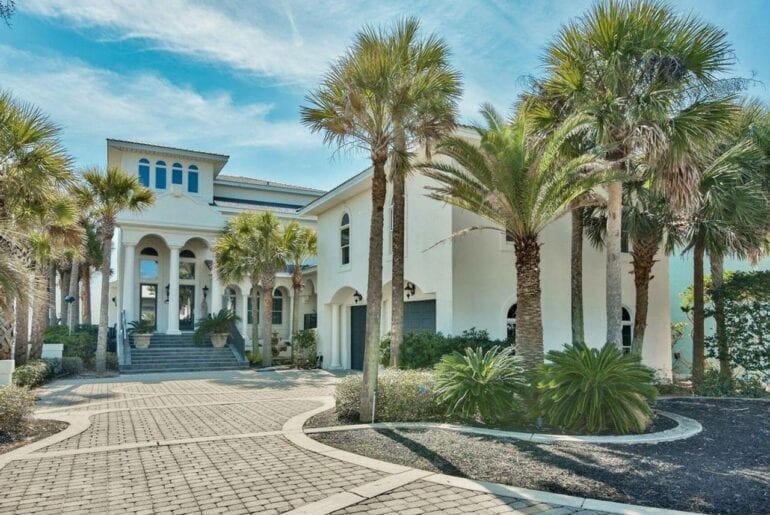 This luxurious property is located on beautiful scenic highway 98 in Destin, FL. Just a few minutes drive from fun family attractions like Silver Sands Premium Outlets, Destin Commons, and Grand Blvd. This elegantly styled home features immaculate craftsmanship and is located directly on the Gulf. Enjoy the beautiful sunrise and sunset views from all three floors. $1233 per night.
1. A Stunning Gulf side paradise on the Beach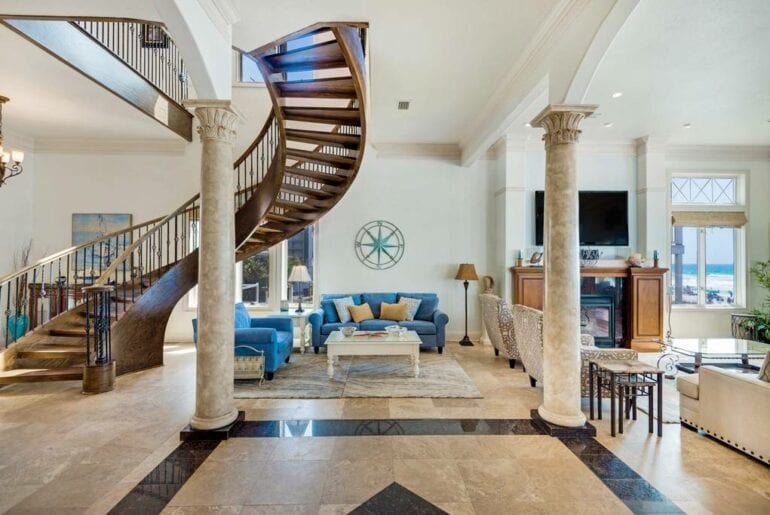 Gulf Paradise is located in a quiet neighborhood directly on the beach. This five bedroom home features a private pool on the first deck and a grand balcony on the second floor. It is perfect for large family vacations and groups. Enjoy relaxing in the private secluded back yard, or walk just steps down to the white sandy beach and enjoy swimming or sunbathing from this Destin airbnb property. $807 per night.