As Austen herself said, "Ah! There is nothing like staying at home, for real comfort." Of course, Austen never saw Airbnb so we can only imagine what she would think of these 8 Airbnb homes that look like they came directly from the pages of one of her novels. Charming, romantic, and so Austenian, here are 8 Airbnb homes for Jane Austen Fans.
And by the way, when you're in Bath, you MUST visit the Jane Austen Centre which is like Disneyland for Austen fans. If you're really a lunatic about the author then you might even want to plan your trip for September when the Jane Austen Festival is held!
8 Airbnb Abbeys, Castles and English Country Houses for Downton Abbey Fans
6 of the Most Glamorous Airbnb Homes in Kensington and Chelsea, London
6 Romantic London Airbnb Properties Fit For Meghan And Harry
 Dove Barn – approx. $378 a night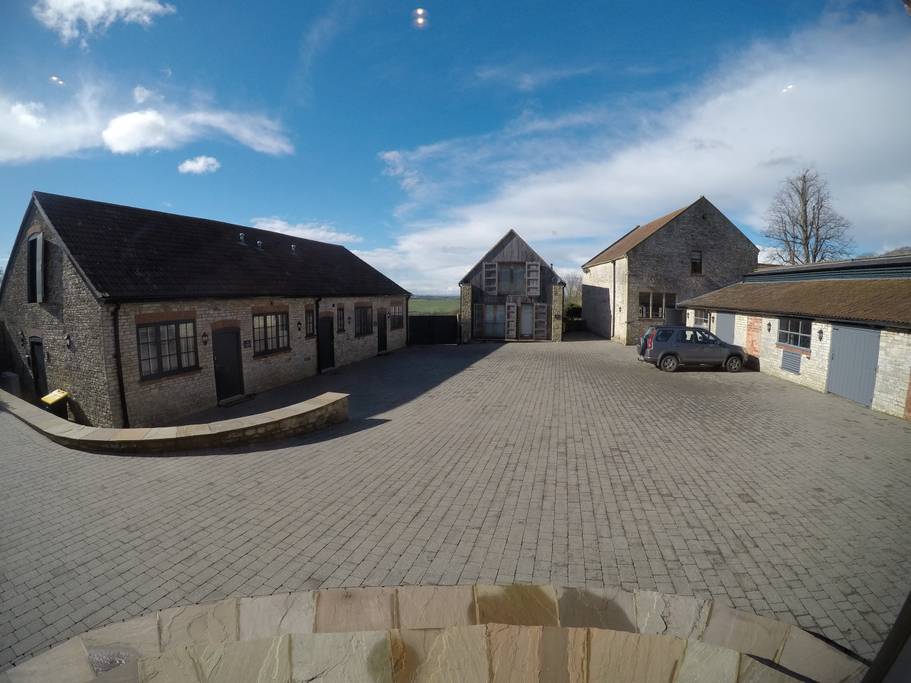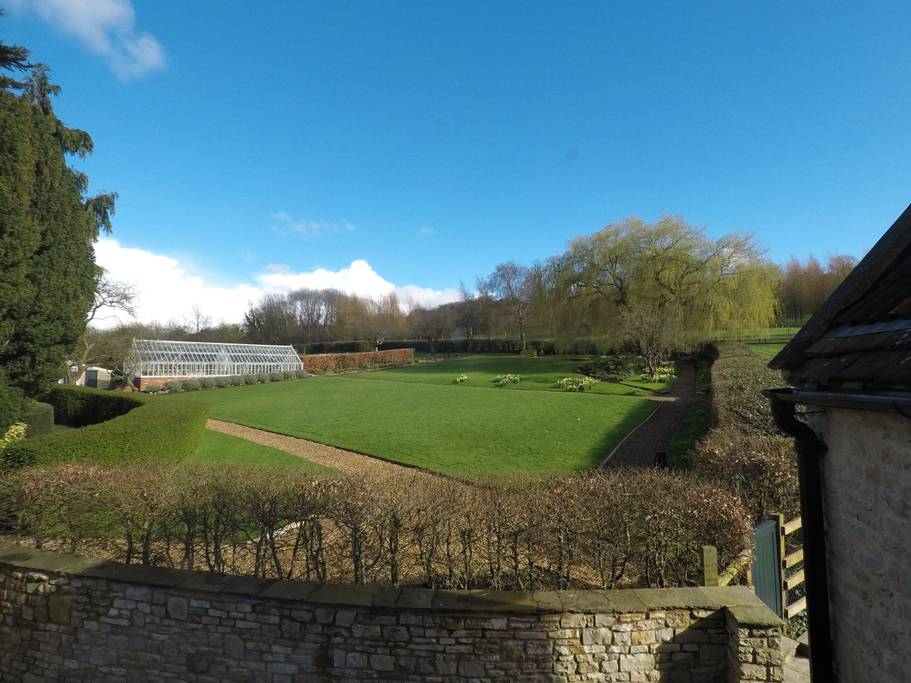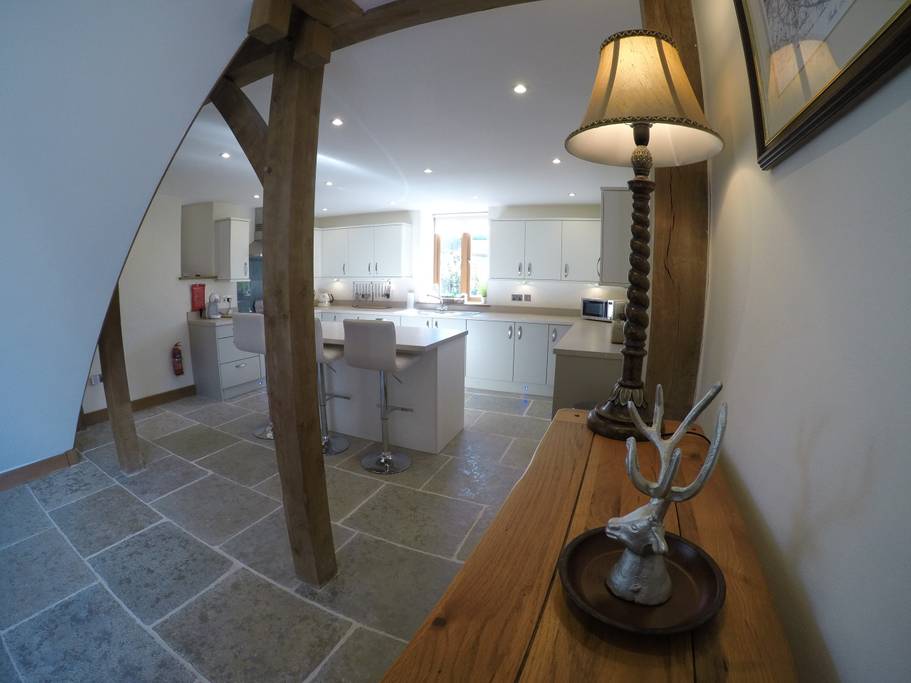 Call us unsophisticated but we've never stayed in a house where hot air balloons land on the front lawn. Apparently, that's a thing because it happens here at Dove Barn as this remarkable Bath-area Airbnb is known.
This converted barn sleeps six in two bedroom and if there's such a thing as Austin Minimalism, this is it (and less stuff = less worrying)! Incredibly serene, this Airbnb, which is located in the Georgian estate of Beach House offers breathtaking views of the English countryside including the Golden Valley and the Welsh Mountains.
The only sounds you'll be likely to hear are the owls who come out at night and the soft tap of a tennis ball on the tennis courts (yes, you'll have your own tennis court).  In true Austen style, you'll have coffee, tea, milk, and sugar waiting for you, not to mention a "loo roll."
There's no wifi, but Jane Austen never had it and look how she turned out! With the town of Bath just 15 minutes away, you can be at the historic Roman Baths complex or the shops of the Pulteney Bridge before you can say "Mr. Darcy!"
Georgian Studio – approx. $143 a night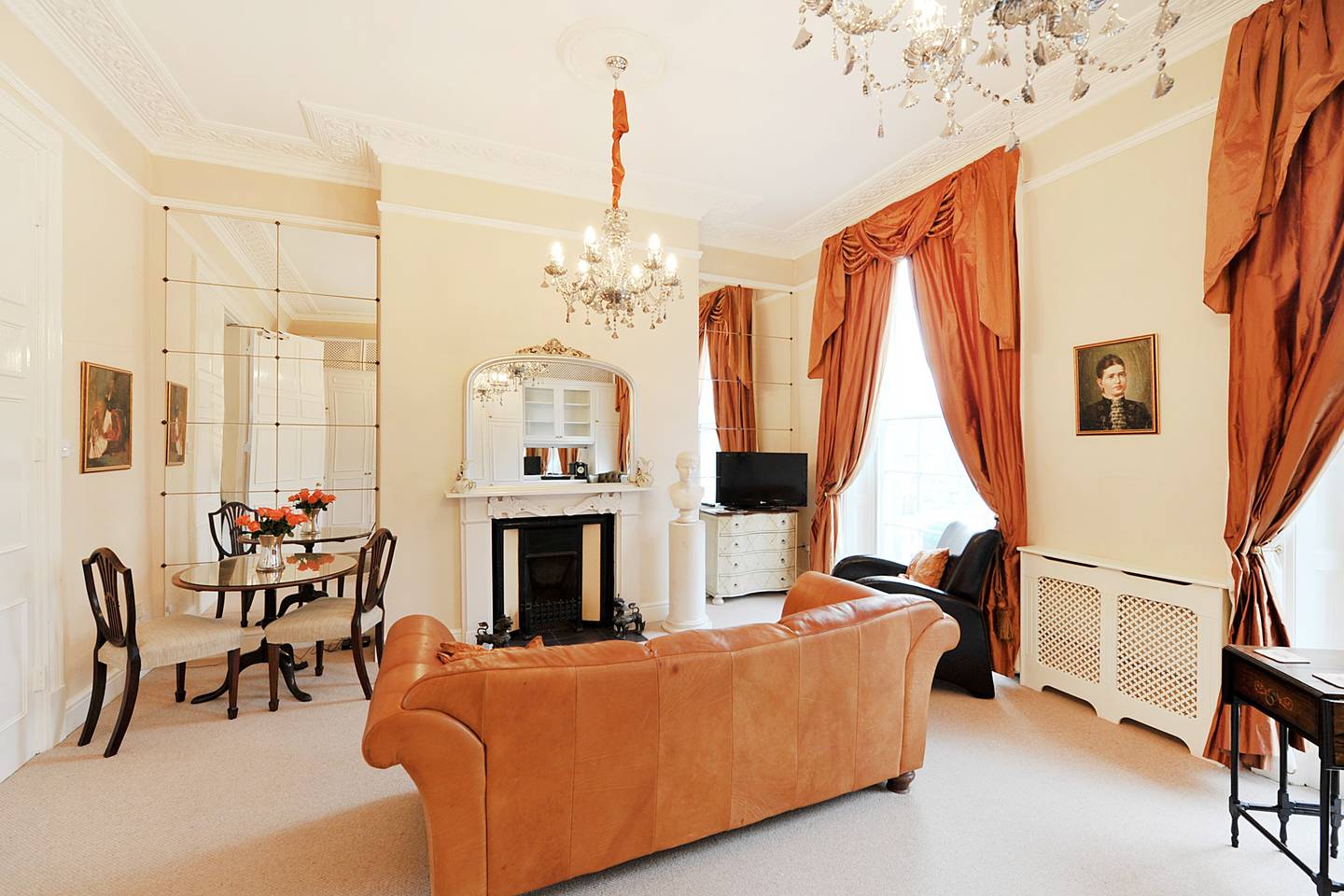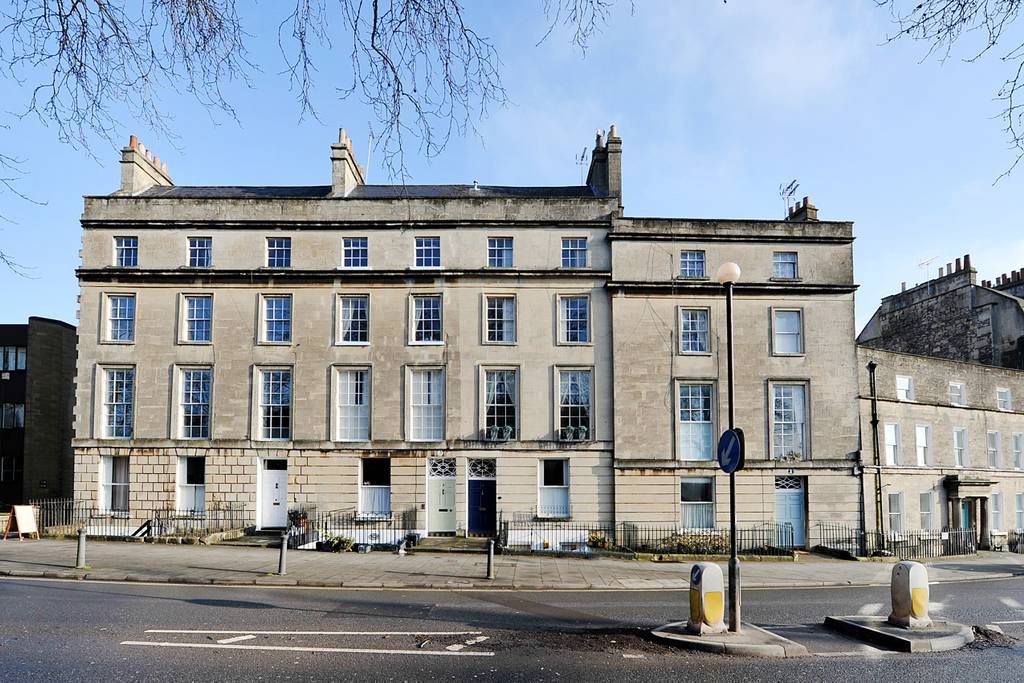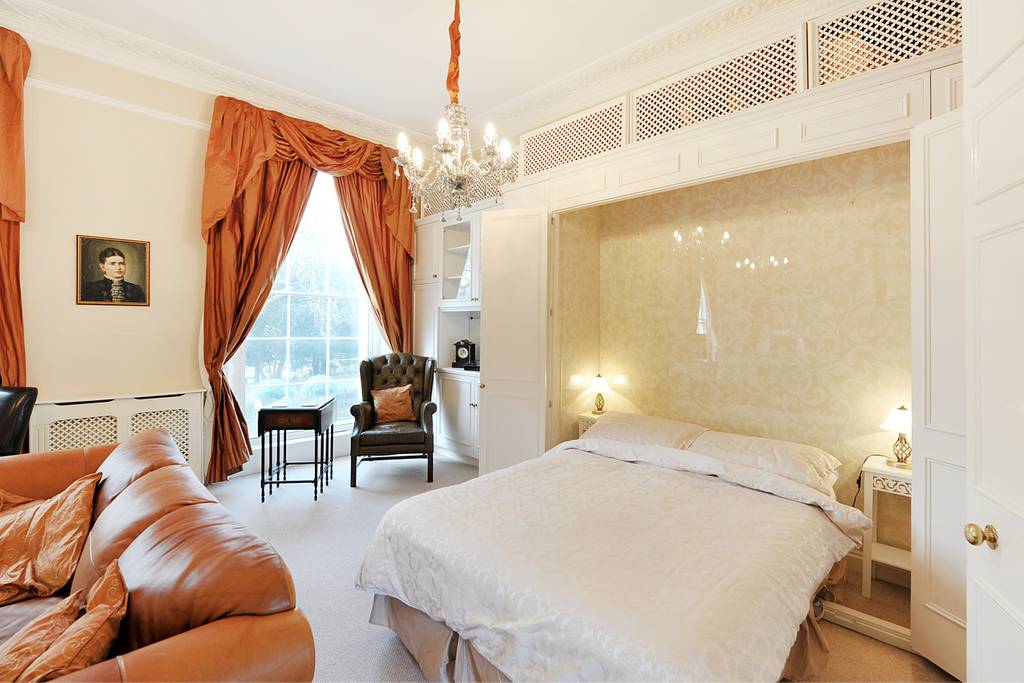 Want to experience the Georgian life but don't have the budget? This Airbnb apartment is the perfect solution. A little studio, this decorated-to-perfection apartment dates back to the 1700s and features beautiful chandeliers, a murphy bed, and even a little terrace.
Unlike some of the houses you find in the more rural parts of this area, this modern Airbnb has modern accoutrements like wifi, a television and a docking station. Just 15 minutes from the train station, this apartment is a perfect base from which to see other parts of the country (the train to London leaves every 90 minutes and is only an hour and a half ride).
If you're into theater (and chances are, if you're reading this list, you are) you'll want to visit the Theatre Royal. If you're into gardening (and you probably are), you'll want to see the nearby National Trust Prior Park Gardens. The only thing that gets more stars than this apartment is the host so book this place before someone else does!
Cotswalds Cottage – approx. $391 a night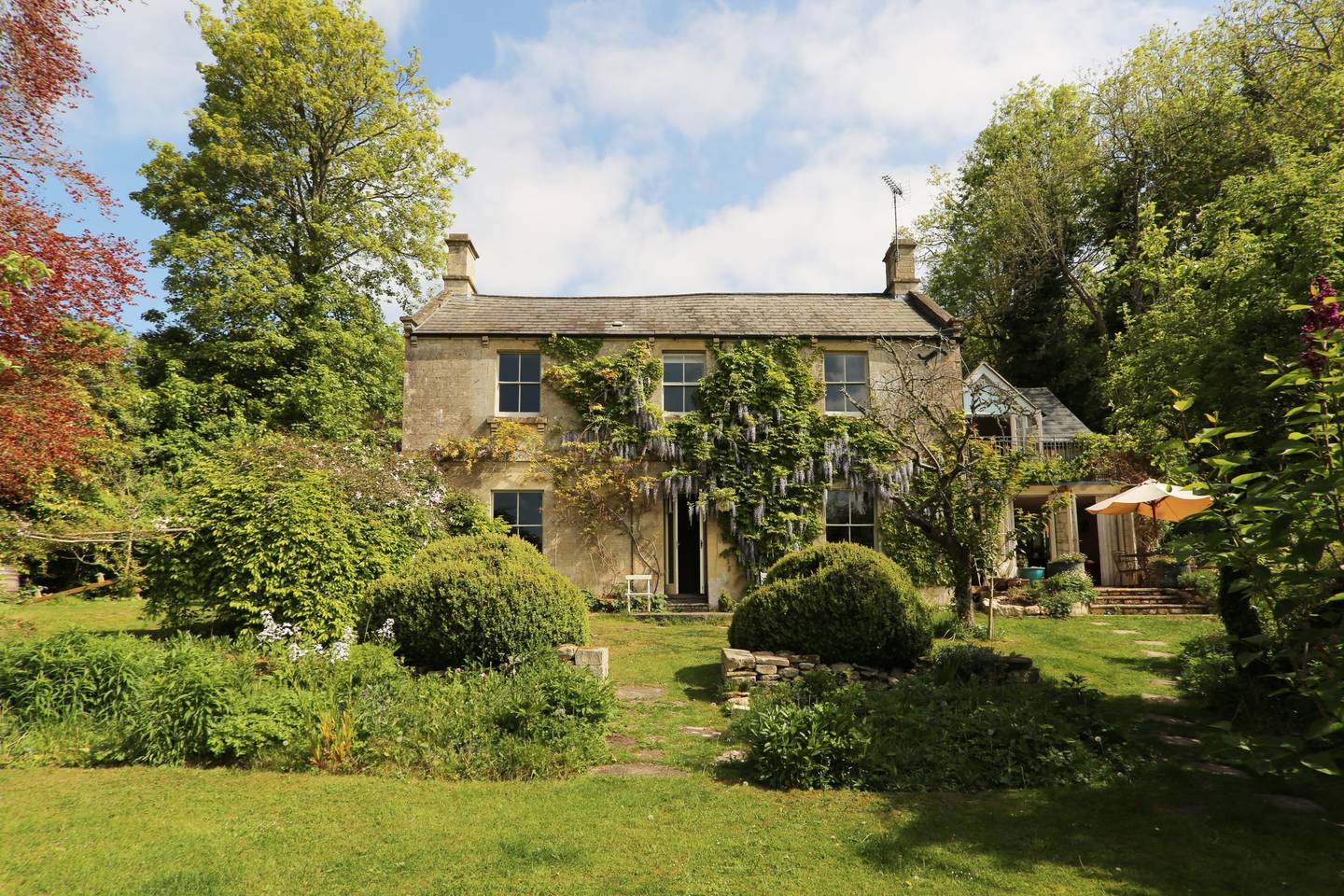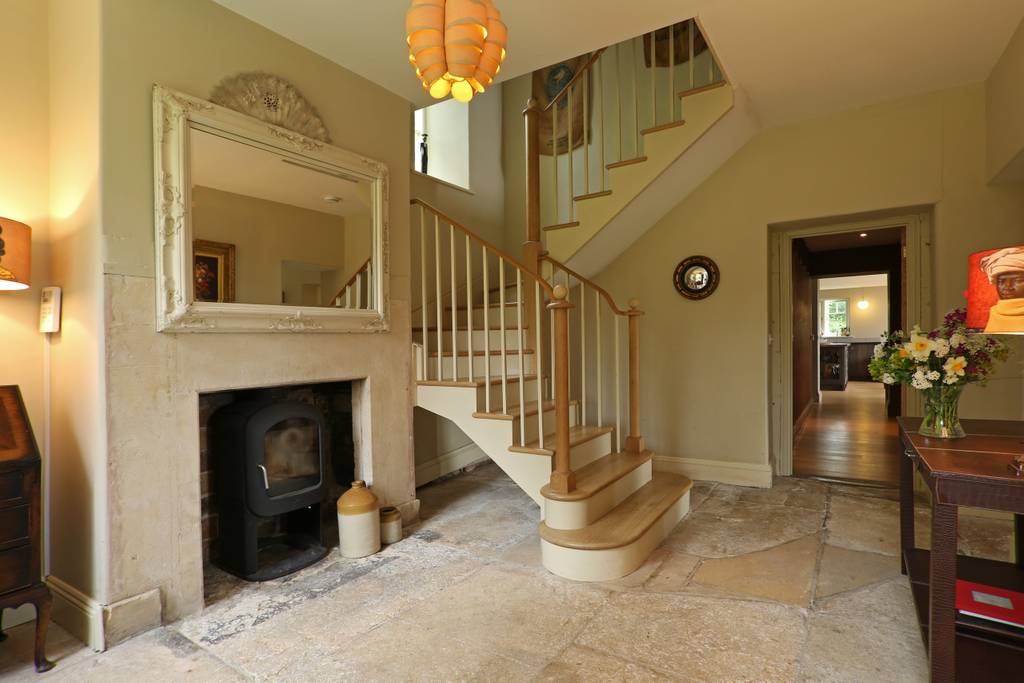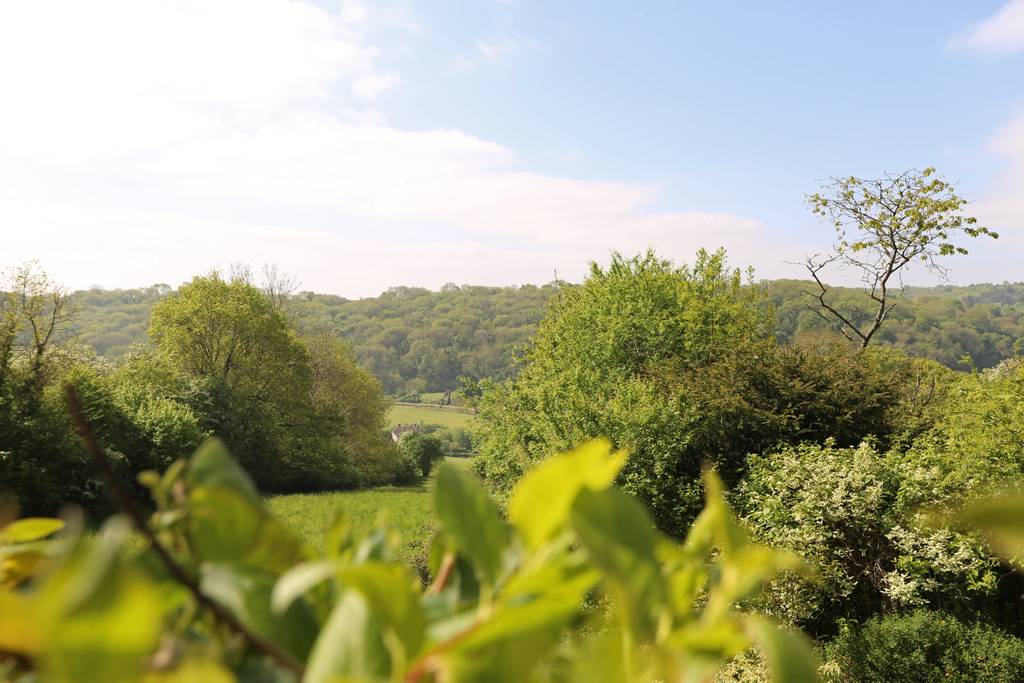 A staircase for making an entrance. A marble fireplace for chilly evenings and a piano waiting to be played. Portraits on the wall and books everywhere. If all of this doesn't scream "Austen" to you, you might want to re-read her books. This sweet 180-year-old Airbnb has all of that and then some.
With five bedrooms and two bathrooms there's room for nine in this charming Cotswolds cottage and all nine of you will have more than enough to keep you busy.
Between the swimmable river below you, the bike path that leads into the town of Bath and Bradford-on-Avon, the two acres of garden, woodland, and orchard, the pizza oven and the trampoline, you have a full schedule (so don't count on re-reading Pride and Prejudice while you're here).
And with two acres of ground on which to romp, this is a great place to bring kids (did we mention there's also a seesaw?) Recently remodeled, this lovely Airbnb is just 20 minutes away from Longleat Safari Park (for the kids) and equally close to Bath (for the grown-ups).
The only drawback to this place is that it might be hard to explain to the kids that they eventually have to leave it.
Skyfall – approx. $391 a night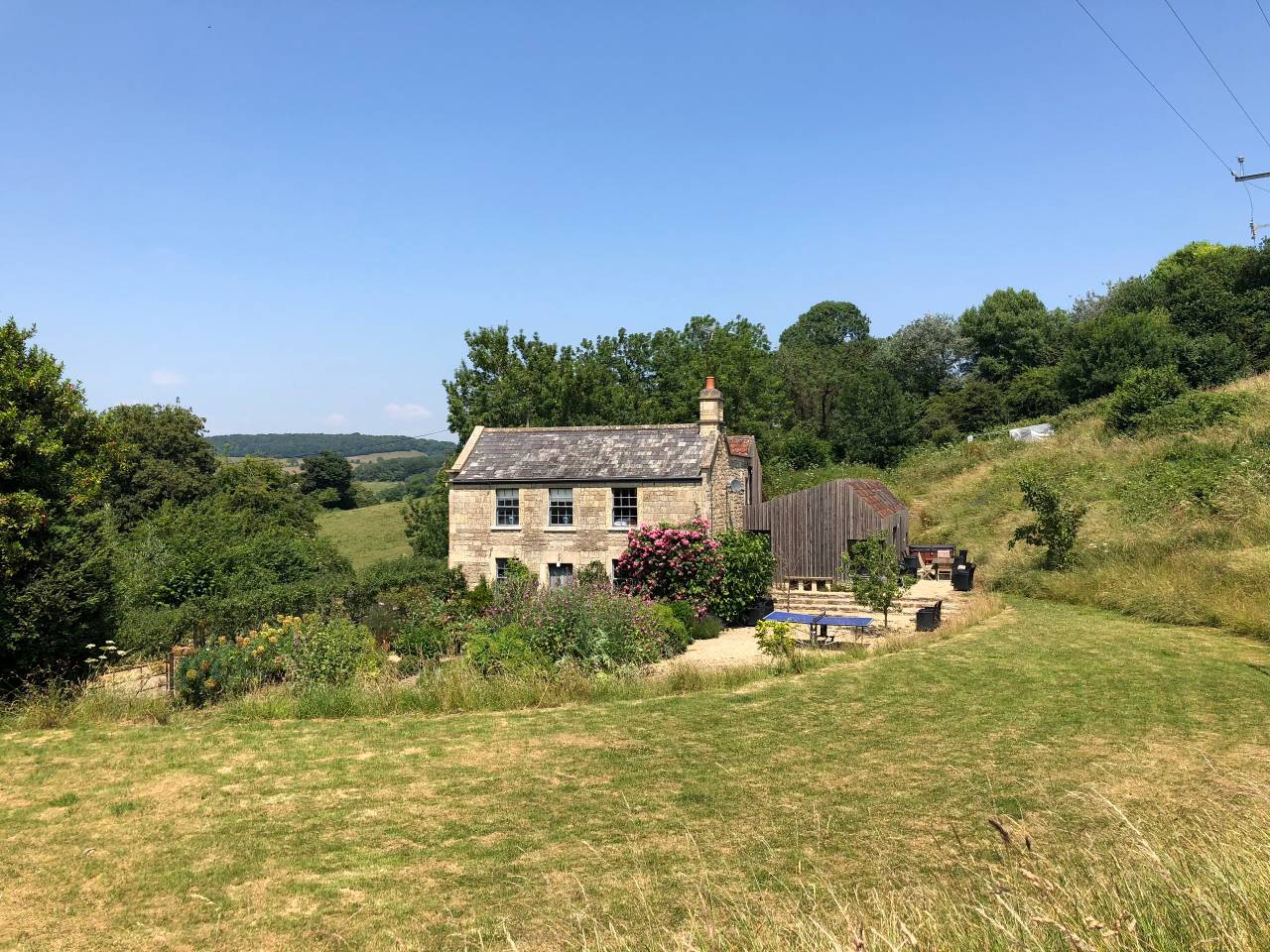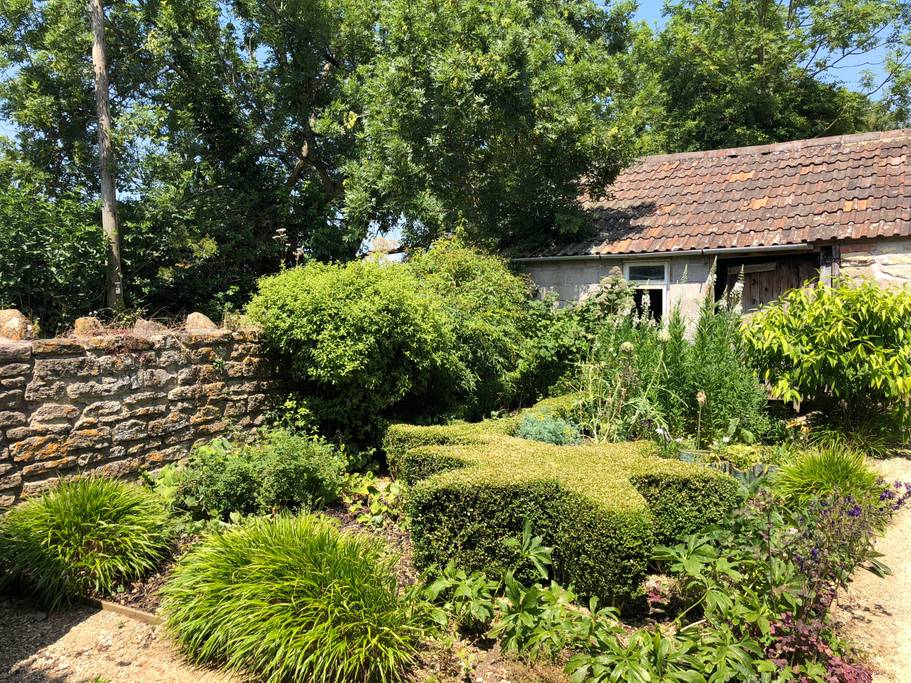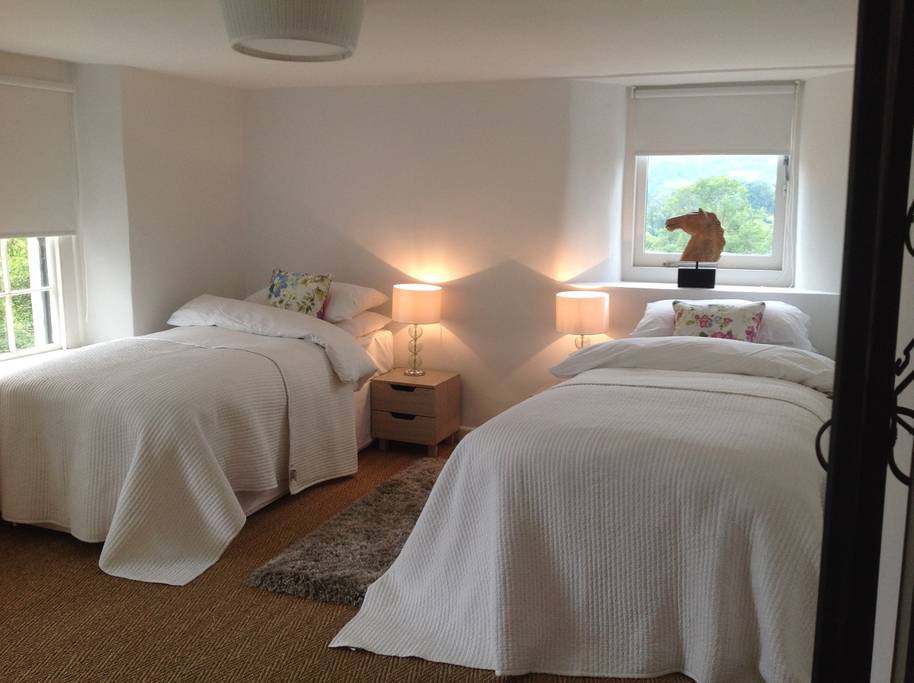 If Jane Austen lived in the 21st century, this is where it would be. Austen Modern as we'll call it, is a totes adorbs villa that sleeps more than 16 people within its seven ample bedrooms.
Truly stylish (think Restoration Hardware meets Anthropologie), this Airbnb has some really clever features like a big pocket door in the custom-built, open-plan kitchen that opens the entire room up, making you feel as if you're always outside (talk about perfect for a wedding party or even a corporate event!).
Complete with a boot room (how English country is that?), feather duvets, "cuddly blankets and fluffy pillows," a clawfoot tub, a skylight, loads of books, a stunningly manicured garden, a meadow full of wildflowers in the summer, an apple tree orchard will stunning views, an outdoor hot tub, and even an amphitheater (do we smell a production of "Emma" in the works???), this place truly acts the part. Named after another (but polar opposite) movie, Skyfall, as this Airbnb is known, is just perfect for the Austen fan with modern sensibilities.
The Hall – approx. $645 a night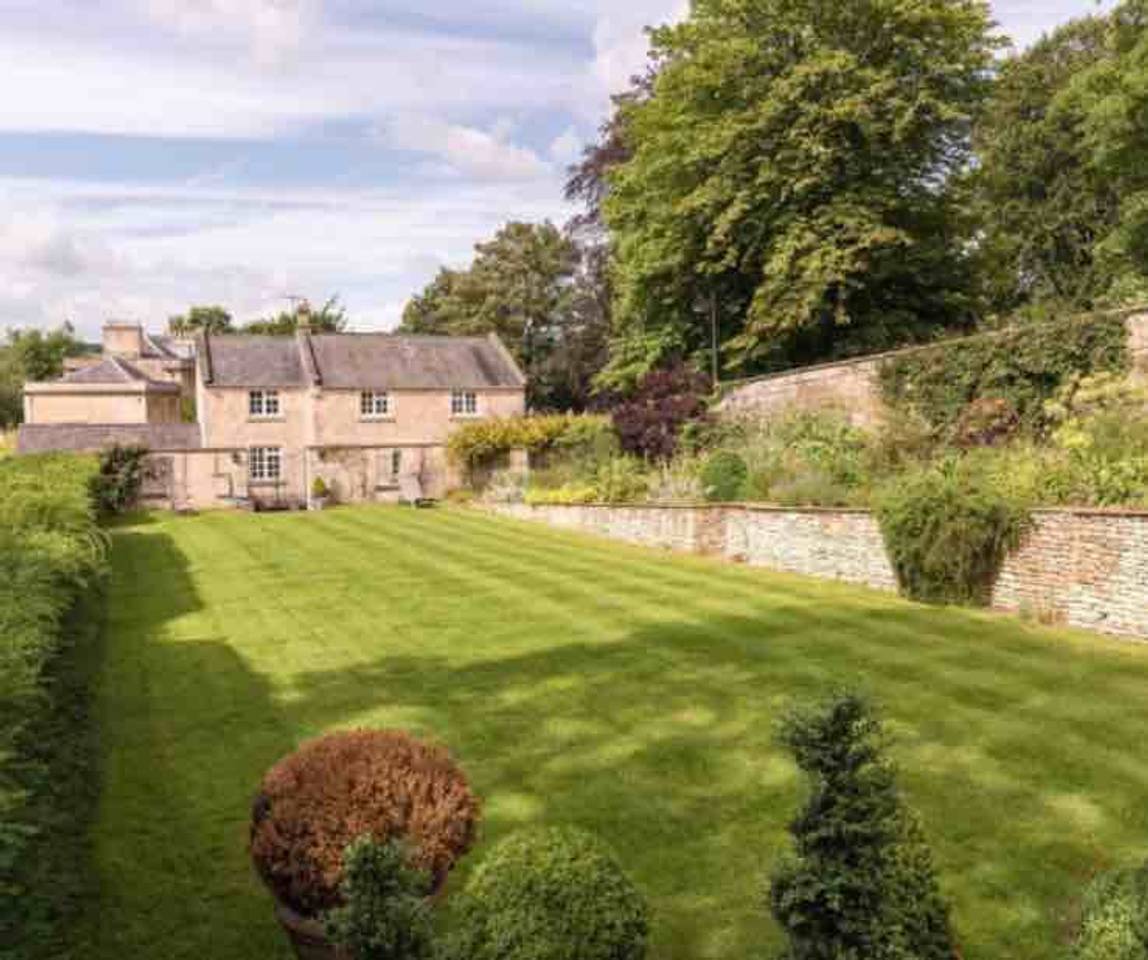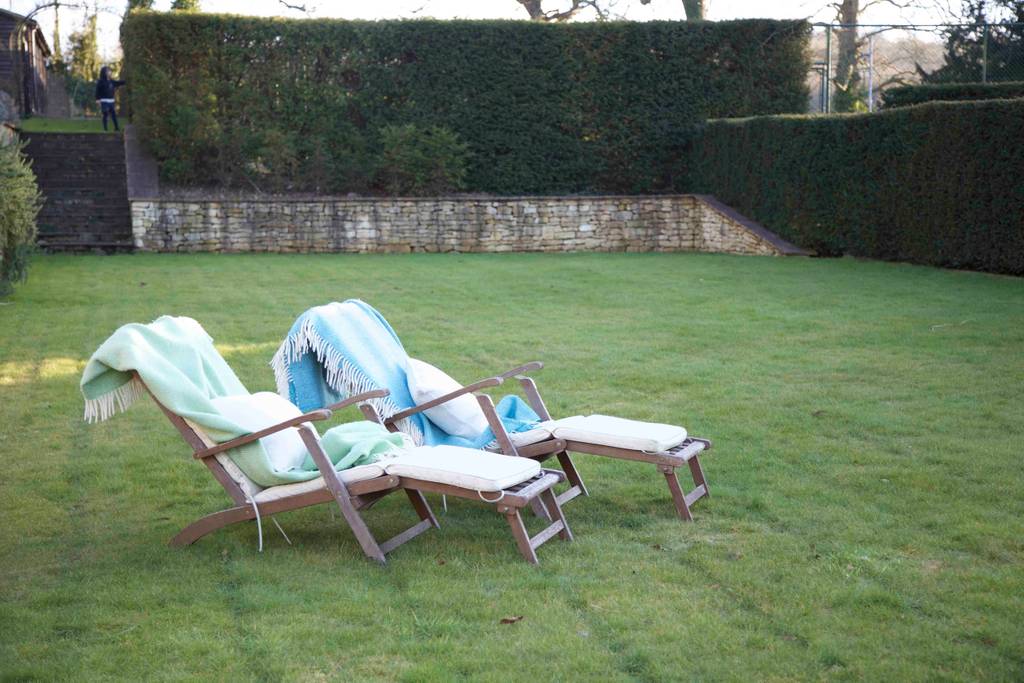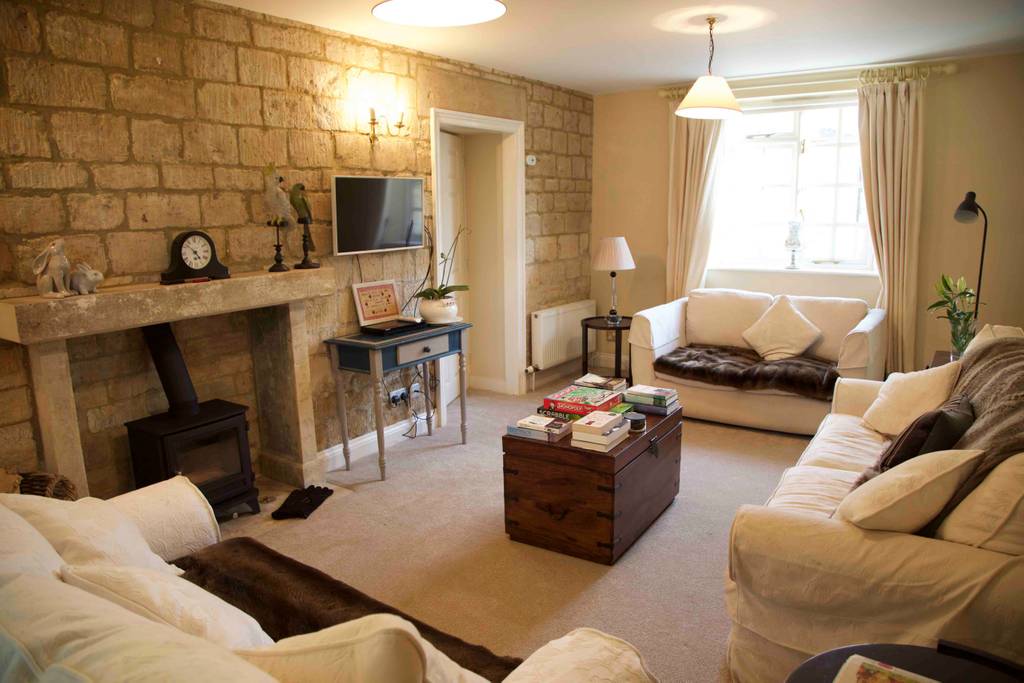 Whether you come here in the middle of summer or the dead of winter, "The Hall" cottage is so picturesque that it looks like it belongs on the cover of a re-print of "Sense and Sensibility." (If you want to have a moment walking down that grass promenade in a Georgian ball gown, we won't tell anyone.)
Part of the Freshford Hall estate, this four-bedroom, two-bath property is perfect whether you're coming with a family in tow or you need a great place for a hen night.
Freshford, where this Airbnb is located, is just outside Bath and is a great place to a hire a boat and sail down the canals, visit the American Museum, or stop by the Victoria Art Gallery where the exhibits range from the avant garde to the traditional.
If being indoors isn't your thing, there's a great little garden here as well as a tennis court but try to keep the ball in-bounds as there are a lot of sheep in the area and you might find yourself without anything to play with if it goes over the fence.
Orchard Cottage – approx. $515 a night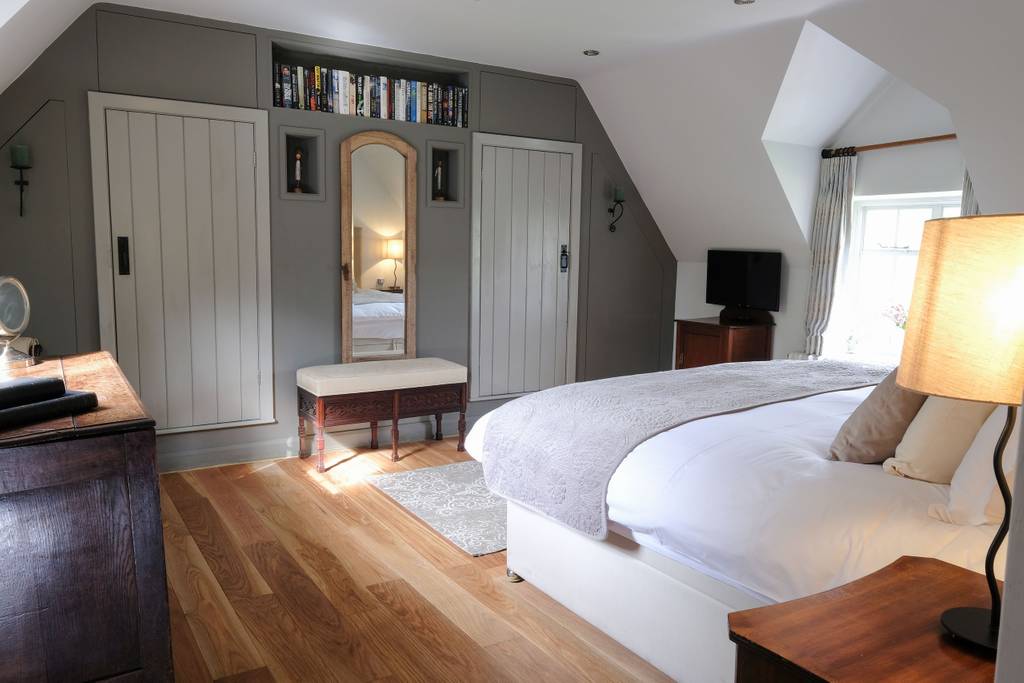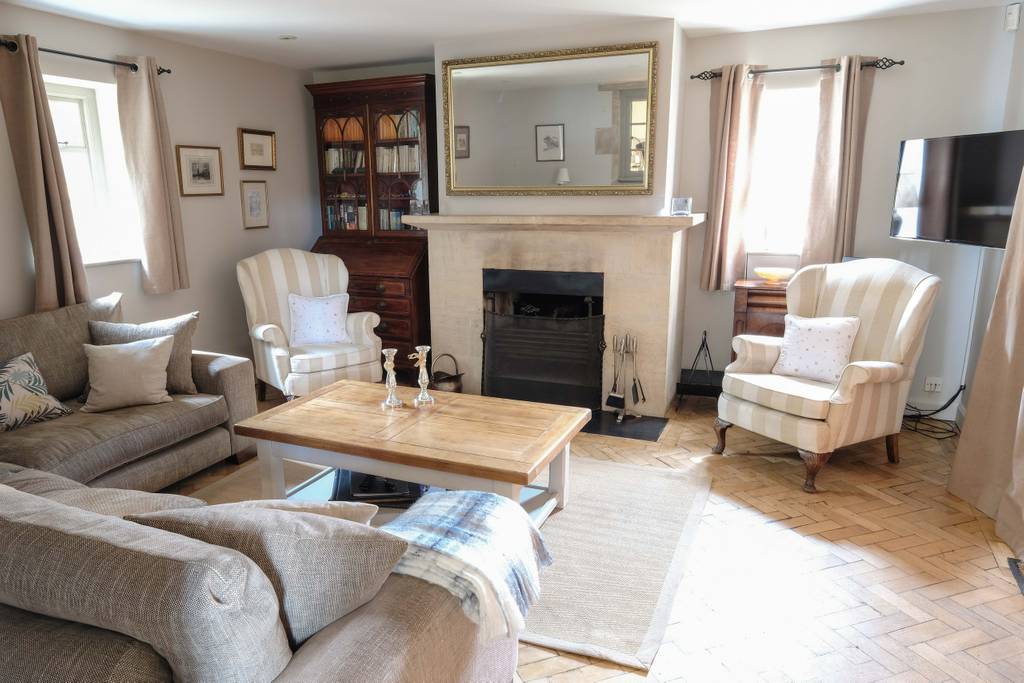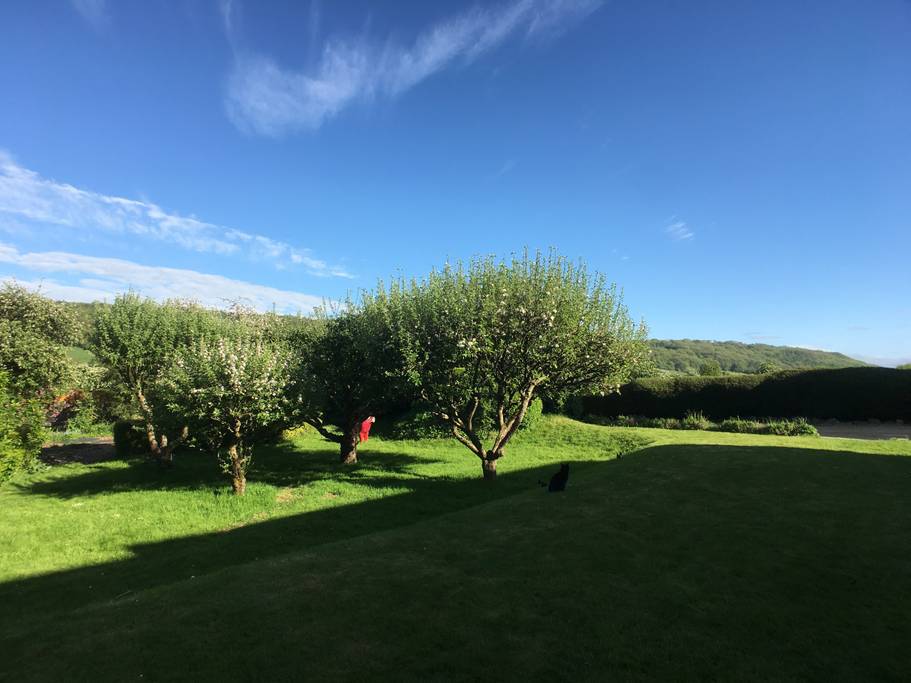 Located in the sweetly named Limply Stoke Valley, this renovated Airbnb looks like the kind of place Austen herself would have retreated to write.
With beautiful views this five-bedroom cottage sleeps 11 so if you're looking for a place for a group, this is a perfect option. It also has a farmhouse kitchen with an ample dining area and a connected living room so you'll never feel cramped here.
There's also an adorable retro bathroom with a sweet jadeite tub you'll want to soak in for days but don't because there's too much to do here, especially with bus service to Bath so easily accessed.
If you like walking you have to try the Bath Skyline Walk which will take you on a scenic tour of the area or have a swim at dipping spot Warleigh Weir where there's also an Instagram-perfect waterfall.
Finally, any fan of Austen's should visit the Prior Park Landscape Garden which looks like a set from, well, any Austen film you can imagine. This Airbnb is so magical you might even be inspired to write your own novel!
Cornhouse – approx. $682 a night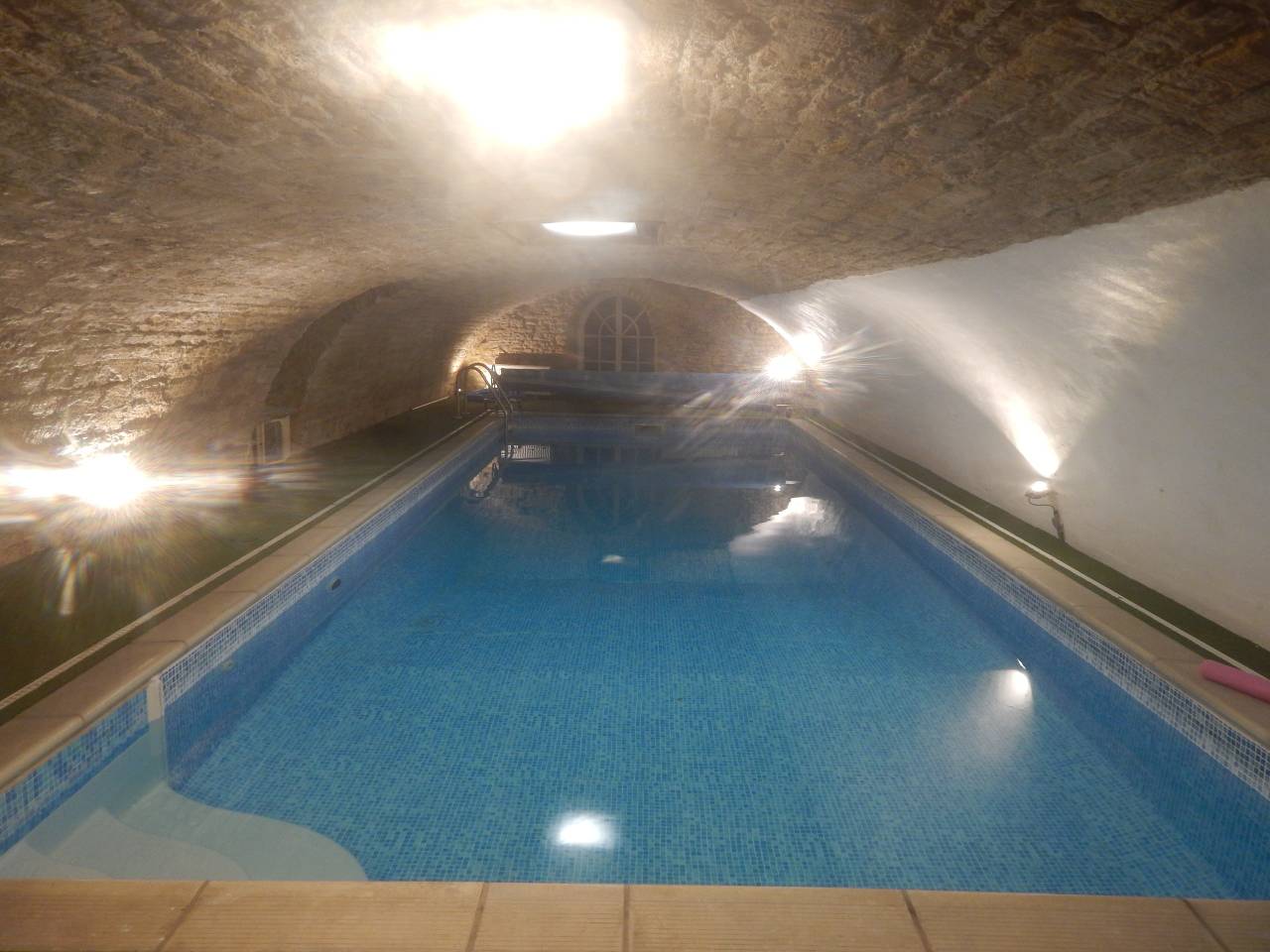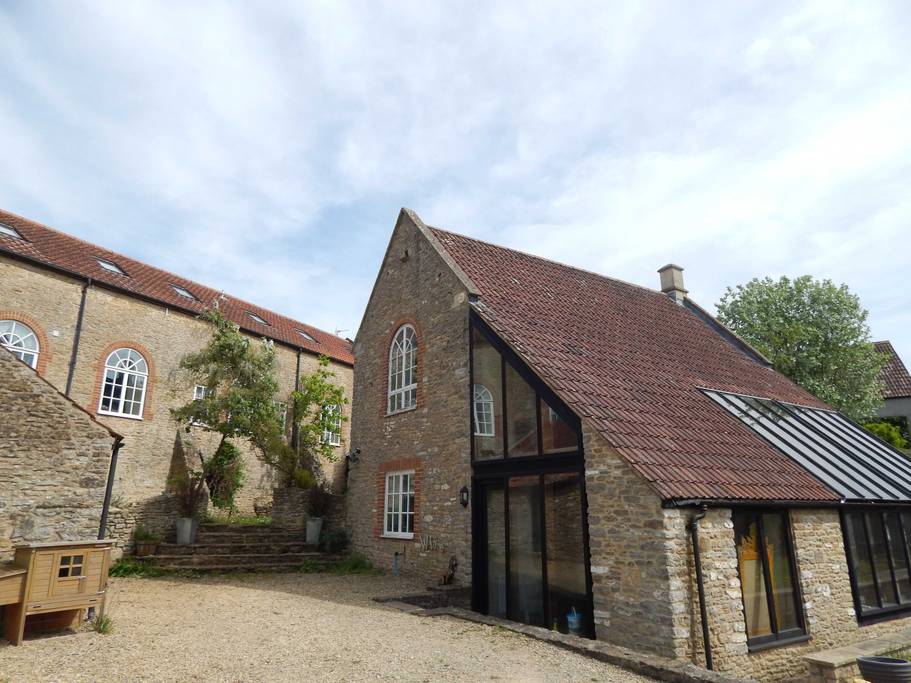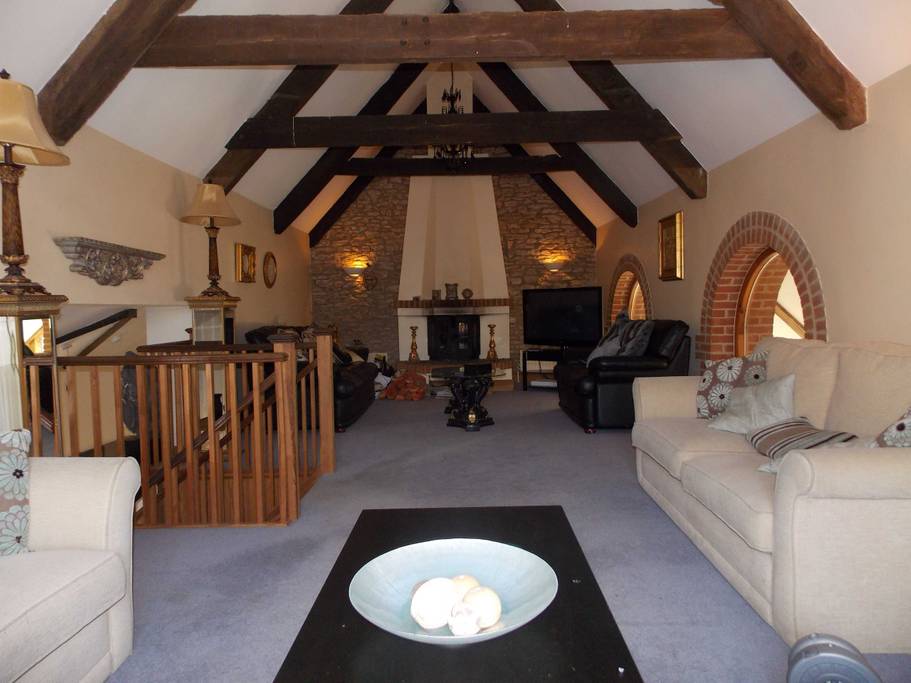 If Mr. Darcy had a bachelor pad, this would be it. Modern and cool with some insane amenities, this converted barn/mill still looks decidedly Austenian.
If you've ever seen Colin Firth's famous lake scene it's pretty easy to imagine it happening here in that insane indoor pool. Far from the only incredible feature this place has, you'll also find a TV, wifi, X-Box, and two game rooms with pool and ping pong tables.
There's also a covered outdoor hot tub and CCTV cameras so you can feel nice and secure. Also, if you're bringing a baby you can leave the baby monitor at home because they have one here.
Coming by car? You'll have no less than five parking spaces at your disposal. You do have to cap the party at 15 and you do have to ask permission to bring a pet, but otherwise, this is a great Airbnb for larger get togethers (it's a big favorite for hen parties!). Just don't expect Colin Firth to walk out of that pool or you'll be really disappointed.
Stowford Mill House – approx. $392 a night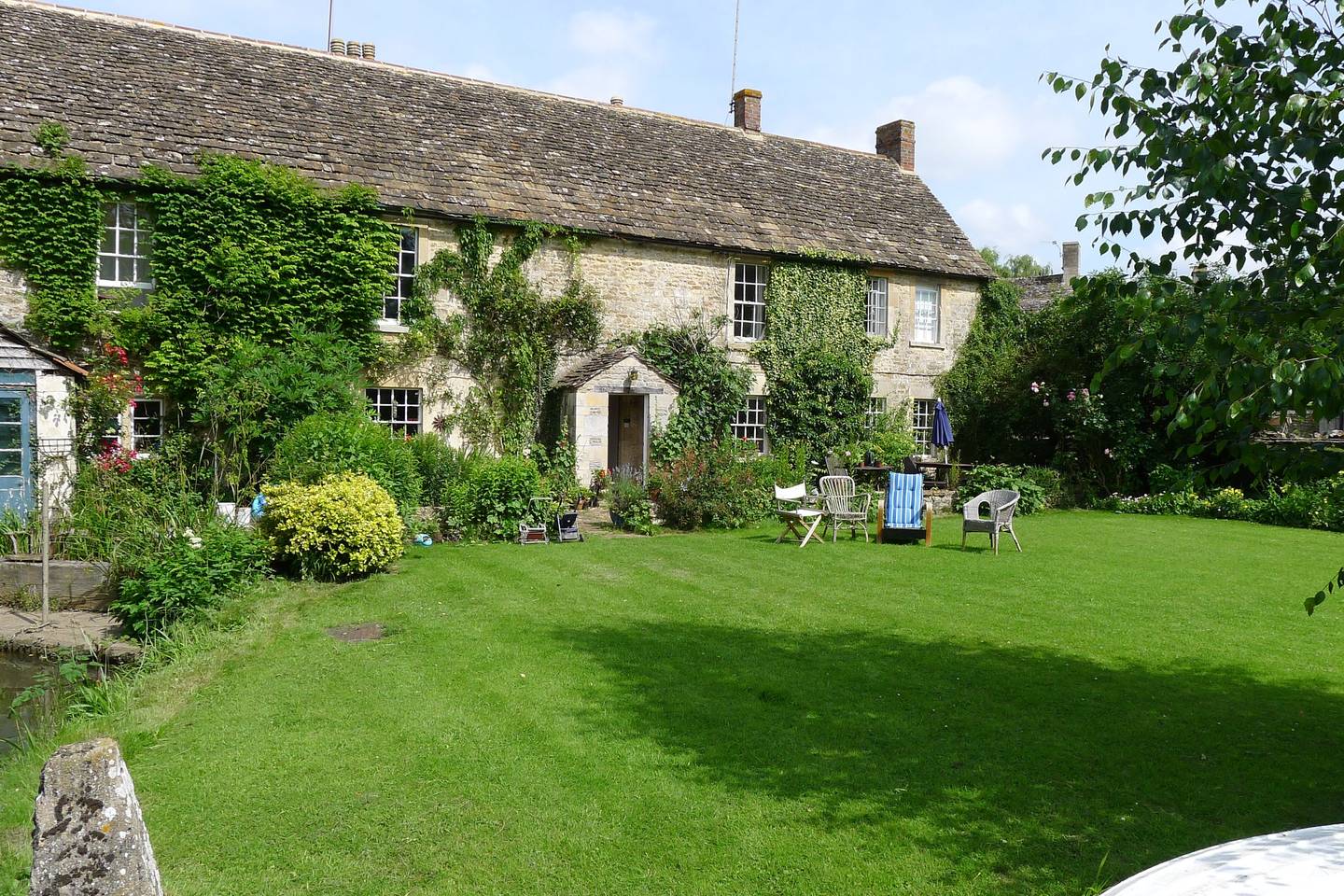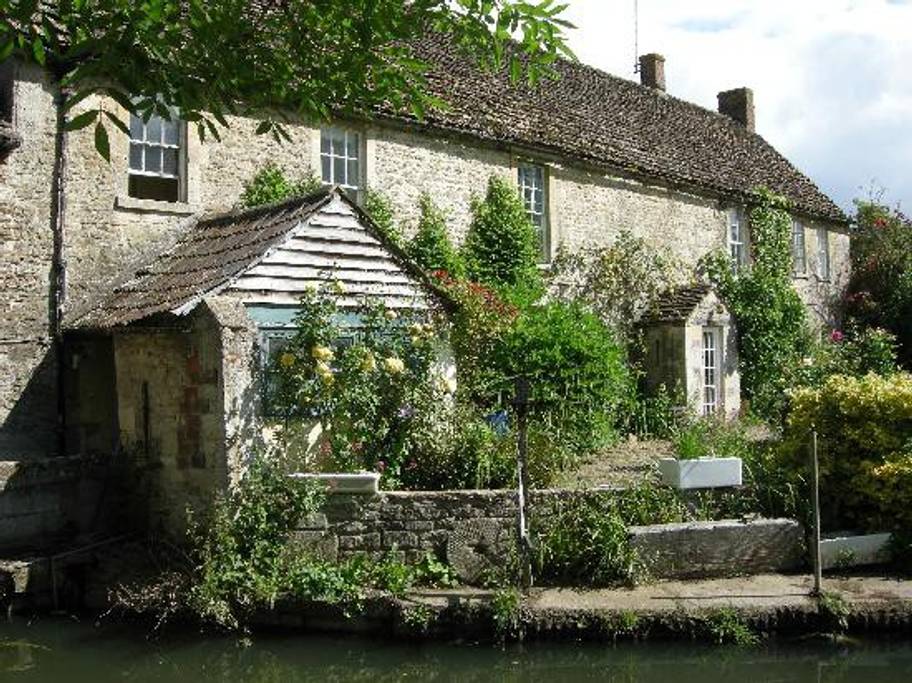 Flowered wallpaper, ivy growing on the front of the house, swans in the lake, a tea room right on the premises, a pond with a rope swing, flowers on the window sill and more hollyhock growing in the garden than you can count.
If an Austen fan isn't anything less than thrilled with this Airbnb it has nothing to do with the house. Stowford Mill House as this place is known is an early 18th-century house is a working farm and is the very definition of charm itself.
The Frome River runs right through the back yard but if that's not enough water for you, the U.K.'s oldest river swimming club is right nearby.
Homemade scones and cream can be had daily at the tea room while a cozy fire can be made every night in the living room fireplace (there's a chaise lounge you can curl up on and even a tartan blanket), and a bath can be drawn in the clawfoot tub.