These are the 8 best Airbnb homes with pools in France! Whether it's an olympic-sized pool in the front yard or an indoor spot to dip, the French somehow manage to make even their pools more beautiful than most. For that reason, we've put together this list of 8 Airbnb homes with amazing pools in France. Even if you're near the coast, if you've got a family or just love your morning laps, la piscine is a great amenity, especially in the summer months. It's also a great way to work off the calories in all that incredible French food.
The Best Airbnb cabin properties France has to offer!
8 Very Weird but Very Cool Airbnb Homes In France
Wishing Well – approx. $336 a night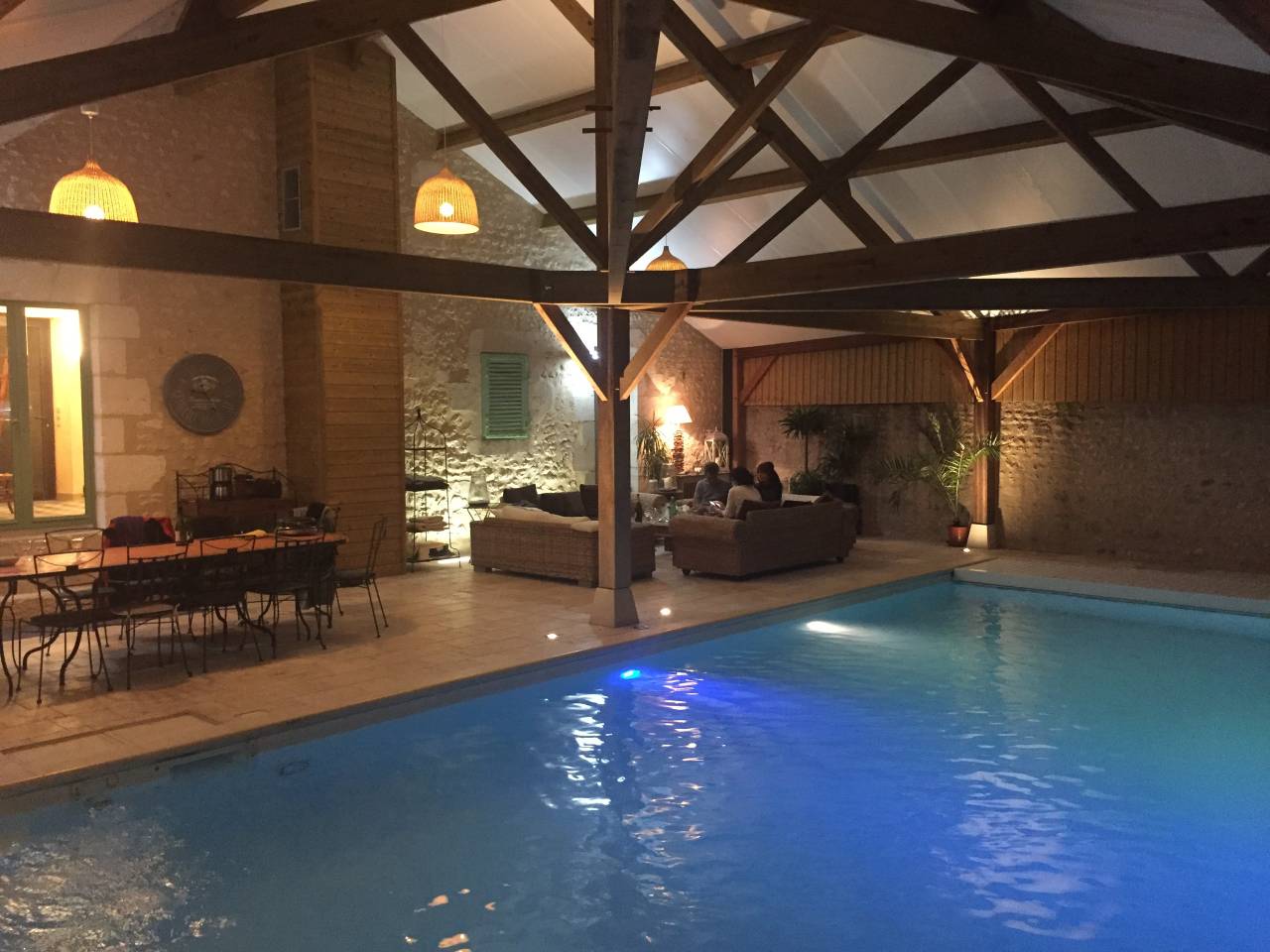 One happy guest at this French Airbnb reported that their family never left the pool here and we have no problem believing it. This indoor pool looks like something out of a resort with soft lighting, glass walls that look out over the surrounding property, and a full dining area.
There's even a lovely sitting area on a patio right outside that has a little wishing well (where you'll want to make a wish about returning, no doubt!). Just nearby in an inner courtyard is a stunning wisteria arch under which is a dining table, perfect for taking your summer meals.
With an adorable, Provençal kitchen, marble bathrooms, and wooden staircases, this five-bedroom Airbnb in the Nouvelle-Aquitaine region of France sleeps up to 13 but we have a feeling you'll be in the pool a lot more than you'll be in the bedrooms!
Aix Marks the Spot – approx. $661 a night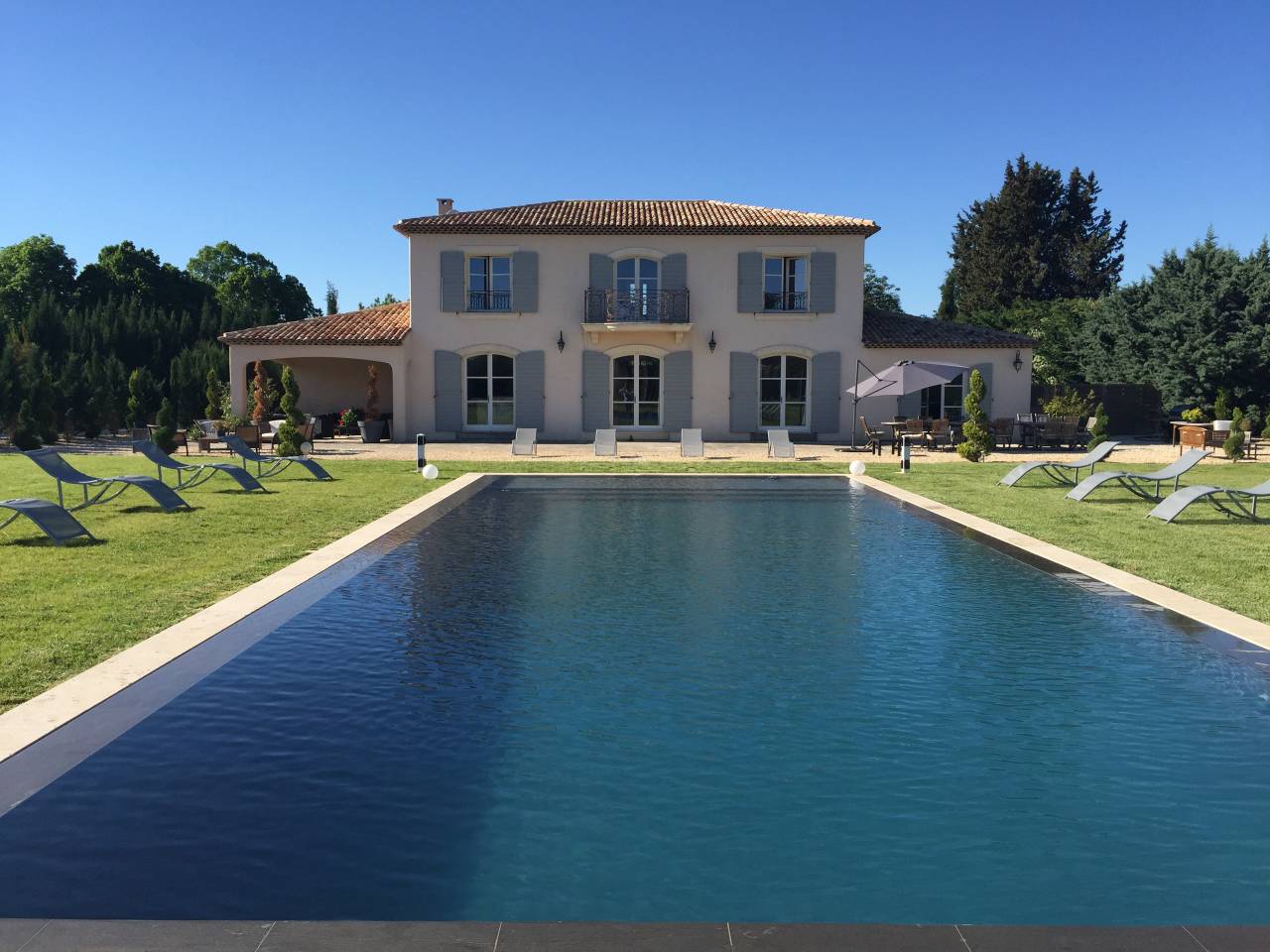 If you've never been to the Aix-en-Provence region, you're in for quite an experience. Just half an hour away from the city of Aix, often referred to as the "Paris of the South," this eight-bedroom chateau combines old-world charm with a decidedly modern aesthetic.
Newly constructed, this home has a stunning 50-foot pool in the middle of a beautiful open space. There's also a lovely covered dining area outside that opens right into the kitchen.
With parterre floors, blond wood furniture, marble bathrooms, French doors and ornate balconies in most of the rooms, great care has been taken to make sure that in spite of its newness it still looks decidedly French.
Be sure to get into town and have lunch at Les Deux Garçons, a restaurant that has been in business since 1792 and is right on the Cours Mirabeau, the town's main drag where you can sit and watch the world go by.
Speaking of the Cours Mirabeau, be sure to spend a day shopping the markets where you can get everything from fruit to soap to Provençal fabric to bring back home.
Ceaselessly Satisfying Cassis – approx. $67 a night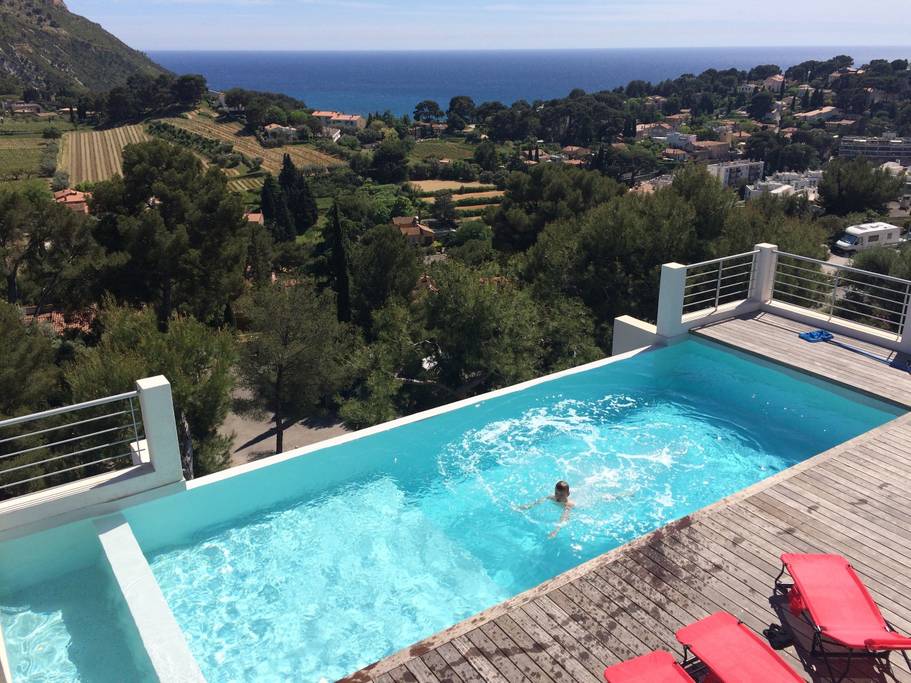 This one-bedroom Airbnb is near Cassis, a lovely, sleepy little seaside fishing town in the south of France but in spite of being so close to the sea it has one of the most stunning infinity pools you've ever seen.
Definitely one of our favourite Airbnb homes with a pool in France. And wait until you see the view from the dining area as well as from the bedrooms. Not. To be. Believed. The bathroom is shared but at only $67 a night, this place is a big bargain.
Make sure to visit the Musée d'Art et Traditions Populaires de Cassis where the main curator is known to give impromptu tours himself. You'll also be just a short car ride away from Marseille and a little artisan village called Le Castellet.
One of those places only locals know about, Castellet is well worth at least half a day as is the village of Moustiers-Saint-Marie, a town known for its faience pottery. If you go, be sure to look out for a golden star hung between two trees. While the story of how it got there is up for debate, it's pretty much undeniable that the ornament has become the symbol of the city.
Esterel Estate – approx. $157 a night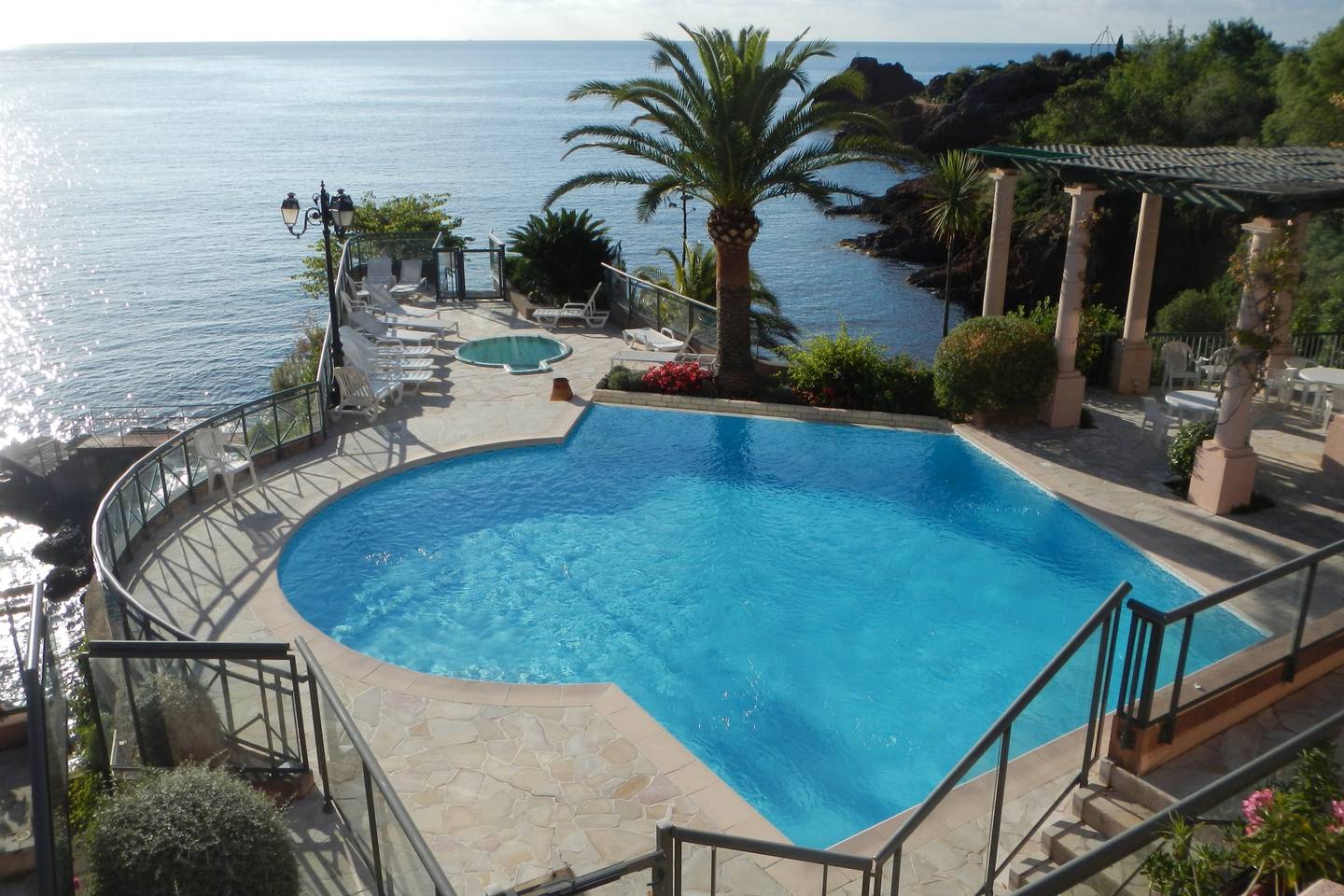 This is a pretty cool Airbnb home with a pool in France. Looking like a cross between Heart Castle and a Malibu mansion, this incredible columned pool is part of an apartment located in the Esterel Massif or mountain range which is perfectly situated if you want to see both the Provence region and the Côte d'Azur/French Riviera.
About an hour and a half from Aix-en-Provence, just over two hours to Avignon, and just about an hour or so Cannes and not that much further to Nice. Even if you never leave the property, you'll have access to two private beaches and of course, there's that pool (not to mention a Jacuzzi)!
It's not heated in the winter but you probably wouldn't go swimming then outside anyway. You'll have wifi, a Bose Acoustic wave cd player, and a shuttle service to and from the Nice airport. If you're bringing kids, there's a sea scooter as well as a shallow end in case you have some nervous swimmers!
Mona Lisa Smile – approx. $291 a night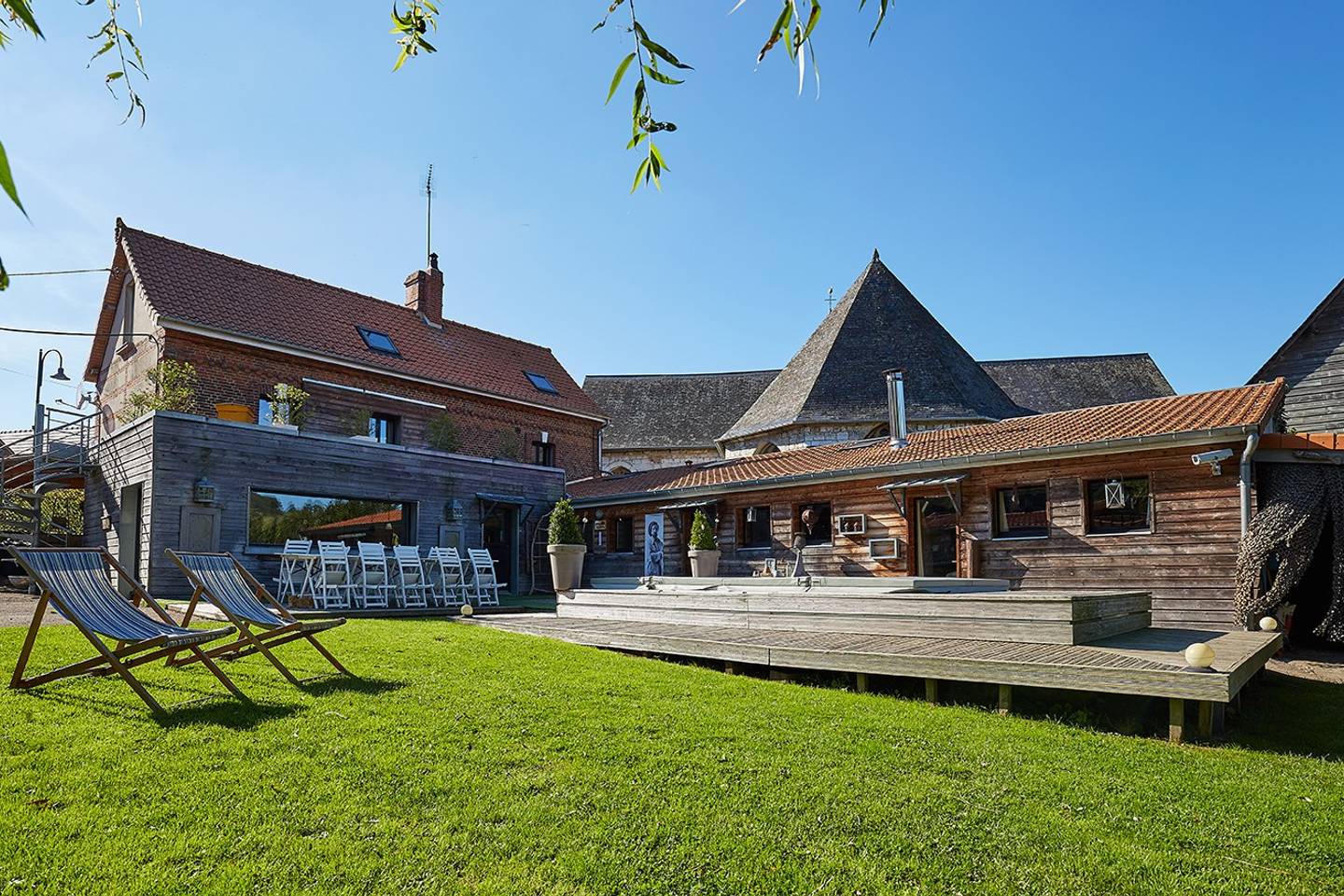 Located just near the English Channel, this four-bedroom, two bath villa sleeps up to 15 people, making it a great place for a get-together, especially if you have friends in the U.K. Just about ten minutes to the shore and equally close to the nearby forest, this is the perfect place for a nature lover.
You'll have access to both a small creek (where you'll be able to watch the water roll by from deck chairs), vegetable garden, flower garden and your hosts can help you scout for mushrooms in the forest and even have a bike for you to borrow!
There's a hot tub here as well as a great kitchen and plenty of space both inside and out for dining and the décor is fun and fresh and will look fabulous in Instagram.
There's also an adorable sheep named Mona Lisa who roams the grounds and a bee hive so if you're there in the spring, you'll be treated to some great honey!
Cassis Won't Cease!  – approx. $224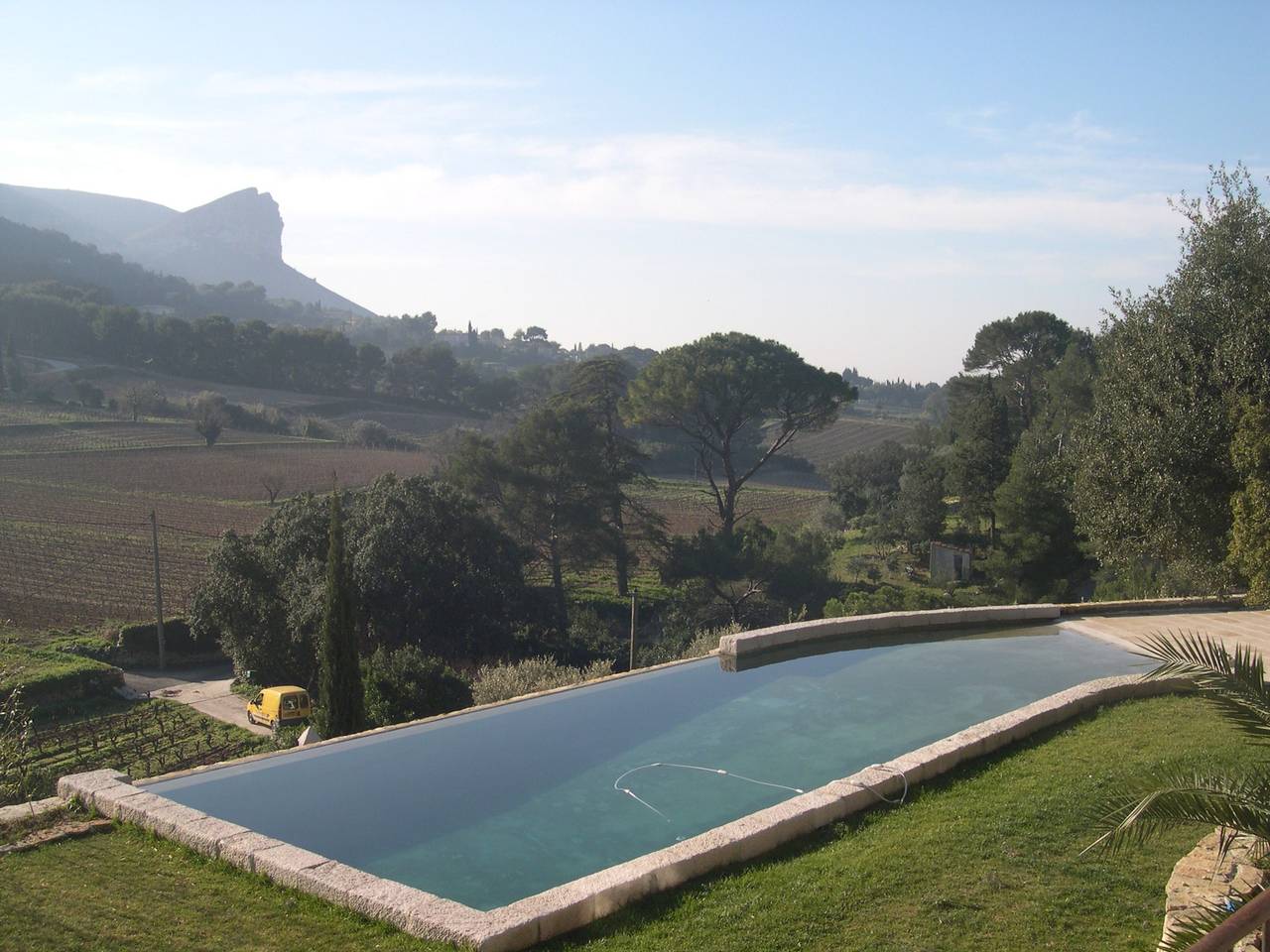 One of the coolest Airbnb homes with a pool in France. With incredible Airbnb properties, that is! We're not sure what's going on in the town of Cassis, but the homes here have incredible pools!
This Cassis-area Airbnb has a clean, modern, serene feel, the centerpiece of which is the amazing infinity pool which looks out over the surrounding vineyards.
There's everything you need here and absolutely nothing you don't, making maintenance super-easy which is great if you're traveling with children. Surrounded by stunning trees, perfectly manicured lavender plants and flower beds, this house has enormous arched windows that give a perfect view of the outside world.
This small villa is separate from the main house and has a fully equipped kitchen as well as all the supplies you'll need if you're coming with a child: baby cot, high chair, you name it.
This place is so desirable that only week-long stays are available so just make sure you know that before you book.
Coly Moly! – approx. $111 a night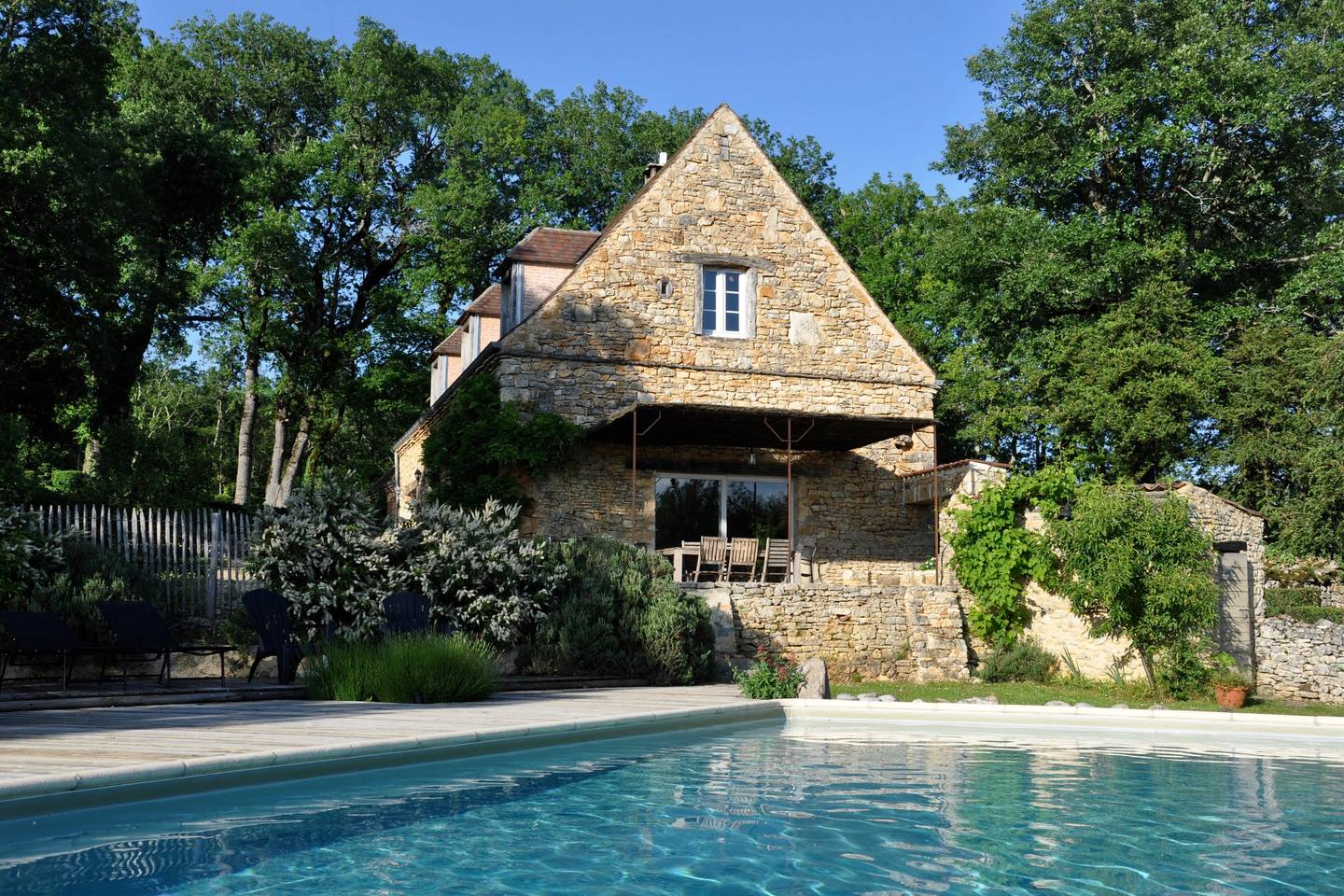 If this isn't the quintessential French country farm house, we just don't know what is! Located in a town called Coly in the beautiful Dordogne region, this four-bedroom, one-and-a-half bath Airbnb is the stuff of dreams.
Just 15 minutes from the famous Lascaux caves, this almost 20-acre estate offers quiet seclusion and insane views of the local valley. A perfect place for nature lovers, you'll find peacocks, horses, donkeys, dogs, cats, and even boar on this estate (all but the boar are pets!).
Canoeing, hiking, running and walking tracks are all within minutes here and you'll be within a short drive a few amazing parks including the Parc National Perigord Limousin and the Parque Natural Regional de Millevaches en Limousin, both of which are beyond stunning.
If you happen to have your own dog, you can bring them here but you'll have to leave Fluffy the Feline at home as they do not accept cats.
Stork House with amazing pool – approx. $71 a night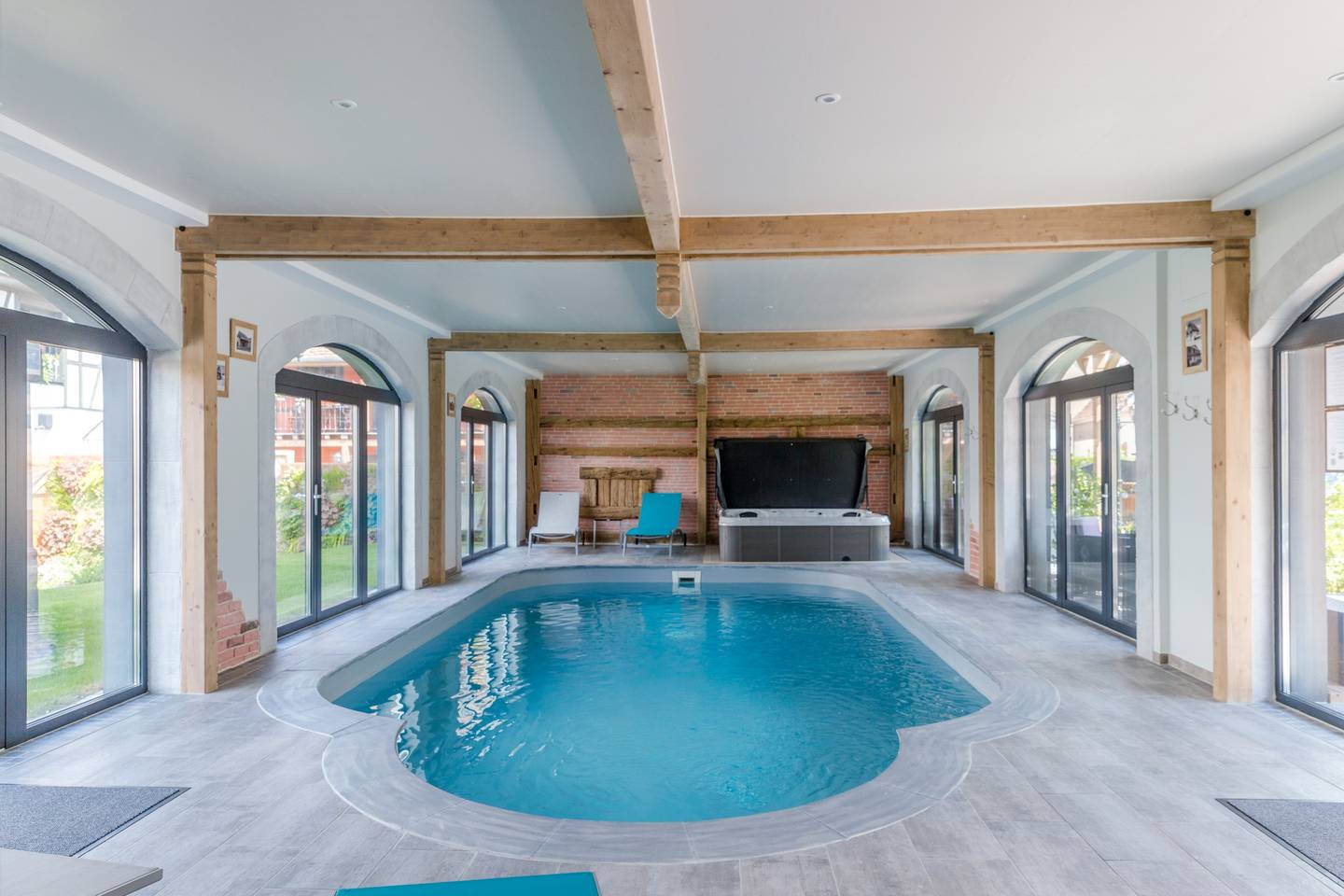 Sometimes the most modest Airbnb properties are some of the most charming, and this two-bedroom apartment is a perfect example of that. Located just about a half-hour's drive to Germany, this Alsatian-style Airbnb (think exposed beams, lots of patchwork, and heart motifs), has a lovely indoor, heated salt water pool with attached Jacuzzi in a remarkably elegant setting.
While there are many great amenities and features (garden, pétanque court, fully equipped kitchen, etc.) and the location is great (near the unthinkably beautiful town of Colmar which looks like something out of "Beauty and the Beast"), there is one feature of this Airbnb we think might be its best: storks, the symbol of the Alsace region, are so plentiful here that the sounds of their beaks clicking in the morning will wake you up!
We're not sure how you hit the "Snooze" button, but we think that sounds much better than waking up to an alarm! Definitely one of the best Airbnb homes with a pool in France.