These are the best Airbnb Treehouse properties in France! Known as "les cabanes dans les arbres," treehouses in France are a bit of a thing which is why we've put together this list of 8 Remarkable Airbnb Treehouses in France. Whether perched in a forest or under a bubble, these houses offer a perspective of France you can get literally no place else. Just don't freak out in the morning when you wake up and realize you're not on the ground!
The Best Airbnb cabin properties France has to offer!
8 Very Weird but Very Cool Airbnb Homes In France
These 8 Gorgeous French Châteaux Are Available on Airbnb
Check 'em out:
You've Got Nothing Toulouse – $95 a night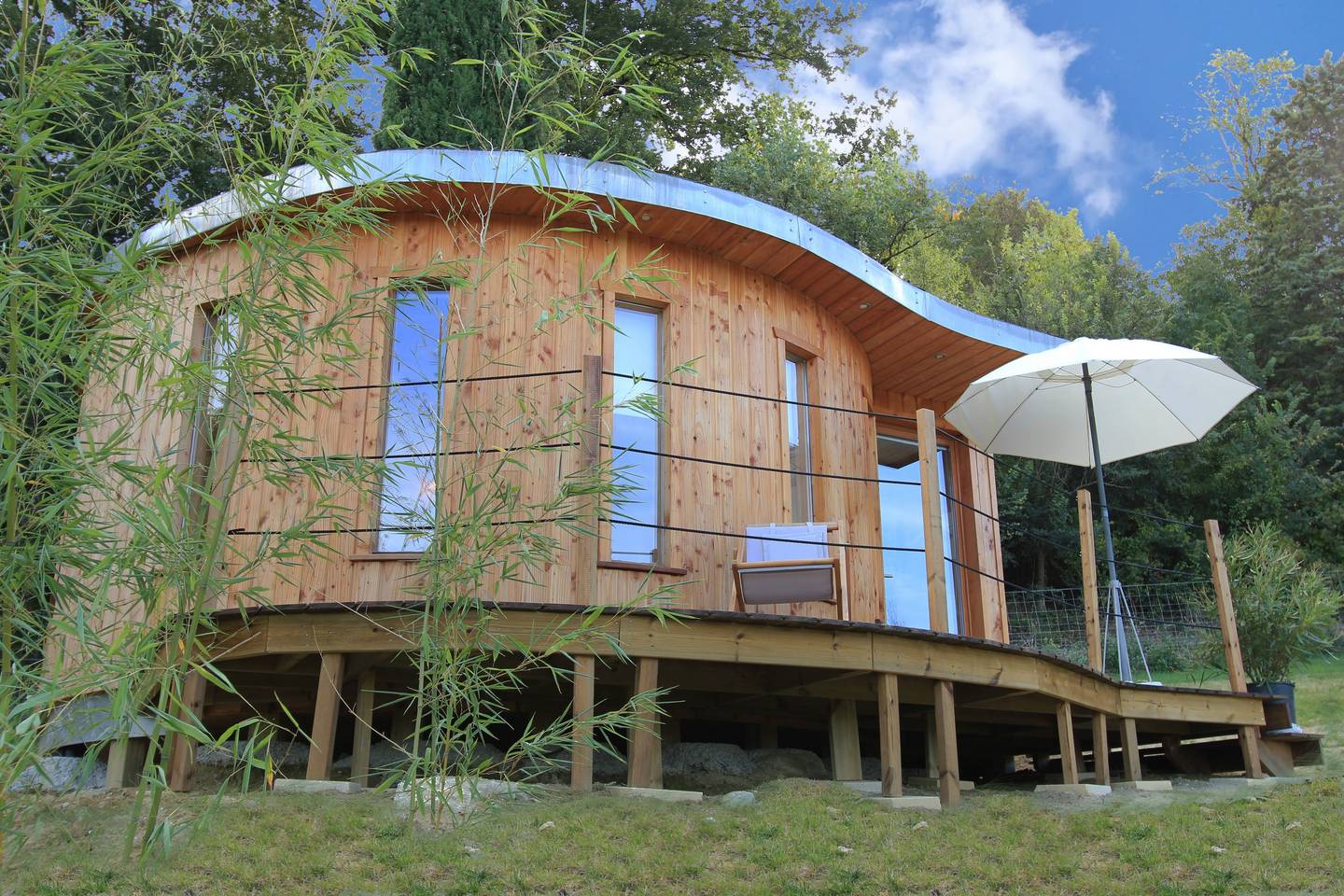 Definitely one of the best Airbnb Treehouse properties in France. If you're being super technical about it, but "La Victorine" as this property is known might be more of a cabin than a treehouse but it sure feels like one.
In fact, the host of this one-bedroom Airbnb describes this property as a cocoon and it's easy to see way. Calm, serene, light, and happy, this little house is as stylish as it is cozy (unless you know a lot of other treehouses with Eames chairs).
With a full bathroom, a little kitchen, a small deck and even a pool, it really feels as if you're in a full-sized house. Situated on the stunning Parc du Confluent you can do everything from hike to swim to fish and if you're up for an adventure, be sure to go into the thriving town of Toulouse which is just six miles away (and from which you can catch a train to just about anywhere!).
You'll also be close to the Toulouse airport if you're in the mood for a quick European adventure!
Serious Seclusion – approx. $157 a night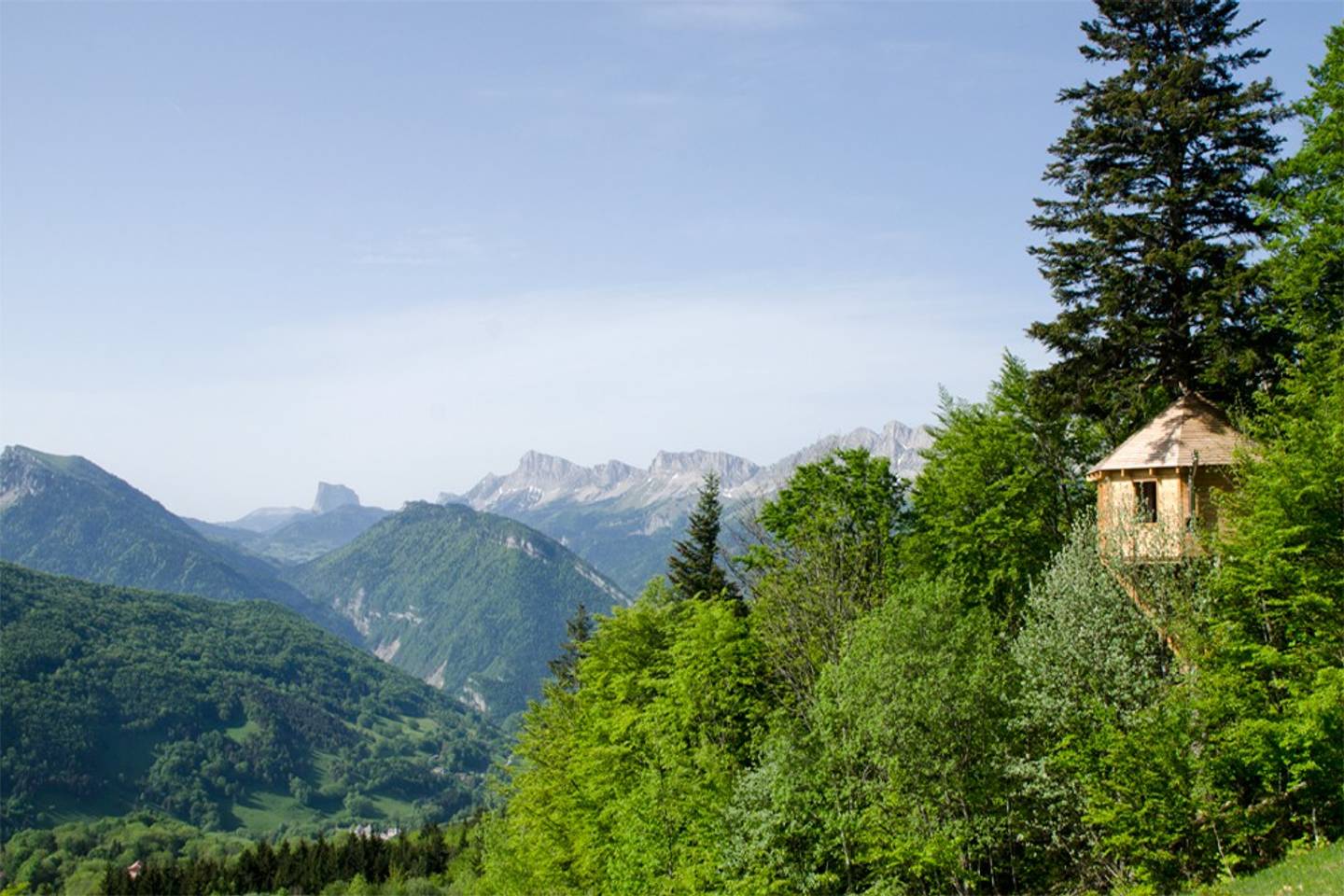 OK, now this is a tree house! Reached by way of a very tall staircase, this two-bedroom treehouse is looks out over the Vercors and Dévoluy mountain ranges, which, if you're not familiar with them, are some of the most stunning landscapes in all of France.
You'll be about 15 miles away from the city of Grenoble which has one of the most incredible cable car rides you'll ever experience.
Accommodating up to four people, this treehouse Airbnb runs on solar power and has a small kitchen area, a dry toilet, wood stove, and even an included breakfast.
While there are a few places around to get food, gas, etc., keep in mind that this is a truly a secluded area so if you've ever wanted to write that book you keep talking about, now's the time!
Elfin Magic – approx. $211 a night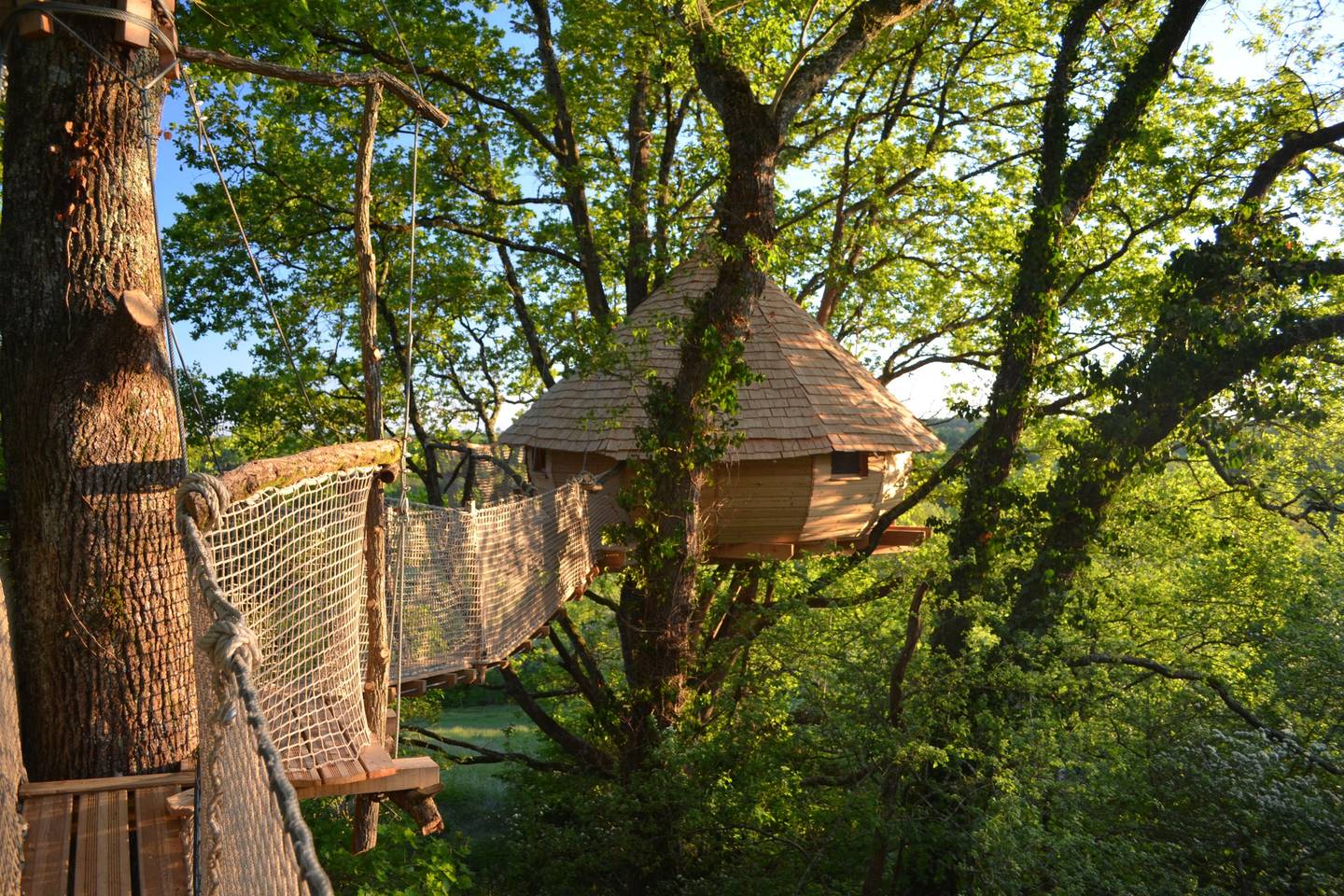 OK, is it just us or did you immediately think of the Keebler elves when you saw this?
Perched in a 150-year-old oak tree, this treehouse is reached by way of a long gangway suspended by cables and while it's probably not a great place for someone uncomfortable with heights, but it is great for someone who really wants to commune with nature.
With a lovely little outdoor deck, plenty of windows and even a hot tub that looks out on to the forest below, this double decker cabin will make you feel as if you are actually living outside.
With a separate bathroom area, you'll have access to a shower and even a hair dryer. For extra treats, there's a nearby spa, equestrian center, a company that provides hot air balloon rides, night markets, wine tastings, festivals, and even garage sales.
And if you see an elf, tell them we said hello!
La Solane – approx. $123 a night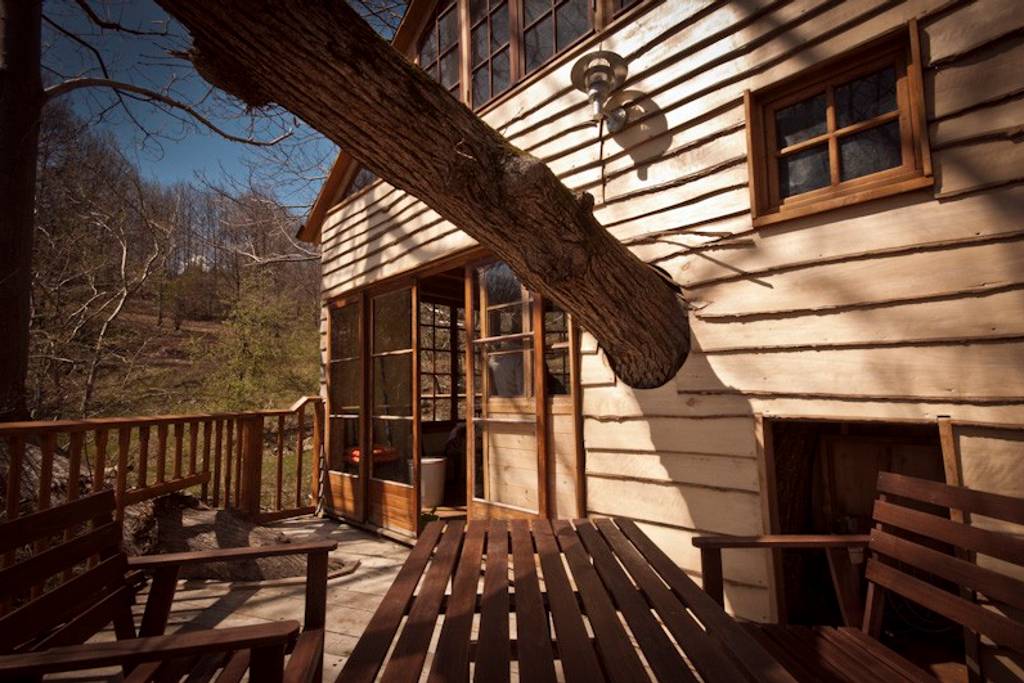 When the tree literally goes right through the house, that's a tree house! Sleeping six within two bedrooms, this home is literally in an ancient chestnut tree and amazingly comes fully equipped with a washing machine, wifi, and even a pool.
Known as "La Solane," this house was originally just a barren piece of land before being purchased by the host who turned it into a sanctuary from which to see the stars and enjoy the breathtaking natural world that surrounds it (if you like horseback riding, they can easily arrange a trip for you).
Right near the Spanish border in Saint-Laurent-de-Cerdans, you're just a two-and-a-half hour car ride to Barcelona. If you'd rather stay in France, you're also very close to the town of Arles where Van Gogh painted many of his most famous paintings including "Café Terrace at Night".
In fact, you can even sit down in the famous restaurant for a cup of coffee.
While the café certainly capitalizes on the fame, there's still something exhilarating about feeling as if you're having a meal in one of the most famous masterpieces ever painted.
A Tisket, A Tasket – approx. $110 a night

How amazing is this treehouse Airbnb? Fulfilling every childhood fantasy of what a treehouse should be, this two-bedroom property is in the Semoy Valley which looks like something out of a storybook.
If the look of this place doesn't get you, absorb this: The hosts even provide a little breakfast of coffee and croissants that's hauled up in a basket every morning.
With a little enclosed deck with views of a nearby lake and a little wood-burning stove to keep you warm, all you have to do here is relax.
There's no wifi, no TV, and no phones so you can spend all your time hiking, canoeing, kayaking, biking, and boating. There's not even running water and the only bathroom is an outhouse.
If you do find that you need a little civilization, you're less than a three-hour car ride to Paris and just across the border from Belgium but we recommend just giving in to the experience and taking it easy.
Llama Lodging – approx. $111 a night
Known as "La Cabane du Lamas," this sweet little treehouse Airbnb is located in the Aquitaine region of France which, for those not familiar with it, it's a breathtaking, storybook region of the country.
With just a slightly hippy vibe, this Airbnb is full of colorful hammocks, lawn lights, board games and books to keep you occupied.
Right near a small lake, you'll be able to enjoy the swans that wander the property, a little paddle boat and an incredible little jetty where you can sit and have a meal or just watch the fish swim by but the true piece de resistance here are the llamas that come by to say hello.
You certainly couldn't ask for a cuter house guest!
Hut Away from Home – approx. $52 a night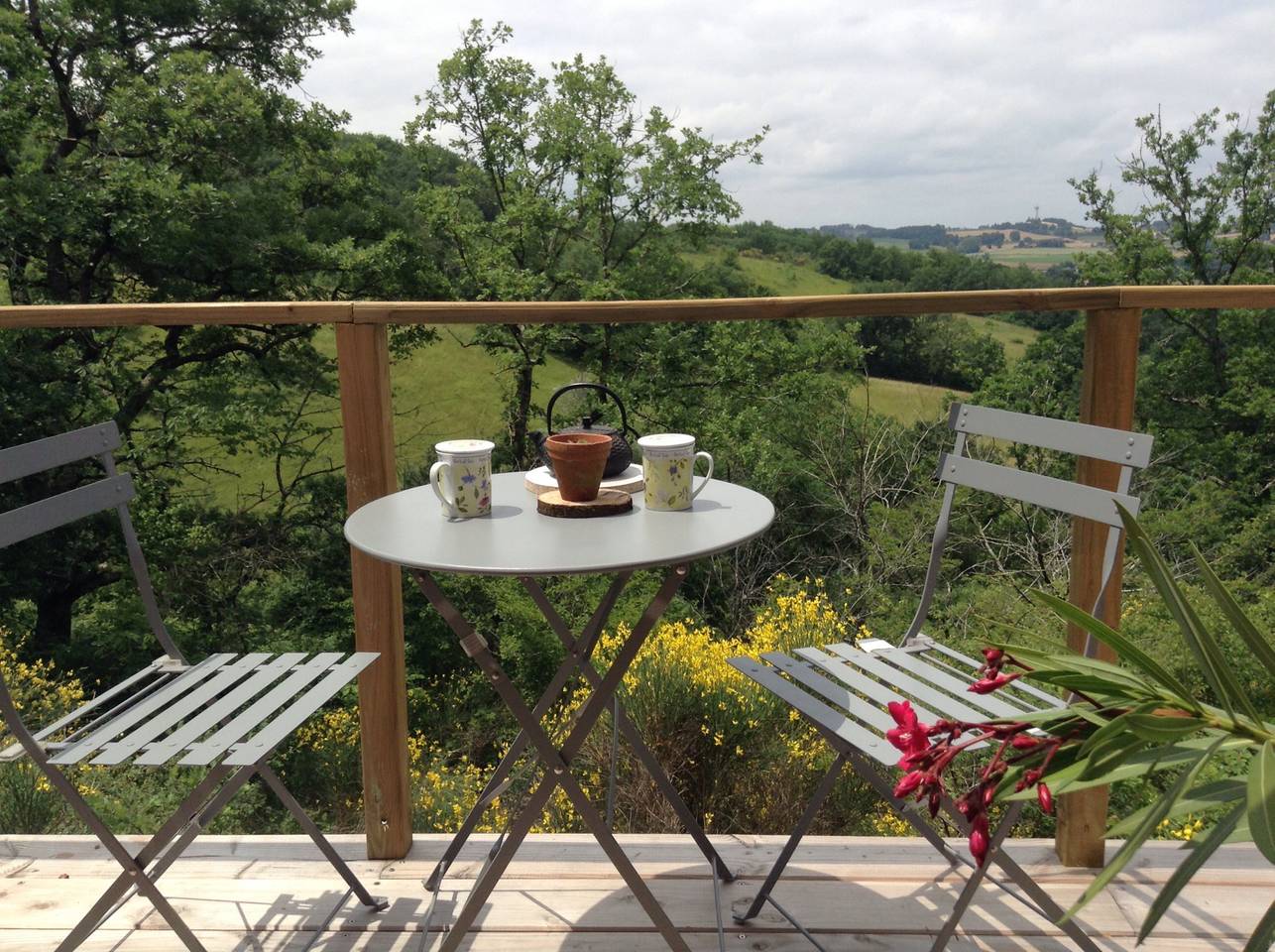 The owner of this Airbnb refers to this property as a hut and if you want quiet and seclusion, this is the perfect place for it.
This one-bedroom treehouse sleeps up to two people but offers so much surrounding room outside that you'll never feel claustrophobic. This is a great example of an incredible Airbnb treehouse properties in France.
There's a mini-fridge but no place to cook so if you hate cooking, this is the place for you! There's a little terrace (but, again, you've got all that room outside to run around in), a shower, an above-ground pool.
You'll also be just an hour away from the Pyrenees which, in addition to being one of the most beautiful spots on earth, is also part of the Tour de France route so if you happen to be a cycling fan why not get out there and route for your favorite cyclist?
Step Outside Your Bubble – approx. $148 a might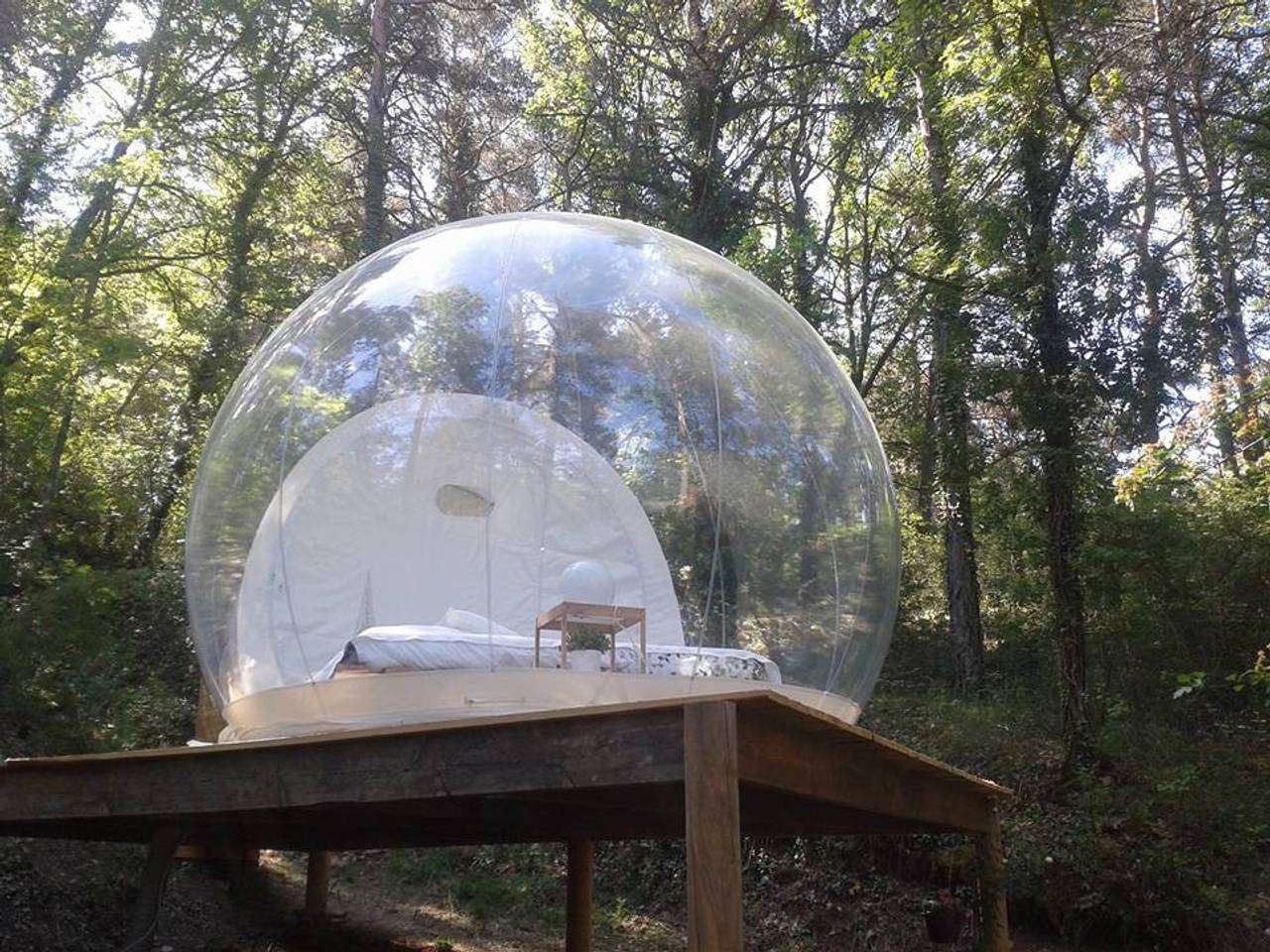 Well, you said you wanted to be outside! This see-thru bubble will allow you 360° access to the most amazing forest views (and by the way, if you're worried about privacy, the forest actually acts as a great little curtain).
While the sleeping quarters are covered by the bubble, the shared toilet and shower are outside so just be prepared to venture out. This is definitely one of the best Airbnb Treehouse properties in France.
You'll also be visited by some really, really cute little visitors (think sheep). Believe it or not there are lamps and even a heater inside the Nymph Bubble as they call it.
We can only imagine how incredible this place is in the rain!