These are the best Airbnb homes in Gatlinburg! Gatlinburg is an Appalachian mountain town in eastern Tennessee. It is known as the gateway to the Great Smoky Mountains National Park. A large area covering almost 520,000 acres and that is visited by hundreds of tourists and outdoor enthusiasts throughout the year. Full of popular theme parks, ski resorts and amusements, Gatlinburg has become a tourism hot spot and popular family vacation destination. Home to nearby Pigeon Forge, Dollywood, and several other parks there is a wealth of activities for kids and adults to explore in this mountain town area.
The 6 Best Memphis Airbnb Homes For Elvis Presley Fans
Check out the 5 coolest Airbnb rentals in Knoxville, Tennessee!
Affordable Airbnb Rentals Near the Nashville Farmers Market
8. A Professionally Designed Cottage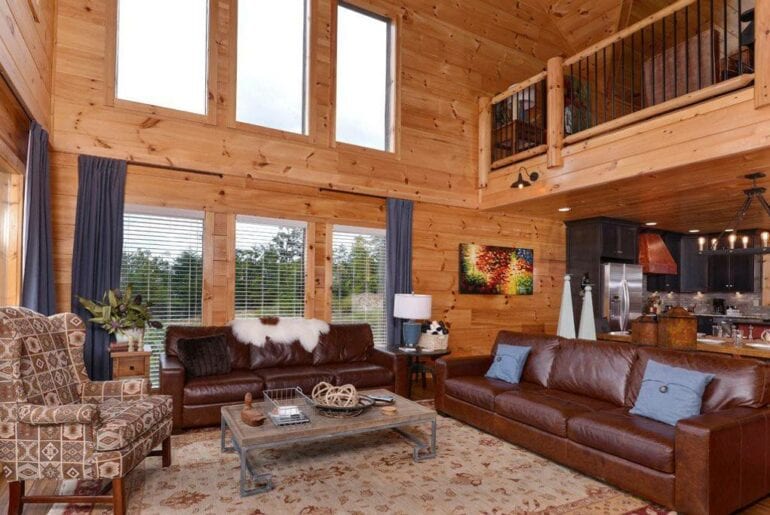 This peaceful cottage is full of charm with majestic Smoky Mountain views. The gorgeous cabin comes complete with a fun-filled recreation room, its own theater room, and a private indoor pool. Decorated to be comfortable and tasteful this home is perfect for families. Unwind in the outdoor hot tub, throw a barbecue on the charcoal grill, or relax on one of 3 decks. $651 per night.
7. A Cabin with amazing Mountain Views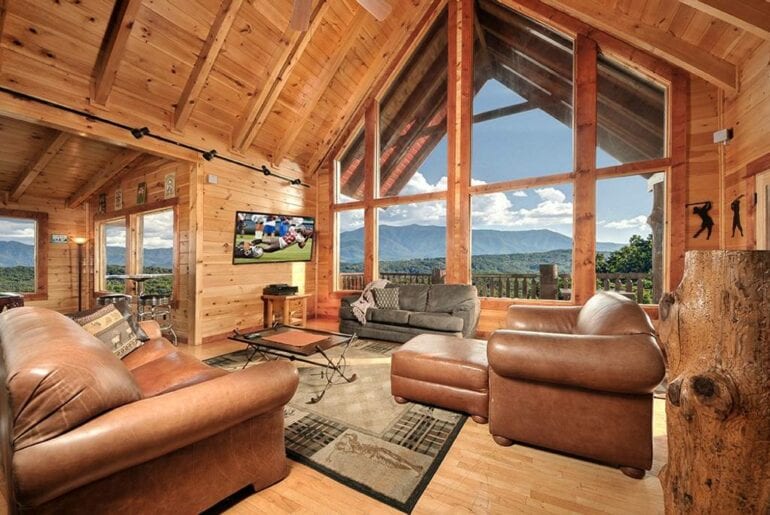 Smokin' View Lodge is a $1 million dollar Gatlinburg Airbnb cabin. This luxury log home has all the amenities you will need and more besides. Not far from Dollywood and Pigeon Forge, this property has its own theater room, swimming pool, and stunning wraparound deck. It is the perfect place for your family vacation. Close to area restaurants, cafes and shops right on your doorstep. $1142 per night.
6. The Grand Orchard Lodge with Theater Room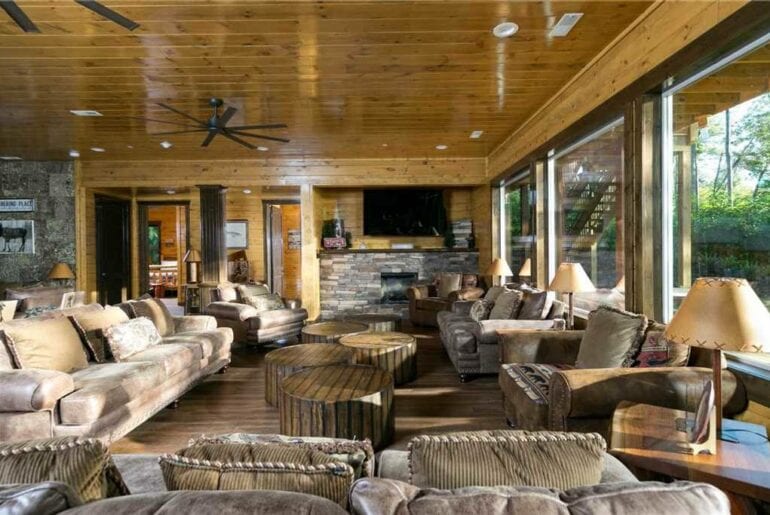 A luxury home getaway awaits you at the Grand Orchard Lodge. Experience amazing views from the massive windows, relax and spread out in the open gathering space, and cooks your meals in a chef's dream kitchen. Sit and unwind by the 3 sided fireplace or take a swim in the heated indoor pool. There are also 2 private hot tubs on the property for you to enjoy. $2555 per night.
5. A Mansion with Mountain Views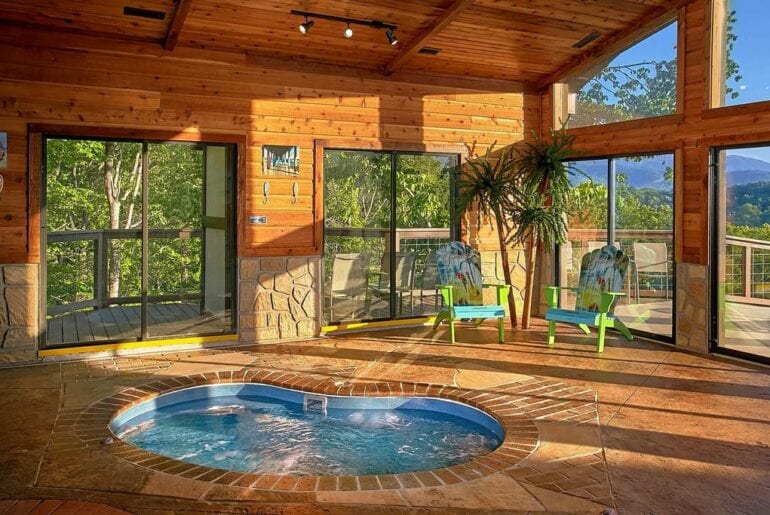 Enjoy being on the top of the mountain in this luxury Gatlinburg Airbnb mansion. This home has its own private in door pool room, theater, and high end kitchen. Enjoy relaxing on one of the covered decks and enjoy the grand views of the Appalachian mountains. Situated in the popular Arts and Crafts district this home is close to all that you will need. $1432 per night.
4. A Mountain retreat with views of the Smokies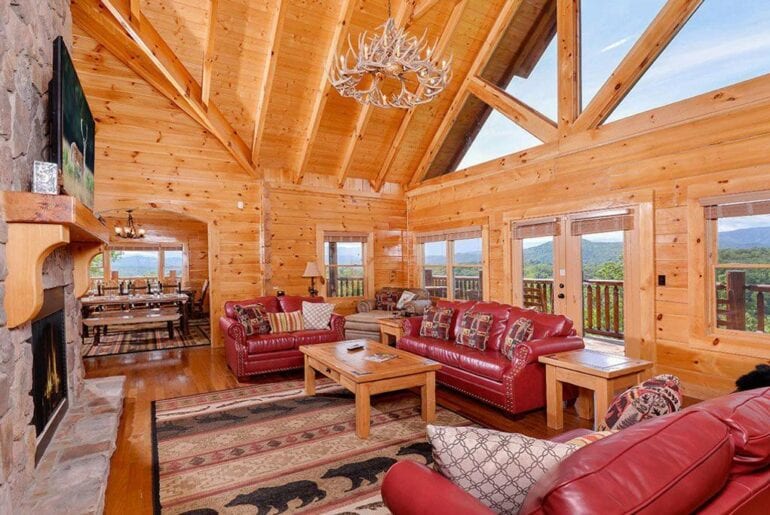 Experience impressive views of the Smokies from all around this stunning property. Everything you could need for your stay has been included in this Gatlinburg Airbnb. Entertainment for the kids includes arcade games, air hockey, foosball, and pool. For the adults there is a fire pit, large back deck and a hot tub to relax in. $663 per night.
3. A Brand new Log Cabin with Swimming Pool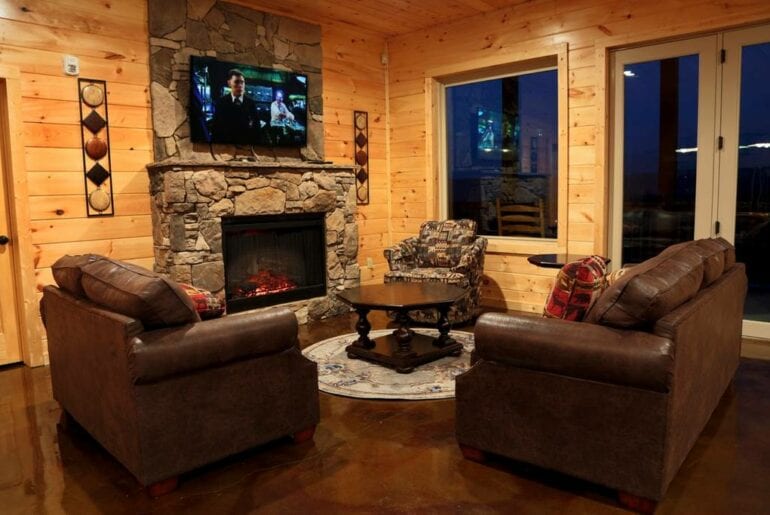 This  luxury Gatlinburg Airbnb property is a newly built, luxury log cabin.This huge property can sleep up to 40 people so it is great for large events or weddings. Filled with high end amenities like a theater room, outdoor veranda with fireplace, and a hot tub. For the kids there are multiple video games and a pool table, Enjoy the large covered porches and the incredible indoor swimming pool. $852 per night.
2. A Newly Built upscale Gatlinburg Airbnb Log cabin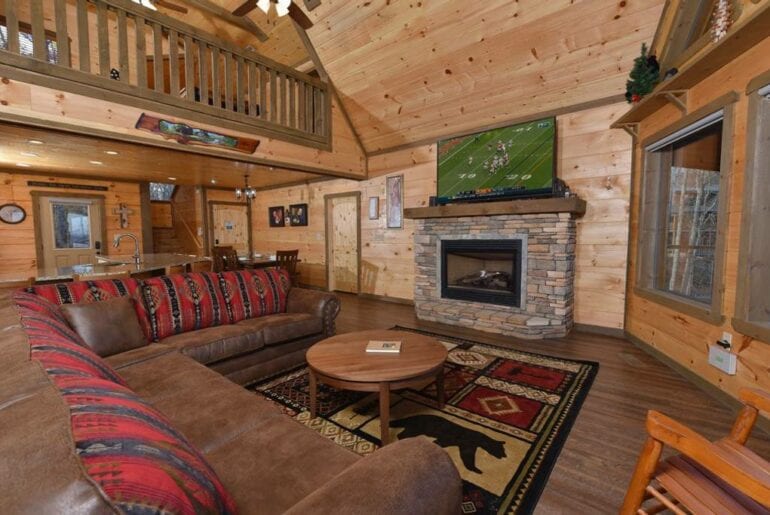 Enjoy staying at the newly built deluxe cabin in the Great Smoky Mountains. This gorgeous property is spacious with over 4,000 square feet of room to spread out in. It provides jaw-dropping views of the Smokies through the floor to ceiling windows and has a peaceful back deck. Located conveniently to area amenities and shops. $774 per night.
1. A Luxury Cabin with Stunning views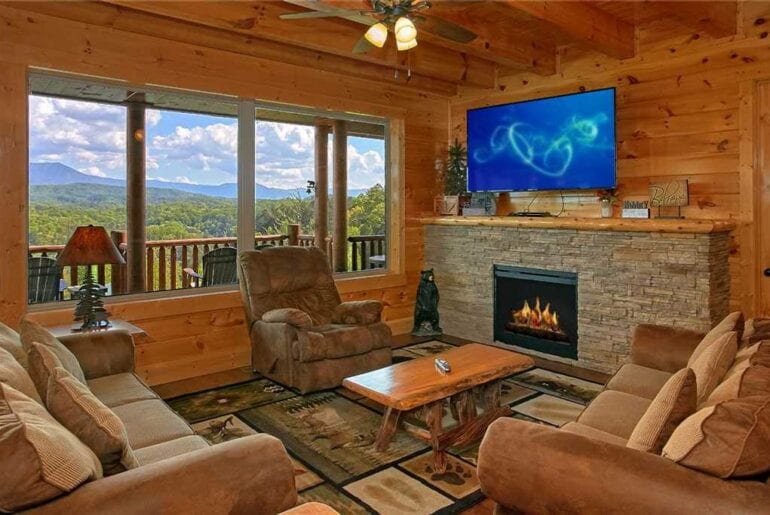 This amazing lodge style cabin is an enormous 11 bedroom, 11 bathroom property that can sleep up to 50 people! It has incredible views of Mount LeConte and the Great Smoky Mountains from many of the rooms. This home is tastefully decorated with upscale furnishing and is close to everything that you will need. Perfect for families or large events. $1107 per night.