These are the most romantic Airbnb homes in Houston, Texas. Houston has turned its commercial center into a lively scene with great eats, beautiful art, and an exhausting list of bars and microbreweries to explore. With so many museums, a grand stadium, and a Theater and Arts district, the possibilities are endless for those seeking a romantic getaway with their loved one. And what's more, there are tons of romantic Airbnb homes in Houston to choose from for your next vacation to celebrate what makes you and your loved one so great. Don't just choose any Airbnb location though. Take a look at these 8 spots for your next romantic Airbnb Houston trip!
9 of the coolest Airbnb Houston luxury properties
These are the 8 best Texas Hill Country Airbnb homes
Enjoy a quiet getaway with all the space to enjoy, and all the fun just minutes away!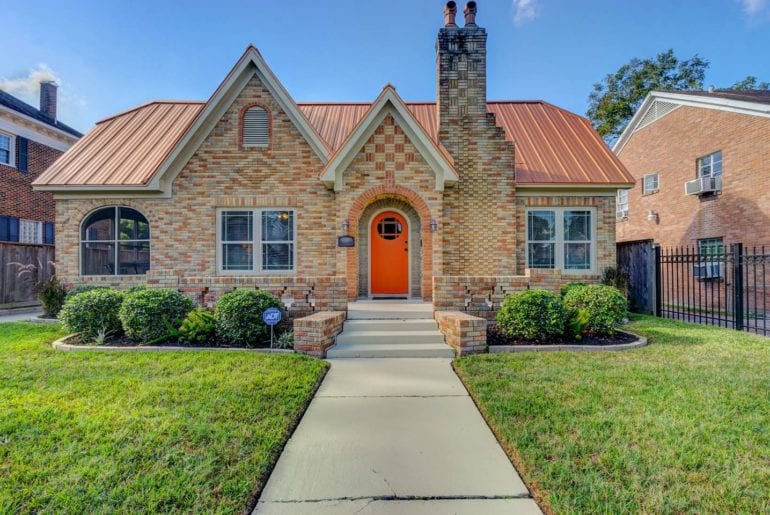 With three bedrooms and two bathrooms, there's plenty of space for a family, but also plenty of space and privacy for a couple looking to have some fun in Downtown Houston. Enjoy a gorgeous interior with amenities including a vintage claw-foot tub.
Get a great view with this modern yet cozy studio apartment for two!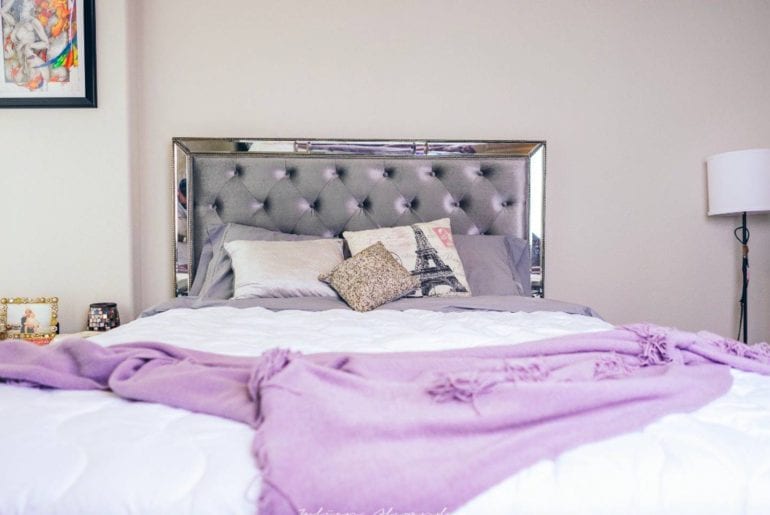 Get an overseeing view of Downtown Houston while enjoying a studio of modern design with modern amenities. It's perfect for couples! After walking around Midtown and exploring the bars and restaurants of Downtown Houston, top off your romantic Airbnb Houston experience with a dip in the included hot tub!
When you're looking for a quiet retreat that has access to all the crazy fun!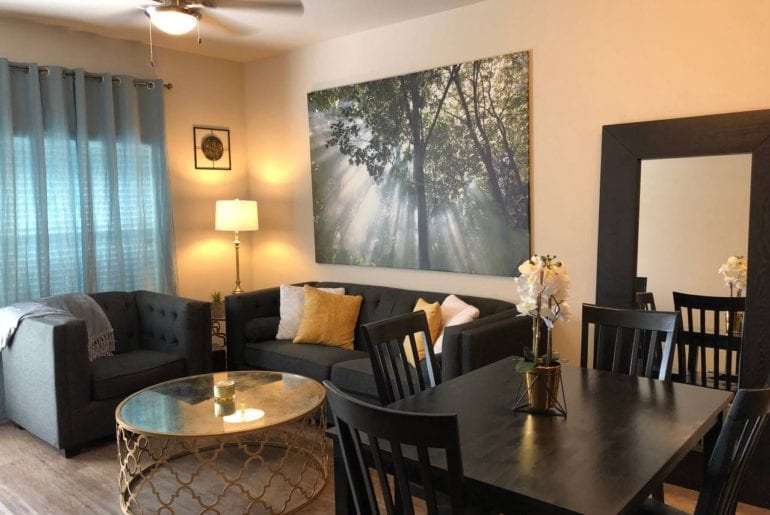 This one-bed apartment is perfect for couples looking for a stylish getaway that isn't too close to the noise but is close enough to the excitement of Downtown Houston. When you're ready to check out the movie theaters, the restaurants, and museums, if you're not feeling like taking an Uber, you will have access to the public bus transportation just nearby.
If you're looking to make everything bright on your romantic trip, it doesn't get brighter than this!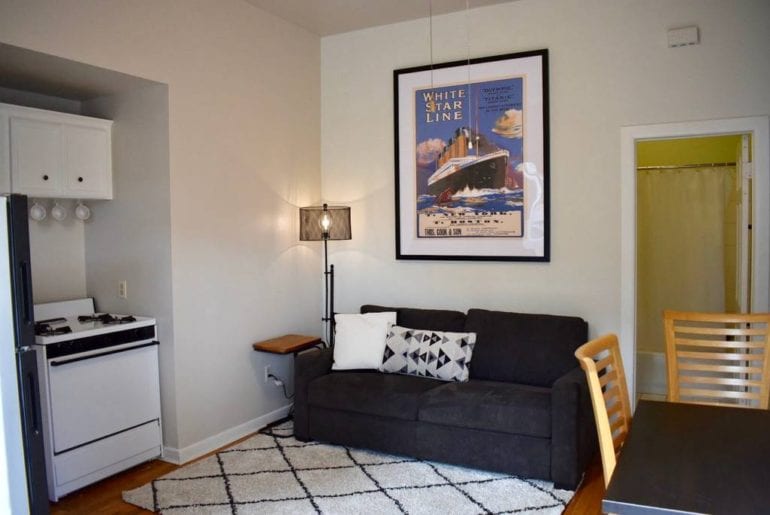 You won't find a brighter house than this when looking for a cheery romantic Airbnb in Houston. Beyond its bright exterior, you will find a cozy interior with 2 beds and a bath. Make a breakfast for your loved one in the kitchen or take a walk or bike trip over to one of the many restaurants nearby. Then top it off with a walk to the museum!
Once a store, this apartment has since been remodeled and converted into a stylish studio apartment!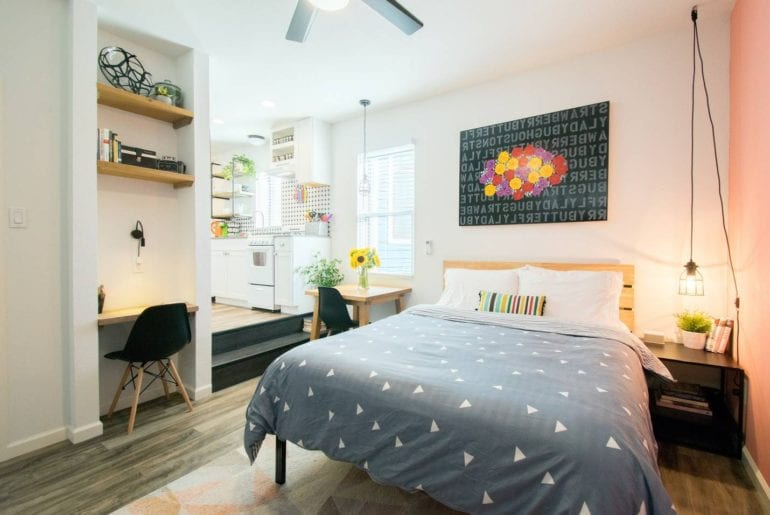 Settled in the north of Houston's Theater District, this studio makes for an excellent couple's getaway. You'll be close to the Aquarium and Market Square Park, and just beyond that lies Downtown Houston with its rich variety of eats and drinks, and museums and entertainment!
Enjoy your romantic Airbnb trip to Houston with this efficiency apartment turned into a cozy, private space.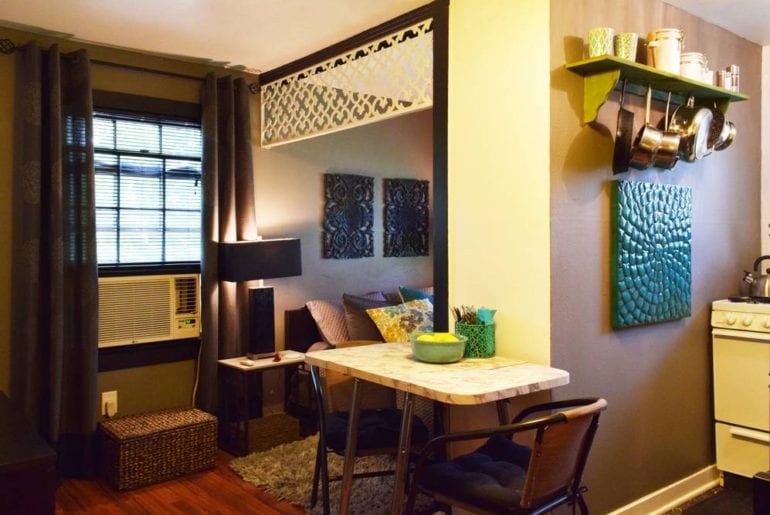 Enjoy a small cozy space with your loved one. And even though it's a smaller Airbnb, it comes with all the amenities you'd come to expect like a kitchen, free WIFI, and a private entrance so that you won't be bothered.
Enjoy the privacy of having a guesthouse all to yourself, perfectly distanced to be quiet but not too far from all the fun!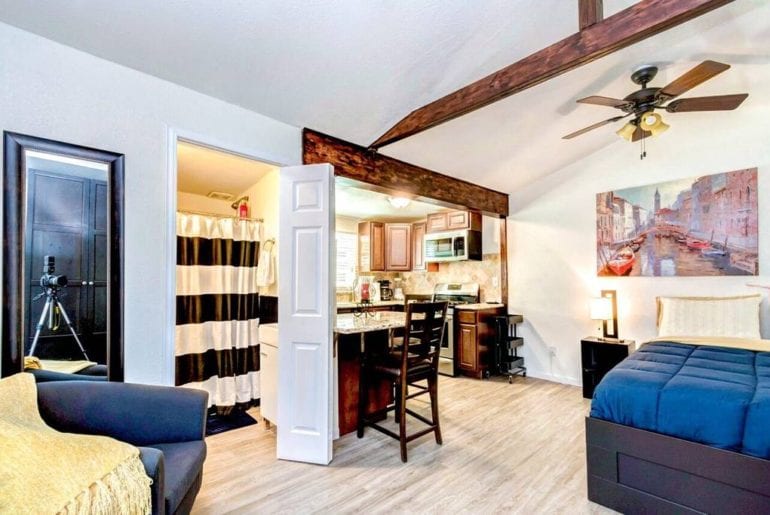 Just minutes away from Galleria, and close to Downtown Houston, you won't be too far away from the fun when you're ready to go exploring. But this home in Houston is situated just far enough that it's situated in a quiet neighborhood, so you can have your quiet moments with your loved one when you want.
Secure in a gated community, enjoy a private room and access to a rooftop deck at this romantic Airbnb property.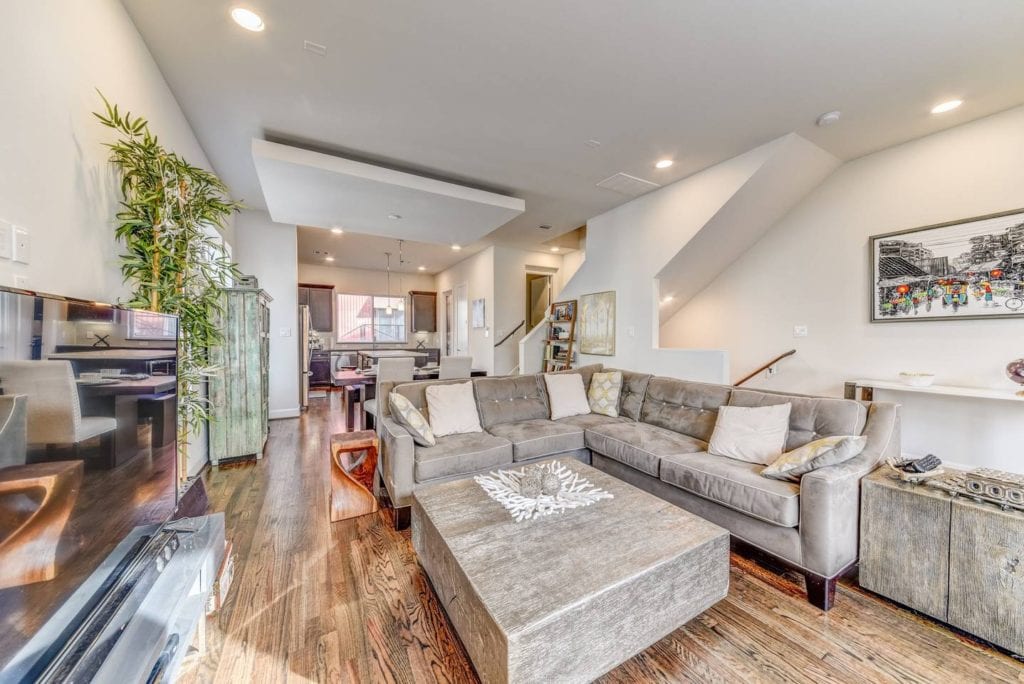 At this Airbnb, you'll be treated to a private room on the first floor and a generously-sized shared space on the second floor. But when it's time to have some fun out, this location is very close to Downtown Houston and the Aquarium!