Looking for the best dog or pet friendly Airbnb homes in Huntington Beach? You've come to the right place, folks! For all of California's dog-friendly credentials, from hotels and spas to restaurants and therapists that cater to your four-legged friend, there isn't actually much coastline dedicated to canine fun.
Huntington Beach is the exception. Well, some of it. Located along Pacific Coast Highway on the stretch of sand between Seapoint Avenue and 21st Street, Huntington Dog Beach allows leash-free fun and doggy waste bags aplenty.
Thanks to respectful visitors—both owner and dog—the beach is also a great place for humans too, with sandy shores and solid surf.
5 of the best Airbnb homes in Huntington Beach, California
These Airbnb homes in Santa Monica are very fancy!
A leash-free, beach-based dog walk is a rare thing in the USA. If you want to make the most of it, while enjoying everything else the area has to offer, we've found 6 of the best dog or pet friendly Airbnb homes in Huntington Beach.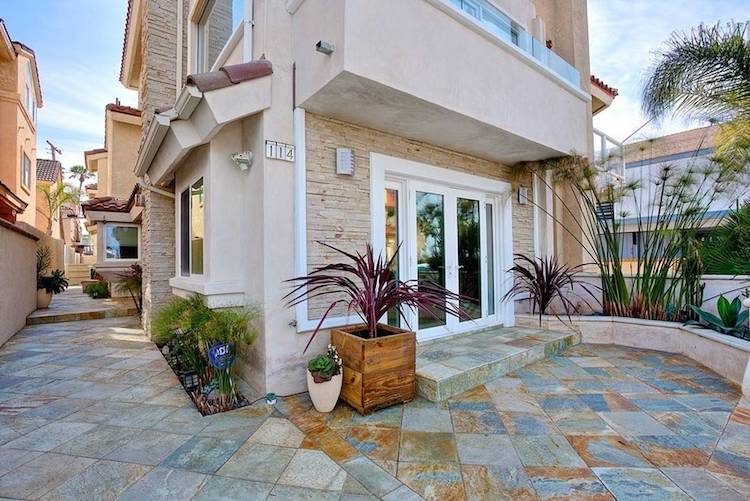 Located in the heart of downtown Huntington Beach, this home boasts three master size bedrooms, a gourmet kitchen and outdoor barbecue grills. We think it's one of the best dog or pet friendly Airbnb homes in Huntington Beach. 
There are ample outdoor spaces for both pets and humans alike, including two large decks for lounging under the sun and a balcony that offers ocean views. The house is in a walkable location, meaning strolls, ambles, runs (whatever your dog prefers), are an easy option.
The coastal path is nearby, meaning you and your dog can enjoy a relaxed stroll to the dog beach, where leashes are not required.
Everything inside the home is replete with a contemporary finish, ensuring all members of your family will feel comfortable.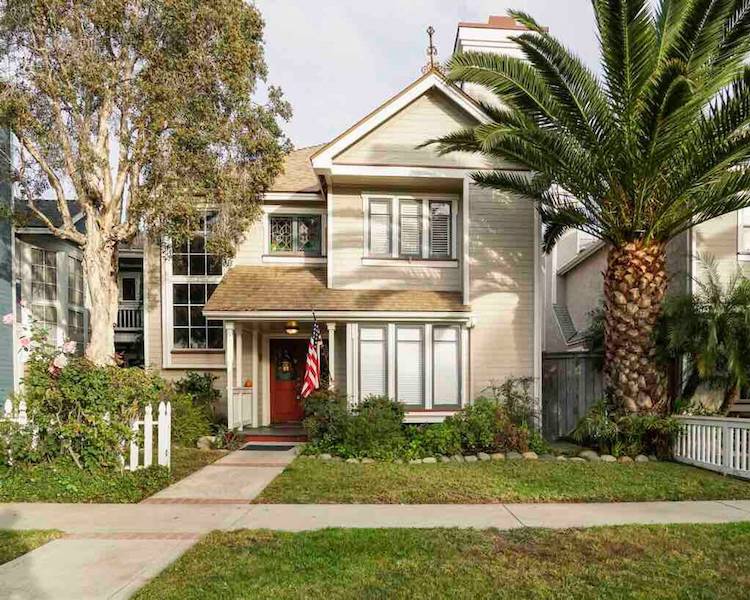 Victorian-style homes convey a sense of California history, and are a rare luxury in Huntington Beach. This three bedroom house, about a mile from the beach, is perfect for families looking to experience the area away from the crowds of the pier and coastal pathways.
The home features a large kitchen, open living spaces and an outdoor patio with a spa. The backyard is perfect for pets as it is completely enclosed, and the local neighborhood is a great location for dog walks.
The famous charms of Huntington, including the beach, Main Street and the shops and restaurants of Pacific City are, however, well within reach by foot, should you want to experience the action.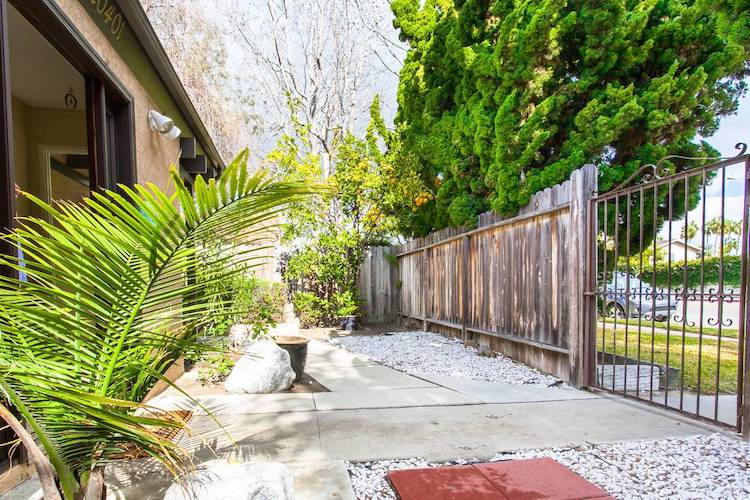 1600 square feet of good vibes only a hop, skip and jump to the pier! This dog friendly first floor Airbnb condo almost on Huntington Beach is no empty rental space, it has all the trimmings of a proper home – cosy but spacious, lived in but immaculately clean.
A great spot for a family and their four-legged friend, the kids will love the outdoor space, and the owner – a grandmother – is happy to babysit if you fancy a romantic night out without those lil' tikes.
Again, all the local gems are close by: the owner recommends Ruby's Diner at the end of the pier, and we recommend making use of the bikes the owner offers the use of for free!
The pier, beaches, restaurants, shop and bars of Huntington Beach are all within walking distance of this centrally located villa. The pet-friendly home boasts four bedrooms, a gourmet kitchen and a private sun deck on the third floor.
Perfect for families, the Mediterranean style home is also equipped with five TVs, a cozy fireplace and all sorts of toys for the nearby beach—the hosts have even included three beach cruisers for those who are looking to explore neighboring areas like Newport Beach by bike.
A stay at this house is ideal for anyone looking for a break from their car. The pier is only a few blocks away. And if you stroll for a short time north from the pier, then you'll be at the dog beach in no time.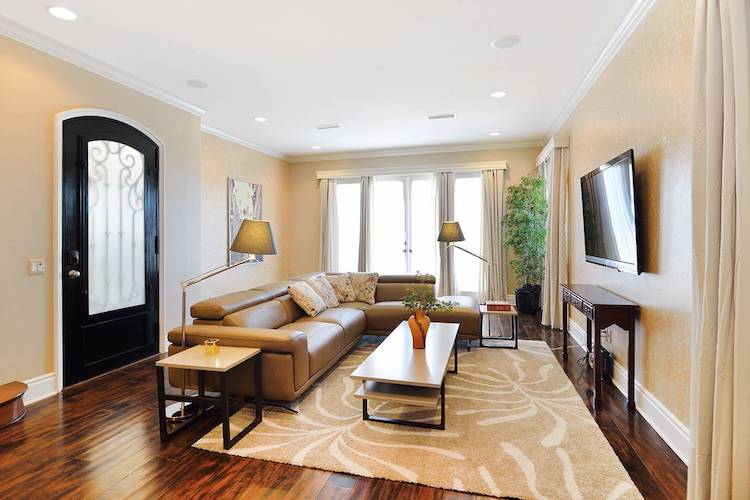 When standing in the master bedroom of this luxury home, you can see to the very end of the Huntington Beach pier. Ideally located, the beaches, shops and restaurants of Huntington can all be reached by foot from this four bed house.
Inside, there is a large living space and a gourmet, open plan kitchen. A family room, complete with fireplace, offers respite from the heat of the beach (should you need it) with airy, high ceilings and hardwood floors.
You and your four-legged-friend can easily walk to Pacific City, Main Street and downtown; while those eager to venture further afield can easily take the coastal path to the dog beach. Whether you're looking to surf or simply relax, this home is perfect for a summer stay.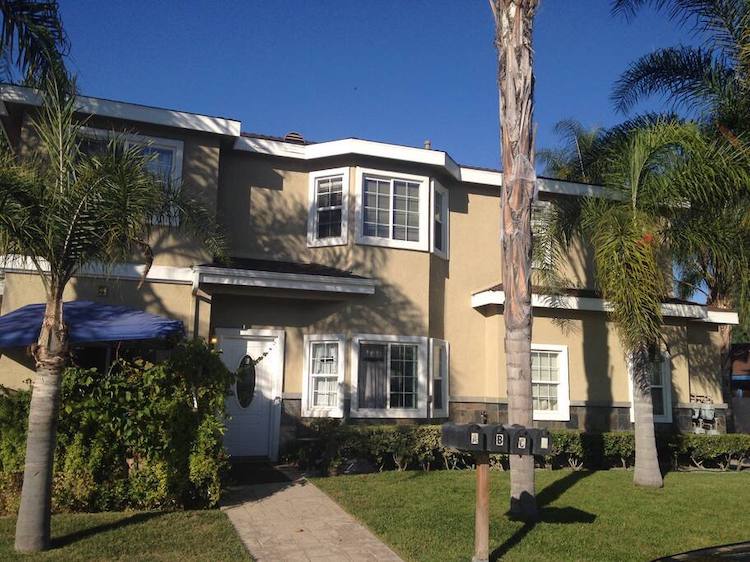 This pooch-welcoming home is a big 2 story townhouse on quiet a street near the beach, and isn't far from Disneyland, Angel Stadium, Anaheim Convention Center & Knott's Berry Farm.
There are three light, airy bedrooms and a loft "bonus room" that includes 2 twin beds, as well as enough room for the owners' comfy queen-sized airbed, meaning you can fit the whole family and more in this place!
This place has a private, fenced yard that features those family favourites: a hot tub and a sizeable barbecue grill and a bit of space for your pet to run around in too. Southern California starts here!