In the last several years, camping has evolved quite a bit. Travelers are still seeking authentic experiences which connect them to nature, but now with a few more creature comforts thrown in. Enter the latest travel trend, glamping! The area around Joshua Tree National Park is one of the most popular places to do it, so you'll discover a huge variety of Joshua Tree glamping Airbnbs to choose from.
Desert plains surrounded by mountain ranges and dotted with unique rock formations make Joshua Tree National Park an ideal place for first-timers to give glamping a go. Even if you're a pro, you'll love the incredibly fresh air, scenic hiking trails, and starry skies unspoiled by the city's pesky light pollution. Yes, this is a place to truly disconnect from day-to-day woes and reconnect with Mother Nature as well as your traveling companions.
With a variety of cabins, domes, yurts, and even luxury tents to choose from, you're spoilt for choice when it comes to Joshua Tree glamping Airbnbs. Not to worry, we've hand-picked the best of the best to guide you as you try glamping in Joshua Tree.
We Found 8 Of The Coolest Airstream Airbnb Homes In Joshua Tree
These Are The 8 Dreamiest Joshua Tree Glamping Airbnb Homes Ever
These Are The 8 Most Luxurious Joshua Tree VRBO Rentals
8 Joshua Tree Airbnb Homes Guaranteed to Inspire Creativity
8. Luxury Joshua Tree Glamping In A Geodesic Dome
If you're looking to ease your way into the glamping trend and not quite ready to go full-on rustic, this stunning artist-designed dome house could be just perfect! With 2.5 acres of spectacular valley and mountain views, this beautiful four-bedroom luxury home in Joshua Tree is an excellent choice for a group glamping getaway. The incredible architecture and cool, boho design will win over the pickiest of beginner glampers!
Available from $350 a night, this home can accommodate up to eight guests. It includes a large, circular living space with a fully-equipped, modern kitchen and dining area. The bedrooms are uniquely decorated with their own color and character, giving everyone a special place to rest their head. Outdoors, enjoy the spacious deck, sun loungers, a cozy fire pit, and a heated jacuzzi spa. This house is an architectural marvel, sure to create a memorable glamping trip for you and your friends.
7. Colorful, Cozy Desert Dome Airbnb House With Loft
For your first foray into Joshua Tree glamping, you may want to consider more comfortable options such as this gorgeous geodesic dome in the desert. Featured by the lifestyle gurus at Goop, among other notable travel publications, this is definitely one of the best Joshua Tree glamping Airbnbs! Enjoy lots of space and privacy on a sprawling, multi-acre desert lot while still remaining just a short drive from the town center and National Park entrance.
This highly-Instagramable Joshua Tree Airbnb features eclectic, modern-boho decor throughout. The home has a circular, open-concept living room complete with a full kitchen, fireplace, and dining area, as well as an additional lofted lounge space. The master bedroom is a private and luxurious retreat, while an extra single daybed with trundle is perfect for up to two kids. This buzzy, Joshua Tree Airbnb is available from $180 a night but books fast!
6. Joshua Tree Glamping Yurt, Featured On HGTV
Recently featured on HGTV, this chic and simple glamping yurt in Joshua Tree is one of the most unique glamping Airbnbs around. For a truly authentic Joshua Tree desert experience, stay at the Castle House Estate from just $110 a night. This collection of Airbnb rentals in Joshua Tree attracts creatives, wanderers, artists, and more to experience nature on 8 sprawling acres of beautiful desert scenery.
Custom-built, this glamping yurt tent at the Castle House Estate Airbnb includes a queen-sized bed and indoor seating, as well as an outdoor wood-burning fire pit with seating. The main house includes common areas for lounging and bathing, including an outdoor shower for a really authentic experience in nature! Stay in a stylish glamping yurt, just a few minutes' drive from the center of town and entrance to Joshua Tree National Park.
5. Unique, Solar-Powered Desert Airbnb Retreat With Guest House
Planning a luxe glamping getaway with your family? We've found one of the best group-friendly Joshua Tree glamping Airbnbs, with plenty of space for six guests. This desert dome retreat with a separate guest house could be all yours from just $199 a night! Powered fully by solar panels, this desert oasis feels miles away from the hustle and bustle of city life but is actually just a short drive into town. Covington Flats, an excellent area for hiking in Joshua Tree National Park, is only a few miles from your front door.
There's a lot to love about this space for luxury glamping in Joshua Tree! The main house is a self-contained, studio-style space that's well-equipped for a family with a king bed, single daybed, and an additional lofted single bed. There's also a unique shipping container guest house with two more single beds and a second bathroom, as well as a separate shipping container gym. All of this, plus ample outdoor entertaining space, makes for a fantastic and memorable glamping experience in Joshua Tree.
4. Cute, Rustic Cabin For Mojave Desert Glamping
If your idea of glamping includes a rustic cabin with all the creature comforts, you'll love this one. Minutes from downtown Joshua Tree but set on a large, private lot, this Mojave desert cabin with a large front porch may be the perfect place to refresh and recharge while surrounded by nature. Inside the cabin is warm and cozy, with casual decor, while the outside spaces include a rustic picnic table and shaded spots on the front porch to relax.
Modern finishings complement the gleaming hardwood floors, wood panelled walls, and rustic stone fireplace. Brass fixtures and vintage touches like a clawfoot tub and farmhouse sinks give the space a welcoming, lived-in vibe. With two bedrooms and two bathrooms, this space is ideal for two couples or two single friends! Book this dreamy glamping cabin in Joshua Tree from just $118 a night.
Looking for writing jobs? Check out GigLeads.
3. Glamping In Style At This Romantic, Luxury Cabin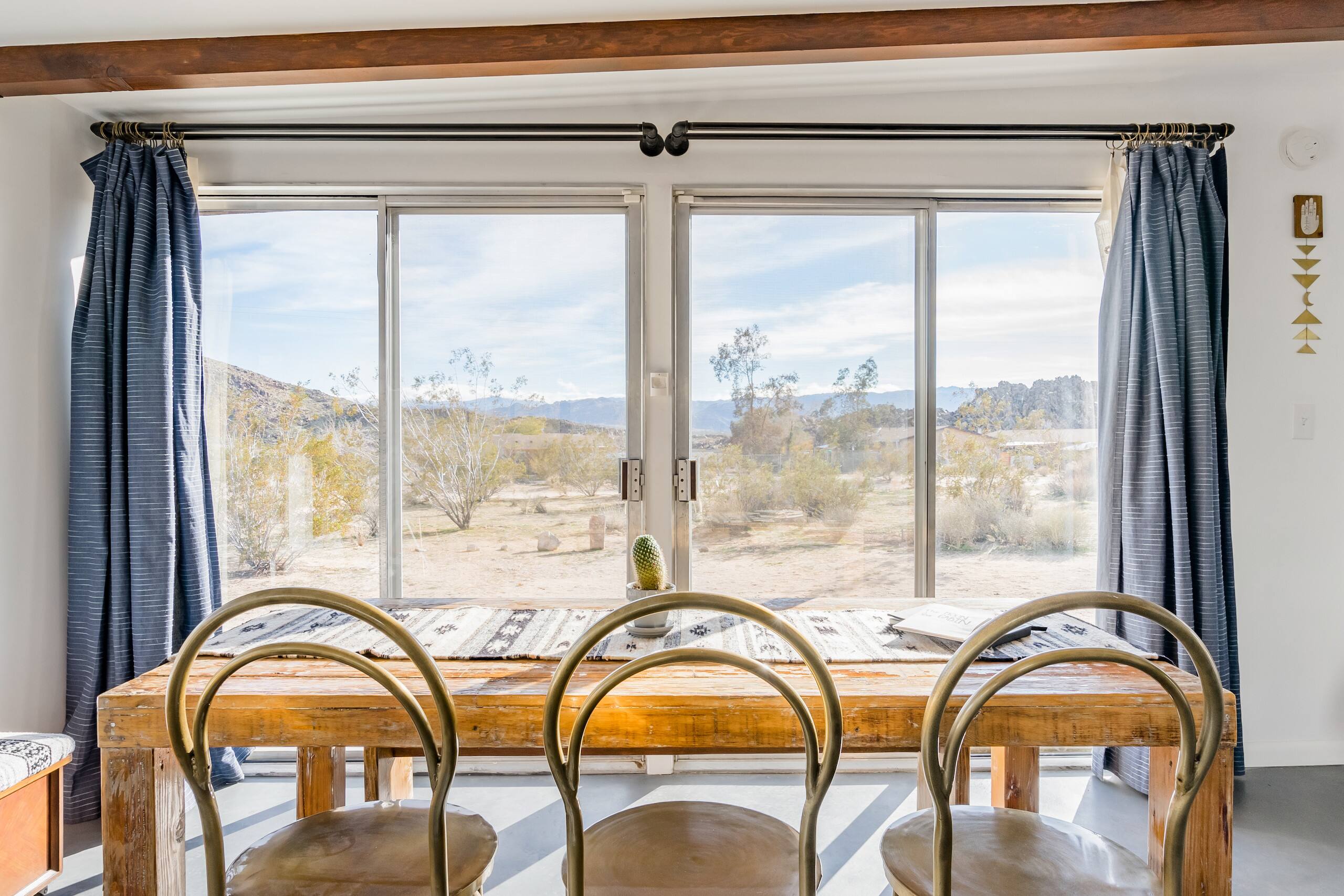 Poured concrete floors, wooden ceiling beams, and rustic-industrial touches… we may have died and gone to desert glamping Heaven. This designer cabin in Joshua Tree is an exceptional option for a romantic couple's glamping getaway and is available from just $145 a night. If your idea of glamping happens to include a fully-equipped kitchen, an indoor fireplace, a modern bathroom with a walk-in shower, and a huge comfy bed, then this is the place for you!
Floor-to-ceiling windows flood the open living space with lots of natural light and provide uninterrupted views of the Mojave Desert. It seems to stretch for miles, while hazy blue mountain ranges rise sharply from the horizon. Don't be surprised if you spot a bit of tumbleweed blowing past! This is remote luxury glamping in Joshua Tree at its finest. Whisk your partner away on a romantic glamping adventure and enjoy finding a new connection to nature, and each other.
2. Modern Bohemian Cabin For Glamping In Joshua Tree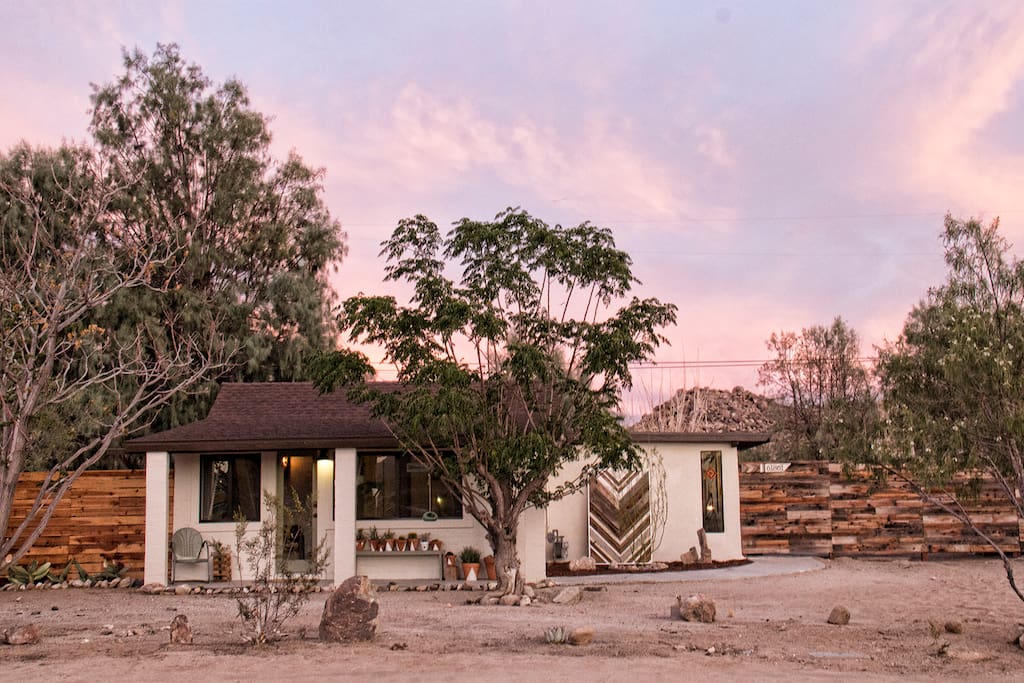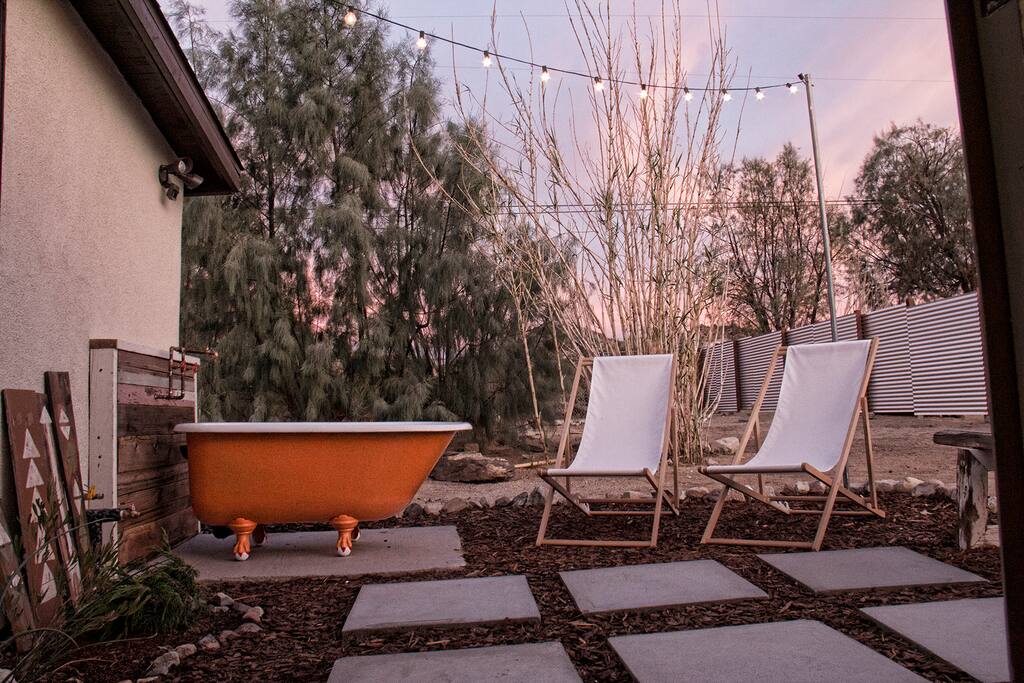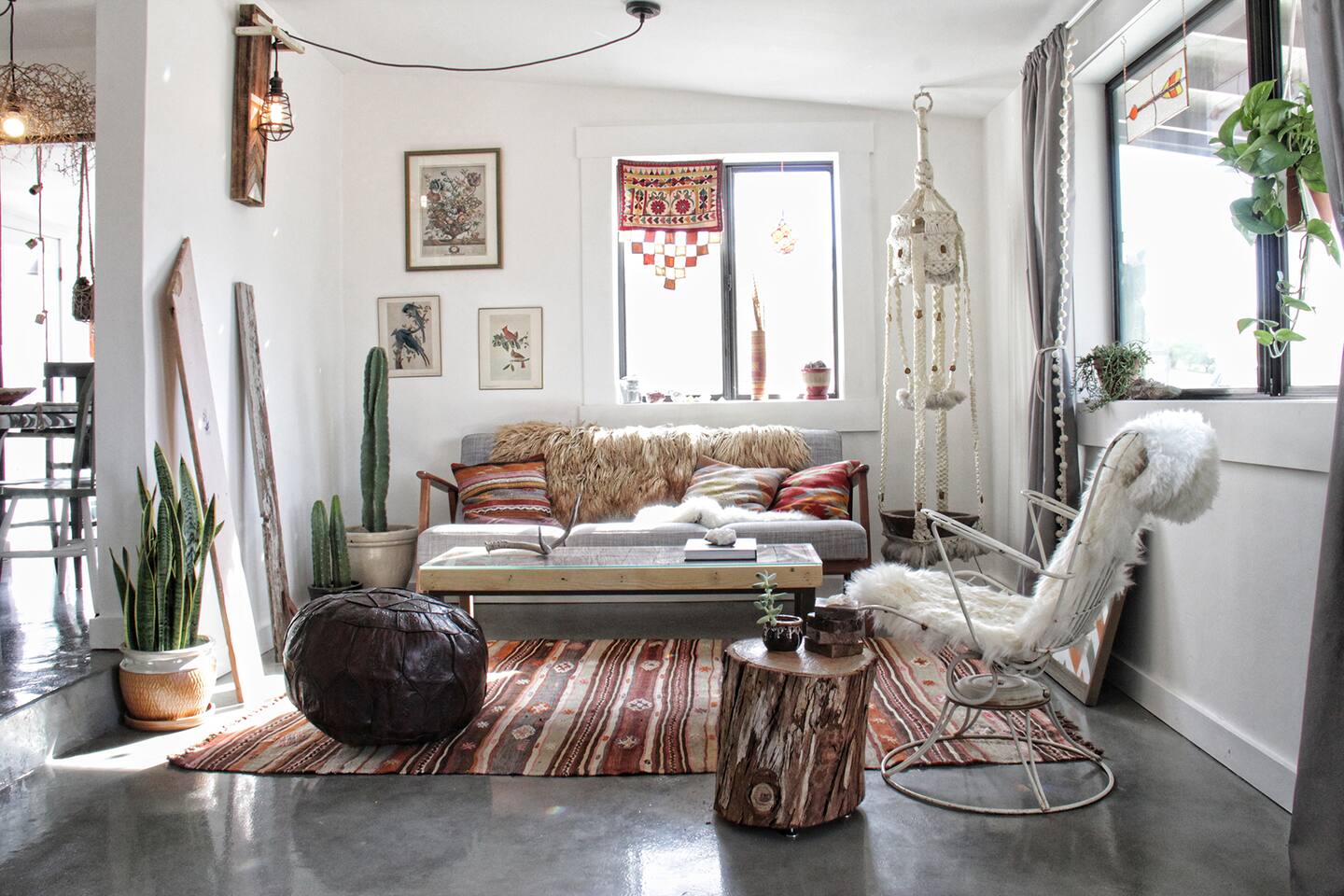 Located just a five-minute drive to the National Park entrance, this modern bohemian cabin homestead in Joshua Tree is designed to perfection. One of the most beautiful Joshua Tree glamping Airbnbs has been created on the outskirts of the park from an original homestead cabin. The place is dripping with rustic, eclectic charm featuring worldly decor that gives a welcoming and distinctively bohemian vibe.
Settle in stay awhile! This place will surely feel like home and at $140 a night, it's an appealing choice for any luxe Joshua Tree glamping vacation. The cabin is fully equipped with a modern kitchen, a king-sized bedroom, and an open living space. Embrace the call of the wild and treat yourself to a romantic soak in the cabin's clawfoot bathtub, perched on the private backyard beneath twinkling fairy lights. This is a truly special place, where you'll feel connected to nature and able to completely unwind in a blissful glamping paradise.
 1. Mid-Century Glamping Cabin Studio With Mountain Views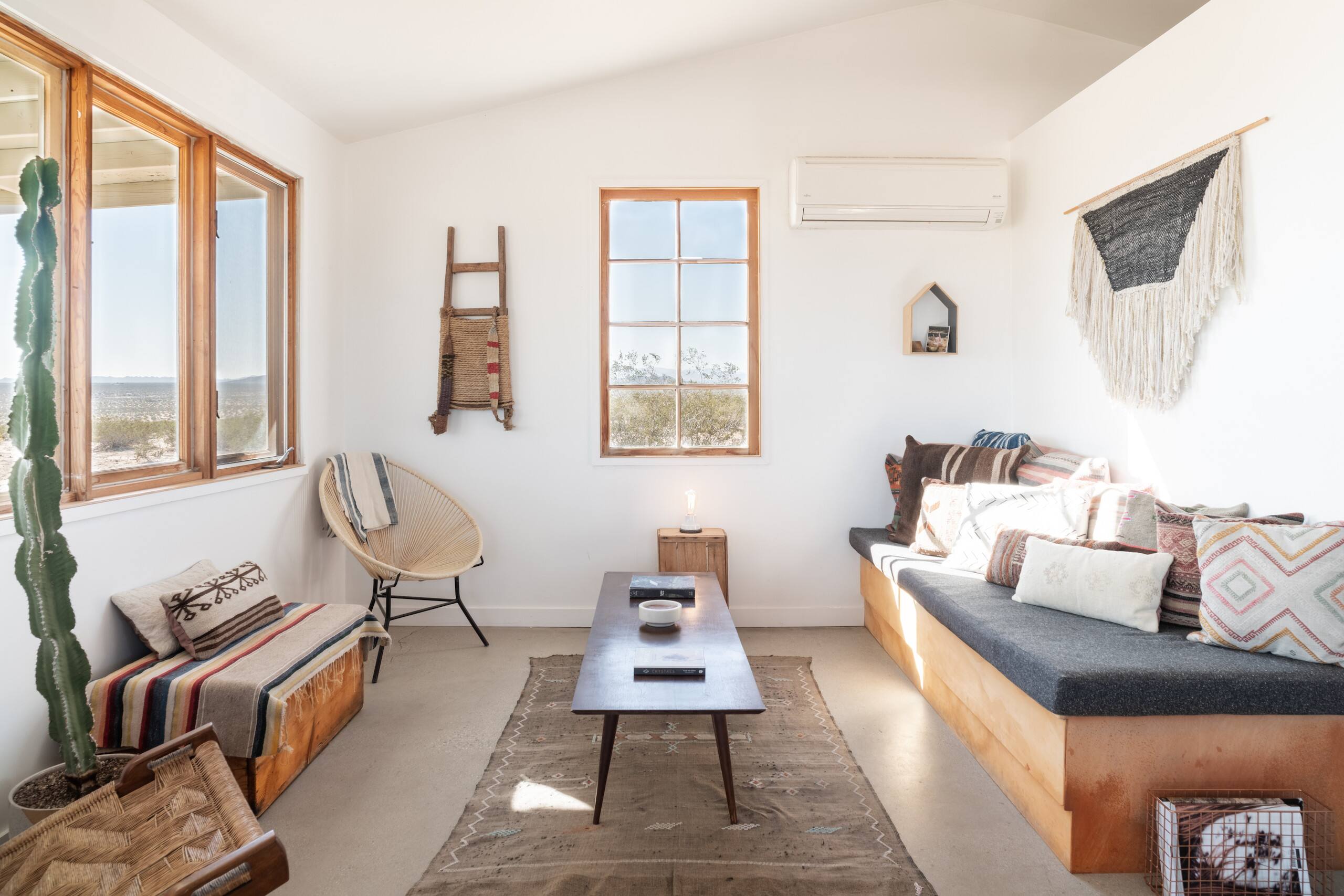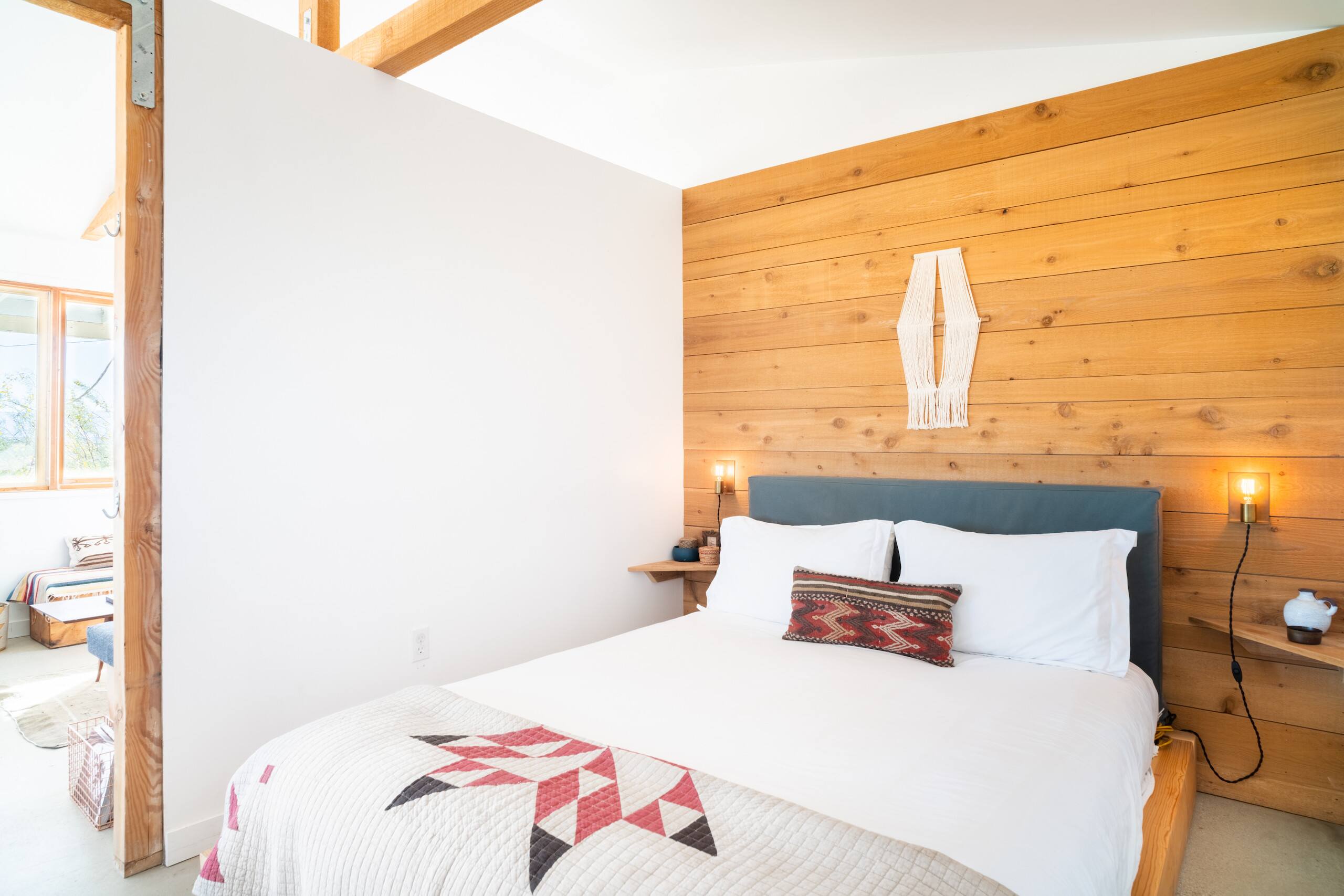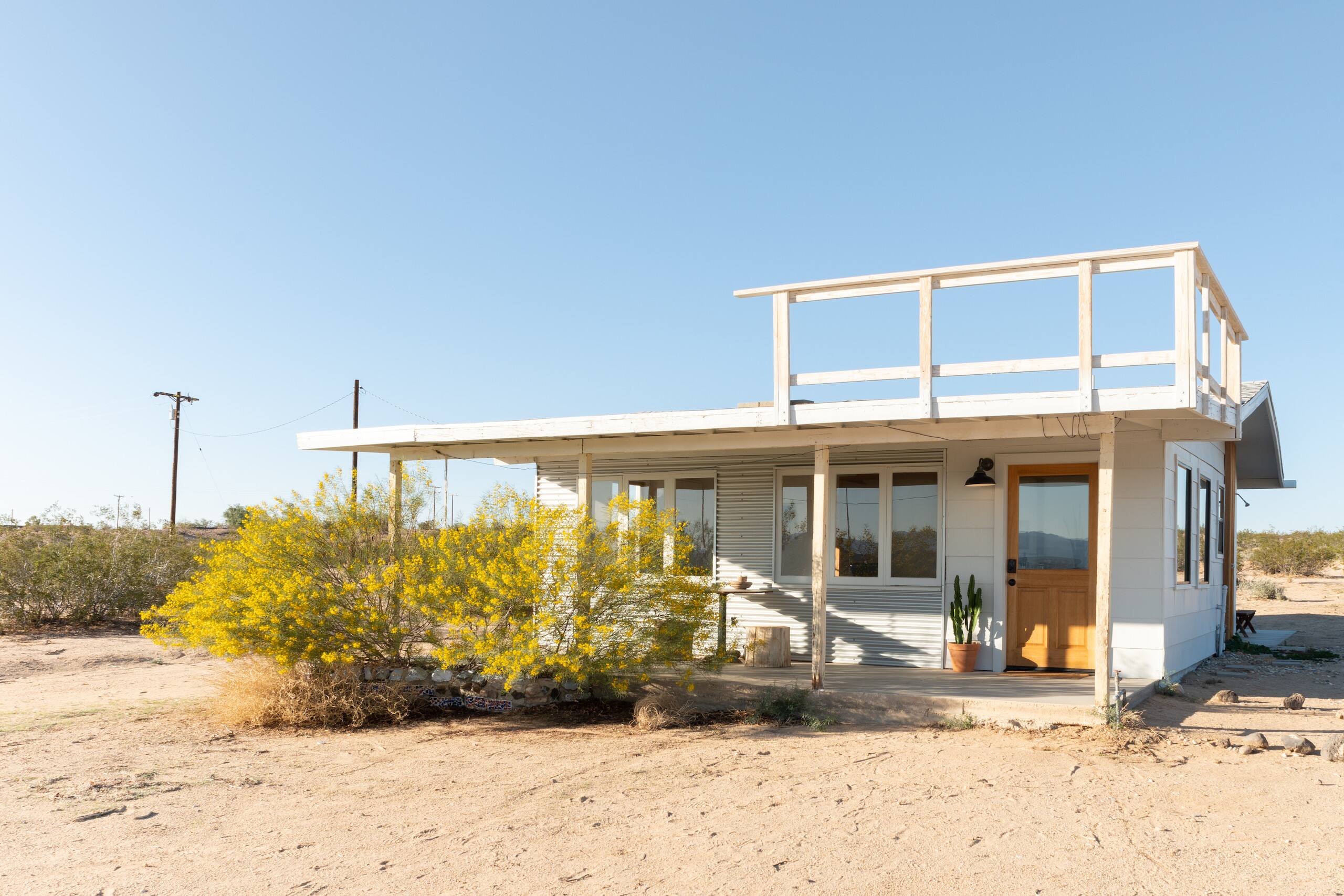 The best way to experience Joshua Tree glamping, especially for first-timers, is to choose a charming cabin rental like this renovated 1950s homestead in Joshua Tree. You can enjoy the perfect balance of connection to nature along with modern amenities, from just $124 a night. This charming little cabin sits on over 22 acres just outside of town, granting uninterrupted panoramic views of the sprawling desert plains and mountain ranges beyond.
Escape the hustle and bustle of daily city life and never worry about noisy neighbors from this idyllic desert location. Marvel at the Mojave desert's sheer vastness from the charming front porch or indoor living space. The cabin is ideal for a couple or a solo traveler looking to get away from it all. There's even a designated workspace, in case you find yourself inspired to write or create art while glamping in Joshua Tree!