Whoever said that old world charm cannot be luxurious was totally wrong. The Florida Keys offer plenty of luxury while still maintaining its unique brand of historic, Old Florida appeal. If you're looking for the perfect Florida Keys VRBO rental, our list below is a great place to start.
The Keys are a coral cay archipelago located at the southernmost tip of Florida. Surrounded by the Florida Straits, Atlantic Ocean, Gulf of Mexico, and Florida Bay, the area offers a ton of marine and aquatic activities for all ages. The Florida Keys are divided into 5 major sections; Key Largo, Islamorada, Marathon, The Lower Keys, and of course, the popular Key West.
So what are you waiting for? If it's beachy charm and luxury you're after, you'll find the best Florida Keys VRBO for your next Florida vacation below.
These Are The 8 Best Orlando, Florida VRBO Vacation Rentals Near Disney
These are the 8 best Airbnb homes in Cancun, Mexico!
8 Of The Most Glamorous Airbnbs in West Palm Beach

8 Of The Best Airbnbs In Miami For Scarface Fans
8. Hidden Paradise Just Off Lively Duval Street, Key West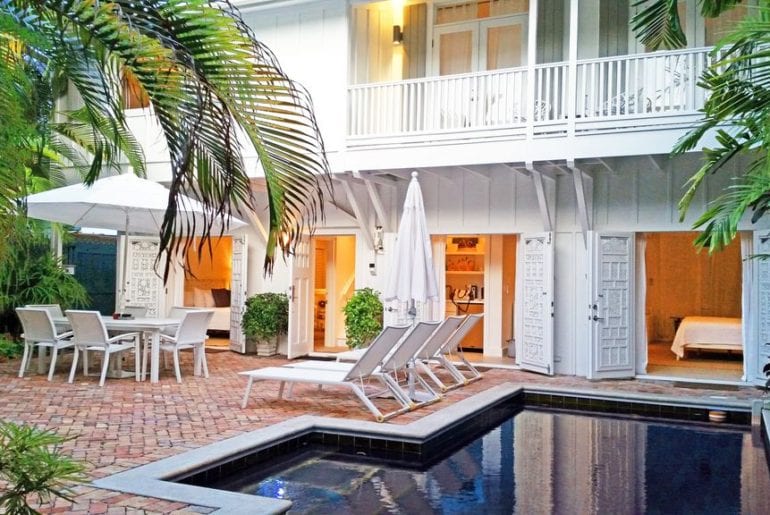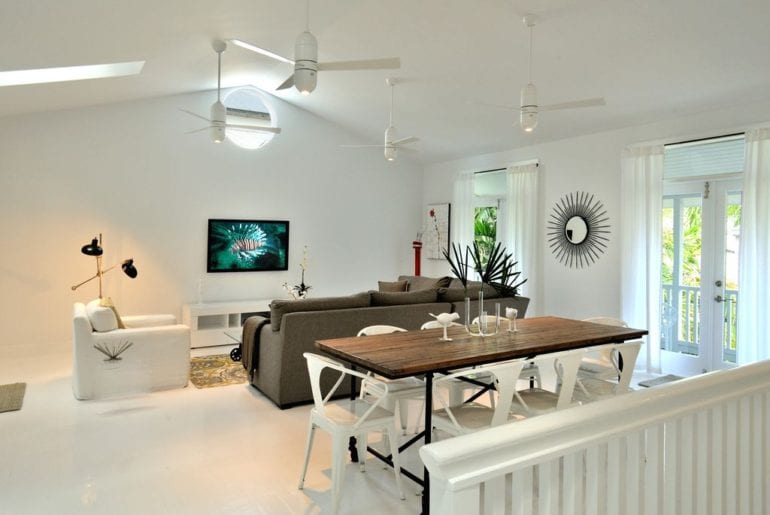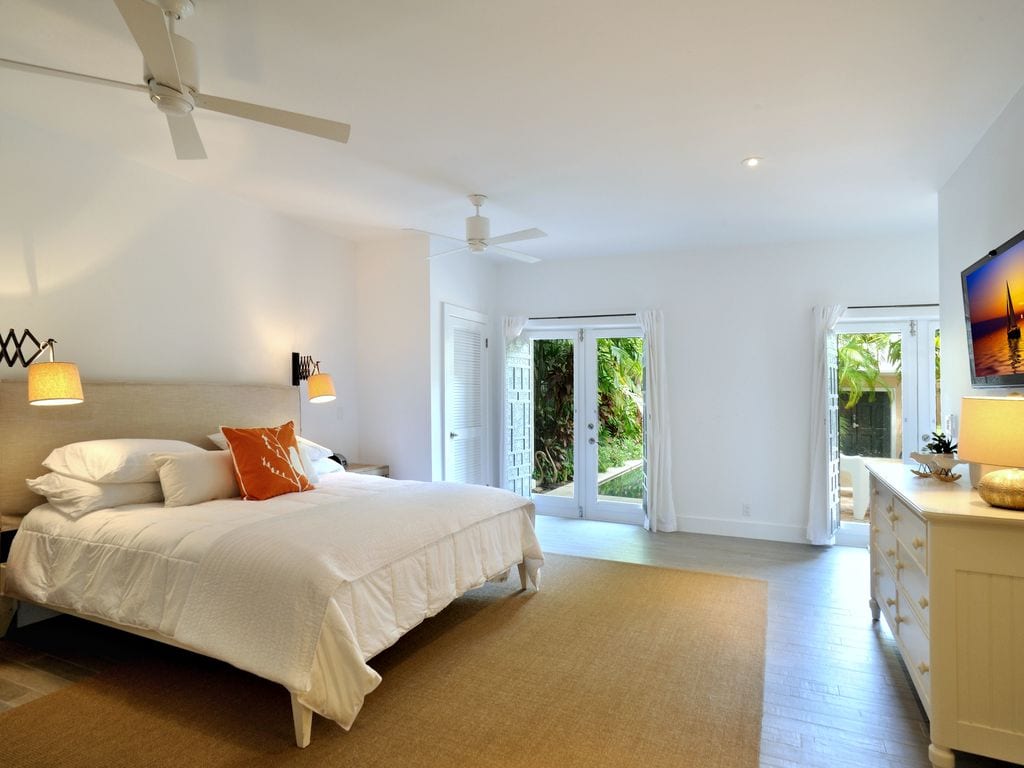 One of the most popular areas of Key West is vibrant Duval Street, with its friendly bars, great boutiques, and local restaurants. Why not book this Florida Keys VRBO near Duval Street and stay close to all the action? This two-storey villa can accommodate up to six guests from about $1,249 a night on average. One of the largest luxury rentals in Key West, this space is perfect for a family or group seeking a truly upscale getaway.
The private brick courtyard, French doors, and seasoned exterior give an old world charm. Once inside, you will be greeted by fresh white walls and contemporary fixtures and furniture, making you feel that you're in a totally different place. Two of the three bedrooms are located on the first floors, both with French doors opening to the swimming pool and lounge. Sleep in as late as you desire, then slip out the doors and straight into a refreshing morning dip in the pool. Equipped with up-to-date amenities, this luxury rental has everything you could need, including air conditioning, satellite and cable TV, a heater, gourmet kitchen, 3 bathrooms, and a large living and dining space for entertaining.
7. Luxury Cottage Oasis With Pool In Key West's Old Town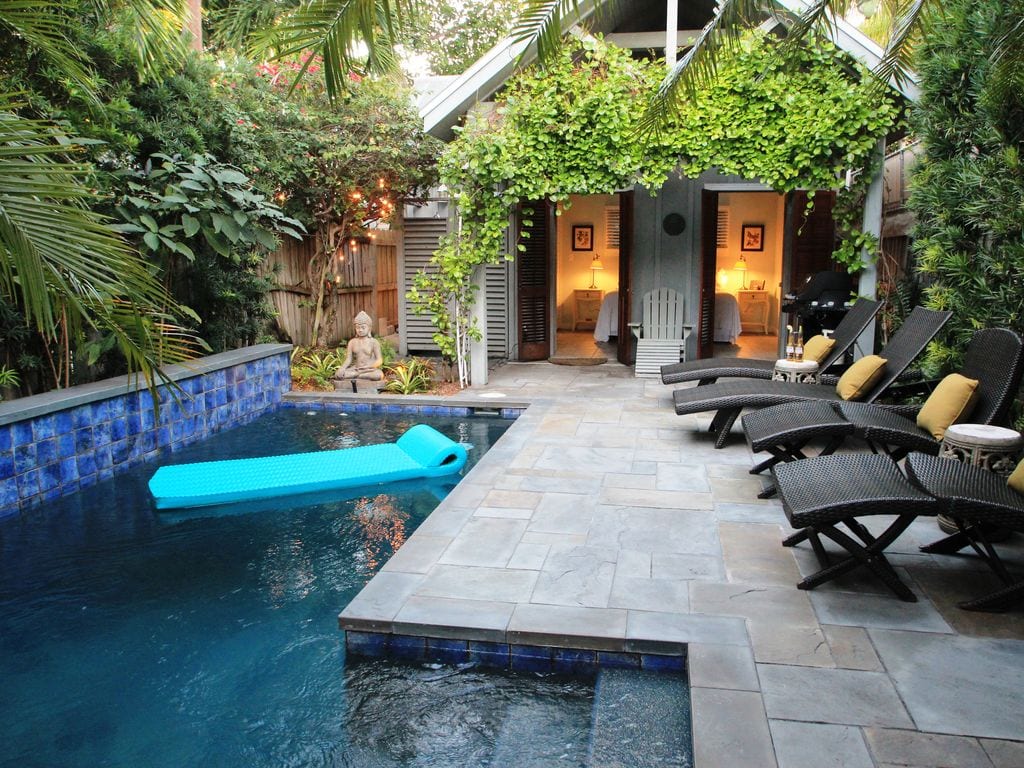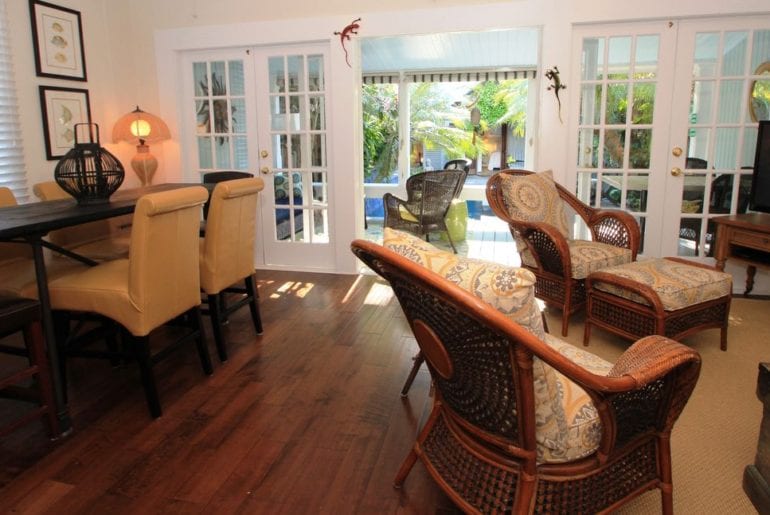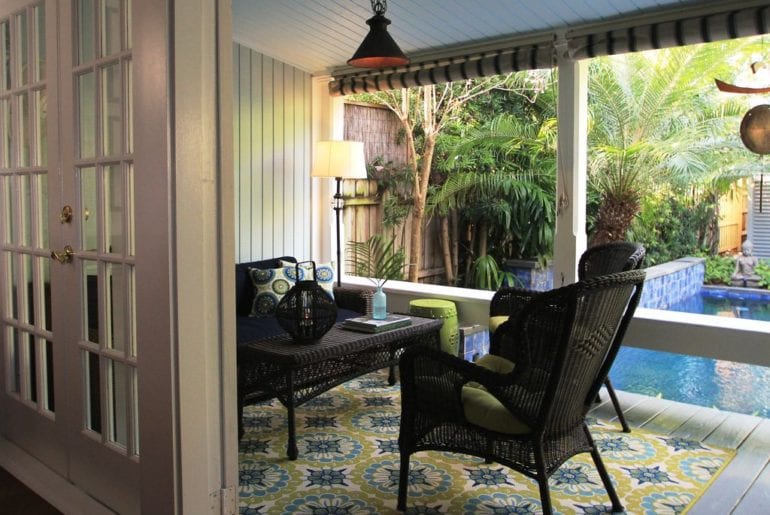 One of the most charming Florida Keys VRBO rentals we found, this inviting private cottage with pool is located in Key West's most historic district. There's space to accommodate up to four guests, ideal for two couples to share and available from $500 a night. This sweet little cottage oasis has two bright bedrooms, including one detached just off the pool for a little extra privacy. Both are ensuite, while the private cottage has an alluring open-air rain shower adding to the feeling of your own tropical oasis.
This intimate abode has a mix of old world and modern interior design with a bit of Asian infusion, giving the place an eclectic and relaxing, but still upscale vibe. The home has a bright, open living area with French doors leading onto the covered lanai and swimming pool. This location truly can't be topped, with the historic Old Town, popular restaurants, shops, and the beach all just moments away.
6. Epic, 5-Bedroom Oceanfront Estate In Key Colony Beach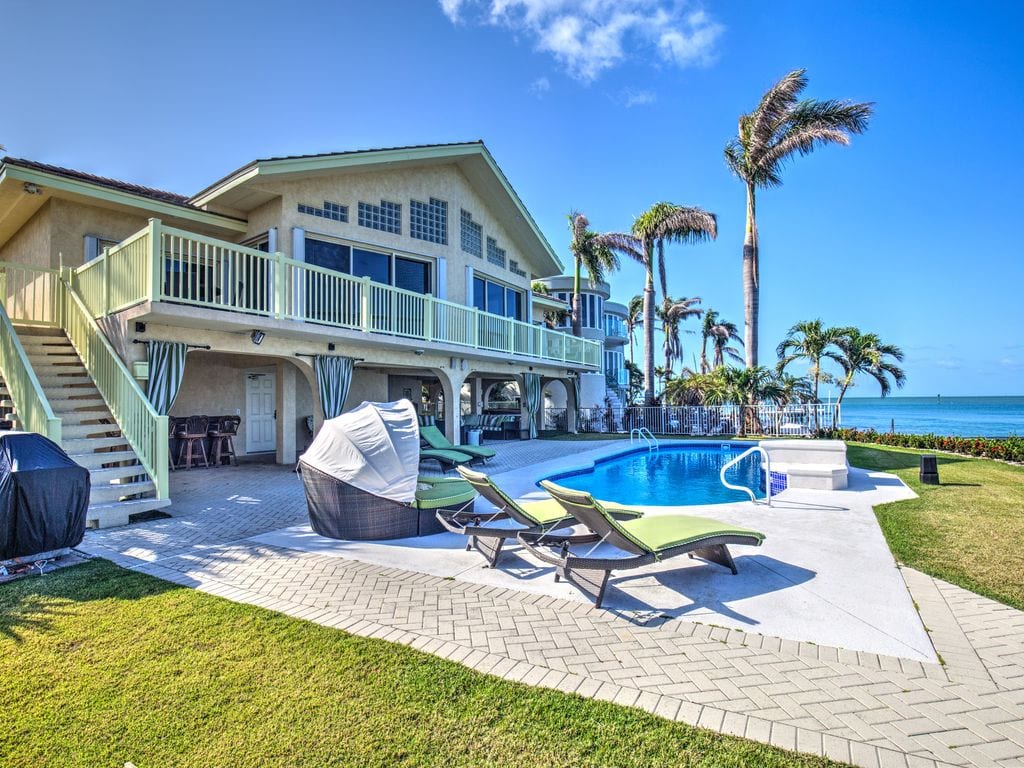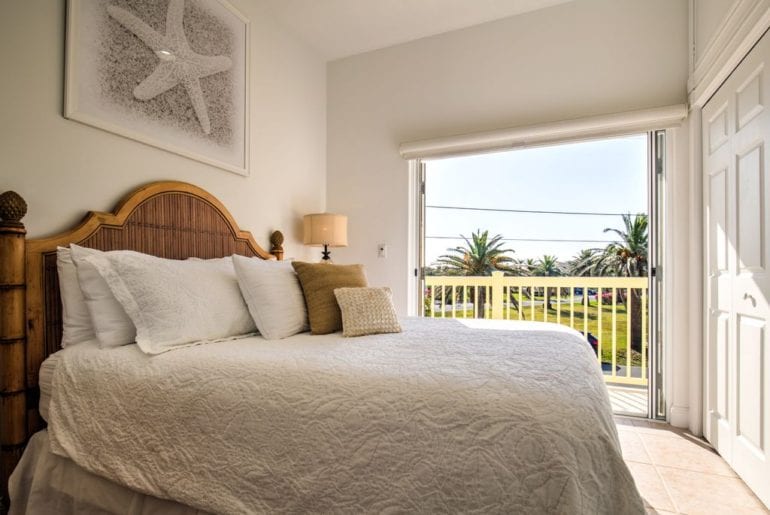 Round up your closest friends or favorite family members and get ready to escape to the ultimate Florida Keys VRBO. This sprawling, oceanfront estate at Key Colony Beach can easily accommodate 10 people, starting at a casual $1,240 a night. This grandiose property is located in a more secluded part of Marathon, Florida, providing you with plenty of privacy while remaining within driving distance of the rest of the Keys.
Enjoy panoramic views of the ocean and mainland Marathon from the huge open living space. The house has its own swimming pool, so, you don't need to travel far to have a swim! Enjoy fishing off the private dock and unwind in your own hot tub after a long day of luxurious living. Entertaining is a breeze with a spacious outdoor living and dining area. Two of the five bedrooms boast direct ocean views, while all the bedrooms have access to the semi wrap-around balcony on the second floor. Staying here will be a holiday your group won't soon forget!
5. Oceanfront Islamorada Estate With Pool, Dock, & Tennis Court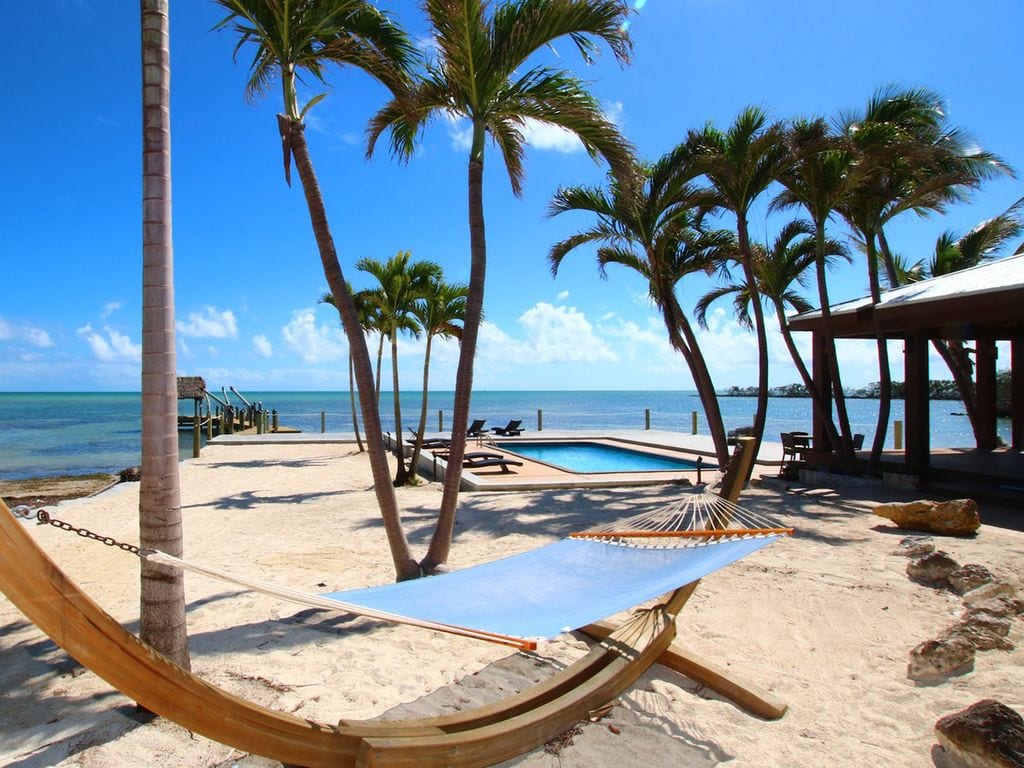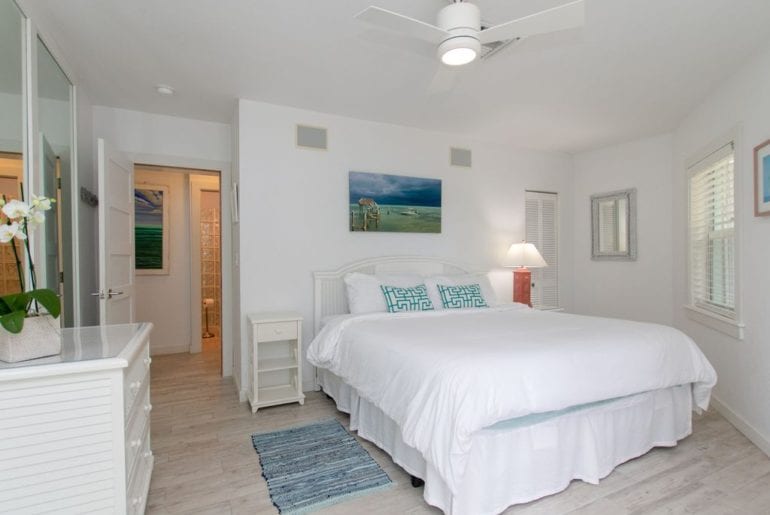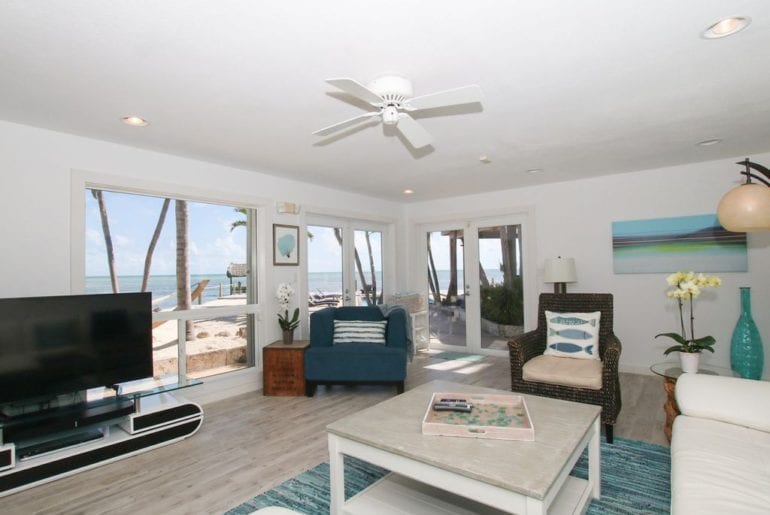 Surrounded by lush, tropical landscaping, this intimate Islamorada estate with private dock is an idyllic getaway in the beautiful Florida Keys. This 4-bedroom rental property in Islamorada can accommodate 8 guests with three bedrooms in the main house and a fourth bedroom tucked away in the separate guest house. Averaging around $1,100 a night, this is an excellent Florida Keys VRBO in Islamorada, whether you're traveling with friends or family.
Located close to the heart of Islamorada, enjoy a truly Floridian lifestyle with your own sandy beach, private swimming pool, private dock, and brand-new tennis court. Inside the main house is ample space for relaxing and entertaining, including a large open-concept floor plan. Large glass windows and sliding doors provide plenty of scenic ocean views from nearly every room. This luxurious tropical getaway will feel more like a second home than a vacation rental.
The 10 Finest Airbnbs In Fort Lauderdale, Florida
7 Luxurious VRBO Miami Homes You'll Love
These 6 Airbnb homes in St. Augustine, FL are gorgeous!
4. Harborside Mansion In Marathon With Pool & Yacht Dock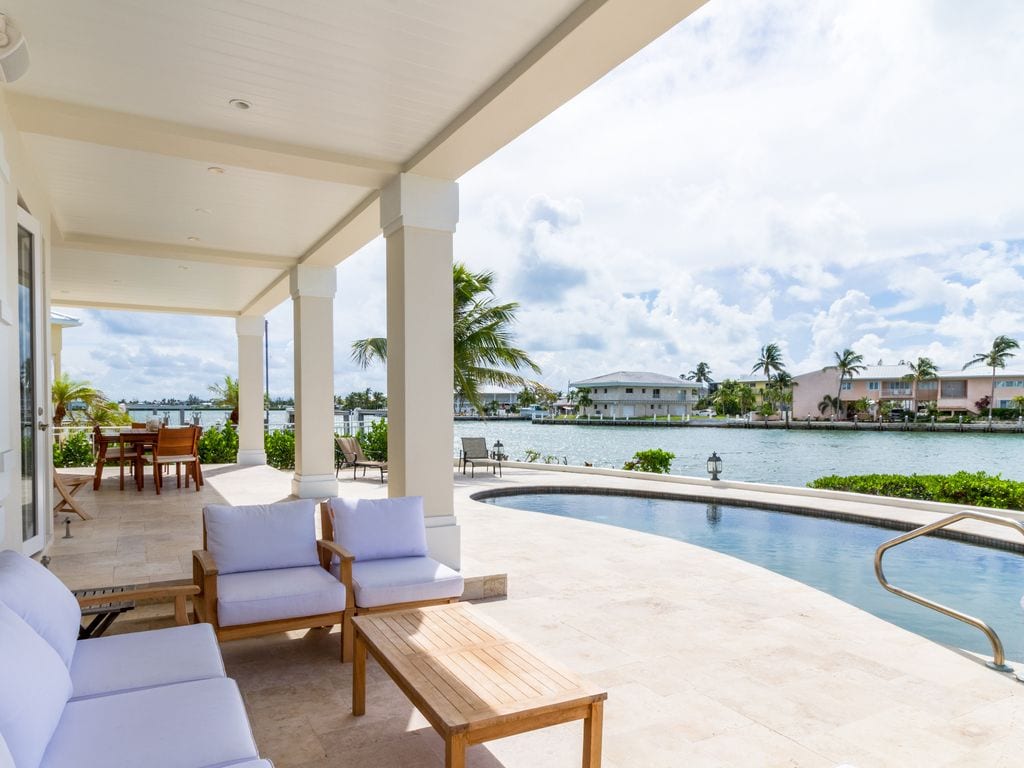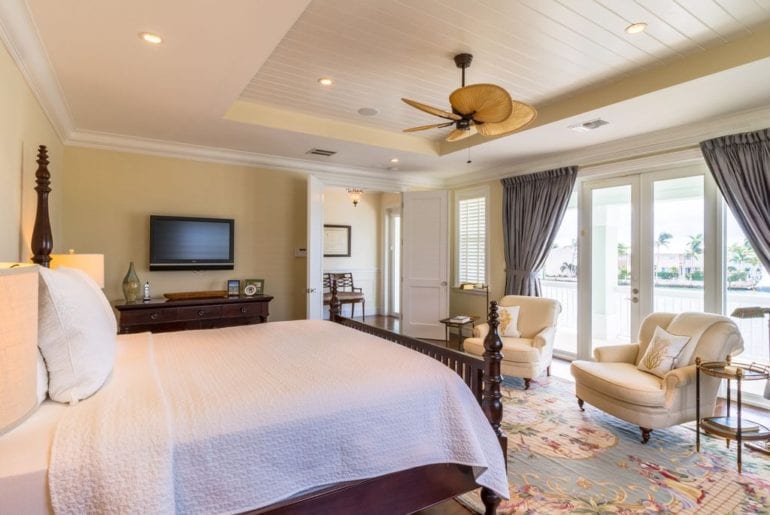 No expense has been spared to create this custom-designed luxury mansion in Marathon, Florida. The epitome of opulence, this lush harborside estate boasts stunning interior design, elegant architecture, and flawless finishings. Just a few miles away from Marathon center, this gorgeous Florida Keys VRBO can accommodate 10 people, making it a great choice for a large group of friends looking to escape the stresses of city life. Averaging around $900 a night, this lavish property is a surprisingly good deal!
Centered on an open-concept floor plan, the main level includes a high-end, gourmet chefs kitchen along with a large dining area and comfortable living space. With five bedrooms and 6.5 bathrooms, there's plenty of space for all your guests to spread out in style. Step through the huge sliding glass doors and onto the sprawling outdoor living space, set up for lounging, swimming, and entertaining. Spy the boats as they sail past or simply park your own yacht right at the private dock.
3. Brand-New, Oceanfront VRBO Luxury Home With Pool & Spa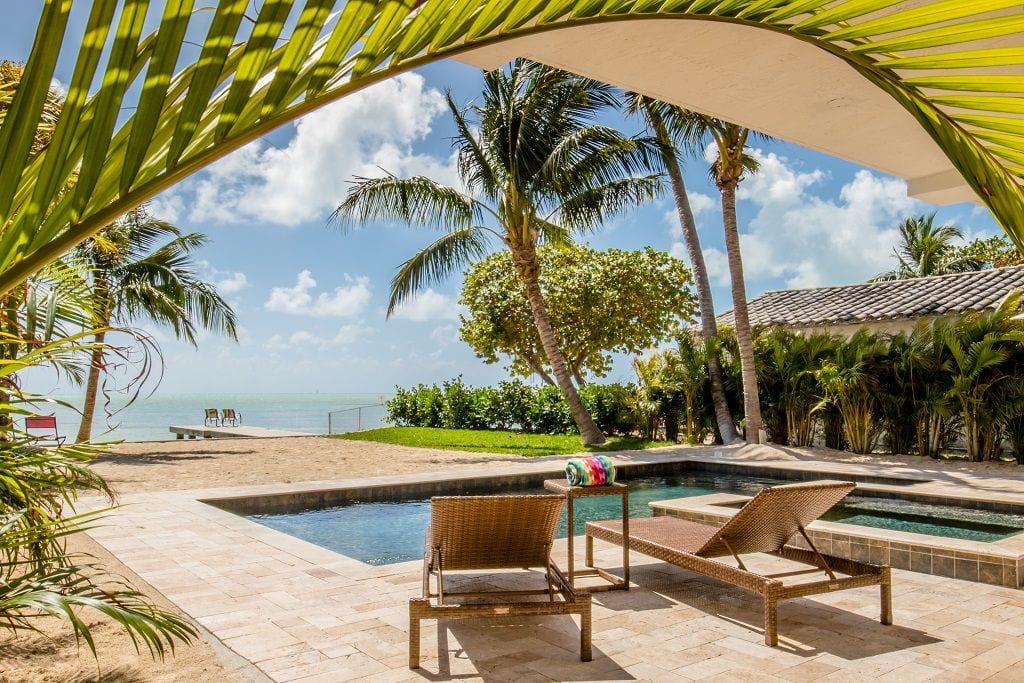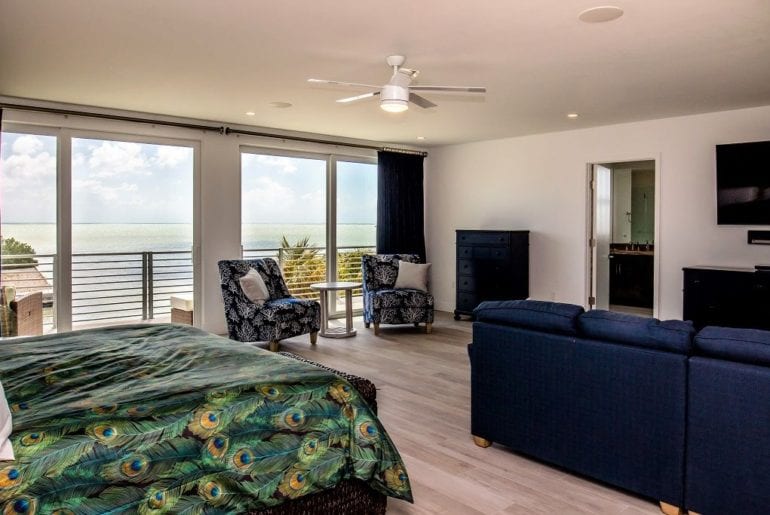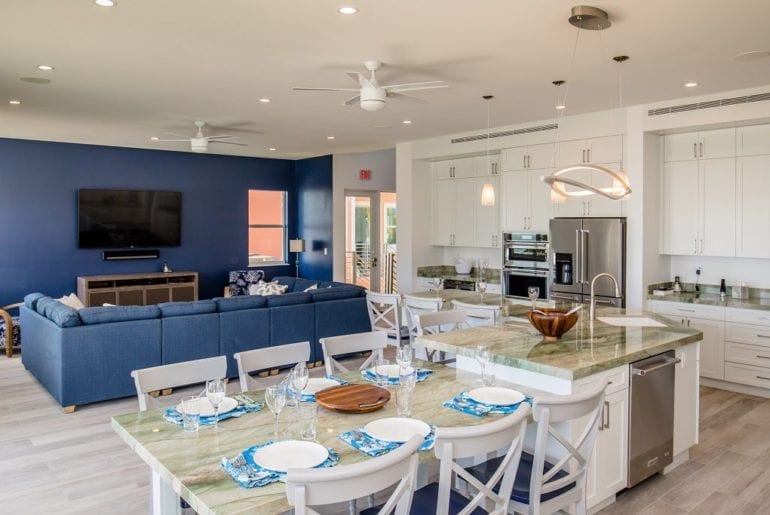 How about a Florida Keys VRBO with that shiny-new-home feel? This one fits the bill, and then some. Newly constructed, this multi-level, waterfront luxury home at Sombrero Beach is available from an average of $780 a night. This stellar location on the water is also close to Route 1, meaning you're easily connected to the rest of the Keys by car. With four bedrooms and four bathrooms, there's plenty of space for up to 8 guests, each with their own large bedroom and spacious built-in storage.
Don't be fooled by the minimalist exterior architecture of this waterfront home. The interior is thoughtfully designed, with splashes of color, tasteful tropical prints, and sleek new furnishings. Enjoy the large outdoor living space, with comfy lounge seating, roomy jacuzzi tub, swimming pool, and a short path to Sombrero Beach. The upper floors contain the bedrooms, each enjoying beautiful ocean views while the top-floor master has its own private balcony overlooking the water. Ahh, bliss!
2. Luxe Plantation Home With Tropical Flair In Key West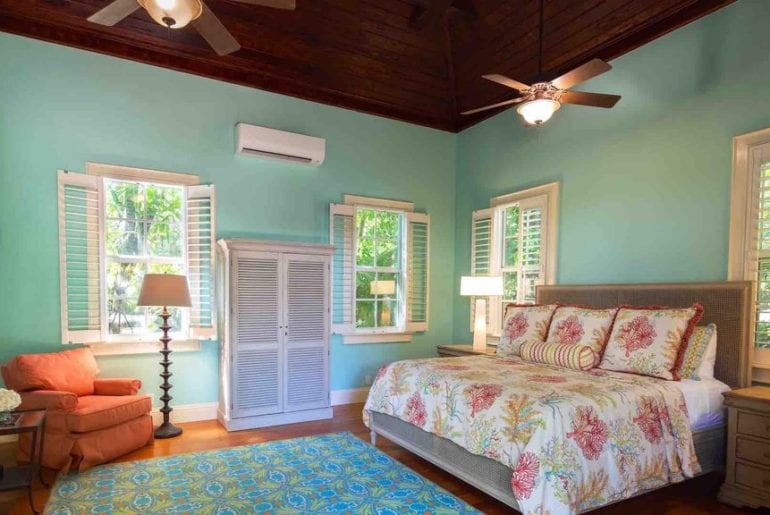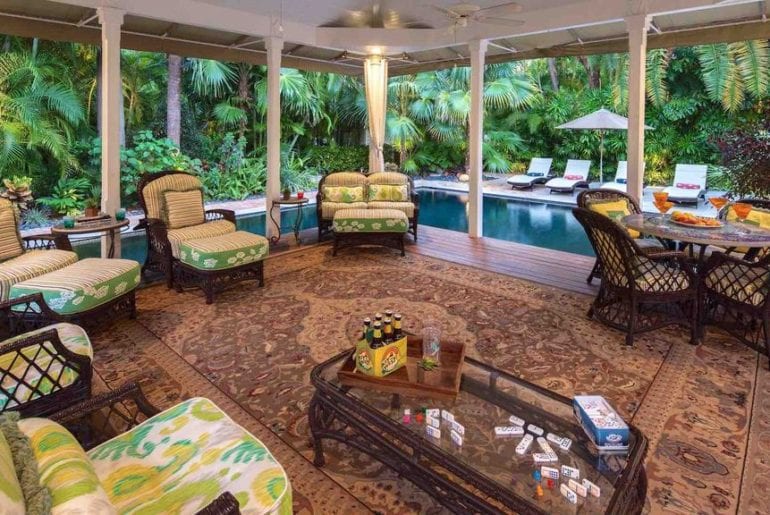 Live like Ernest Hemingway in this luxurious plantation home in Key West's historic district. This sprawling estate is tucked away in Old Town, close to the water and just around the corner from lively Duval Street. Step inside its lushly landscaped gardens and feel yourself be whisked away to your own tropical paradise. With five bedrooms and four bathrooms, there's plenty of space for 8 guests to stretch out. One of most incredible Florida Keys VRBO rentals is available starting at around $1,600 a night.
This tropical abode can provide you with the luxurious escape you have been waiting for. The exterior architecture is inspired by the plantations, but the interior design and fixtures are nothing short of modern. This place is air-conditioned, very important in Florida's balmy heat. There's always the swimming pool to cool off as well, or else gather in the covered patio to play board games as the cool ocean breezes roll in.
1. "Catchin' Moments" in this VRBO Yacht House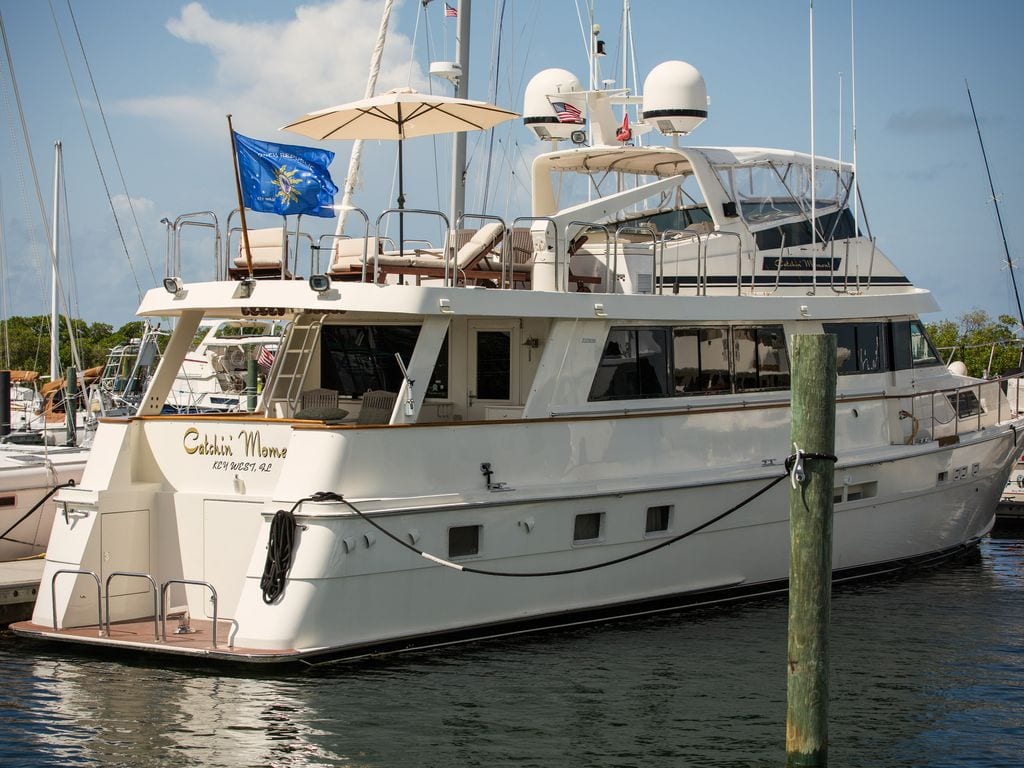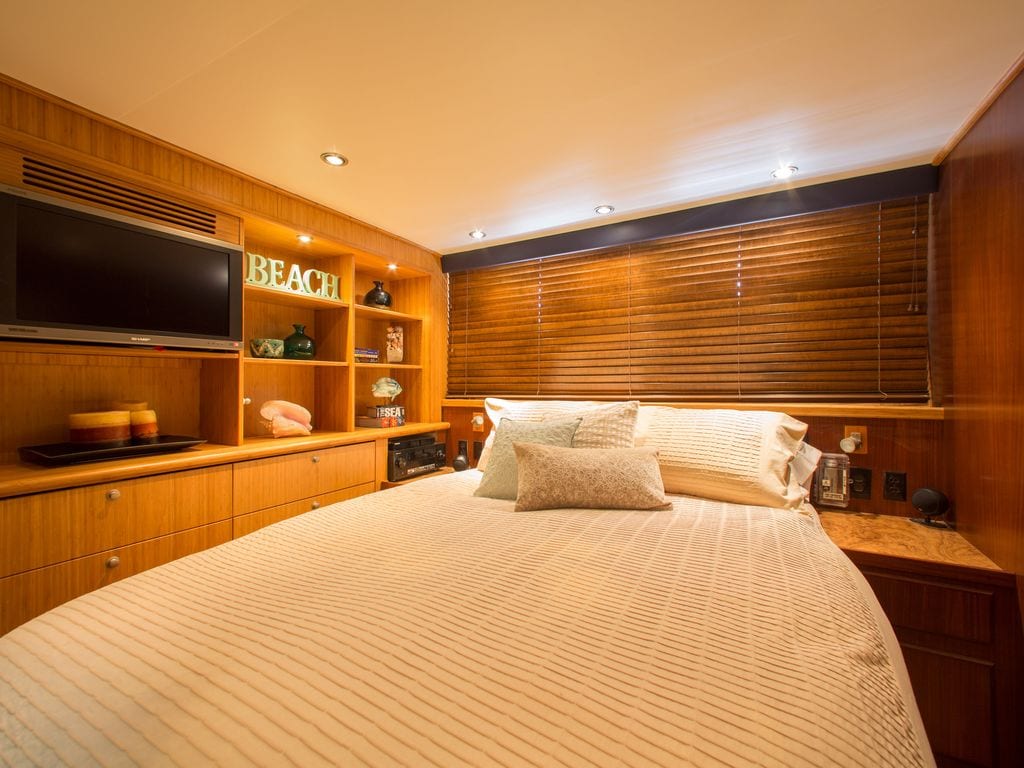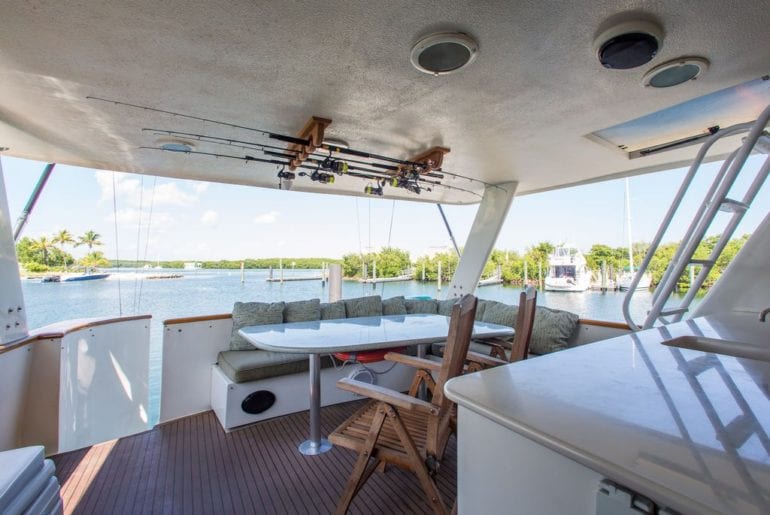 Looking for something different while in the Florida Keys? This private, four-bedroom yacht might just be the most unique and memorable Florida Keys VRBO experience ever! This deceptively spacious luxury yacht sleeps up to 8 people easily, with four cabin-style bedrooms and four bathrooms. Guests have exclusive access to the marina's amenities, including a heated pool, private beach, and even a fitness facility. This incredible rental is available for an average $950 a night, depending on the season.
Docked at a fantastic, gated marina in Stock Island, you are only 15 minutes away from the most popular spots around Key West. Enjoy creature comforts onboard like air conditioning throughout the cabins and living space, a flat screen TV, and a full kitchen. Two outdoor decks provide even more space to relax and unwind on the boat, or book a Captain and set sail for adventure! This Florida Keys VRBO is great for a family with kids looking to make memories that will last a lifetime.