You know, they call New York the 'City that Never Sleeps', but for our money this nickname is more in tune with the nigh on bemusing amount of entertainment to be found in Las Vegas. It's the gambling capital of the world, but also so, so much more than that. Las Vegas is a home to world's biggest casinos and hotels, lavish restaurants, and extravagant shows from some of the biggest named artists on the planet. The place is almost like a fizzing neon museum (alongside the actual Neon Museum that you can visit if you, you know, really love neon).
It's not even just the glitz and glamour that draws people to Vegas. Redrock Canyon and the surrounding mountains provide a humbling landscape. Accommodation can get pretty steep if you opt for a hotel stay, and that's why we selected only the best Airbnb's in Las Vegas to make the blackjack losses a little easier to stomach.
Also worth a read:
9 Of The Best Airbnb Rentals By The Las Vegas Sign
9 Stunning Las Vegas Airbnb Rentals Under $250 A Night
These 9 Los Angeles Airbnbs Will Make You Feel Like A Cast Member In Entourage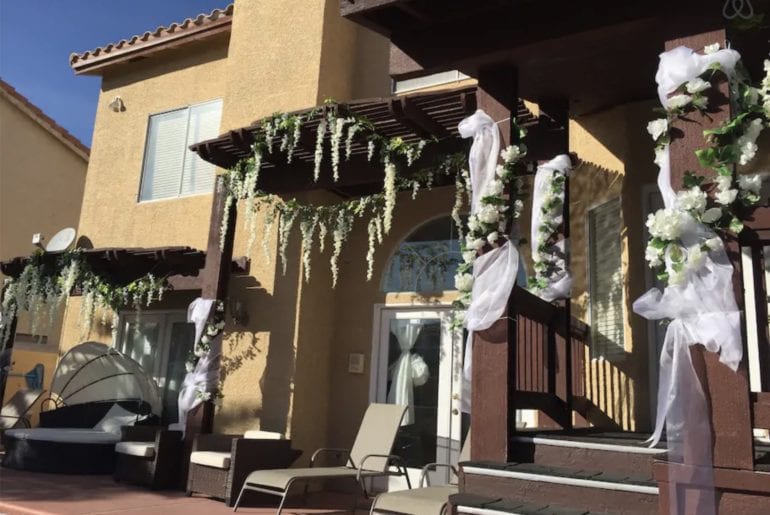 This spacious dreamy house is located a little way away from the strip, in the Summerlin Area, and will make you feel right at home in this boiling city (sun lotion is provided by the kind hosts).
This place will have you feeling like a professional gambler and family man who's decided to settle down not too far from 'work'. For $350 per night, you'll have access to the entire house, a large pool area, a game room, 3 fireplaces (like you'll need those) and a huge, brand new barbeque.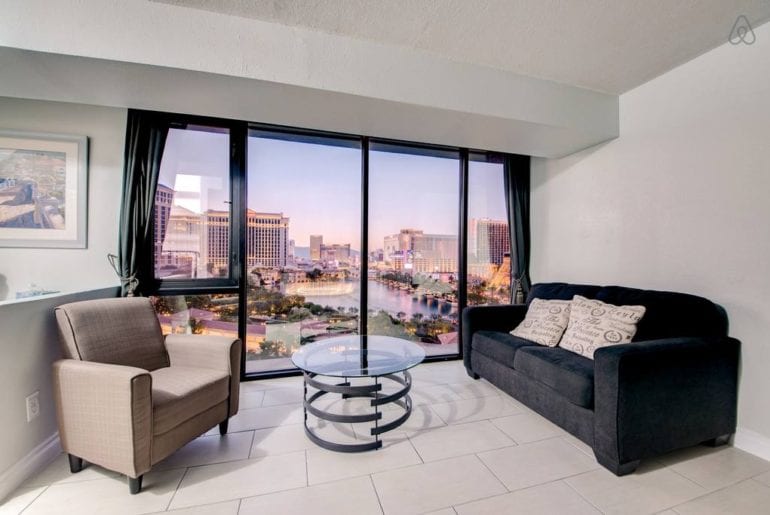 Now this place is for the professional gambler who has absolutely not settled down at all and is dedicated to the 24/7 party lifestyle. A luxurious apartment located in the middle of the Strip, between the Bellagio and Cosmopolitan hotels, it overlooks the former's bedazzling fountain show, and has access to the latter's swimming pool.
It starts at $449 per night, and features a breath-taking panoramic view of the Strip, two fully-equipped kitchens, a nearby pool area, 24-hour gym, and a sauna. Live like the millionaire playboy you wish you were, if only for a few days.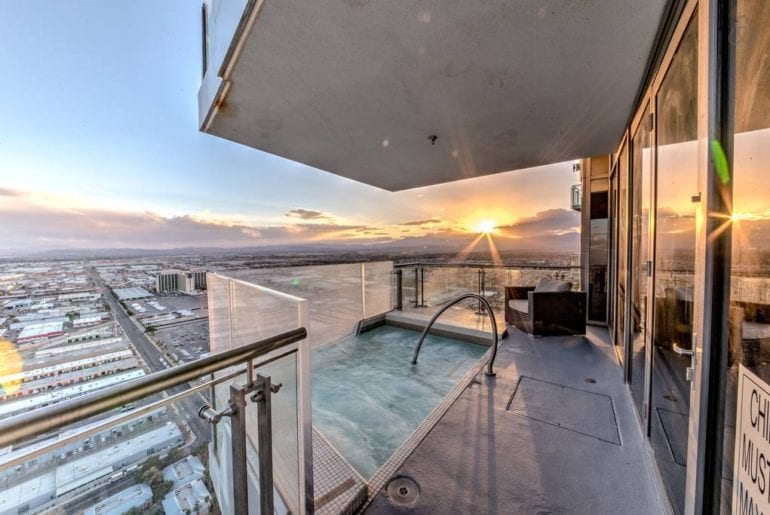 I don't know about you guys, but soaking in a hot tub on the balcony of a penthouse suite, champagne flute in hand, maybe a couple of silly canapés, looking out at the balmy night sky and flashing lights, is on my bucket list.
This modern penthouse can make that dream a reality. $399 per night will get you this amazing over-the-edge jacuzzi, plus access to a fitness centre, a game area, and a fully-equipped kitchen. There's even a pool table if you get bored of the hot tub, but lets be realistic here, you probably won't.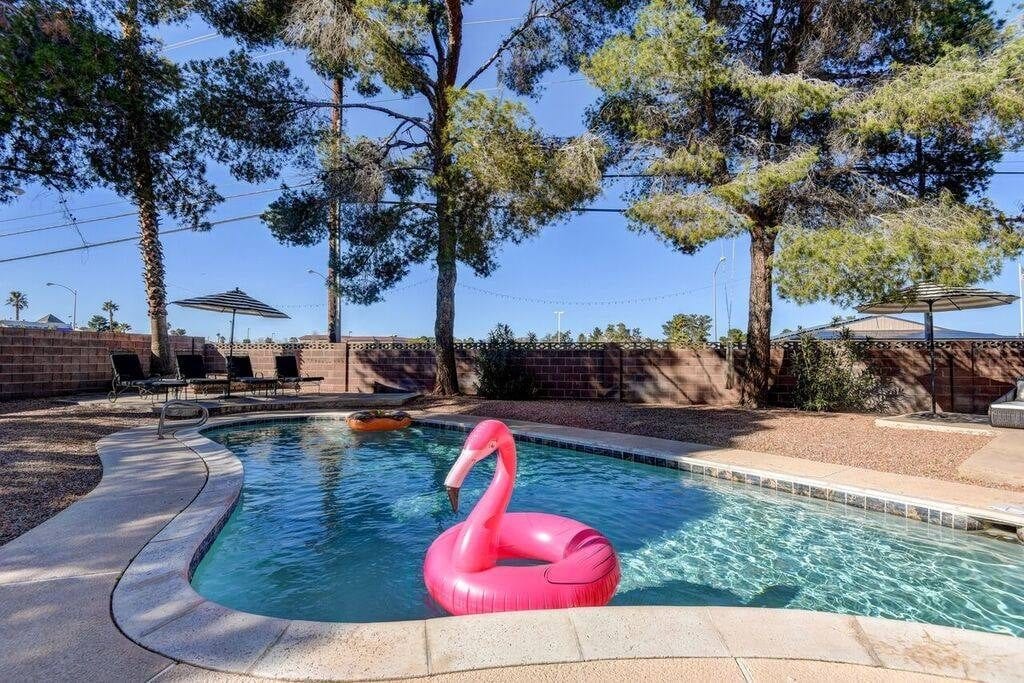 Room to breathe is the order of the day in this spacious, North African-style house only 10 minutes away from the Strip. Recently renovated, this place has a humungous garden with a cute pool and oodles of quiet privacy.
The price is $260 per night and you can expect a private pool, a huge backyard with a barbecue area, a game room, and a fully-equipped kitchen. The Moroccan-inspired decor will leave you speechless.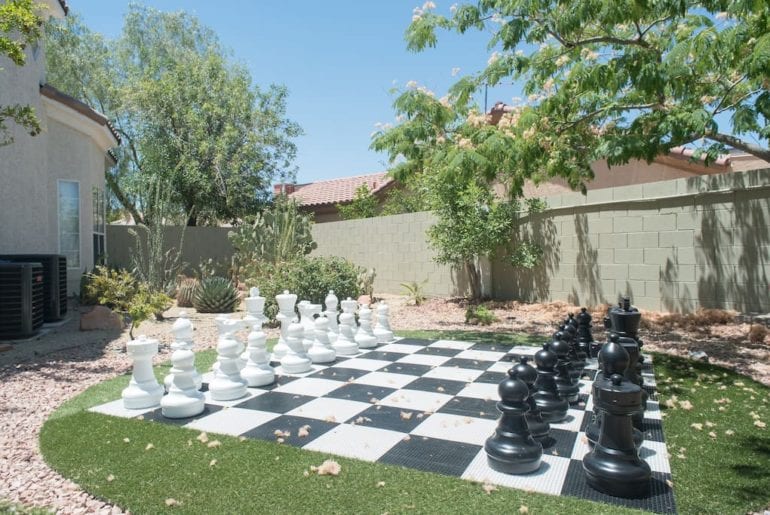 Incur enough losses at the craps table and you're going to need a bit of zen in your life. This amazing Buddhist-inspired place is there perfect place to realign your chakras after a bout of monetary debauchery.
Comfortably placed in quiet and calm, yet central, area, it's a mere 10 minutes away from the Strip. For $395 per night, you'll have access to a large pool area, a steam room, a game room, your own basketball court, and a pool table. There's even a giant chess set if your big ol' brain needs a big ol' work out – maybe so you can learn to count cards! [Do not under any circumstances learn how to count cards – Ed]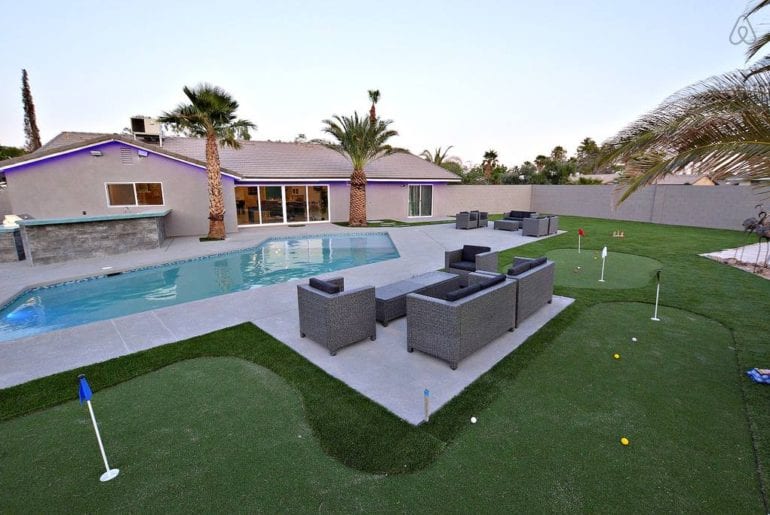 Who really needs the whole of Las Vegas, Nevada, when you can condense it into one singular home that only you and yours are allowed to enjoy?
This spectacular house is located only minutes away from the Las Vegas Strip and it features a huge backyard pool, its own mini golf course, some sleek, modern decor, an original blackjack table, a game room, and a fully-equipped kitchen. Isn't all that stuff the whole reason you came here anyway? And without all the, excuse me, other people ruining it with their bad breath and boisterous laughter? It's $399 per night and it's outstanding.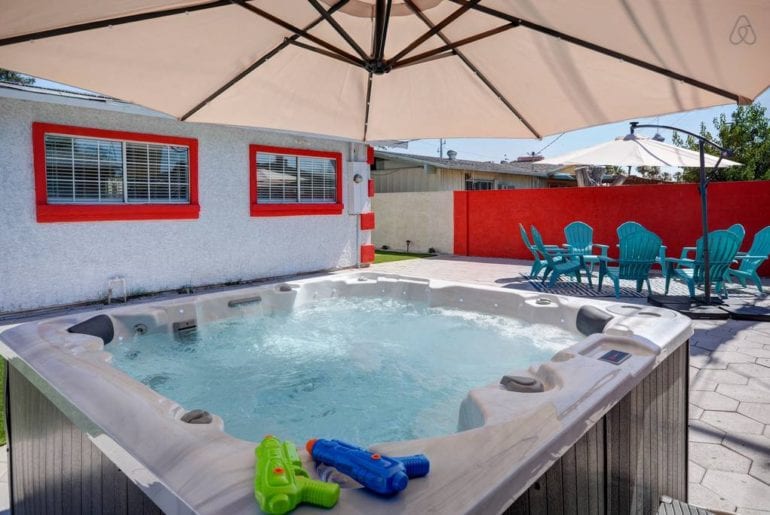 This spacious retro house is a taste of the old Vegas, the '80s Vegas, the Vegas of Siegfried and Roy.
For $399 per night, you can expect a spa-like and pretty cosy place . You have access to a pool, a jacuzzi, a huge game room, with pool and poker table a lovely backyard with a barbecue, and free parking. This house screams fun and is the perfect place to come back to after an evening of partying on the nearby Strip.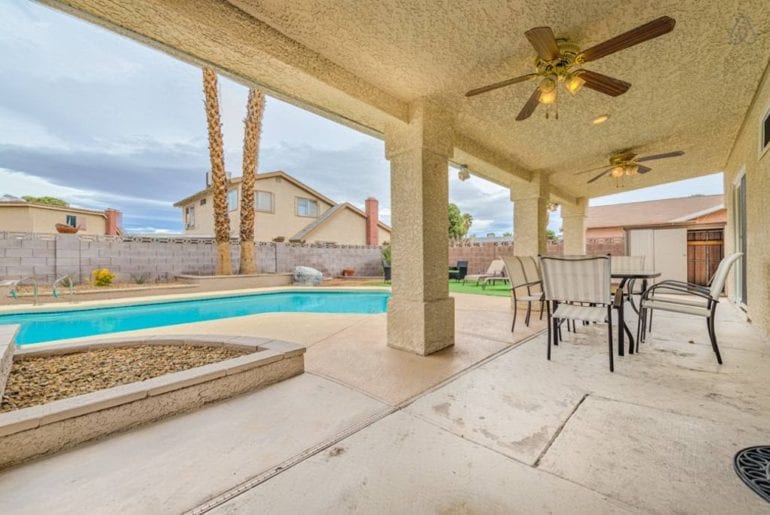 Renting this gorgeously furnished and luxurious house is basically you saying 'I made it, Ma!'. A measly 5 minutes away from the strip, it's located in a safe and quiet neighborhood.
Rent this villa for only $335 per night and it includes a modern, fully-equipped kitchen, a pool area, a barbecue area, free parking, and it's pet-friendly. This would be great for honeymooners, re-honeymooners (after renewing your vows), or, if the famous Vegas shotgun marriage is more your bag, a wedding party venue for two. Consummate that marriage immediately!