If you went to Vegas and didn't post a selfie in front of the "Welcome to Fabulous Las Vegas" sign, did you really go to Vegas?! Many people would say "no!" The Las Vegas Sign has been a must-see attraction since 1959, but in 2008 it got a whole lot easier with the addition of a parking lot and designated photo area.
Located on South Las Vegas Blvd., this famed sight lies precisely in the center of one of the most energetic streets in the United States. Nearby, are some of Vegas' best spots including Bali High Golf Club, nightclubs, and casinos.
All in all, what is most tasking to those visiting Las Vegas is finding an affordable, comfortable place to sleep.  With the growth of the city at an all time high, it can be a daunting to-do. However, we've done the hard part for you. Here are 9 awesome Airbnb rentals near the Las Vegas sign between $115 – $275 per night.
8 Stunning Las Vegas Rentals Under $250 A Night
8 Luxurious Las Vegas Airbnbs Under $400 A Night
9. A Luxurious Vegas Condo Next to Palms Casino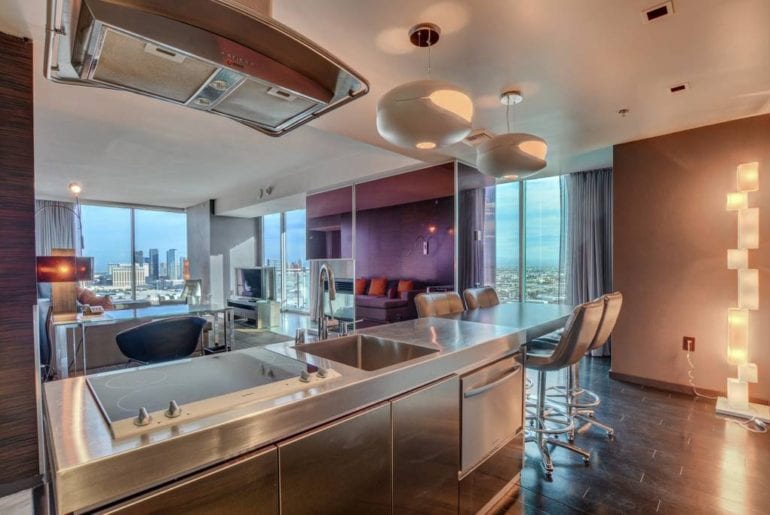 Located next door from the Palms Casino, this huge one bedroom suite includes a state-of-the-art kitchen, a fireplace, Jacuzzi and two televisions. You also have access to a communal spa pool, gym, and 24 hour room service. The huge windows offer you the enchanting view of the city as you cozy up with a morning coffee. Prices start at $120 per night.
8. Sun Drenched Vegas Home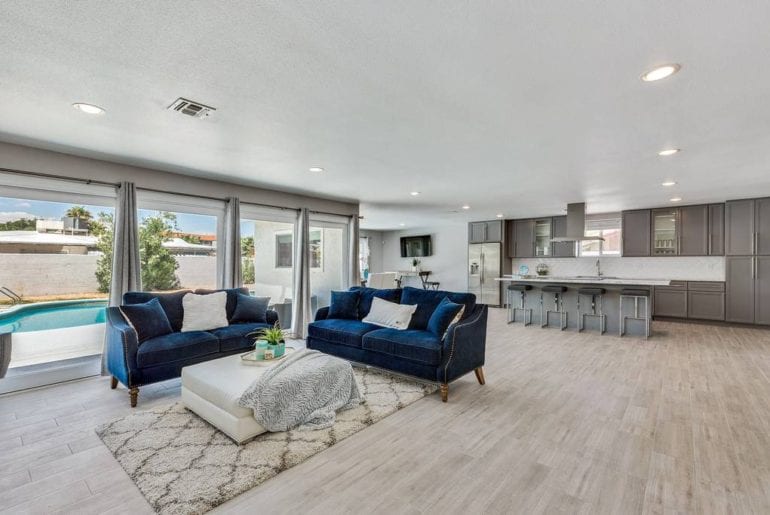 The minimalist decor in this three-bedroom, three-bathroom home looks like it was pulled straight out of a HGTV magazine. If you ever find the motivation to leave this cozy home, there's plenty to do! You'll be just 2 minutes away from the Strip and other amazing neighborhood restaurants, bars, and music venues. After a hot, tiring day of exploring, hop into the pool for a cool swim or take a nap on the Tempurpedic mattress! Prices start at $125 per night.
7. A 4 Bedroom Villa Near the Strip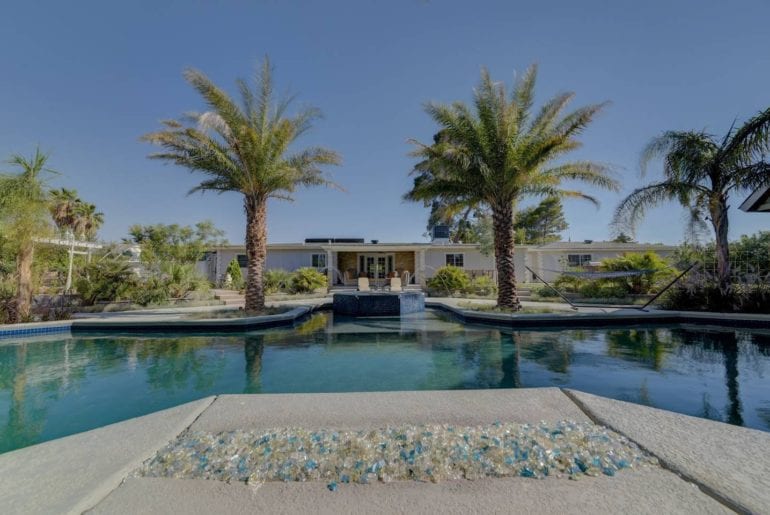 You'll get the best of both worlds in this gorgeous villa. A private oasis in the bustle of the city can be yours starting at $149 per night. Though you'll be just 10 minutes away from the strip, it feels like another world as you relax in the private backyard with mountain views. You have access to the entire villa along with a pool, outdoor hot tub, fruit garden, and outdoor kitchen.

6. A Spacious House with Water Slide and Game Room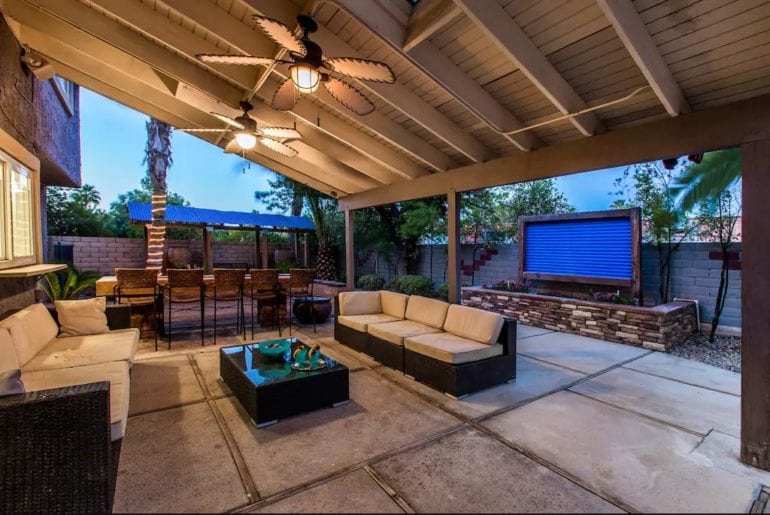 This multi-level home is only 1.3 miles from the Strip, making it a perfect Vegas getaway! You'll live like royalty with 6 bedrooms, 2 master suites, a pool, spa, waterslide, putting green, and 4 bathrooms. In addition to being just around the corner from the Strip, you'll also be within minutes from Vegas Indoor Skydiving, Springs Preserve, Neon Museum and Bellagio Conservatory & Botanical Gardens. Prices start at $170 per night.

5. Unique Space with LED Color-Changing Onyx Wall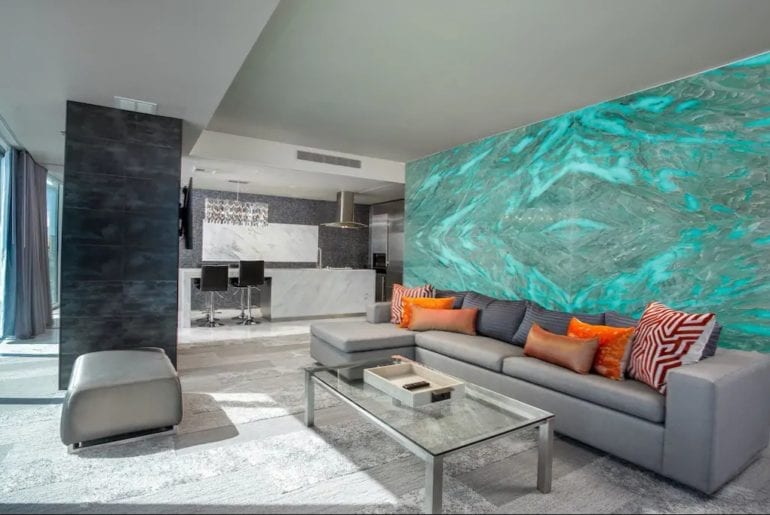 Located just down the street from the Strip and the Palms Hotel, this one-bedroom suite is a perfect for those seeking a touristy vacation. The master suite has a lavish king-sized bed, marble floors, and a private balcony overlooking the city. You will also have access to the Palms Place pool, hot tub, laundry, and fitness center! Prices start at $180 per night.
4. A Posh Vegas Home in the Historic District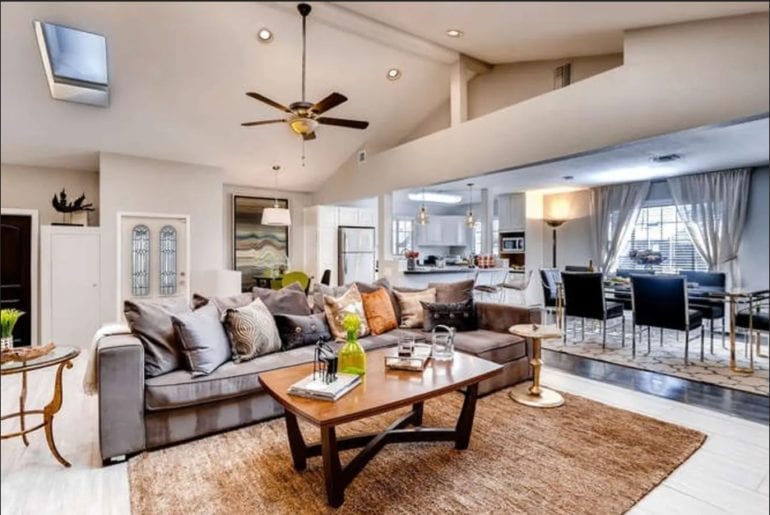 This reasonably priced four-bedroom home provides polished comfort. Providing everything you need for a relaxing accommodation wrapped up in tasteful style. Prices start at $185 per night. You can utilize the massive kitchen to whip up meals and enjoy them on the outdoor patio with Stratosphere views. Another bonus? You'll get free airport pickup and free parking!

3. A Skyvilla with Panoramic View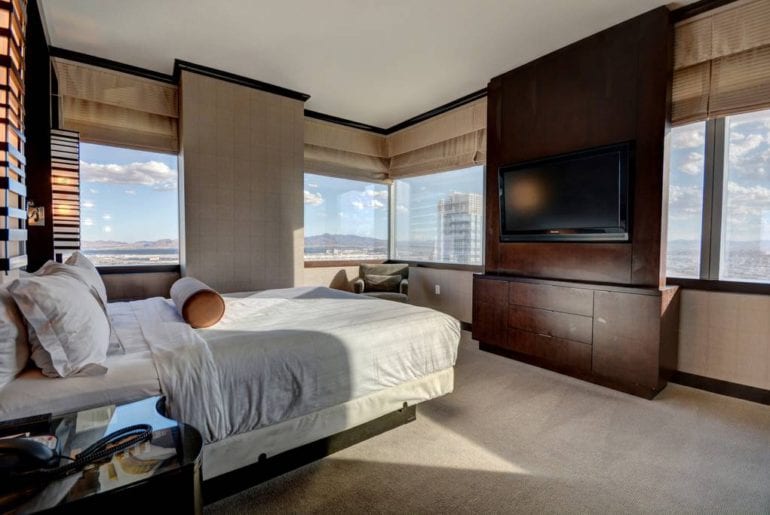 This private room is located on the 52nd floor of a beautiful boutique hotel. You'll be in the center of the Vegas Strip, near every hot spot you could imagine! Starting at just $218 per night, you won't believe the views from this condo. Enjoy the unbeatable 270-degree panoramic view of the entirety of Las Vegas. You'll also have access to free valet parking, a pool, and fitness center!
2. A Massive Modern Home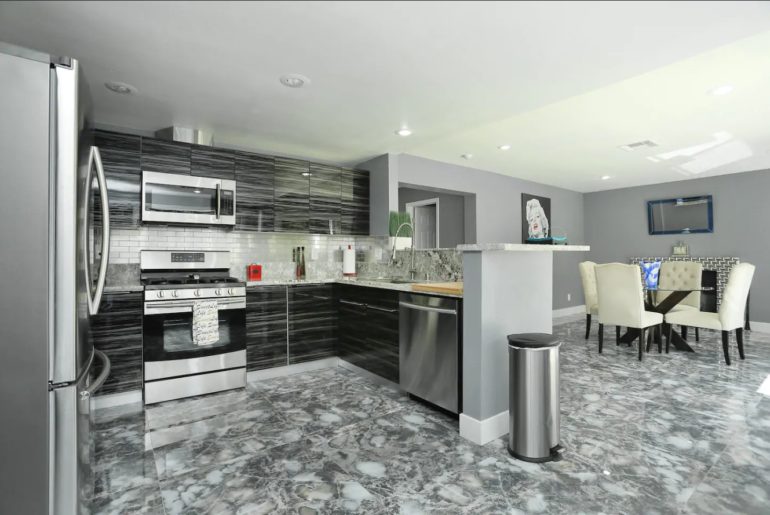 This home has been recently remodeled and is guaranteed to "wow!" It's a mere 5 miles from the Las Vegas Boulevard, putting you in close proximity to all of the casinos and nearby resorts. The entire home is tastefully furnished with marble, giving it a unique, expansive feel. So enjoy your evenings unwinding by the television, or make use of the spacious rooms and play some card games by the fireplace. Rentals start at $249 per night.

1. A Tri-Level Home with Moroccan Vibes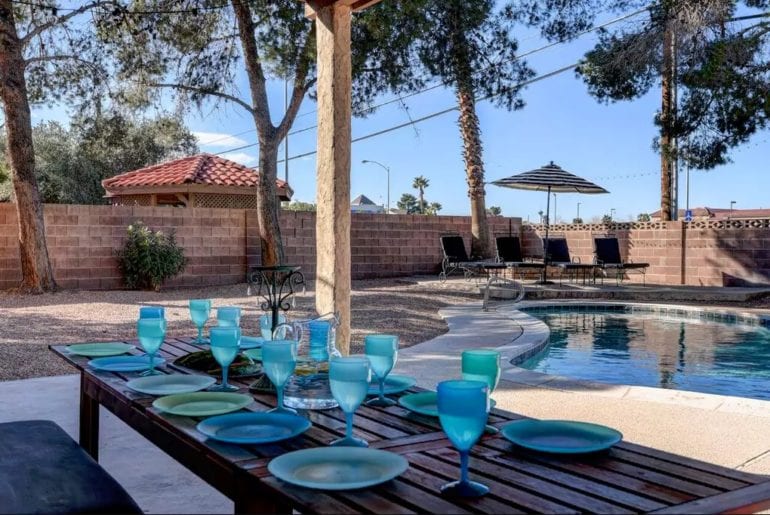 This beautiful rental is a lovely home-away-from-home with 4 bedrooms, 3 bathrooms, laundry, a pool table and a huge backyard. Complete with a pool and outdoor dining area, you'll be living in luxury under the palms. You can escape back to this gorgeous house after jam packed days of sightseeing and adventures. Just 4 miles from the Strip, 3 miles from the airport, and 5 miles from the Convention Center! Starting at $265 per night.