We can't imagine Meghan and Harry use Airbnb in London very often. We know for a fact that when they're in London they live in Nottingham Cottage, an apartment inside the huge Kensington Palace. Of course, that's where Harry famously proposed to Meghan while doing his best to roast a chicken. Imagine Prince Harry, Duke of Sussex, quietly Googling how to make gravy with a beautiful engagement ring burning a hole in his pocket until he couldn't take it anymore. Isn't that the most adorable thing you ever heard? What a cutie!
The tale of Meghan and Harry is an international love story of epic proportions. Sure, we can't all expect a televised wedding attended by the Oprah, George Clooney and Idris Elba. But love and romance can be epic even if you're not a direct descendent of Alfred The Great King Of Wessex, or the star of the major American legal drama Suits (which just got renewed for its final season, FYI!).
London's a pretty romantic city if you too are looking to get international with your own personal love story. It's not all bad teeth, fog and sarcasm in Britain's capital city. Not convinced? We had a poke around on Airbnb to track down the most romantic London Airbnb properties, check them out below!
Also worth a look:
8 Airbnb Abbeys, Castles and English Country Houses for Downton Abbey Fans
7 London Airbnbs Harry Potter Fans Will Love
8 Of The Best Soho Airbnbs For Nightlife Lovers in London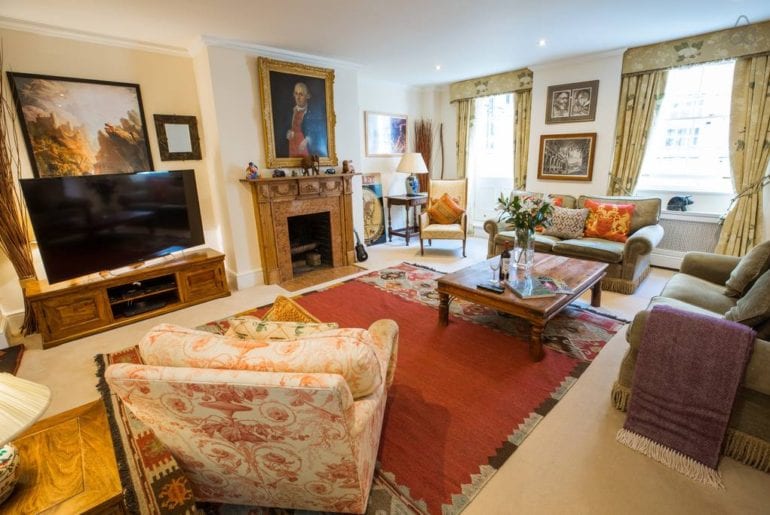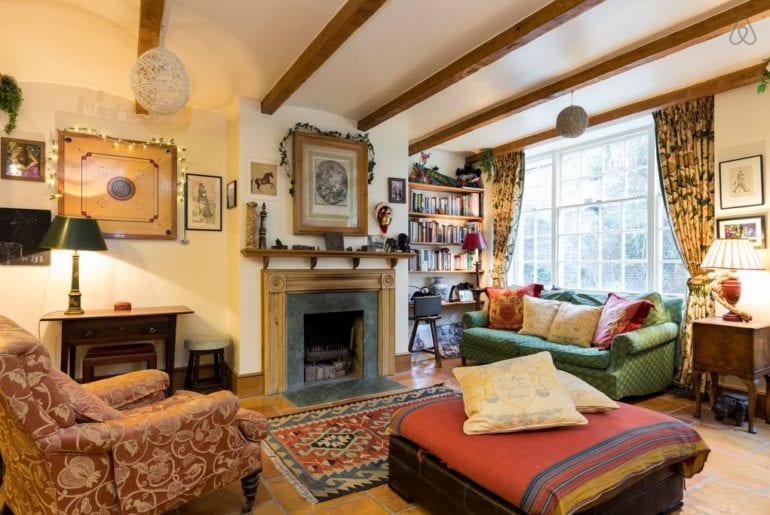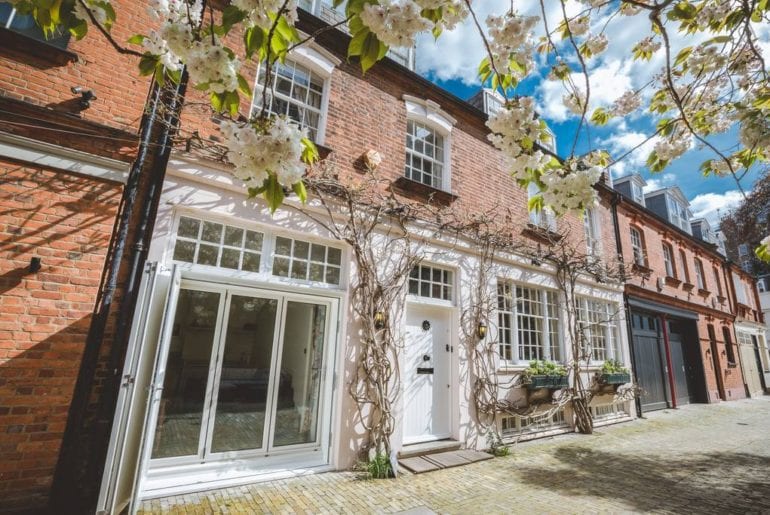 There are four bedrooms in this gorgeous Chelsea townhouse, but this place is perfect for just the two of you. The whole place just looks like it smells of rich mahogany and lovely old books and we can't imagine anywhere more perfect for a romantic weekend getaway. Originally designed to feel like an English country cottage, and hidden away in a private mews just south of the iconic King's Road, it is sure to make you feel a million miles away from anywhere, while still being right in the centre of Chelsea.
If the use of the house alone isn't enough to get you feeling some kind of way, the fresh flowers that the owners make sure are around the house upon your arrival and the maid service (which means you won't have to do anything as unromantic as wash the dishes yourself) should push you over the edge. That fireplace is a perfect spot for a sneaky little proposal, we reckon…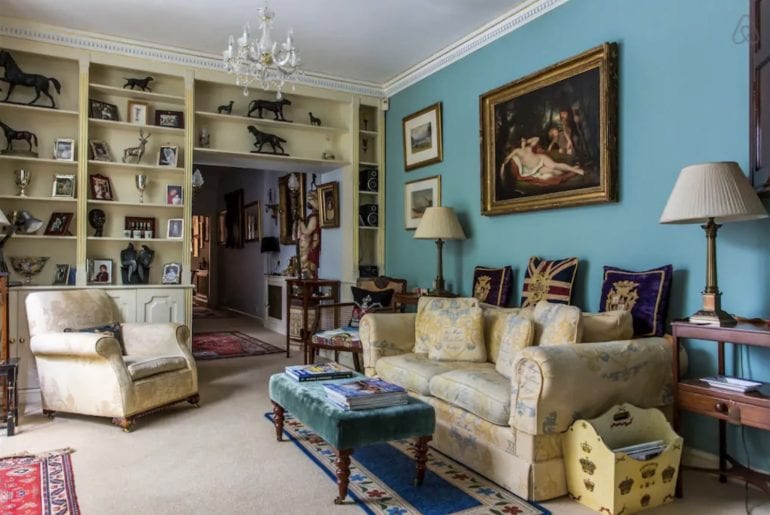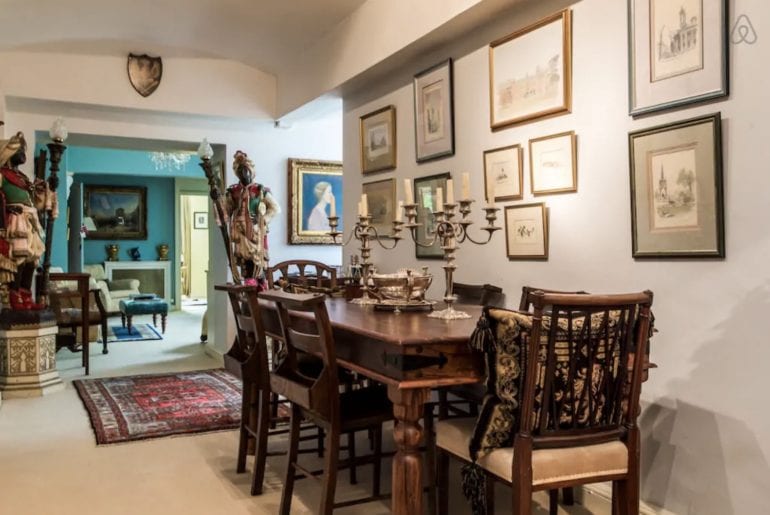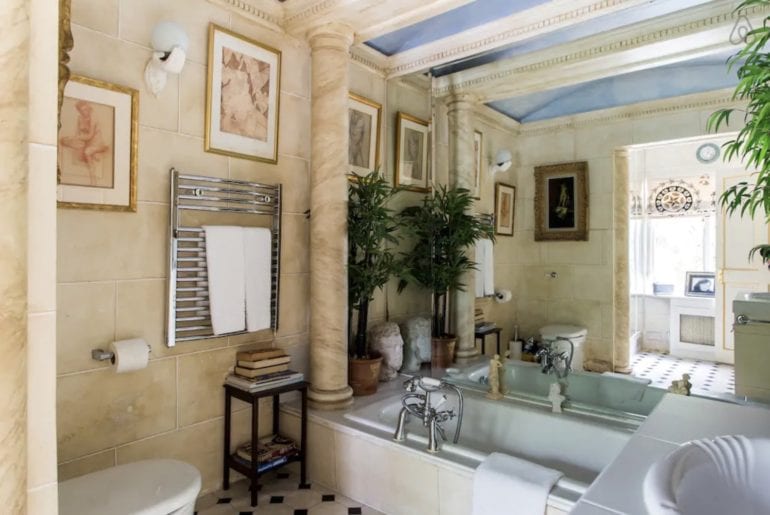 If you could distill everything cute and fun about the British way of life into a single two bedroom apartment, it would look a lot like this glorious little spot near Queen's Gate in Kensington. Packed full of weird and wonderful antiques, chachkis and all kinds of little pieces of history, not to mention some beautiful art, it's an exciting place to explore. Imagine how romantic a meal at that polished table would be: the two of you gazing into each other's eyes over the candelabra. So fancy! And of course the painting of the naked lady in the living room isn't necessarily a suggestion but it gives off a certain, uh, vibe, nevertheless.
Your hosts are genuine British aristocrats, meaning they aren't necessarily that far removed from the likes of Meghan and Harry in real life! So if you want a taste of romantic upper class life in London, this might be the perfect Airbnb for you and your boo. British aristocrats probably never call each other 'boo', though.
8 Of The Coolest Airbnbs In Shoreditch, London
6 Of The Most Amazing Family Friendly Airbnb Homes In London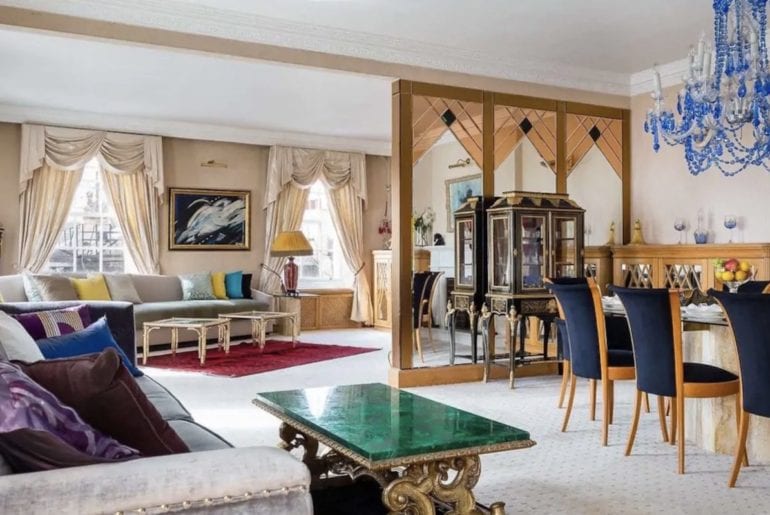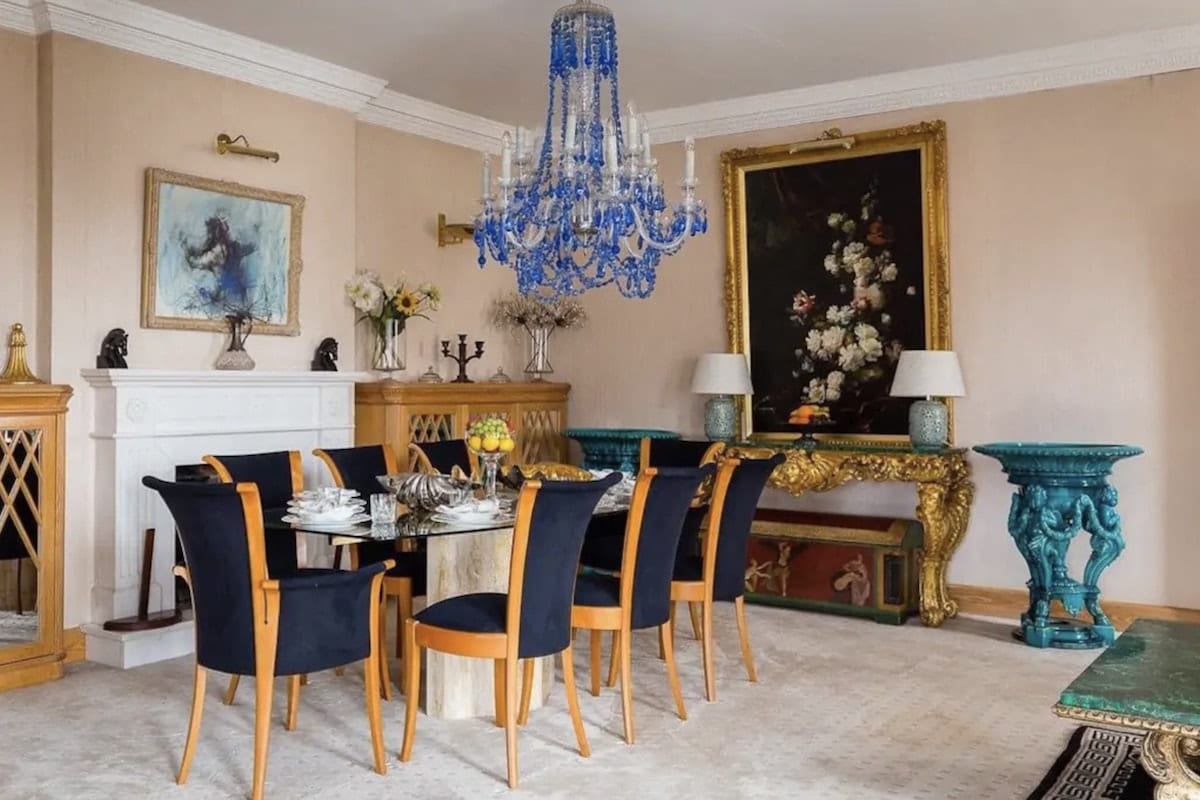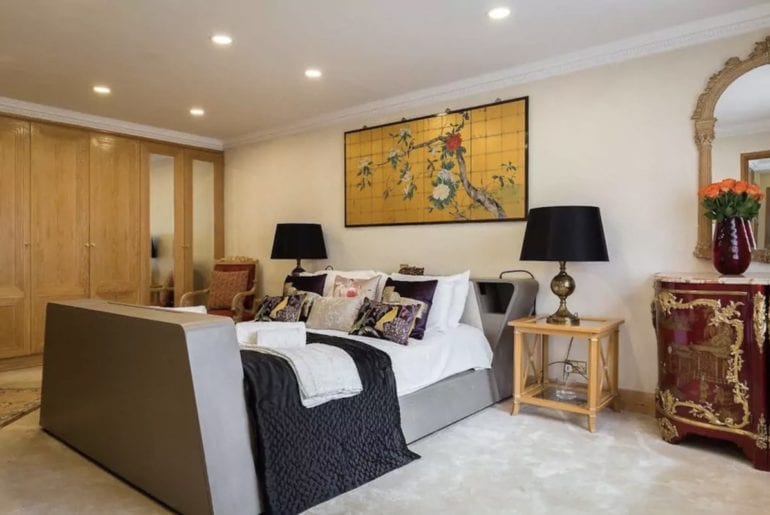 If you had any idea how hard it was to get a decent view of Hyde Park in London, you'd know how special this London Airbnb is. This stylish 2 bed penthouse apartment, filled with subtly opulent furnishings (peep the gold coffee table and the chandelier over the dining table!) looks out over London's biggest (and most beautiful) park. At the same time, however, it's right on top of Oxford Street and all the fancy shopping that affords. You've seen Mr Selfridge on Netflix right? Well, his pride and joy, the original – the only – Selfridges store is right underneath you. That's the kind of place you could buy a pretty nice ring, and… you know.
We love that painting in the dining room in this place. What is it with these Brits and keeping their darkly beautiful mid-19th century paintings where they eat? Does it make the Shepherd's Pie go down smoother? Shepherd's Pie isn't a very romantic meal, FYI. Go for something less mushy if you're trying to set a mood.
8 Of The Best Airbnbs In Covent Garden For Culture Vultures In London
The 6 Most Unique Airbnb Homes In London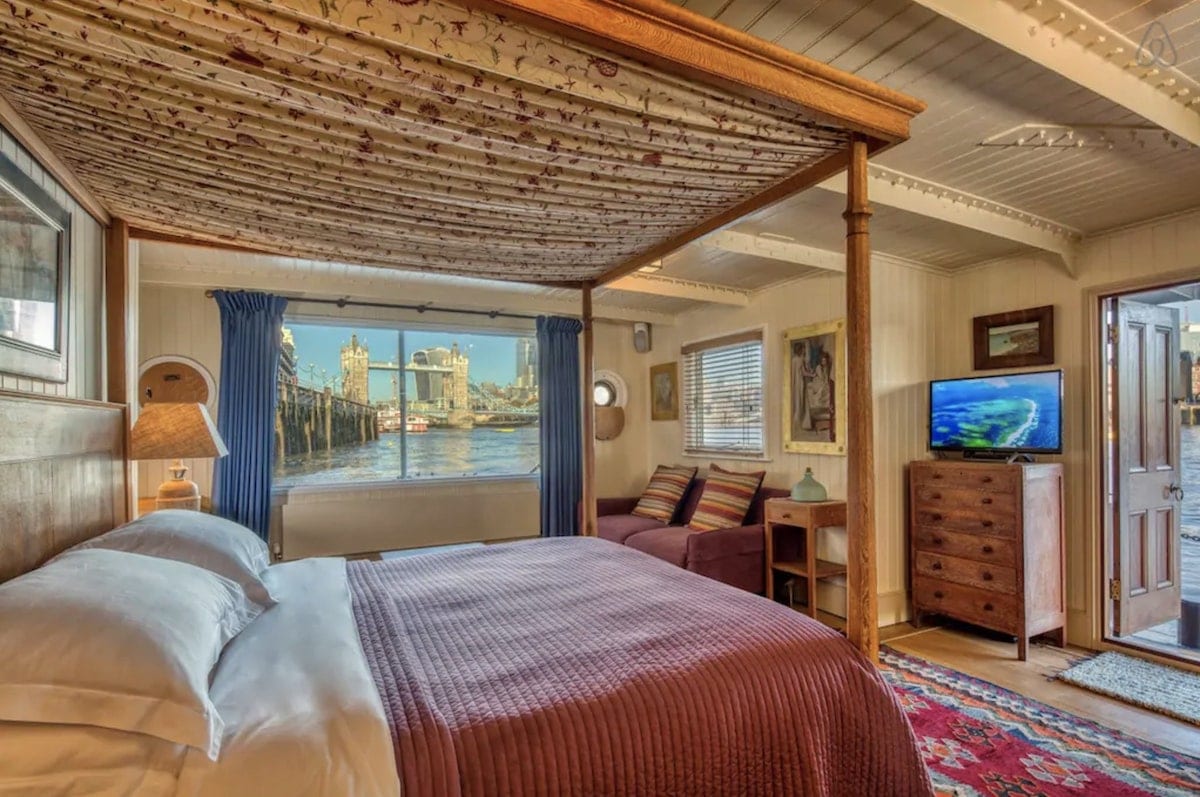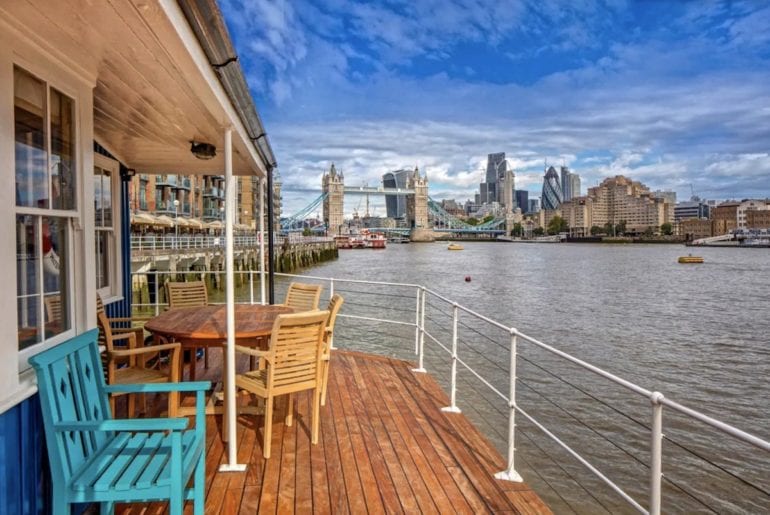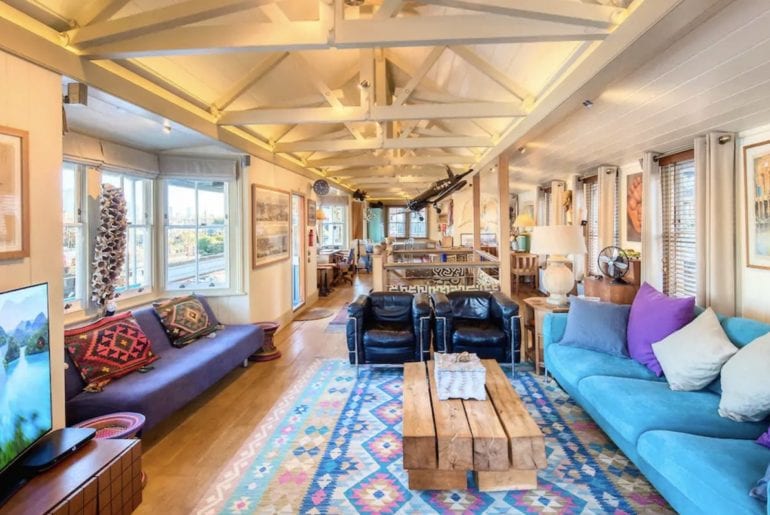 What's more romantic than a night spent together on a boat? How about a boat with a picture-perfect view of Tower Bridge out of the bedroom window? Yeah, that'll do it. HMS Harpy was build in 1904 as a floating customs house and is permanently moored right by London's most famous and most often misnamed bridge (there's no surer way to look like a tourist than call it London Bridge, guys).
There's a pretty serious art collection on board (do the names Gladys M. Black, Eric Rimmington, Patrice Moor mean anything to you? Us neither, but they sound like the real deal), and a table that was made for Winston Churchill sits in the dining room. The four poster bed used to belong to the 19th century socialite The Honorable Daisy Fellowes (née Marguerite Séverine Philippine Decazes de Glücksberg, otherwise known as Princess de Broglie). She was the Paris editor of the American Harper's Bazaar, and the heiress to the Singer sewing machine fortune. True fans of British stuff will know she was also the Downton Abbey writer Lord Julian Fellowes' great aunt. That right there is a pretty romantic bed.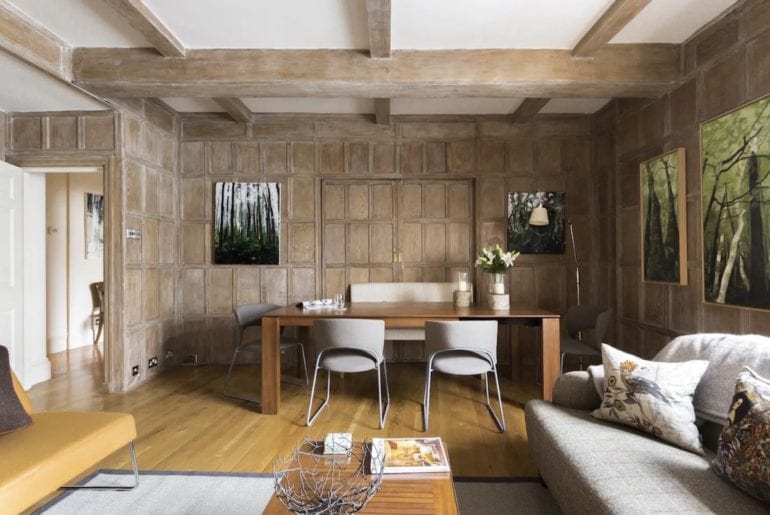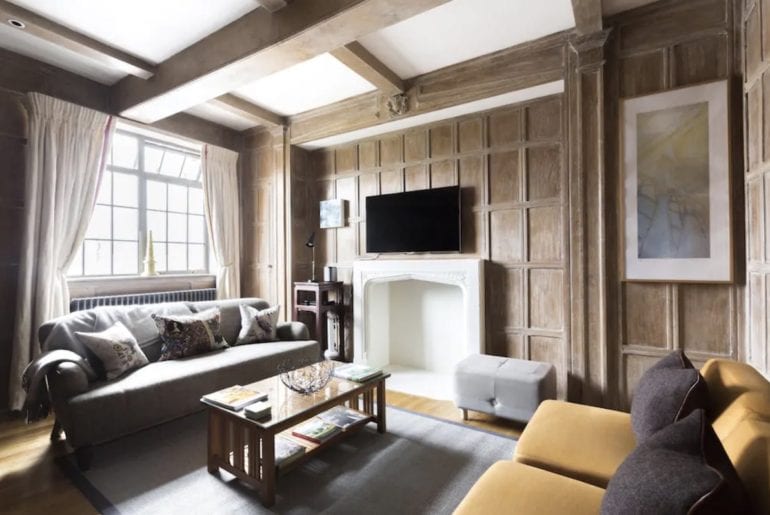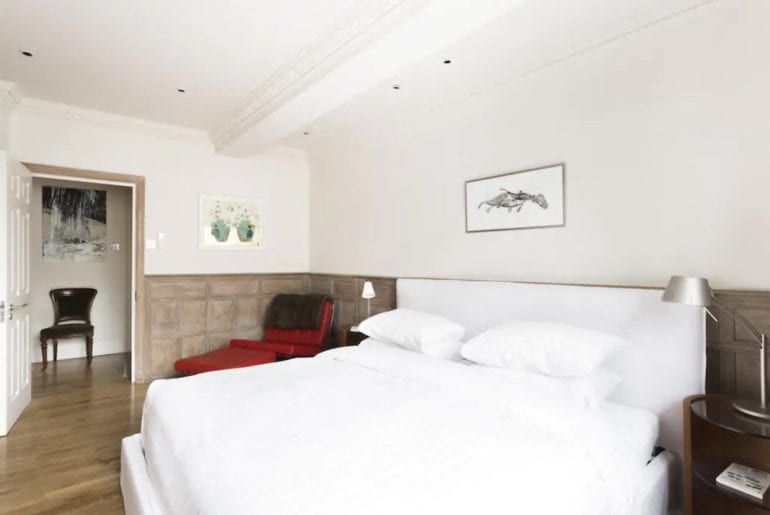 Yeah yeah, we know, this place is on Cockspur Street and that's pretty funny (and also kinda romantic in a way). But if you guys could get your mind out of the gutter for one second and focus, you'll see this 2-bedroom apartment within a moments' walk of the iconic Nelson's Column (also pretty funny, we know) is actually a pretty romantic spot.
In a previous life, this place was a private member's club inside the Norwegian Embassy, and still has all the oak panelling, wooden beams and (naturally) gorgeous paintings that are bound to create an atmosphere, if you know what we mean. A short walk to the quaint shops (some of which have been around for hundreds of years) and romantic arts and culture of Covent Garden, this would be the perfect base from which to sweep your significant other off their feet for a weekend (or longer).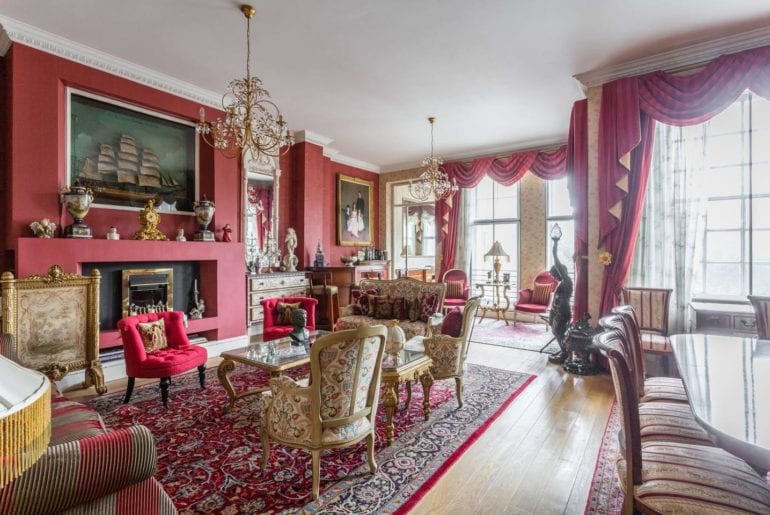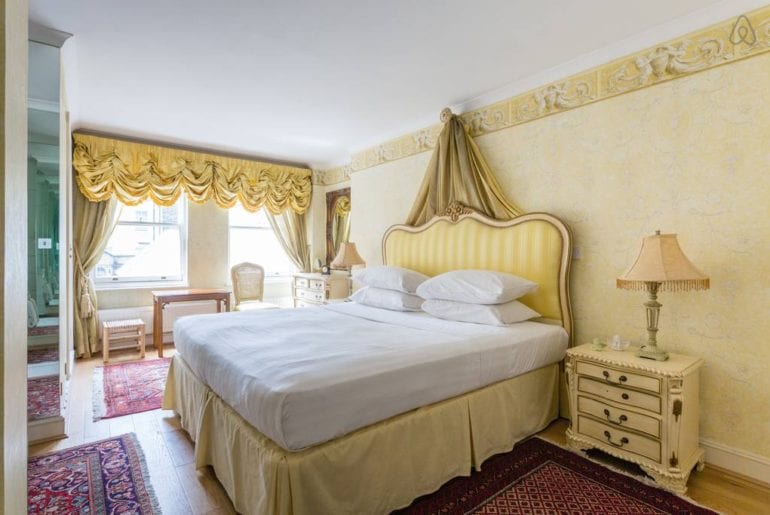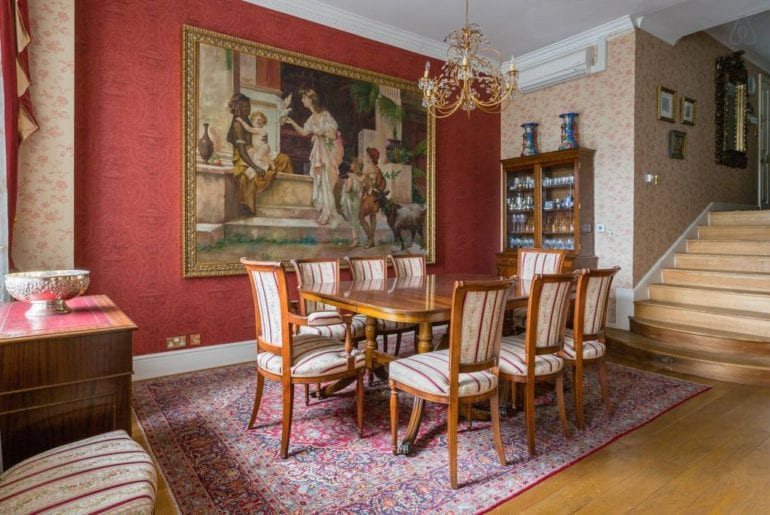 If you're a fan of the British royal family and the drama and intrigue that surrounds them, you've no doubt done a little Googling around to see how they live when they're in London. Well guys, they live more or less like this. This 4 bed home (with six bathrooms!) is actually pretty close to Kensington Palace itself, nestled conveniently by the Royal Albert Hall and Kensington Gardens for you Royal-watchers. This London Airbnb is full of the kind of decor that fills the palaces of Britain – rich red tones, gold furniture and beautiful paintings in the rooms you might have guests in, then simple, functional but extremely comfortable furnishings in the bedrooms, bathrooms and kitchens.
Also let's be real: at $2200 a night, if your significant other has booked a stay in this place, you've gotta know they're pretty serious about you.