Celebrities, mountains, and food! Los Angeles, California is a hotspot for travelers of all personalities. With so much to see and do, there is something guaranteed to please anyone who visits. You can spend some time looking at A-list celebrities stumbling out of the Château Marmont, hike the Runyon Canyon, or a visit one of the many world-famous museums. It's a city so engrossed in movie magic, you'll have a hard time believing it's real.  With jam-packed days, you'll want a relaxing place to return to in the evenings. We've come up with our top Airbnb choices in Los Angeles that will be your home away from home in this City of Angels.
5 Incredible Los Angeles Airbnbs For Architecture Lovers
6 Extremely Instagram-able Airbnbs In Santa Barbara
These 9 Los Angeles Airbnbs Will Have You Feeling Like An Entourage Cast Member
To Infinity and Beyond! 8 Los Angeles Airbnbs with Incredible Pools
These LA listings we've found for you are all under $125 per night, with some even cheaper than that. Check 'em out:
9. Quirky, Quiet LA Retreat – $57 
Escape the craziness of the city in this idiosyncratic LA home . Filled with antique decorations and a 50s kitchen, this is a "blast to the past" vibe to say the least. You can chill out by the koi pond while basking in the gorgeous California sunshine or soak in the claw foot bathtub. Though this house is located on a quiet cul-de-sac, it's just one block away from the freeway and 10 minutes from Downtown LA.
8. Earthy Hobbit House – $86  
This house is a wonderful example of "Storybook Architecture" with its shingled roof covered by Mother Nature herself. You'll forget you're just a short distance away from Venice Beach when you're unwinding under the Magnolia tree in the serene backyard. There's even a delightful yoga sundeck to unwind and practice meditation! For area exploration, you can also easily bike to nearby beaches or indulge in the cultural foods in the area.
7. Spacious Apartment with Breathtaking Views – $89  
Incredible views from this Silver Lake apartment. Located in a 1940s architectural building atop a hill, you will feel like you're in a far-off location while being only steps away from the bustle of Echo Park and Silver Lake. Lay out on the porch with your favorite book, or curl up next to the picture windows that boast a 180-degree view of neighboring areas. For days you're feeling extra motivated, you can take a jog around the reservoir or walk around Sunset Boulevard, just 5 minutes away.
6. Private Garden Guesthouse – $94 
This private guesthouse is nestled in the center of Downtown Los Angeles. You get access to a fully furnished kitchenette, a lush garden with water fountains, and a private patio. This guesthouse is conveniently located two blocks from the freeway entrance and a 10-minute walk from Santa Monica, Hollywood and Culver City. The lovely host, who lives right next door, even prepares baked goods and beverages upon your arrival.
5. Charming Hidden Bungalow – $94
This Spanish bungalow will make your LA getaway perfect with its cozy vibes and private yard. This rental is located in the heart of Hollywood. Tucked away on a quiet, walkable street close to everything you will need or want during your stay.  Near to Hollywood Boulevard, Griffith Park, Downtown LA, and Runyon Canyon. Fun fact: This house was used as housing for MGM actors in the 20s and 30s including Charlie Chaplin and Buster Keaton.
4. Rustic 1927 Treehouse – $107 
How about an inner-city glamping trip? This amazing tree house has a stunning view you can gaze upon from the wrap around deck or the comfort of the California King bed. This rental is eclectic, beautiful and inspirational – perfect for writers, musicians and artists alike. Silver Lake also has a pretty awesome music scene, so be sure to check out a local show.
3. 1960's Pop-Art Guesthouse – $110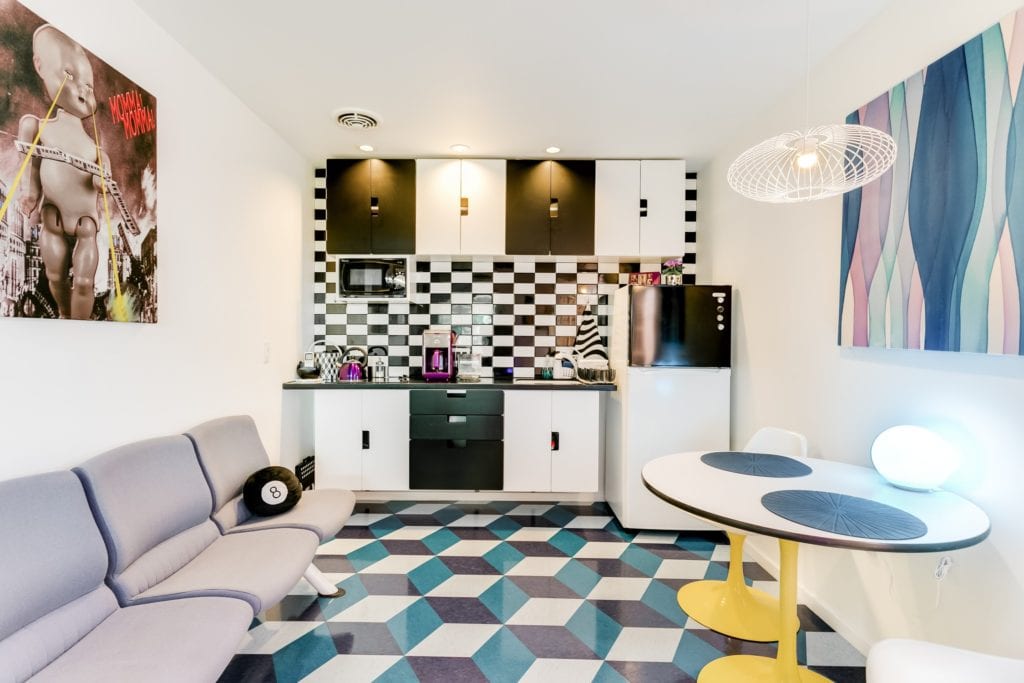 Pop Art 60's guesthouse that will give you the sensation that you've stepped into a 1960's pop art display. You'll feel right at home in this upbeat home. Each piece of furniture has been selected and arranged to give it a one of a kind charm that can only be found in trendy LA. When you're not out traveling the city, kick your feet up on the balcony and enjoy views of the park and unforgettable sunsets.
2. Peaceful Treetop Yurt – $113 
Escape the everyday chaos in this treetop yurt overlooking Hollywood. Perfect for meditation and peaceful relaxation, the blooming jasmine and chirping birds will make your stay the ideal getaway. Sit on the porch and take in the serene environment with views of the famous Hollywood sign. When the day is over, you can take a hot shower in the peaceful outdoor shower.
1. LA Loft with Rooftop Pool – $125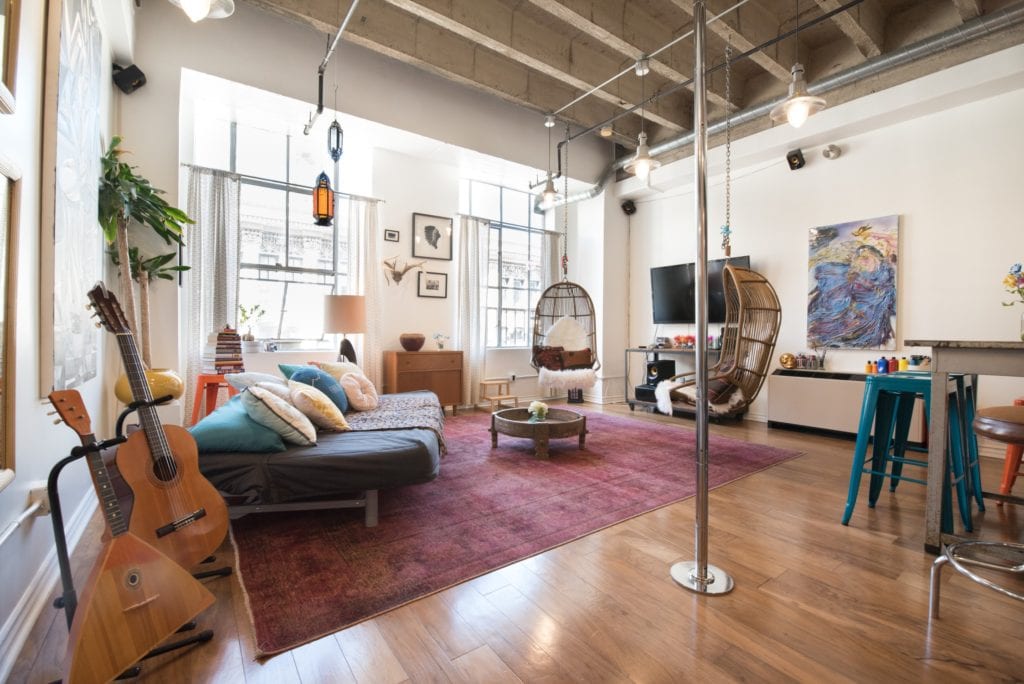 You will have easy access to just about anywhere in this Downtown LA loft. This bohemian escape offers guests access to the rooftop pool and a spa that offers a 360-degree view of the city. For the aspiring chefs there's also a full kitchen at your fingertips. You get all of this in an unbeatable location. When you want to mix it up from the traditional downtown vibe, discover the nearby eateries, markets, karaoke bars, and farmer's markets.