Anyone who's ever flown over Southern California knows that if there's one thing Angelenos are crazy about, it's pools! From custom shaped pools to infinity pools to waterfalls and attached hot tubs, the pools in Los Angeles are some of the most incredible in the world. Whether you're a serious swimmer who gets in a few hundred laps a day or someone who just likes to look cute by the pool, The Local Vibe has scouted out every possible option. So grab your pool noodles, your flippers, and turn on your "Out of Office" response (we won't tell where you really are), and enjoy these amazing Airbnb homes with Southern California pools!
Also worth a look:
8 Super Sunny, Cheerful Silver Lake, Los Angeles Airbnb Homes
5 Incredible Los Angeles Airbnbs For Architecture Lovers
6 Extremely instagram-able Airbnbs In Santa Barbara
The 6 best Airbnb homes in Santa Cruz, California!
8. A Hearst-like Hideaway- $950 a night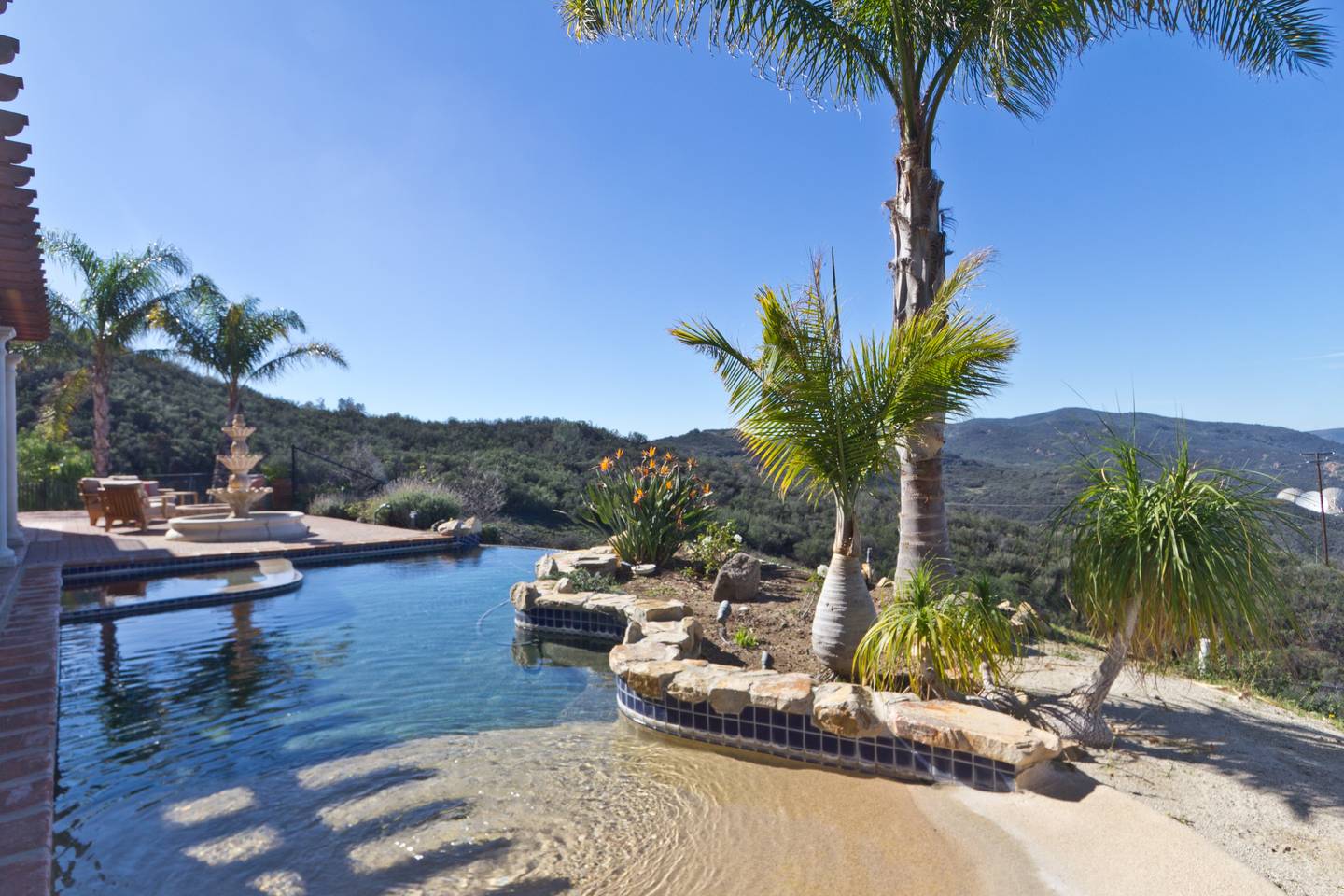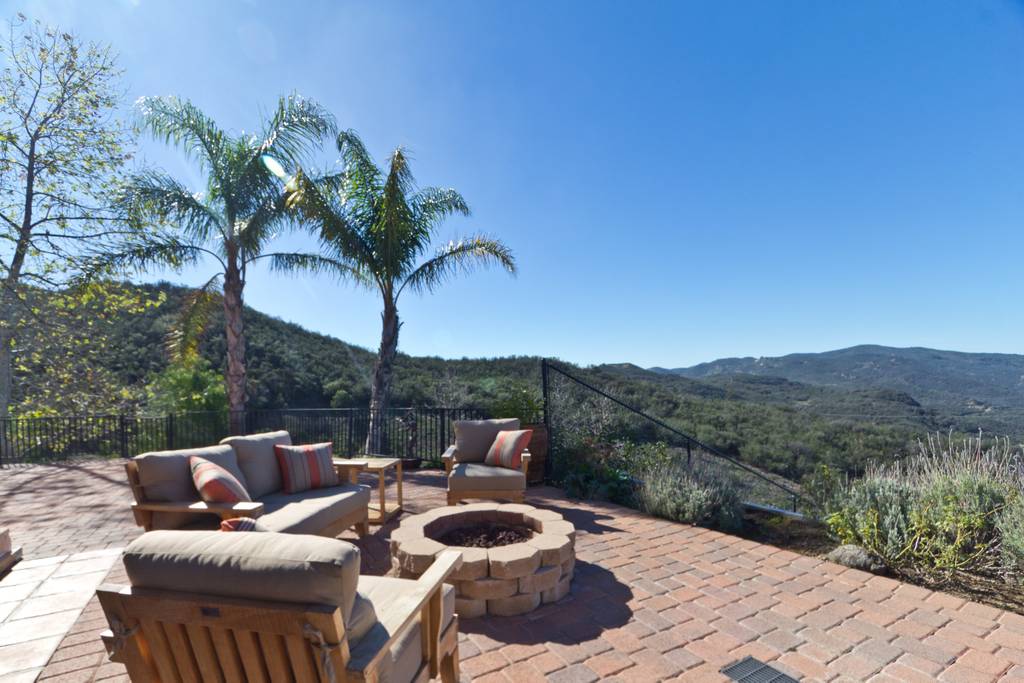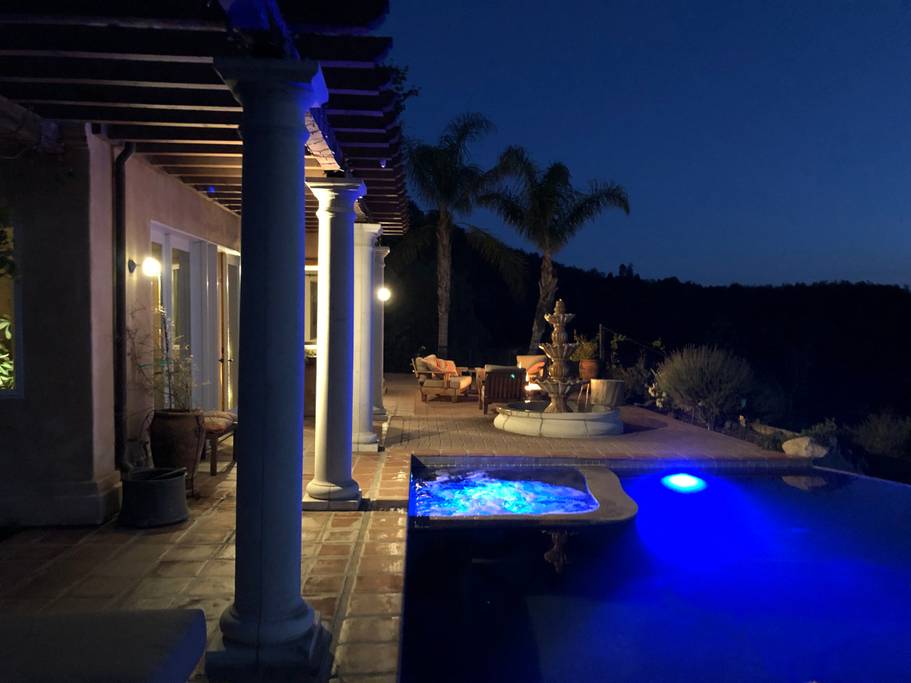 Since you can't stay in Hearst Castle, we've found the next best thing. Perched high in the Malibu hills, this stunning, secluded, Spanish-style house has been the site of many a wedding and it's easy to see why. Situated on 10 acres of land, this place can sleep six people between its three bedroom and bathrooms.
Overlooking Bonnie Ridge, this retreat combines the perfect combination of style and simplicity and is perfect for anyone who loves horseback riding, wine, and fine dining as there is loads of all of it within just a few miles. It's also super close to El Matador and Zuma beaches so be sure to bring your sunscreen. If you can't make it to the beach, you'll still be able to enjoy the incredible infinity pool and Jacuzzi which would make William Randolph Hearst himself green with envy!
7. Dynasty-like Estate – $1,249 a night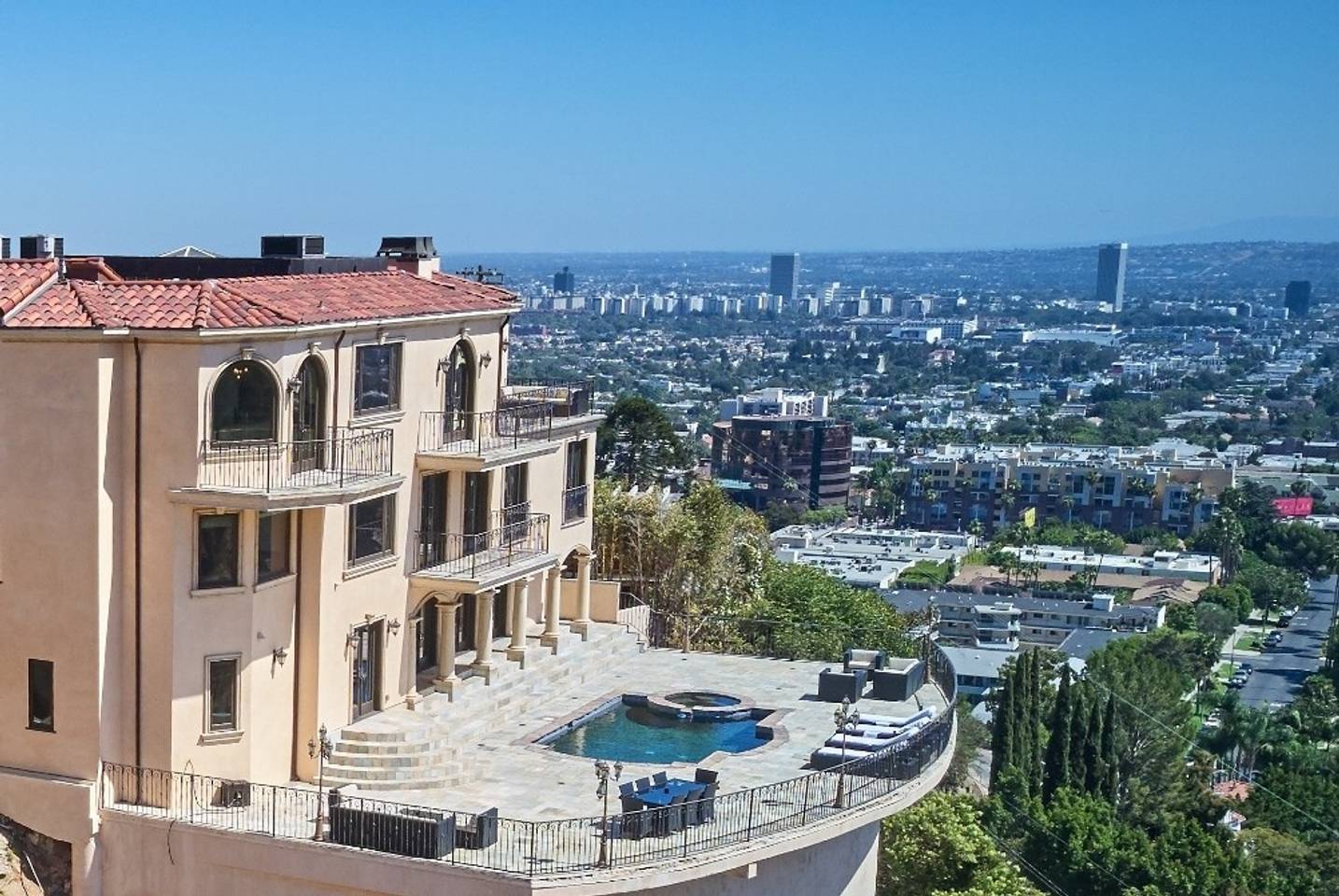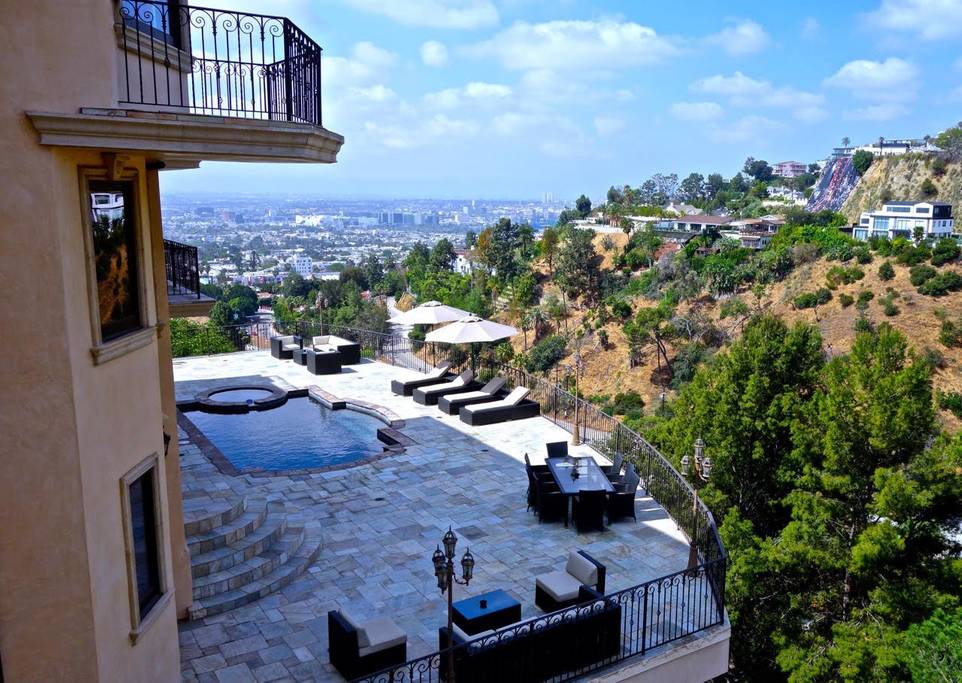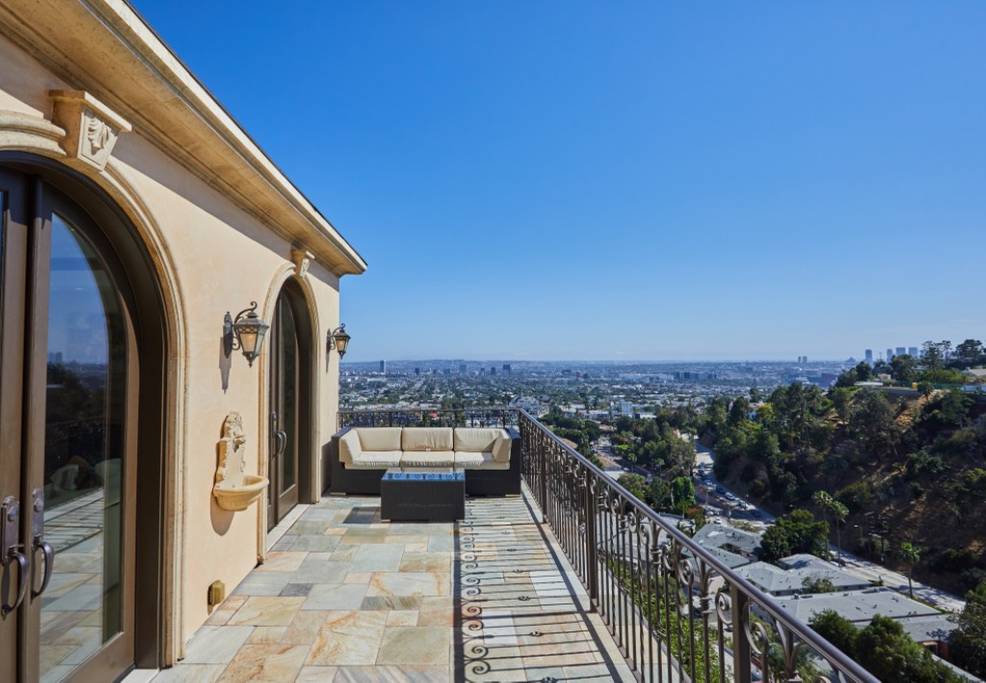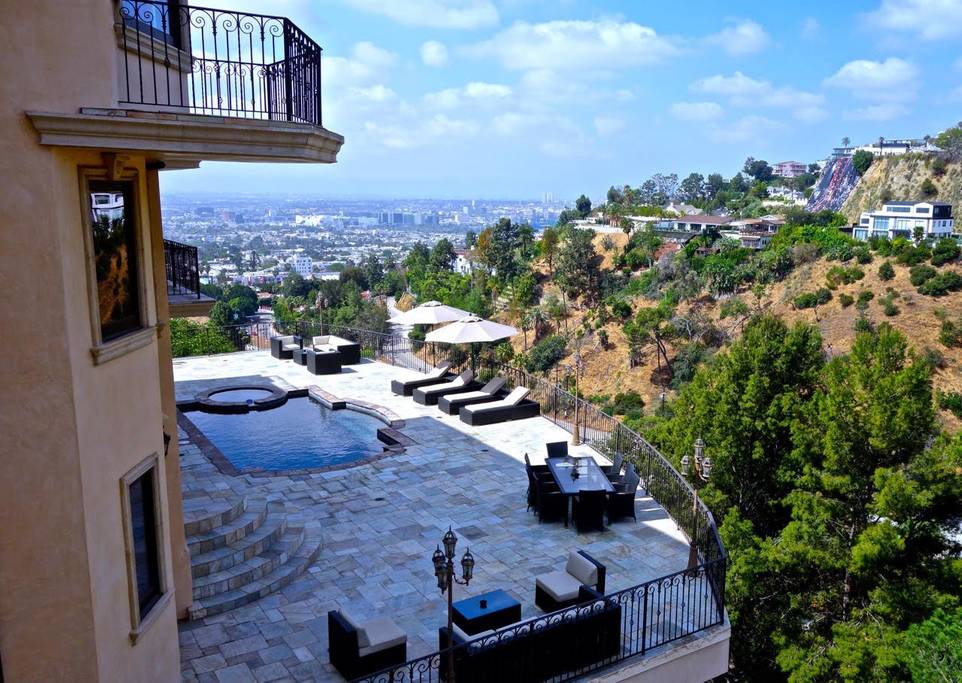 Now this is where Alexis and Krystle should have had their big fight! At 3,000 feet, the deck on this gated home is bigger than most people's actual houses. This heated pool offers both city and canyon views, this is a truly once-in-a-lifetime place to do laps or just float on a blow-up flamingo. There's an in-house sauna for when you're finished. Located on a private estate in the Hollywood Hills, this place is in close proximity to just about every attraction and area you can name. Sunset Boulevard, Universal City, Santa Monica, Venice Beach, The Walk of Fame, and the L.A. Zoo are all just a quick drive away if you can pull yourself away from the house, that is.
Complete with pool room, entertainment room with a full bar, and insane views of everything from the city to the ocean, it's going to be a hard place for you and your 14 guests (that's how many people this place will sleep with its five bedrooms and six and a half baths) to leave!
6. Hilltop Pool – $850 a night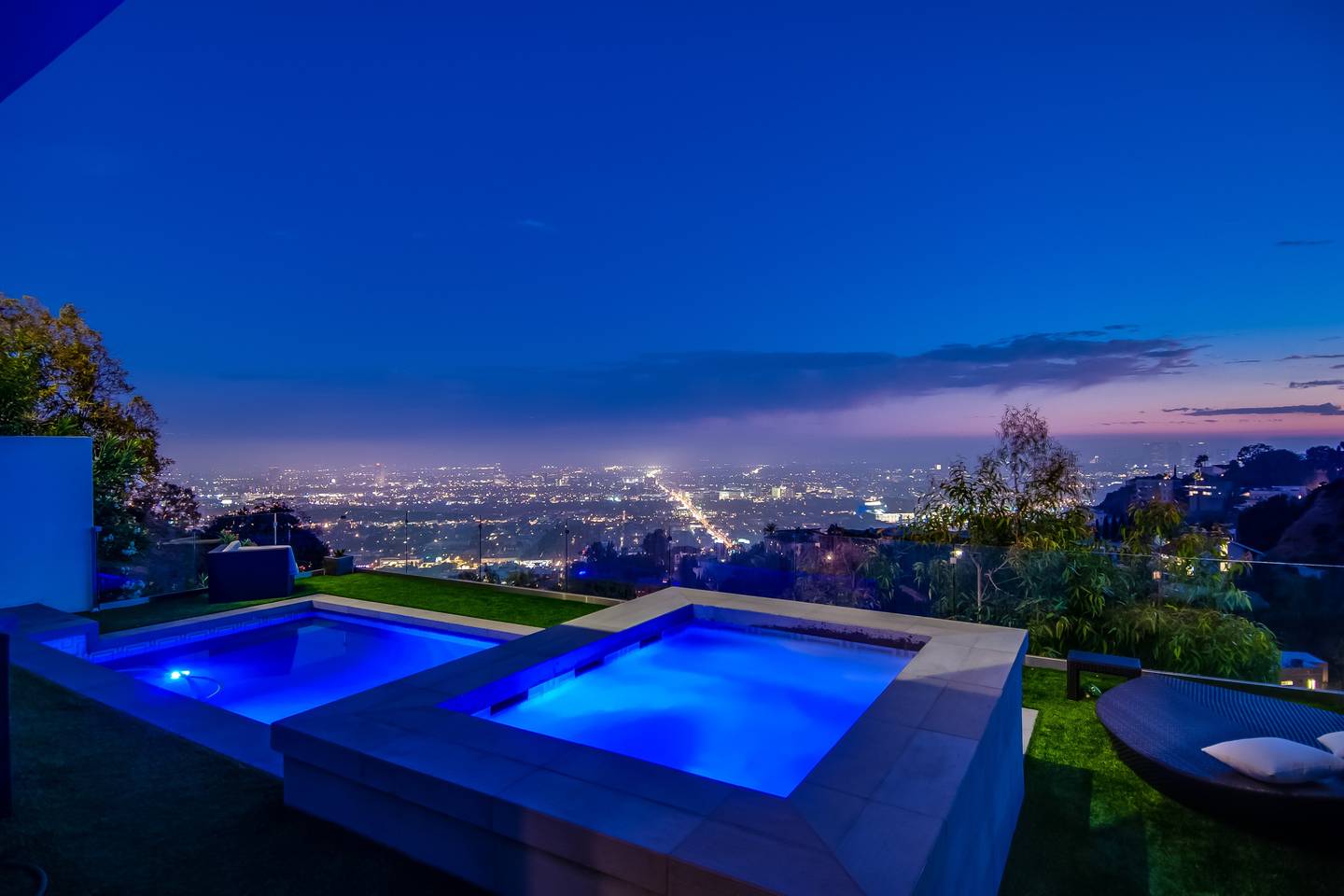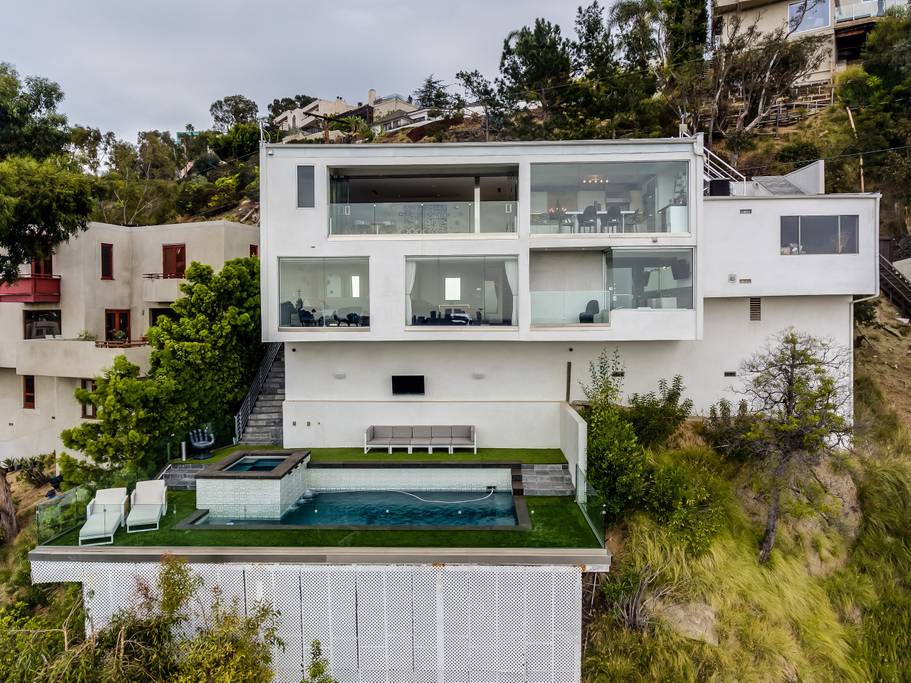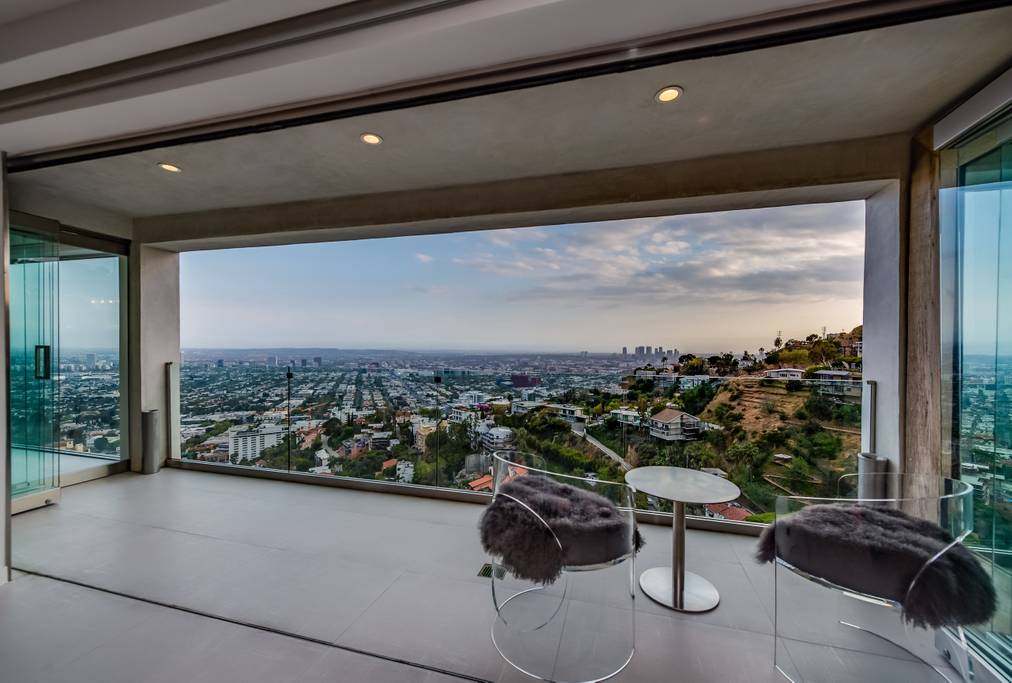 Was it L.A Confidential? Mulholland Drive? Crash? We can't quite place it, but we're sure we've seen this pool in movie! And if it hasn't been in a movie, it certainly should be! The pool and the hot tub in this super sexy Hollywood Hills house has incredible views of the city as does the entire house. Constructed almost entirely in glass on one side, it's almost impossible to find a part of this house that doesn't have great views.
This sleek, super-modern house accommodates four people (there are two bedrooms and two and a half baths) and looks even better at night than it does during the day. Perched just above the Sunset Strip, you'll be a short car ride away from clubs and bars like Whiskey-a-Go-Go, Bar Marmont, Sky Bar, and even the infamous Viper Room so be sure to pack more than just your swimsuit!
5. From Here to Infinity – $317 a night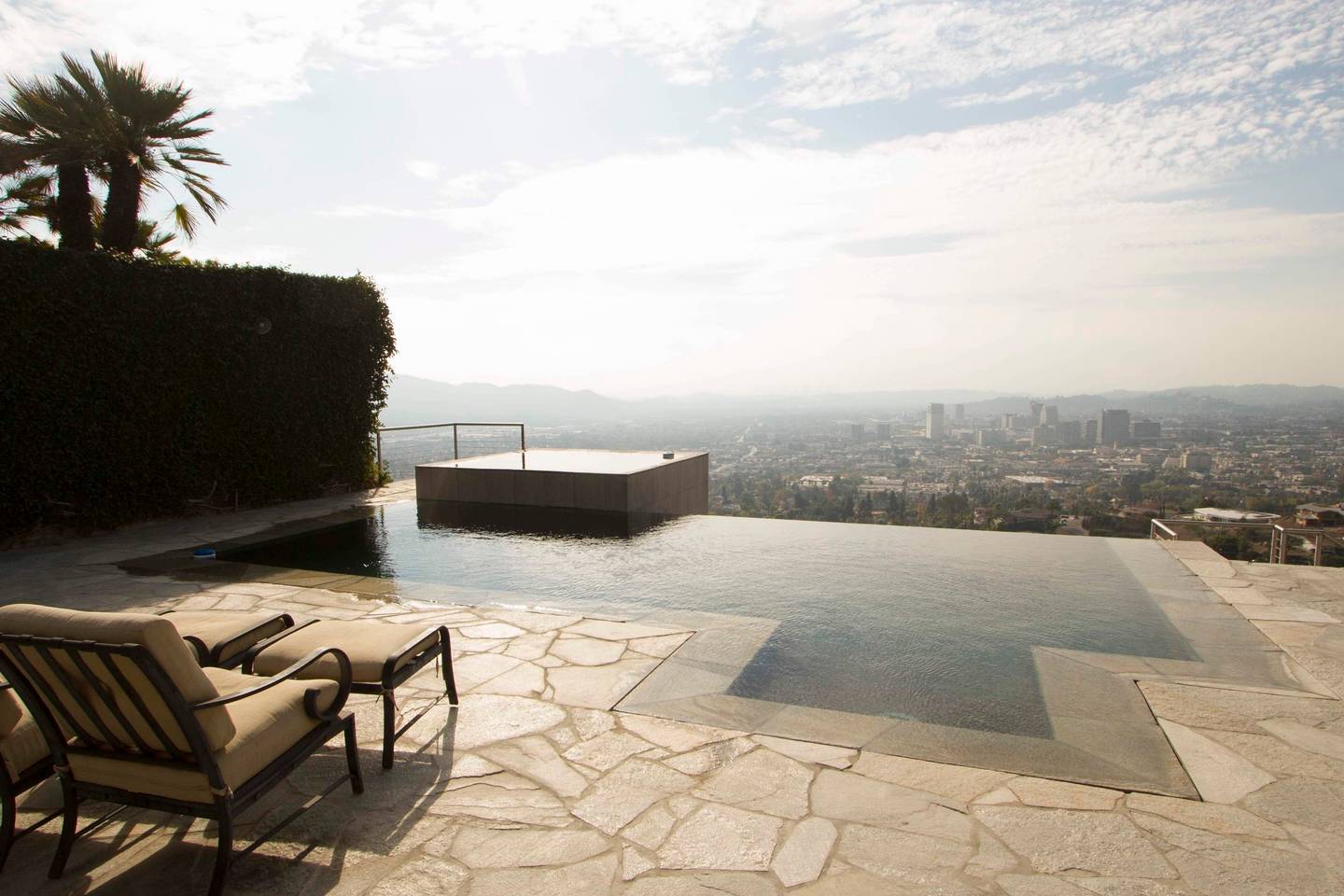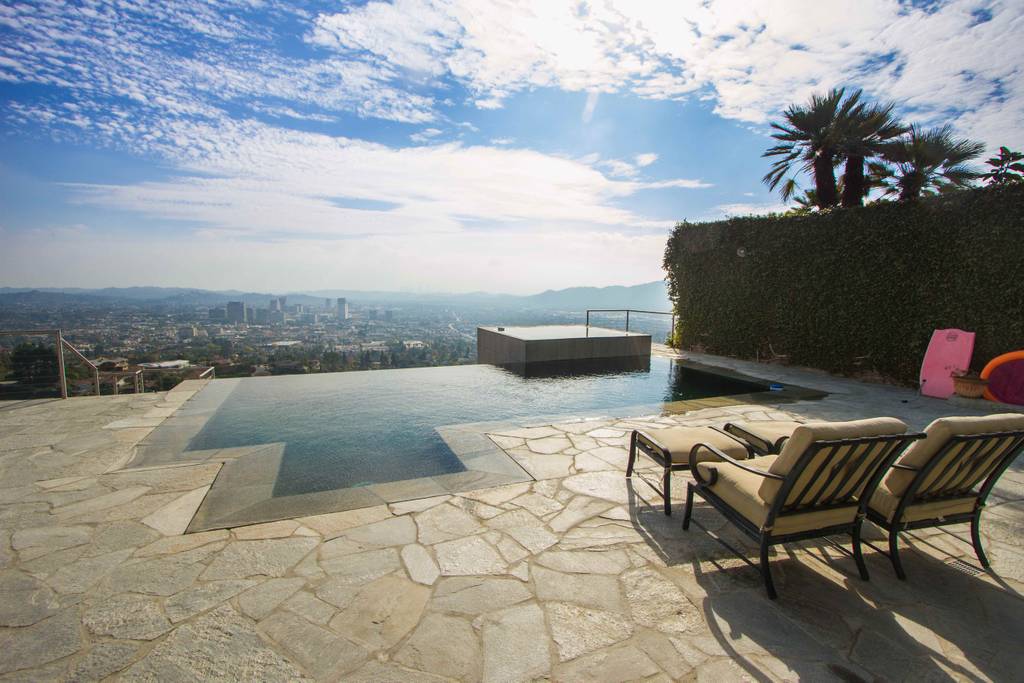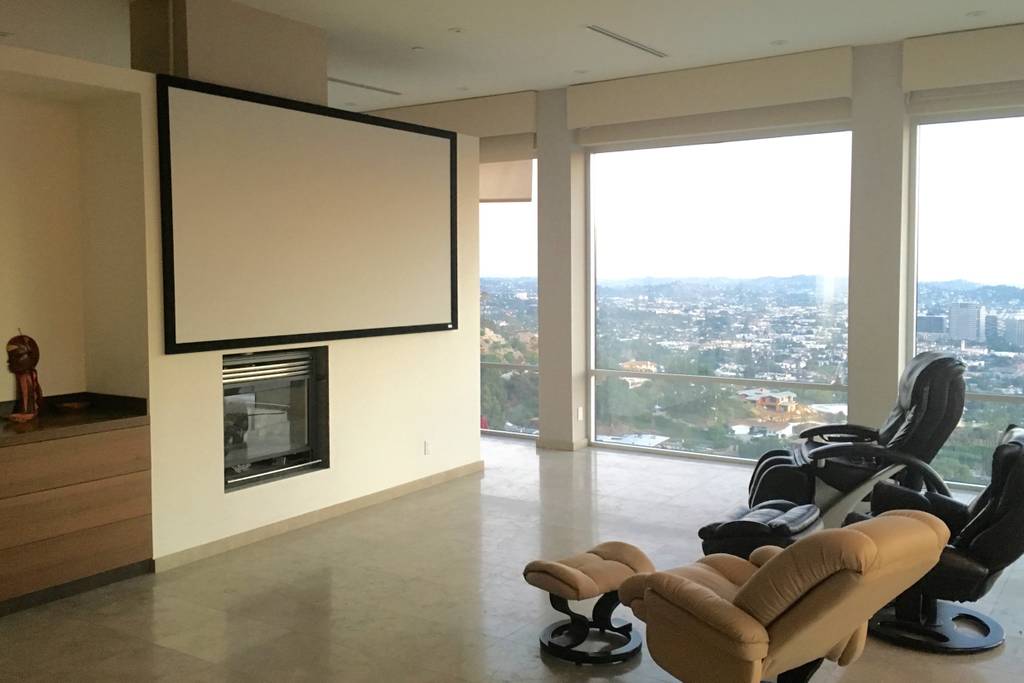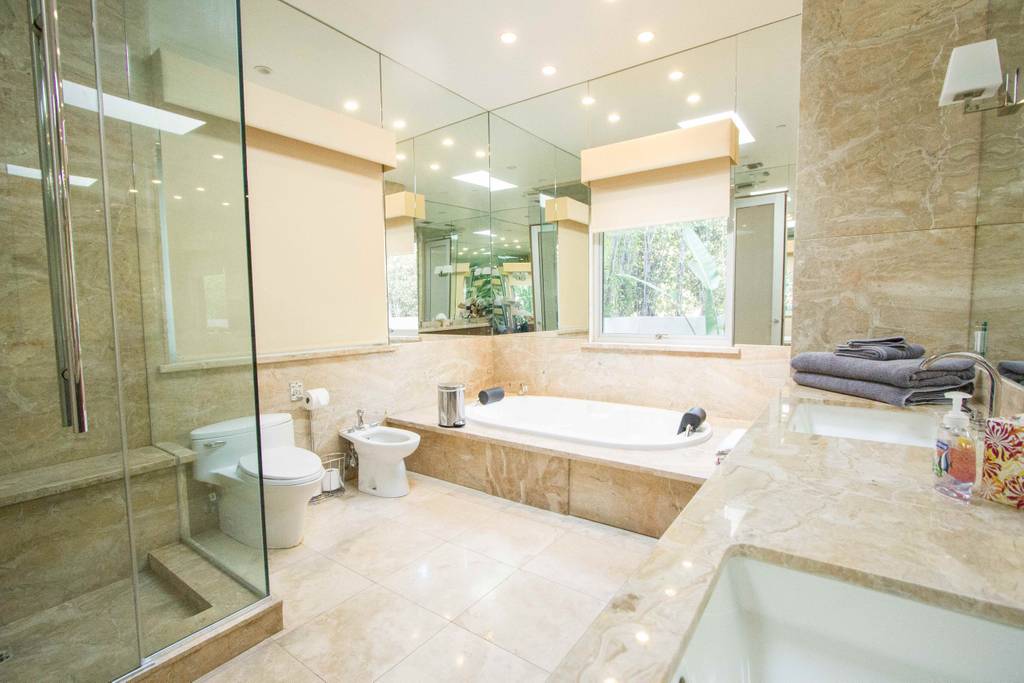 To infinity and beyond! Or at least, to downtown L.A. which is exactly the view you'll get from this incredible infinity pool as well as the Jacuzzi. Located in Glendale, this house is a short distance away from the Americana Outdoor Mall as well as the neighboring city of Pasadena. Sleeping ten people in the home's three bedrooms and three and a half baths, there's plenty of room for everyone on the 1500-foot terrace.
There are exterior cameras covering the entrances for a feeling of greater security and an entertainment room for a feeling of, well, fun. This 3200 square foot home also has a memory foam mattress in the master bedroom as well as a fully equipped laundry room. It's also equipped with table tennis so you have something to do on those rare occasions you're not in the pool!
8 Los Angeles Airbnbs Perfect For Beverly Hills 90210 Fans
8 of the coolest Airstream Airbnbs in Joshua Tree
These Airbnb homes in Santa Monica are very fancy!
Rad Pads: 8 Los Angeles Airbnbs Perfect for Fast Times' Jeff Spicoli and Other Surfer Dudes
4. Fountain Fantasies – $995 a night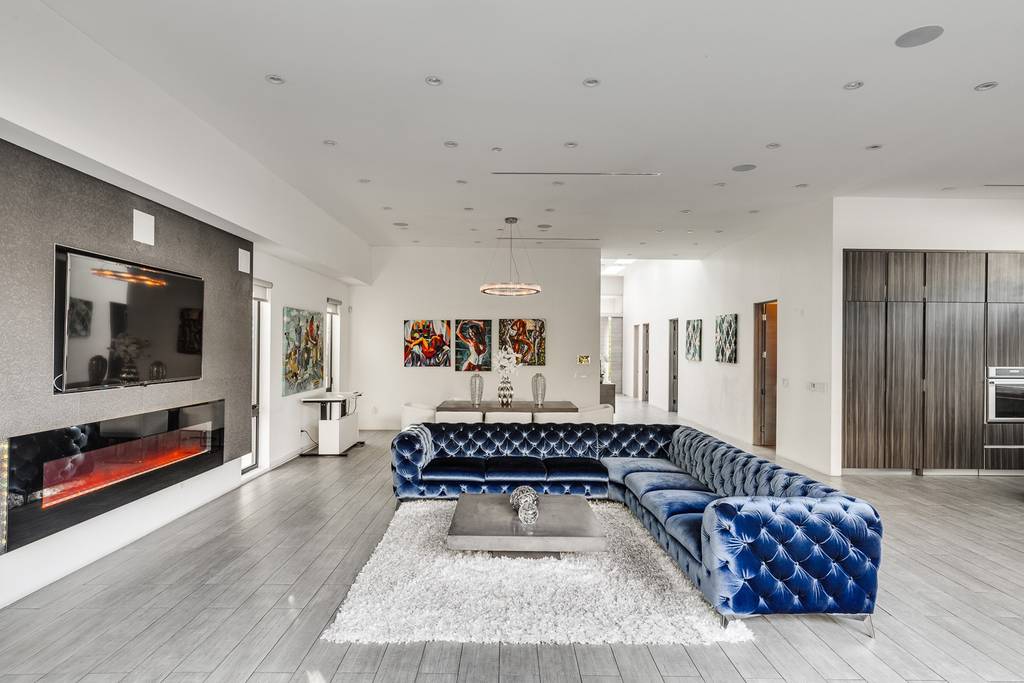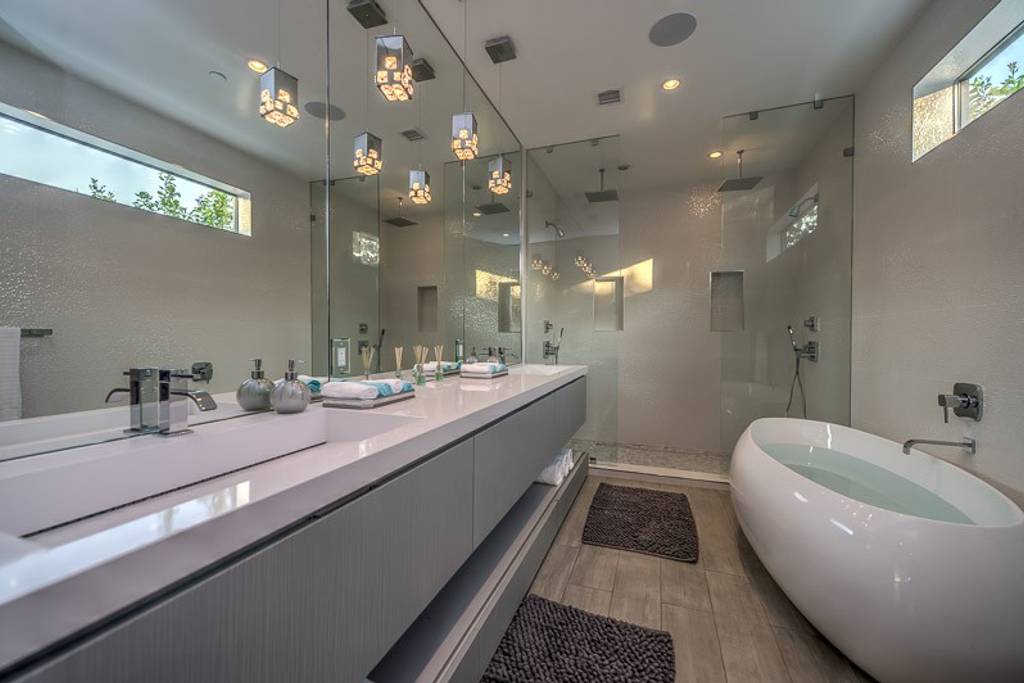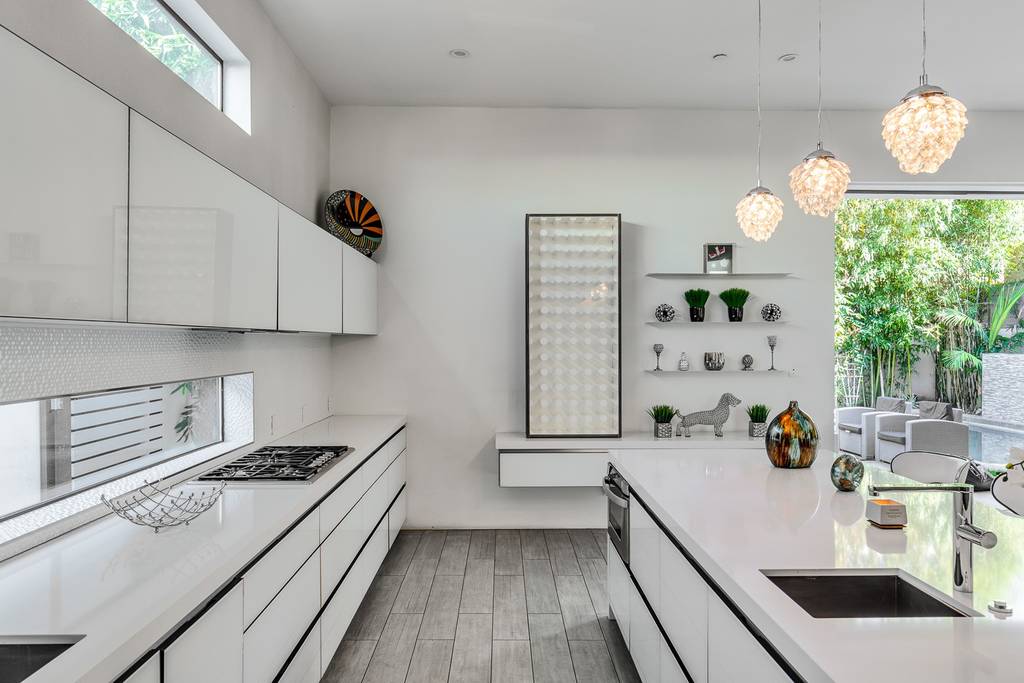 Is it us, or does this look like the kind of pool Esther Williams would have had? This stunning fountain pool is the perfect place to have a true Hollywood moment. Right in the heart of West Hollywood, this three-bedroom, three-bath stunner can accommodate more than 16 guests and is within a short drive of Santa Monica, Venice, Pasadena, the Valley, Burbank, Manhattan Beach, Long Beach, and so many other places. With a large, private backyard, this house is a great place to celebrate a birthday, anniversary, or major milestone.
While the incredible waterfall pool may be the home's focal point, it's not the only great outdoor feature. There's also a cabana space, outdoor shower and built-in BBQ. Inside, there's an indoor fireplace, cable TV with over 200 channels, hi-speed wifi, indoor parking, and tons of books. Chic and stylish, it's a truly one-of-a-kind property.
3. You Swim Me Right Round Pool – $550 a night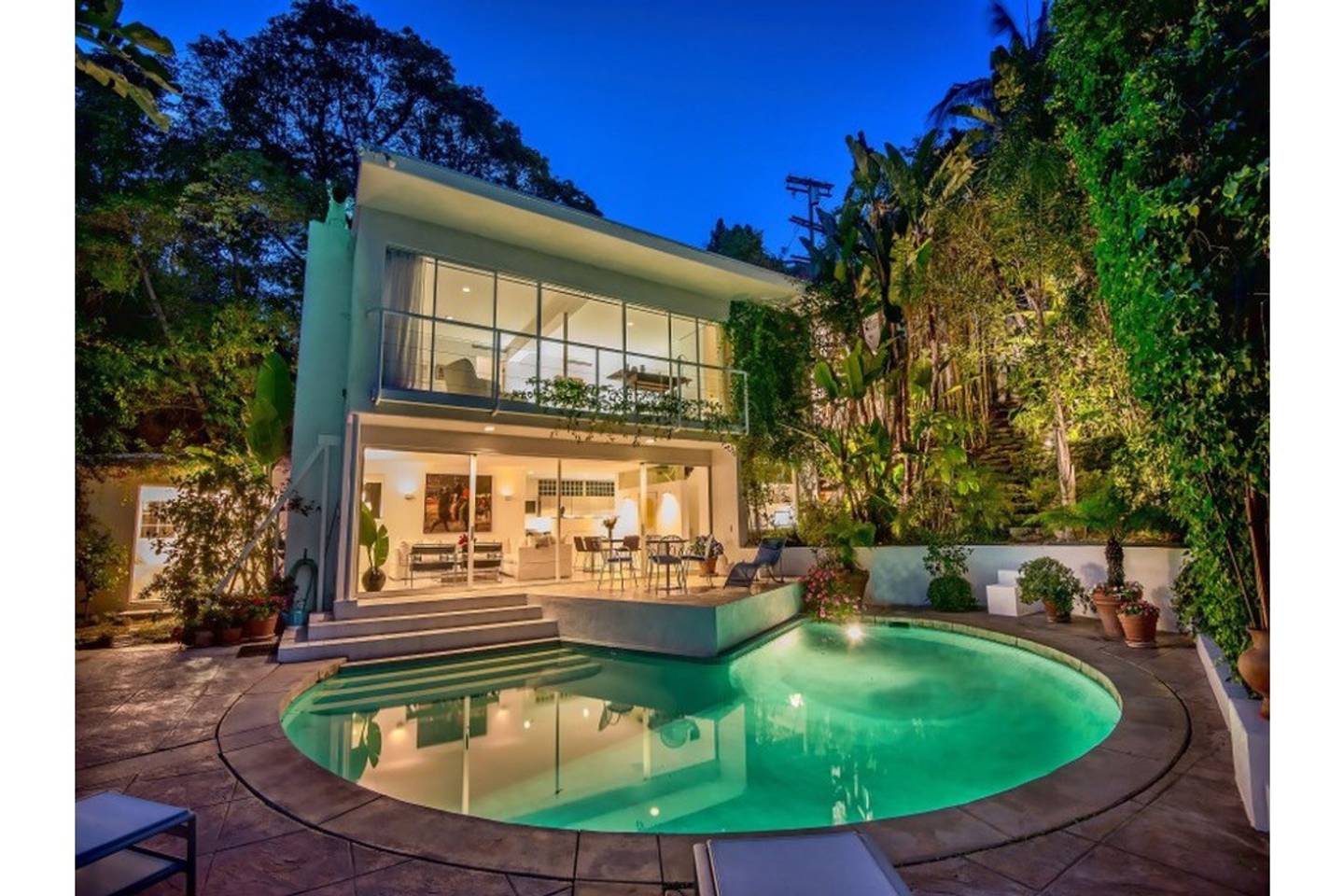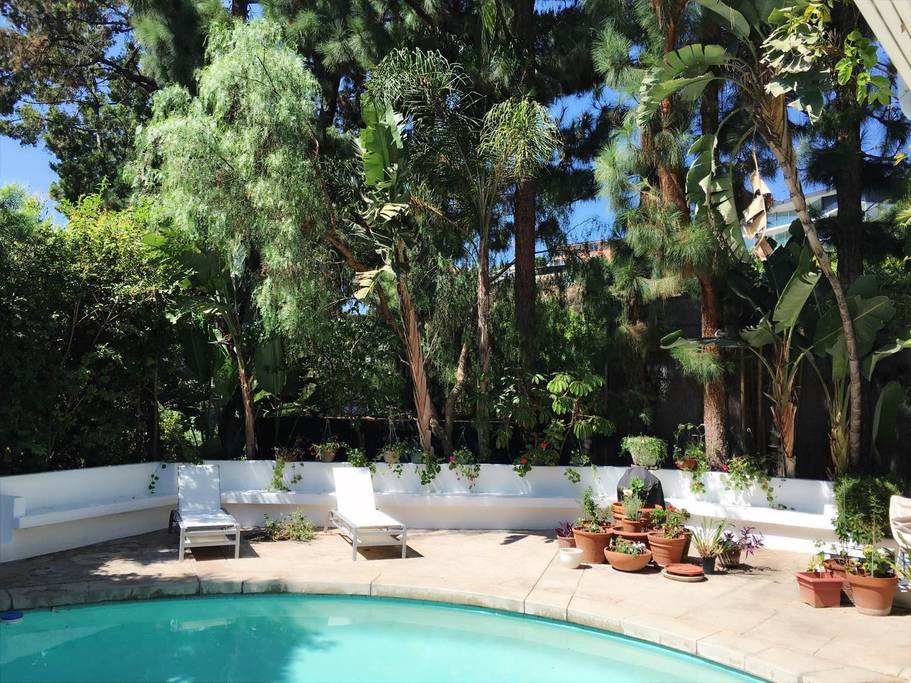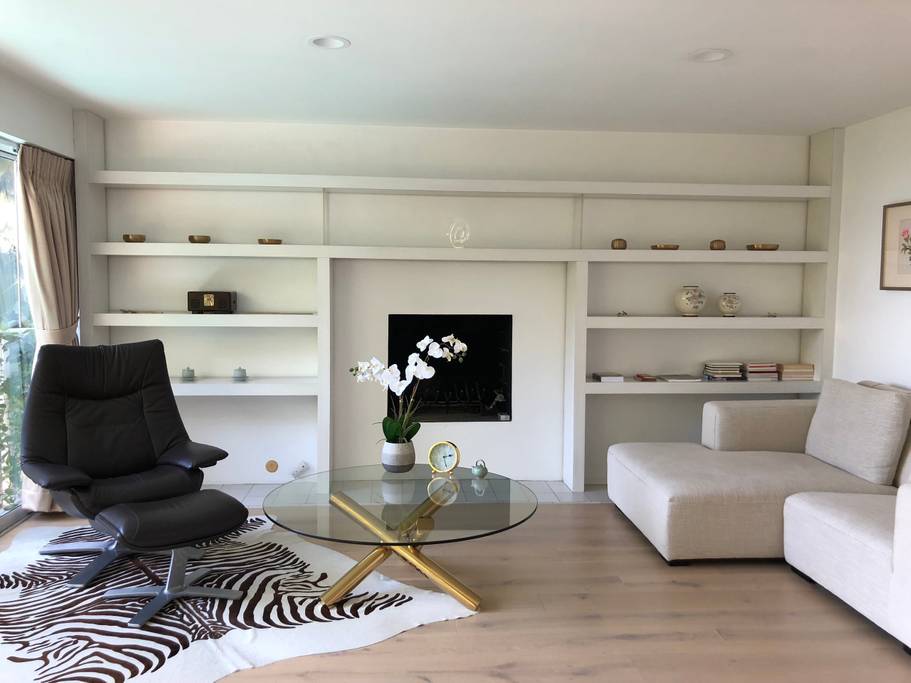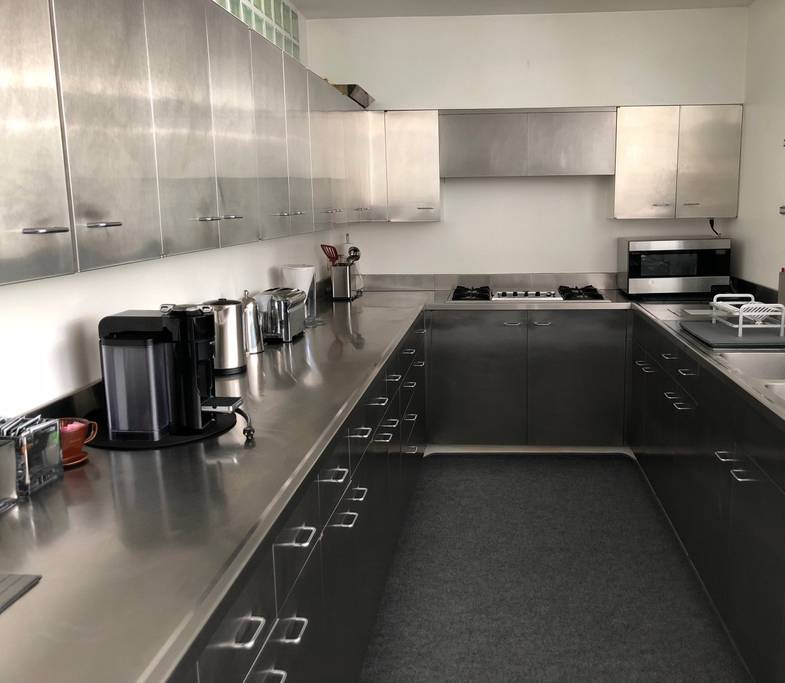 Any chance you belong to a synchronized swim team, because this pool deserves one! Built right above the Hollywood Hills, this home used to belong to a film producer and has a definite Hollywood feel to it. It's super close to the uber-hip "Bird Streets" area where celebs like Charlie Theron and Ellen DeGeneres have lived and is just a short car ride away from the hiking heaven of Runyon Canyon (where you're sure to have a celebrity sighting or two).
Nestled on a quiet cul-de-sac, this five-bedroom, four-bath home has sick 180 degree views of L.A. Located on two acres, this renovated home features an outdoor shower, BBQ, tons of outdoor seating, and even heaters for those chilly nights. Best of all, the hosts of this L.A. Airbnb live in a separate house on the property and will be there in case you need anything!
2. Citizen Kane Pool – $716 a night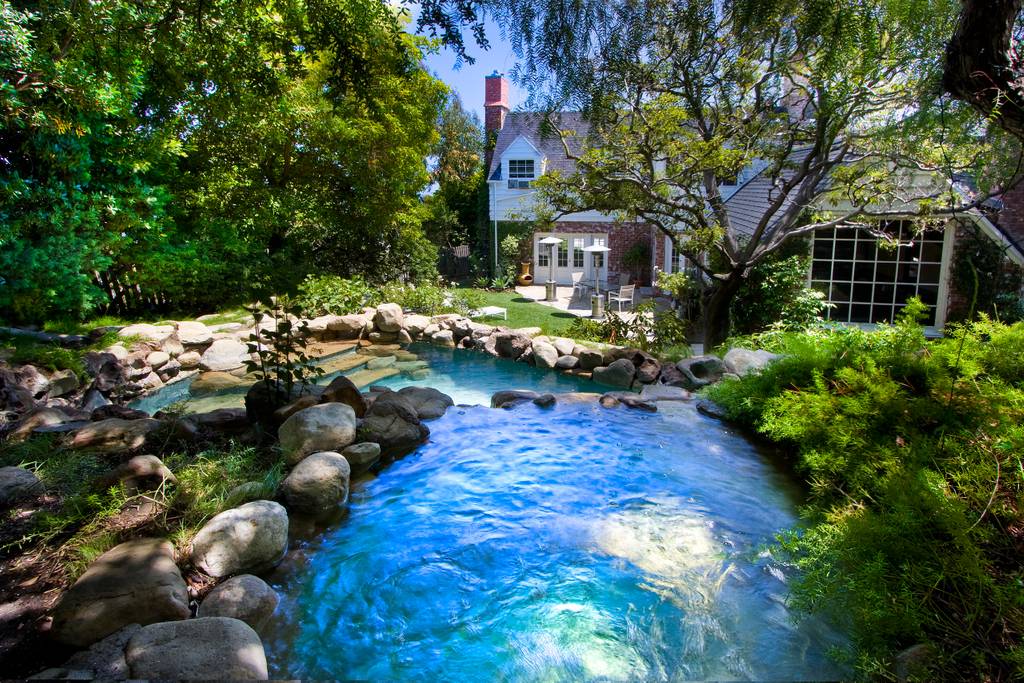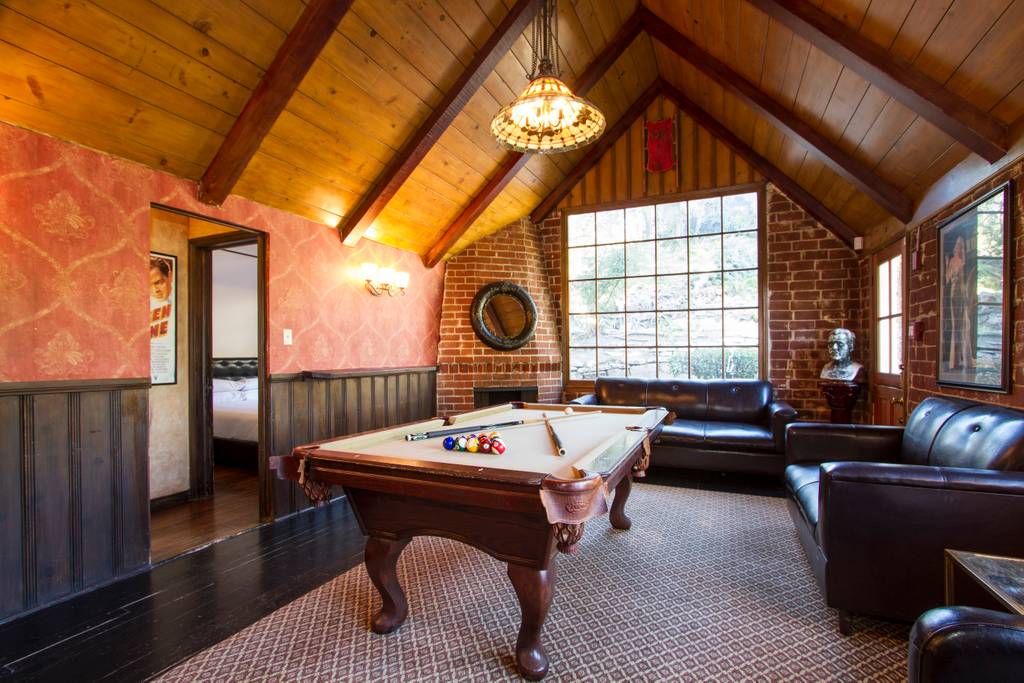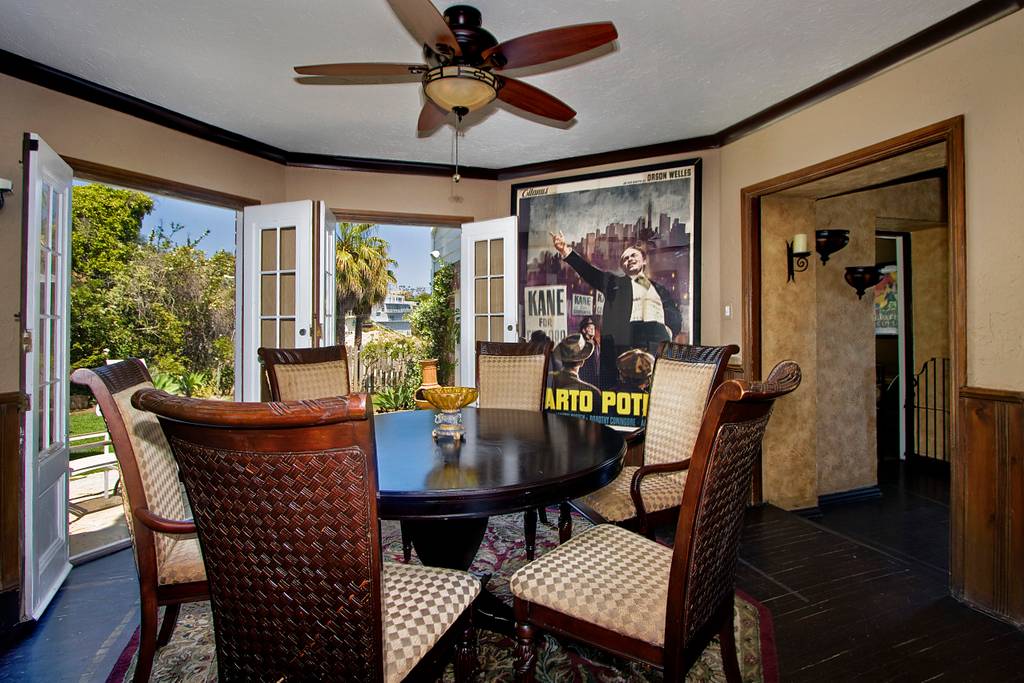 We can only imagine the events and conversations that took place around this particular pool as it was owned by none other than Orson Wells himself. Yes, the creator of "Citizen Kane" once lived in this 3,000 ft. Hollywood Hills home that is said to have hosted Rita Hayworth, David Bowie, and Ol' Blue Eyes himself, Frank Sinatra. This "lagoon-style pool" even comes with a waterfall feature, a Jacuzzi, and lovely backyard area that includes a BBQ. Guests can congregate in the cozy billiard room and speculate about what used to go on there.
If you want to really live like a movie star take advantage of their pre-stocking service, in-home spa services, personal chef, or airport drop-off or pick up, all of which are available for an additional fee. No matter what services you choose to use, though, you're welcome to take advantage of their free, 24-hour concierge service. The views of the city are particularly good here so plan on spending a lot of time outside.
1. Mad Men Mountain Masterpiece – $450 a night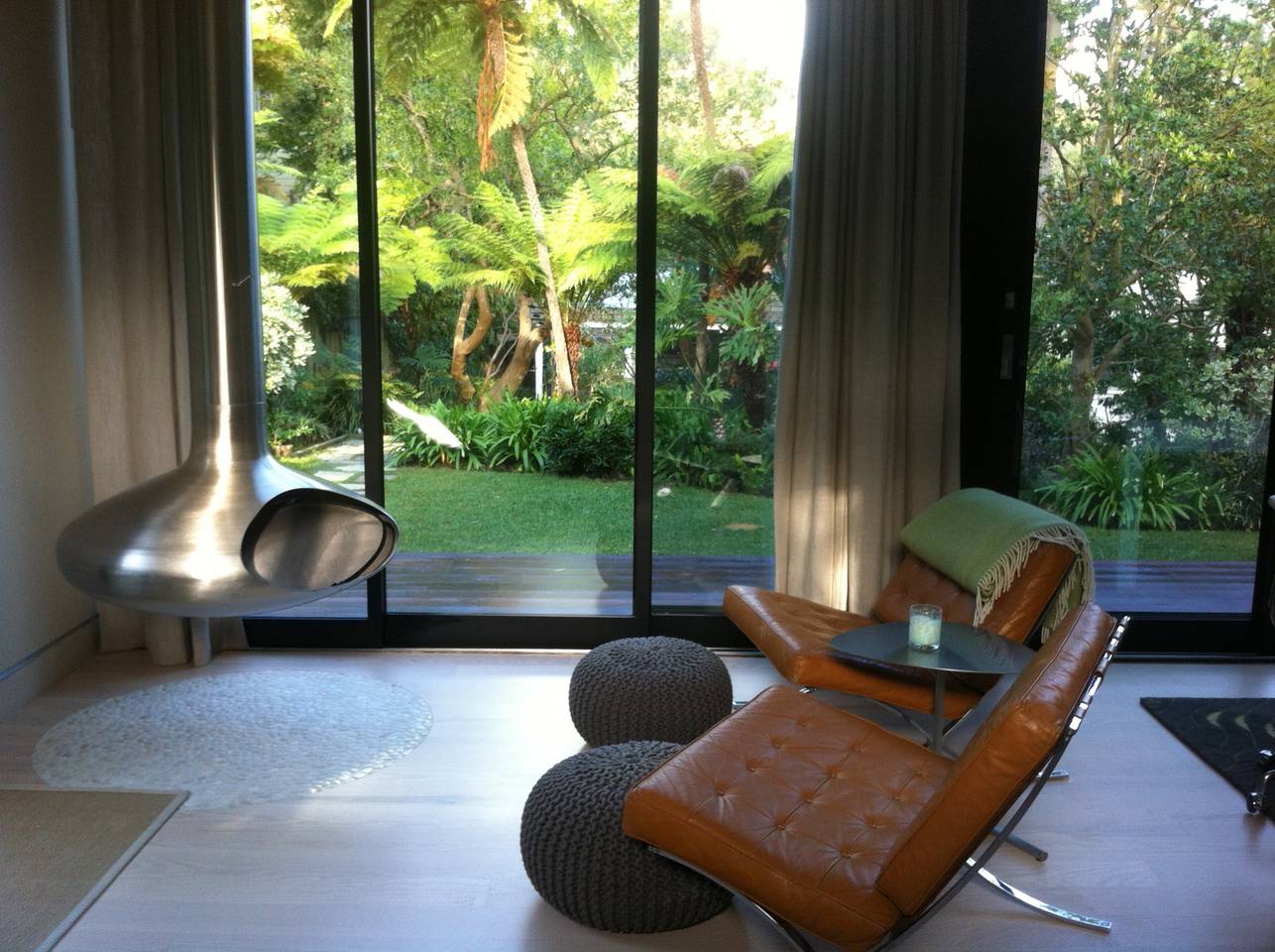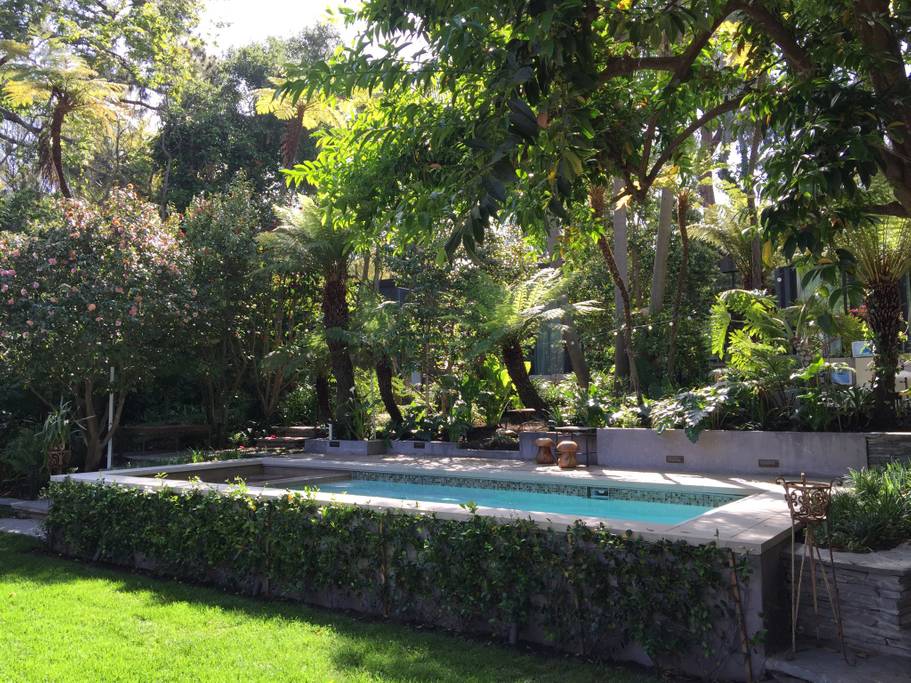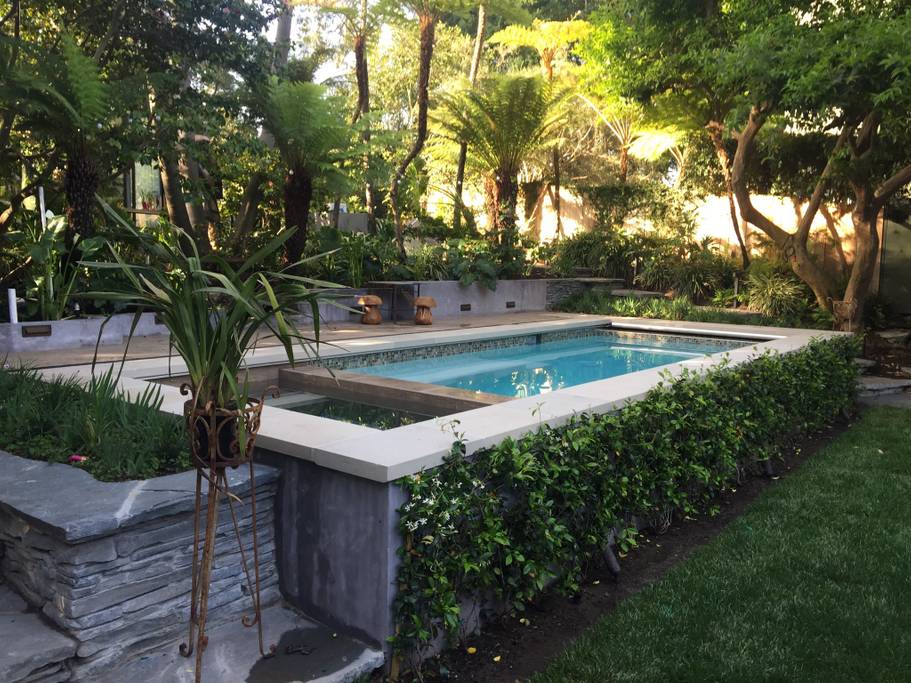 Although the focus of this list is fantastic pools, we have to admit that that mid-century fireplace has us like "What pool?" Modern, yet cozy, clean, yet slightly quirky, this place looks like it came straight from the set of "Mad Men". Snuggled in the depths of Rustic Canyon in the Pacific Palisades, this mid-century gem is just a stone's throw from Santa Monica, Venice, Sunset Boulevard.
Surrounded by lush greenery, the house, and the pool in particular, will make you feel as if you're on a retreat somewhere in Bali. Accommodating two guests (although more beds can be brought in upon request), this home in the woods is not only private, but incredibly romantic, making it perfect for a honeymoon or anniversary.