While Los Angeles might be more associated with blinged-out Beverly Hills mansions and on-the-ocean Malibu villas, its rustic properties are some of its best and most coveted. Maybe it's the history of the old homesteaders looking for gold or the endless canyons and ranch land, but for whatever reason, California does rustic like nobody else. From rustic villas in the Hollywood Hills to ranch homes right on the Pacific Ocean, here are some of our favorite L.A.-area rustic Airbnb homes.
8 Super Sunny, Cheerful Silver Lake, Los Angeles Airbnb Homes
5 Incredible Los Angeles Airbnbs For Architecture Lovers
8 Amazing Los Angeles Airbnbs Perfect For A Mindfulness Retreat 
8. Stunning Villa by the Sea w/ Direct Beach Access! $399 a night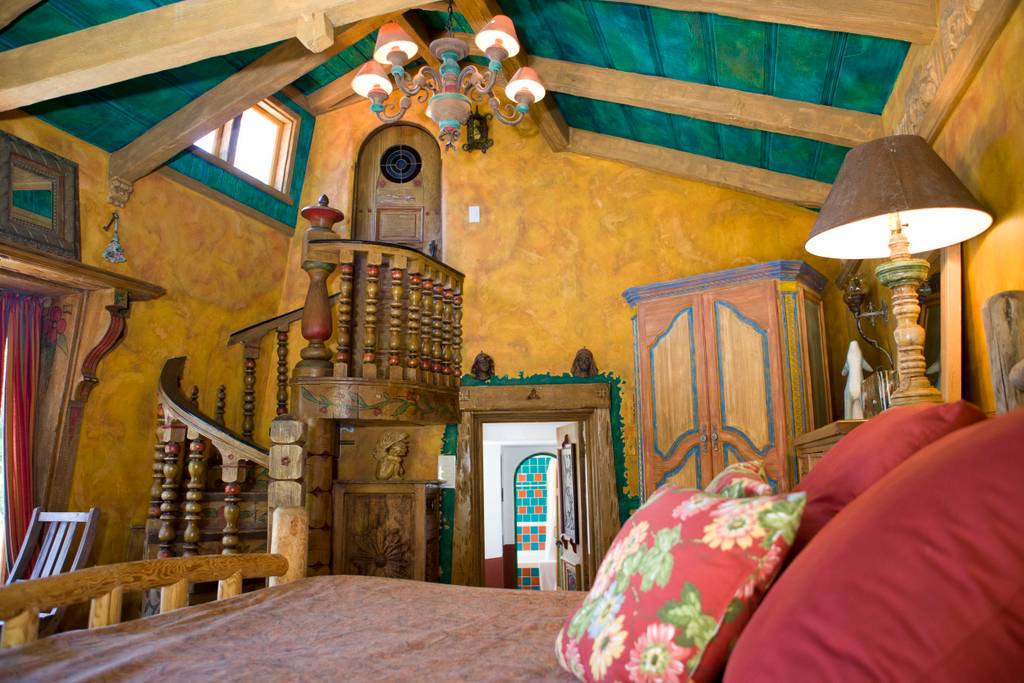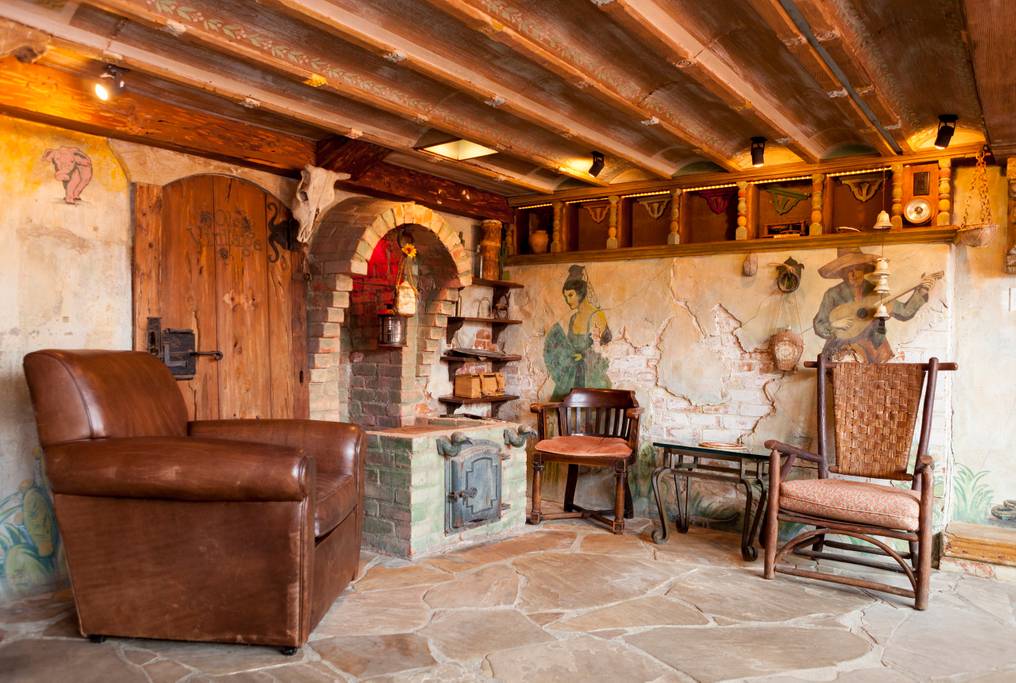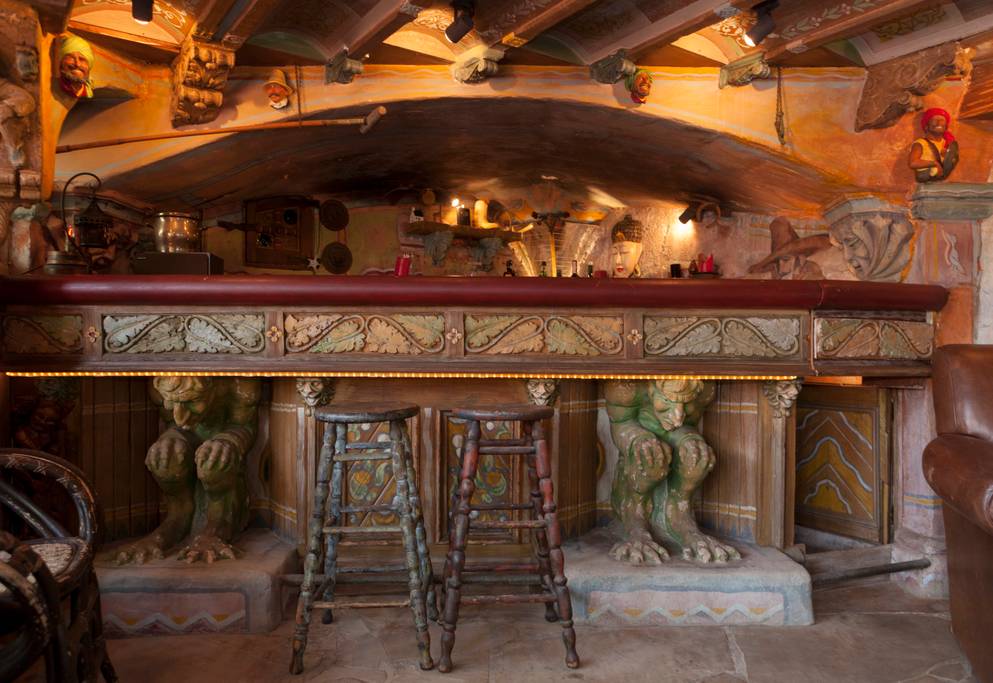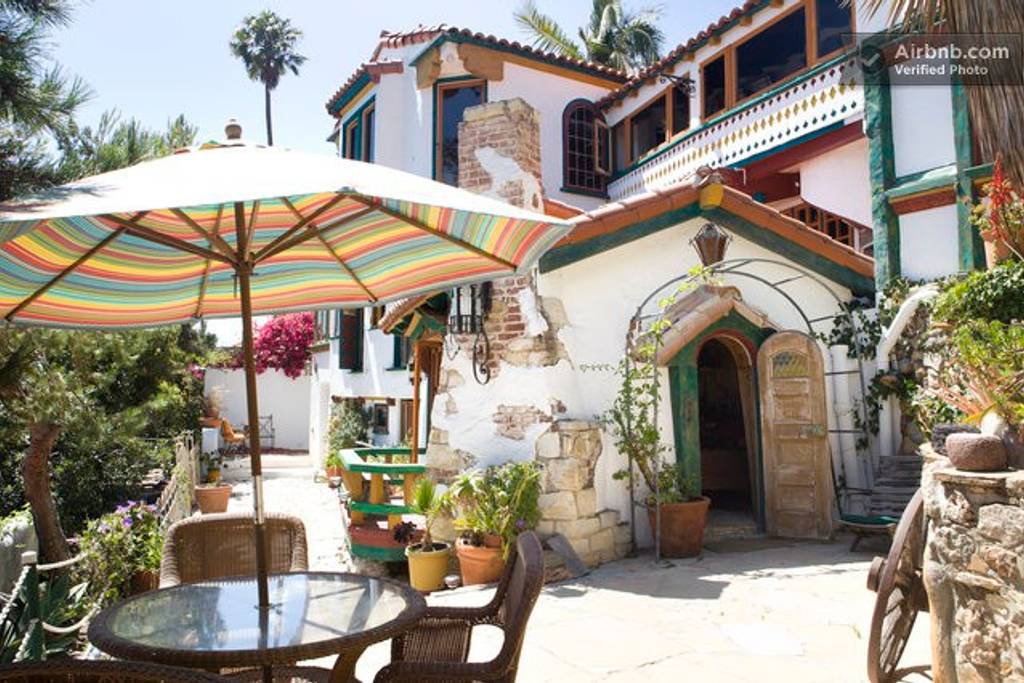 Part vintage, part rustic, part storybook and a little Spanish influence, this very unique rustic Airbnb was owned by a Hollywood set designer. As a result, has some really remarkable features like wall murals of Spanish singers, stained glass, wood beams, wooden gargoyles, and its own indoor bar made from movie set pieces!
Sleeping nine within four bedrooms and four and a half baths, this Castelammare-area property is just minutes away from Santa Monica, Venice, the Getty Villa, Malibu, and Venice beach. Speaking of beaches, it also features direct access to the beach. There's air conditioning but the owners say you almost never need it. One thing is for sure: You'll never stay in a place as unique or as interesting as this one!
7. John Wayne-Style Ranch with View – $1,500 a night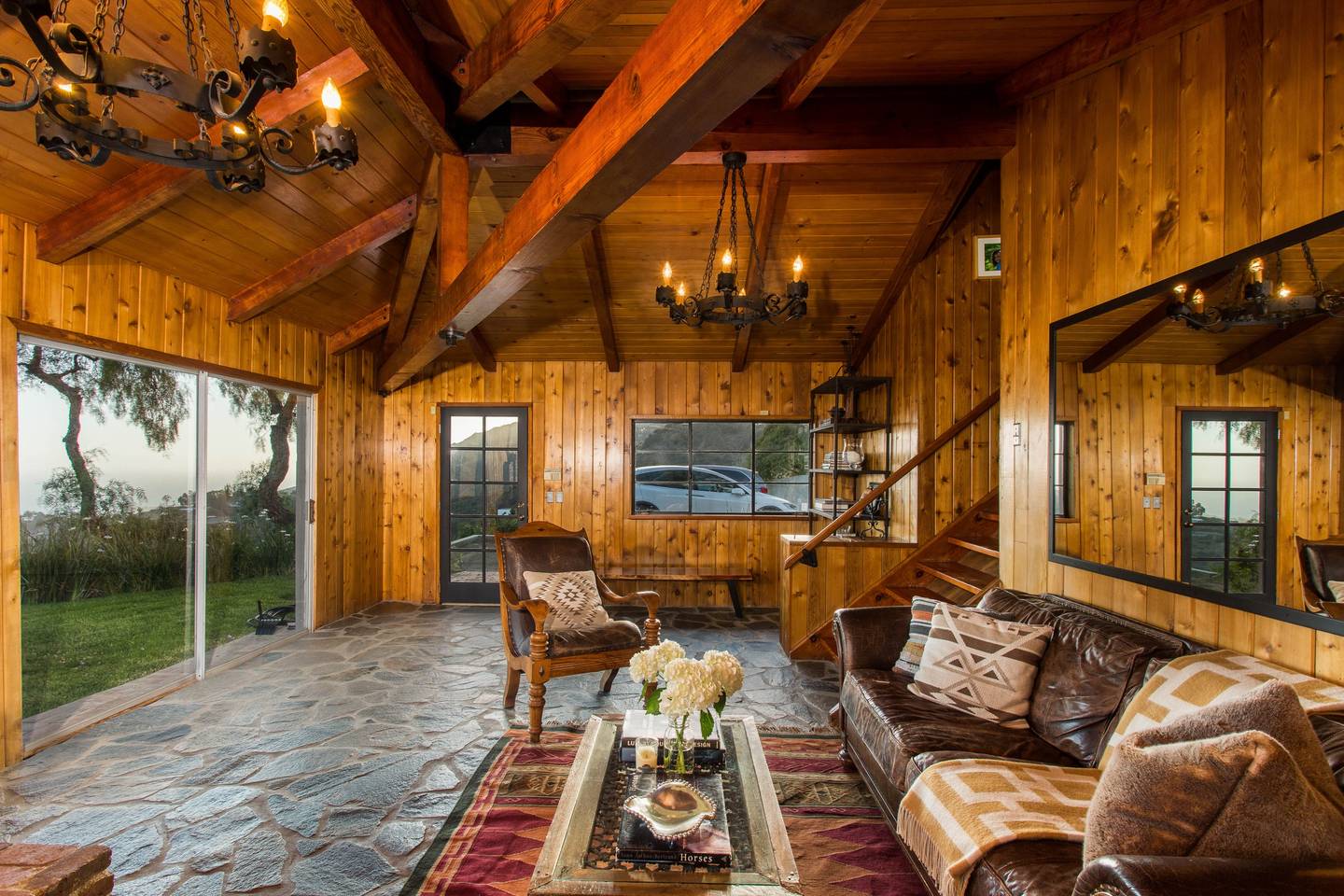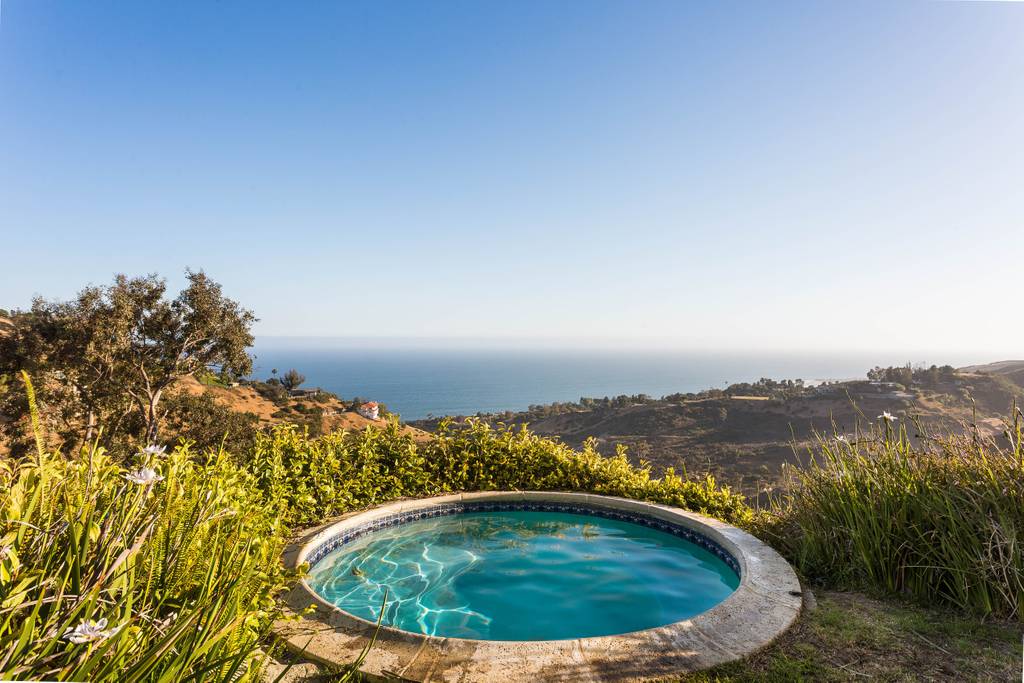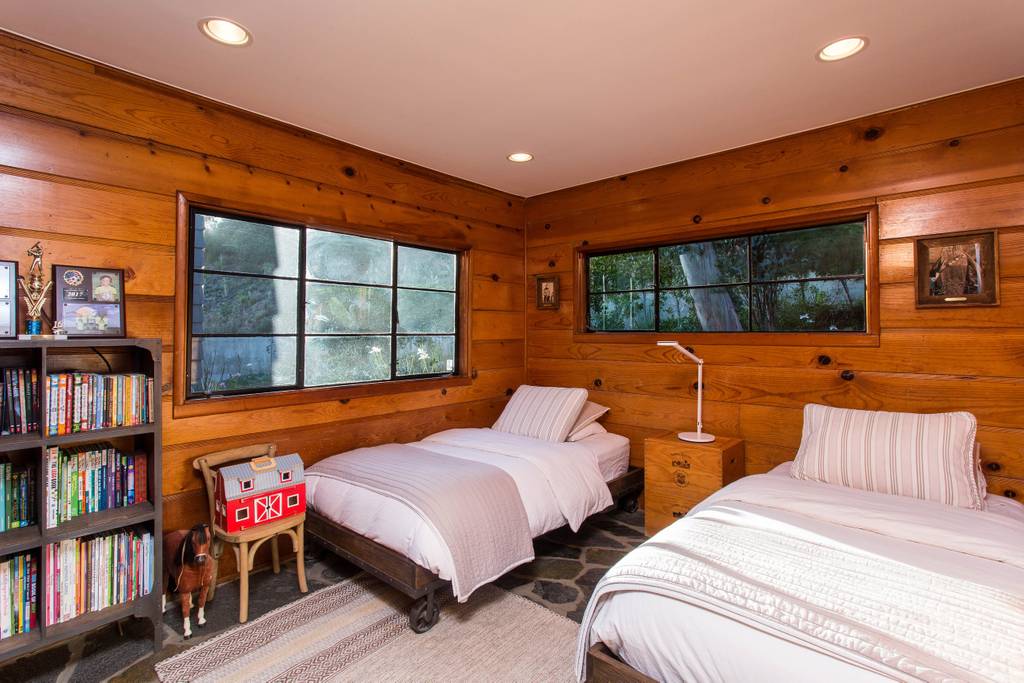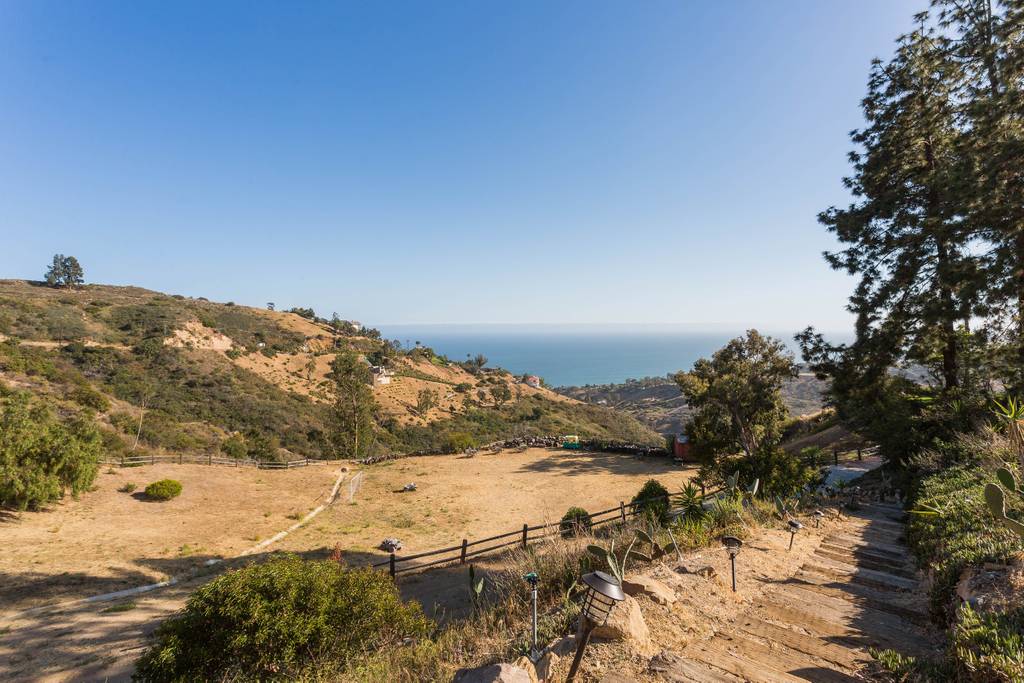 This Airbnb is so quintessentially rustic that it looks as if John Wayne himself is going to walk through the door and while it may be rustic, make no mistake: this place will have you living large. This 15-acre working Malibu-area ranch is complete with horses and even a helipad so if need to fly in via your helicopter you're all set. As there are also goats and chickens, you'll be treated to fresh eggs every morning!
The outdoor kitchen includes Viking and Sub-Zero appliances, not to mention a full bar! Animals and helipads aside, the real star of the show here is the view. It's just ocean and mountain as far as the eye can see. The hot tub in particular offers completely unobstructed views of the entire surrounding area. John Wayne never had it so good!
6. Kitchen Confidential – $1,099 a night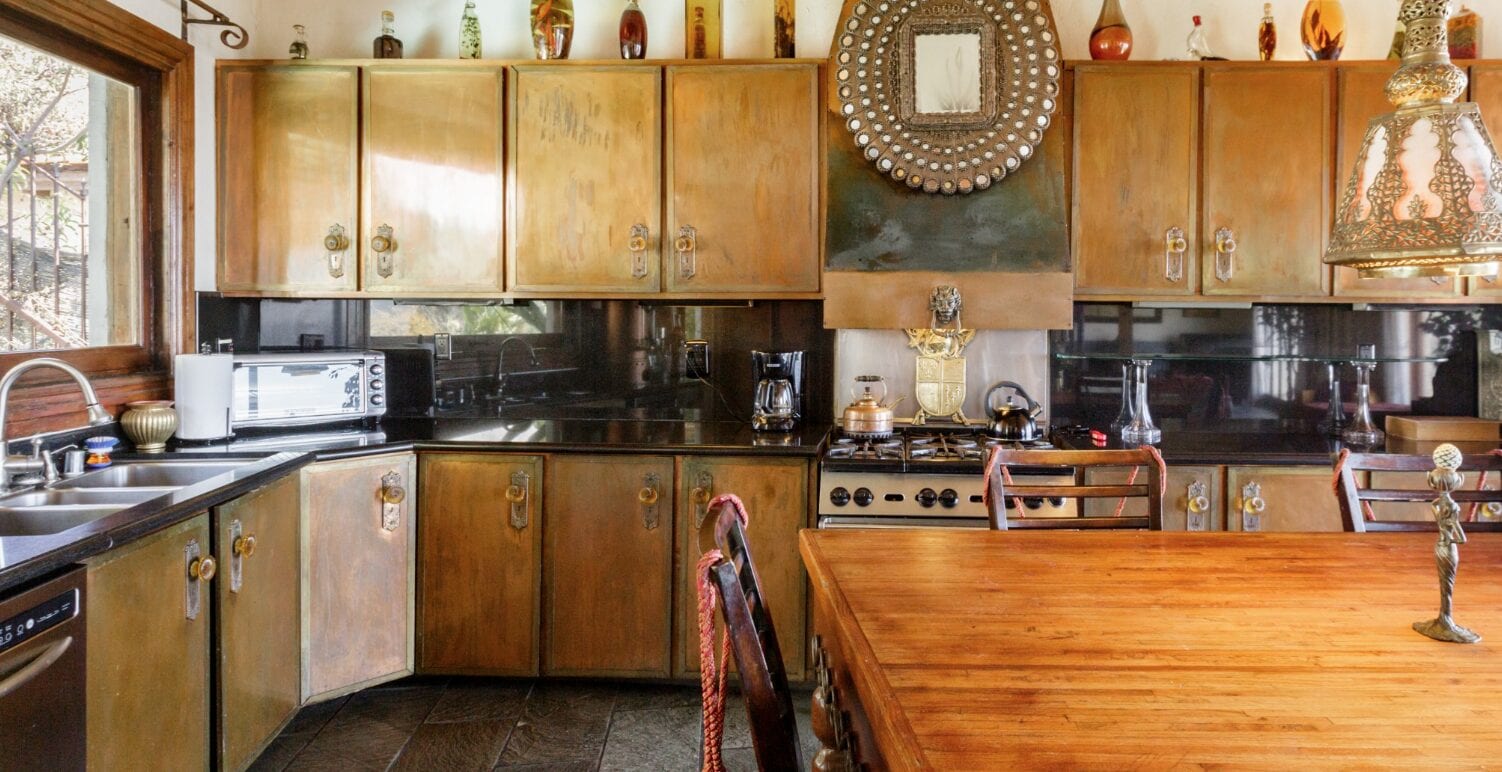 If all this rustic villa in the Hollywood Hills had going for it was the kitchen it would be worth staying here. Luckily, it's far from the only incredible feature! This very luxurious home has five bedrooms, four and a half baths and sleeps eight in total. It has breathtaking views of L.A. from just about every part of the house (including the bathtub!), a baby grand piano, and a giant ping-pong table.
The eclectic décor combines a little Art Deco, Spanish and Asian antiques and maybe just a tad of "Game of Thrones". Located in the Hollywood Hills, you can be at classic restaurants like Musso & Franks or museums like LACMA or shopping like The Grove. Less than half an hour to LAX, it makes a fantastic base.
5. From Sea to Mountains – $492 a night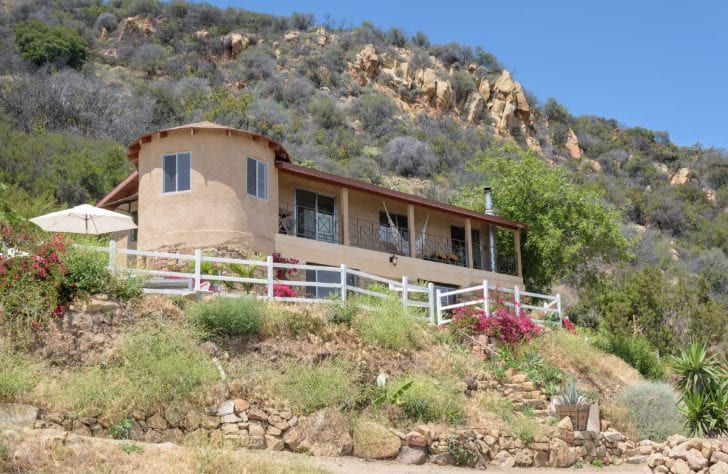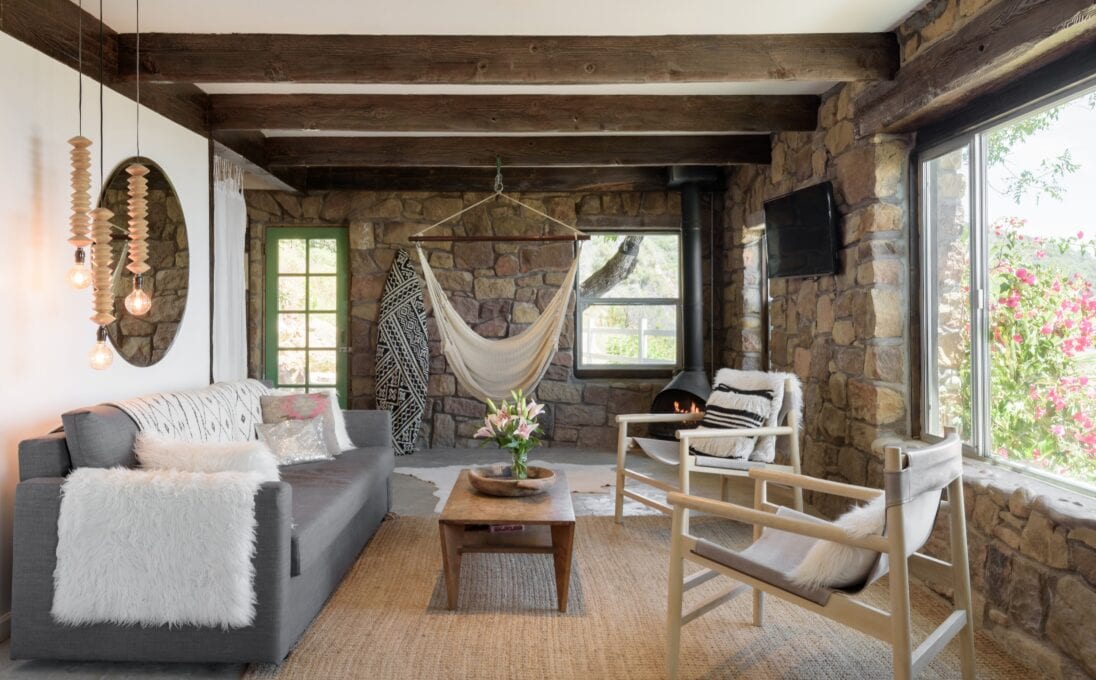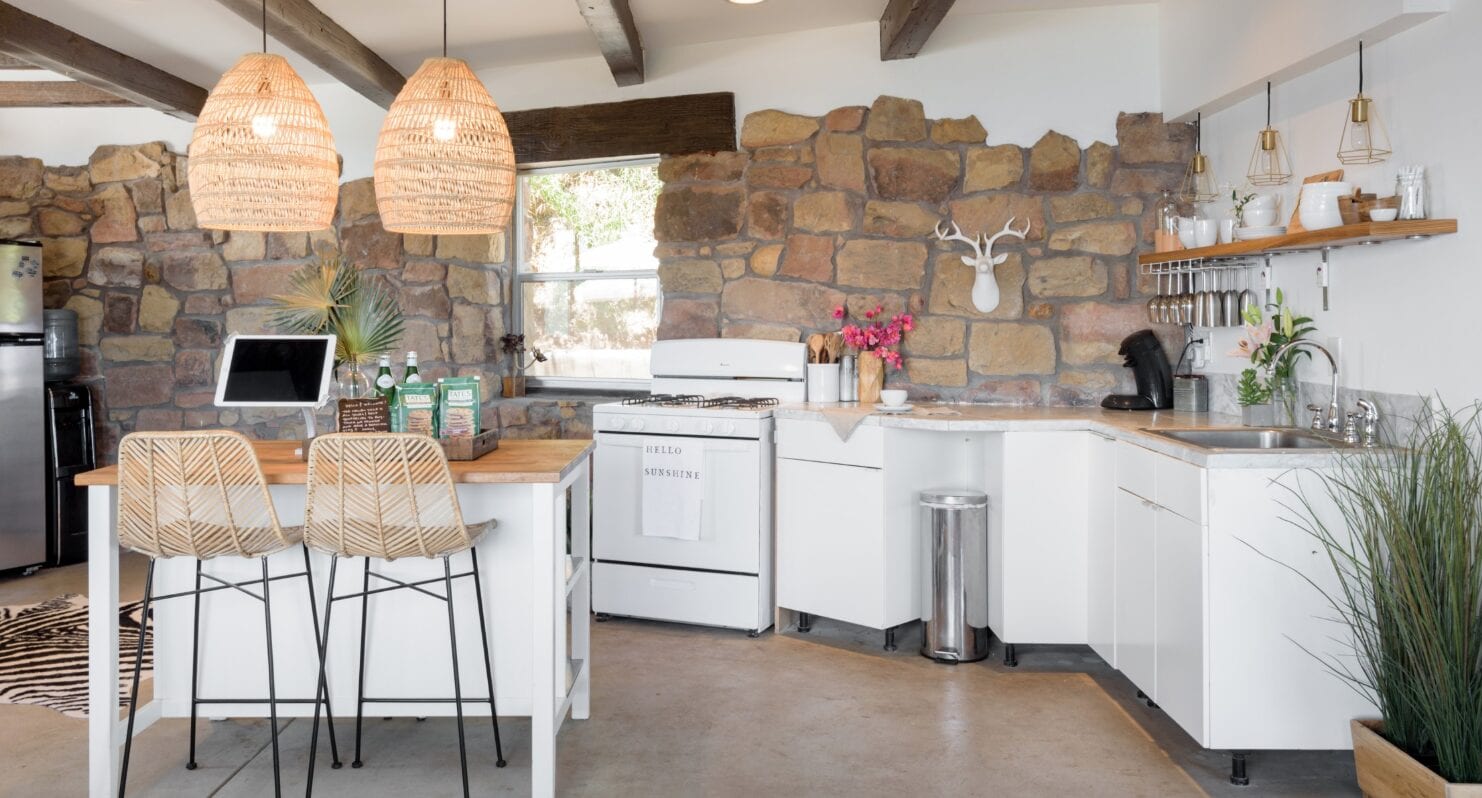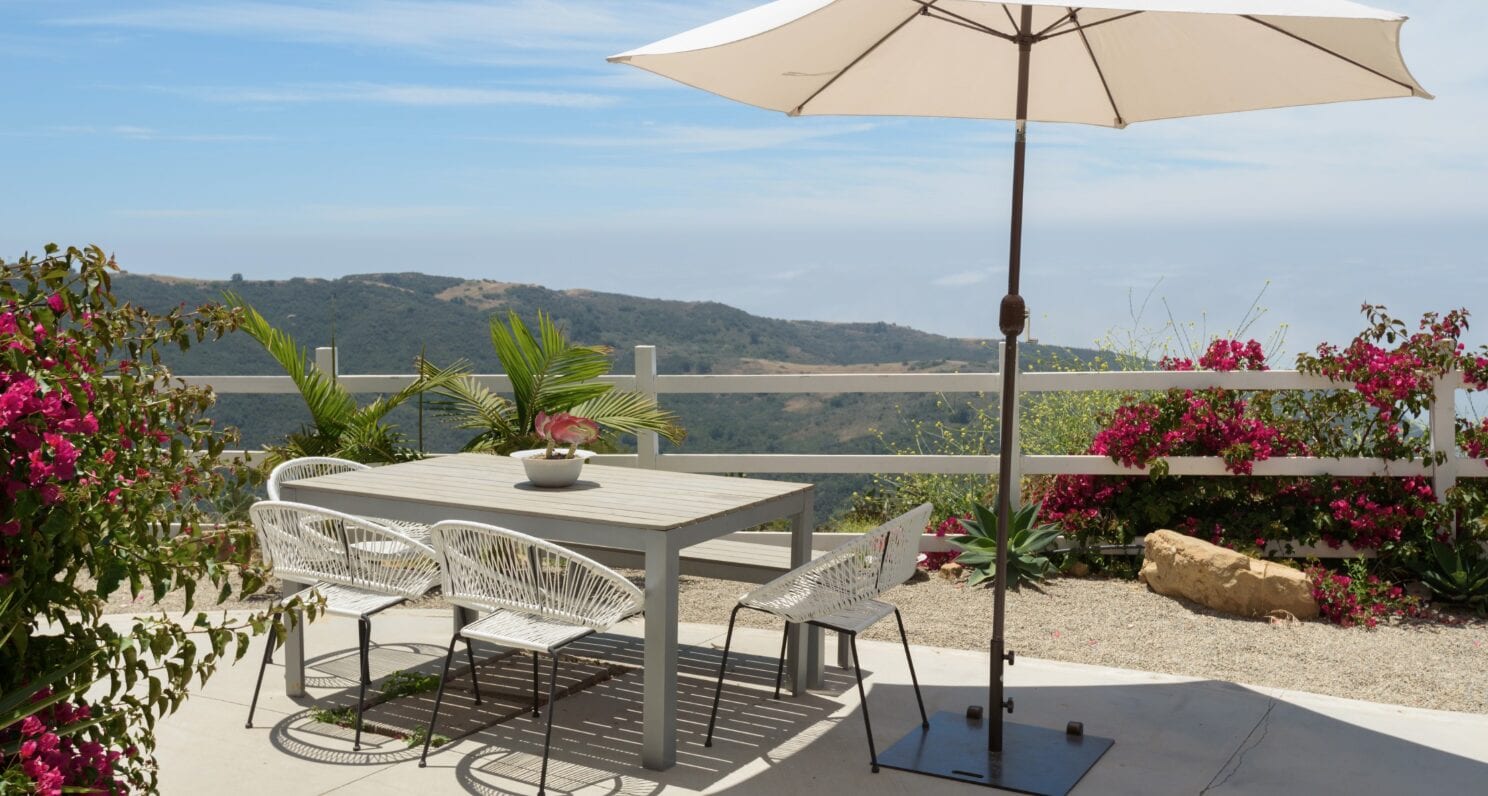 Rustic doesn't necessarily mean dark woods and low lighting. Soft, serene, light and airy, this hip mountain abode could be called Rustic Redux. An indoor hammock is the perfect place to read a good book (as is the outdoor one) but if you're not in the mood to read, you can always watch Netflix and chill in the airy bedroom.
With two patios (one with an ocean view, one with a view of the mountains—how's that for luxury), you'll be able to have a little privacy even if you're surrounded by other people (it sleeps eight so you might have a little company).
The stone walls give the home a wonderfully cool feeling which is so important in the hot California summers. Built by Malibu homesteaders in the early 1900s, this place has been featured in Malibu Magazine and runs on solar power.
8 Ultra-Luxurious Los Angeles VRBO Vacation Rentals
8 Unforgettably Funky Bangkok Airbnb Vacation Rentals
These 9 Los Angeles Airbnbs Will Have You Feeling Like An Entourage Cast Member
4. Hollywood Tudor Airbnb – $79 a night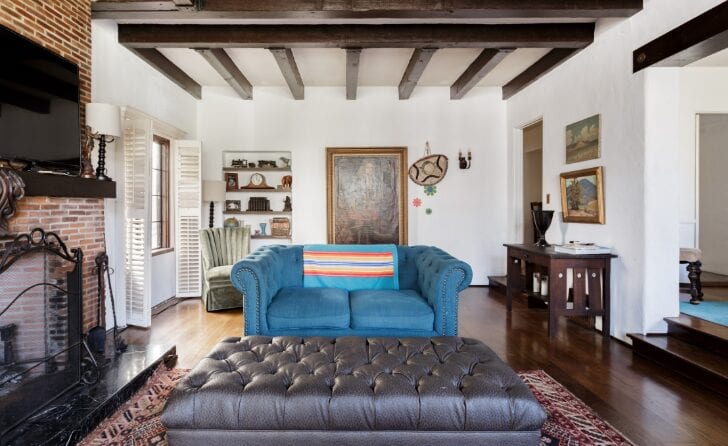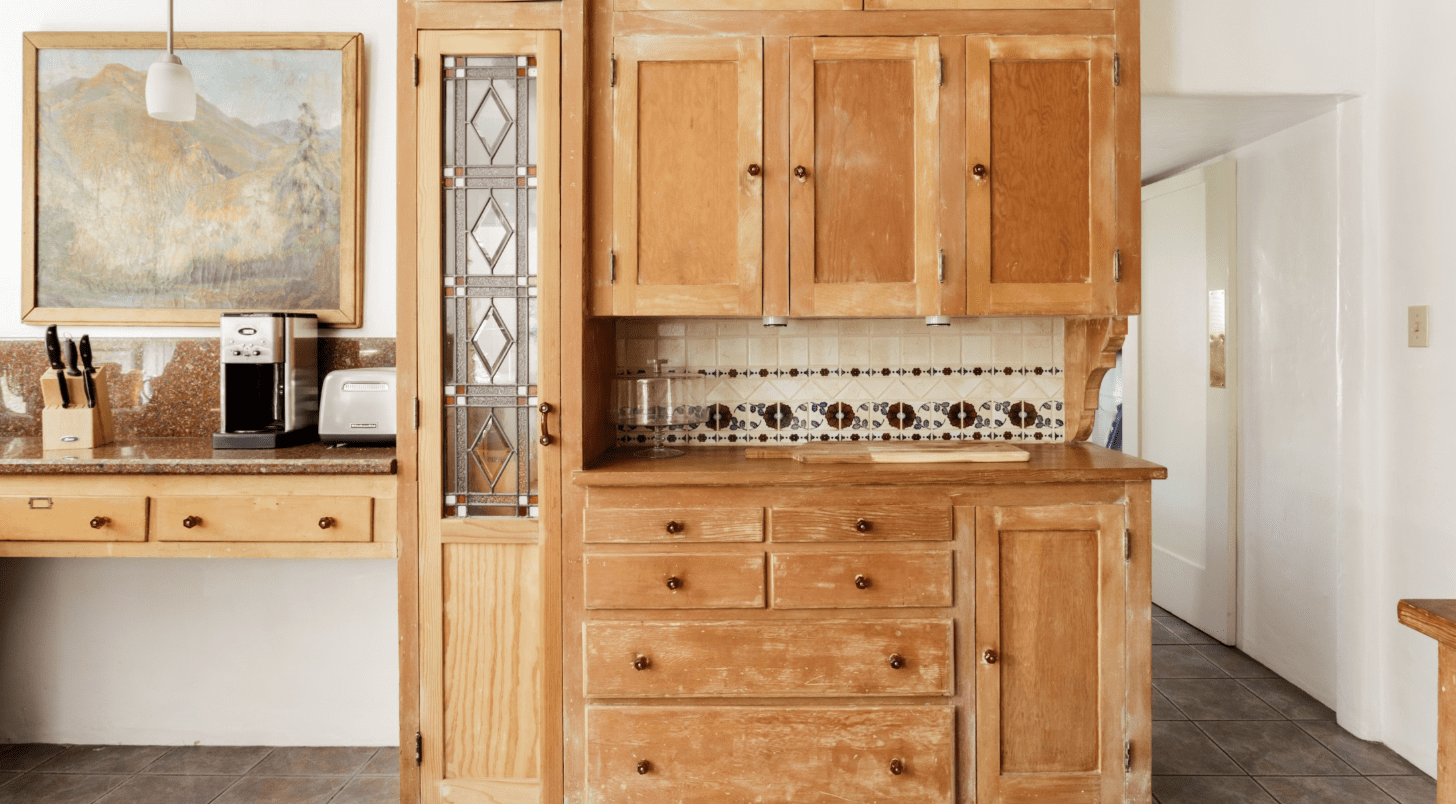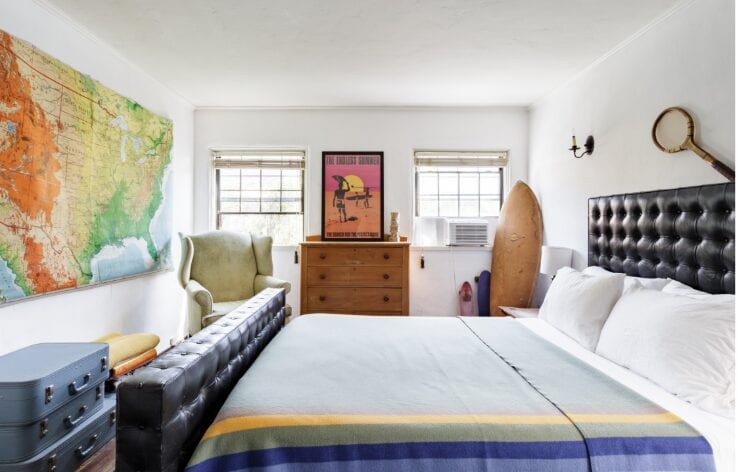 We need to talk about the fact that this Hancock Park Airbnb is only $79 a night but first, can we just talk about this kitchen? The full kitchen of this 1920s Tudor-style apartment couldn't be more perfect for the space. Blond wood, original tile, and stained glass make this one of the most extraordinary kitchens you'll ever use.
Tastefully decorated in a mix of old world charm and modern simplicity, this two-bedroom, one bath apartment sleeps five and is located right in Hancock Park which is a wonderfully central location. You'll be within close proximity to LACMA, the LaBrea Tar Pits, Larchmont Village, Koreatown, the Fairfax District, and Paramount Pictures, just to name a few.
3. Harry Potter Airbnb Haven – $115 a night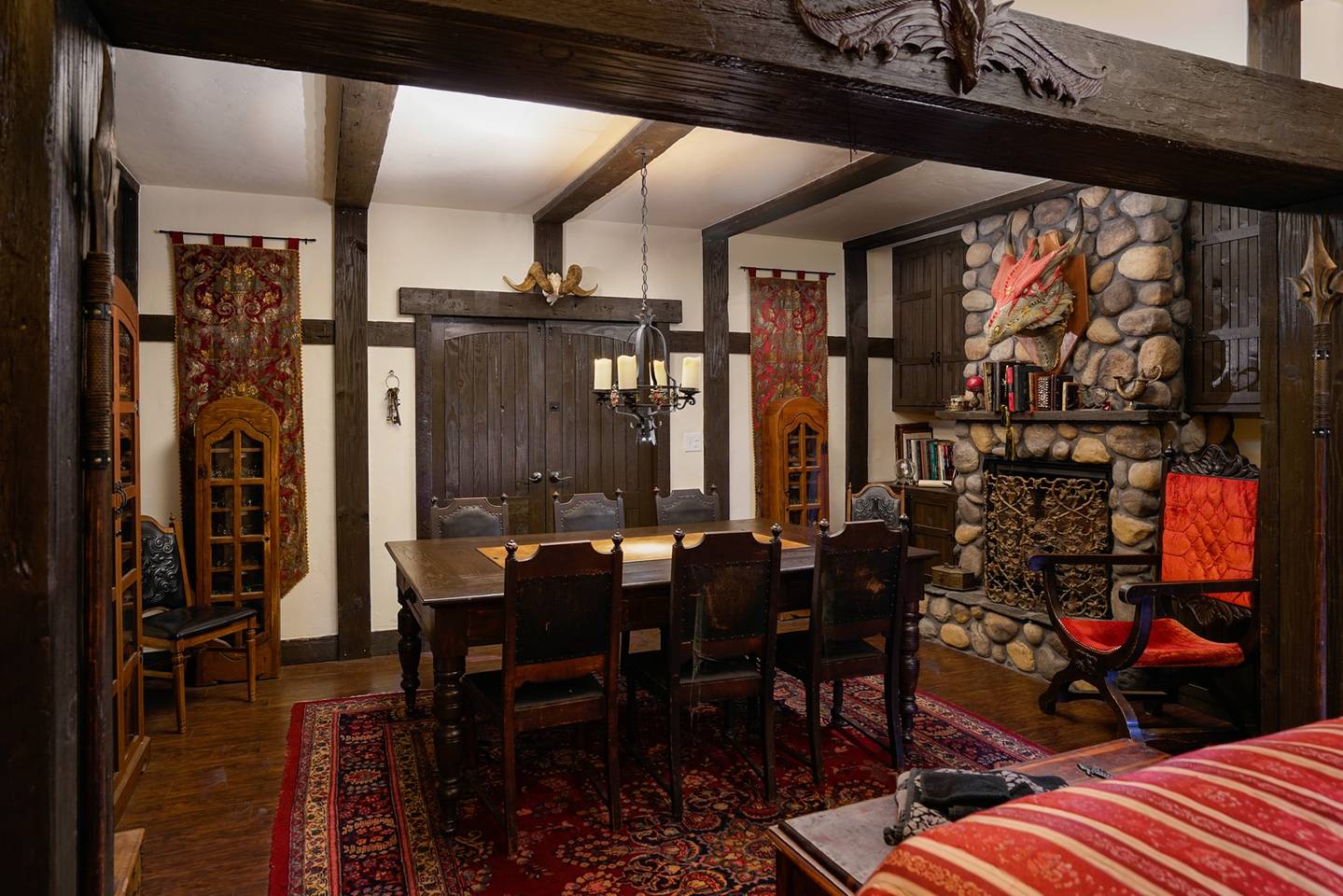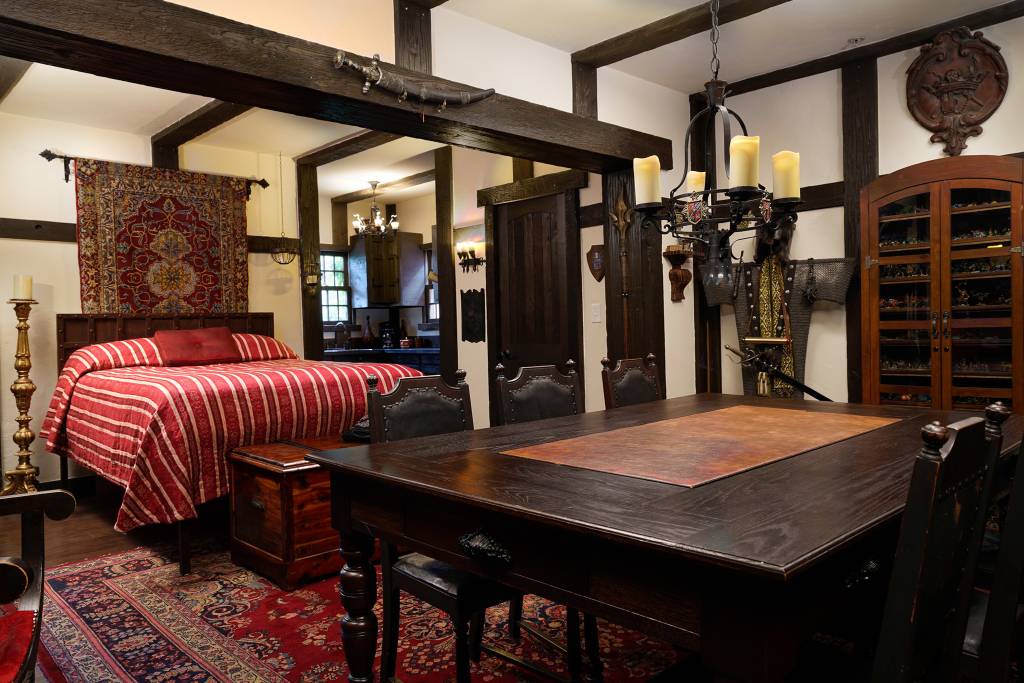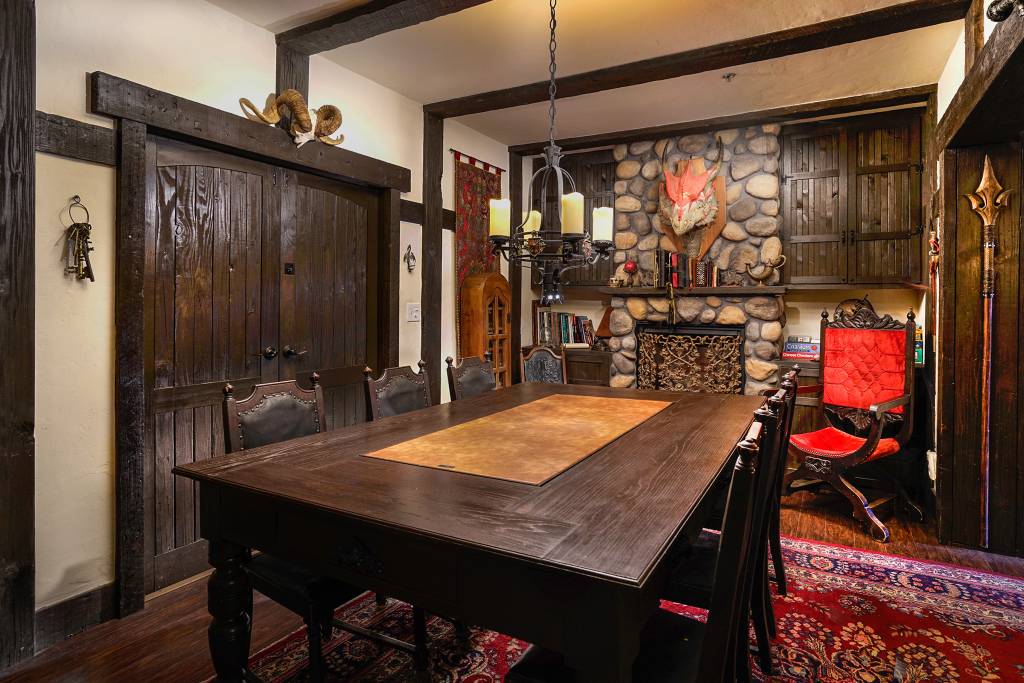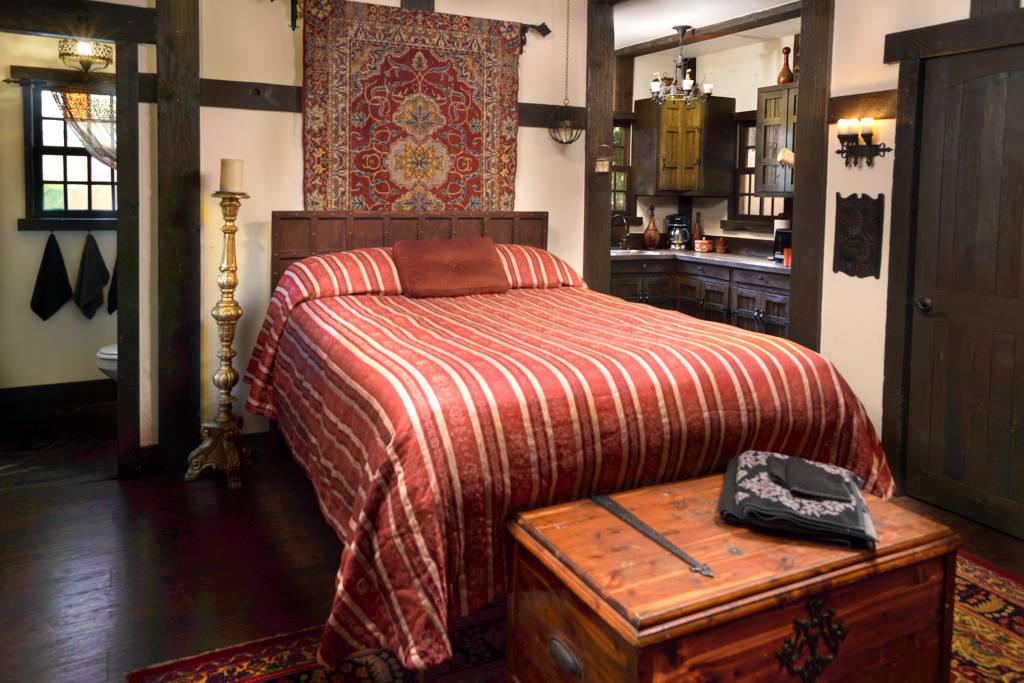 Whether or not it's your taste, you have to give the owners of this home credit: when they commit, they commit! Decorated in a Medieval style, this rustic Renfaire-style home is the perfect, like perfect place for someone coming into town for say, Medieval Times or the Wizarding World of Harry Potter at Universal Studios or even a reenactment of The Hundred Years' War (do they reenact that?).
Whatever reason you have for coming to Los Angeles, you will never, ever forget this place. Located in the Burbank/Glendale area just north of the Los Angeles Zoo, this incredible studio sleeps three in two separate beds. Speaking of Harry Potter, you'll be just a short drive away from Universal Studios as well as Warner Brothers Studio where you can take their special Harry Potter tour. Just be sure not to leave your invisibility cloak when you go.
2. Historic Los Angeles Ranch – $115 a night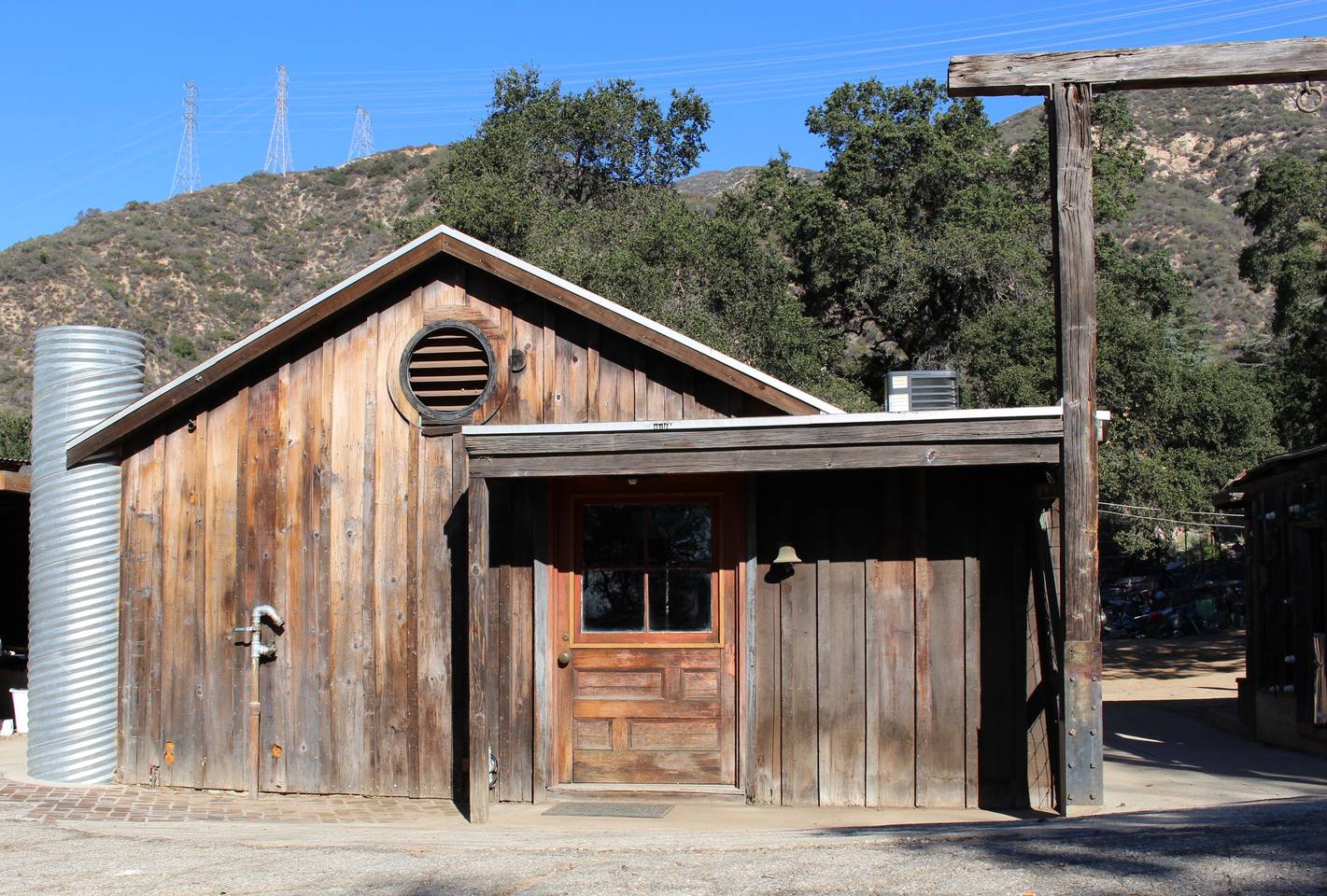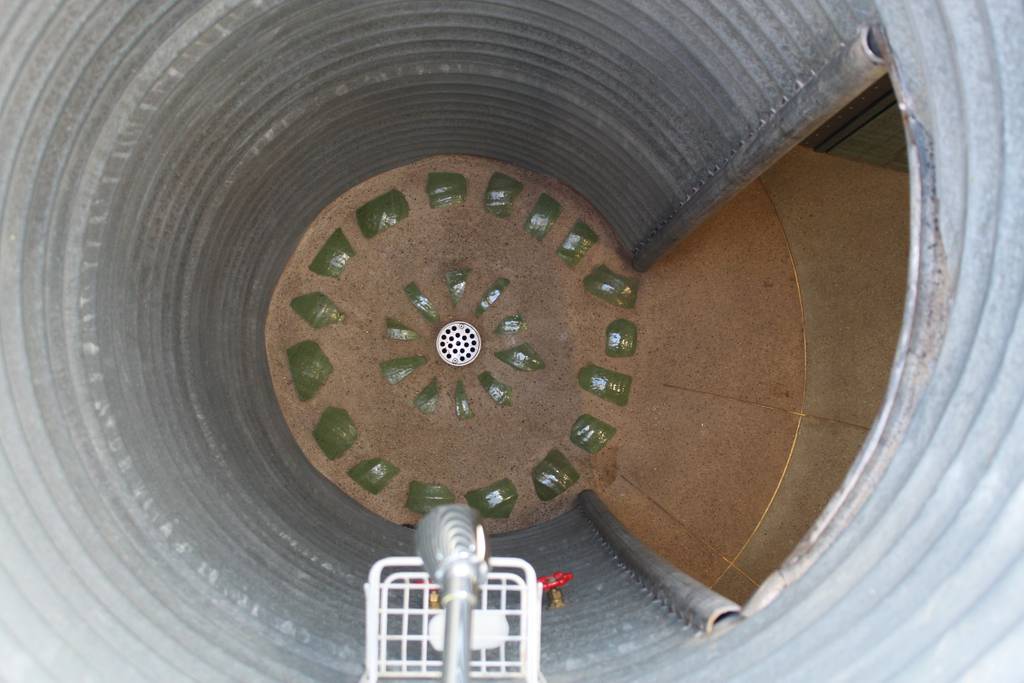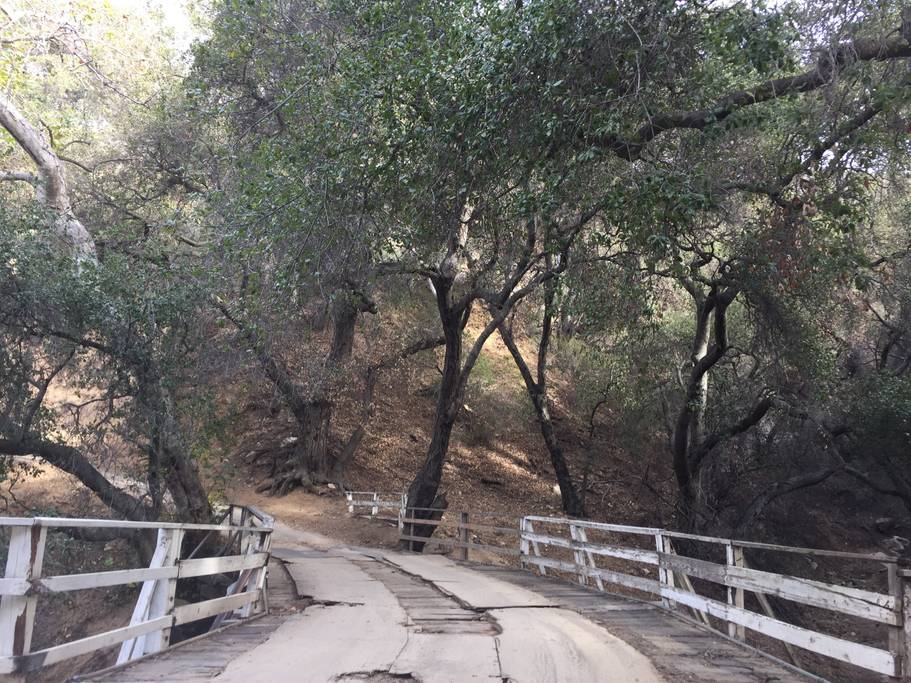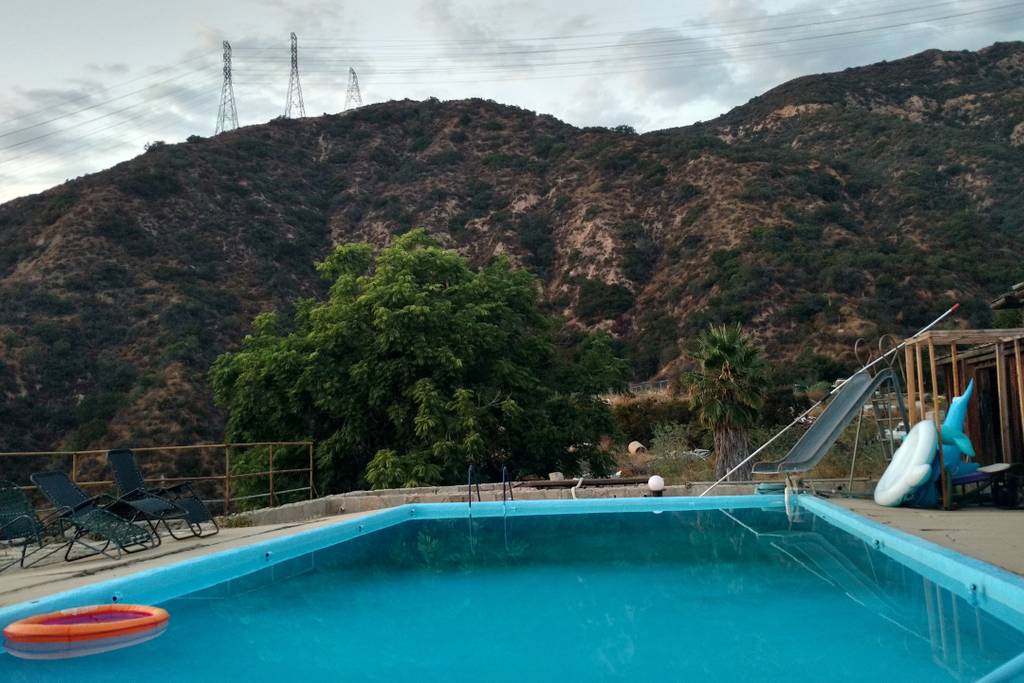 Even if you couldn't see this property in a photo you'd know it was rustic just by the list of guidelines they provided:
The bridge you must cross to get to this cabin property looks very, very old but it has been checked by an architect and it's very, very safe
Honey bees are kept on the property and often end up by the pool
If you are not comfortable with nudity, you should let the owners know and they will make sure the other guests and residents respect that when they use the clothing-optional pool
This primitive but charming Airbnb in the San Gabriel Mountains is part of the historic Zorithian Ranch, a sort of junkyard/folk art compound which you will have access to. As creative as the ranch itself, this studio has some fascinating touches for instance, that grain silo-looking thing on the left of the building is actually a shower. And while it may seem incongruous to the space, there's actually a piano in the studio itself. Although they don't allow filming, your Instagram account is going to get a lot of attention if you stay here!
1. Laurel Canyon Airbnb Retreat – $249 a night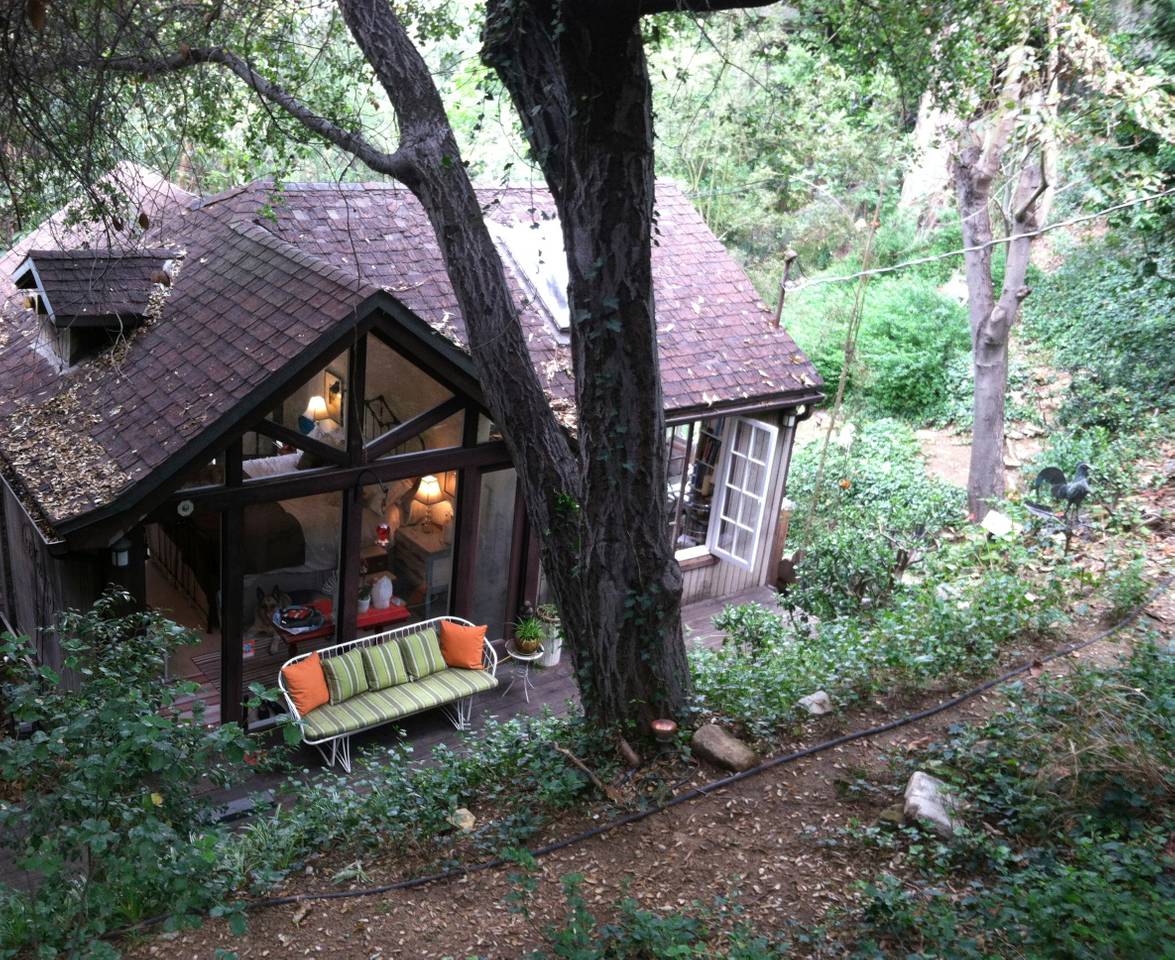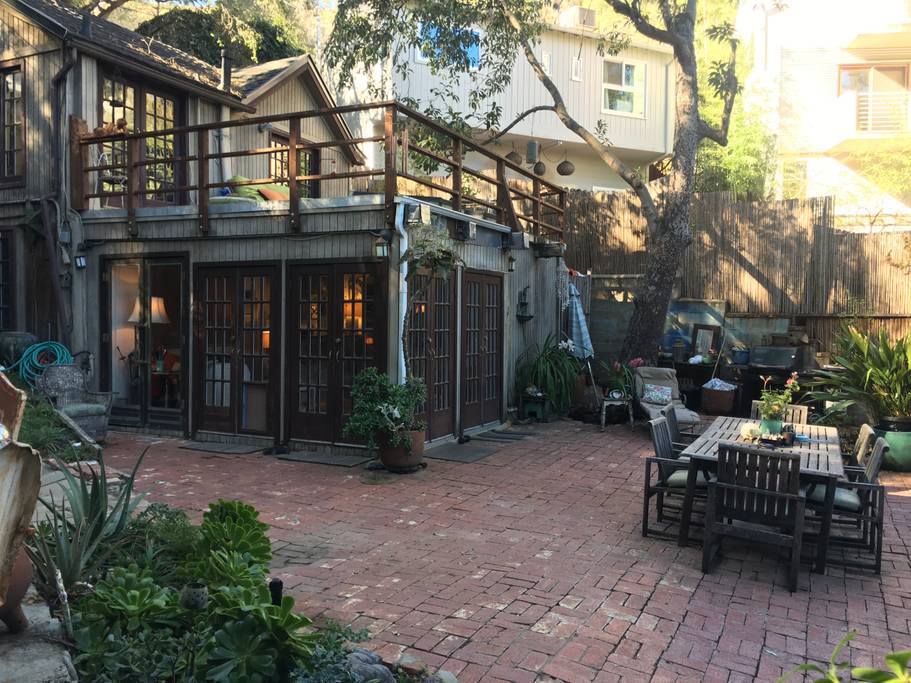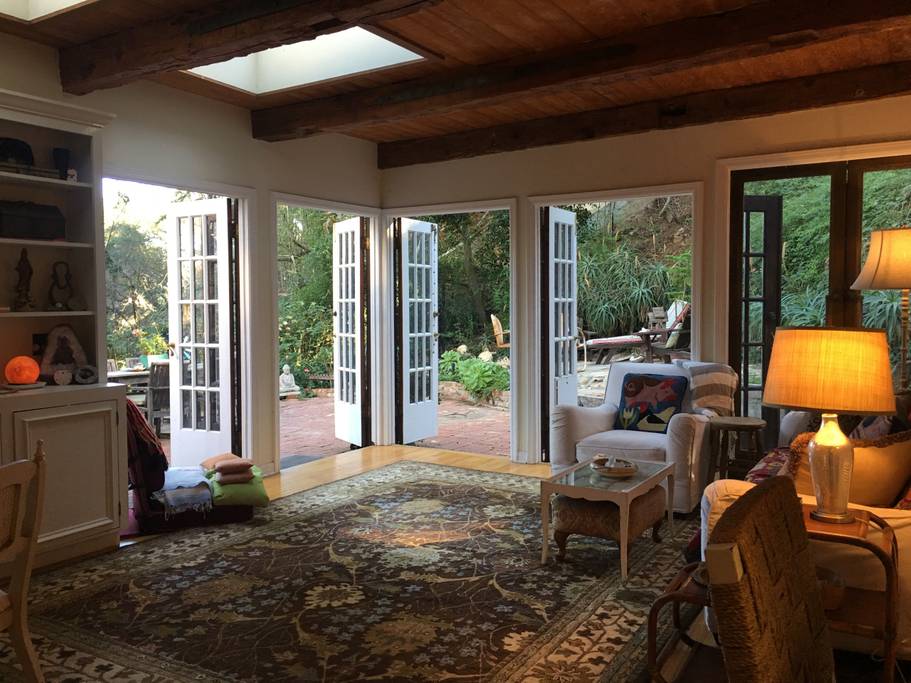 For the true, rustic, bohemian experience, you can't do better than a little house in Laurel Canyon. Nestled in the heart of the canyon, this fairy tail house is perfect for an artist, musician, or nature lover. Situated on "Love Street" or "Lookout Mountain" as it's also known, this sweet two-bedroom, one-bathroom house sleeps five.
With plenty of outdoor space, decks, and outdoor lighting, you'll probably spend more time outside than in and since there are TONS of wild animals like deer and coyote you might find yourself with company whether friends are staying with you or not.
Rustic though it is, it's also in close proximity to Pace, one of the area's best restaurants and a great place to spot celebrities who live here by the acre. You'll also be a super-quick car ride to Sunset Blvd, all it has to offer including Bar Marmont, Book Soup book store, Carney's (a favorite local hot dog joint), French restaurant Le Petit Four, and many, many others.