No city in the world does mid-century modern like Palm Springs California, so if you're fan of the look you got to check out these incredible Airbnb's in the area! Knoll, Noguchi, and Eames reign supreme here, and homeowners really try to stay true to the aesthetic. (In fact, Palm Springs is so mid-century-wonky, they even have a Modernism week each year!) If you're on your way to Coachella and want to experience what it's like living in a mid-century modern home, check out these eight incredible mid-century modern air B&Bs!
7 Over the Top Airbnb Homes That Celebrities Have Rented
7 Unbelievable Treehouse Airbnb Homes In The United States
8 Great California Airbnb Properties That Are Perfect for Glamping
6. Citrus House – approx. $700 a night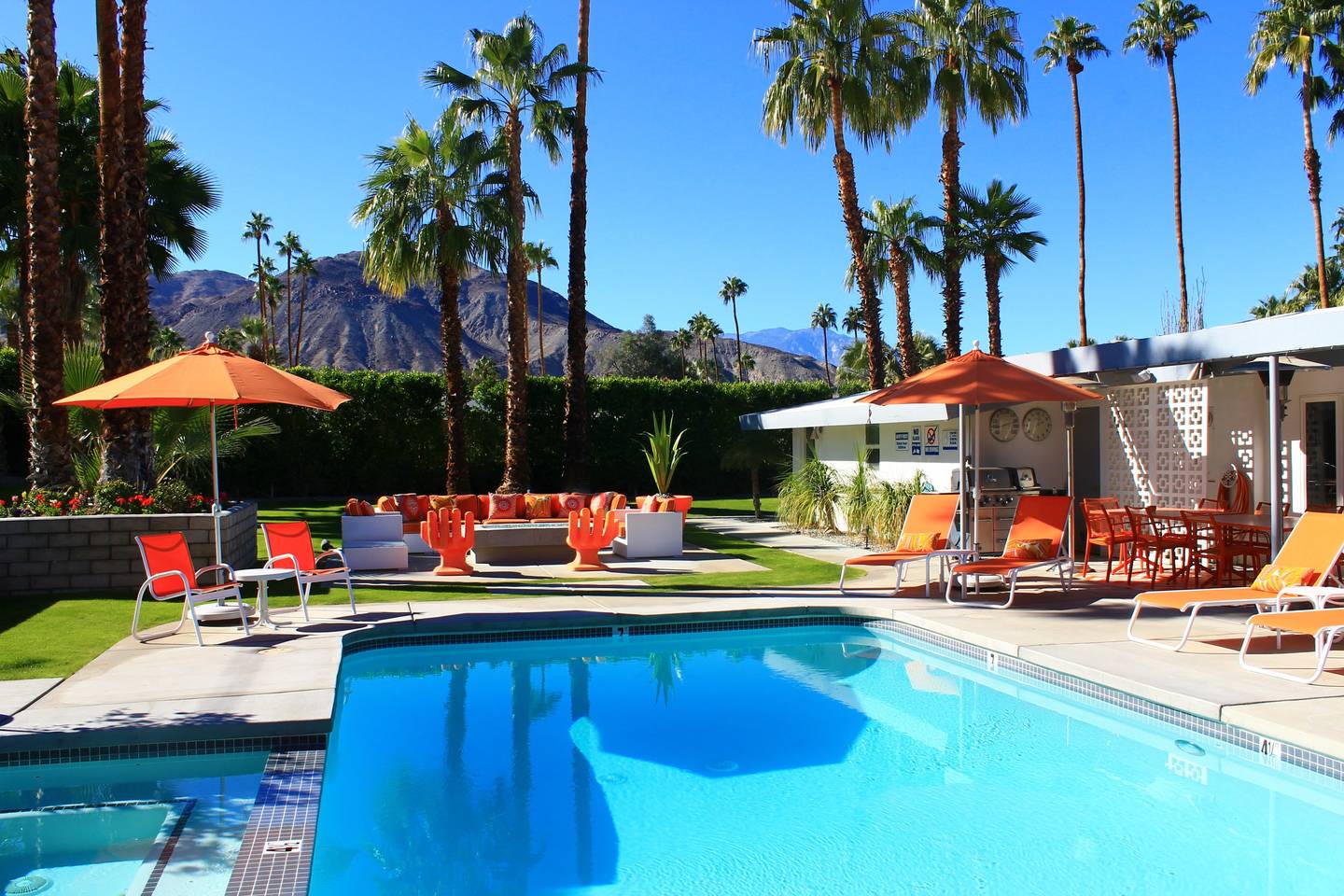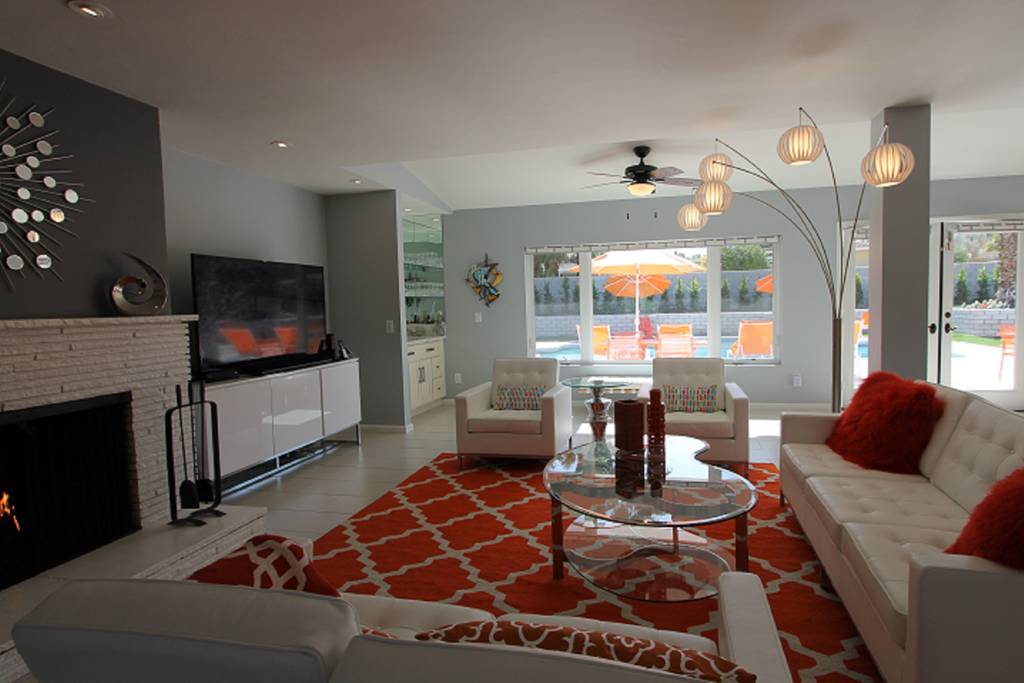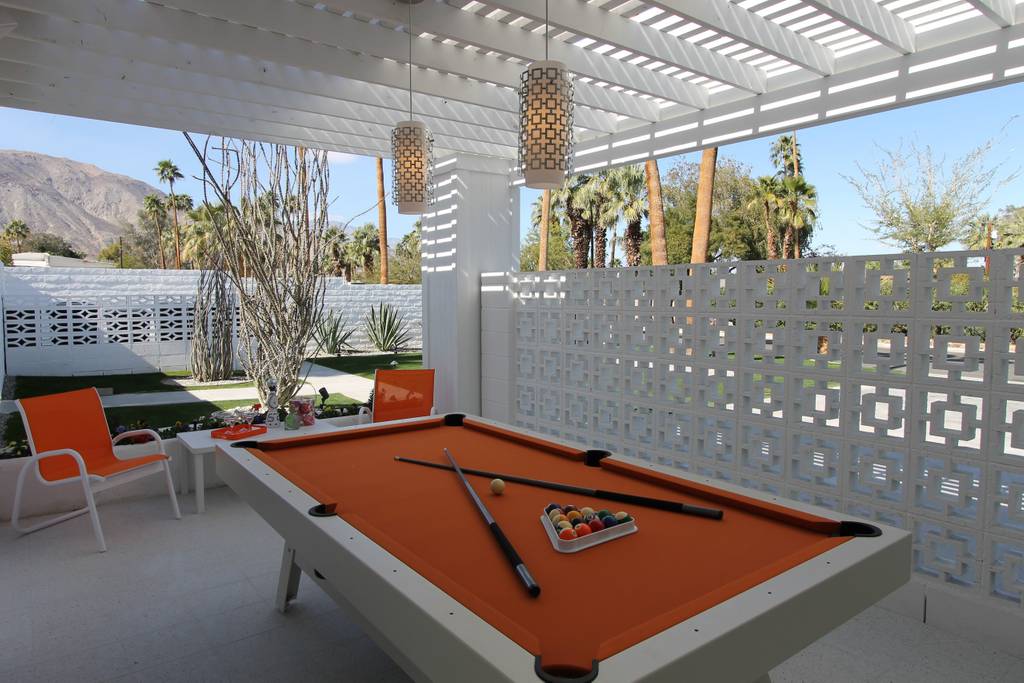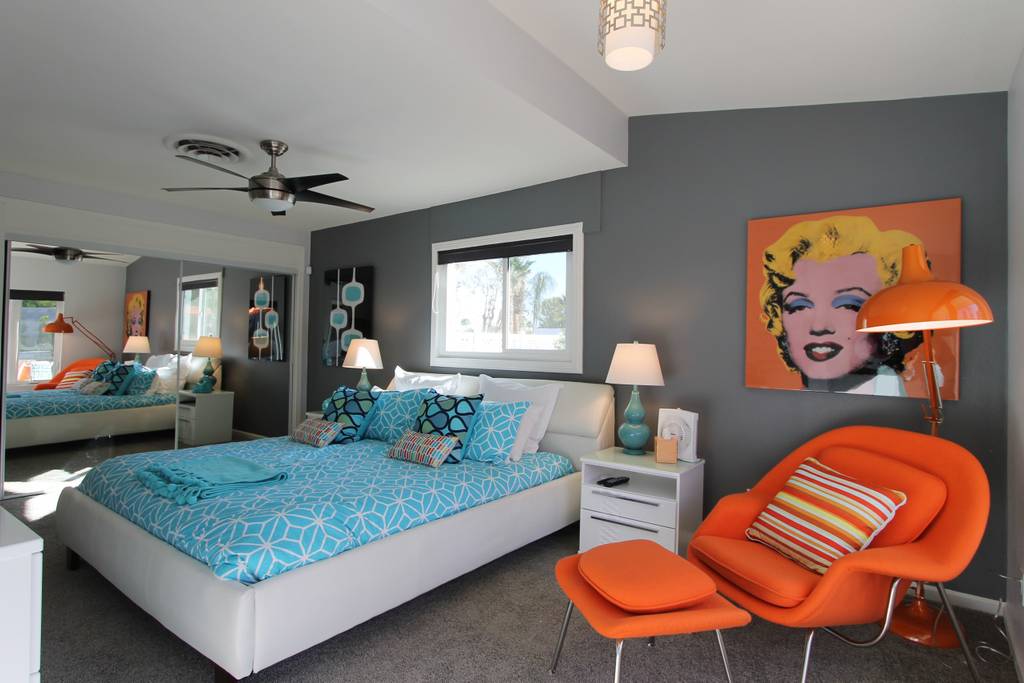 #Orange! Known as the "Citrus House," this four-bedroom, three-bath mid-century gem is like a step back in time and is a perfect home base for a group headed to Coachella.
With a 12-person salt water pool (complete with eight jets to ease your aching muscles after a long day of partying at the festival), color-changing lights, and a Sonos sound system, you can keep the party going long after the music is over.
Even if it's blazing hot outside, this Palm Springs Airbnb comes complete with misters so you can stay outside for hours and enjoy the foosball table, the ping pong table and the shaded lanai. There's also a fire pit, vibrant orange lounge chairs and even an orange-colored pool table. (And can we discuss how cool those orange hand chairs are?)
And by the way, you're not going to believe how great those palm trees, sorry, #palmtrees, look at night against the backdrop of those mountains! Not surprisingly, this home has pieces from all the great mid-century or mid-century-esque designers like Jonathan Adler, Trina Turk Eero Saarinen, Florence Knoll and George Nelson so you can really feel as if you're living in the 1950s! Just make sure you book soon as this place goes fast!
5. Al-ex-an-d-er-Love-Air-B-n-b!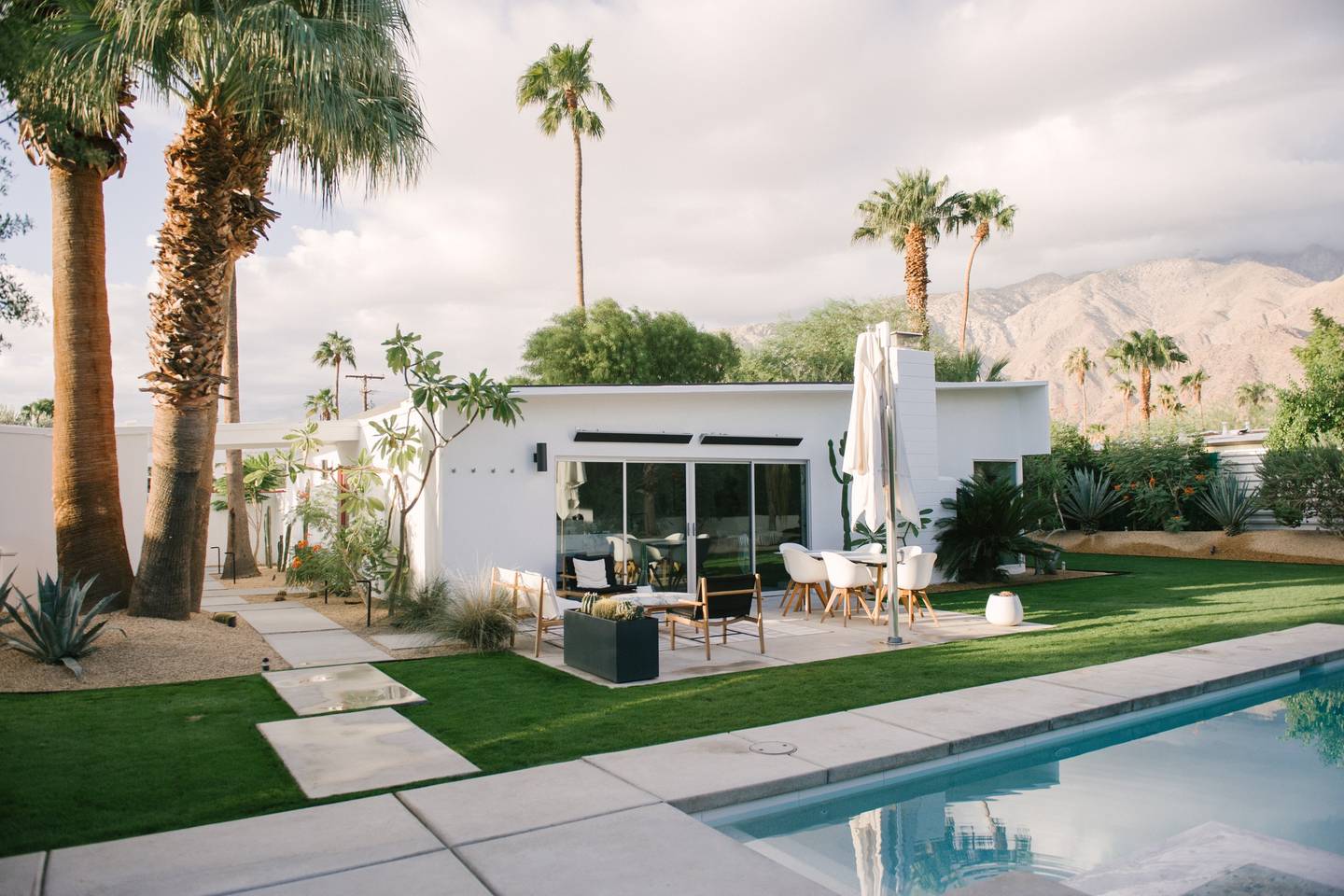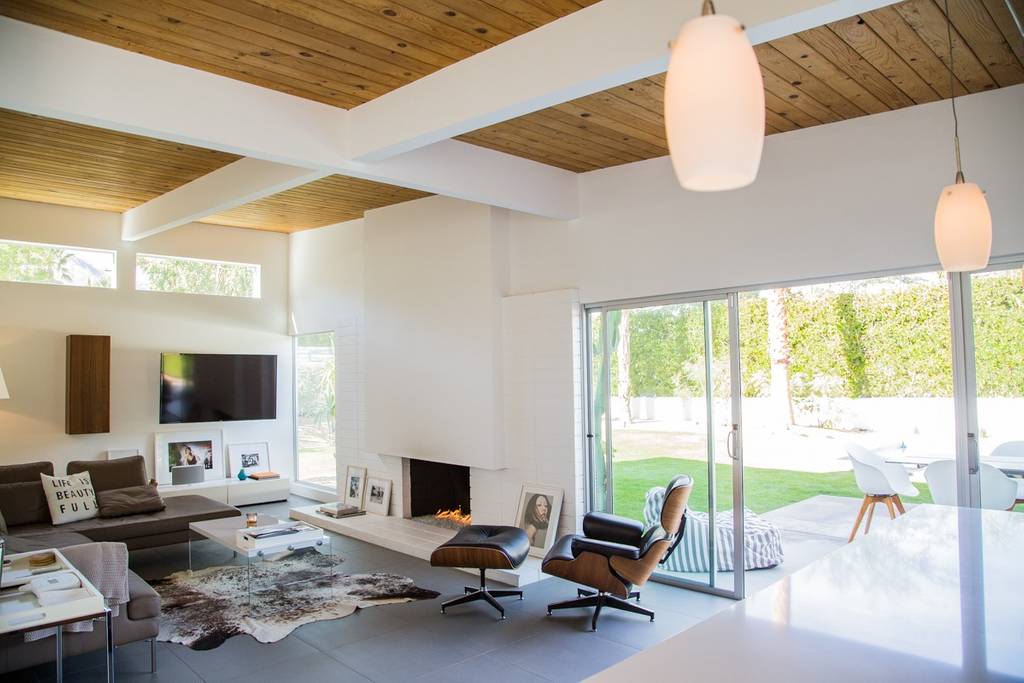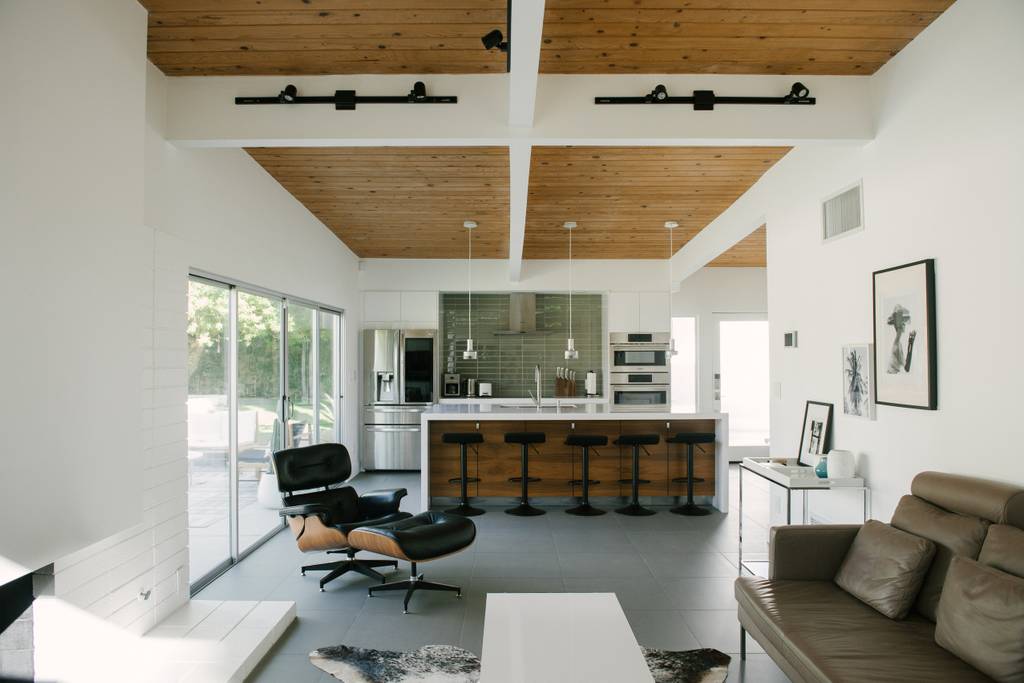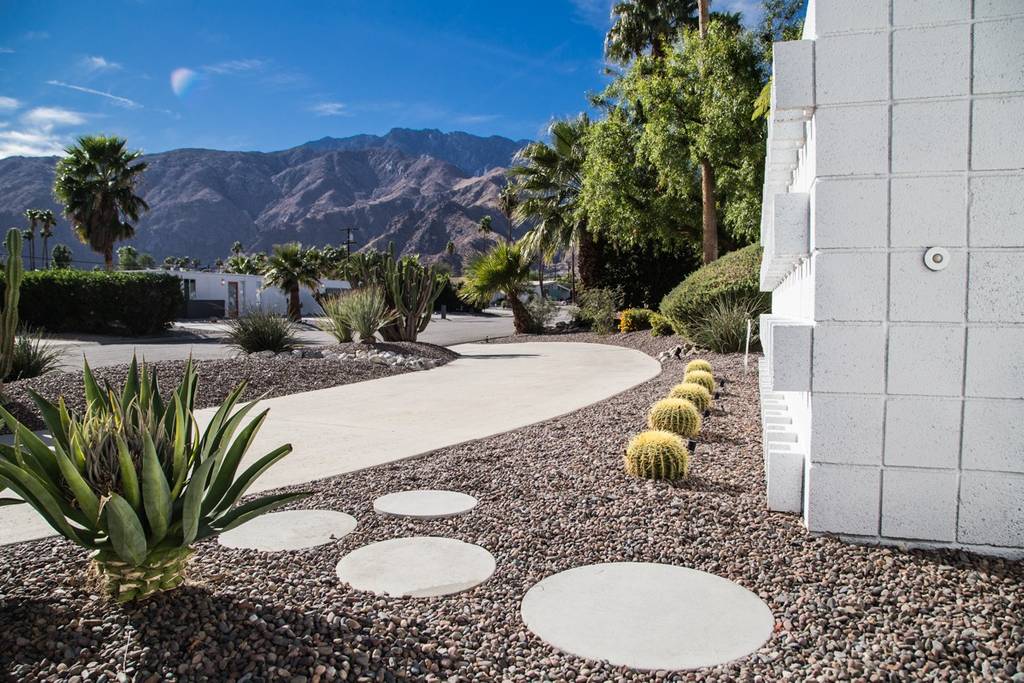 If there's one word that is sure to get a mid-century enthusiast's blood pumping it's "Alexander" and if you really want to see them hyperventilate add "butterfly.'
This iconic Alexander-designed butterfly-style house was built in 1959 and was completely remodeled and re-designed within the last three years. Located in the historic Racquet Club Estates, this three-bedroom, two-bath home sleeps six so start thinking about who your five favorite Coachella-loving friends are.
Remodeled as a "green" house, this house is self-powered with solar and heat-pump technologies. With gorgeous views of the surrounding landscape the brand-new saltwater pool has a jetted spa, jacuzzi, six loungers, fire pit, Sonos sound system and built-in outdoor grill.
There's also a HEPA filtration system in the house which is great as the desert air can get very, very stagnant for people with allergies. Just make sure that when you come home late at night from the concerts at Coachella you remember the alarm system!
4. Sunrise Modern – approx. $450 a night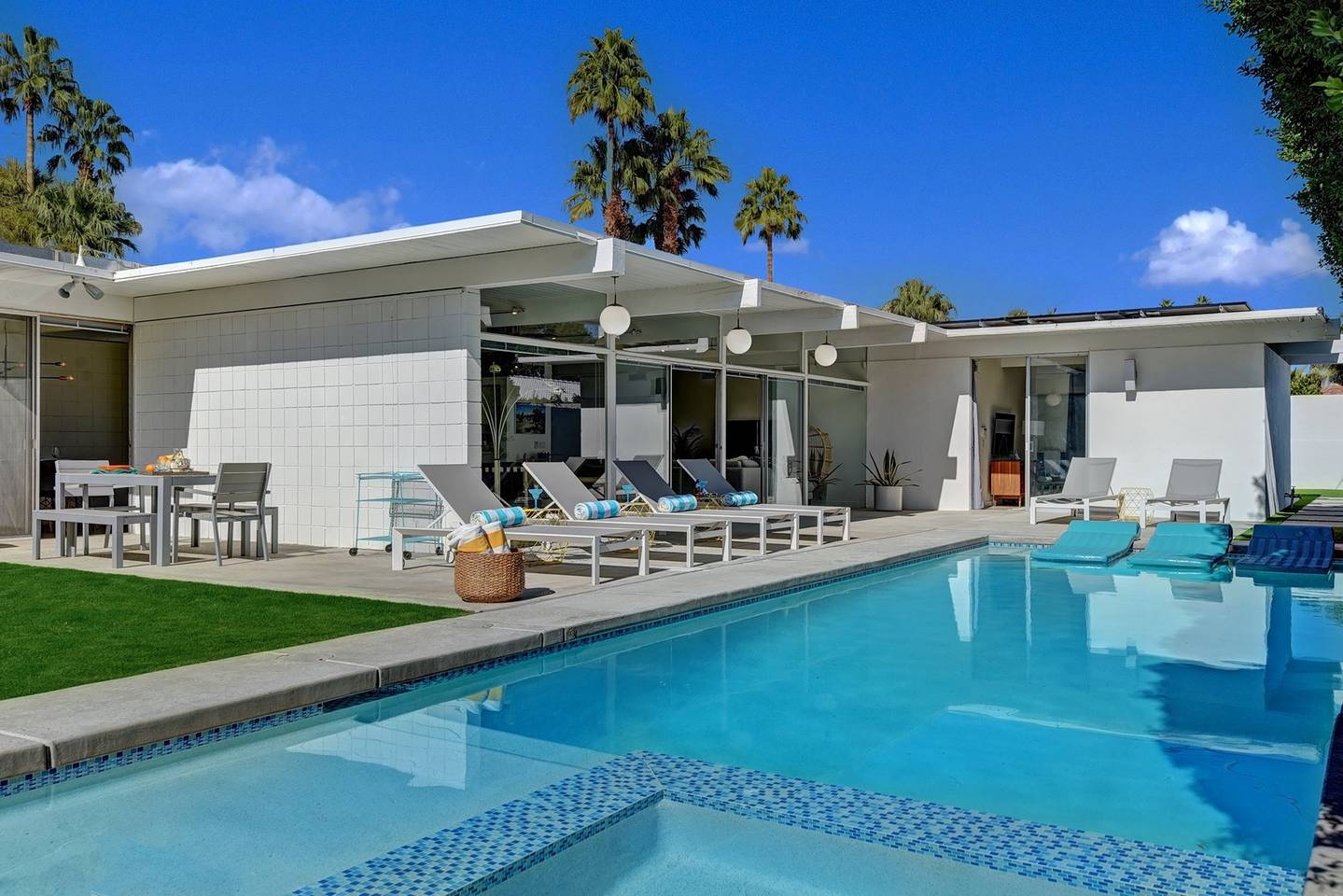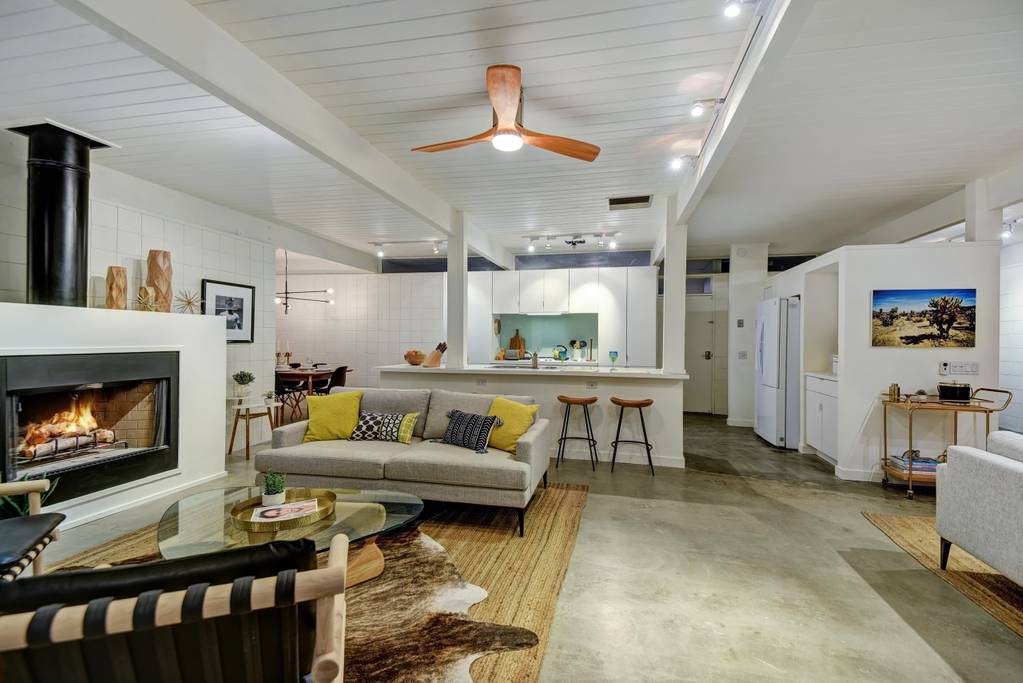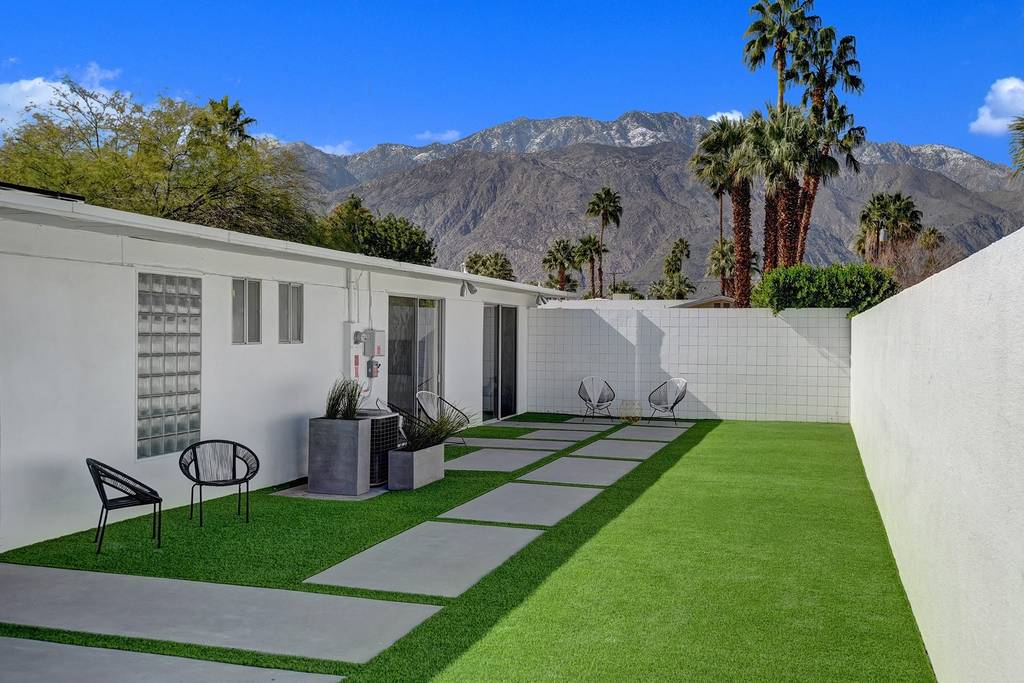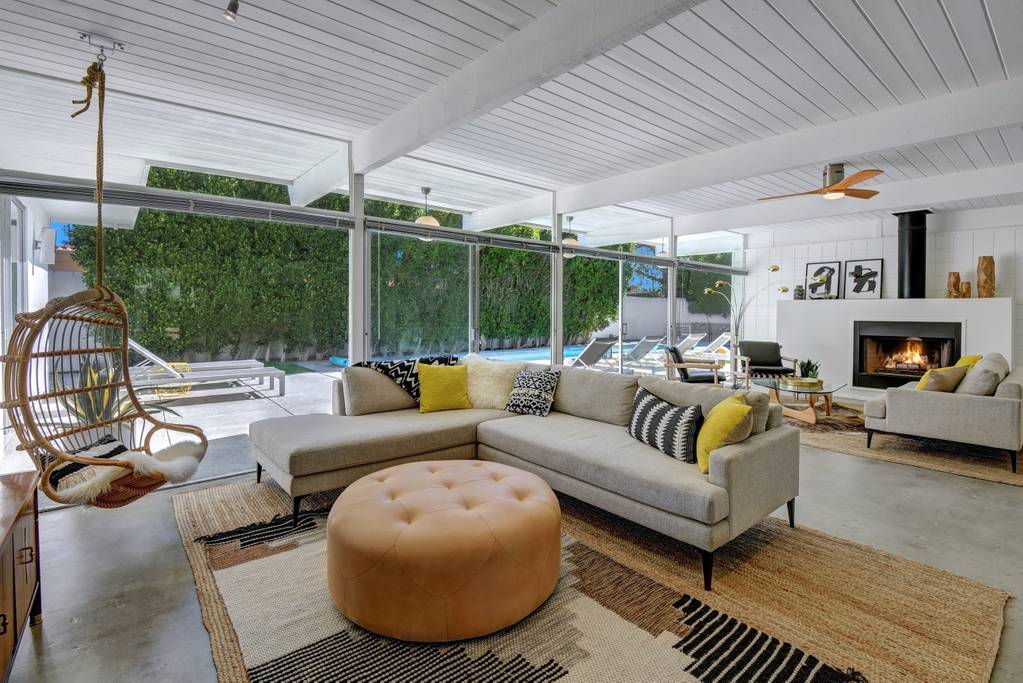 Designed by iconic mid-century modern architect Jack Meiselman, this three-bedroom, two bath Palm Springs house is a great example of combining the old with the new. Decorated in a very contemporary aesthetic with furniture from West Elm, this Airbnb has some really cool elements like a wicker egg chair, Eames-style chairs, globe lights, and Noguchi-style table.
The outdoor space is so perfectly groomed it looks as if every blade of grass were manicured by hand and has a lot of fun features like croquet set, fire pit, stainless steel BBQ, wrap-around section sofa, and of course, a fabulous pool, complete with tanning shelf.
With tons of natural light and sliding glass doors just about everywhere in the house, you'll feel as if you're outside even when you're in!  There's even a little coffee bar with a grinder, coffee maker and other goodies so you can get a little caffeine before you head over to Coachella each day!
10 Mid-Century Masterpieces in Los Angeles on Airbnb
16 Totally Amazing Airbnb Homes for Coachella 2019

8 Adorably Rustic Airbnb Homes in Los Angeles
To Infinity and Beyond! 8 Los Angeles Airbnbs with Incredible Pools
3. A True Corker! Approx. $499 a night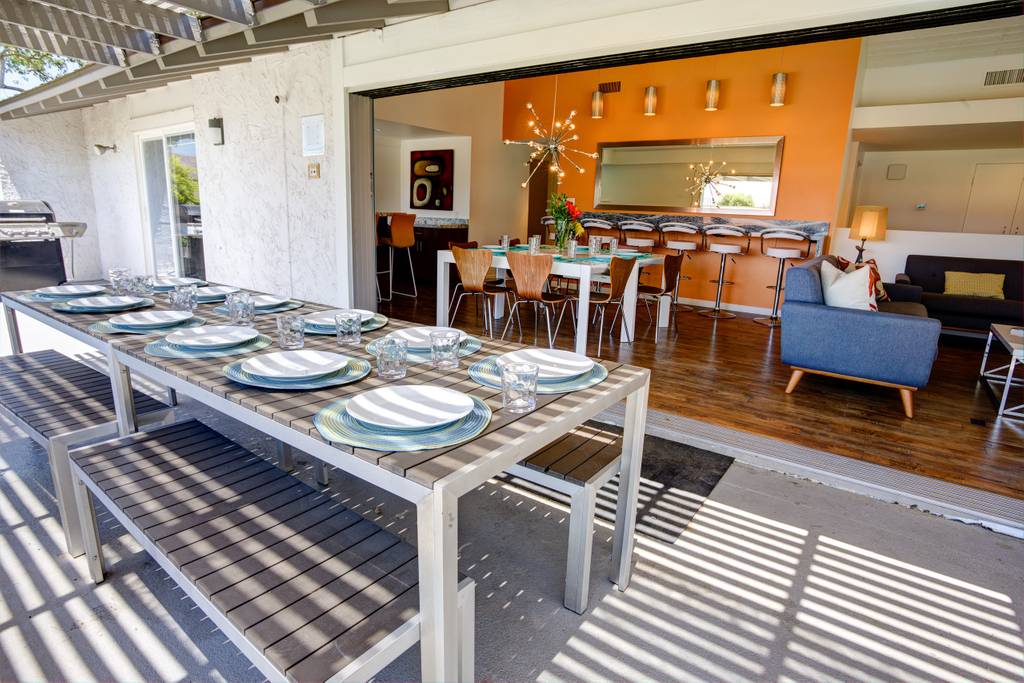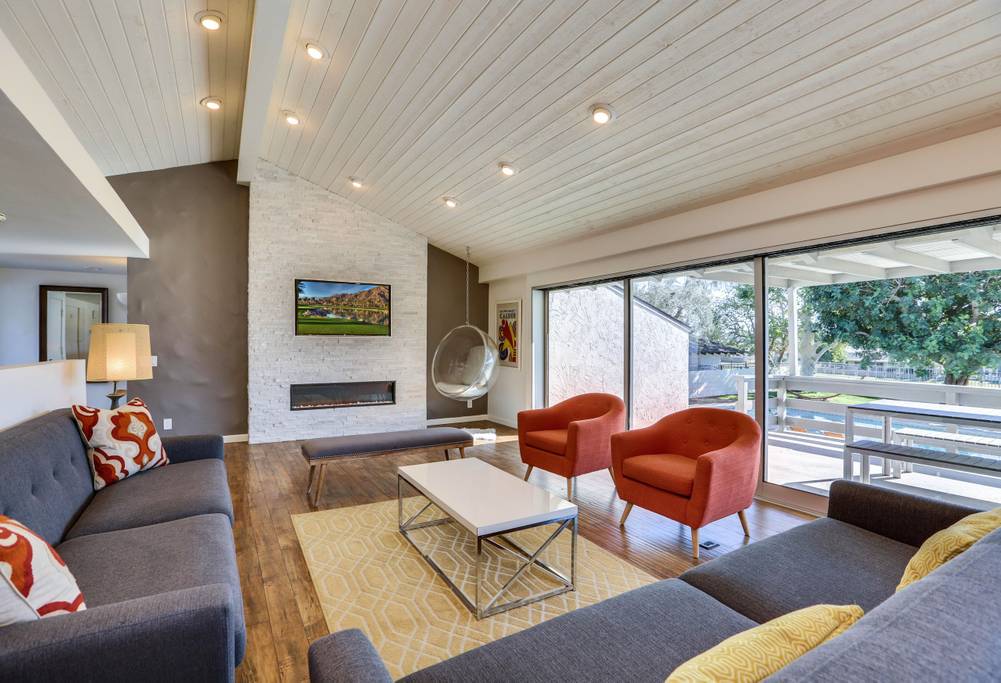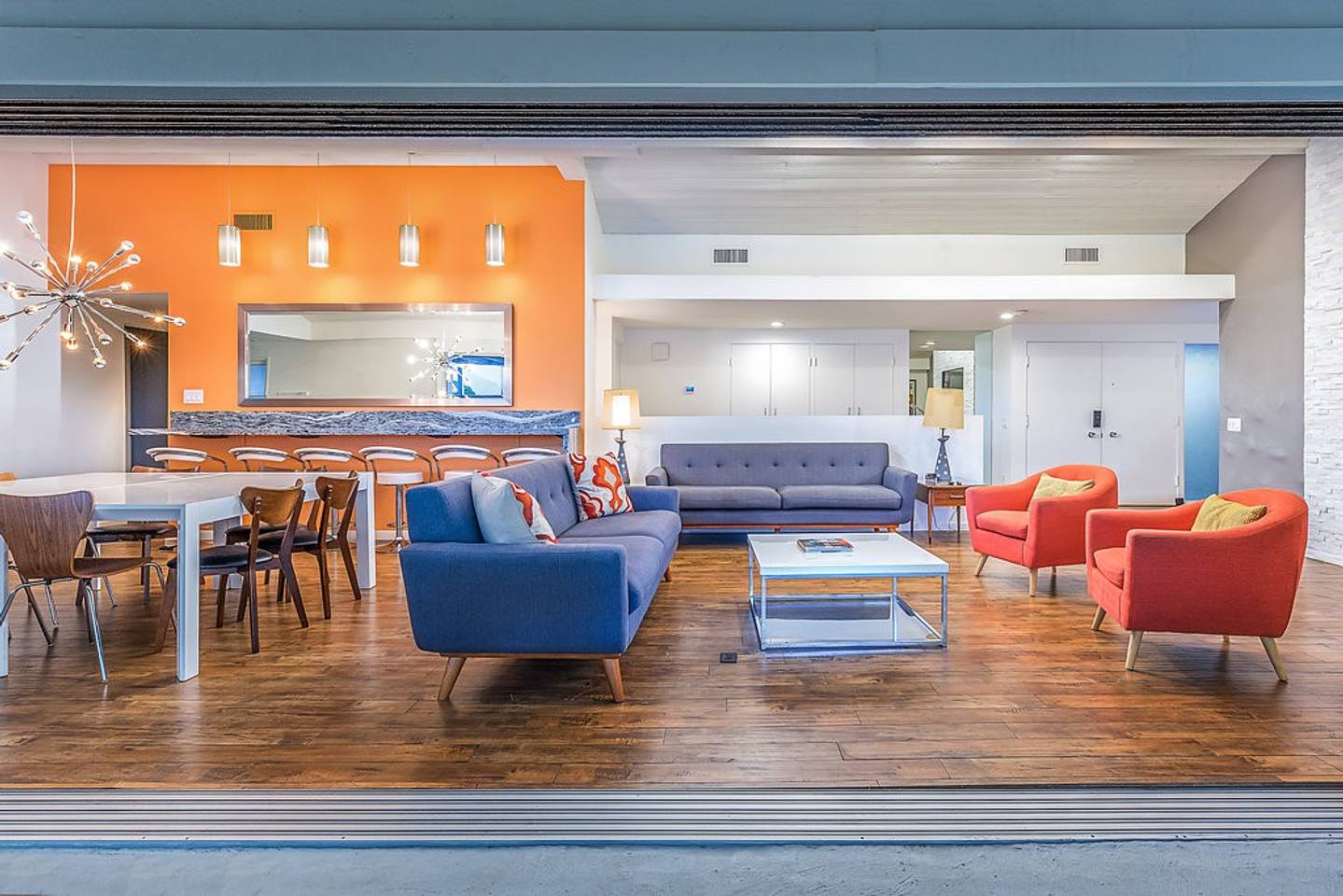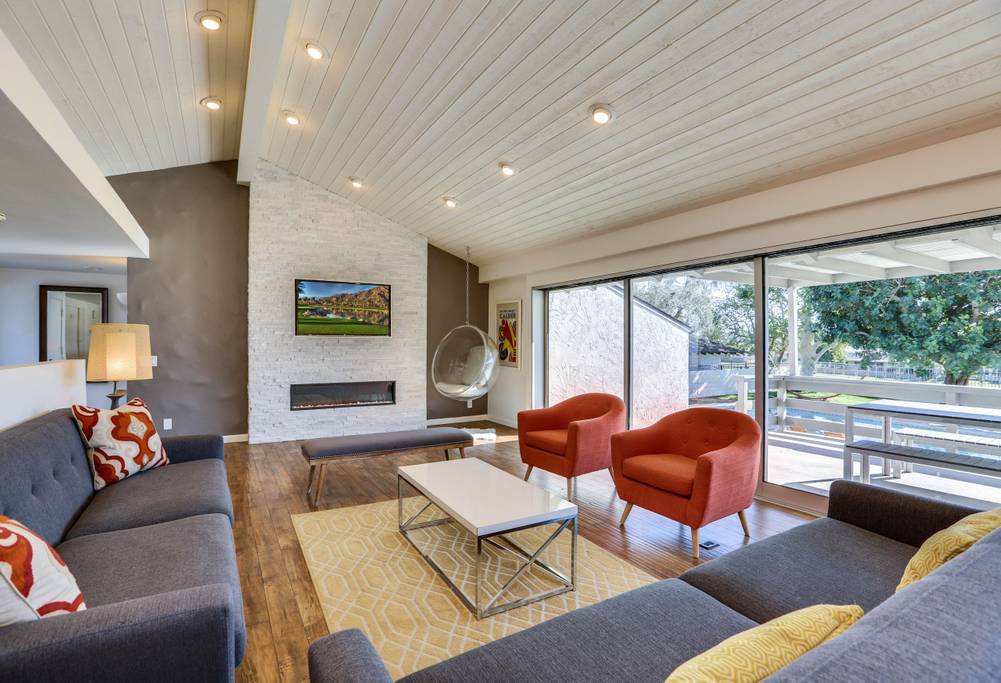 We figured one great orange house deserves another so just in case the one above is booked, here's an alternative! Hardly a second choice, this one has all kinds of fun goodies like a pinball machine, indoor basketball game, ping pong table, hammock, and a giant cow sculpture.
Of course, like most houses in Palm Springs, there's a pool with a tanning shelf, spa, and a huge sliding glass window so you can easily bring the outside in.
There's even a really cool room that's decorated almost entirely in cork! You'll be just a short drive away from one of the area's most famous institutions, Shields Date Garden (that's date as in the fruit), where you can see films about the sex lives of dates and treat yourself to one of their famous date shakes (trust us).
There's also a golf course nearby so if you need to give your ears a break from all the loud music at Coachella, this is a great place to find some peace and quiet!
2. Get Your Beauty Rest! Approximately $499 a night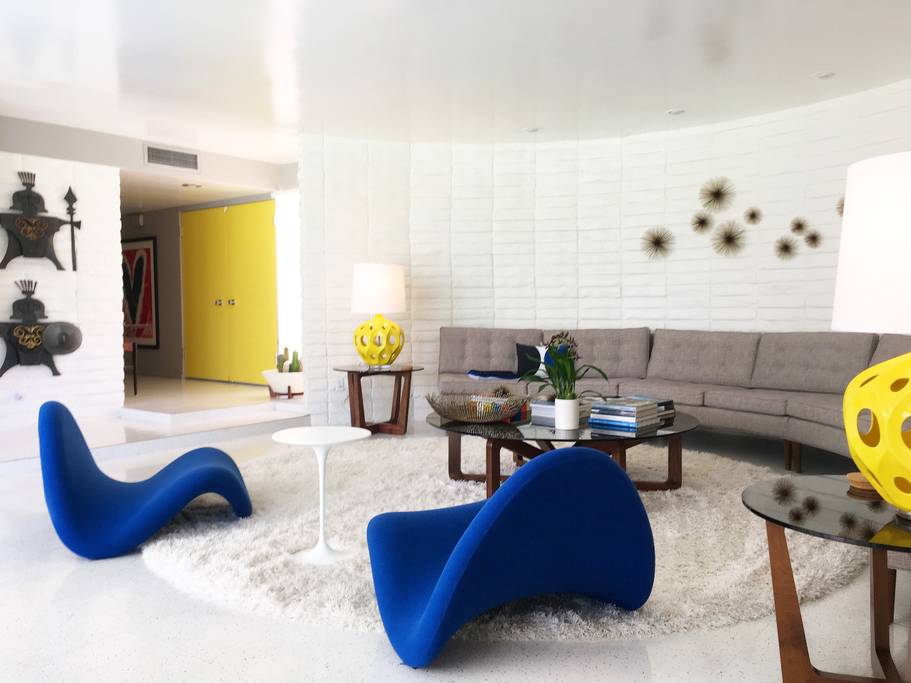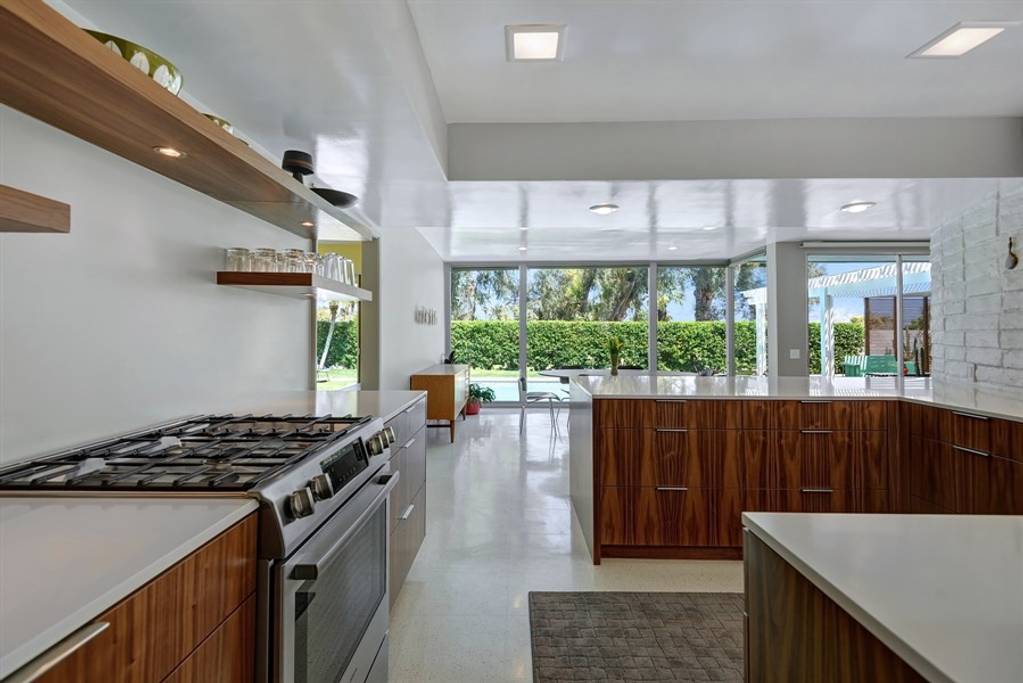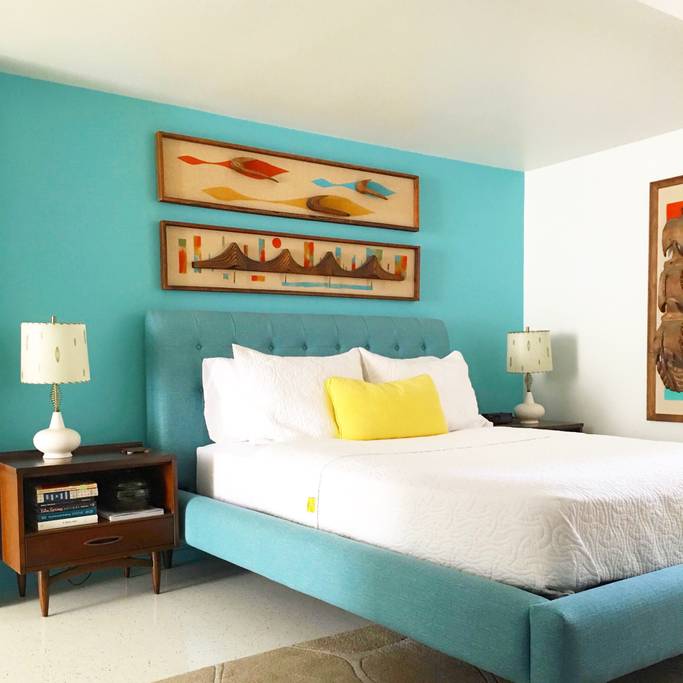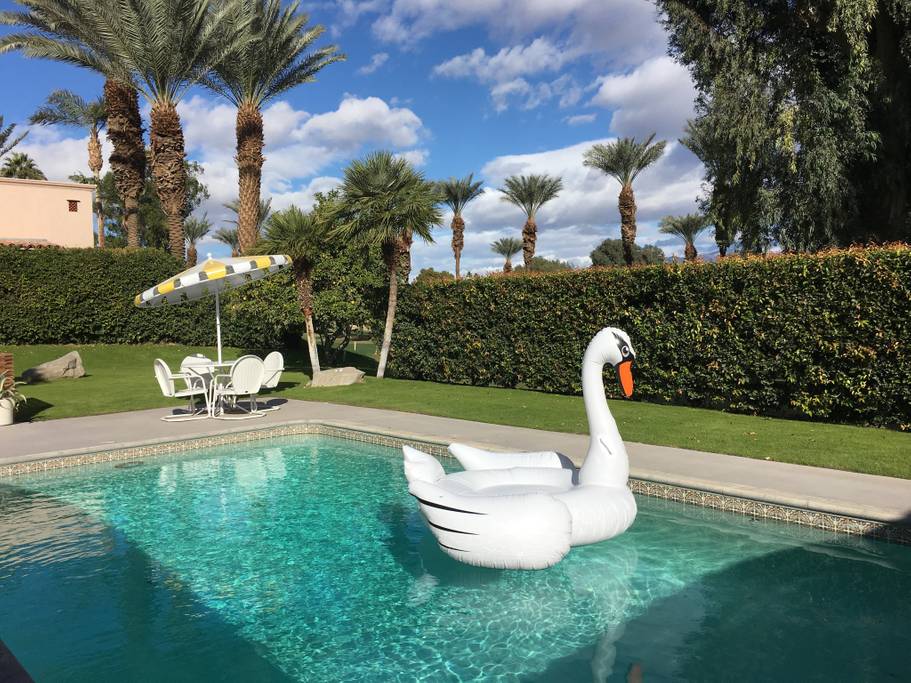 That circular couch is just begging for a big group of friends to come sit on it and talk about their time it Coachella! Full of authentic 1950s furniture and decoration, this is the Palm Springs Airbnb to rent if you really want to feel as if you're living in that era.
From start to finish everything in this house feels authentic. From the vintage patio set, to the Weber Grill, to the custom-made coffee table and coffee table books on top of it, the mid-century details in this house are incredible. You'll find Eames Noguchi, and Knoll furniture all throughout the house.
In the incredible sunken living room and by the way that 24-foot crescent-shaped sofa has been custom-made for the space!  That said, you'll find all kinds of modern amenities here including Bosch appliances, Tempur-pedic and Beautyrest mattresses, and a custom designed kitchen.
Over the entrance to the park is about an hour away, amazingly you can actually see Joshua Tree National park from here. You'll also be very close to El Paseo, an exceptionally elegant shopping street, so if the crowds at Coachella are getting to you, this is a great place to get away from them!
1. Hip and happy approximately $200 a night
Like something out of a Doris Day movie, this Palm Springs Airbnb is happy, bright and uplifting! Just 10 minutes from could chela and stage coach, this Airbnb is also just 30 minutes from Joshua Tree and 25 minutes to Palm Springs!
At $200 a night this spotless three-bedroom Airbnb sleeps eight, making it a fantastic bargain! Recently updated with the new kitchen, this house is a great way for a group of friends to save money on meals.
With a heated pool and fire pit, not to mention those adorable patio lights and grill, you can gab well into the night your adventures at Coachella! If you do book this property, we want to know how many Instagram photos you take in front of that incredible palm tree wallpaper!