Although Southern California offers some of the most glorious and scenic coastline on the planet, for some travelers, the most important view is the one of house they're staying in. So, for those who value architecture as much as ocean, we've chosen our top 8 Airbnb home rentals for architecture lovers in the Los Angeles area. While all of these offer extraordinary vistas of both sea and sky, their insides are truly as beautiful as their outsides.
Also worth a look:
Where to stay in Los Angeles: 8 Airbnbs you'll love
8 of the coolest Airstream Airbnbs in Joshua Tree
These 9 LA Airbnbs will make you feel like you're a cast member in Entourage
Fallingwater. Highclere. Graceland. When a house is known by a single name, it's more than just a house which is why Ravenseye is such a remarkable place to stay. This iconic, Harry Gesner-designed property has enormous Gothic, cathedral-like windows, making it the ultimate church for sun worshippers.
A mid-century modern classic, Ravenseye sits majestically on a Malibu hilltop, offering its inhabitants a view of the Pacific Ocean from on high. Complete with gardens, a number of decks, a pool and even a spa, this takes luxury to a different level, both literally and figuratively. Offering a get-away from a get-away, it even has a 1957 Airstream trailer on the grounds.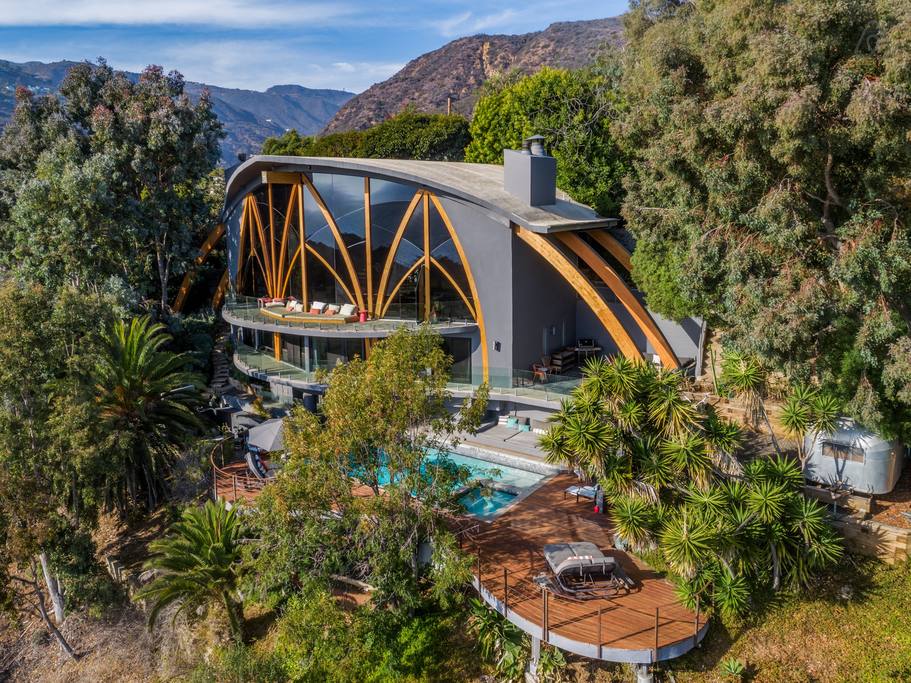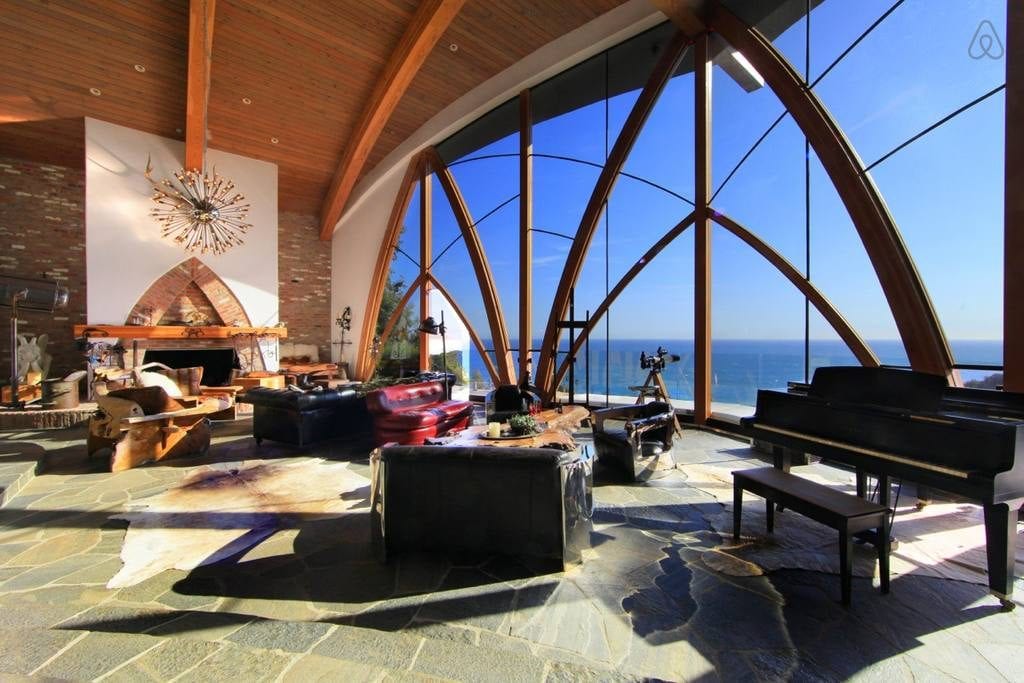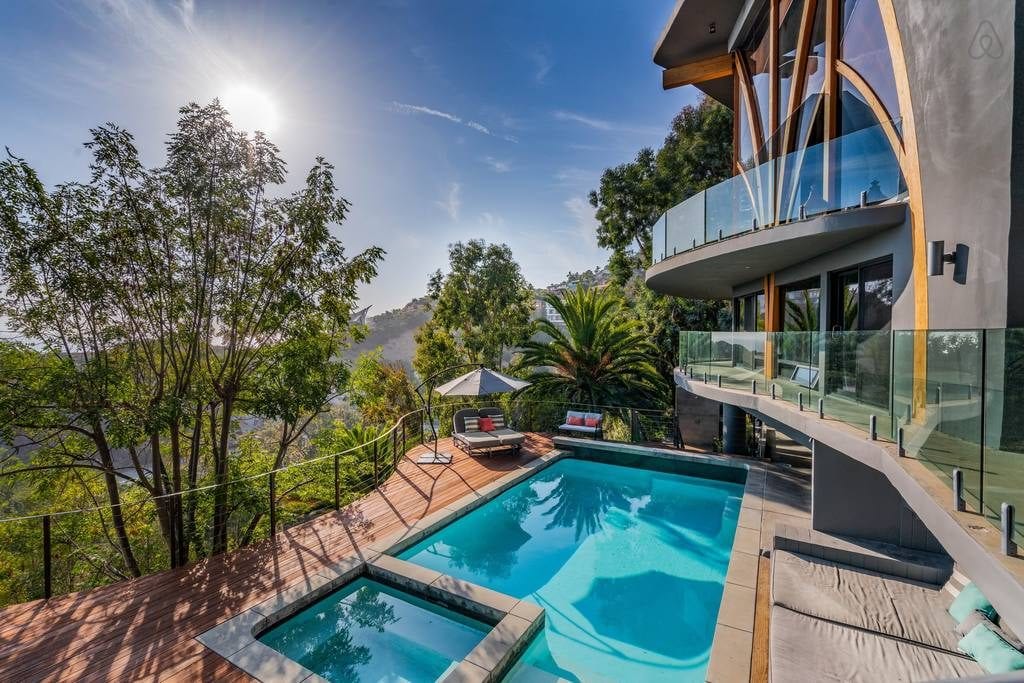 If Mediterranean glam is your thing it would be hard, if not impossible, to beat Villa Sogno. This new, 30-million-dollar pad feels like a private resort where you're the only guest. Decorated with subtle refinement, this gated property boasts 11,000 square feet of elegance including two fireplaces, a screening room, a wine cellar, chef's kitchen, game room, and outdoor fireplace. It even comes with maid service for stays over three days.
Couples take note: The master suite comes with "His and Hers" bathrooms, each with a view of the ocean. Although it can accommodate up to 15 people at a time, its privacy also makes it perfect for honeymooners.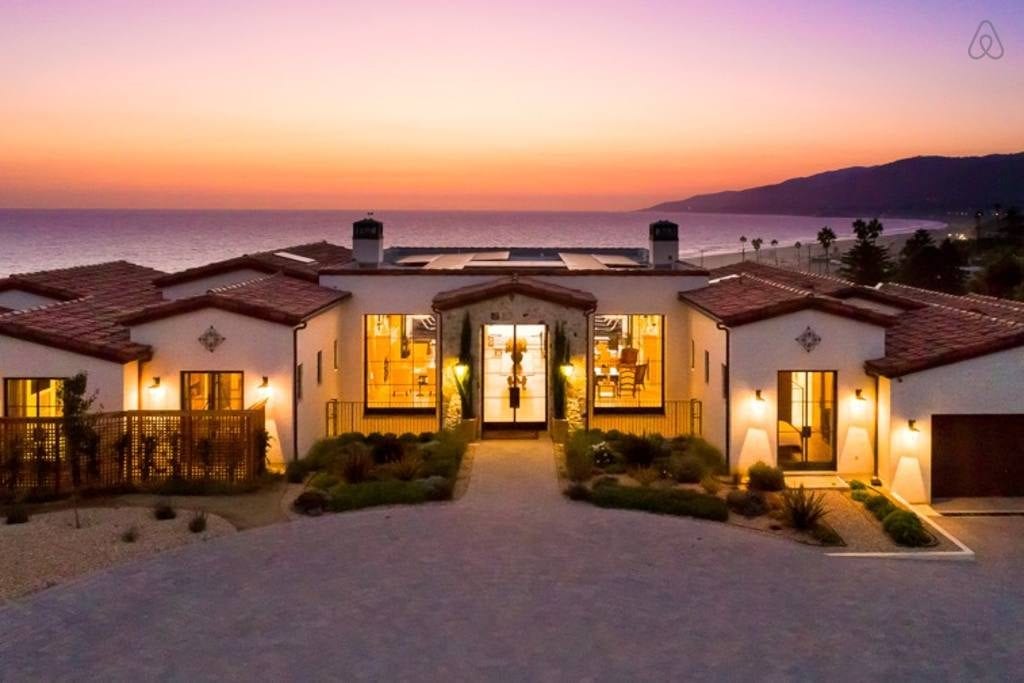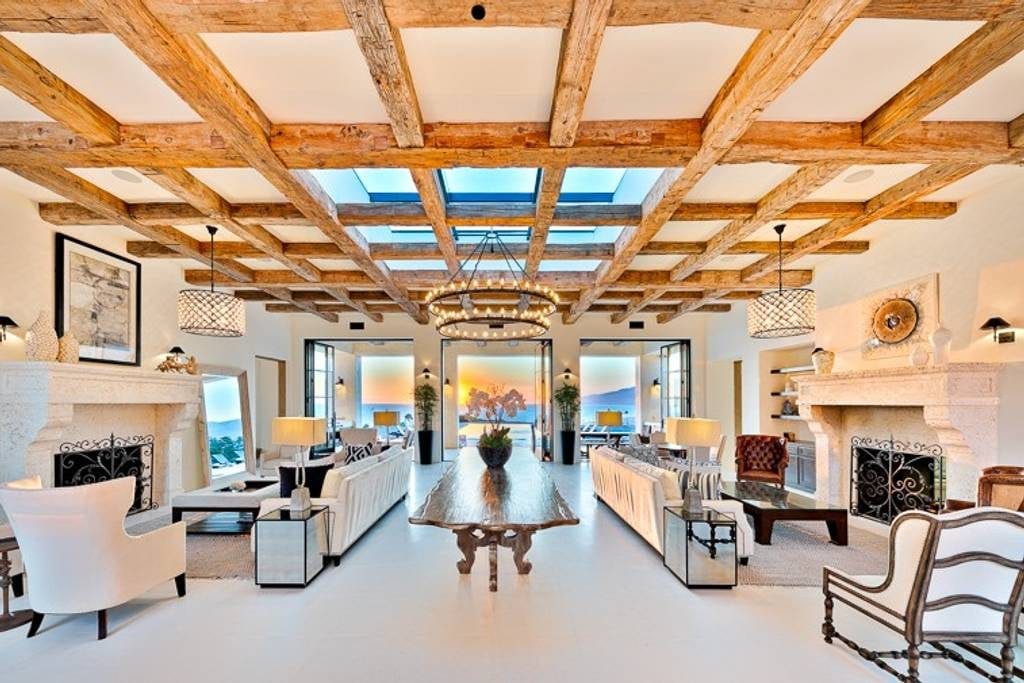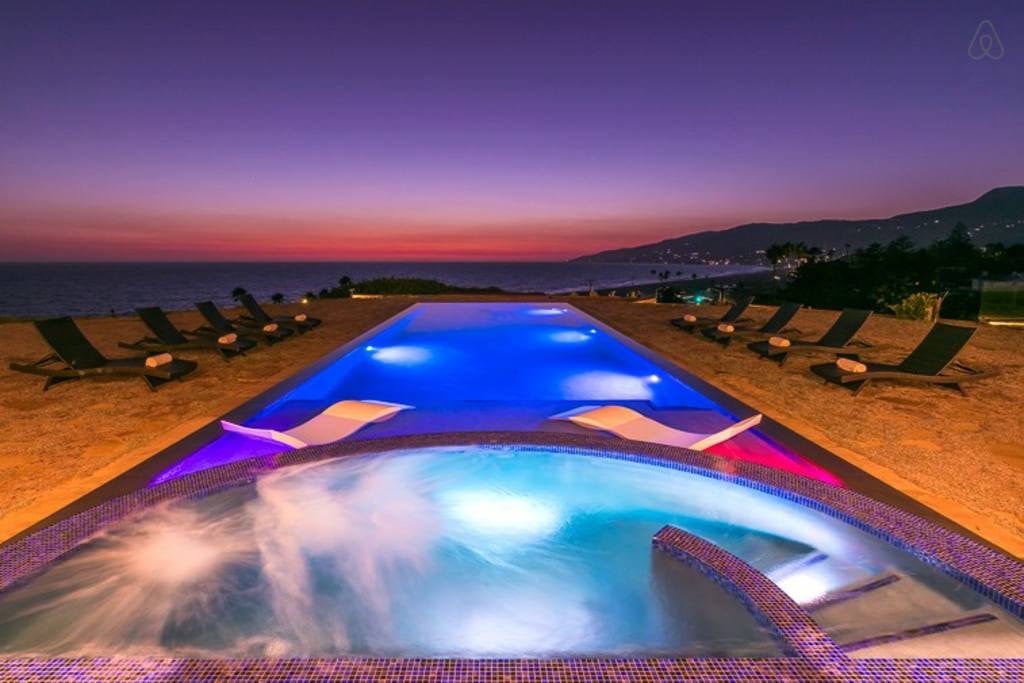 8 of the best Airbnbs in Santa Barbara
8 Los Angeles Airbnbs Perfect For Beverly Hills 90210 Fans
8 Adorably Rustic Airbnb Homes in Los Angeles
This remarkable Dom Dimster-designed gem looks so much like the Getty Museum, you might be tempted to give tours! With ocean views from literally every room, this is a nature-lovers dream come true. Surrounded by park land, this property frequently sees bunnies, hawks, and even deer so don't be surprised if some of your guests have more than two feet. Modern though it is, it offers private access to a major waterfall hike and includes several different decks from which to view the extraordinary landscape and Western night skies.
If you really can't stand coming in from the outdoors, there's even an outdoor shower. Of course, those who prefer the indoors are also in luck as this home is fitted with cable and Apple TVs in every room, not to mention a plethora of board games and fitness equipment.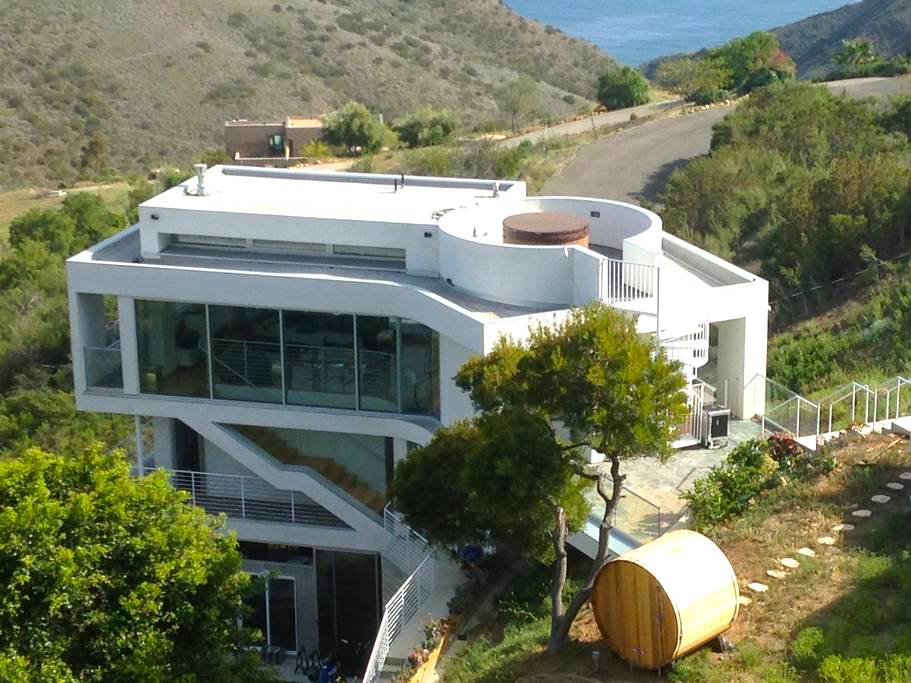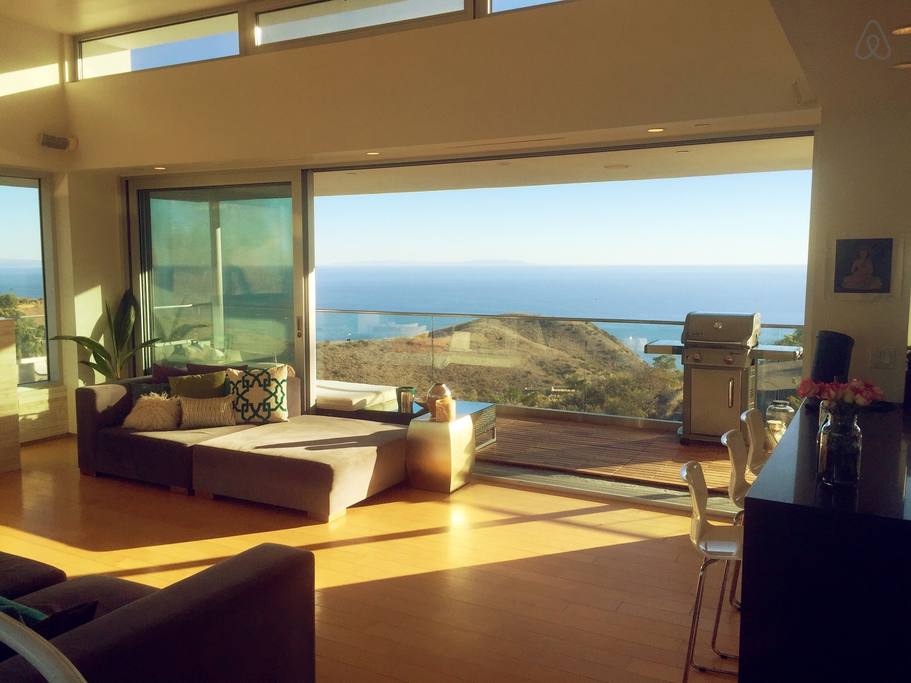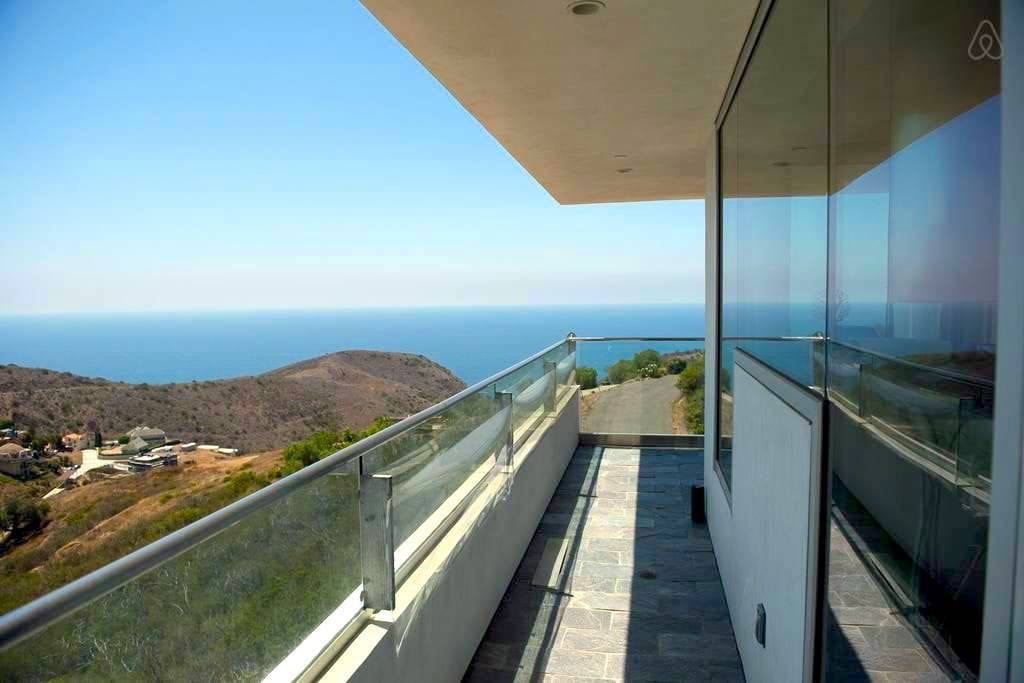 If you're in of need a spot with no distractions to finish your novel, or you're after a bit of alone time with your boo, this might be just the place. The owner of this gorgeous home in the mountains just south of Malibu Creek State Park – who by the looks of the densely packed floor-to-ceiling library is extremely well read – describes it as "[her] fortress of solitude above the clouds."
The stunning mid-century architecture, stylish but home-y interior and as those gorgeous giant glass doors that open onto ocean and mountain views should put you in the right headspace for whatever you want to get out of your time away.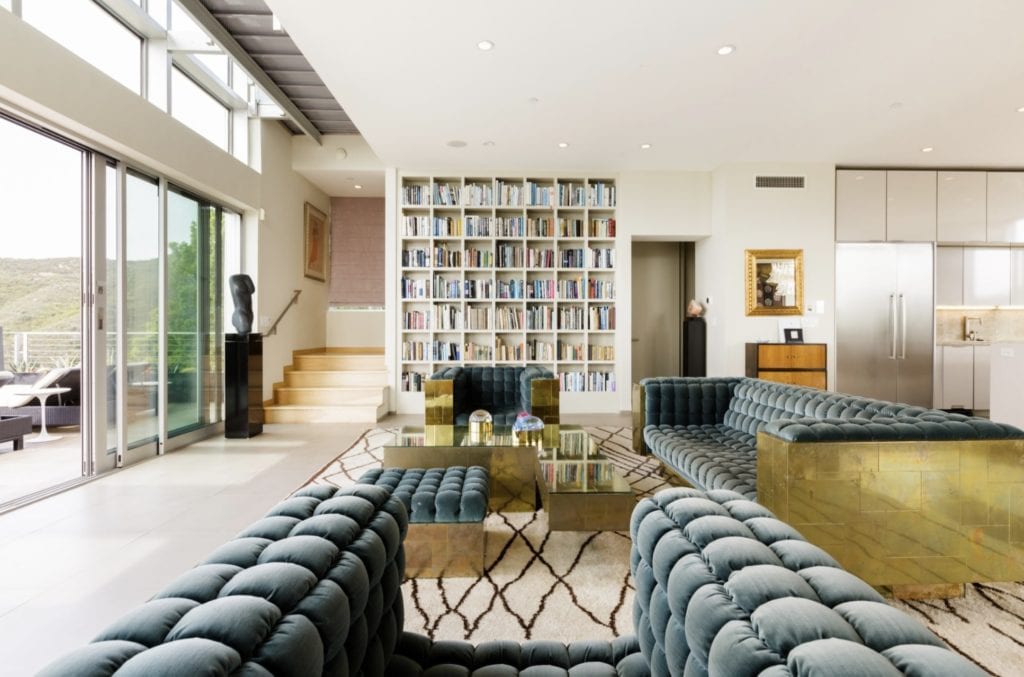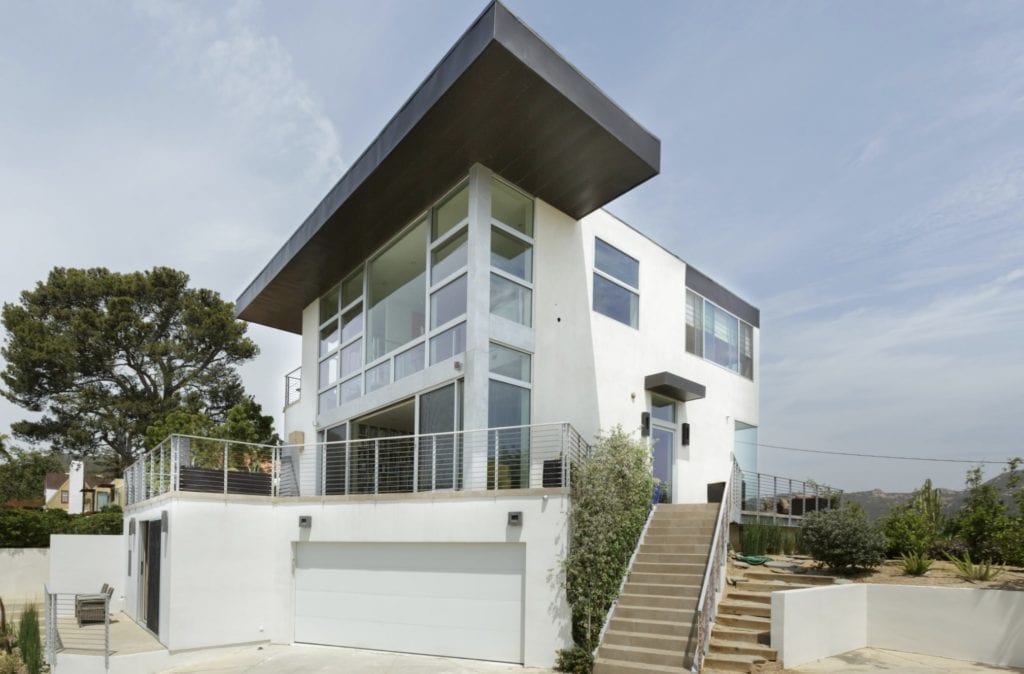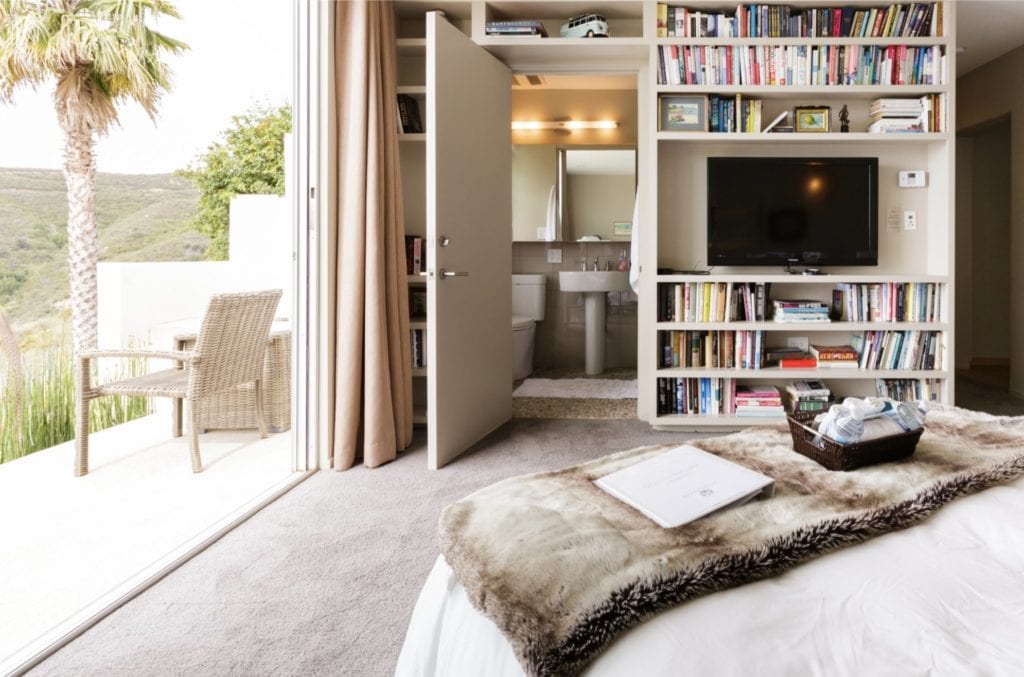 The celebrated English poet and wit Oscar Wilde once said, "a man who is tired of infinity pools is tired of life." Or at least, we think he did. But whether he said exactly that or we slightly mis-remembered his original words, the statement still stands.
This completely amazing mansion in the Hollywood Hills – designed by world famous architect Irving Philips, no less – has the end-of-level boss of infinity pools: it looks out onto the Hollywood Hills and the lights of LA. Just completely glorious, no? We could talk for hours about the many other luxuries this property offers but – Look. At. That. View.