Hawaii is one of the most sought after locations in the world. You only have to Google it once to really understand why – the term 'beautiful' isn't strong enough and doesn't do it any justice at all. This is a location the encompasses Mother Nature at her most placid and at her most fiery, and it all comes together in a Hula dancing way which is totally intoxicating to first, second, or even third-time visitors.
There are several islands within the State's archipelago, but Maui is one for those who really want to appreciate nature and chill the hell out. Check out the stunning Haleakala National Park, stunning waterfalls, amazing beaches (around 30 ales of them to be exact) and if you're a fan of sea life, you absolutely must visit Molokini, the famous snorkelling site which is packed with underwater wonder.
Of course, when staying on an island as special as this, you need accommodation which fits the bill. As ever, you're in luck because we've rounded up the most incredible Airbnbs in Maui, Hawaii.
The Most Spectacular Ocean Views On Airbnb In Maui, Hawaii
These Are The Most Romantic Airbnb Homes In Maui, Hawaii
8 Of The most Incredible Luxury Airbnbs In Hawaii
We Found 8 of Oahu's Very Best VRBO Hawaii Vacation Homes
8. A Luxury Maui Villa With Pool And Sun Deck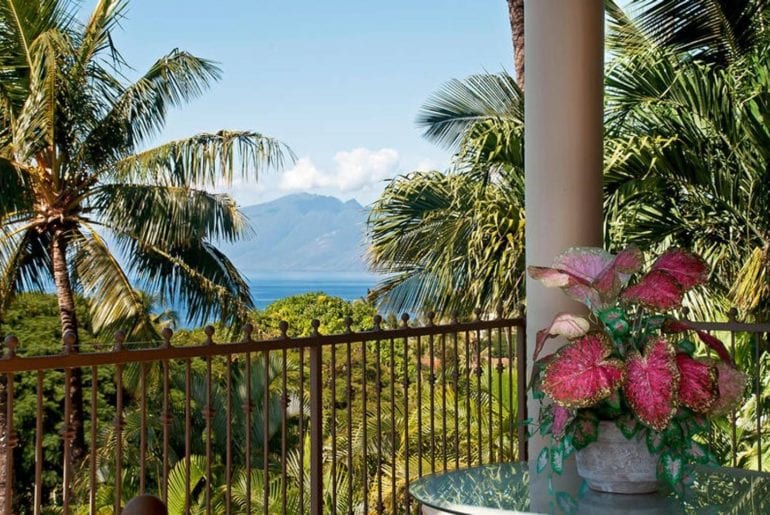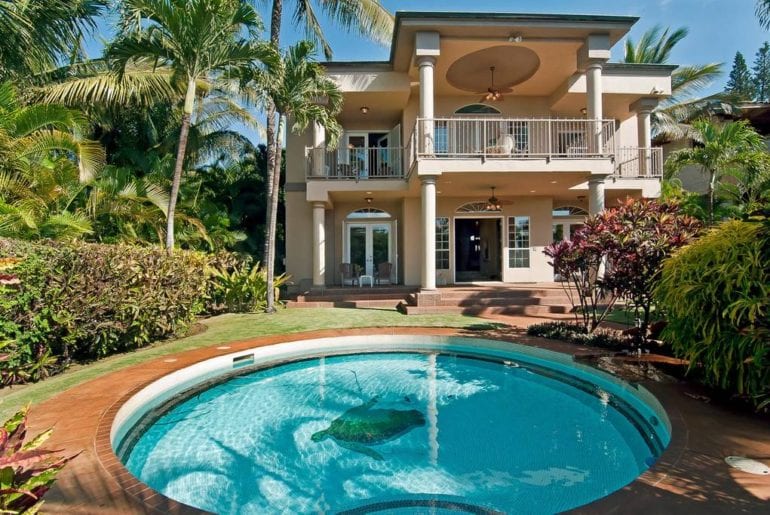 This sprawling villa is so stunning we simply couldn't resist including it on our list of most incredible Airbnbs in Maui! A true 'home away from home,' though an extremely luxurious one, the bedrooms alone are enough to make your eyes water. There are four of them, each one impossibly larger than the last, with ensuite bathrooms for extra privacy. This luxurious villa with swimming pool can easily house 10 people, so it is the ideal choice for large families or groups who want to chill out in natural surroundings and enjoy each other's company.
The outdoor spaces are truly what sets this place apart. The swimming pool is partly shaded by lush, tropical trees, while a huge sundeck with loungers is the perfect spot to top up your tan. You're just two blocks from the beach and right next door to a stunning golf course, in case you're keen for a round or two. This ideal spot for a family or group getaway is yours from $745 a night.
7. A Resort-Style Apartment With Stunning Ocean Views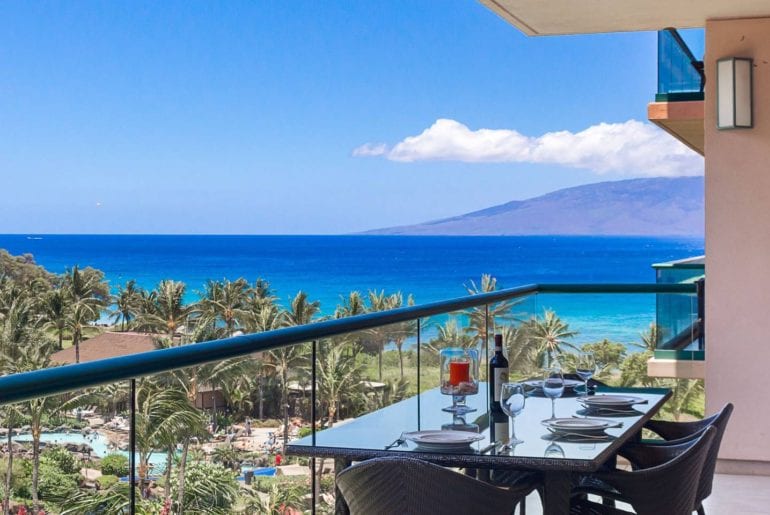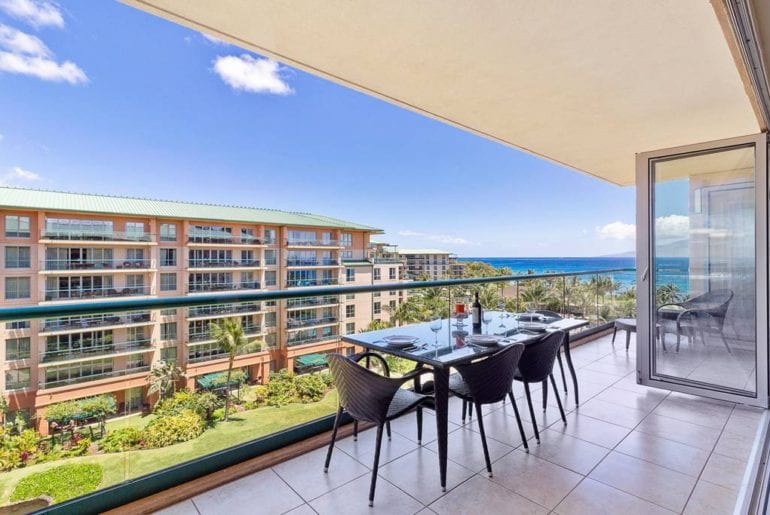 Imagine a sea so blue that it just doesn't seem real. Now imagine seeing that every single morning as you walk out onto your balcony, a fresh cup of morning coffee in hand. This is a reality when you book this stunning two bedroomed Maui property with ocean views, available from $618 a night.
With space for six people, this resort-style rental has two large bedrooms and two bathrooms, but what really steals the show is the private balcony! The entire beach-facing window opens out to create an outdoor area which is perfect for sunset views, chilling together, and eating some of the delicious seafood the island is famous for. Part of a glamorous resort property, this apartment also has a large garden section downstairs, but will you ever want to leave the balcony and that impossibly blue view? Chances are that no, you won't! You're close enough to the beach and the chilled out nightlife too, whenever you're able to tear yourself away from the ocean view.
6. An Architect-Designed Kihei Villa With Infinity Pool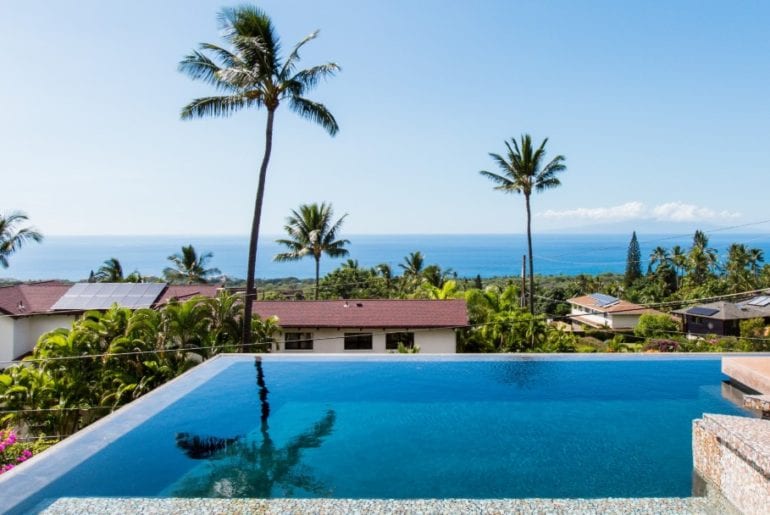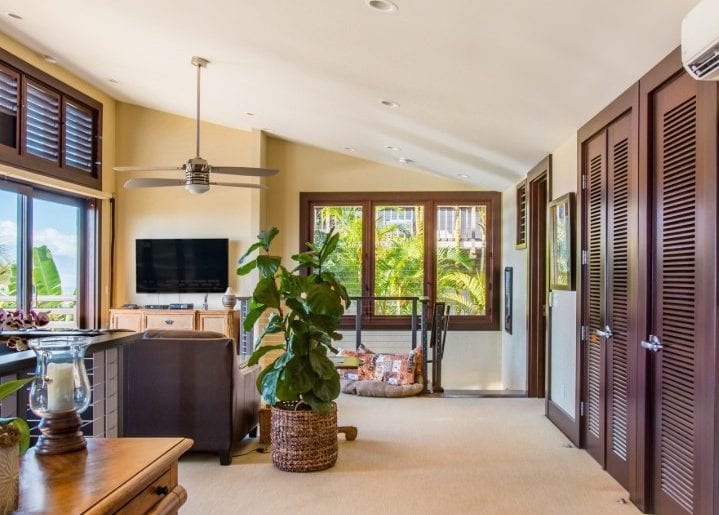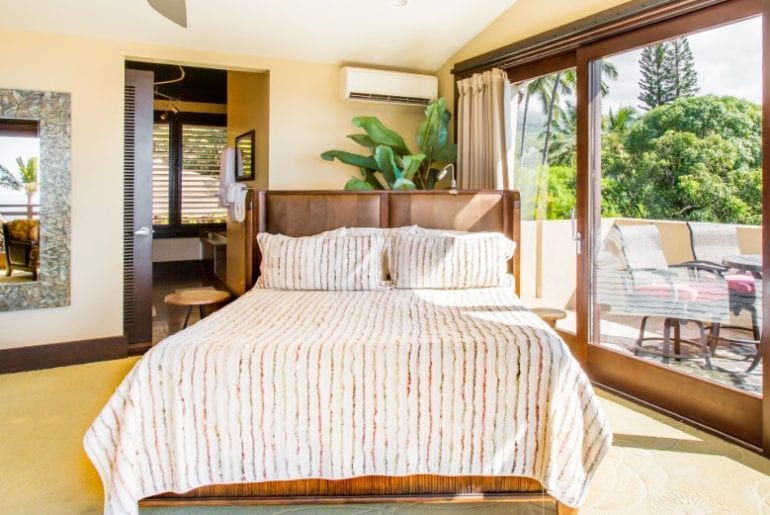 One of the most incredible Airbnbs in Maui is this ultra-luxury, architect owned and designed villa. Perched high above Kihei, the standout feature of this dreamy property is indeed its jaw-dropping infinity pool. Swim out to the edge for truly unbelievable ocean views! There's more to love apart from the swimming pool, like the home's sprawling open-concept floor plan which includes two separate living rooms, a spacious dining area and a sleek, modern kitchen.
There is room for up to 10 guests to stay in this outstanding Maui Kihei Airbnb, making it the perfect choice for a luxe tropical getaway with your closest friends, a memorable girls'/guys' vacation, or even a large family reunion. The four bedrooms are huge, each with a California king-sized bed, gorgeous views, and plenty of storage. With three full bathrooms, there is ample space for everyone to settle in and enjoy this beautiful Maui property, which can be yours from $1,600 a night.
5. A Beach Villa With Tropical, Resort-Style Backyard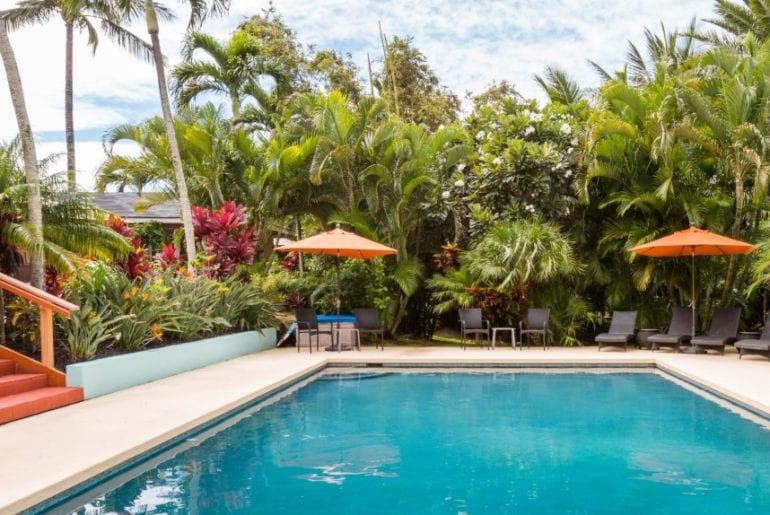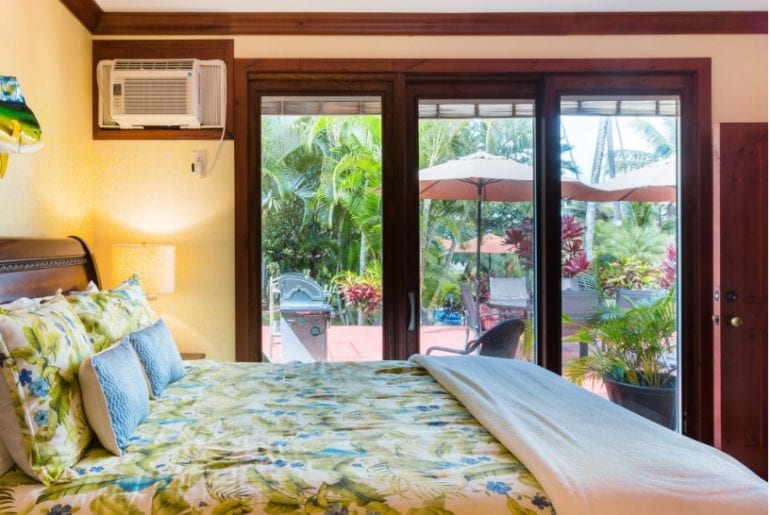 For a truly exceptional experience in Maui, Hawaii, you won't want to overlook this beautiful 4-bedroom home with its own private beach! Available for a cool $1,595 a night, this incredible Maui Airbnb rental is worth every penny. How can you possibly top having your own private beach? As if you might somehow tire of frolicking in the white sands of your own private beach, this vacation home boasts an enchanting, tropical backyard complete with a large swimming pool, cozy fire pit, lots of lounge seating, and an al fresco dining space right on the patio.
The interior is nothing to scoff at either. Decorated in tropical tones with warm, inviting furnishings, this a vacation rental that truly feels like your own home. Enjoy the feeling of near-seclusion from the property's perfect position on Maui's north shore, far from the tourist traps and traffic, but still just a 15-minute drive to grocery stores and friendly local restaurants. Gather your friends or family and book this one now, because it is sure to fill up fast!
4. Live Like A Rockstar In Lahaina Bay, Maui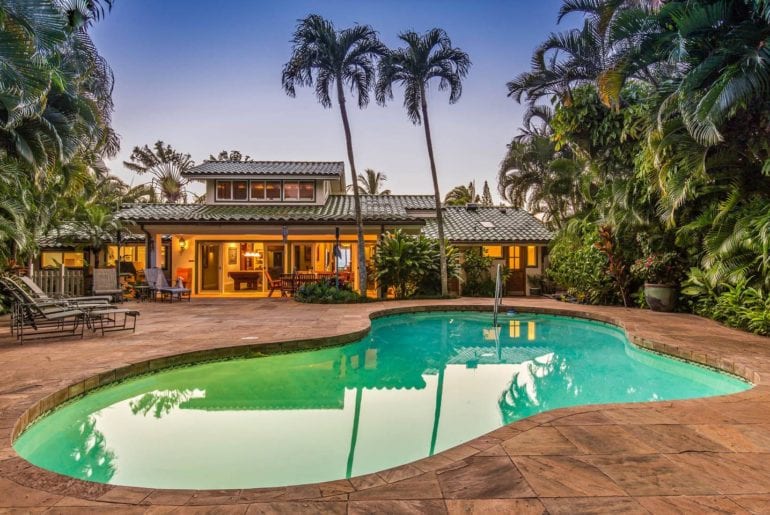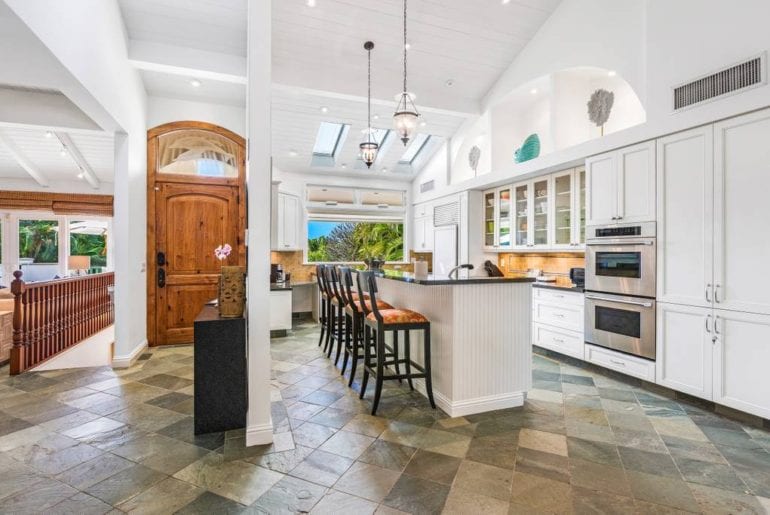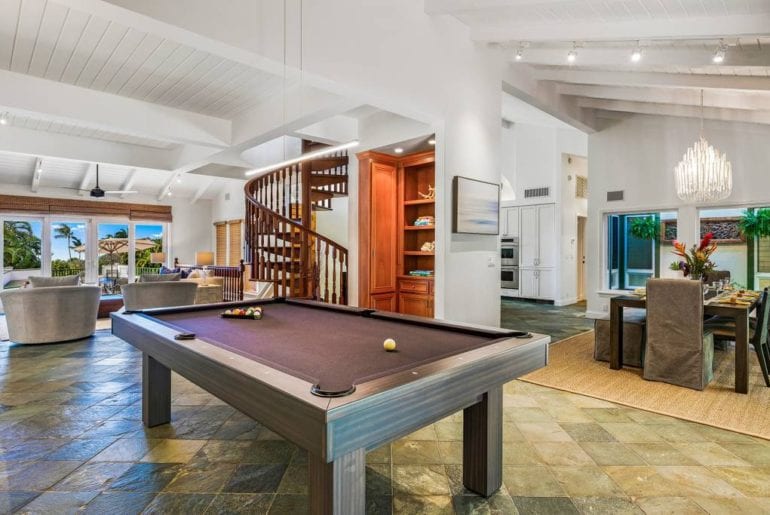 We can't tell you the name of this home's former owner, but we can tell you it was a rather famous rockstar! You'll feel like a music legend yourself when you book this sprawling Maui mansion with swimming pool and hot tub, available from $899 a night. The villa is decked out with all sorts of cool amenities, from the curvy swimming pool and hot tub to the huge entertainment centre and pool table. That's why we think this is one of the most incredible Maui Airbnbs for a guys' getaway!
There are four spacious bedrooms and 2.5 bathrooms, creating ample space for up to 10 guests. We particularly love the enormous, open-concept living space and extra lofted 'hangout' lounge with flatscreen TV. If you feel like self-catering, the modern kitchen has all the essentials, including stainless steel appliances and a convenient breakfast bar. There are loads of outdoor spaces to lounge in the sun or retreat beneath the shade of tropical palm trees. With its great location near Lahaina Bay in Napili, you're within easy reach of everything there is to love about a beach vacation in Maui.
3. A Colorful Surfers' Paradise In Paia Town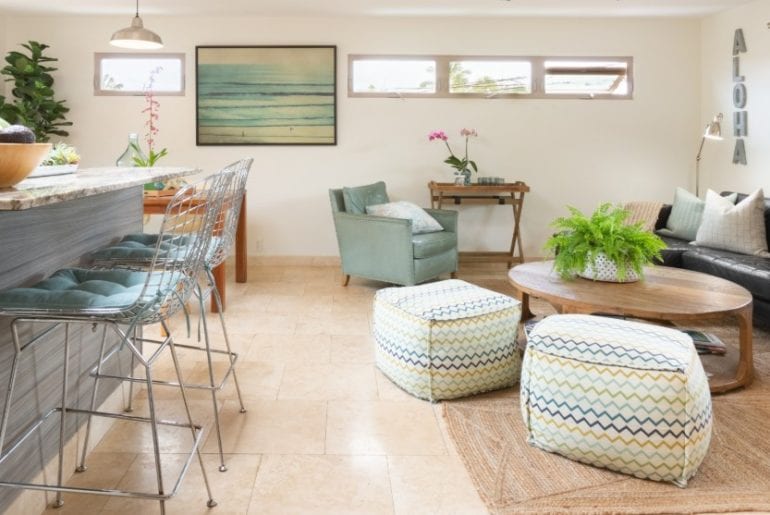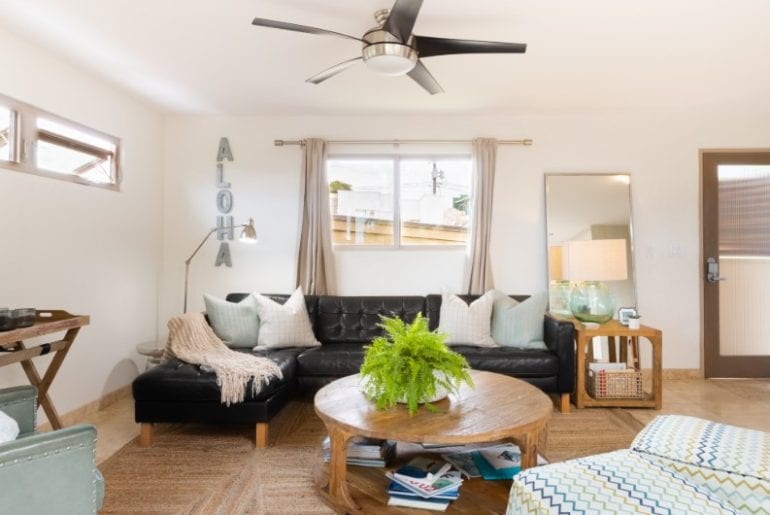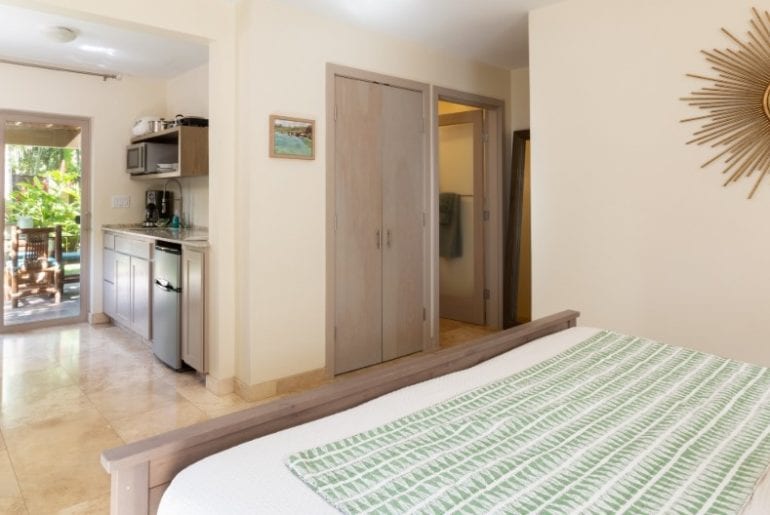 There's no rule that says surfers have to be budget travellers. We found one of the most incredible Maui Airbnbs for surfers, a colourful island paradise in Paia, Maui, available from $889 a night. This five-bedroom home is bursting with colour and character, featuring funky tropical decor, high-end lighting and fixtures, plus a number of hand-carved wood furnishings. This is a truly unique Maui Airbnb for surfers looking to stay together in a tropical paradise.
Located close to the coast near Paia, this little gem of a rental is moments from the surf breaks and a short drive into town. There are lots of quirky little local restaurants and cafes to explore in Paia, just in case you tire of self-catering in the fully-equipped kitchen. Nightlife is ideal for surfers looking to enjoy a laidback holiday together, with lots of charming live music venues and dive bars to choose from.
2. Luxury Living On Seven Sprawling Acres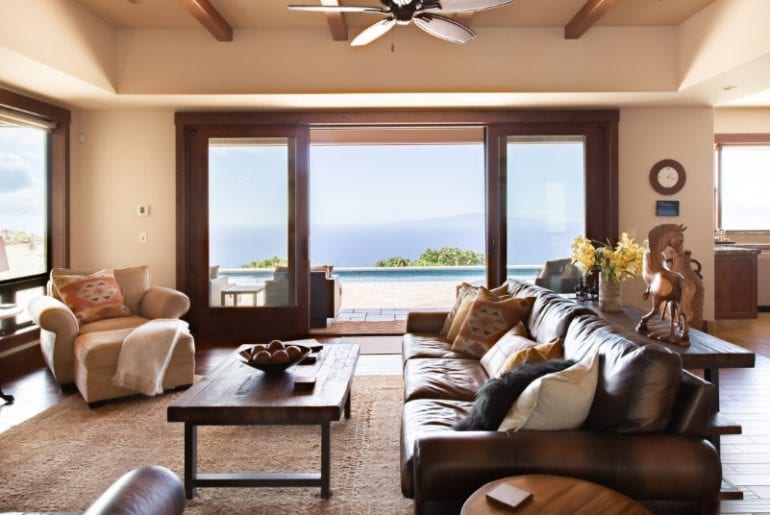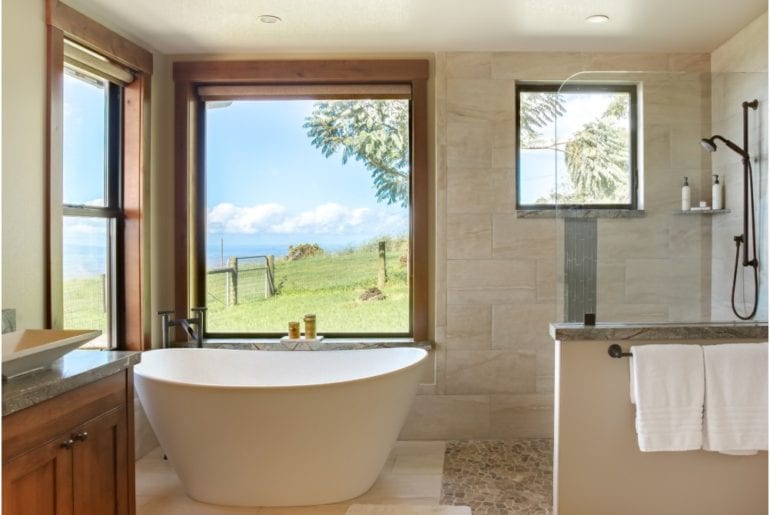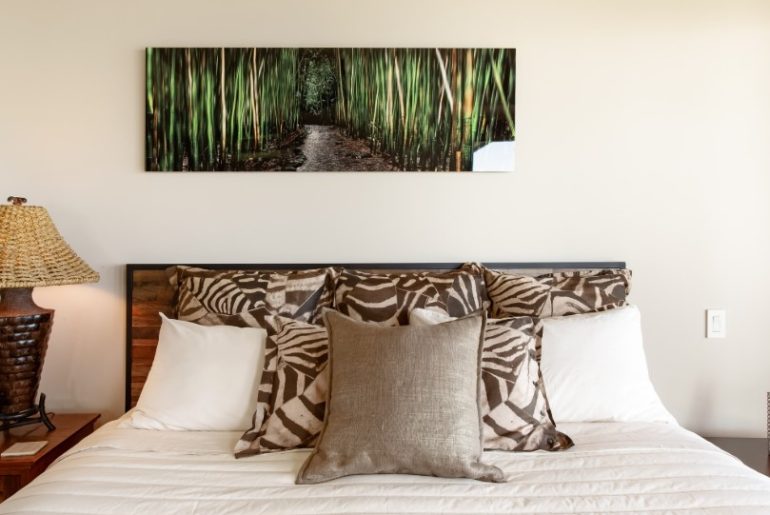 Picture rolling, green countryside and hazy blue mountains in the distance. This sprawling luxury villa in Kula boasts some of the most serene surroundings we've ever seen, making it a truly incredible Maui Airbnb. There are no noisy neighbor here, just the sounds of horses gently grazing in the separate grass pasture and the occasionally twittering of birds. There are numerous hiking trails nearby offering scenic vistas, while convenient shops and restaurants are close enough to reach in a few minutes by car.
This is luxury Hawaii country living at its finest. Imagine an indulgent soak in the designer, freestanding bathtub, where you can enjoy blissful views of the green countryside. The large swimming pool and hot tub also boast stunning and scenic views, while the interiors are decorated in warm, earthy tones that set the mood for a relaxing getaway. While the space is large, it is still quite intimate, accommodating only up to 4 guests and available from $943 a night.
1. A Huge Boutique Villa Property For Up To 30 Guests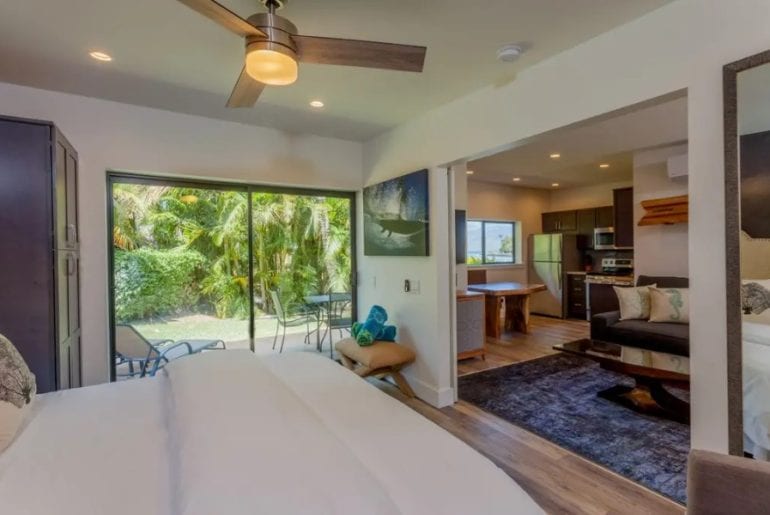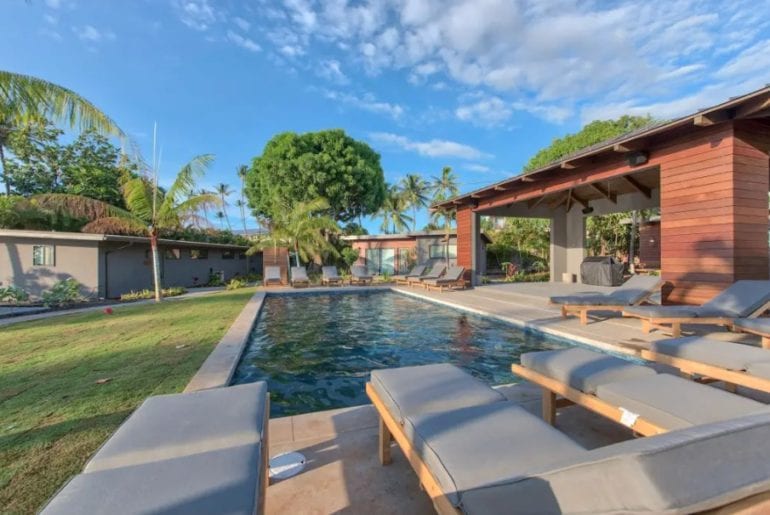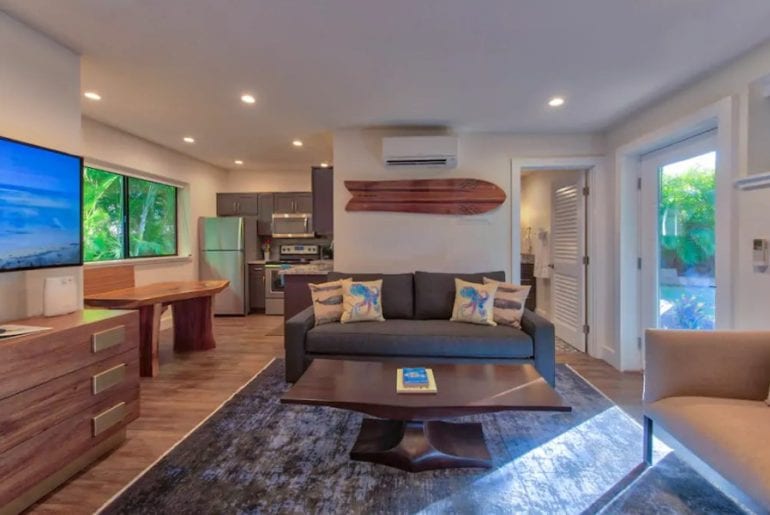 Located just 25 paces from a beautiful, sandy beach, this recently remodeled boutique villa property is one of the most incredible Maui Airbnbs for groups or family reunions. The property has nine fully self-contained 1- or 2-bedroom villa suites and can accommodate up to 30 guests total. This incredible property is ideal for all sorts of large groups, including destination weddings in Maui, yoga retreats, family reunions, and more.
Each guest villa is tastefully decorated in a fresh, modern style, with a fully-equipped kitchen, living area, ensuite bathroom, and private parking. Tucked away on a peaceful, residential street, the property is just a short walk from Cove Beach Park and a short drive into town for all of Kihei's excellent restaurants and activities. This truly remarkable Airbnb is available from $2,800 a night.