As you approach properties priced higher than a couple hundred dollars, you can expect pretty luxurious amenities in great locations. When it comes to Miami, it is easy to think that staying here will cost too much. Thanks to how glamorously the city is depicted in TV shows and movies. It is true that Miami is nothing short of a glittery city to live in and travel to. But you can be reasonable in spending money on places-to-stay and get what you pay for. For a good balance between price and quality, take a look at the following Airbnb Miami properties. These are neither the cheapest nor the most expensive available, but you actually get what you deserve for the amount you spend. Between $250 and $400 in Miami, you have a lot of options, here are 10 of the best:
See also:
8 Of The Coolest Airbnbs In Miami's Wynwood Arts District
Do Spring Break In Style With These 8 Incredible Miami Airbnbs
8 Gorgeous Airbnbs For Fans Of Miami's MiMo Architecture Style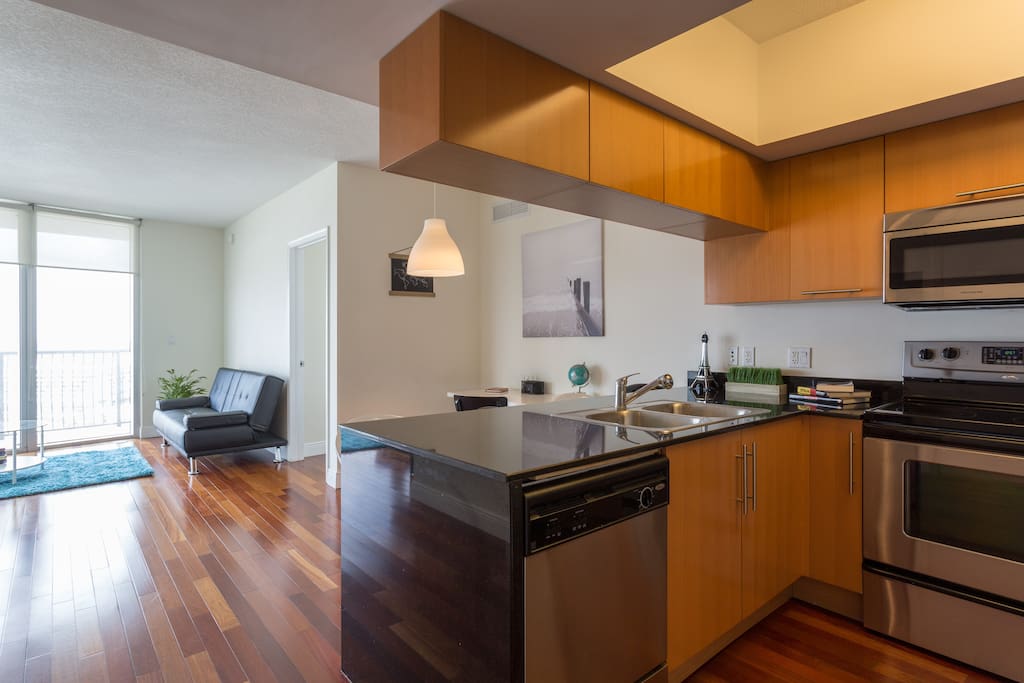 Equipped with two bedrooms and a spacious living area all around, this spacious apartment gives you just enough to get a glimpse of affordable luxury, Miami style. It is a large master suite after all and each bedroom comes with a queen-sized bed; one of them even has a great view of the city. There are two baths, making the apartment large enough to house eight people with good comfort. And if you feel like sitting back and relax above the busy city, visit the balcony overlooking a pool and the crowded downtown. Amenities include Amazon Fire TV Stick, Wi-Fi, free parking, and access to on-location pool gym, and hot tub. It is available for $255 per night.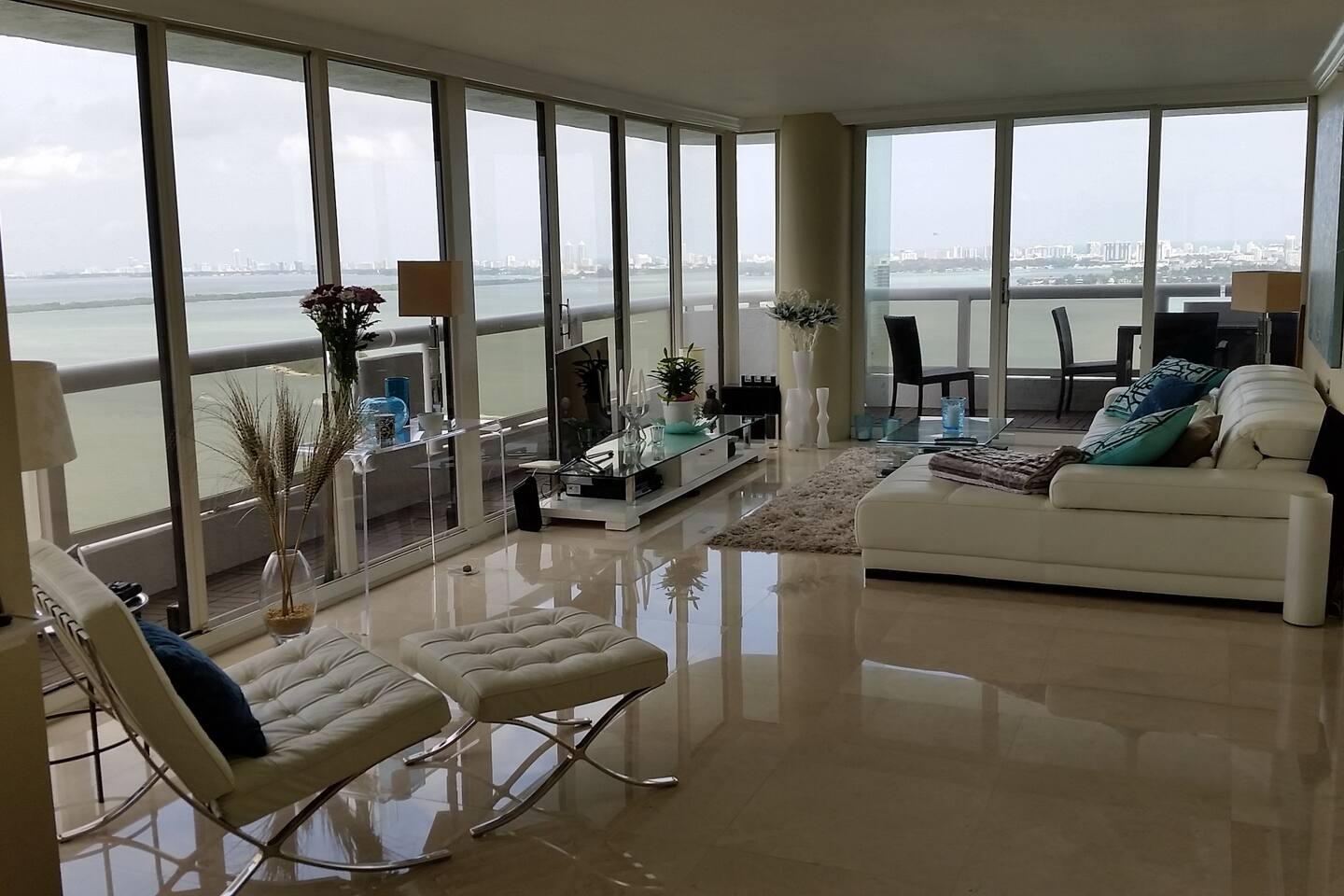 On daily basis, you can see no less than six cruise liners set sail from and heading toward the Port of Miami from this 35th-floor condo. Now imagine seeing one of those cruise liners with a backdrop of a nearly 360-degree panoramic view of the entire port and the city itself. In case you are in a hurry to join the action, it only takes about 10 minutes from the condo to the downtown, beach, Brickell, and AA Arena. But then again you may not have to leave at all since the building also houses six restaurants, a large pool, four Jacuzzis, and full-size gym. Free parking space for one car is provided. Everything is for $269 per night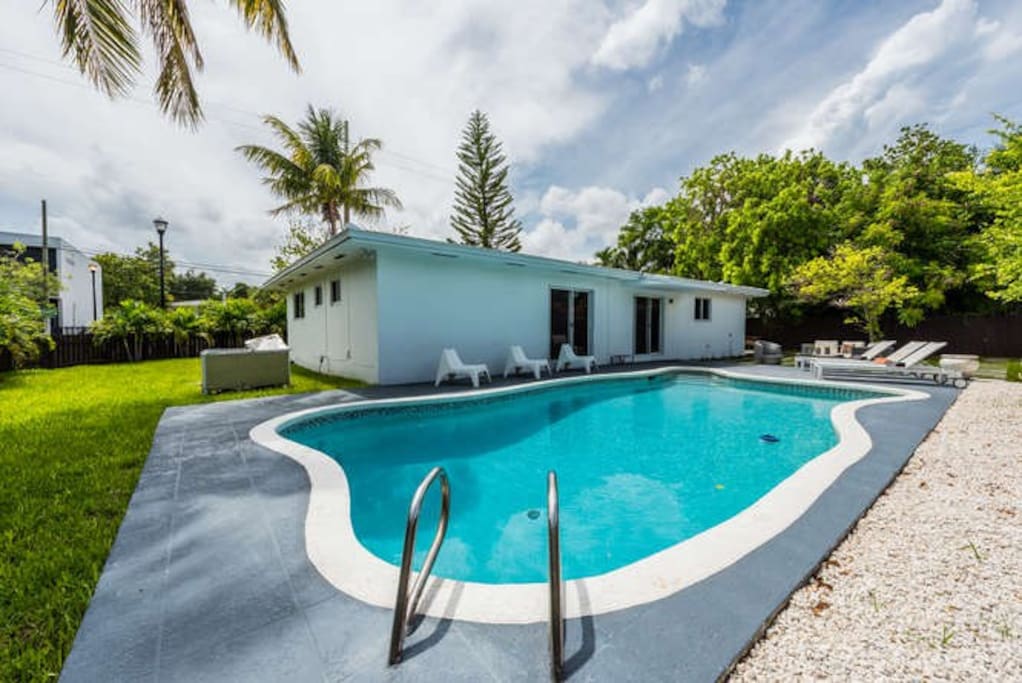 One may not think of building a pool in a location close to a local beach, but this is Miami where redundancy is certainly a luxury. While you cannot have the South Beach for yourself, the entire house along with the pool and all other luxurious facilities are nobody else's during your stay. It is a gated Design District house with four bedrooms and six beds designed to keep as many as 14 guests feel like home. Located in Buena Vista neighborhood, you have easy access to Wynwood Miami Beach and it is just walking distance from the Midtown. You can have a real blast in this sought-after location for $274 per night.
In a quiet neighborhood located just about 15 minutes from the beach, there is a majestic house ready to welcome your visit and stay in Miami. Near the Biscayne Gardens Park, you have easy access to both Sunny Isles and Bal Harbor areas too. The house has four bedrooms, two bathrooms, three TVs of gigantic sizes, pool, Wi-Fi, and board games to name a few amenities. Not only is the house in a quiet neighborhood, but it is also pretty secluded that you don't have to worry about what the neighbors can see. It is spacious enough to house a dozen guests, cheerful enough to brighten your mood, and affordable enough at $290 per night.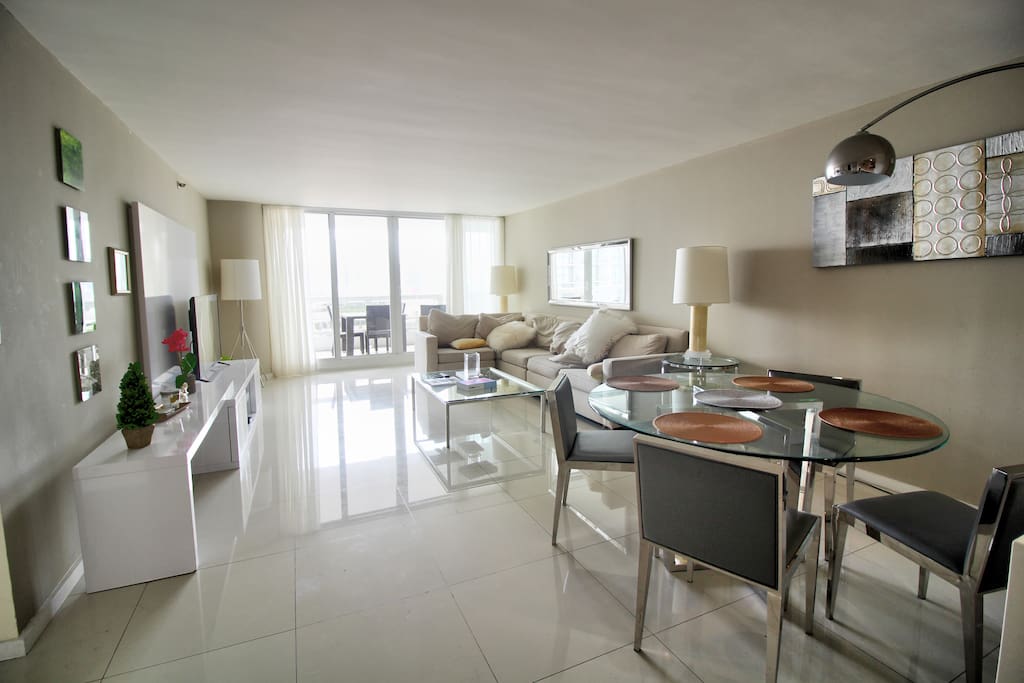 Right here in The Grand Miami, located in the center of entertainment and art district of the city, you have a private balcony just one mile from the port. It is also within walking distance to American Airlines Arena, Adrienne Arsht Center, and Bayfront Park. Let us not forget that Margaret Pace Park is also right next to the building where this 3-bedroom condo is. It houses up to seven people and has two full bathrooms. You are basically within close proximity to some of the best locations Miami can offer including Midtown, Wynwood Art District, Design District, and Brickell. Take time to visit the Yachting Center in the backyard or enjoy a scenic route to the South Beach from here. Free valet parking is available for as long as you stay. All are for you for $292 per night.
The house comes with four bedrooms and three bathrooms, and more than enough space to house up to 10 people. A great thing about this resort-style estate is its beach atmosphere whether you are indoor or outdoor. On the inside, it offers bamboo flooring and European-style kitchen for a perfect blend of relaxation and practicality in one place; once you step outside, the patio and large private pool greet you with an invitation to lay your back and enjoy the rest of the day. There are three parking spaces at your disposal. At $300 per night, it may sound quite steep, but it is worth every penny.
The condominium may only be enough for up to four guests, but it makes for the lack of space with an ample set of great advantages. Do you want a waterfront location? Check. Do you need a private balcony? Check. Will panoramic view make you enjoy the stay even more? Also, check. Do you need access to hot tubs and pool? You have it, and then some. Now put in mind that while it only houses 4 people, there are three bedrooms and two baths. It is not just a small apartment, but a penthouse located on the 39th floor in Downtown Miami. You also get easy access to restaurants and shopping centers inside the building. To make it even better, it comes with 24-hour security and concierge. It is $325 per night.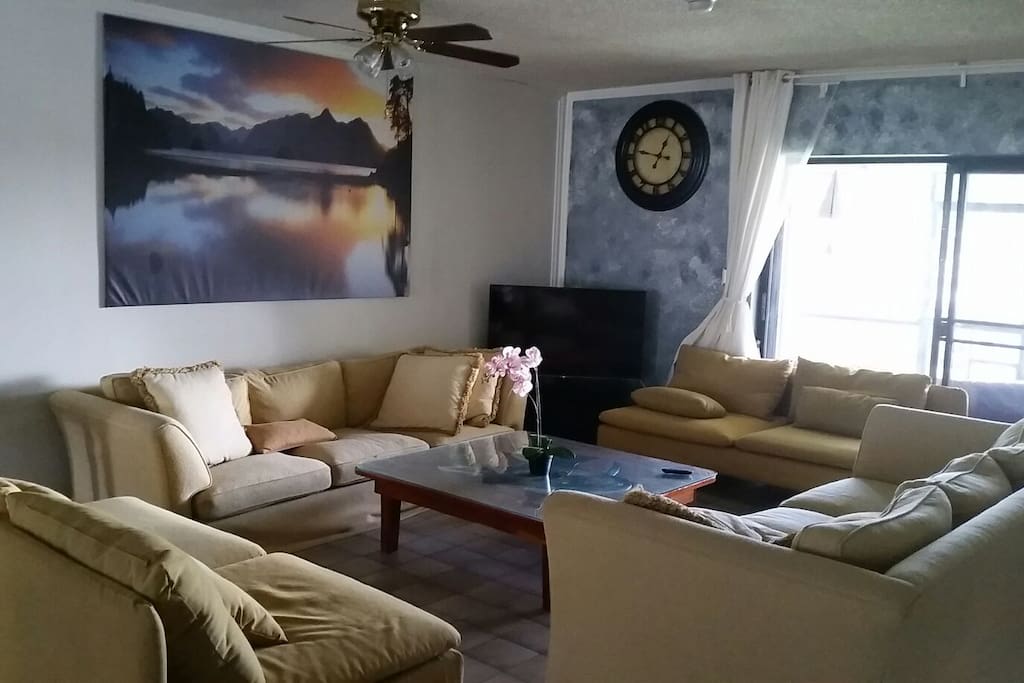 The name does not necessarily mean that the house costs a million dollar to build, but it is in fact located in the Gated Community of Million Dollar Homes. For $350 per night, you get a massive residence to house up to 16 people with four bedrooms, 10 beds, and two baths. Everything is newly furnished, modern, and professionally decorated. More than just a typical family home, it comes with a heated saltwater pool, Jacuzzi, fenced yard, screened patio, and even ping-pong table for a little bit of fun workout. Grocery store, supermarket and restaurants are within walking distance. The public bus stop is located about 100 feet away, so it is neither too far to bother you nor to close that you hear the noise.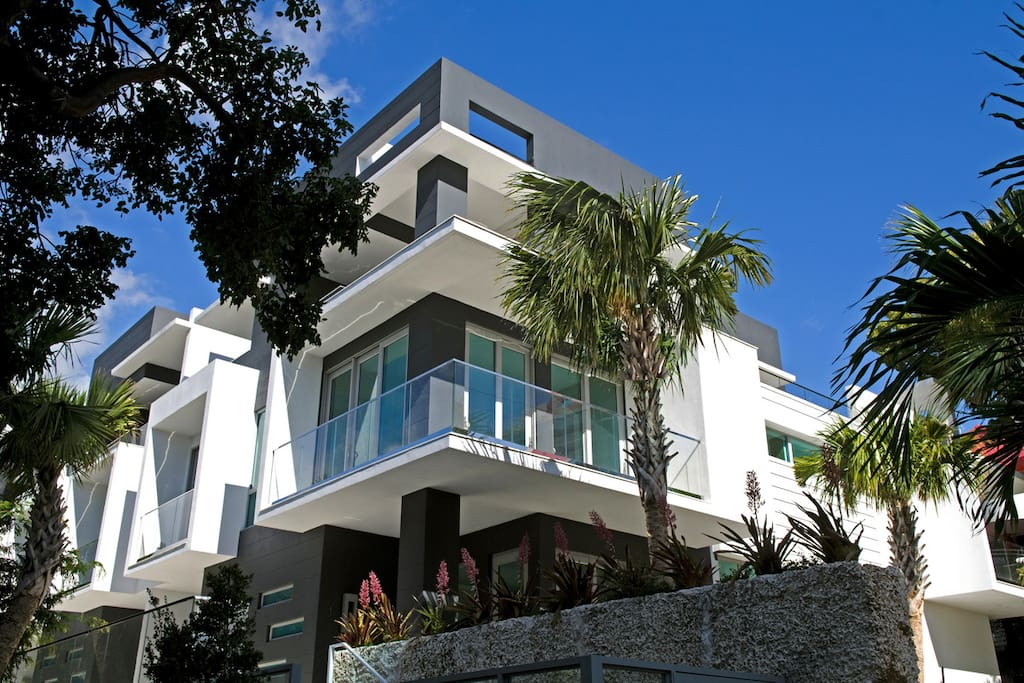 Conveniently located in the heart of Miami Financial District, the townhouse is one of eight luxury units in the complex. There is only one private parking space provided, but another is available upon request. You have enough space to keep six people in great comfort; the place comes with three bedrooms and four beds. The owner also allows you to stay for a prolonged period of up to 28 days or more at a time. With a gourmet kitchen, Wi-Fi, and cable TV, it does appear that the townhouse is indeed designed for a family and extended stay. You must spend $375 per night, but for the convenience and great location alone, the townhouse house seems to be worth much more than that.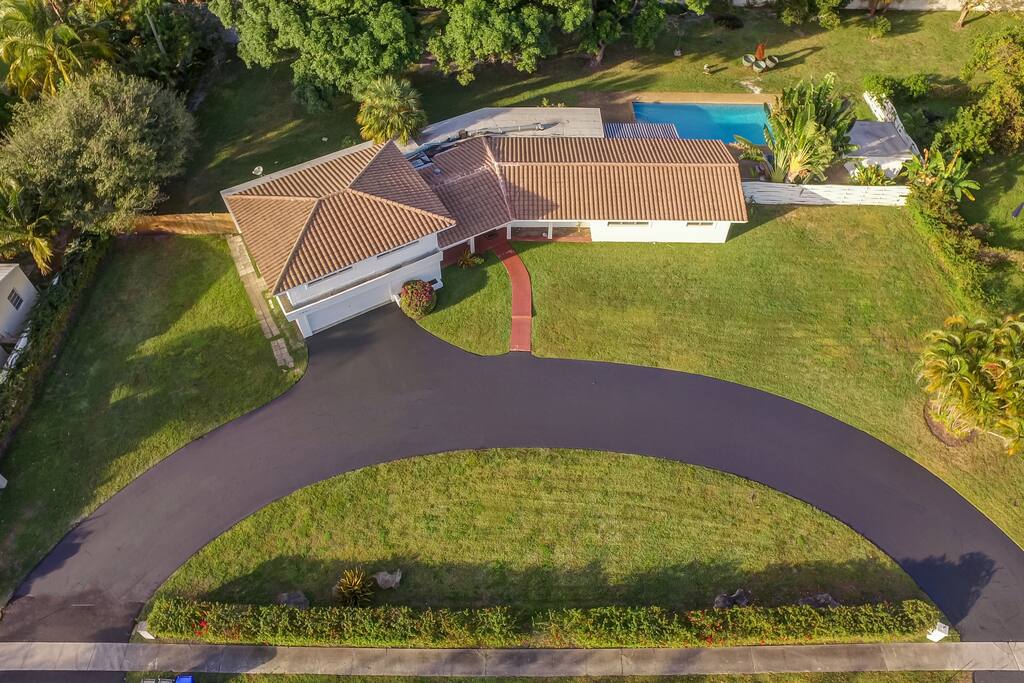 If luxury and privacy are top priorities, look no further than this imposing Hollywood-style house. It is a massive 3,400 sq ft building situated on 41,000 sq ft land equipped with every feature to make you want to stay a little bit longer. Known as the Decadent Grooves, the mansion was built in 1957 in the former Mango Groove. Each of the five bedrooms has flat panel Apple TV, Wi-Fi throughout the property, and more parking space more than you possibly need. There is also a billiard table, full kitchen, and cable TV in the living room. The master bedroom has a built-in Jacuzzi, which is good fun. At $400 per night, it is not cheap, but you certainly get what you deserve for the money.