If you're traveling to New York City, you're most likely looking for an Airbnb Manhattan rental to call home. While boroughs like Queens or Brooklyn may seem more affordable, there are a surprising number of options right in Manhattan to suit any budget.
A quick geography lesson: The island of Manhattan is bounded by the Hudson River to the west, the East River to the east, and the Harlem River to the north. Traveling "uptown" means heading north towards Central Park and Harlem while "downtown" means heading south toward the Financial District. Though the exact border will vary based on who you talk to, Midtown (where you'll find Times Square) is arguably considered the center.
8 Extraordinarily Cute Brooklyn, New York Airbnb Homes
9 New York Rentals To Live Like A Local In
8 Incredible Bargain Airbnb Homes in Brooklyn, New York
Manhattan neighborhoods each have their own distinct flavor and local vibe, so it's tough to go wrong when choosing an Airbnb Manhattan property. Wherever you choose to stay, you'll never be far from the exciting eateries, cultural events, and iconic sights that attract millions of visitors to the Big Apple year after year.
10. Upper West Side Brownstone Studio By Central Park
Now this is New York City living! Situated just down the block from iconic Central Park, this charming brownstone studio in the Upper West Side is available from $140 a night. This studio is modern and spacious, with a well-equipped kitchen, full bathroom, designated workspace, and lounge area with HDTV. You're just steps away from NYC's most famous park, with easy access to the subway and other attractions.
9. Spacious, Eclectic Loft Near Madison Square Park
Located right on Madison Square Park, in the shadow of the famous Flatiron Building, this spacious, eclectic downtown loft is one of the best Airbnb New York properties to use as a home base for exploring the city. Available from $350 a night, the space is ideal for a luxurious couple's getaway but can also be fitted to accommodate a family traveling with children.
8. Sex And The City Style Studio In The Upper East Side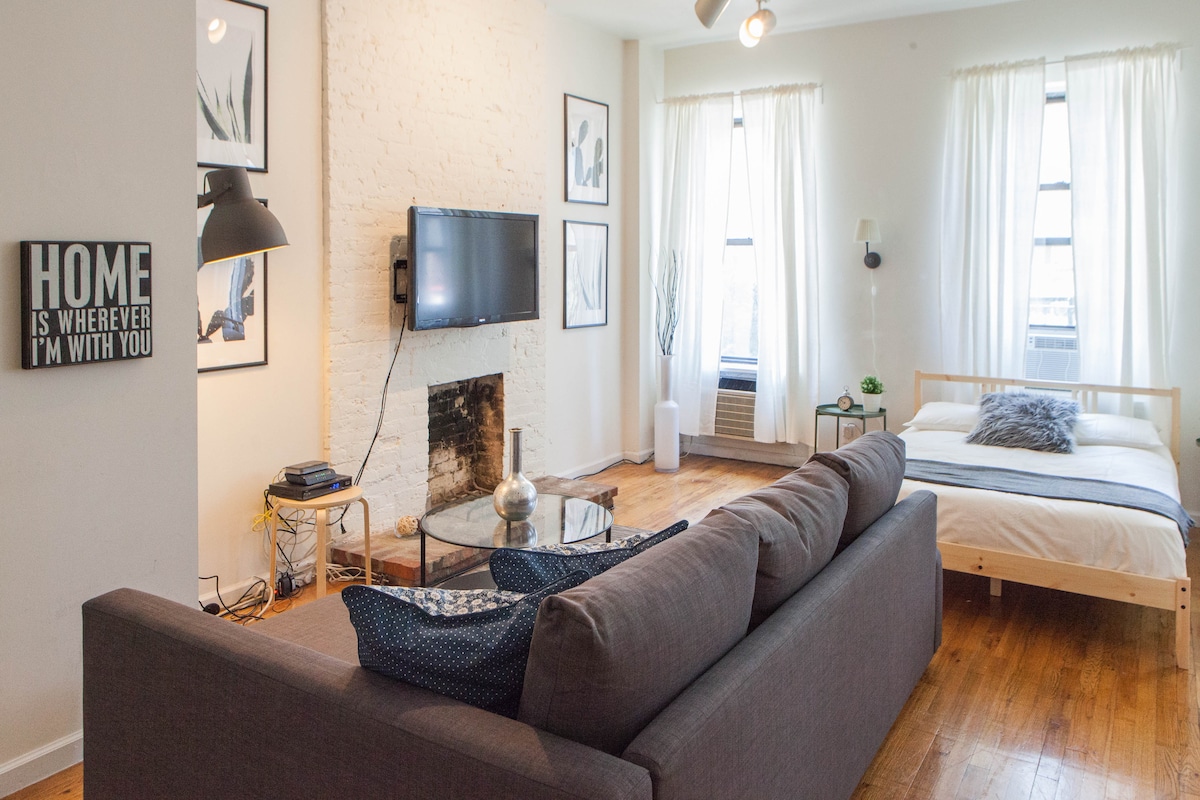 Carrie Bradshaw would certainly approve of this glamorous and spacious alcove studio in the heart of the Upper East Side! This Airbnb Manhattan Upper East Side property is perfectly appointed for a girls' getaway in the city, with space for up to 5 guests. From $90 a night, stay in one of Manhattan's most desirable neighborhoods and enjoy easy access to the 4/5/6 trains, stylish cafes, and of course, all the shopping you can handle!
7. Easy On The Wallet, 2-Bedroom East Village Home
Nestled between the artsy East Village and trendy Lower East Side, this sunny and brand new 2-bedroom NYC apartment starts at just $65 a night. Ideal for friends or even business travelers, this spacious apartment has a large living room with TV and a nicely-appointed kitchen with breakfast nook. There are loads of great restaurants nearby and multiple subway lines are within a 4 or 5 minute walk.
6. Luxury Brownstone In Safe And Popular Part Of Harlem
Harlem hasn't always had the best reputation but this neighborhood is quickly emerging as a safe and stylish place to stay in NYC. This large, luxury apartment near Columbia University has been beautifully renovated and can be rented for just $129 a night. The tree-lined street is quiet and residential, but still within walking distance to Central Park and multiple subway lines.
8 Of The Most Fabulous Airbnb Homes in Queens, New York
10 Stunning Manhattan Airbnb Rentals To Fit Any Budget
5. Modern Building With Doorman In Hip Hell's Kitchen
One of the best Airbnb Manhattan apartments we've seen is this ultra-modern, 2-bedroom rental with a doorman. Hell's Kitchen is a vibrant and interesting neighborhood with loads of ethnic eateries, close to both the Hudson River and Midtown. Located in a new, high-rise building with a doorman, this 2-bedroom apartment is a great value in New York from just $180 a night.
4. Classic Soho Luxury With Private Terrace And City Views
If you want high-end luxury in an unbeatable location, we've found the best Airbnb New York City apartment for you. Stay in this stunning Soho loft with huge private terrace from $400 a night. Soho is the perhaps the most desirable neighborhood in the city, with countless bars, restaurants, shopping, and galleries at your front door. Did we mention the huge, private terrace? You won't find anything else like this in Manhattan!
3. Skyline Views And Swimming Pool On Manhattan's Roosevelt Island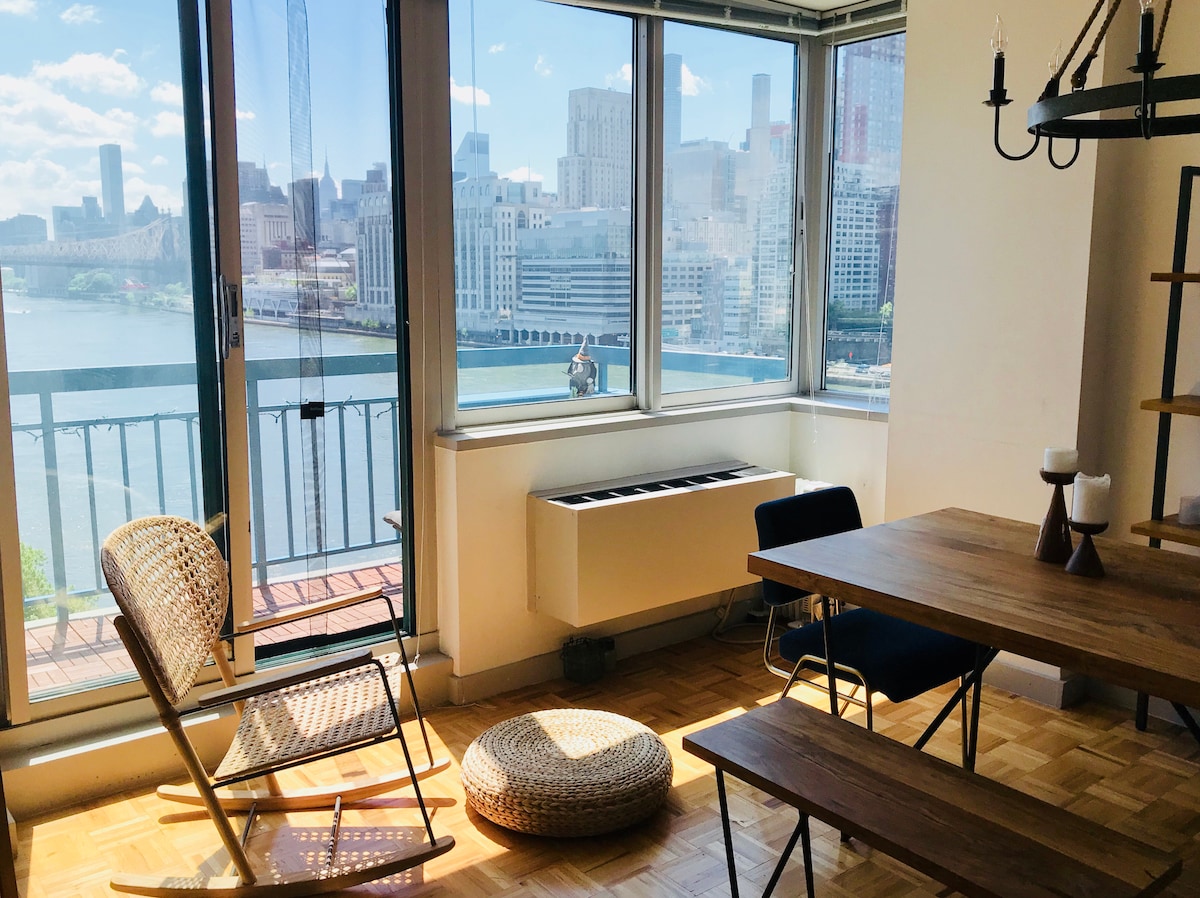 This amenity-filled, luxury apartment on Roosevelt Island is a relaxing retreat from the hustle and bustle of urban life. Still officially part of Manhattan, Roosevelt Island is a well-kept secret. Simply jump on the subway or scenic tramway to reach the heart of Midtown in mere minutes! From $199 a night, this apartment offers tons of great amenities like a private balcony with skyline views, while the building itself also has a stunning swimming pool, gym, and shared BBQ facilities.
2. Great Space For A Group Just Two Blocks From Times Square
From just $108 a night, this sunny apartment in Midtown West can sleep up to six guests comfortably. This Airbnb Manhattan Midtown property is perfect for a group of friends or couples looking to explore the city without breaking the bank. Stay close to Times Square and Broadway, or wander towards Hell's Kitchen and Chelsea to find great restaurants and bars.
1. Stay Steps From The High Line In This Sweet Chelsea Studio
One of the best Airbnb Manhattan apartments we found is this charming Chelsea studio near the High Line. From $129 a night, this spacious studio is great for a solo traveler or couple, with a well-appointed kitchen and modern bathroom. Being close to the High Line is an added bonus! This raised green space is excellent for a morning run or leisurely stroll, extending from the Meatpacking District through Chelsea and up to the Hudson River.