With something like 83 art museums in New York, endless art schools and an art supply store on just about every corner, this city is the perfect place to find an Airbnb that will indulge your artistic side. Some of these New York Airbnb homes not only have enough art to fill a museum but have actual supplies you can use while you're there so grab your paints and book one of these places before someone else does!
8 Fabulous New York Airbnb Homes Perfect for Maximilists
8 Eccentric New York Airbnb Homes That Will Make You Feel Like a True New Yorker
8. The Grey Lady – approx. $450 a night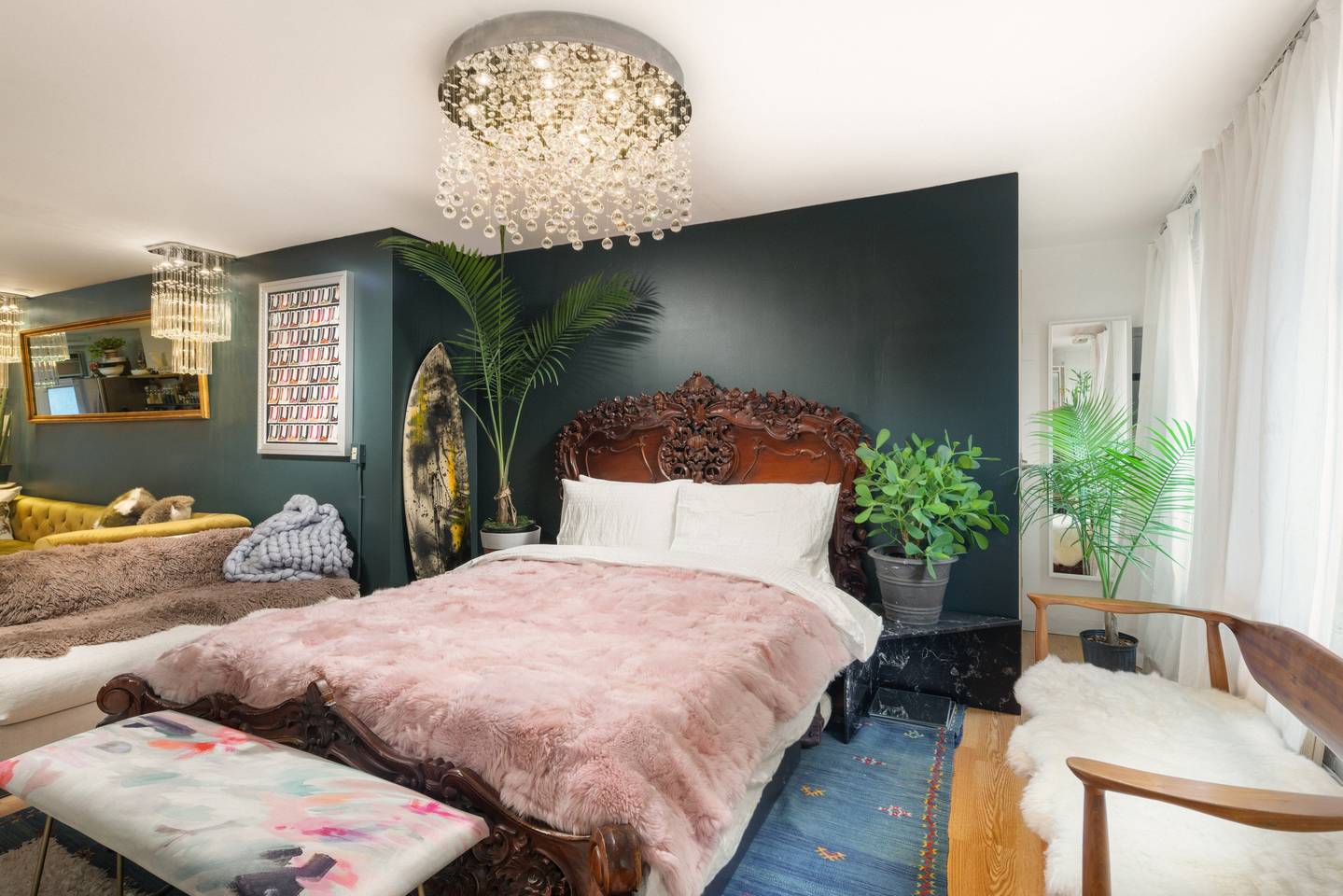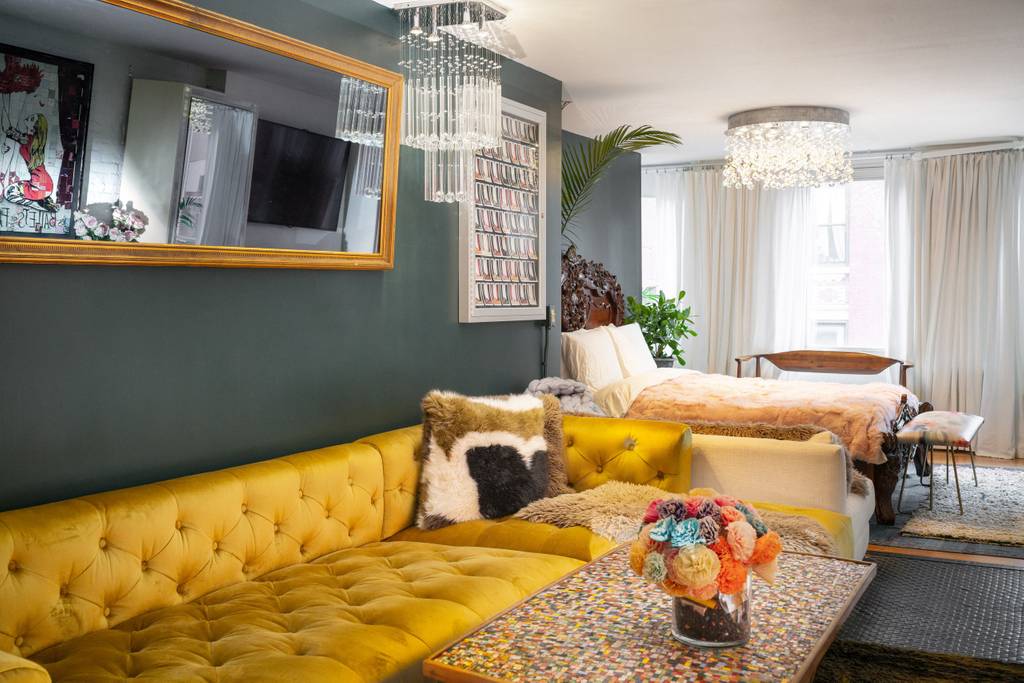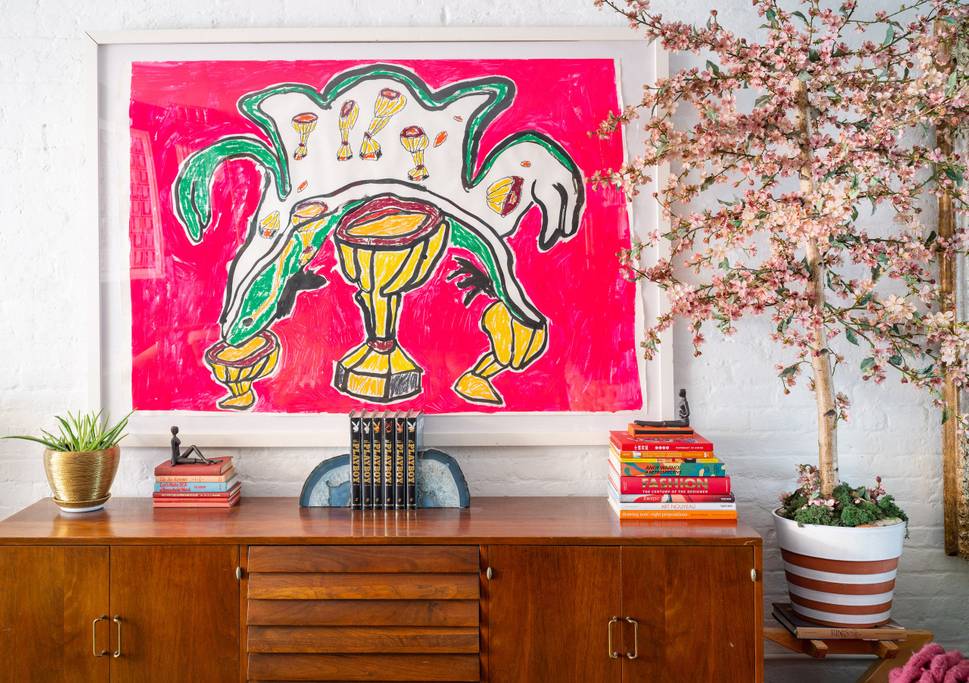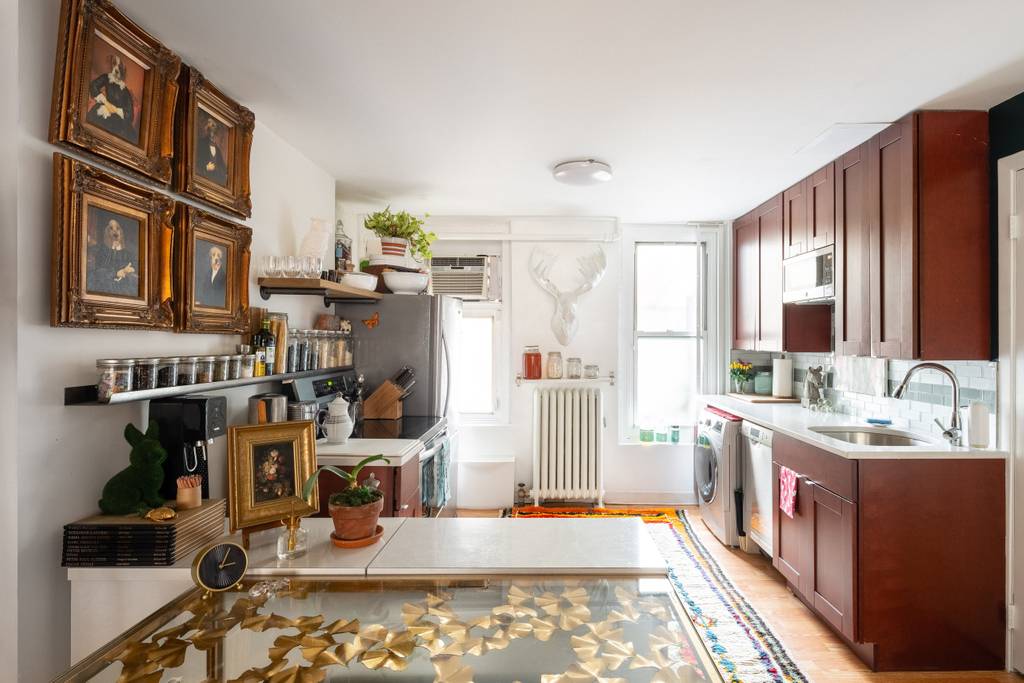 Whether it's formal portraits of dogs or abstract works, this apartment is full of carefully curated pieces you'll love to look at. You'll also have access to an assortment of select art-themed books although the best installation in this New York Airbnb has nothing to do with art.
It's a Japanese Toto washing toilet which we're sure you'll have no end of fun with (see what we did there?). There's also a washing machine which is almost unheard of luxury in this city. You'll be right near the Nolita district which is about as hot as it gets right now. Visit McNally Jackson for great books, hard-to-find magazines and imported stationery or their sister store, Goods for the Study which carries really, really unusual home goods.
Stop by Sézanne for gorgeous but relatively affordable French clothing or go to Aedes for high-end fragrances and candles. Have some crazy-good noodles at Xi'an's Famous Foods (but be prepared for a long wait!) or a fabulous sub at Parm. There are art galleries everywhere but one of our favorites is called The Hole on the Bowery (of course, in this part of town there is so much great street art you'll already feel as if you're in a gallery!).
We also love to pop into the agnes b. store on Howard Street which always has something interesting going on in their studio space. Before you know it, you might just be inspired to make your own art!
7. Life Happens – approx. $159 a night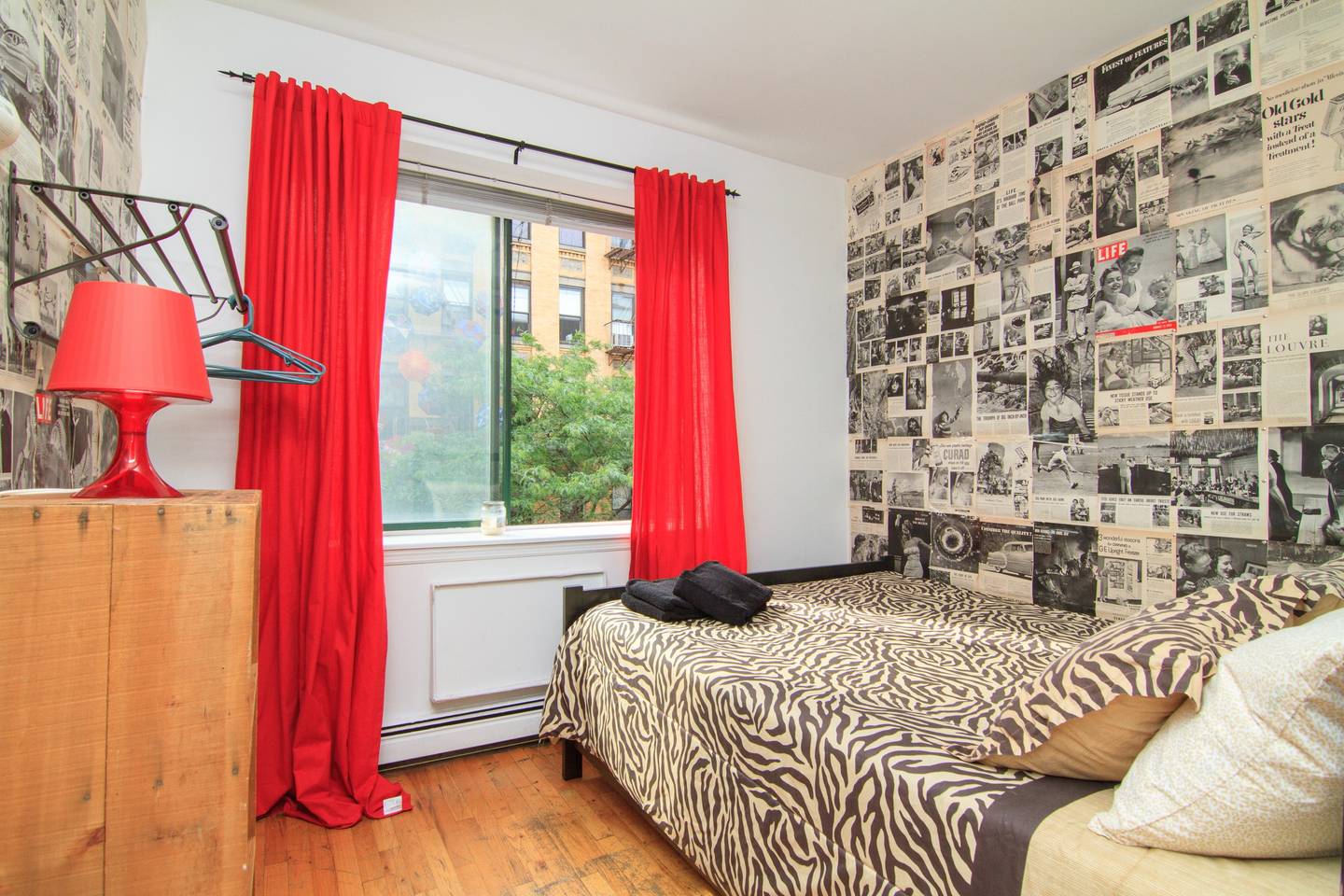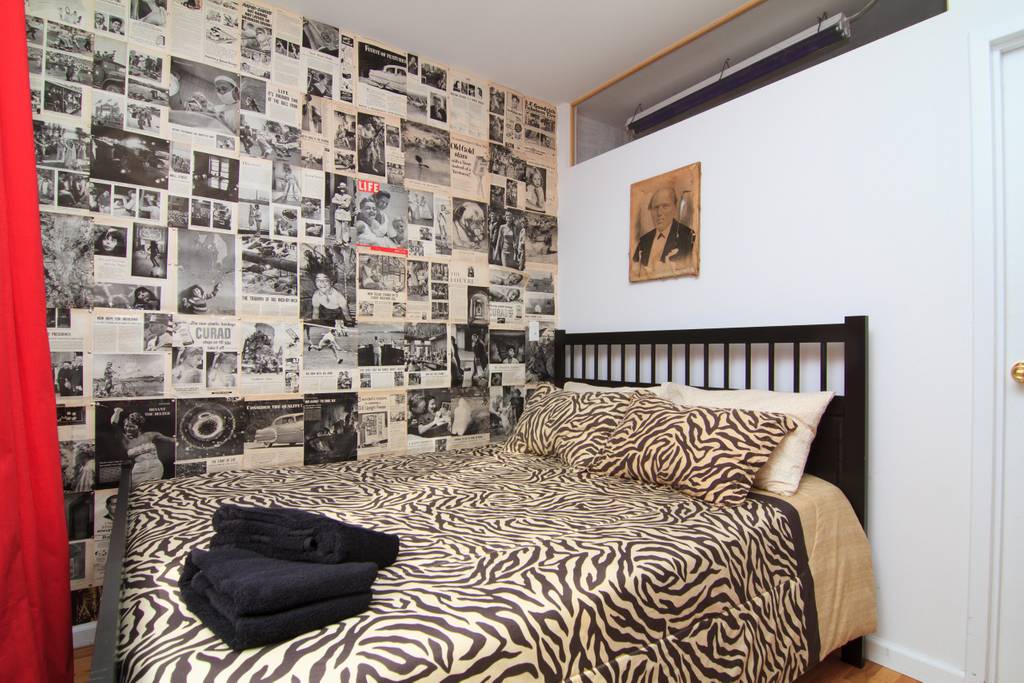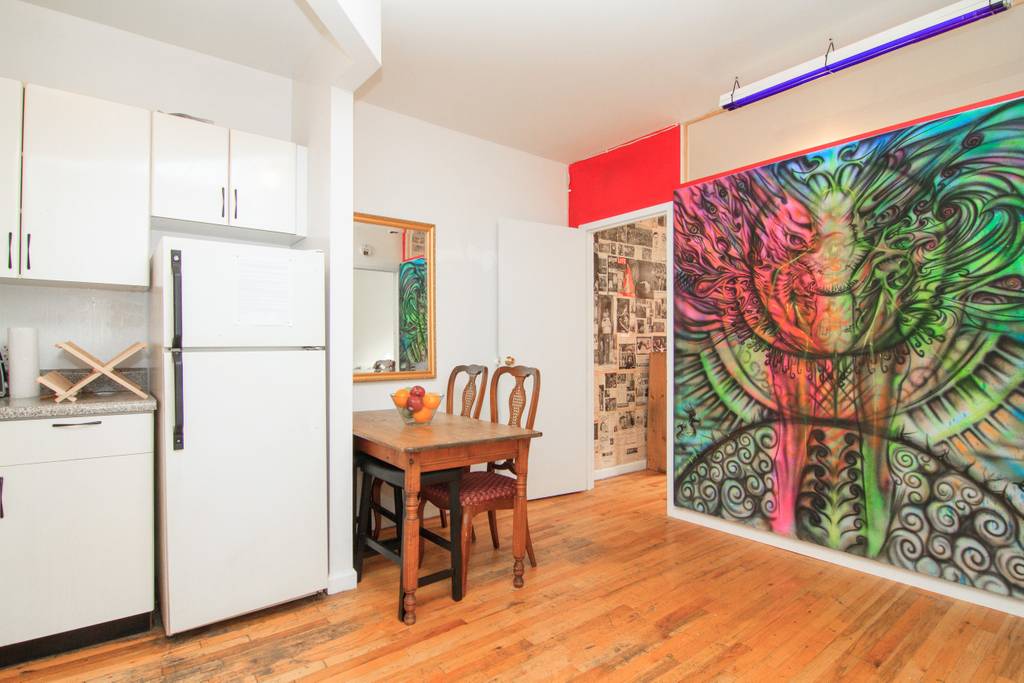 The great thing about art is all the many forms it can take and this East Village/Alphabet City Airbnb is proof of that. While it may not be full of Picassos, this place shows some real inventiveness.
From homemade wallpaper made from "Life" magazines to the vinyl albums on the walls, you might be inspired to get to work on your own house! Located in the once-notorious, now highly desirable Alphabet City part of Manhattan (named for the avenues A, B, and C), this Airbnb puts you just a short walk away from the Williamsburg Bridge which you can walk across to get to Brooklyn.
If you're not in the mood to do that much walking you can just relax on a bench at the John Lindsay East River Park where you'll find there's a great view of the bridge. If you do stay on this side of the bridge, be sure to pick up some food at the Essex Street Market or Russ & Daughters where you can get some of the best nova in town.
Whatever you do, don't miss the Tenement Museum on Orchard Street which traces the history of the area's tenements in the early 19th century or the New Museum for, not surprisingly, contemporary art. Finally, pick up some dumplings at Vanessa's Dumpling House and then head home to reflect on your day!
6. It's Black and White – approx. $950 a night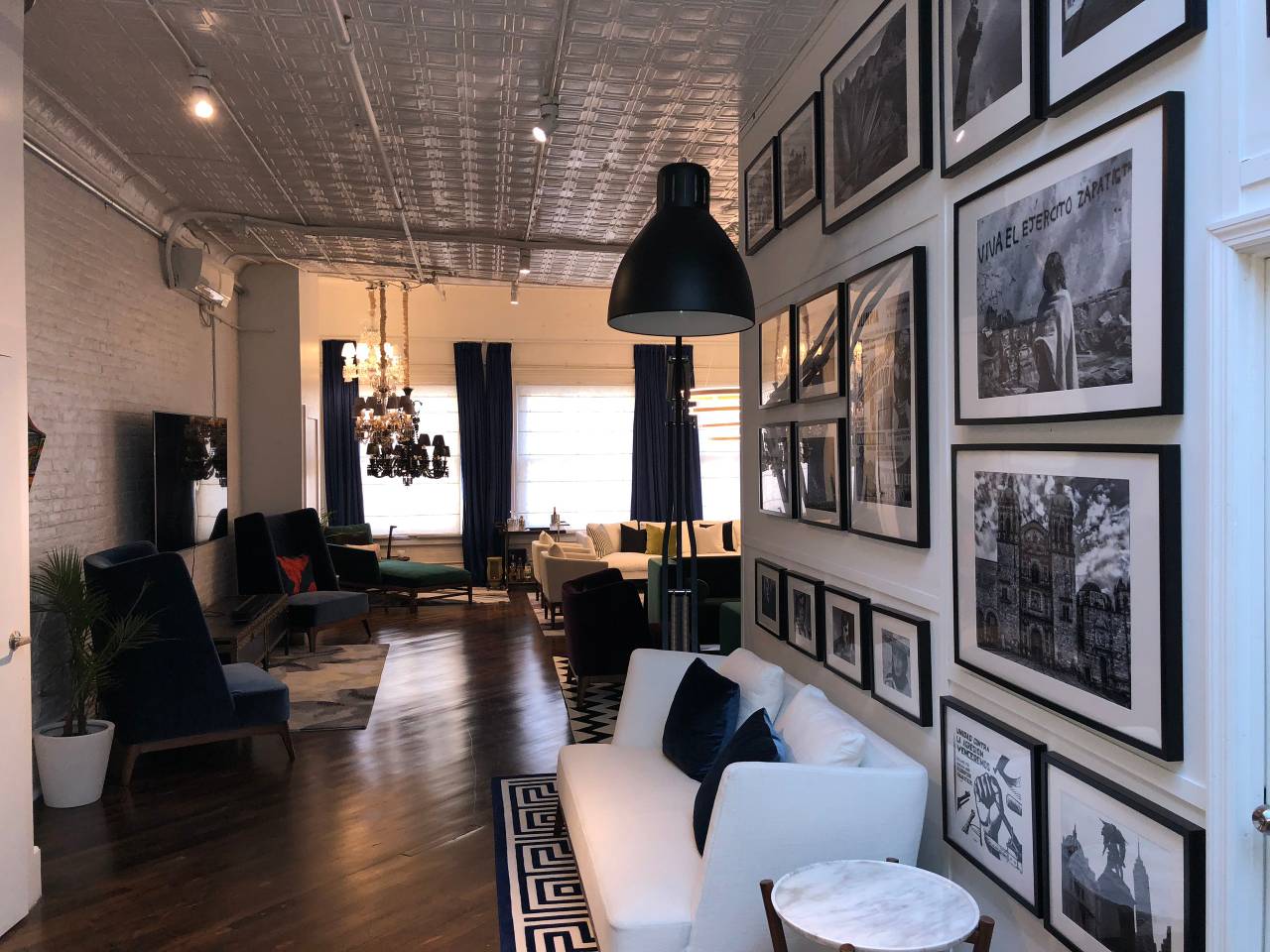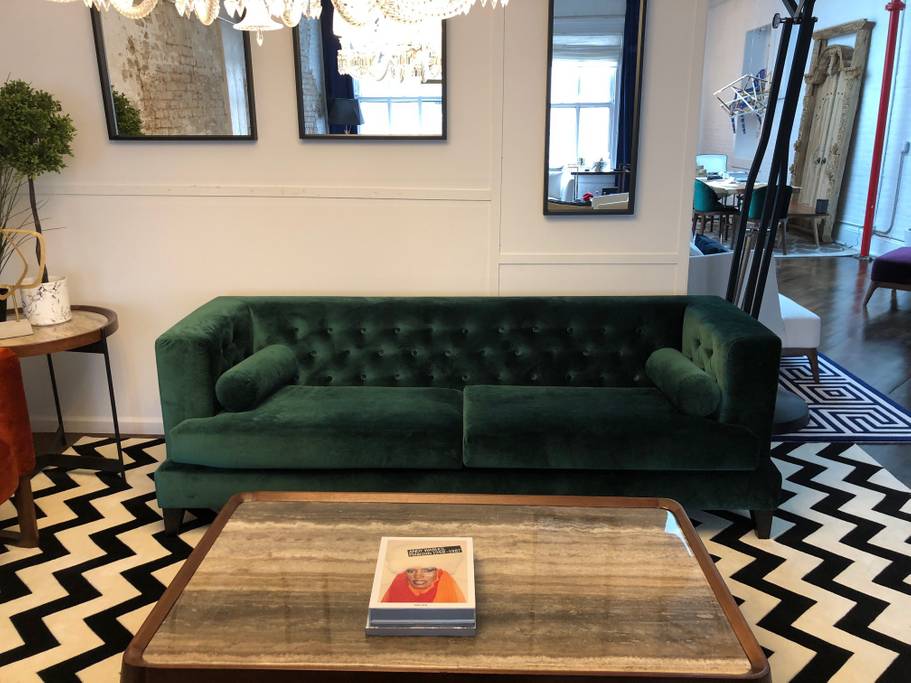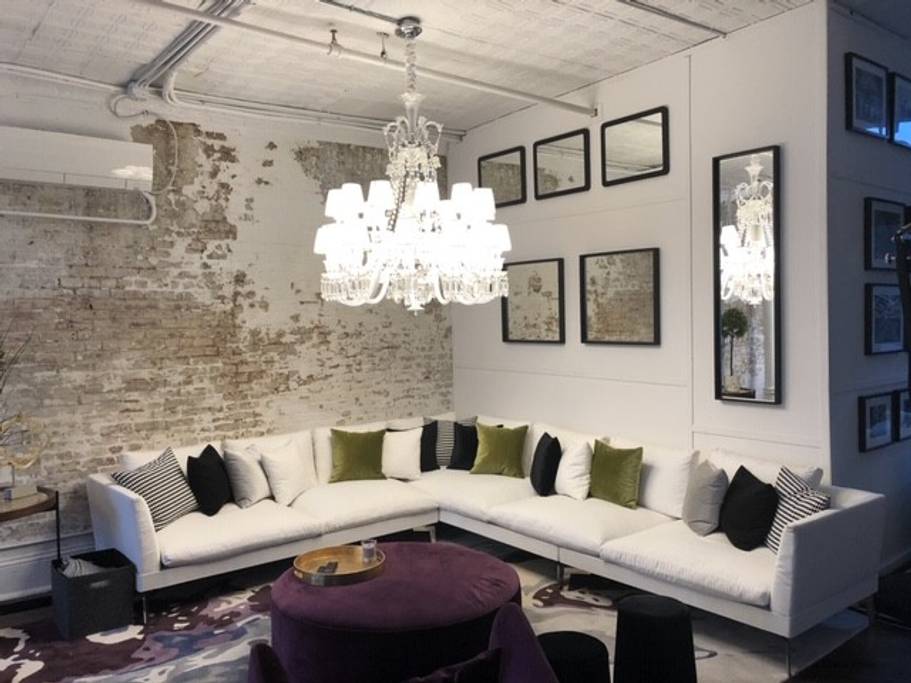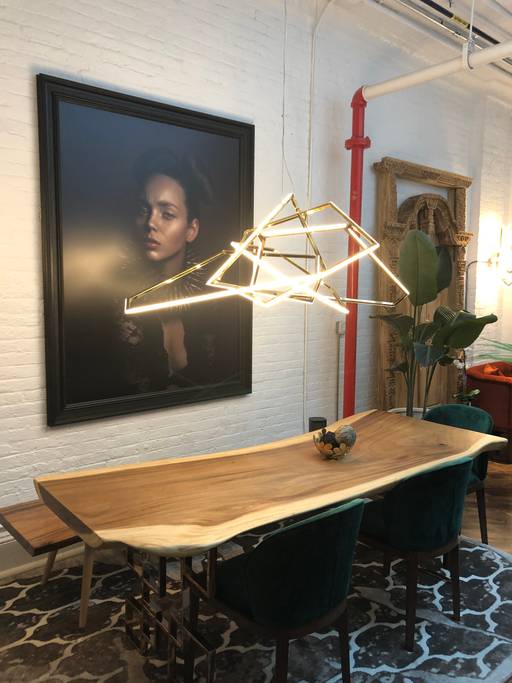 From the moment you walk in to this SOHO Airbnb, you can't help but notice not just the art but all the artistic choices. Occupying an entire floor of the building, this walk-up apartment is filled with black and white photography, paintings, and even some sculptural art. Not surprising since SOHO is known for its art galleries and artistic culture.
This two-bedroom home will put you in close proximity to places like The Drawing Center, a museum focused on the art of drawing, the Guggenheim Museum SOHO, and, depending on when you're in town, the Mmuseumm which you just have to experience for yourself to understand.
For eats, if you can stand the line we recommend Dominique Ansel's Bakery where the sweets are just beyond the beyond, Lure for seafood (and a great atmosphere), and Bubby's for comfort food.
Even though it's basically a mall, we recommend a trip down to the Oculus which is some of the most incredible architecture you'll ever see. It's the perfect place for someone with a great eye!
6. Lofty Ambitions – approx. $330 a night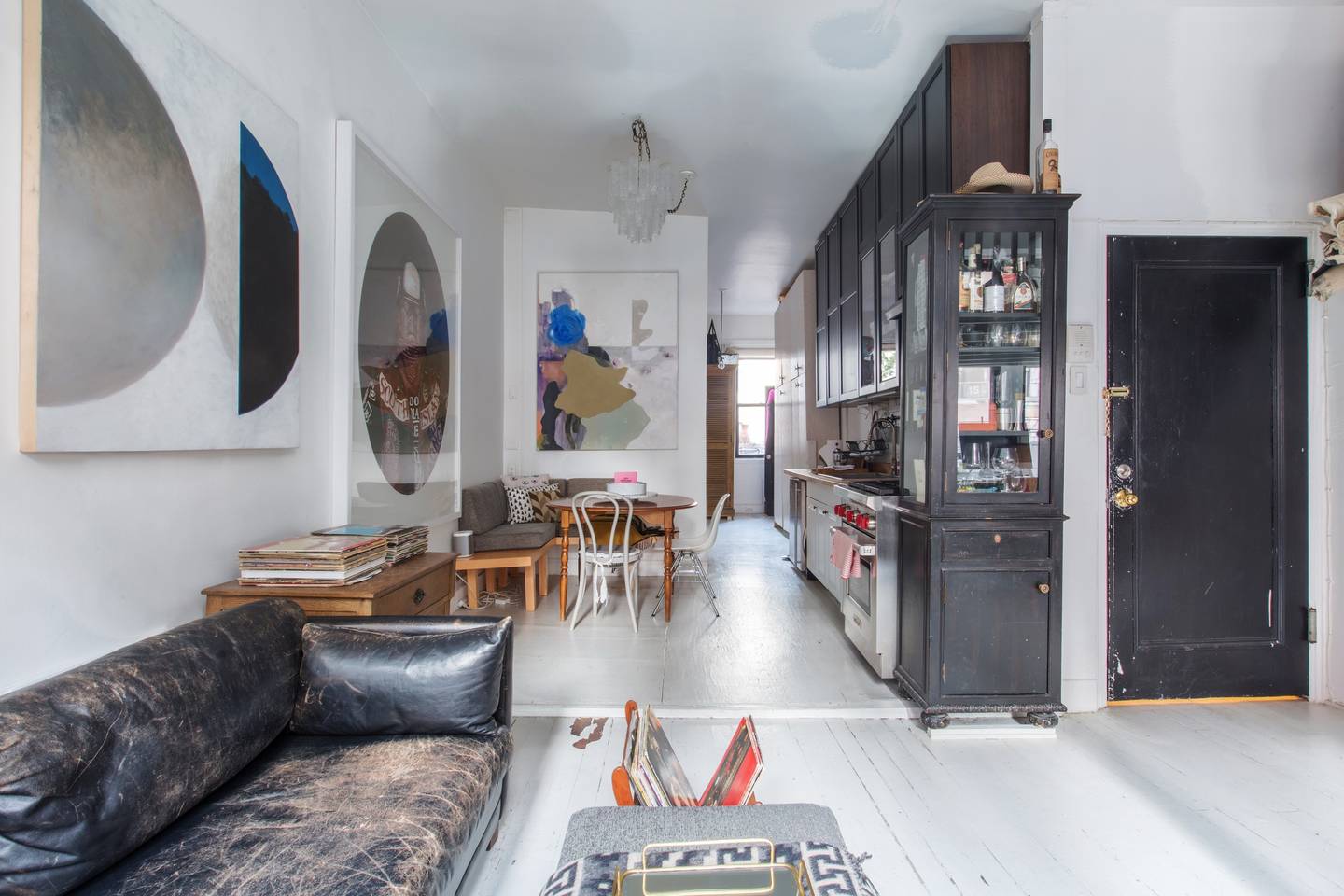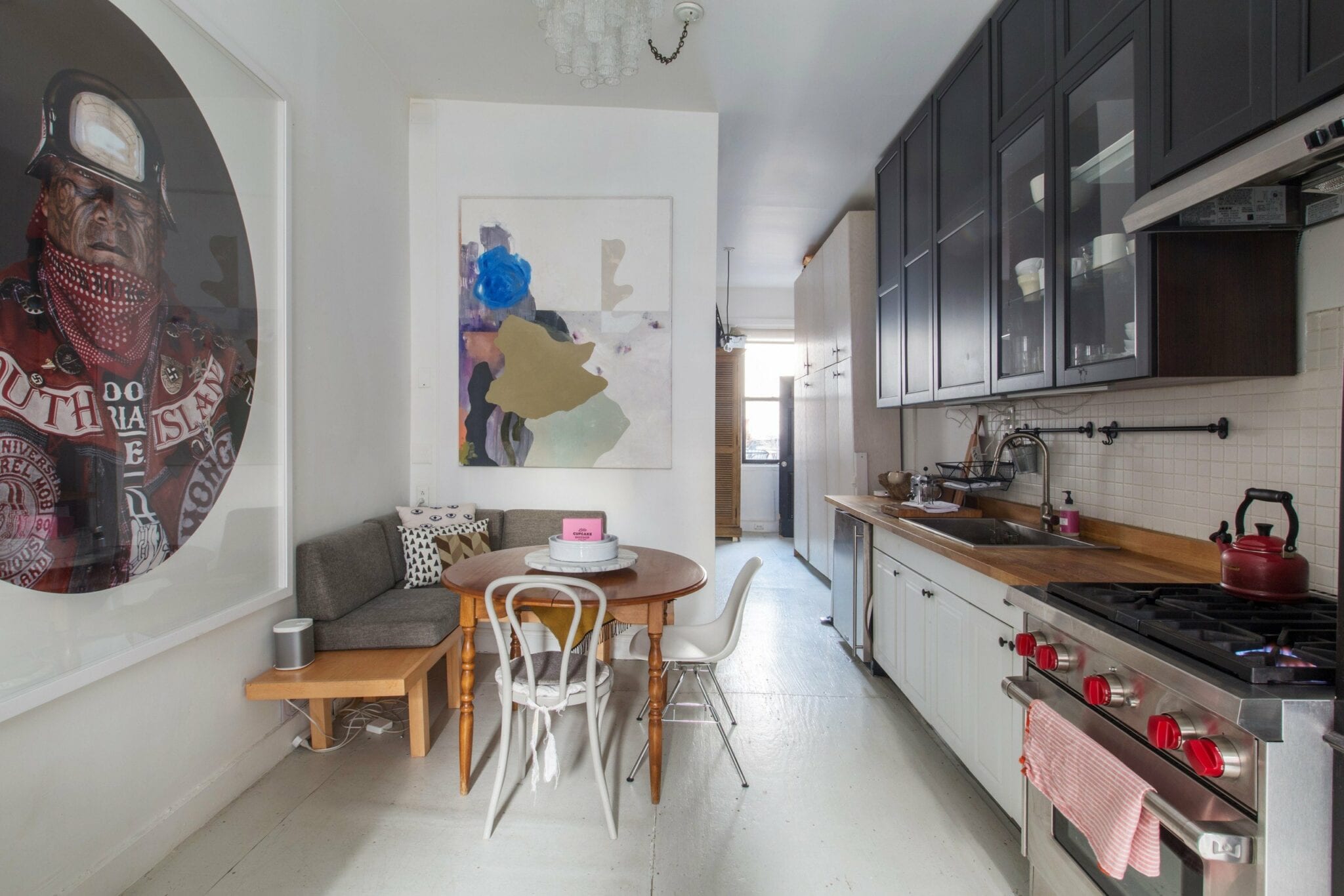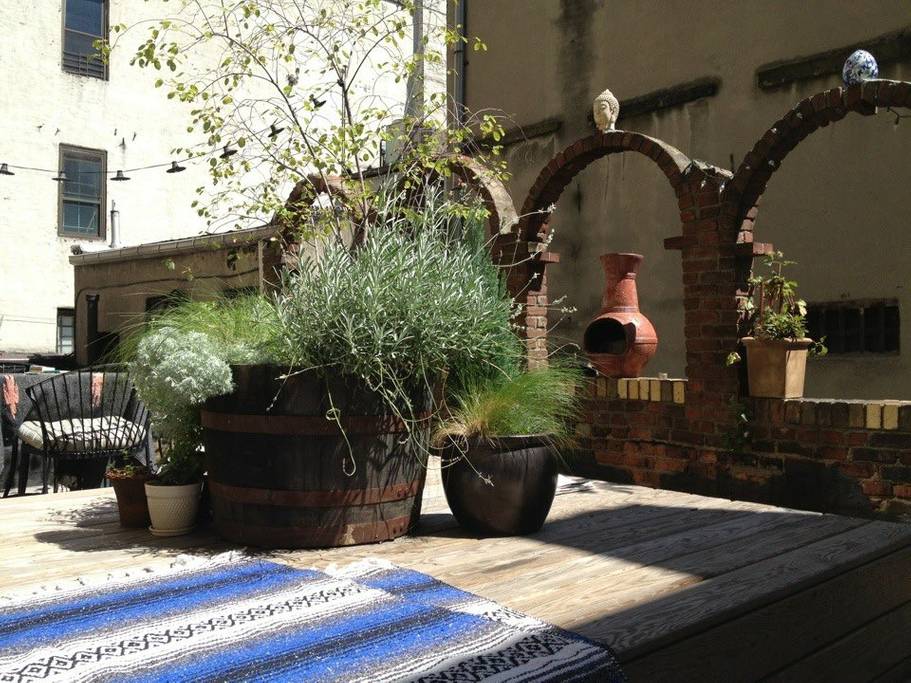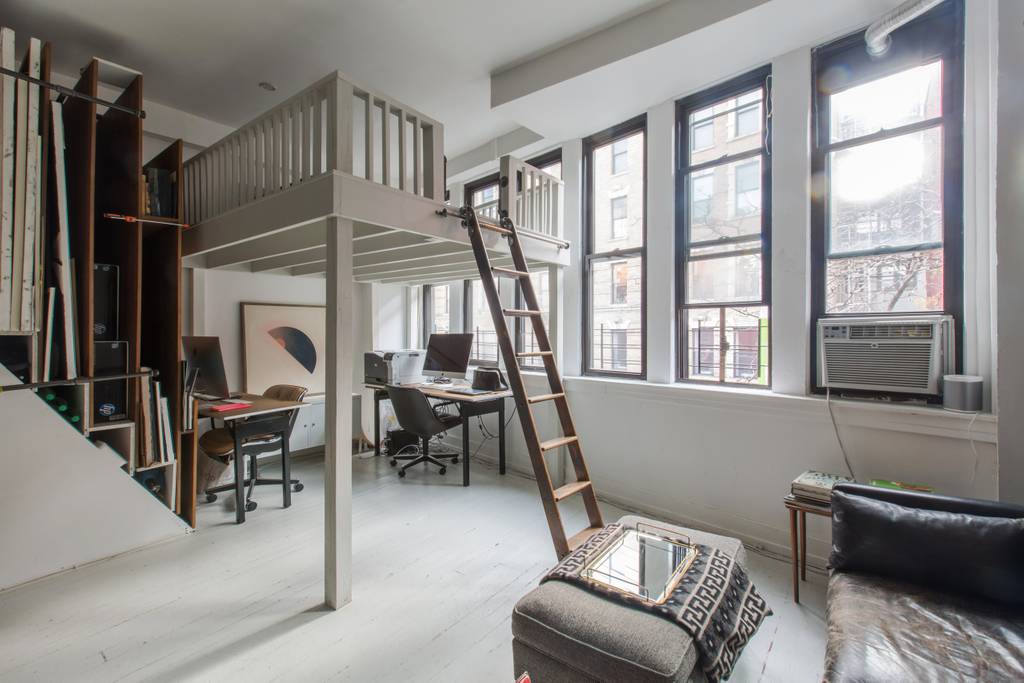 When there's so much art that it has to be filed in a storage unit in the house, you're in a true artist's loft. In addition to all the eclectic art, this quirky apartment has a terrace that can only be accessed from the bathroom (we said it was quirky!) and is a regular stop on the neighborhood's Saturday morning "Gangster Tour" (although we're not sure why, exactly).
This two-bedroom gem looks right out on to the New Museum and is just blocks away from the new Whitney Museum of American Art. While you're over there, be sure to have a burger at The Spotted Pig or a killer croque at Buvette.
If you're also a music lover, you'll be close to some legendary clubs like the Blue Note, Don't Tell Mama and our favorite, Marie's Crisis. We'd also recommend a stop at the new Eataly, although just be prepared for a LOT of other tourists!
5. We All Scream – approx. $490 a night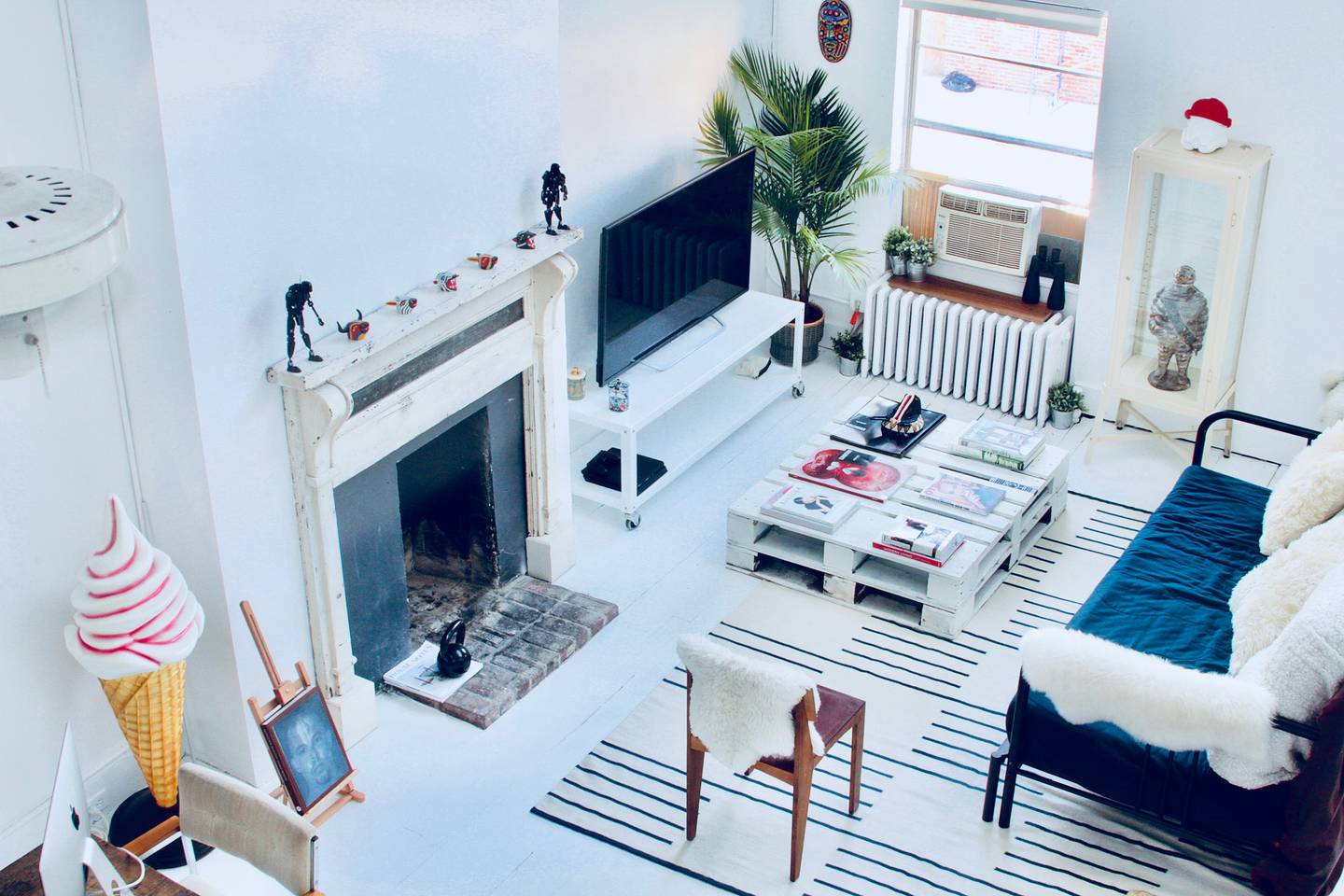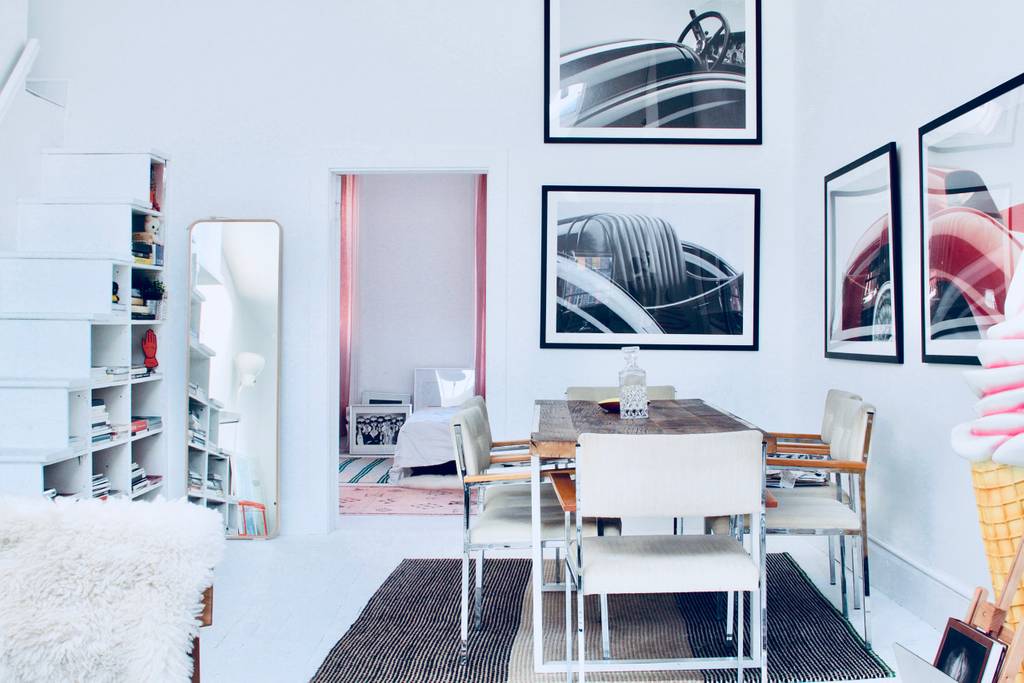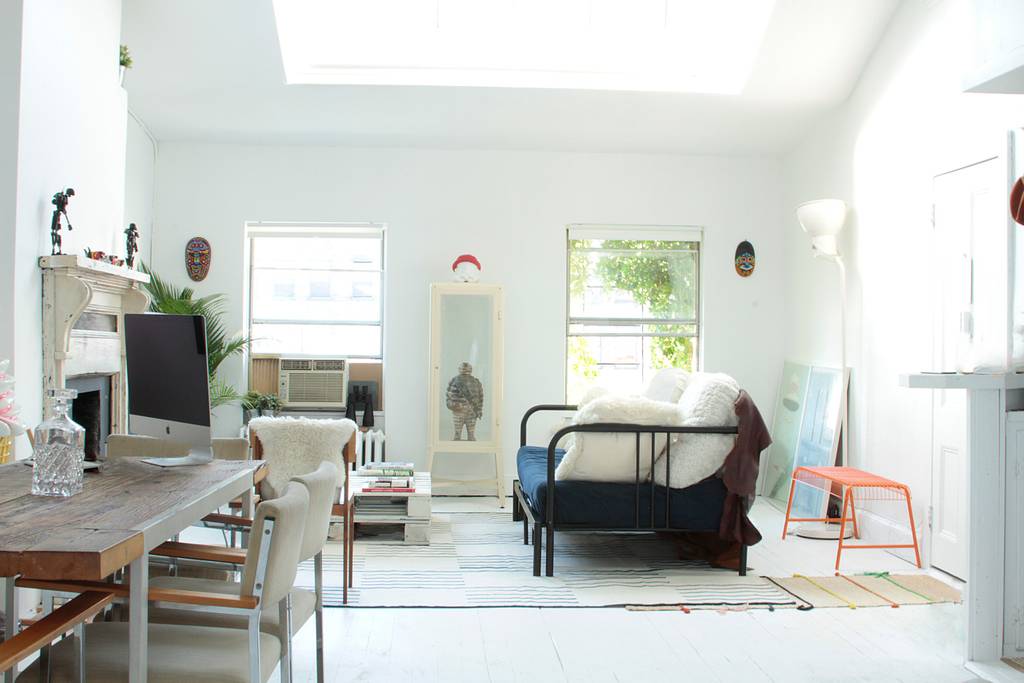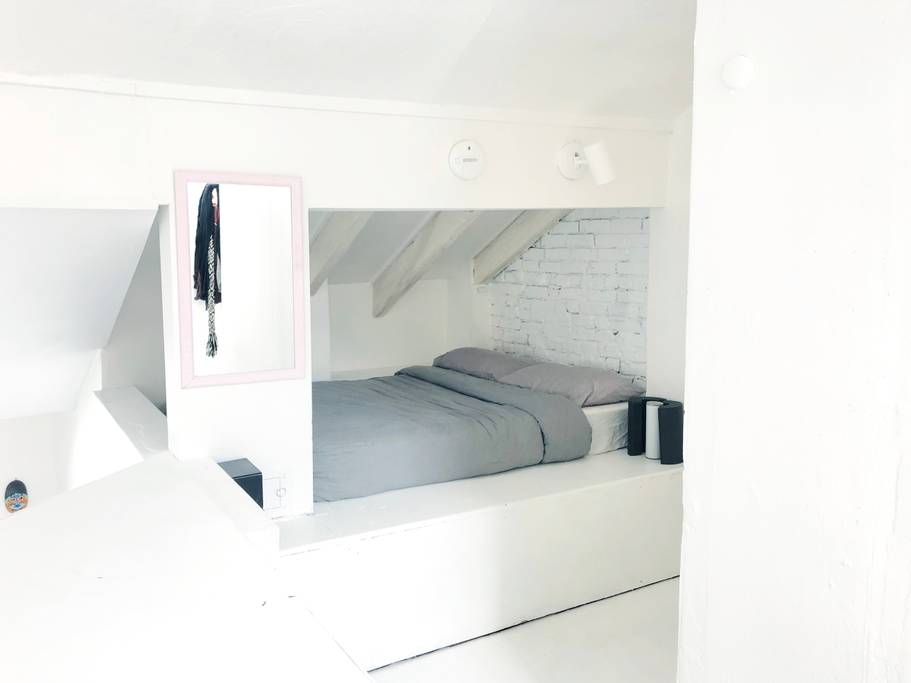 How can you not be happy in a house with a statue of an ice cream in the living room? Not only is there a small art collection here but a small collection of art-related books and magazines as well! This light-filled two bedroom walk up has wonderfully high ceilings and a skylight so the light just floods in!
Right in the heart of the West Village, you will be near so many wonderful things it's hard to know where to start but one good place is the High Line. A former elevated train platform that's now been transformed into the city's best walking path, this might be the best place in the city to people watch.
That said, be sure to get off at some point and just bum around the area. Visit the new John Derian on Christopher Street for one-of-a-kind pieces for the home (and while you're there check out the apartment used in the opening credits of "Friends" at 90 Bedford Street), Tartine for incredible French food and Aux Merveilleux De Fred for incredible French pastries.
8 of New York's Most Unusual Airbnb Homes
8 gorgeous Airbnb New York Townhouses fit for Carrie Bradshaw herself!
8 unique slices of Bohemian New York on Airbnb right now
4. Kimono Suite – approx. $175 a night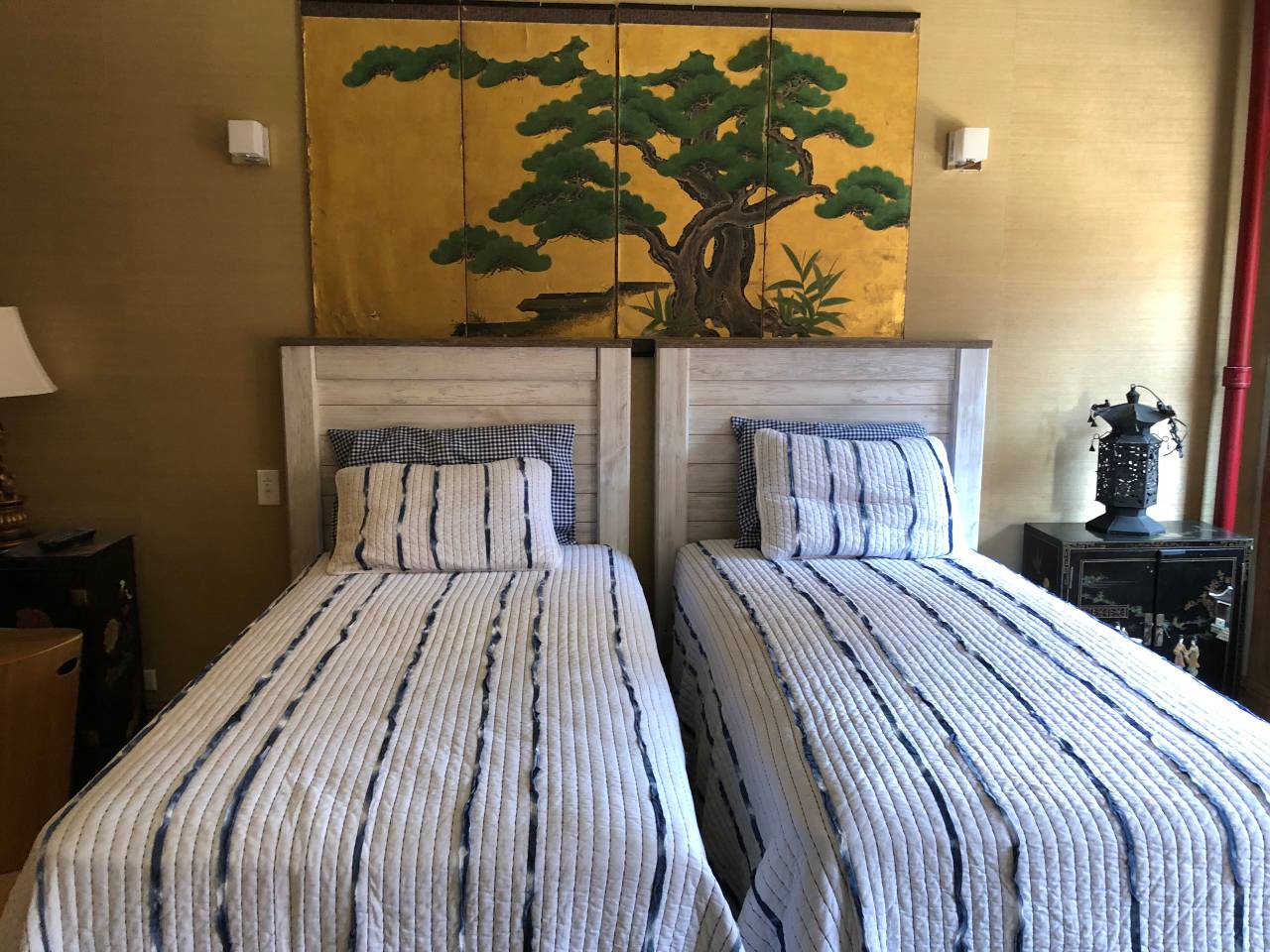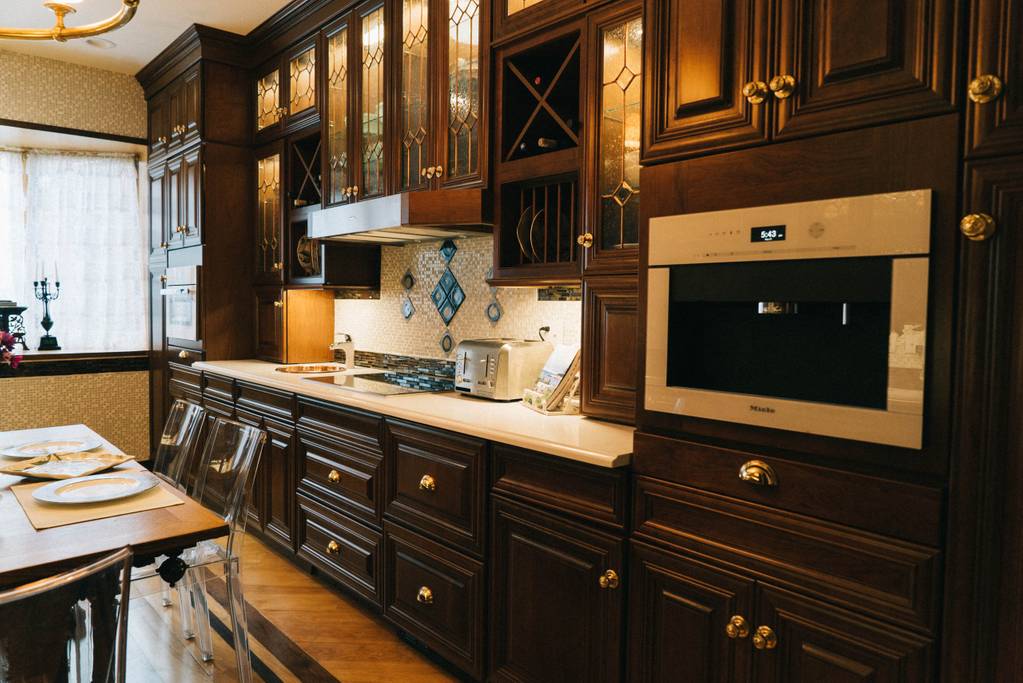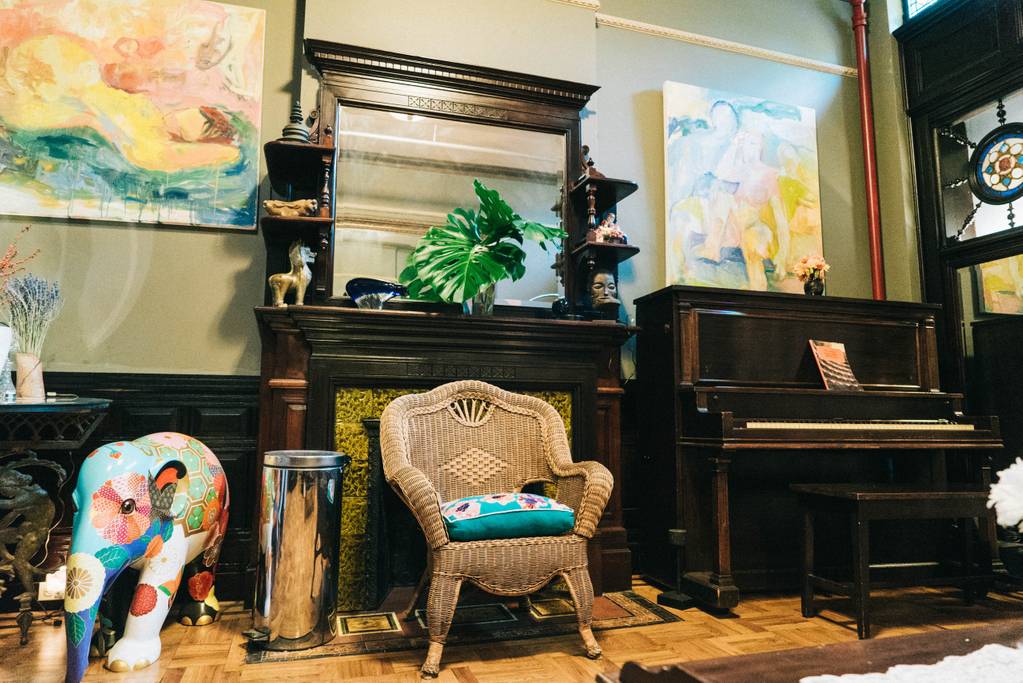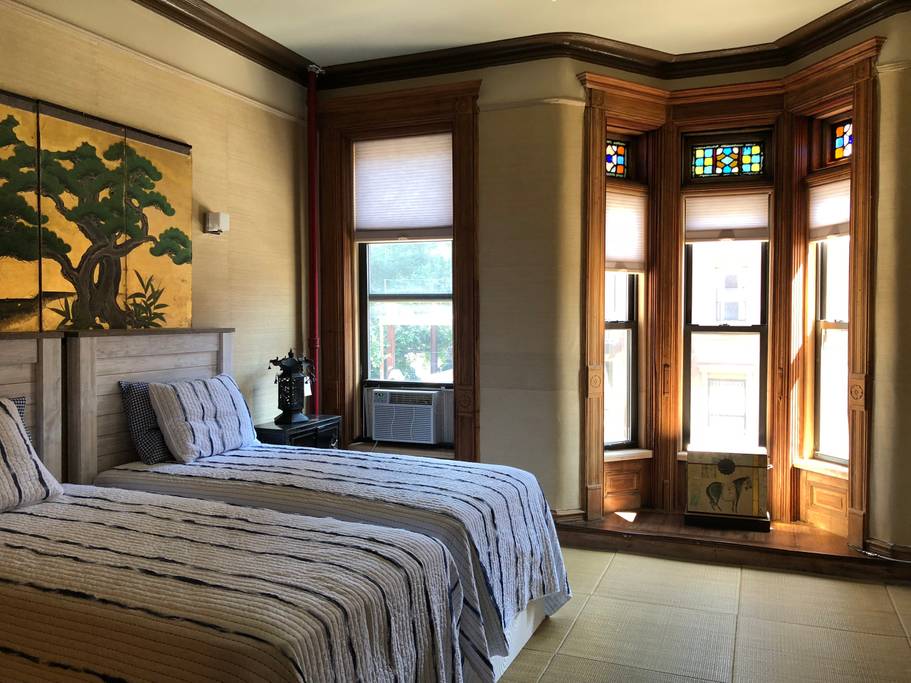 This wonderfully serene, sophisticated space is known as the Kimono Suite and is has a clear Japanese influence. With tatami mats, soft mattresses and a soothing scent, this Harlem-area Airbnb is the next best thing to staying in the Japanese countryside.
This one-bedroom accommodates up to three people, making it perfect for a small family. If you do happen to have an interest in Japanese culture, the Japan Society is just a quick subway trip away as is the amazing bookstore, Kinokuniya which has both English and Japanese books not to mention Japanese art and writing supplies.
You may also want to check out Dainobu, a wonderful Japanese grocery store just slightly further downtown that has everything from sushi to Japanese eating utensils. Finally, if this Airbnb really inspires you, why not check out Kimono House in Soho where you can invest in a really fine kimono as a souvenir?
3. I Want My Mummy – approx. $900 a night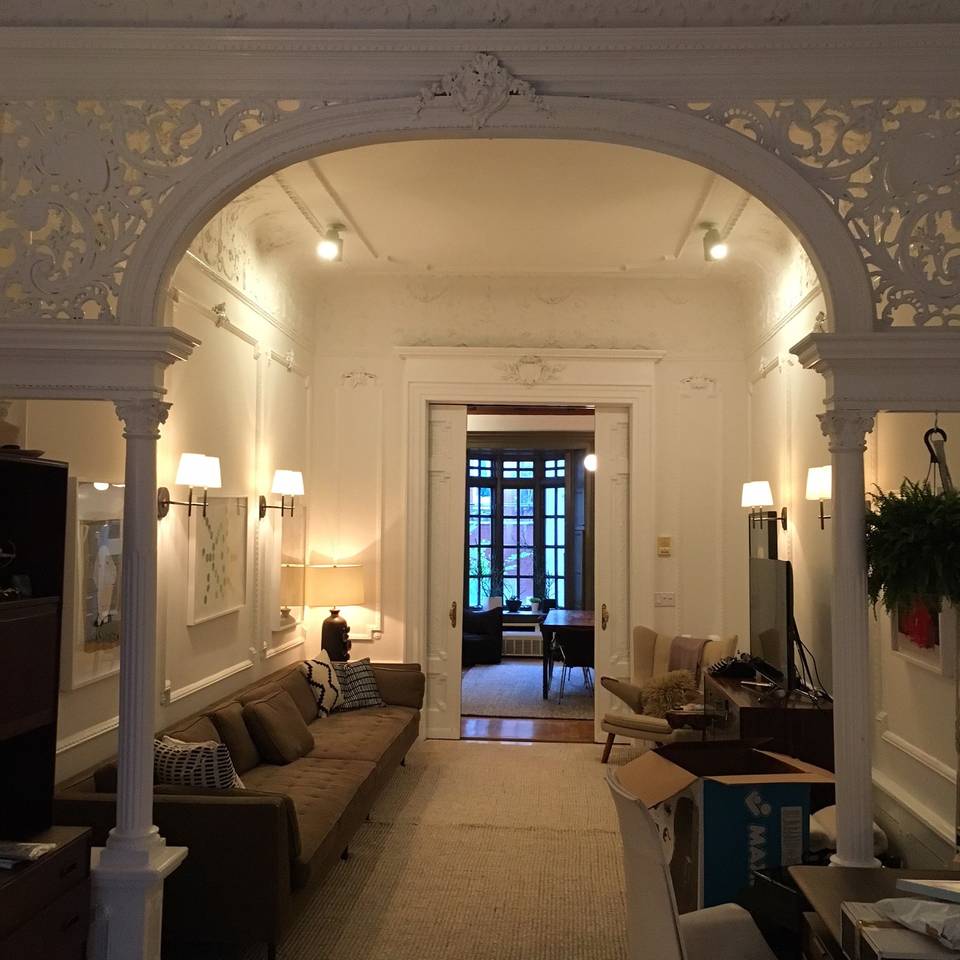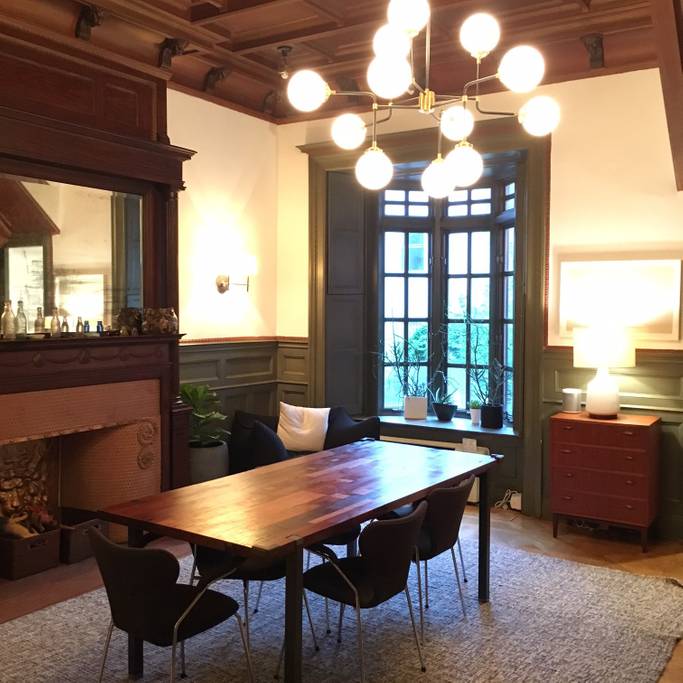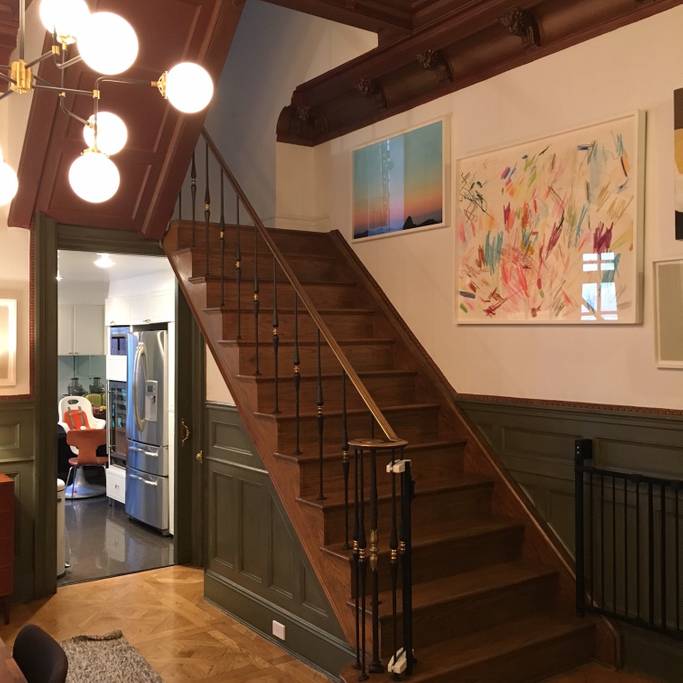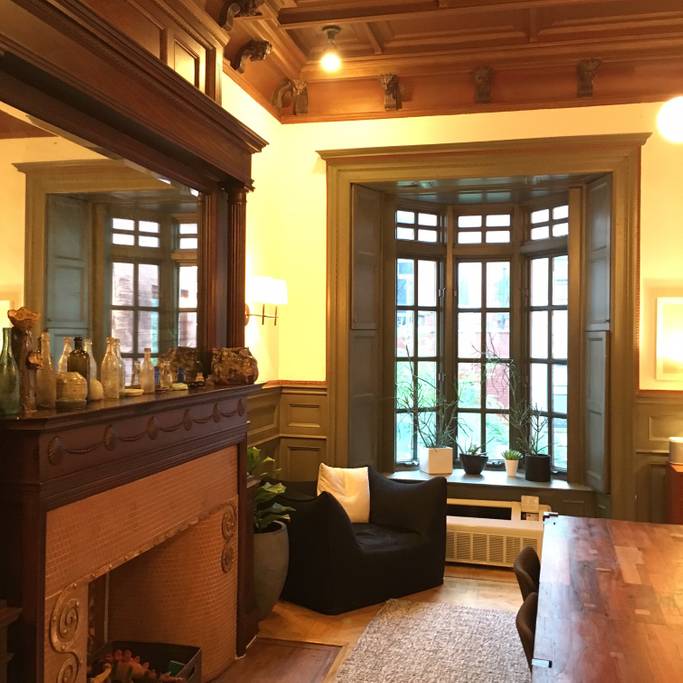 Just steps from Central Park, the Metropolitan Museum of Art, the New York Historical Society, Lincoln Center, Columbia University, Riverside Park, and one of the starting points for the Circle Line boat tours, this Airbnb couldn't be better located.
This stunning brownstone was actually restored by a team from the Metropolitan Museum (so don't be shocked if you find a mummy in the closet. Kidding!) and they certainly did a great job. With tons of light, incredible architectural details, and so many interesting little nooks and crannies to discover, this place is a true find.
2. Fruits of Your Labor – approx. $390 a night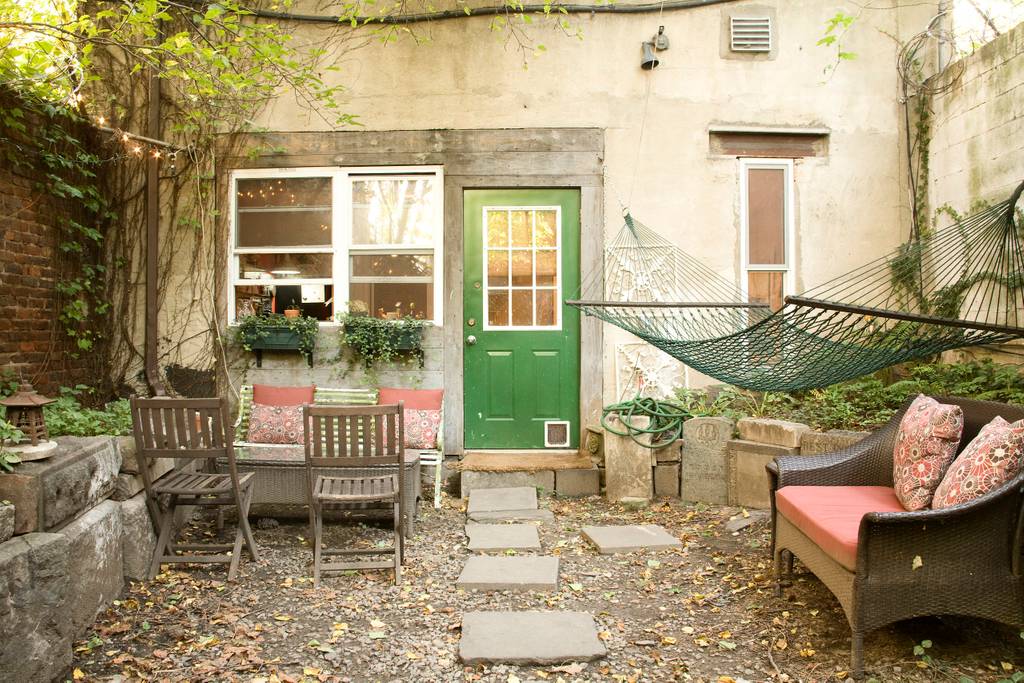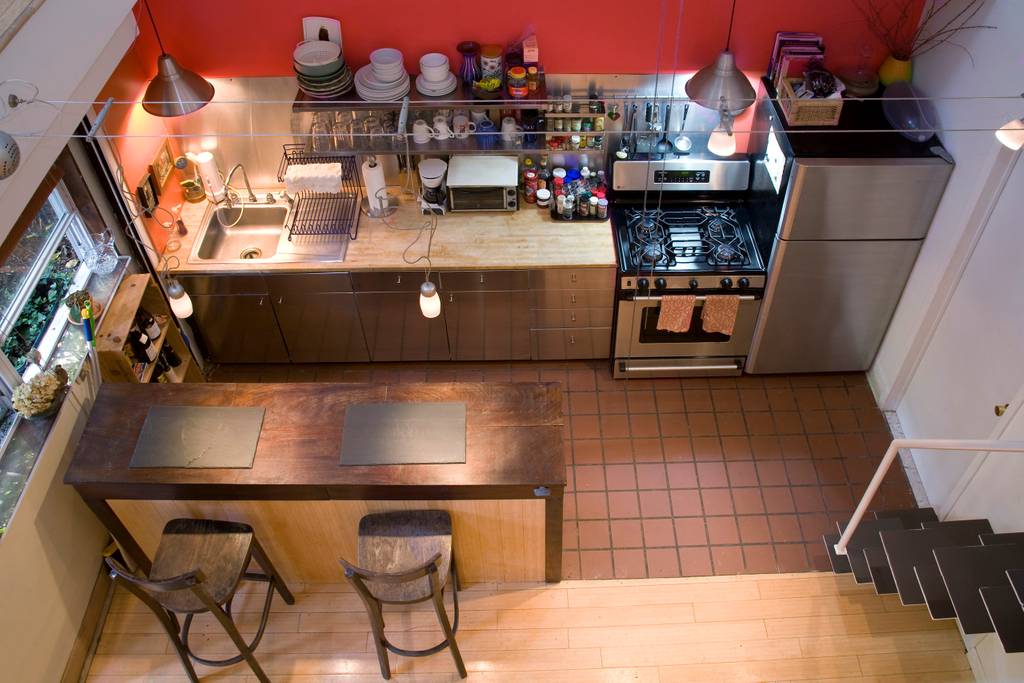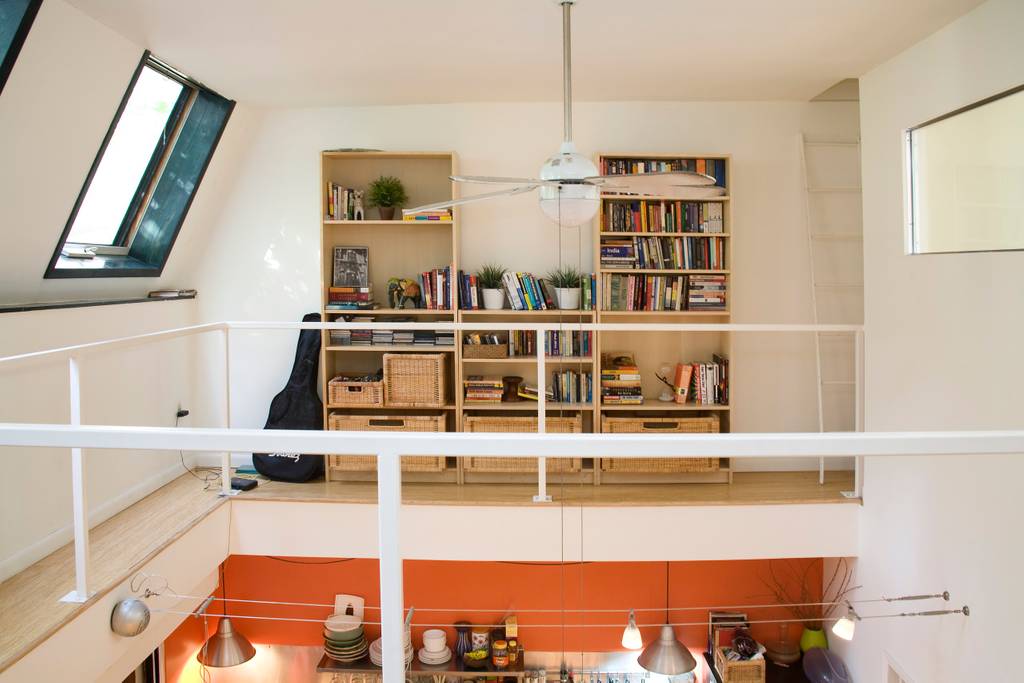 There aren't a lot of places in New York that allow you to come home and immediately get in a hammock, let alone one that has two apple trees, an apricot tree, a magnolia and a cherry tree. Luckily, you can in this phenomenal Alphabet City Airbnb which is set back from the street, giving you complete privacy.
Inside you'll find all kinds of little art treasures, 17 ft. ceilings, an open floor plan, and three skylights so you'll have plenty of room to breathe. As if this weren't enough, the host of this Airbnb also has a small gate house in the front of the property available for rent so if you're traveling with a small group you don't have to split up!
The kitchen area leads right out to the garden, making it a perfect place for entertaining. You can even take some of the fruit from the trees and serve it to your guests!
1. UES Studio – approx. $70 a night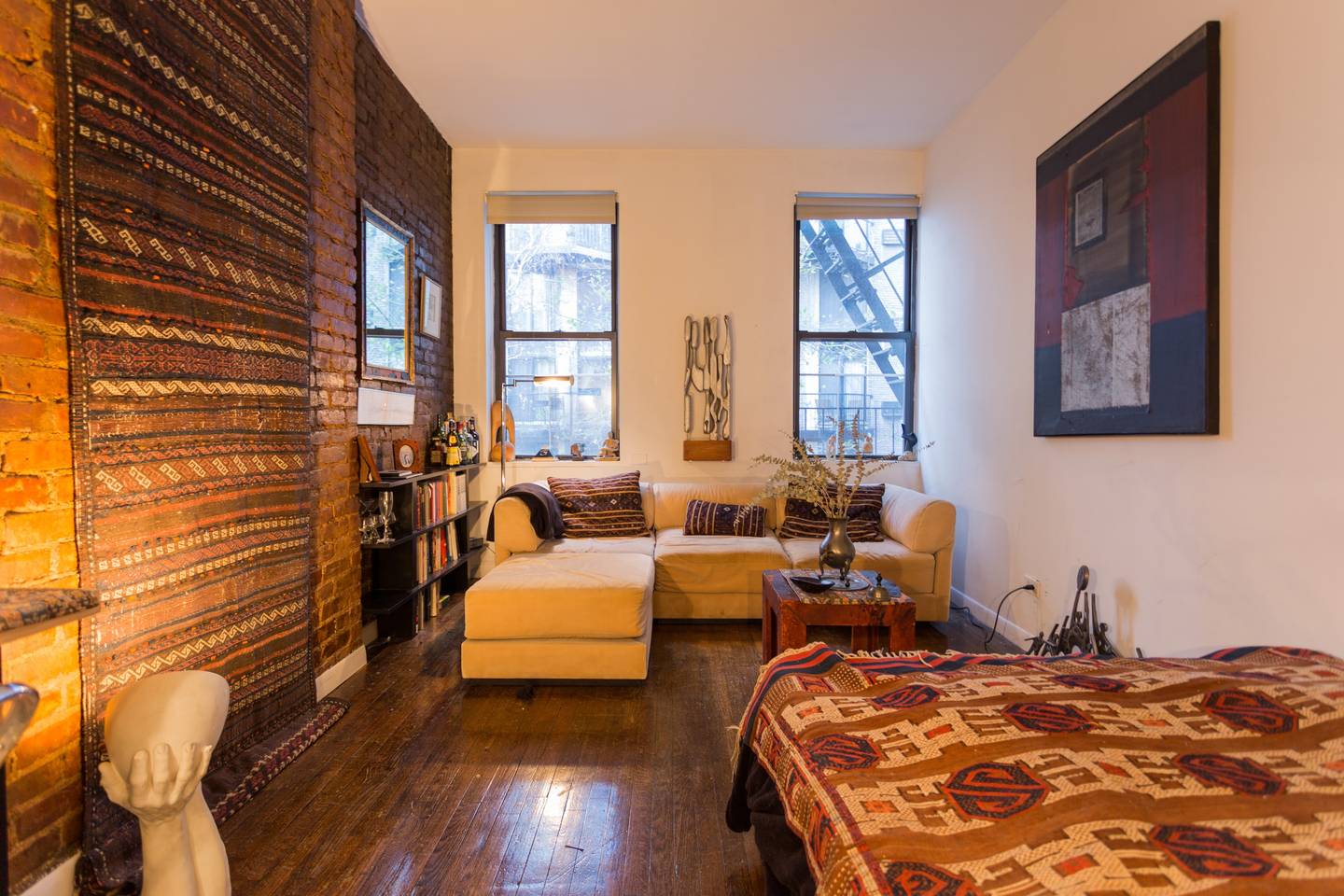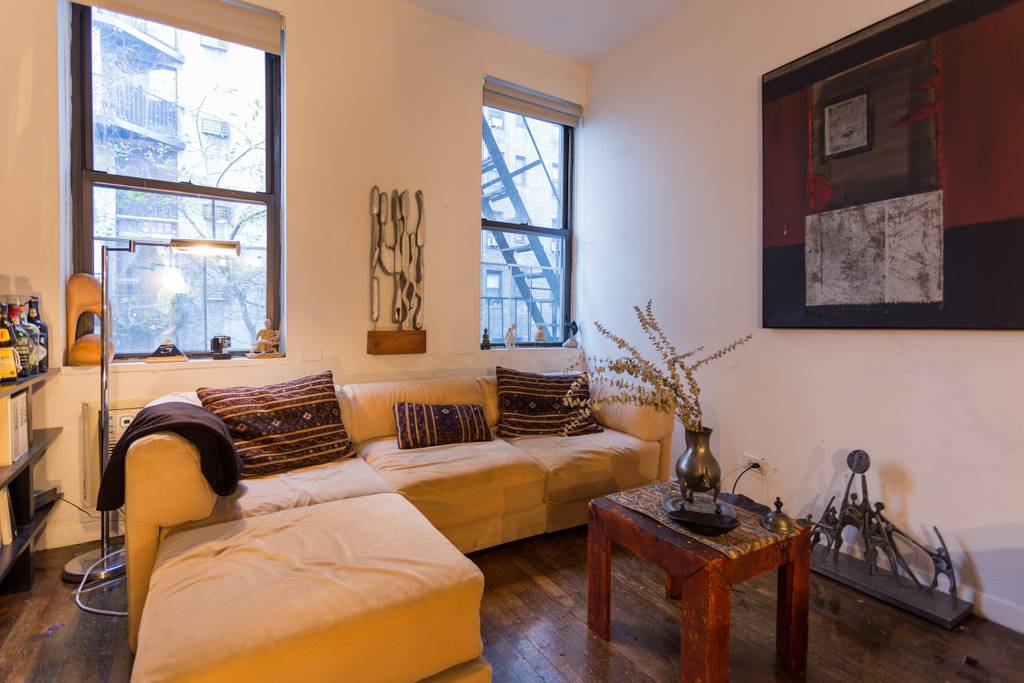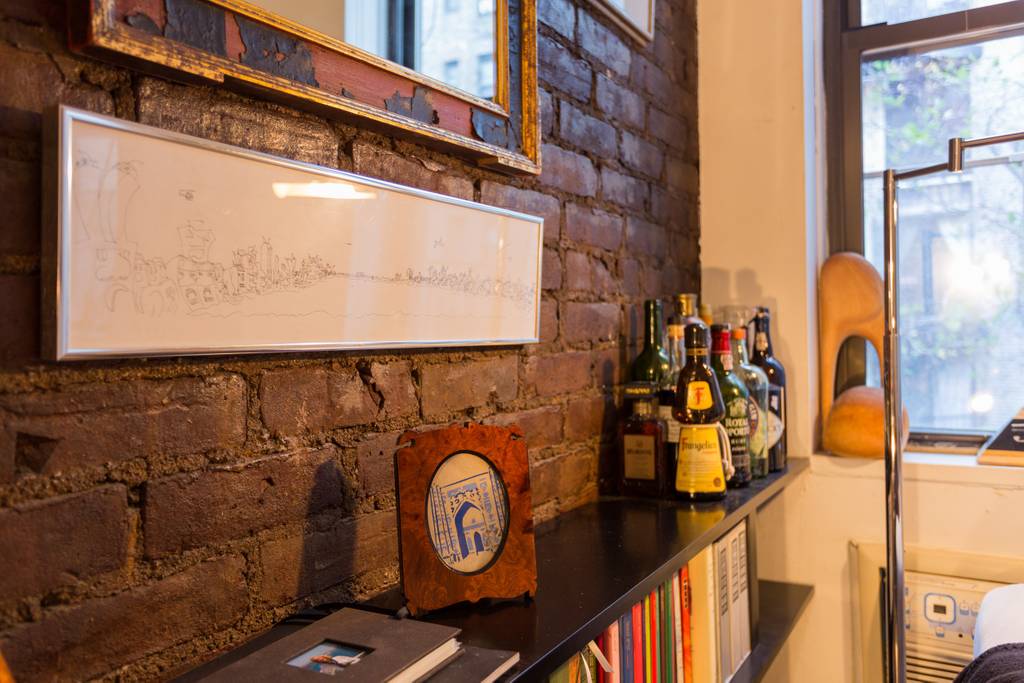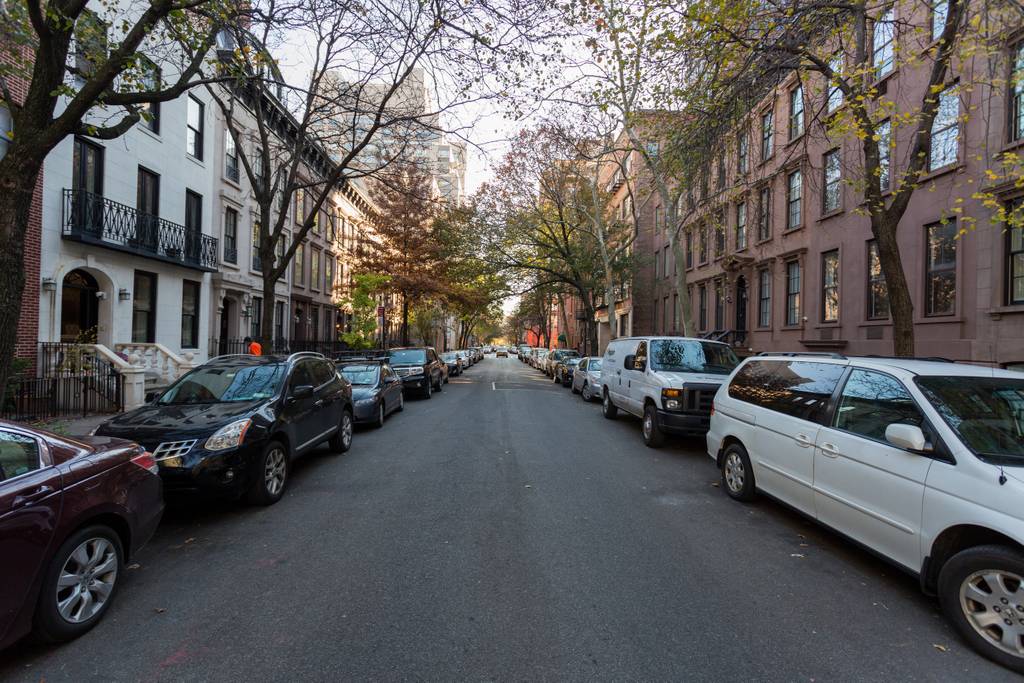 This sweet little Airbnb studio is billed as a writer's retreat but we think it would be perfect for an artist. With all kinds of interesting textiles used as art and lots of interesting sculptures and paintings all over, any artist would feel more than comfortable here.
Situated on the Upper East Side, this Airbnb is small but perfect if you just need a home base from which to see the city. You'll be near so many great attractions it's hard to know where to start. From the beauty of Carl Schurz Park to nearby Gracie Mansion (that's the mayor's home), to the Cooper-Hewitt Museum, to the Neue Galerie, to the Met, to the Morgan Library, to the Museum of the City of New York to all of Central Park, you'll be spoiled for choice here!