Nothing says New York like a doll in a glass box in the living room. Or a windmill in the dining room. Or a couple of gongs on the wall. New Yorkers are known for their eccentricities in everything and that definitely includes their homes. For that reason, we've chosen eight Airbnb homes that reflect that eccentricity and will make you feel like a true New Yorker, even if just for a while. Just don't let the doll out not matter how much she asks.
8 Extraordinarily Cute Brooklyn, New York Airbnb Homes
8 of New York's Most Unusual Airbnb Homes
8. Parisian Dream – Approx. $531 a night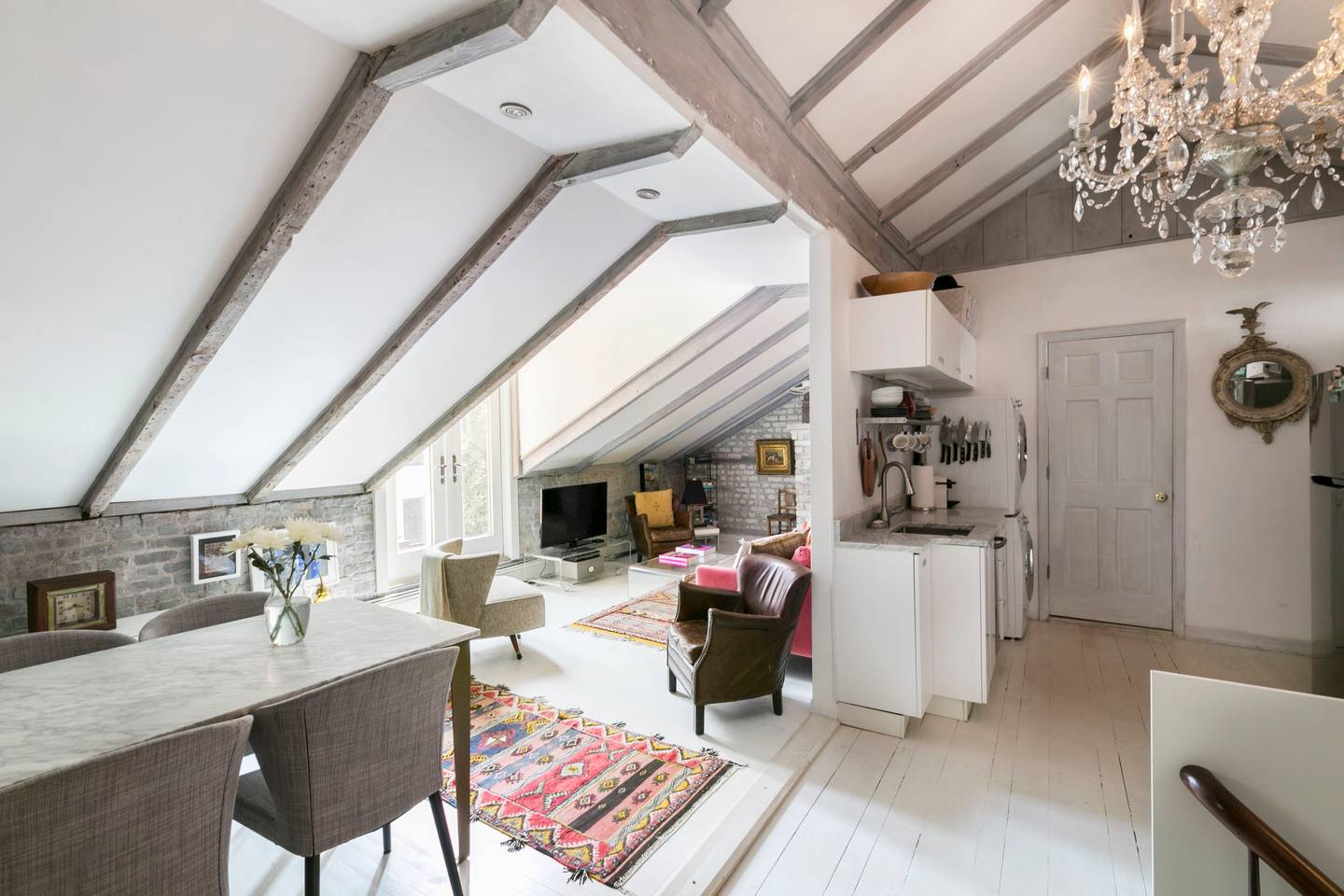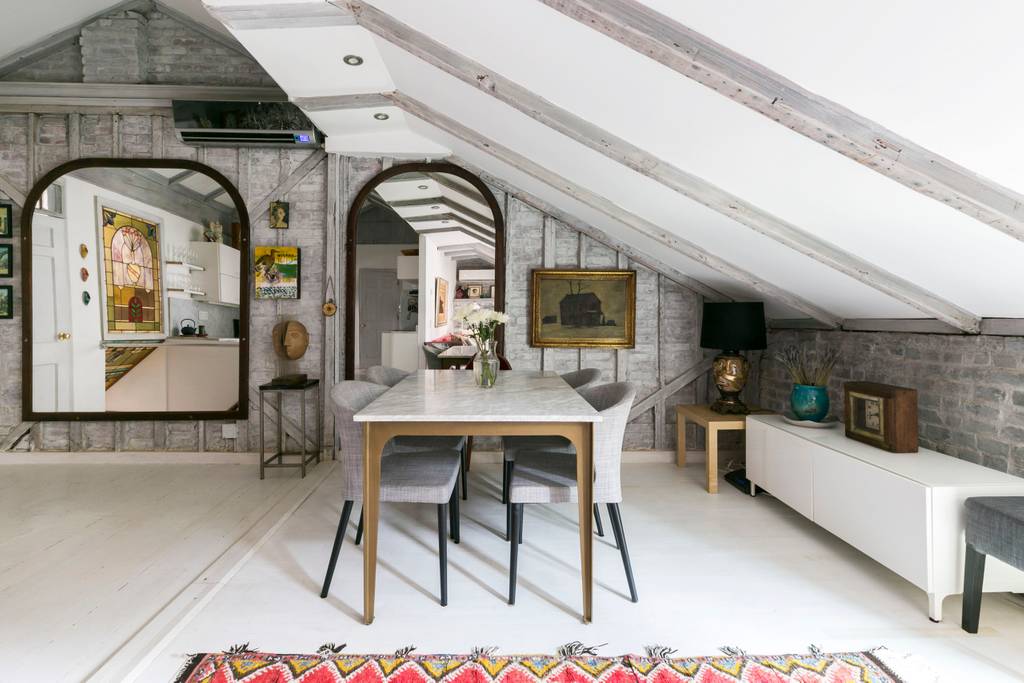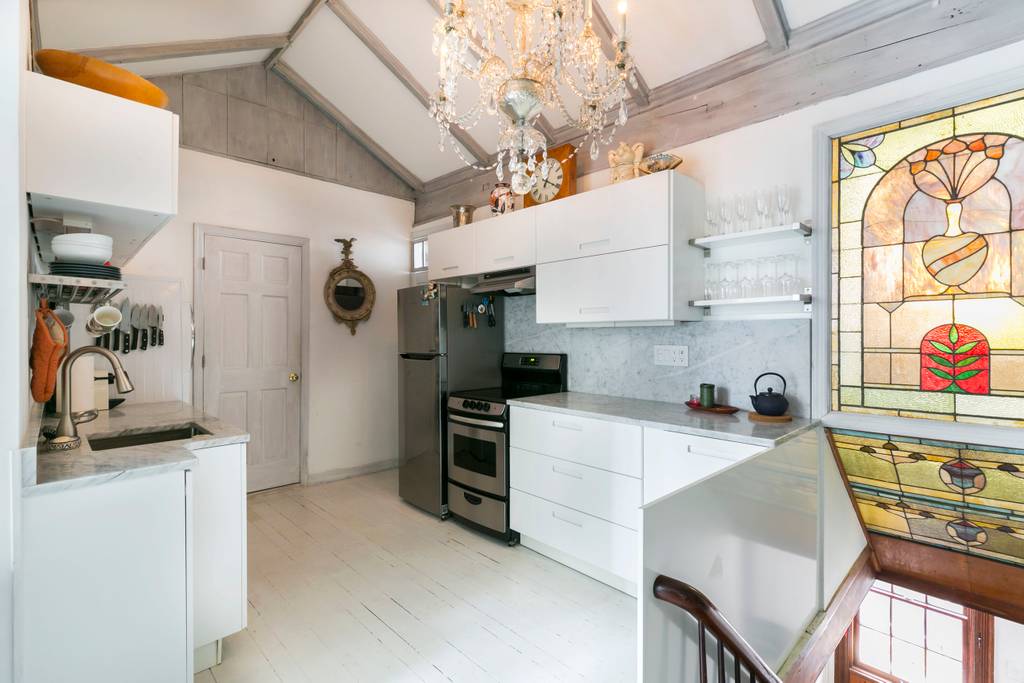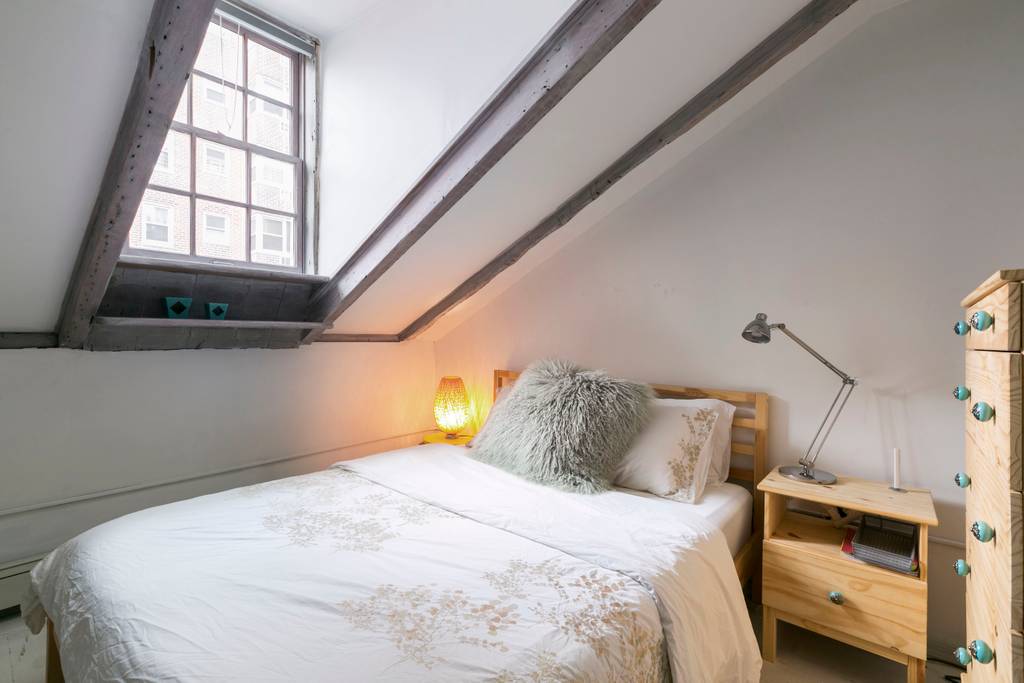 Wait a minute: Is this New York or Paris because this looks an awful lot like Paris. Wood beams, French doors, grey and white, and a very elegant crystal chandelier. While it has all the hallmarks of a Paris loft, this Airbnb is actually located in Manhattan's West Village.
Beautifully decorated, this townhouse sleeps three in its two bedrooms and, unlike a lot of New York apartments, has enough space that you won't feel as if you're on top of each other. There's a newly renovated kitchen and bathroom with both a shower and a tub so you can soak your exhausted body at the end of a long day of sightseeing.
The kitchen is fully stocked so you don't have to worry about stocking up on basics the minute you arrive. Although quiet, it does have a flight of steps you'll have to navigate so just keep that in mind when booking.
Right in the true heart of Greenwich Village, you'll be near the Children's Museum of the Arts, the New York City Fire Museum, and the new Whitney Museum of American Art. Just remember to take off your shoes when you come in as that's how they keep this place as spotless as they do!
7. SoHo Sublime – approx. $410 a night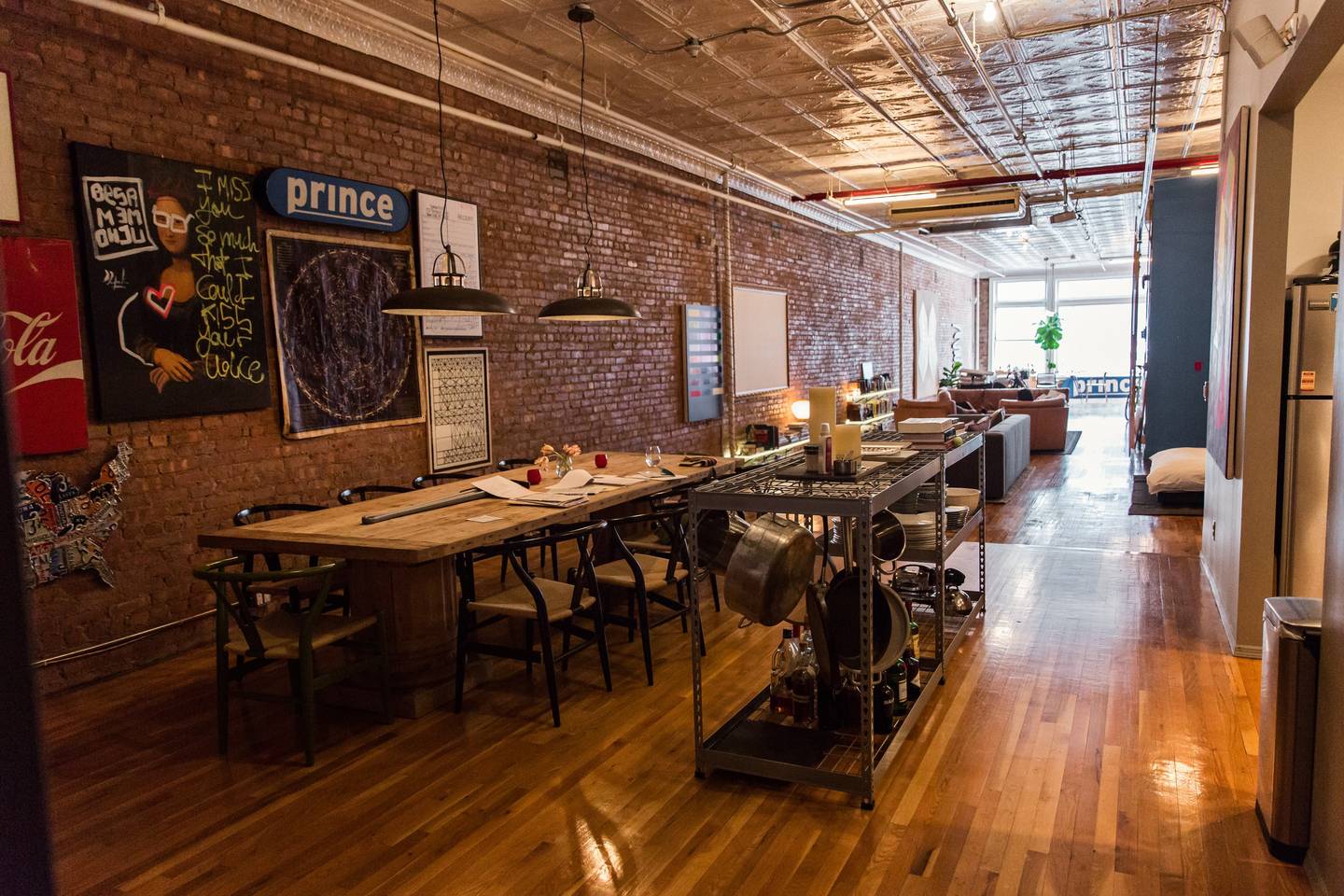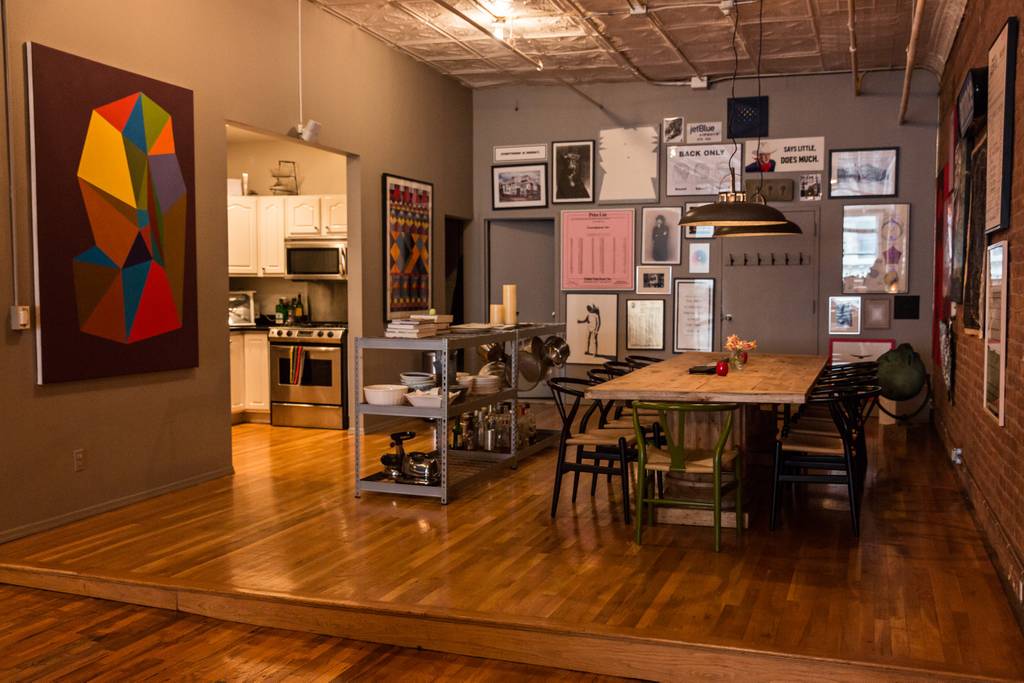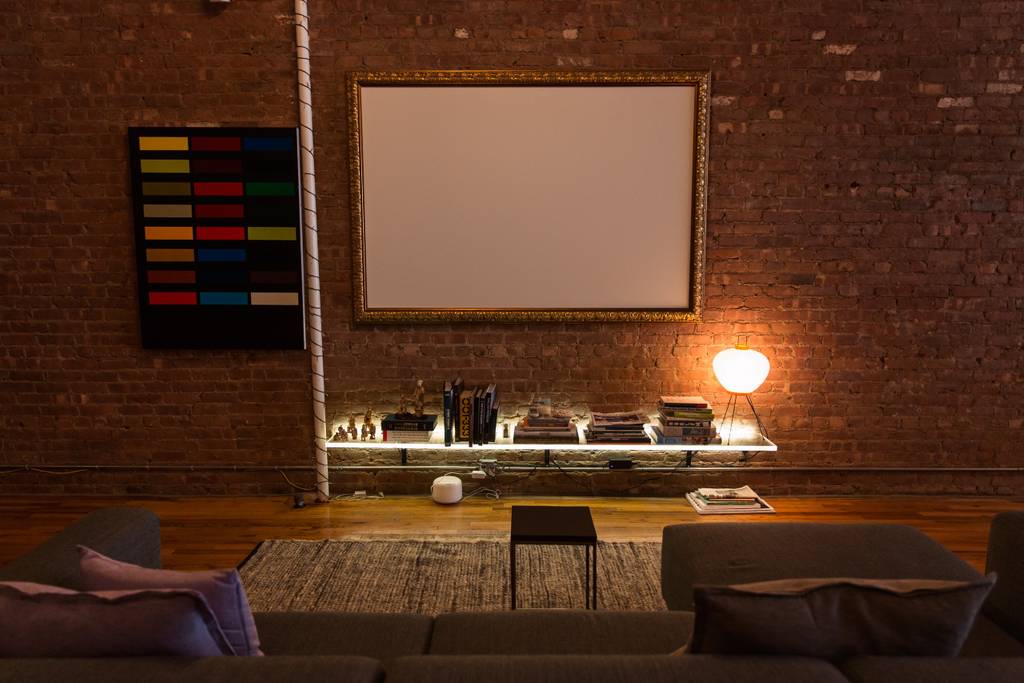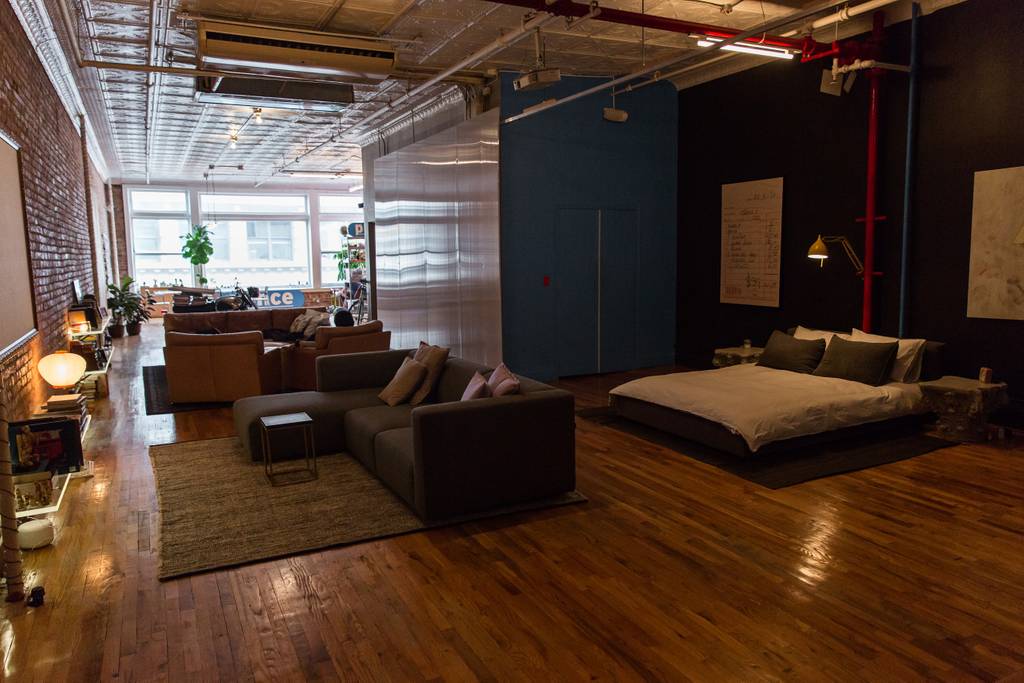 Given that there are whole buildings in New York that don't have 3,000 square feet of space, it's truly incredible that this one apartment does. It's located on Broadway between Houston and Prince which, for those not familiar with the city, is more or less the literal heart of SoHo.
It's only available for long-term stays of over 10 days, but quite frankly, you probably won't want to leave sooner than that anyway. With all kinds of interesting architectural details like exposed brick walls, 14 ft.-high tin ceilings, and stunning hardwood floors, this incredible open space also has a collection of art that could rival the MoMA.
With a subway stop right across the street, you'll be just a short ride away from all the major attractions. Of course, if you don't want to venture out of the neighborhood you've still got plenty to see like The Drawing Center which always has interesting exhibits, The International Center of Photography, or the Museum of Chinese in America.
And if you simple must create something on your own, check out the Scrapyard graffiti supply store. Just don't use anything you buy there until you get home.
6. Fabulous Flatiron – approx. $599 a night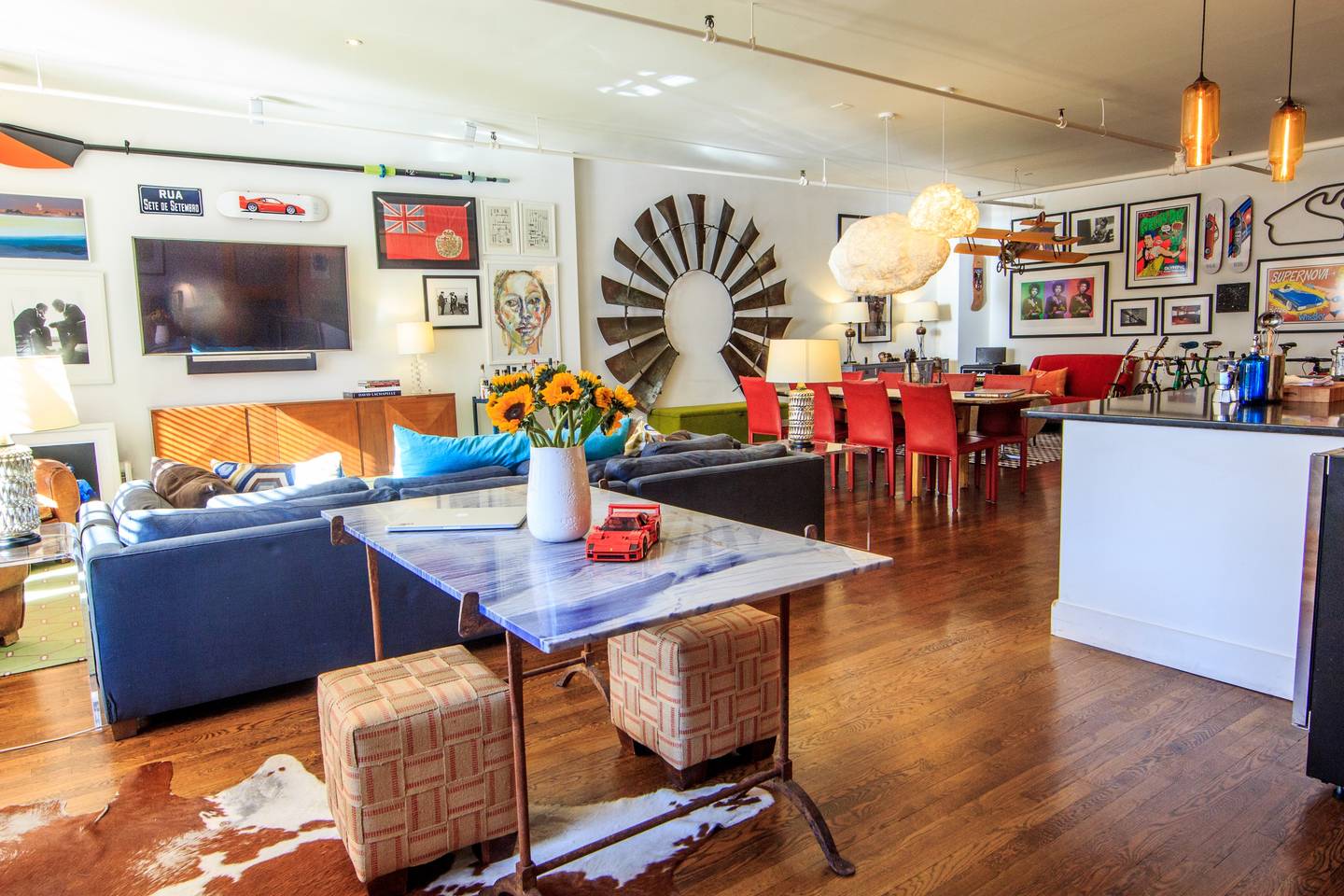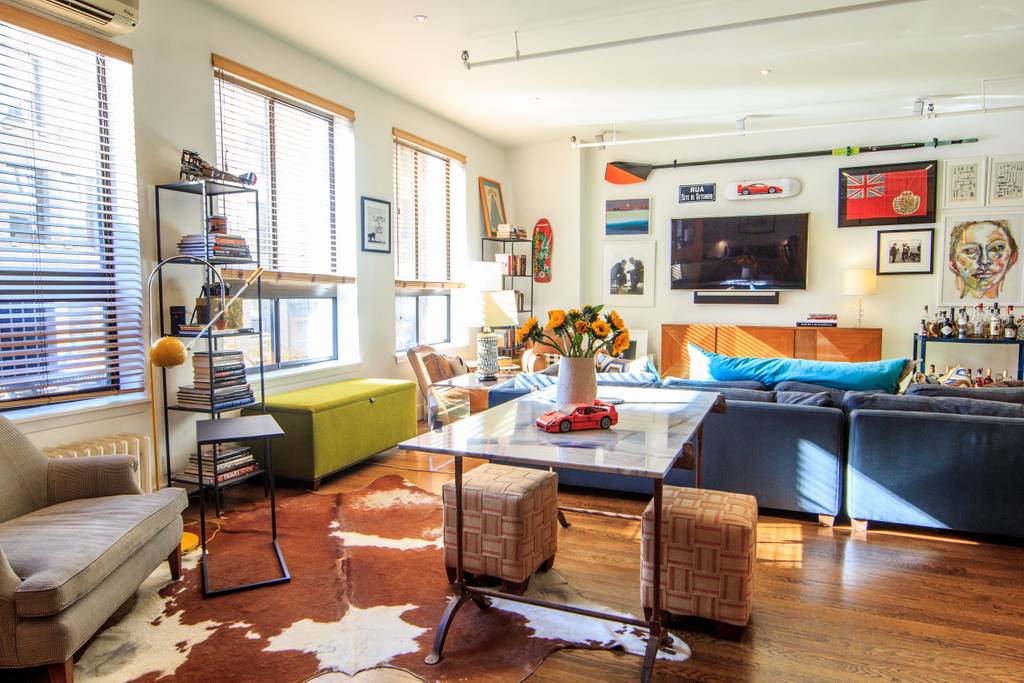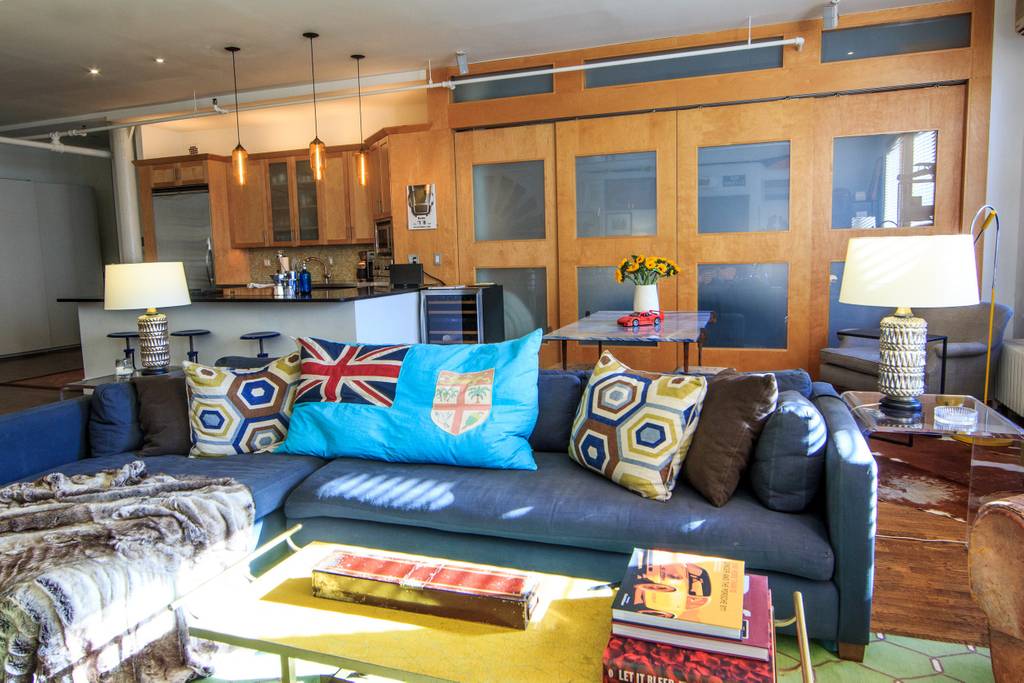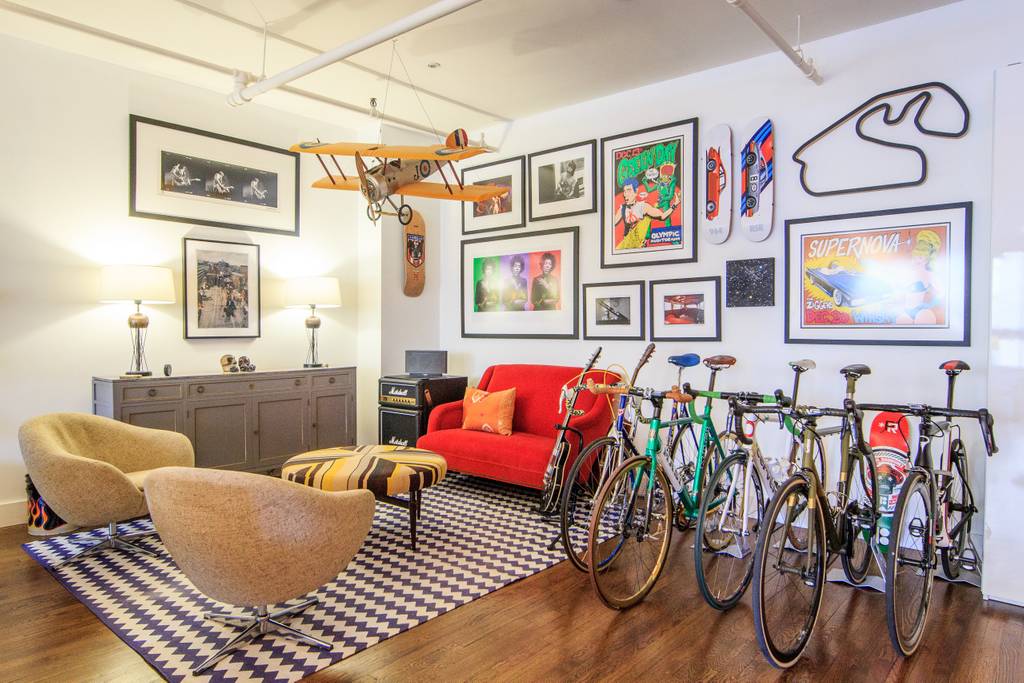 If this place doesn't get your creative juices going we're not sure what will. Filled to capacity with sculpture, art, photography, and even musical instruments, this Chelsea loft just screams out for a creative type to rent it. With southern exposure and 11 ft. ceilings, this 1,500 square foot property stays saturated in sun light all day.
Not so surprisingly, this multi-million dollar property boasts a custom sofa, Viking appliances, and even grocery delivery if you'd like that to be arranged. When you do go out, you'll be spoiled for choice. Among the many, many options in this neighborhood are the High Line (a derelict elevated train track that has been repurposed as an incredible esplanade that has become one of the city's most lauded attractions, the Rubin Museum of Art which focuses on arts of the Himalayas, and the Museum at F.I.T. (Fashion Institute of Technology).
Of course, with the mini-museum in your apartment, you may not want to leave at all.
5. Hats Off – approx. $806 a night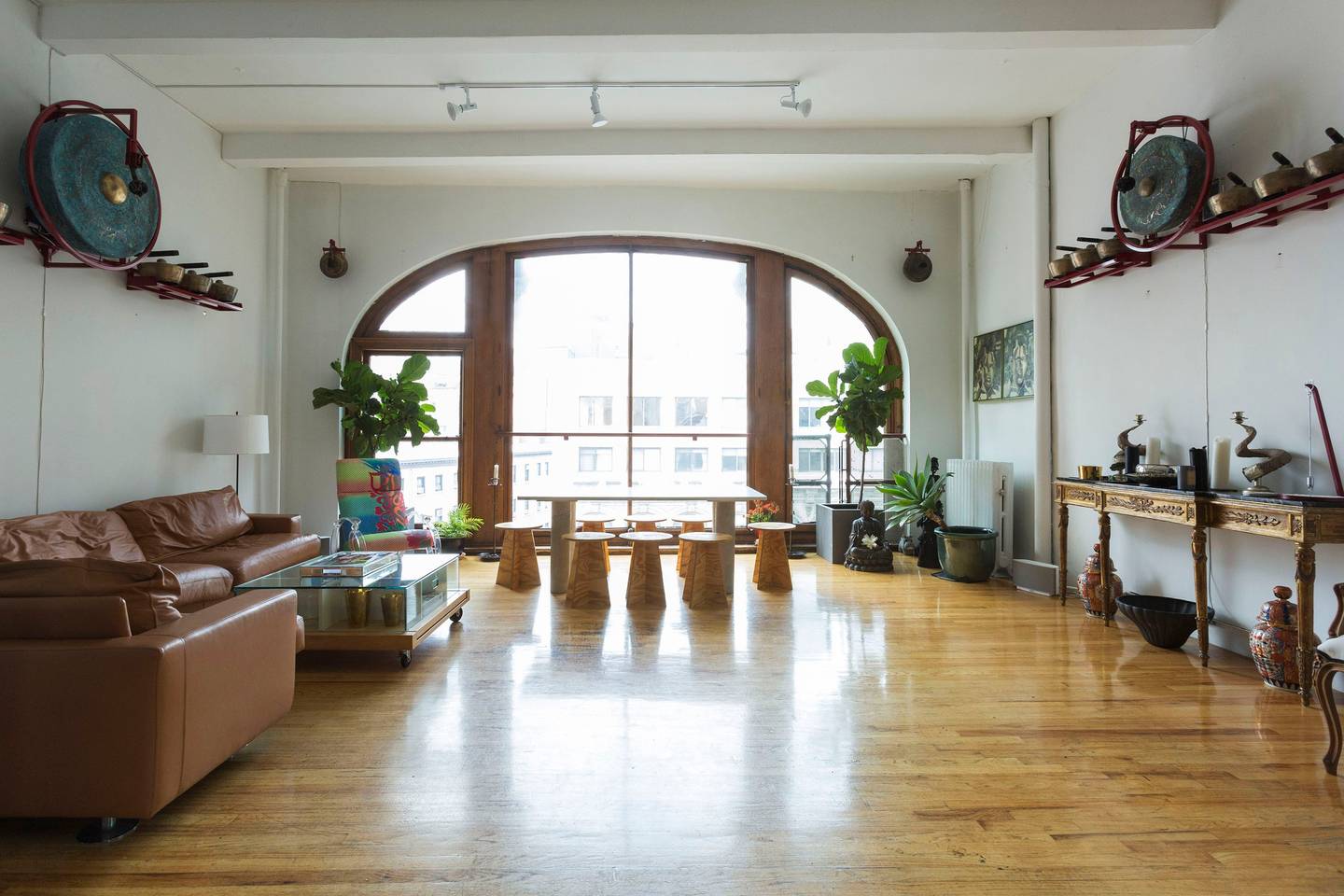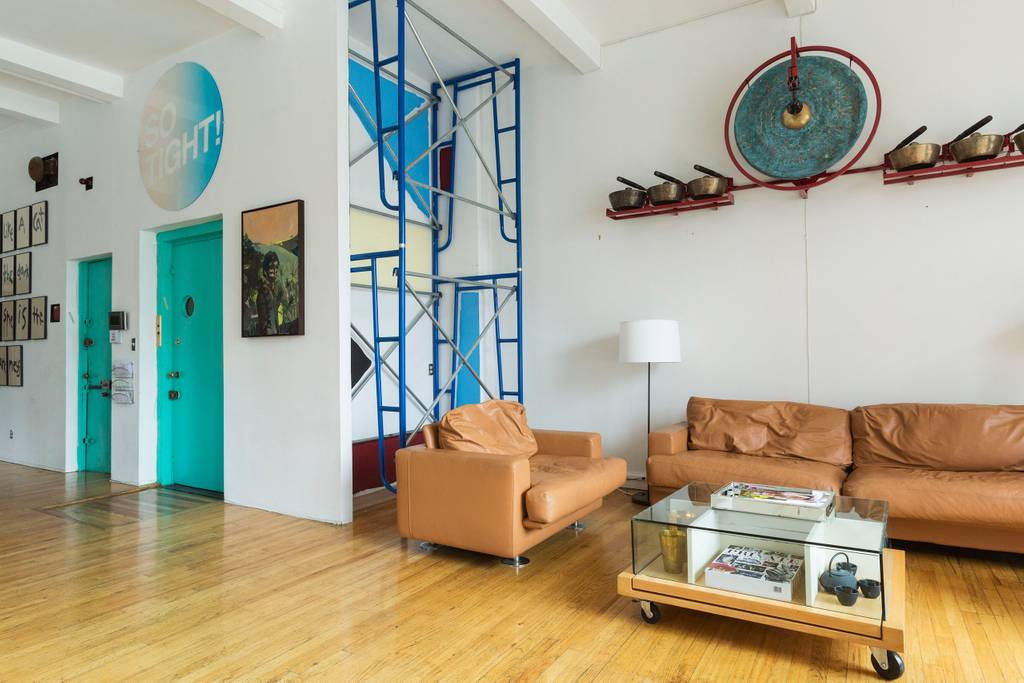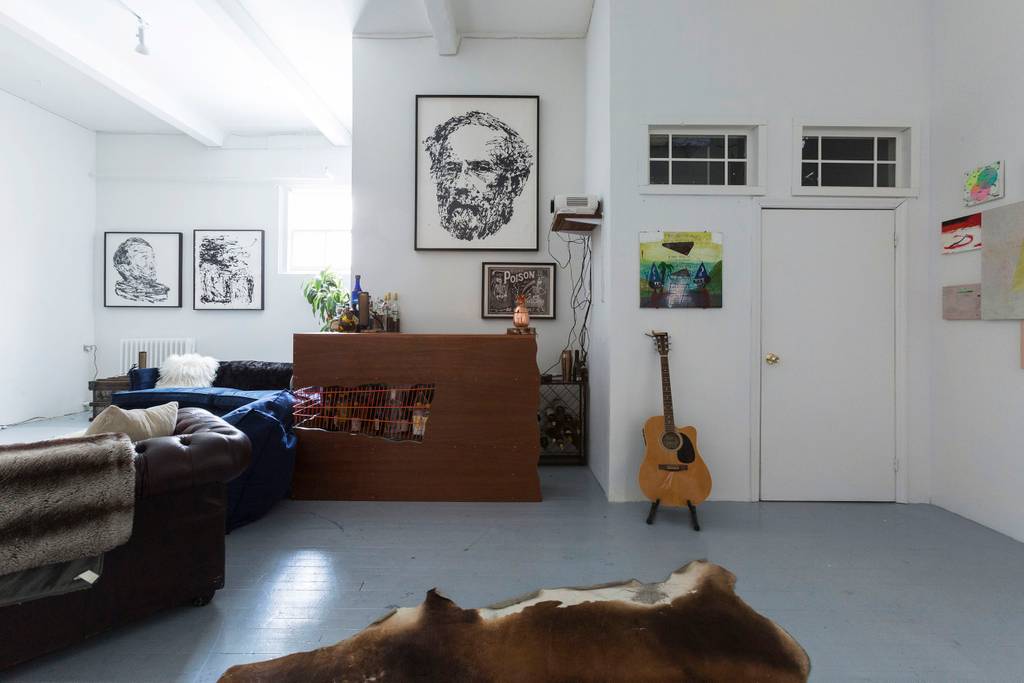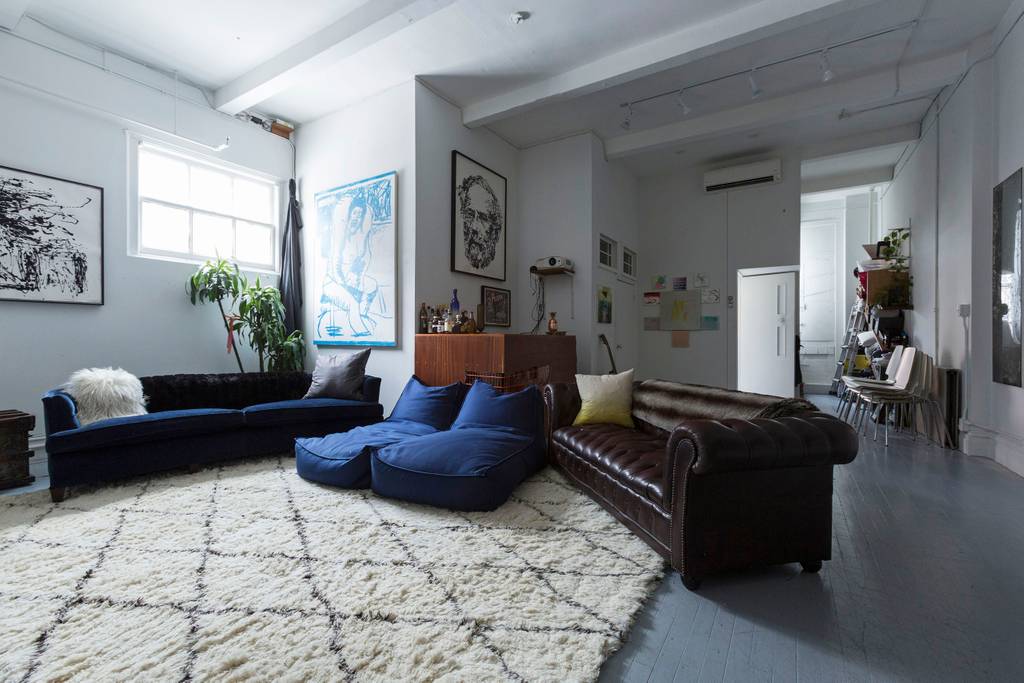 And you thought it would be difficult to find an art gallery mixed with a Buddhist monastery in the middle of the East Village. Well, surprise! We found one! This former hat factory occupies an entire floor of the building (the elevator opens right out into the apartment) and sleeps eight in three bedrooms.
Loaded with art and books and supplied with a projector that shows movies right on the wall, this place is loaded with things to do, although we happen to have a few ideas about what to do in the neighborhood. You'll be just blocks away from the world-famous Strand Bookstore which boasts 18 miles of books, many of which are used bargains, Union Square Park where you can pick up fresh produce at the farmer's market, the Evolution store where you can buy fossils and skeletons (reproductions, of course), the Angelika Film Center for obscure art films, and even the Museum of the American Gangster. This place will certainly make you feel like the O.G.!
9 New York Rentals To Live Like A Local In
10 Stunning Manhattan Airbnb Rentals To Fit Any Budget
8 gorgeous Airbnb New York Townhouses fit for Carrie Bradshaw herself!
We found the 8 best Airbnb homes in Asbury Park, New Jersey
4. Quirky Sophistication – approx. $395 a night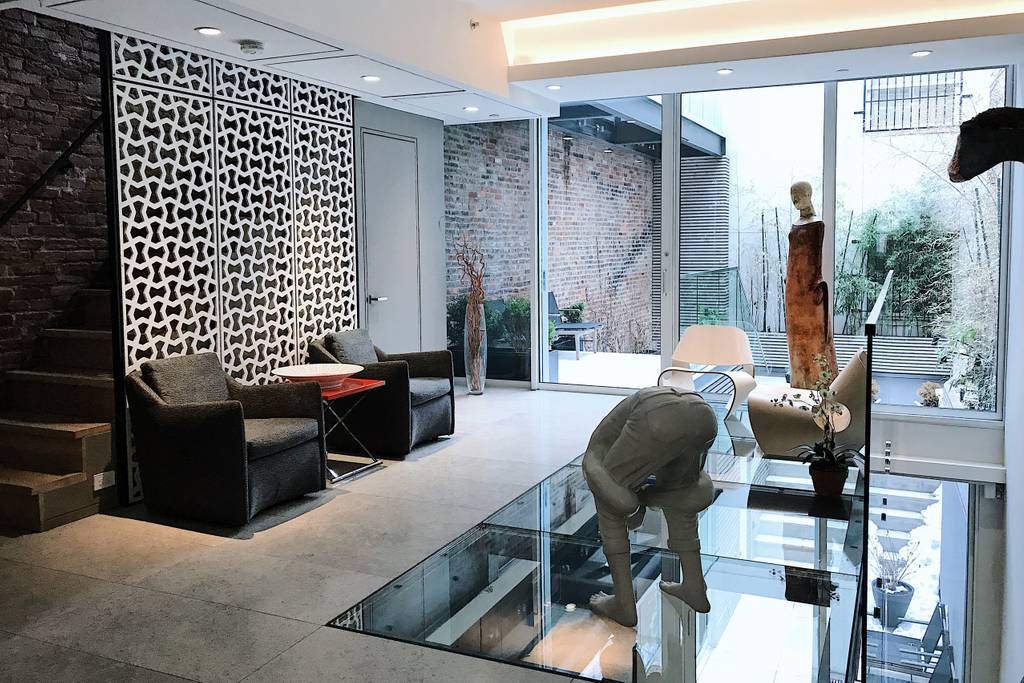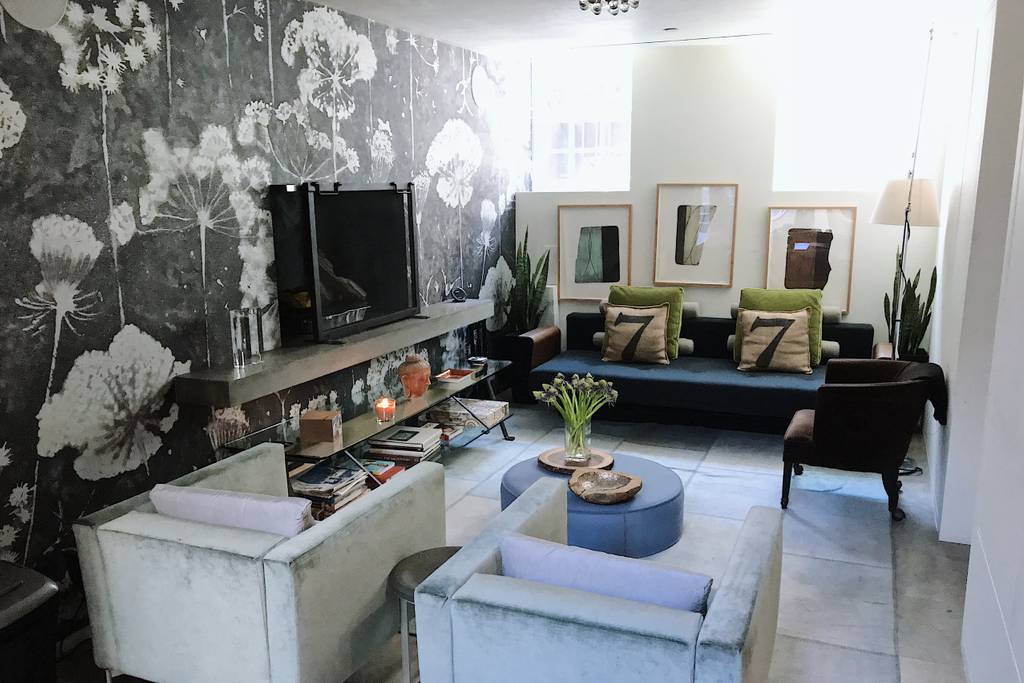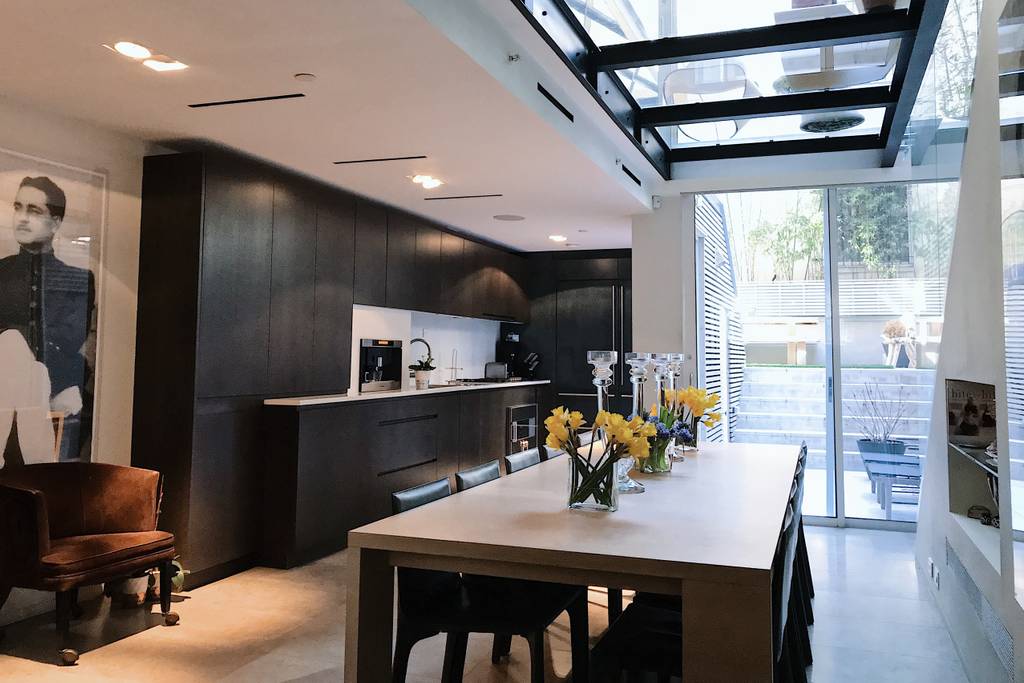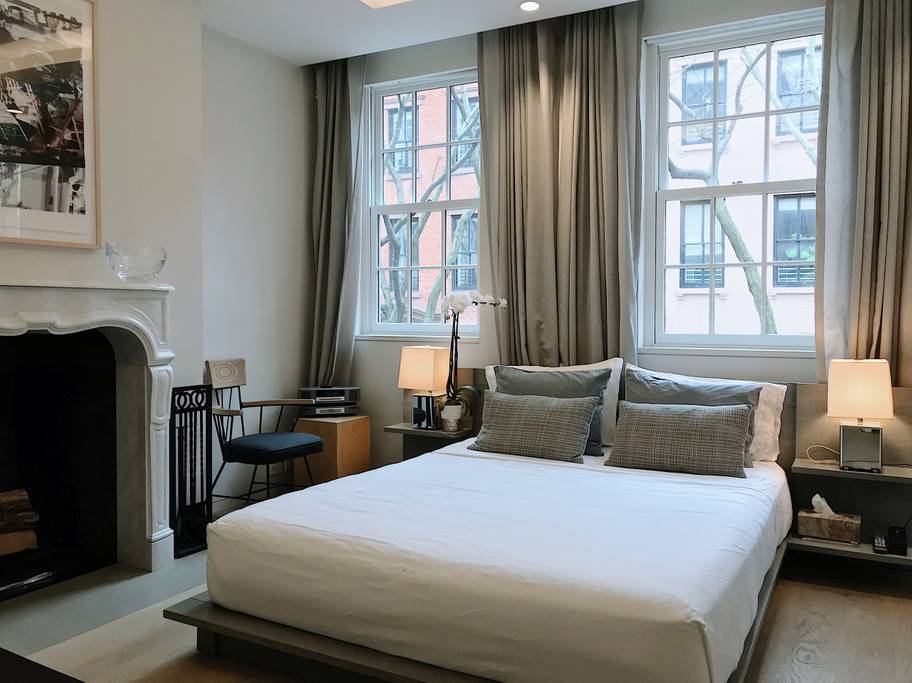 Cooly sophisticated, this three-bedroom townhouse is full of quirky art and decor. From the mural wallpaper to the sculpture (yes, that is a man crouching down in the middle of the room), this downtown Airbnb offers quite a bit to look at. Right in the middle of the West Village, this apartment will put you near Pier 45 where you can play mini golf, learn how to fly on a trapeze, go kayaking, or just sunbathe while you listen to live music.
Or go to the world-famous Blue Note to hear some jazz or go to Buvette for some great French food. Have a burger at the famous Minetta Tavern where Hemingway used to hang out or people watch at Washington Square Park.
Have a massage at Aire Thermal Baths or see a foreign film at the Film Forum. Afterwards, walk up Hudson Street where there are dozens of restaurants and then later head to Chelsea Market for desert and people watching.
3. Midtown Manse – $695 a night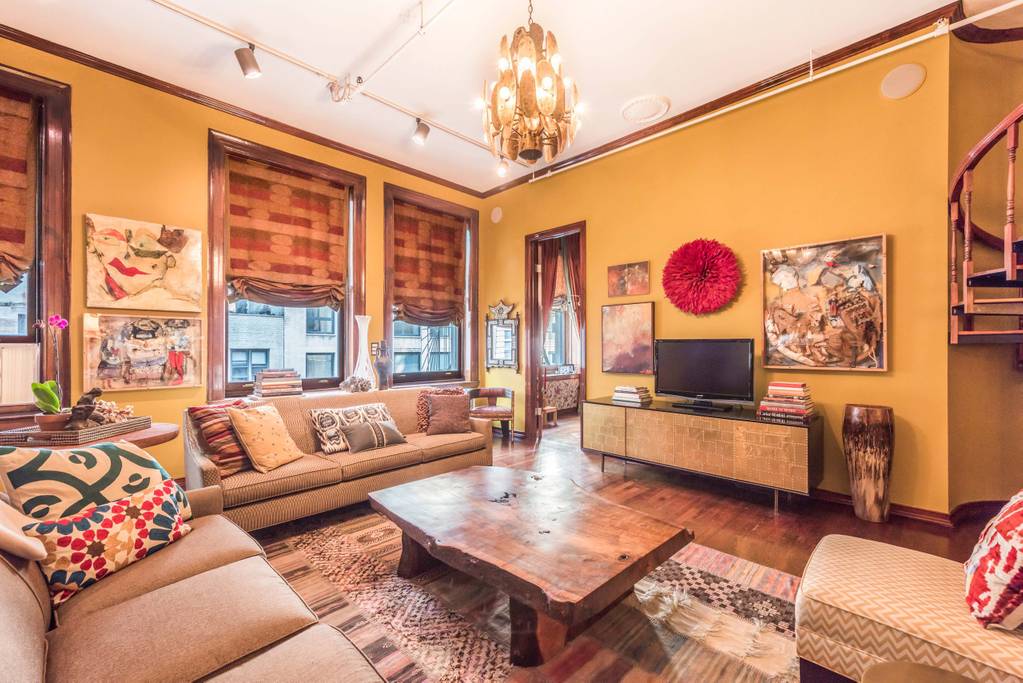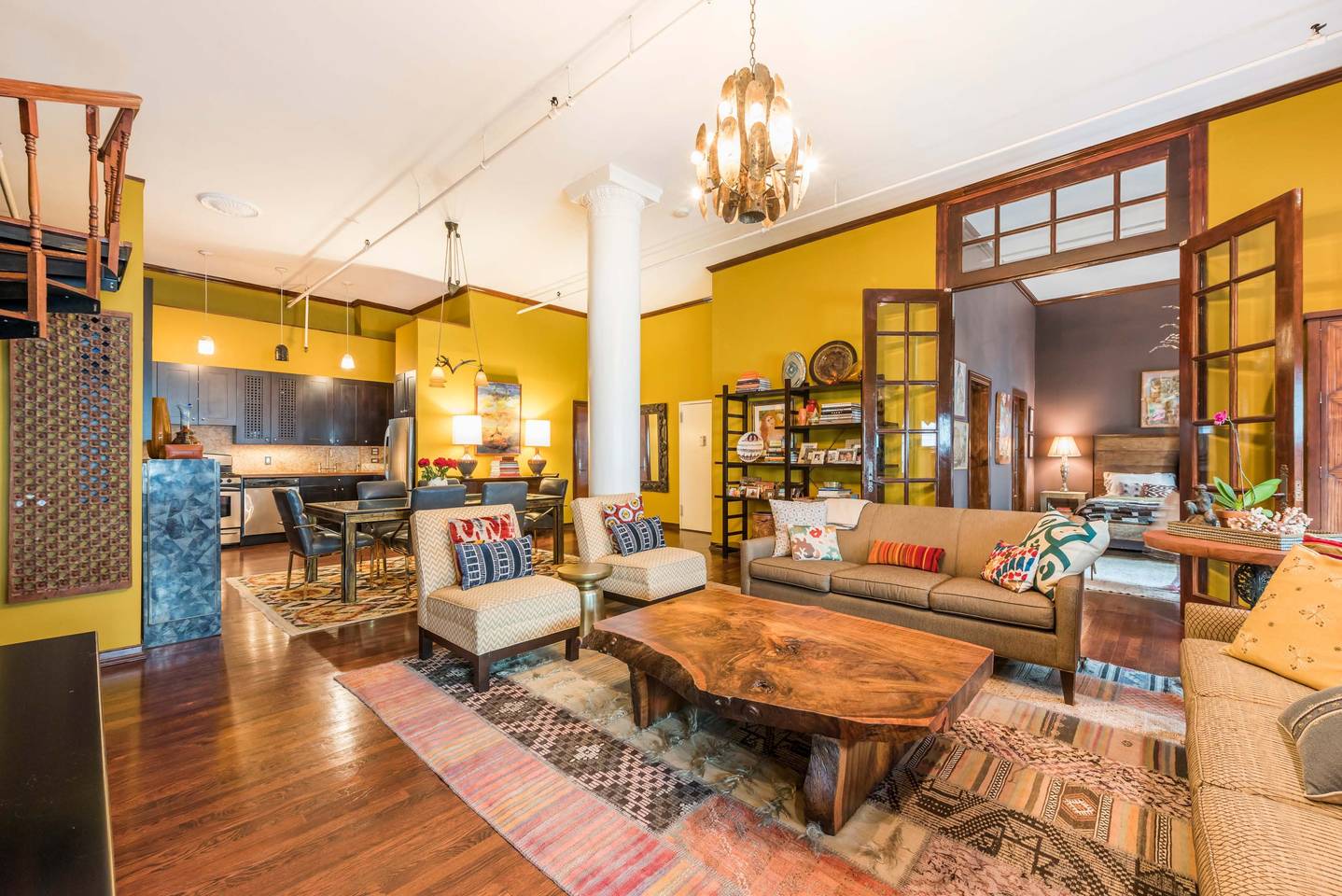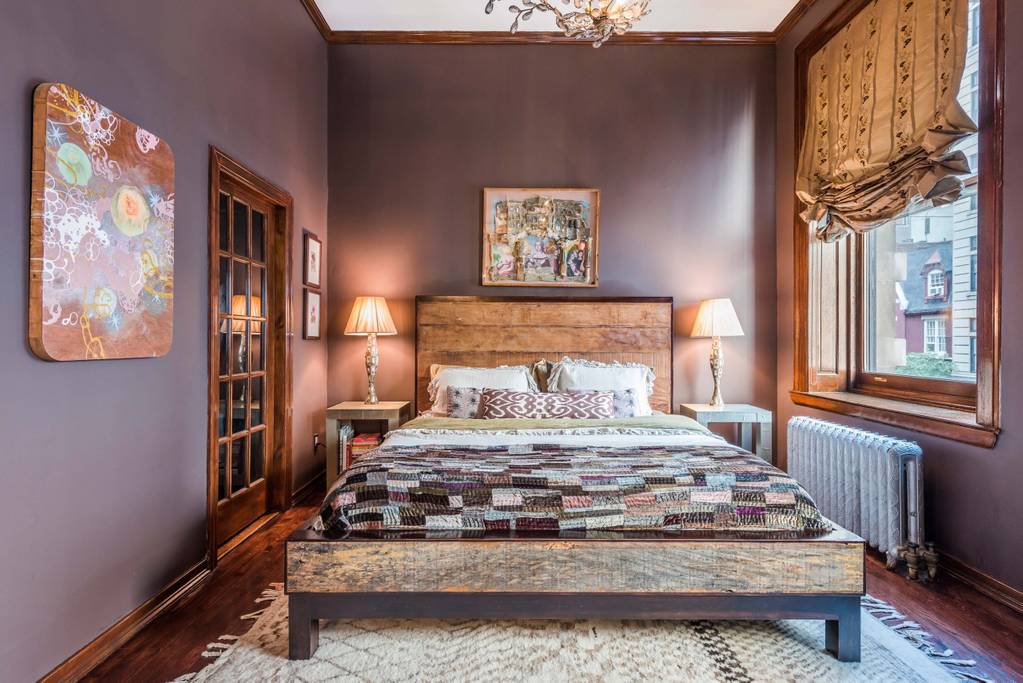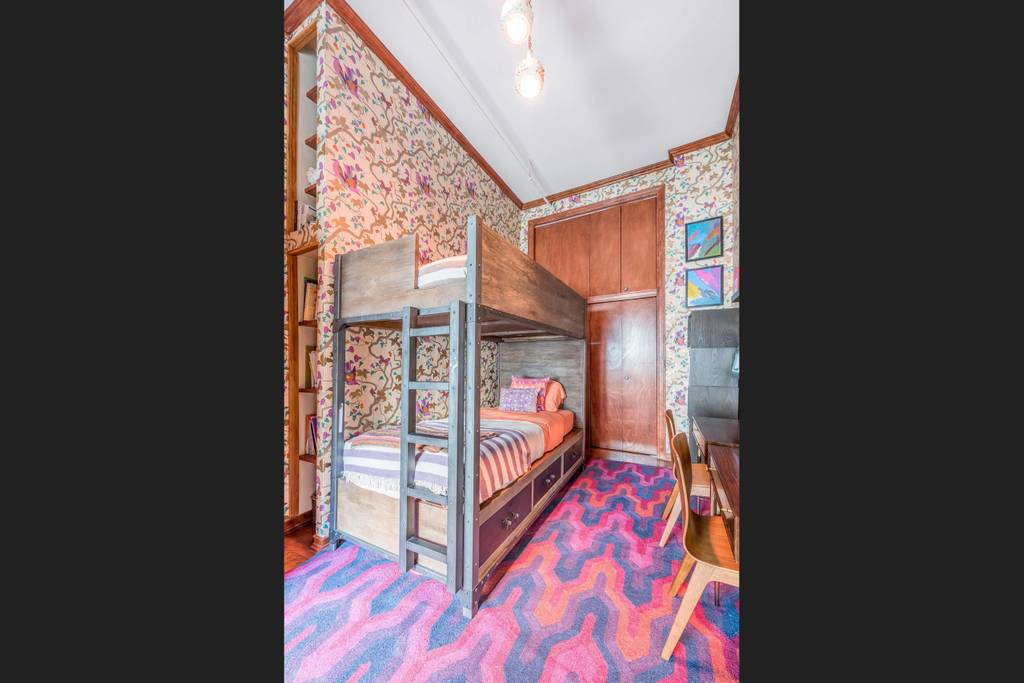 Like most artists, this place is big on originality and ecclectism. Right in the heart of the Flatiron District, this two-bedroom, two-bath Manhattan Airbnb is like almost nothing you've ever seen before.
Sleeping four, this apartment, which is just north of most of the other on this list, will put you a bit closer to midtown so you'll be near the Empire State Building, Grand Central Station, Bryant Park, Madison Square Park (if you love Shake Shack, this is where the original started), world-famous Chelsea Flea Market, and of course, the Flatiron Building (just remember you can't really go inside unless you know someone with an office there).
You'll also be surrounded by restaurant choices. Some favorites include the Gramercy Tavern, Maialino, Old Town Bar which has been operating since before the turn of the last century), Union Square Café.
Like Waterfalls? Check out these Ithaca, NY Airbnb spots

Eye Candy: 8 Airbnb Homes With Views of the New York Skyline
2. Bold Base – approx. $725 a night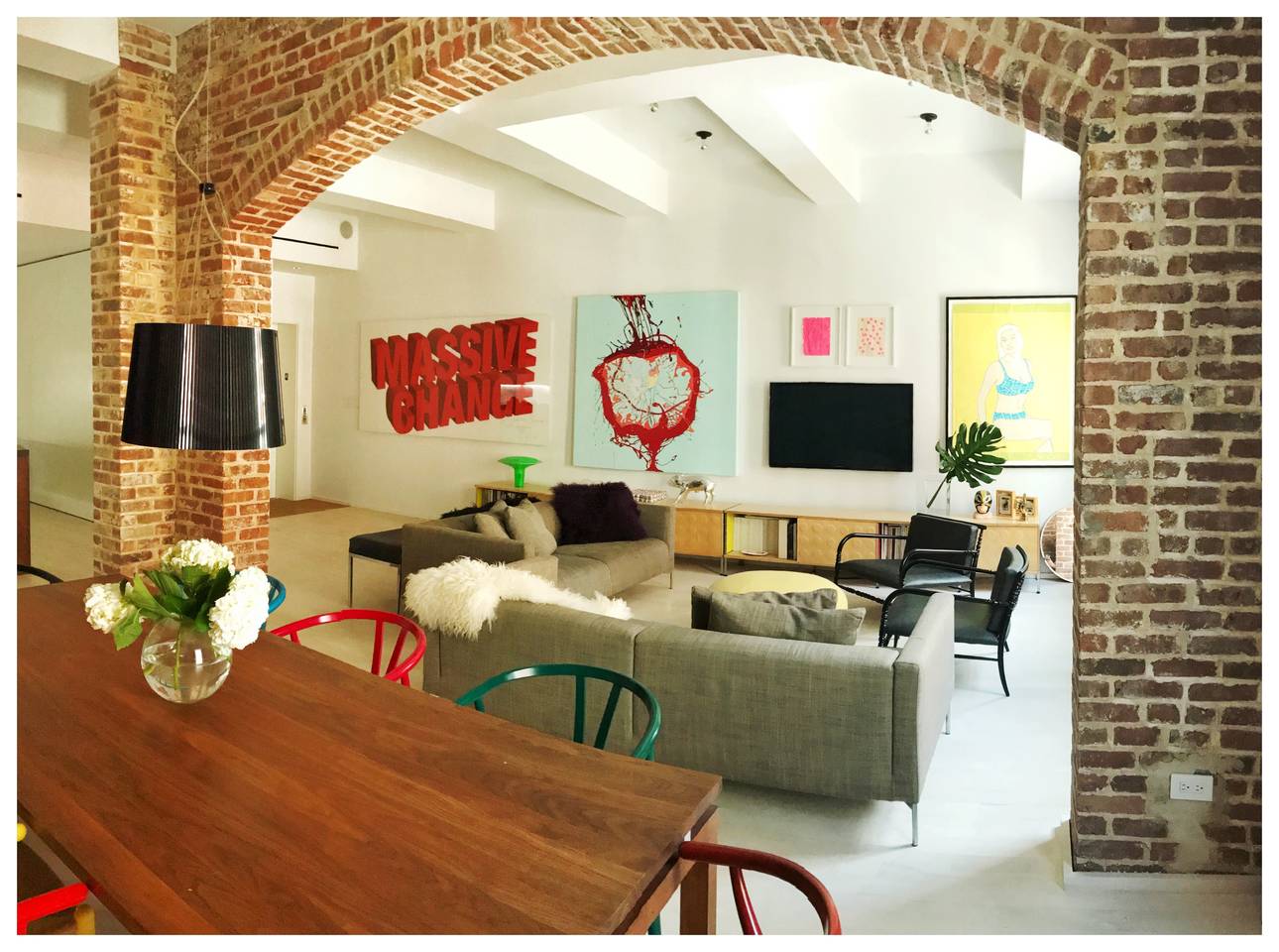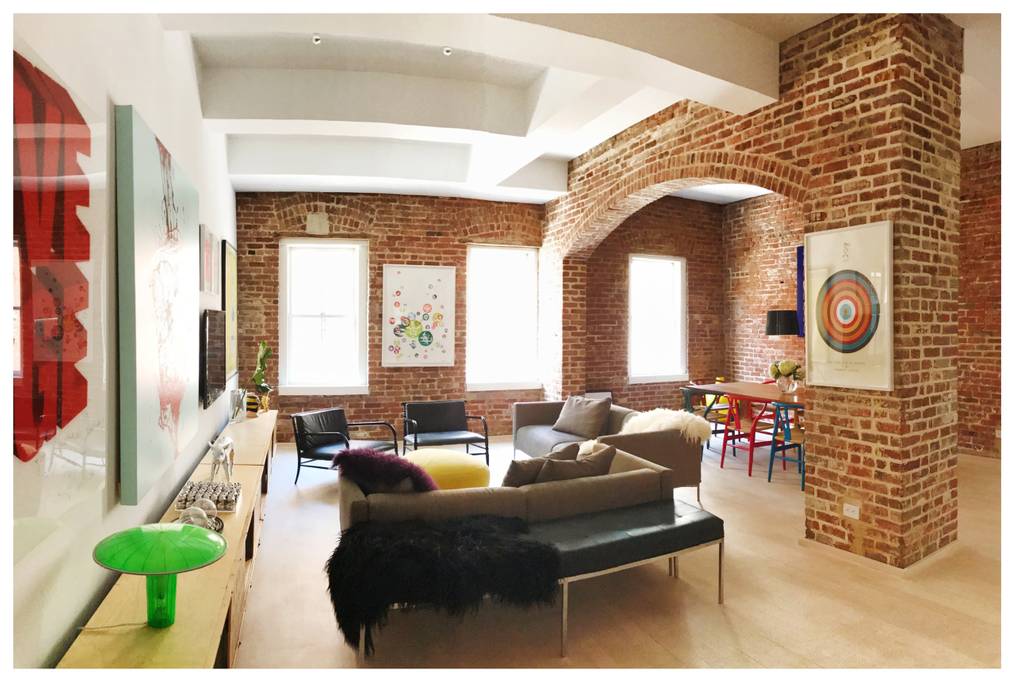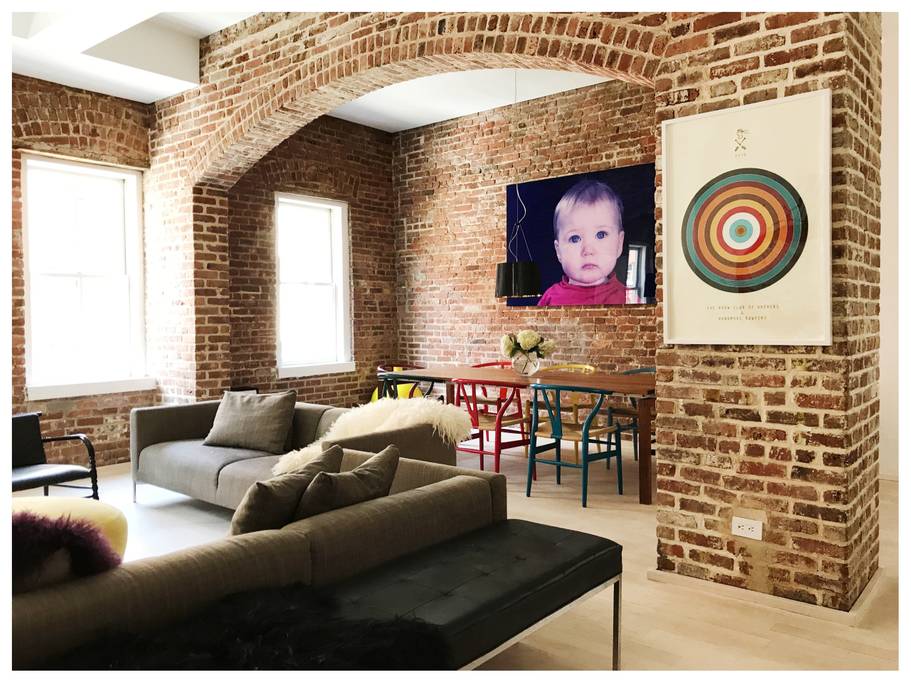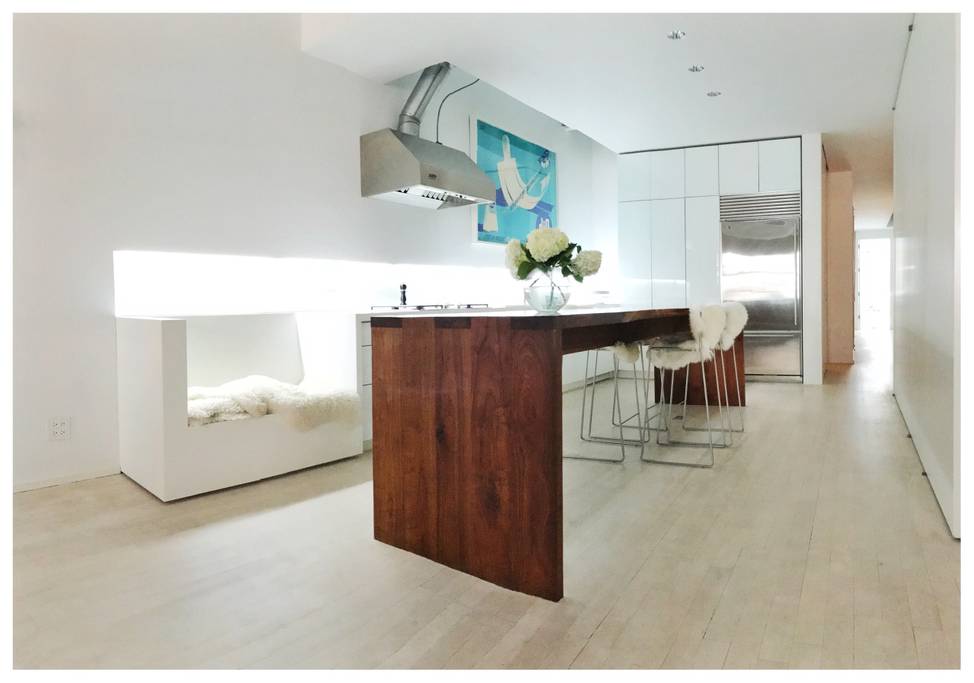 Like the city itself, this New York Airbnb is bold, cool, and clearly meant for creative types. Chock full of art, photography, and sculpture, there's something to look at in every corner of this incredible SoHo loft. With a private keyed elevator, high ceilings, and custom-designed kitchen, it's at once elegant and eclectic.
Just on the border of SoHo and TriBeCa, this apartment is situated near so many things you may not even care that there's a subway right nearby. Among other places, you'll be right near Hudson River Park, Zuccotti Park (where the Occupy Wall Street movement began), the New York Stock Exchange, the Charging Bull statue, and even the entrance to the Brooklyn Bridge which you can walk across if you want to see Brooklyn.
1. A Little Bit of Everything – approx. $800 a night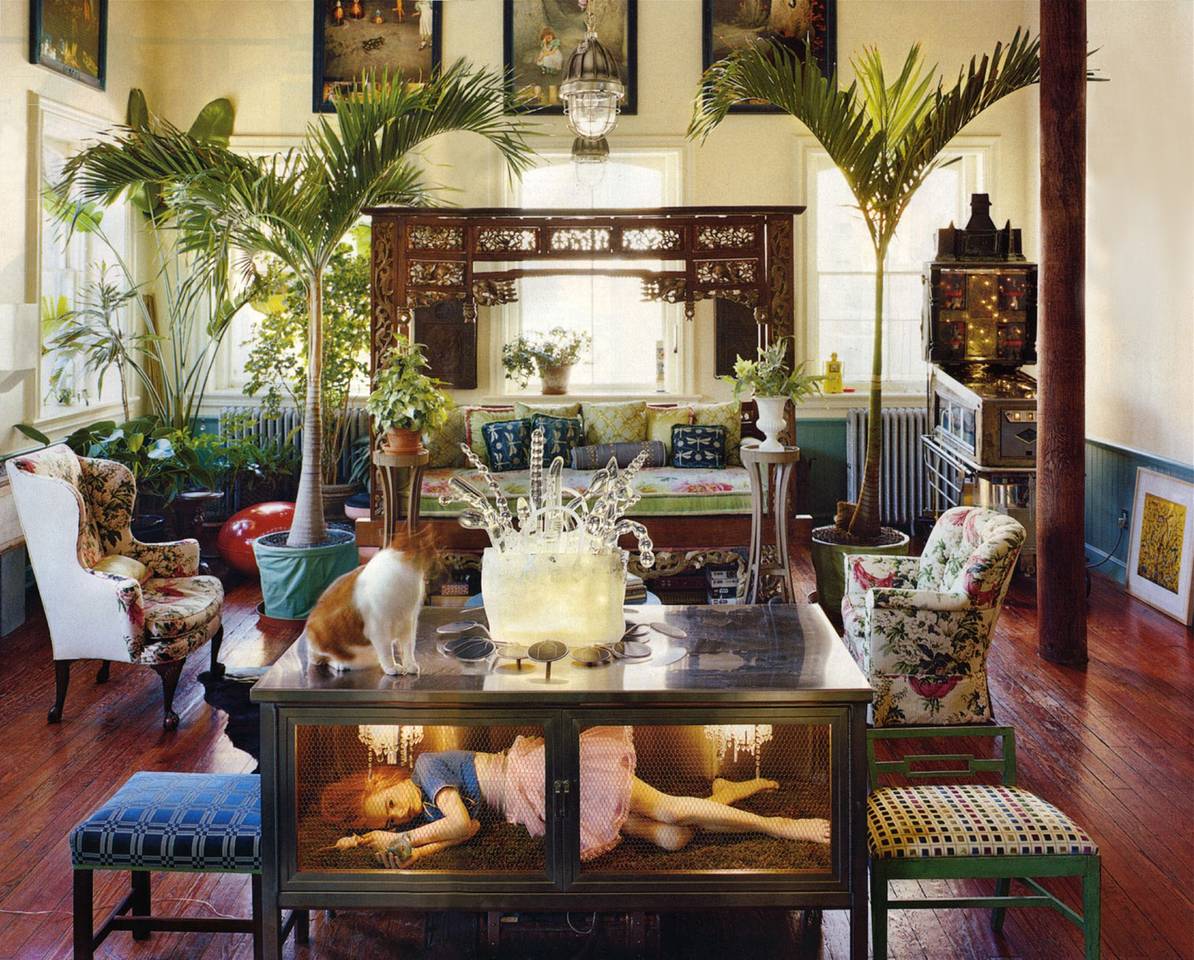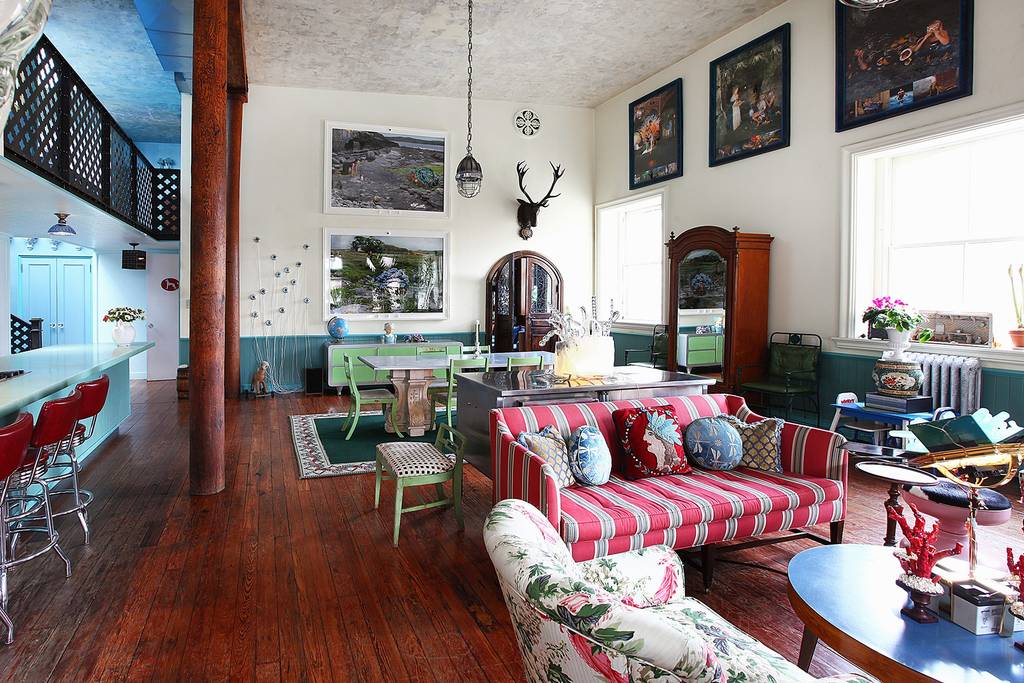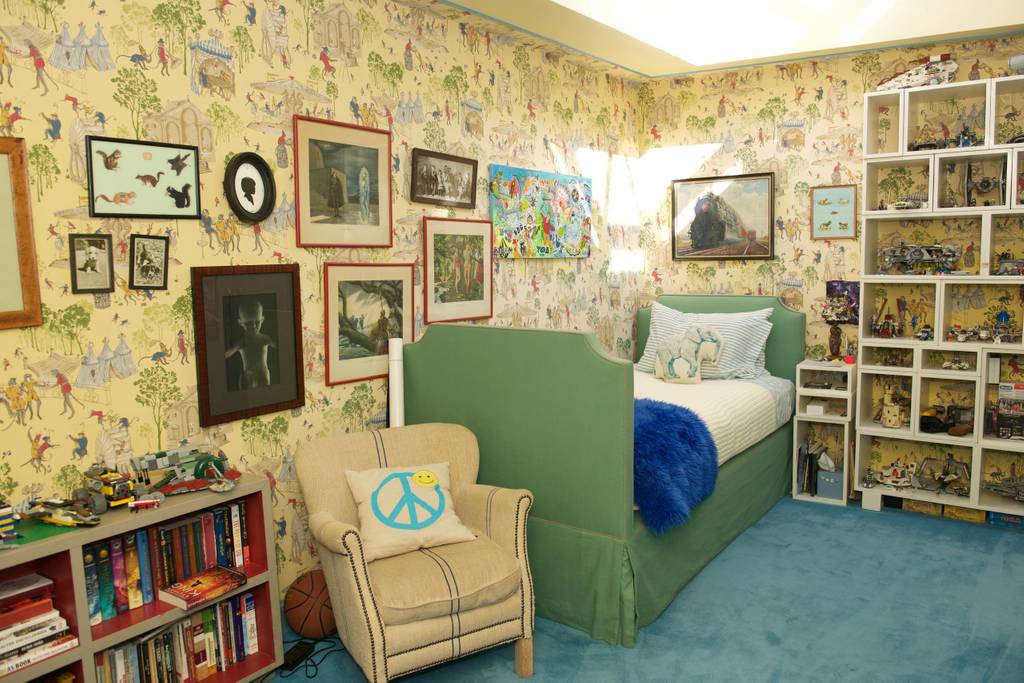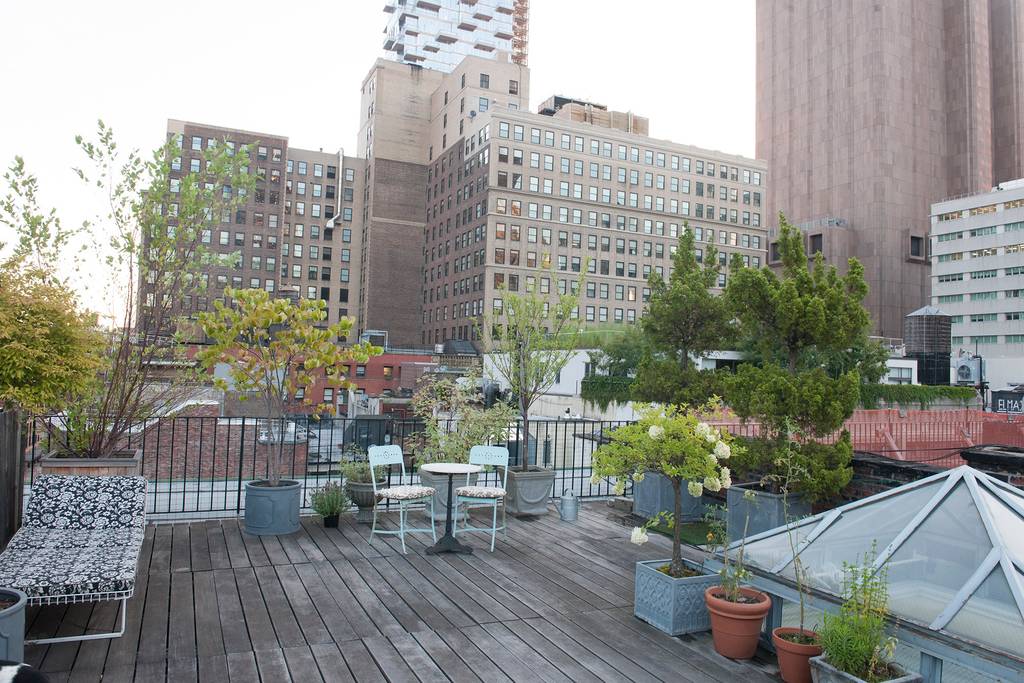 Think "Alice in Wonderland" meets a Turkish bath, meets Wes Anderson meets a performance artist and you've pretty much got this all but indescribable artist's loft in Tribeca. One look at that over sized doll trapped in a glass box, and you know you're someplace different.
Complete with a pinball game, antlers, a staircase to nowhere that seems to have someone climbing down it (in gold boots, no less), and a full-on library, well, all we can say is that you probably won't find too many Airbnbs like this even in New York. Having appeared in major magazines around the world, this place can't help but garner attention.
At $800 a night it sleeps up to six people in four bedrooms and has three separate bathrooms. With a roof deck and n incredible view, it's hard to believe that this apartment isn't the only incredible thing you'll have to look at. With 3,500 square feet, you and yours will have plenty of room If you didn't have a lot of Instagram followers before, you certainly will now!