While it's true that most New Yorkers have little more than a couple of bedrooms to play with, that doesn't stop many of them from packing their apartments to the gills with interesting things. Whether it's a collection of hard-to-find books, French antiques, or an art collection, it's fascinating to see how some people make such great use of a small space. For that reason, we've compiled this list of 8 Fabulous New York Airbnbs Perfect for Maximilists. Needless to say, this list was not Marie Kondo approved!
You'll Love These 8 New York Airbnb Homes for Artistic Types
8 Airbnb Williamsburg Rentals For Your Next Stay In Brooklyn
8. Penguin Pad – approx. $255 a night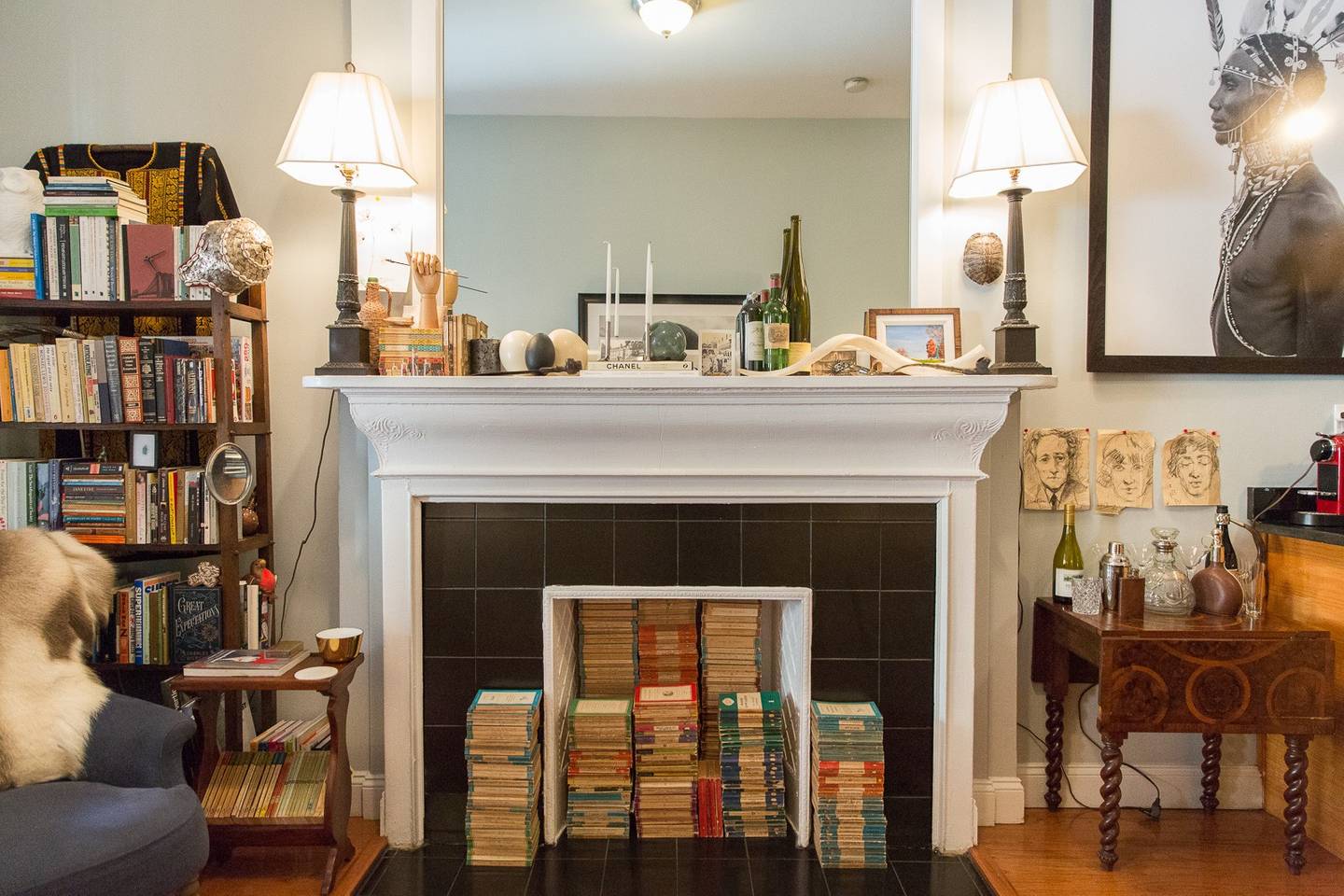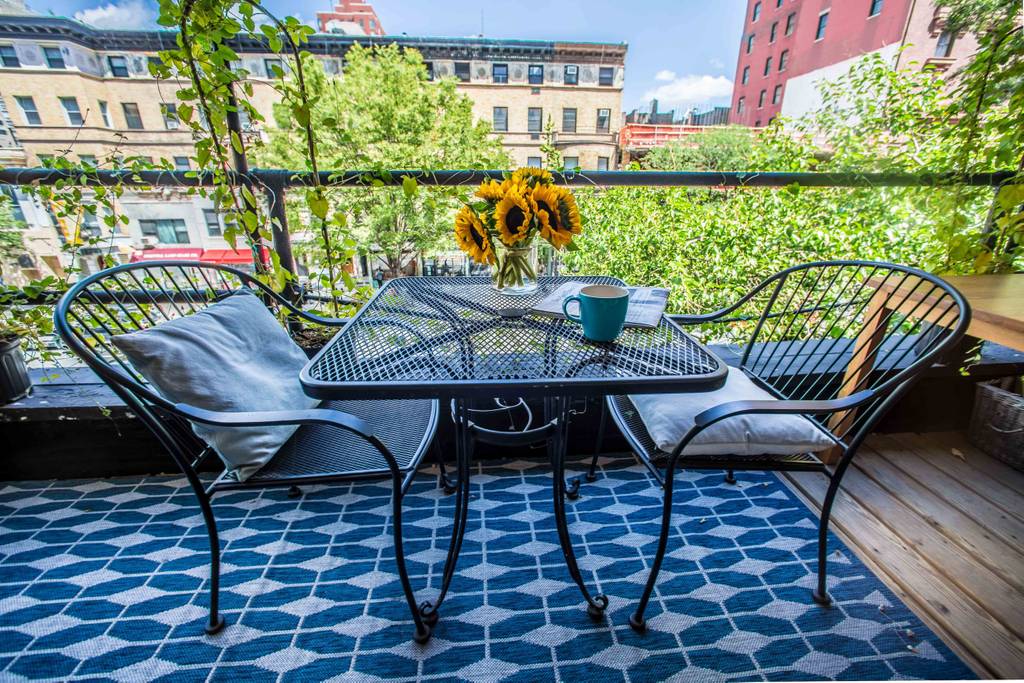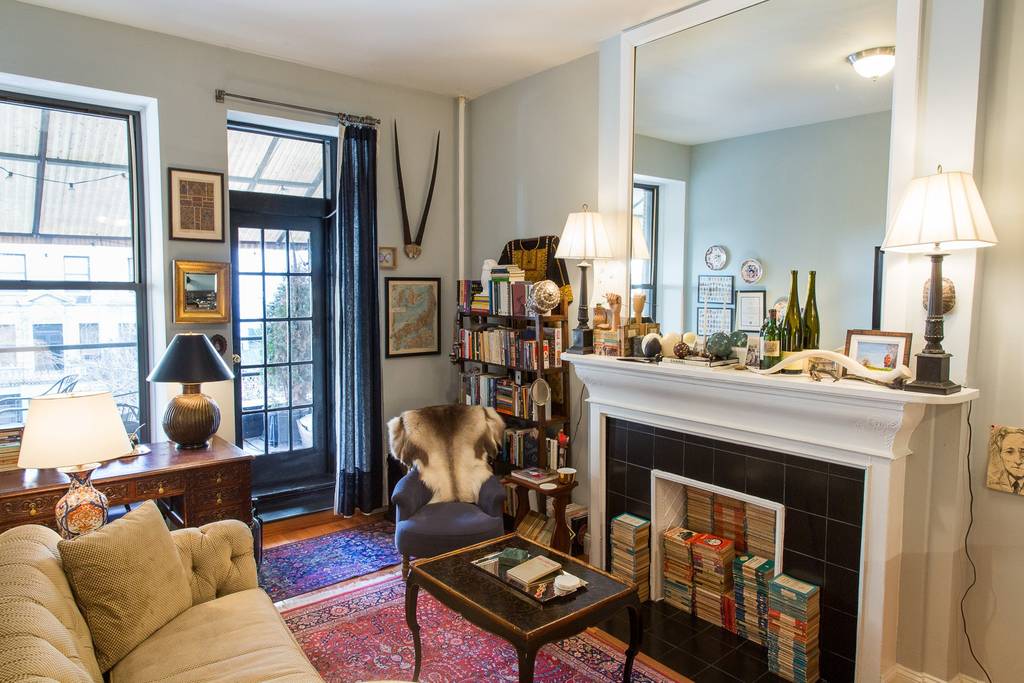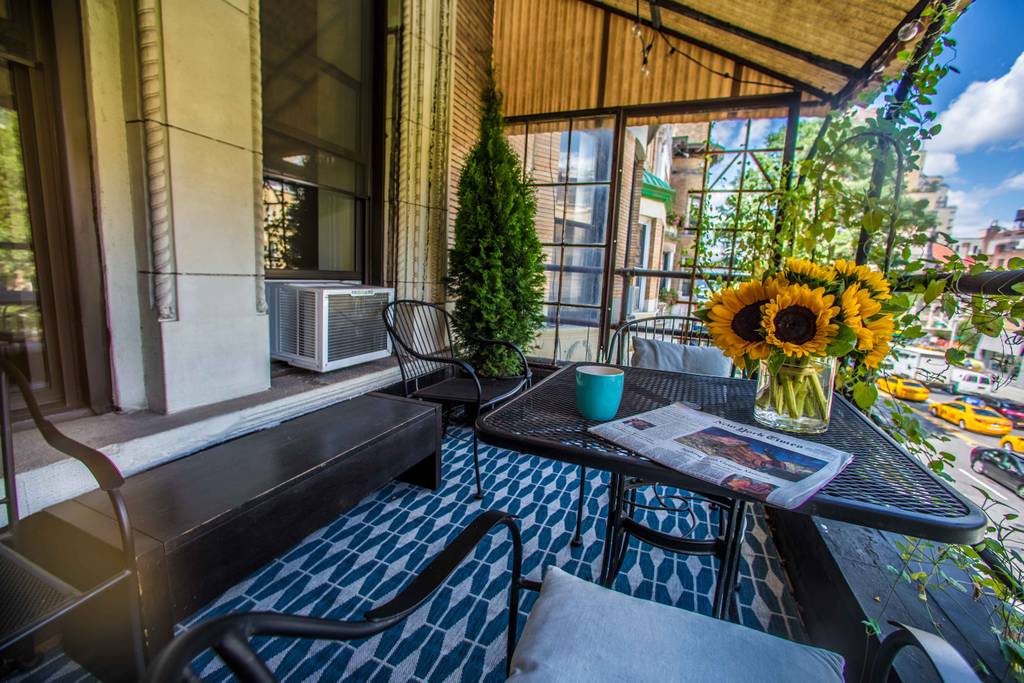 This Upper West Side one-bedroom Airbnb feels like the home base of a world adventurer who writes novels on the side. With a huge collection of Penguin books, art work, and an assortment of objets from around the world, there's always something to look at here.
With a private balcony, which is a huge luxury in this city, and a separate bedroom, you'll have all the room you need. This pre-war gem with high ceilings actually sleeps three people if one of you is willing to stretch out on the couch. Conveniently located, it's just feet from the subway and so close to so many great attractions like the Museum of Natural History and Hayden Planetarium, the New York Historical Society (their restaurant, Caffè Storico is fantastic), Lincoln Center, Central Park, the Children's Museum of Manhattan, and Riverside Park.
There's also a fully stocked kitchen so if you're a cook you'll be near specialty food store Gourmet Garage as well as the legendary Zabar's. And, although you can't really visit, you'll be near the main offices of Penguin Books!
7. Paris Perfection – approx. $185 a night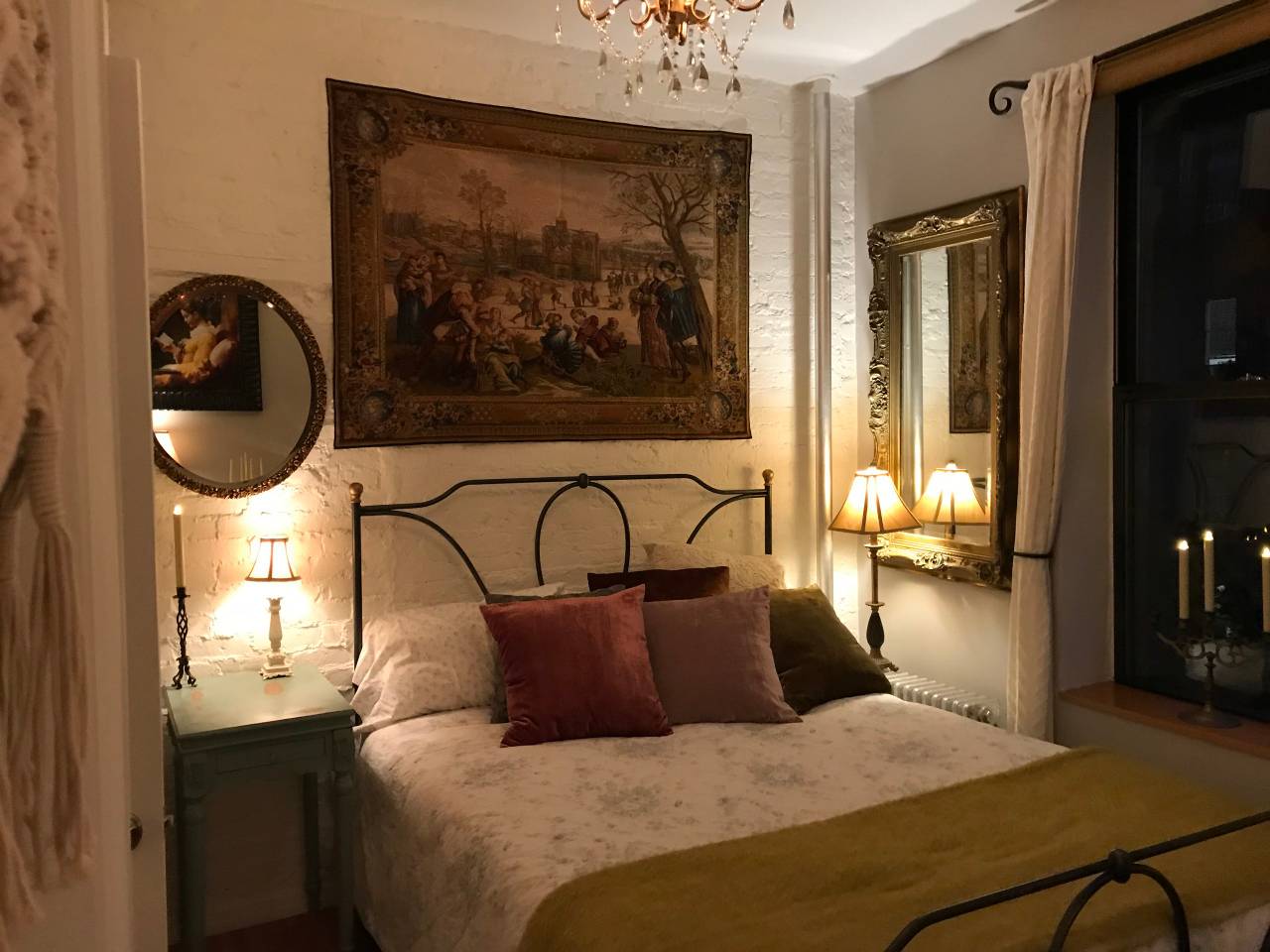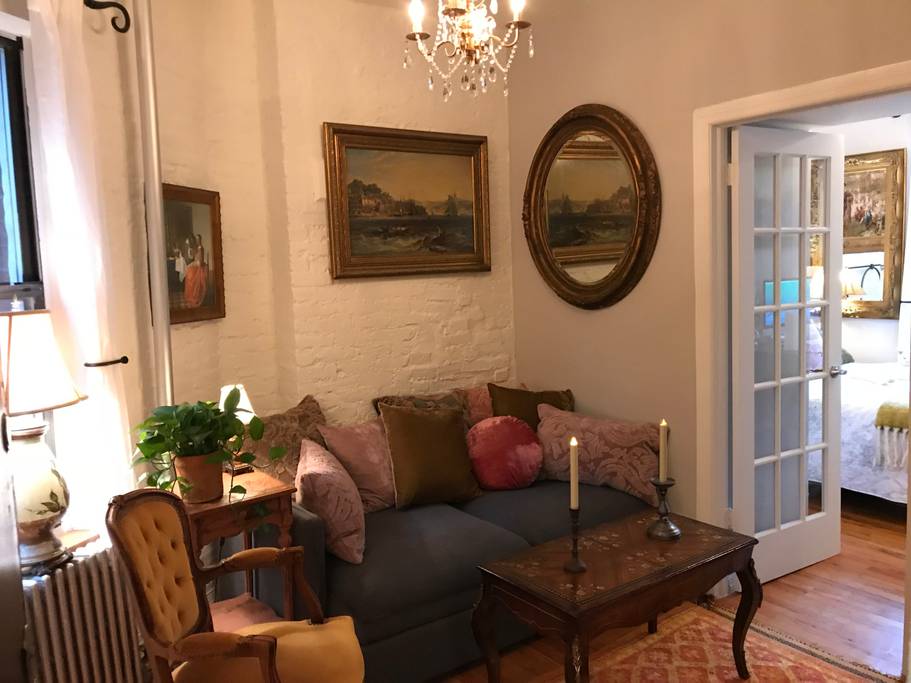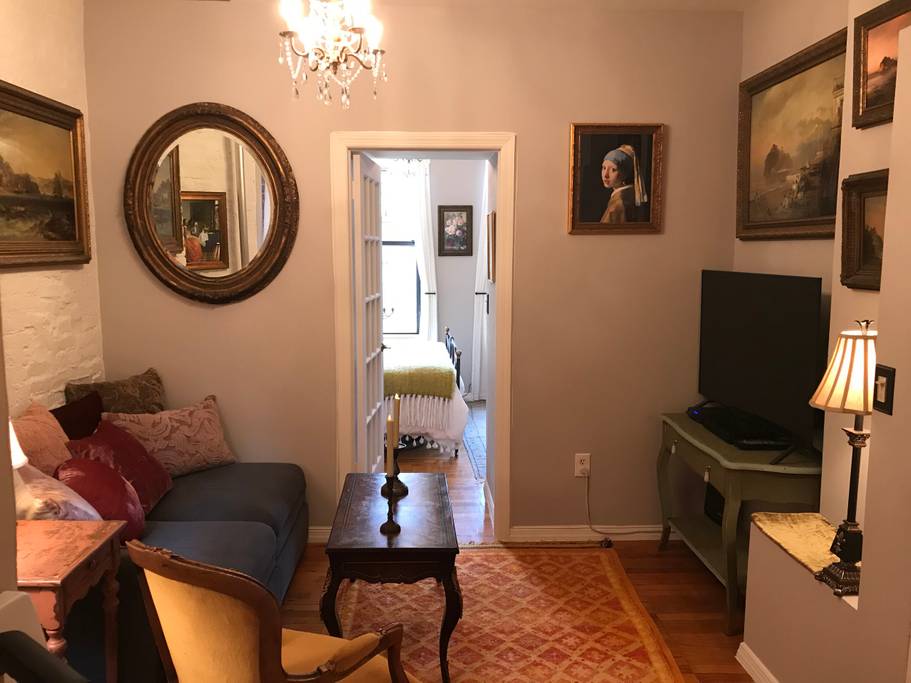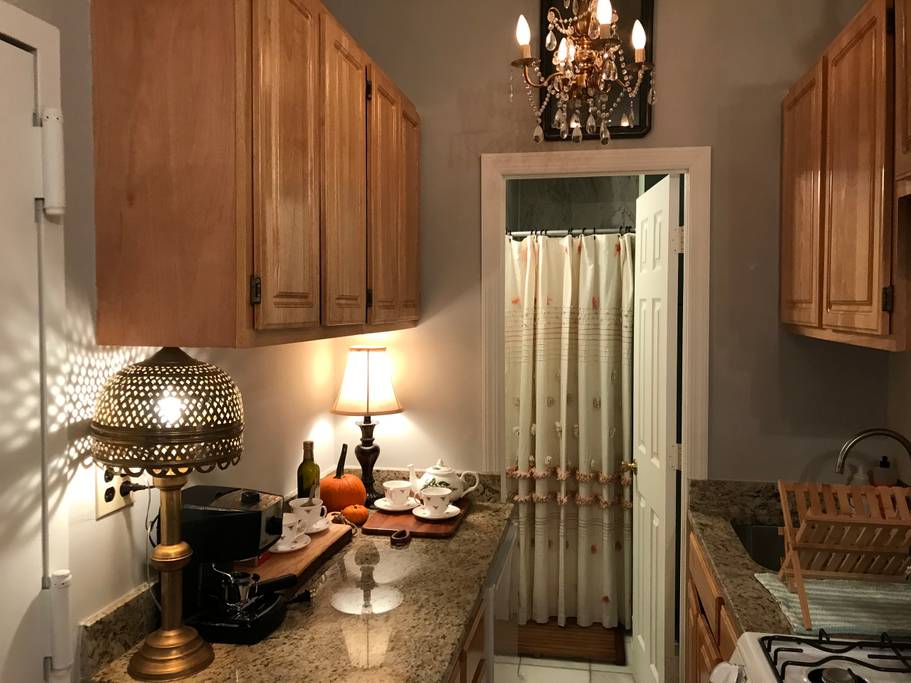 While it's in the heart of the East Village, the owner of this French-themed Airbnb refers to this adorable apartment as "The Louvre Apartment" and it's easy to see why. Decorated with old European art pieces and decorative touches, this really does feel like a 19th-century Latin Quarter flat.
With direct sunlight and on a relatively quiet street, this will really feel like an oasis of calm and serenity. While the area was once one of Manhattan's dicey-est, it's now one of its hottest with a literal endless list of things to do and places to eat. Among our favorites is Thompkins Square Park which is fabulous for a walk, a game of basketball, or even a round of chess if you're able to find a partner at the tables.
You'll also be near the Museum of the American Gangster if you're up for an adventure. For drinks, we recommend two glasses of beer (they serve two at a time) at legendary McSorely's. If you're up for an adventure, why not have dinner at the Ukranian East Village restaurant on 2nd avenue? The food is great and more importantly, cheap! Finally, top your evening off with an egg crème at Gem Spa, said to have the best egg cream in town! Like a lot of things in New York, it's open 24/7 so you can pop in any time!
6. The Castle – approx. $177 a night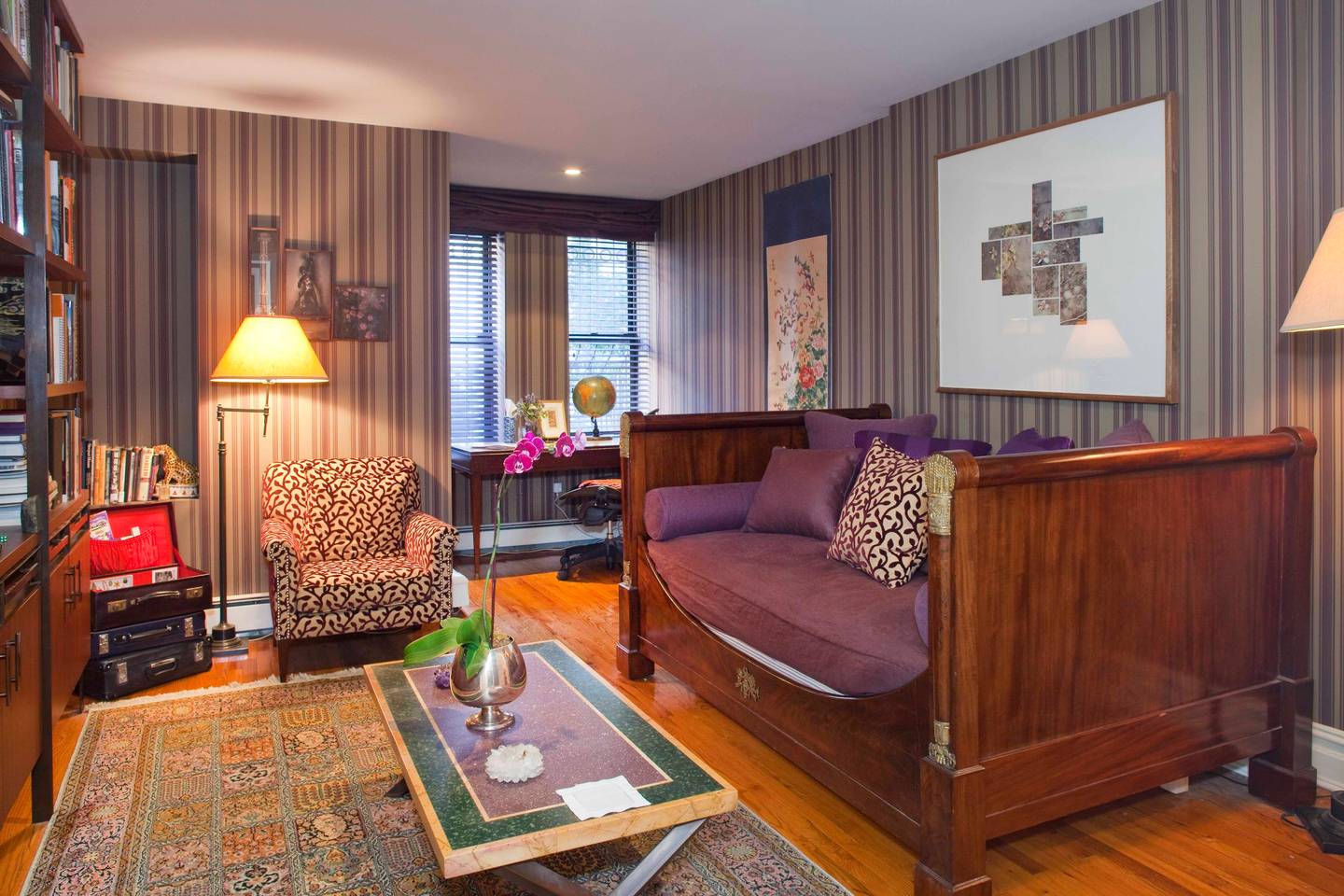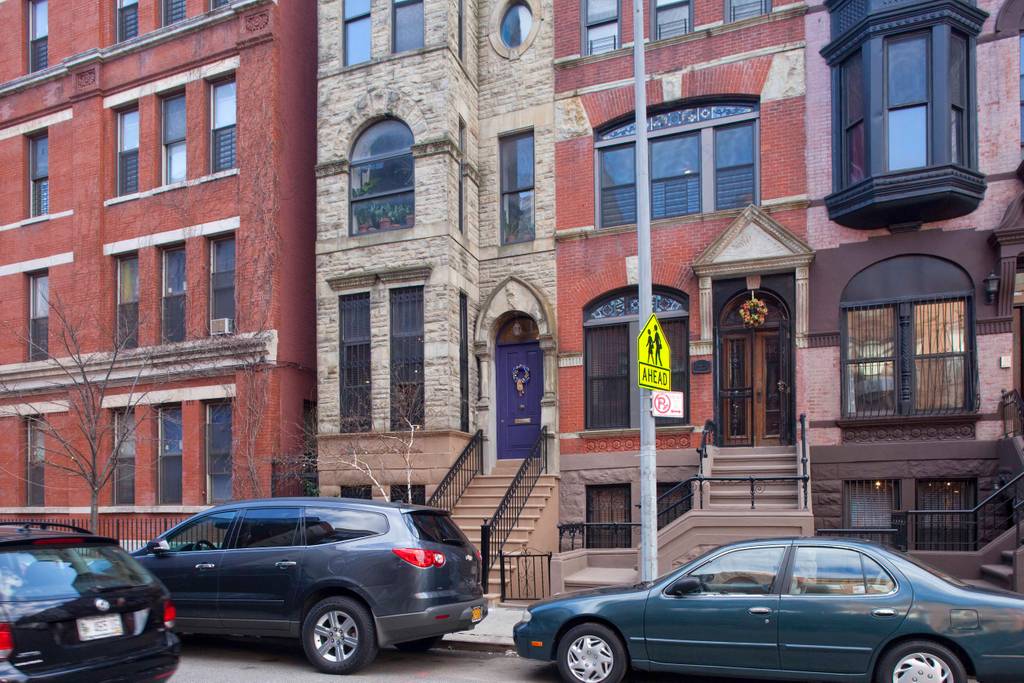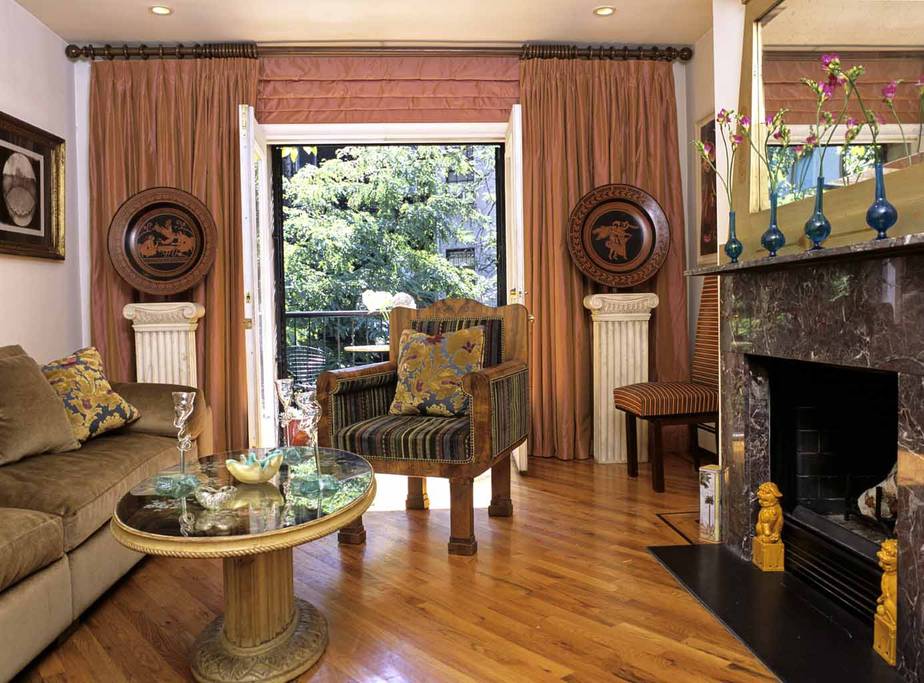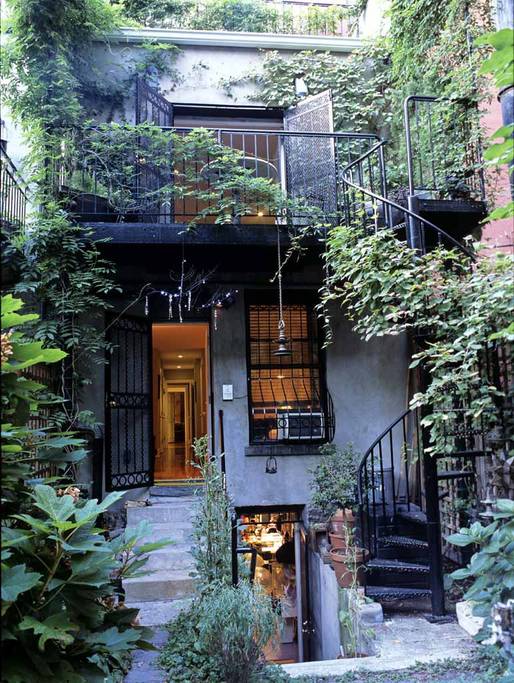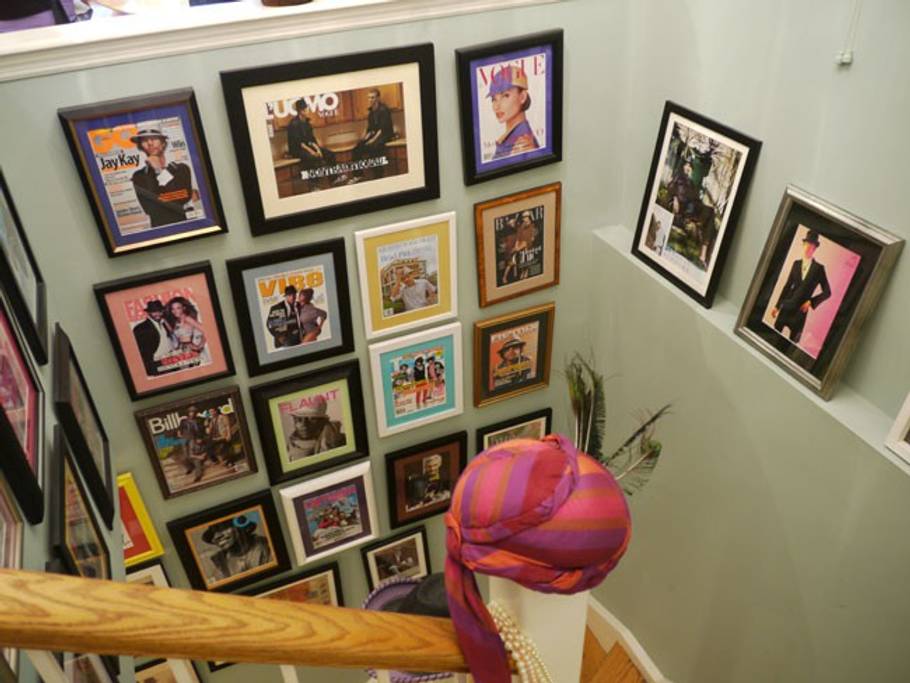 Stately, sophisticated, and full of interesting things to see, this 1885 Gothic Harlem brownstone is owned by a haberdasher whose motto is "Life is a banquet and most poor suckers are starving to death!" This one-bedroom Airbnb sleeps one but don't worry about being starved for company.
The owner's cat, Ferris is here to keep you company. Known as "The Castle," this rental is for a private bedroom and en suite bathroom but you'll also have access to the kitchen, the dining room, and even the terrace and garden area to boot. Once you step out the doors of the brownstone you'll have endless choices of things to do for instance, catch a show at the legendary Apollo Theater, visit the Cloisters, or take a walk in Riverside Park.
You'll also be super close to Central Park and if you're there in the winter time, why not take advantage of the Lasker Park ice skating rink? Afterwards, you can have dinner at Lighthouse Fish Market and then go for drinks and entertainment at Ginny's Supper Club? If you're not too hungover the next day, check out the National Jazz Museum. There's so much to do here that this might be one banquet you can't finish!
5. The People's Palace – approx. $450 a night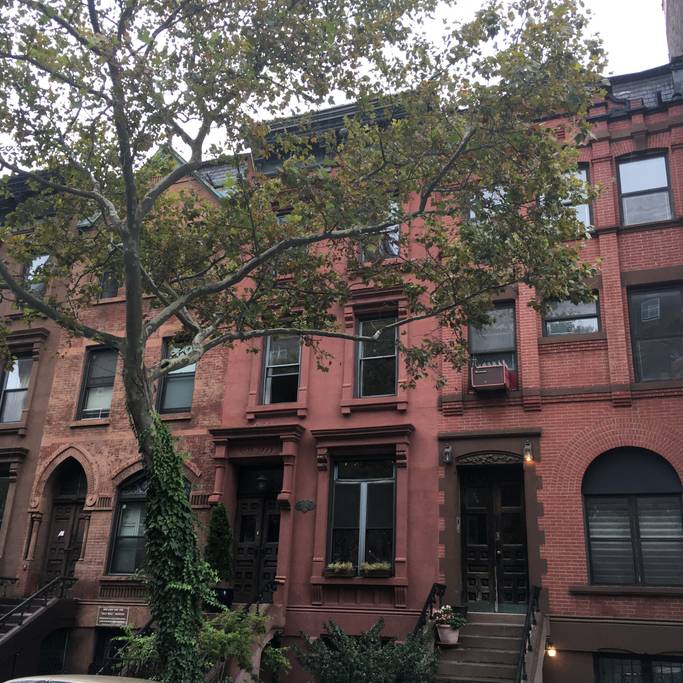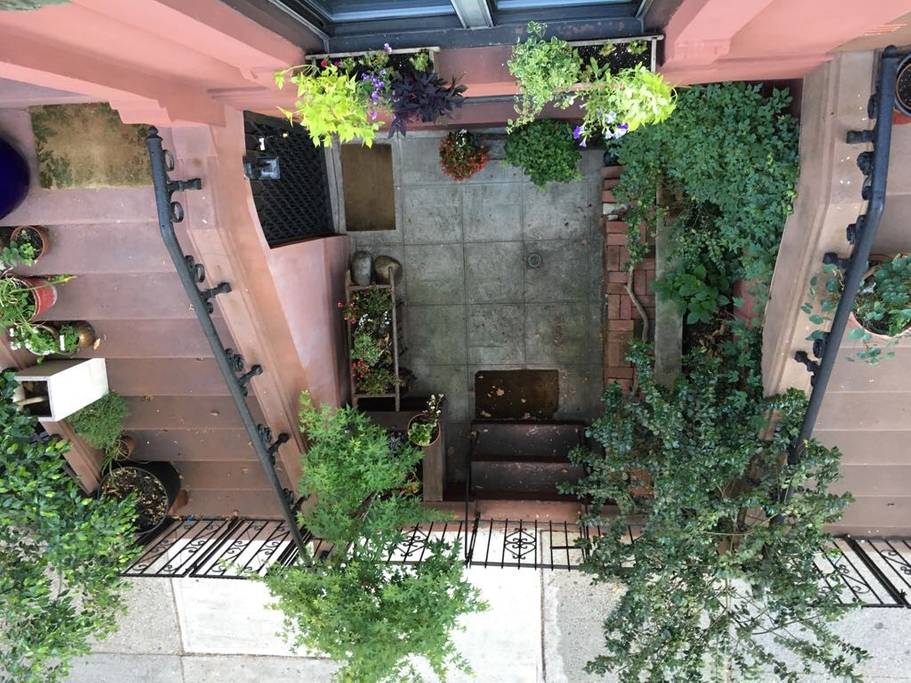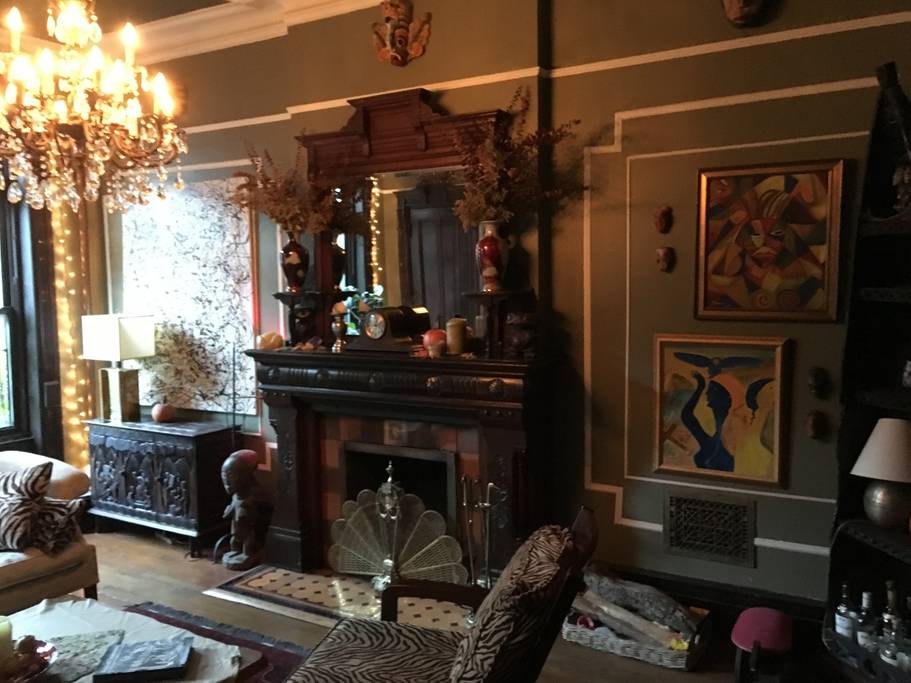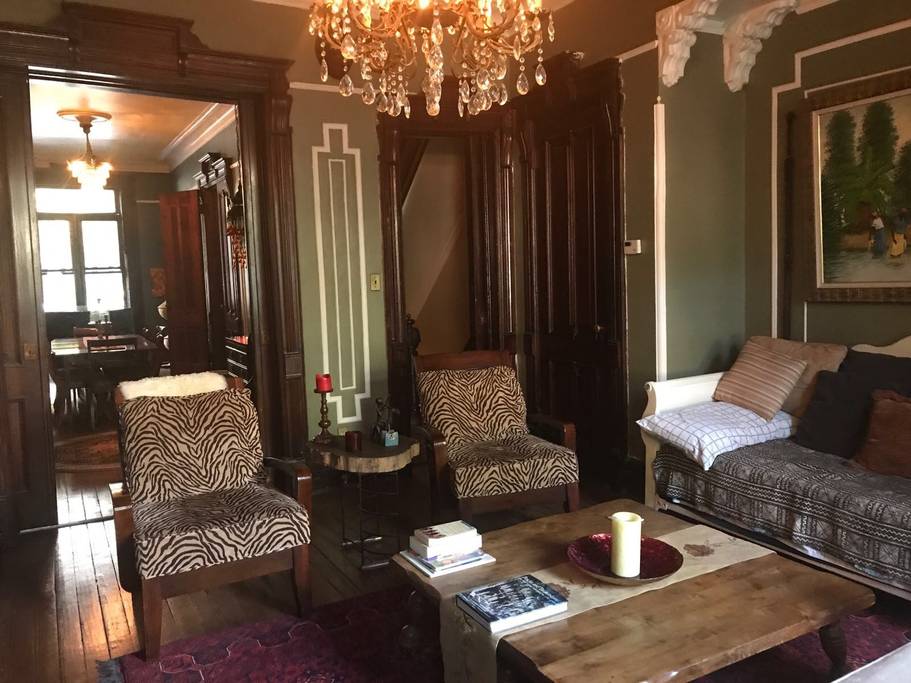 Known as "The People's Brownstone," this Harlem Airbnb sleeps seven within its three bedrooms so if you're traveling with family or even a small group, this is a great choice! Within walking distance of the famed Apollo Theater, this turn-of-the-century home has all kinds of interesting architectural details so be sure to give it a close inspection! An enormous space by New York standards, this truly special place features an outdoor garden area complete with koi pond!
While you're here, be sure to have brunch at legendary Sylvia's which has been around since the 60s. Afterwards head down to El Museo del Barrio which always has a fascinating exhibit or two going on as does the Museum of the City of New York but the best part of staying at this New York Airbnb is that your hosts will direct you to a secret jazz club that also happens to serve the best fried chicken in New York! If you stay here, just don't give away the secret!
Show Your Stripes – approx. $582 a night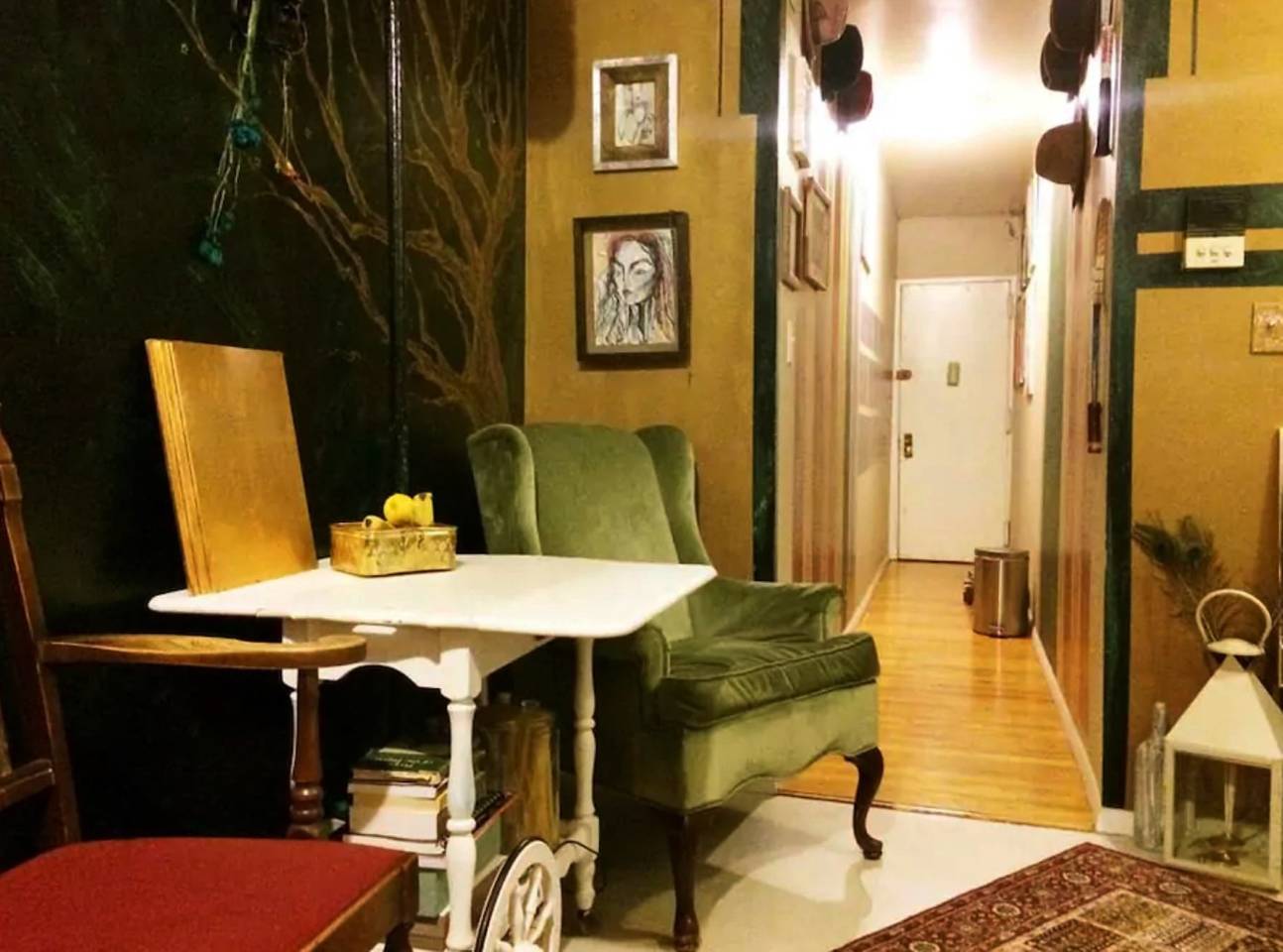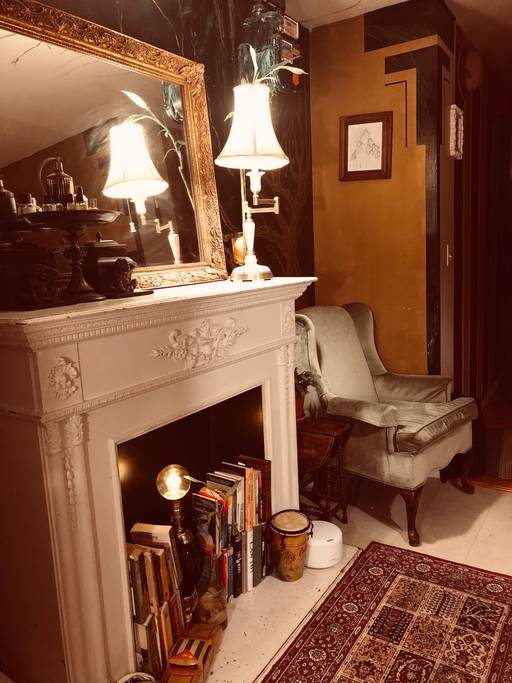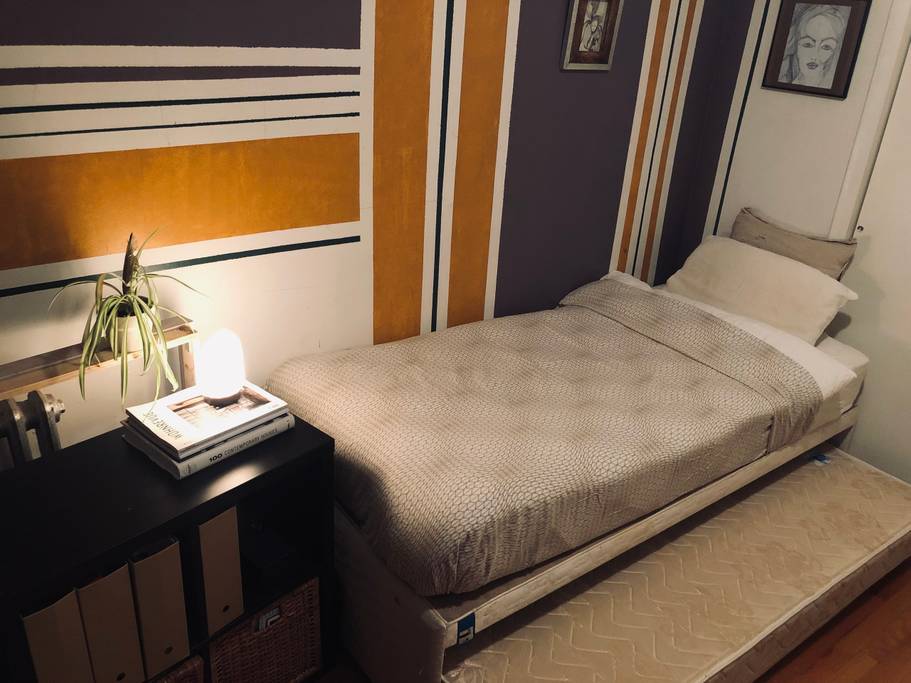 Apparently keeping books in the fireplace is all the rage these days because, like the Airbnb above, this one is full of them! From the creative stripes on the wall to the fascinating vignettes all over the house, it's clear how much thought has been put into everything here.
Right in the center of town, this place will put you near so many attractions it's hard to know where to start, but for a true UES experience, we recommend a trip to the Museum of Modern Art (MoMA), a quick stop at the newly renovated St. Patrick's Cathedral, a visit to the Frick Collection, a trip to Creel & Gow (which looks like a museum but is actually a store), and a drink at the King Cole Bar at the St. Regis Hotel.
For a really interesting view of the city, hop on the Roosevelt Island tram (but plan to come back fairly quickly. The island is basically just residential and there's not much to see here). For dinner, consider New York institution P.J. Clarke's which has been around since the late 1800s and when you're there notice the building next door.
Clarke's is what's known locally as a "holdout" building, meaning its owners wouldn't sell the property to wealthy investors so other, larger buildings were just built around it. You'll see exactly what we mean when you see the enormous skyscraper next to it!
8 Brooklyn Airbnb Homes Perfect For Influencers and Instagram Models!
8 Of The Most Fabulous Airbnb Homes in Queens, New York
8 unique slices of Bohemian New York on Airbnb right now
4. Baker's Base – approx. $175 a night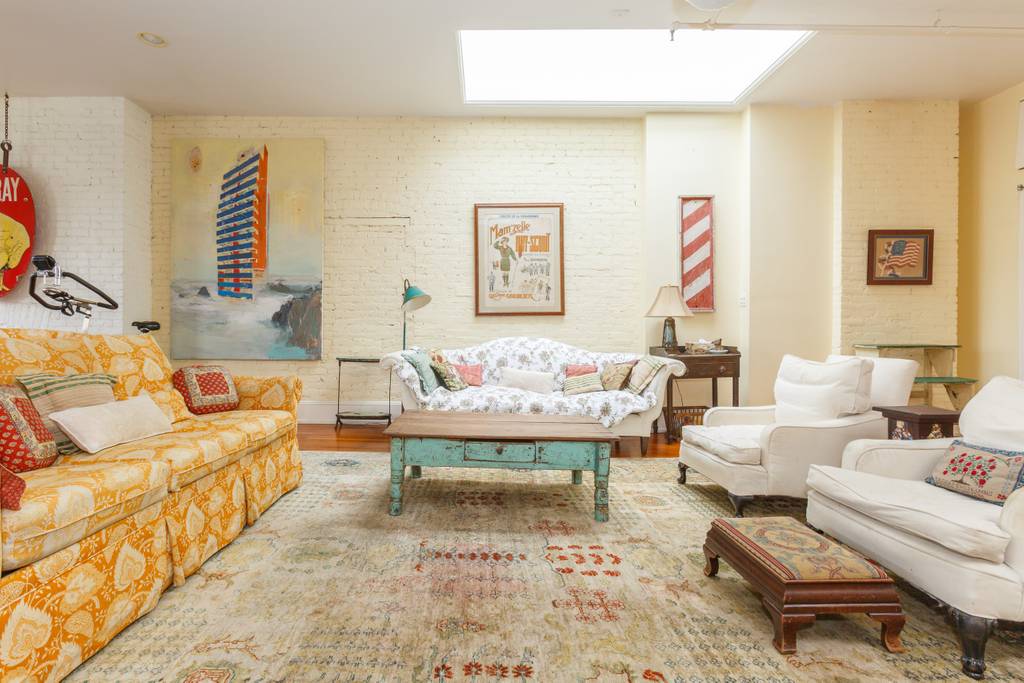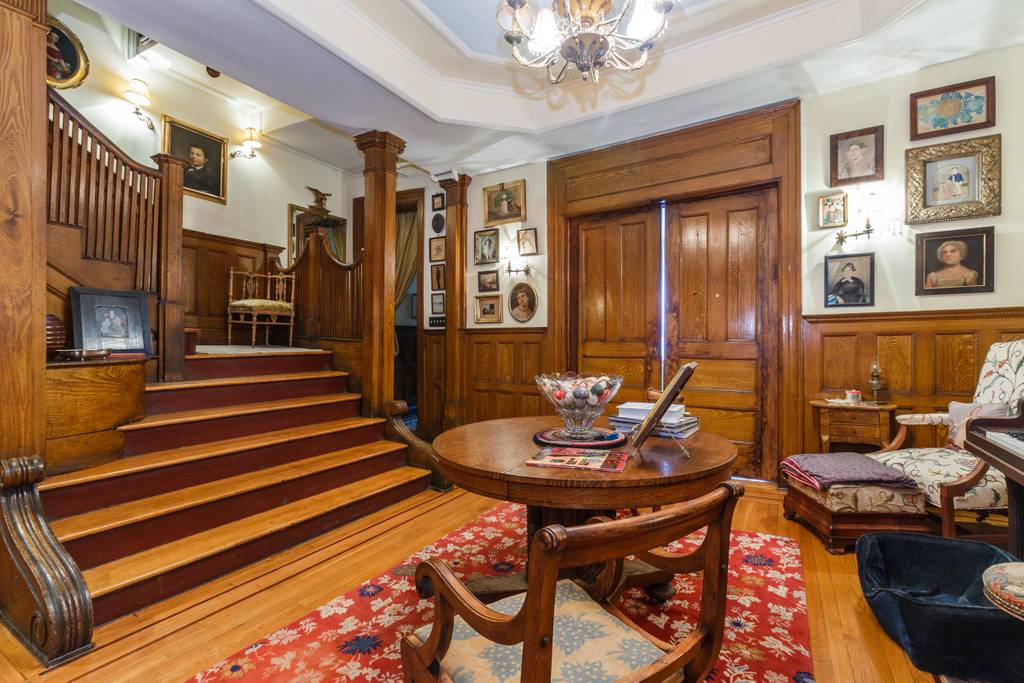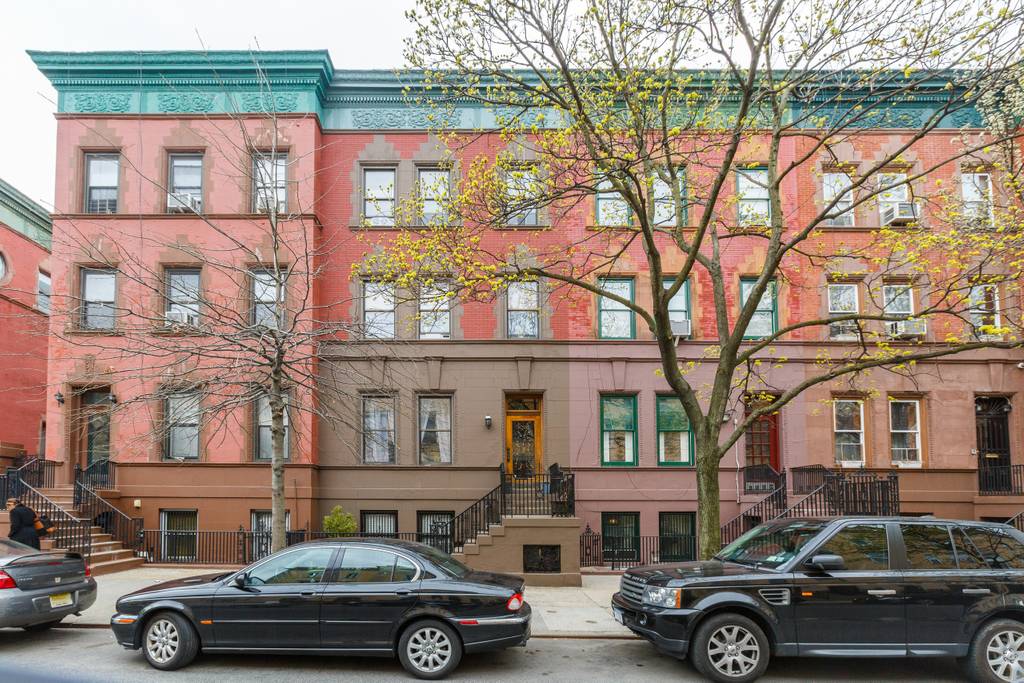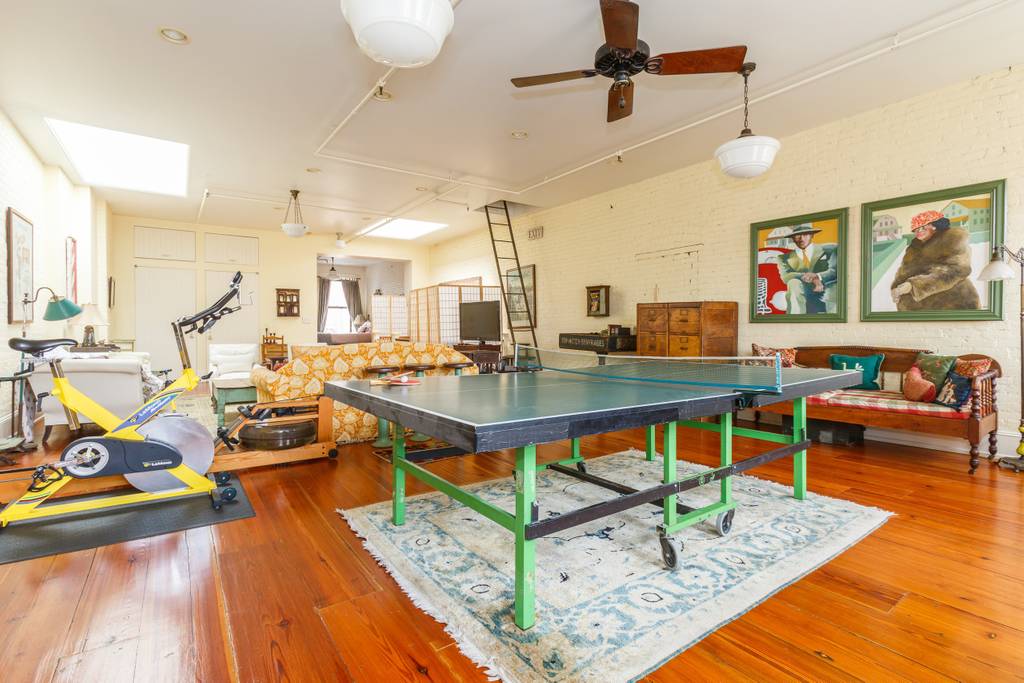 Spacious isn't a word that gets used much to describe New York real estate but this particular Airbnb is so spacious that it has enough room to devote half a room to a ping pong table and an exercise bike.
Used in many TV shows and movies including "Divorce" and "Difficult People," this home has an even more impressive claim to fame: Josephine Baker lived here at some point! You'll have access to the entire top floor which has three skylights, a big private bathroom with jacuzzi, a little kitchenette, and tons of interesting antiques and art to enjoy (and let's face it, put on Instagram). Just remember that not all the great things to see are inside.
Within a short walk is St. Nicholas Park and just further south is the incredible Cathedral of St. John the Divine. For a fabulous burger check out Harlem Shake which looks like a cute, old-fashioned diner or, if you're in the mood for something a little more exciting check out Chef Marcus Samuelsson's Red Rooster.
If you're traveling with kids, be sure to see the Sugar Hill Children's Museum of Art & Storytelling which always has interesting events going on. If you really want an unusual experience, go down to the Harlem Meer in Central Park for catch and release fishing which you can do by borrowing a fishing pole at the Charles A. Dana Discovery Center.
3. Terrific Townhouse – approx. $1,500 a night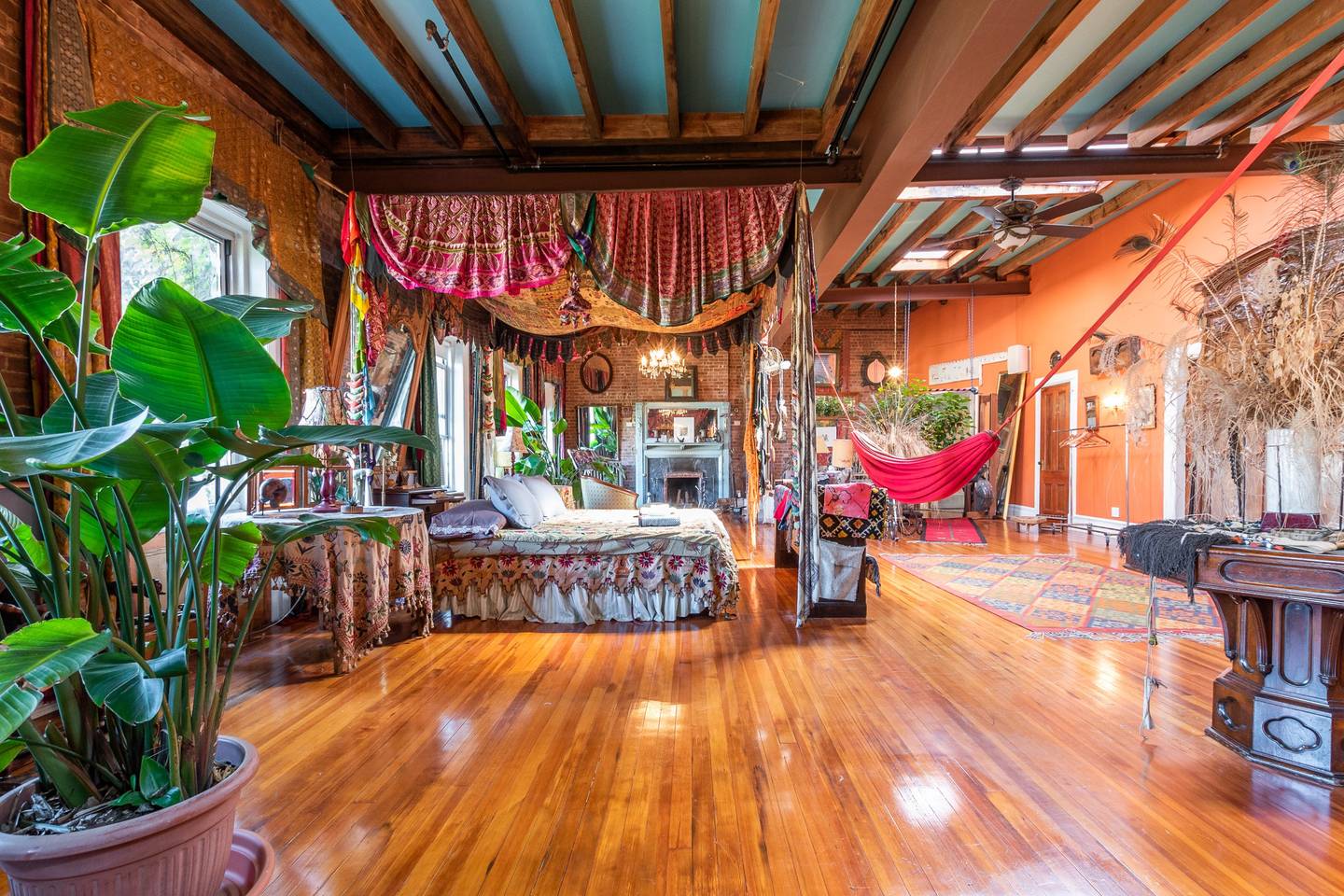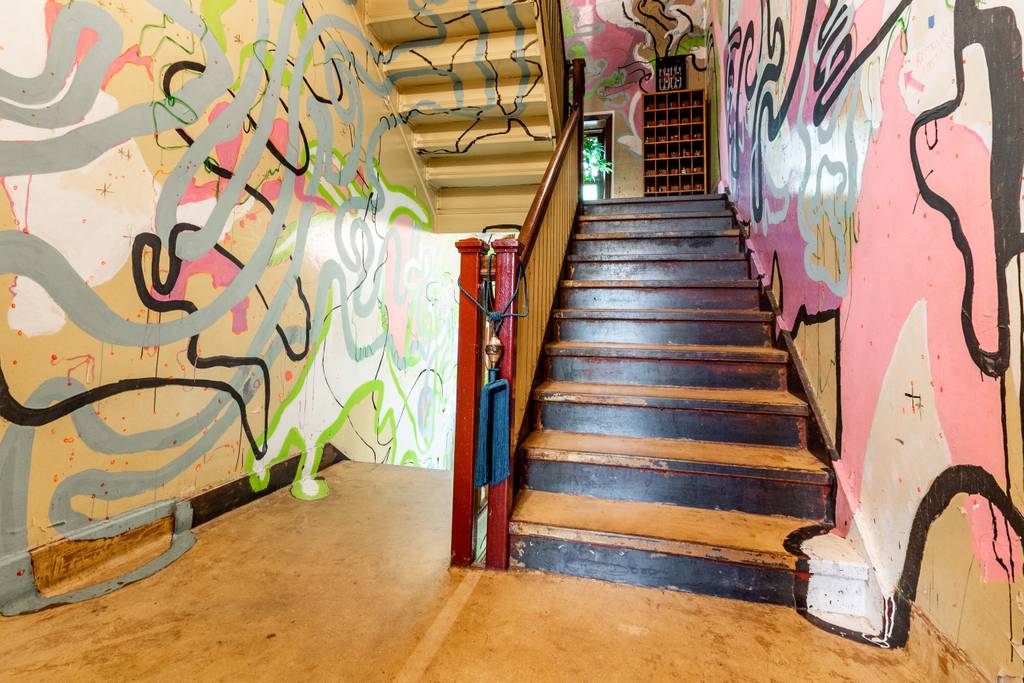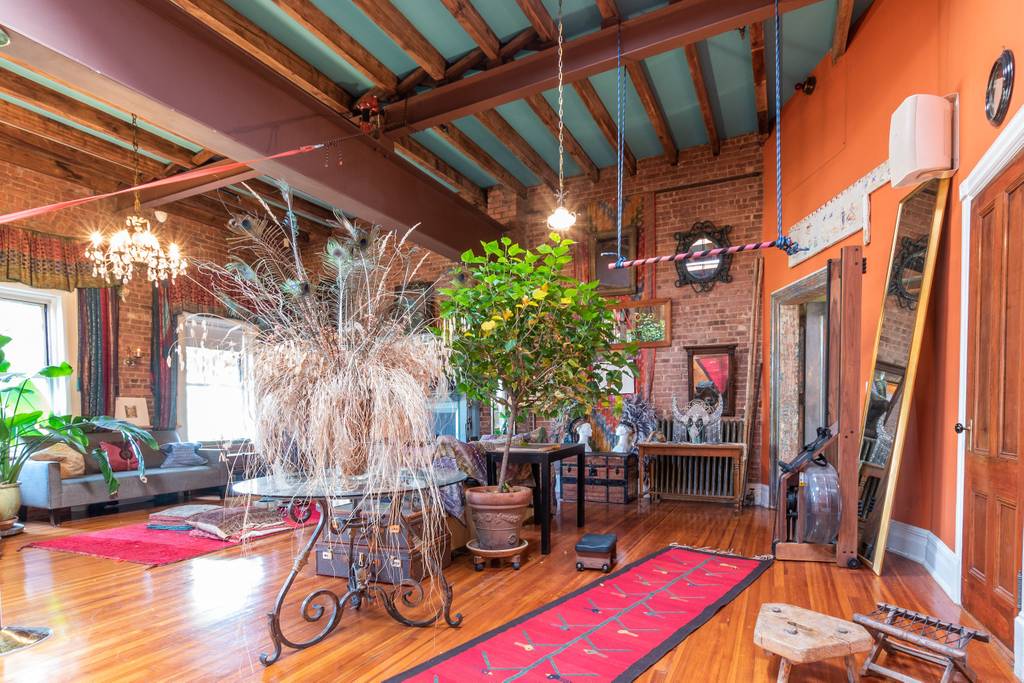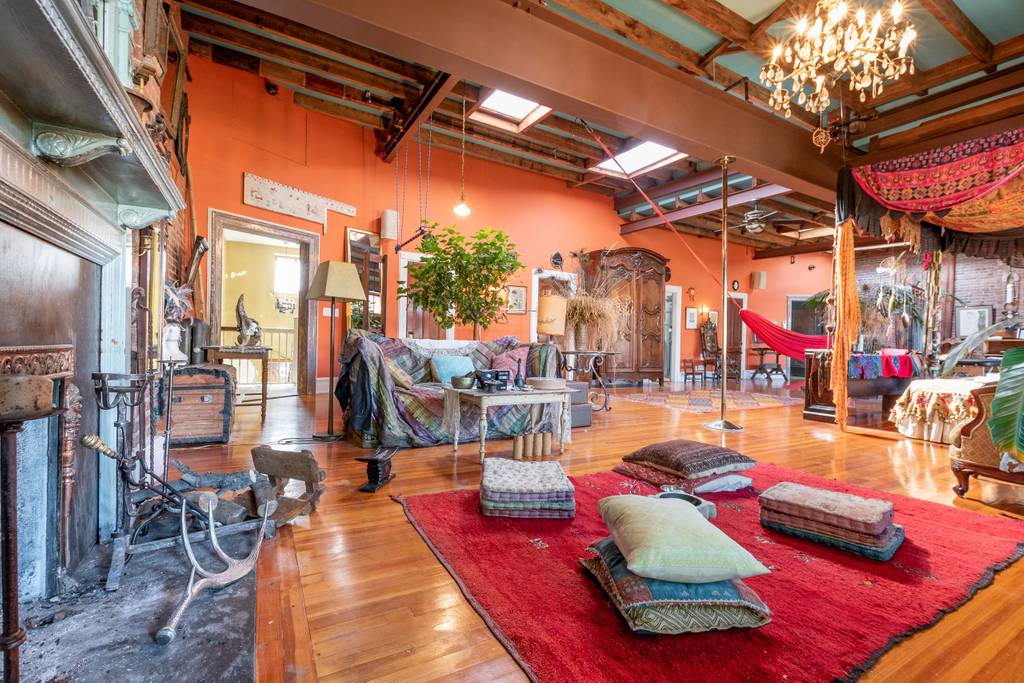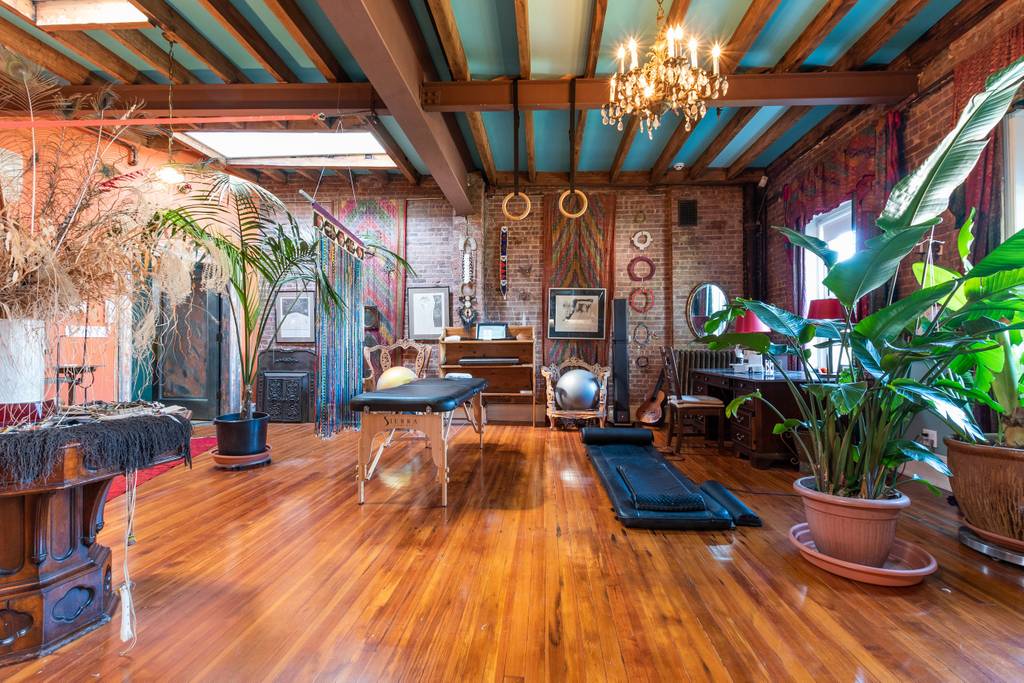 We've got a lot to cover here so let's just get started! This insane four-bedroom townhouse has an exercise area with gymnastics rings, a small trapeze, massage table, hammock, exercise balls and even a pole if you want to try out pole dancing. There's also a sewing machine if you feel the need to create.
The bathrooms here include a full steam room, original claw-foot tub, and two separate powder rooms. The kitchen has more pots, pans, and glassware than most restaurants, a professional 6-foot stove, two extra wide convection ovens, a juicer, a Vitamix blender, Cuisinart robot, and of course, a milk frother.
The gallery offers a grand piano, projector, sound board, and an electric light console. The garden includes a Chinese gazebo, champion roses, English ivy, honeysuckle, a bridge, and an herb garden. There's also art work all over the home, especially if you count the décor, which in this case is pretty artistic.
It probably won't surprise you that there's a spinning wheel and drum set as well. We'd give you suggestions of things to do in the neighborhood but we have a feeling you'll never leave the house!
Upper West Side Story – approx. $145 a night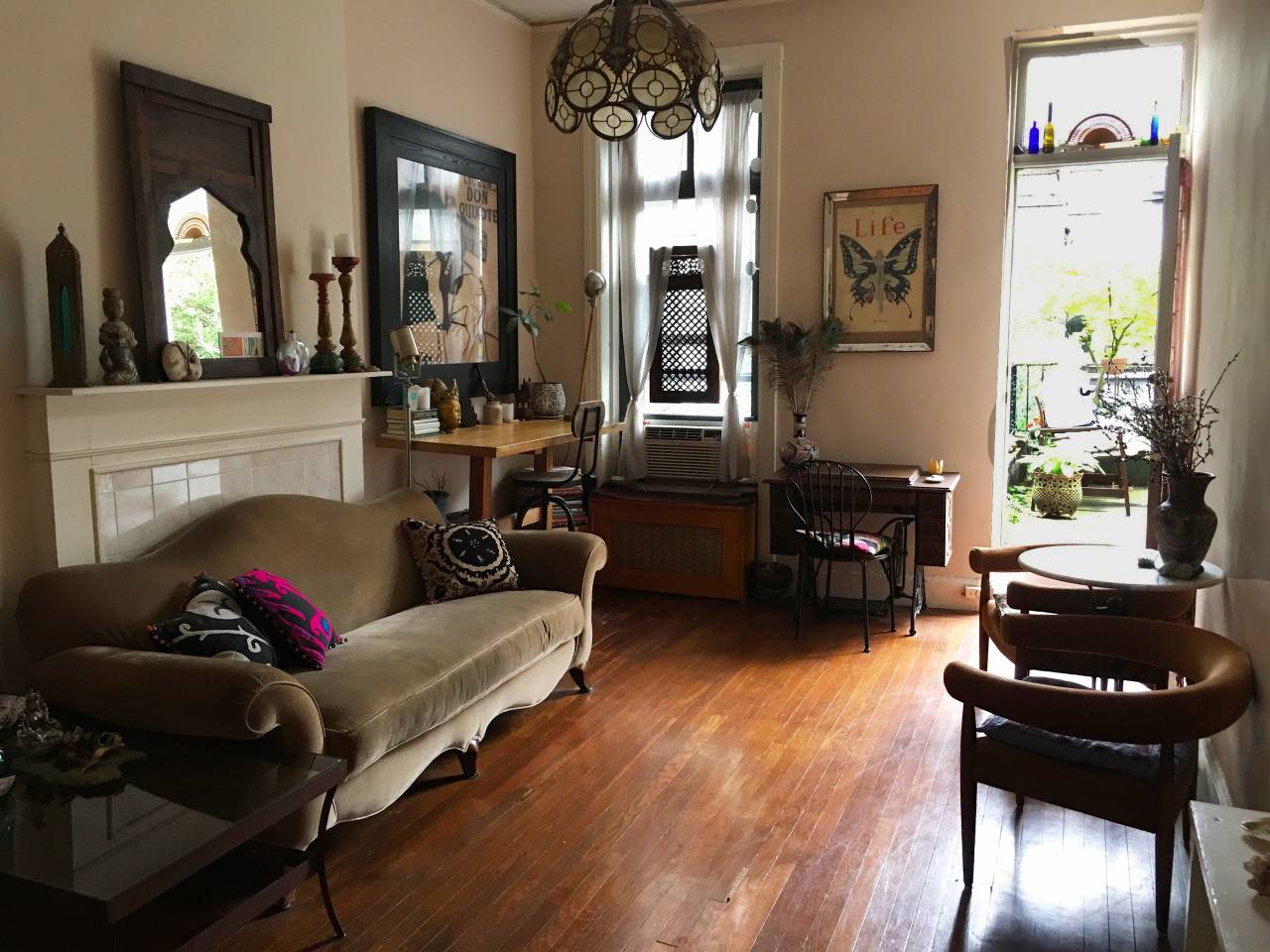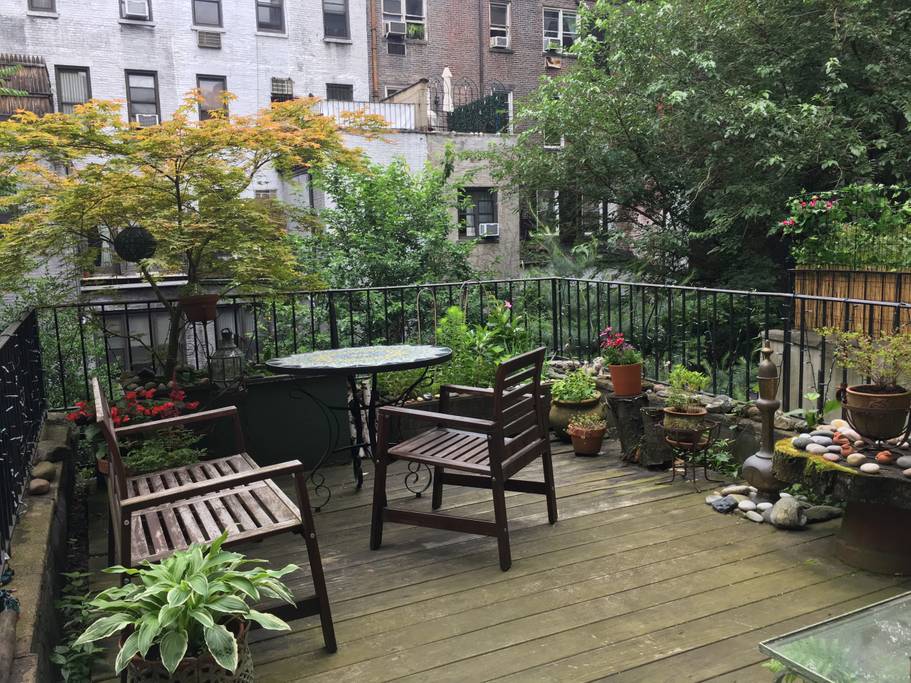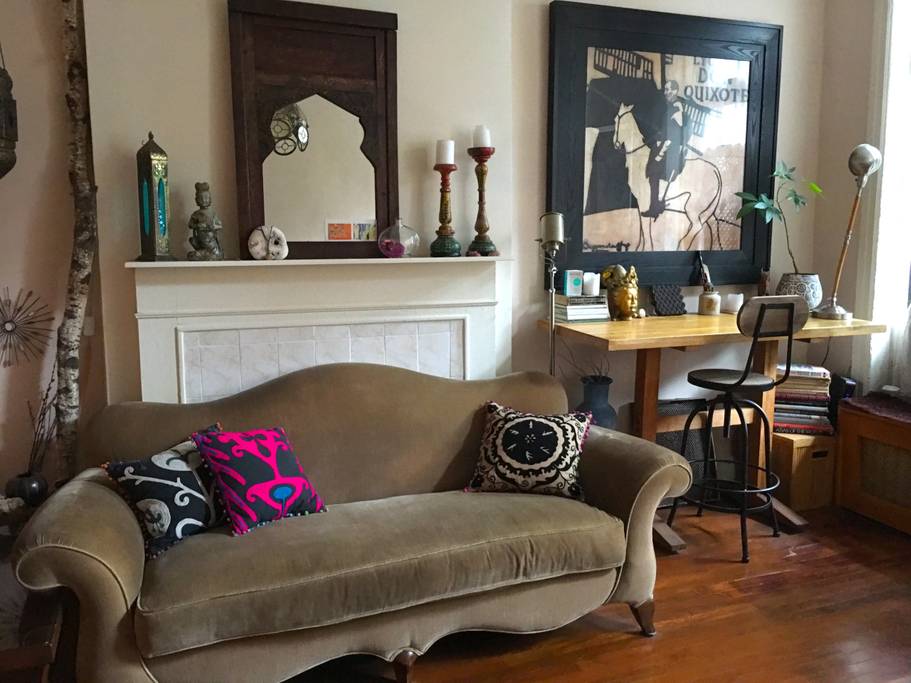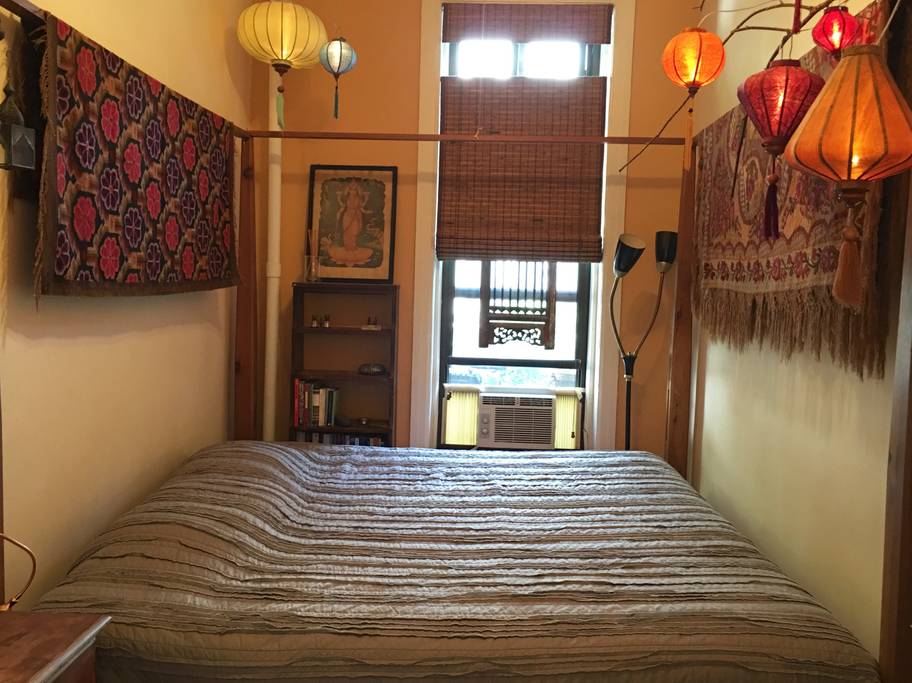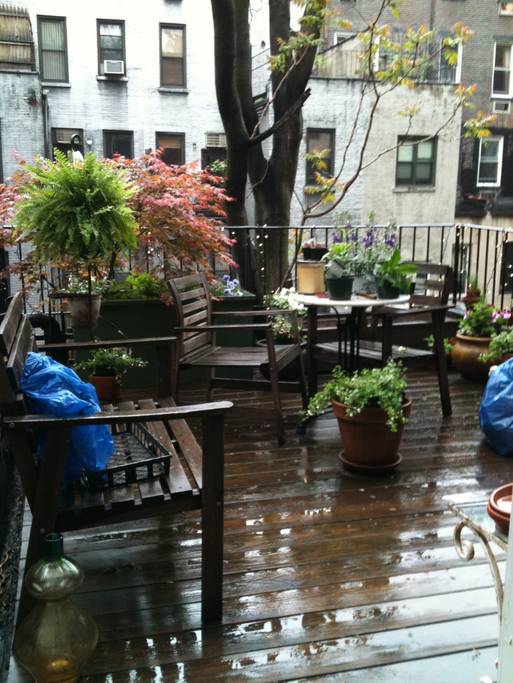 We love the slightly 70s vibe of this cozy, Upper West Side one-bedroom. In addition to a comfy, bohemian décor, this serene New York Airbnb has a lovely terrace where you can sit and enjoy your morning coffee. There's no TV here but with all the culture that's at your doorstep you won't need one.
You'll be just a quick walk away from Lincoln Center which is a whole world unto itself. We recommend that you take advantage of the open rehearsals at the New York Philharmonic where tickets are a fraction of what they are at regular performances. Or take a class with the New York City Ballet! Yes, they offer classes to the public taught by company members!
You'll also find great exhibits at the Library for the Performing Arts. If all that culture is wearing you out and you just need to do a little mindless shopping, check out the Shops at Columbus Circle where you'll find pretty much all the usual brands (and right next door is the Museum of Arts and Design).
Finally, why not check the box office at Carnegie Hall for $10 discount tickets? By the time you get back home you'll want to fall right into that king-sized bed so you can get some rest and start all over again tomorrow!
1. Pop Art Palace – approx. $185 a night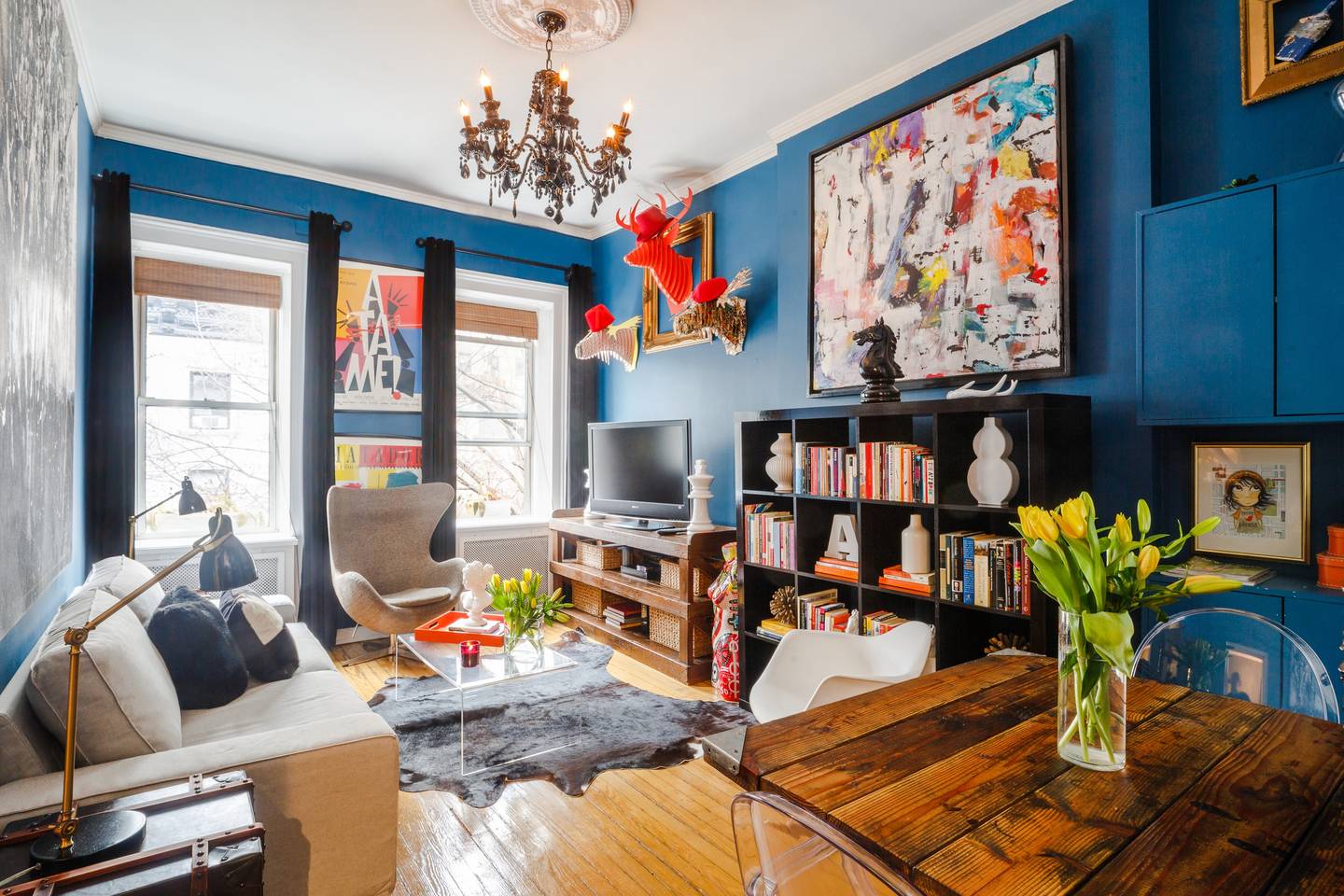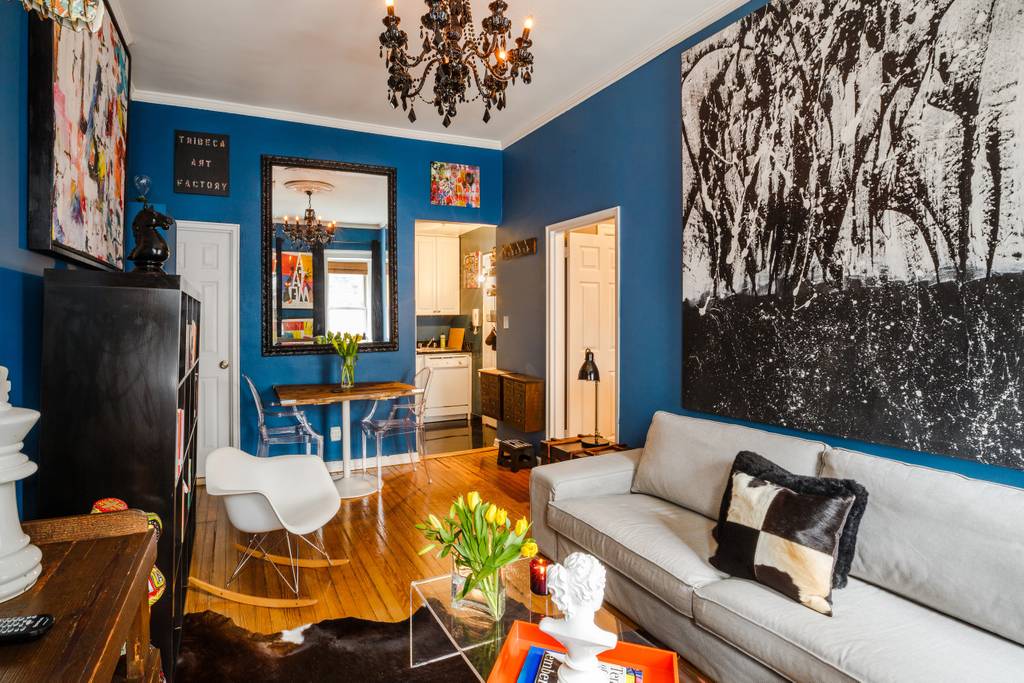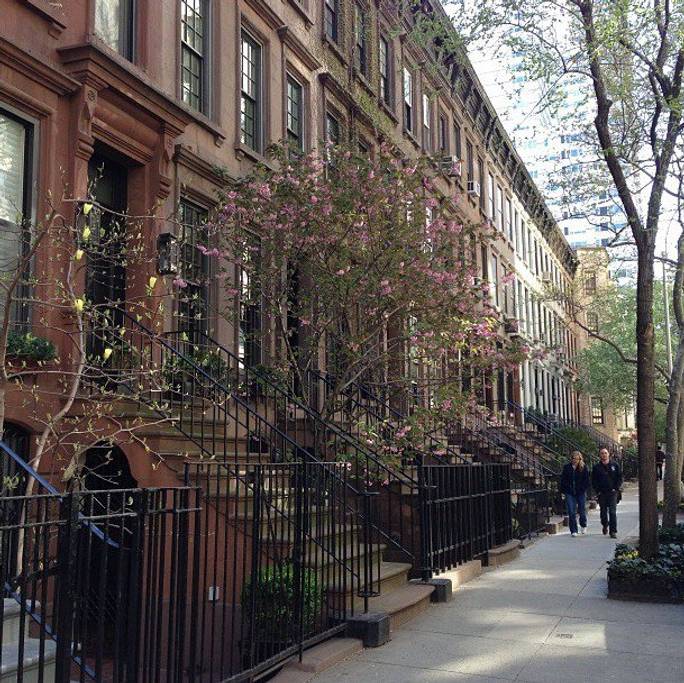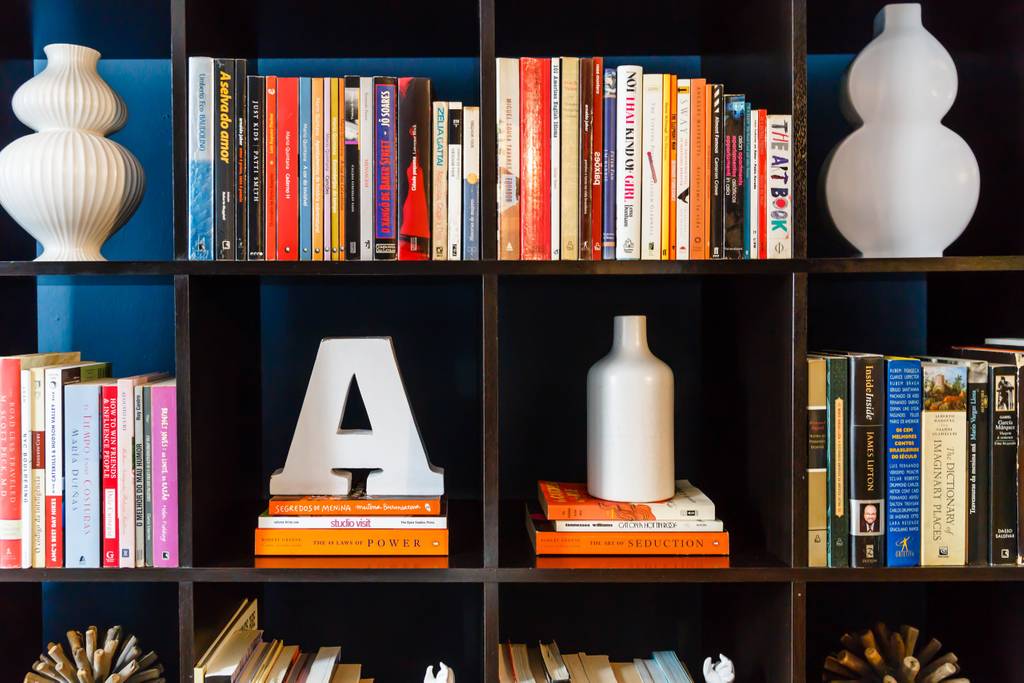 Staying in this one-bedroom New York Airbnb is like staying in your own little pop-art museum! Situated in the 60s right on Park avenue, you couldn't possibly be any more centrally located. If you're a shopper you'll be near Bloomingdale's, Bergdorf Goodman, or The Curated by Christian Siriano.
If you're in the mood for some off-beat attractions, check out the Grolier Glub, a library dedicated to the graphic arts or the French Institute which has all kinds of programs from French film screenings to French wine tasting. You're also very close to Sotheby's where you can check out auction items before they go under the hammer or better yet, attend an auction!
You should also think about heading over to the Argosy Book Store where you'll find endless rare books and prints which make much better souvenirs than the usual "I Heart NY" trinkets. Afterwards, have a stroll through Carl Schurz Park, a breathtaking oasis of calm before you go home to your mini-museum!