While the price of Brooklyn, New York real estate has gone through the roof in recent years, that doesn't mean you can't find some great bargain Airbnb homes in Brooklyn. Whether you're in the market for a funky room in a Bushwick duplex, a cool loft space in Williamsburg or a brownstone with a garden area, there are so many Brooklyn bargain to be had so don't let the borough's popularity turn you off! Here are 8 incredible bargain Airbnb homes in Brooklyn!
9 New York Rentals To Live Like A Local In
8 of New York's Most Unusual Airbnb Homes
8 Fabulous New York Airbnb Homes Perfect for Maximilists
8. Musicians' Lair – approx. $70 a night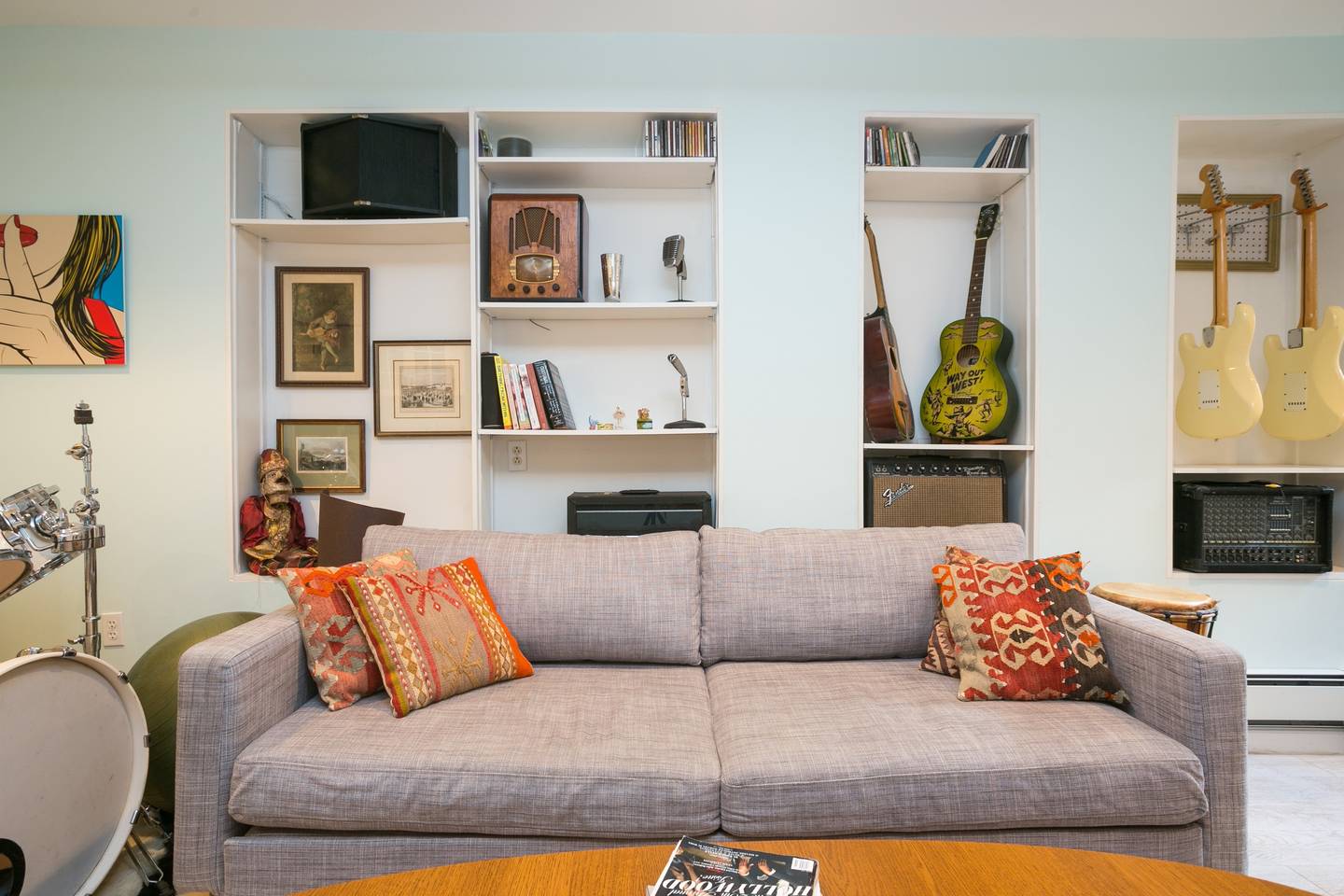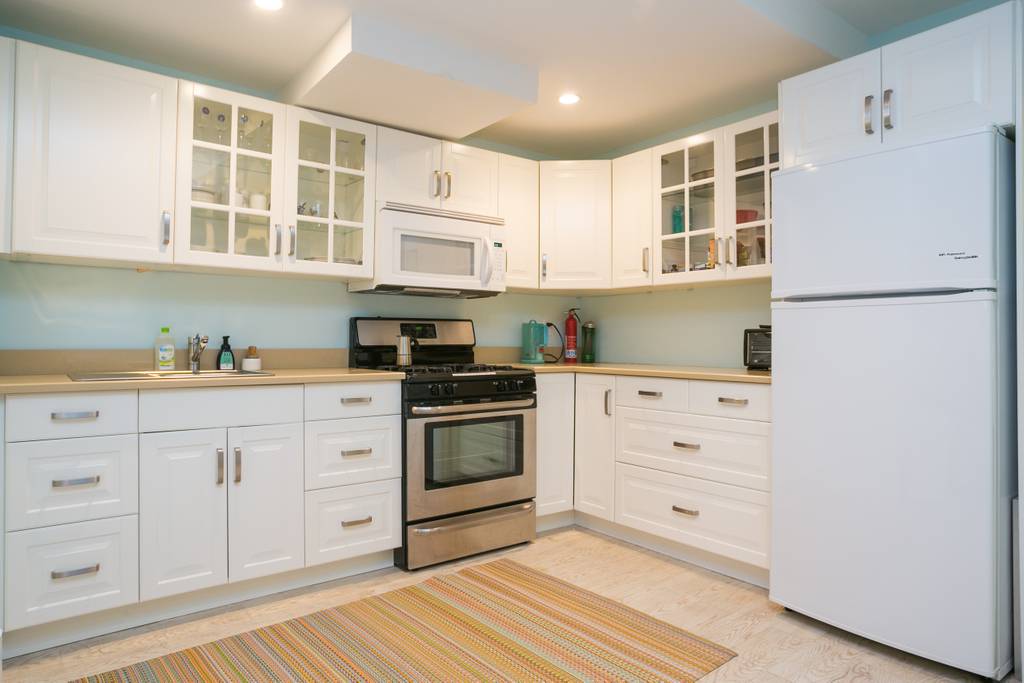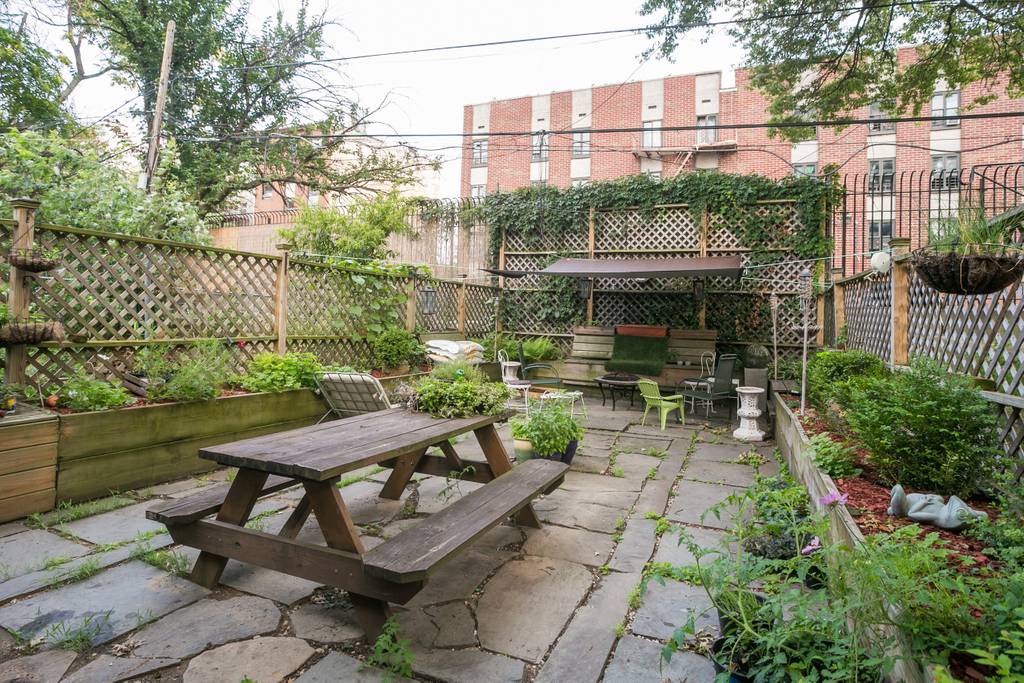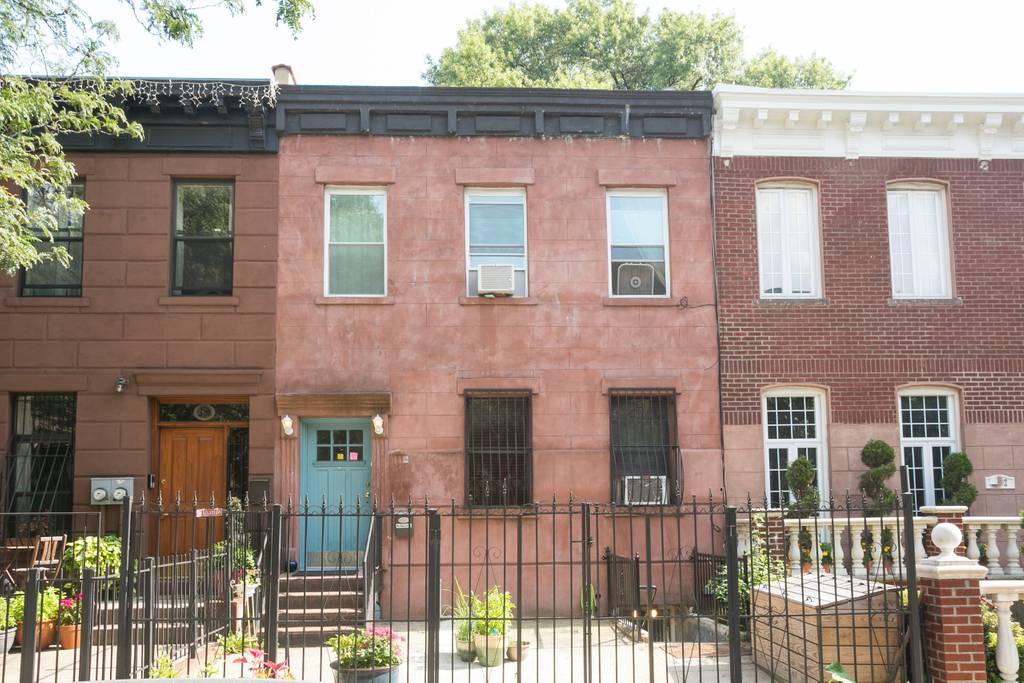 Think about it: $70 a night, sleeps four people, that's less than $18 a night! You can barely buy a street pretzel for less than that! Clean, cheery, and just outside hip Williamsburg, this place is a true find. In a finished basement, this one-bedroom, one bath gem will have you in Manhattan in less than 40 minutes and not much more to the airports. With free WIfi, Hulu, Netflix, and Roku you'll have plenty to keep you entertained if you don't feel like going out.
You also won't have to worry about any of the basics like shampoo, towels, soap, dish-washing detergent or other cleaning products (and everything they supply here is all eco-friendly, making it a perfect place for allergy sufferers). You'll have access to the hosts' lovely terrace/garden as well as their musical equipment (one is a magician). If you're traveling with kids, they're happy to provide a "Pac-n-Play" but be sure to let them know at least a month in advance.
7. Williamsburg Terrace Apartment – approx. $69 a night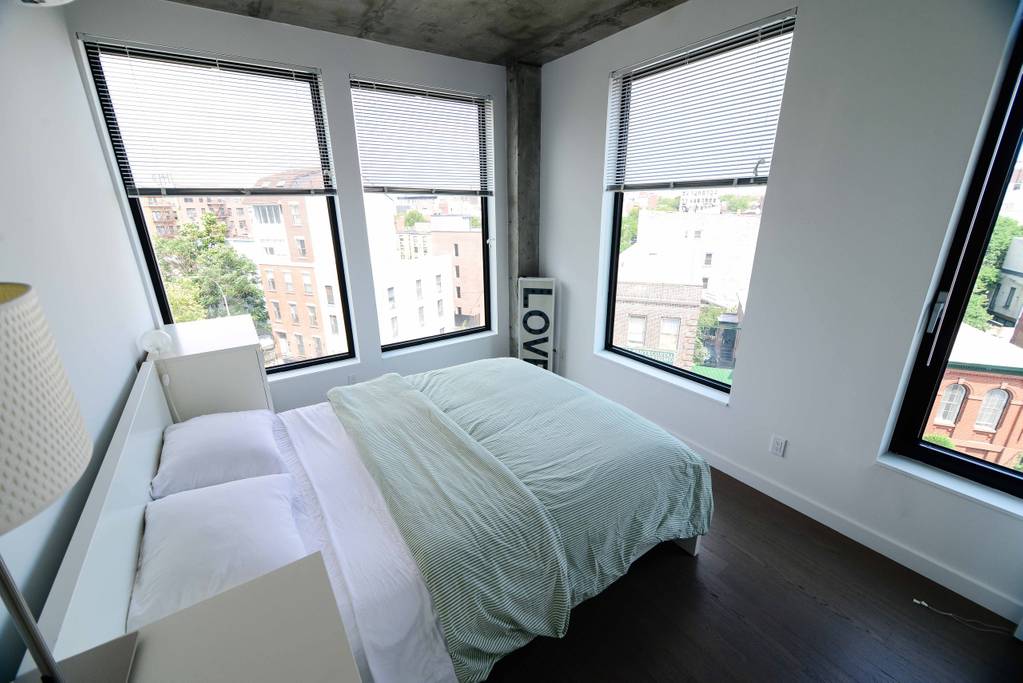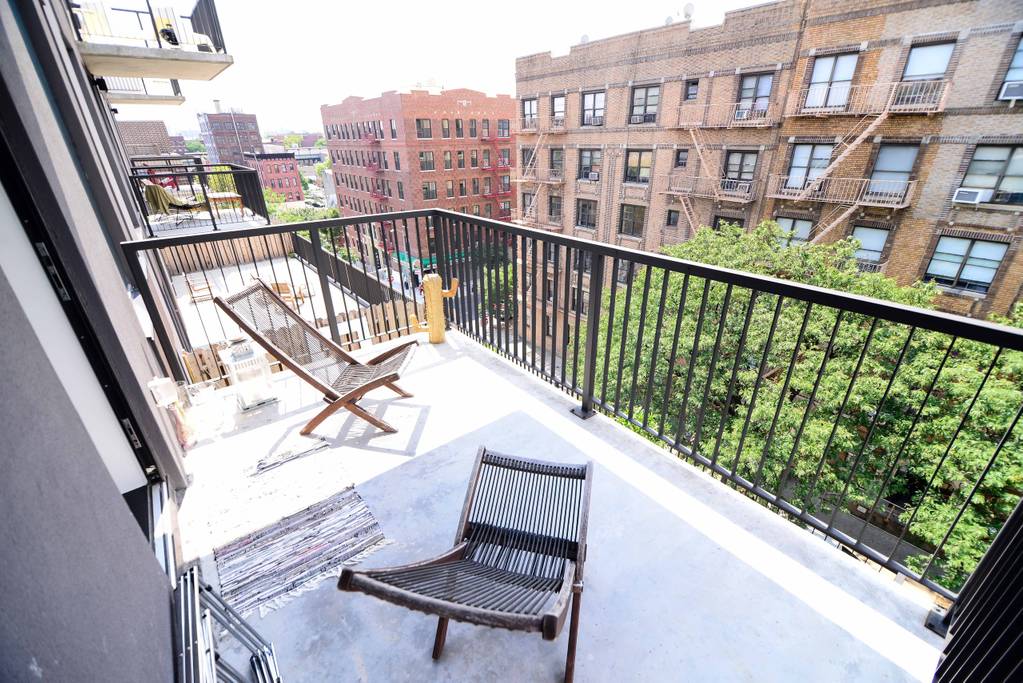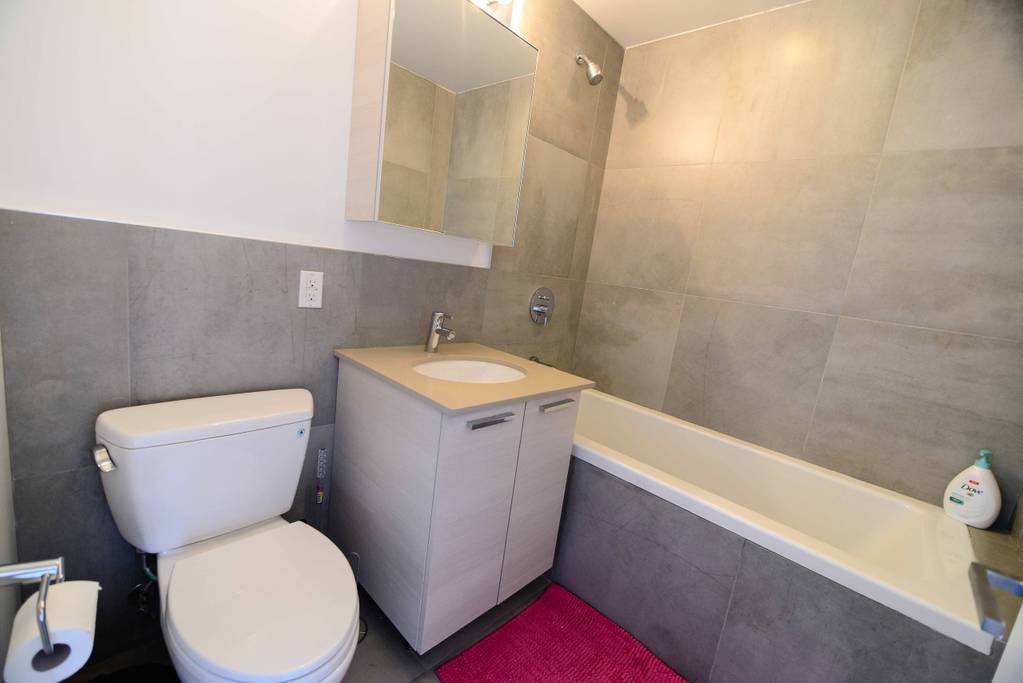 The one thing almost no one in New York has is a lot of space, but this one-bedroom feels as if it has tons of it. Located right in the heart of Williamsburg, this private room gets high marks for its view as well as for its amazing location. Just in Williamsburg alone you can go to the Nighthawk Cinema which features art house films as well as the ability to dine-and-watch at the same time. Also, be sure to check the uniquely bizarre City Reliquary museum which features odd, New York City-related ephemera.
If you're into museums, do not miss the Museum of Food & Drink which always has something interesting going on. And if you happen to be a foodie, we strongly recommend Lilia (where you can smell the garlic outside, hours before they even open), and classic Peter Luger's Steakhouse which has been in business since the 1880s. Just be sure to reserve a table as soon as possible as they usually book weeks in advance.
6. Bushwick Basement – approx. $90 a night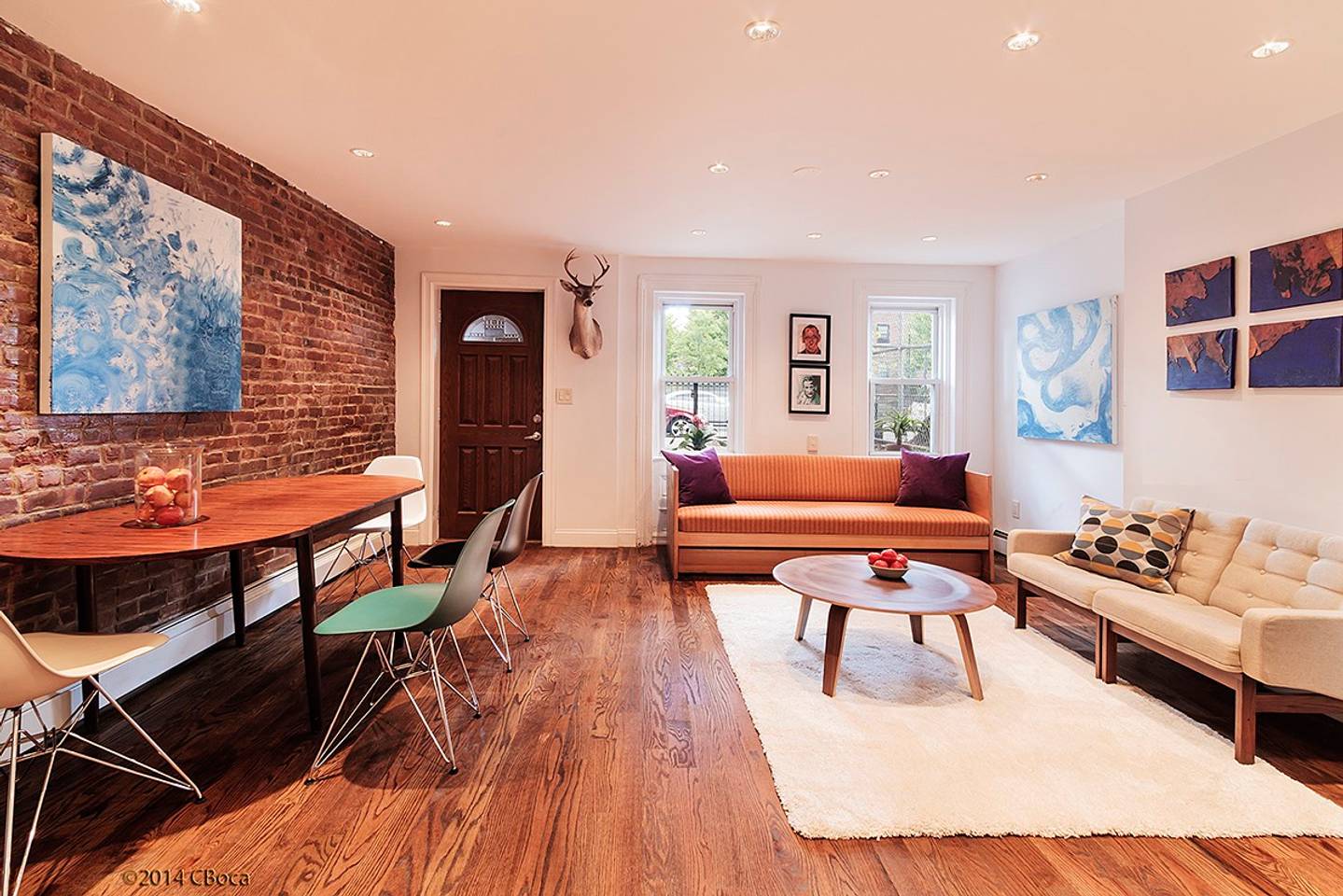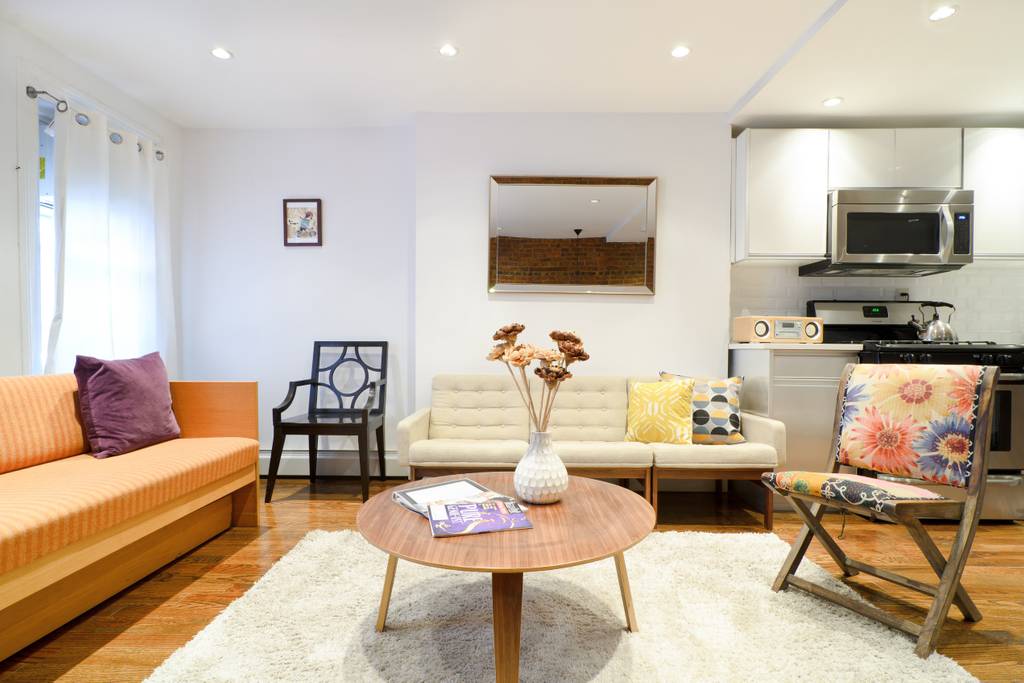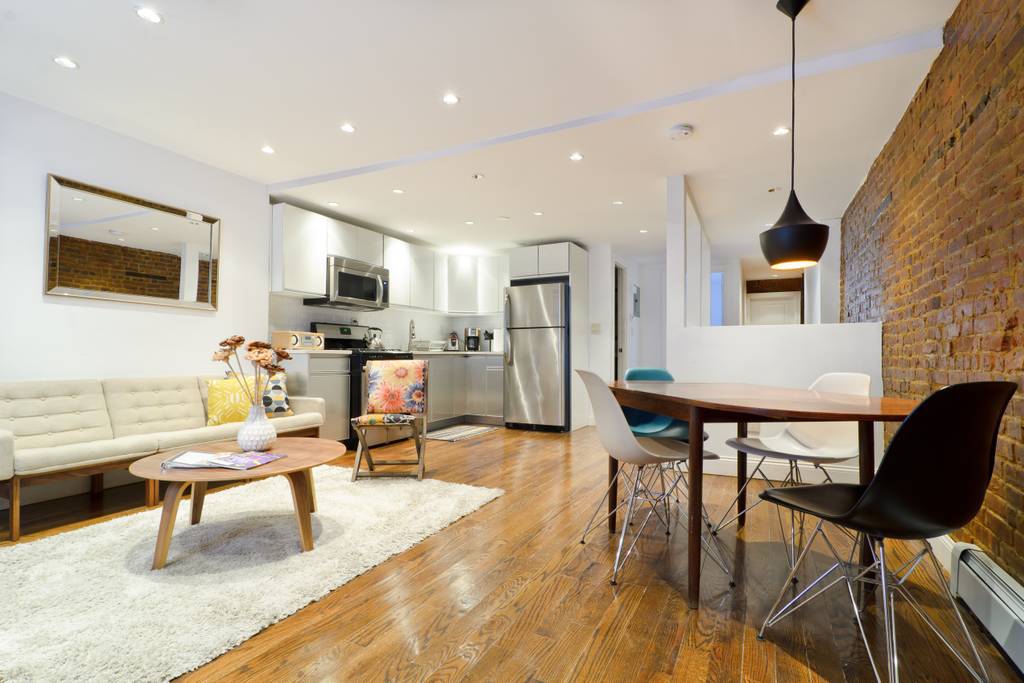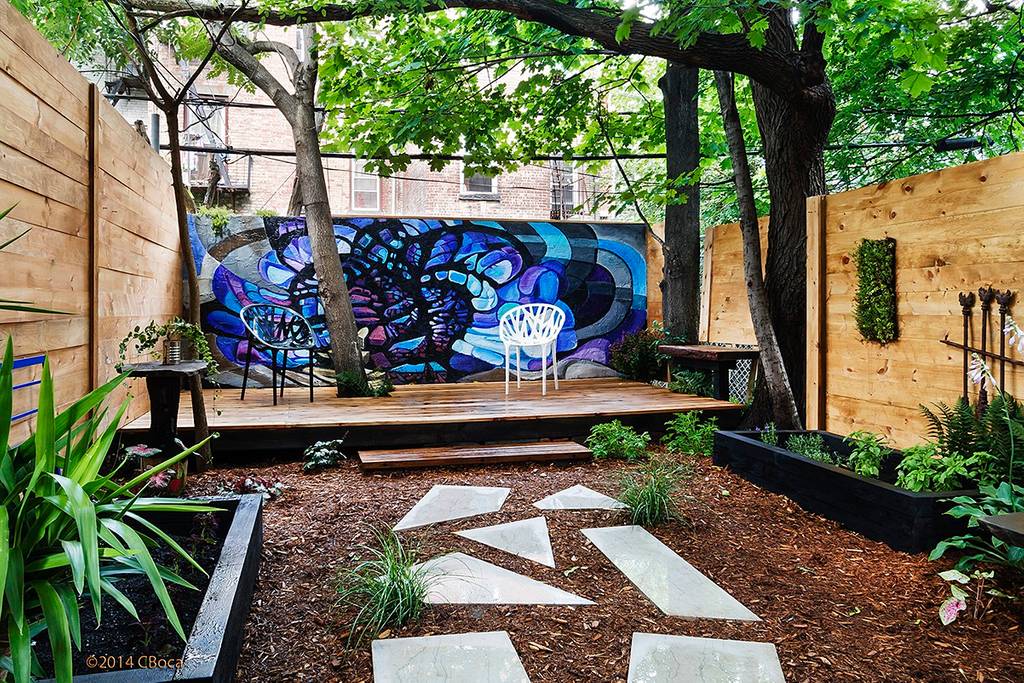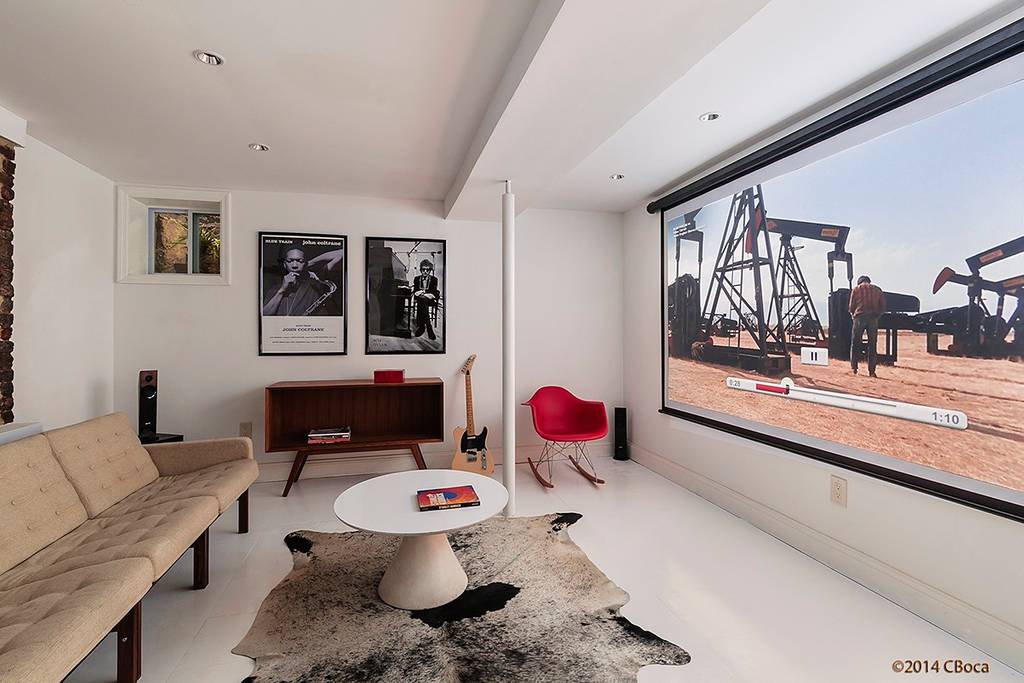 Even for twice as much as the $90 a night fee, how could you want more? With two bedrooms that sleep six all together, this duplex with a garden apartment is a perfect choice if you're looking for a great Brooklyn bargain. Decorated in a sparse, mid-century style, it's got everything you need with little to worry about damaging. As if the garden space isn't enough, this place also has a big movie screen and a collection of Blue Ray DVDs, not to mention Netflix, Hulu Plus, and Amazon Prime, perfect for having your own movie night!
With two bedrooms, this place has one classic New York feature that not many places have: a Murphy bed (with a memory foam mattress, no less!). Located in Bushwick South (where the series "Girls" took place), this Brooklyn Airbnb is near just about every cool section of Brooklyn you can think of: the Prospect Park area, Bed-Stuy, Greenpoint, Williamsburg, and Fort Greene. You can be in the city in about 40 mintues but you probably won't want to leave with all there is to do.
5. Lofty Goals – approx. $99 a night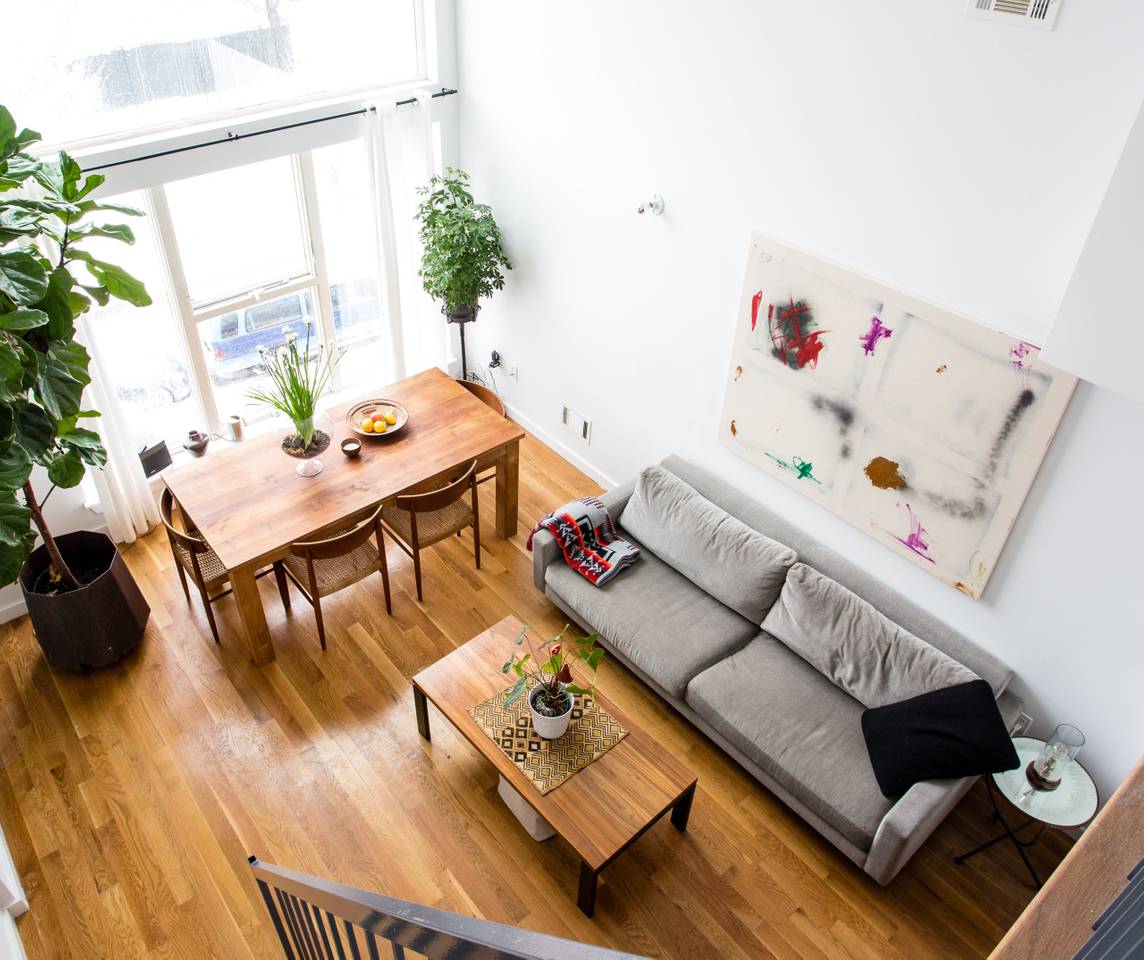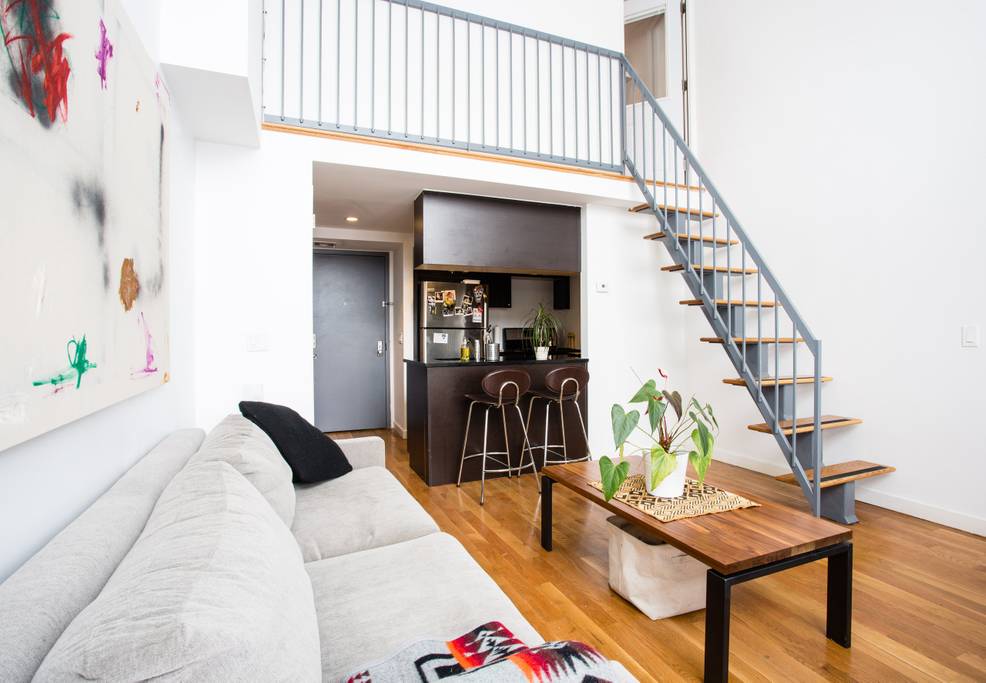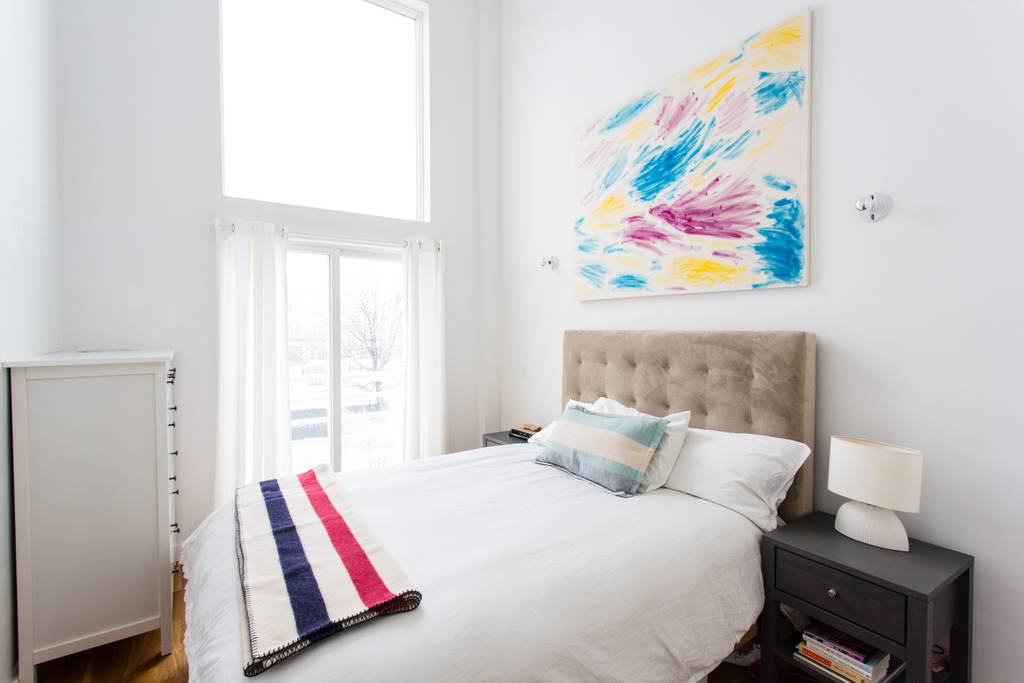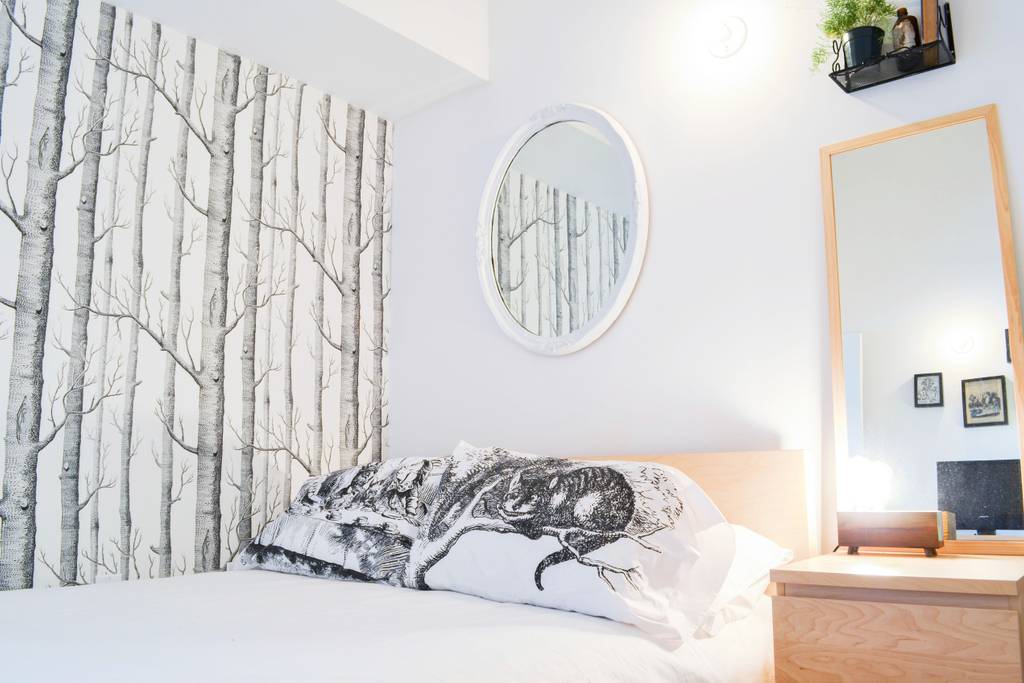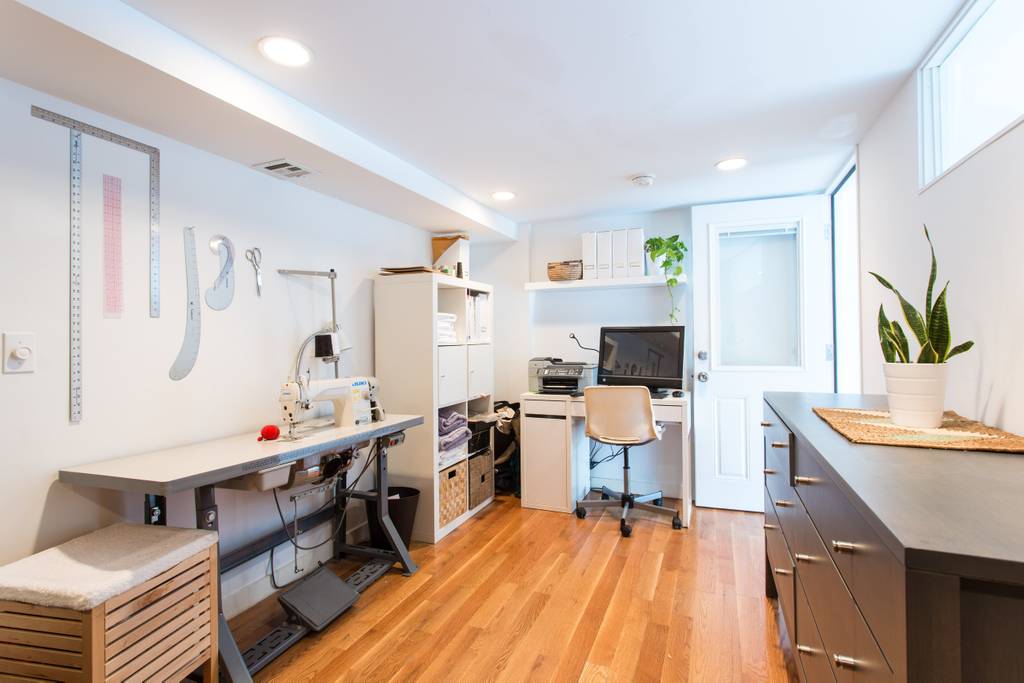 Let's see: A loft space with mid-century modern furniture, cool art, and tons of plants. Could anything be more Brooklyn than this? Yes, it could be in Williamsburg, which is exactly where this is. It also happens to have a sewing room/office, laundry facilities, central air (which is a life-saver in those hot New York summers), a stocked kitchen that works on the honor system, Tempurpedic beds, three private bedrooms, 14ft. ceilings, and it's spotlessly clean.
You'll not only be just a few minutes away from the city, you'll be near Park Slope, Green Point, Brooklyn Heights, and DUMBO. So basically, just about every major part of Brooklyn. We do have one tip about renting this Brooklyn Airbnb: Make sure you read the directions carefully. There's a bit of a secret message you need to put in your booking request!
10 Stunning Manhattan Airbnb Rentals To Fit Any Budget
You're Gonna Love These 8 Over-the-Top New York Airbnb Homes
4. Bushwick Brick – approx. $85 a night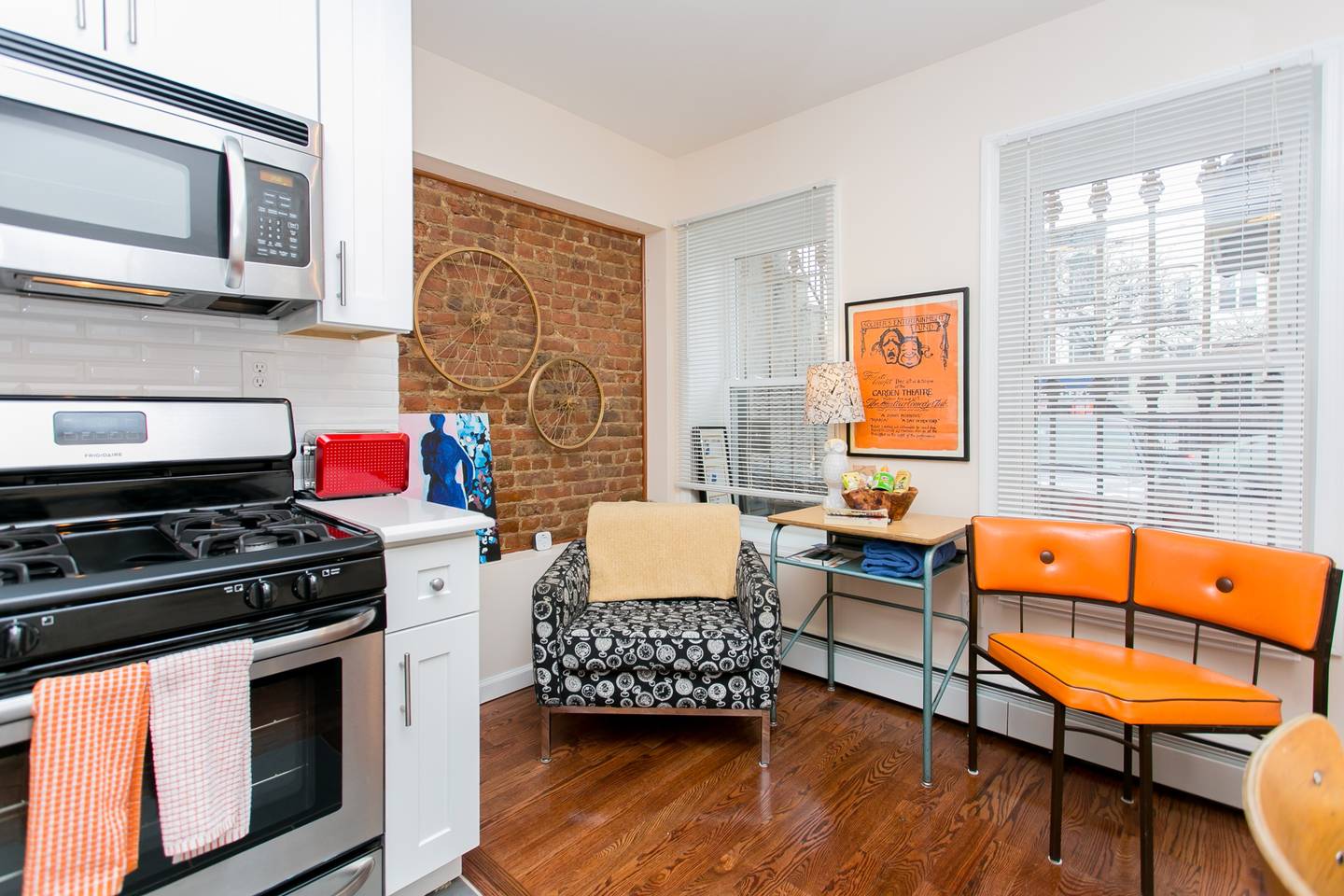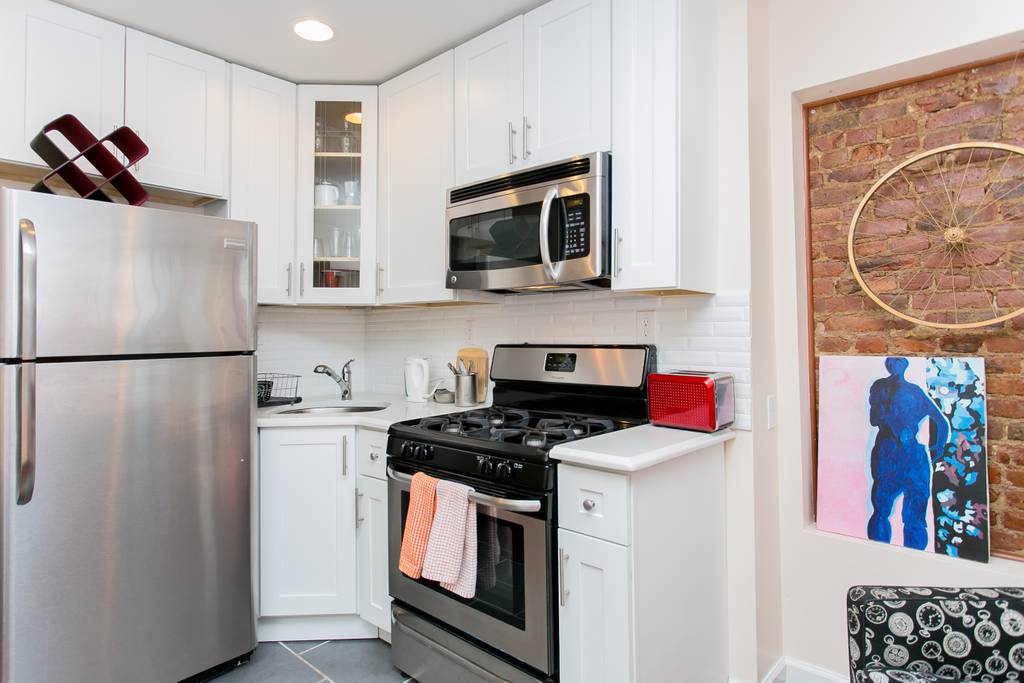 We hear that Bushwick is the new Wiliamsburg. Which would make Wiliamsburg the new Greenpoint and Greenpoint the new Prague. Or something like that. Basically, Bushwick is great now and that's where this apartment is. Right in "Girls" territory, this fabulous little one bedroom sleeps three and is two blocks away from the subway. There are two grocery stores within a block or two and a drug store nearby.
Having been "gut renovated," this place has a gorgeous exposed brick wall (so New York!), bed linens, towels, soap, hair dryer, and even a flat iron and curling iron upon request). Do not miss the Bushwick Collective, a super-cool art gallery that's outside, and don't miss the new six-acre Domino Park which is part of the old Domino Sugar factory. In all in all, this is a pretty sweet deal!
3. Plant Yourself Here – approx. $60 a night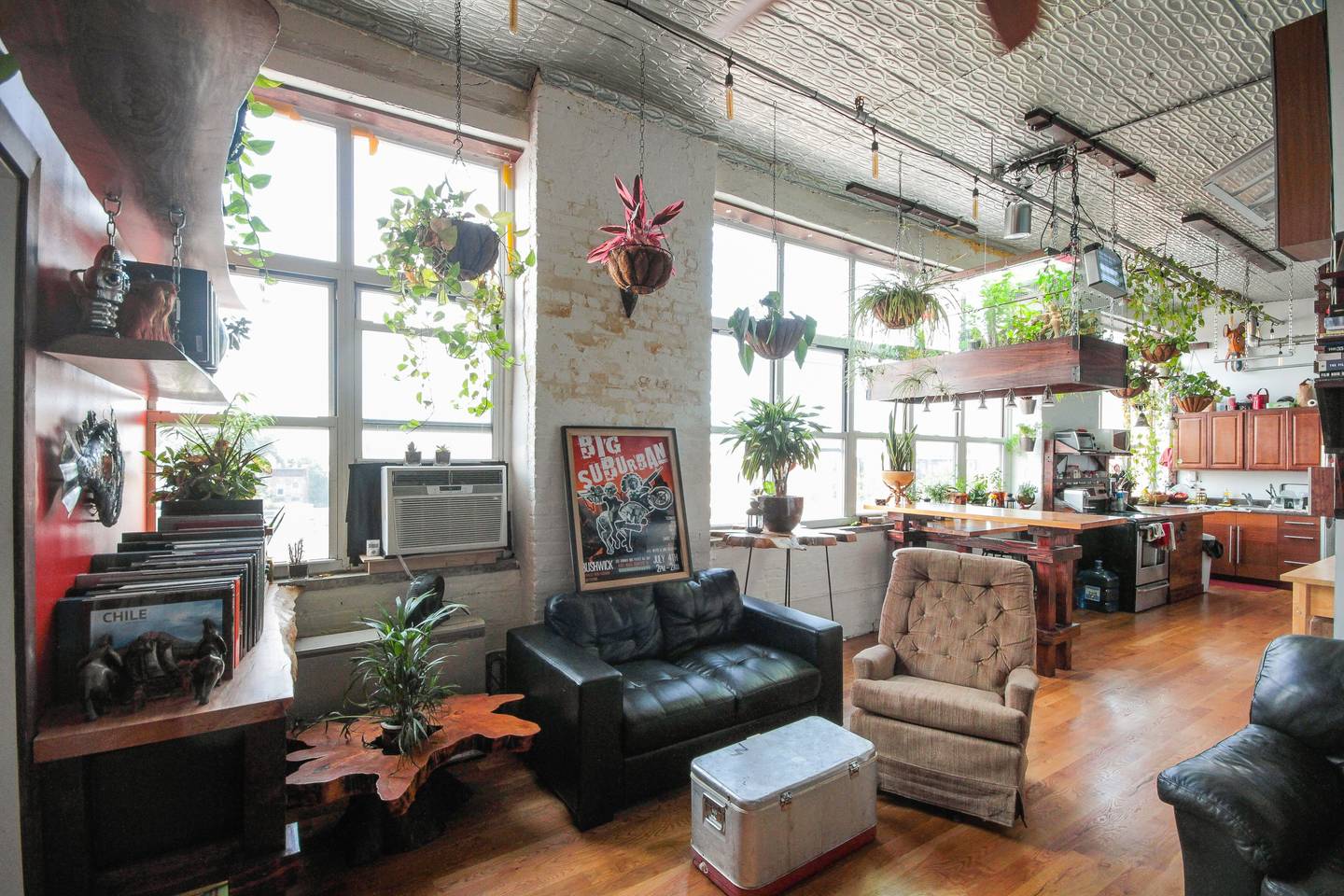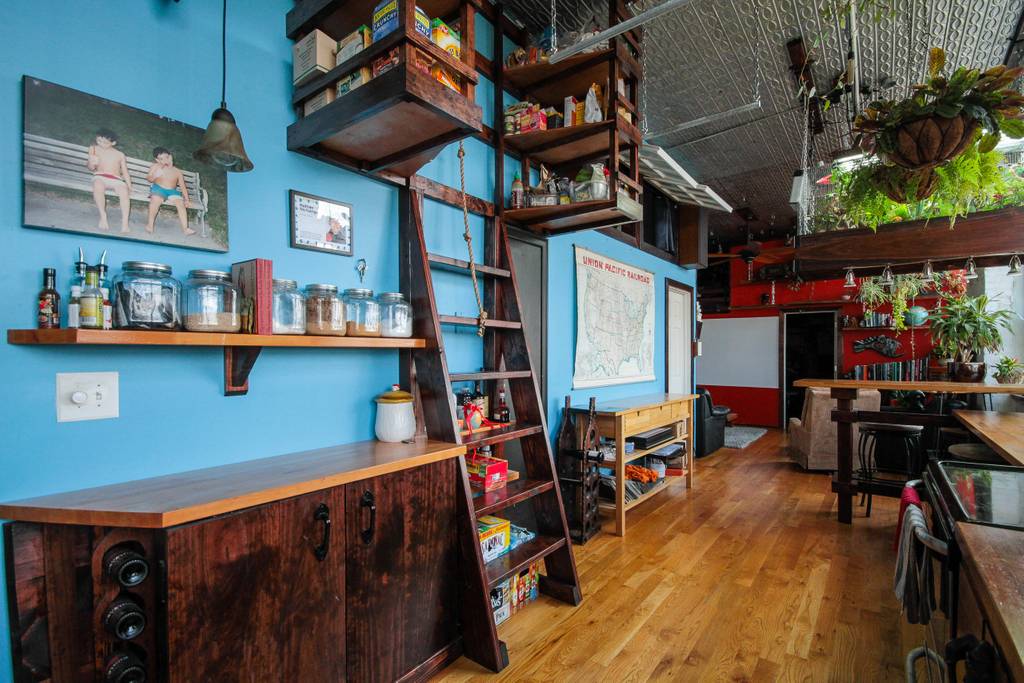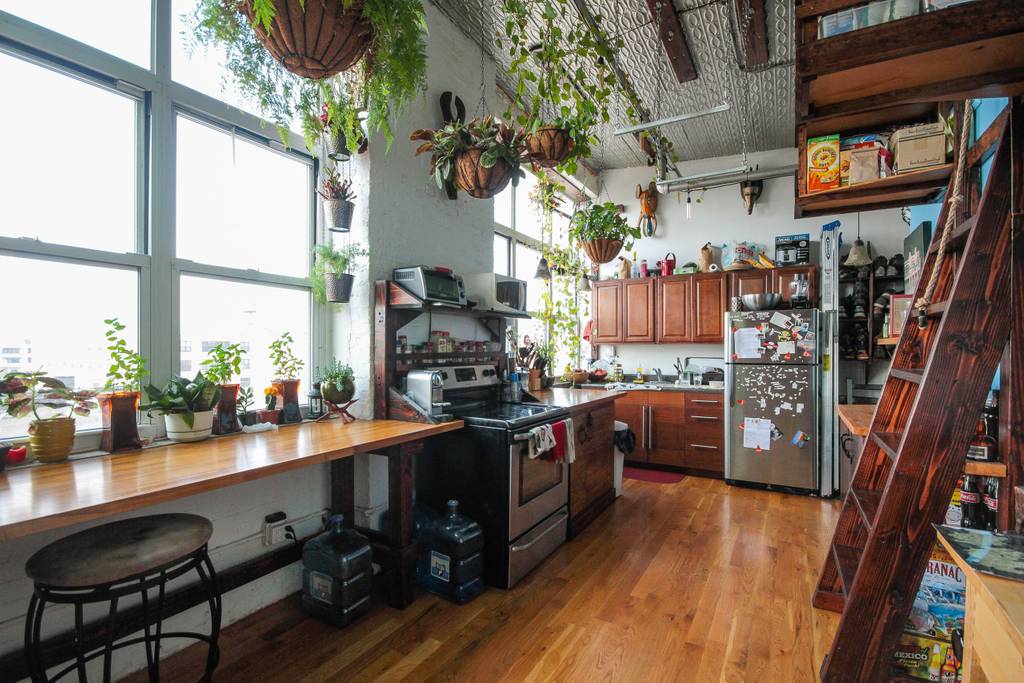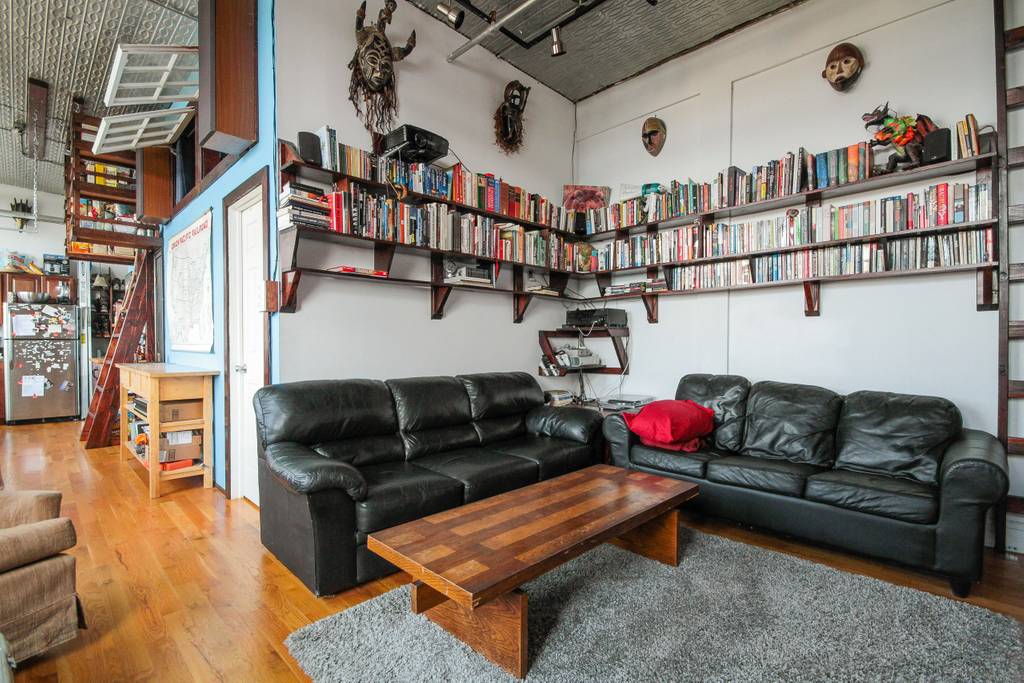 The hosts refer to this Brooklyn Airbnb as the "Bushwick Biodome" and it's easy to see why! This private room in a Bushwick loft will really, really give you the true Brooklyn experience. Between all the eclectic art work, the books, and a great big wall on which to project movies! The hosts have a little dog so if you're a dog lover you're going to feel right at home. The 45 feet of windows let a lot of natural light into the apartment and give you a great view of Manhattan.
The subway is just three blocks away and the buses are right outside so you'll be able to hop into the city in no time. The fact that the owners live there means that you might not experience exactly what you would in a hotel (no one is going to change your linen every day), but on the other hand, you'll have everything you need in terms of amenities. At $60 a night it would be hard to do better!
2. Hell, Yes! – approx. $102 a night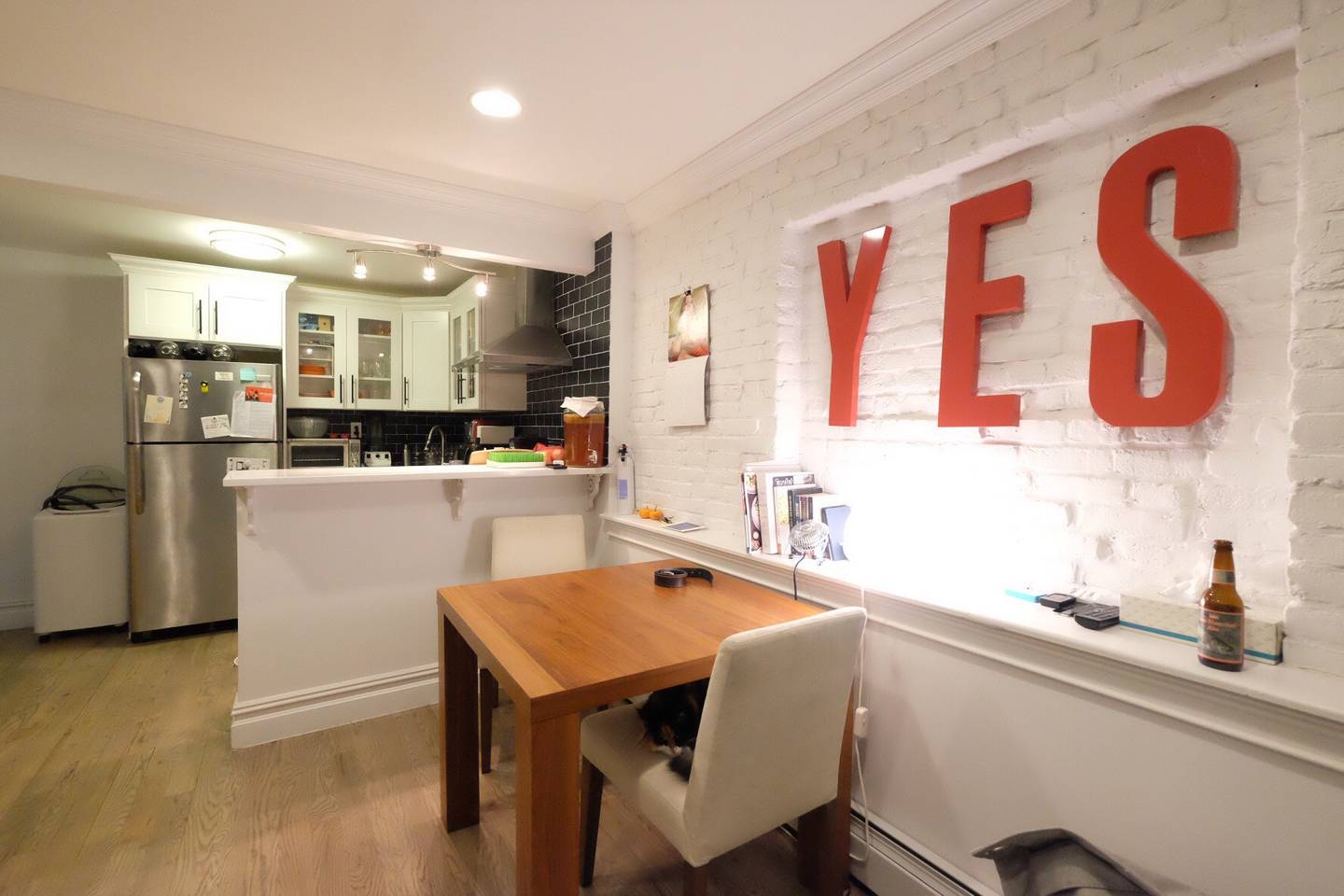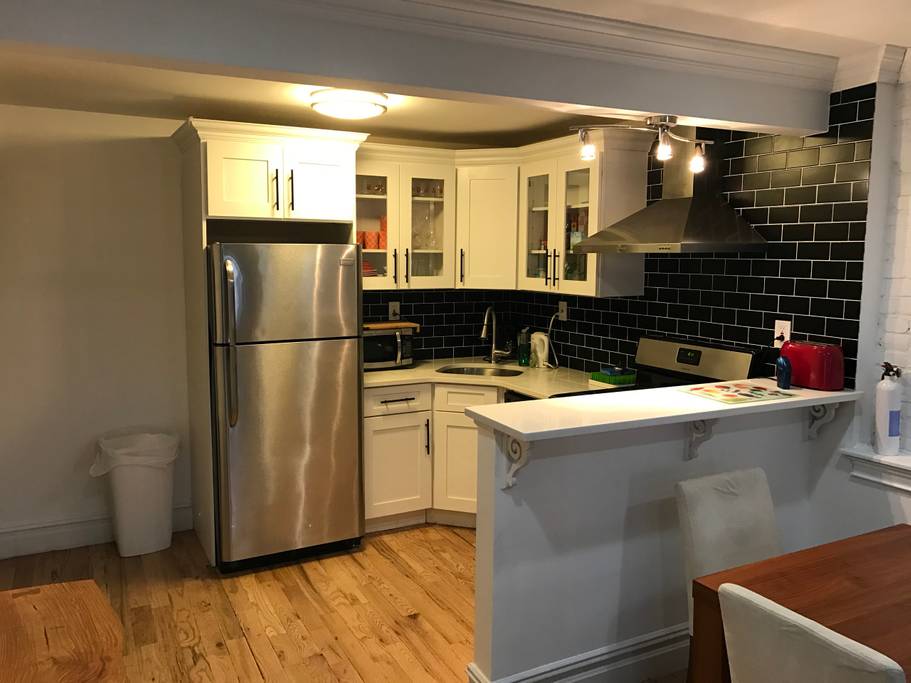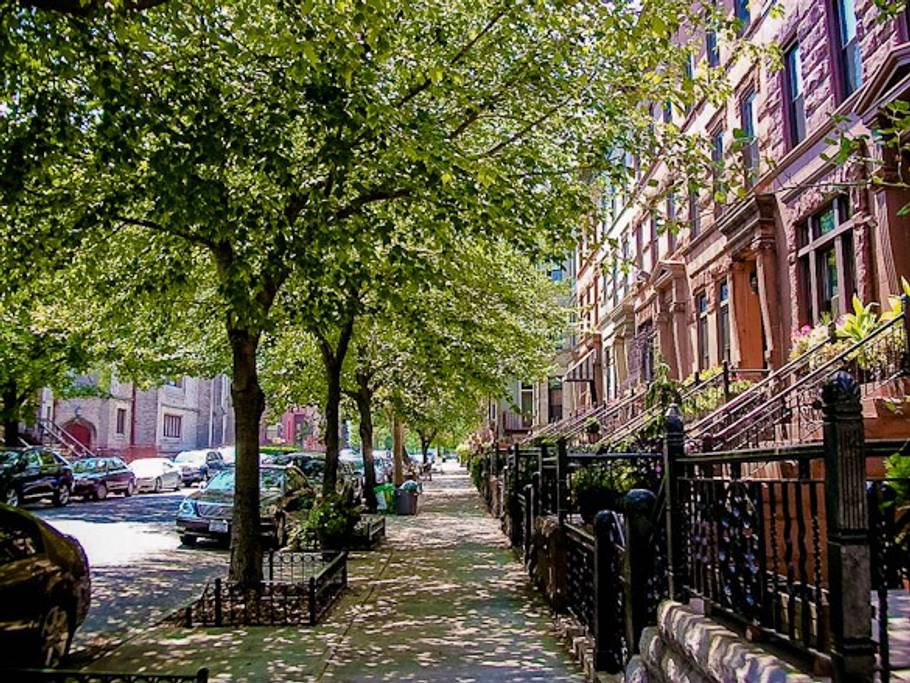 Maybe that sign should say "Hell Yes!"! While it's two dollars over our budget, we had to include this fabulous townhouse in our list of bargain Brooklyn Airbnbs. You can stay here with up to five other people and you'll have use of the entire townhouse, not just a room. Used just for Airbnb rentals, you won't have to deal with other people's things or have to take care of plants, etc. so if you're more accustomed to hotels than Airbnbs, you're going to feel right at home here.
This 19th-century two-bedroom brownstone even has its own private entrance on a quiet, tree-lined street that will give you the true Brooklyn experience. And to really feel like a local, be sure to visit The Holler bar and its adorable outdoor terrace.
1. Crown Heights Castle – approx. $100 a night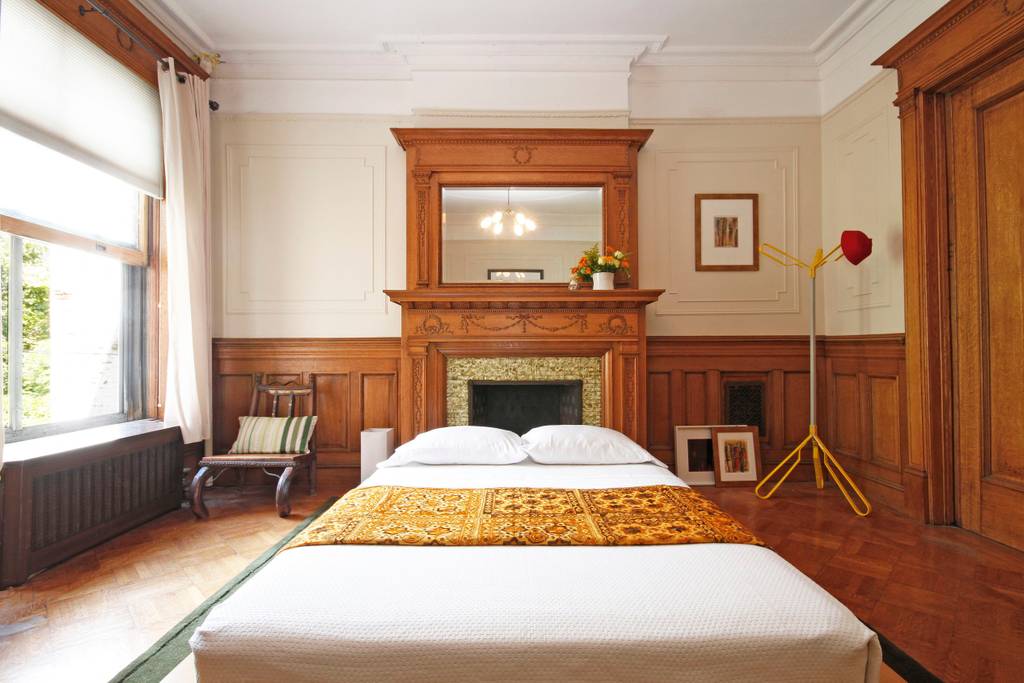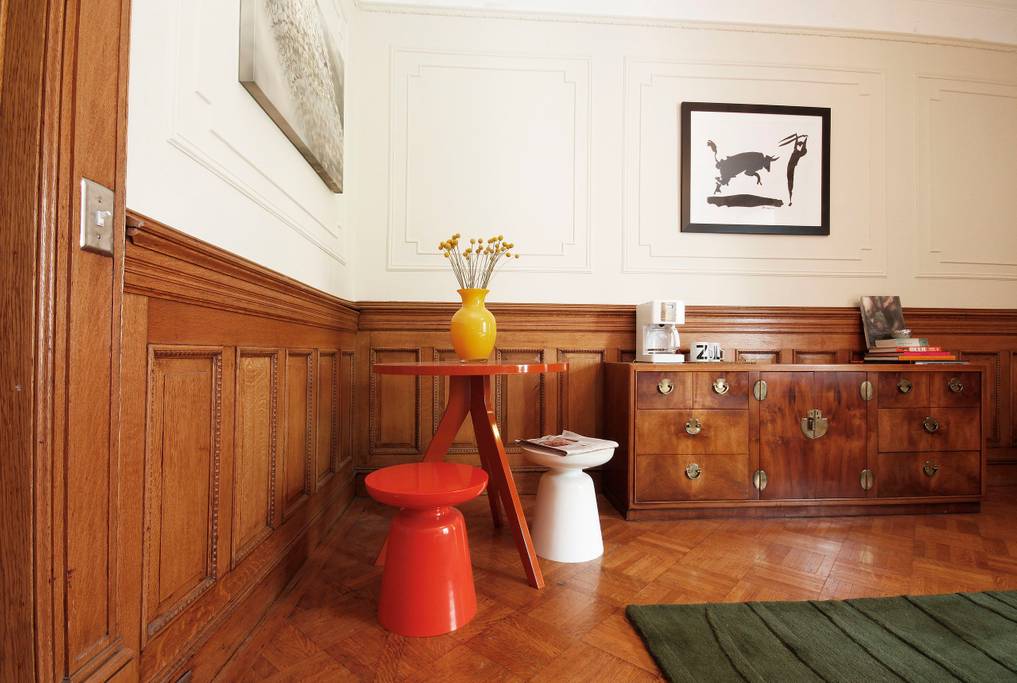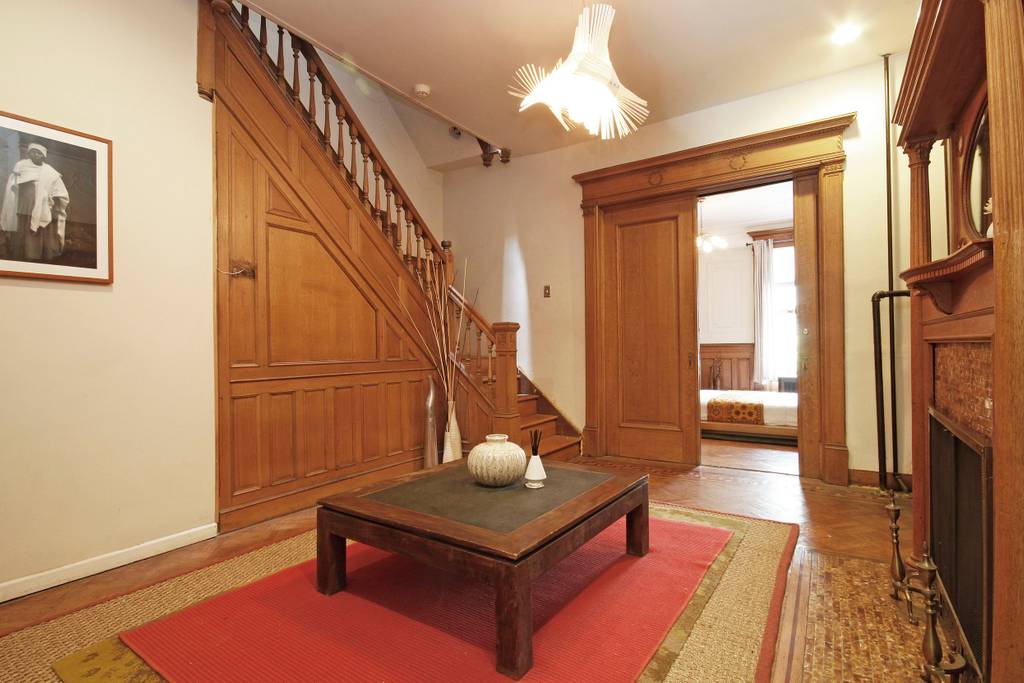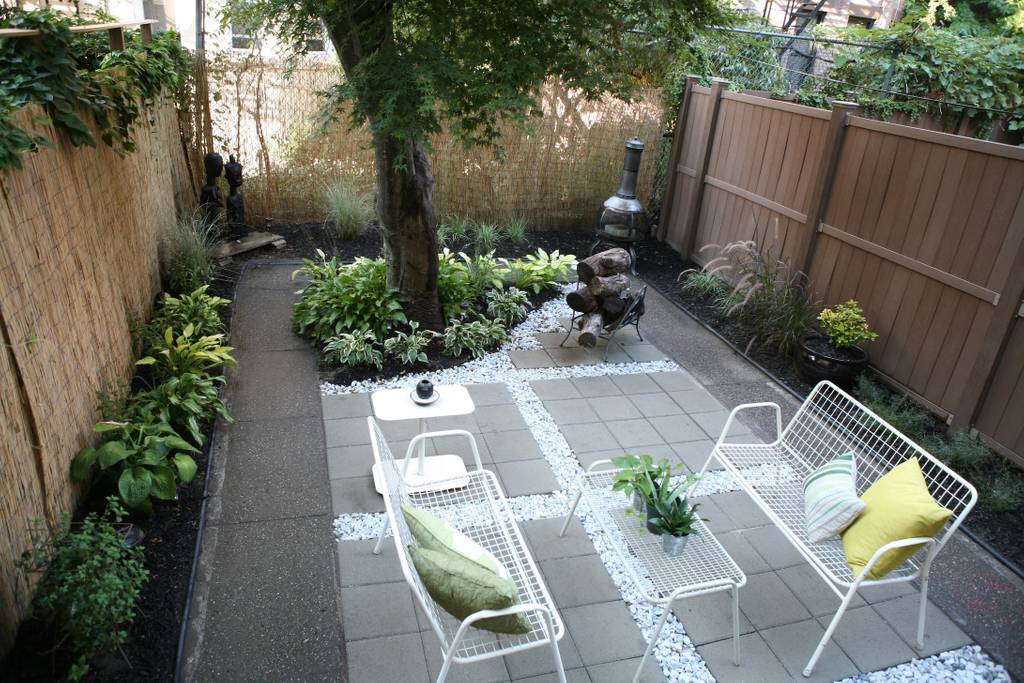 Making our budget limit to the dollar, this stunning Brooklyn Airbnb is private room in a gorgeous Crown Heights brownstone is close to so many great attractions. Among the many great places you'll be near are the Brooklyn Children's Museum, the Brooklyn Botanic Garden, Prospect Park, the Barclays Center, the shopping of Atlantic Avenue, Court Street and Smith Street.
With parquet floors, the original fireplace, air conditioning, a private entrance and proximity to the subway, this place has everything any hotel could possibly offer. There's no TV but you're in New York! Why do you even need one?