If there's one thing New Yorkers enjoy it's standing out from the crowd which is why we've compiled this list of 8 Unusual New York Airbnb homes. While their uniqueness varies from Star Wars-themed penthouses to cottages that sit right on the water, like the creative energy of the city itself, there seems to be no end to the ways in which New York Airbnb owners express themselves. Whether you're looking for a long-term Manhattan rental or a short-term rental in Queens, there's an unusual New York apartment for every renter. With that in mind, here are eight true standouts!
9 New York Rentals To Live Like A Local In
10 Stunning Manhattan Airbnb Rentals To Fit Any Budget
8. Cottage on the Water – $109 a night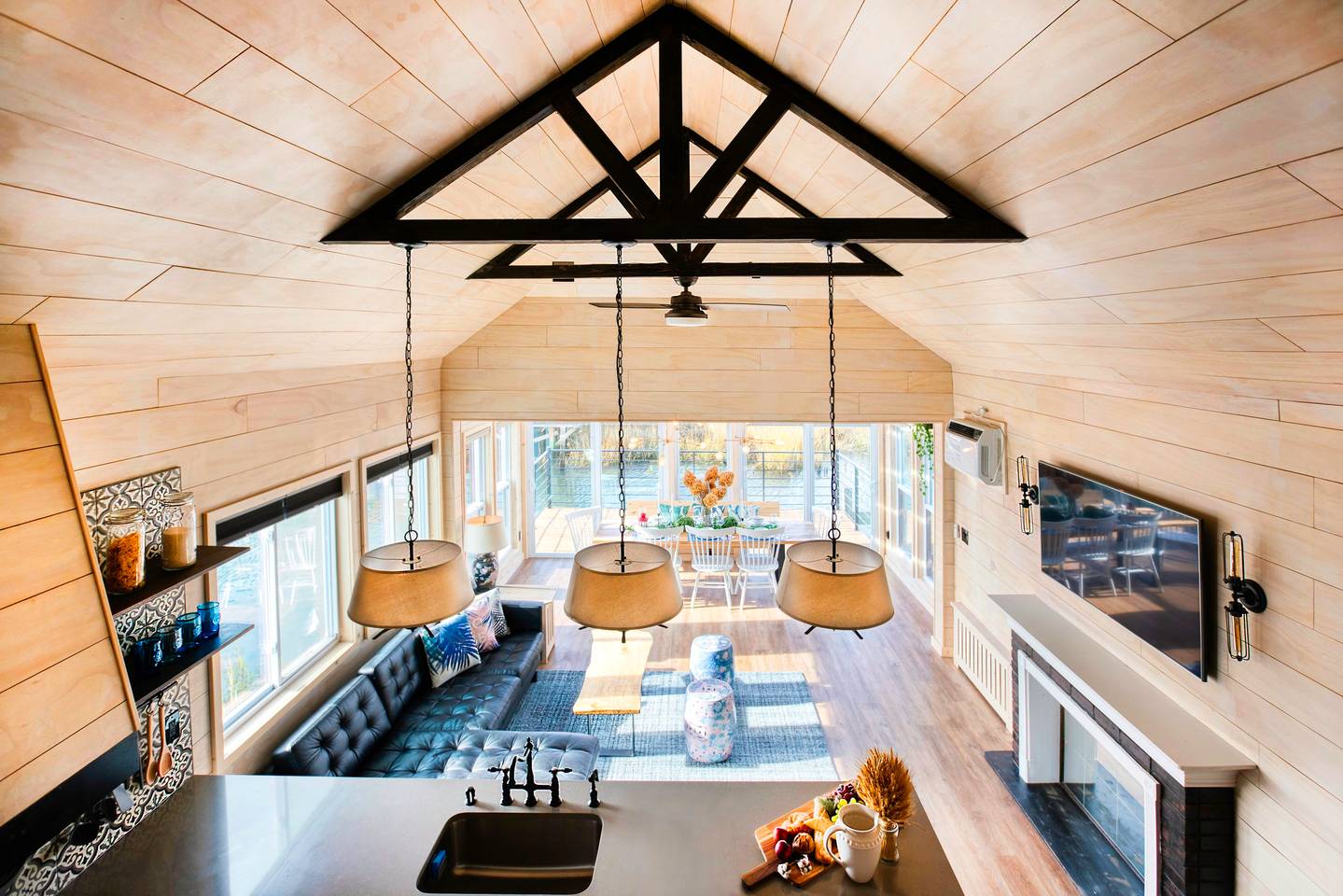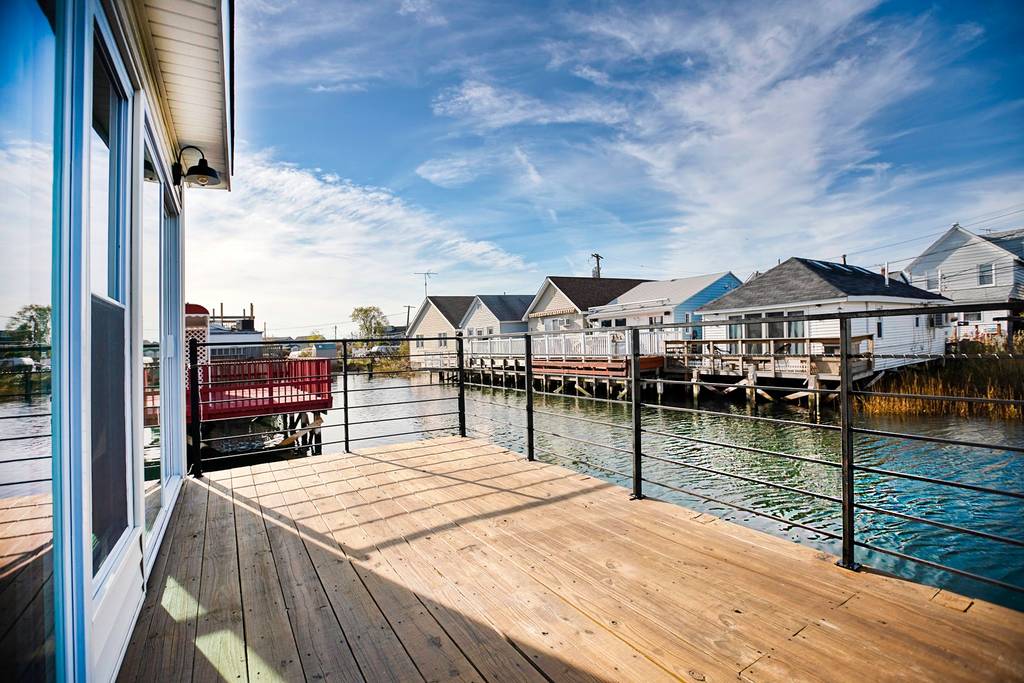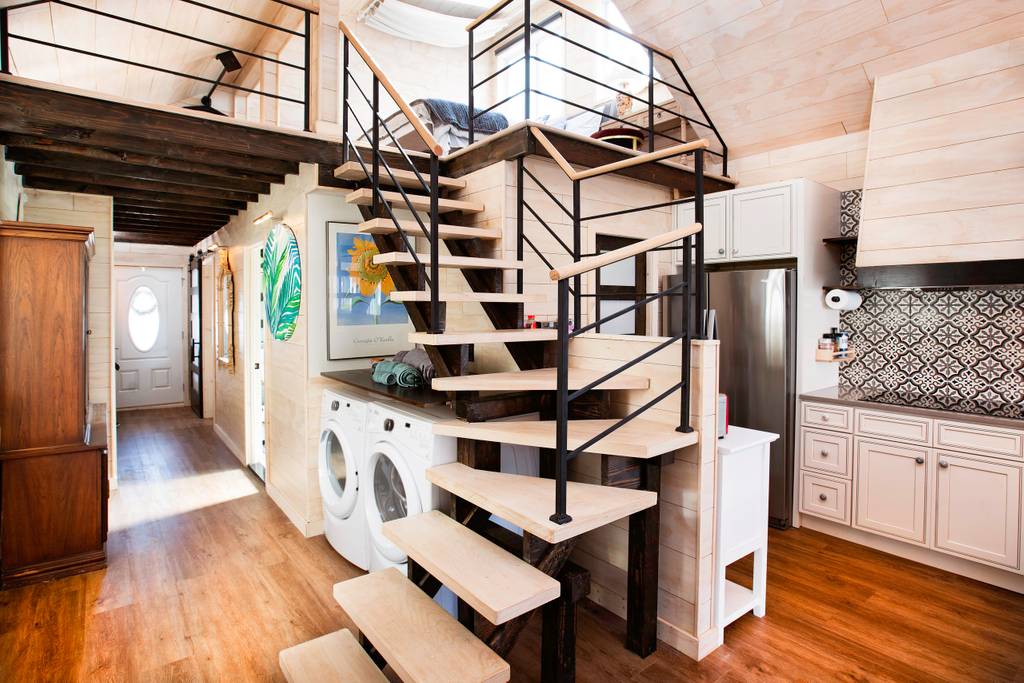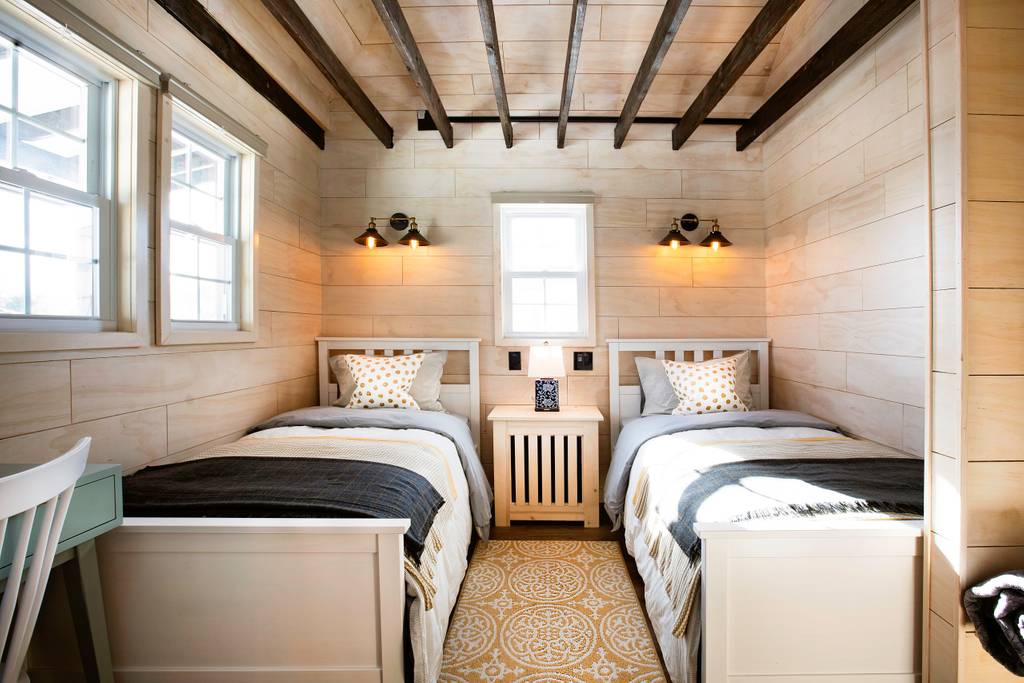 When most people think of Airbnbs in New York, they certainly don't think of staying in a house, let alone one right on the water, but this two-bedroom, one-and-a-half bath cottage is just that. Located just steps from the subway and within close proximity to both JFK Airport and Brooklyn, this might be the only place you can stay in New York and have swans and ducks greet you in the morning.
This adorable little Queens getaway is a huge bargain at $109 a night and features amenities (like a washer and dryer) and a coziness that are rarities in most New York apartments. The couple that owns it are interior designers so it's no surprise that it looks like something out of a design magazine.
The dining room features a sunroof so even on a wintery day you can still feel as if you're outside and on warm days you can lounge on the outdoor deck. This oh-so-cleverly designed bungalow offers an adorable loft space with a bed and is just a quick subway ride from legendary Jones Beach. Just make sure you book it quickly as this place books very, very quickly.
7. Gnome Home – $1,200 a night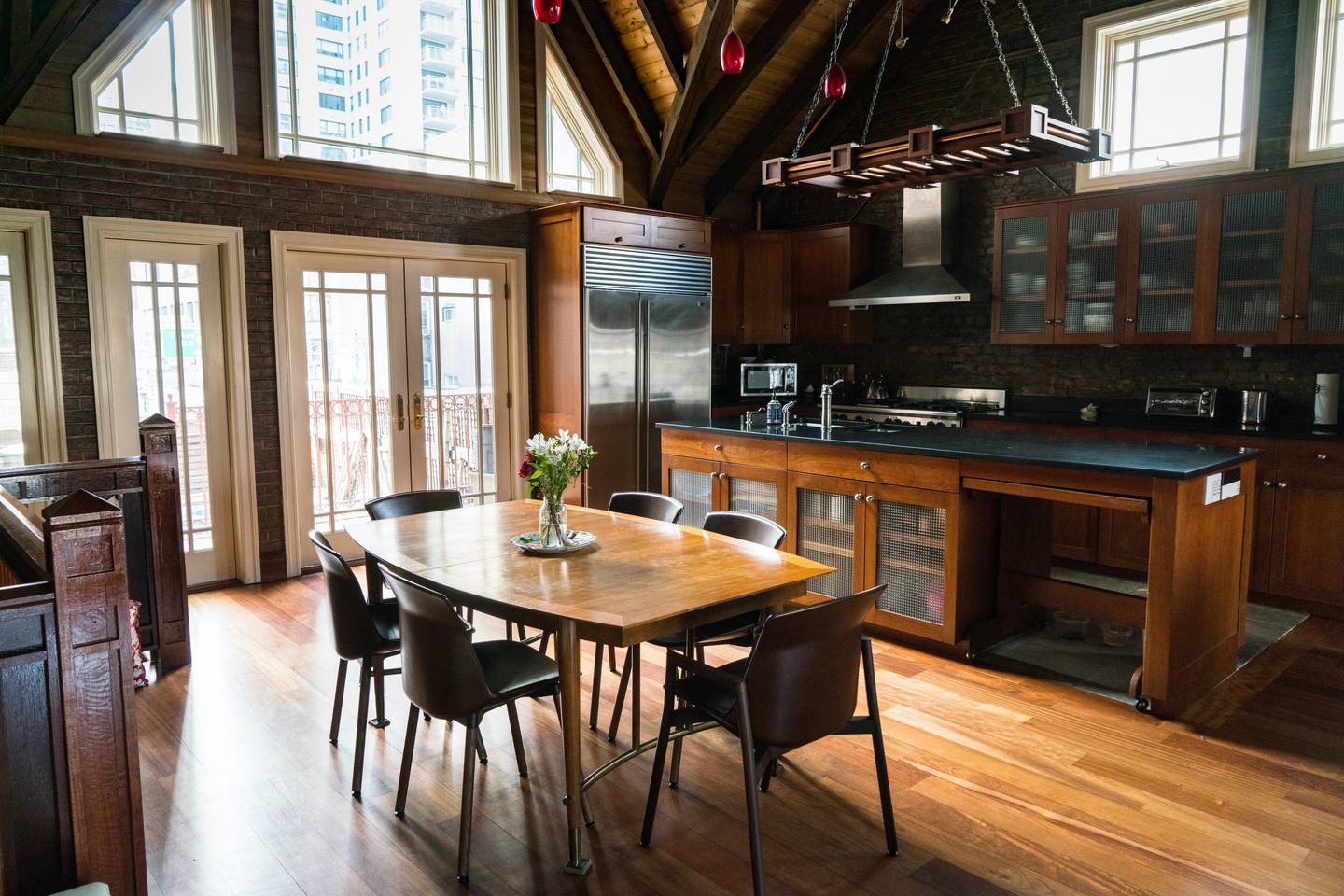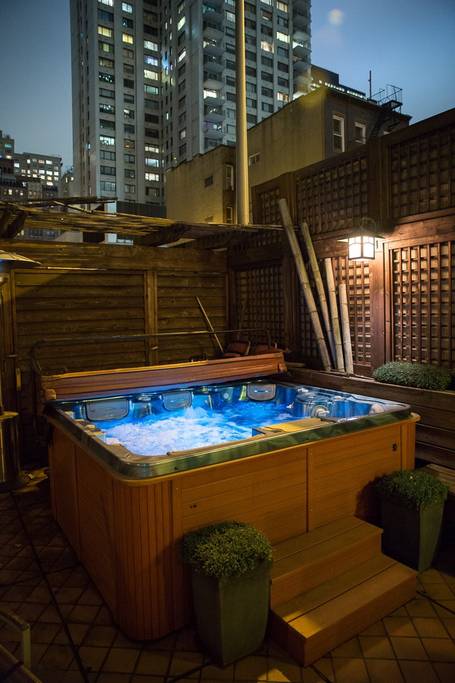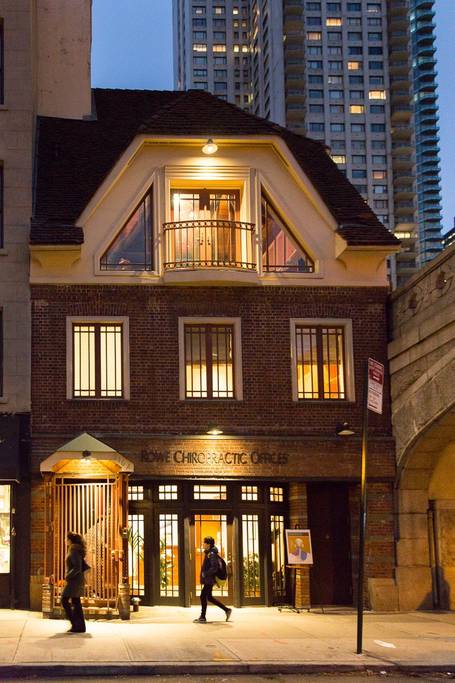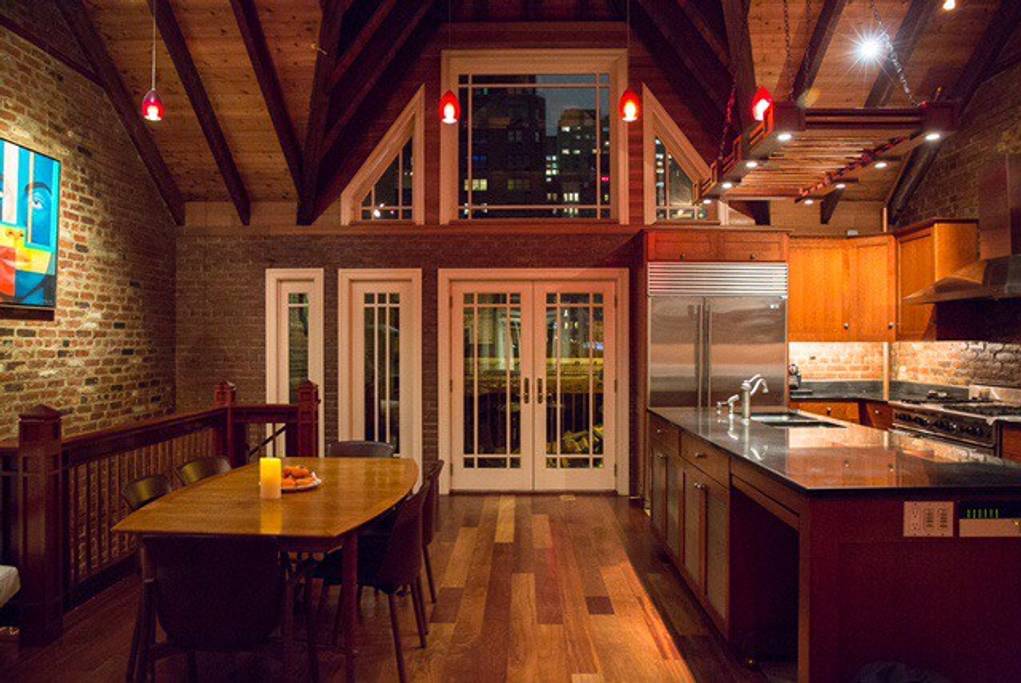 Known as "The Gnome House," this adorable Upper East Side carriage house is named after the bakery that occupied the space in the 1930s. Built in a Swiss Chalet style, this New York Airbnb has so many special little touches that you may spend most of your vacation just wandering around, looking at everything. With a wood-burning fireplace, a Juliet balcony, outdoor courtyard, a slew of flat screen TVs, and even a hot tub, this is also a great place to have a big get-together with friends for say, NYFW or Thanksgiving weekend.
When you're not at home, the Upper East Side (or UES as it's come to be known), offers so many great experiences it'll be hard to know where to start. From the nearby Museum of Modern Art (MoMA), Central Park, the Chrysler Building, the U.N., St. Patrick's Cathedral, Rockefeller Center, Madison Avenue shopping, and even the Roosevelt Island tram all within walking distance, you're going to have a lot to do. The only thing we can't promise is an actual gnome sighting.
6. Back in Black – $600 a night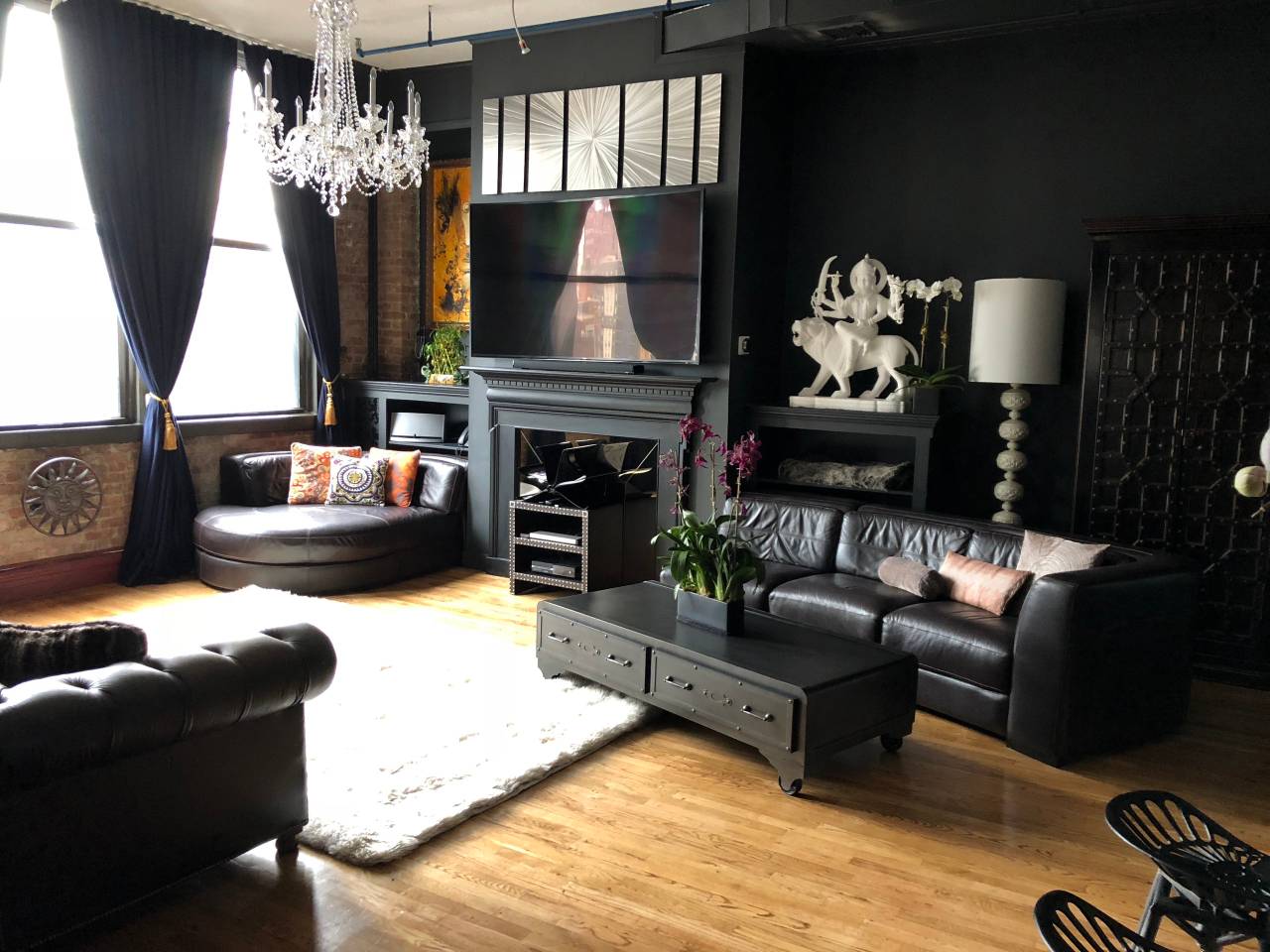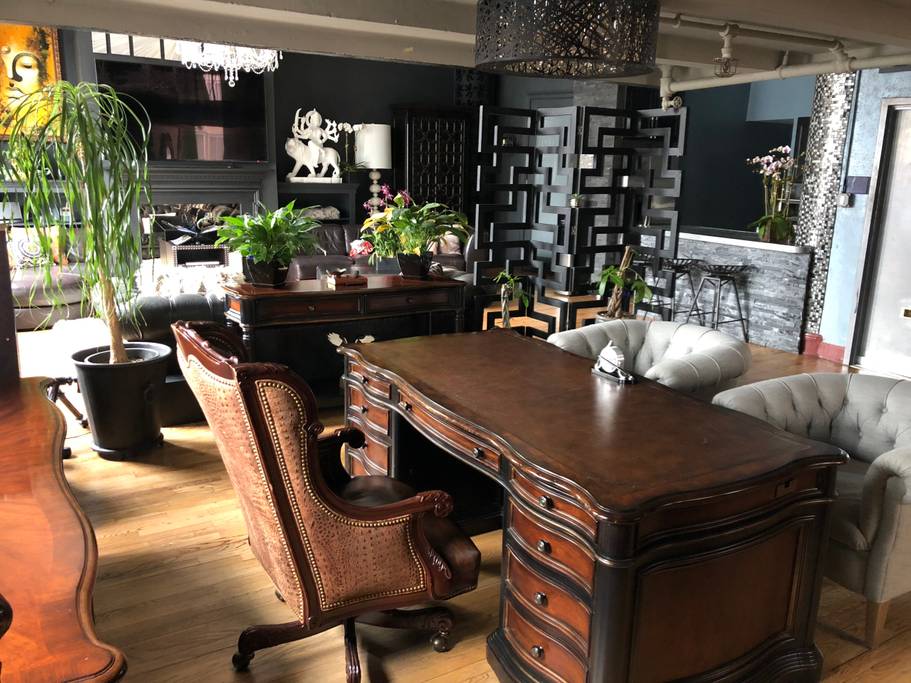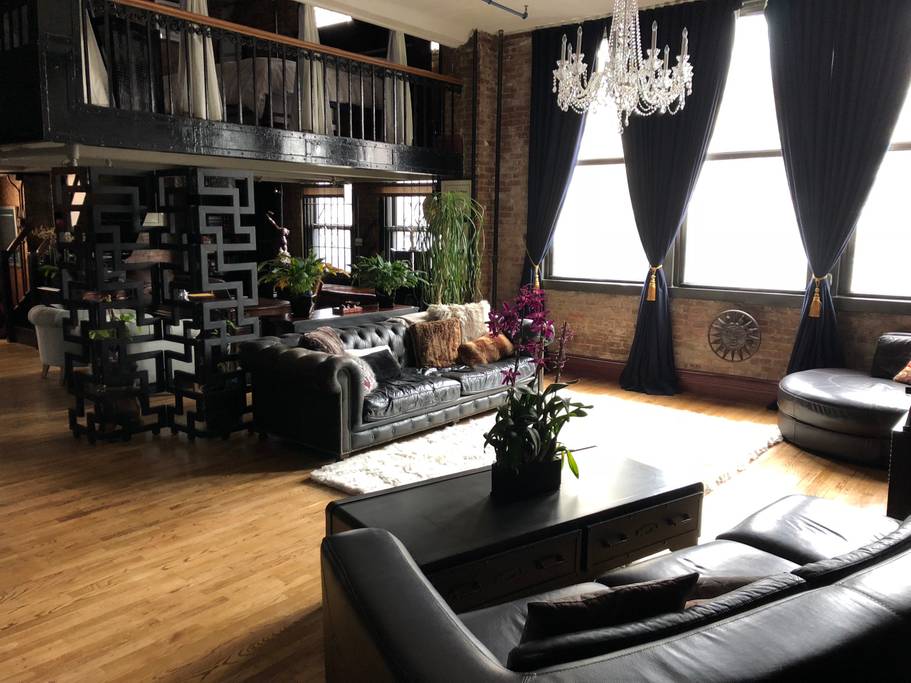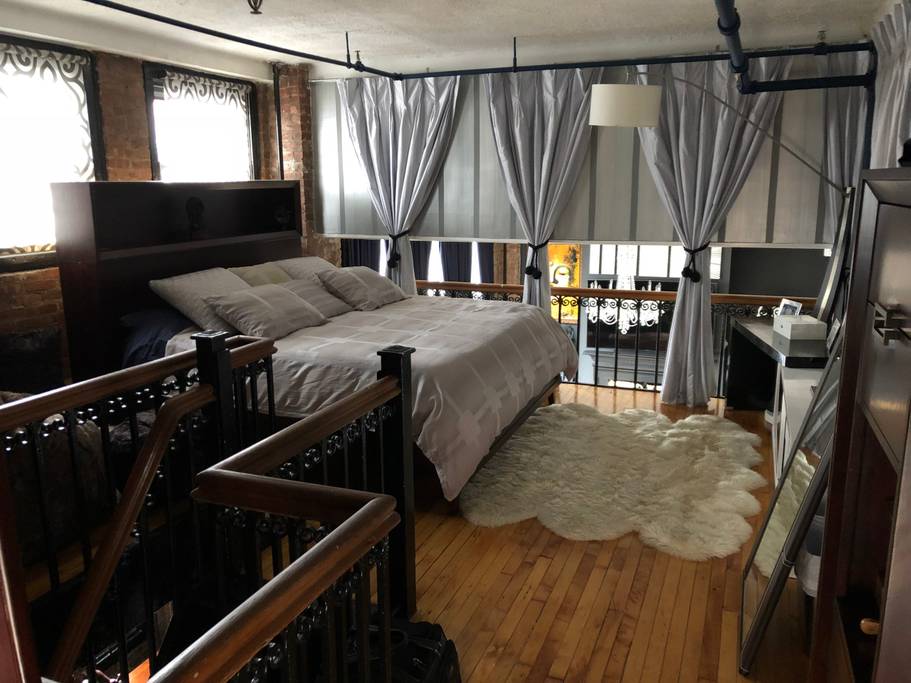 They say that New Yorkers are so obsessed with the color black that even the babies wear it and this apartment certainly proves that theory. Like most New Yorkers, babies included, this New York Airbnb is head-to-toe black and the effect is kind of great. In addition to the incredibly inventive décor, this two-bedroom, one bath apartment features a balcony with fantastic views of the Empire State Building and a wonderful cigar room-like feel. It also happens to have a great office space so if you're in town for a meeting, this is the perfect place to impress clients.
Located near the super-hot Flatiron/NoMad/Chelsea districts, this dramatic apartment couldn't possibly be in a better location for getting the most out of the city. You'll be within walking distance or a quick bus ride of Gramercy Park, the Flatiron Building, Eataly, the Strand Bookstore, the East and West Village, Madison Square Park, the Bowery, the new Whitney Museum, NoLiTa, Chelsea Market, Chelsea Piers, and basically any attraction that starts out with "Chelsea."
5. Rope Bed Flat – $300 a night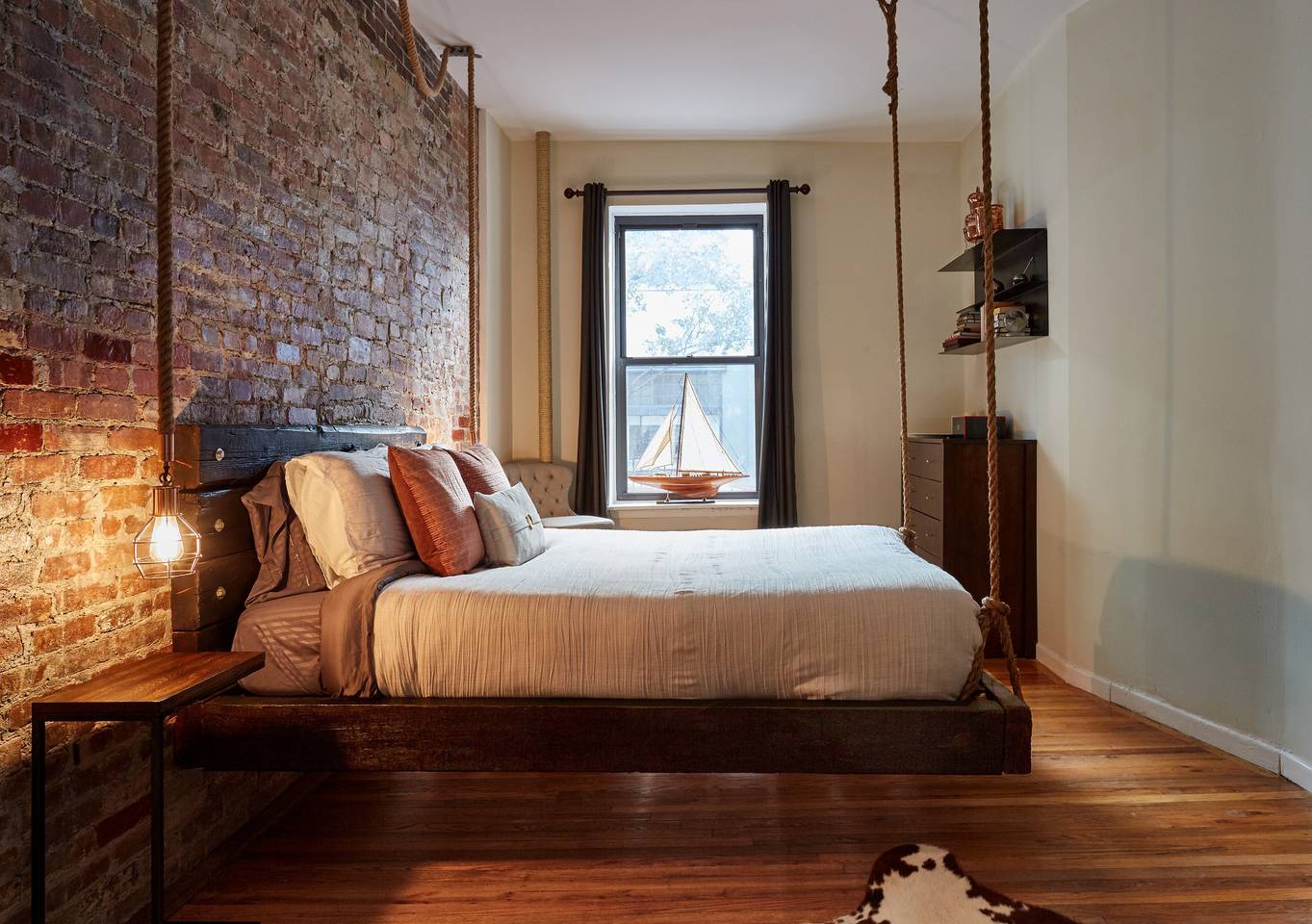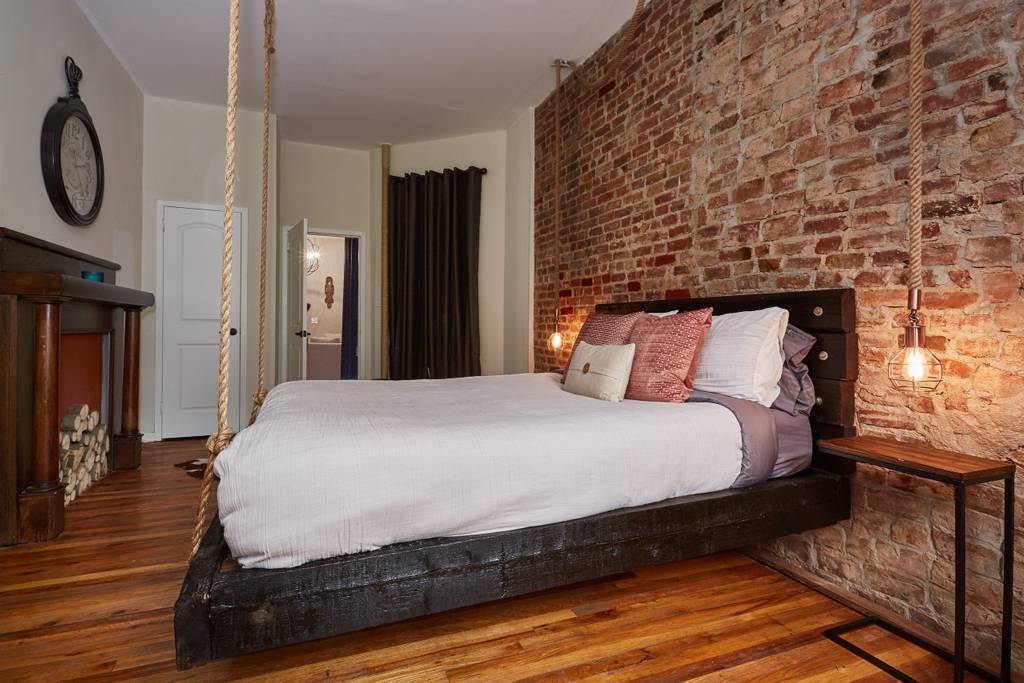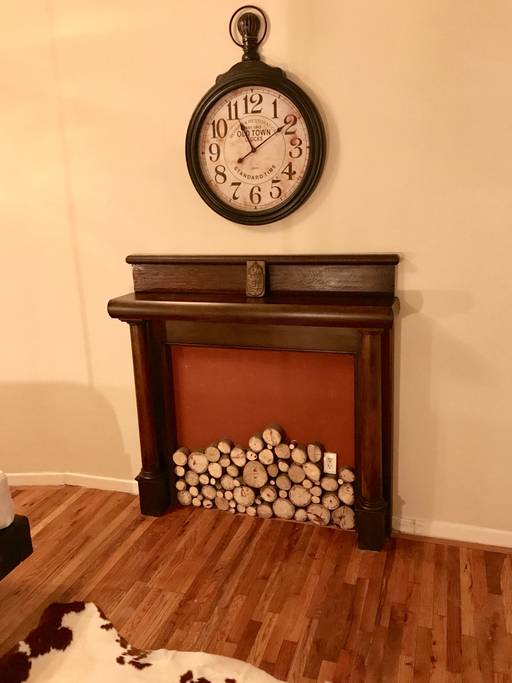 One can only wonder how many Airbnbers have stayed here and then gone home and built a bed on ropes. Located in the heart of Chelsea, this one-bedroom, one-bath apartment accommodates four and at $300 a night is very reasonable, especially given how conveniently located it is. If all you did was stay in the neighborhood, the list of attractions just within walking distance is limitless.
Greenwich Village, Washington Square Park, SOHO, NoLiTa, the Rubin Museum, the Children's Museum of the Arts, the High Line, the Tenament Museum, the New Museum, the Museum at F.I.T., and Chelsea Anything (see above) are all just a New York minute away. Its minimalist décor means much less to worry about taking care of (or even breaking), making it a perfect place for klutzy travelers. And if you can't leave town without planning your own rope bed, there's also a Home Depot very close by.
Check out these 8 cool Airbnb homes in Albany, NY!
8 Incredible Bargain Airbnb Homes in Brooklyn, New York
You're Gonna Love These 8 Over-the-Top New York Airbnb Homes
4. J'Accuzzi! $600 a night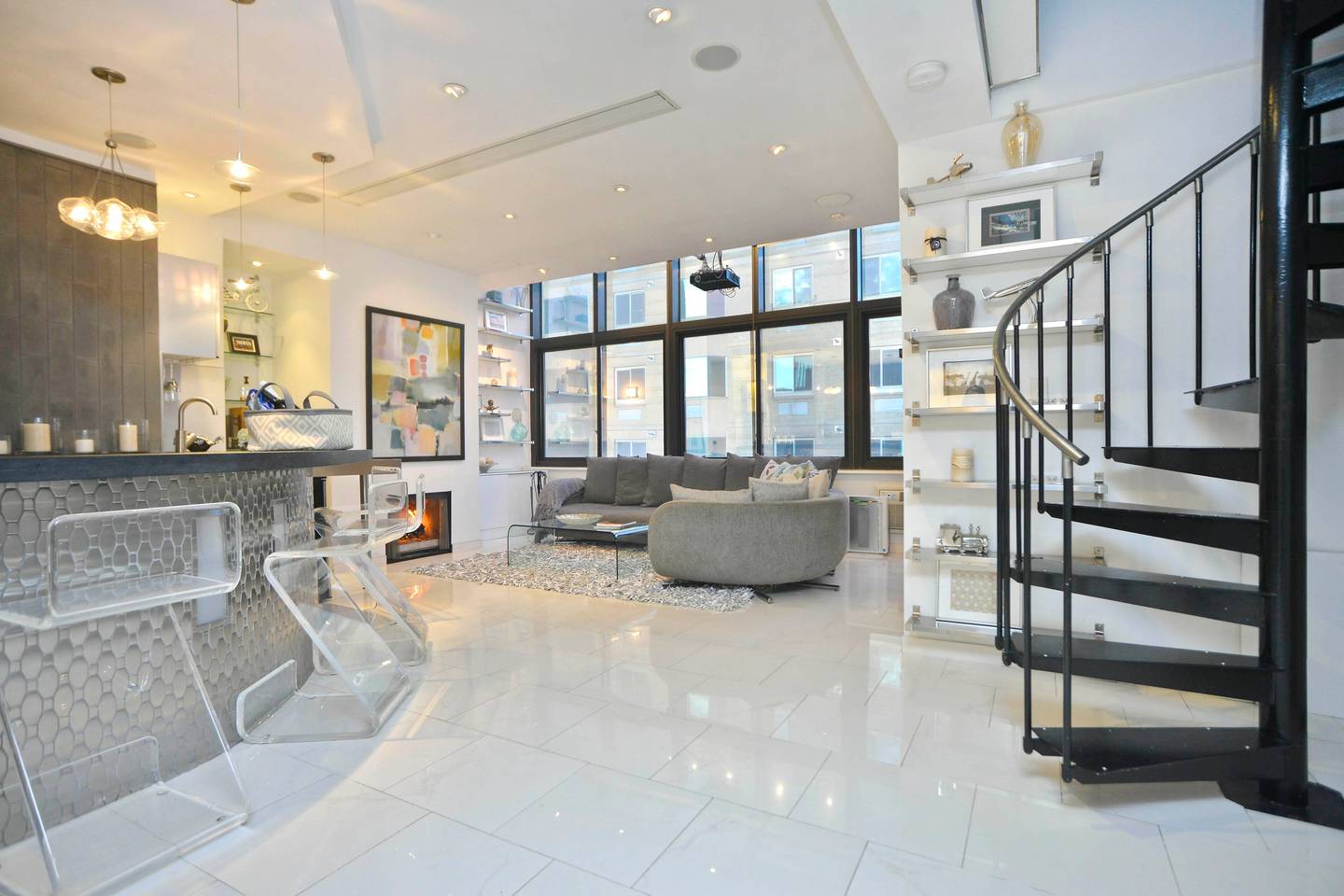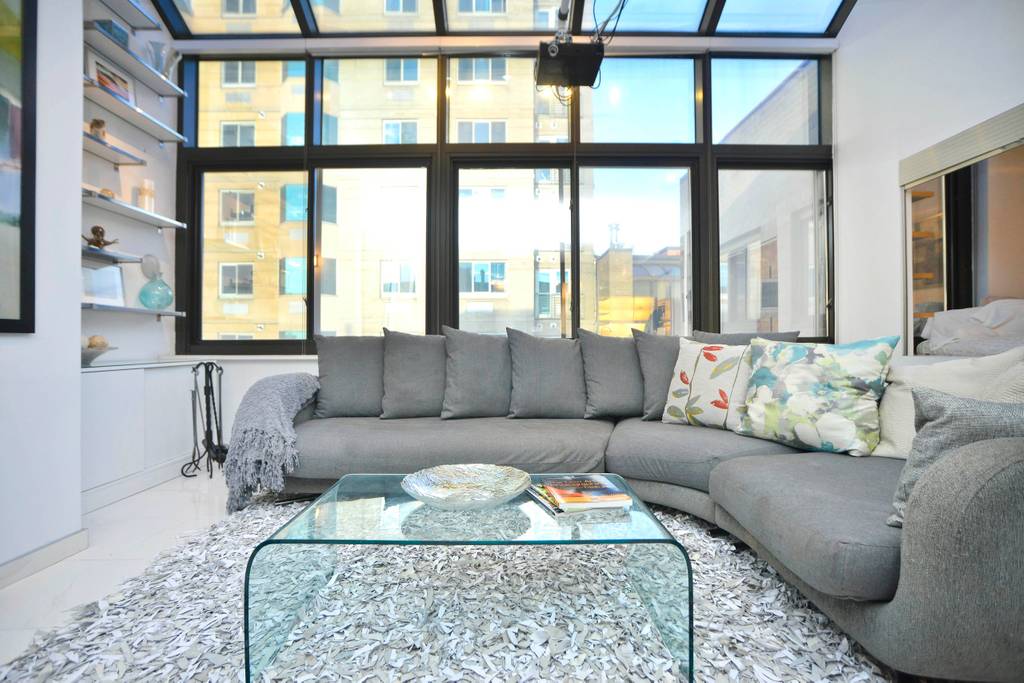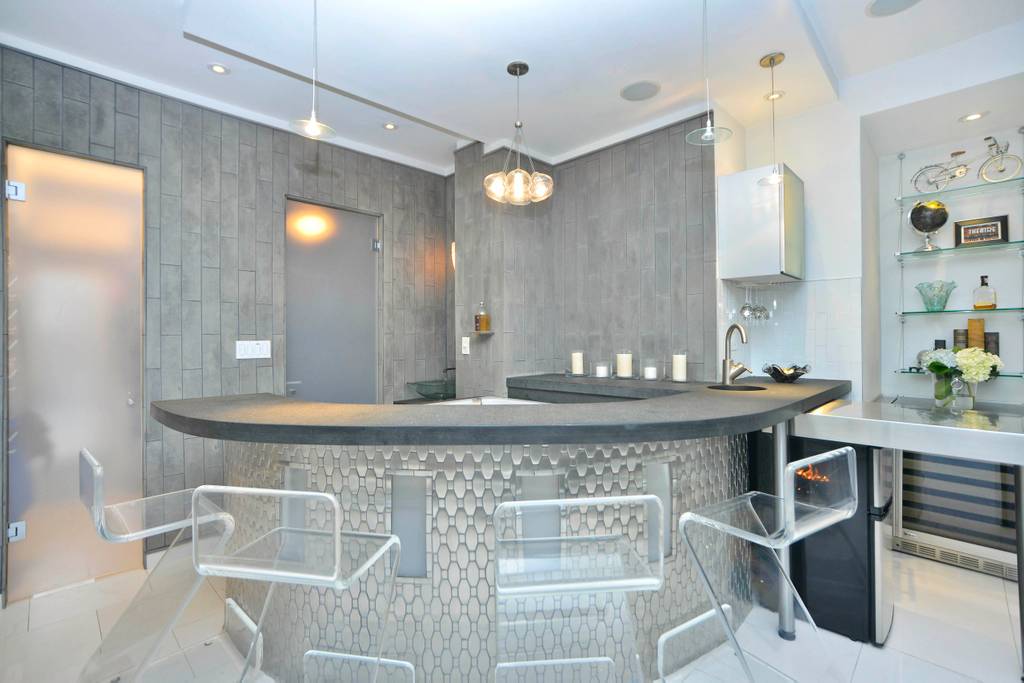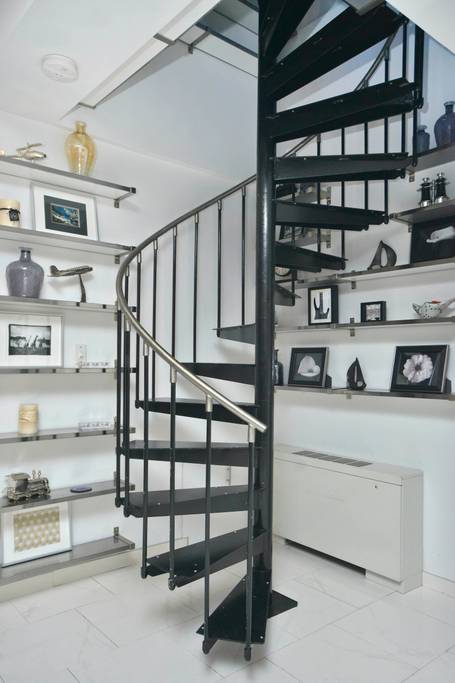 Most New Yorkers barely have enough room for their clothing, let alone a full-on Jacuzzi in the living room but this one sure does! While it's hard to believe, this one-bedroom, one-bath Airbnb in Manhattan's Hell's Kitchen neighborhood has an actual Jacuzzi (the rim of which could double as a bar area—see pictures to know what we mean) smack dab in the middle of the living room. This Theater District gem was once a dance studio and was built in 1929 as the armory for the 77th "Statue of Liberty" Division of the United States Army Reserve.
You can make a little personal history yourself by hitting all the great area attractions including the Intrepid Sea, Air, and Space Museum, taking a Circle Line cruise around the city, hitting "Restaurant Row" in the Theater District (be sure to hit Joe Allen's where all the posters on the walls are of Broadway flops), the Hell's Kitchen Flea Market, and, for a truly authentic New York experience, LaDuca theatrical shoes which supplies film, TV, and theater productions with dance shoes. And of course, no stay in the Theater District would be complete without going to the actual theater so be sure to stop by the TKTS booth for discounted theater tickets.
3. Stairway to Paradise – $1,000 a night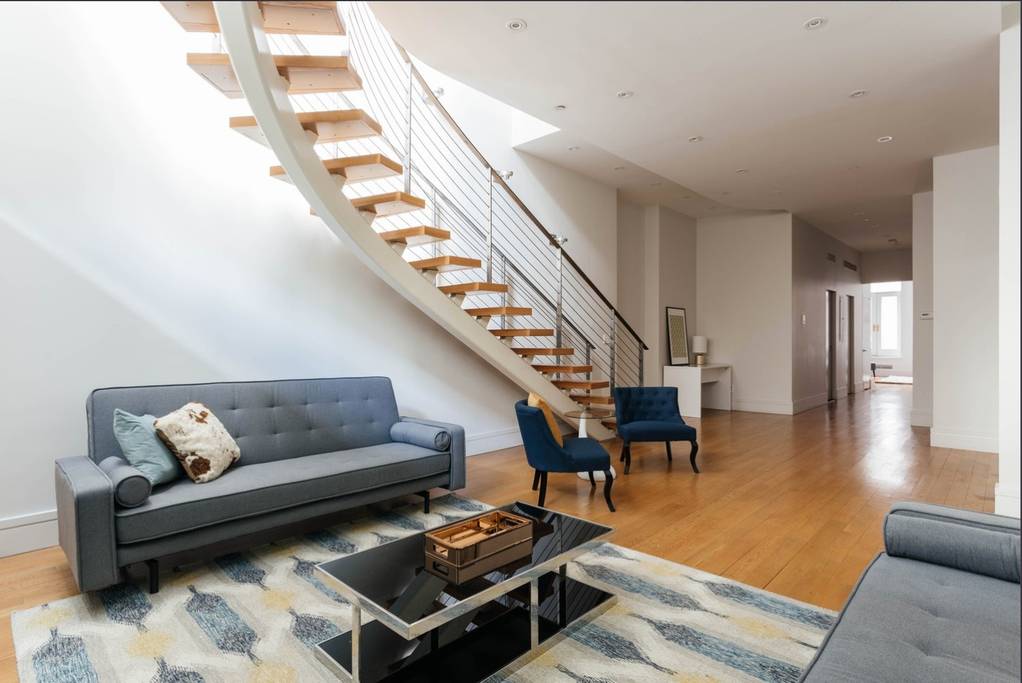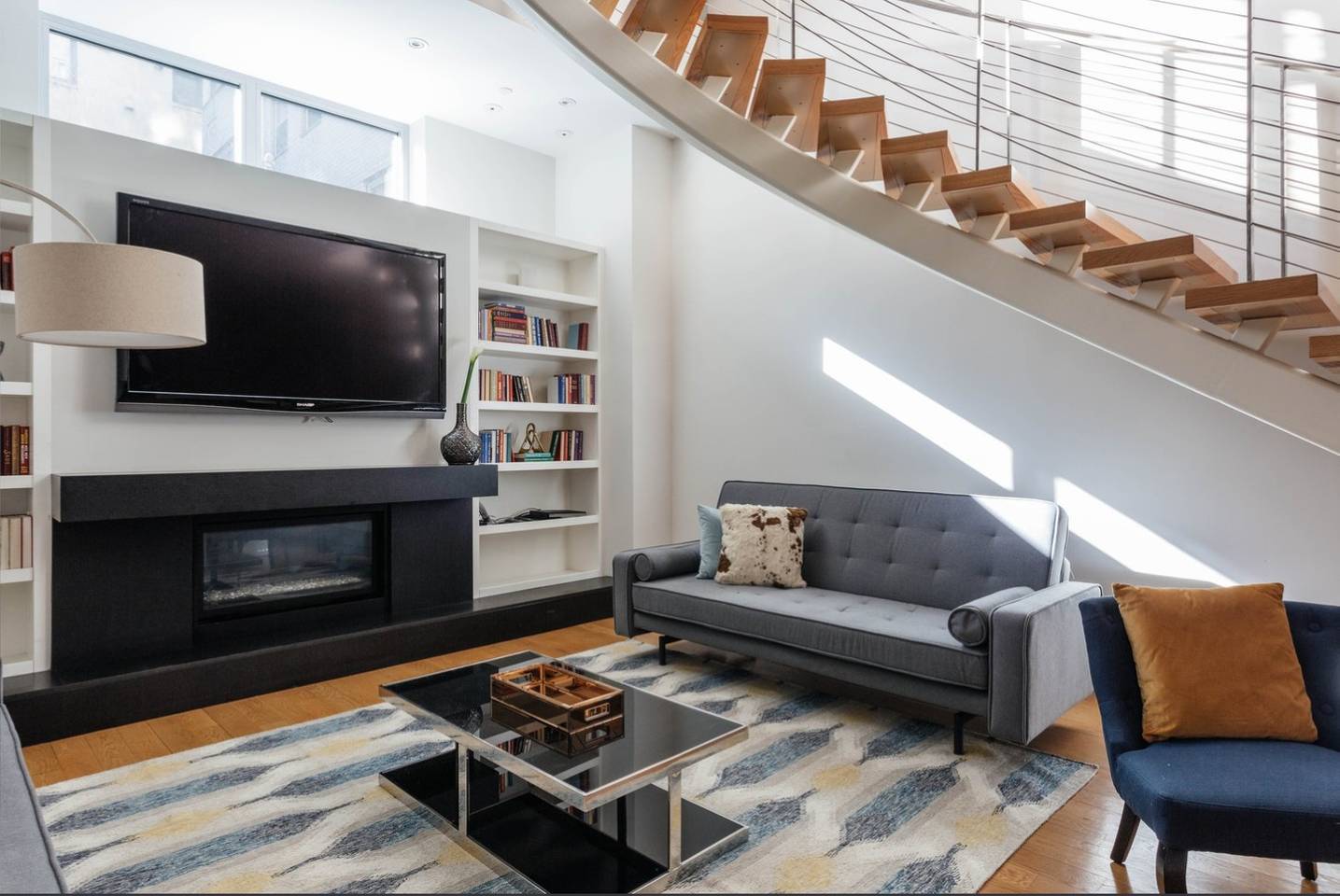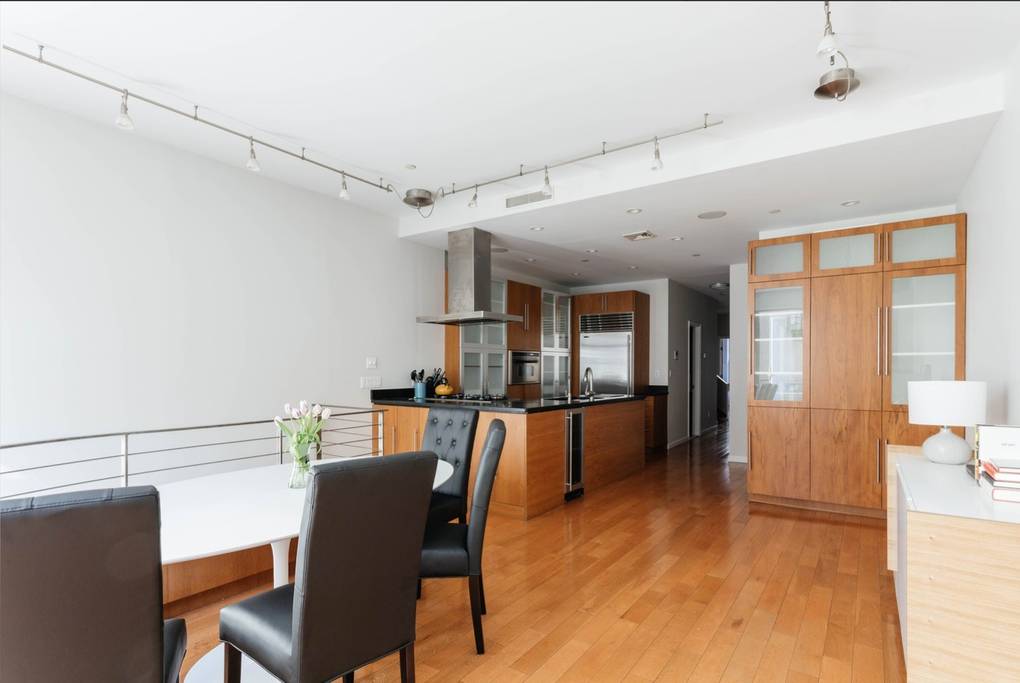 We're not entirely sure if that's a staircase or a roller coaster but whatever it is, we're positive most New York Airbnbs don't have one. This four-bedroom, four-bathroom townhouse sleeps 10 and costs $1,000 a night which means it's a pretty good bargain for a big group. Clean and airy, this townhouse features a skylight in the dining room and is flooded with light all around.
Located right in the center of the refined Murray Hill area, this place is within a short distance of Bryant Park, Grand Central Station, the Frick Collection, the Morgan Museum and Library, the "Main Library" (officially known as the Stephen A. Schwarzman Library), the Japan Society which offers all kinds of fascinating Japanese-themed talks and exhibits, not to mention language lessons), Tudor City Greens (a lovely garden oasis that even many New Yorkers don't know about), and even the National Museum of Math if you're into that sort of thing.
And if you like Indian food, this neighborhood has your name on it. Known colloquially (and admiringly) as "Curry Hill," this area has some of the best Indian food outside of India not to mention some of the most incredible spice stores you've ever seen in your life. Clearly that staircase was meant to take you more than just upstairs.
2. Floor-to-Ceiling Views – $2,500 a night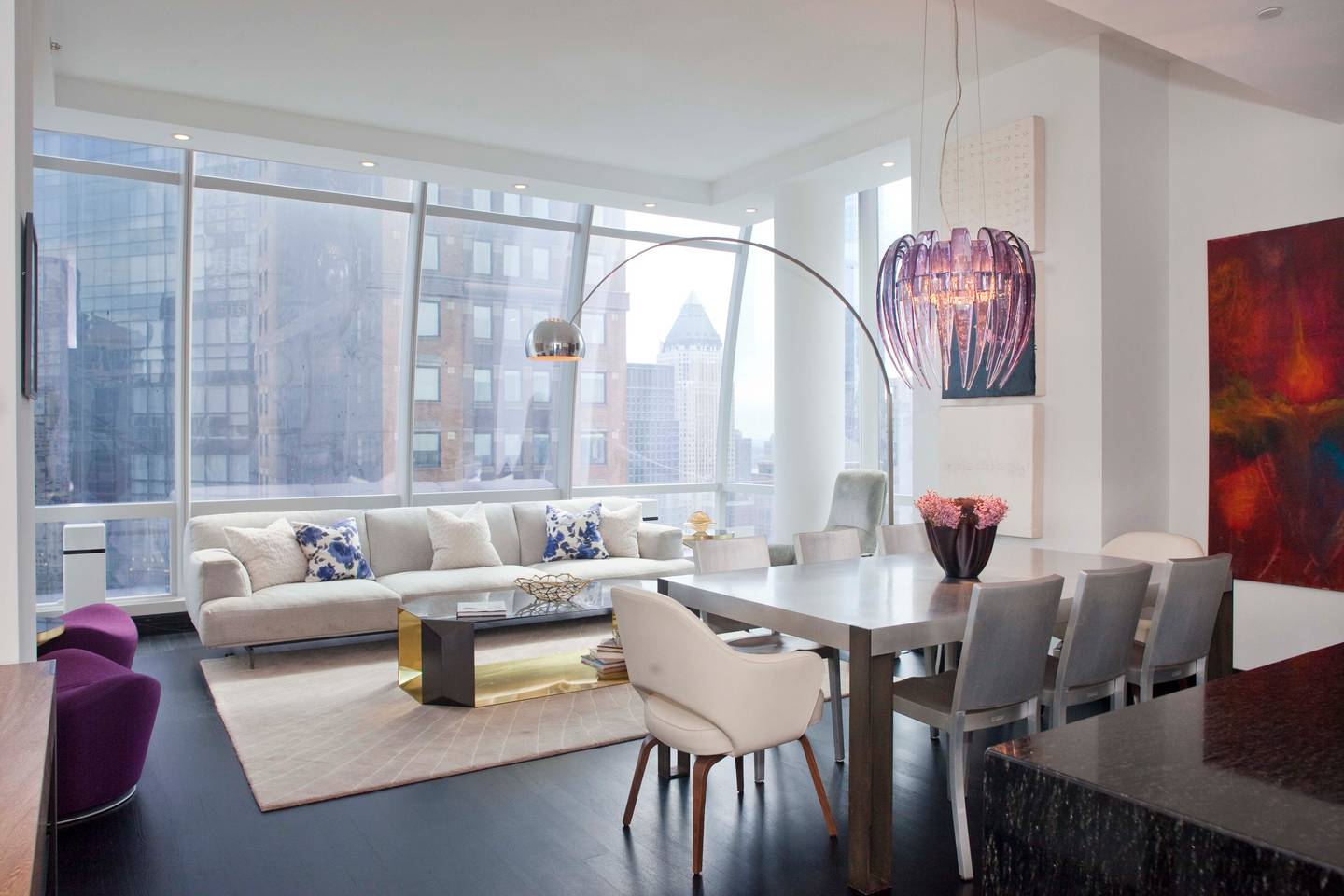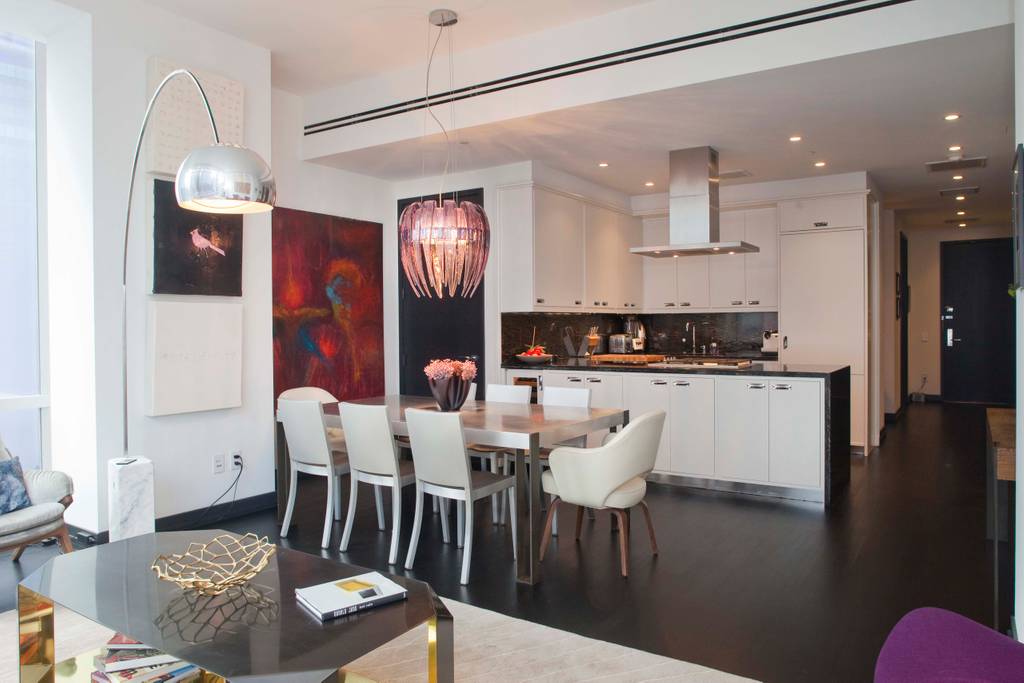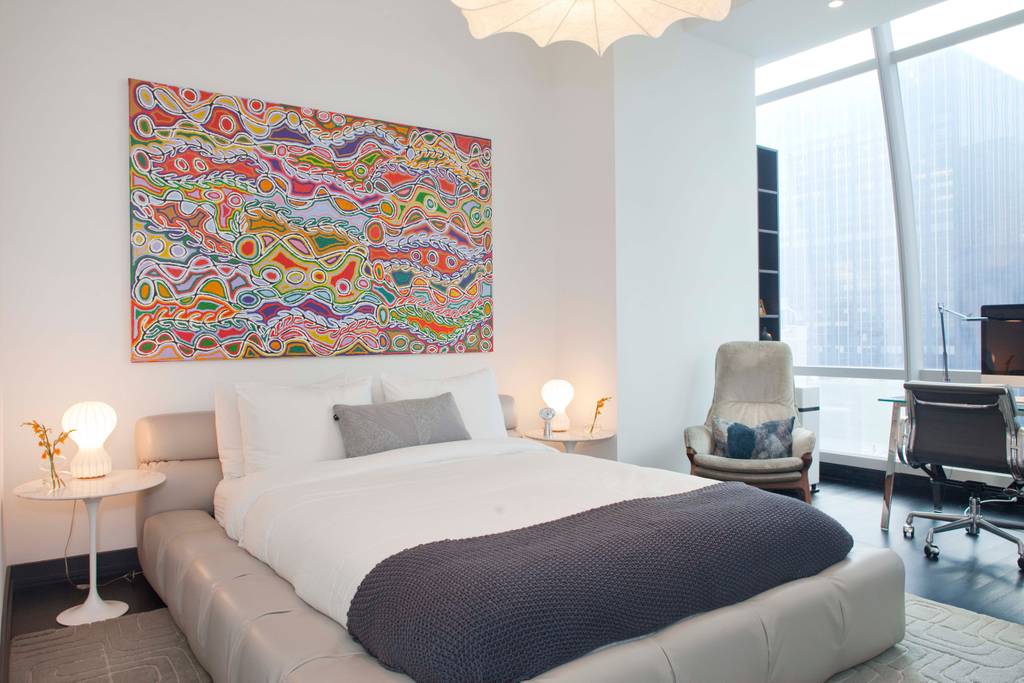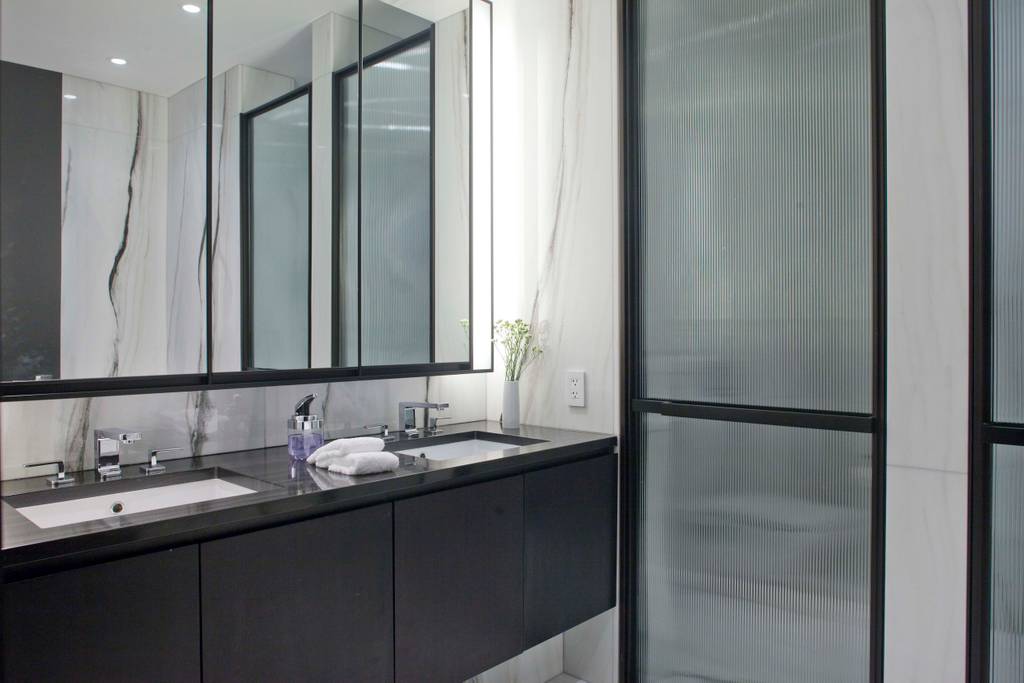 Not only do most New Yorkers not live in an apartment with floor-to-ceiling windows, most New Yorkers have never even been in one that had them which means you will truly have a once-in-a-lifetime experience in this midtown Manhattan Airbnb. While, at first glance, you'll be tempted to stay in the living room, the windows in this $2,500 a night apartment do extend to a lovely master bedroom so there's no need to sleep on the couch. With a marble en suite bathroom that includes a soaking tub and rainfall shower, there is also a separate TV area to enjoy the cable TV.
Of course, you probably won't be doing much of that since your neighborhood is so close to so many things like Central Park, the Plaza Hotel (and don't miss the Eloise shop or Todd English's Food Hall on the basement level), the department store to end all department stores, Bergdorf Goodman, the newly renovated St. Patrick's Cathedral, the Museum of Modern Art (MoMA), Radio City Music Hall, and the view from the Top of the Rock. This New York Airbnb won't just change your view on the city, it'll change your view of the world!
1. May the Whole Floor Be with You – $1,000 a night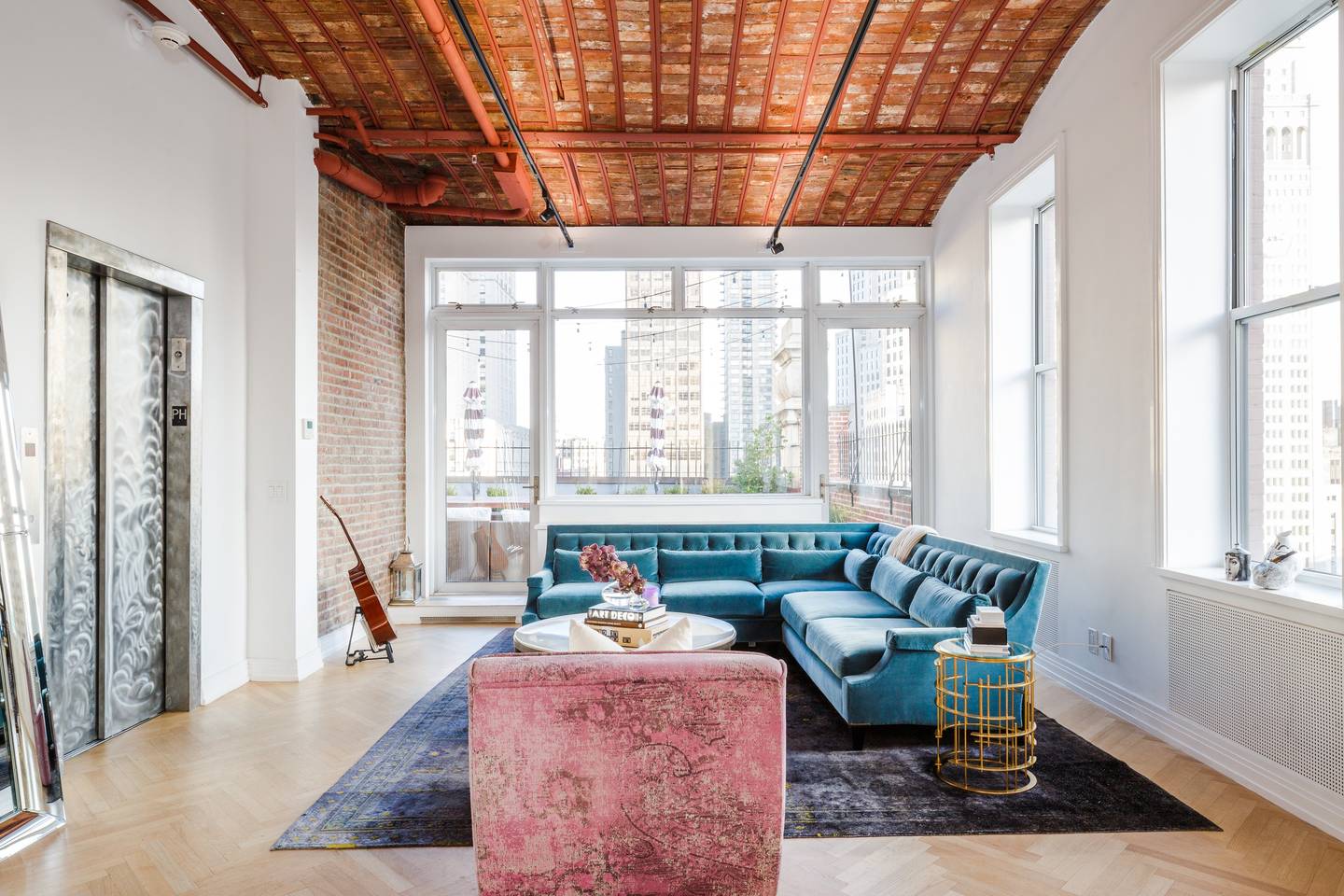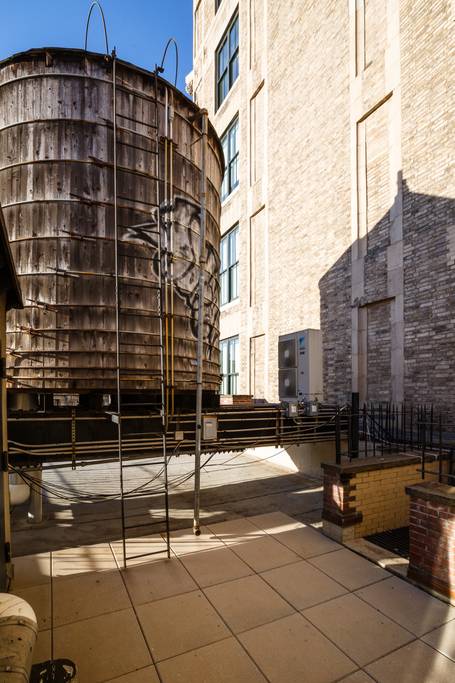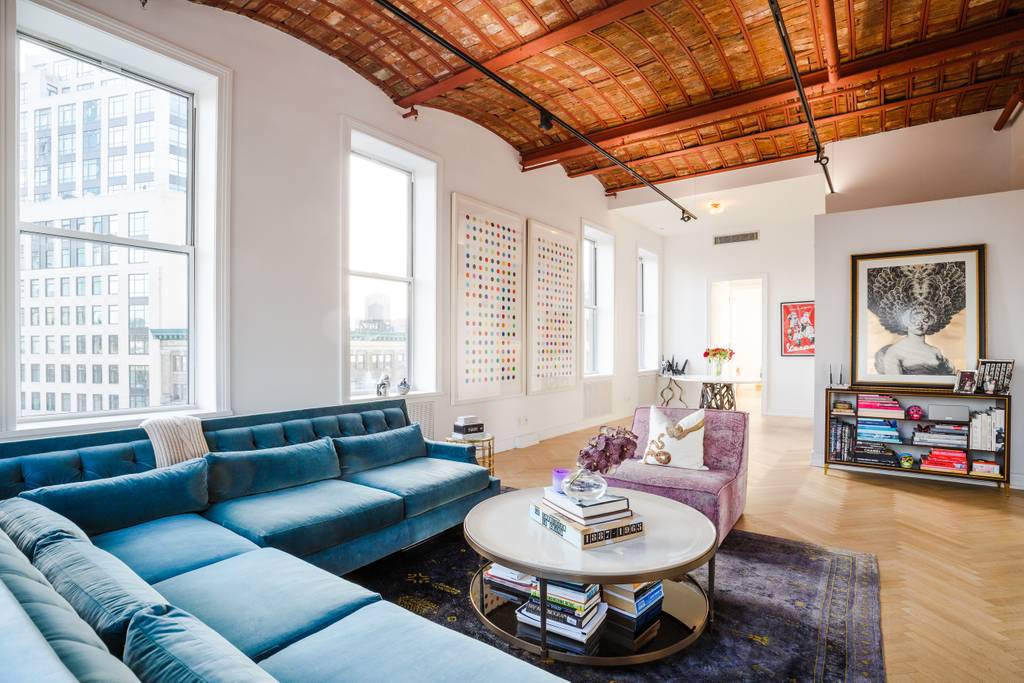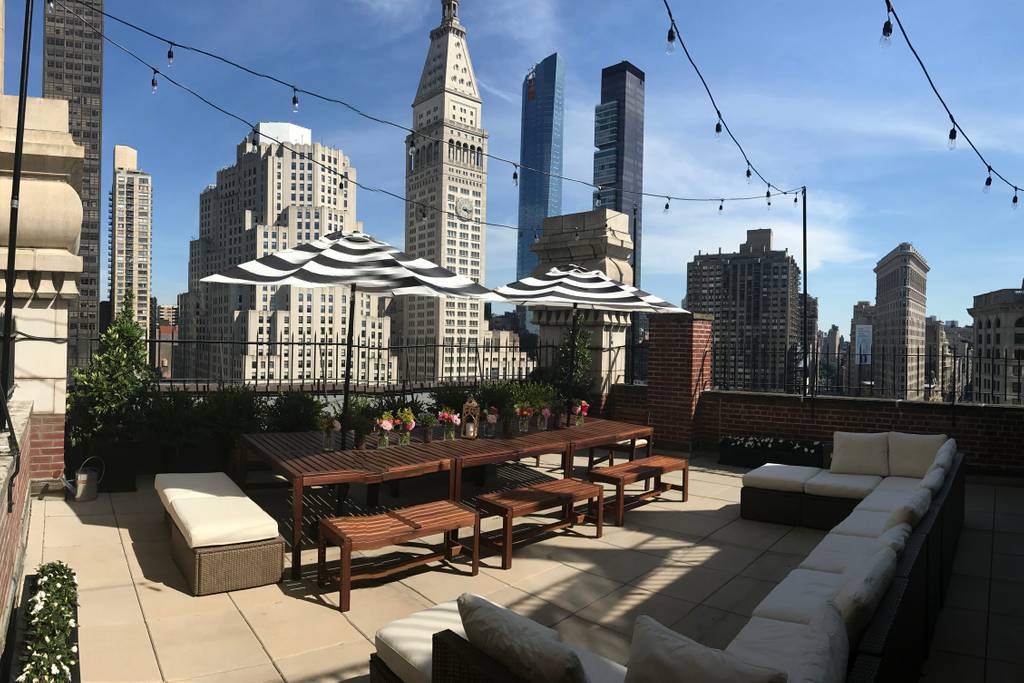 One would think that the Star Wars wallpaper, Darth Vader soap dispenser, and R2D2 trash can (or whatever that is) would be enough for this incredible penthouse to make this list, but no! In addition to these unusual touches, this gem of an Airbnb also has its own private elevator that opens right out on to the apartment itself! Not only that, but it also has one of the most quintessentially New York features you could ever want: a water tower!
Between that, the outdoor party lights, the 13 ft. vaulted brick ceiling, and the I-cannot-believe-this-view-of-the-Flatiron Building-not-to-mention-Madison Square Park, do you have any idea what your Instagram feed is going to look like if you rent this place?!? This $1,000 a night loft-like space sleeps four . . . of the luckiest people you've ever met in your life. Seriously, if you want more than this, we really can't help you. In fact, no one can help you. We did what we could, now the rest is up to you. 😉