Other than Paris, no other city in the world appears in more romantic comedies than New York and looking at this Airbnb homes it's easy to see why. From rooftop bedrooms to loft spaces that look as if they've been designed by a set decorator to picture-perfect brownstones, the city and the surrounding boroughs seem ready-made for someone to call "action"!
9 New York Rentals To Live Like A Local In
8 of New York's Most Unusual Airbnb Homes
8 gorgeous Airbnb New York Townhouses fit for Carrie Bradshaw herself!
8. Happily Ever After – approx. $463 a night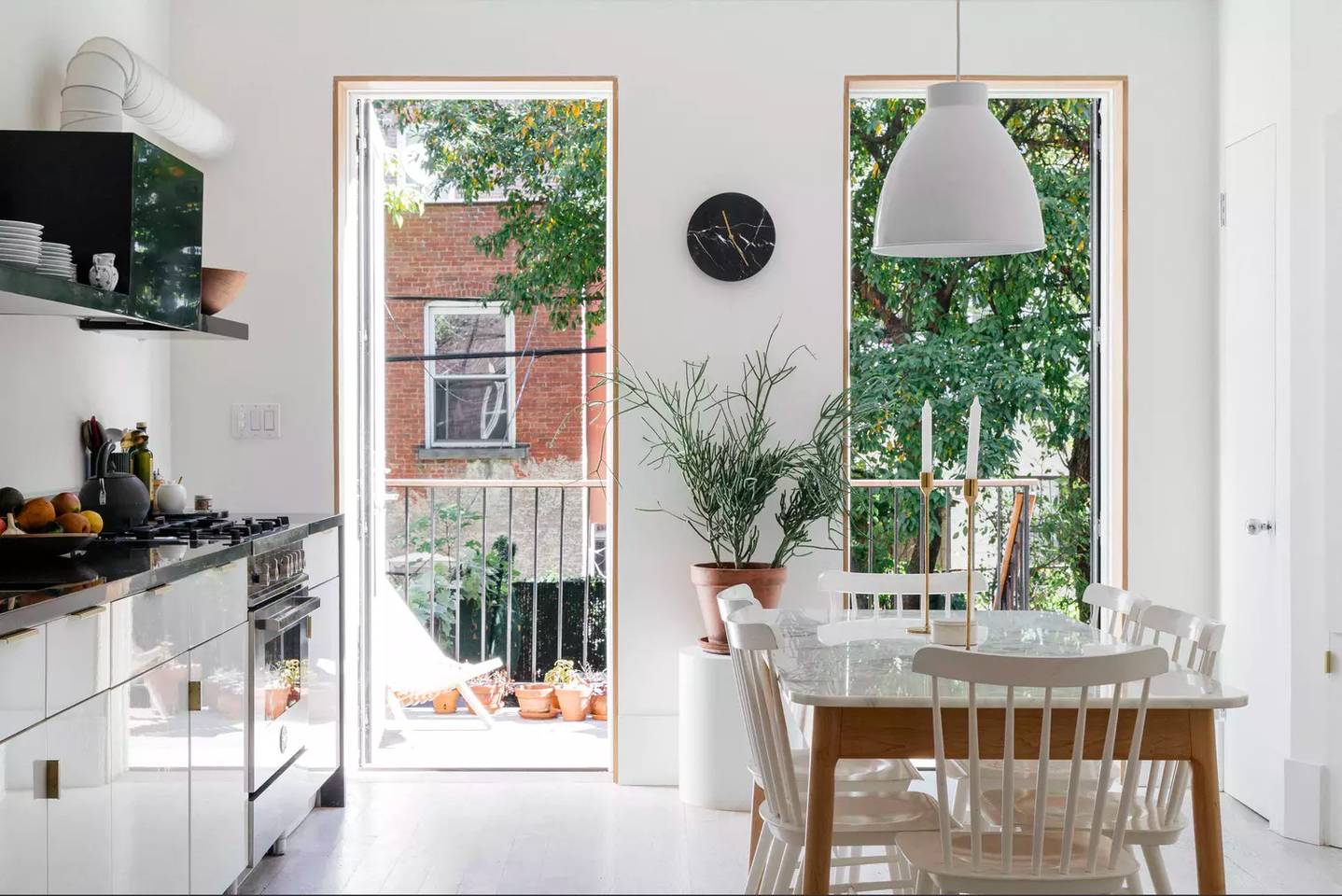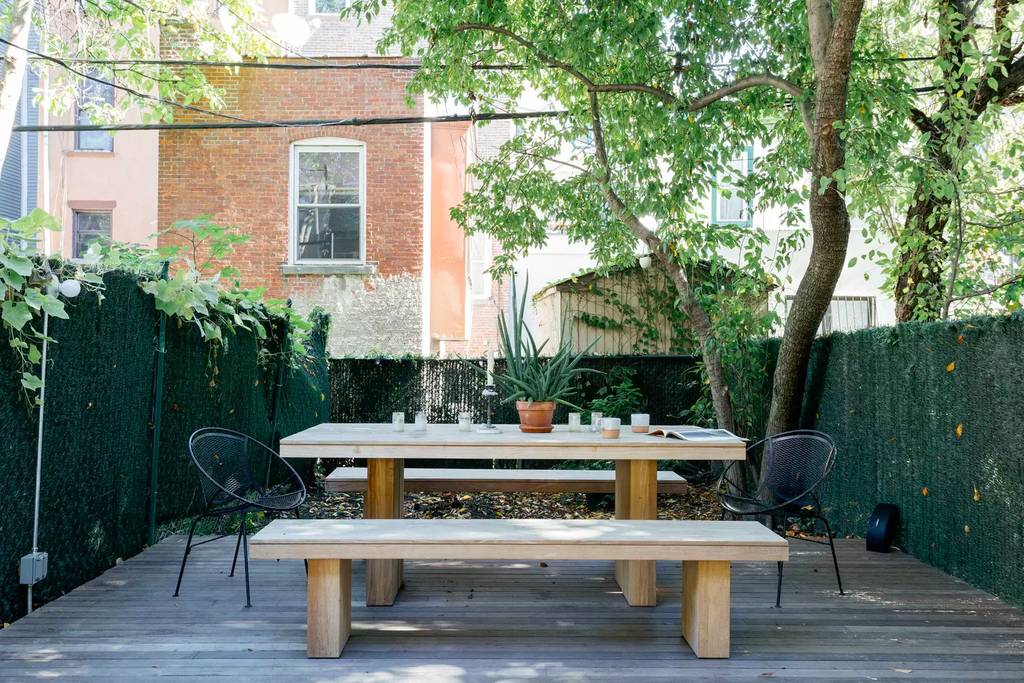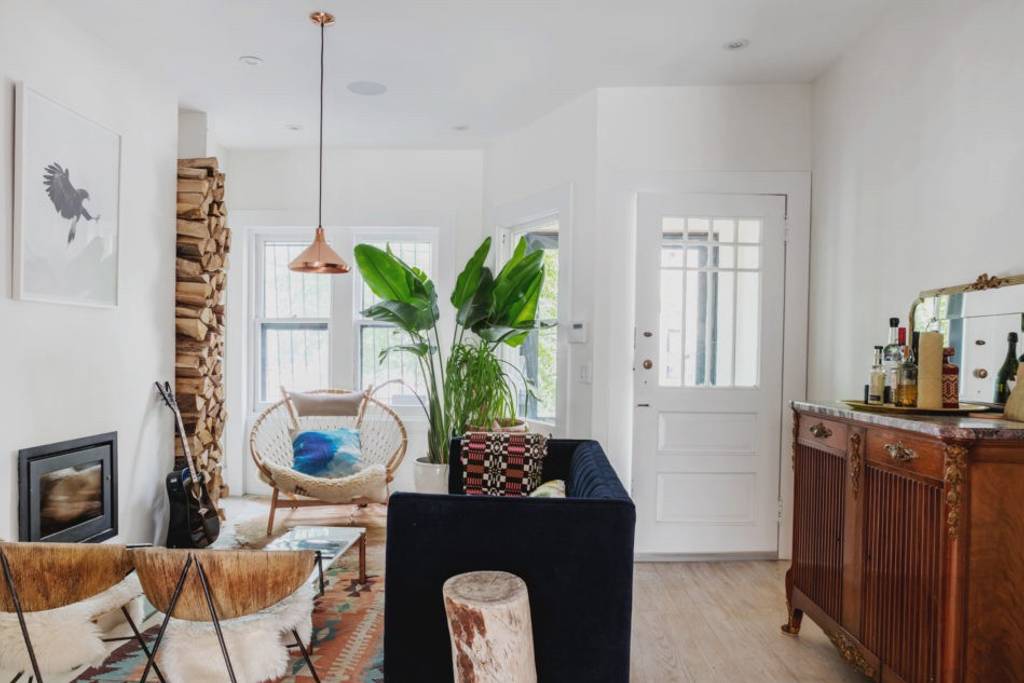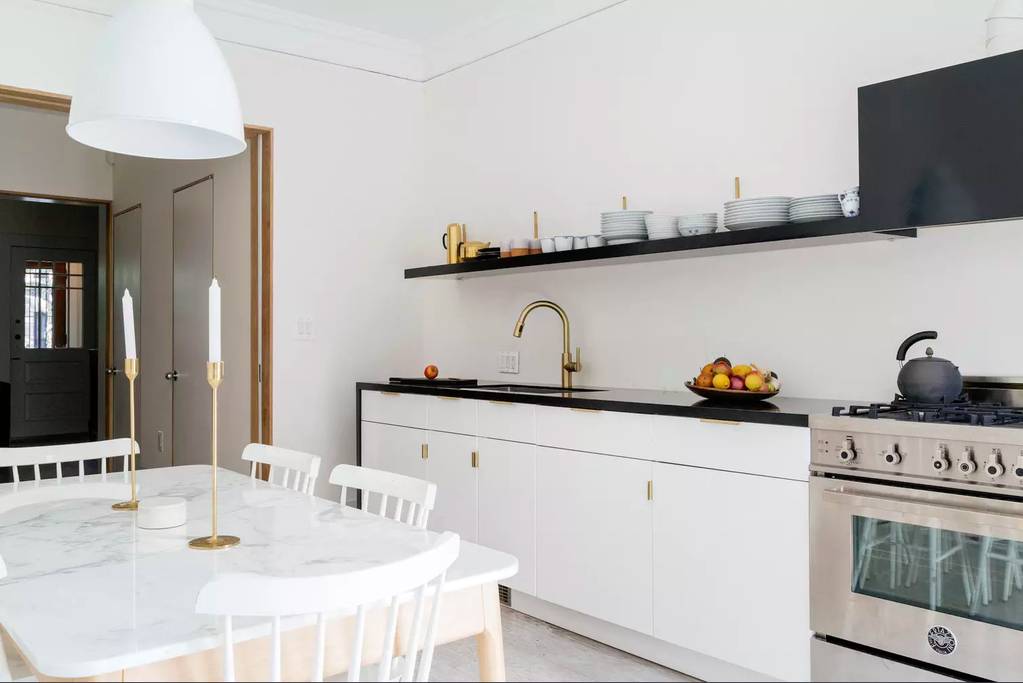 You know that scene at the end where we see the couple in their new apartment and find out they got married and had a baby? This is that apartment. Set in Brooklyn (how could it not be) this sunny, happy and grown-up four-bedroom townhouse is newly renovated and includes just about everything you could ever need including a modern chef's kitchen.
In addition to the regular bedrooms, there is one bedroom specifically for kids (and a great record collection in case you want to drown them out). In addition to the record collection, this Brooklyn Airbnb has a flatscreen Apple TV, wifi, and a Sonos sound system. You'll also have a backyard deck and outdoor table that seats ten so you can have friends over to celebrate that happy ending!
7. Party Pad – approx. $834 a night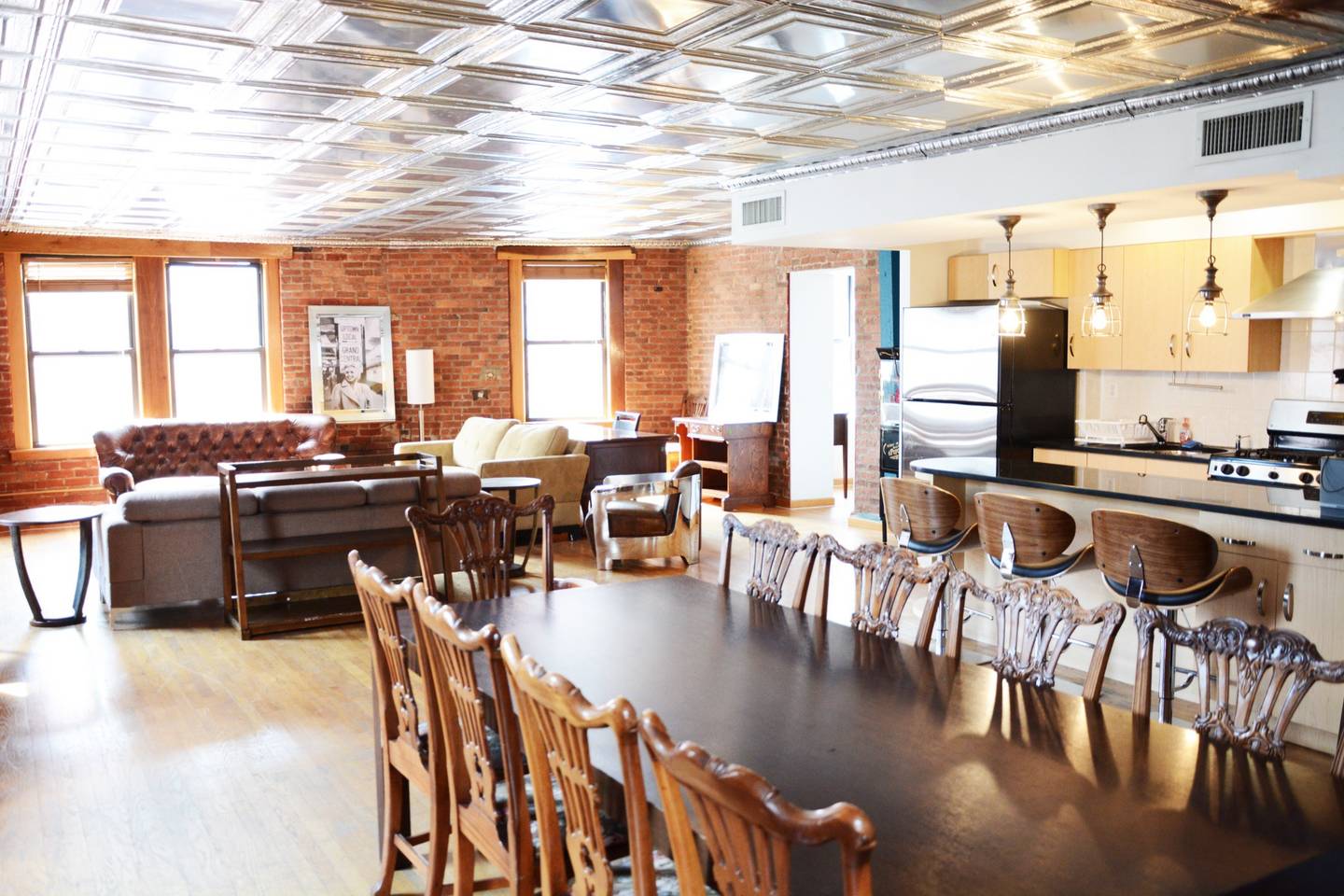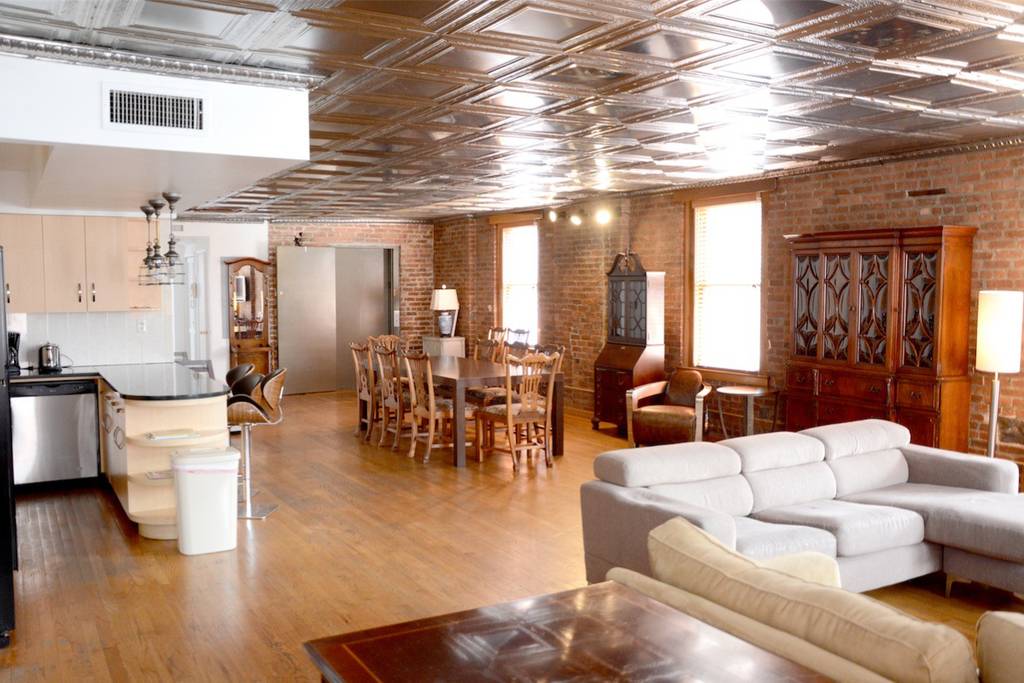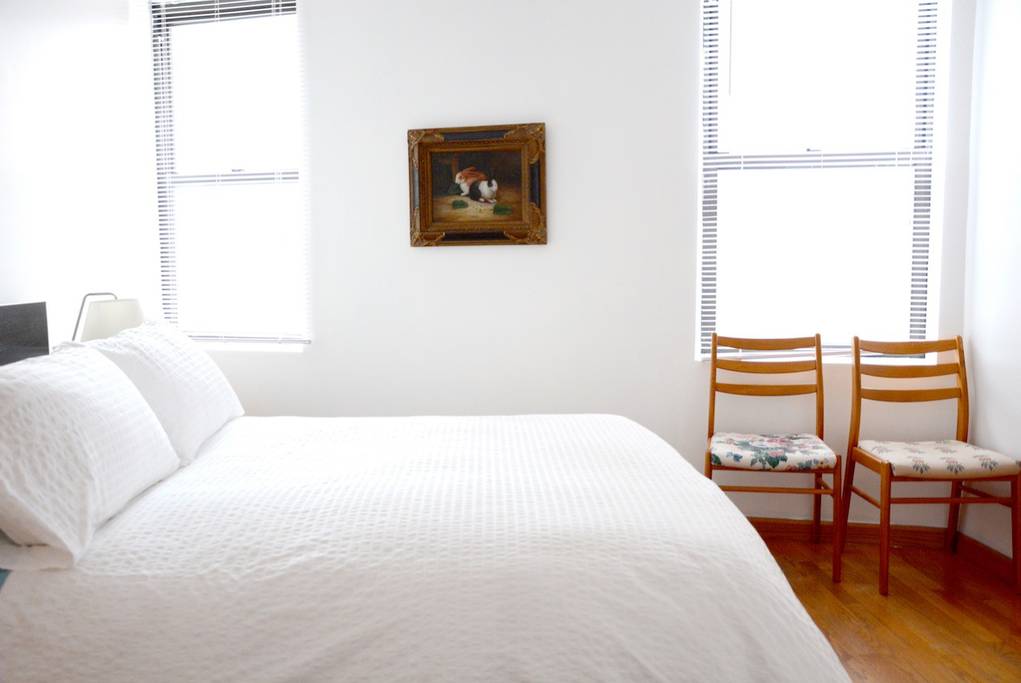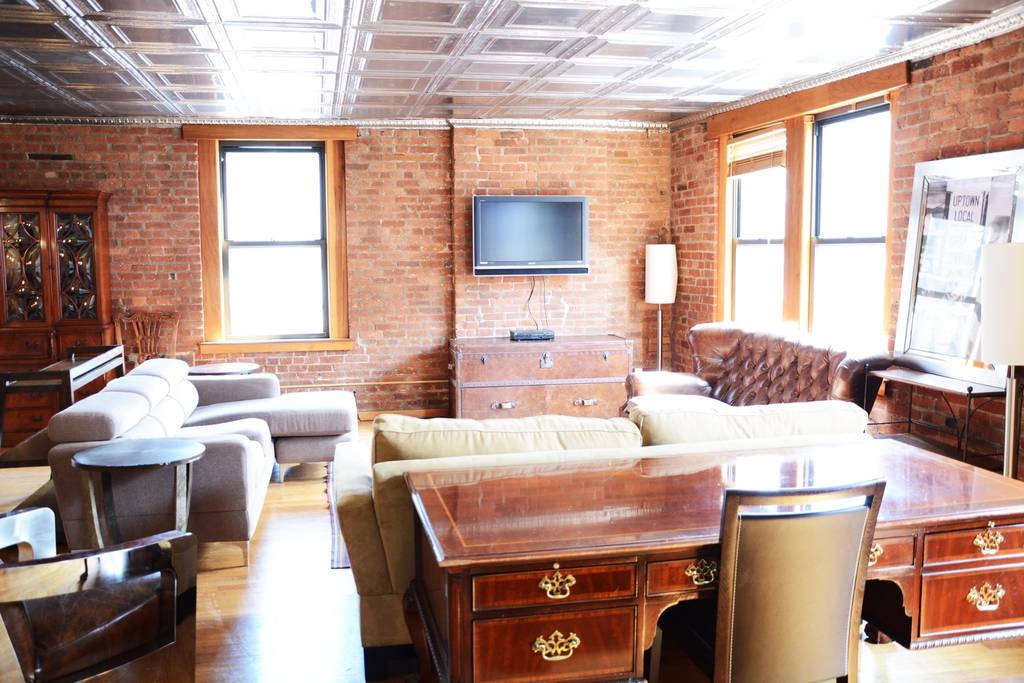 In every romantic comedy there's a scene where the couple goes to party (usually an engagement party) in a stunningly beautiful apartment and ends up having a fight and one of them runs out of the party crying. This is the apartment where that fight takes place.
Smack dab in the middle of the Little Italy/Chinatown district (the perfect neighborhood for a romantic comedy, by the way), this 3,500 square foot Airbnb has every classic New York architectural element you can think of: exposed brick walls, tin ceilings, an elevator that opens right on to the apartment, and an eclectic mixture of furniture.
Sleeping up to 12 people, it's a great place for a party (and if you do the math, that's quite the bargain). Conveniently located near the 6, N, Q and R trains, you can be anywhere in minutes! This place is so incredible, our couple might not have that fight at all!
6. Rooftop Romance – approx. $452 a night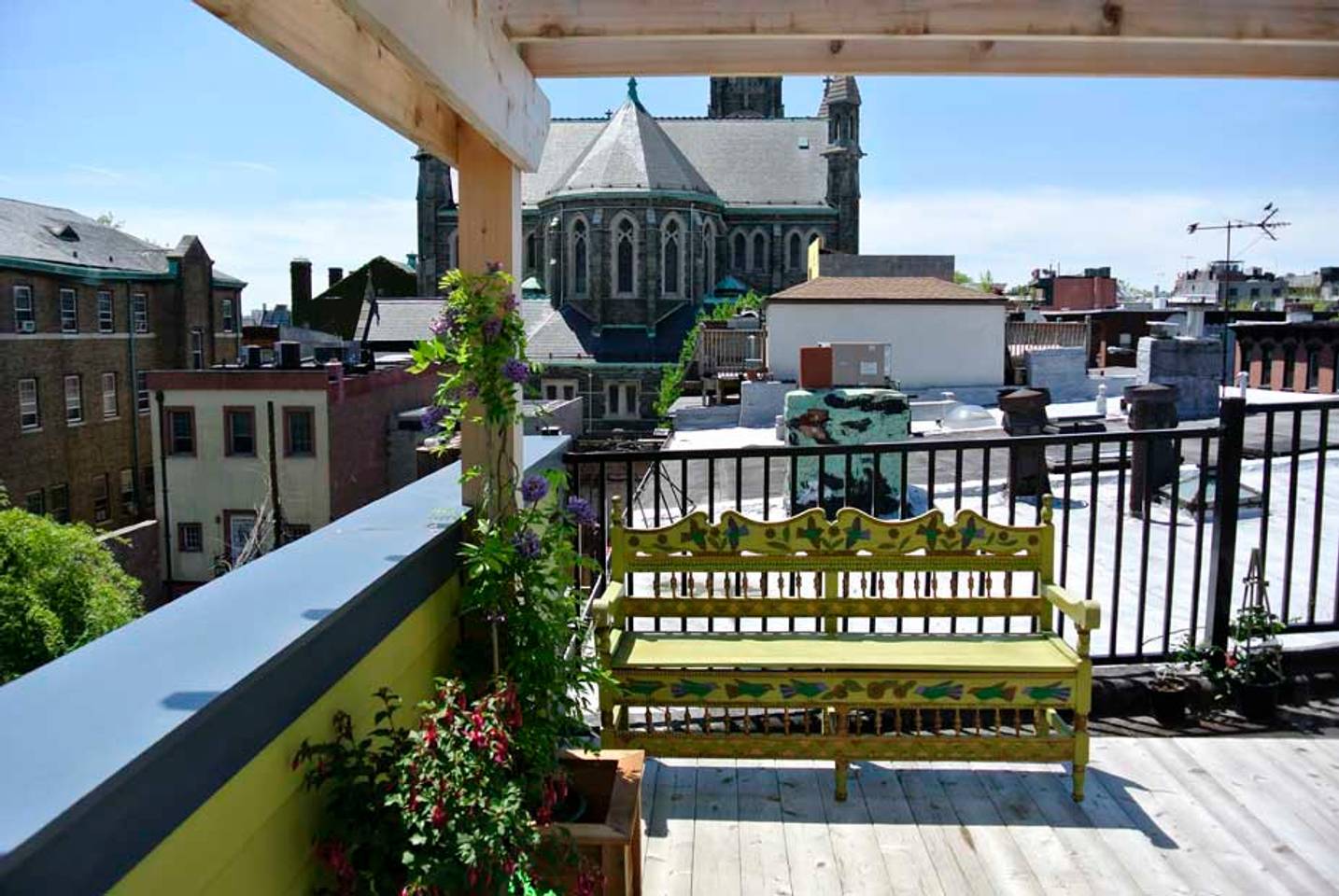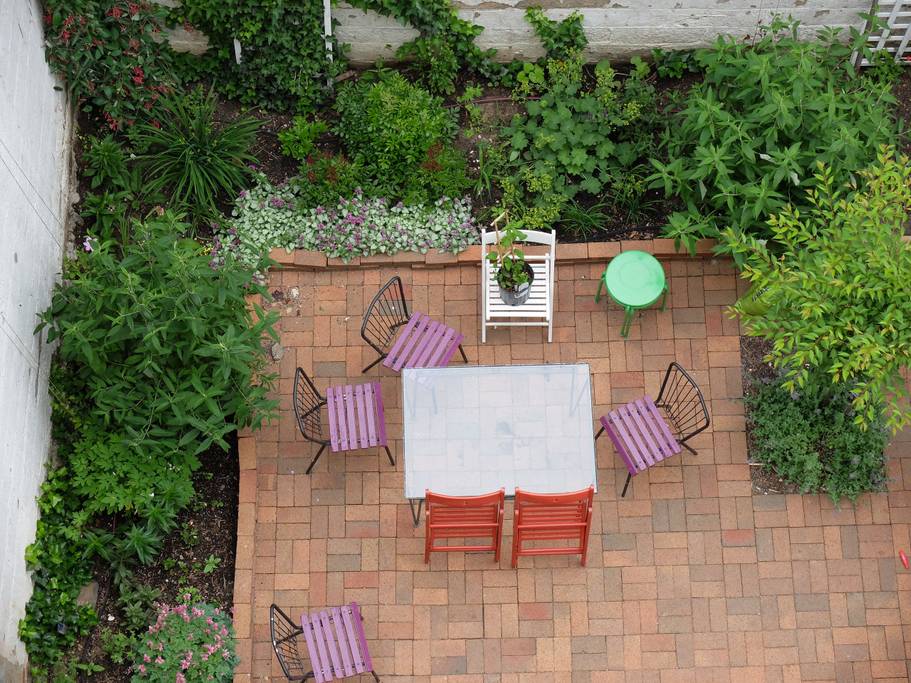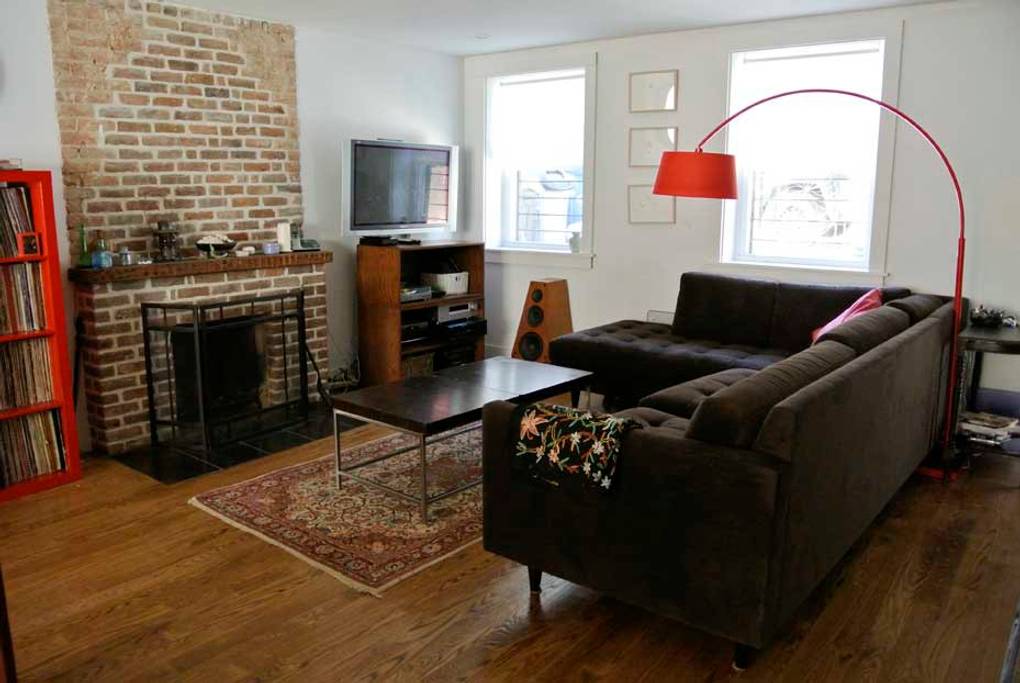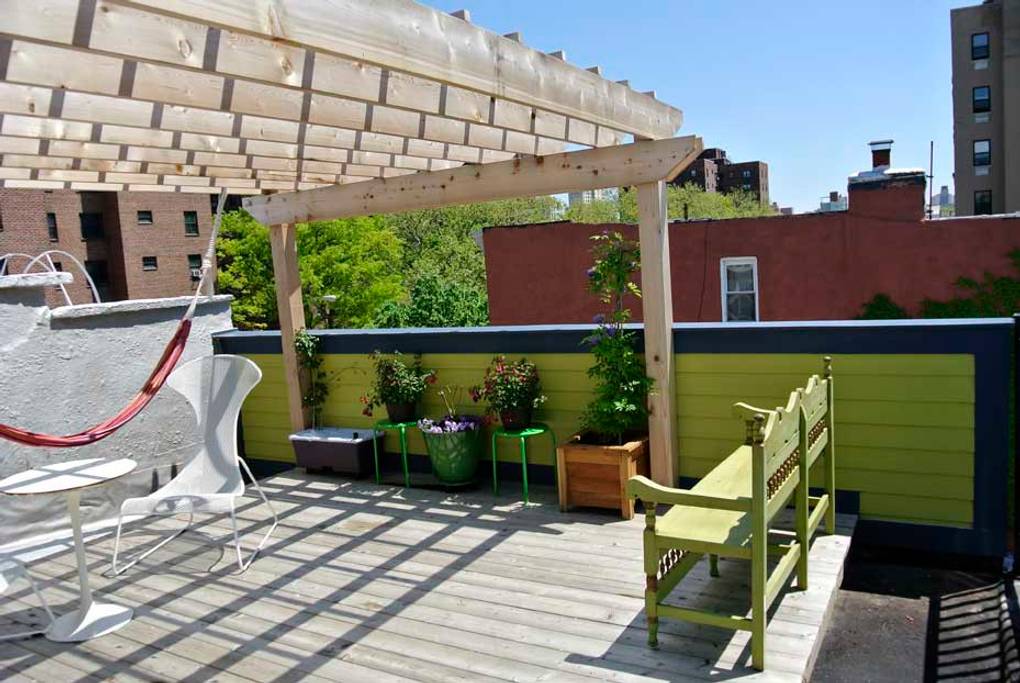 "Notting Hill," "500 Days of Summer," "Sleepless in Seattle" We're not entirely sure why, but every romantic comedy ever made has at least one scene that takes place on a rooftop. That's why we've chosen this adorable Brooklyn townhouse for our list (well, that and the fact that there are a couple of cats who live here). With three bedrooms and two-and-a-half baths, this exceptionally large townhouse is right next to a church so you'll be waking up to the sound of church bells every morning (how romantic comedy-esque is that?).
The train to Manhattan is super close and will get you into the city in ten minutes but if you feel like staying in Brooklyn, you'll be close to Court Street and Smith Street shopping, the New York Transit Museum, the Barclay's Center and even Gotham Archery where you can learn how to shoot something like, say, an arrow through the heart? Sorry, we don't know what happened there but seriously, this is a really a find of an Airbnb so book quickly before someone else falls in love with it.
5. Townhouse Temptation – $450 a night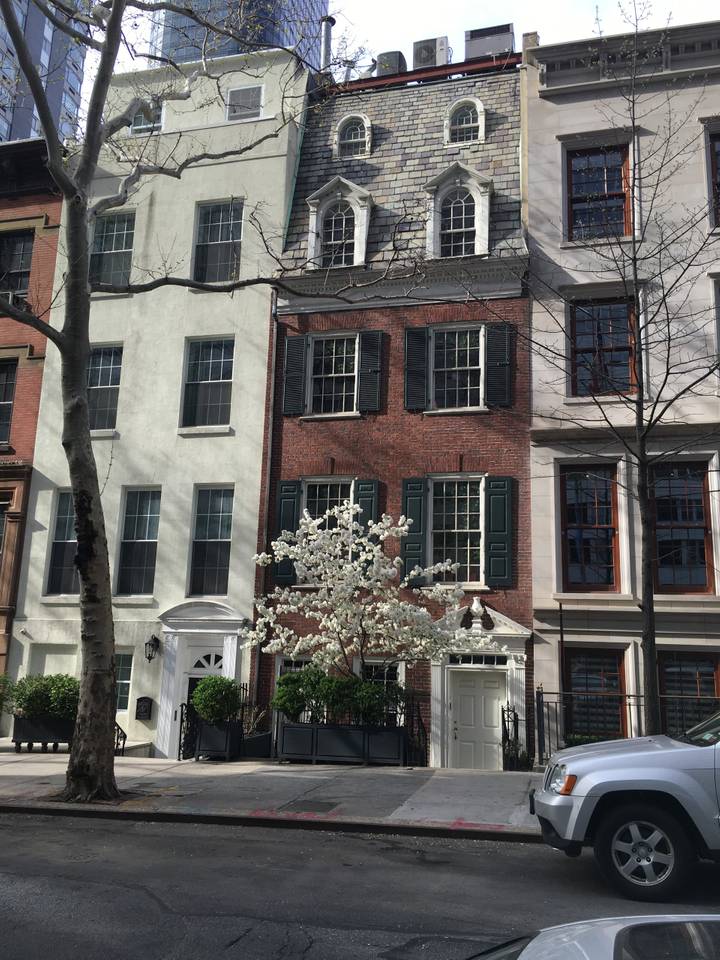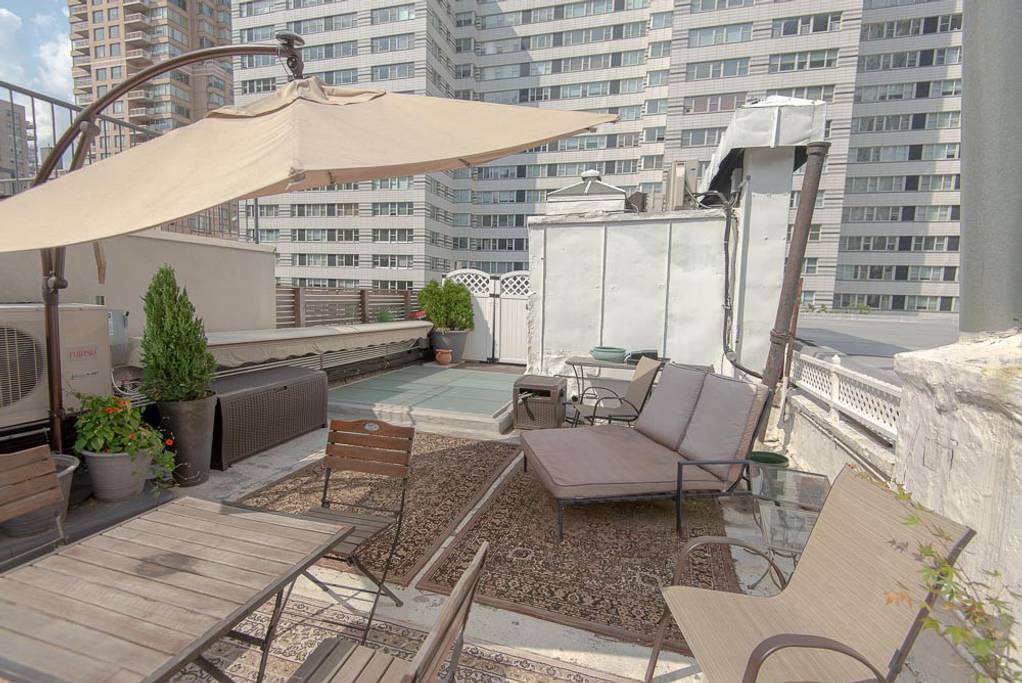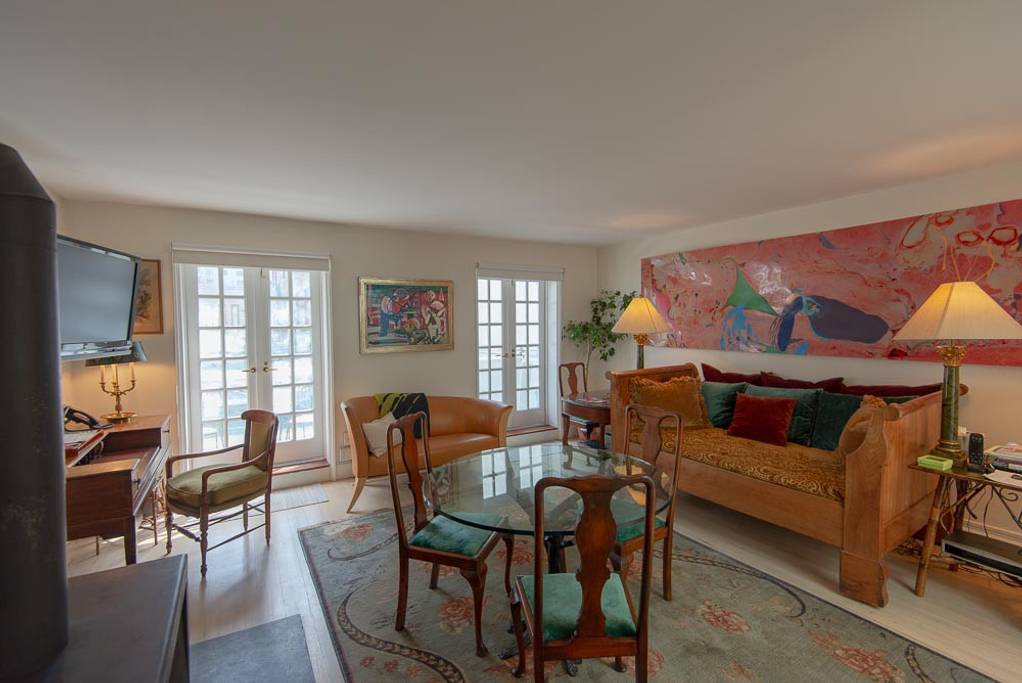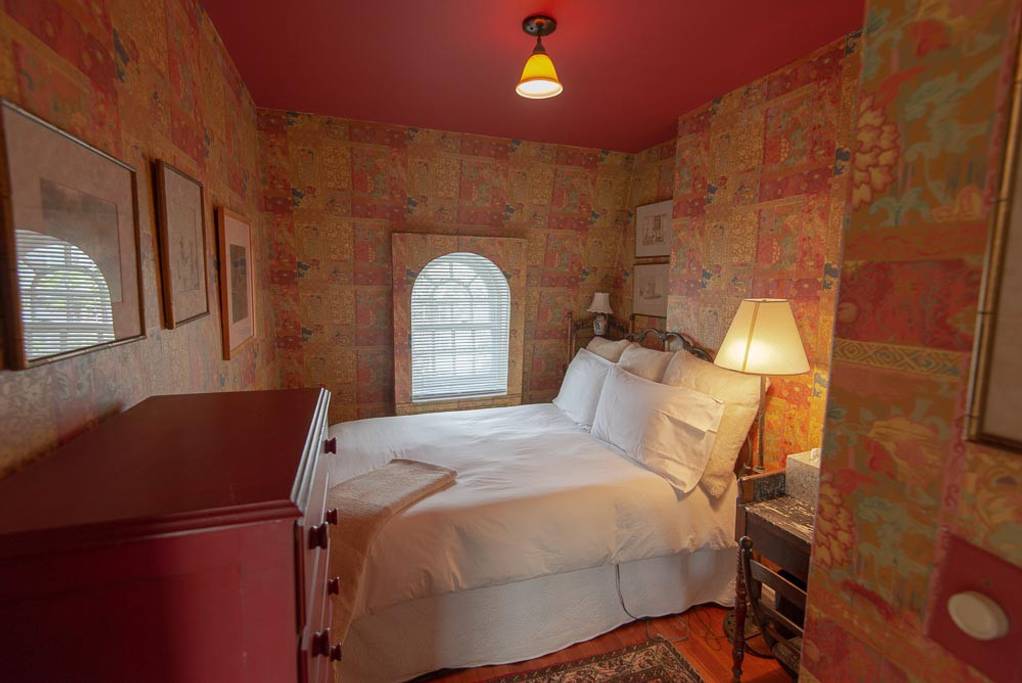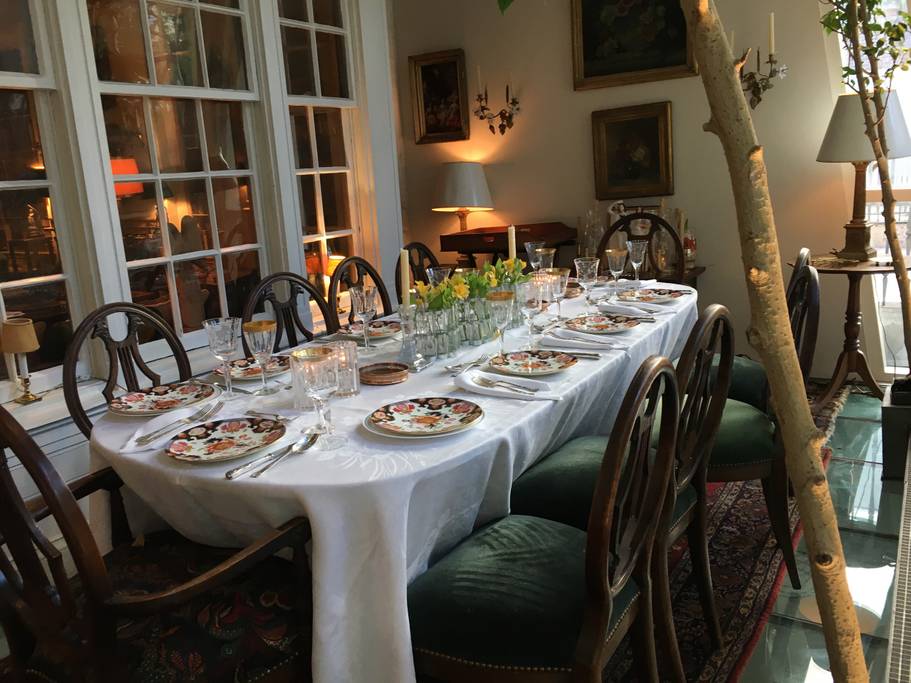 It's the scene we all wait for in a romantic comedy. The one where it's snowing, and our not-yet-dating couple is walking down a street. Suddenly, one of them trips right in front of a stunningly beautiful house and we wait out the awkward moment as we see if they're going to kiss or not. Well, this penthouse Airbnb on the Upper East Side is that house.
This Federal style townhouse has two bedrooms and sleeps six and has exposure to both northern and southern light, not to mention a fabulous skylight in a hallway and a solarium in a bedroom. Other amenities include a stocked mini bar, fireplace, and blackout shades so all the sun won't wake you up at dawn. You could really fall in love with a place like this!
10 Stunning Manhattan Airbnb Rentals To Fit Any Budget
8 Of The Most Fabulous Airbnb Homes in Queens, New York
8 Incredible Bargain Airbnb Homes in Brooklyn, New York

You're Gonna Love These 8 Over-the-Top New York Airbnb Homes
4. You Won't Believe This One – approx. $198 a night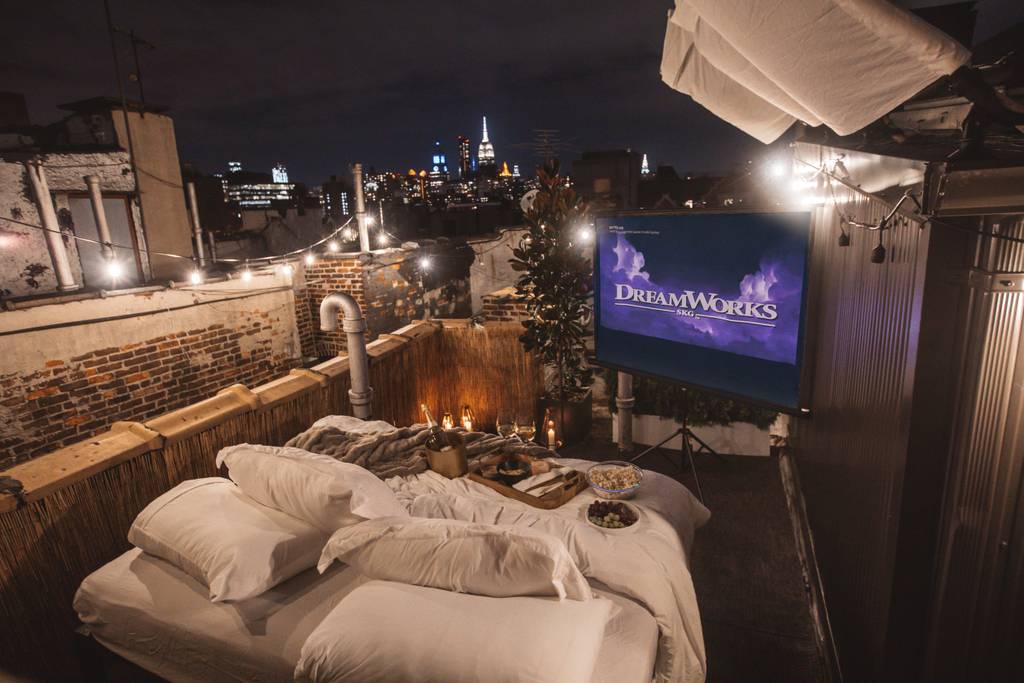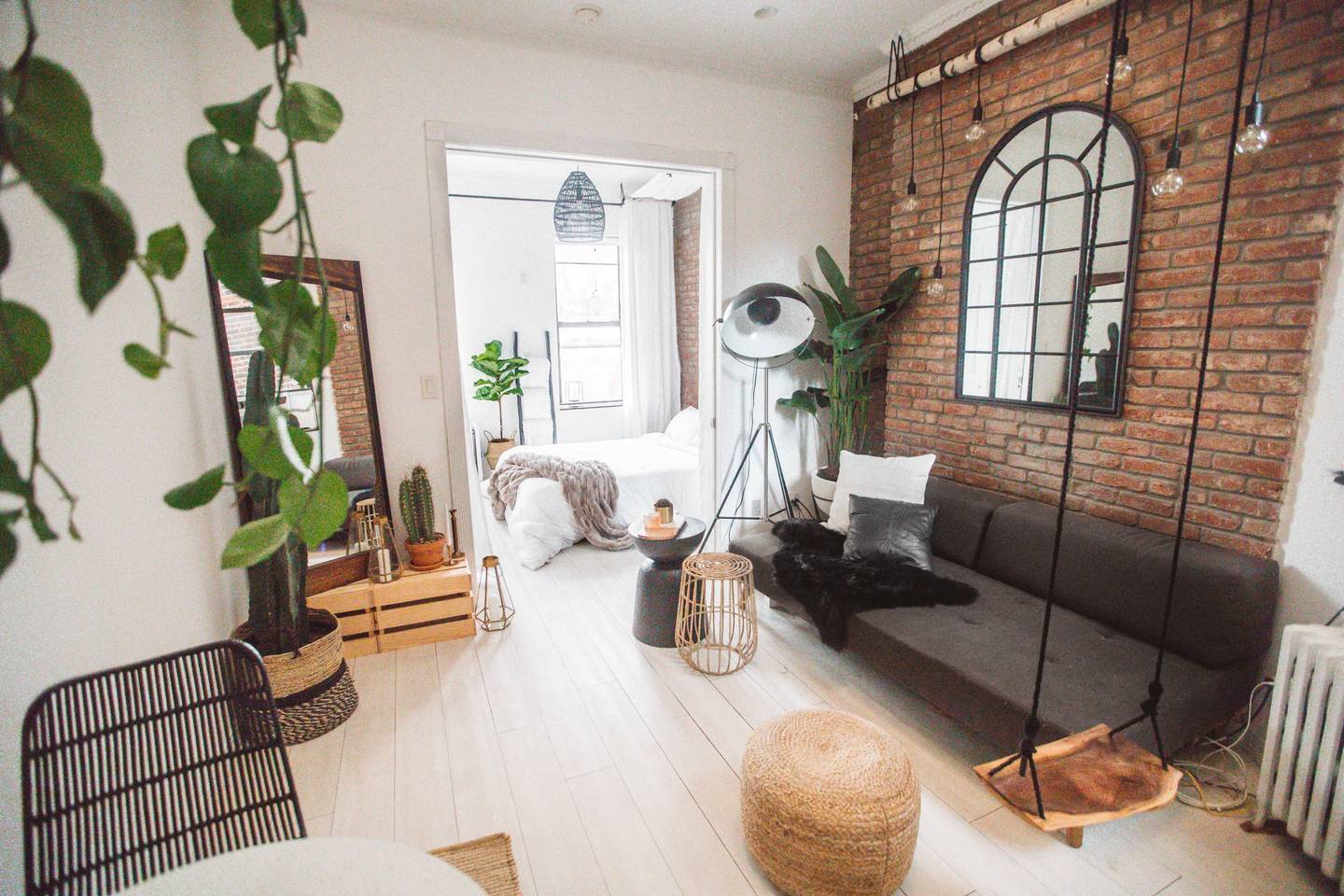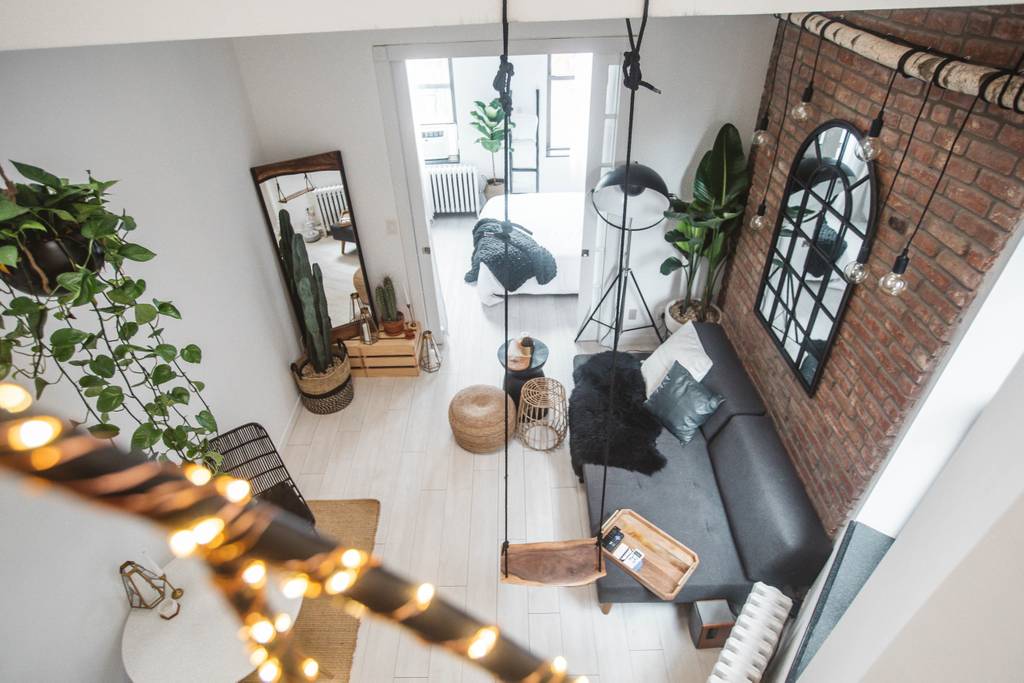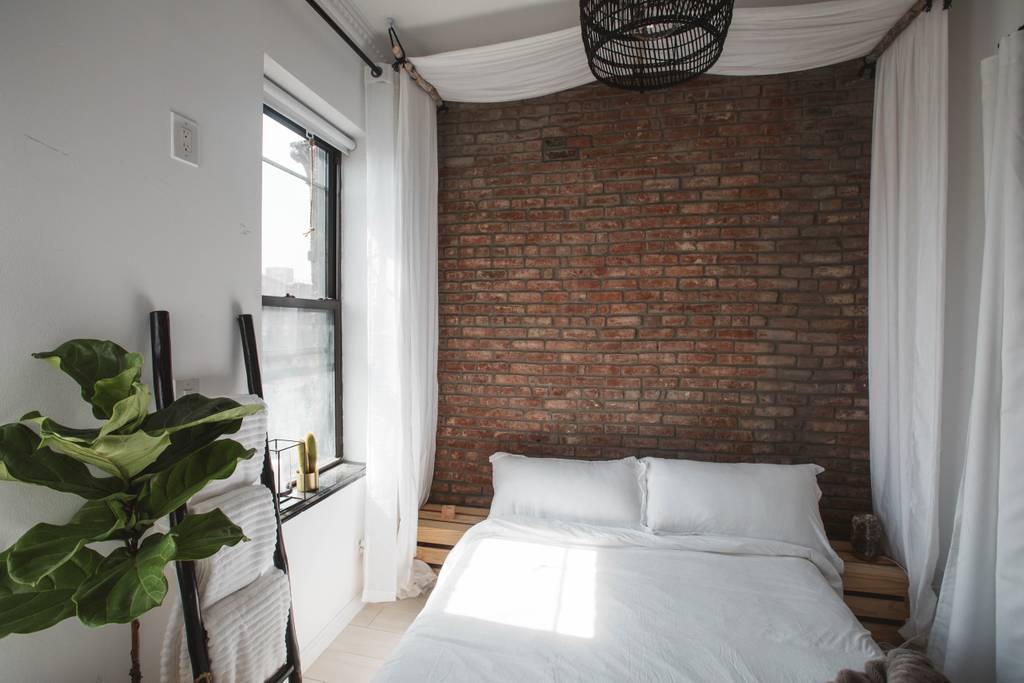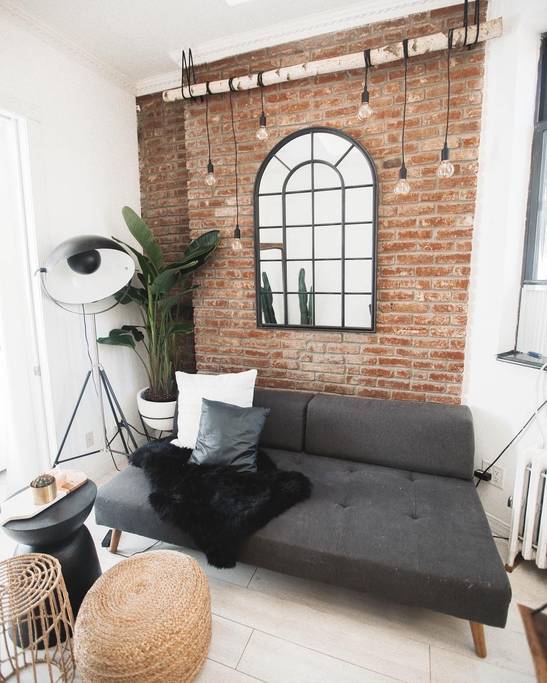 Huh, seriously? A bed on the rooftop with a movie screen and a view of the Empire State Building? This Manhattan penthouse with a private terrace has to be the home of a set designer.
With a wooden swing in the living room (yes, you can actually use it), a canopy bed, fairy lights around the staircase, and a stunning view of One World Trade Center from the bedroom, this Airbnb was tailor made for the montage where we see the new couple's day-to-day life together (the one where one of them is reading a book on the terrace and the other starts spraying the garden hose as a joke).
Complete with a De'Longhi coffee/expresso machine, a Ninja blender/smoothie maker, and a washer and dryer (which is VERY rare to find in New York), you'll have all the appliances to make your stay here super easy. And for our new couple there's a new Casper mattress and sheets with a 700-thread count. Located in the East Village, you'll be right near Stuyvesant Square Park, the Museum of Reclaimed Urban Space, the New Museum, and even the Russian & Turkish Baths.
3. Bunking in the Bowery – approx. $593 a night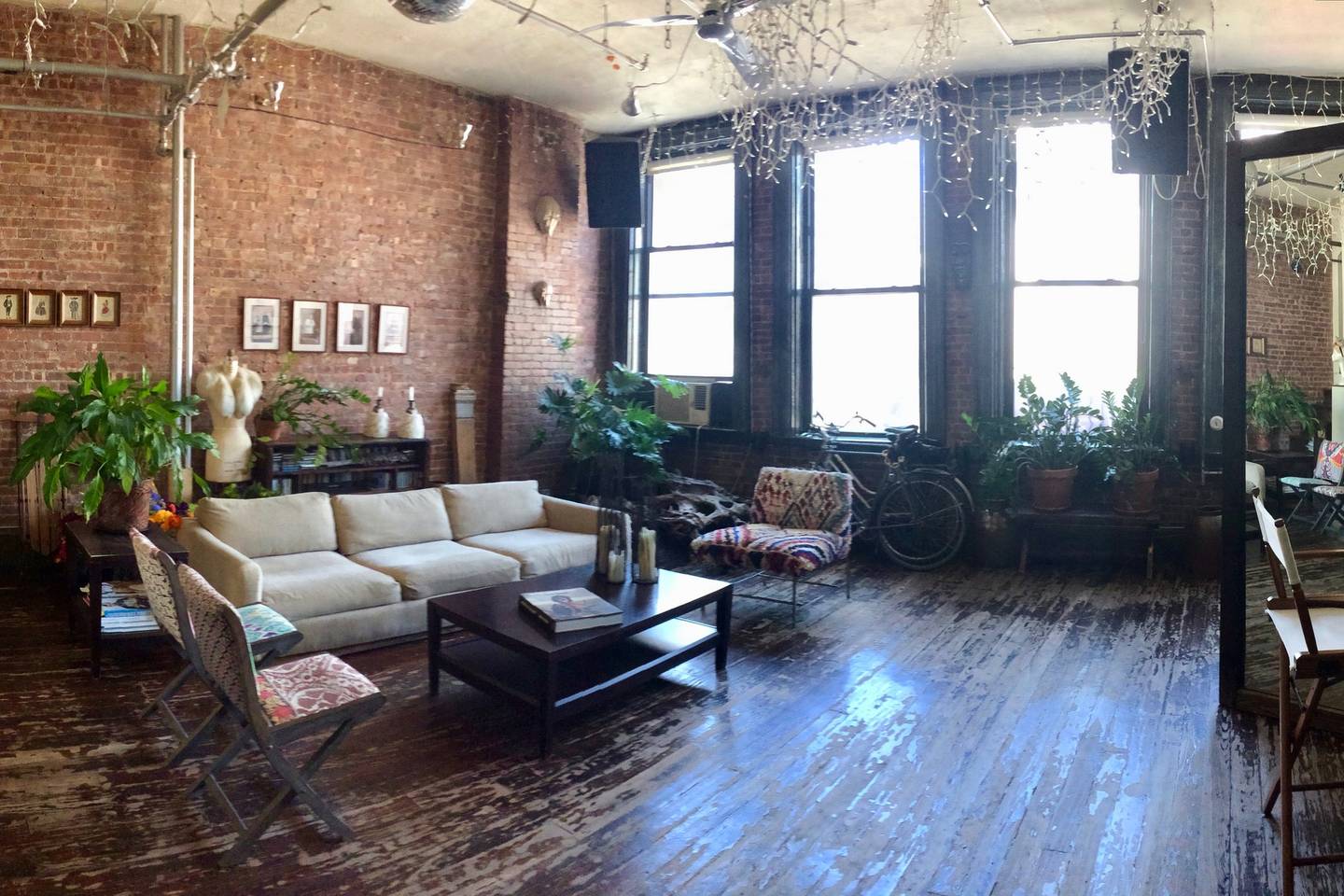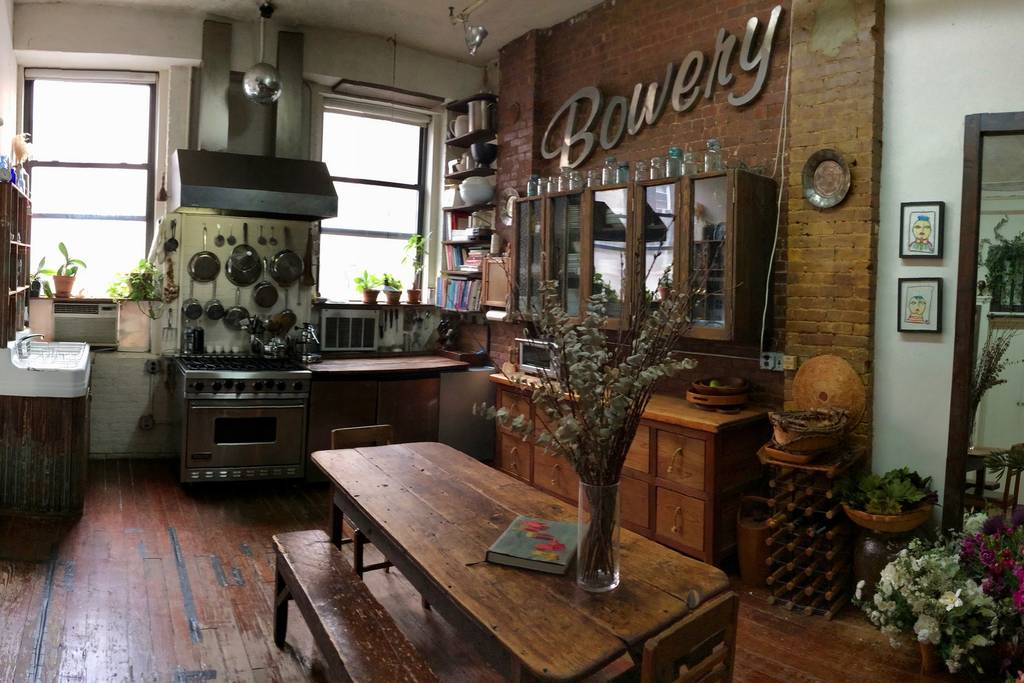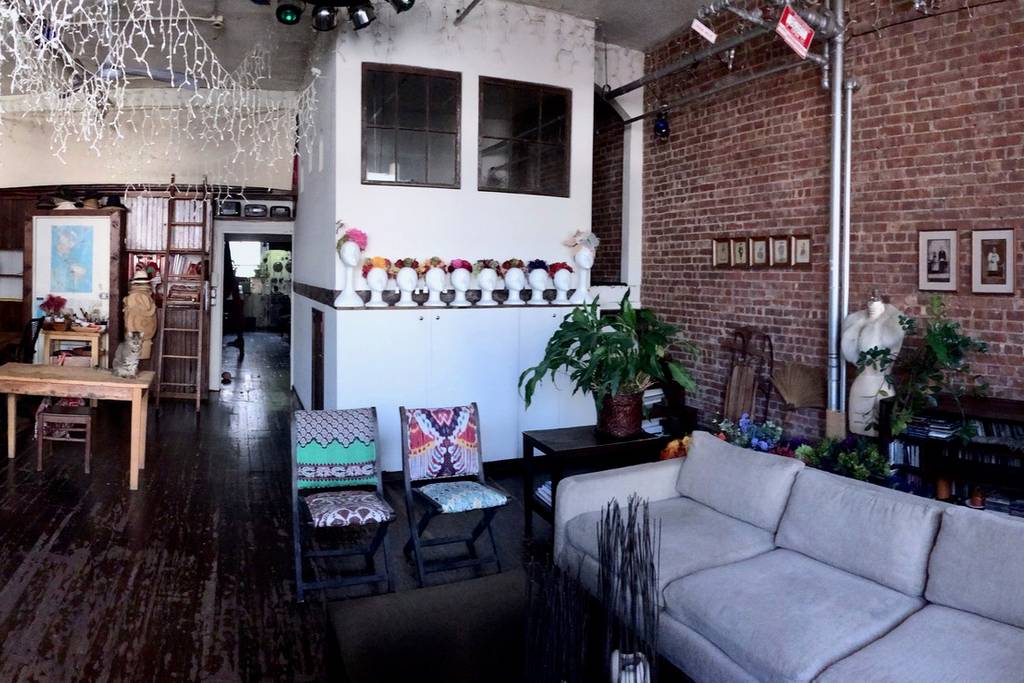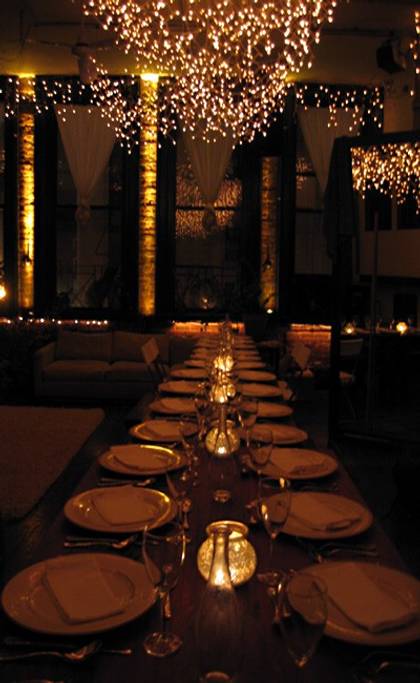 In every romantic comedy there's always a friend giving advice to the main characters (think Akwafina in "Crazy Rich Asians"). This Airbnb is where that friend lives. Located in the popular Bowery area, this three-bedroom Airbnb is 1500 square feet of gorgeous loft space in a turn-of-the-century building.
With funky furnishings to match the neighborhood, an adorable open kitchen, and cool fairy lights all over the house, this place is definitely camera ready. Be sure to take advantage of all the Bowery area has to offer like The Tenement Museum, the stores on Orchard Street, The New Museum, the amazing Essex Street Food Market (which is just about to move to a new location so keep your eye on their website), and the International Center of Photography Museum.
For food, check out the classic deli Russ & Daughters, Economy Candy, legendary Phebe's, The Wren, and if you go a little further uptown, McSorely's Ale House, the perfect place for a scene between the two friends.
8 Eccentric New York Airbnb Homes That Will Make You Feel Like a True New Yorker
Eye Candy: 8 Airbnb Homes With Views of the New York Skyline
2. The Impossible Dream – approx. $677 a night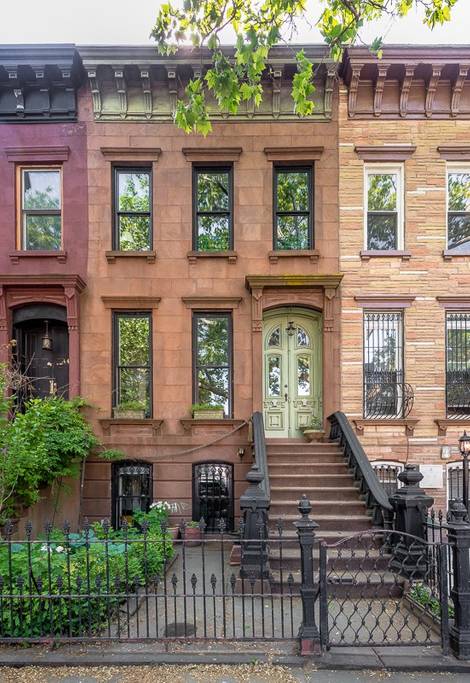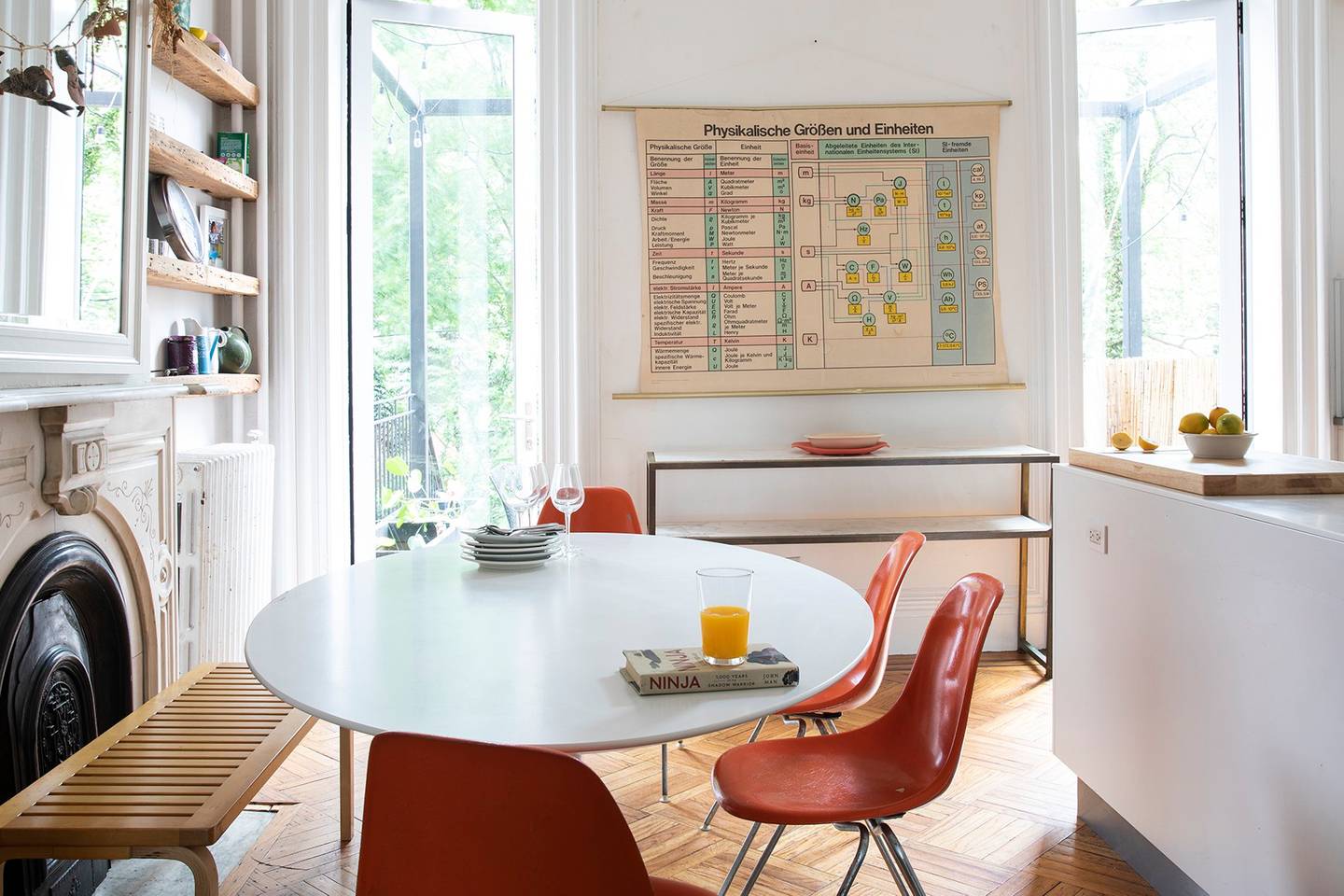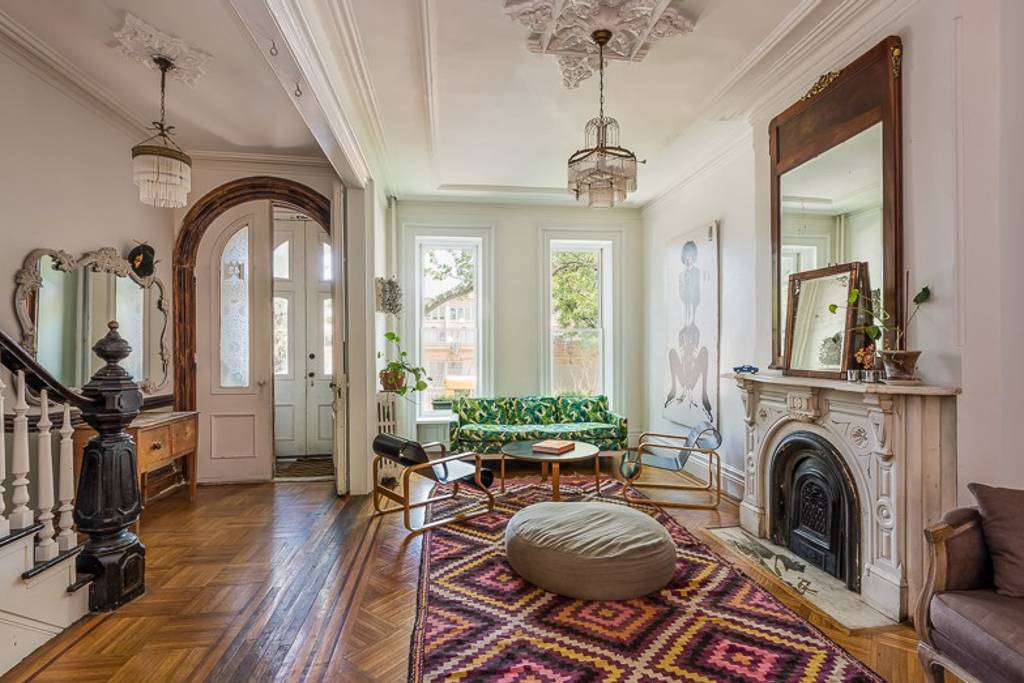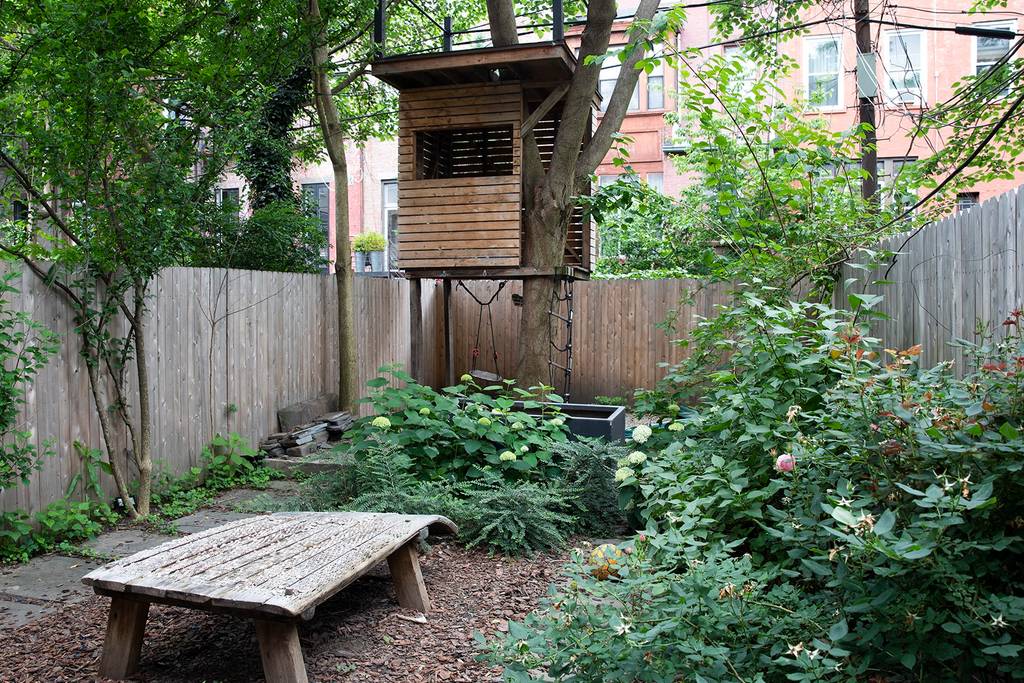 Every hero or heroine has to have a cool, visually stunning apartment they could never afford in real life. Luckily since this Clinton Hill Airbnb sleeps eight and is $677 a night, you can actually afford it! Located on a quiet, tree-lined block this four-bedroom apartment features an eat-in kitchen, a stunning master bedroom with views of the garden, a study/TV room (almost unheard of in New York), and adorable blue and white bathroom with skylight, a bedroom with skylight, and one with a punching bag (great for that scene where the main character reflects on his or her romantic situation).
For the little ones (or even the big ones), there's a treehouse in the garden where you can sit and have your morning coffee. This Brooklyn Airbnb is close to Prospect Park, the Brooklyn Botanical Garden, and the Brooklyn Children's Museum. There are so many cute shops and cafes in nearby Park Slope and Brooklyn Heights, perfect for our main character!
1. Williamsburg Wishes – approx. $565 a night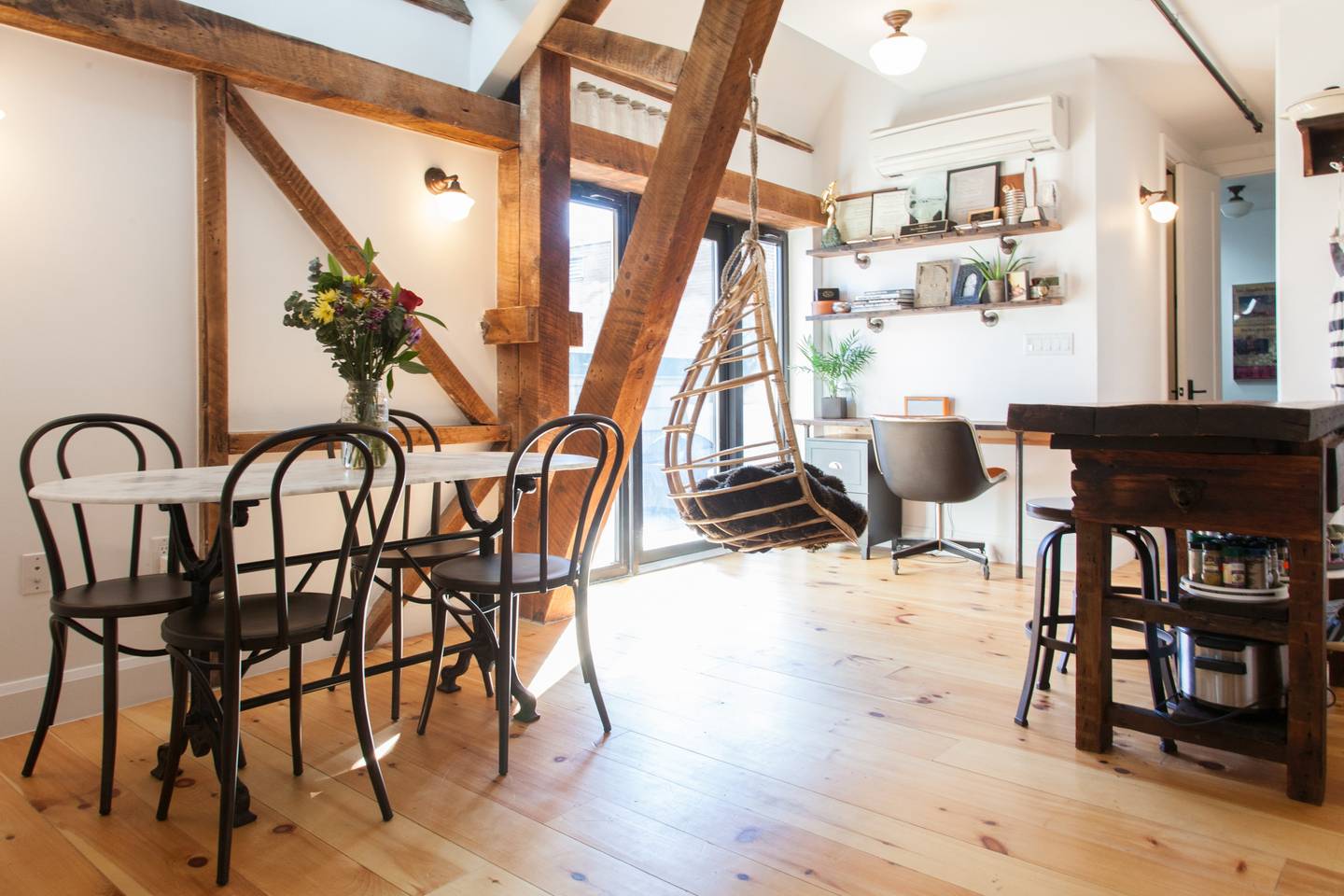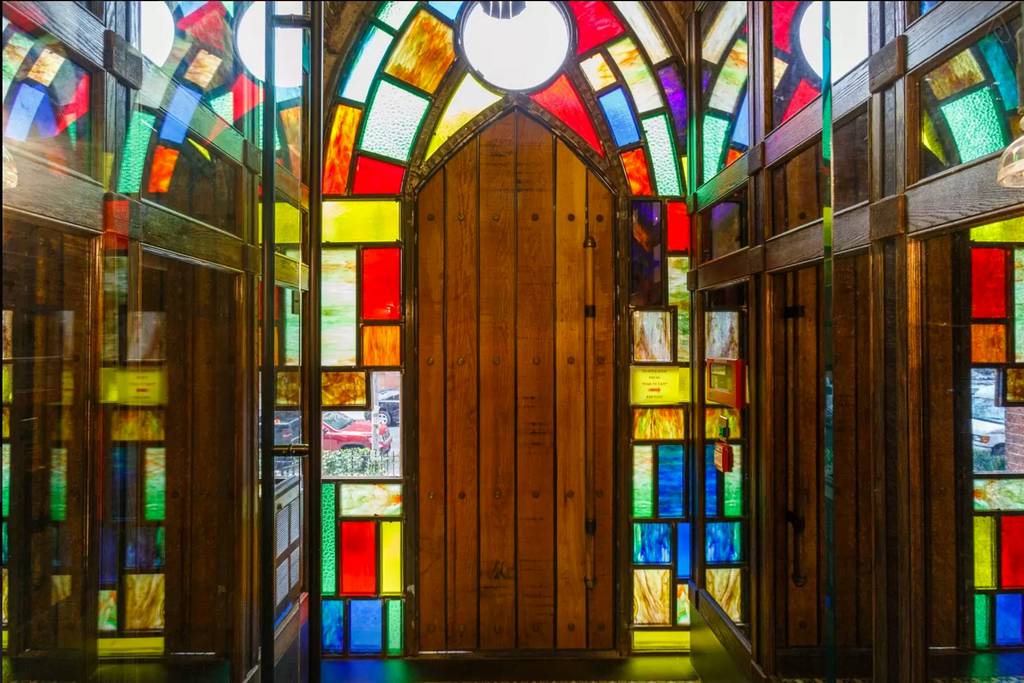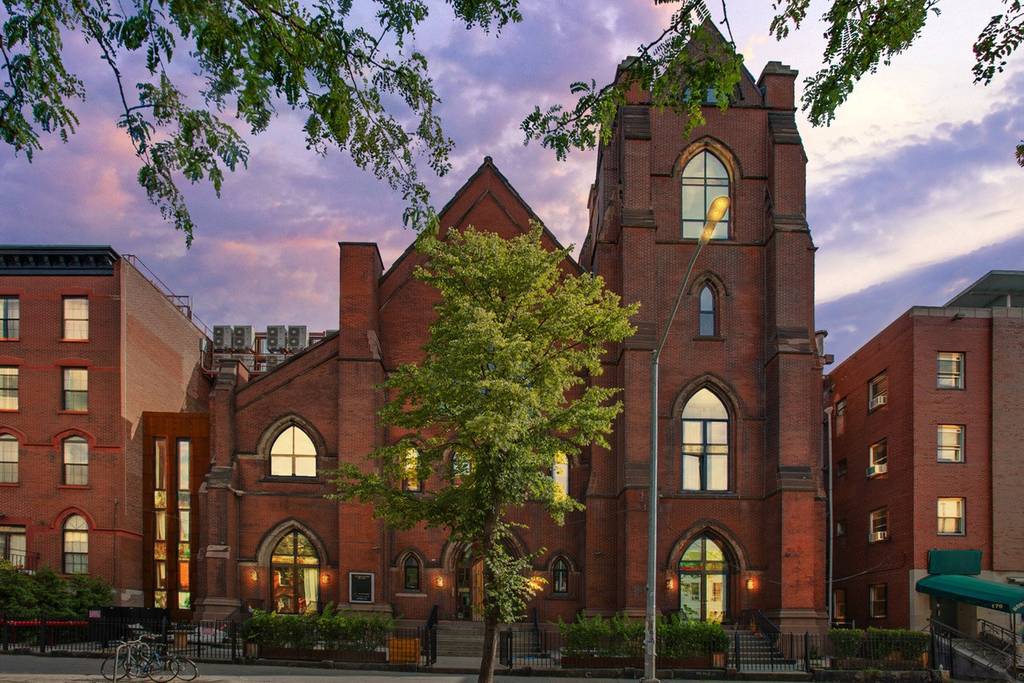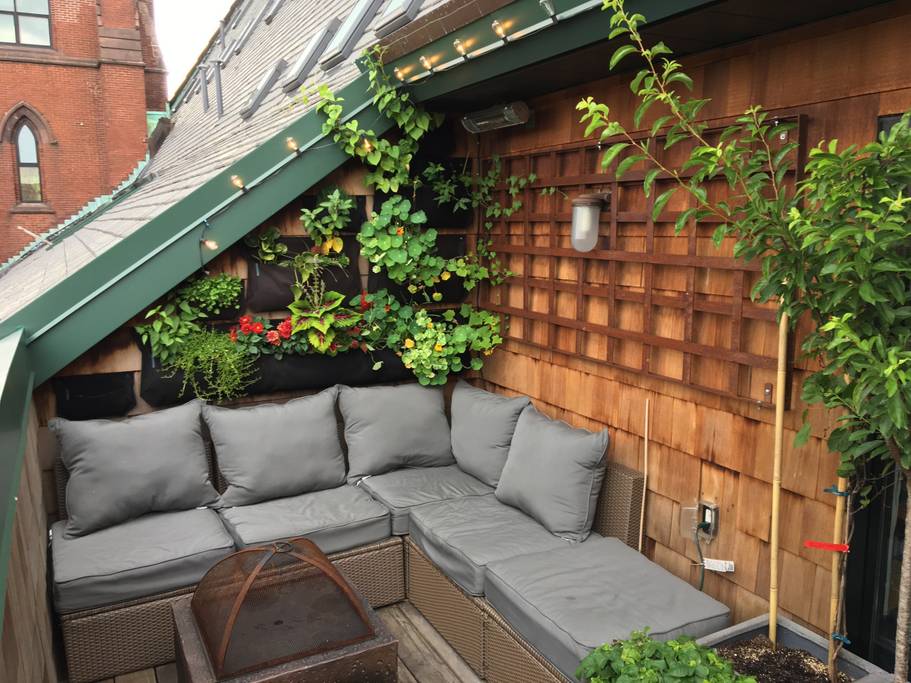 If ever an Airbnb was made for a romantic comedy, it's this one. Set in a former church, this two-bedroom, two-bath loft has a wicker swing chair, a skylight in the dining room that brings a stunning light into the apartment, a cool collection of art and nicknacks, complete with plenty of mounted antlers, a wall made of moss, and perfectly worn furniture that looks like it came from Restoration Hardware (and maybe the streets of New York).
The piece de resistance is the garden patio area where you'll find strawberries, blackberries, peaches, eggplant, and lots of herbs but it isn't. The piece de resistance is actually a Moroccan tea room. Yes, a Moroccan tea room. Hard to top that, isn't it? But top it we will with the entrance to the building which includes the original door to the church complete with the original stained glass. This place is, to put it mildly, completely divine.