They say that people who live in glass houses shouldn't throw stones but they should definitely put their those homes on Airbnb! We're not entirely sure why but Parisians seem to have a little thing about glass. Whether it's stained glass walls, cool loft partitions, or the most incredible skylights you've ever seen, so many Paris Airbnbs seem to have some kind of fantastic glass feature. As a result, we've developed a bit of a fascination with them, so with that in mind, here are 8 Paris Airbnb homes with incredible glass features.
8 Amazing Paris Airbnb Homes You're Gonna Love
The best Airbnb homes near the American University of Paris
8 Paris Airbnb Homes with Sick Views of the Eiffel Tower
8. Glass Half Full – approx. $397 a night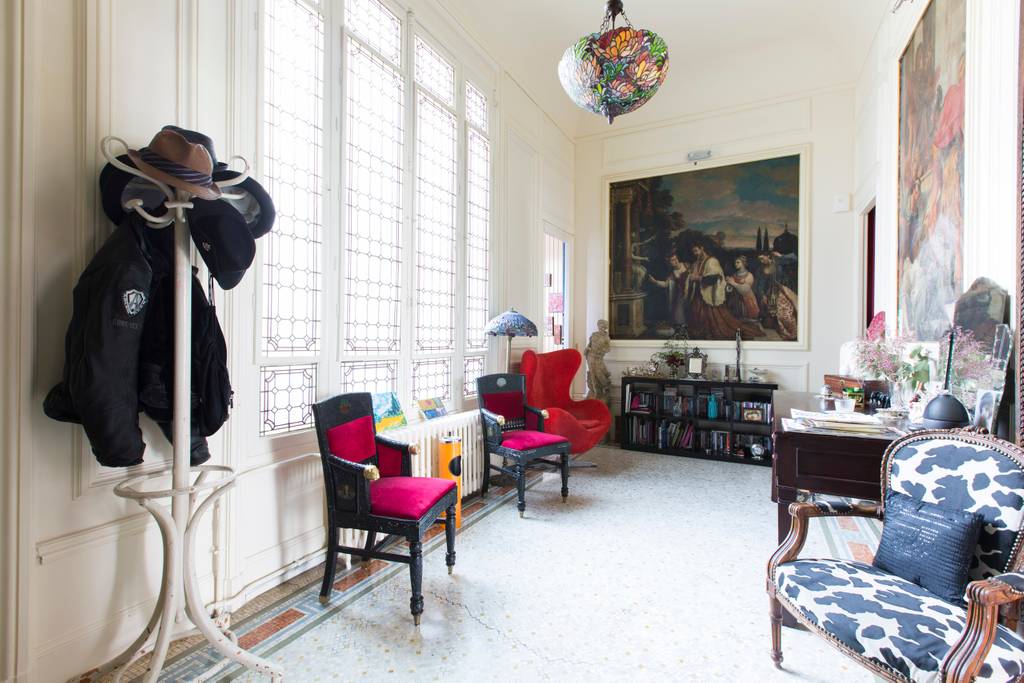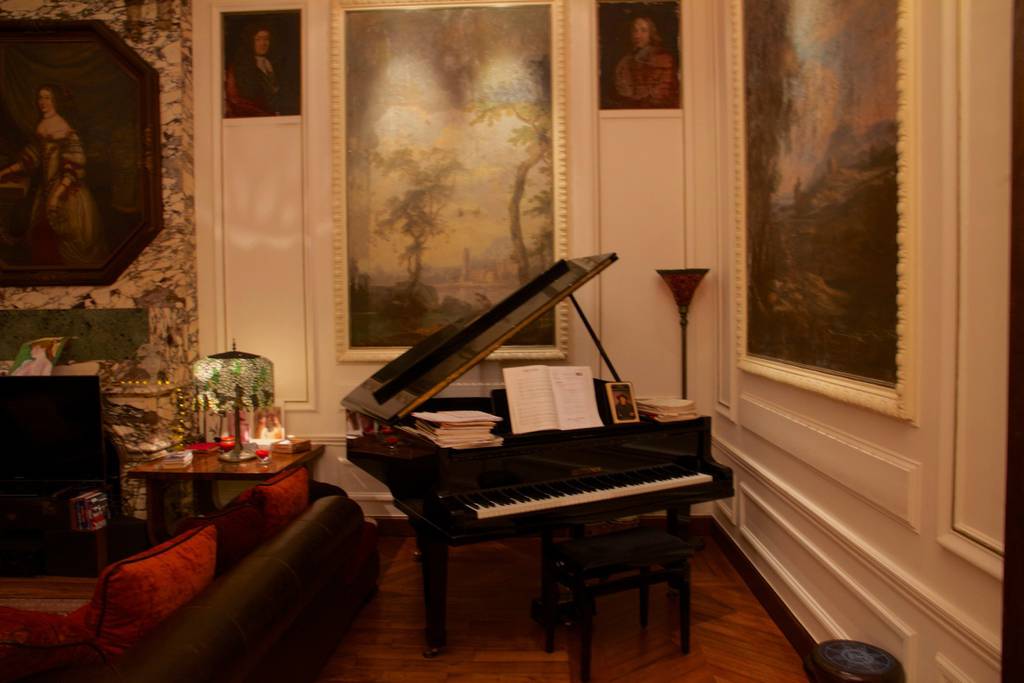 If this Paris Airbnb looks familiar that's probably because we've used it in a previous list but can you blame us? While we included it on this one for its remarkable glass wall, there are so many reasons to rent this apartment it's hard to know where to start but we might as well start with that incredible glass wall.
Unless you happen to have lived in Belle Époque Paris (and since that started about 120 years ago you probably didn't), you probably haven't ever lived a place with a wall like that. Amazingly, that's almost the least of this Paris Airbnb's attributes. With wall murals in virtually every room it's hard to know if this is an apartment or a museum.
And can we talk about that wood? It certainly puts the term "paneling" to shame. And just so you know, it sleeps 12 in five bedrooms and two-and-a-half baths so you can have one hell of a house party here!
7. The Sky's the Limit – approx. $324 a night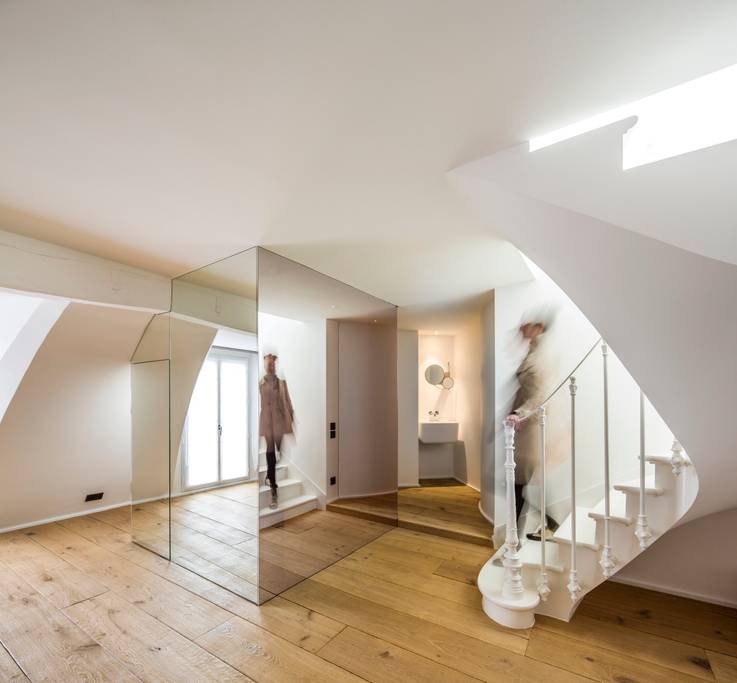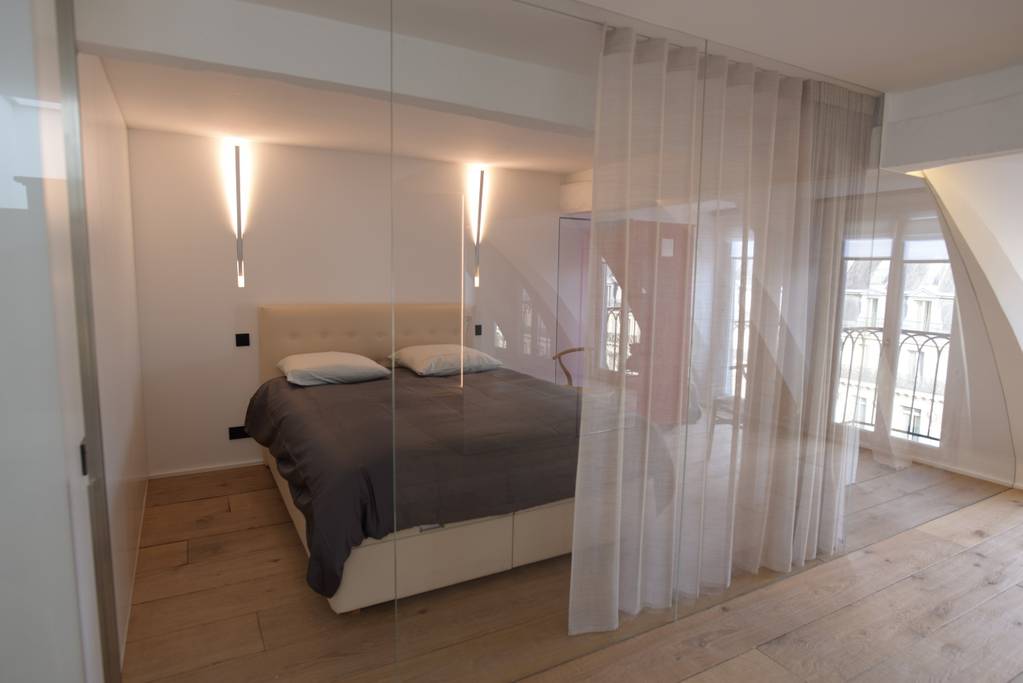 When you can throw around the name of the architect, you know you're in a special Paris Airbnb. Like something out of Architectural Digest, this Vincent Pareira-designed beauty is so exceptional that it's already made another list of ours. A former sewing factory, this 18th-century stunner has a view of the Opéra Garnier that is so close you might hear the music when the orchestra starts to play! Complete with cable TV, wifi, a fully equipped kitchen, and a Sonos sound system, this place lacks nothing.
Right in the middle of the Right Bank, this Paris apartment is also close to the Madeline Church, the famous Joan of Arc statue, the breathtakingly stunning Musée Gustave Moreau, department stores Galeries Lafayette and Au Printemps, the Musée de la Vie Romantique, the Jeu de Paume museum which has great photography exhibits, and the Musée de l'Orangerie where Monet's famed water lilies are housed.
As gorgeous as the works in these places are, though, it would still be hard to compete with this breathtaking Paris Airbnb.
6. Nooks and Crannies! – approx. $579 a night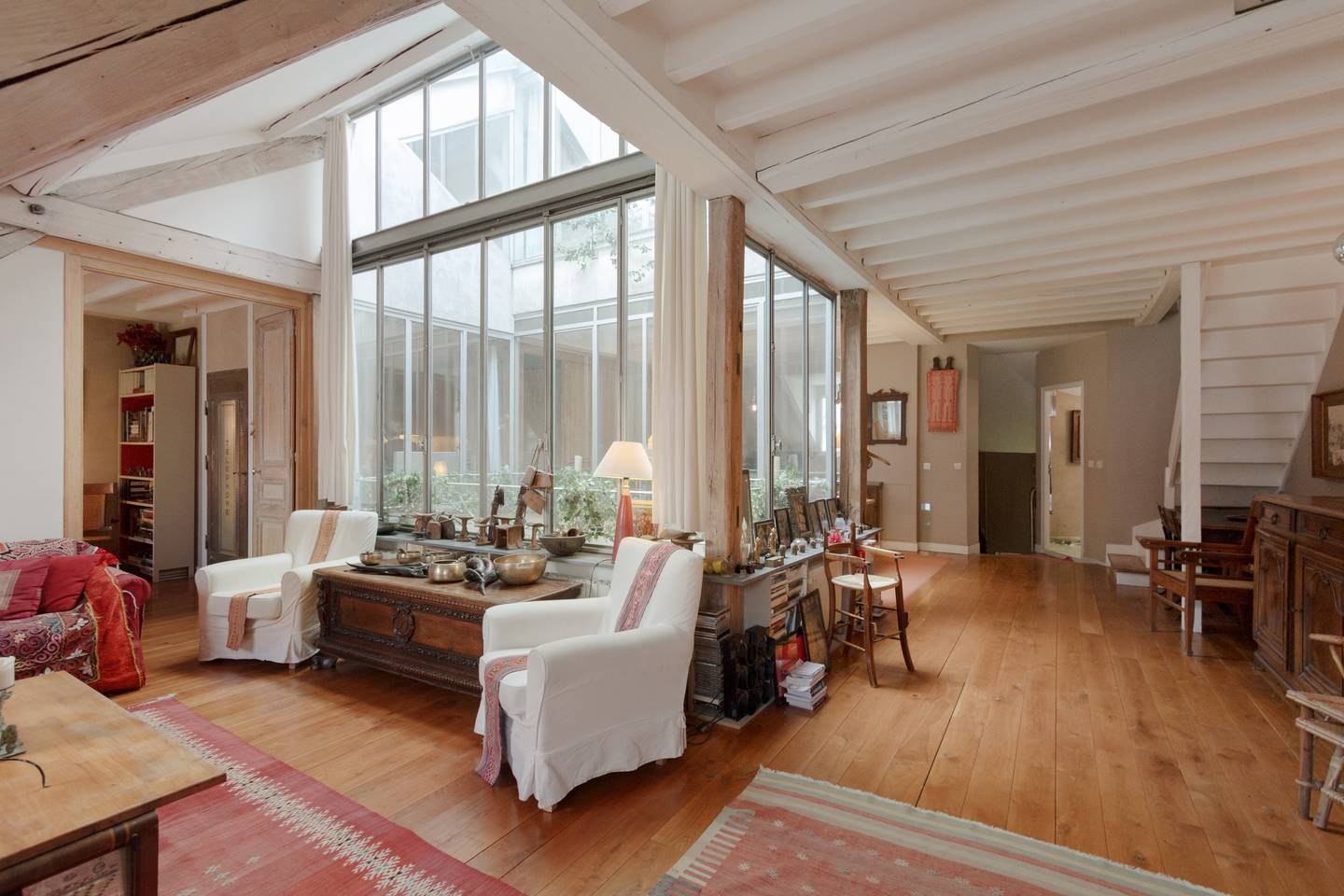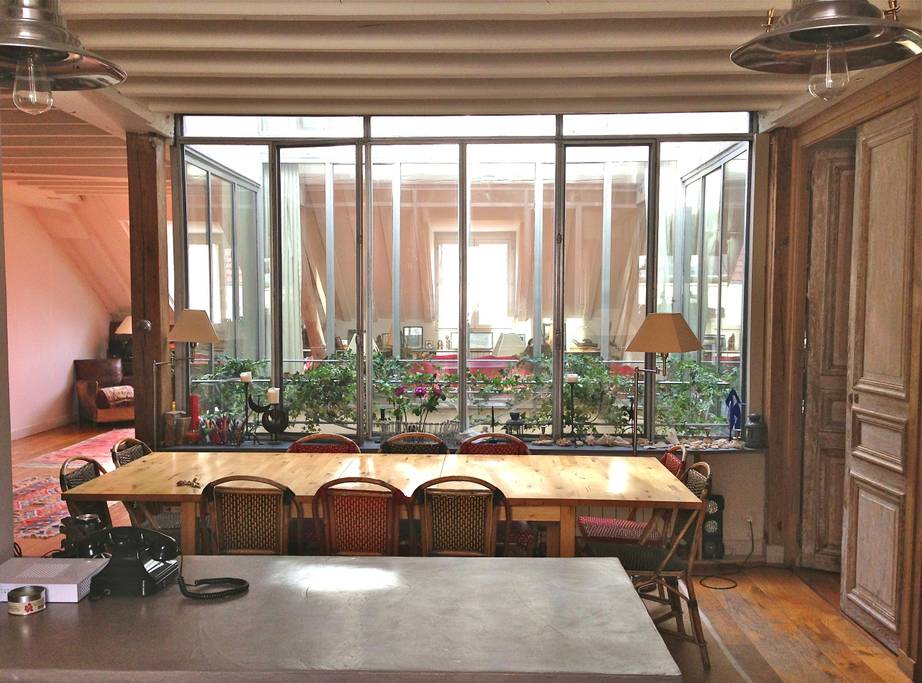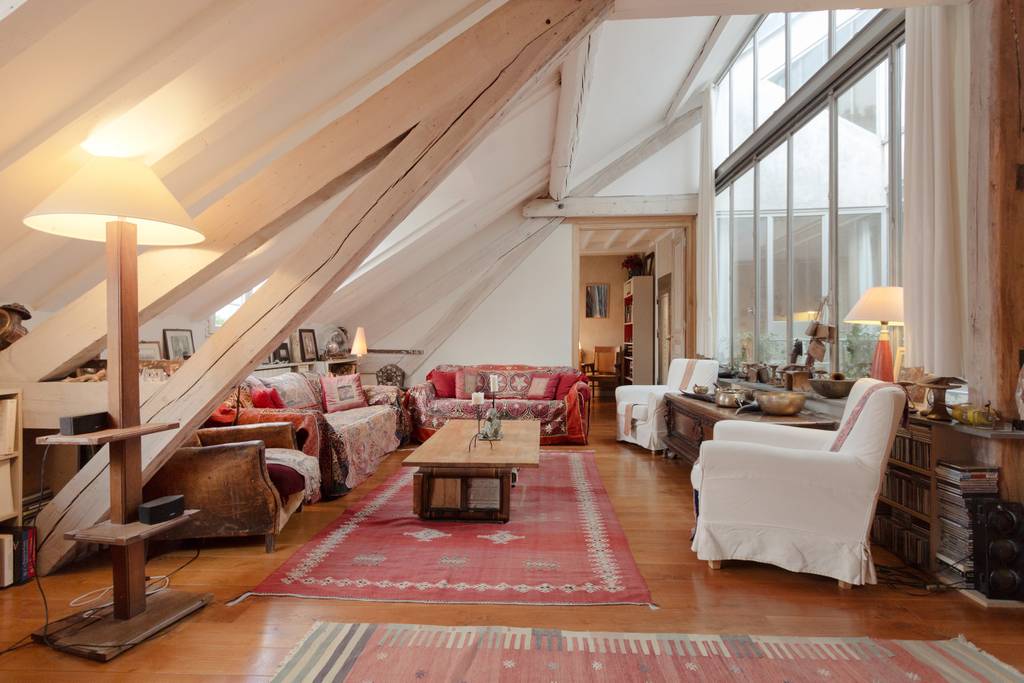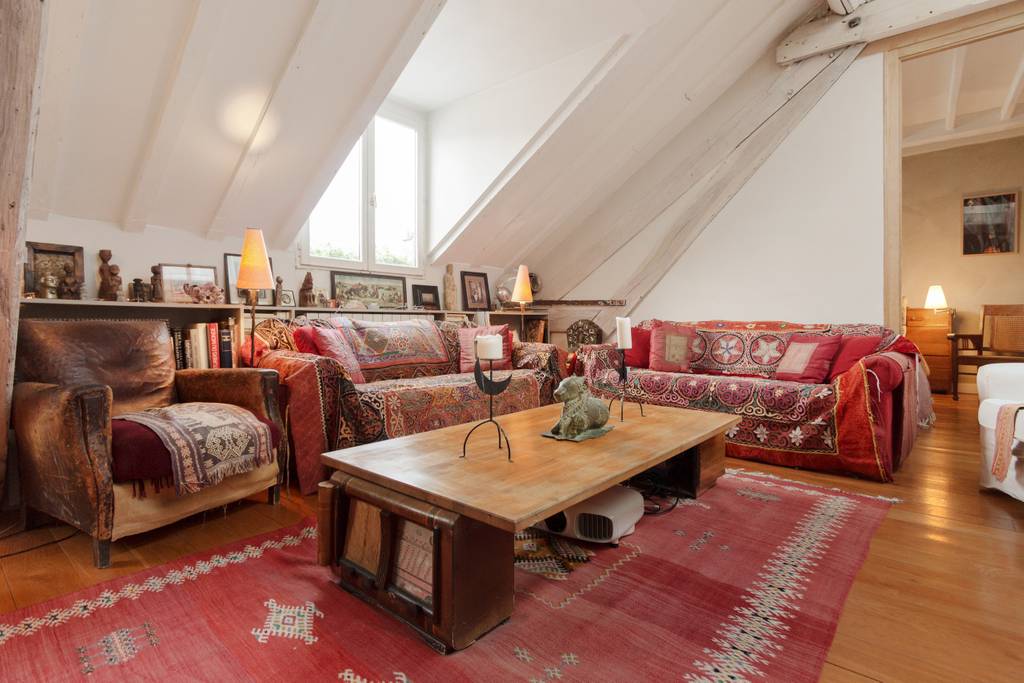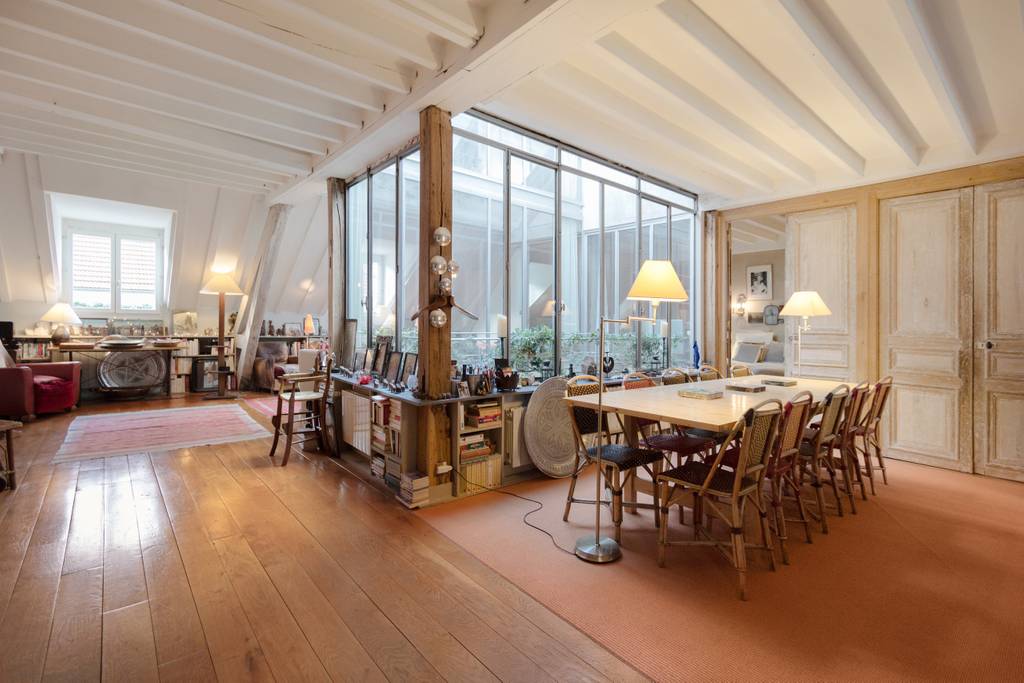 Like Paris itself, this Marais Airbnb has tons of little nooks and crannies to explore, full of interesting, fun little things to discover. With multiple sitting and dining areas, you and the other 11 people this Paris Airbnb can accommodate will have plenty of places to spend time.
This two-level loft in the Bastille area would be a perfect place for a family stay as a few of the bedrooms look like they were decorated specifically for kids (the host is a father of three so it makes sense!). There's also pretty much everything you would need to take care of them or keep them occupied, like books, bath toys, a movie projection screen and projector, wifi, and enough space that you won't have to hear them playing.
There's also a washing machine and big kitchen which is always a plus when traveling with children. You'll also be right near the Piscine Joséphine Baker which is basically a swimming pool on an outdoor barge. You'll also be near the Musée des Arts Forains or the Museum of Fairground Arts which is like being let into the rings of a circus to see it all up close. It's a good thing you'll be going home to such a fun place because otherwise, they may never agree to leave the museum!
5. Light Up the Sky! – approx. $545 a night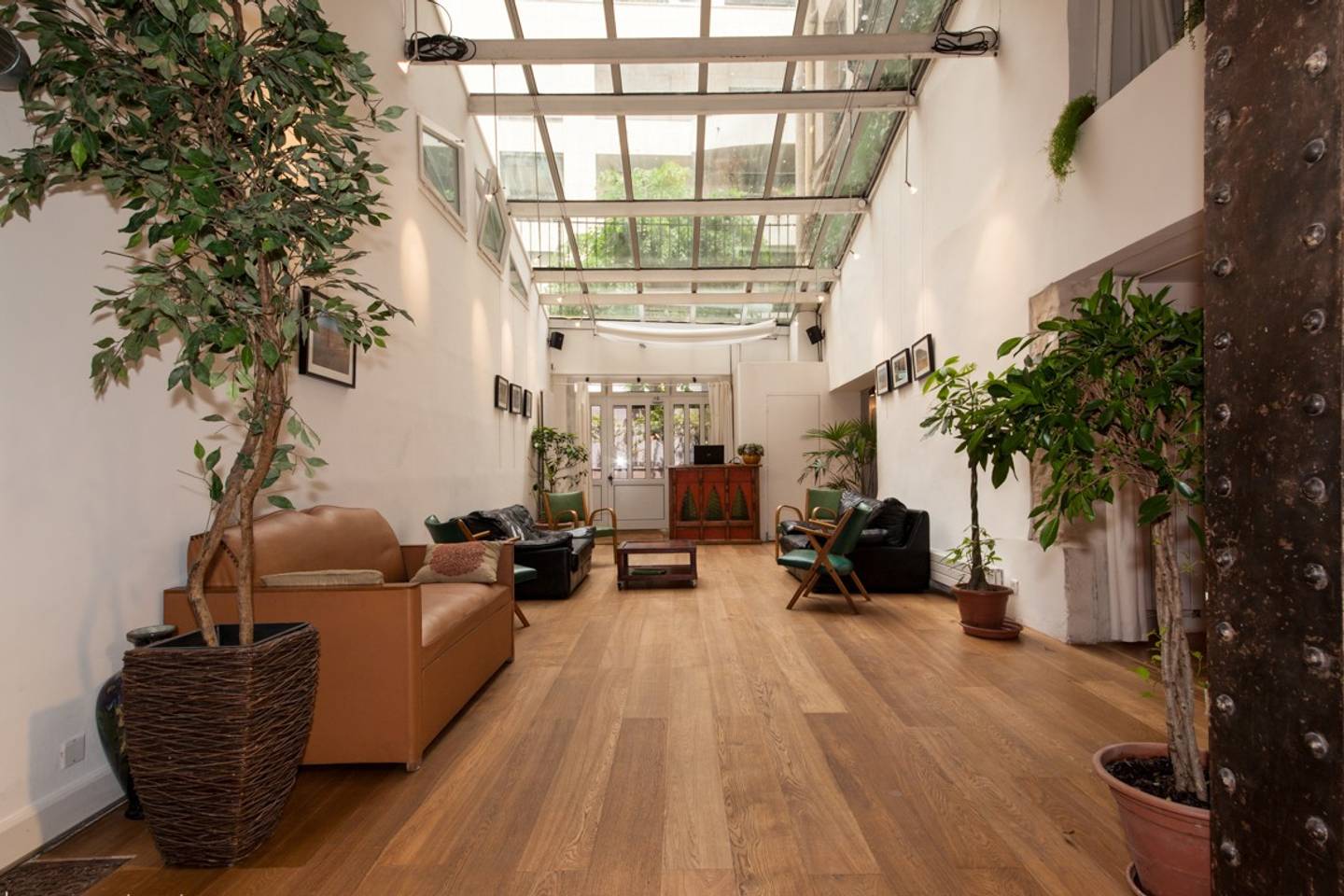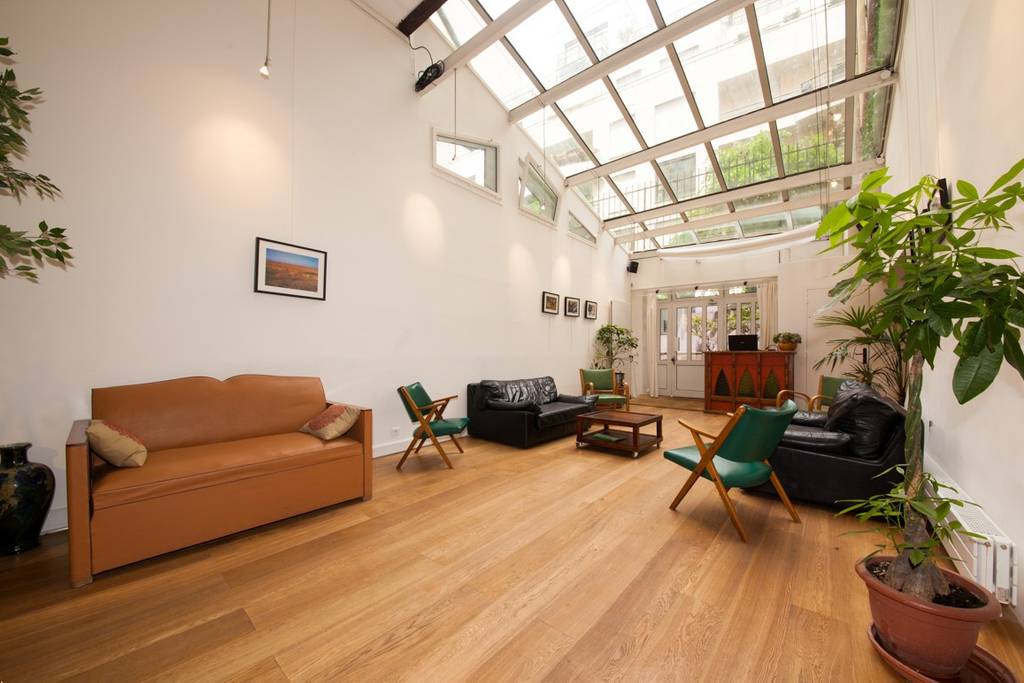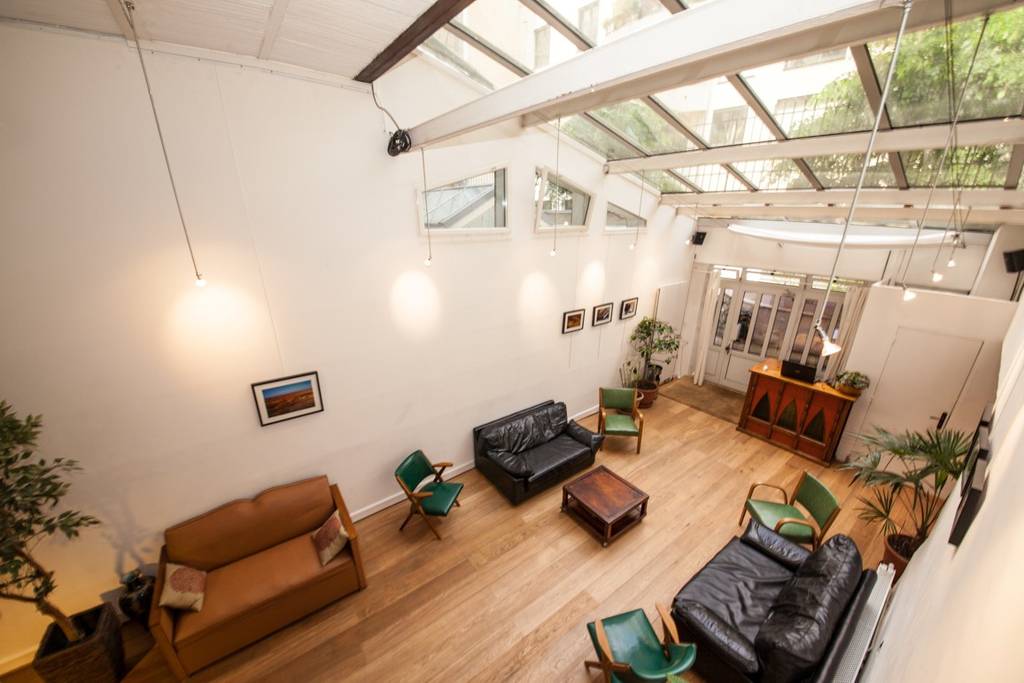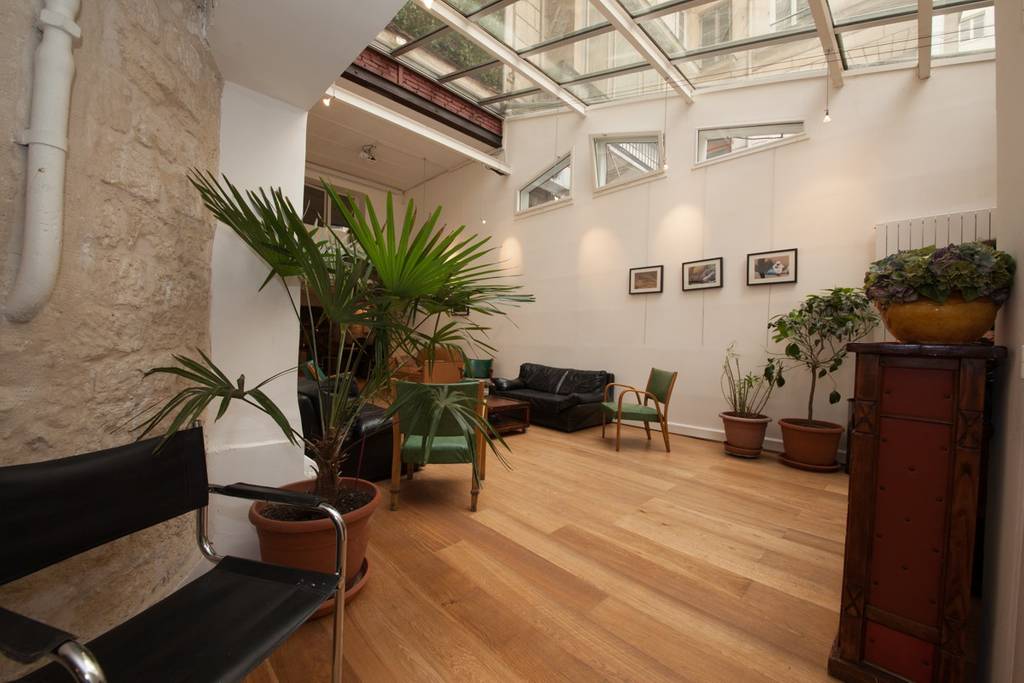 That skylight, tho! Hope you're either a fashion photographer or someone with a lot of friends in Paris because this is the kind of place you're going to want to show off. With a skylight that virtually runs the length of the house, this Paris Airbnb is a true showstopper.
This first-floor apartment sleeps up to ten within its five bedrooms but we can only imagine how many party guests you can have in here. Of course, as centrally located as you are, it's going to be hard to thinking about staying in.
Located in the 2nd arrondissement right in the center of Paris, you'll be near just about everything but just to name a few key places: the Louvre, the Opéra Garnier, the new Les Halles, rue Montorgueil where you'll find food vendor after food vendor, the rue du Fauboug St Honoré for incredible shopping, and the Palais Royal which has not only one of the most beautiful, peaceful gardens in all of Paris, but some of the best, most exclusive shopping in all of Paris. Of course, if you really want to see something amazing, all you have to do here is look up!
The 8 Most Romantic Airbnb Homes in Paris

8 Classic Paris Airbnb Homes That Will Make You Feel Like a True Parisian
8 Provence Airbnb Homes Perfect for Lavender and Sunflower Season
4. Shed Some Light – approx. $307 a night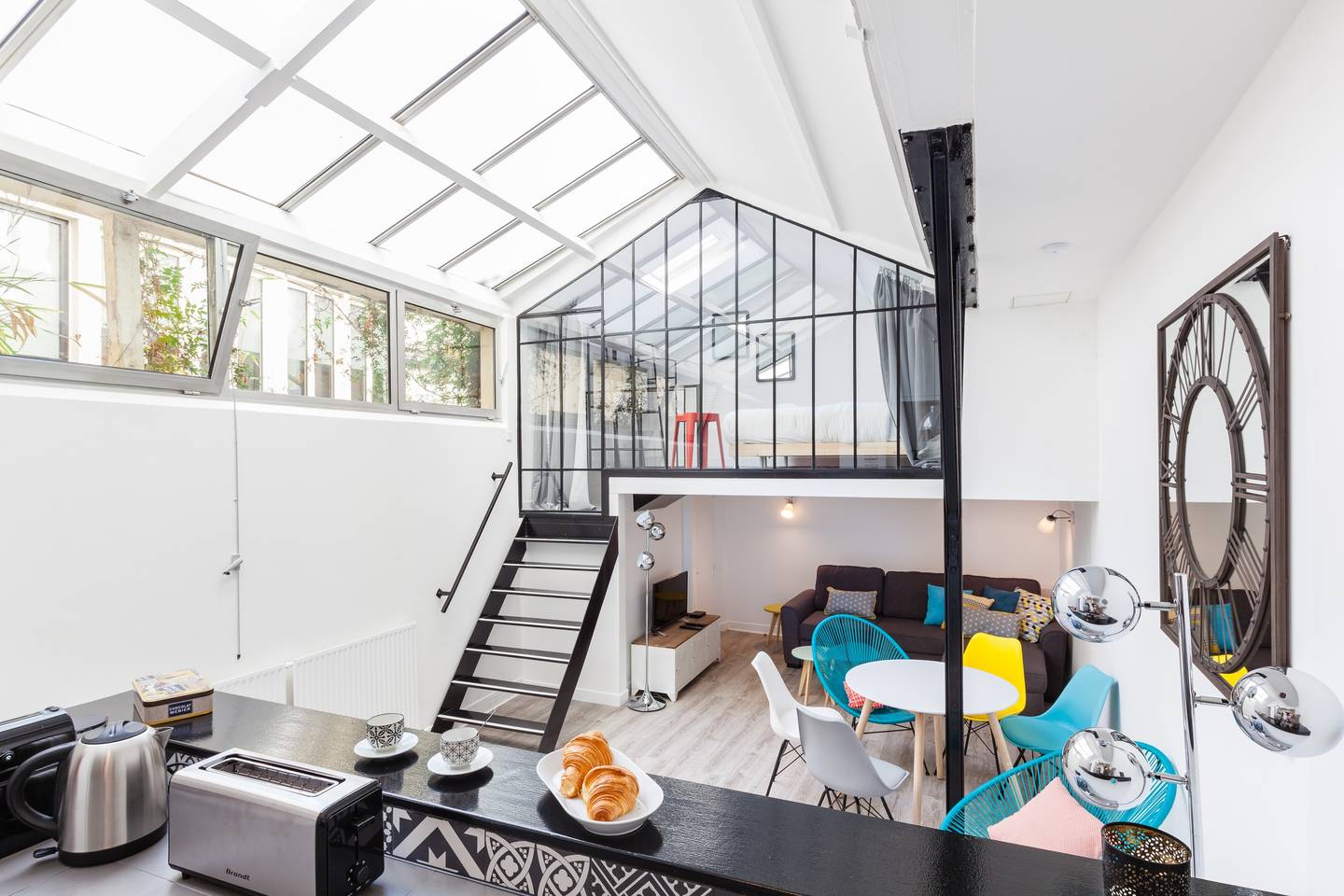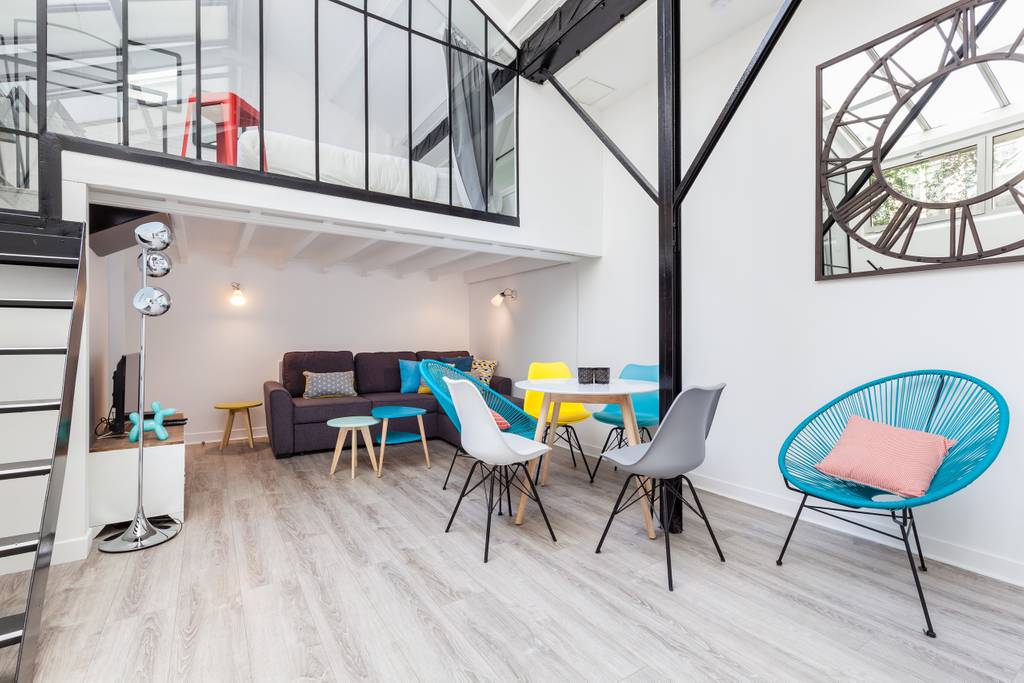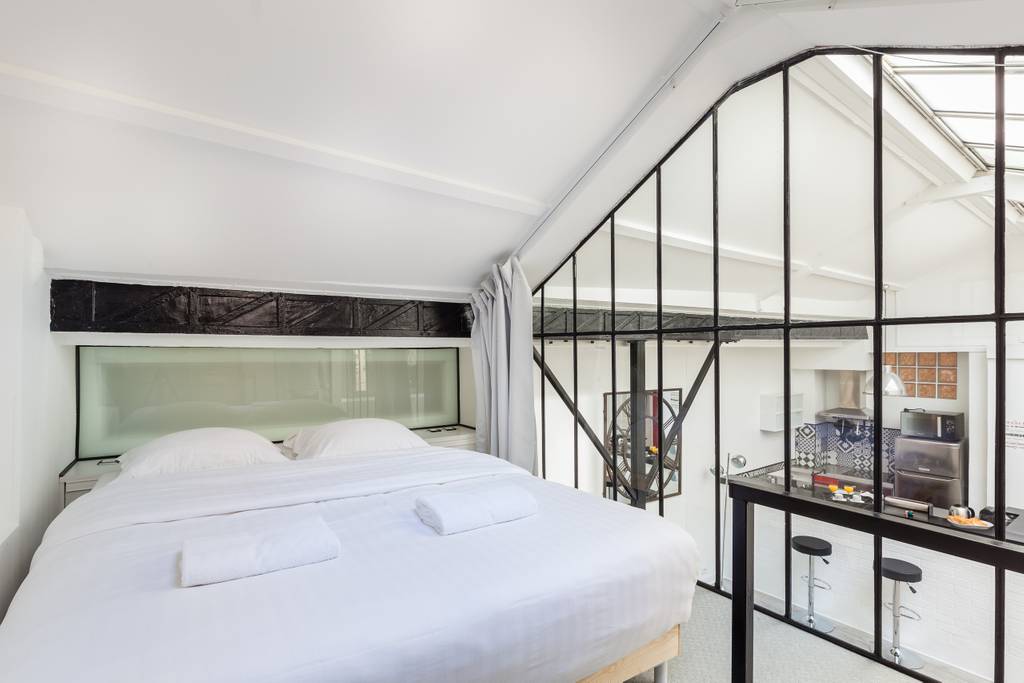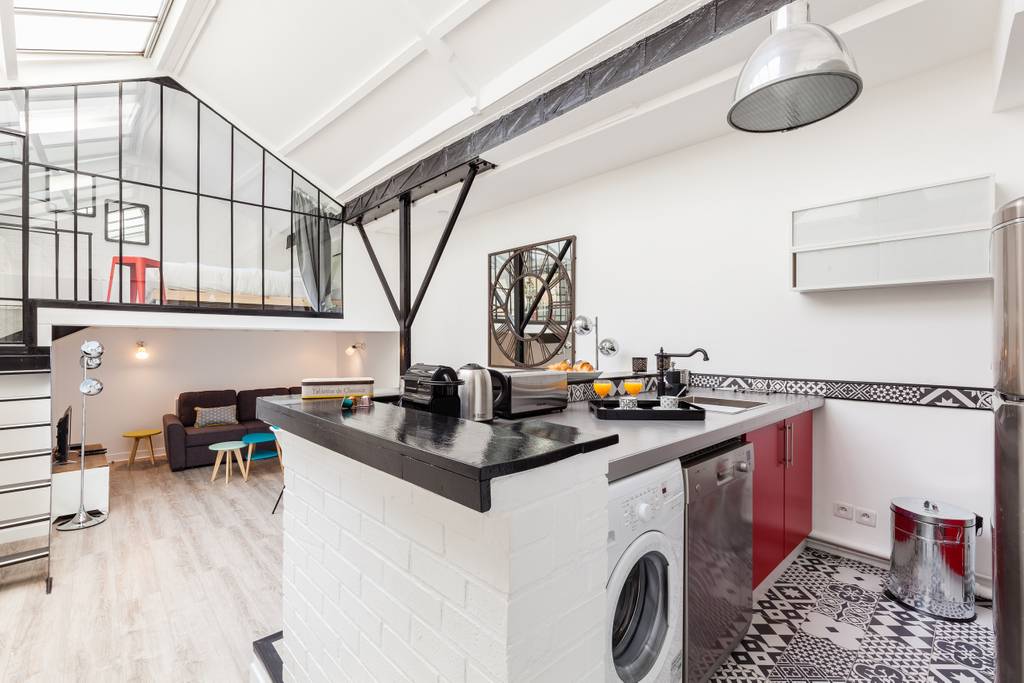 The adorable glass wall in this Paris Airbnb almost makes it look as if there is a little house inside it! Although smaller than some of the other spaces on our list, this Marais-area Airbnb has a distinct feeling of spaciousness. With three bedrooms and one bath, this Paris apartment sleeps up to six and at $307 a night, that's actually a very good deal!
In addition to the glass wall, there is a little glass roof that just adds to the feeling of space here. Close to the food market, "Les Enfants Rouges" which is not only the oldest food market in Paris but one of the best, you'll have plenty of places from which to bring back meals (which will save you a LOT of money!).
Even though it's small, it has everything you need including a washing machine, wifi, a fully equipped kitchen, and even air conditioning. One of the best things about this Paris Airbnb is that it's available for both short- and long-term stays!
3. Lofty Lightness – approx. $1,156 a night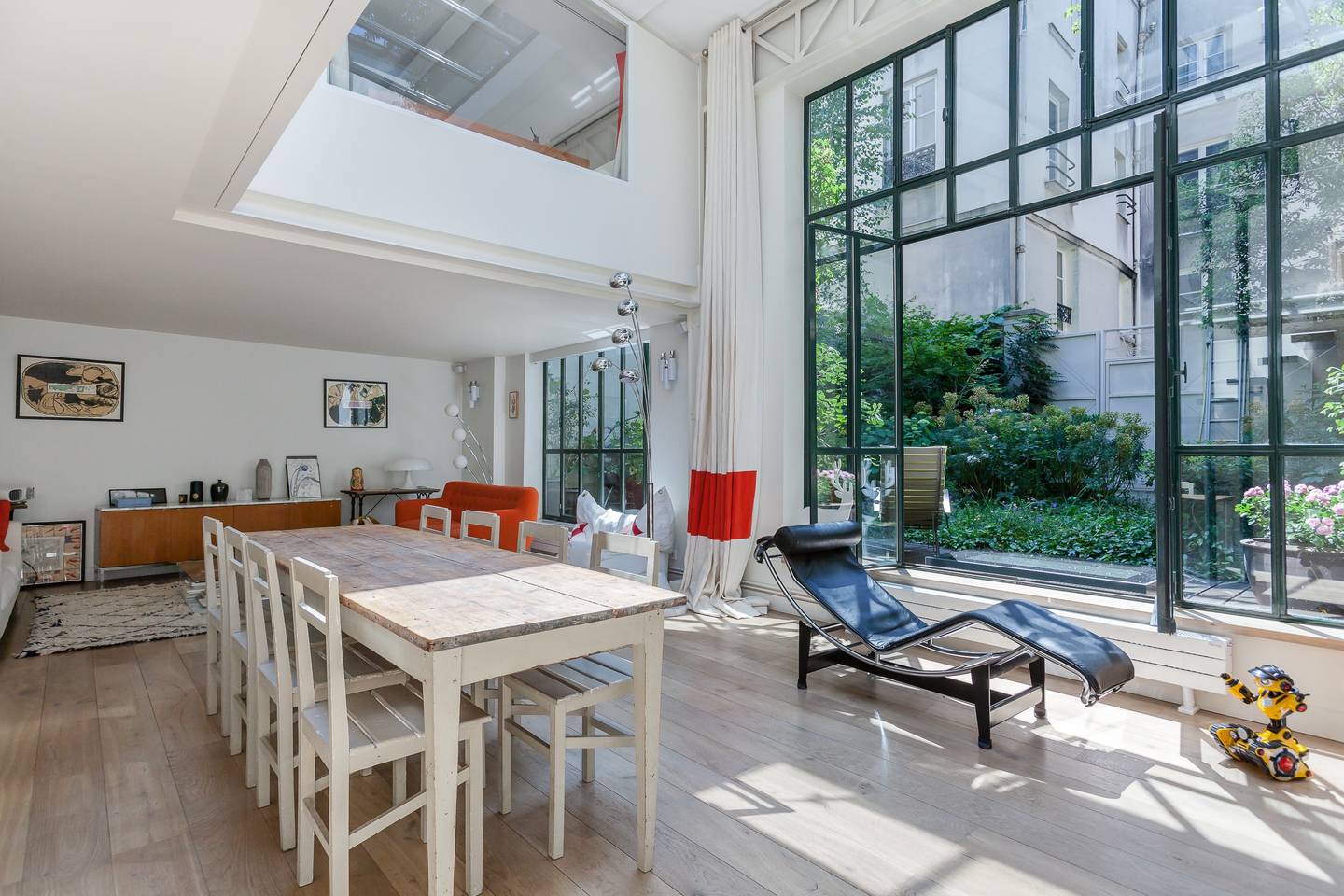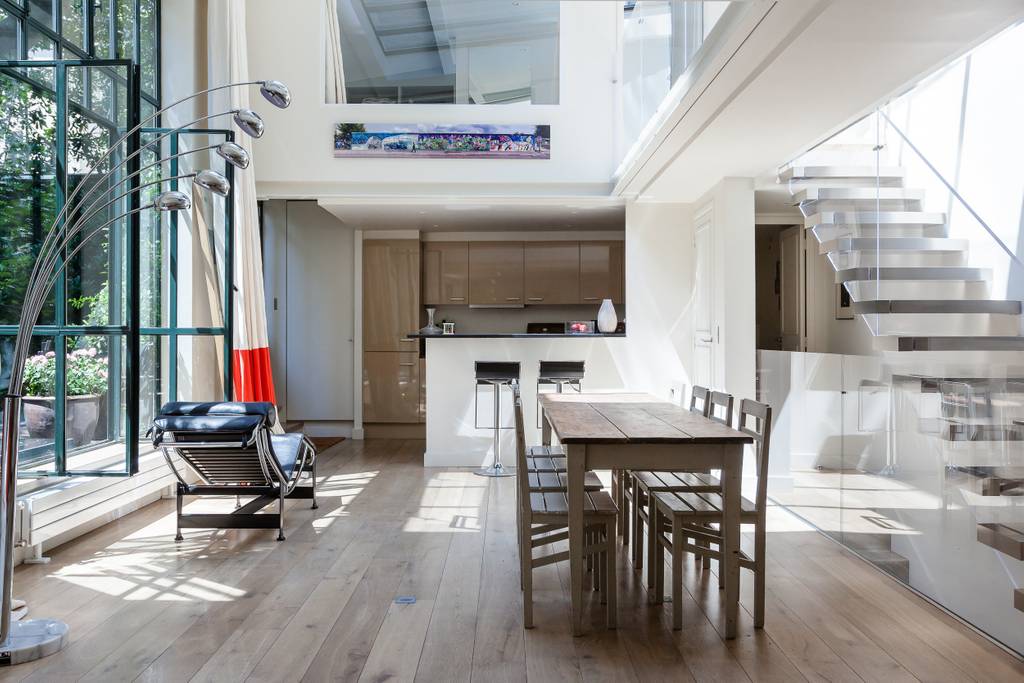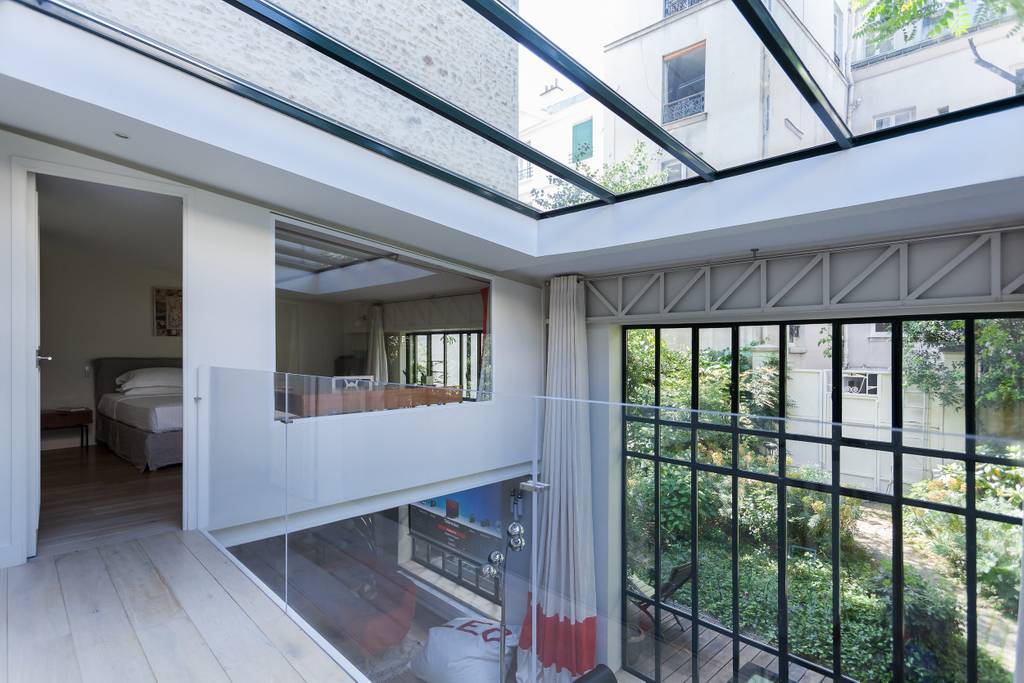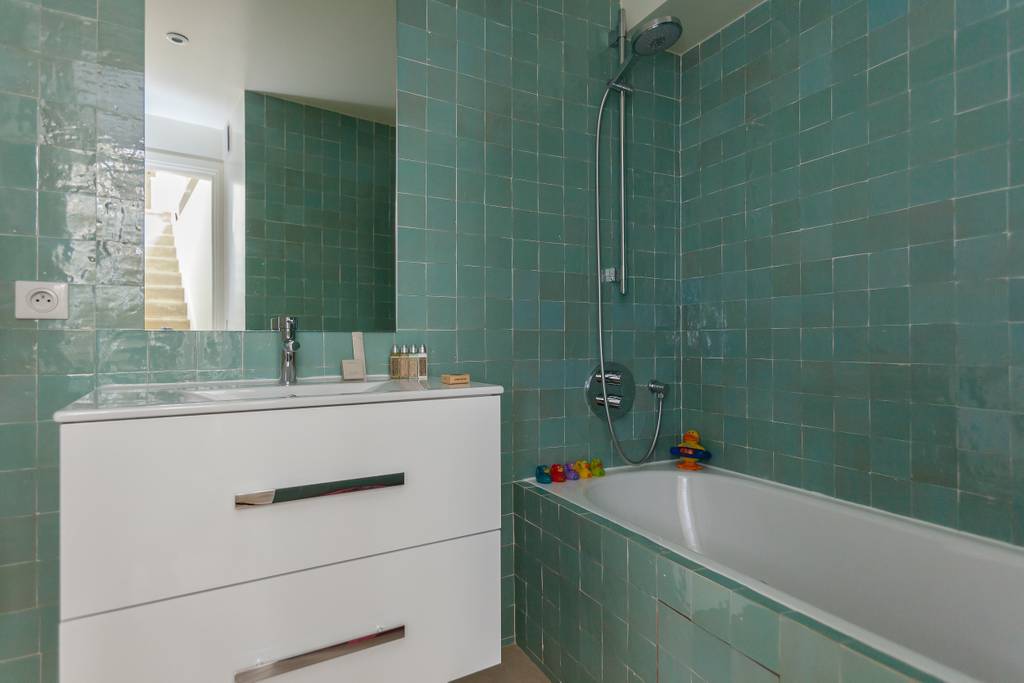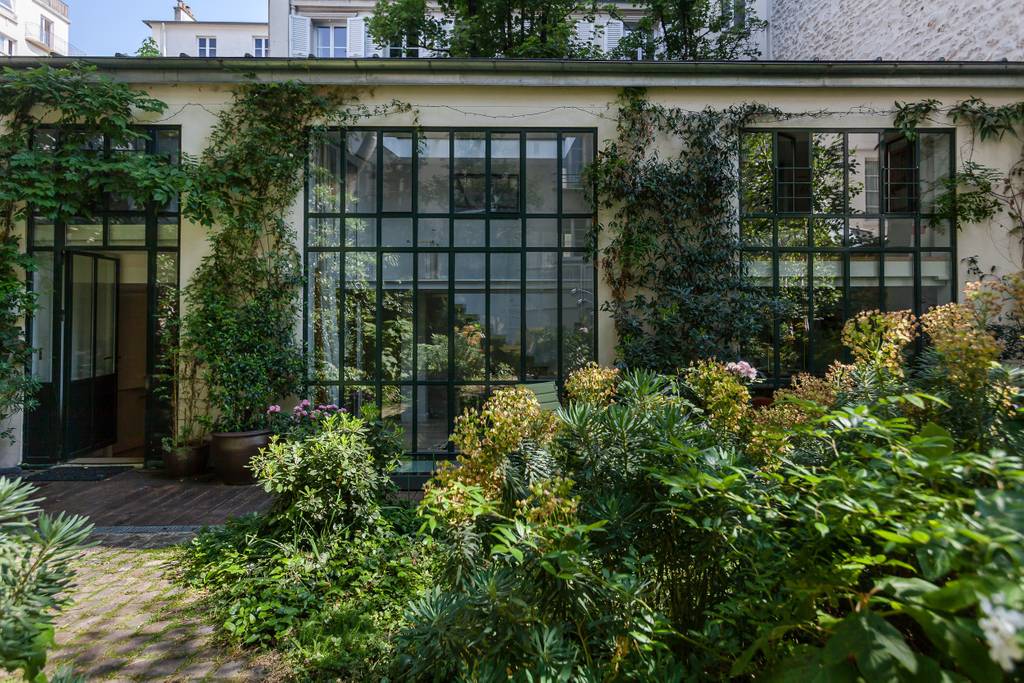 This lovely Airbnb has so many places to let the light in that it almost seems as if the furniture is floating. With a skylight, a floor-to-ceiling wall of glass, and even a glass partition within the house, this former factory is a very happy, cheery place to be in. The entrance to the home is through the double-height glass wall of the garden into a light and airy dining room that seats ten easily.
Even the floating staircase gives a feeling of lightness as does the light blond wood of the kitchen. (And not to harp on the floating thing, but even the bathroom counter is elevated.) A great place to rent with a family, there is a kids' room full of books and toys.
If you do bring your family, you'll have access to the entire terrace area but if you want to get farther afield, you'll be near the Jardin des Plantes garden, the Muséum National d'Histoire Naturelle (the "Great Gallery of Evolution" is like a kid's dream) and its zoo and carousel. You'll also be near the Jardin du Luxembourg which not only has puppet shows but a pond for sailing toy boats and even a place restricted for children under the age of five. And maybe best of all for a family arriving in a new city: A welcome packet of general stuff you might need upon arrival!
2. Pomp and Pompidou – approx. $691 a night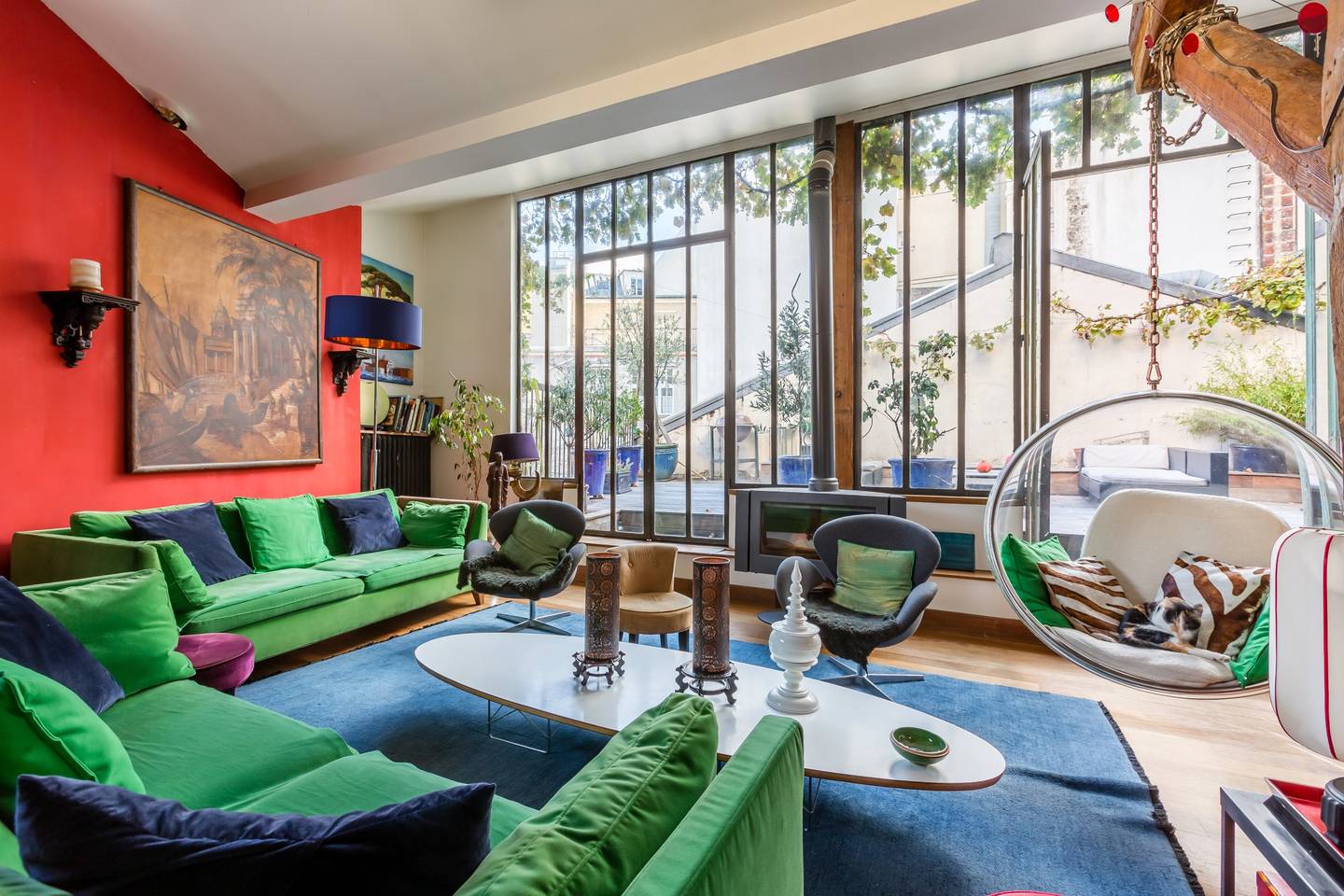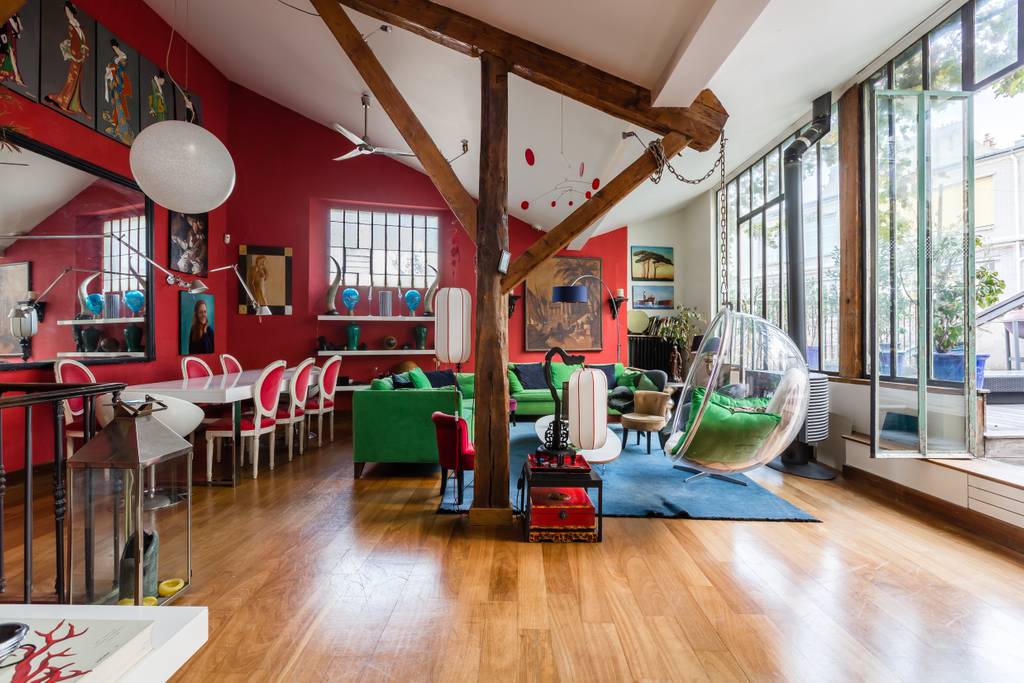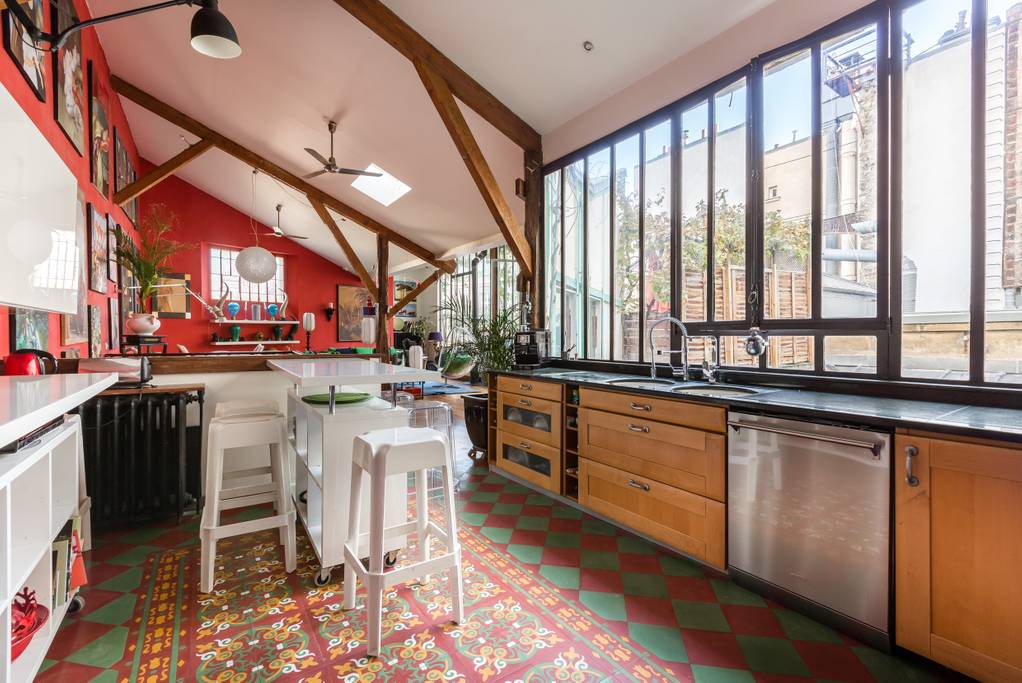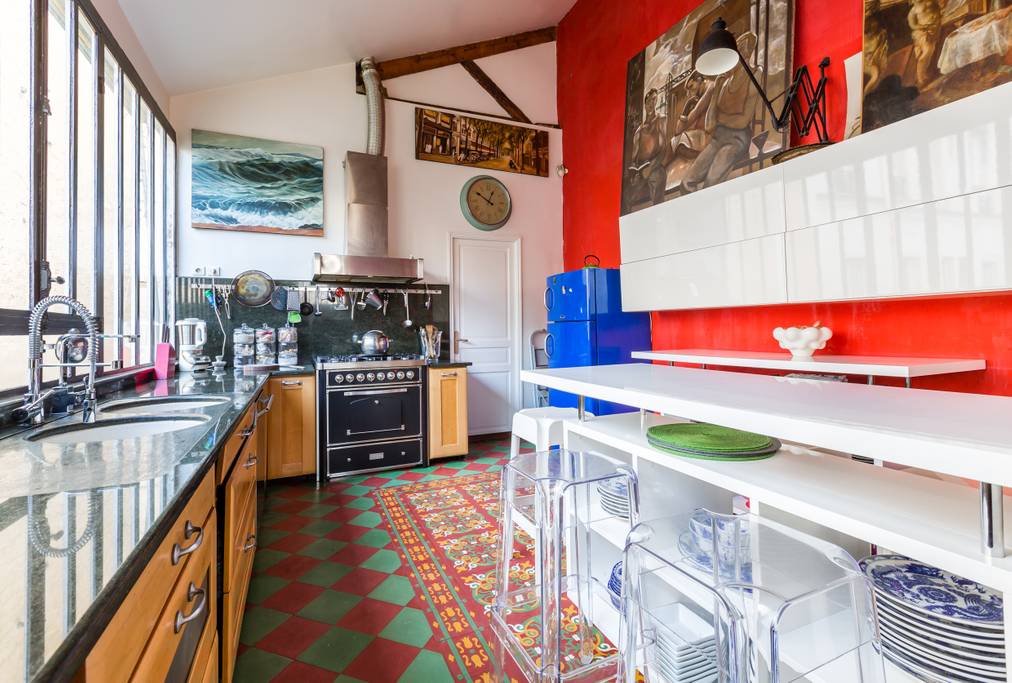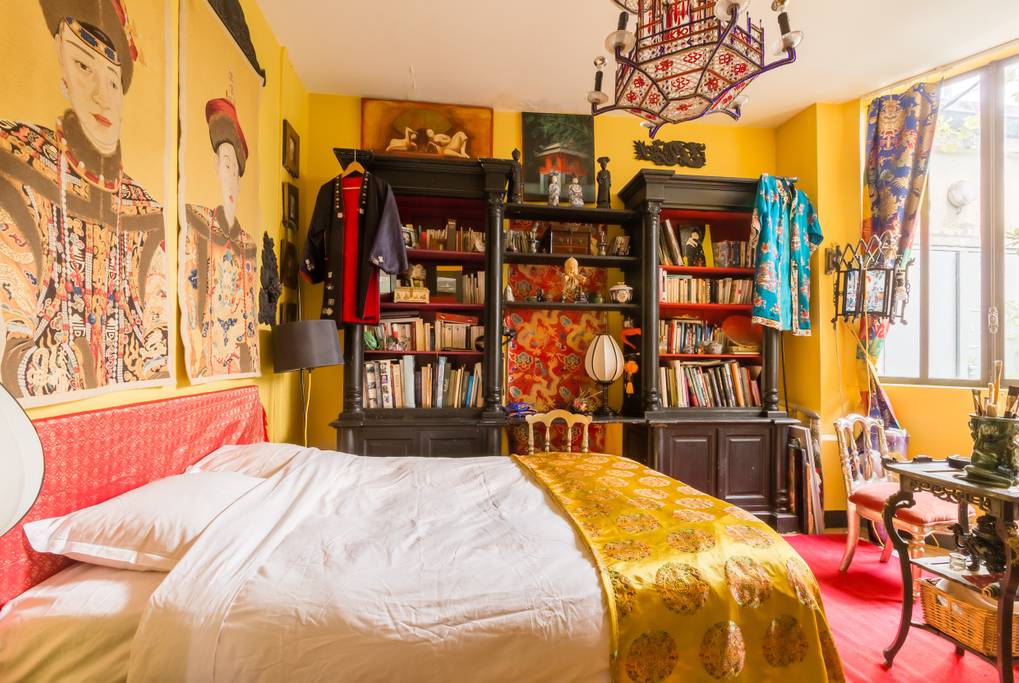 The crazy, primary colors of this 6th arrondissement apartment remind us a little of the crazy pipes and fountain outside the Pompidou Centre. At $691 a night this four-bedroom, two-bathroom apartment sleeps six, making it a great bargain! Situated in the middle of the Left Bank, you'll be near so many attractions that you will never be at a loss for something to do.
You'll be near the Latin Quarter (do NOT miss rue Mouffetard where there are dozens and dozens of restaurants, bars, and shops), the rue du Cherche-Midi where there are, again, dozens of shops like the incredible second-hand (or dépôt-vente) company that has no less than six separate stores on this street alone, the Bon Marché department store with its insane food emporium, La Grande Épicerie, and the Panthéon which has views that are to die for!
The apartment itself has a huge dining area that seats eight (in case you make some new friends at the clubs), a Bluetooth-connected sound system, a crazy cool spiral staircase, a fabulous terrace area big enough for all of you at once, a Chinese-themed room that is going to make you want to redecorate when you get home, a cabin-like bathroom that will make you feel like you're in the French countryside, and a bubble chair that you probably won't leave from the time you arrive until the time you leave. Like the Pompidou Centre itself, this Paris Airbnb gives you a lot to absorb!
1. Let the Sun Shine In – approx. $680 a night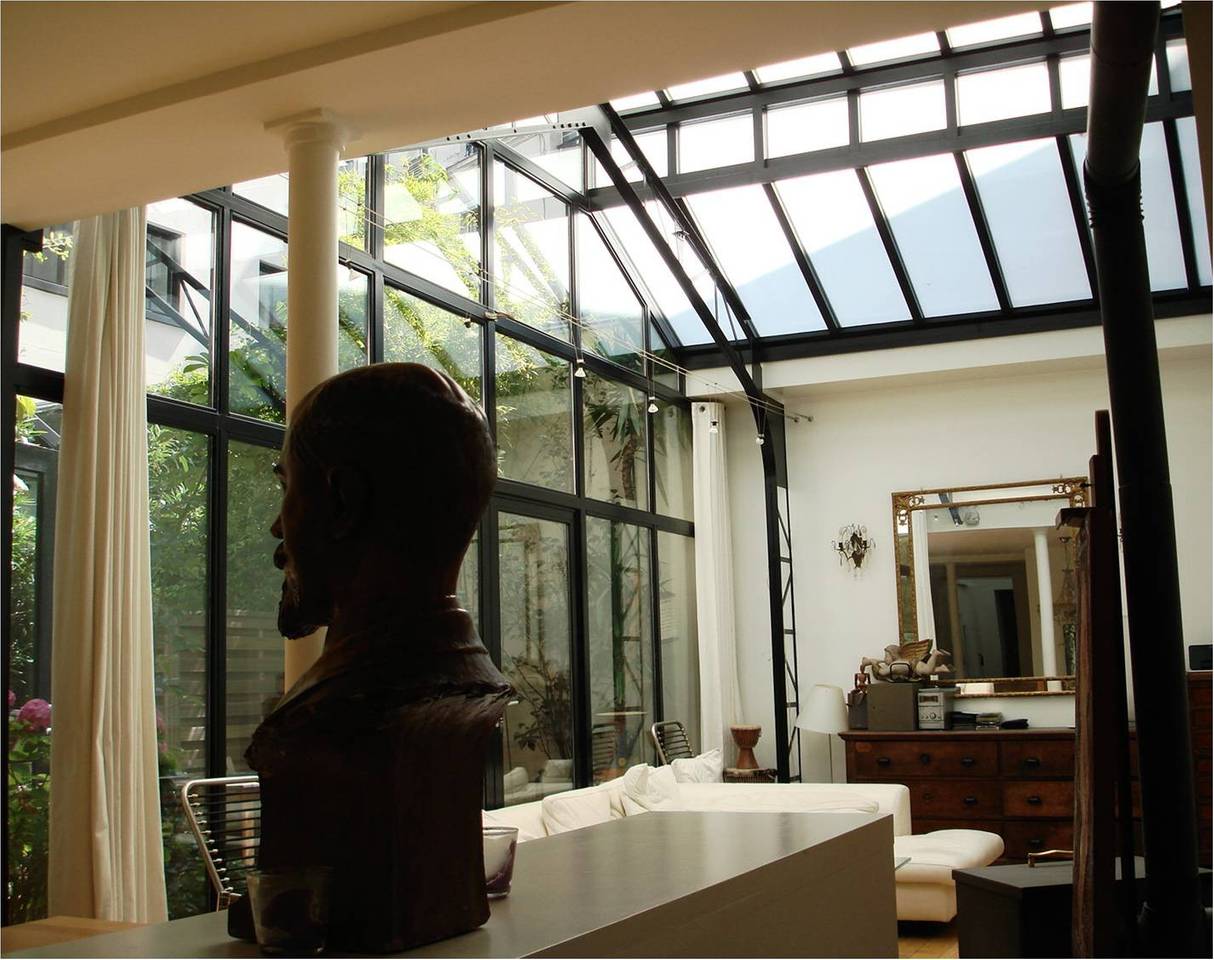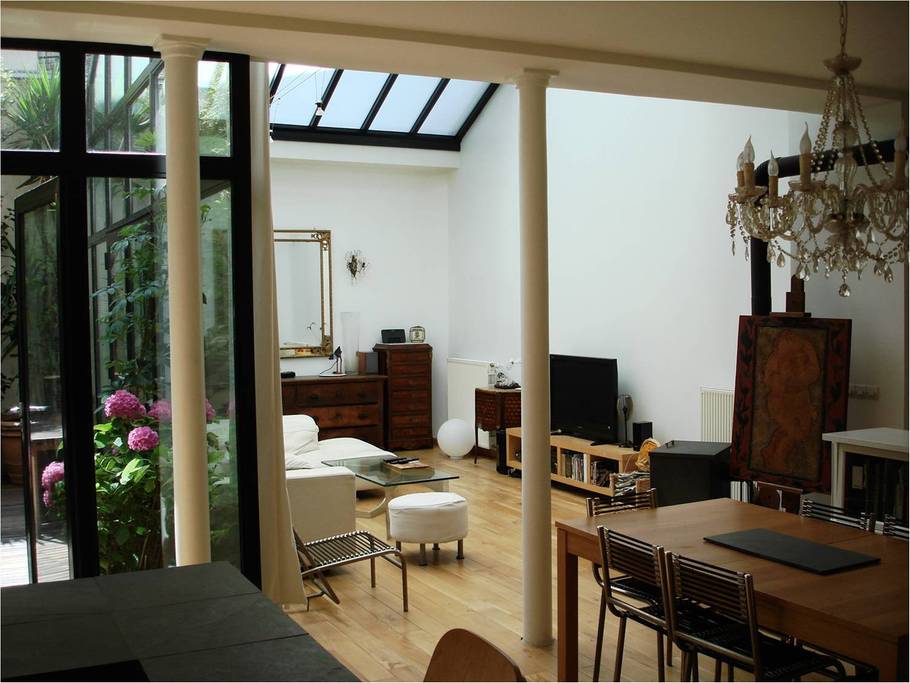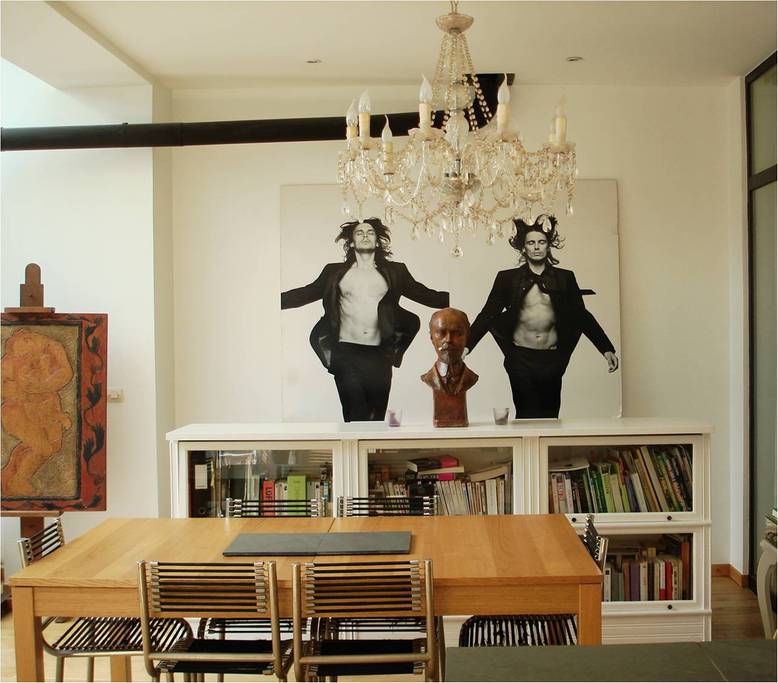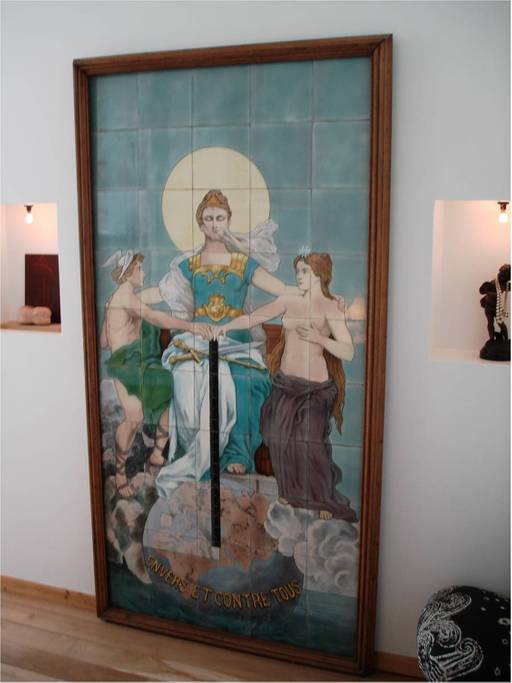 This five-bedroom, three-bath sun-dappled loft space has so many glass partitions and walls it almost feels as if you're outside. The almost 2200 square foot apartment will give you and your friends enough room not to feel cramped. The terrace alone is 215 square feet so the party can easily move outside and since you'll be near so many great dance clubs you can start a conga line and just keep it going until you get to the next club.
With an eclectic mix of decorating, there's something for everyone in this space but if there isn't, you'll be near the Bastille area where there are tons of little cafes and restaurants (one in particular, the Café de la Bastille, has an amazing drink called a "vanille chaud" which is basically like hot chocolate but with vanilla).
You'll also be near the Pére Lachaise cemetery where some of the biggest French luminaries in the world are buried including Edith Piaf and Marcel Proust (not to mention non-French luminary Jim Morrison). You'll also be near the Parc Zoologique de Paris and the Bois de Vincennes which is a park that is rarely visited by tourists. And don't forget the Opéra Bastille where you can catch an opera just about any night of the week. No matter what you do here, you'll have the sun on your back!