Sometimes, you just need Paris to look . . . Paris-y. As if you're going to walk in the door and hear "La Vie En Rose" or "Moulin Rouge". A place that's fulfills every dream of what you thought staying in Paris would be. Of course, Paris being as magical as it is, does actually have plenty of those Airbnbs available. So, here you go! Eight Classic Paris Airbnbs. If these don't make you feel French, maybe nothing will!
The 8 Most Romantic Airbnb Homes in Paris

8 Provence Airbnb Homes Perfect for Lavender and Sunflower Season
8. Haussmannian Home – approx. $283 a night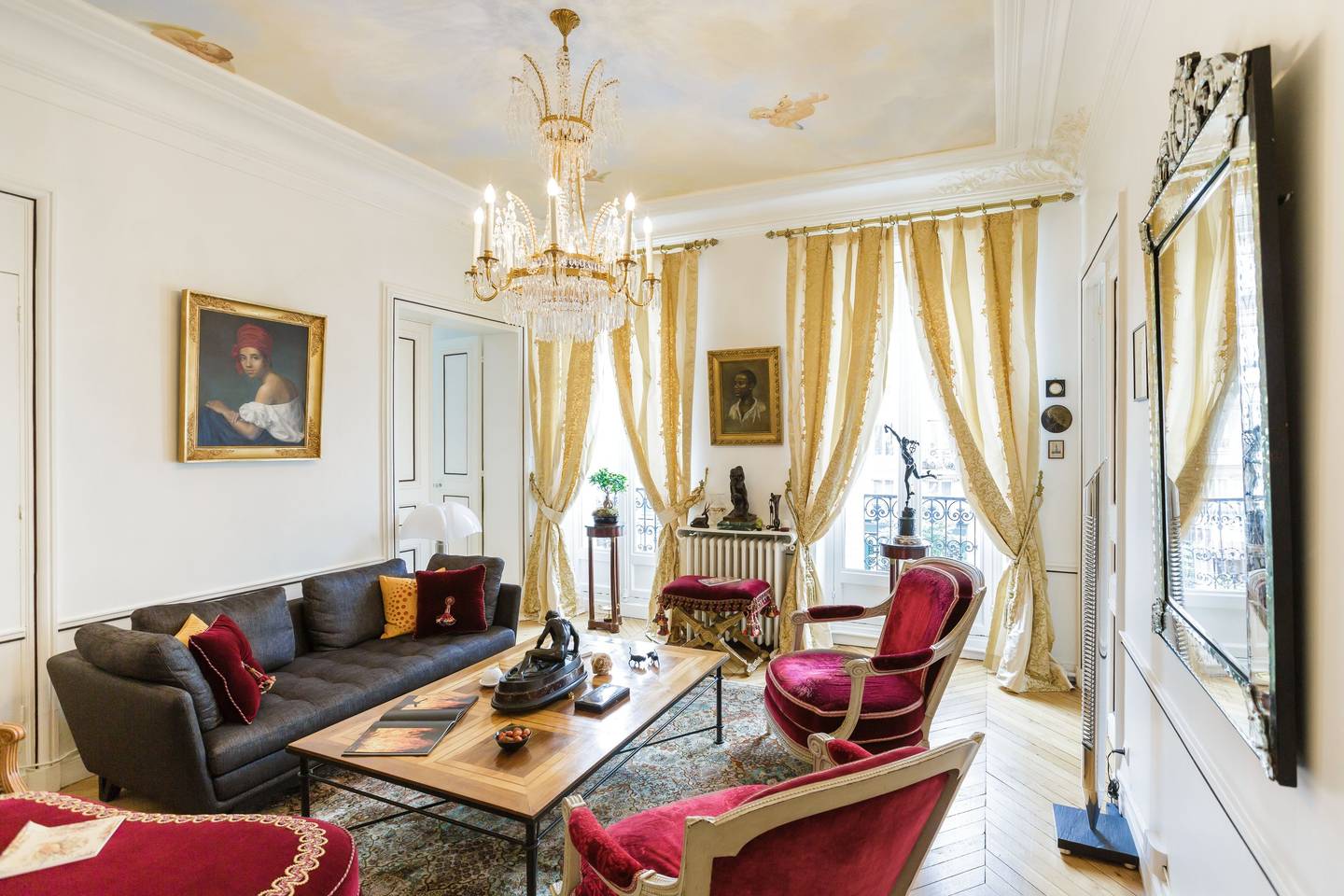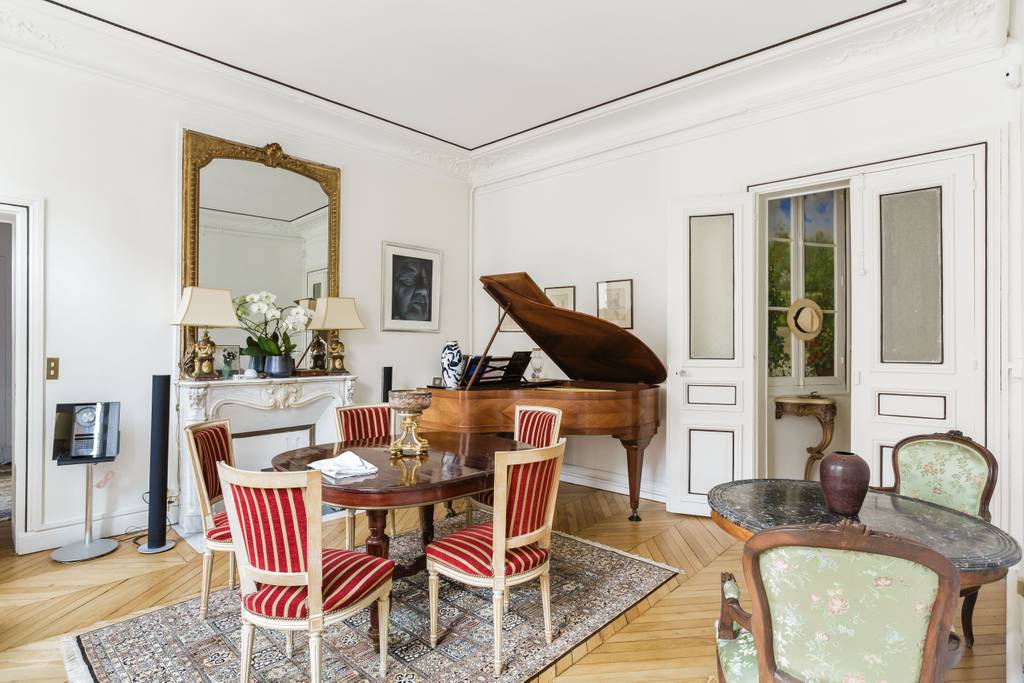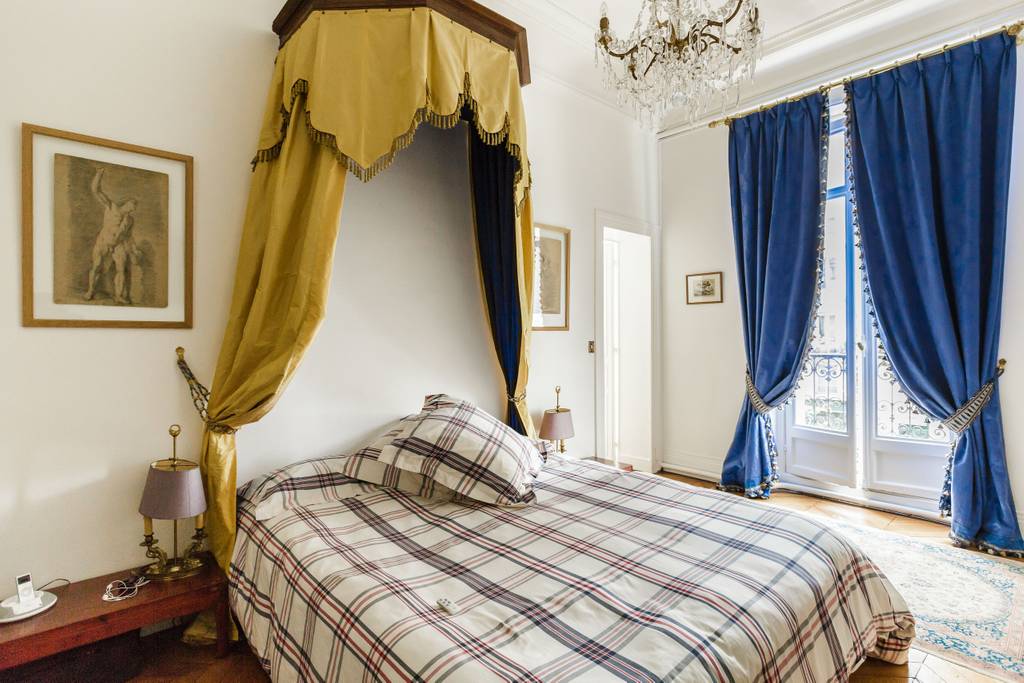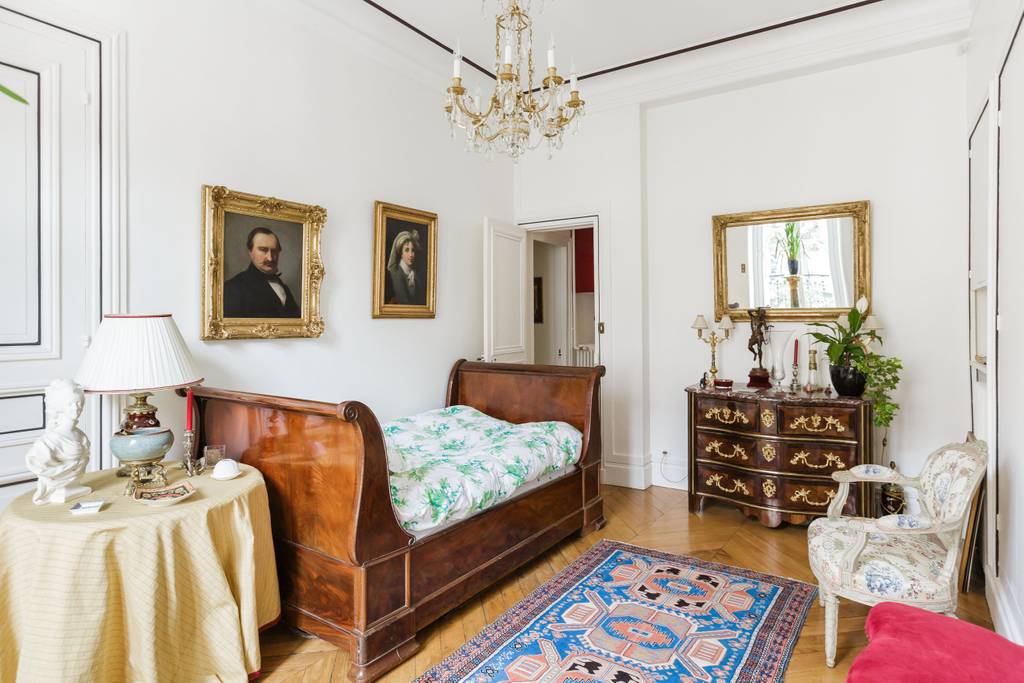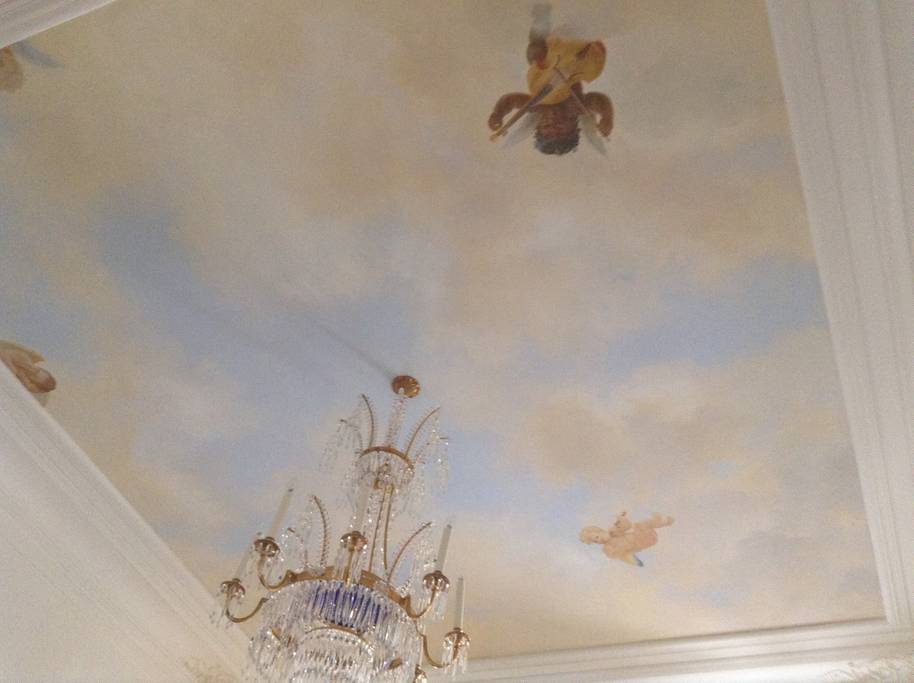 Proving that classic doesn't have to mean stuffy, this two-bedroom, two-bath flat right near the Place de la République, is wonderfully airy, whimsical and stylish. On the second floor of this "Haussmannien" building, this apartment has everything you need including a fully equipped kitchen (it even has a dishwasher which is still fairly unusual for Paris apartments).
Among the antiques and art you'll find all kinds of quirky little touches like a piano, a cherub-themed ceiling mural, a whimsical trompe-l'œil or trick of the eye painting of a garden in the hallway, and a great little day bed for curling up with a book or two (of which there are many!).
Located at the center of the Place de la République, you'll be very, very close to the bustling Marais district as well as the happening Canal St. Martin. Guests report that there are tons of great bakeries in the area, perfect for grabbing a quick baguette before getting your day started. What could be more French?
7. A Veritable Versailles – approx. $624 a night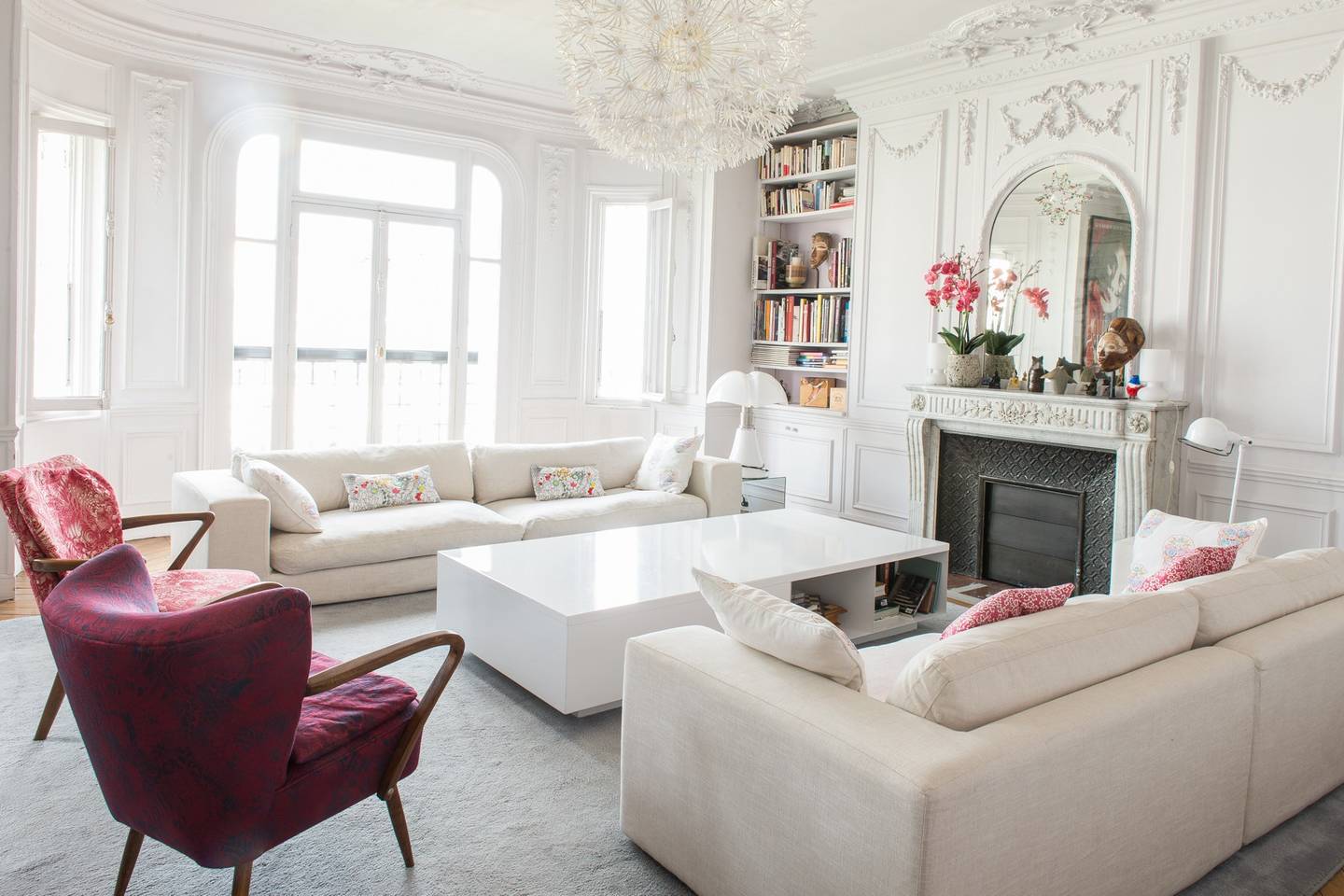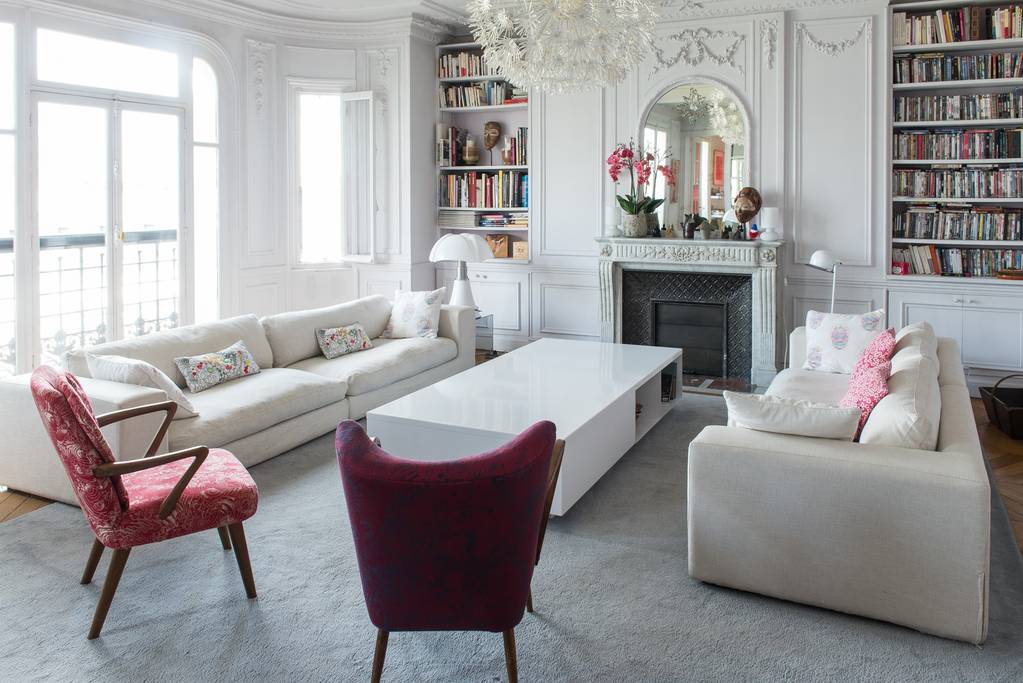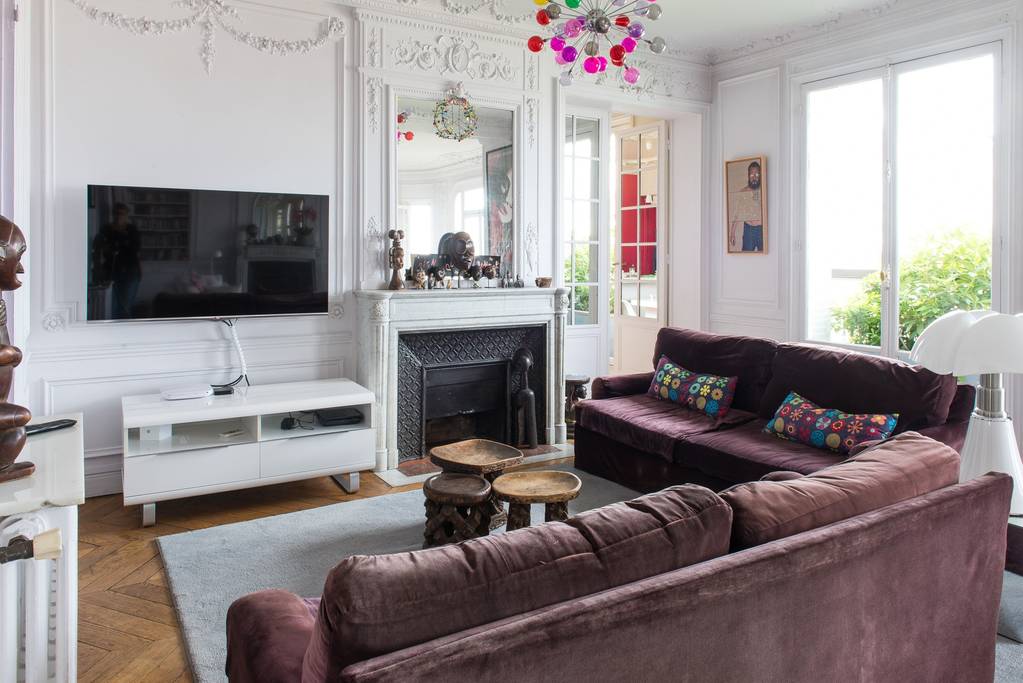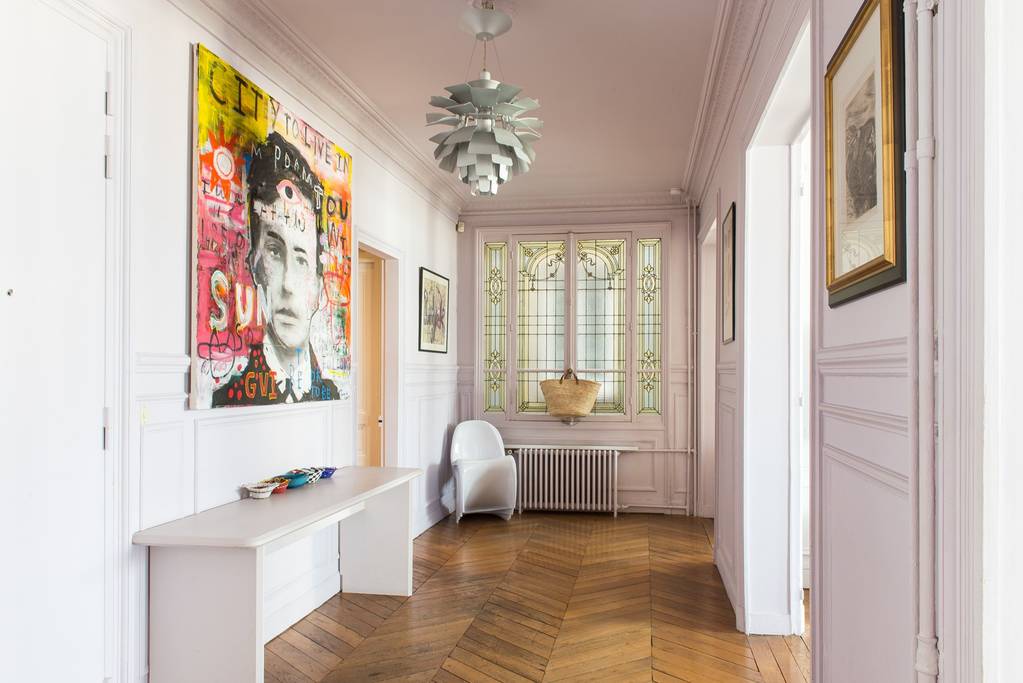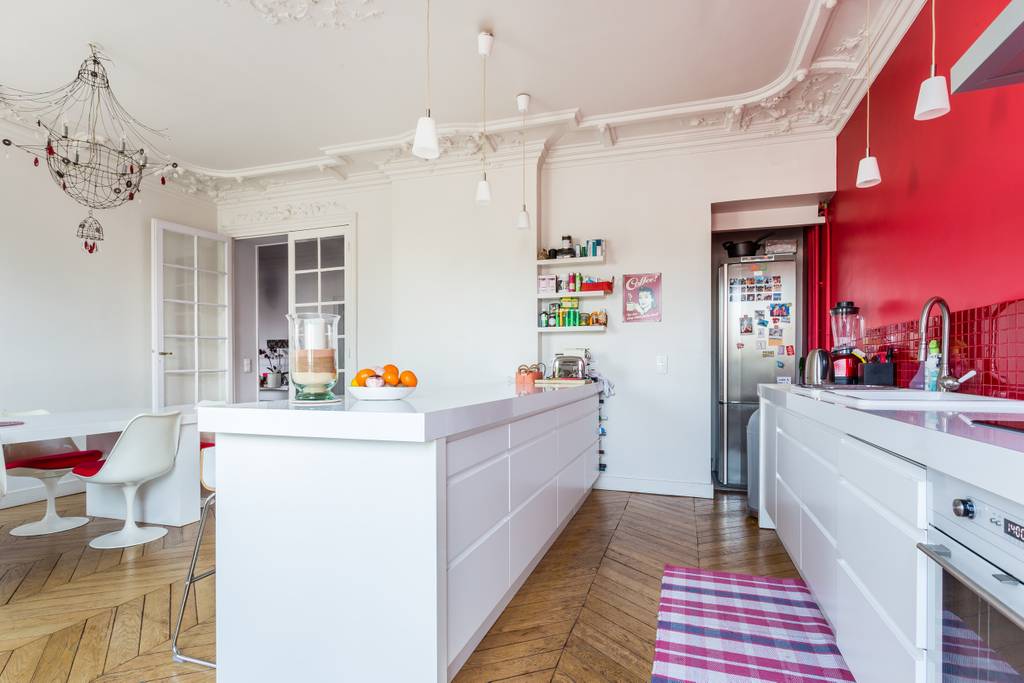 If you want classic but feel as if antiques and old-fashioned furnishings aren't really your thing, this Airbnb just off the Champs-Elysées is perfect! Sleeping up to 8 in its five bedrooms, this is a great place to stay with a family especially as it has easy access to the metro (including the RER which will take you outside Paris), restaurants, bars, and especially boulangeries.
Spacious and full of light, this Paris Airbnb really combines the best of all possible worlds with high ceilings, stunning parquet floors, ornate mouldings, French doors, marble fireplaces, and even stained glass ceilings. With a big, open kitchen and dining space, this is a great place for kids, especially since there is a minimum of stuff to worry about then breaking. Frankly, the one place we can think of that might be more French is Versailles.
6. La Castellane Castle – approx. $106 a night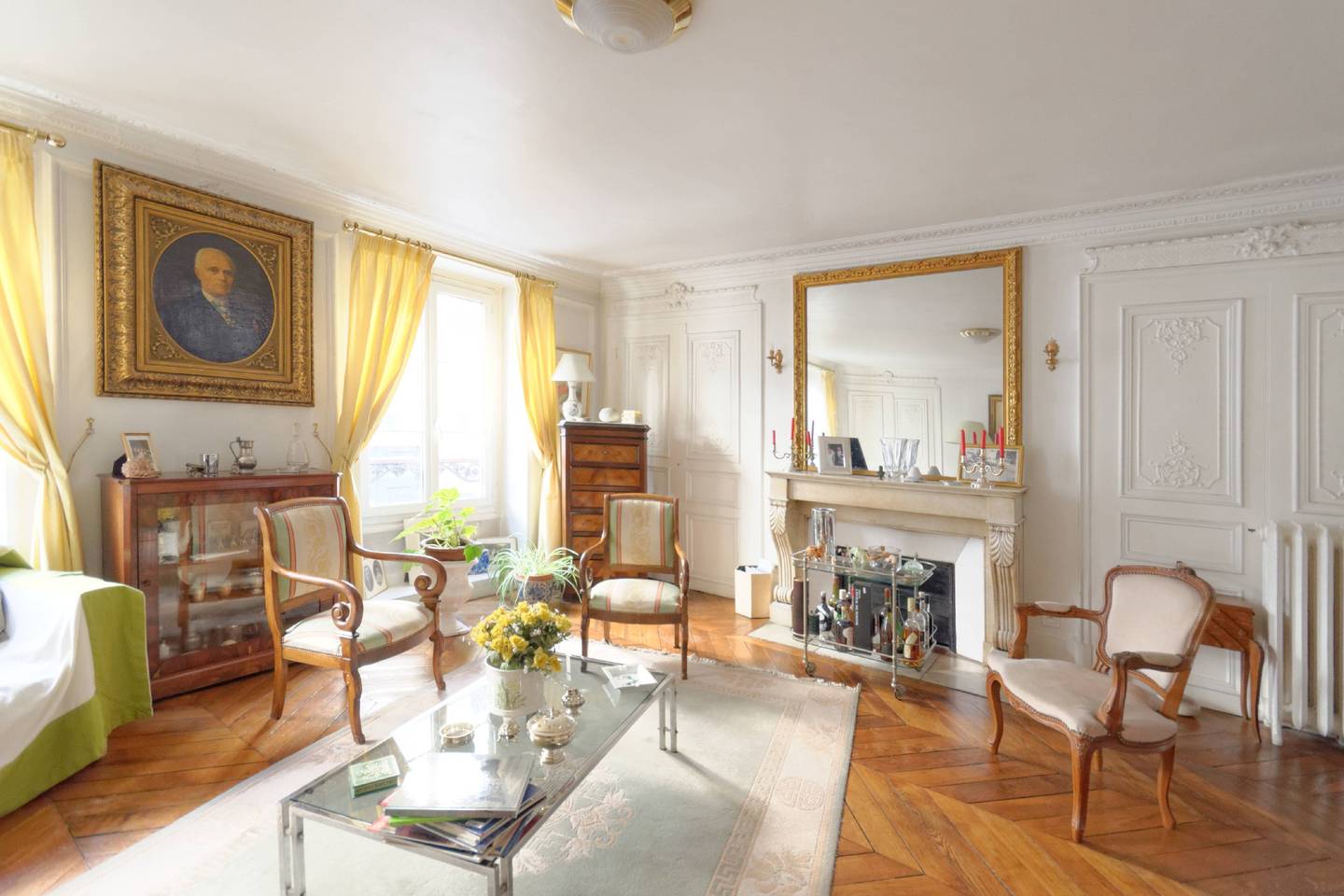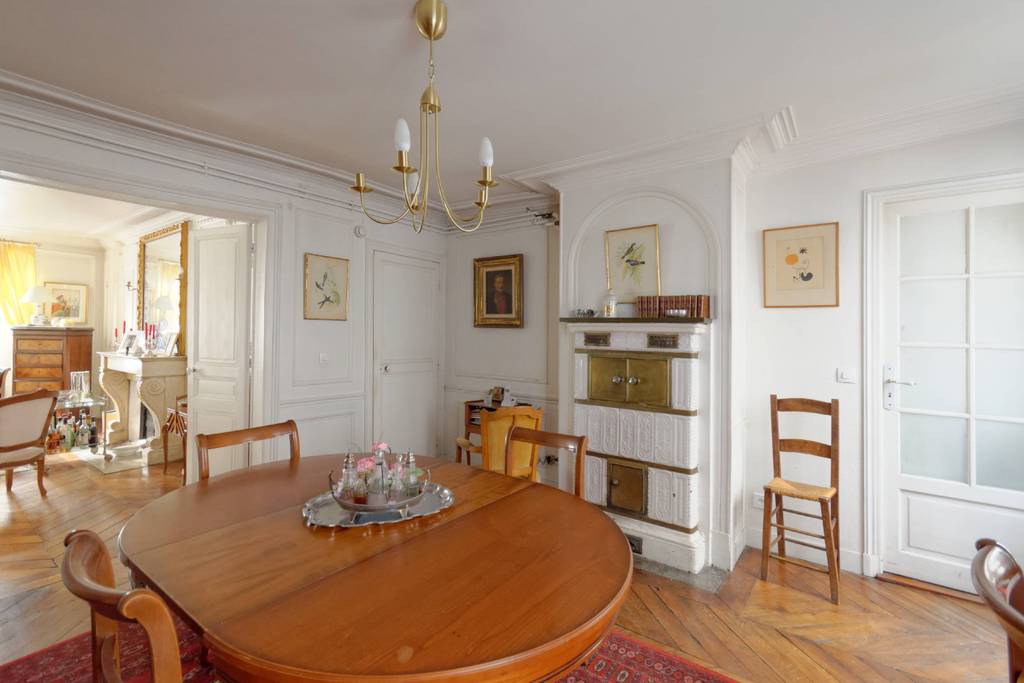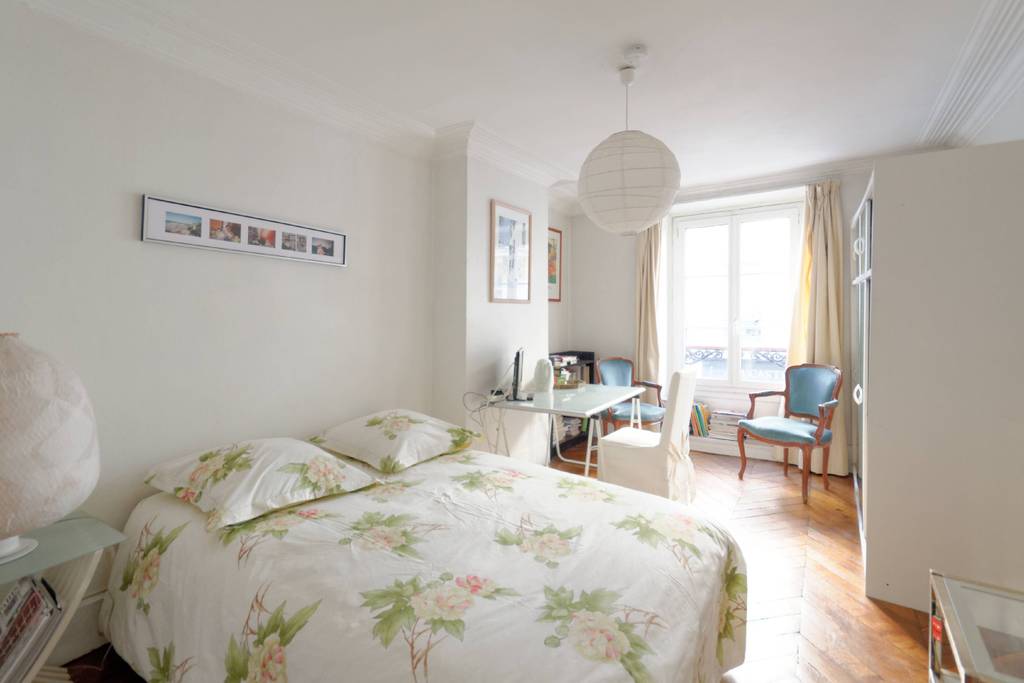 They sure don't make 'em like this anymore! Offering a private room in this glorious apartment, the retired grandparents who own this Paris Airbnb are great hosts and have done a stunning job with this classic apartment that is right in the center of the city.
You'll be near the major department stores like Au Printemps and Galerie Lafayette, the Opéra Garnier, the Louvre, the Place de la Concorde, the breathtaking Jardin des Tuileries, the Musée Jacquemart-André, and the Madeline church. While you don't have access to the kitchen (they do serve a lovely breakfast), you're in the culinary capital of the world with a café on every corner, so who really cares? Your hosts are always available for information and recommendations, so be sure to bend their ears for advice!
5. Secrets in the Sanctuary – approx. $1,701 a night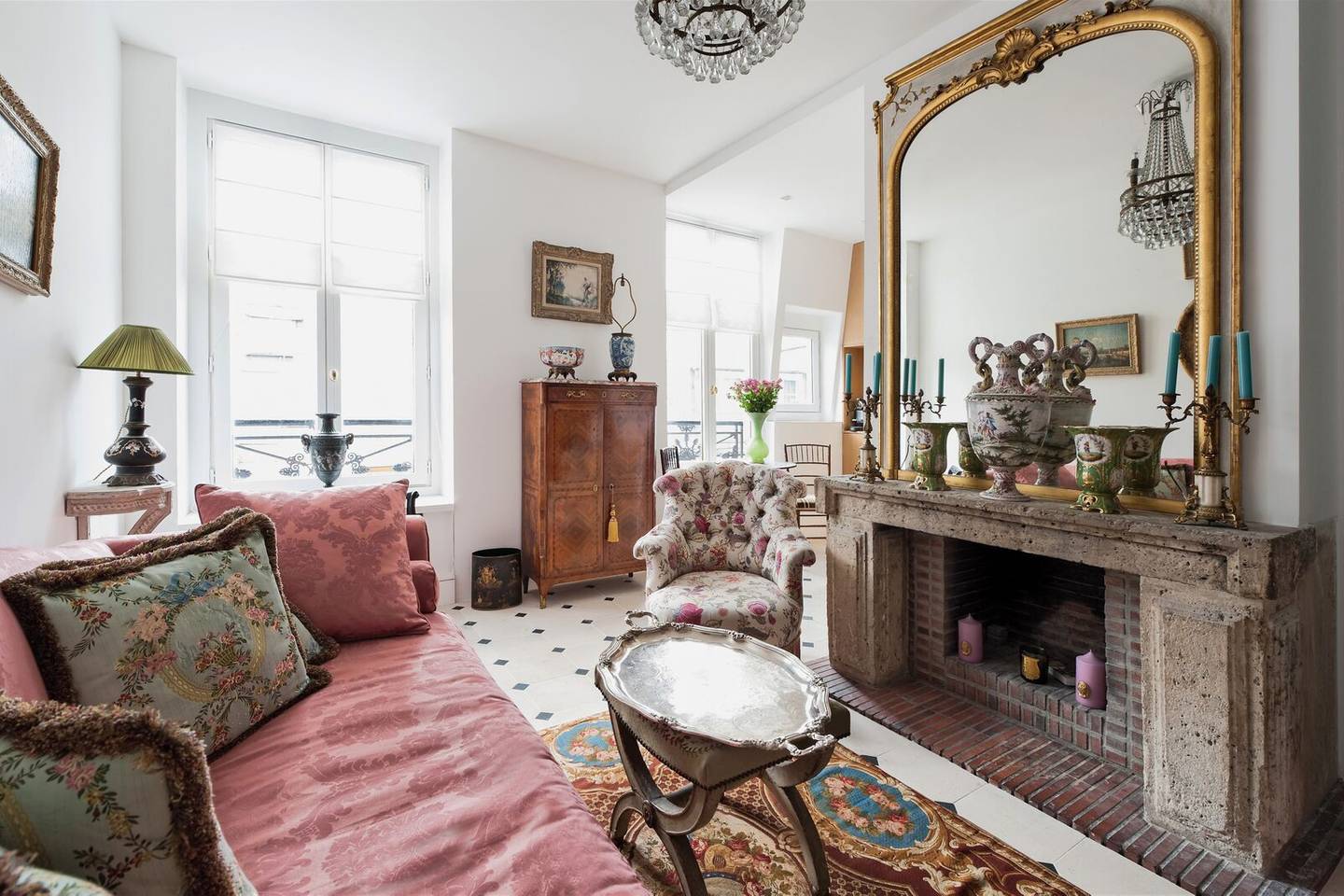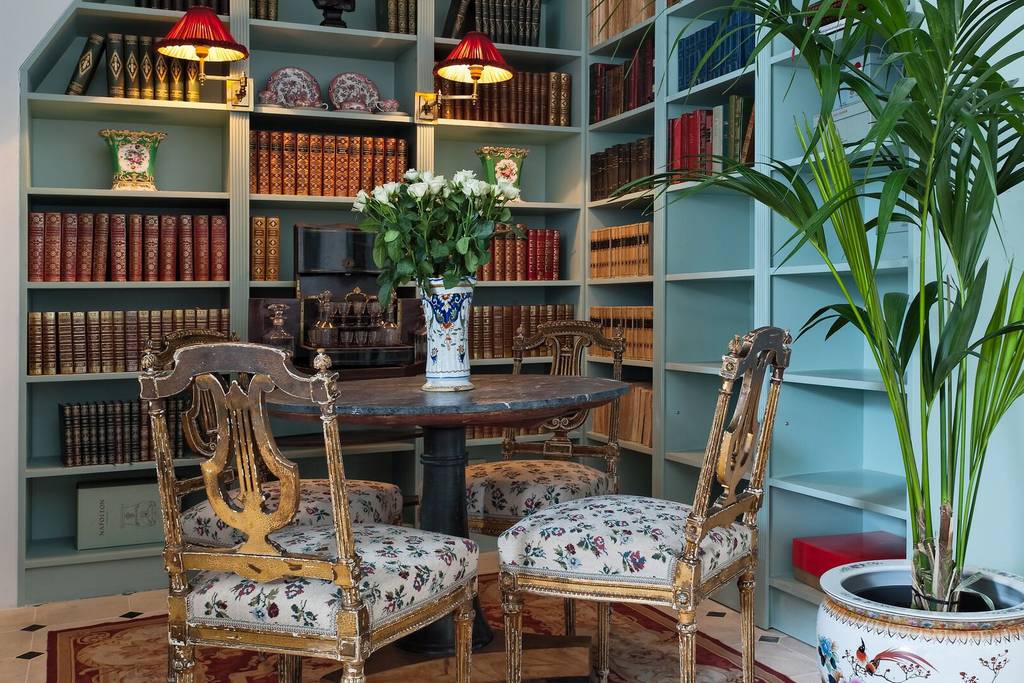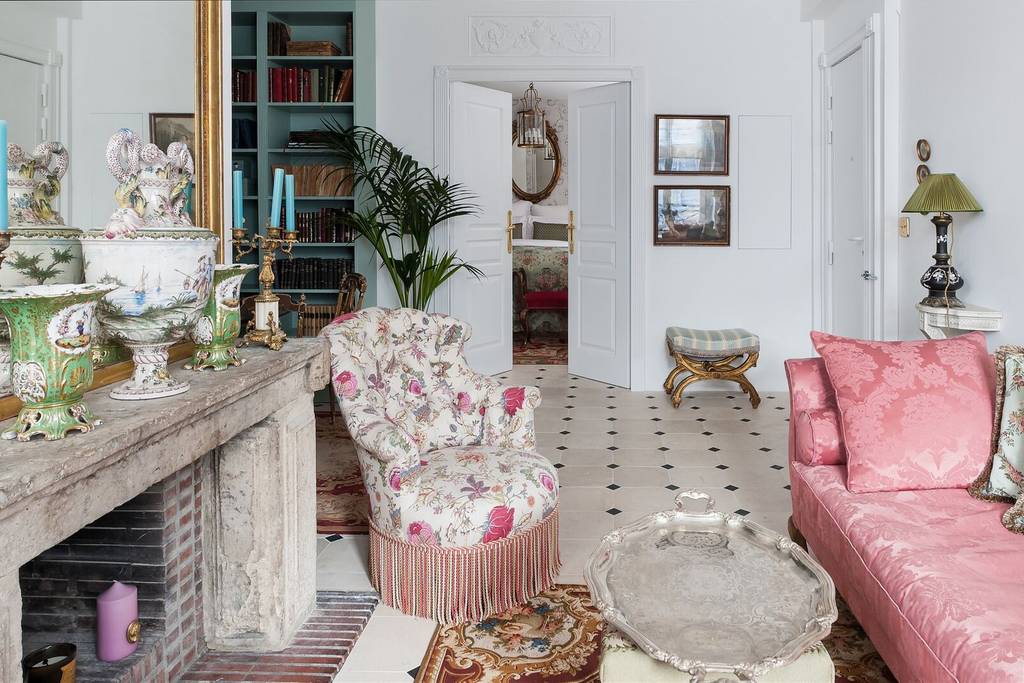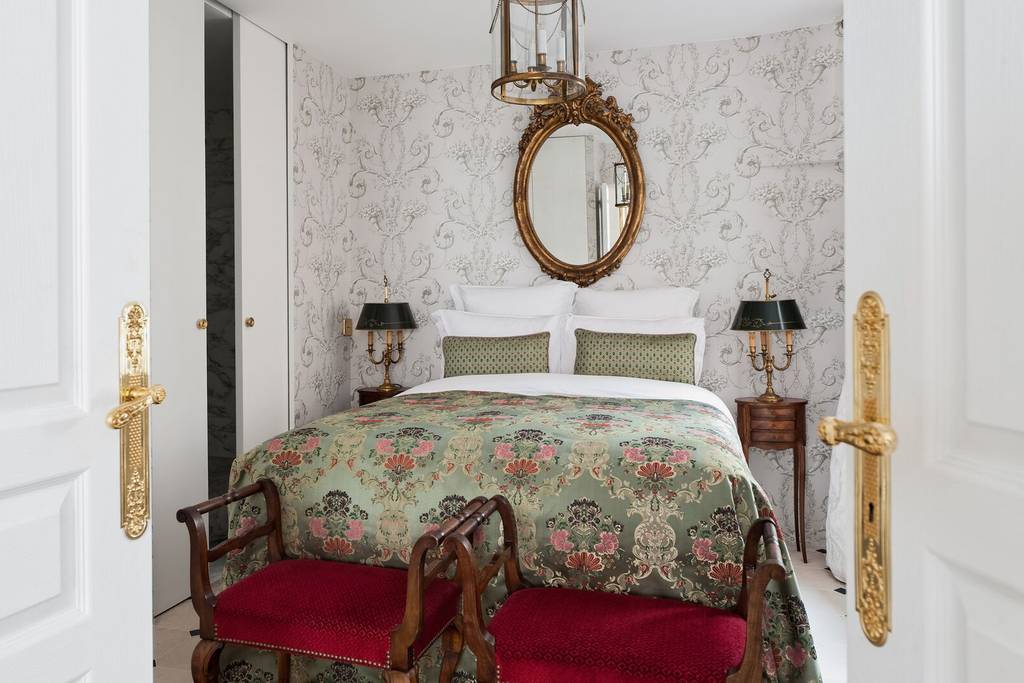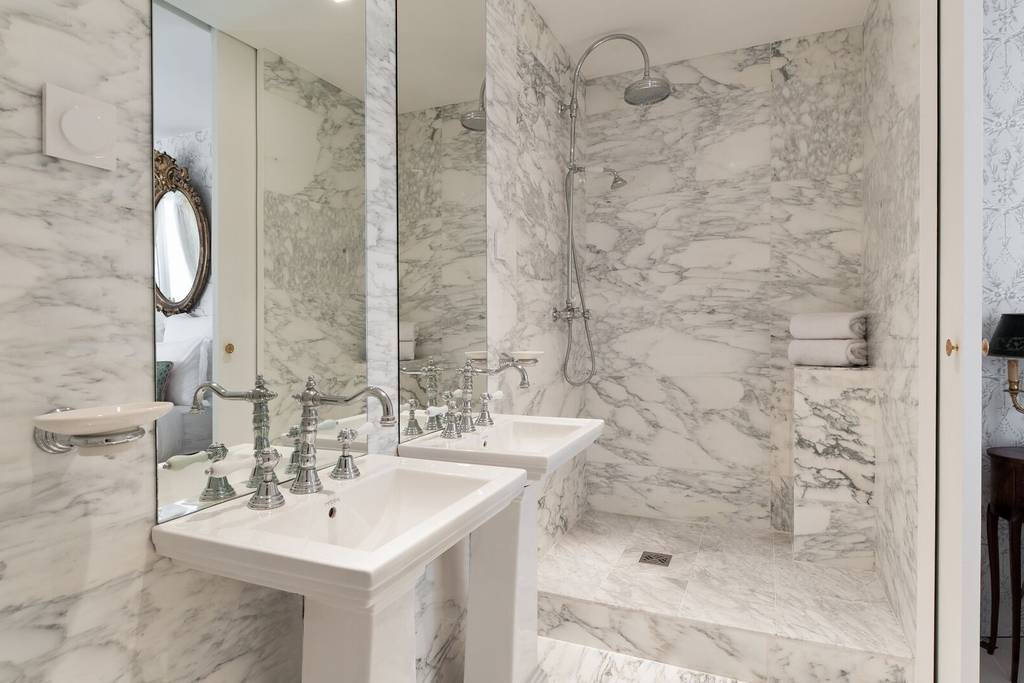 This place is so French, if you told us Napoléon himself lived here, we would have no trouble believing it, especially because there's a big bust of the emperor himself in the library. With a LOT of antiques and period furniture, it's probably not a great choice for a family, but as it only has one bedroom, that probably won't be a problem.
Located on the fourth-floor, this supremely French apartment has a lovely little library area which cleverly acts as a doorway to the bathroom and the laundry area. Speaking of bathrooms, the one here is incredible and made entirely out of carrara marble. Naturally, a Louis the XV cabinet hides the television.
Available for short- or long-term rental, if you stay here for more than 14 days, you'll get a free housekeeping day as well as a change of linen. Situated right in the center of Paris, this is a perfect home base, especially for a first-time visitor to Paris.
5 of the Coolest Airbnb Homes for Parties or Groups in Amsterdam
8 Amazing Paris Airbnb Homes You're Gonna Love
8 Paris Airbnb Homes with Sick Views of the Eiffel Tower
4. Let 'em Eat Cake! – approx. $136 a night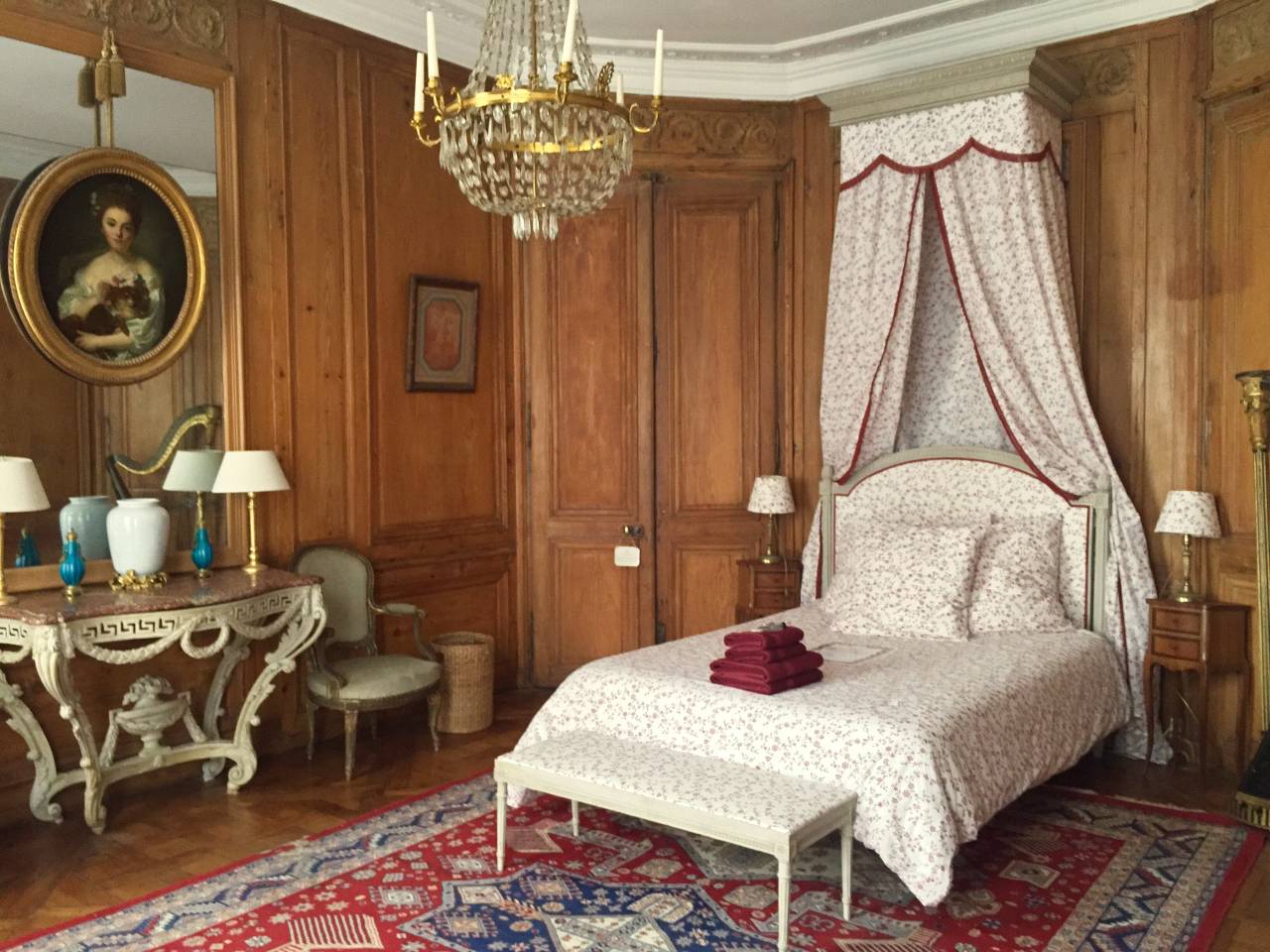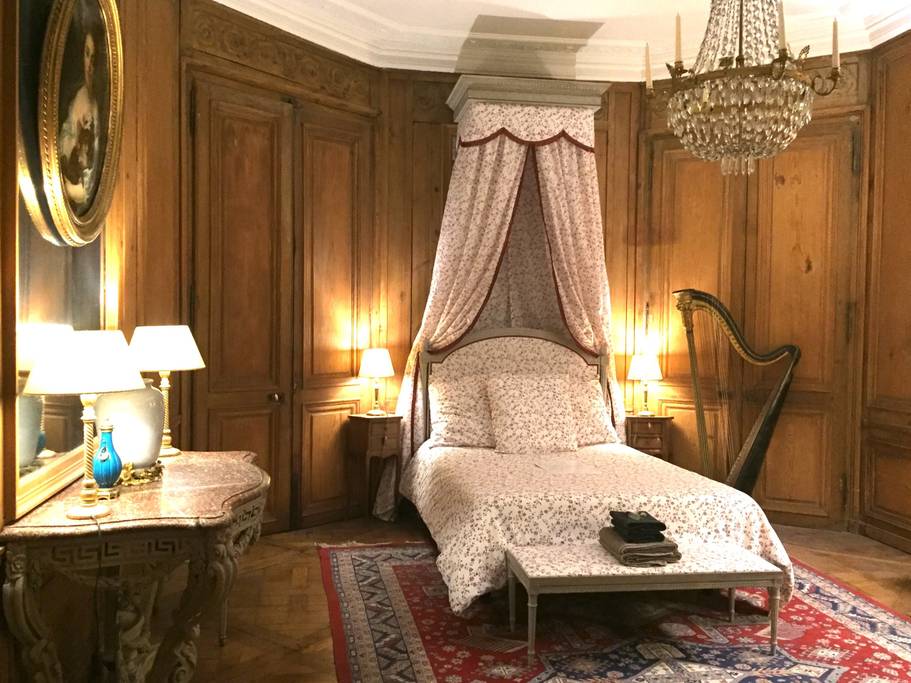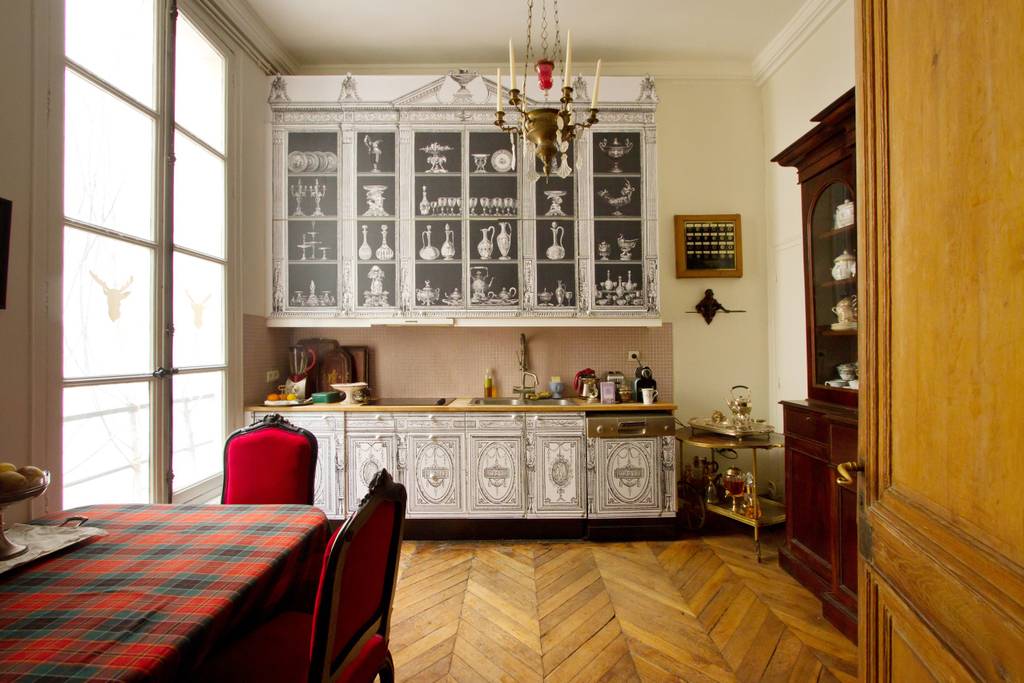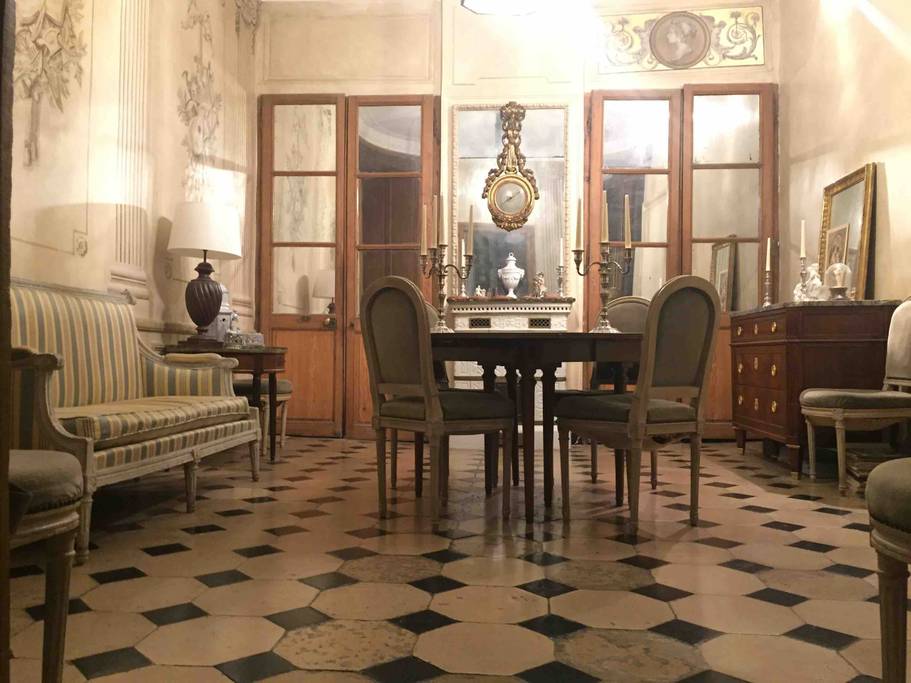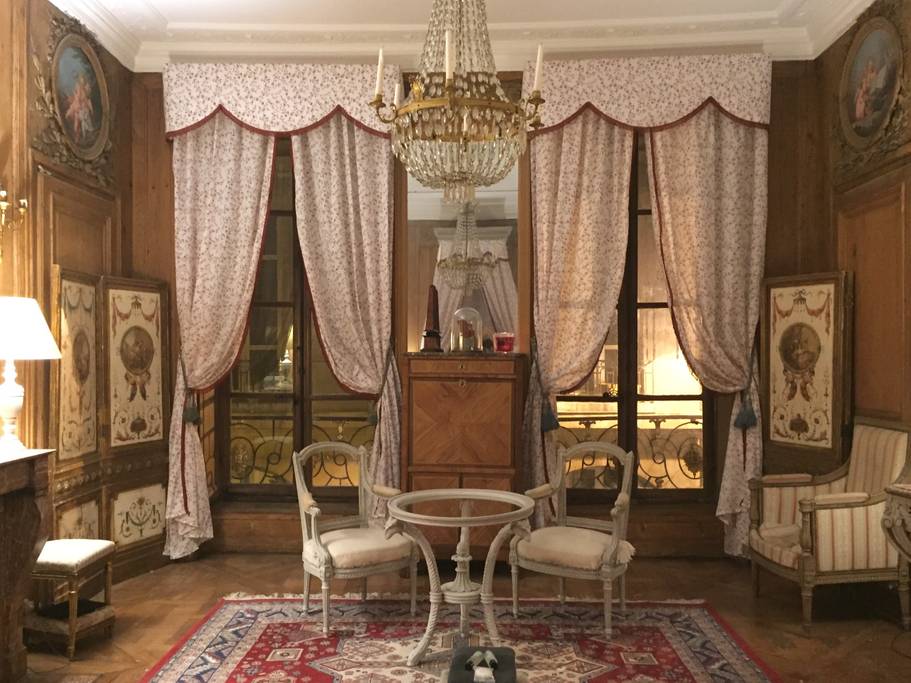 It's hard not to lose your head over a place this amazing! We can't understand why this room is only $136 a night but we're not going to question it. Among the many incredible features of this apartment are Louis XVI woodwork panels, Versailles-style parquet floors, crystal chandeliers, antiques canopy beds, museum quality art and even a little French chat.
One guest even described it as similar to "walking into a Parisian fairytale". You'll be sharing the bathroom and the kitchen, but the host gets super-high marks for congeniality and helpfulness. We can't imagine a night at the Louvre would be any more impressive!
3. Neuilly-sur-Stupendous in Paris – approx. $850 a night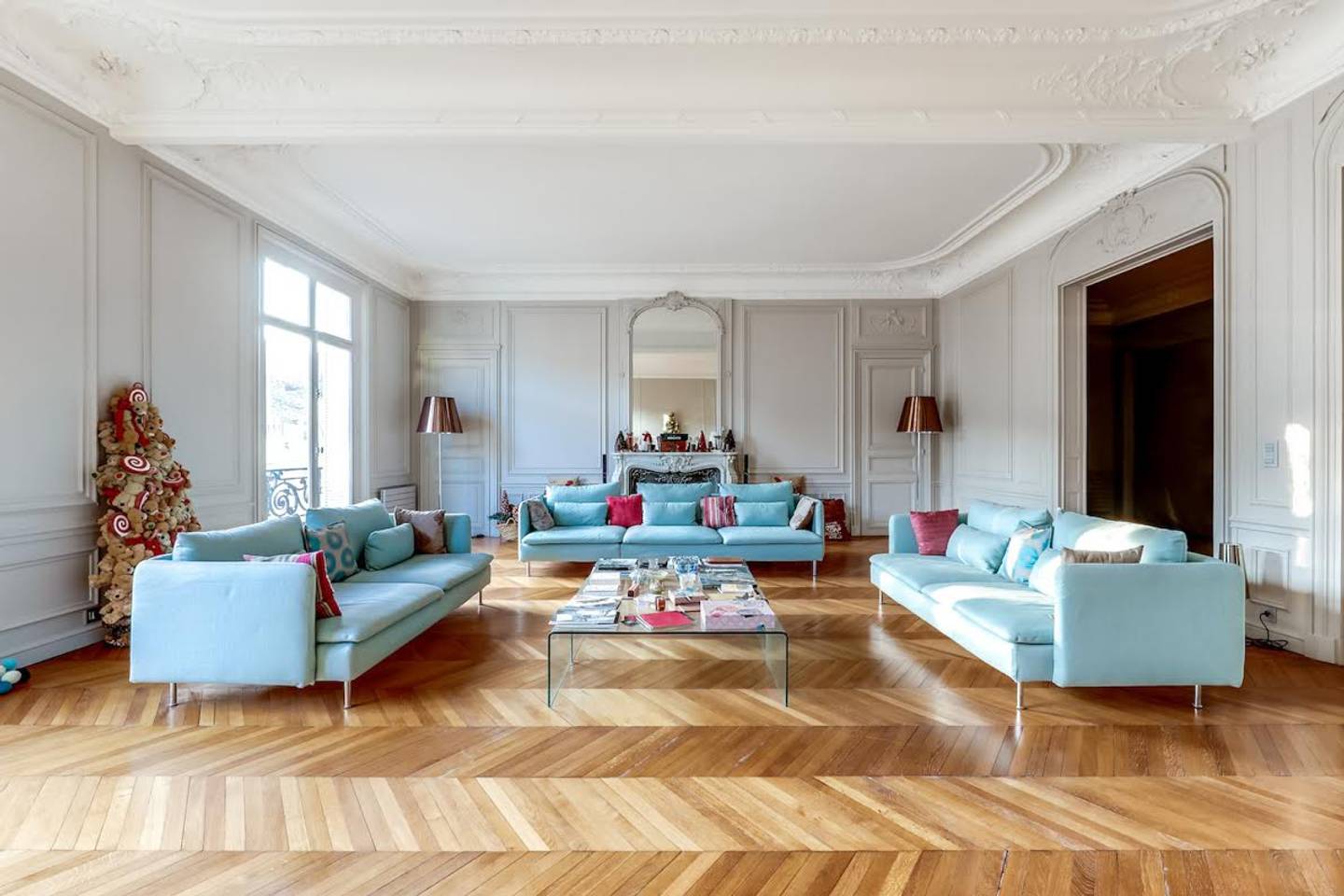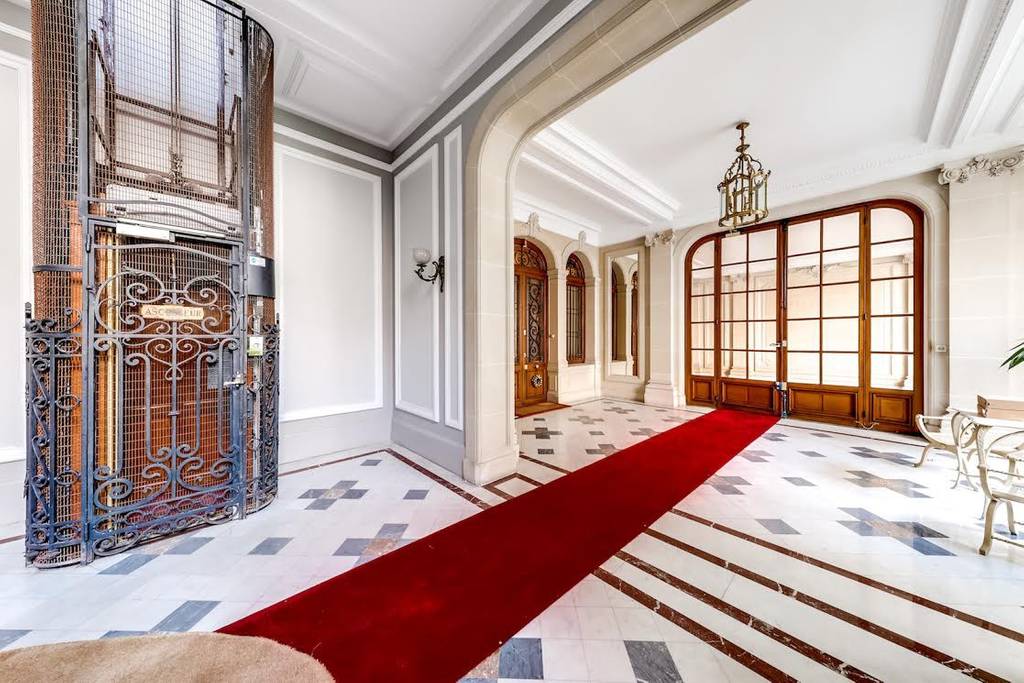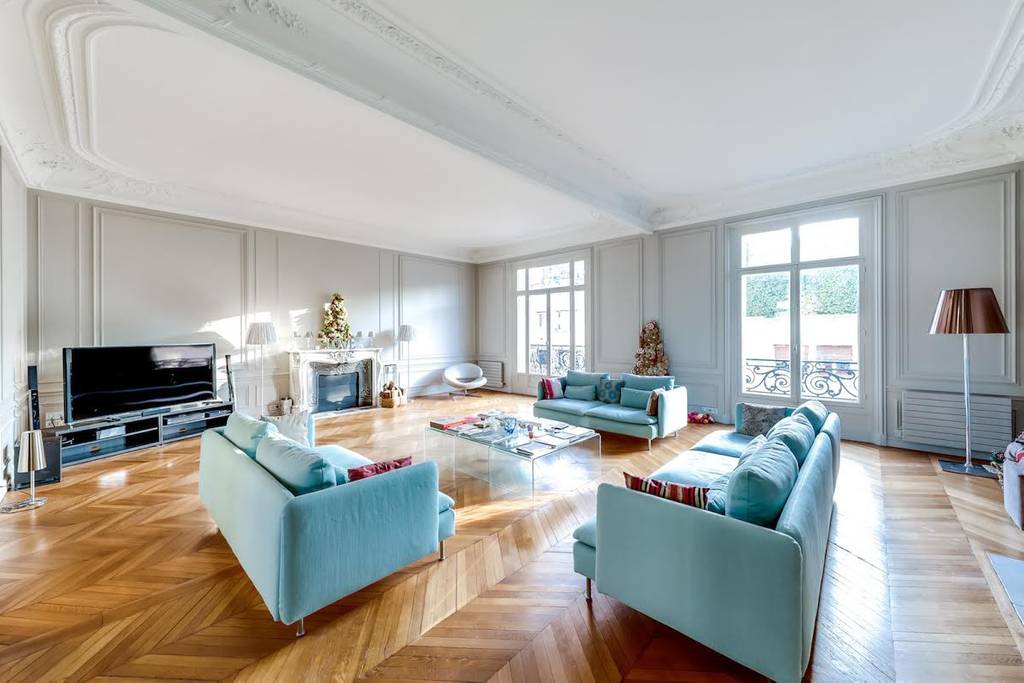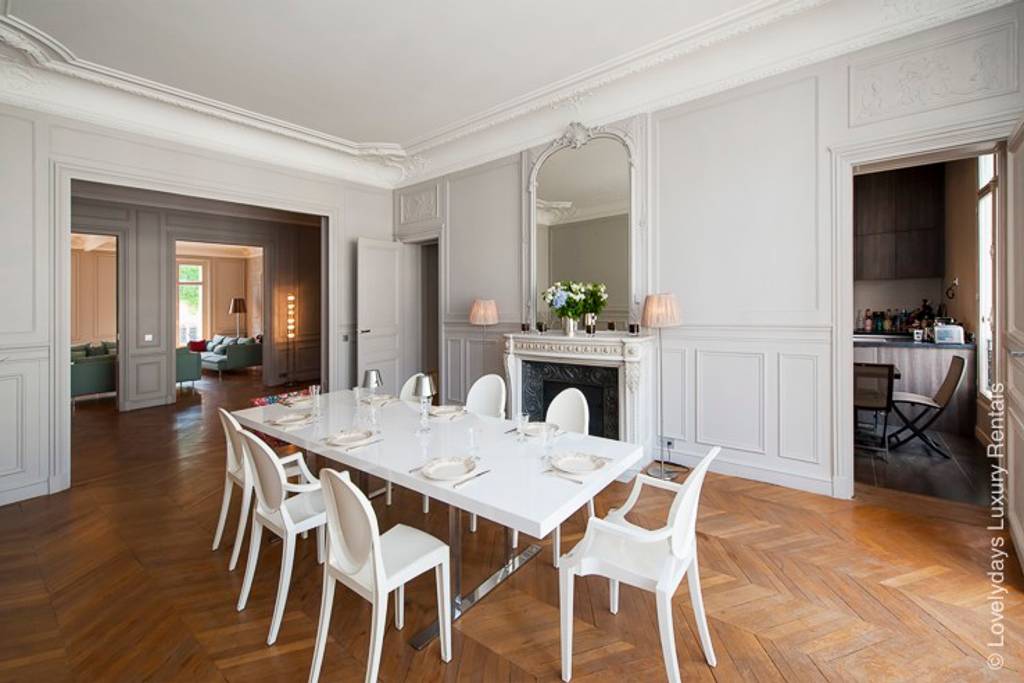 When the apartment you're staying in is big enough to hold a roller derby tournament in, you're really someplace special. This four-bedroom apartment is in the elegant Neuilly-sur-Seine, a lovely suburb of Paris that's just a few metro stops away from the center of the city.
It sleeps up to 12 people, so if you do the math, this could be a great bargain, not to mention a fabulous place to cook a bunch of big, French dinners (And if you're traveling with family, Neuilly can be a much more manageable place to stay as it's mostly residential.) The kitchen has a big American refrigerator, a microwave oven, two regular ovens, and even a wine cellar.
You'll also be close to the new Fondation Louis Vuitton building which hosts art exhibits, concerts, workshops (especially for children), a bookstore, and even a fabulous new restaurant. All in all, this is the perfect place to stay if you want to do things in a big way!
2. Magdebourg Maison – approx. $1,695 a night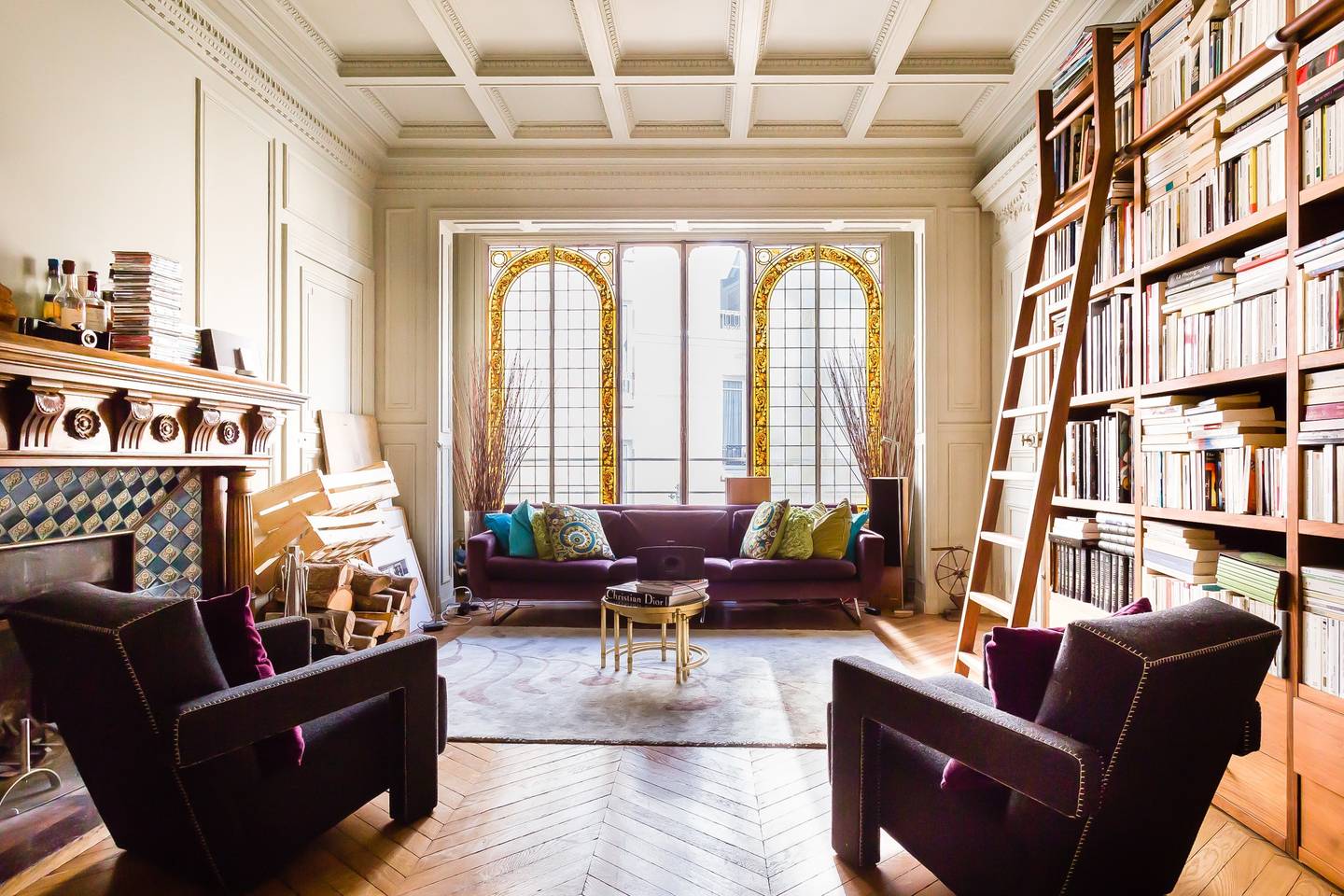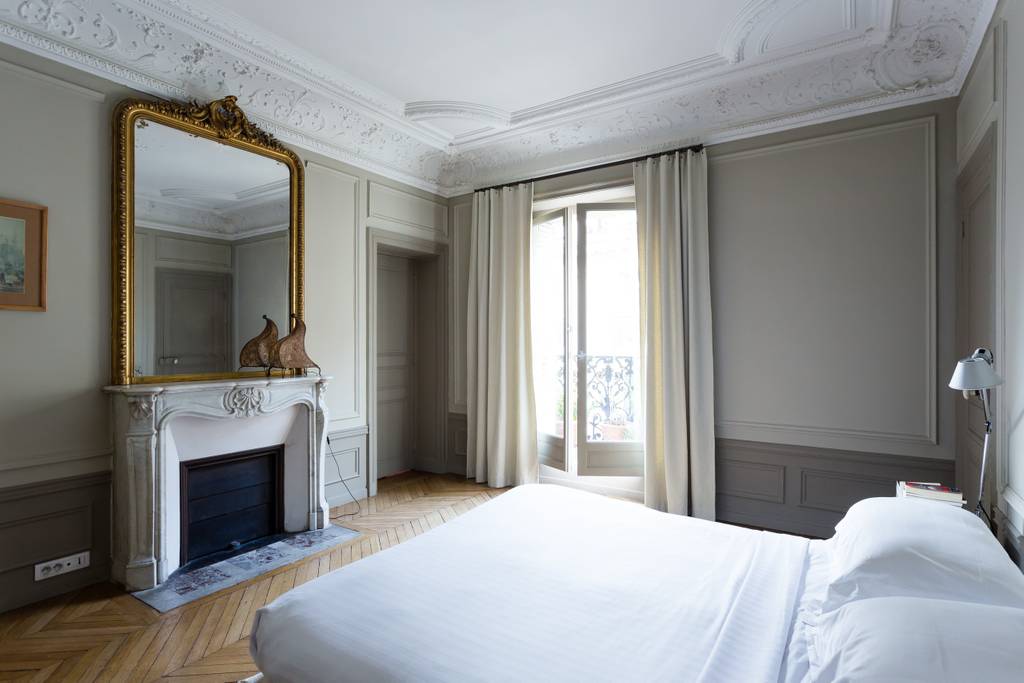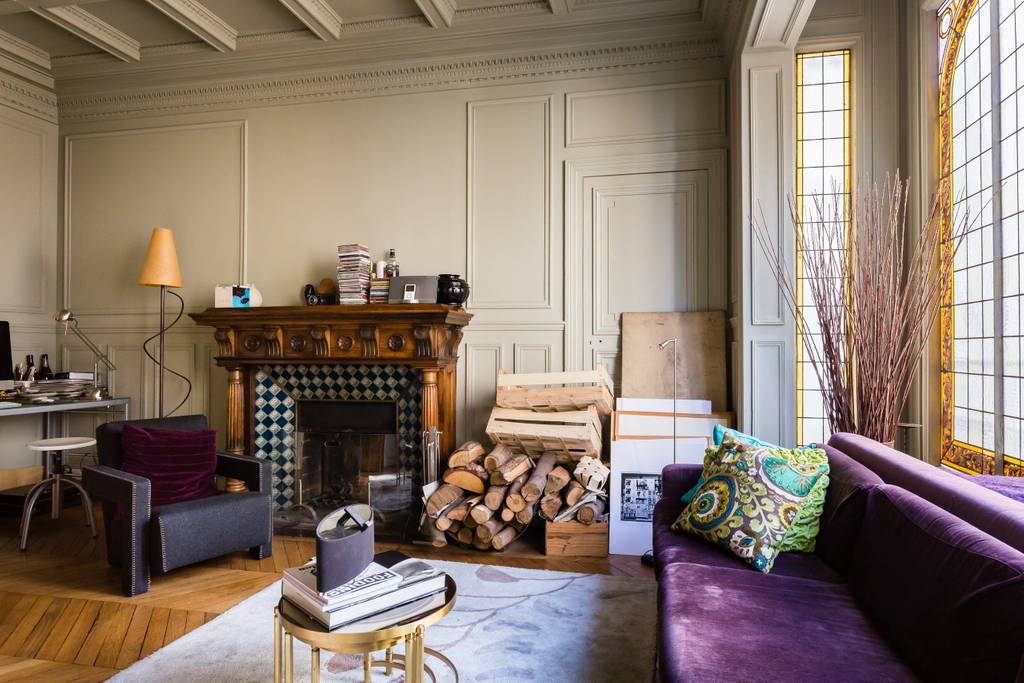 We cannot even image what it must be like get up on that library ladder, take down a great book and curl up on one of those big couches by that stained-glass window. Or how fun it would be to sit and play that Steinway (if we could play, that is). While we know that's not the point of coming to Paris, one can't help but fantasize about things like that in a place like this.
Located on rue de Magdebourg, this old school Paris Airbnb is in a great old school area! Right near the Eiffel Tower, the Place de Trocadéro, the Palais de Tokyo, the Aquarium de Paris, the extraordinary Art Nouveau buildings, 29 ave Rapp and 33 rue du Champs de Mars, this Haussmanian apartment will put you within close proximity to so many iconic Paris attractions.
Complete with original mouldings, parquet floors, high ceilings and gilded mirrors, this Airbnb will make you feel as if you've been a Parisian for years.
1. Sulpice Splendor on Airbnb – approx. $1,362 a night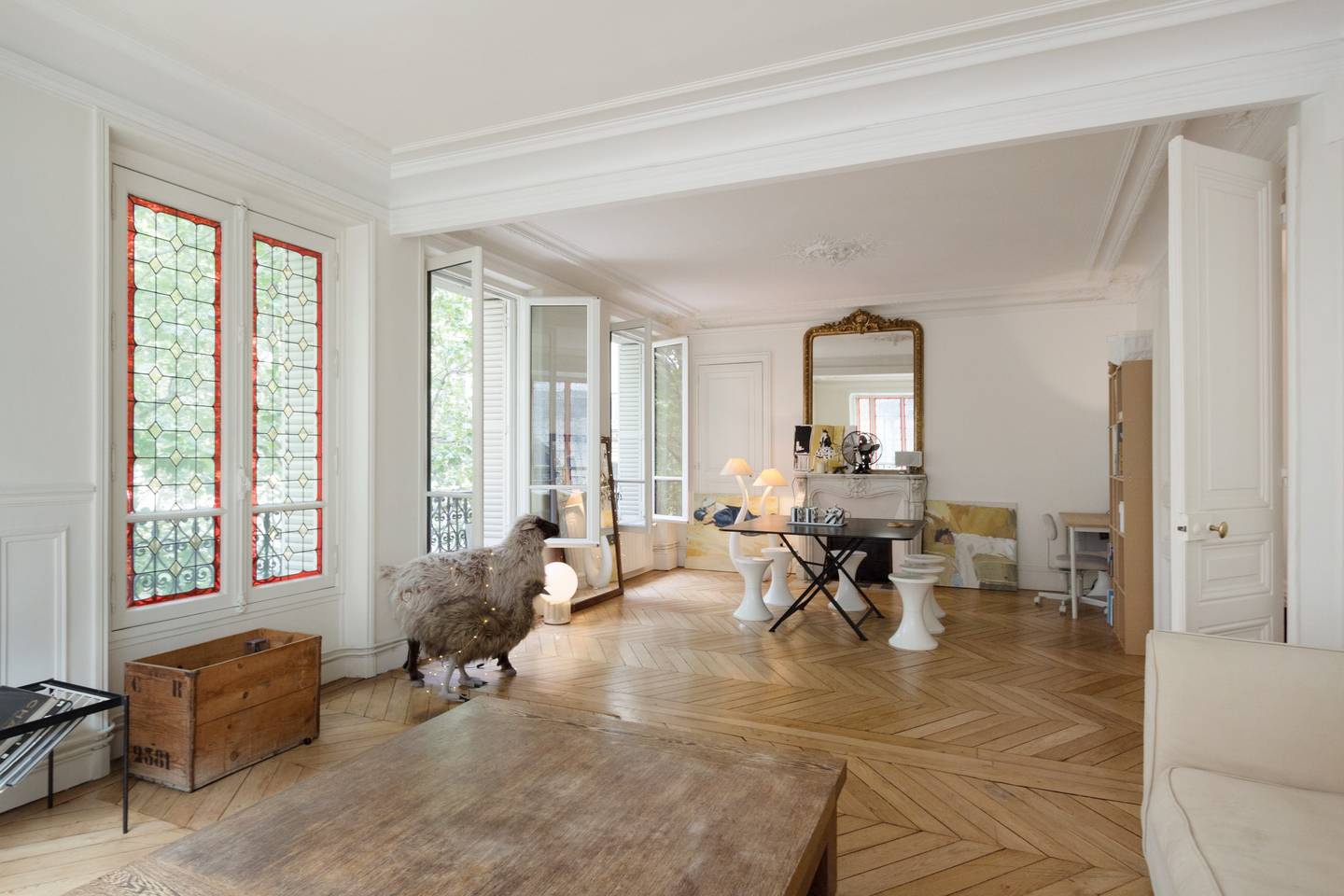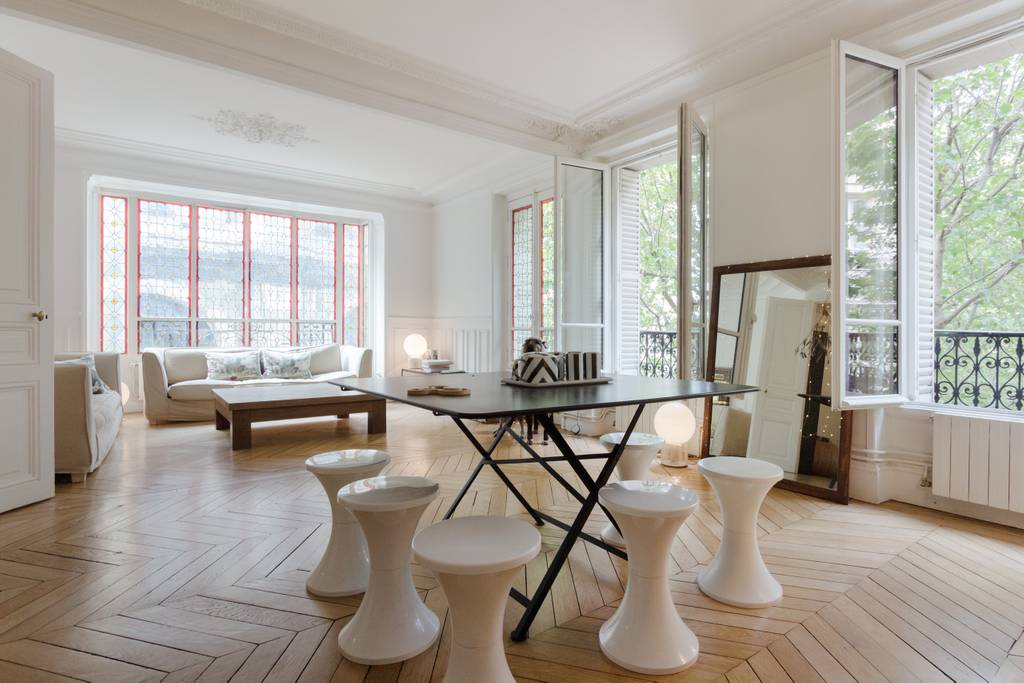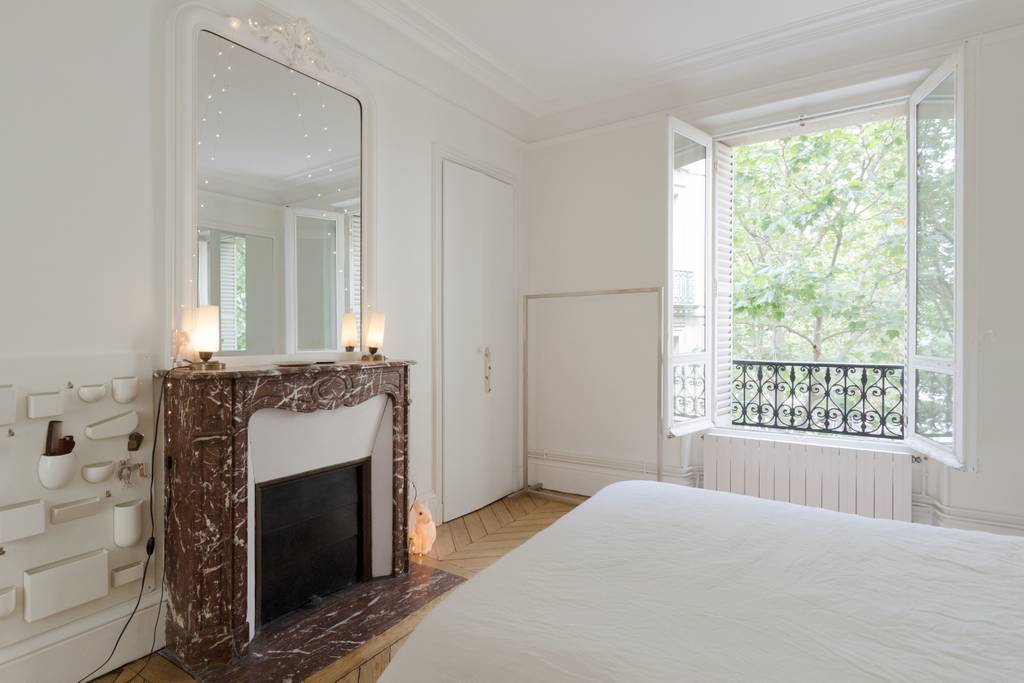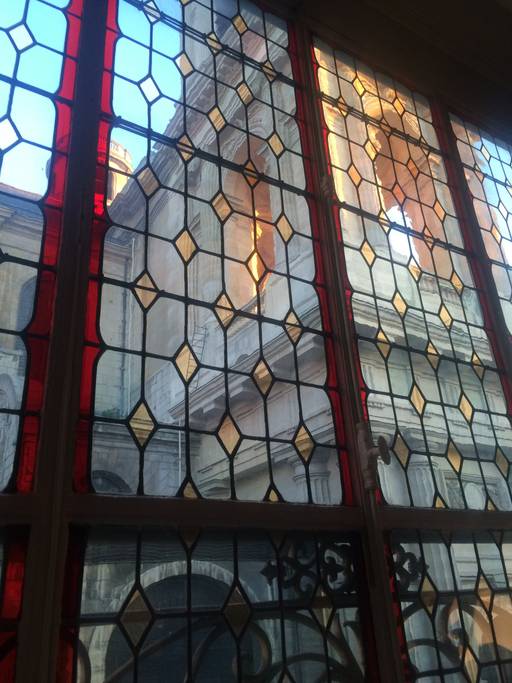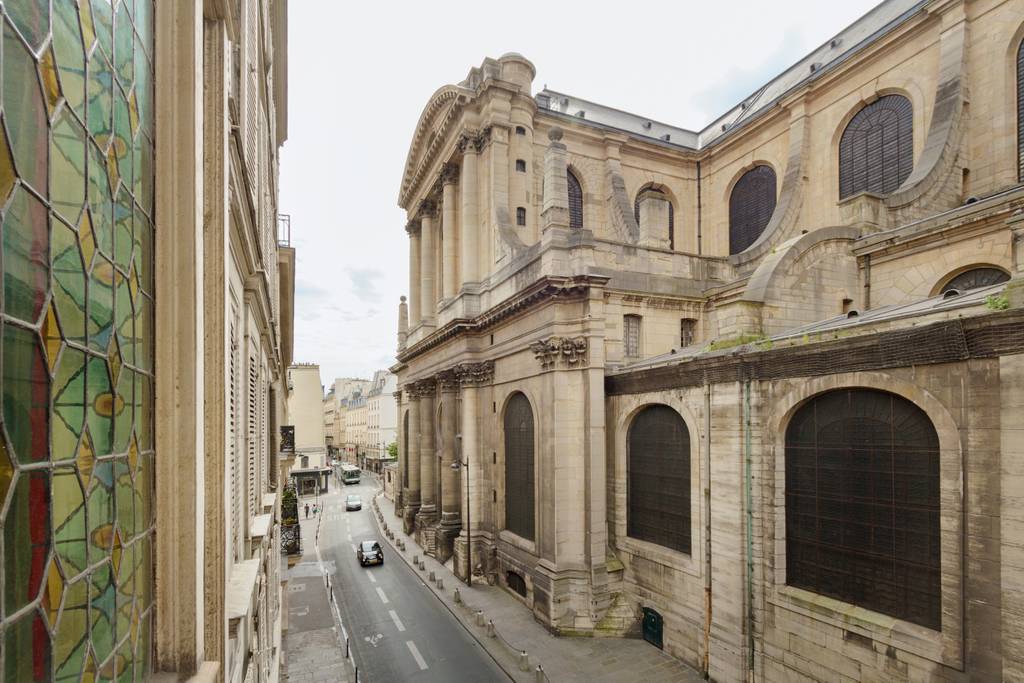 If you've ever had fantasies of living the way Hemingway, Sartre, de Bouvoir, and Picasso lived, now's your chance. Situated within walking distance of the Jardin du Luxembourg, Café Flore, Café Deux Magots, Brasserie Lipp, the Latin Quarter (and if you're a Hemingway fan you MUST visit see rue Mouffetard where Hemingway lived briefly), the Sorbonne (where the wall murals are not to be believed), the Panthéon which has one of the most beautiful views in the city), the incredibly moving Musée Rodin, and the Musée du Luxembourg.
If you need anything while you're in Paris, your hosts can arrange anything from cooking lessons to athletic coaching. Hemingway never had it so good!