Looking at all the activity, stores, restaurants, art galleries, and general vibrancy in the Marais district of Paris, it's almost impossible to believe that for a while after the French Revolution, this was actually the bad part of town. Literally translated as "The Marsh," it is one of the most historic districts in Paris having been a favorite of the aristocracy from the 13th century, this area, which includes parts of both the 3rd and 4th arrondissements, experienced a resurgence of popularity in the late 20th century and is still considered one of the hippest areas of the city.
Perfect for both families and singles, this area is chock full of art galleries, boutiques, cafes, bars, wine shops, endless restaurants, museums, and endless architectural wonders. Even if you stayed in the Marais for your entire Paris vacation you'd leave feeling completely fulfilled.
8 Paris Airbnb Homes with Sick Views of the Eiffel Tower
The 8 Most Romantic Airbnb Homes in Paris
These 8 Gorgeous French Châteaux Are Available on Airbnb
8 French Airbnb Homes That Are Legit Castles
8 Classic Paris Airbnb Homes That Will Make You Feel Like a True Parisian
8. A Place des Vosges Airbnb – approx. $1,133 a night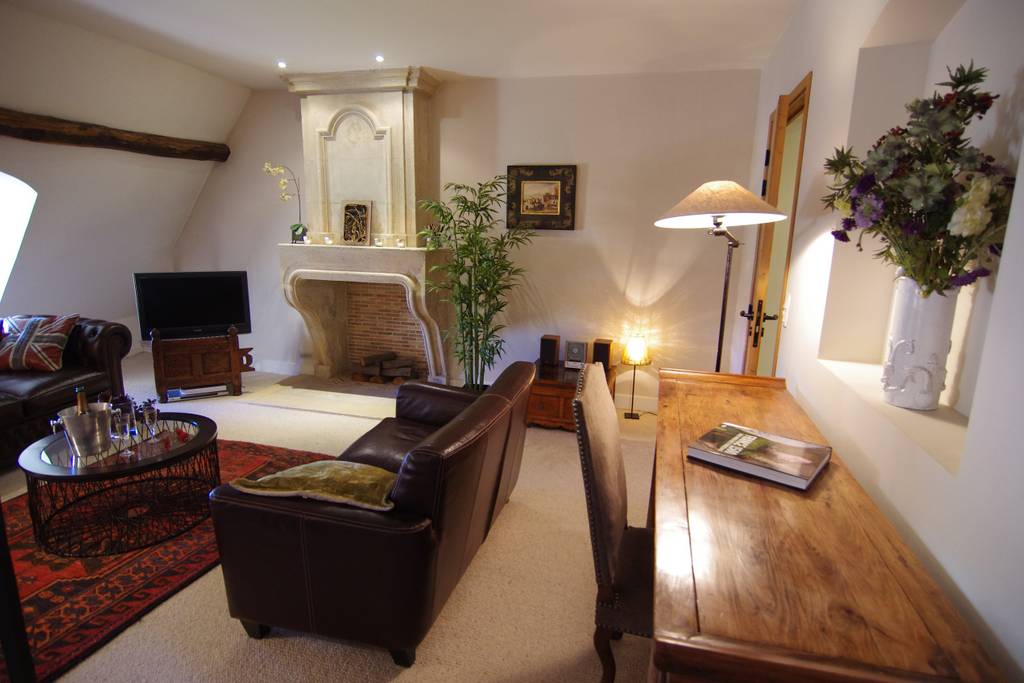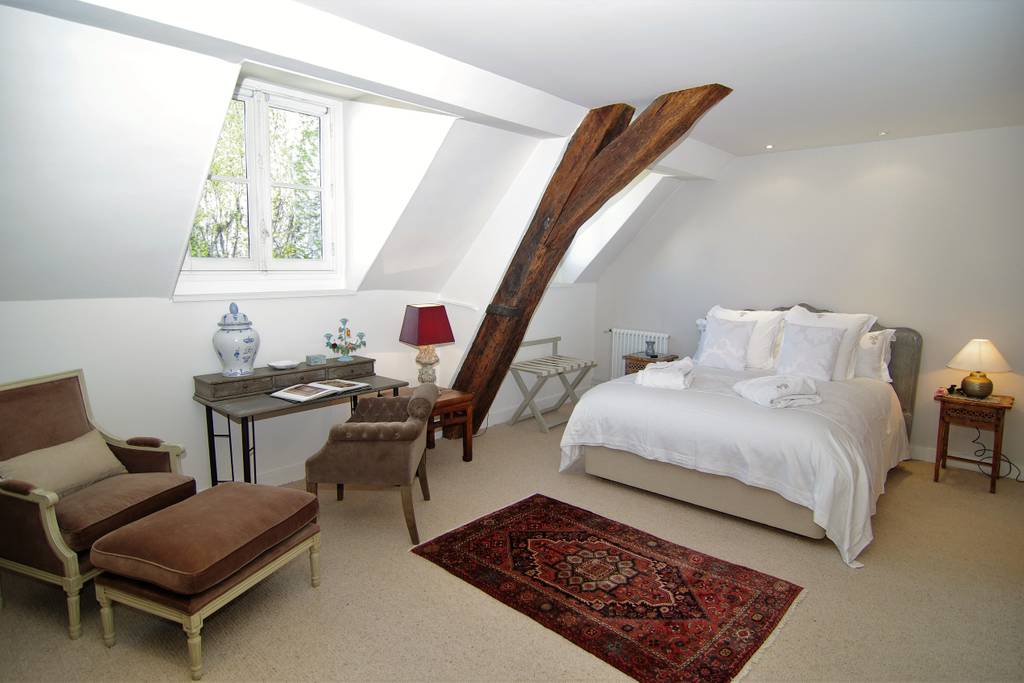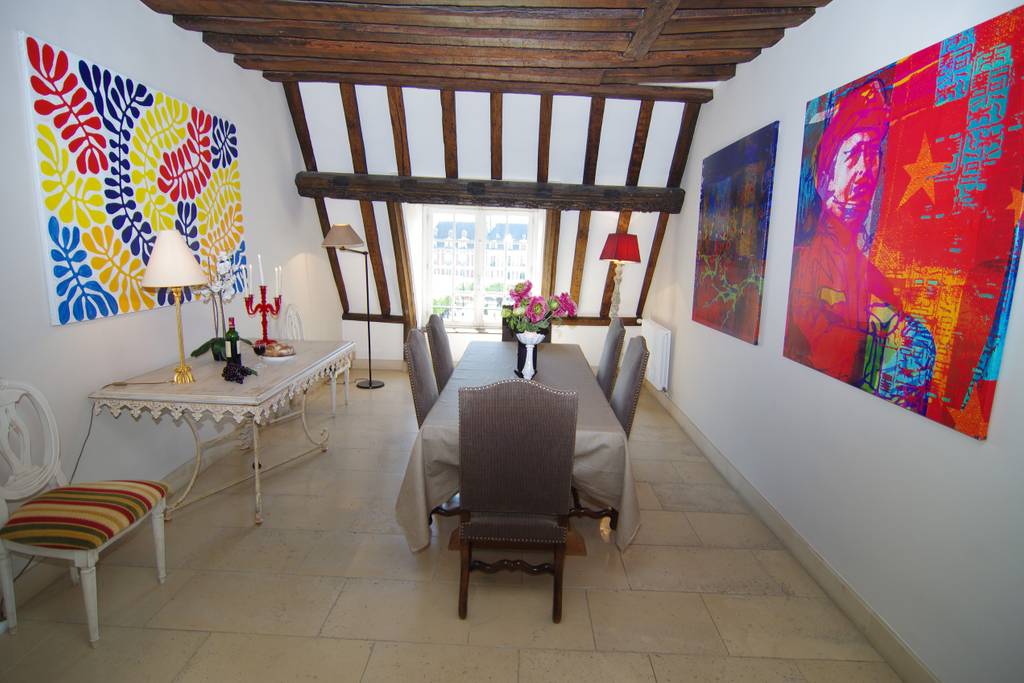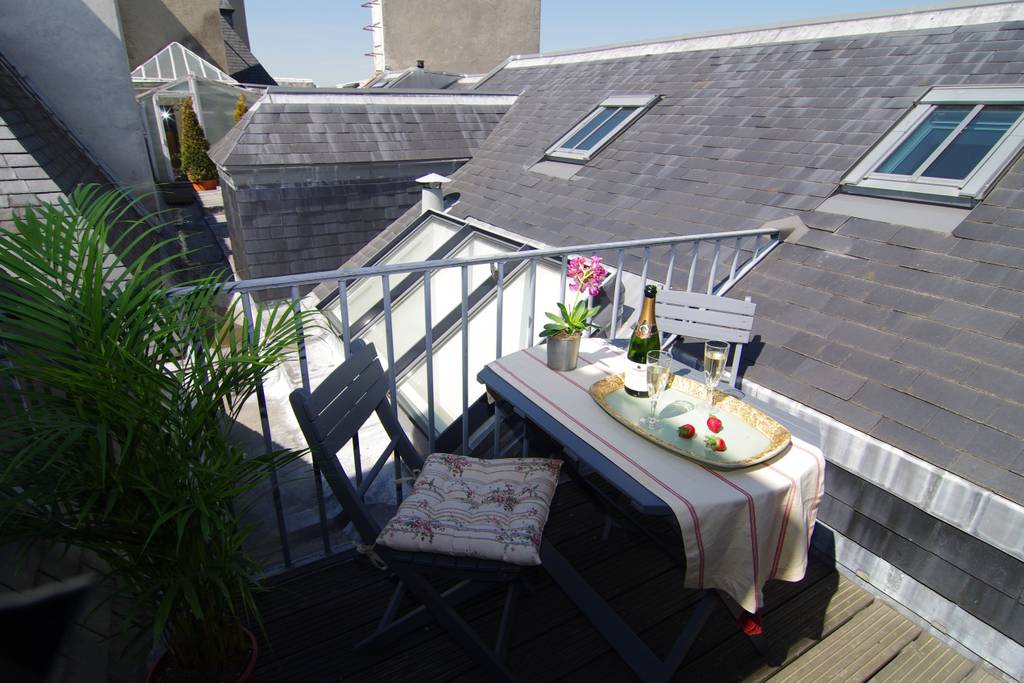 Anyone who has ever had the great luck to walk through Place des Vosges, the Marais' main square and unofficial symbol, has looked up at those stunning 17th-century apartments and wondered what they look like from the inside. Well, not only can you stop wondering, you can actually experience what it's like to live in one! This glorious, three-bedroom, Marais district apartment which sleeps ten would be incredible if it had nothing but an air mattress on the floor, but as it's tastefully and warmly decorated in a somewhat English style.
Within walking distance of the both the St Paul and Bastille Metro lines, this extraordinary duplex will have you pretty much anywhere in Paris within twenty minutes. For instance, see the newly renovated Musée National de Picasso, the Musée Carnavalet (although plan carefully as this was under renovation not long ago!), Pére Lachaise, a cemetery that is home to some of the biggest French names in history, Nôtre Dame, and the controversial Centre Pompidou. And by the way, you'll also be living in the same apartment complex as Victor Hugo, author of Les Misérables, so if you suddenly feel the need to start a revolution, that might be why.
7. Van Gogh Retreat – approx. $375 a night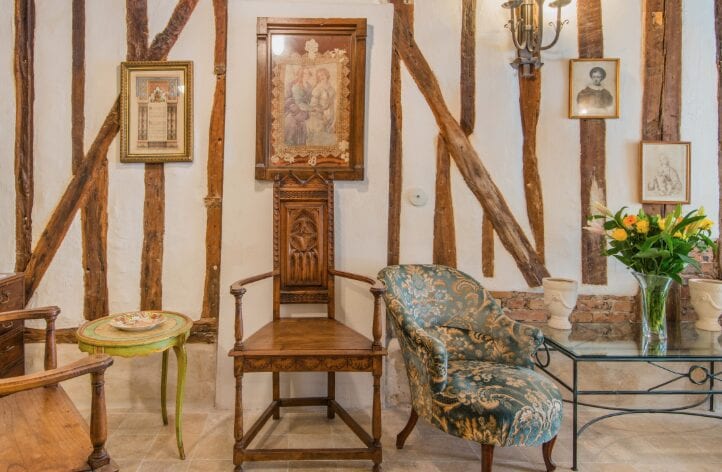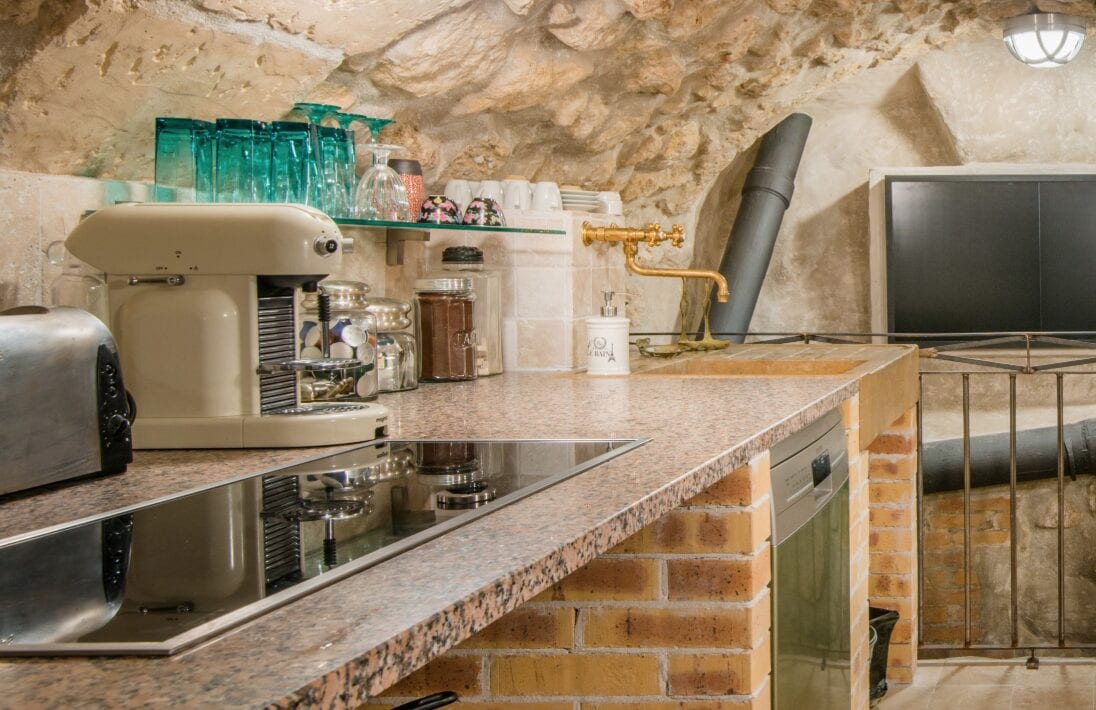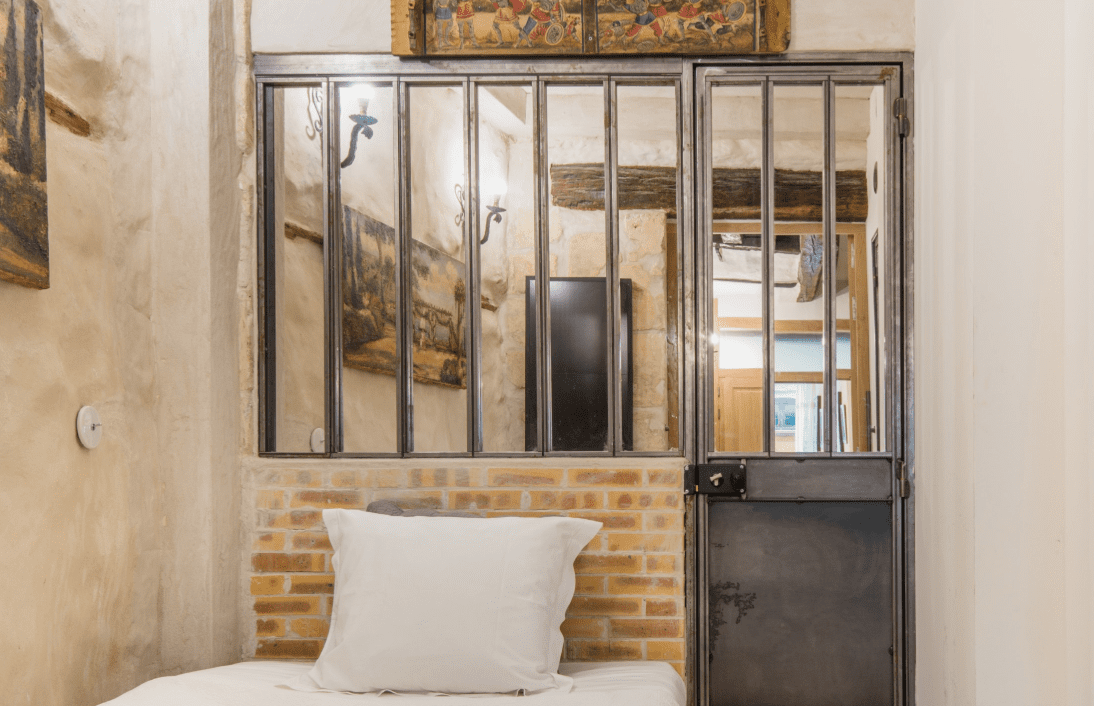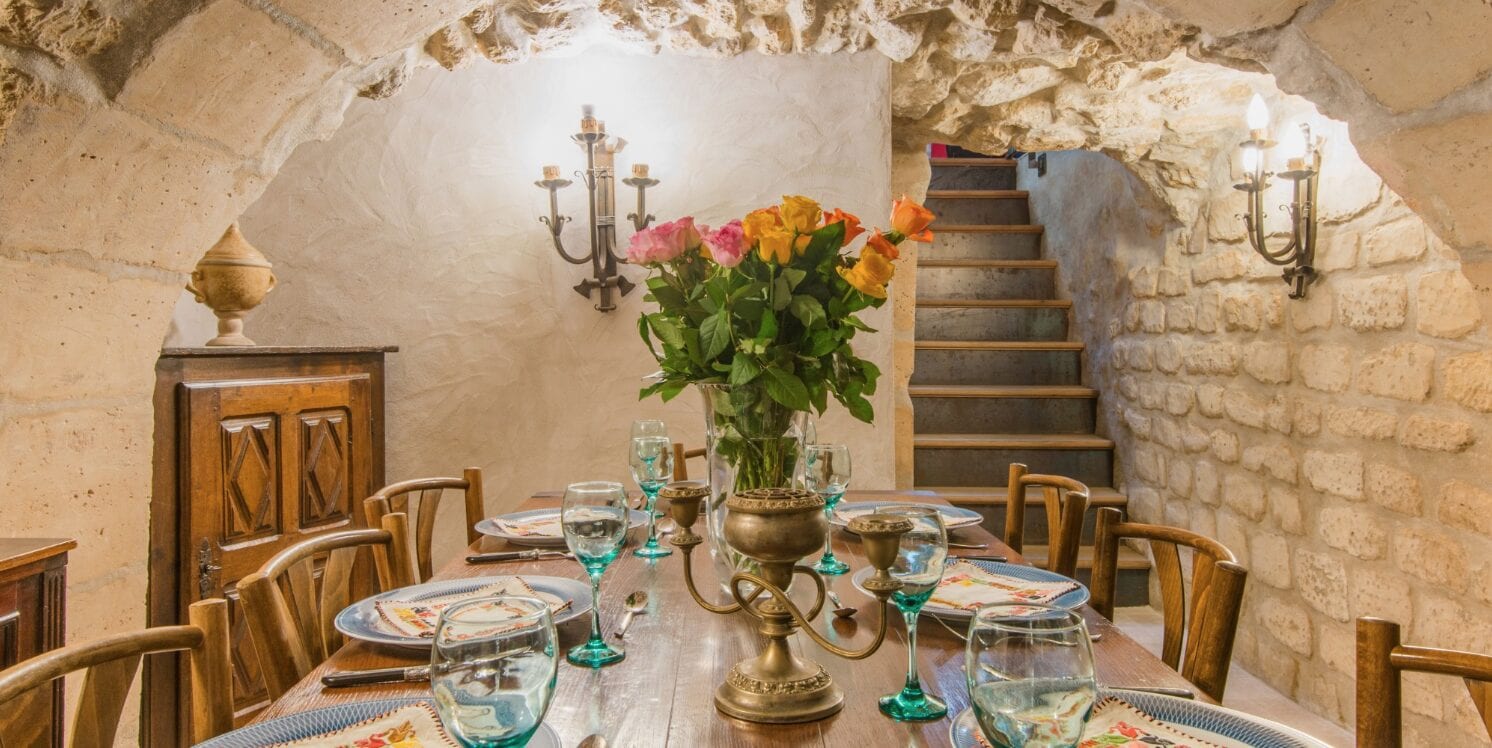 Like something from a Van Gogh painting, this classic wood and stone apartment is so perfect it almost looks fake. Sleeping eight within its four bedrooms and six beds, this is the perfect place to stay with a small group of friends (and if you don't have any now, you will when you show them where you're staying). And can we just talk about that dining room with the barrel-vaulted ceilings?
This medieval pad is right in the heart of the third arrondissement, making it a perfect base from which to visit just about anything including the Palais Royal, both for shopping and watching the world go by, the rue Faubourg St-Honoré, world-famous café Bofinger, the Musée des Arts et Métiers, and of course, Nôtre Dame. And if you happen to get inspired and feel the need to paint, Magasin Sennelier, a world-famous art supply store where you can spend hours, although you will have to cross to the Left Bank to get there. Just be sure to thank us when you have your own exhibit at the Louvre.
6. Anthro-tunity – approx. $782 a night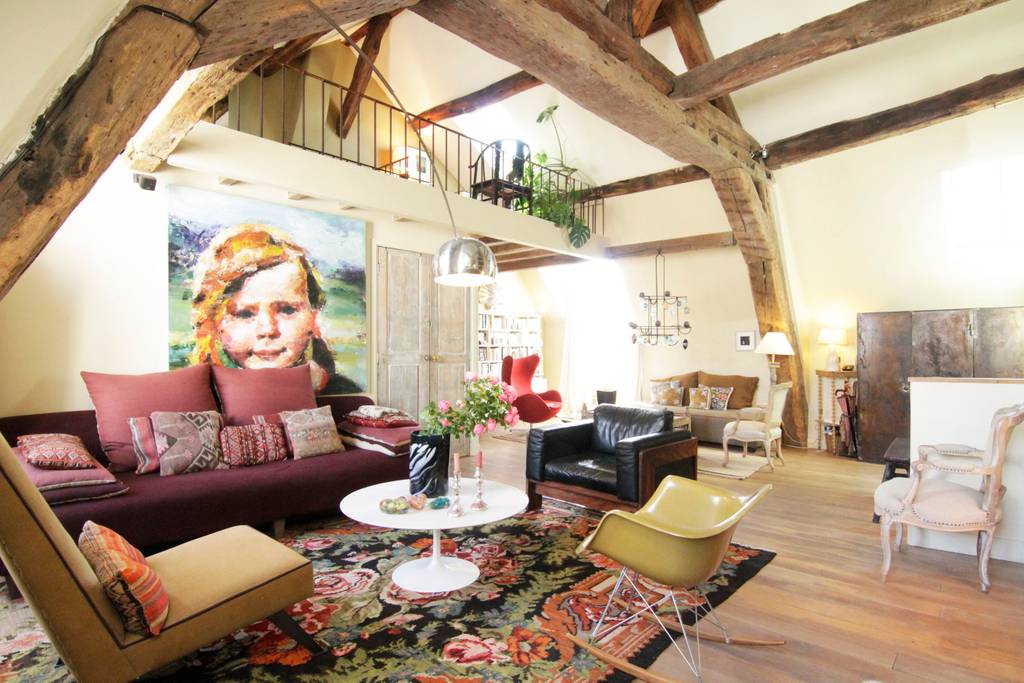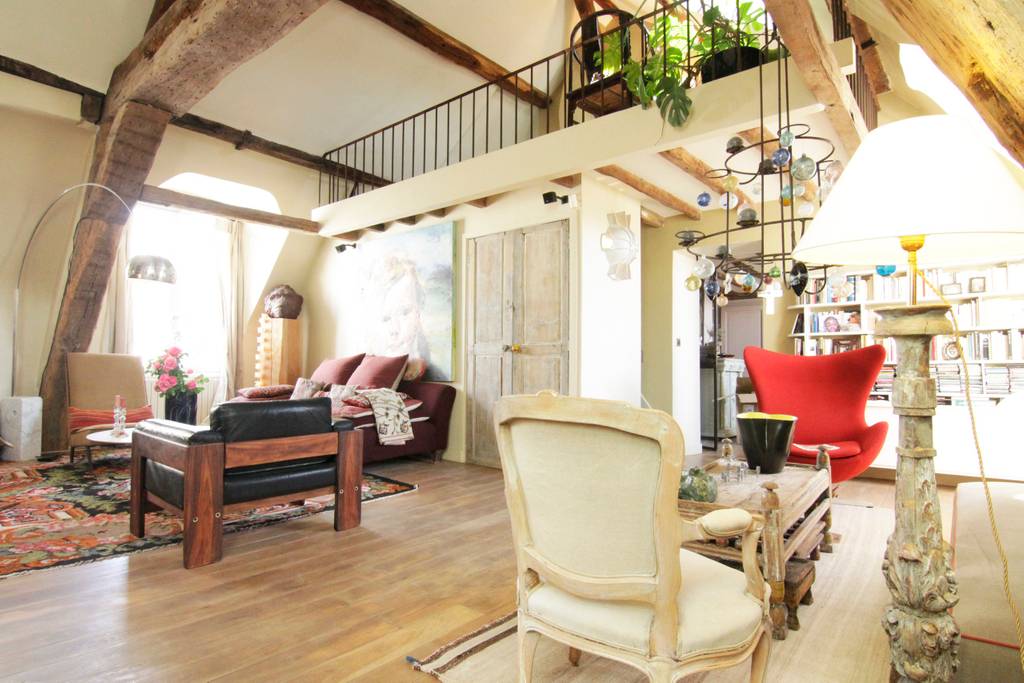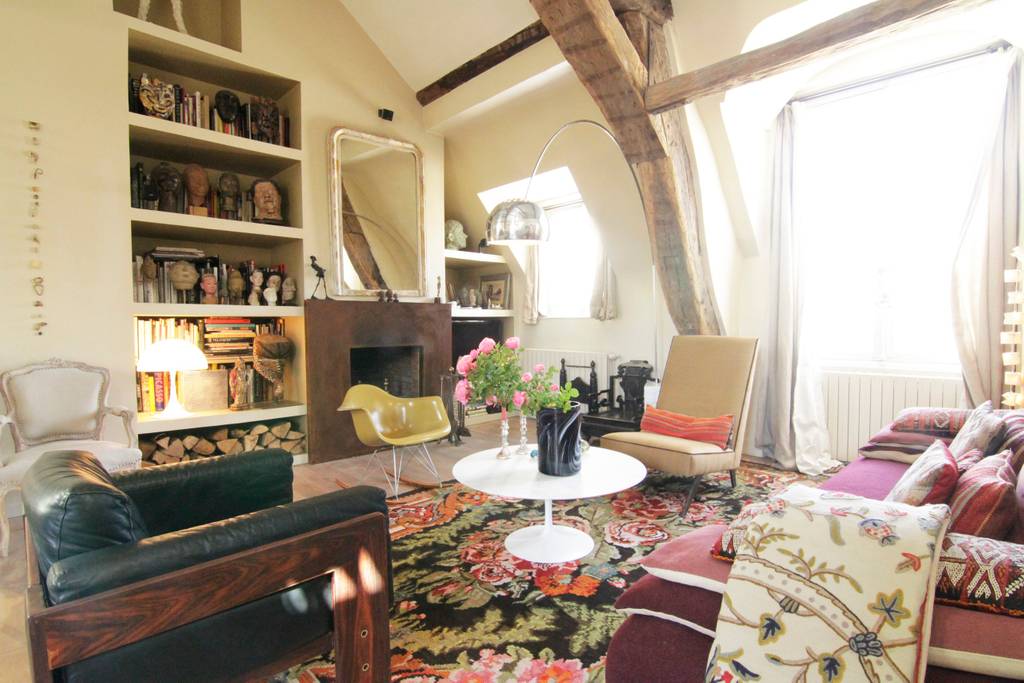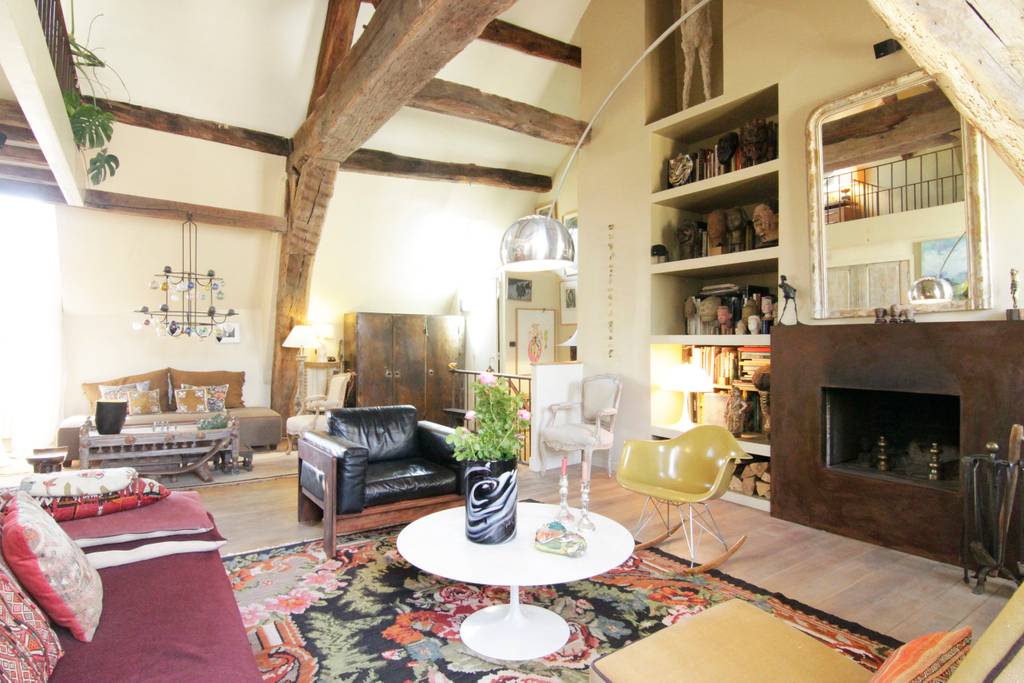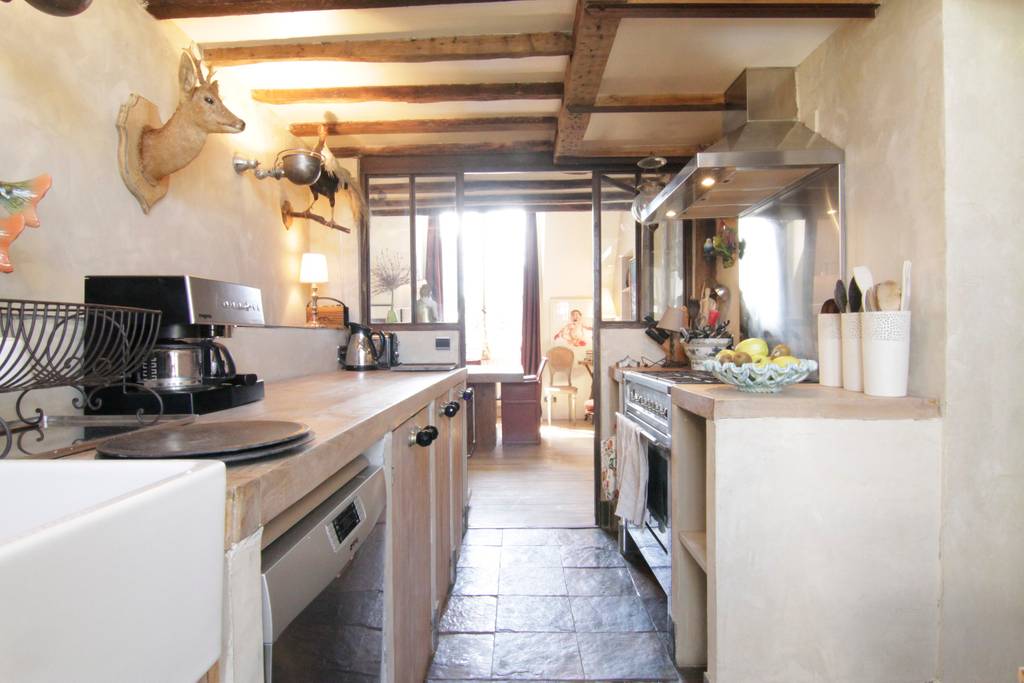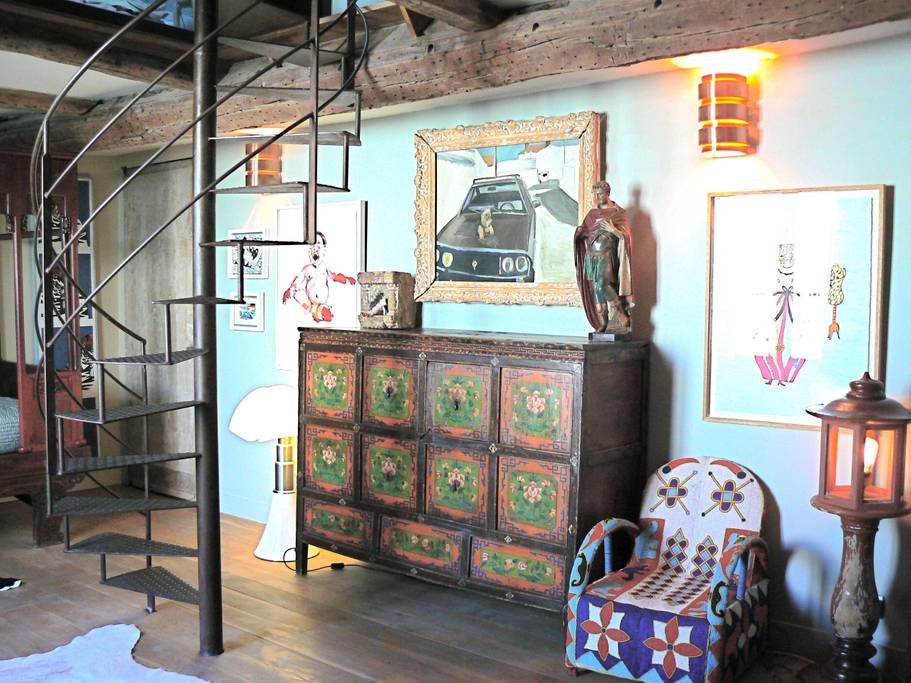 It's a little Anthropologie, a little French country, a little industrial chic and a whole lot of you've-got-to-be-kidding. This truly remarkable, wonderfully eccentric apartment is the home of an artist and you can really see the creative vibe here. Located right on the Place des Vosges, this five-bedroom, two-bath apartment exemplifies everything for which the neighborhood is famous: creativity, fun, history, and elegance.
Although it dates from the 17th century, this Paris apartment has plenty of modern amenities including wifi, cable TV, and even air conditioning, something that many places here still lack. It also happens to be a great place for families as there are plenty of things to keep them occupied and safe like children's books, toys, dinnerware, a crib and even fireplace guards. There aren't many apartments on Airbnb that are literally right on the Place des Vosges so this truly is a once-in-a-lifetime opportunity.
5. Marie's Marais – approx. $397 a night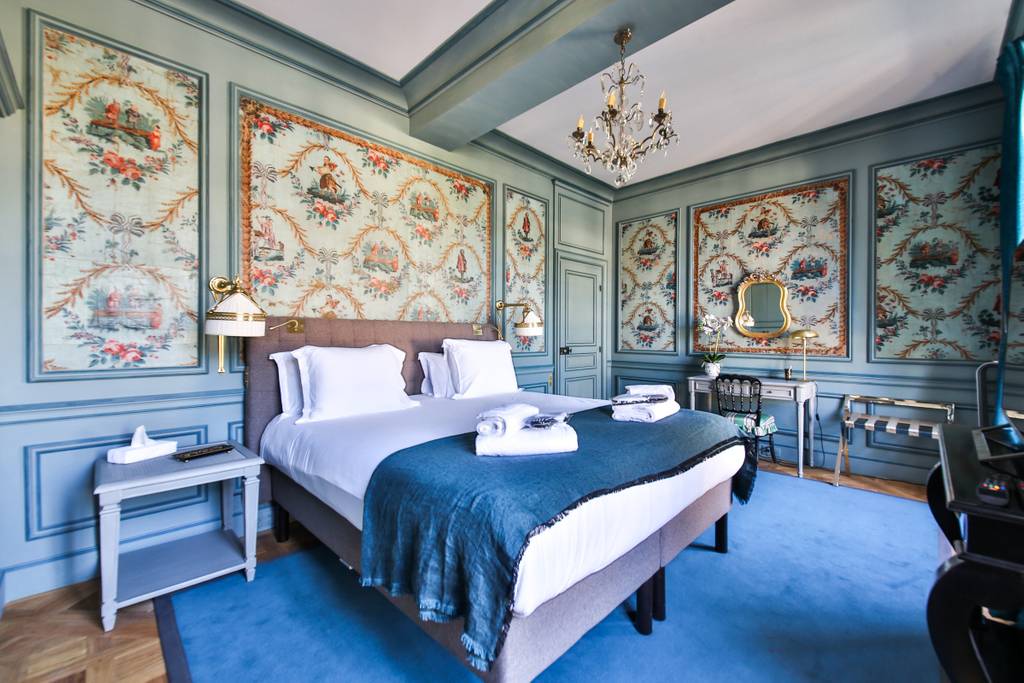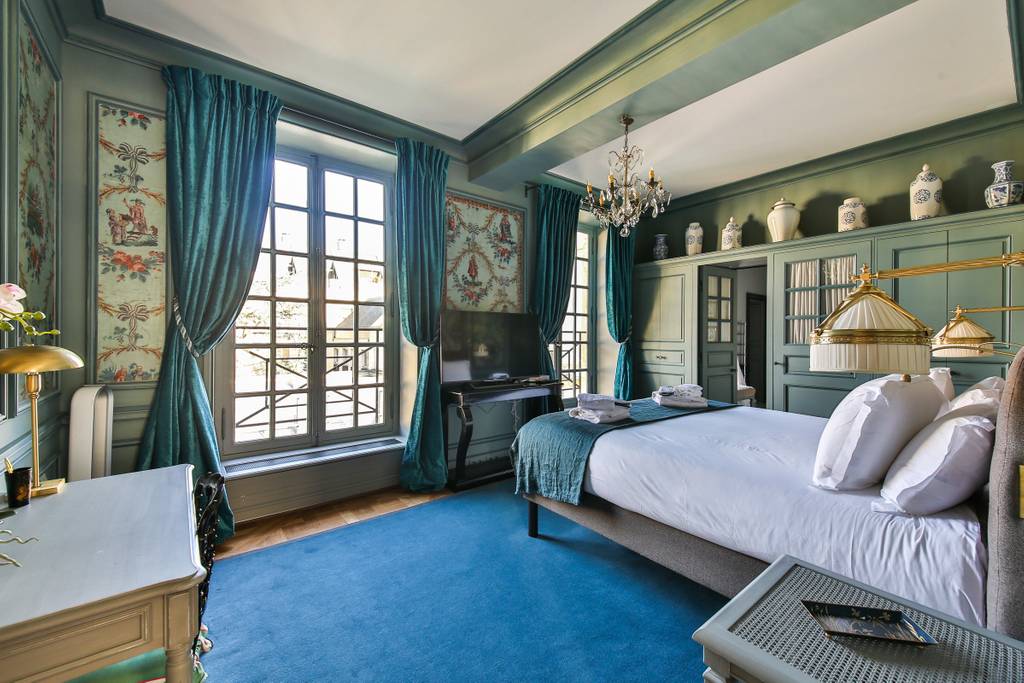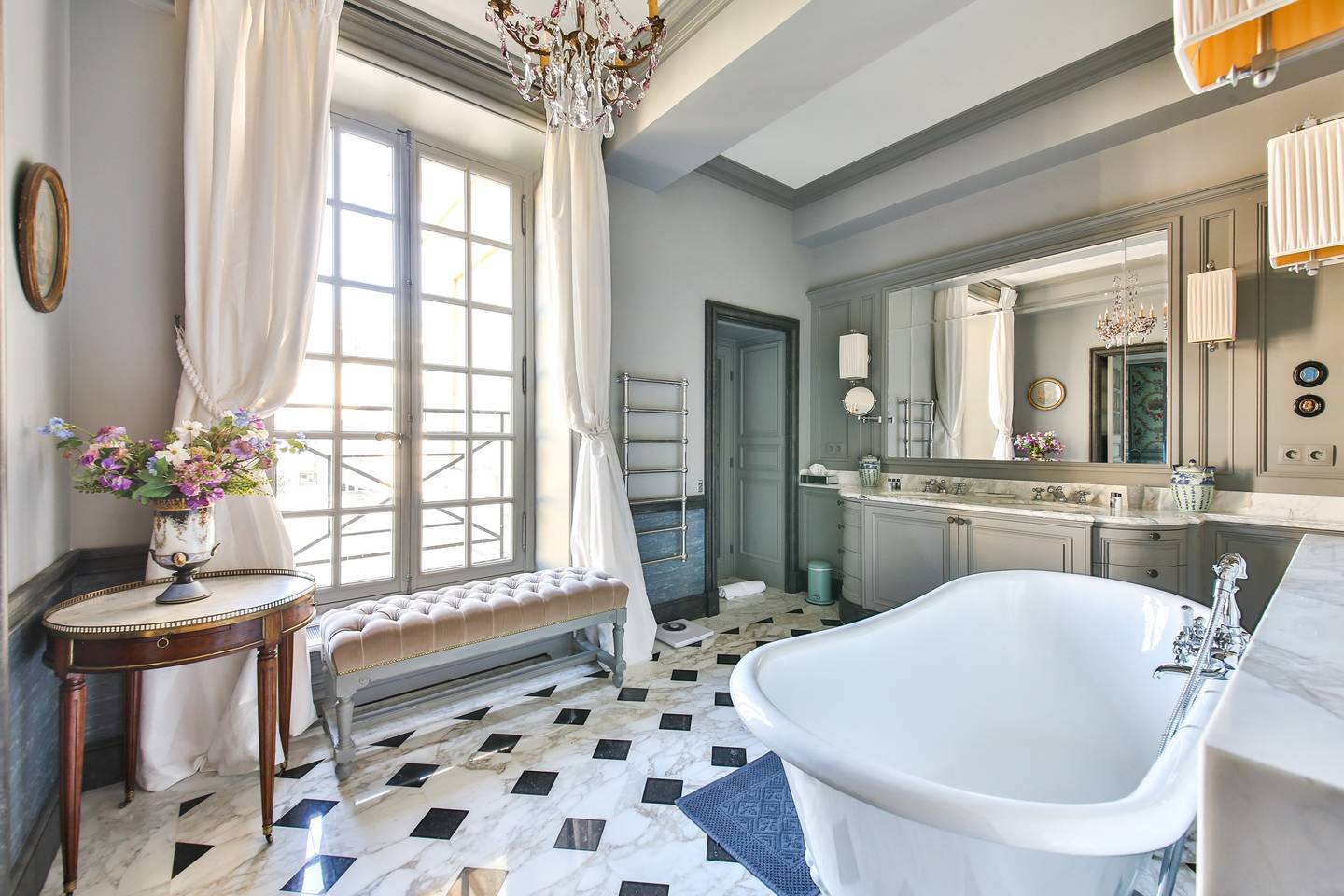 If Marie Antoinette needed an Airbnb in the Marais district of Paris this 17th-century mansion, which is listed as an historic monument*, would be perfect. Romantic, luxe, and quintessentially French, this place will have you feeling like a queen from the minute you walk in. With stunning gilding, true antique furniture, lush drapes, marble showers and crystal chandeliers, it doesn't get more French than this. And that kitchen! Julia Child would be envious of it! There's no elevator but it's just on the second floor so it's a pretty easy walk up.
Located right in the center of the Marais district, this apartment will put you within walking distance of so many interesting attractions like the Musée Carnavalet, the Picasso Museum, endless art galleries, the Victor Hugo museum, Merci (Paris's boutique du jour) and of course, the Place des Vosges. One can just imagine Marie herself returning here after a long day of shopping.
*This hotel particulier was built in 1619 for one of the king's counselors and then in 1898 it became a Christian home for young girls.
8 Picture Perfect Airbnb Homes for Paris Fashion Week
8 Paris Airbnb Homes with Incredible Glass Features
4. Passage de Perfection – approx. $283 a night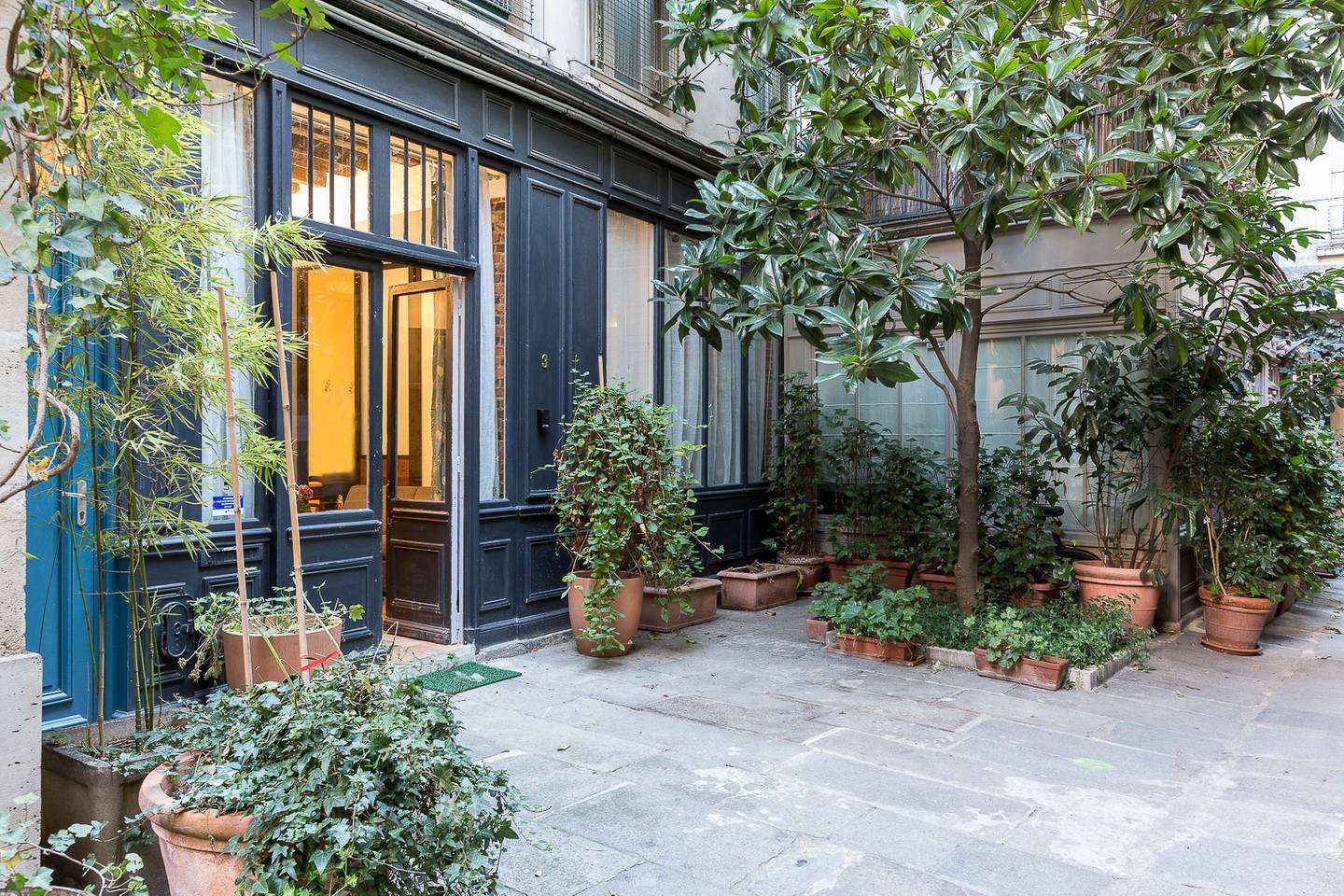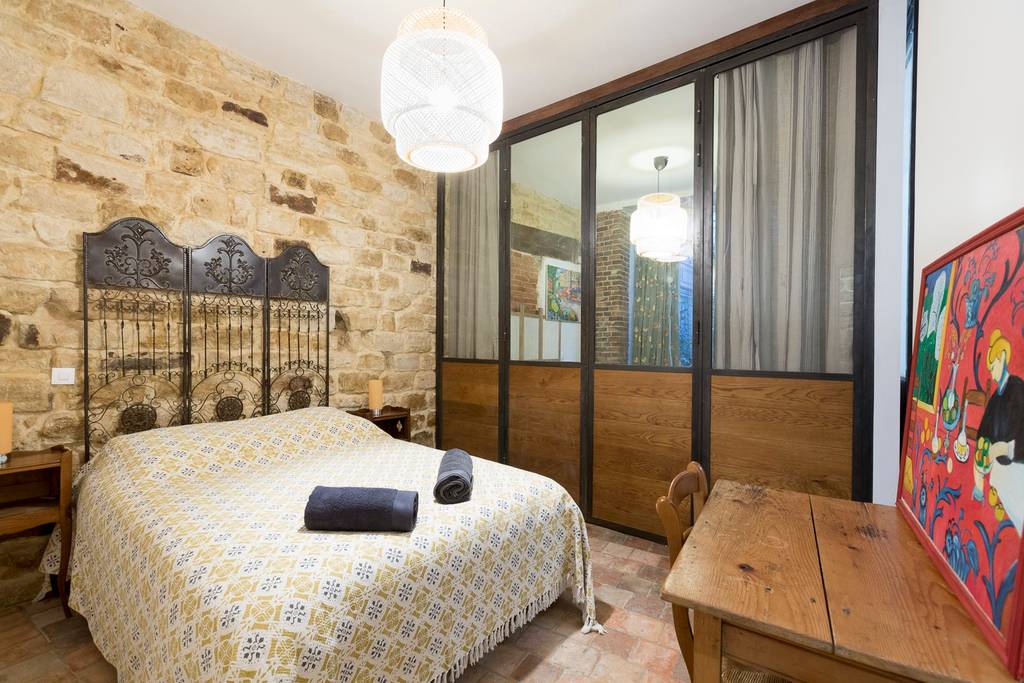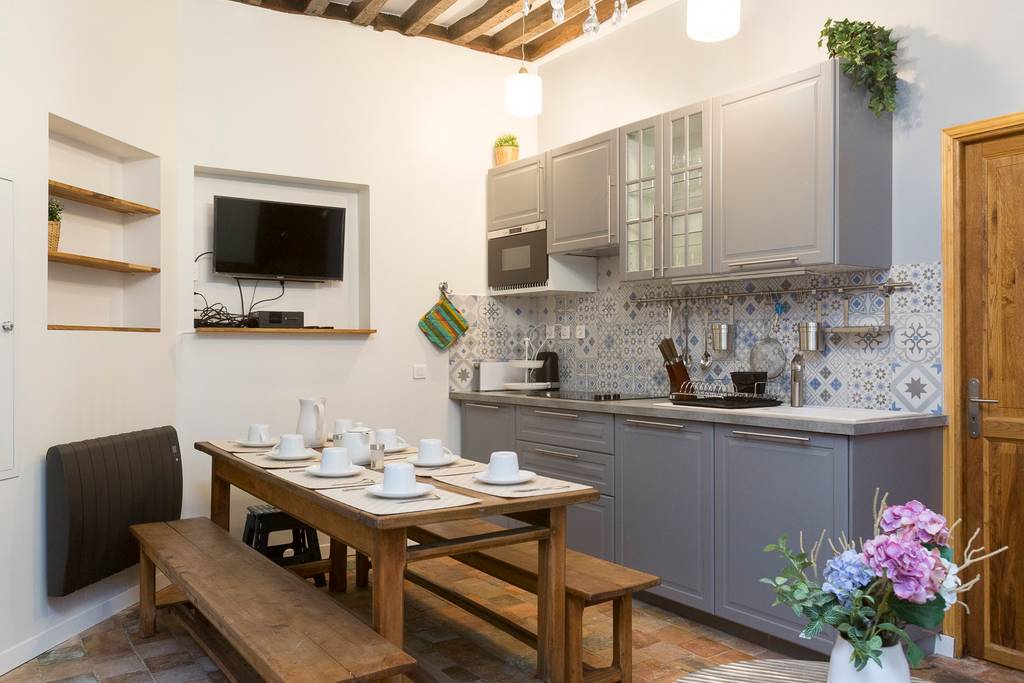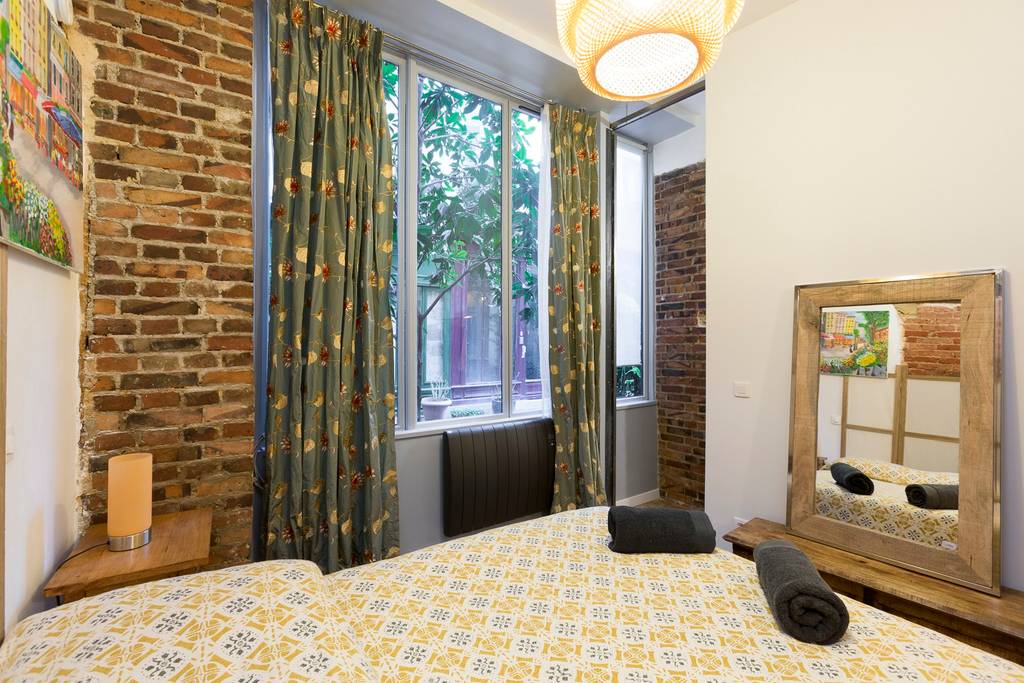 You had us at courtyard. This adorable apartment which sleeps up to eight people is located in the Passage de l'Ancre, one of Paris's oldest passages or covered shopping halls. (And if you happen to break your umbrella you'll be right near one of Paris's oldest stores called "Pep's" which is one of the last remaining umbrella repair stores.) Offering a quiet, private oasis in a busy neighborhood, this flat has three bedrooms, two bathrooms, and a lovely communal area in the open kitchen space.
Right in the middle of the Marais district, this apartment is within walking distance of the Châtelet-Les Halles metro (where the RER to and from the airports stops) as well as the Étienne Marcel metro station. It has a fully equipped kitchen with a stovetop, microwave, fridge, kettle, toaster, and coffee maker so hit those food markets like the Marché des Enfants-Rouges.
3. Merci, Marais! – approx. $108 a night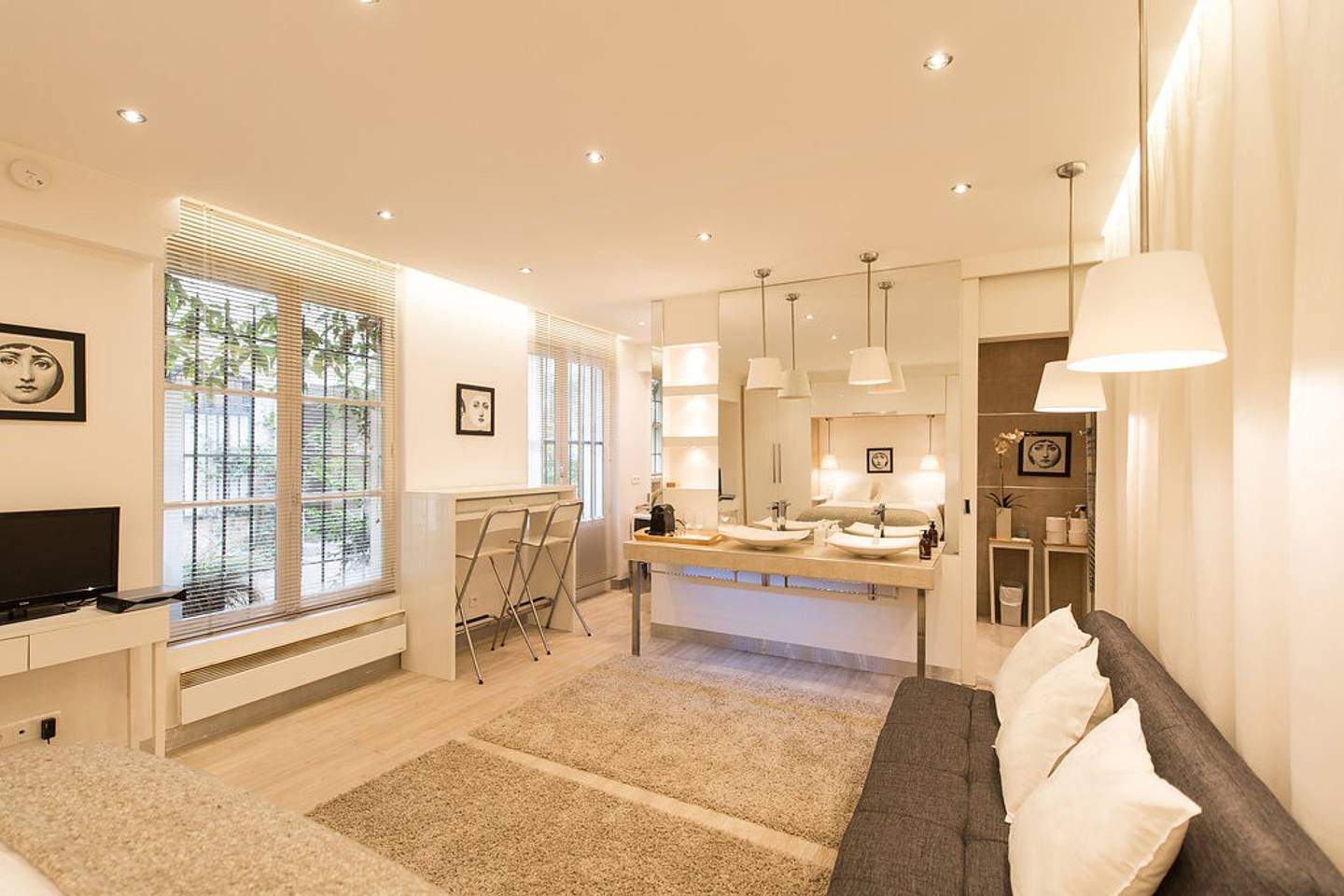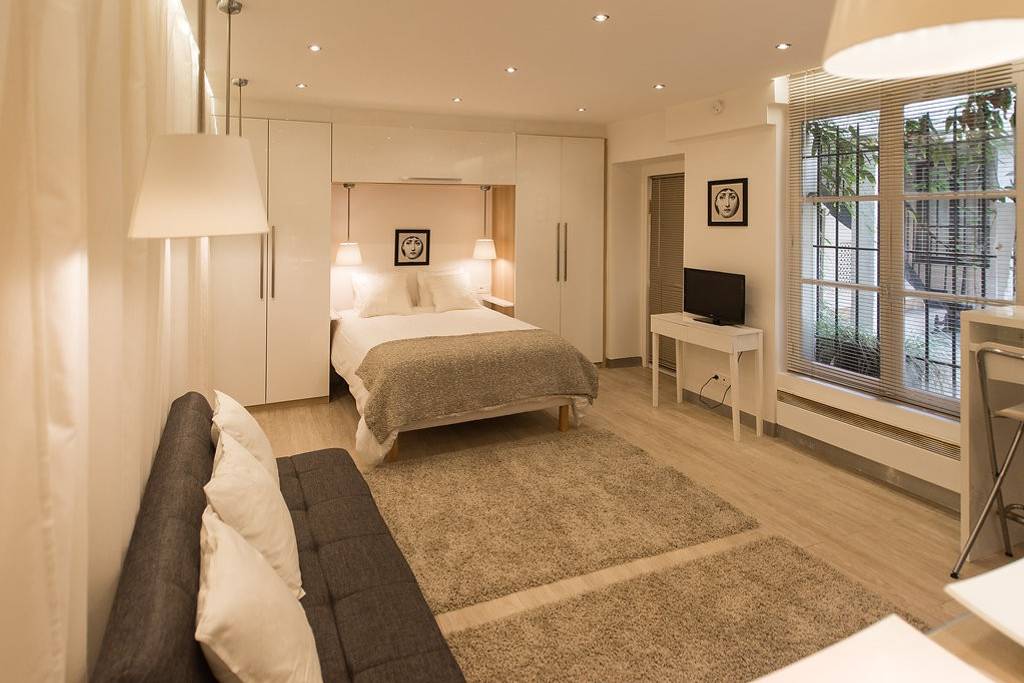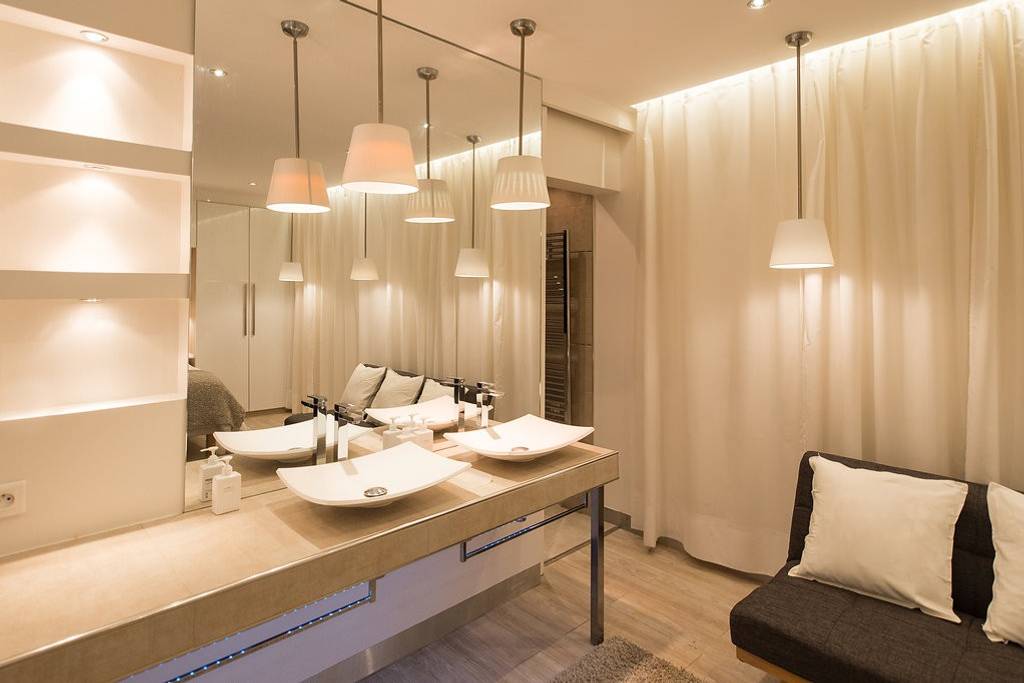 If simplicity is your thing, this place is perfection. Located on the ground floor of one of Paris's courtyard buildings, this apartment's neutral palette has a wonderfully calming effect, making it a great place to relax to since there's a lot going on in the Marais district. Amazingly, guests report that in spite of all the hubbub going on in the Marais district, the apartment is incredibly quiet.
There's a fully functional kitchen here but with all the incredible restaurants in the area, you probably won't even get around to using it. Among the many favorites in the area, we recommend L'as du Fallafel, one of the most legendary falafel joints on the planet, or even the café at Merci, one of the city's most iconic stores. After a long day exploring the Marais district, this is a lovely, serene place to come home to.
2. Marais Minimalism – approx. $510 a night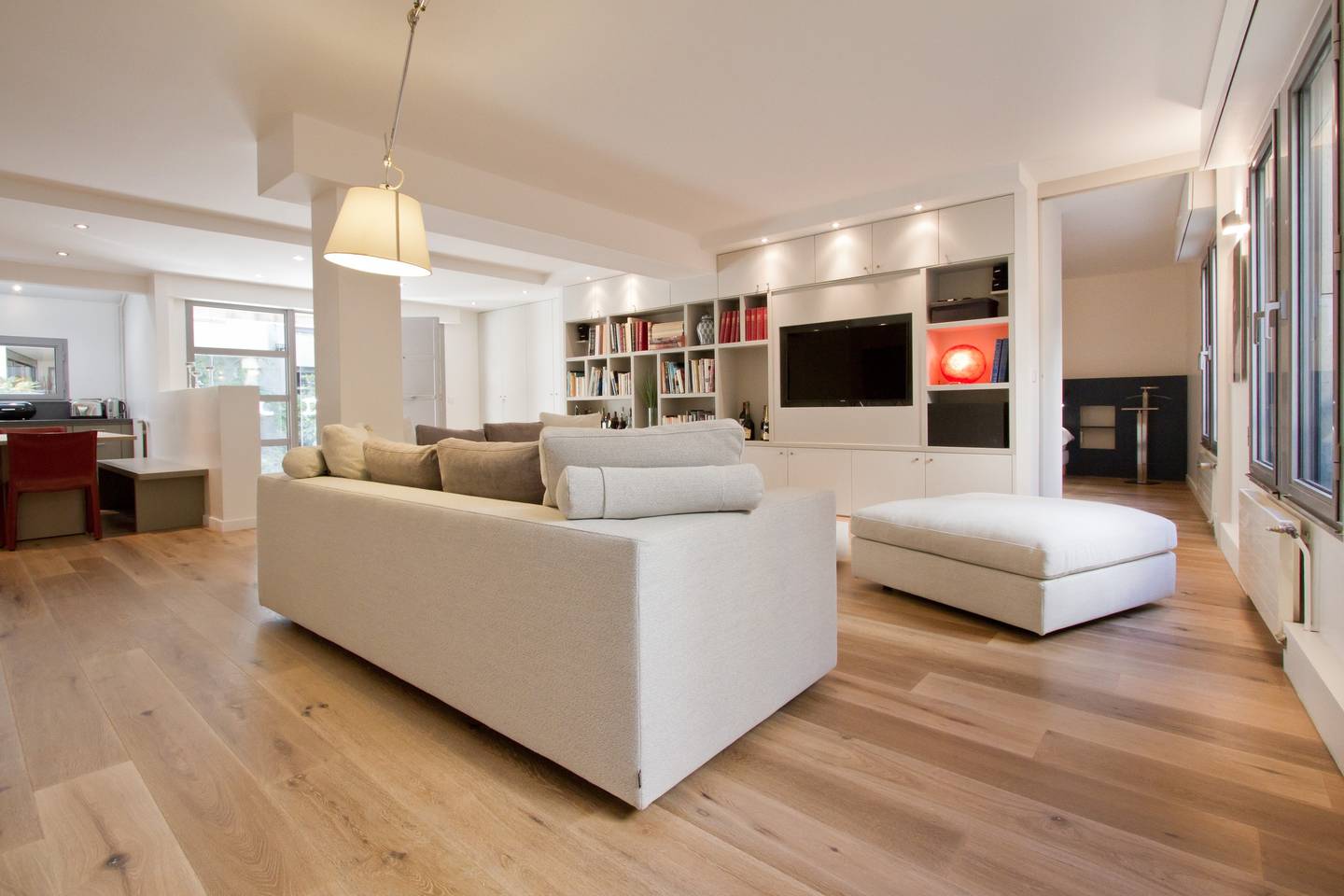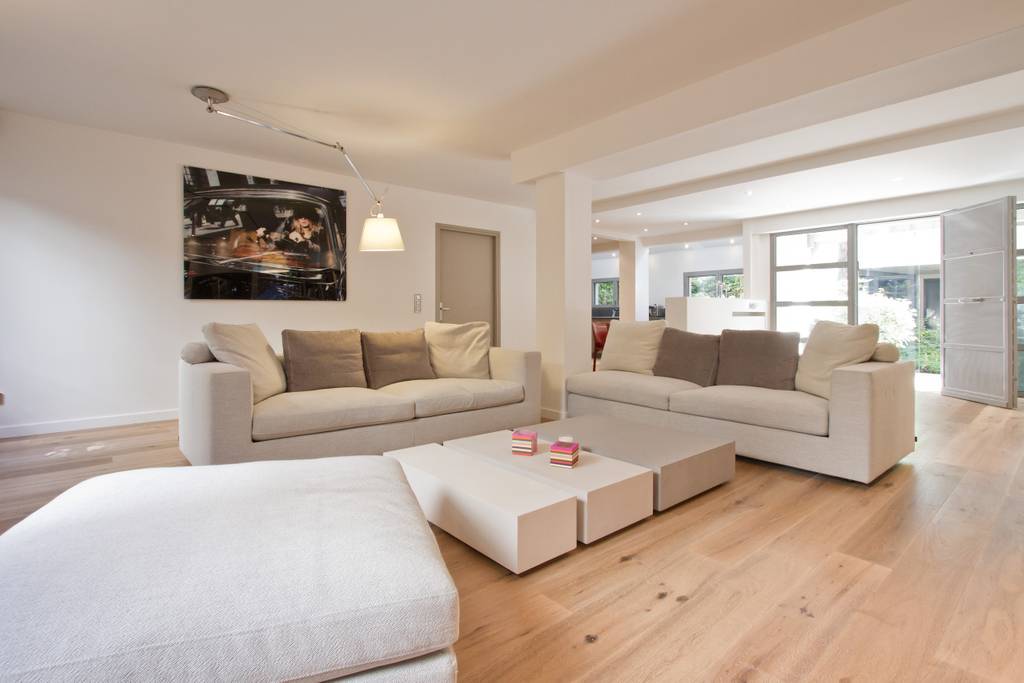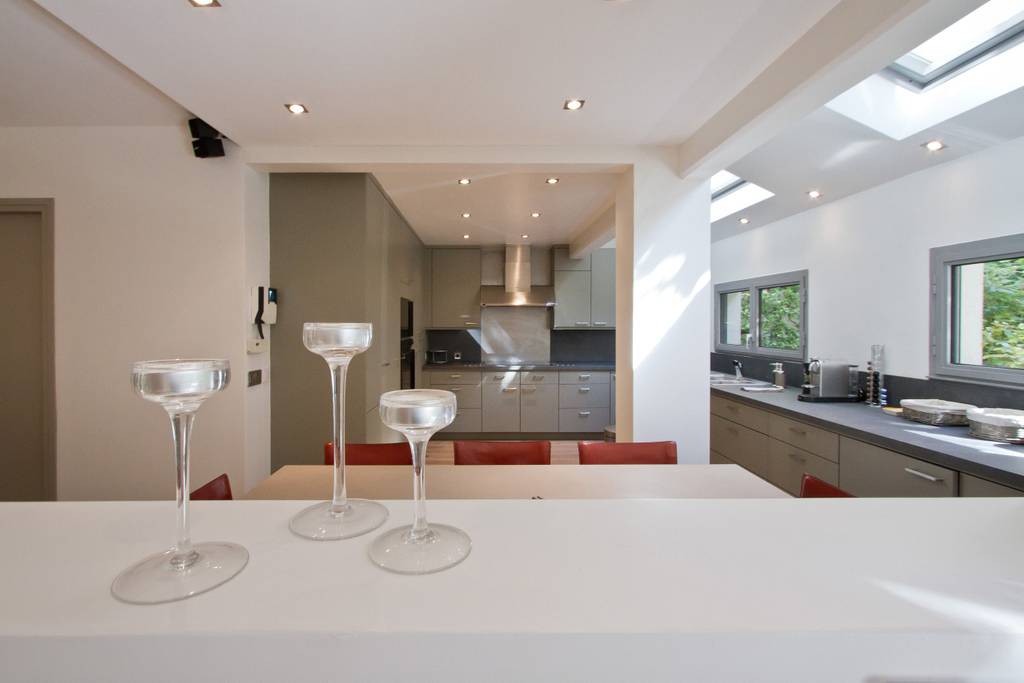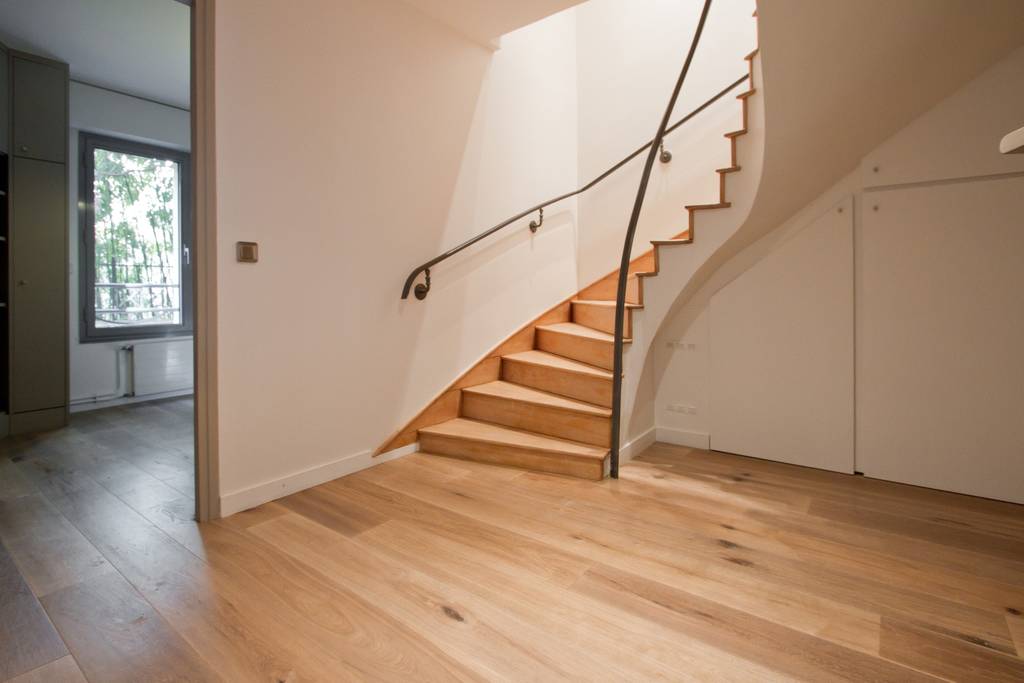 If you love Paris but enjoy modern accommodations, this four-bedroom, three-and-a-half bath apartment right in the heart of the Marais is perfect. A true rarity in a city in which most apartments are at least 100 years old, this contemporary Paris apartment is actually a duplex and is within walking distance of the famous bouquinistes who sell old books and prints by the Seine, the Louvre Museum, the Île St Louis, the Institut du Monde Arabe, the Musée de Cluny, and Notre Dame Cathedral.
You'll also be just a hop, skip, and a jump away from the Latin Quarter where you'll find tons of restaurants on the rue Mouffetard, the Sorbonne, the Jardin du Luxembourg, the Pantheon, and the wonderful food market on the Place Monge, truly making it the best of all possible worlds!
1. Marais Perfection – approx. $301 a night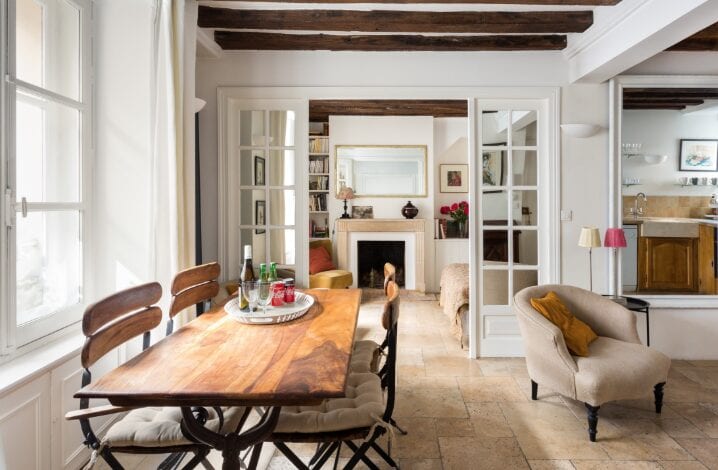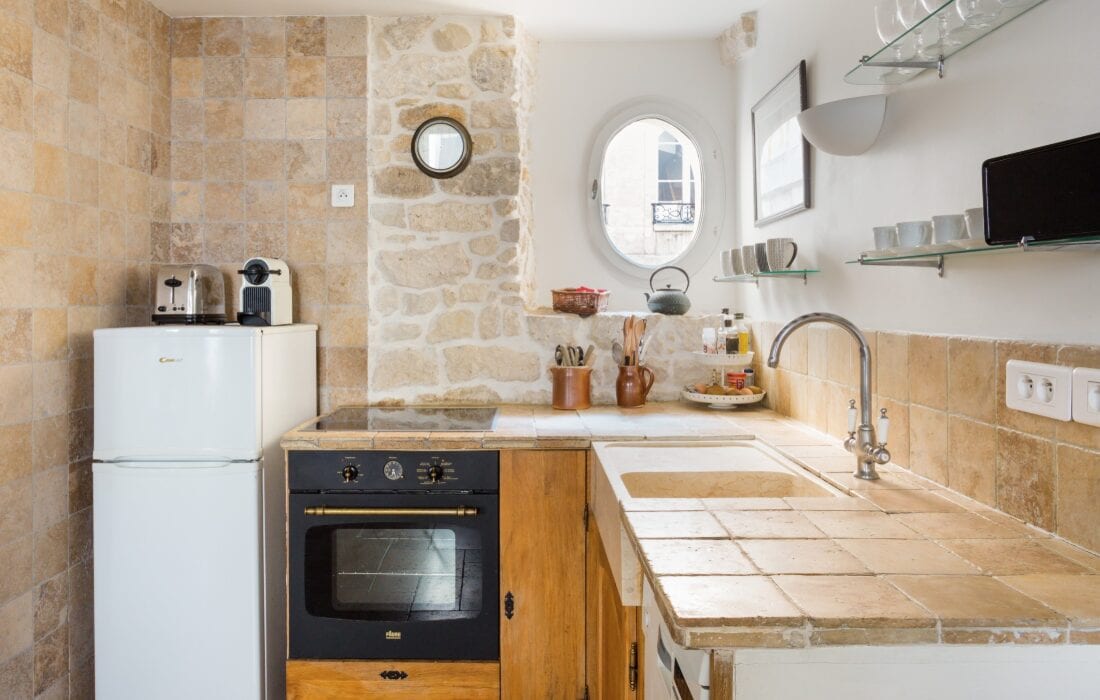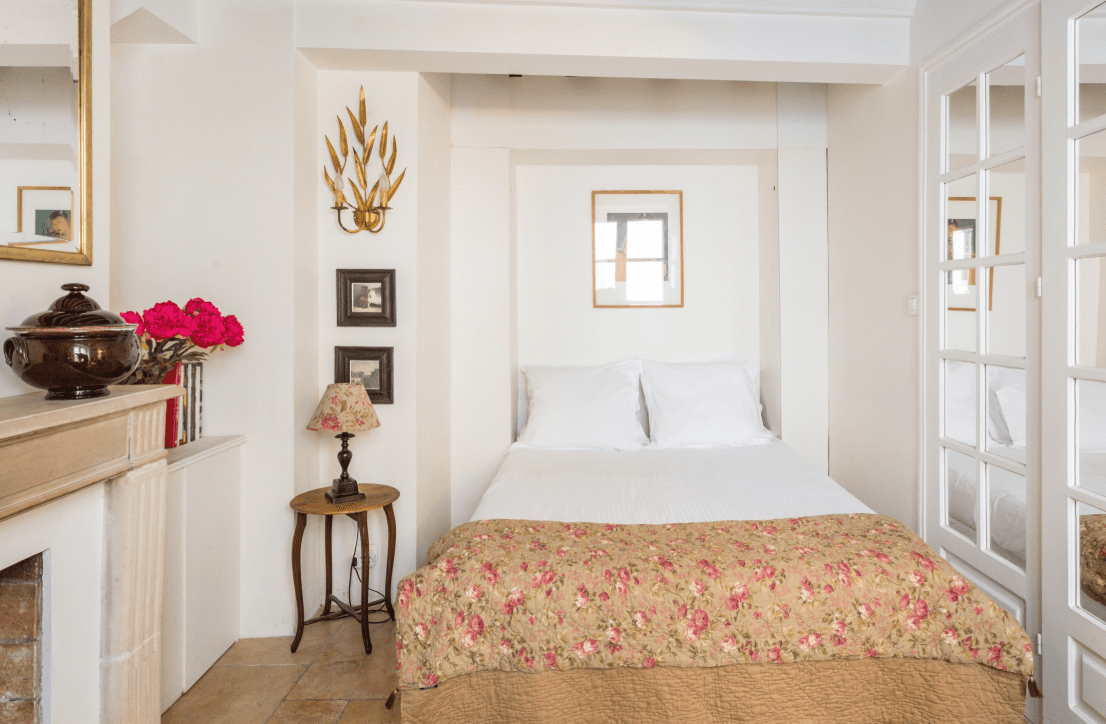 "Loaded with character!" "The space was cozy and oh so Parisian!" "Everything you need was at the doorstep!" These are just some of the incredible things guests had to say about this super-romantic, super-French Marais apartment. Tile floors, stone walls, and of course, French doors are just some of the lovely elements that make this such a remarkable place to stay in Paris.
This charming apartment will put you within walking distance or a simple Metro ride to so many things including the Centre Pompidou, Notre Dame Cathedral, the Bastille area, the Picasso Museum, the spectacular Jardin des Plantes, and even the Musée du Chocolat, a perfect place to go before you come back to this sweet, sweet apartment!