While much of the world associates the month of February with love, for Parisians, romance is such an everyday experience that one can find a romantic Airbnb any time of year. Whether you're looking for a cozy flat with a view of the Eiffel Tower, a romantic apartment worthy of Marie Antoinette, or a lux pad in the sky, there are probably more romantic Airbnb homes in Paris than anywhere else. Here are eight of our favorites that are perfect for the old "Ooh-la-la!":
8 Incredible Paris Airbnb Loft Homes That Will Make You Feel Like an Artiste
8 Gorgeous Paris Airbnb Homes Perfect For Paris Fashion Week
These 8 Gorgeous French Châteaux Are Available on Airbnb
8. Provençal Perfection – $89 a night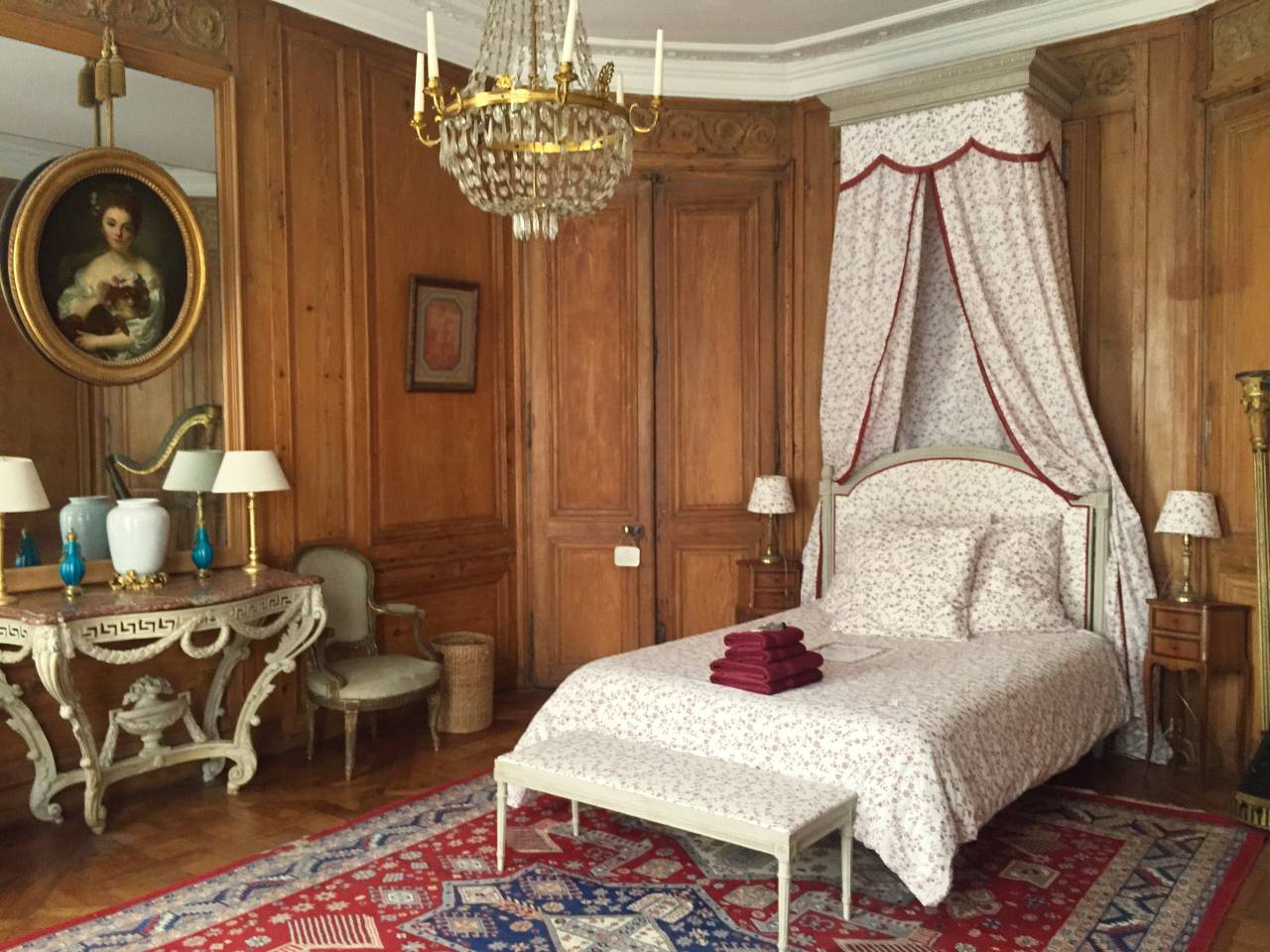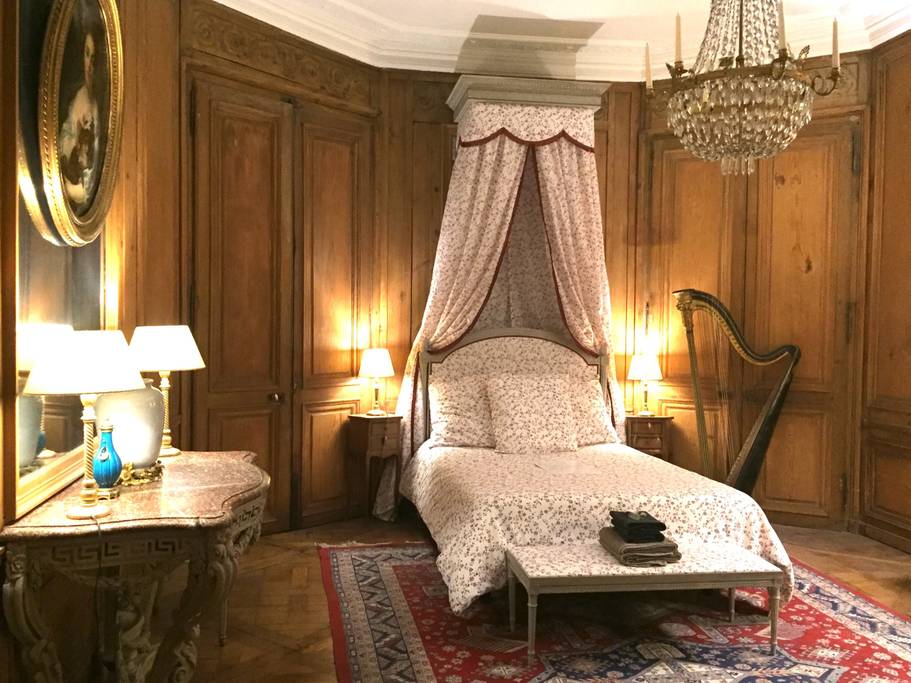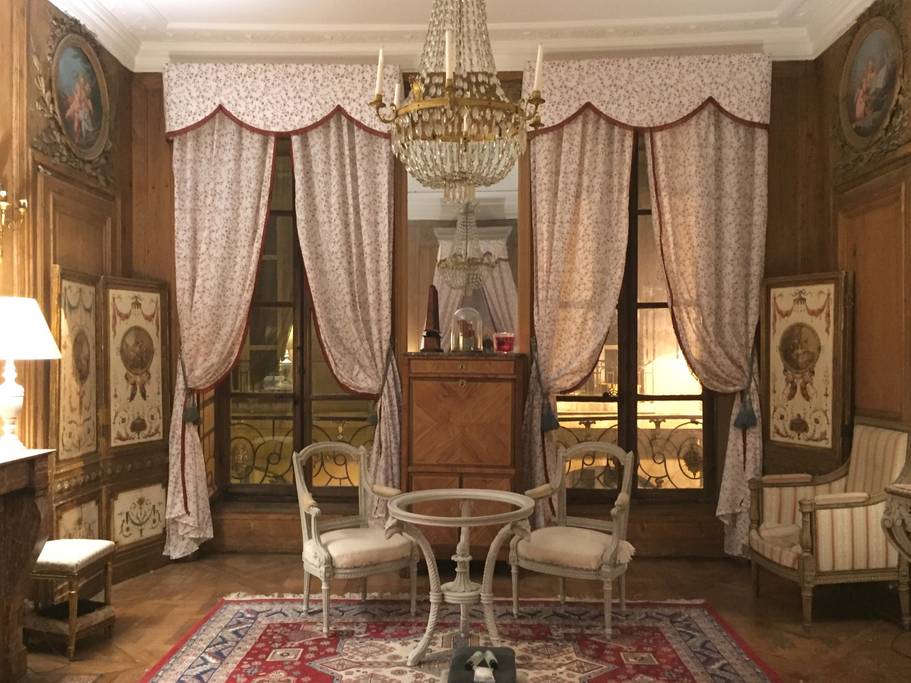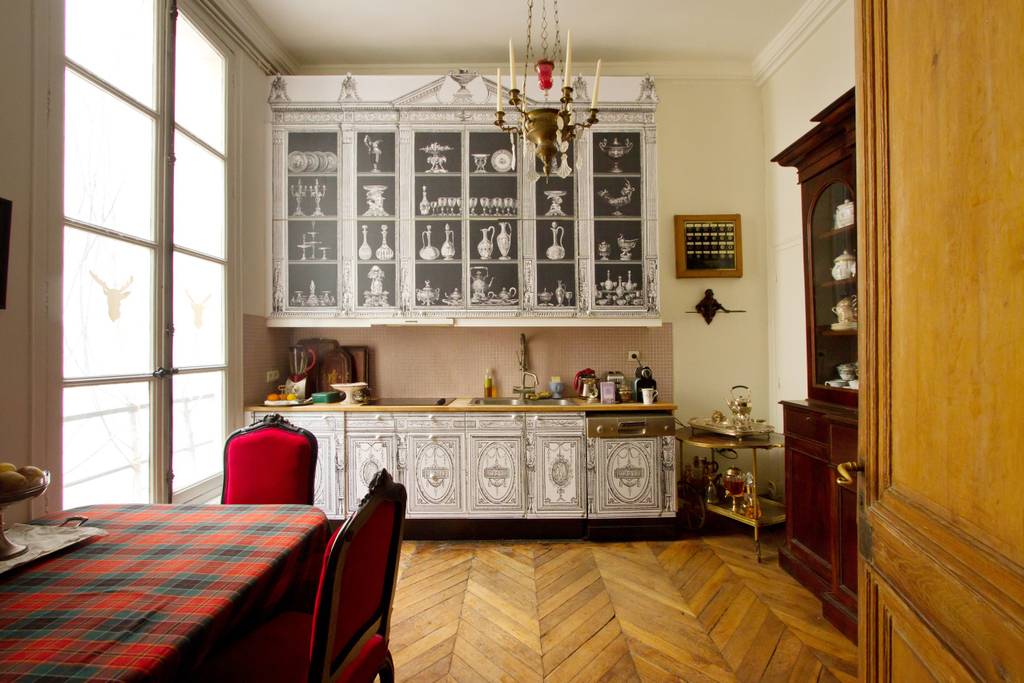 There's no easy way to say it: Real life is going to be horrible after this. Located smack dab in the center of Paris, this outrageously romantic suite is like something out of a dream Marie Antoinette would have. This may not just be the most romantic place you've ever stayed but the most unique (unless you've stayed in a lot of places that had their own gilded harps). Built in 1770, this apartment, which is part of a shared house, retains the original Louis XVI wood panels and is filled with museum-quality art.
The bathroom and incredible kitchen are shared but who cares when you've got that stunning French Provençal-style bed. This truly remarkable Paris property is located within walking distance of the Louvre, the romantic Palais Royal, the not-so-romantic Centre Pompidou, the Faubourg St Honoré shopping street (which includes places like Goyard, Astier de la Villatte, and the uber-popular Marais district). And at $89 a night, this place is an almost insanely good bargain!
7. A View for Two – $764 a night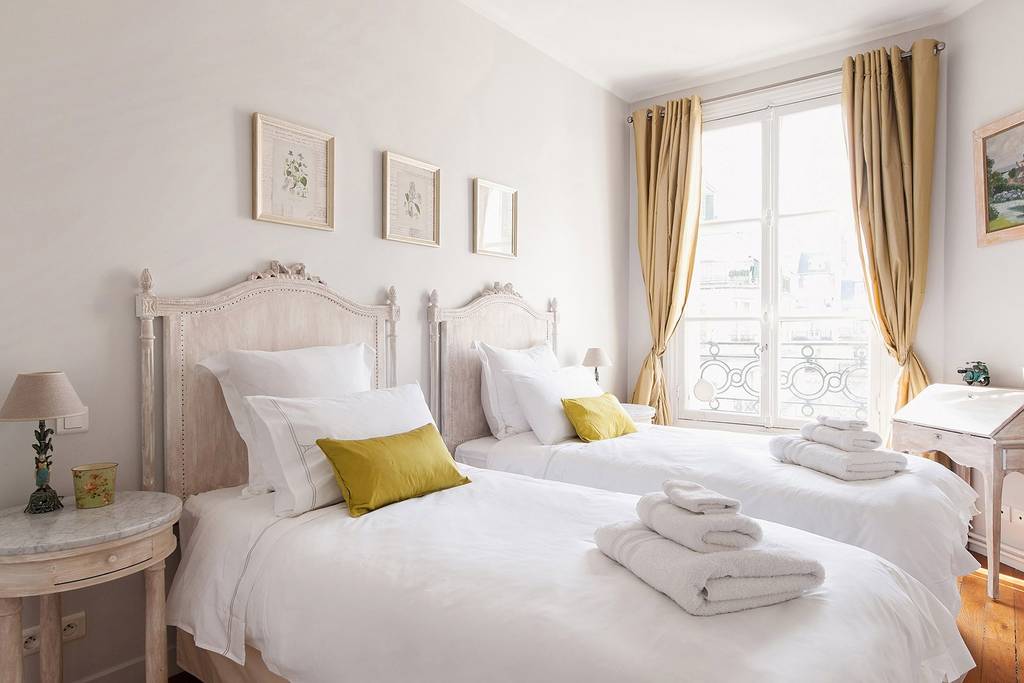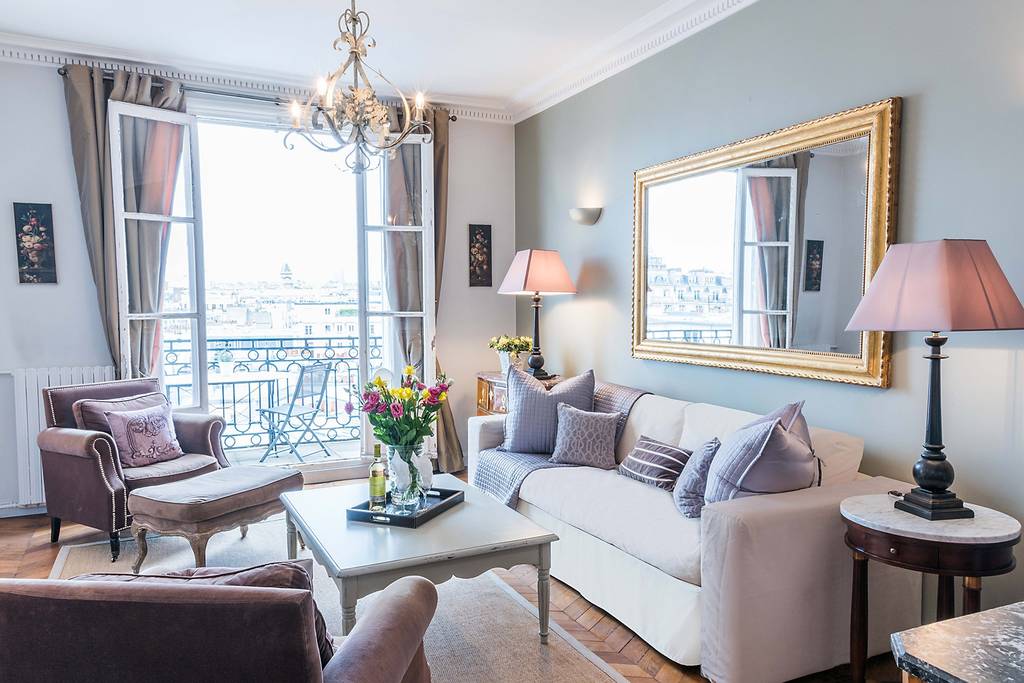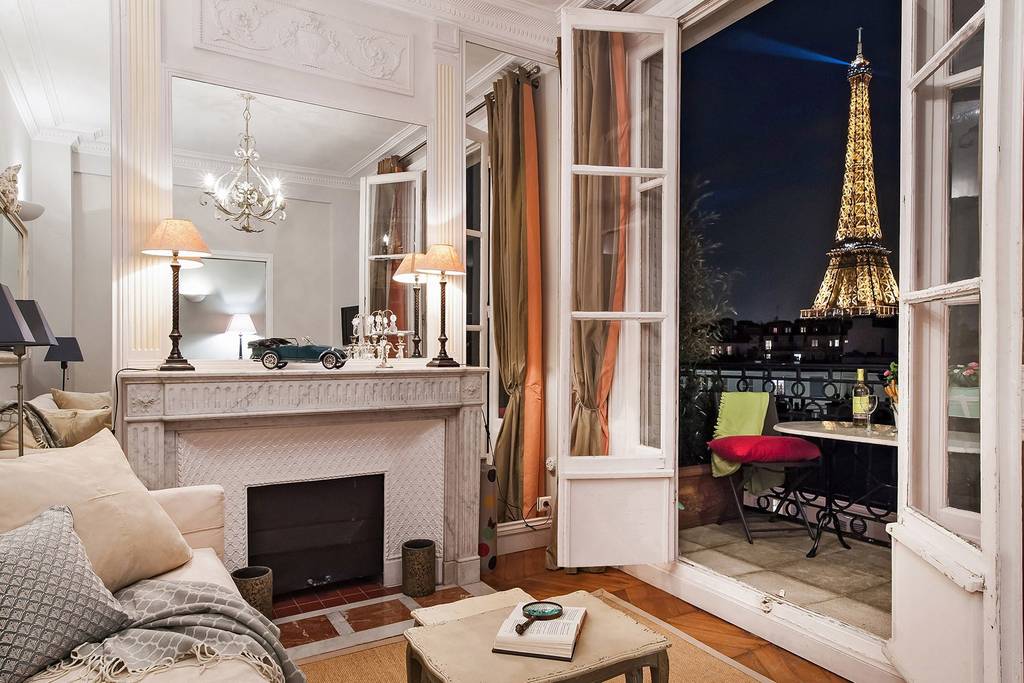 Nicknamed "The Cognac," this insanely romantic Paris apartment, like the liquor for which it's named, is refined, unforgettable, and quintessentially French. The perfect place for a honeymoon or romantic trip, the Cognac is going to give you Instagram pictures that are going to look like something out of a storybook. With a terrace that has a view of the Eiffel Tower so perfect it looks almost fake, this place is going to make you want to sleep alfresco.
If you do make it back inside, the rooms are sunny, clean, tasteful and the perfect place for a romantic rendez-vous. Located on the 6th floor of an apartment building in the 7th arrondissement, it's very close to the Eiffel Tower (clearly!), the lovely Saint-Sulpice church, the rue du Cherche-Midi (for great, great shopping), Le Bon Marché department store which includes La Grande Epicerie de Paris (one of the world's best food markets), and lesser-visited, but oh-so-romantic Rodin Museum.
 6. La Vie Romantique – $112 a night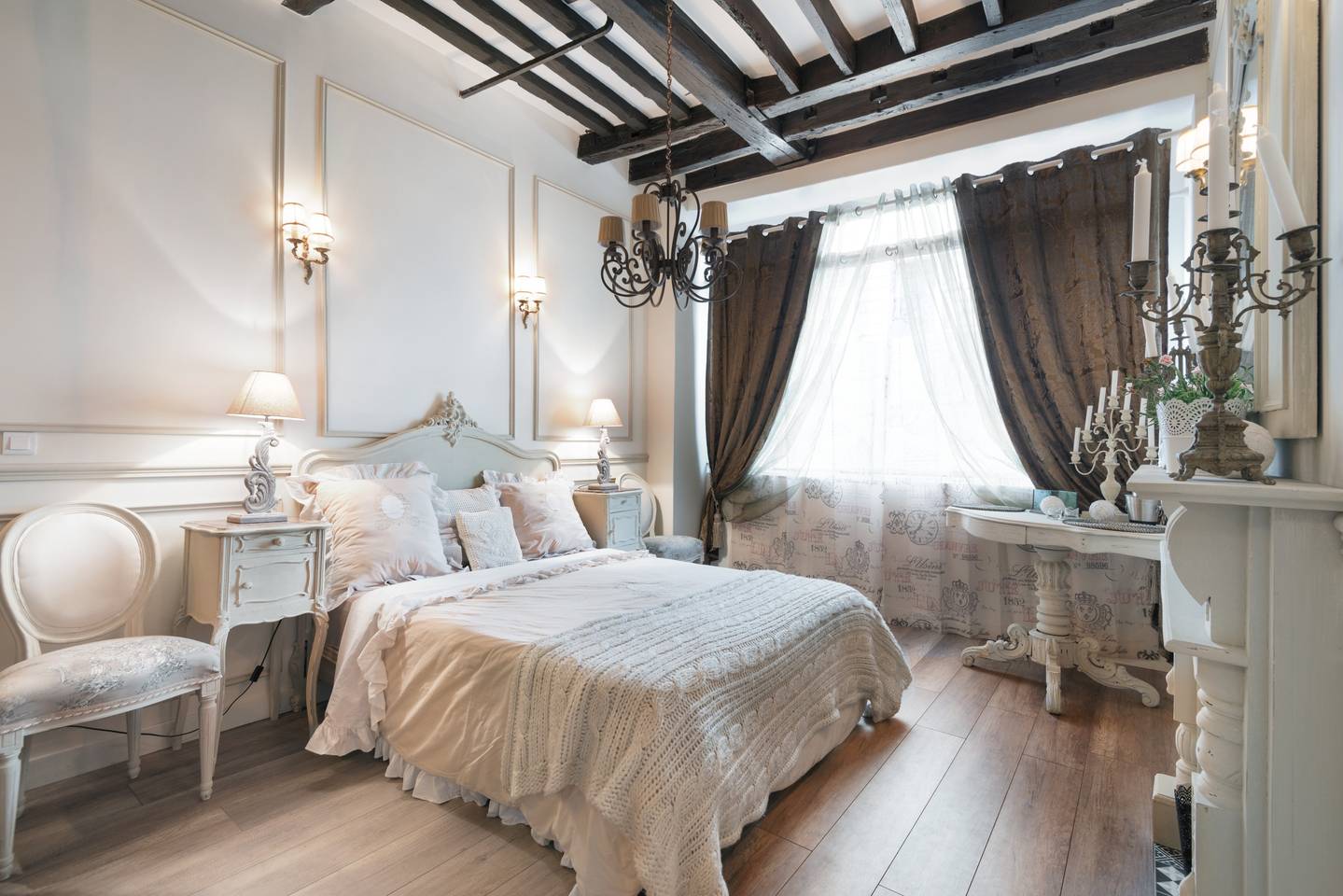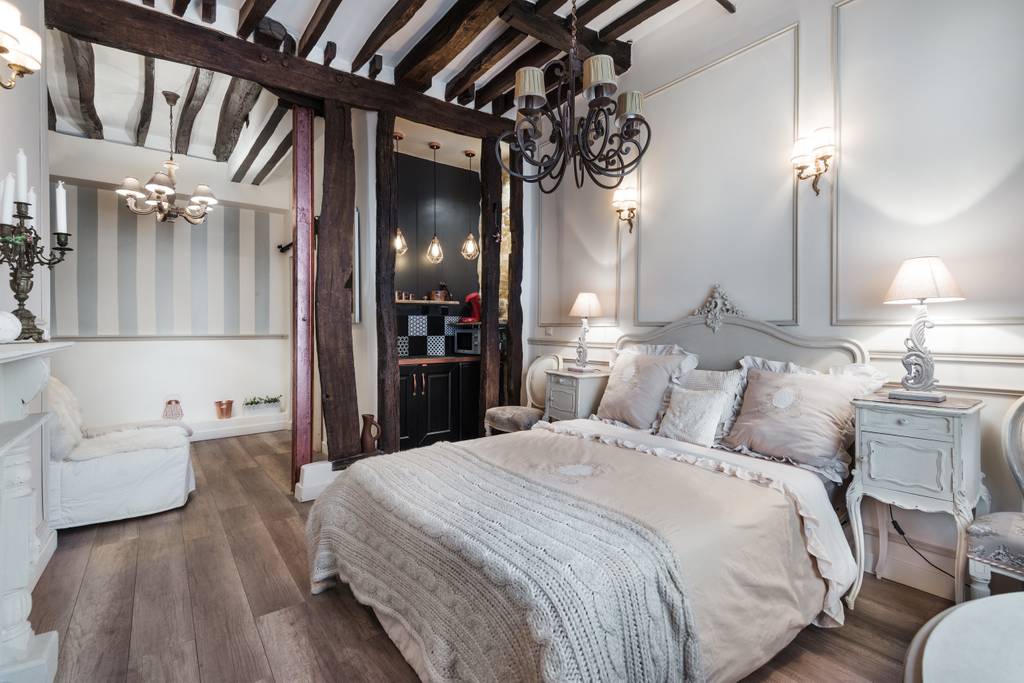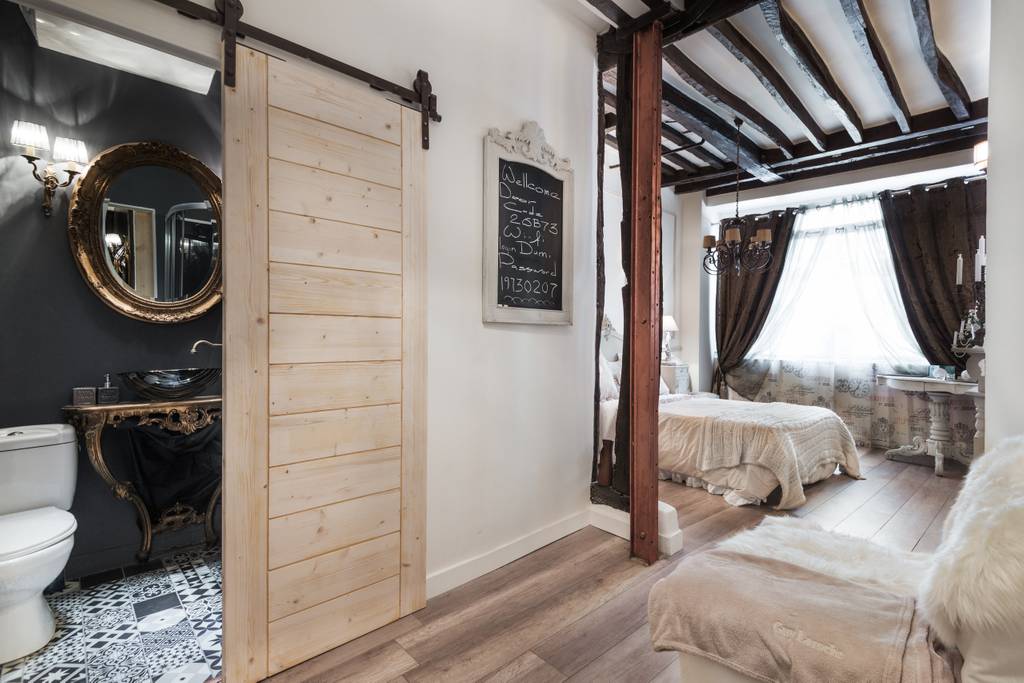 At only $112 a night, this picturesque Paris apartment is not only one of the most romantic on Airbnb but one of the most affordable. With just one bedroom you won't be able to take your eyes off each other both literally and figuratively. Decorated in romantic neutrals and soft lighting, this Paris Airbnb is just a short distance from the ultimate romantic museum, the Musée de la Vie Romantique.
It's also very close to the Sacré-Cœur Basilica, a church from which the views of Paris are legendary. Just ten minutes from the Gare du Nord and Gare du l'Est train stations, this Paris apartment offers an easy way in and out of town so if you're in the mood for a quick trip to the French countryside you're just a quick walk away!
5. Honeymoon Hideaway – $181 a night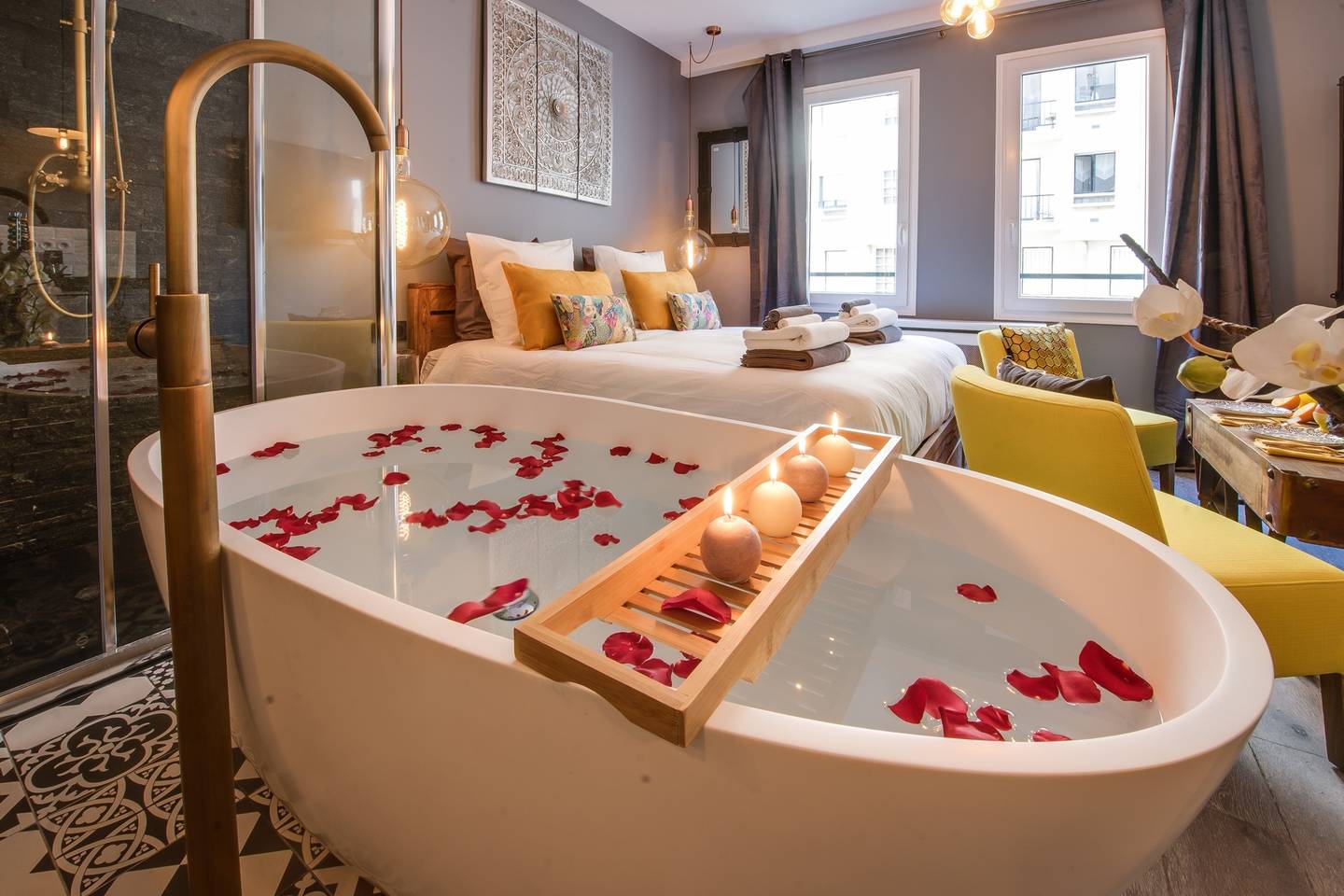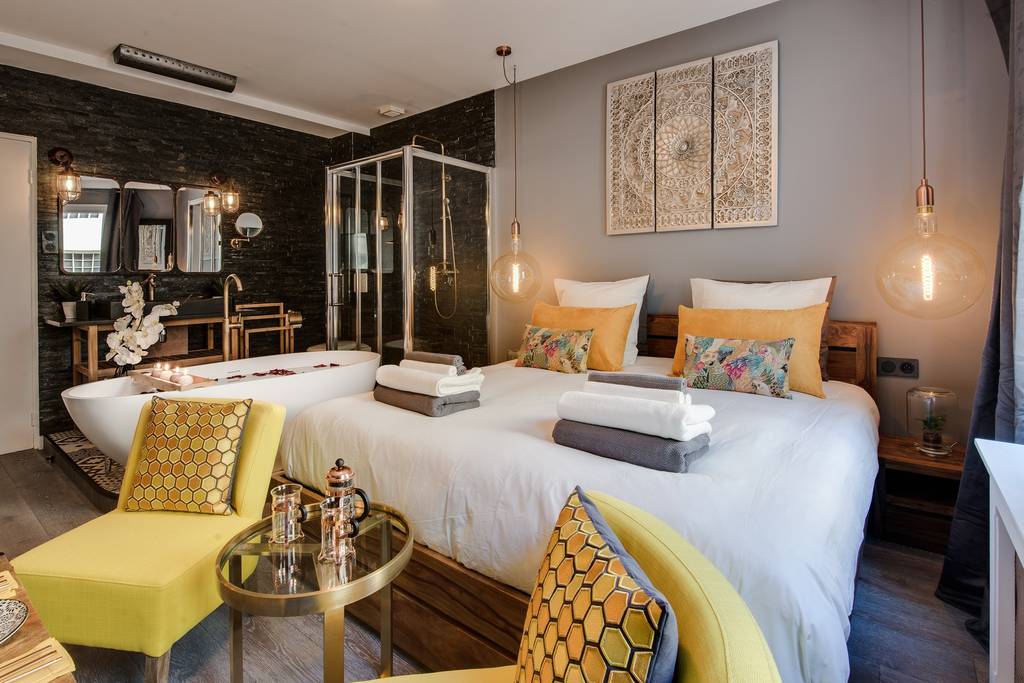 Yes, the bathtub directly faces the bed. And the bed faces the shower which faces the tub, which, as we discussed, faces the bed so if you weren't in a romantic mood when you walked in, you will be very, very soon. A perfect place for a honeymoon, this Paris apartment is exactly 30 seconds (the owner timed it) from the Eiffel Tower. Within a short distance from cafés, the stunning Champs de Mars, and even the Seine itself (do NOT miss a ride on the famous Bateaux Mouches!), you'll have plenty to do . . . if you can get yourself out of that tub.
This studio apartment sleeps just two so no need to feel guilty about not inviting anyone. It also has an elevator which is not always a given in a Paris apartment. Decorated with soft greys and yellows, brass fixtures and trendy Azulejos tile, this place is perfect for decorating goals as well as romantic ones!
A Guide To The Neighborhoods Of Paris
These 8 Paris Airbnb Homes Are On Another Level
8 Gorgeous Budget Paris Airbnb Homes for Under $100 a Night
4. Refined Romance – $995 a night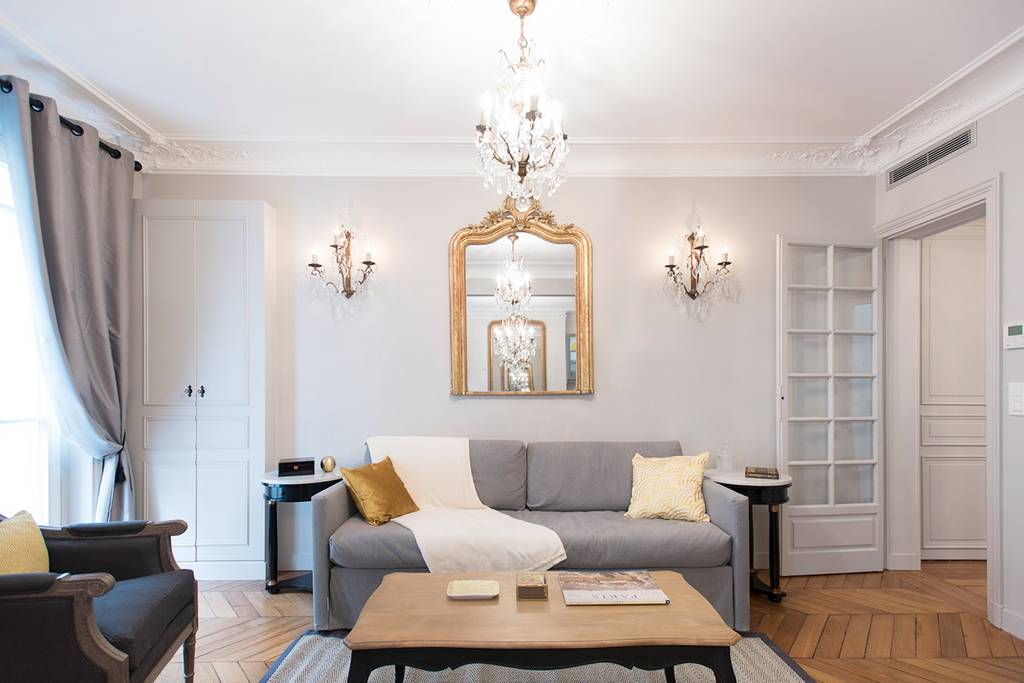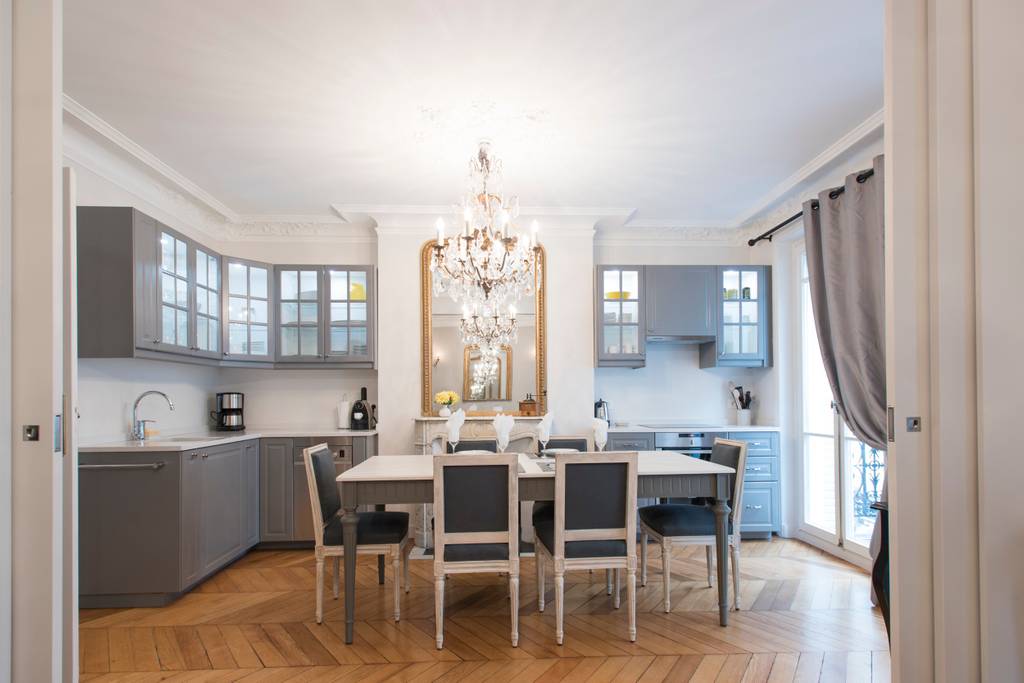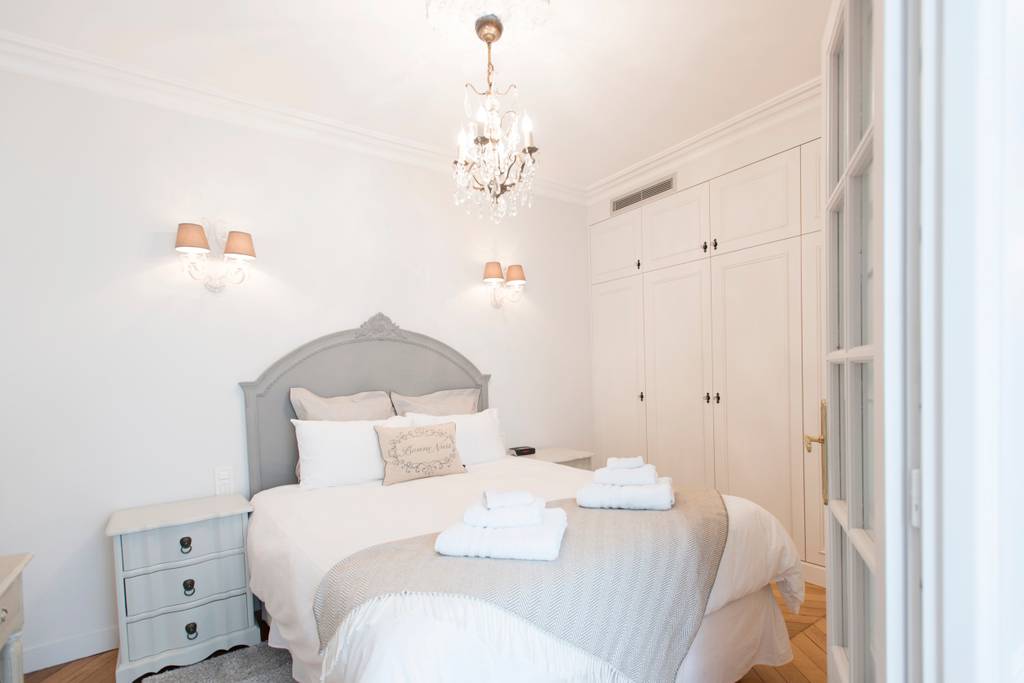 While there is a chandelier in this Paris Airbnb, we don't recommend you swing from it. Sophisticated, elegant, traditional and yet just slightly modern, this two-bedroom Paris apartment with views of the Eiffel Tower couldn't be a more perfect place to spend a romantic vacation. First of all, let's just talk about that terrace. What could be better or more romantic than a Paris apartment with a terrace that looks right on to the Eiffel Tower?
Close to the Esplanade des Invalides, the newly renovated and fascinating Musée de L'Homme, and the Tour Montparnasse which offers an insane view of Paris (most Parisians say they love being in the building as it's the only place in the city from which you cannot see it). Should you choose to stay inside, there is a fully equipped kitchen as well as a TV with English language stations although the only language you need to stay here is the language of love!
3. Light and Airy Duplex – $389 a night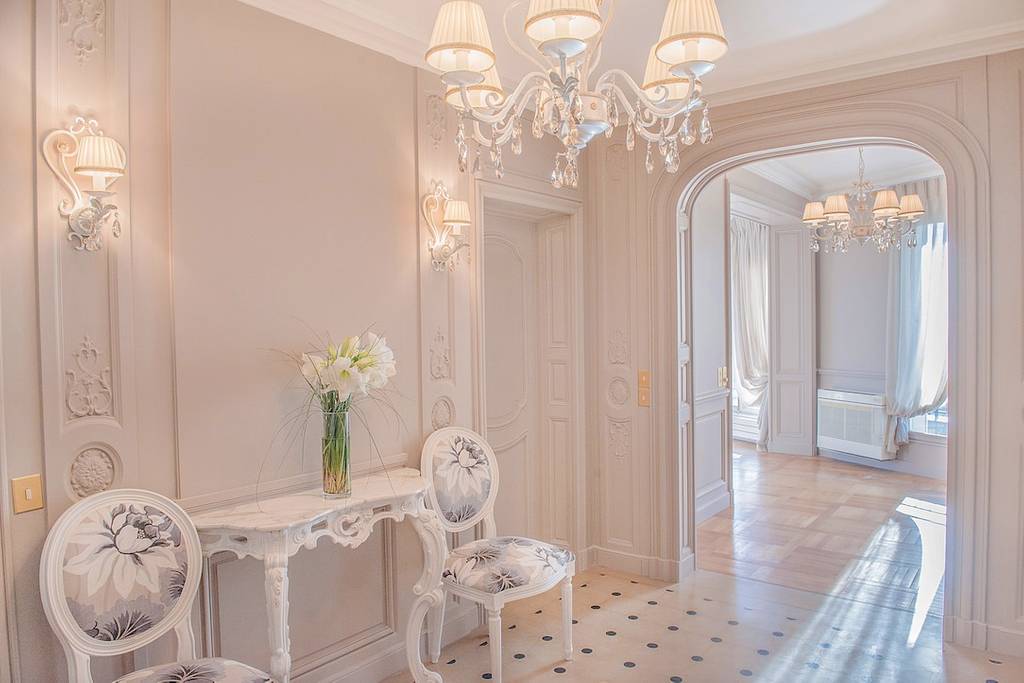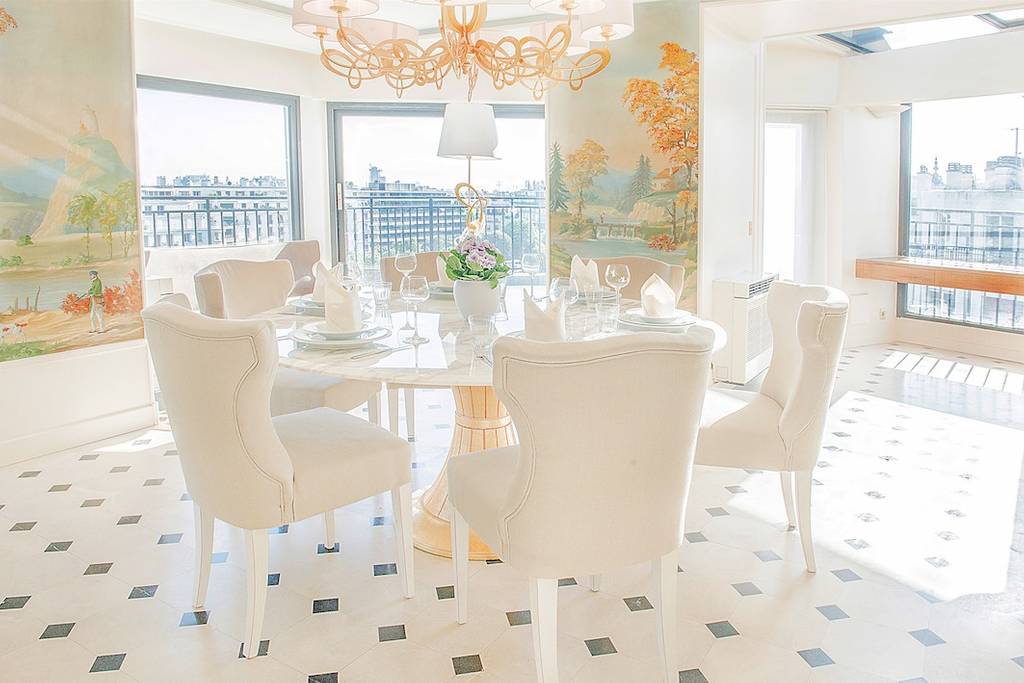 It's a little over the top but so is romance a lot of the time so just go with it. Bright and airy, this Paris Airbnb will lighten your heart and at $389 a night won't exactly weigh down your wallet, either. Right between the famous Bois de Boulogne park (at one point those symbols of true love, Wallace and Edward, lived there in exile from the U.K.), and the Champs-Elysées, this lovely flat is right in the middle of one of the most romantic parts of the city itself.
Close to so many romantic attractions like the Musée Jacquemart-André, the Ladurée store on the Champs, the Palais de Chaillot (arguably one of the best points in Paris from which to take great shots of the Eiffel Tower), and the Musée Marmottan Monet which has one of the most remarkable collections of Monet's work in the world. It also happens to have gorgeous views of both the Eiffel Tower and the Arc de Triomphe so you'll have two iconic views right outside your window!
2. Marais Sophisticate – $281 a night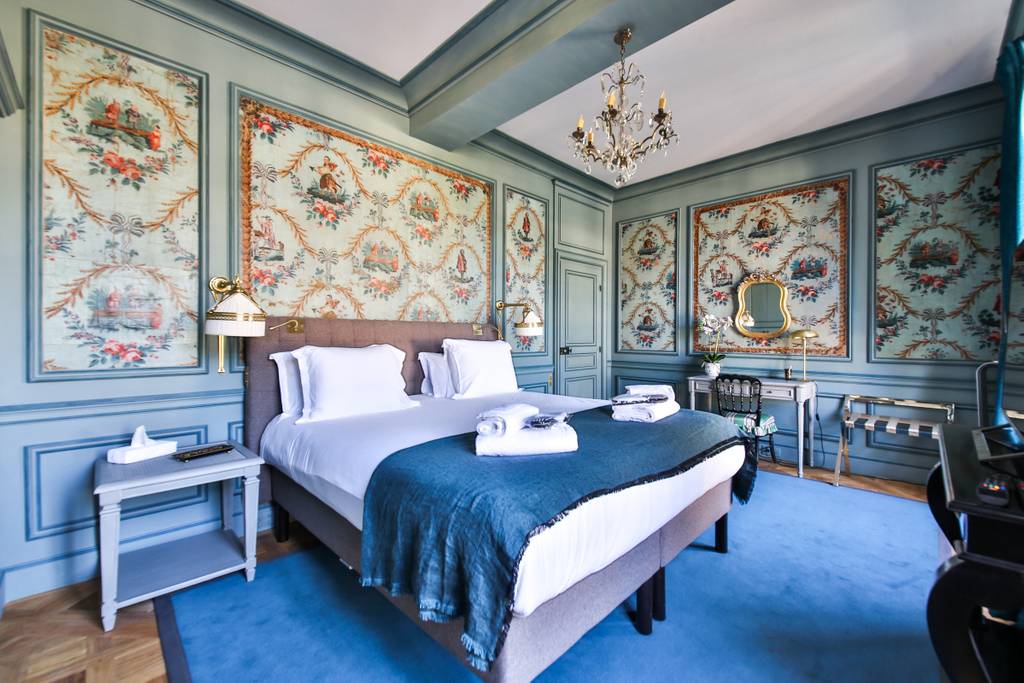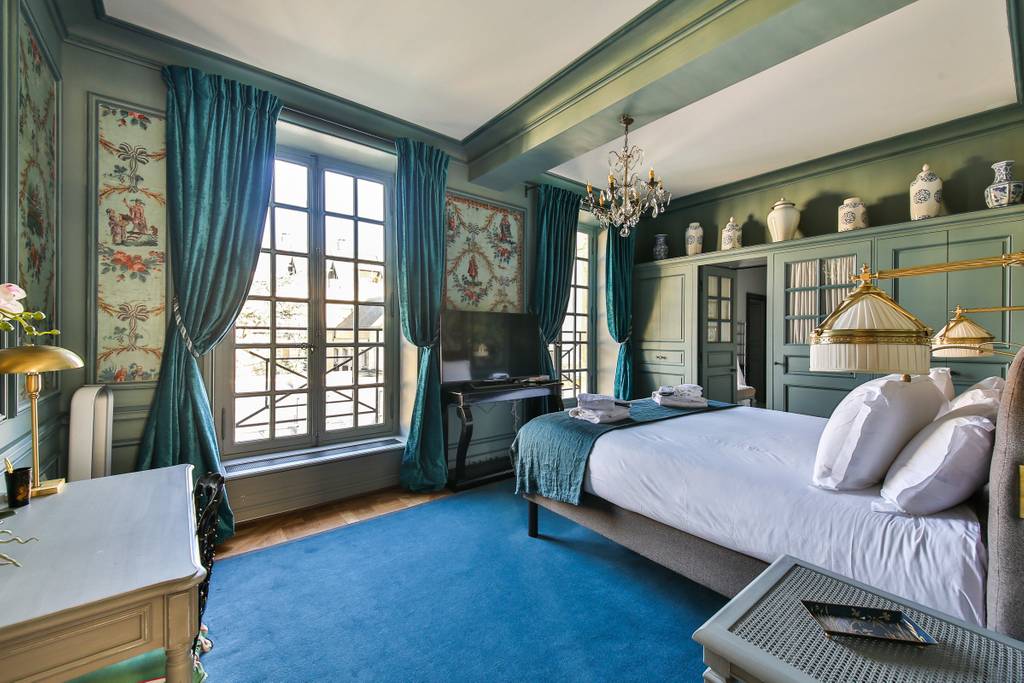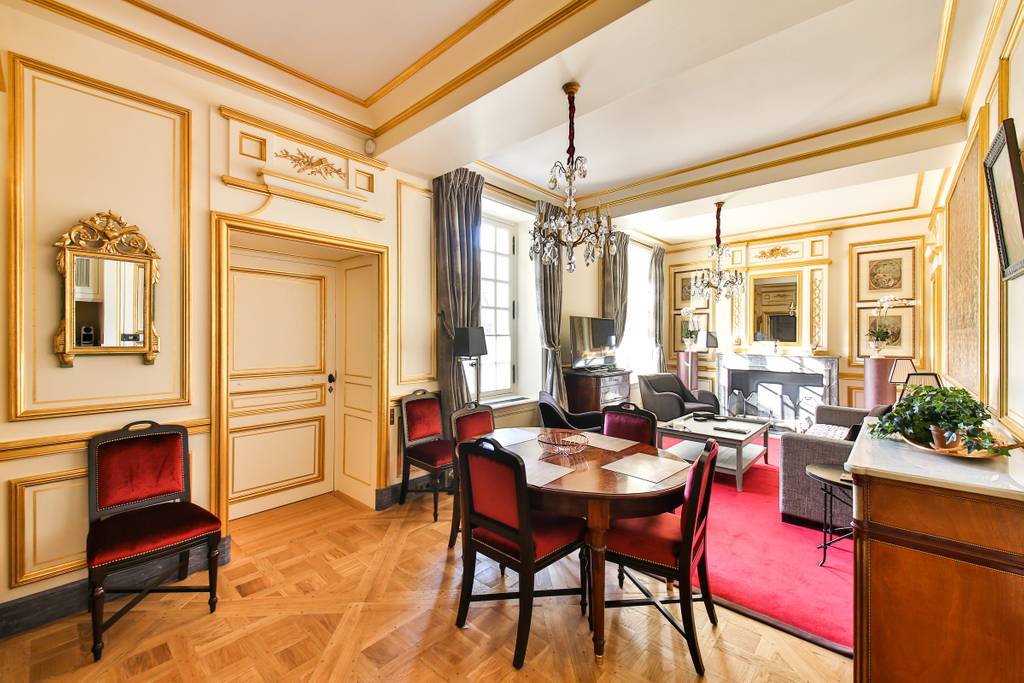 Few Airbnbs in the city of Paris could be more elegant, more refined or more perfectly French than this Marais area stunner. Dating from 1619, this breathtaking apartment was originally home to one of the king's advisors and then later a school for girls. Listed as an historic monument, this one-bedroom, one-bathroom apartment sleeps three but feels as if it could contain the entire French Foreign Legion (if you two end up having a fight, the bathroom is so big one of you could probably just go sleep in the tub).
In the center of the Marais, this Airbnb is close to so many wonderful places like the Musée Carnavalet (which is a free museum dedicated to the history of Paris), the Picasso Museum, the Musée de la Chasse et de la Nature, and of course, the famed Place des Vosges. If you happen to be there in the summer, be sure to cross the Seine to the Institut du Monde Arabe where they have free tango and salsa lessons and afterwards a giant dance party. What could be more romantic than dancing by the banks of the Seine on a hot summer night?
1. The Glass House – $396 a night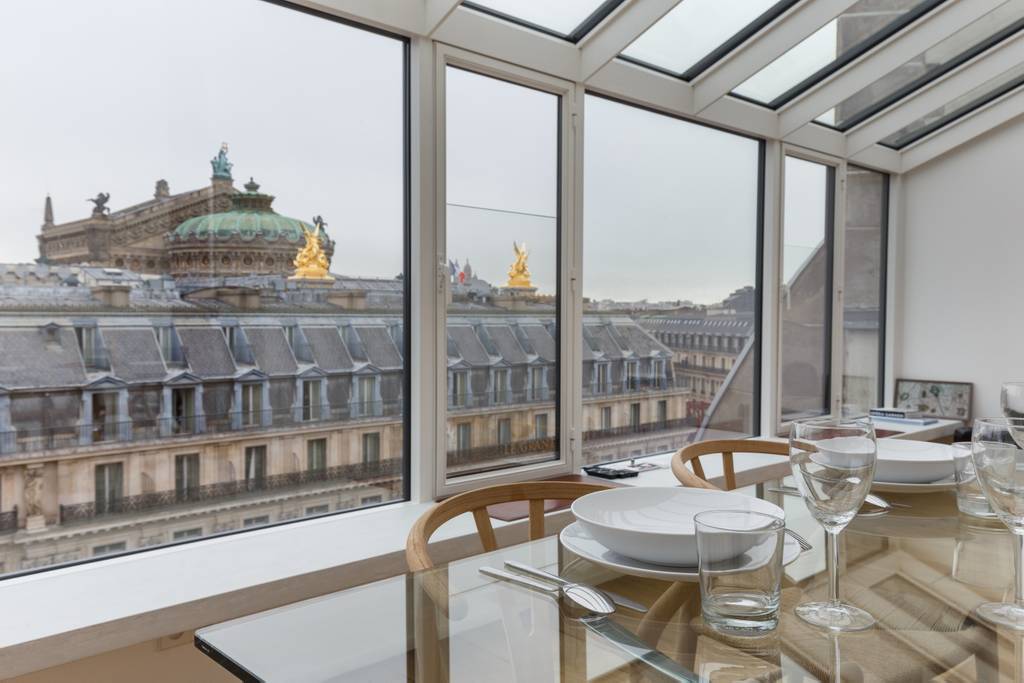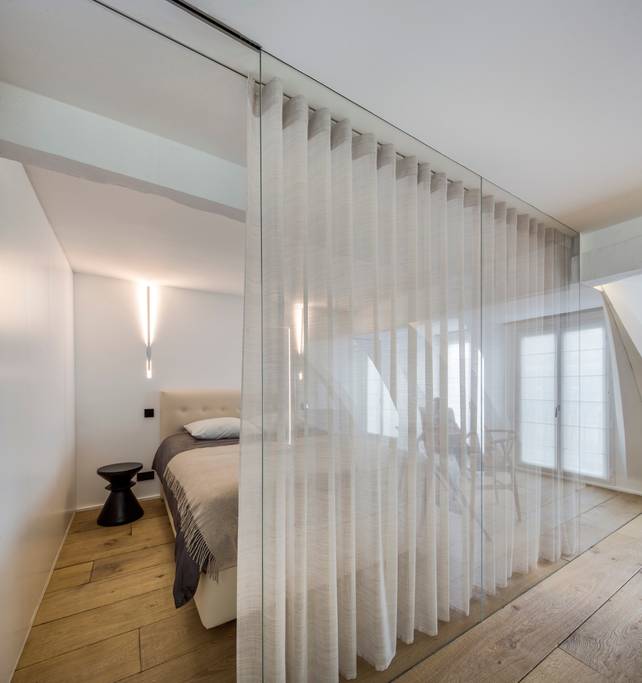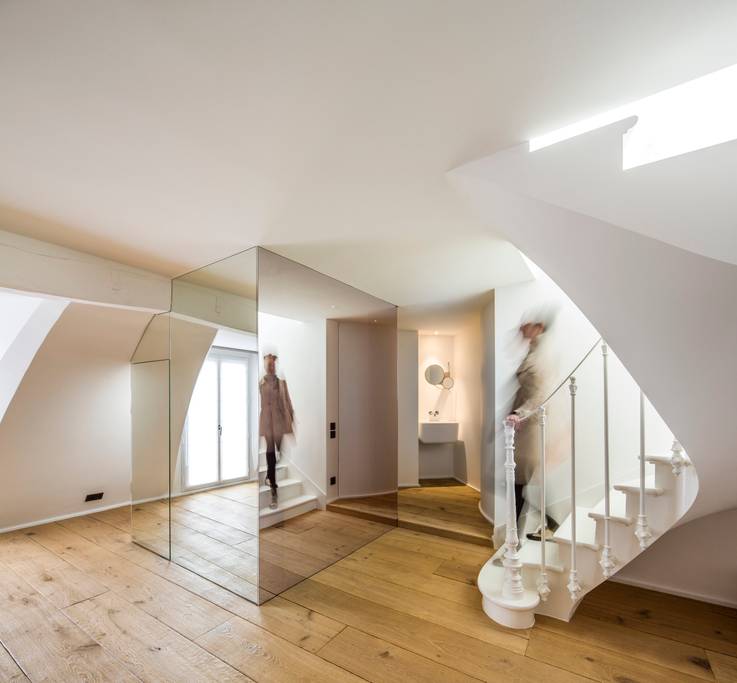 It's a good thing the bedroom in this insanely incredible Paris Airbnb has curtains because otherwise, the neighbors might start talking. A former sewing factory, this Paris apartment has OMG views of the city that are just not to be believed. Right before your eyes is a view of the Opéra Garnier most Parisians never get to see and let's not even get started on the sunsets. Renovated in 2016, this one-bedroom, one-bath apartment in an elevator building might just be one of the most architecturally interesting on all of Airbnb (not just Paris).
Pretending for a moment that you'll be able to pull yourself away from that insane view of the Opéra Garnier, you'll find yourself right in the heart of the Madeline area which full of wonderful sights like the Madeline church, the Maille mustard boutique (it doesn't sound romantic but once you taste it, you'll realize it really, really is), Christian Dior, the original Ladurée restaurant, famed tea house Angelina, the insanely romantic Jardins des Champs-Elysées, the Grand Palais and the Petite Palais, Buddha-Bar Paris and the bar at the Hôtel Costes. Only slightly farther afield are the Tuileries gardens which provide one of the most romantic walks in all of Paris. Good thing this place sleeps four because you might just have a bigger family when you return.