Yes, it's a tourist trap, yes, the lines are endless, yes, it's windy as hell when you get to the top, but the reality is that no other building, image, or even word symbolizes the city of Paris like the Eiffel Tower. That's why Paris Airbnb homes with views of the iconic structure set our hearts racing with excitement and ooh-la-las. Whether it's a modest, left bank studio from which one can see just a sliver of the Eiffel Tower or a million-Euro penthouse with unobstructed floor-to-ceiling views of the French icon, we can't get enough of Paris Airbnb homes with views of La Tour Eiffel. Here are eight of our absolute favorites.
8 Gorgeous Paris Airbnb Homes Perfect For Paris Fashion Week
A Guide To The Neighborhoods Of Paris
8 Gorgeous Budget Paris Airbnb Homes for Under $100 a Night
Rooms With a View: 8 Florence Airbnb Homes with Incredible Views
8. So Close You Can Almost Touch the Eiffel Tower Apartment – $383 a night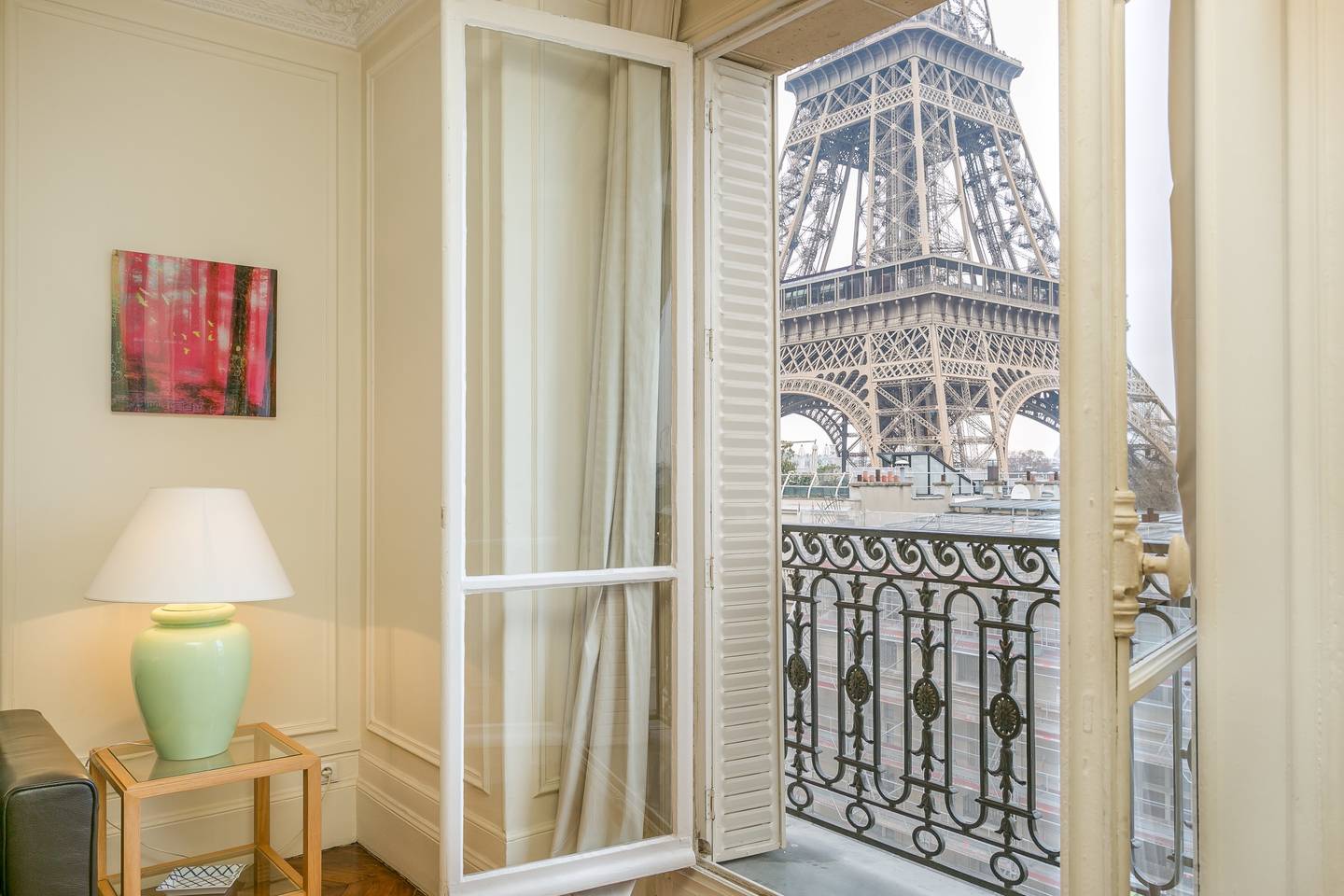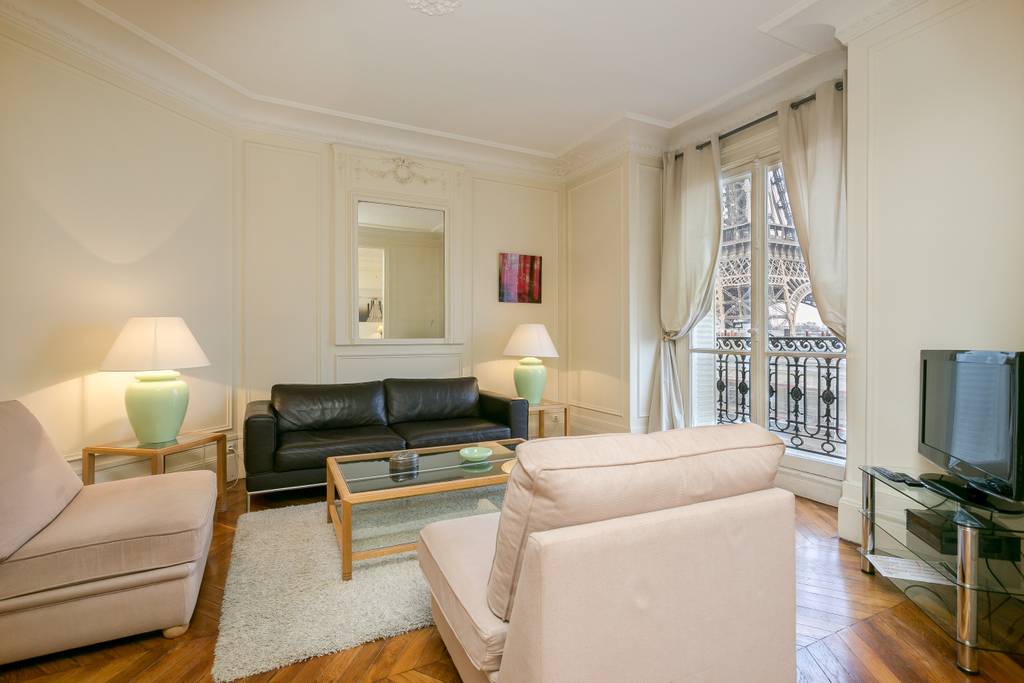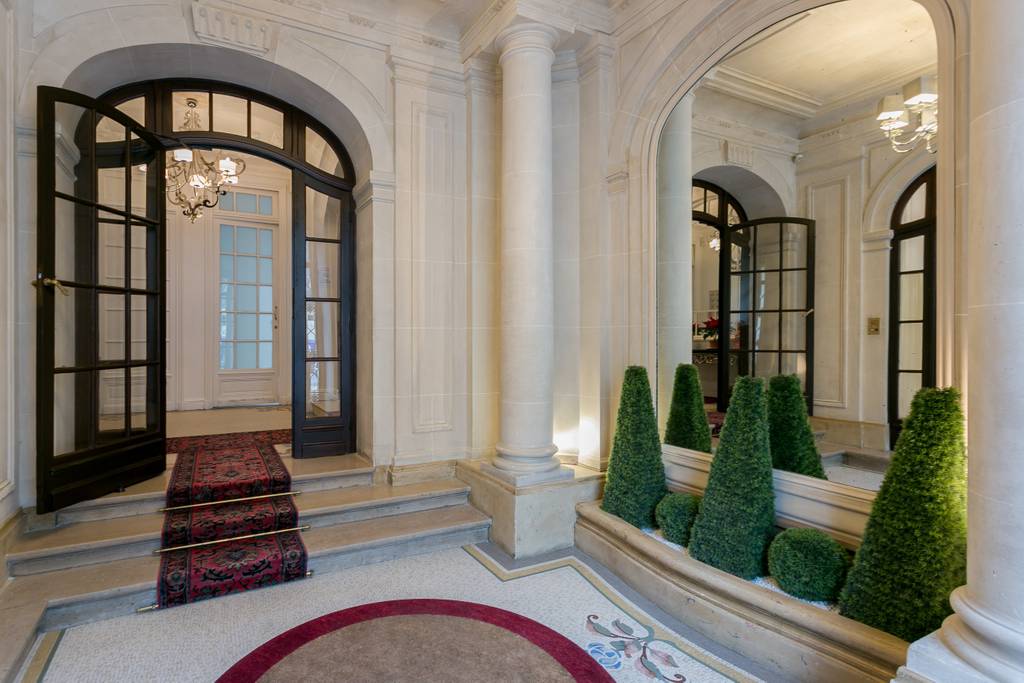 No. Way. Just no way. With the Eiffel Tower so close you can practically touch it, this Paris Airbnb is the apartment of our dreams. Pretending for a moment that you'll spend even a second away from this window, this elegant, two bedroom apartment offers a clawfoot tub, classic Parisian wood floors, a stunning lobby with an on-site concierge, and easy access to the Metro and RER. Located in the Trocadéro area, this apartment is within steps of rue Cler, one of Paris's most famous market streets (it's said many restaurants come here to get their produce and cheese for that night's menu), and an area that has become a favorite of many ex-pats. It's also located very near the Hotel des Invalides which is where Napoleon is buried, and the Musée Rodin, an extraordinary museum that often goes unvisited by tourists.
7. Eiffel Tower Terrace Apartment – $1,121 a night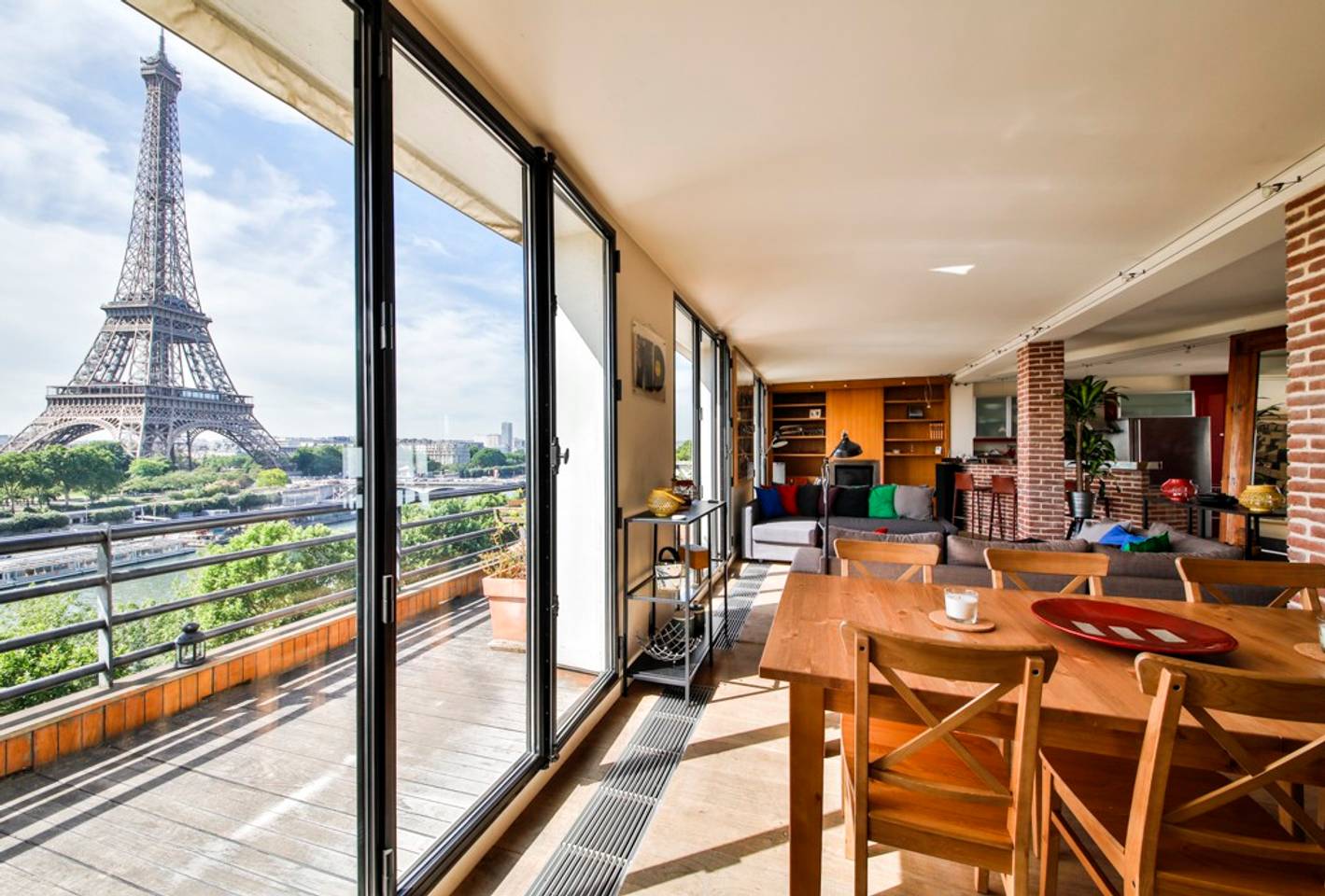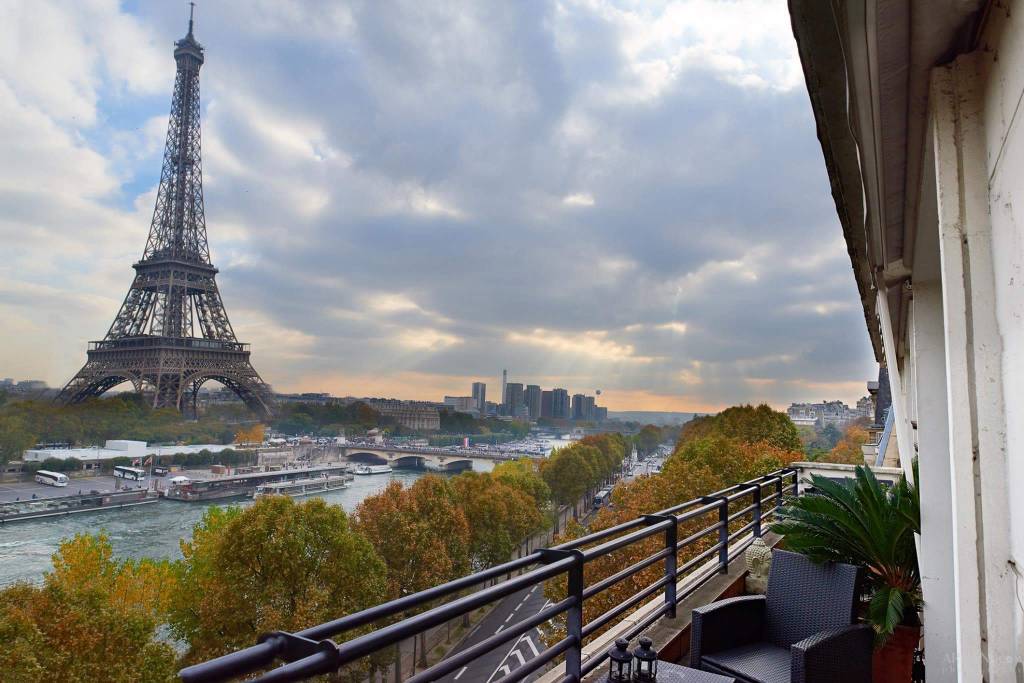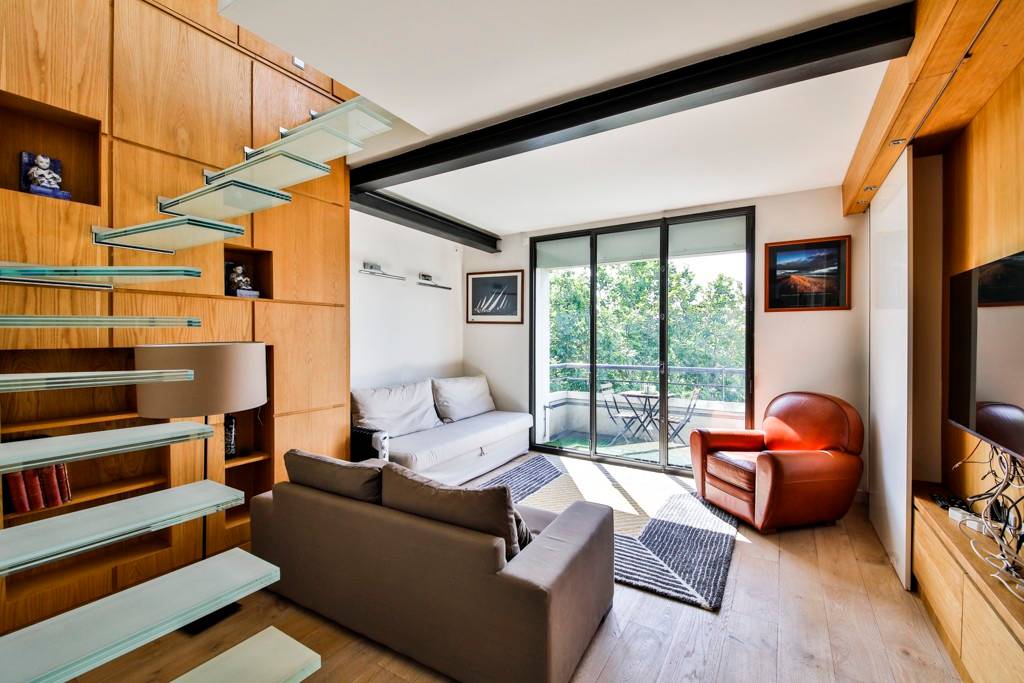 Yeah, um, we were going to put this on the list but then we realized that you can't stay here because we want to. If you could stay here, though, you'd love the enormous terraces that offer totally unobstructed views of the Eiffel Tower not to mention the cool floating staircase (yes, this is a duplex) that leads to the TV room that has the same view. We'll also be enjoying the cool double sinks and bathtub behind the bed not to mention that totally out-of-a-magazine copper wall in the dining room. As if this quirky place needed anything else to win us over, it has heated toilets, but again,
6. Perfect Pied-a-Terre – $182 a night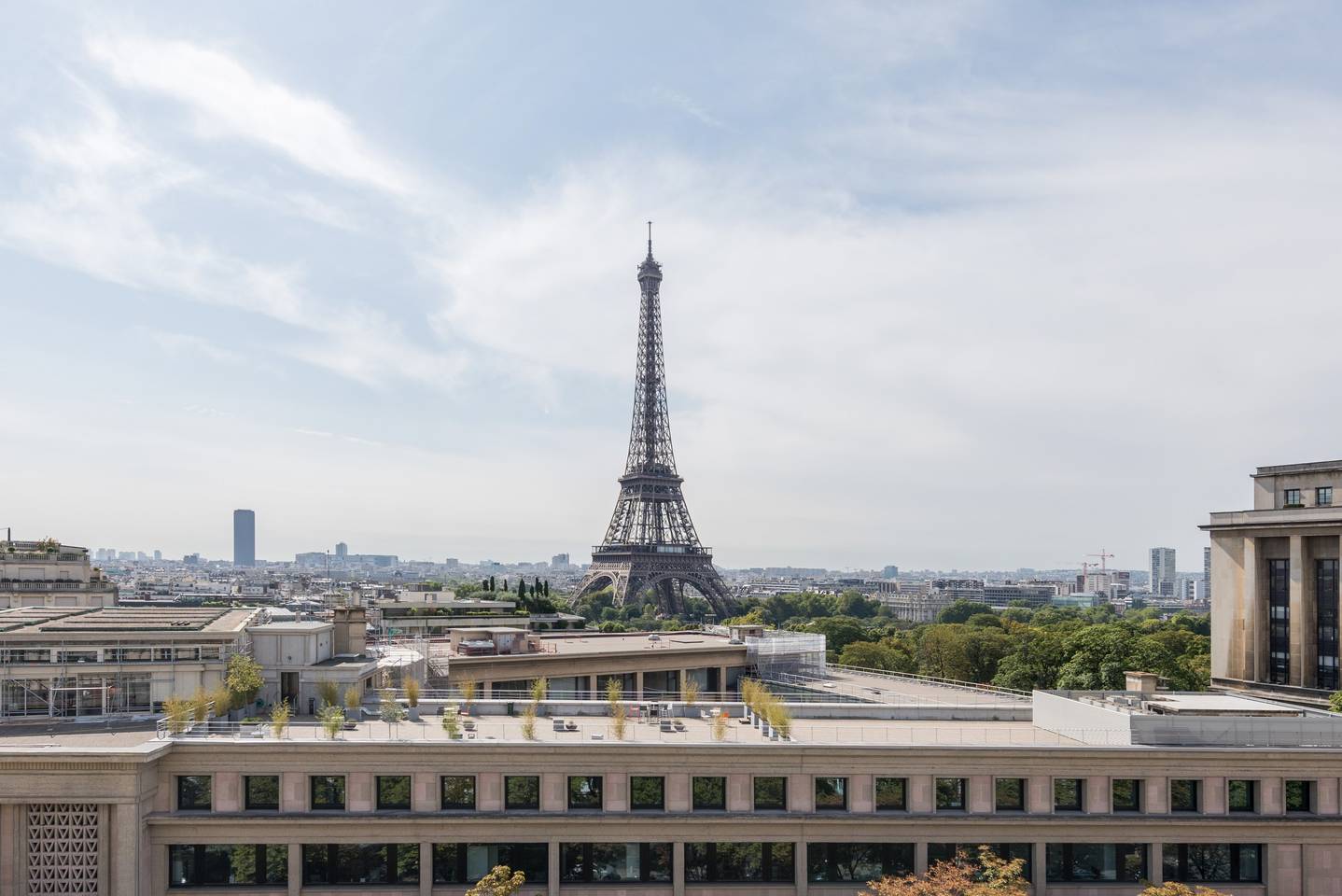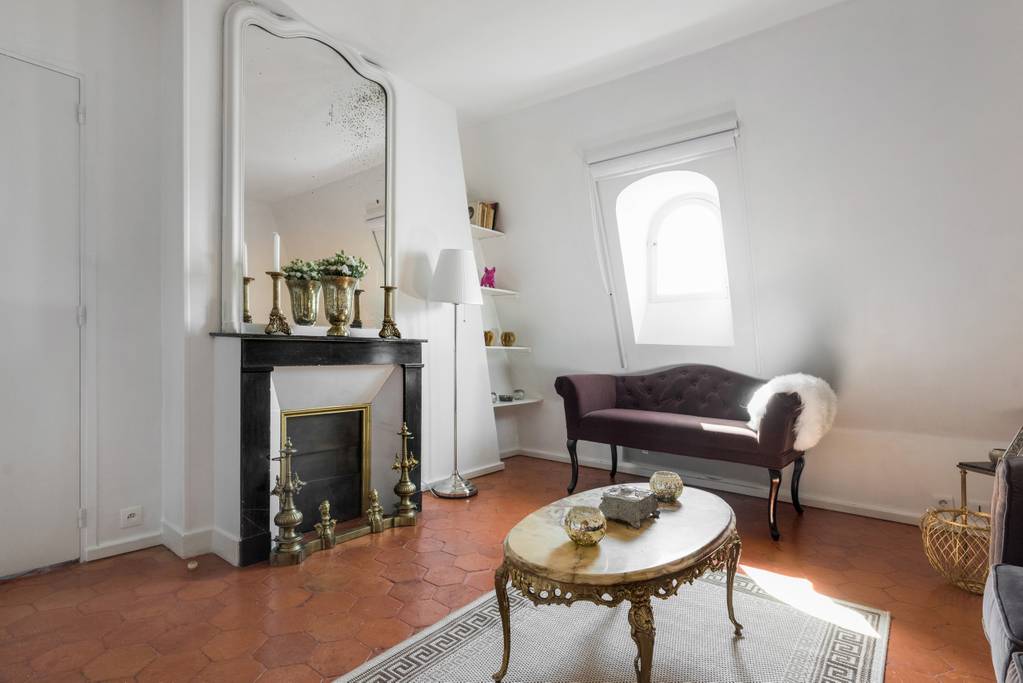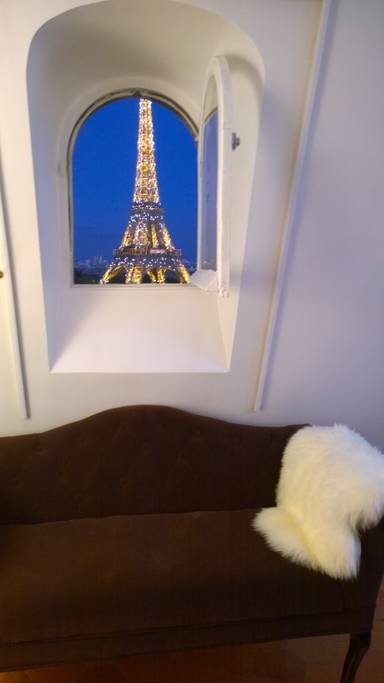 Proving that you not all Paris apartments with incredible views of the Eiffel Tower are mansions, this charming, two-bedroom Right Bank apartment is a total find. Renovated in 2015 it's the perfect mix of old and new, combining the Parisian Belle Époque aesthetic with modern conveniences but take note: In true French fashion there's no TV and no microwave so you'll have to be content with staring at the Eiffel Tower for hours and hours. Complete with a traditional "Tomette" tile floor and a mirror that dates back to the Napoleonic age, this is the place to have a true Parisian moment.
5. Eiffel Tower Skylight View – $549 a night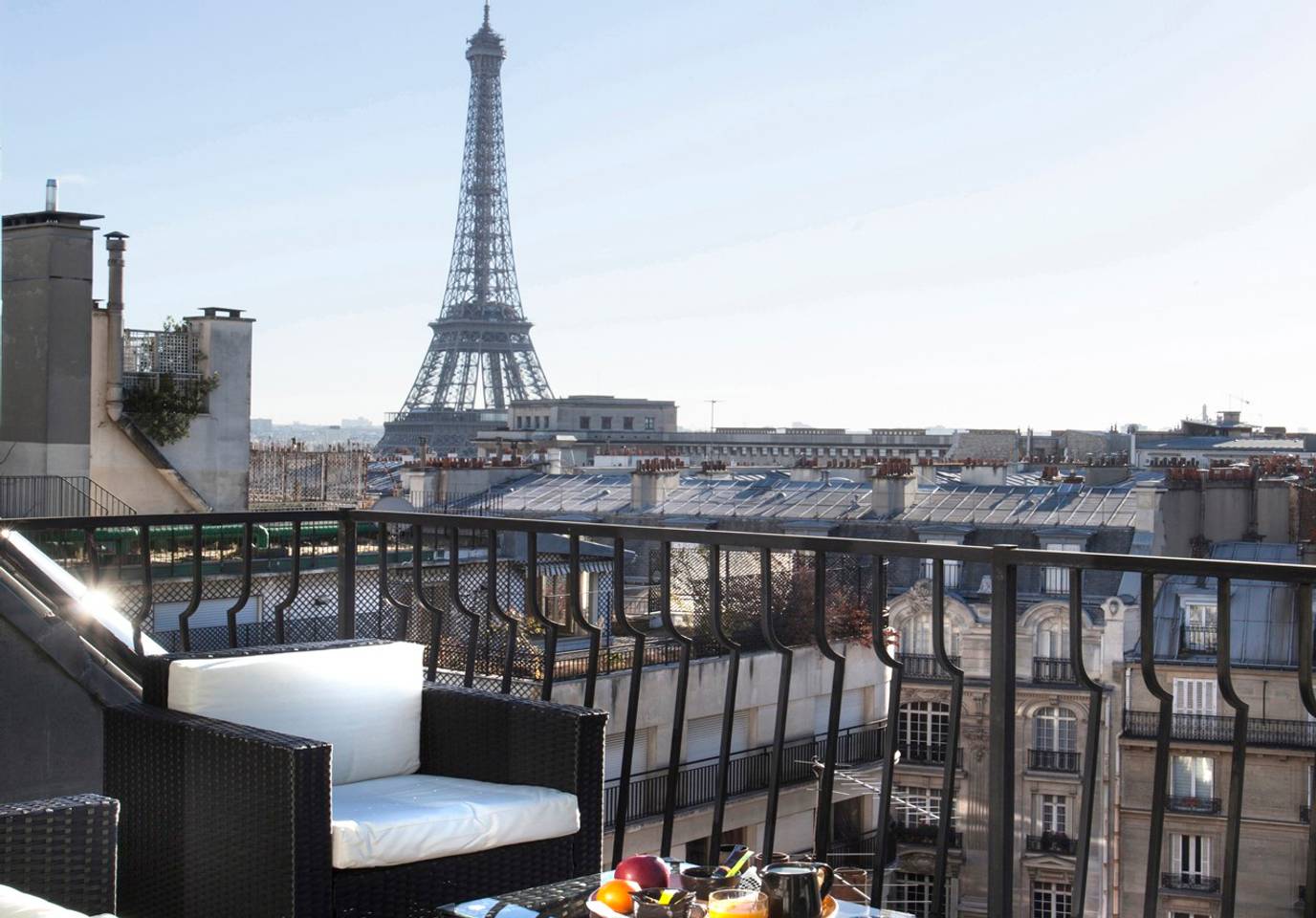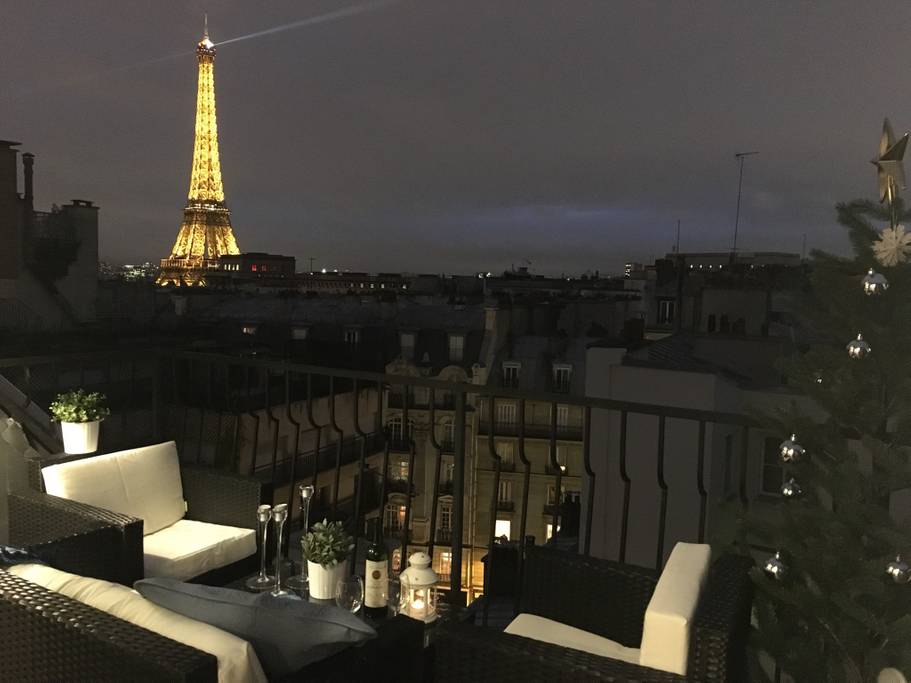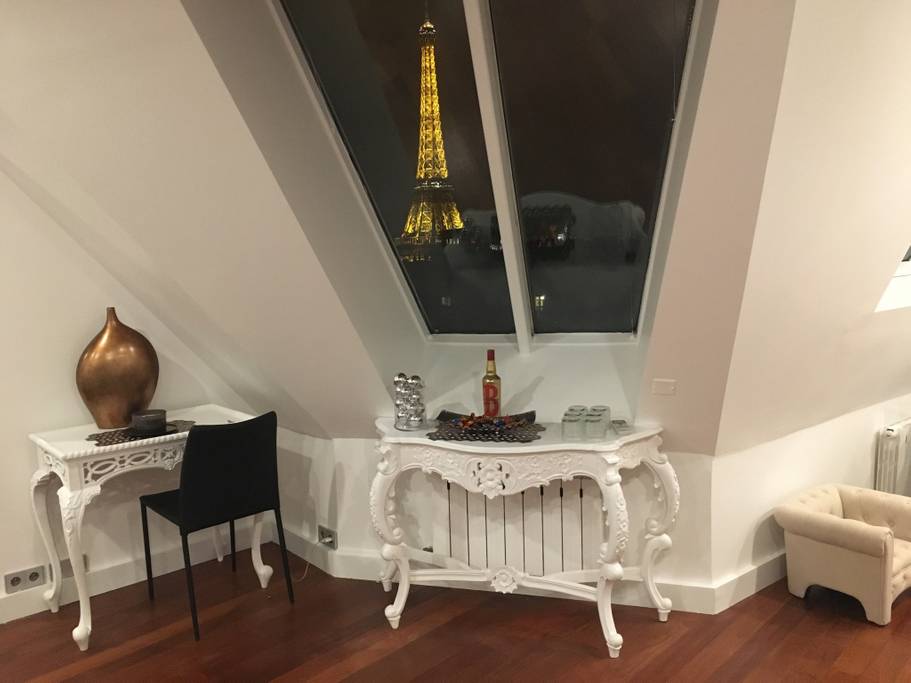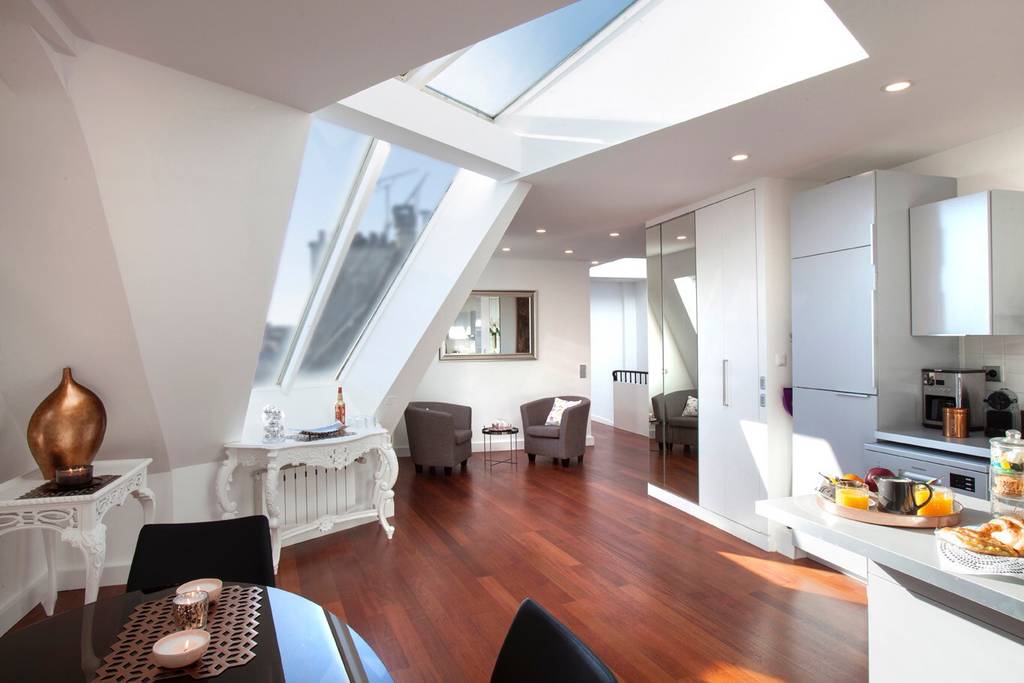 While this apartment is loaded with interesting art, a cool skylight, and a full kitchen, it really doesn't matter because you'll be spending pretty much all your time on the terrace from which you'll have a view of the Eiffel Tower pretty much only found in hotel brochures and movies. Accommodating up to eight guests, this three-bedroom, five bed apartment has oversized windows to view the Eiffel Tower light show that happens nightly. Located on the 6th floor, this Haussmann-style elevator apartment is great for kids as it comes with a fold-up crib and has a minimum of knicknacks so you won't have to worry about little hands breaking things. There's also a maid service available so you won't have to spend your last day in town cleaning.
The 8 Most Romantic Airbnb Homes in Paris
8 Incredible Paris Airbnb Loft Homes That Will Make You Feel Like an Artiste
8 Gorgeous Budget Paris Airbnb Homes for Under $100 a Night
4. Feng Shui Studio – $129 a night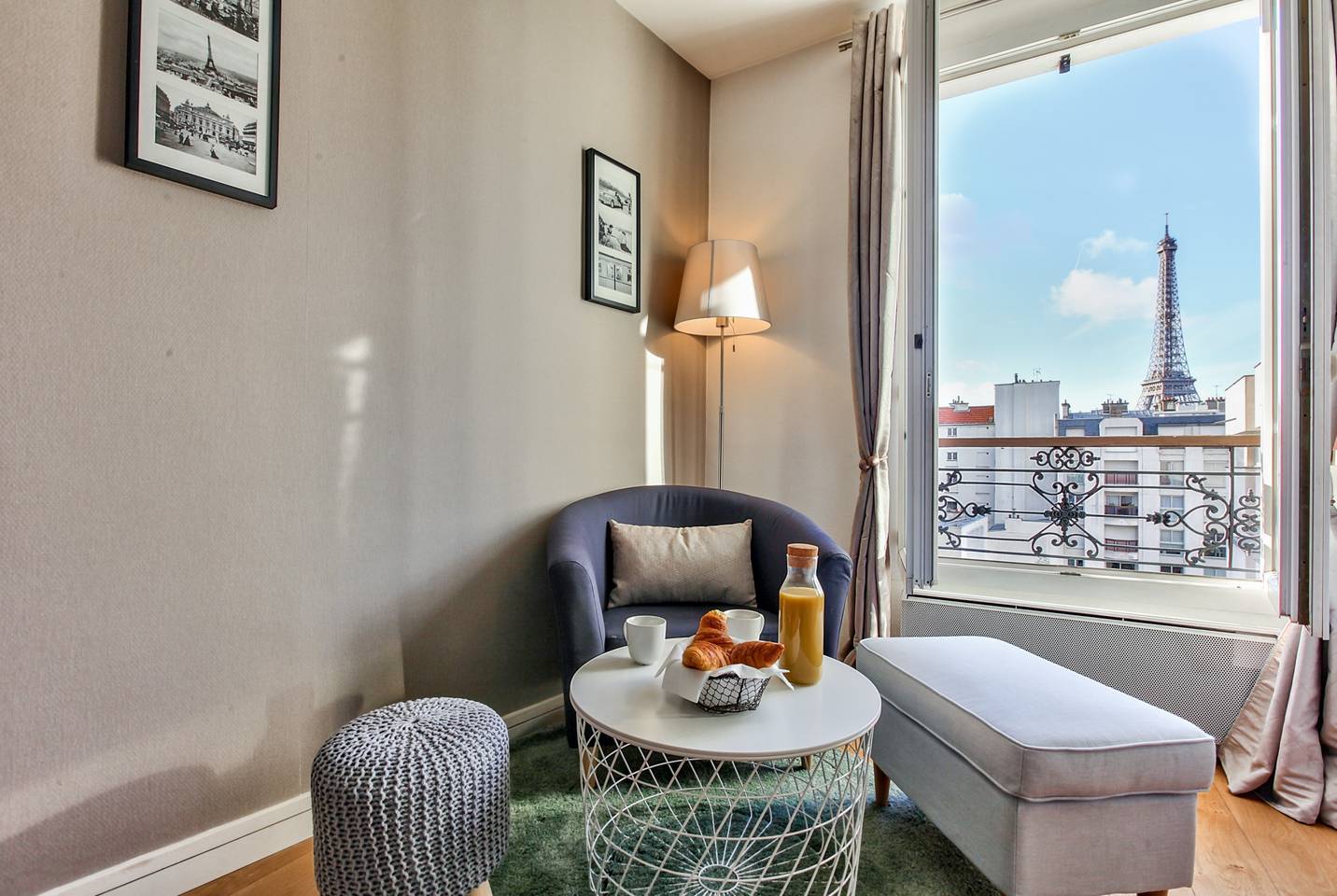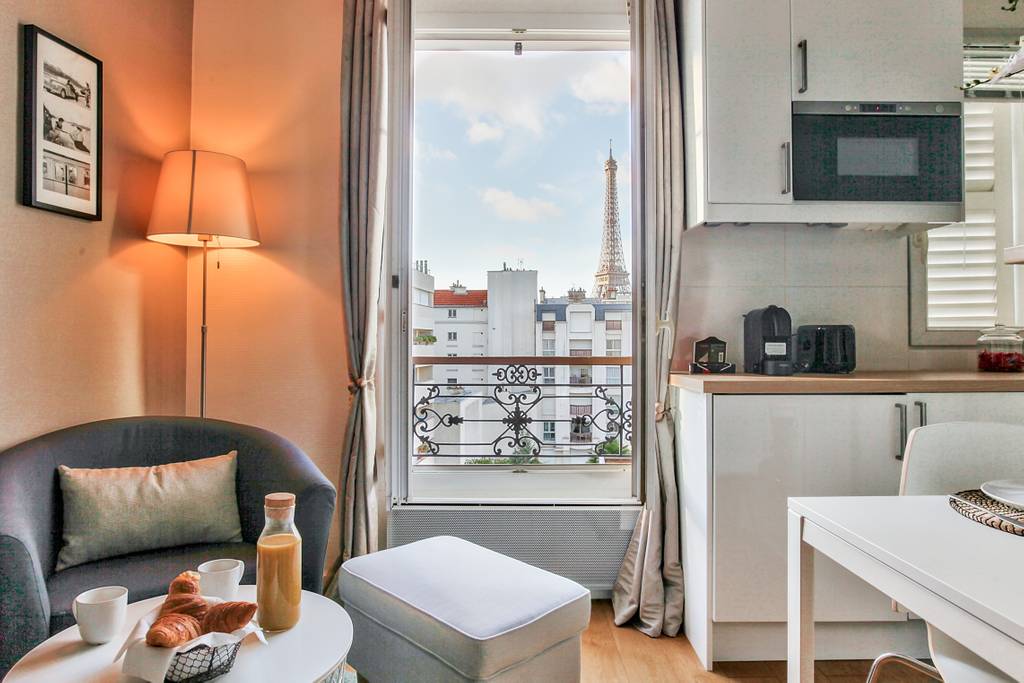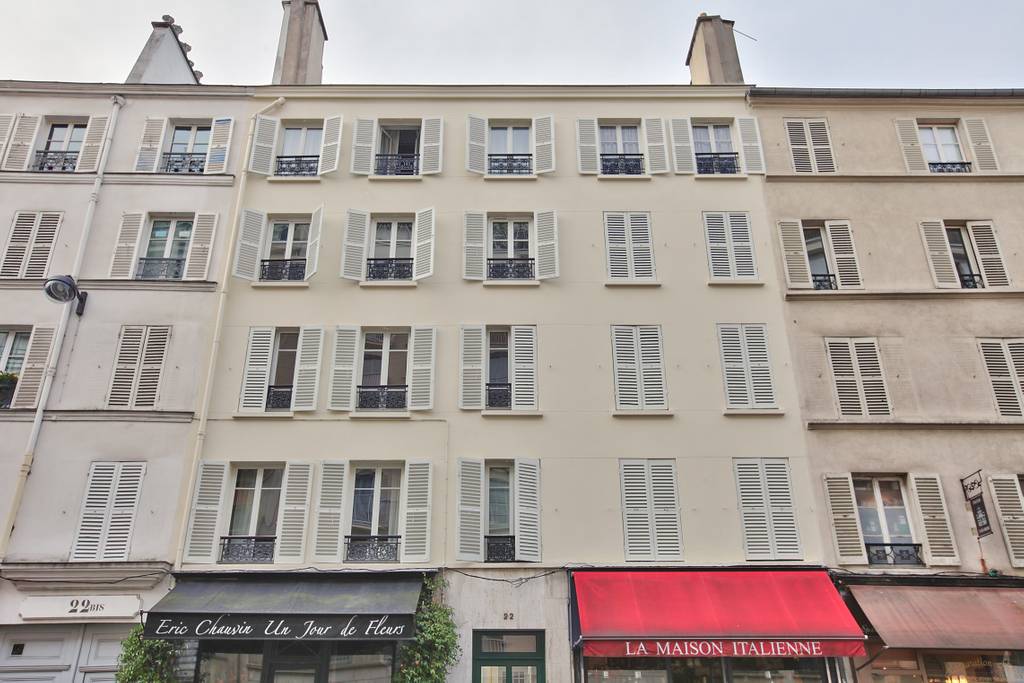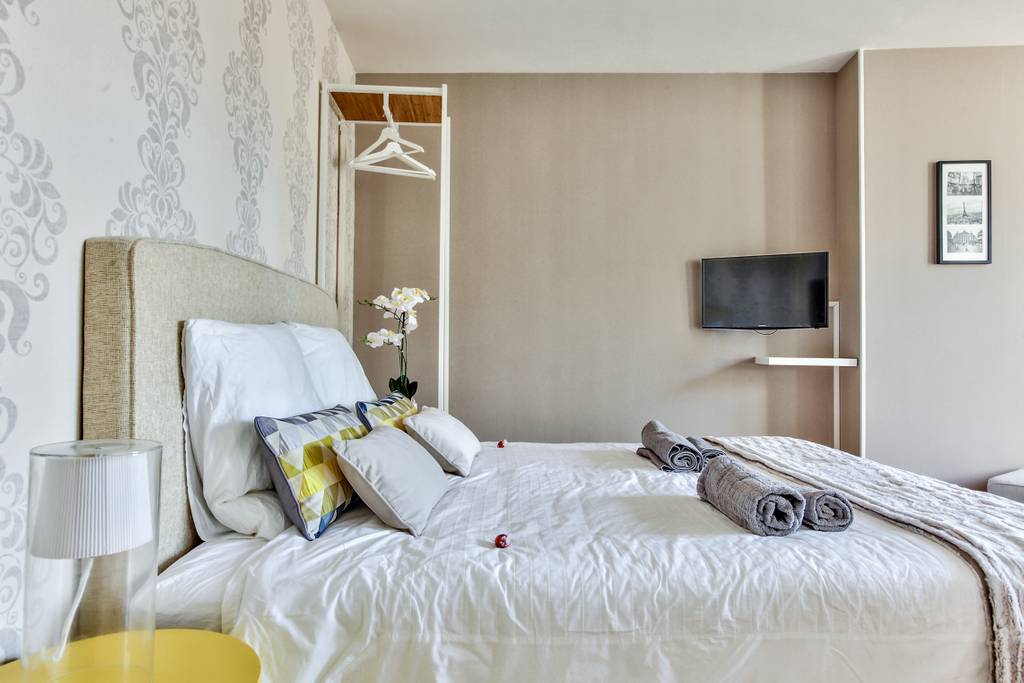 At only $129 a night, this romantic studio not only offers insane views of the Eiffel Tower but a free concierge consultation to help you make reservations and get the lay of the land. Decorated according to the principles of Feng Shui, this bright, clean, sunny apartment is perfect for a solo traveler. Fairly centrally located, this Paris apartment is within walking distance of the École Militaire, the Hotel des Invalides, the Eiffel Tower, the Place de la Concorde, and, even the Musée d'Orsay. If you happen to be in town for Paris Fashion Week and have a way of scoring a ticket, you're also very close to the Grand Palais, which in recent years has become known as the building in which Karl Lagerfeld holds all his fashion shows for the house of Chanel. Of course, this means you'll have to pry yourself away from that incredible hatch window with the view of the Eiffel Tower.
3. View From the Air – $687 a night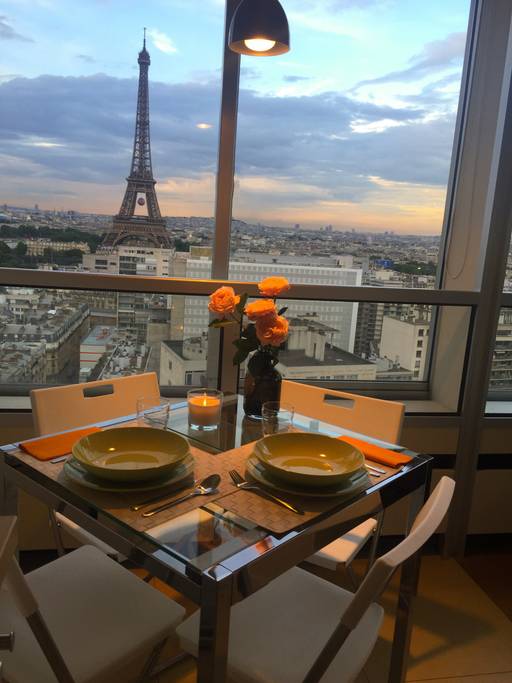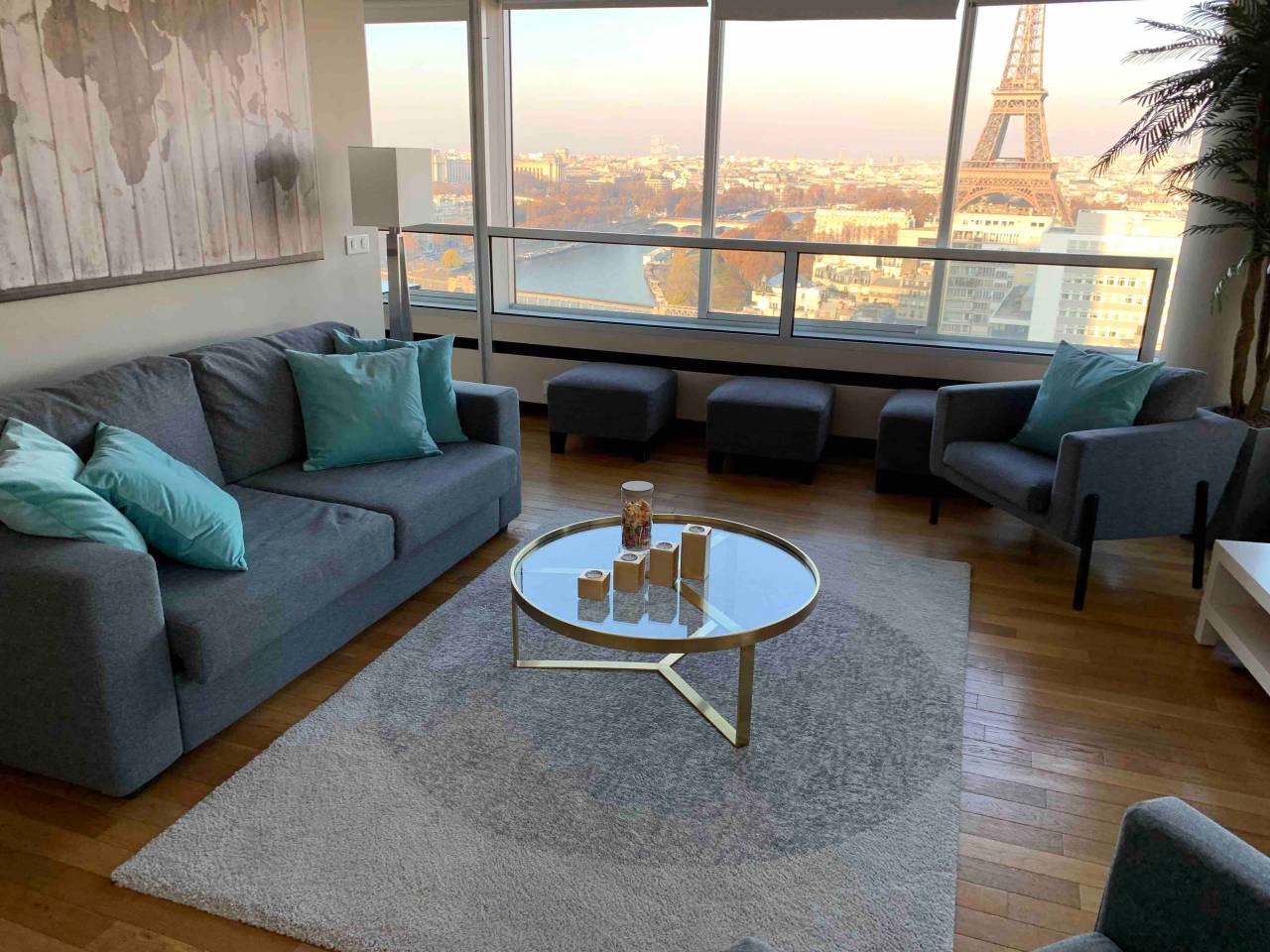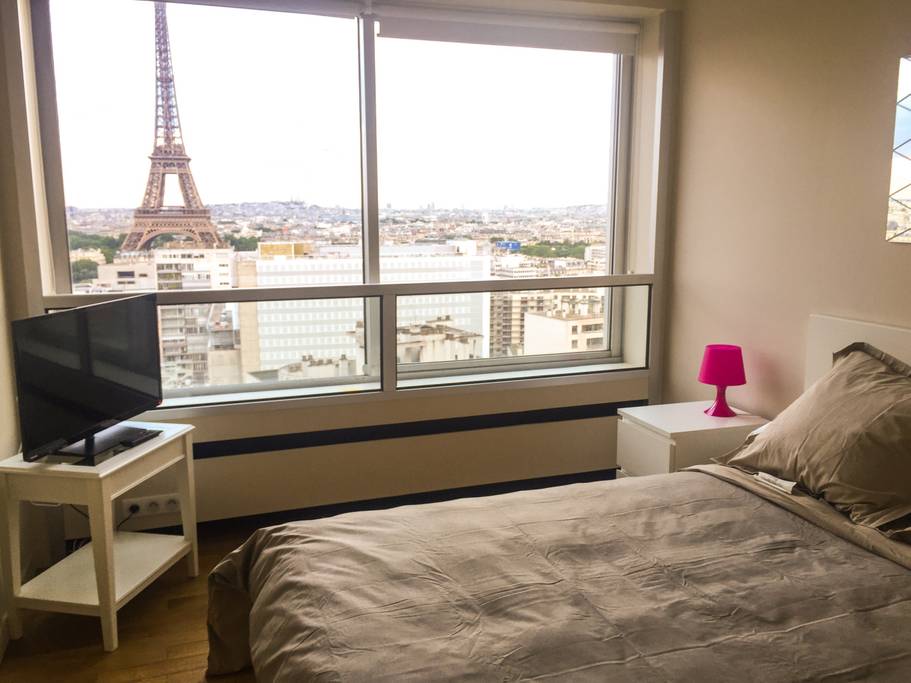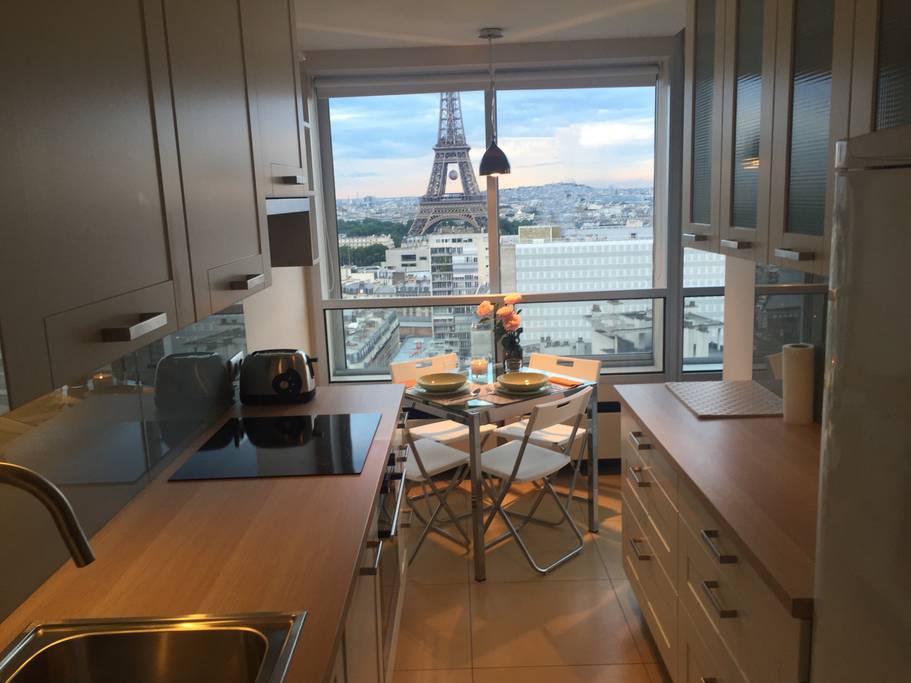 This modern flat bills itself as "Paris sur un nuage" which translates as "Paris on a cloud" and it's certainly an apt name. Offering a head-to-toe view of the Eiffel Tower from multiple rooms, is going to really make it hard to look out your own windows when you go back home. In addition to the view this apartment which is located on a high floor, also easily accommodates guests with mobility challenges, a relative rarity in the city. Speaking of challenges, Paris can be a challenge in and of itself but the owners of this flat are just a text away if you need anything and will organize your airport transfers. Situated right near the banks of the Seine, this is a perfect place from which to catch on of Paris's famous Bateaux Mouches river cruises that will take you from one end of the Seine to the other.
2. A Loft With a View – $320 a night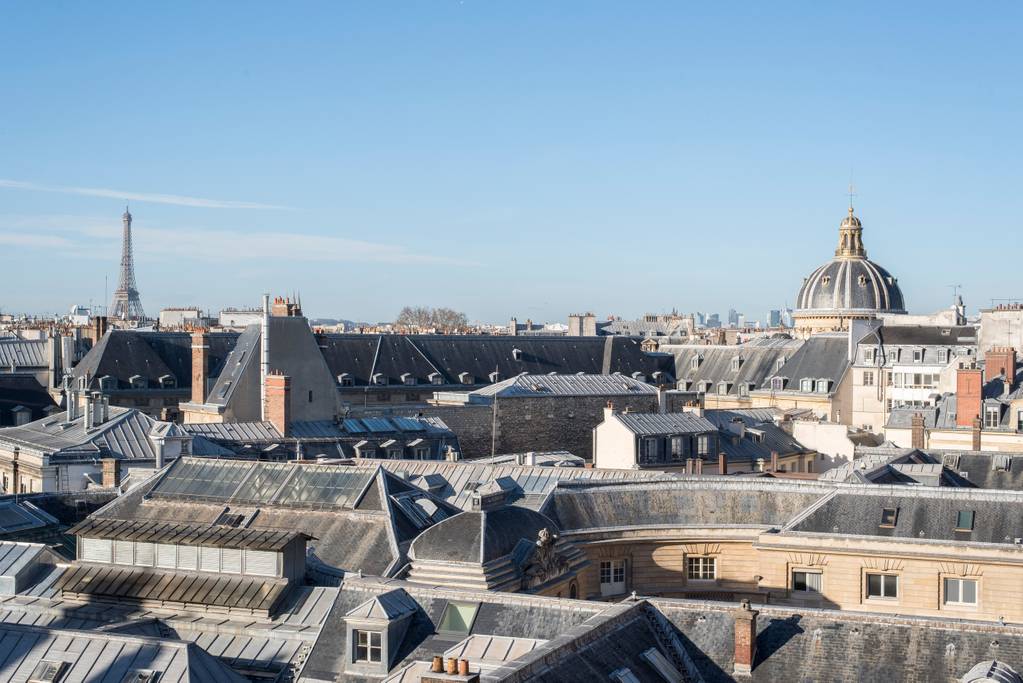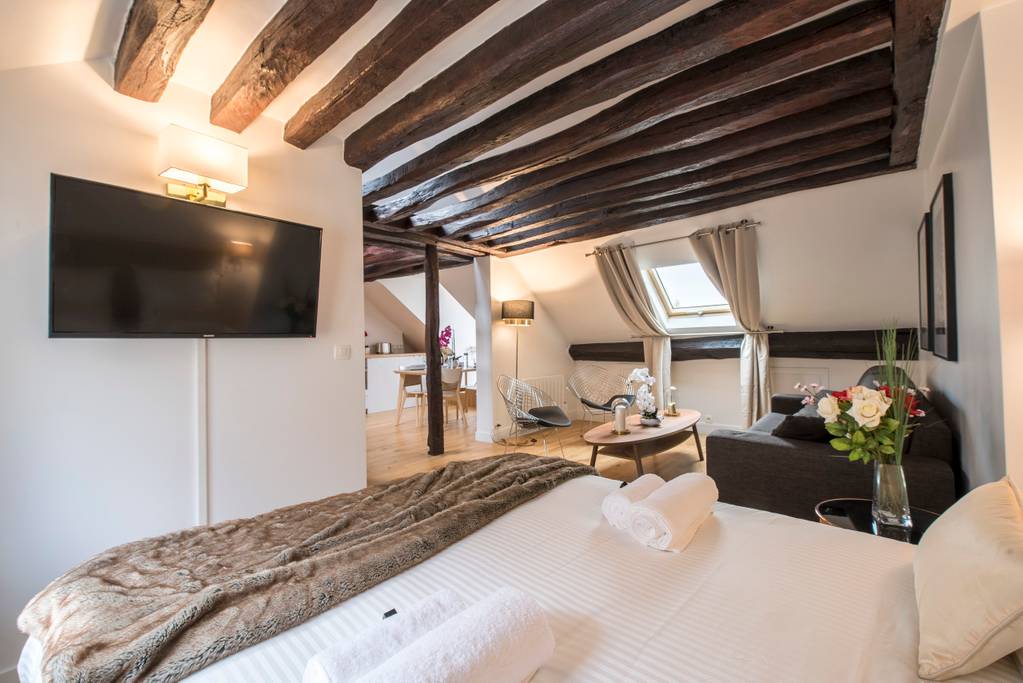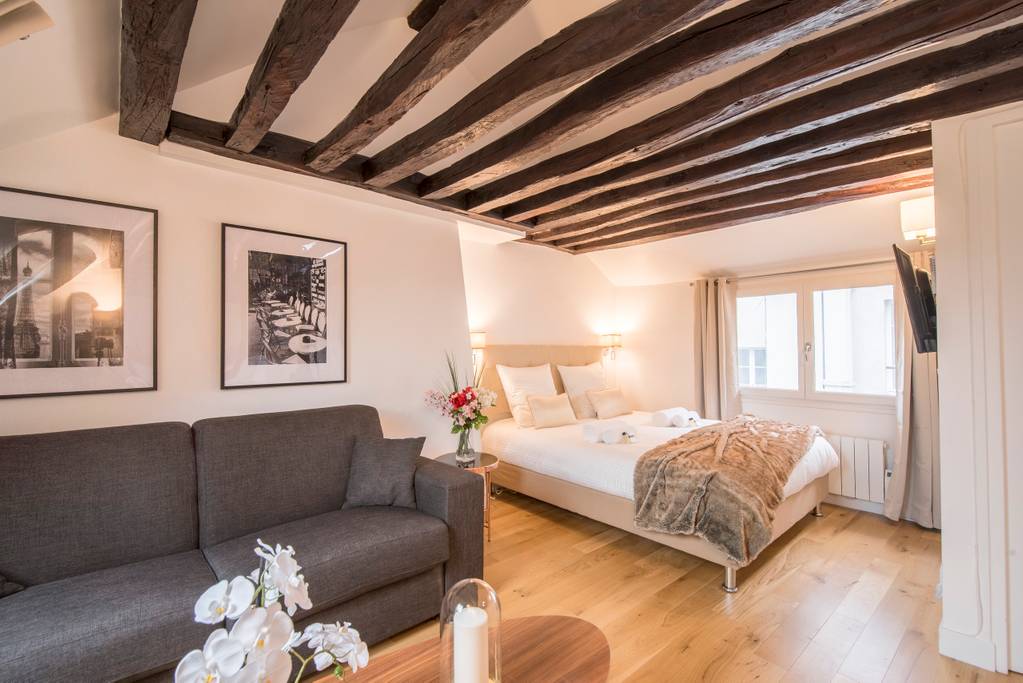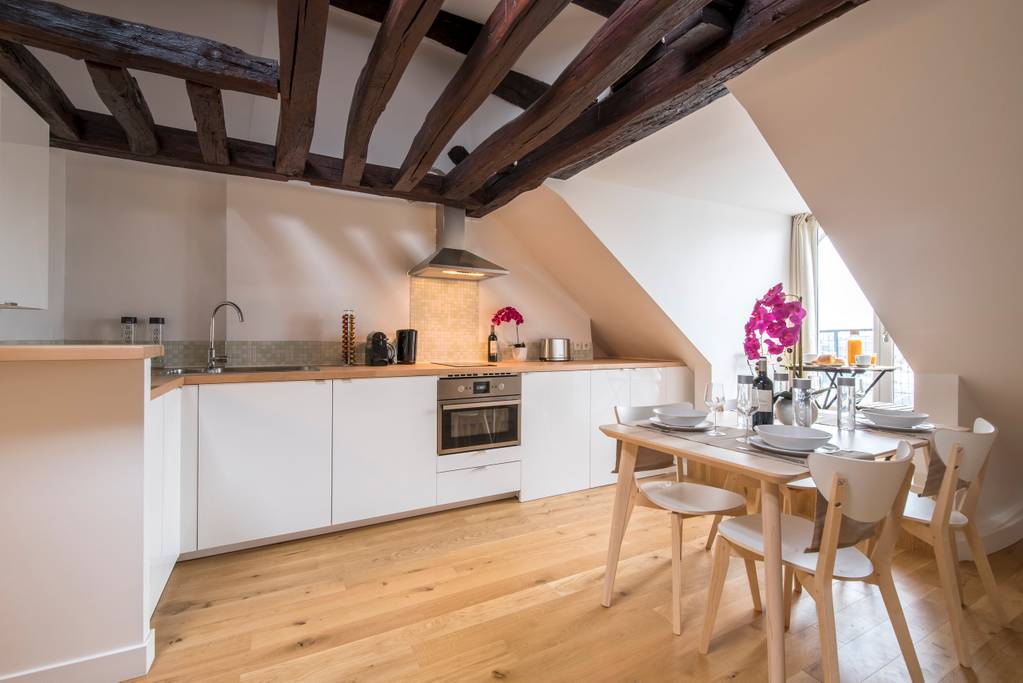 You don't necessarily need to stay near the Eiffel Tower to have a great view. This soothing loft-like space decorated in neutrals is in the heart of the Saint-Germain-des-Pres sleeps four and is right in the middle of the city. To name just a few of the incredible attractions you'll be near: Notre Dame Cathedral, the Louvre Museum, the Musée d'Orsay, the Palais Royal, Les Halles, the Pompidou Center, and the extraordinary Ile St. Louis. You'll also be within walking distance of some of the Paris's best and most legendary restaurants like Les Deux Magots, Café de Flore, Brasserie Lipp, and even famed ice cream shop, Berthillions.
1. Doesn't Get Much Closer than This – $206 a night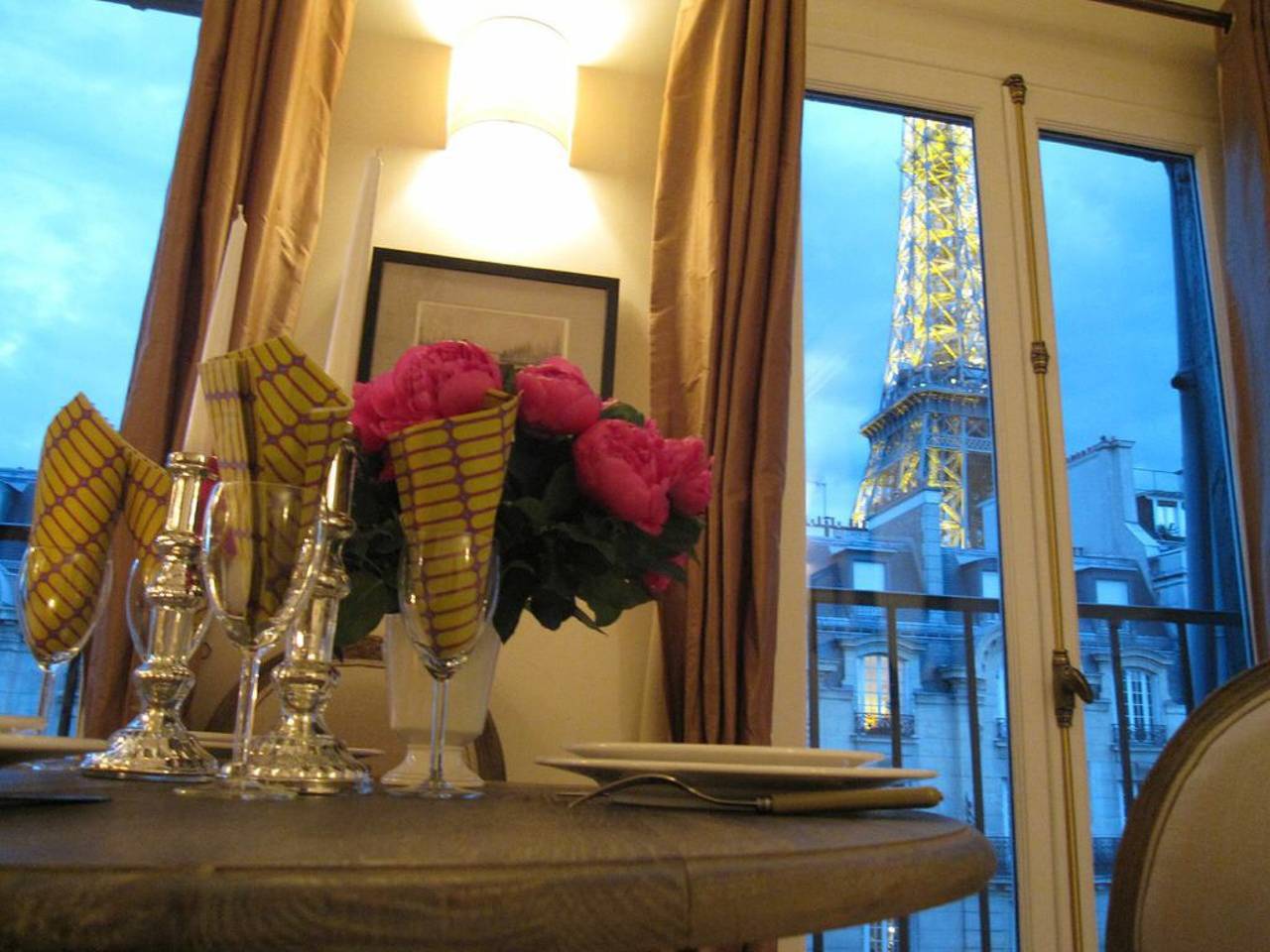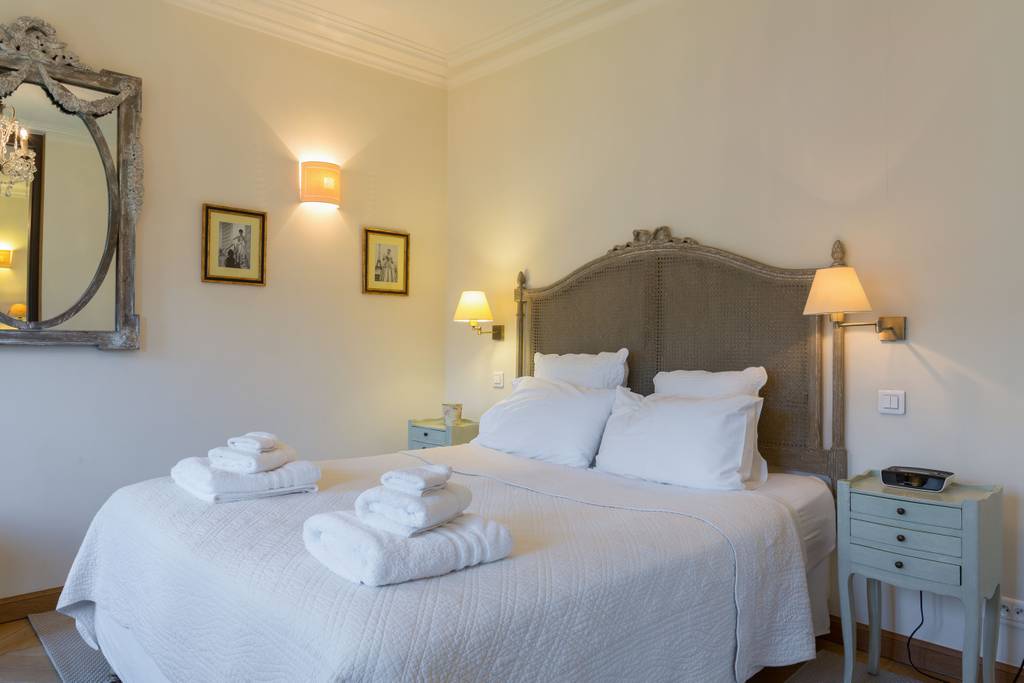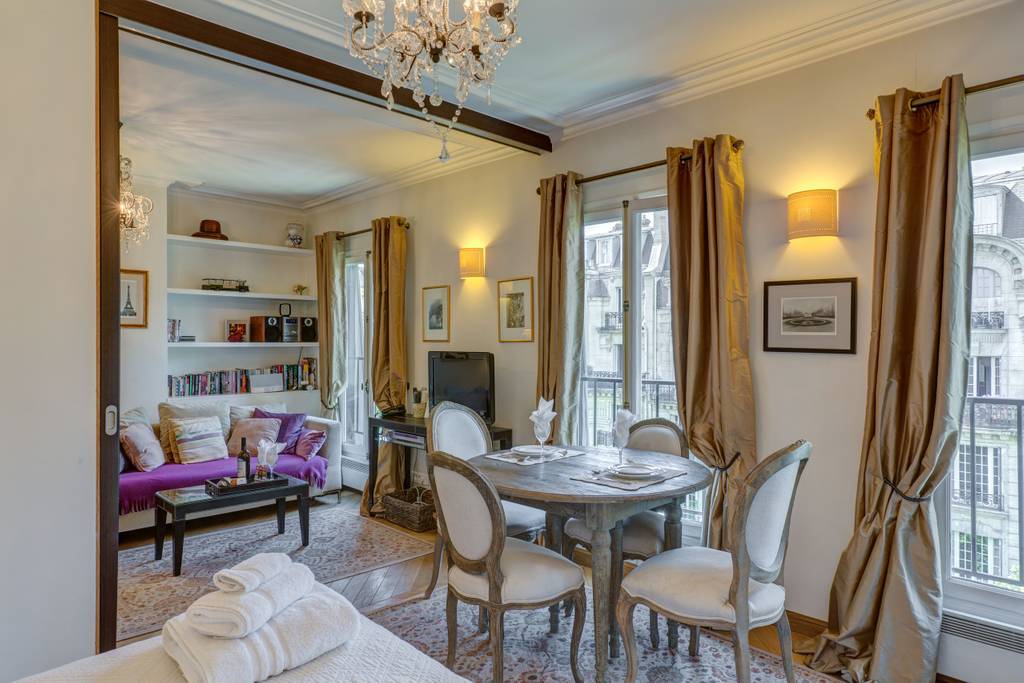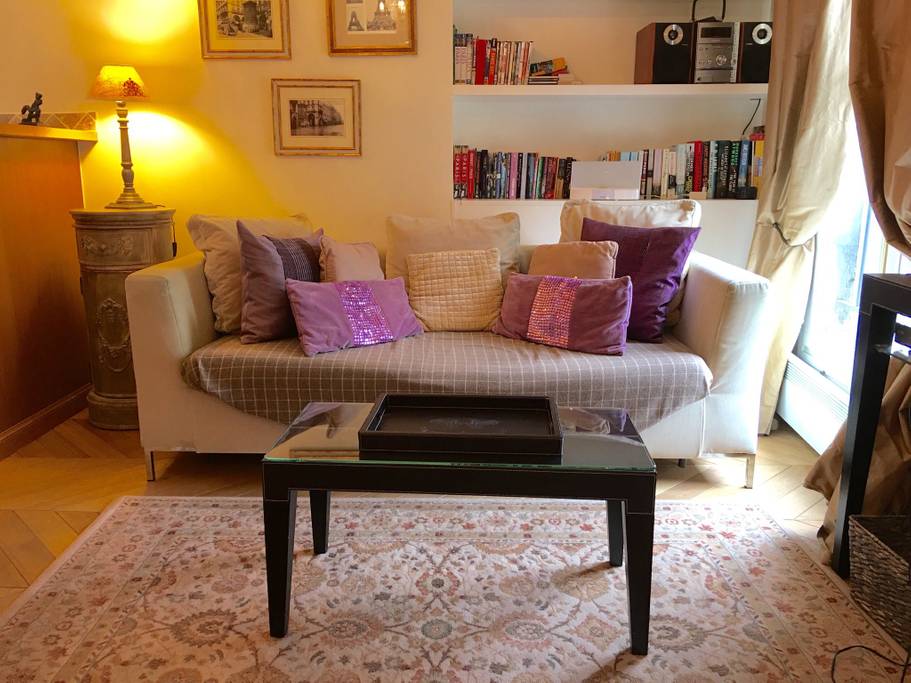 You might need to go into the bathroom to have a conversation because you will not be able to concentrate in the living room with that view right outside the window. This picture-perfect Right Bank one-bedroom apartment is decorated in classic French style. Super romantic, this studio has a dividing wall that turns the space into a one-bedroom. Although there isn't a ton of room, there are a lot of amenities including washing machine, dishwasher, Nespresso machine, wifi, and satellite TV. Of course, it'll be hard getting around to using all of them since you'll be so close to so much like the high-end Avenue Montaigne for shopping, the Champs-Elysees for walking, the Paris aquarium, Trocodéro (which offers yet another amazing view of the Tour Eiffel), and oh-la-la Paris's famed cabaret review, Crazy Horse.