It's all but impossible to walk the streets of Paris and not wonder what's behind the walls of some of those fabulously glorious apartment buildings. Those who've been lucky enough to peek behind those walls know that they are full of the kind of visual and architectural splendor found mostly in history books and incredibly expensive design magazines (like $25-a-piece expensive). Thankfully, many of those incredible Paris apartments are for rent on Airbnb which is why we've put together this list of 8 truly extraordinary Paris Airbnb homes.
Whether you're looking for an apartment that can double as a ballroom or a cozy Parisian flat on the Île Saint-Louis, these 8 incredible Paris apartments will fulfill every fantasy you've ever had about staying in the City of Light.
8 Paris Airbnb Homes with Sick Views of the Eiffel Tower
The 8 Most Romantic Airbnb Homes in Paris
8 Cute Paris Airbnb Homes That Look Like Little Houses
The 6 best Airbnb for French Open 2019 near Stade Roland-Garros

8. License to Île – $695 a night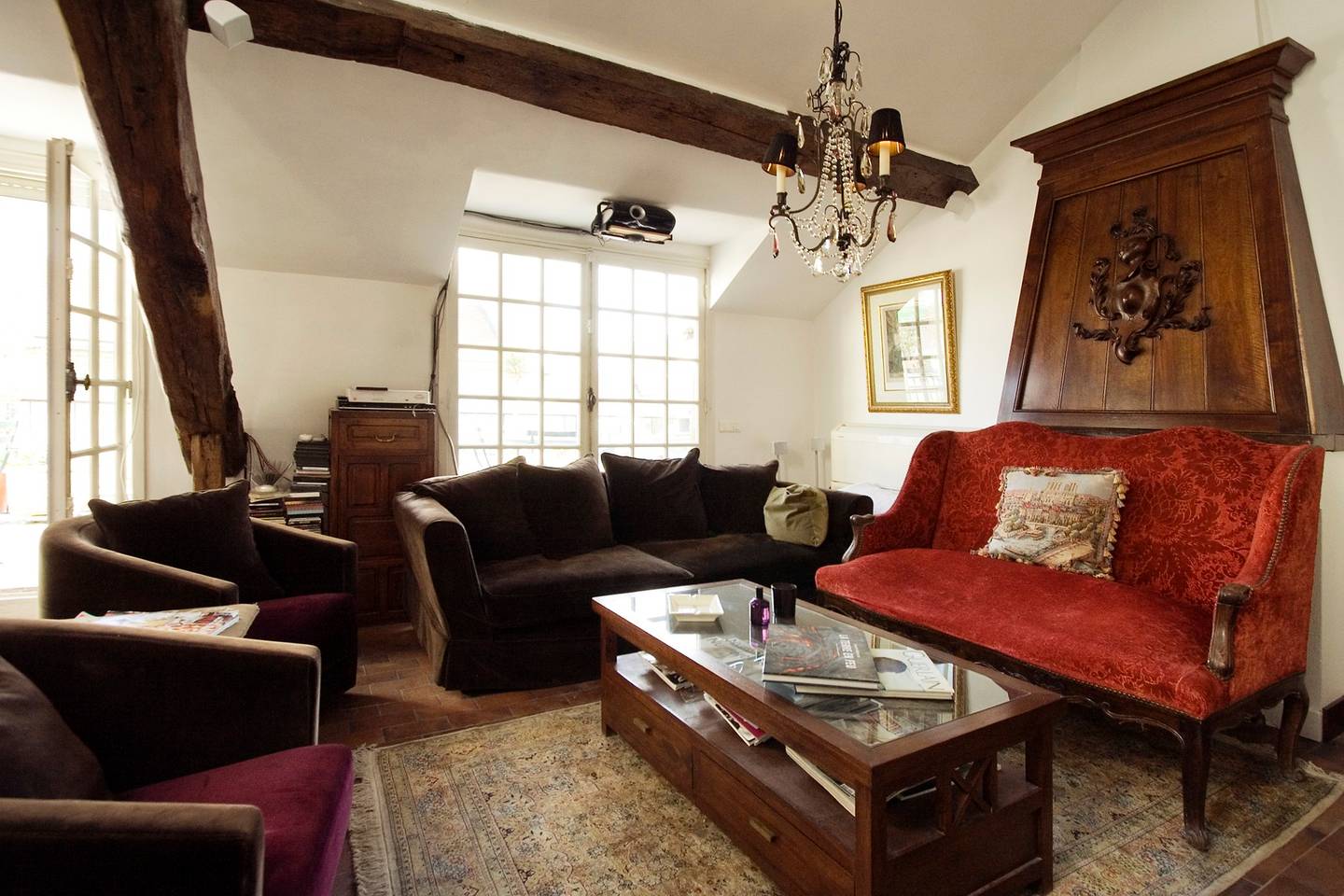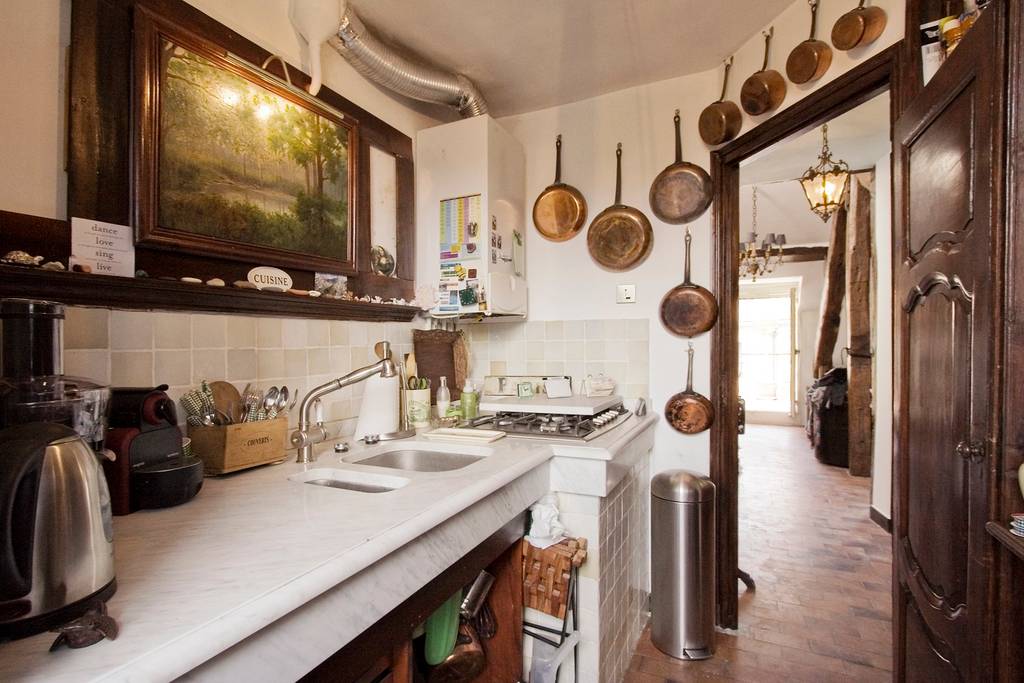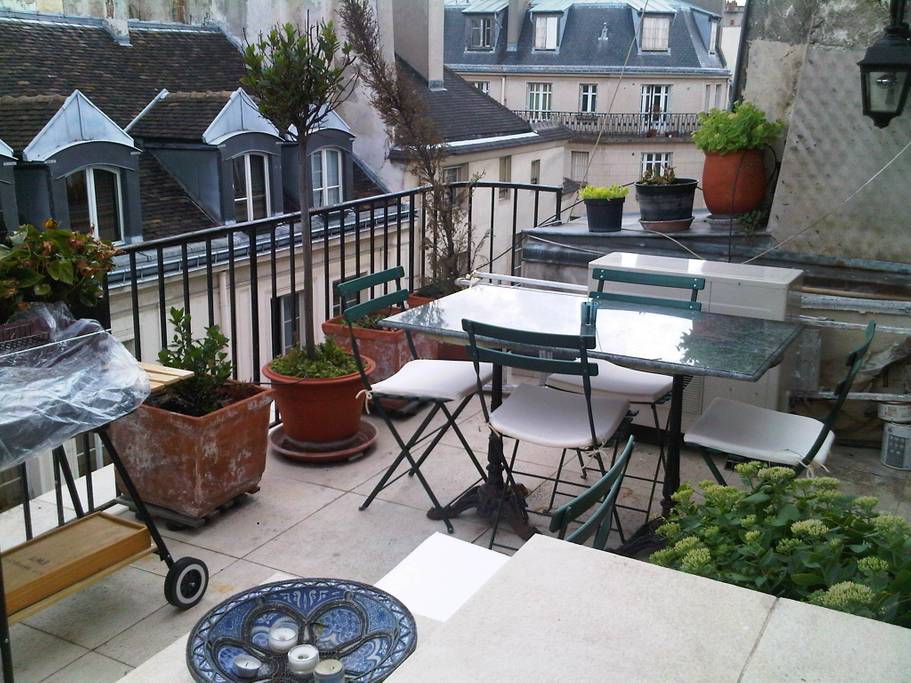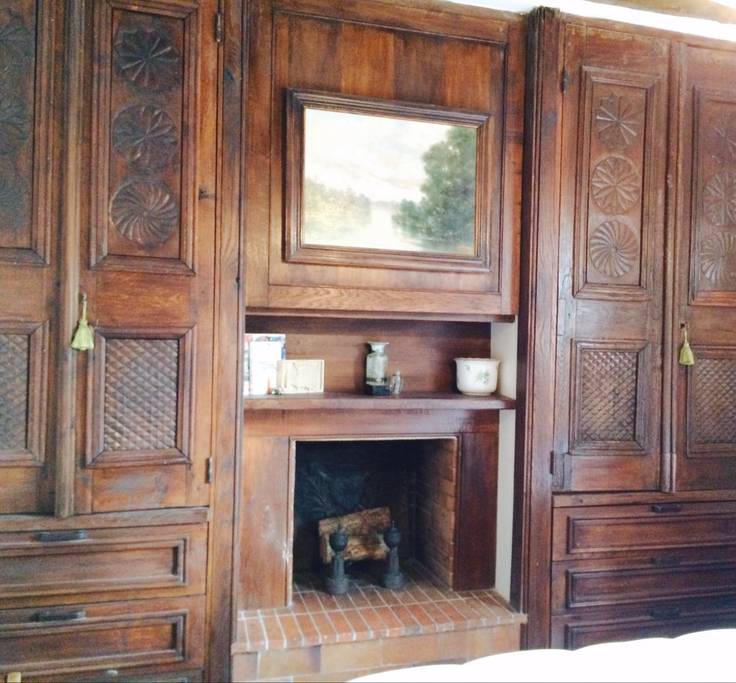 Other than the disposable coffee pods, we're not entirely sure how life in this apartment differs from life in 17th-century Paris. Located on the famous Île Saint-Louis, this one-bedroom apartment features 14ft. ceilings, two fireplaces, two terraces, two skylights and a ton of Old World charm. If you're not familiar with the Île Saint-Louis, it's one of the most coveted parts of the city, both for its central location (you're just a short walk away from the spot that literally marks the center of Paris) and for its history and undeniable glamour.
You'll be a quick walk away from Notre Dame, Berthillon ice cream, Shakespeare and Company bookstore, and the architectural wonder of the Institut du Monde Arabe. If you want to go just slightly farther afield, you're not far from the stunning Jardin des Plantes and its nearby Muséum National d'Histoire Naturelle, the Jardin du Luxembourg, and the Marais district. This is truly a place fit for a king.
7. Ice, Ice, Baby – $825 a night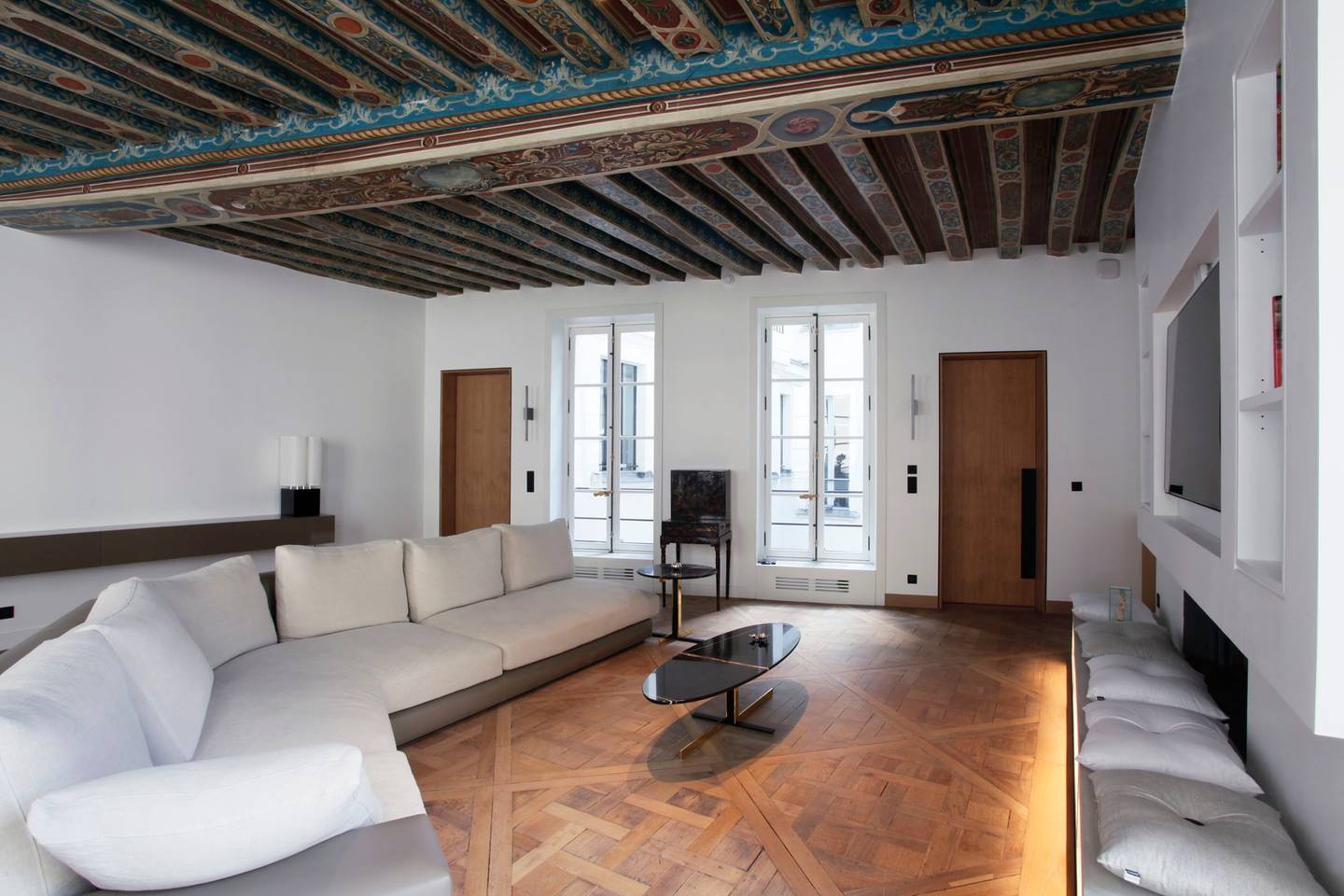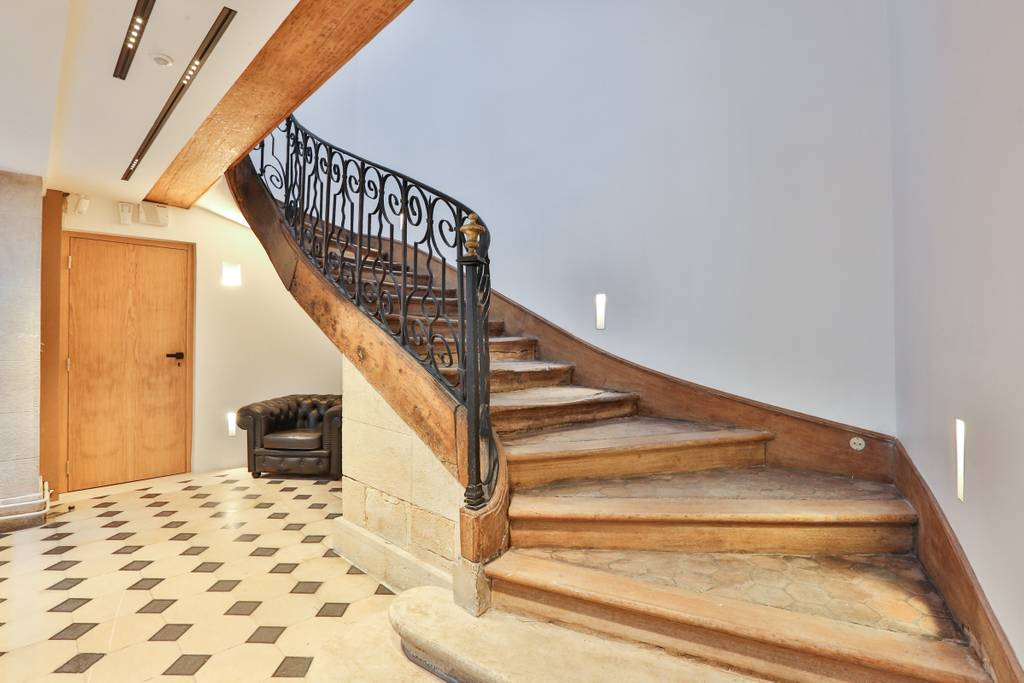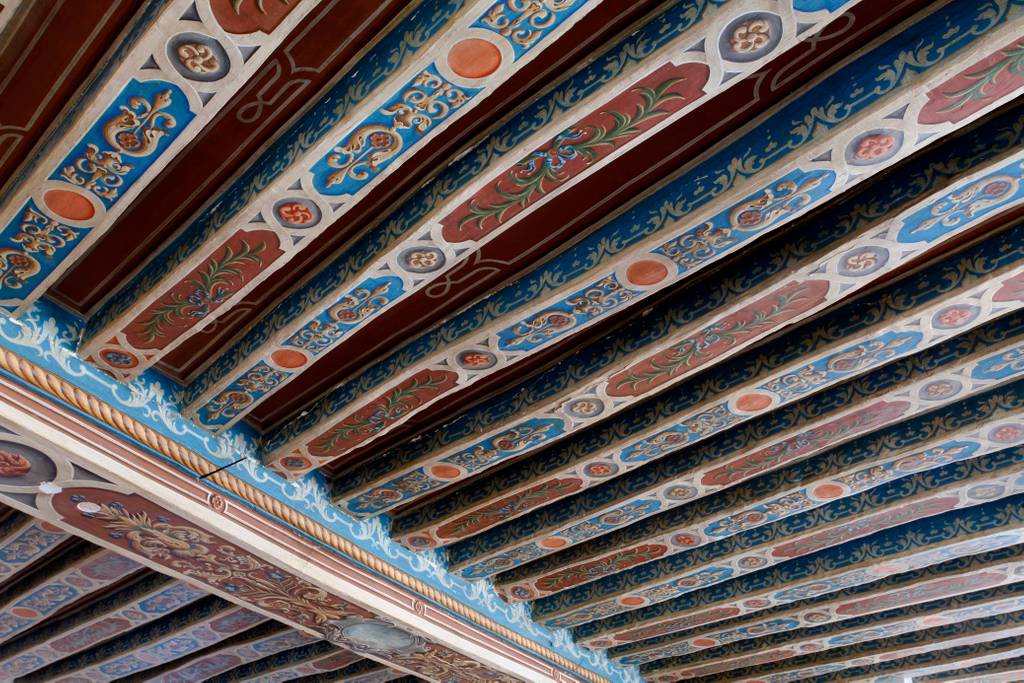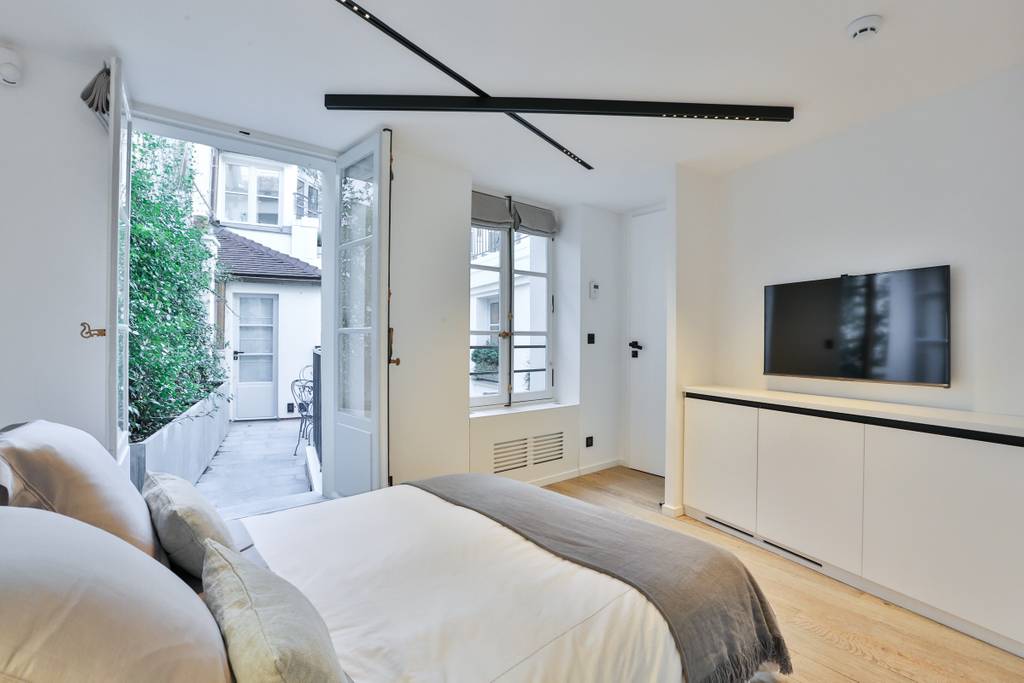 Maybe we're just a bunch of lowly peasants but it seems to us that staying in a Paris apartment built in 1630 that still has its original woodwork is a pretty special experience. This "Hôtel Particulier" as these mansions are known, is an incredibly unique space and offers a hand-painted ceiling that looks like something from "Beauty and the Beast," original tomette tiles from 1630 and Versailles wood flooring.
The fully equipped kitchen has recently been updated and the dining room seats ten so if you want to have friends (or, frankly, even members of the French Senate) over for dinner, you'll have a very impressive place from which to do it. There's also a marble bath, a rain shower, air conditioning, a big screen TV, a subwoofer, a standard as well as a steam oven, and, that rarity of rarities: a fridge that produces ice cubes! (You could probably start a side business selling them to desperate Americans tourists.)
6. Old World Wonder – $1,006 a night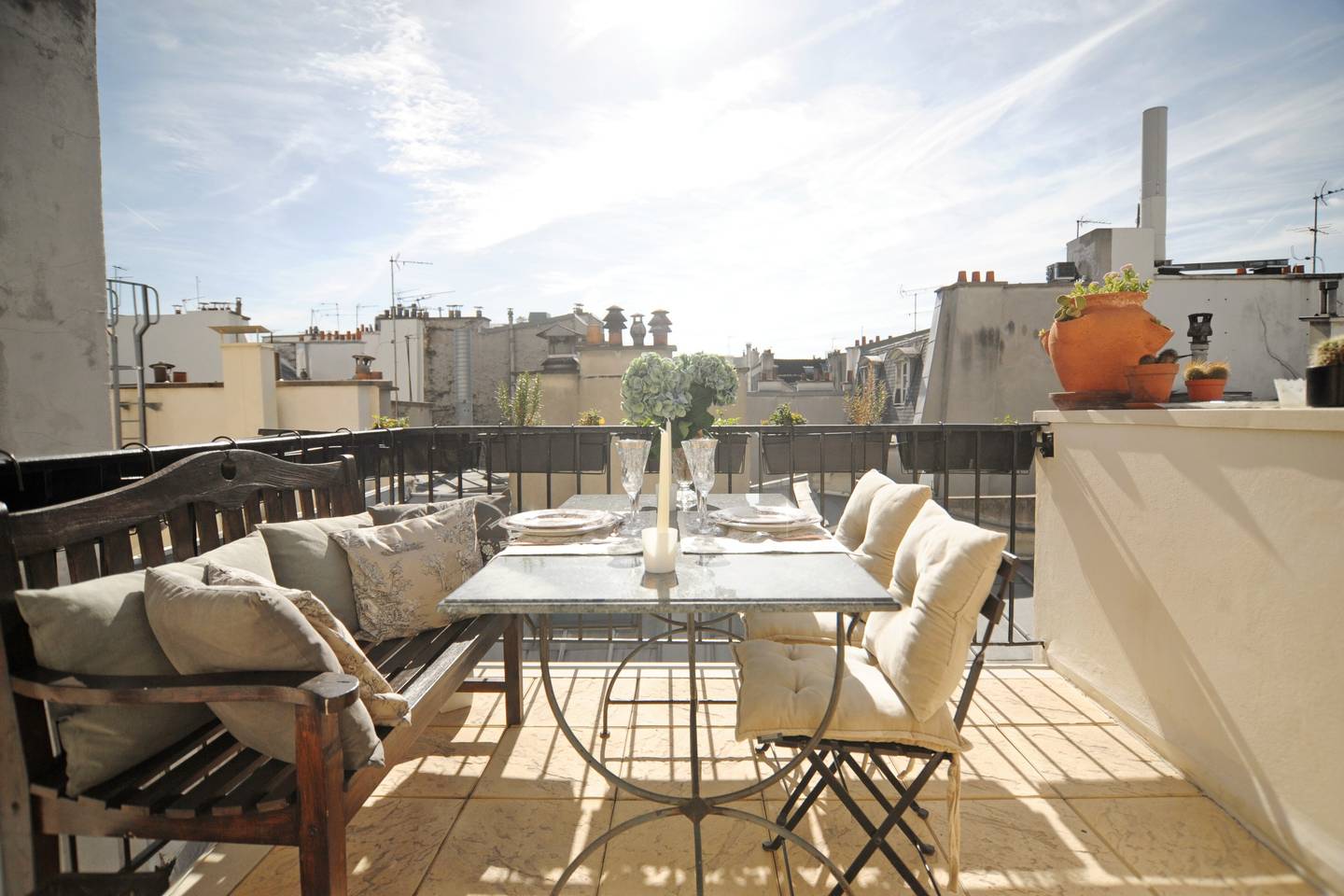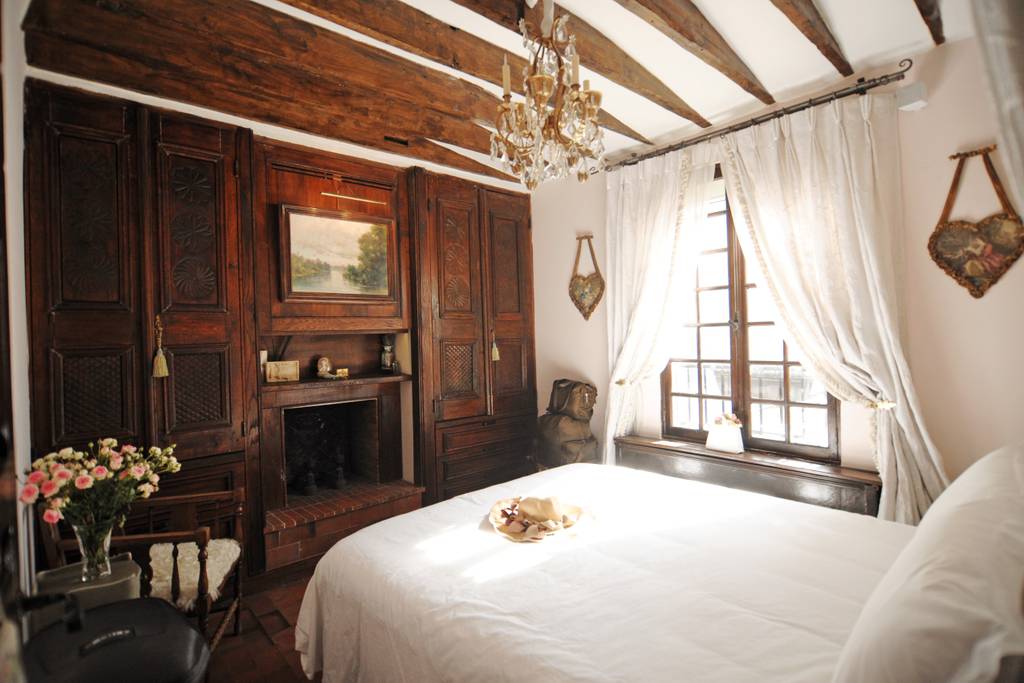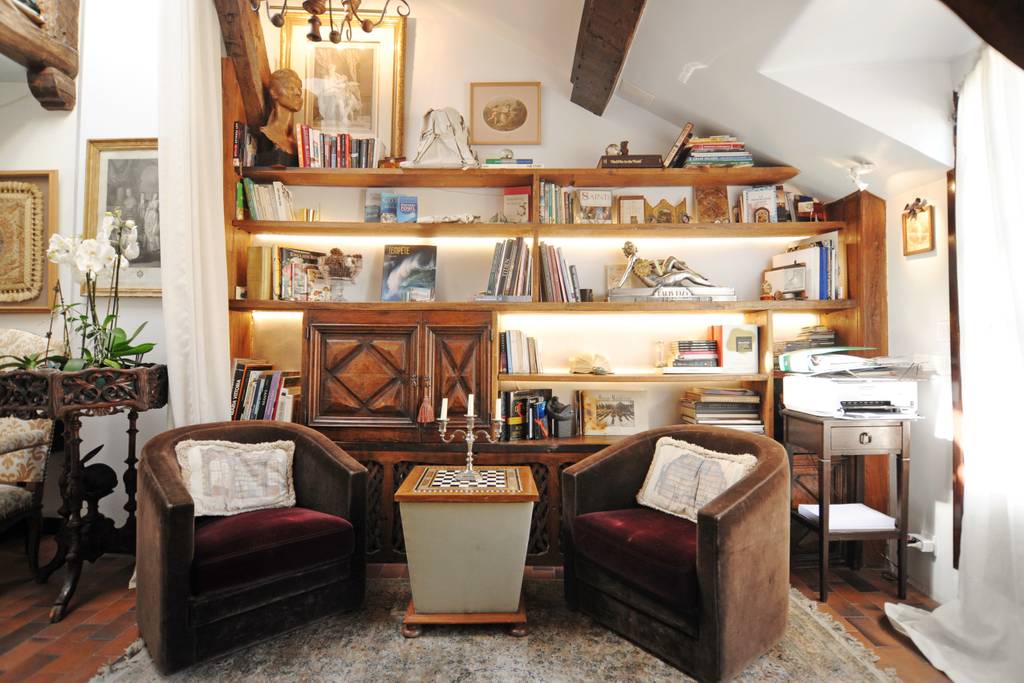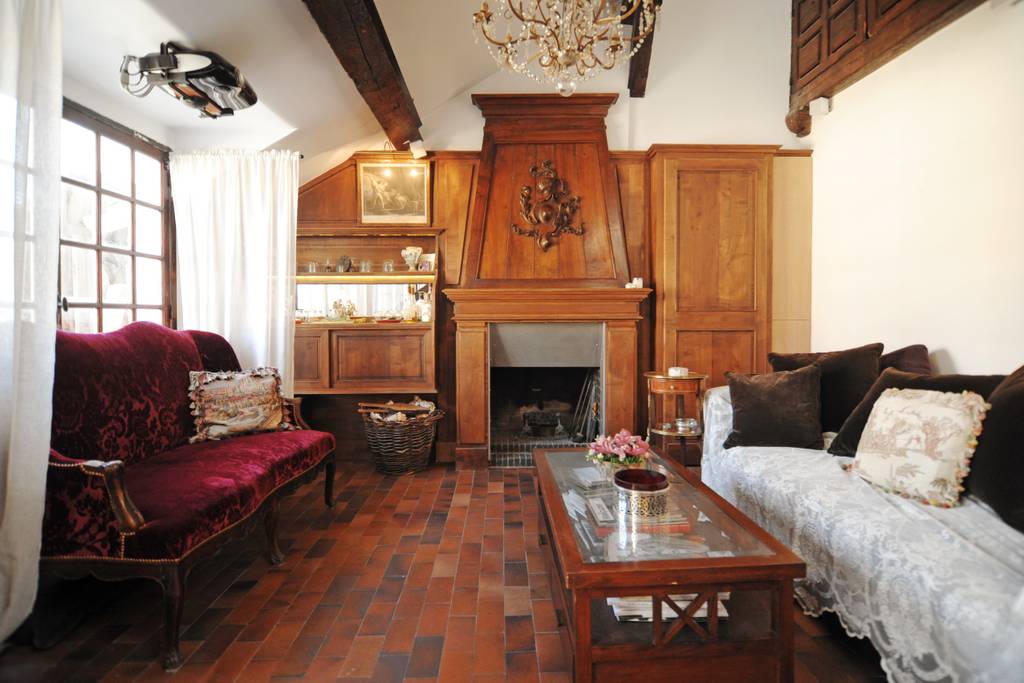 This Île St-Louis gem looks like the place where the rebels from "Les Misérables" might have gone for a shower and a quick nap after a long day at the barricades. With a charming mixture of Old World aesthetic and clean, modern colors, this place perfectly combines new and old Paris.
With a fully equipped kitchen that looks like something out of a design magazine (we're guessing that most people who stay here decorate their kitchen with copper pots upon their return home), it's a great place to try out your French cooking skills. And with two little terraces complete with table and chairs, you can have your meals alfresco while enjoying magnificent views of Paris. You'll even be greeted with wine, flowers, and croissants upon your arrival! Jean Valjean certainly never had it so good!
5. Pretty Particulier – $1,1413 a night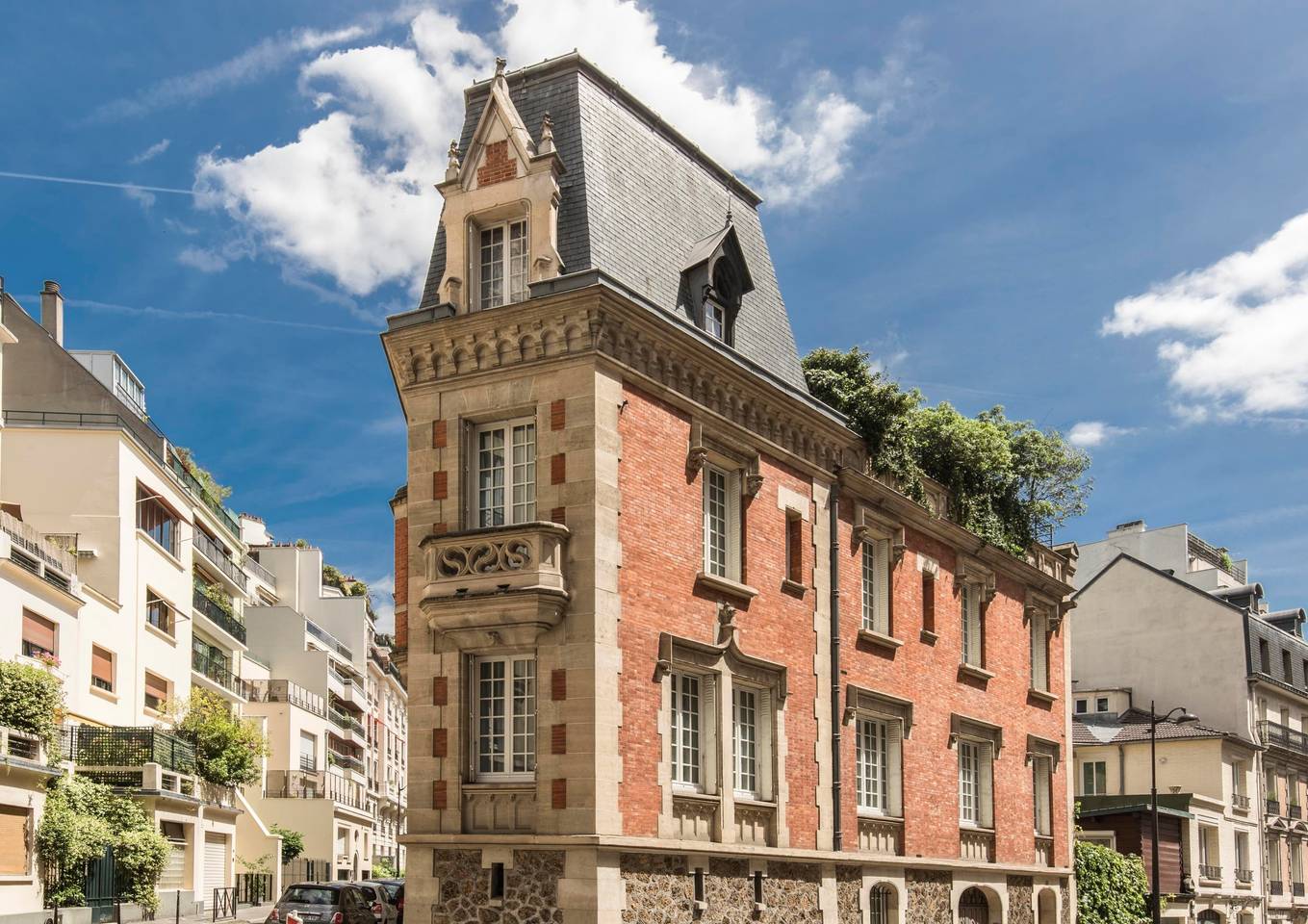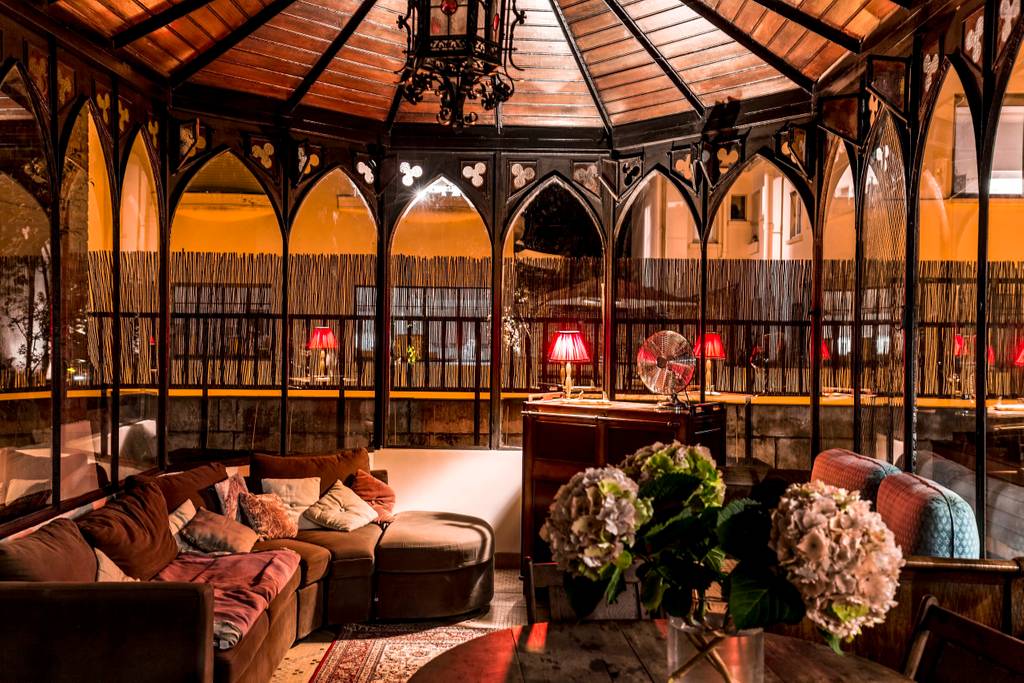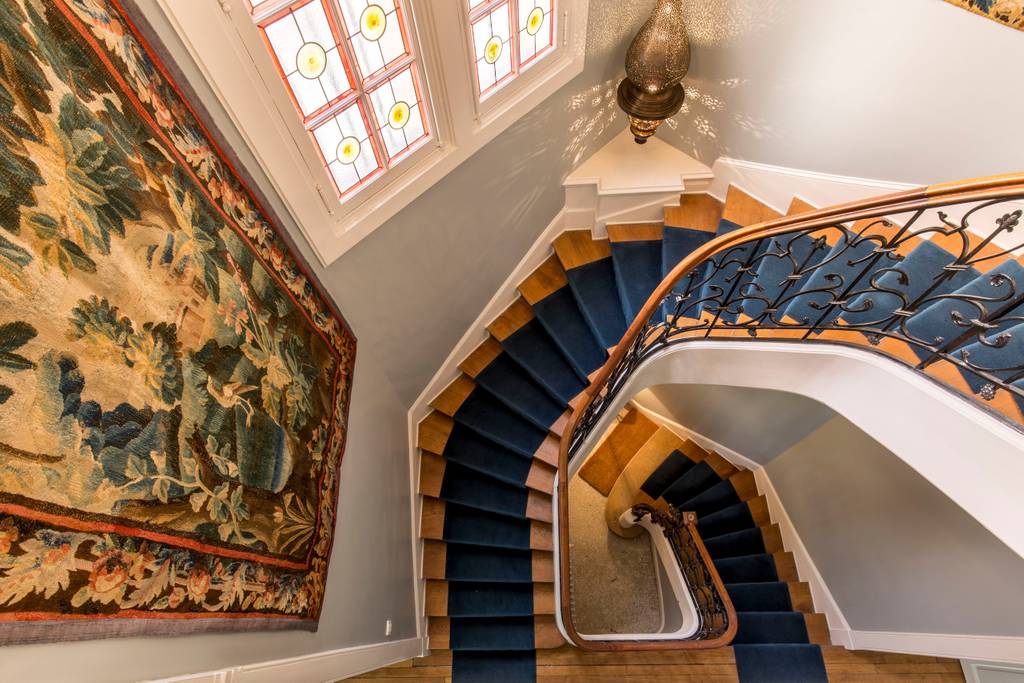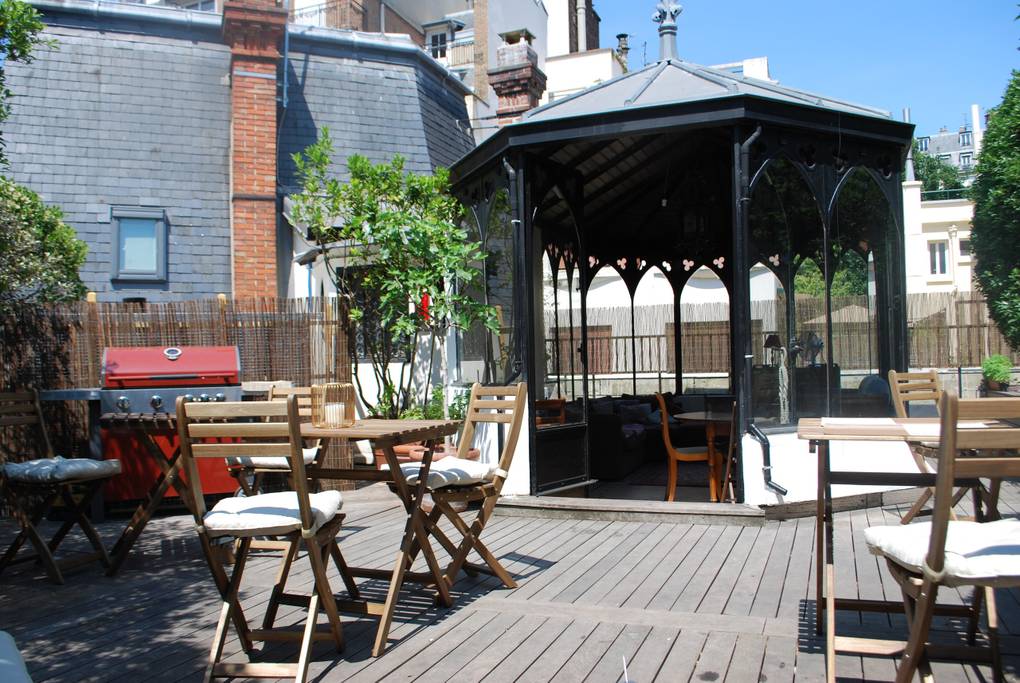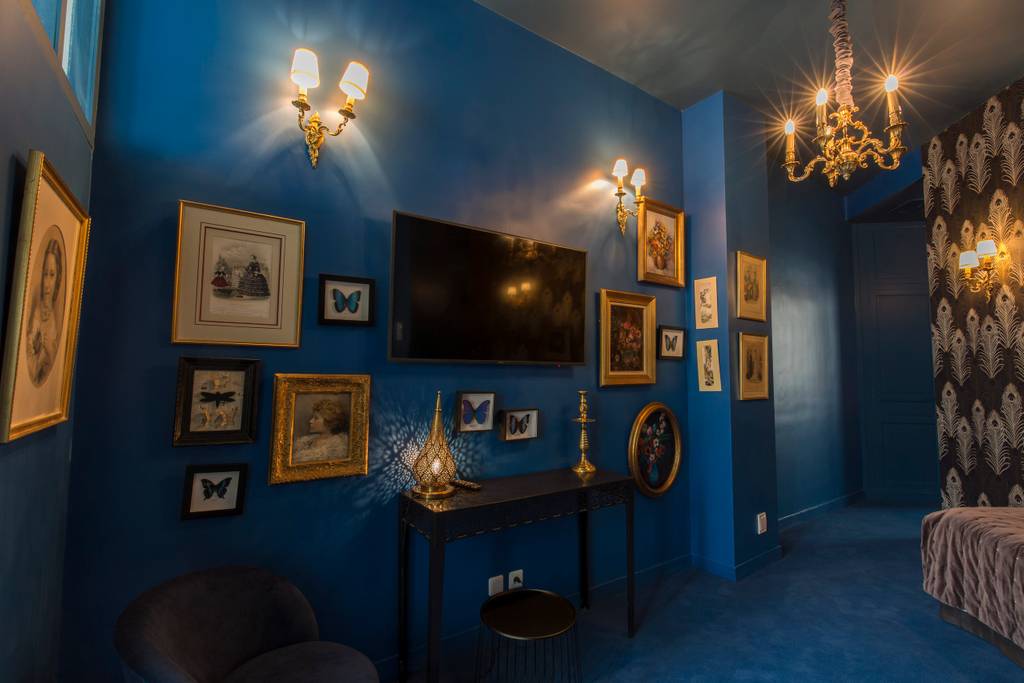 While we're often told that it's inner beauty that counts, that doesn't mean there isn't something enjoyable about a little outer beauty which is why we've included this remarkable Hôtel Particulier in this list. Sleeping 15 in its five bedrooms, this is a perfect place for a big group of friends to enjoy Paris together. While you're there, you might want to take advantage of that incredible roof top wintergarden/gazebo and have a few meals outside (the hosts can organize wine and cheese tasting or even cooking lessons if you so desire).
Each room has its own en suite bathroom so you won't have to share the facilities. They even allow luggage drop off (a relative rarity) and have air conditioning (another luxury not always found with Paris apartment rentals). Known as the "Sourire" or "Smile" house, this place will certainly leave you with one on your face!
8 Picture Perfect Airbnb Homes for Paris Fashion Week
8 Incredible Paris Airbnb Loft Homes That Will Make You Feel Like an Artiste
4. Lightness of Being – $2,826 a night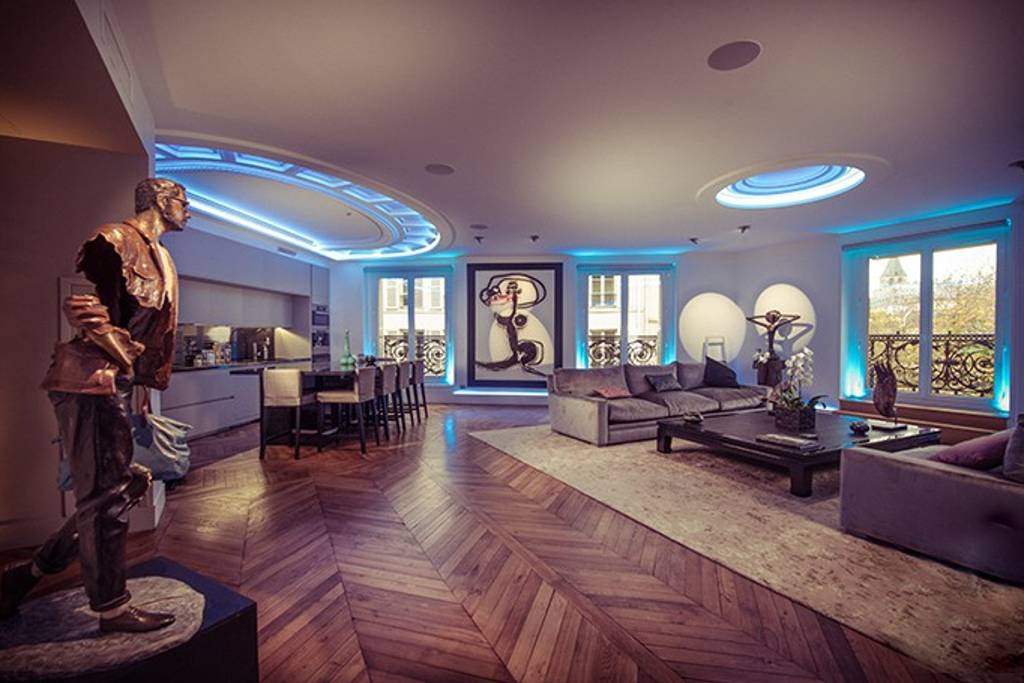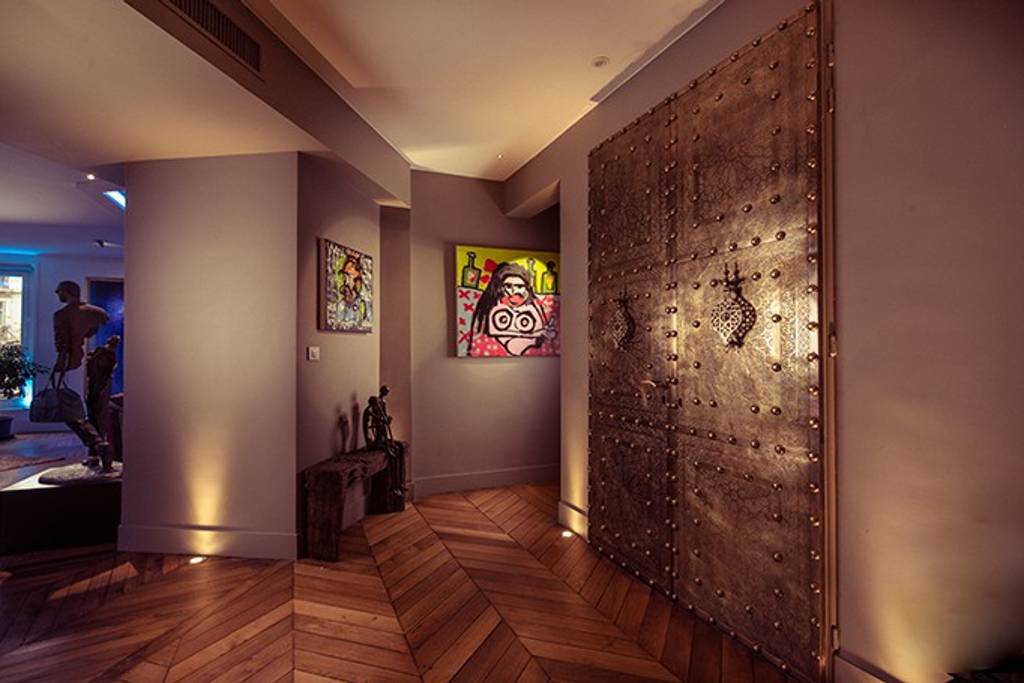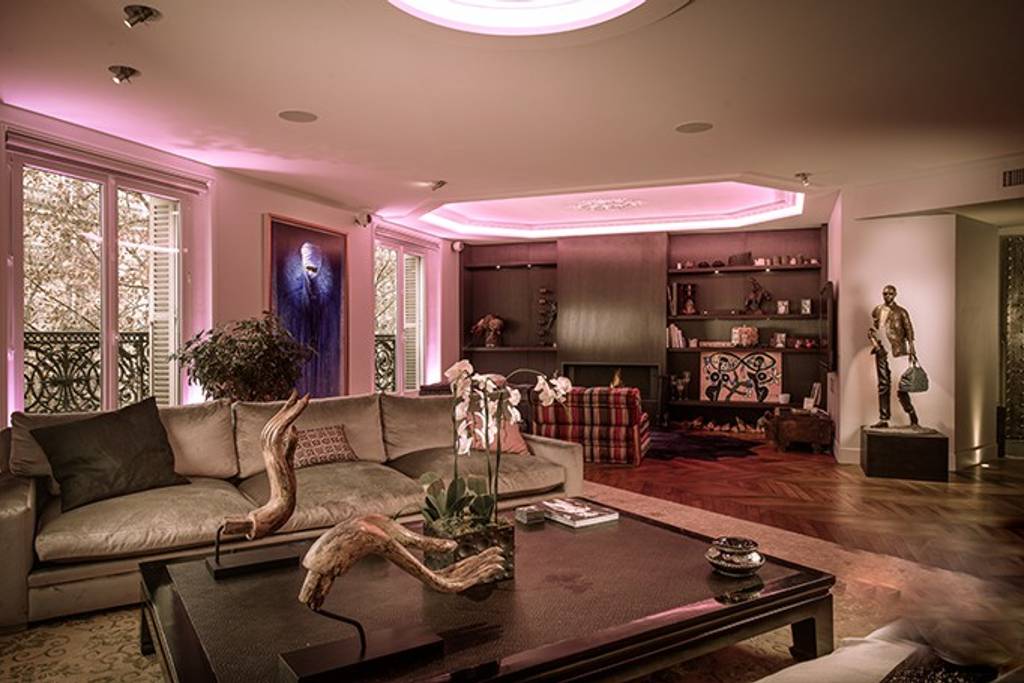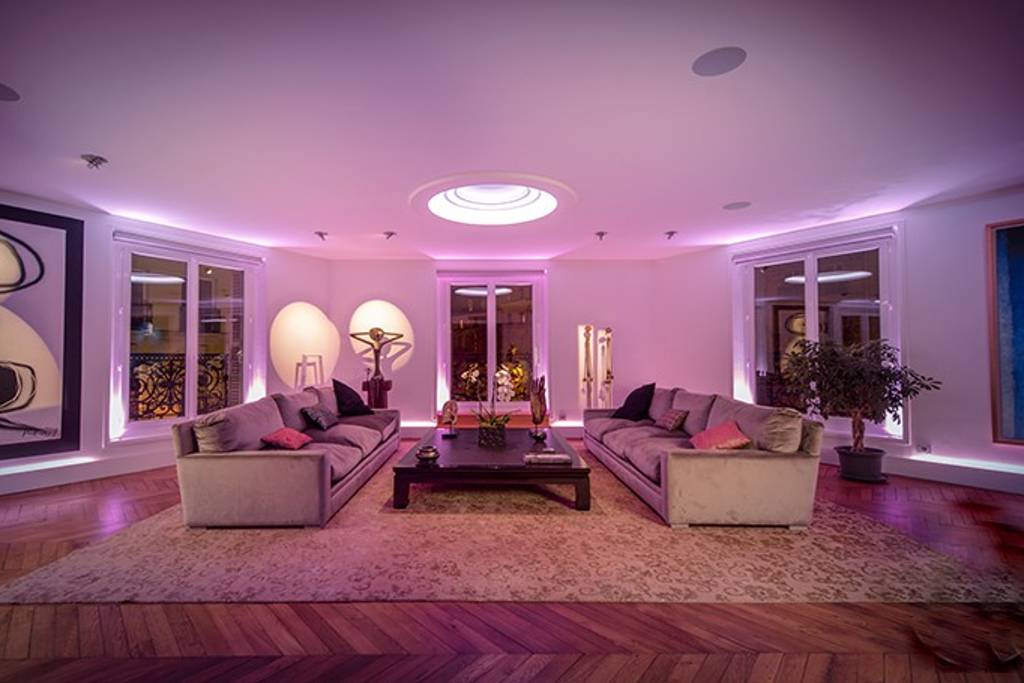 Part of the charm of Paris is its quirkiness, which is why we included this St Germain apartment in our list. Combining the energy of a roller rink with the seriousness of an art gallery, this left bank gem is truly a one-of-a-kind flat. Pink and blue ceiling lights illuminate this four-bedroom, four bath home which, get this, has its own hammam. (For those not familiar with the hammam experience, it's basically like having a full spa in your house.)
Influenced by Moroccan design, Art Deco, and even a little New Wave 80s-ness, this house truly has something for everyone. Situated in one of the city's best shopping Meccas, this is the perfect place to put your bags down after a long day at Christian Dior, Sonia Rykiel, Bon Marché, Diptyque, Louis Vuitton or any other St Germain shops you can think of. We can almost guarantee that you'll never stay in another Paris Airbnb as unique as this one!
3. Poker Face in Paris – $961 a night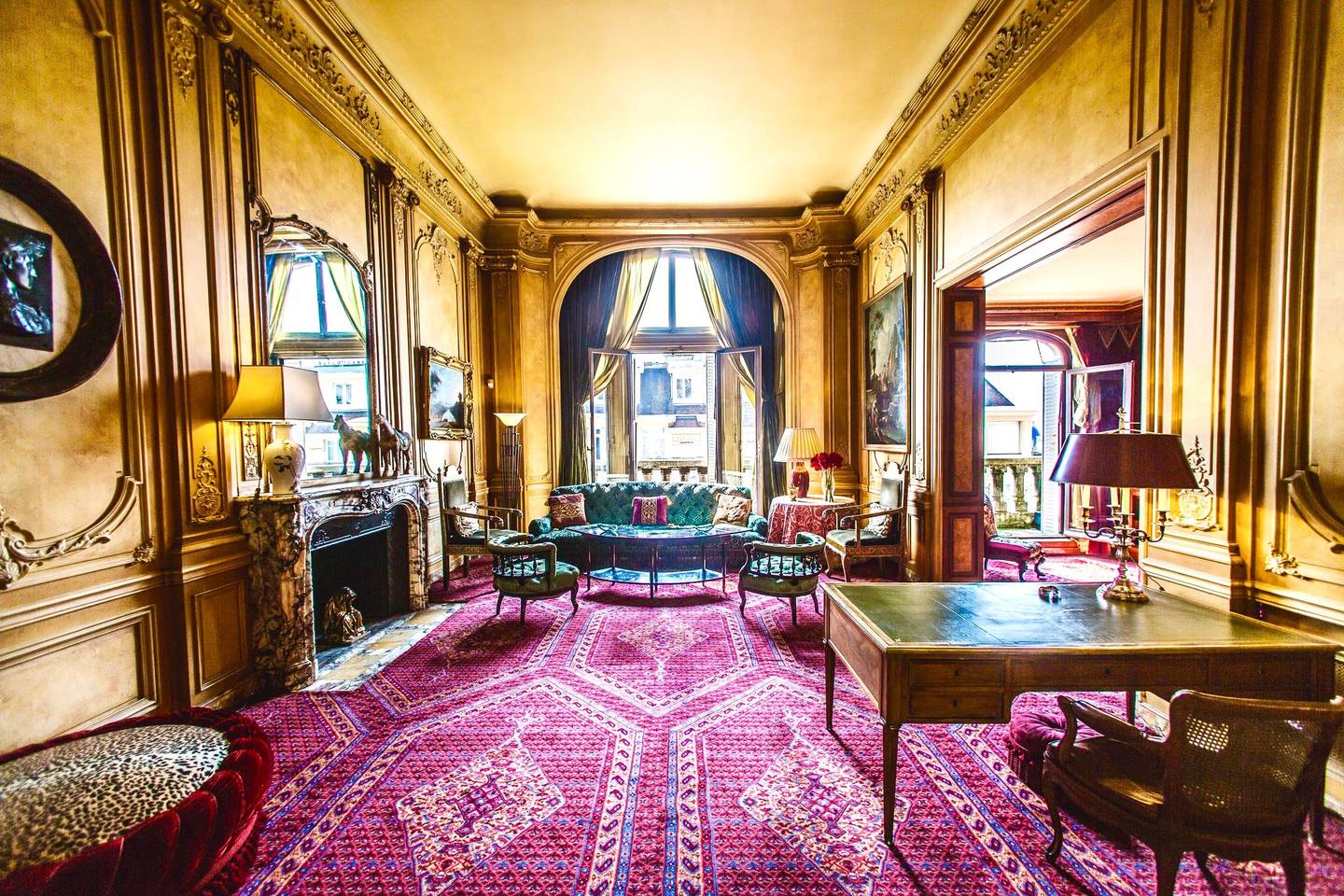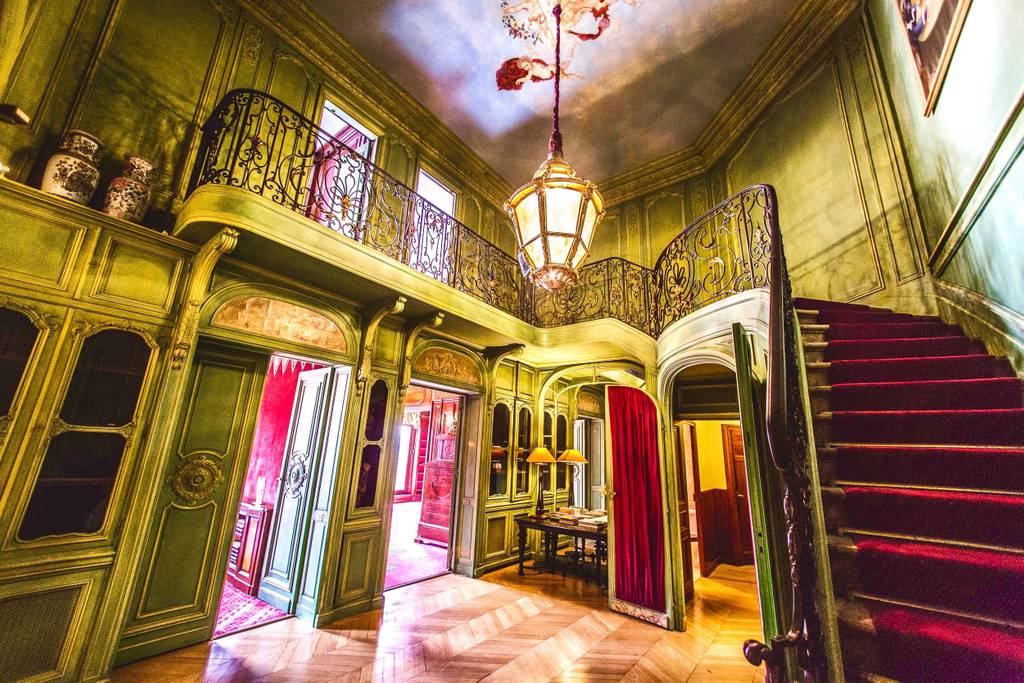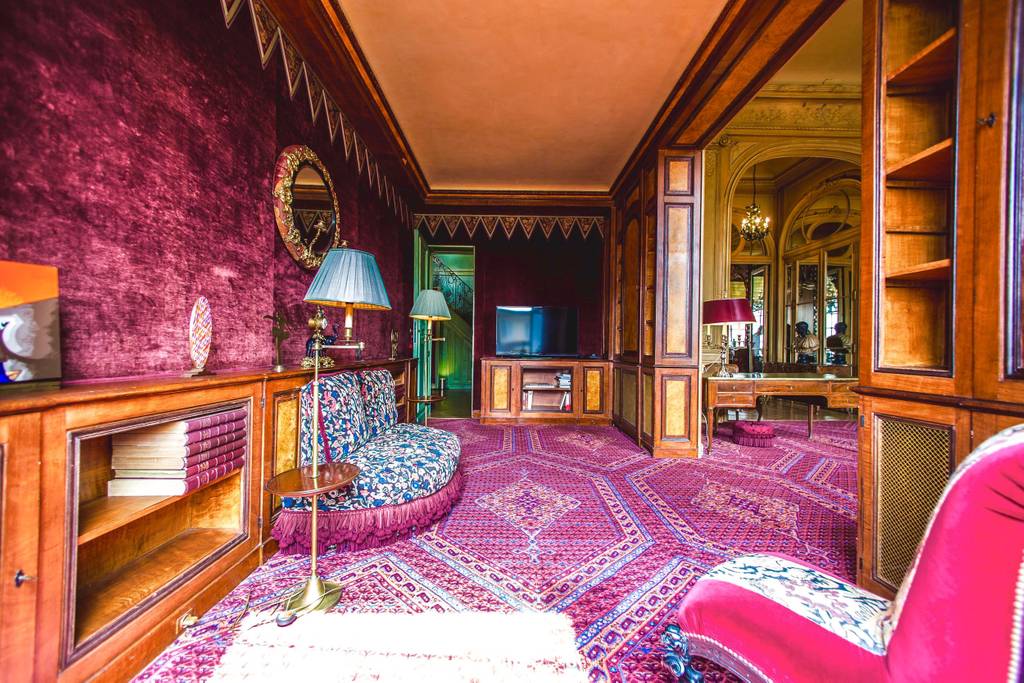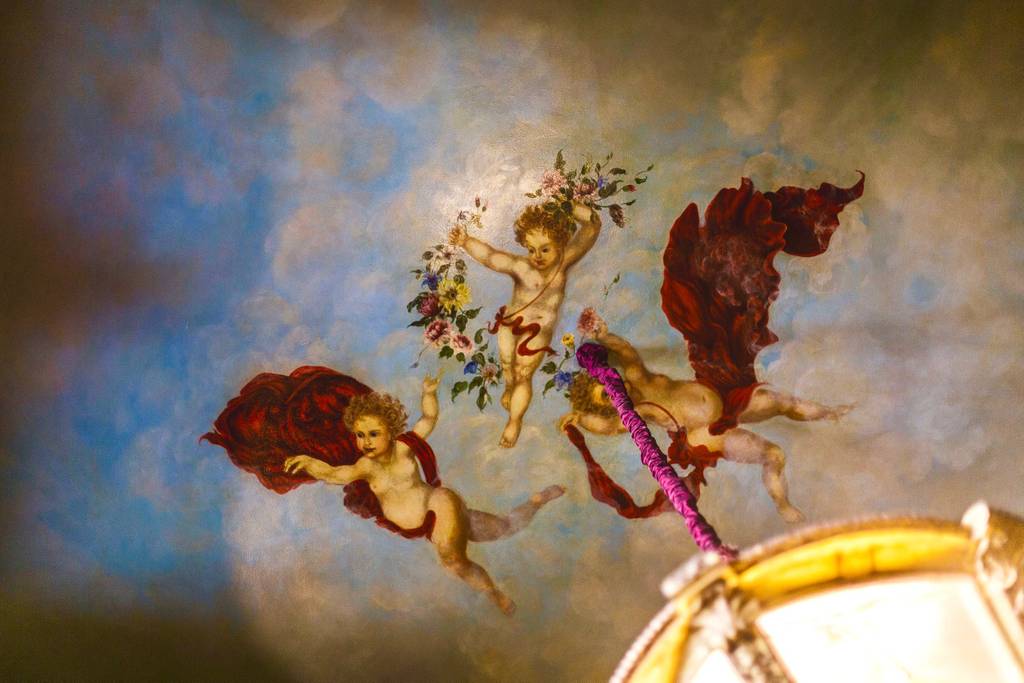 If Louis XIV, Michelangelo, and Wes Anderson lived in Paris together, this apartment would be where they would do it. So ornate and unusual it's hard to know how to describe it but for starters, this five-bedroom, three-and-a-half bath duplex has incredible views of the Eiffel Tower and even two cloak rooms so feel free to bring those cloaks! This 19th-century Paris apartment also has 22ft. tall ceilings on which are some of the most amazing murals you'll ever see, walk-in closets Marie Antoinette herself would envy, and, while it's initially a bit hard to spot, a painting of dogs playing poker.
This apartment was designed by famed architect Jacques Garcia who designed the Hôtel Costes which has been the hippest hotel in Paris for years (if you haven't been to the bar at the Hôtel Costes you must go! It's closed for renovations right now but be the first in line to see it when it re-opens!). At $961 a night, this Paris apartment, which sleeps 11, is much less than staying at the Hôtel Costes and every bit as hip!
2. Ballroom Bliss – $1,016 a night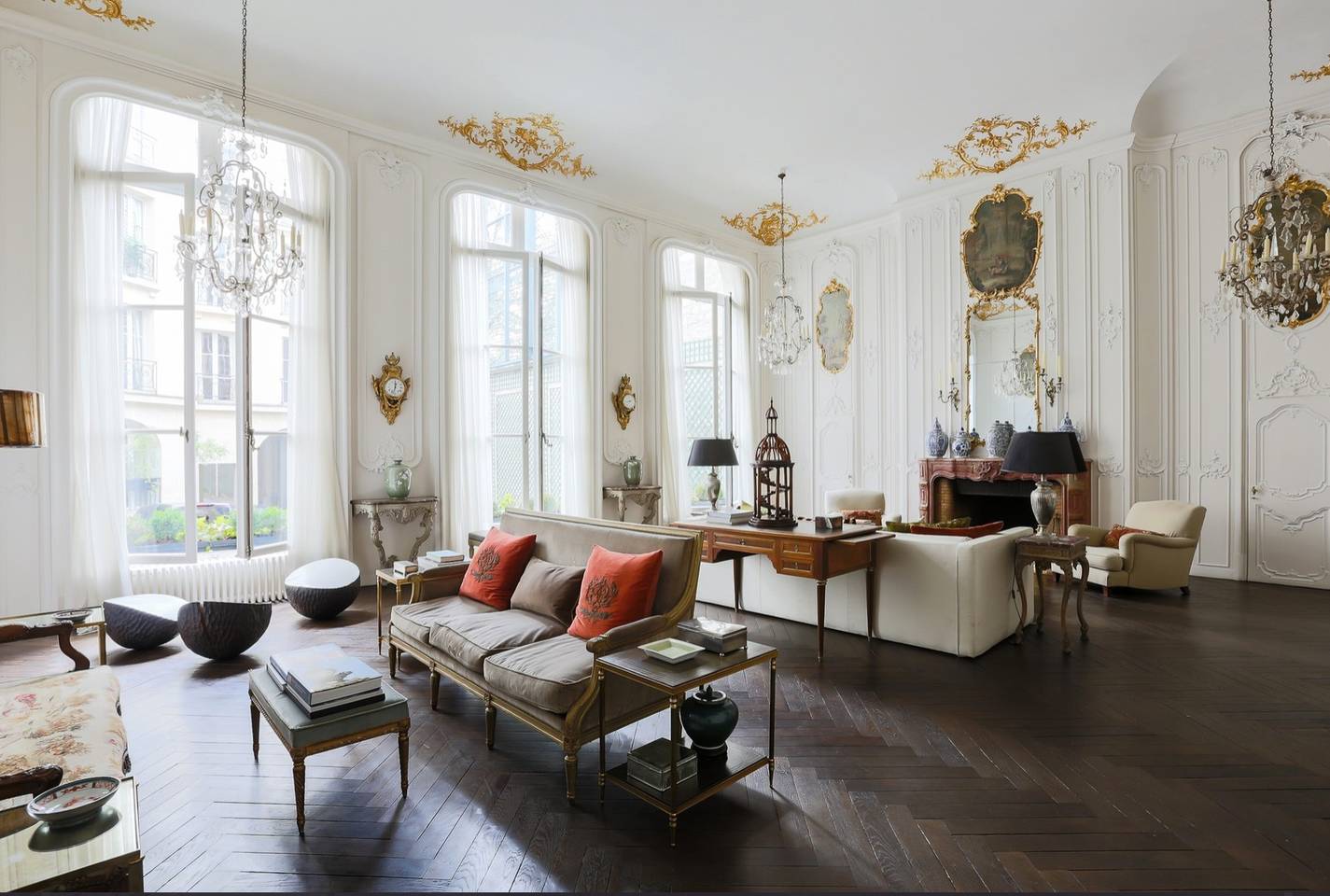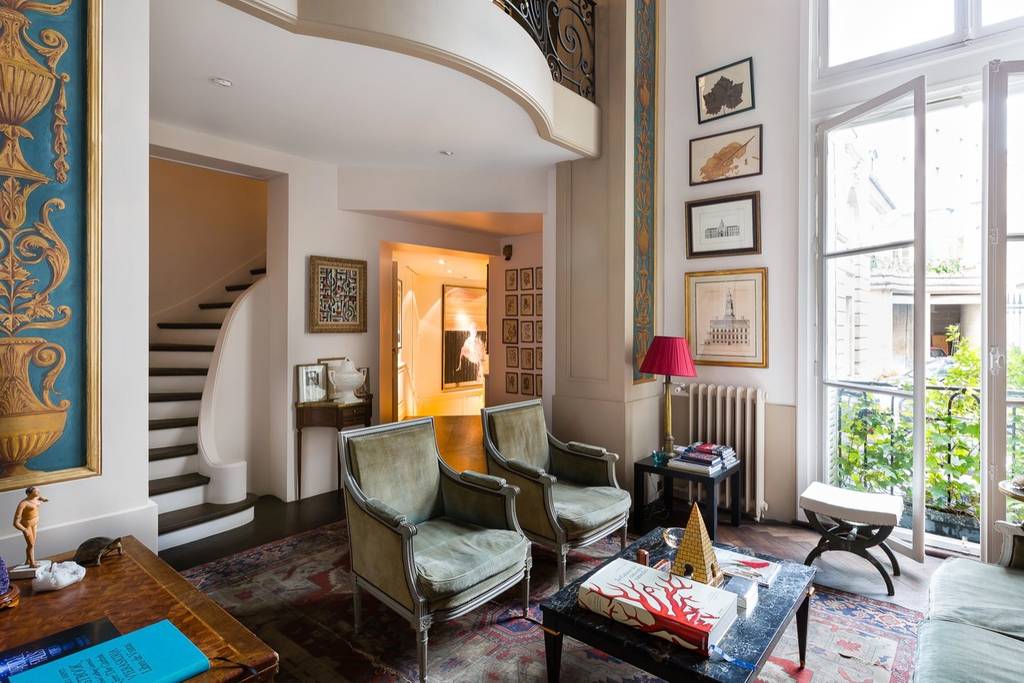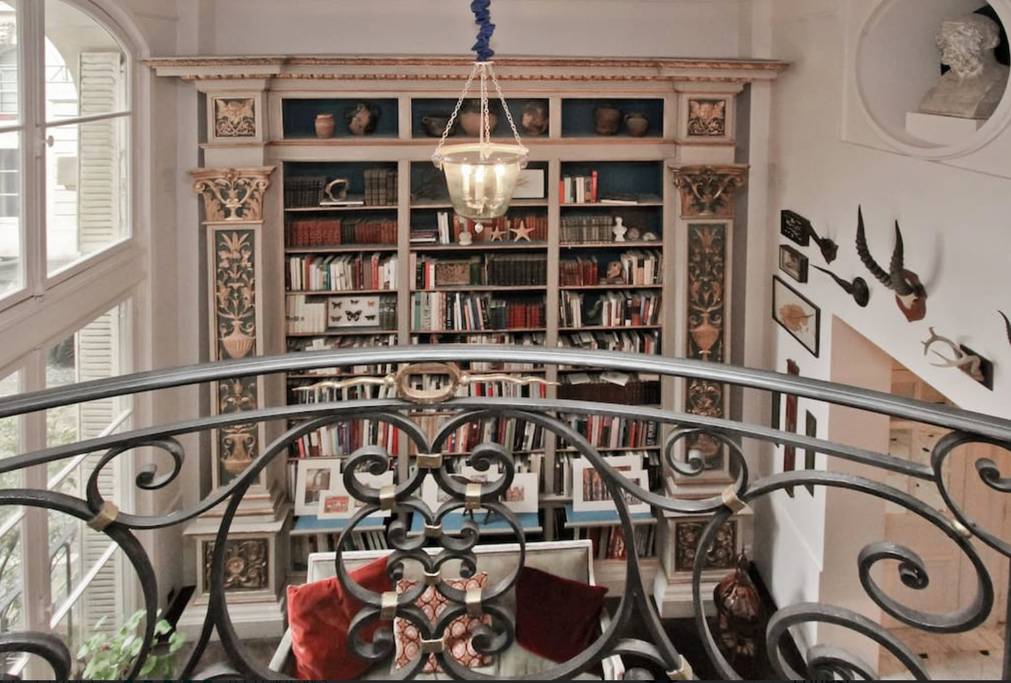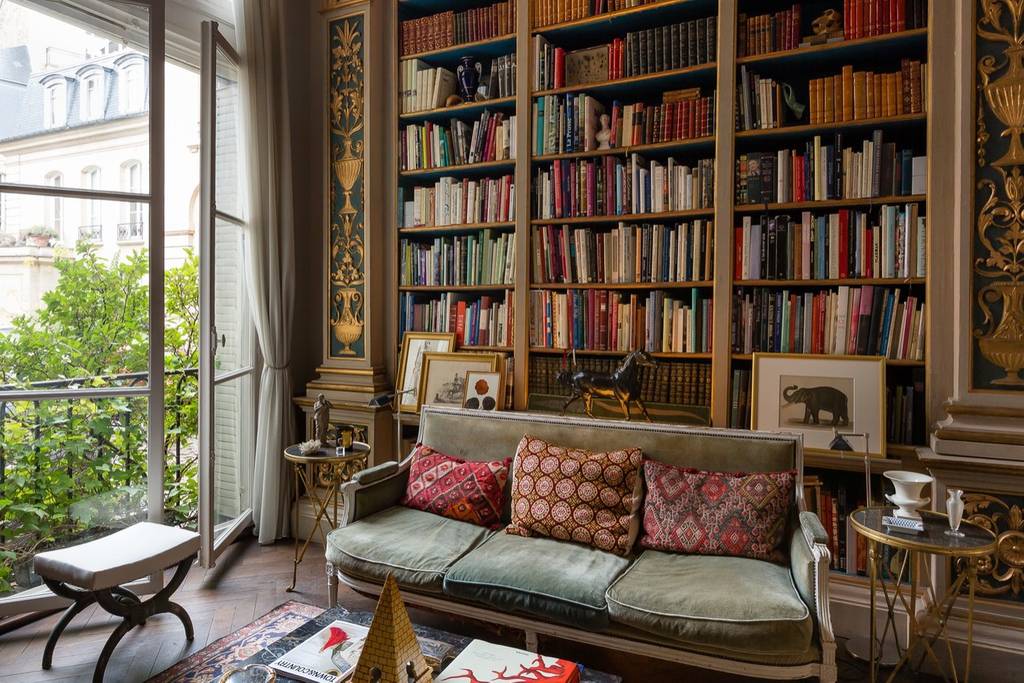 If you can't make it to Versailles this apartment is absolutely the next best thing. Sophisticated, elegant, refined, and downright stunning, this three-bedroom, three-bathroom home is the stuff of the best Parisian dreams. With a living room that transforms into a ballroom, a library with a hidden door, and three floors on which to live, you might want to shoot a movie here instead of sleep (they allow shooting, BTW).
Perfect for a gourmand, this Paris apartment is within a short distance of great food markets (it's also not too far from rue Cler, a favorite food shopping street of Julia Child). To give you an idea of this Paris home's level of grandeur, this used to be part of the Embassy of the Austrian-Hungarian Empire and has been restored with panels that depict the story of "War and Peace." Just remember, at some point, unless you find a way to rent it in perpetuity, you eventually have to go home.
1. Cabinet of Curiosities – $933 a night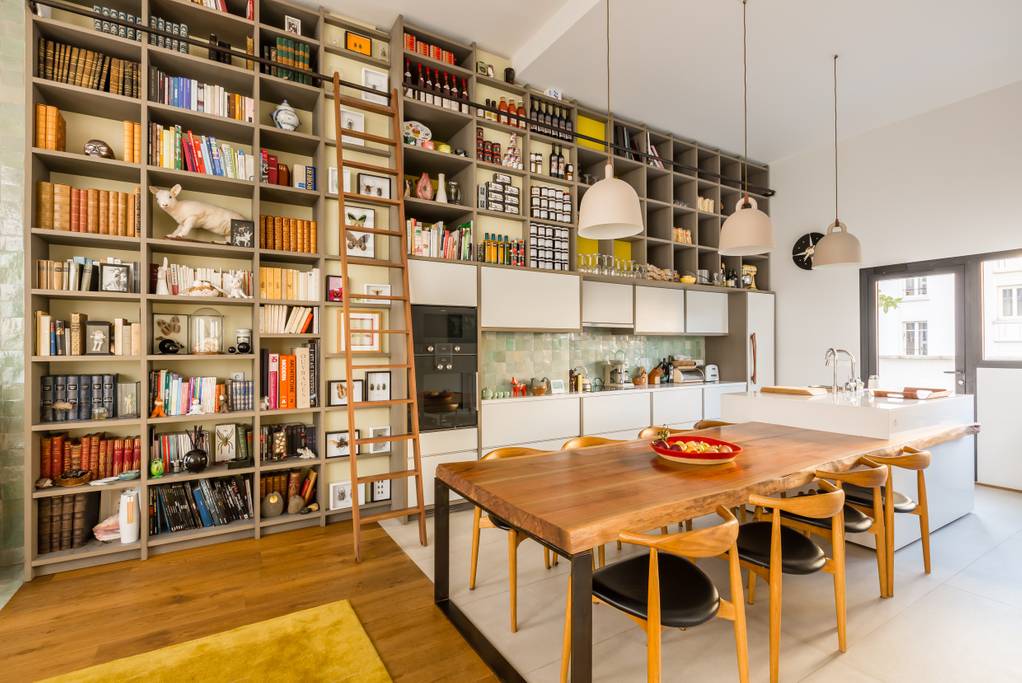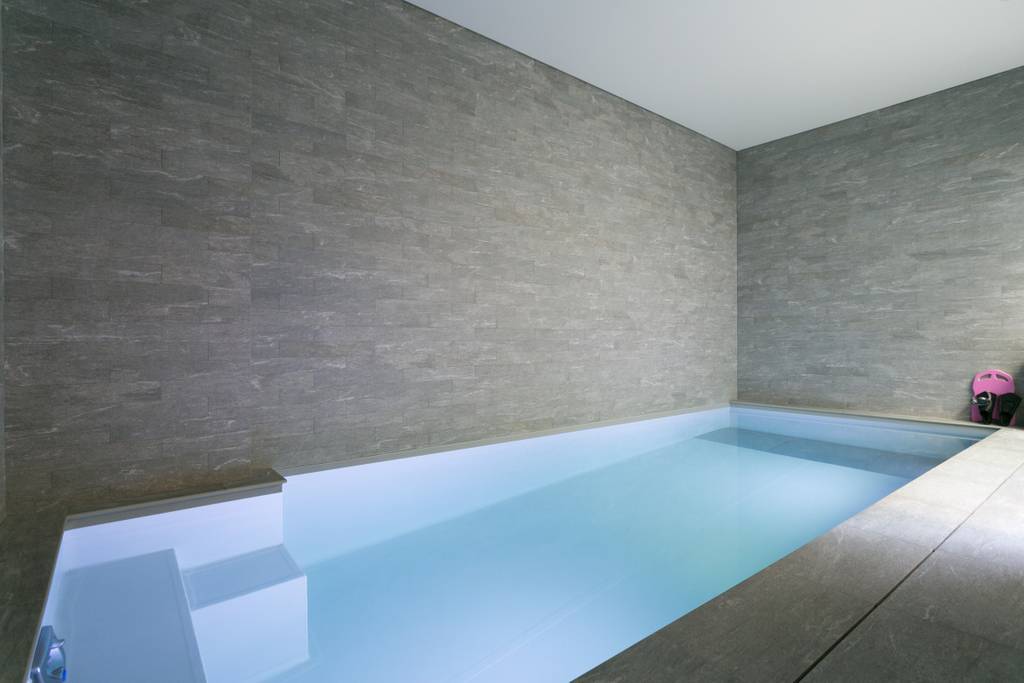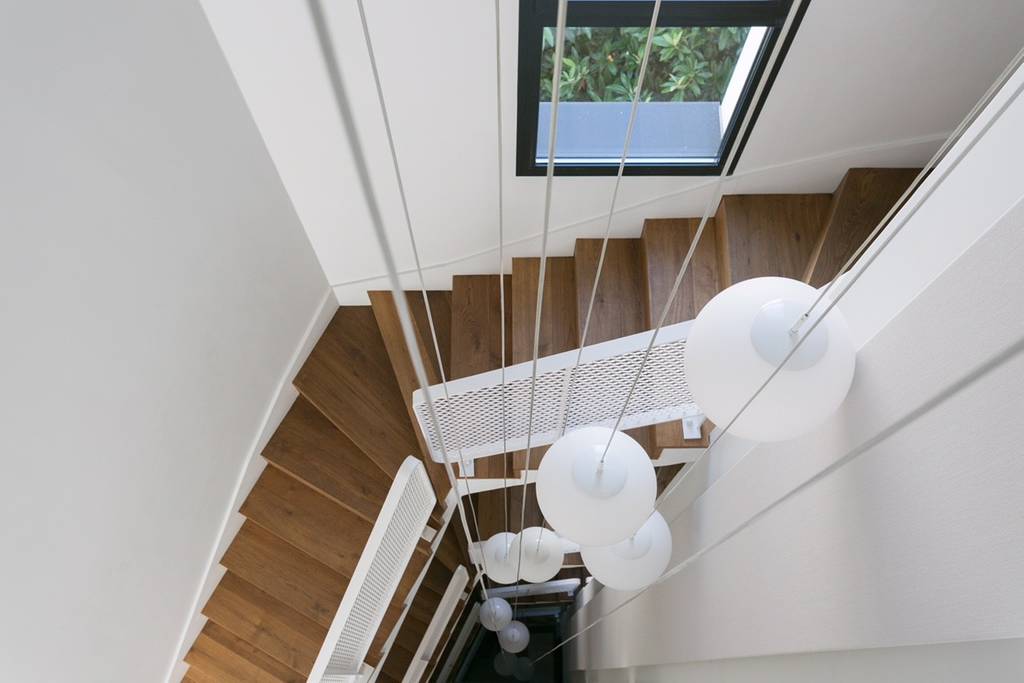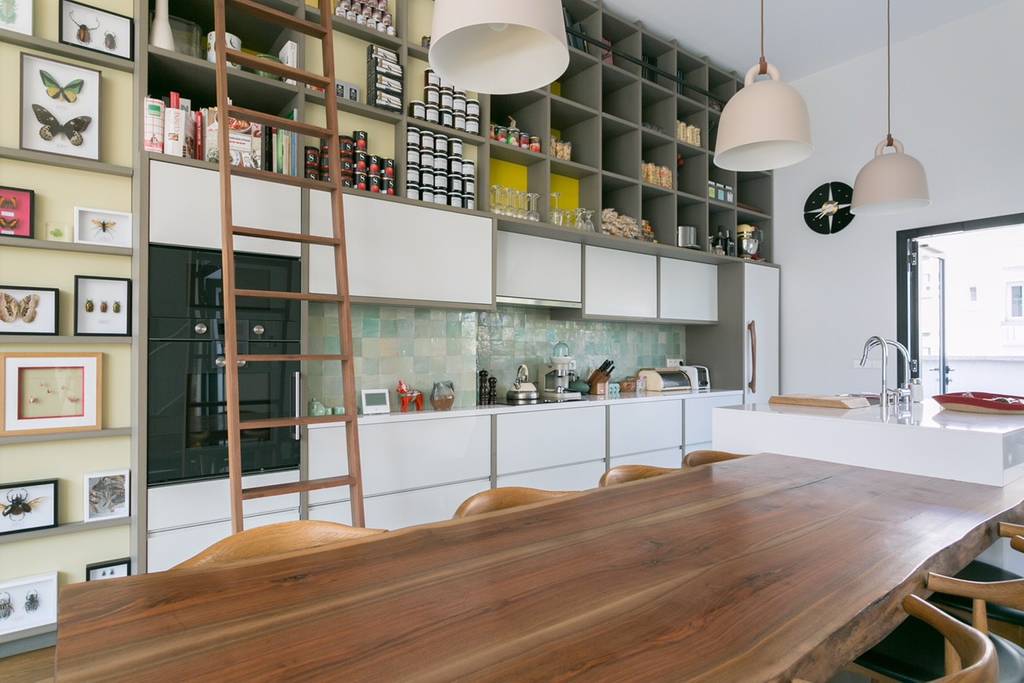 Just to clarify: Yes, that is a pool in this Paris apartment. Don't worry, it took us a minute to absorb it, too. And right next to it is the elevator that will take you to all six floors of this heart-stoppingly incredible apartment. As if the pool or say, the rooftop terrace complete with dining area weren't enough for you, how about that kitchen???
Complete with floor-to-ceiling bookshelves that extend into the living area and are so extensive they need their own library ladder, this home might also contain one of the most impressive cabinets of curiosities you've ever seen. While super sophisticated, this apartment is also a great place to stay with kids as it has bedrooms decorated to appeal to the younger Francophiles whom you're traveling. This one certainly peaked our curiosity!