Looking for a San Antonio Airbnb with a pool? That's extremely sensible. One thing you can't take away from the Lone Star State is it gets dang HOT. Last summer Texas recorded an average temperature of 88.8 degrees, the hottest on record. San Antonio is the second largest city in this already massive state. It's home to the illustrious basketball team the San Antonio Spurs, and the shrine of Texas liberty, the Alamo. It's also an hour drive away from the state capital Austin, where the music festival South-by-South-West is held, if you're into that sort of thing.
There's a lot to do down San An way, whether your tipple is history, sports, shopping, music or eating. But sometimes, you just want to chill by the pool, margarita in hand, soaking up the rays in sweet, sweet silence. I'm currently writing this looking out at some dead trees in the freezing cold, so believe me when I say: I'd give my left hand for any of these amazing poolside properties. Who needs their left hand anyway?
7 Unbelievable Treehouse Airbnb Homes In The United States
8 Amazing SXSW Austin Airbnb Homes For Music Lovers
8 Houston Airbnb Homes To Soak In The Sun (And Beef) From
6. A Luxury Mansion With A Giant Pool
If you're more of an indoors type – and you have a taste for the very finest things, then look no further than this well-appointed modern estate. Huge ceilings, contemporary artworks and the heated indoor pool will have you feeling like the CEO of Enron before it all went belly up. This place is perfect for hosting big get togethers, and can sleep up to 10 guests.
5. The Moon Pool Guesthouse 
This pool house may well be the biggest steal on this list. Starting at a mere $109 per night, this massive 750 sq ft dream is equipped with a BBQ pit, hammock, a full kitchen and, of course, hot tub and pool. The walls of foliage around this peaceful hideaway provide perfect privacy and serene summer quiet. The ideal place to rest up and listen to the bugs make love.
4. Pool Castle San Antonio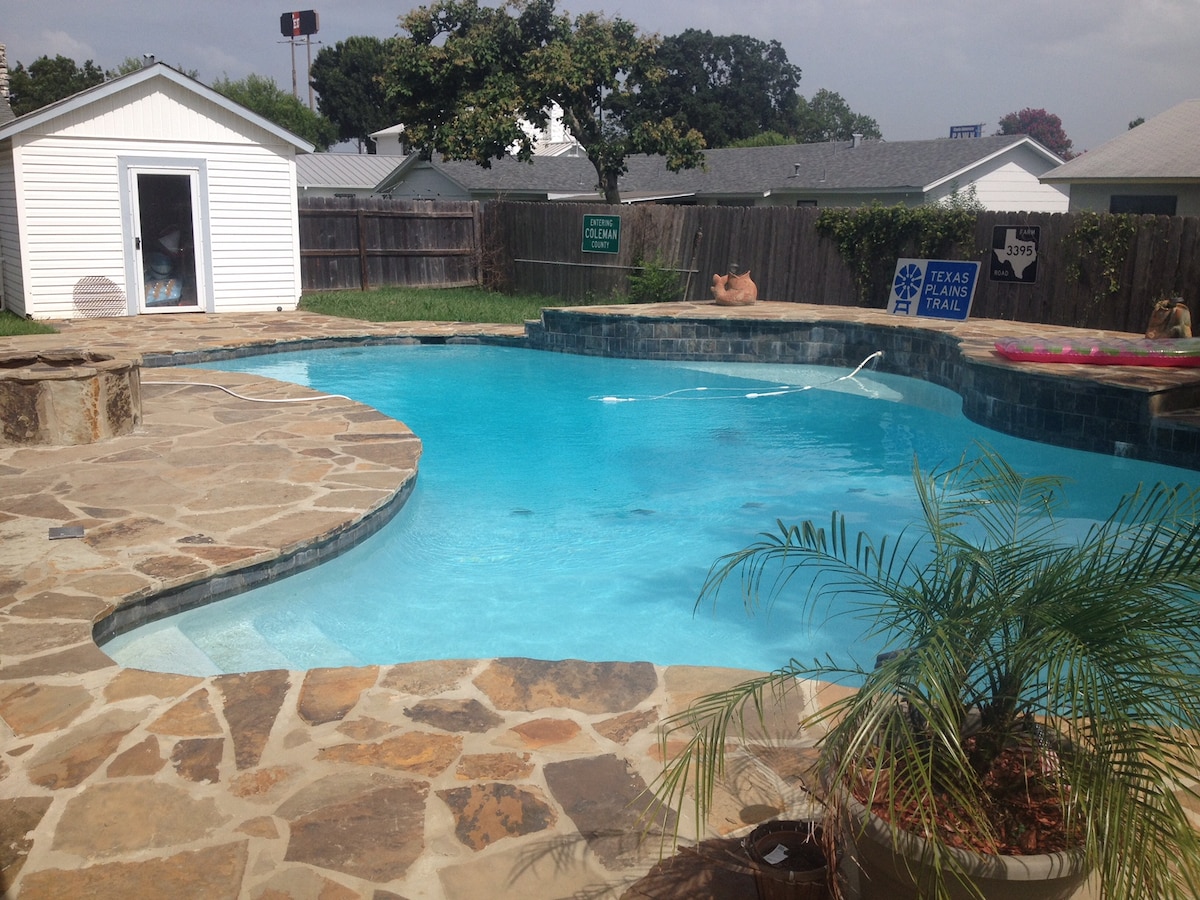 If a big celebration is the order of the day, then this 8-person pool house is the spot you want. Complete with a pinball machine, tons of room and a zany shaped pool, you couldn't do better for a bachelor(ette) party home base. There's also tons of Texan ephemera decorating this homely cabin, so you'll really feel the southern hospitality wherever you go, from bedroom to garden.
3. A Comfy Home With A Pool
You can fit 14 of your bestest buddies and closest colleagues in this massively appointed pool house, which is owned by a guy called Antonio! Can you believe that? If you ask me, fate is demanding you rent this place. Comfort is the order of the day here, but aside from the rad pool, this place is so close to a litany of other amazing things in SA, like Six Flags Fiesta Texas and Sea World.
2. Bali Wave
This gigantic 2800 sq ft luxury home is exactly the kind of place you can imagine Celine Dion getting royally upset at the paps taking photos of. This is like something out of a Beverly Hills real estate update. This place is classy. This place has a pool. This place has your name on it. This property will set you back $175 per night, which if you utilise the maximum of 10 guests is a total steal. Live like DiCaprio for a week, why don't you?
1. A Mansion in the Heart of San Antonio
If you can believe it, which we here at The Local Vibe absolutely do, this HUGE place is the former residence of basketball player, friend to North Korea and general enigma Dennis Rodman. And it appears what he may lack in clothing taste, he makes up for it housing taste.
This large, gorgeous mansion is right at the core of the city, and has an adjoining tennis court and freshly refurbishing swimming pool, and you can get 16 people in this bad boy. Starting at $250 a night it's on the upper end price-wise, but man, Rodmans house? C'mon it's Rodman's house.