These are the best Airbnb homes in San Diego. San Diego, California has appropriately earned the title of "America's Finest City." The perfect getaway for any time of the year, this gorgeous coastal city is known for its eclectic neighborhoods, shoreline beauty, and unmatched eateries.
There is a wide variety of things to do in the area from cliff hikes in Torrey Pines to windsurfing in Coronado. You'll never miss out on a jam-packed day of excitement! For those who are not looking for a physically demanding getaway, no worries. There is a wonderful art scene as well. Expect to discover many art galleries, museums, and other local studios.
Airbnb offers some of the most elaborate stays to take your SoCal vacation to a whole new level. It started off as a site that provided diverse, budget-savvy accommodation options – but has since evolved to listing some of the most jaw-dropping worthy villas, mansions, and estates across the globe. Here are our top eight rentals to have you California Dreamin' in no time.
9 incredible Airbnb San Diego properties for under $250
These 8 luxury Airbnb homes are the best in Lake Tahoe!


This four bedroom, 4.5 bathroom home is a short five-minute walk from Pacific Beach. Garnett/Cass strip is also walkable, filled with the hottest bars and restaurants.
The best feature of this home would be the rooftop deck with panoramic views and the giant backyard. Gather up your friends and enjoy a cocktail made on the rooftop bar, or play a game of life-sized Jenga in the yard. For even higher stakes, set up a Cornhole competition!
The fully equipped kitchen is perfect for cooking meals and gathering around for family dinner.



Fair warning… If you're wary of heights, this may not be the best option for you. Located on the 45th floor, this 3,500 square foot penthouse is an amazing Downtown rental. Definitely one of the best Airbnb homes in San Diego.
The views from this bright home will leave you speechless. The entire apartment has enormous windows overlooking the gorgeous city below. The simple, yet edgy decor accentuate the space perfectly and offer a fun vibe.
You'll have access to the entire penthouse including a communal pool and gym. The rooftop patio and Jacuzzi, however, is private. Enjoy the beautiful evening relaxing in the hot tub and sipping on some champagne.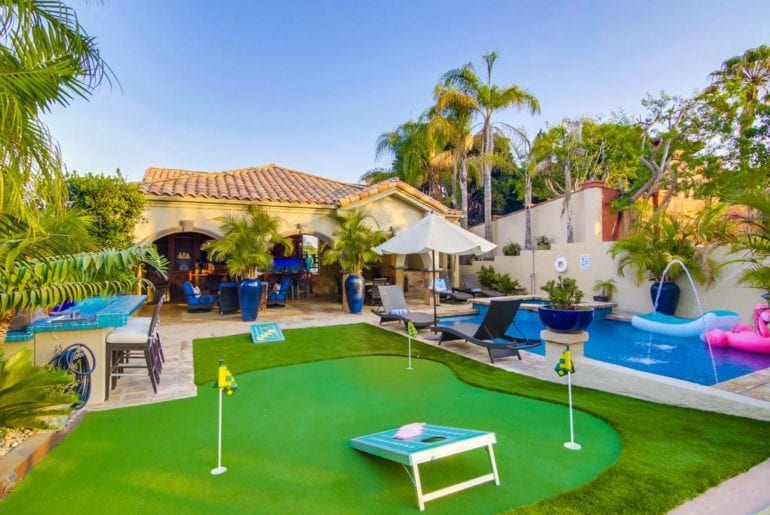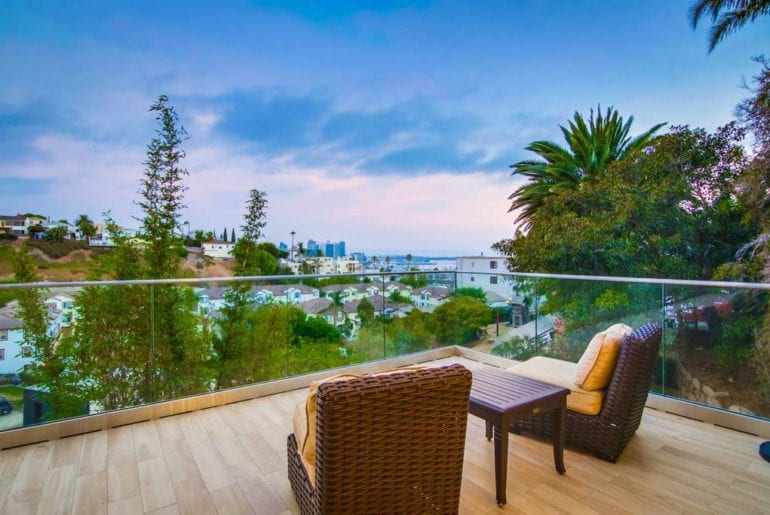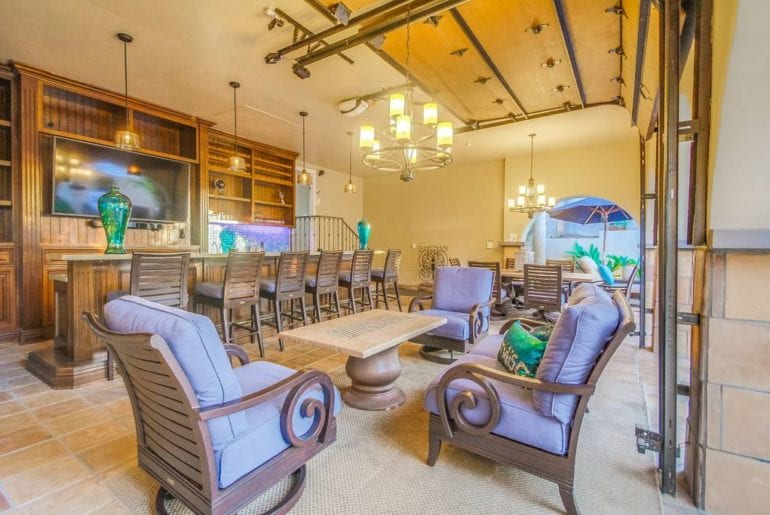 Ready for a unique stay in a furnished luxury resort home? This home was designed to offer all the necessities of a suburban estate, with the convenience to the best attractions San Diego has to offer.
Approach the property and enter the secret door… a tropical paradise will immediately welcome you. There's a heated LED-lit pool with water fountains and toys galore! There's also an elevated Jacuzzi spa, outdoor shower, miniature golf course, lounge area, wet bar, and enormous grilling area. What more could you ask for!? This is without a doubt one of the best Airbnb homes in San Diego.
The main living space has a wonderful open floor plan with an incredible view and a cozy stone fireplace. The kitchen has the best appliances available with a floor-to-ceiling glass door that opens to the expansive deck that overlooks the canyon, city, and harbor. You will also have access to a home theater with 110" screen, game room, "Zen" basketball court, and executive office.
San Diego Properties Less than $400 Per Night
8 Amazing Airbnb Homes in Cambria, California
8 Of The Best VRBO Homes In Maui For Your Hawaii Getaway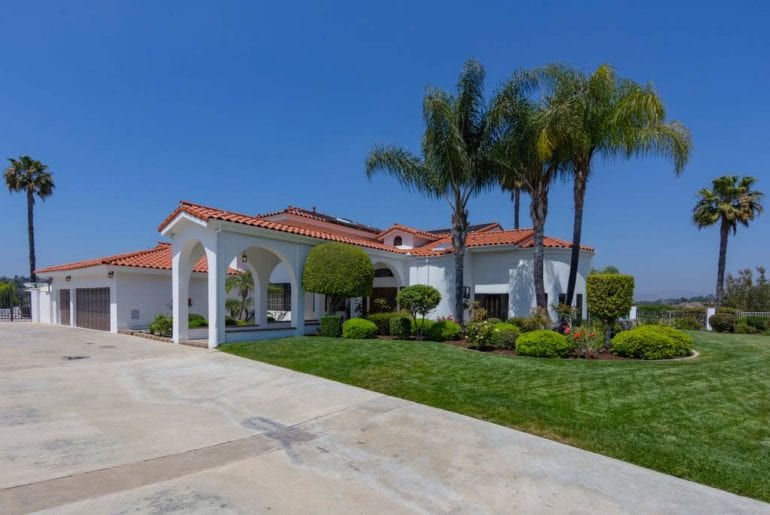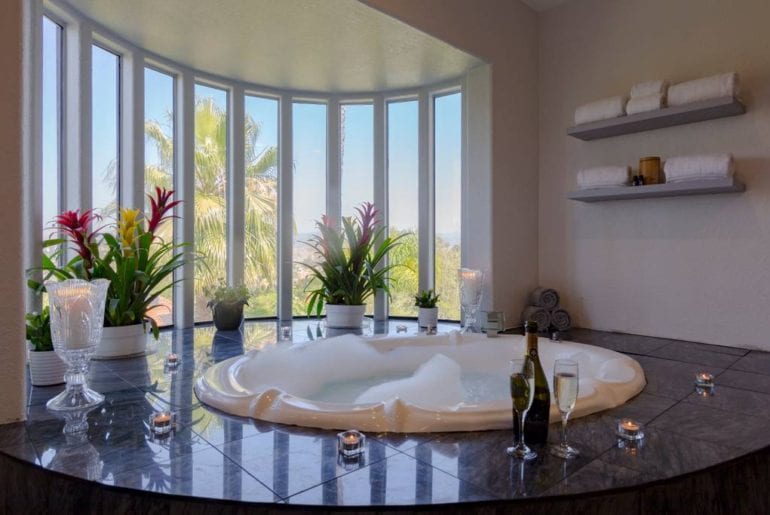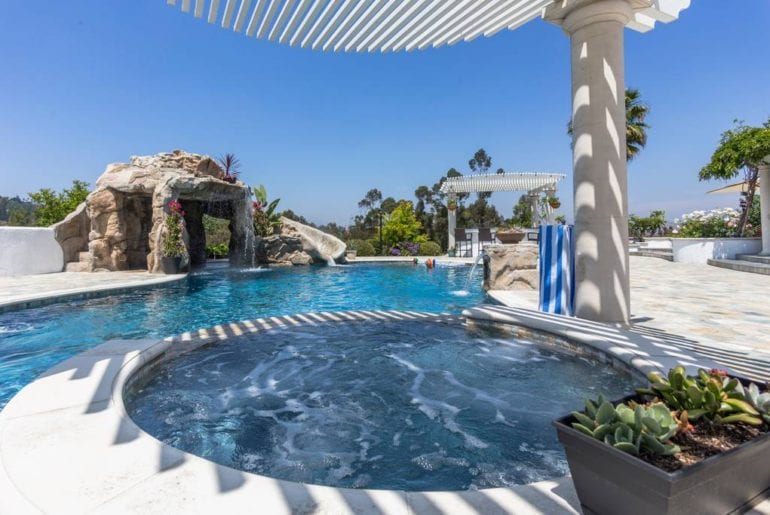 This private East County villa offers over 5,000 square feet of indoor living space and 10,000+ square feet of outdoor space. A perfect location for family reunions, celebrating events, or having a weekend away with your friends.
As you approach the home, you will enter the immaculate front gates and drive down the long driveway where you are greeted with a seasonal flower and rose garden. The home opens on a two-story foyer with a gorgeous staircase and a piano room. Continuing through, you'll see the parlor with a full-sized bar and the professional chef's kitchen. This is certainly one of the best Airbnb homes in San Diego.
With five bedrooms, 5.5 bathrooms, a library, media room, and office – there will be plenty of room for everyone! The backyard features badminton, volleyball, and croquet and of course an enormous pool complete with a waterslide. There is also a hot tub and cozy cabana for relaxing under the fruit trees in the evening. For those aspiring culinary artists, whip up something delicious in the outdoor kitchen!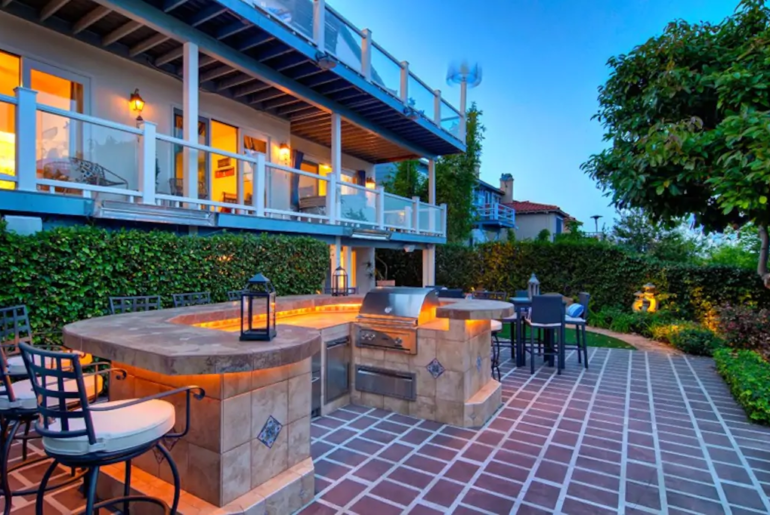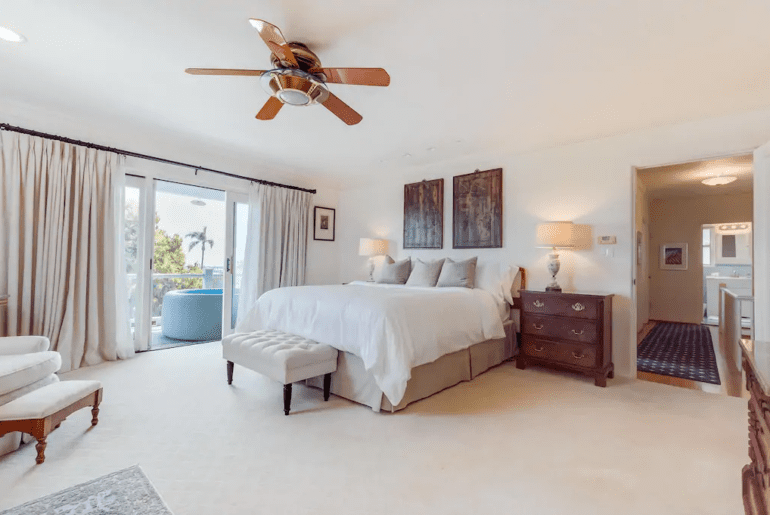 This five bedroom, 3.5 bathroom home is just around the corner from San Diego Yacht Club. Ranked among the top five in the nation – it's a must for yacht lovers.
From the street, this home appears to be a quaint, simple abode. But don't let that fool you! It has has panoramic views and a kitchen that is fully stocked for your every cooking need. There is also a dining room suitable for eight people and a large living room with fireplace and balcony.
The second level has three of the five bedrooms, along with more spectacular views. The third level has access to the backyard and outdoor kitchen. The other two bedrooms are also on this floor. Outside, the perfectly manicured gardens have beautiful flowers and fruit trees for your enjoyment. Indisputably one of the best Airbnb homes in San Diego.



This epic home, located in a quiet neighborhood, is just 30 minutes away from Downtown San Diego. With 13,000 square feet of exquisite living space and a 4,200 square feet deck, this is a listing that is sure to amaze.
The Alpine Castle has six bedrooms, six bathrooms, and can comfortably accommodate 16 guests. Downstairs has a unique castle-feel surrounded by traditional stonework. The main floor and loft rooms have more of a "modern" feel to them with central air and decor. One of the standouts of this property is the amazing bathtubs throughout the castle – grab a glass of wine and have a little "ahh" moment.
The enormous deck is perfect for bird watching during the day and listening to rustling coyotes at night. You also have access to a wonderful gazebo, a game room, wine cellar, and a small private pond.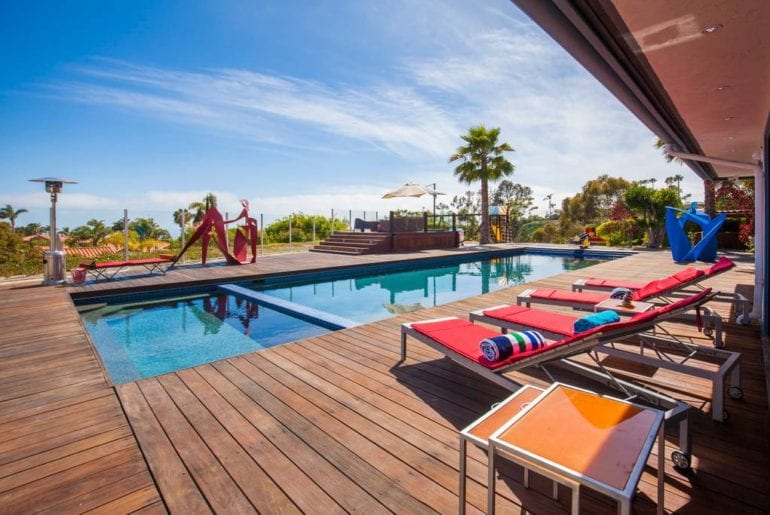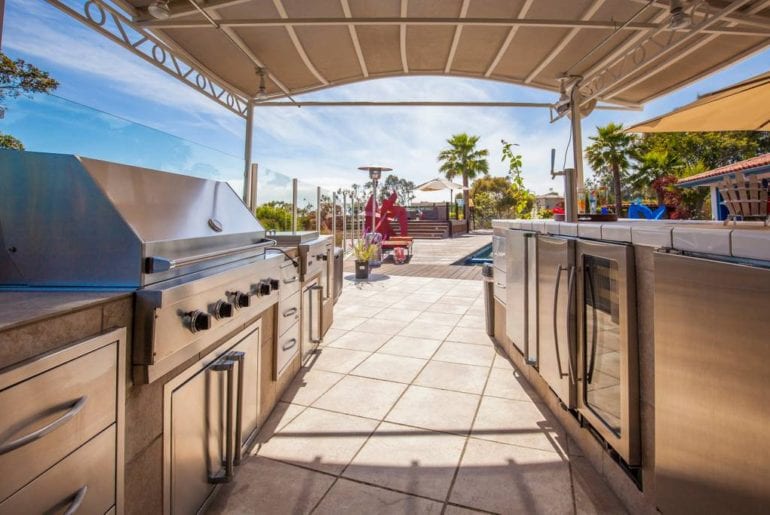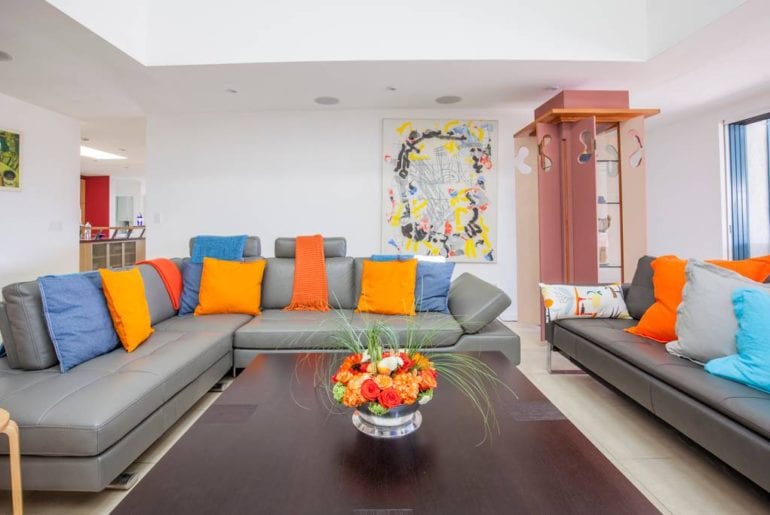 Modern sculpture brings this gorgeous California landscape to life with colorful artwork and interior design. With six bedrooms and a separate guest house, this home is perfect for groups.
Recently renovated, this luxury home pairs traditional styles with contemporary twists. It truly encompasses the "indoor/outdoor" living with an outdoor kitchen complete with beer taps, bar seating, and multiple refrigerators. After you enjoy a delicious meal, take a few laps in the heated swimming pool or soak in the outdoor hot tub.
Inside, the playful artwork is displayed throughout the home. There's a piano for those who are musically inclined. The living room has a sliding glass wall that opens up to let you feel the warm California breeze as you binge your favorite show.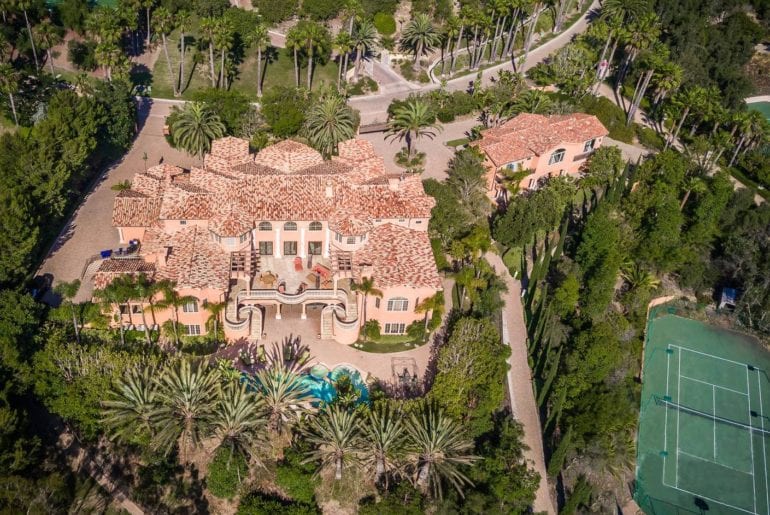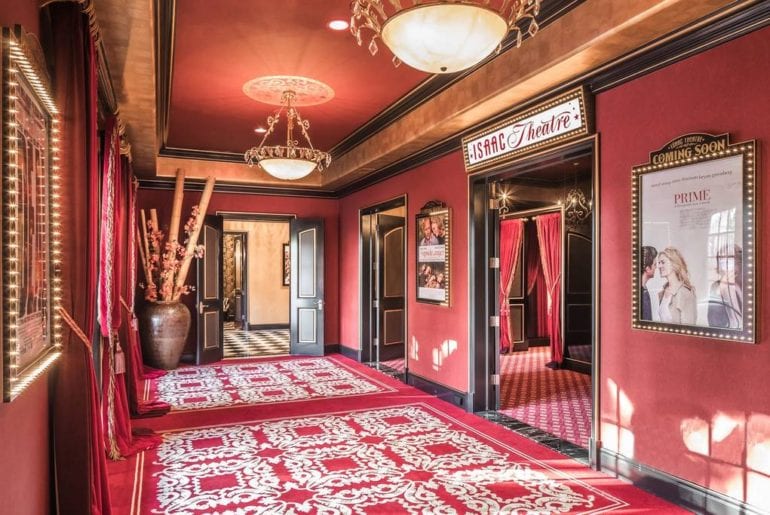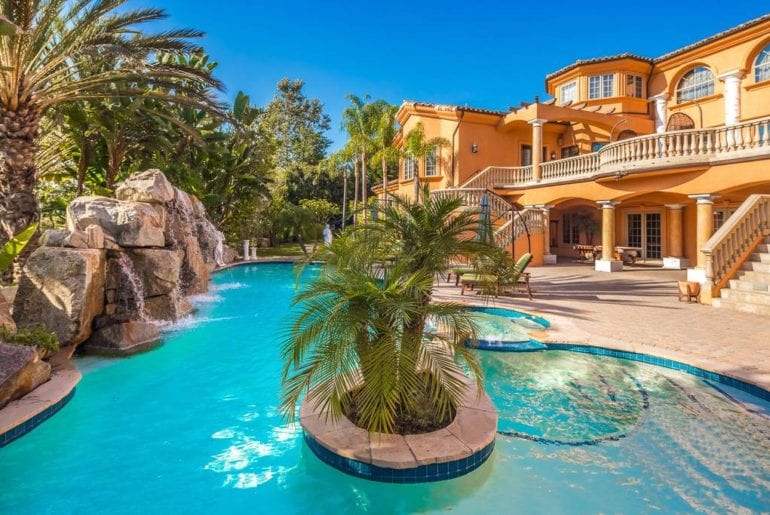 This 21,000 square foot property is guaranteed to leave you speechless. Seven bedrooms, 8.5 bathrooms, and plenty of space for 14+ guests! The guest house alone has two bedrooms, two bathrooms, and a living room. This high-luxury home was designed by a world-famous interior designer and architect and has some of the most elaborate amenities you could imagine.
Inside you will find a wine room, bowling alley, movie theater, dance floor (will full bar!), and a gym. If you can muster up the strength to leave the indoor paradise, head outside to the full sized tennis court, terrace, playground, and swimming pool.
The decor will make you feel as though you are full-blood royalty from the intricate details in the living spaces to the regal grand entrance. Fully equipped, the main kitchen has top-of-the-line appliances and plenty of counter space for any home chef. If you are able to enjoy the master suite, you can soak in your full-sized en suite hot tub and giant walk-in rain shower.