If you were to ask a handful of individuals to describe what makes San Francisco, California so unique, you would probably get a dozen amazing responses. But, one thing that makes this West Coast city so spectacular is the astonishing Victorian architecture. Some of the most iconic examples of Victorian architecture would be the Painted Ladies. One of the most photographed locations in San Francisco known as "postcard row."
To clarify, "Victorian" refers to not a style, but a period of time. To call a building a Victorian, it must have been built during the reign of Queen Victoria, between 1837 and 1901. In San Fran, the styles preceding during this period were mainly applied in late nineteenth-century single-family homes during the booming growth at the end of the century. Unfortunately, many were destroyed during the 1906 fire, but a considerable amount are still standing.
If you are looking to get a taste of authenticity during your stay in the Golden City, why not lodge in a Victorian home of your own? There are many Victorian Airbnb rentals that will be sure to amaze. Check out our top seven!
Also take a look at these lists:
Where to Stay During San Francisco Pride: 8 Great Airbnbs
Where to Stay Near City College of San Francisco: 8 Great Airbnbs
Where to Stay Near the Cliff House in San Francisco
This East Mission home is filled with quirky and artistic details. There is also vintage vibes, befitting of the historic neighborhood.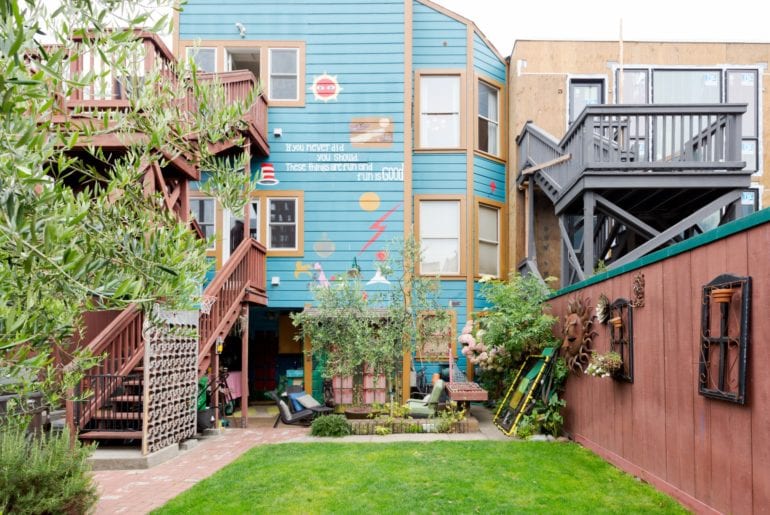 Spacious, yet welcoming, this home has retained much of its Victorian charm and architectural splendor. The living room is bright, filled with plenty of seating for the whole group to gather around and enjoy one another's company. The huge kitchen island is also ideal for groups looking to come together.
The backyard is great for unwinding and enjoying meals on the outdoor dining table. A few scenes from the movie "Blue Jasmine" were filmed in the exact spot! When out and about in the neighborhood, be sure to visit the area's best restaurants and coffee shops. There is also the famous mural art throughout the streets.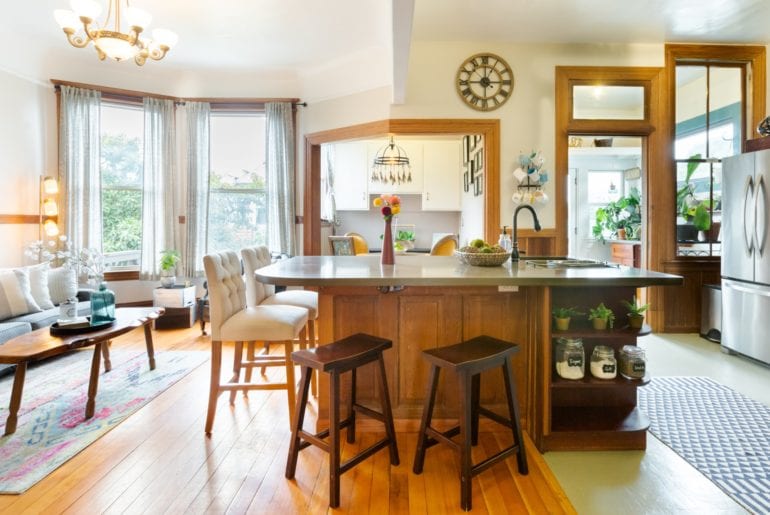 This two-level home provides picture-perfect views from every window. Perched high above sea level, you get terrific scenery of the gardens and surrounding bay.

The open floor plan adds a wonderful sense of unity throughout the house. There is a piano for those who are musically inclined. Luckily, there is also a surround sound system for those who enjoy the music, but may not be able to create their own 😉 The living room has a wood burning fireplace that is great for cozy, relaxing nights.
The best part of this whole rental is the rooftop deck. Complete with a hot tub and unparalleled views, you'll love escaping to this beautiful spot.
You will be amazed by the elegant atmosphere of this 2250 square foot home. High ceilings and vintage decor are found throughout, along with sun-flooded windows.

There are two ensuite master bedrooms along with an office space that can be easily converted into a third bedroom if needed. The backyard is ideal for sunny meals and general rejuvenation. There is also a family room with an adjacent sunroom that can be used as a retreat for alone time.
Nearby, you will find some of the coolest San Francisco spots including Fillmore Street and Union Square. There will always be something to pique your interest!
This beautiful home is a classic Victorian remodeled with modern amenities. Located in the famous Hayes Valley, you are just minutes away from all the hot spots.

There are three bedrooms and three bathrooms total, giving you plenty of space for eight guests. The large kitchen is perfect for cooking the perfect meal, and it can be served in the formal dining room designed for the whole group.
There is a separate downstairs studio that has its own bathroom and full kitchen. It can be accessed through the back of the house but also has its own private entrance.
Within walking distance of the Fillmore, Golden Gate Park, and Divisadero, this rental is in an ideal spot for tourists and locals alike.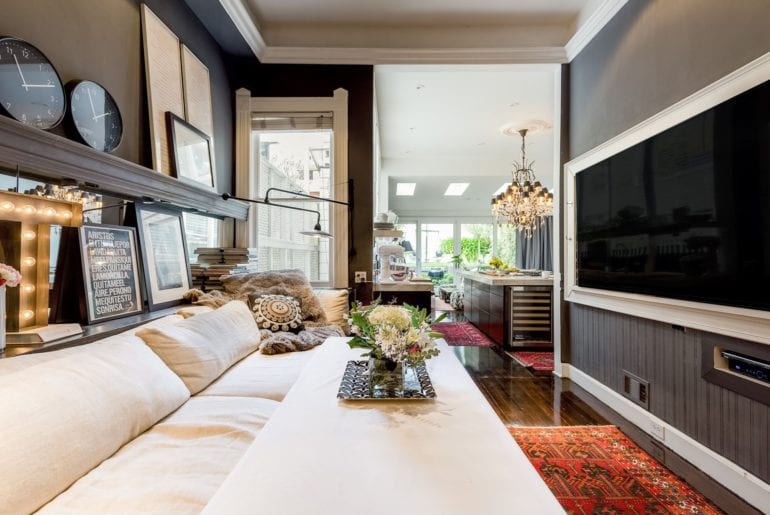 Not a drop of grandeur is spared in this Victorian home, built in the mid-1890s. It perfectly blends the famous SF architecture with modern touches. It homes a stunning kitchen, dining room for 20, five luxurious bedrooms, and a home photo studio.
There are also various indoor fireplaces throughout the home for chilly evenings. To enjoy the beautiful sunshine, head outside to the patio to enjoy your morning coffee or to grill up some dinner!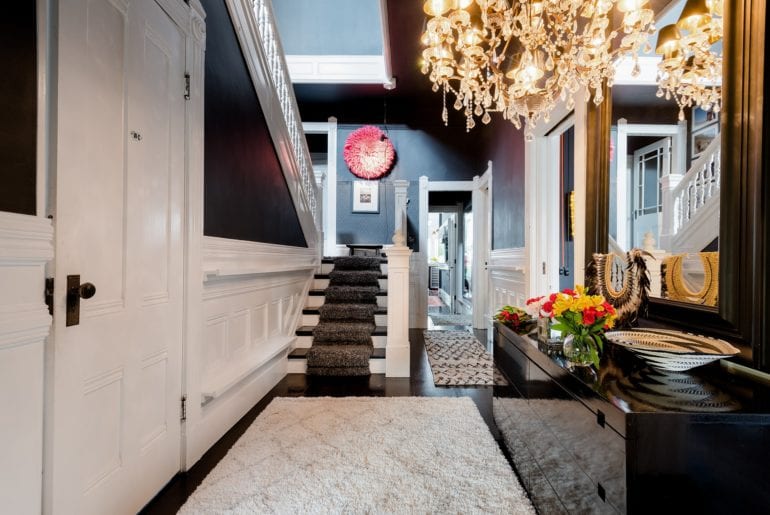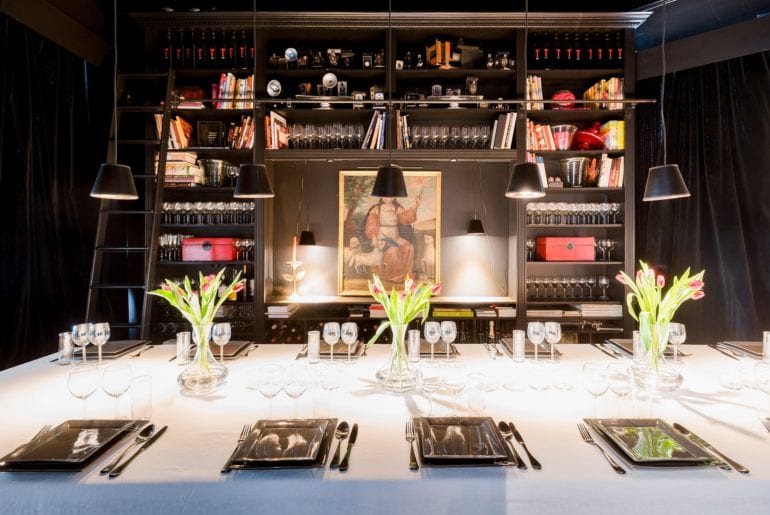 This six bedroom home is an ideal place to spend a group getaway with friends and family.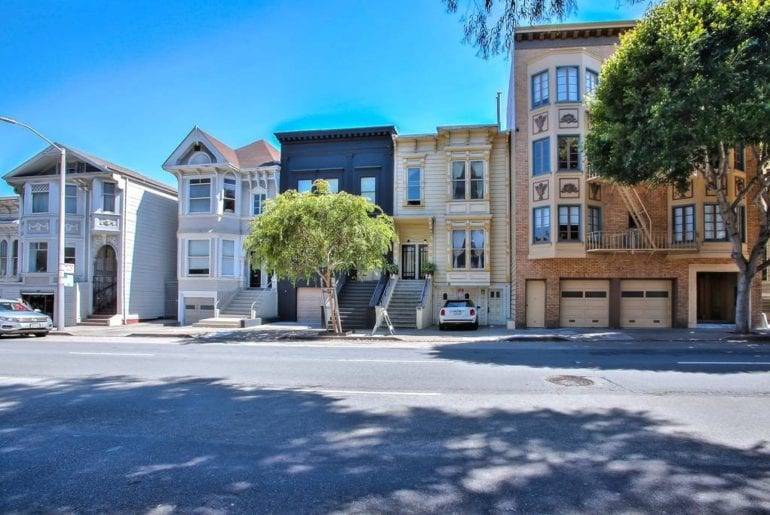 It features two master bedrooms, one with fireplace and seating area and the other with a private deck. The additional three bedrooms are spread between the second and bottom floor, and all have queen-sized beds. The kitchen had top-of-the-line appliances and a retro feel with a checkered floor and vintage water heater.
The fabulous backyard has a manicured garden for your enjoyment along with a barbecue. The fenced in grassy area is perfect for outdoor games and allowing the young ones to run around.
This home has four bedrooms and five bathrooms. It's located in the heart of the city, so easy transportation to and from this abode is a bonus.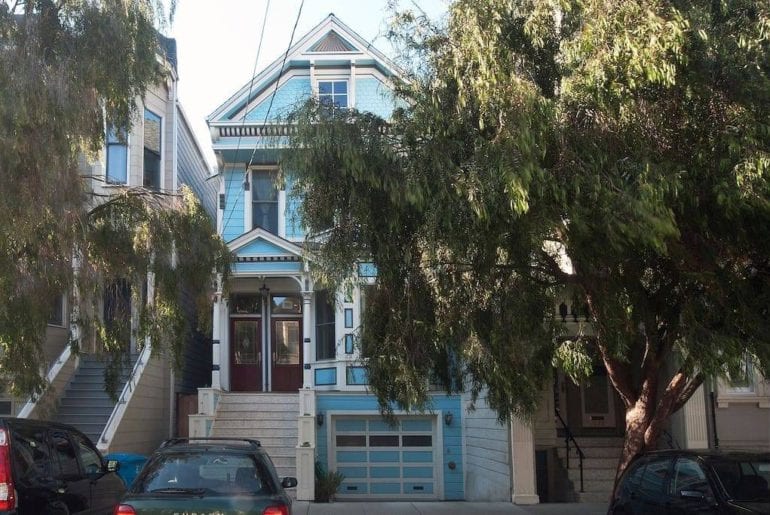 You will love the gorgeous hardwood floors throughout the house that add a touch of homeyness to the space. Downstairs there is a beautiful living room with a large television, perfect for a movie night. There is also a formal dining room and an enormous open gourmet kitchen with an additional eating area.
Upstairs hosts the master bedroom along with three other bedrooms and a laundry room. Additionally, there is a private deck with a hot tub for your enjoyment! You will have access to all of these wonderful amenities plus a second deck and a shared backyard.