Everything that makes Los Angeles great can be found in Santa Barbara, albeit in a slightly more relaxed form. You've got miles of coastline, consistent waves and mountain trails, plus a great restaurant and nightlife scene.
Except unlike LA, the people are a little less hurried, the traffic isn't so bumper-to-bumper, and the lines are a lot shorter than out-the-door-and-round-the-block.
To sum it up: you'll have ample chance to pause and take it all in. In fact, in a city this laid-back you're sure to have enough time to take it all in before capturing the feeling in picture form as well. So on that note, if you'd like a trip to Santa Barbara to hit your followers with a serious case of FOMO, we've compiled a list of the most Instagram-worthy rentals in town.
Also worth a look:
8 Of The Coolest Santa Barbara Airbnb Rentals
These Airbnb homes in Santa Monica are very fancy!
8 Gorgeous Santa Barbara Beachfront Airbnbs Perfect for Surfers and Beach Bums
These 9 LA Homes Will Make You Feel Like A Cast Member In Entourage!
It's bee said that social media is a lie, a tool that lets us depict the life we wish we had, not the life we actually live. But in our opinion, if you're on vacation from your day-to-day there's really nothing wrong with a little false advertising. And with Kashmir, a Moorish-style villa with ivy covered arches and terracotta tiles, you could probably convince your followers you're in Morocco, or Granada, or even the Alhambra itself.
Except you'll actually be in high-end Montecito, surrounded by lush, landscaped grounds as you unwind by the pool in the warm light of the home's courtyard. Inside, you'll find marble kitchen surfaces, Persian rugs, vibrant flourishes and beautiful hand-painted tiling on the stairs—a hit of color that will serve any Instagram profile well.
One of Santa Barbara's best known destinations is the Old Mission, nestled in the foothills of the Santa Ynez mountains near the Upper East area of town. Founded by the Franciscan Order in 1786, the Mission's terracotta tilings and adobe walls have inspired the architecture of numerous homes in the city, including this three bed in the hills of Mission Canyon.
The exterior of the home stands as its own tribute to the state's storied heritage, while the traditional wood-paneled interiors and artwork will delight anyone looking to fill their Instagram feed with a sense of California history. Plus a solar heated pool, surrounded by palms, in the shadow of the mountains provides space to detox from social media, should you want to.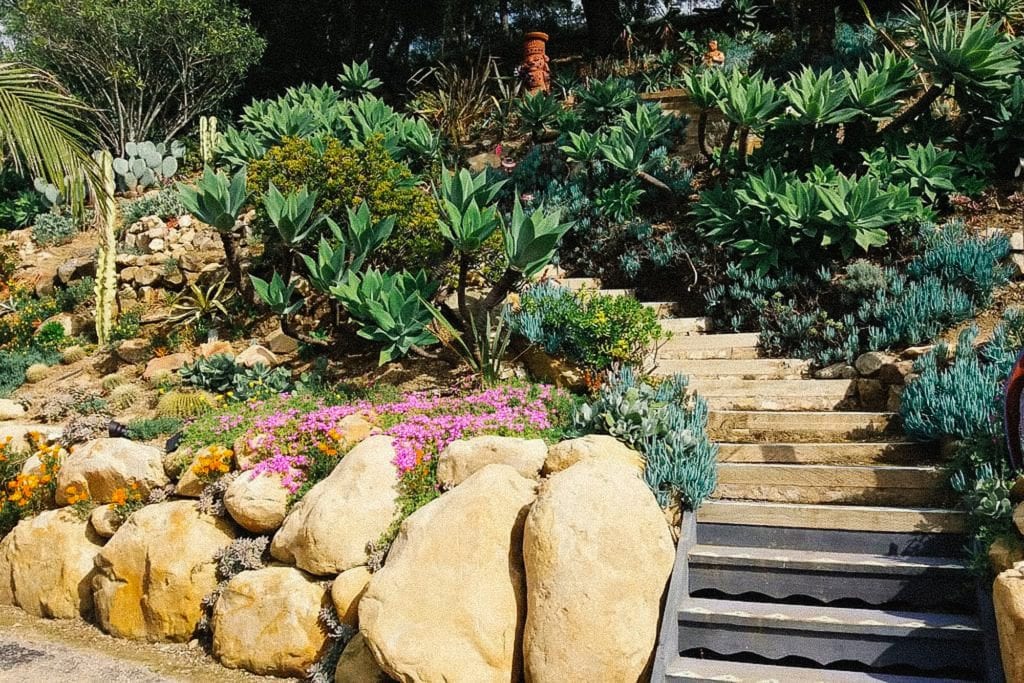 El Zapato, a downtown masterpiece that sleeps eight, gleams with unique elements that practically scream to be Instagrammed. Every trinket, tile, awning, chair—whatever—has been placed in a way to make it stand out from the others, and yet they all flow effortlessly into the overall aesthetic. It is a jumble of color, but one that fell perfectly into place.
The house boasts three levels and each room contains its own personality. No matter where you go in the home, you'll notice a thoughtful touch that may have eluded you before: it could be a mosaic on a door frame, a pattern on the floor, or even the curves and lines that make the home what it is.
If you can pull your gaze away from the interior, you'll notice that the outdoor terraces, with views across Santa Barbara, are ideal for relaxing or entertaining friends—whether in real life or online.
If you like to fill your feed with evenings out, good times and a lot of delicious dishes, then this home in the heart of downtown is perfect for you.
A block away from State St, the Craftsman-style house is the perfect location to explore Santa Barbara's Funk Zone, an exploding hub of innovative food, artisanal wine and craft beer, and a lot of other stuff that will show you (and your followers) why the area possesses such a name. Feel free to walk, or hop on one of the beach cruisers included in the rental.
While even the trendiest spots in SB are pretty laid-back, you may still want to unwind in a slightly more private setting. Luckily, the house provides contemporary comfort with modern appointments, cable TV and a fireplace. A private backyard and patio, complete with barbecue and dining table, is ideal for summer nights.
Somehow, someway, this treehouse has managed to blend multitudes of bohemian flare with meticulously efficient uses of space. Everything fits perfectly into the home; whether it's the hammock in the corner, the modern kitchen or the longboard on the wall.
The wood finishes, adorned with dreamcatchers, provide a light, airy feel; the sensation enhanced by a collection of serene outdoor spaces. A garden and patio serve as a retreat within themselves, while an outdoor deck offers views of the Mission and beyond.
The living spaces are ideal for anyone who wishes to depict a life of balance and wellbeing online. And for those who like to project a slightly more intense vibe, there's a fully stocked gym—complete with squat rack, pull-up bar and bench—in case you want to supplement your downward dogs with heavy deadlifts.
It has eight bedrooms, a swimming pool, a spa and a tennis court; there are lush gardens, beautiful patios and a guest cottage. The living room and kitchen are unmatched in size and amenities, while the exterior is all terracotta tiles and adobe walls. It is, without question, an architectural marvel.
The Ravenscroft estate, in Montecito, was created by George Washington Smith. A locally renowned architect, Smith also designed Santa Barbara's Four Seasons hotel, The Biltmore, and the Casa Del Herrero, a nearby museum.
The estate itself is riddled with historic points of note. The 52 foot long living room, for example, was built to mimic a London theater stage at the request of original owners. The couple also allegedly allowed the family horses inside to warm themselves by the room's fireplace (in case you needed further hints about its sheer scale).
If, somehow, you manage tear yourself away from simply enjoying the estate and all it has to offer, you'll be able to post an Instagram story that could have a legit chance of going viral. Maybe.