'Santa Barbara wine country' isn't exactly a misnomer, but it's not entirely accurate, either. While there are numerous excellent wineries and wine bars in the city, for the true California Wine Country experience you'll need to head into the surrounding county to the north.
It is here in the Santa Ynez Valley where you'll find the rolling vineyards nurtured by cool air and fog from the Pacific. The climate, perfect for Pinot Noir grapes, has earned the region's quiet wineries some loud plaudits, this reputation only enhanced by the 2004 hit Sideways.
In fact, we'd recommend visitors explore some of the shoot locations in the film—Buellton, Los Alamos and Los Olivos—but maybe skip the infidelity and midlife anxiety. Luckily, these six wine country Airbnbs in Santa Barbara county will guarantee you avoid such pitfalls, while giving you ample chance to sample some of the best wine in the world.
Also worth a look:
8 Of The Coolest Santa Barbara Airbnb Rentals
8 Gorgeous Santa Barbara Beachfront Airbnbs Perfect for Surfers and Beach Bums
Where to Stay In Santa Barbara: 8 Great Airbnb Properties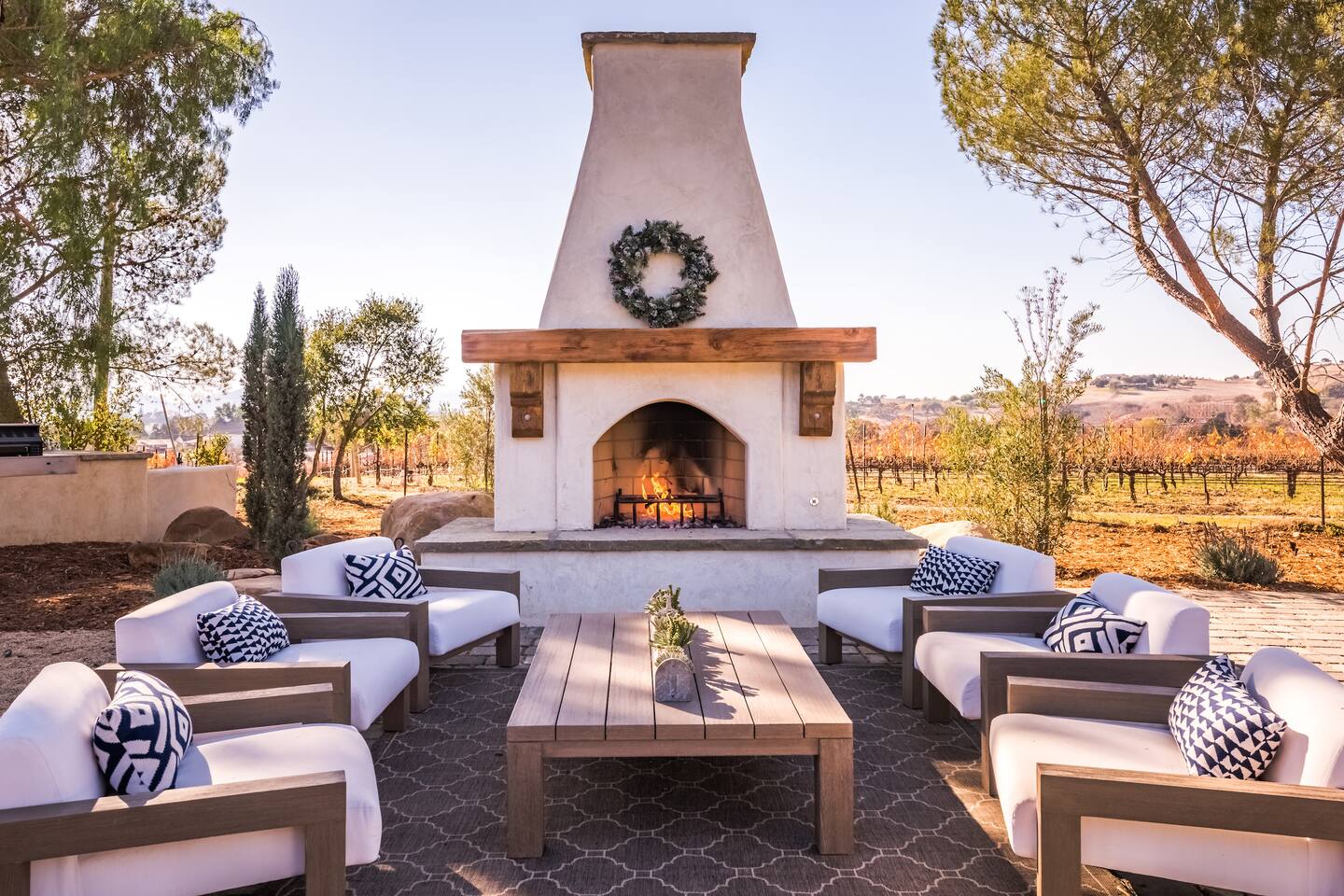 Cielito ranch is set over five acres near the town of Los Olivos. The four bedroom home blends rural lifestyle with modern comfort, with almost all of the generously appointed interiors opening onto the surrounding landscape. At Cielito, there are no bad views.
In the distance, mountain ranges span across the horizon; closer in, vineyards soak in the warm coastal winds; and mere steps from the home, a pool, hot tub, outdoor kitchen and 14 foot courtyard fireplace will make you think twice about retiring to bed.
The nearby town of Los Olivos offers a range of wine tasting tours. If you'd rather walk home after sampling a glass of red, there are two wineries at the end of the ranch's winding driveway.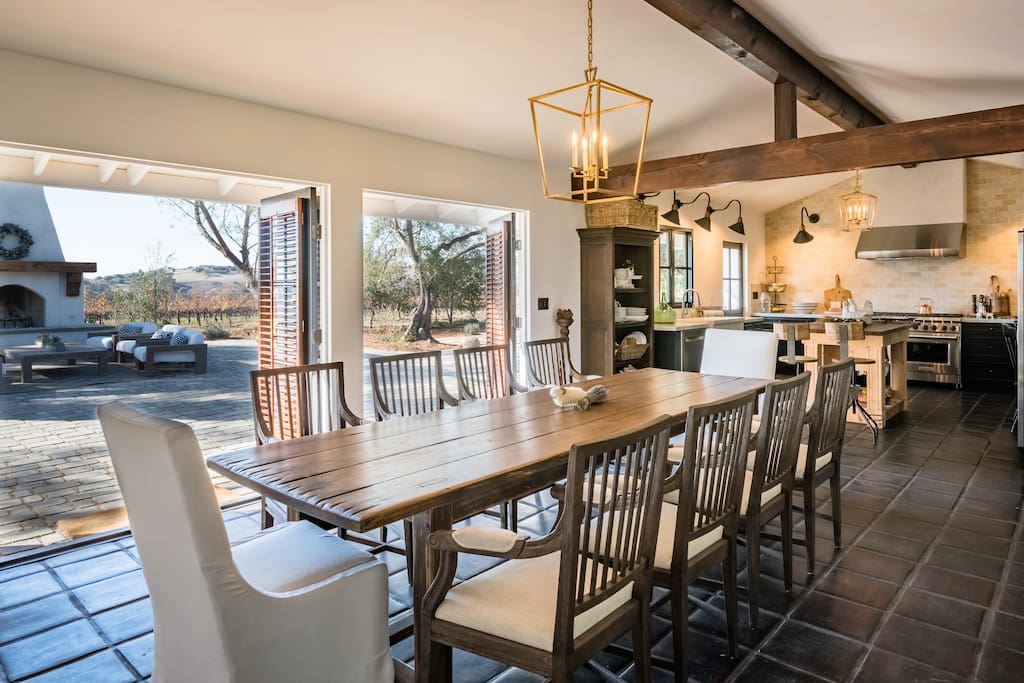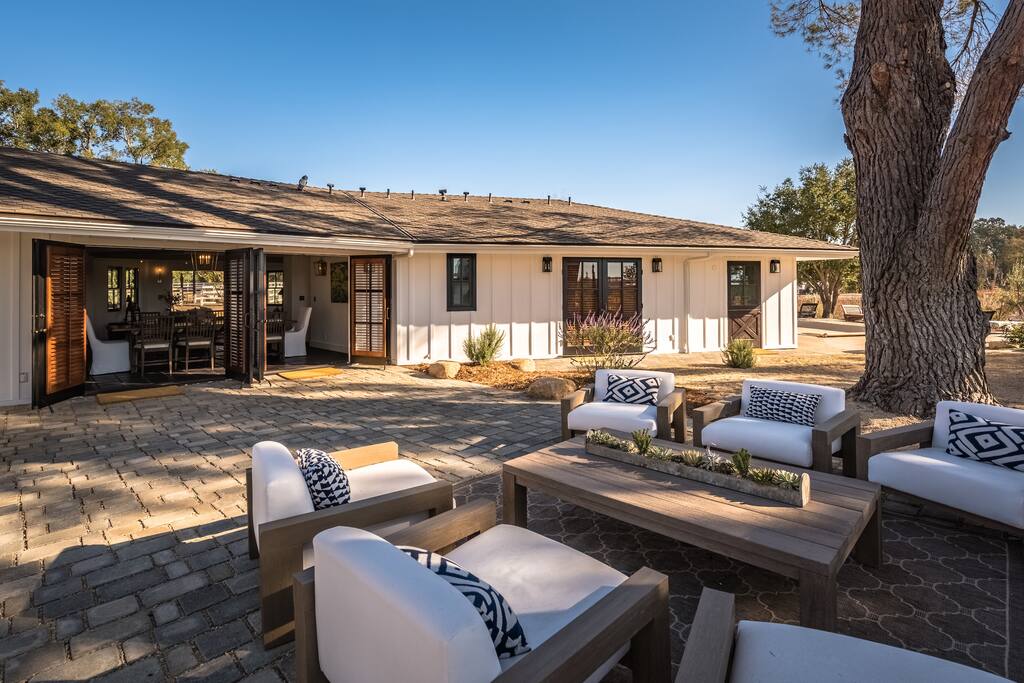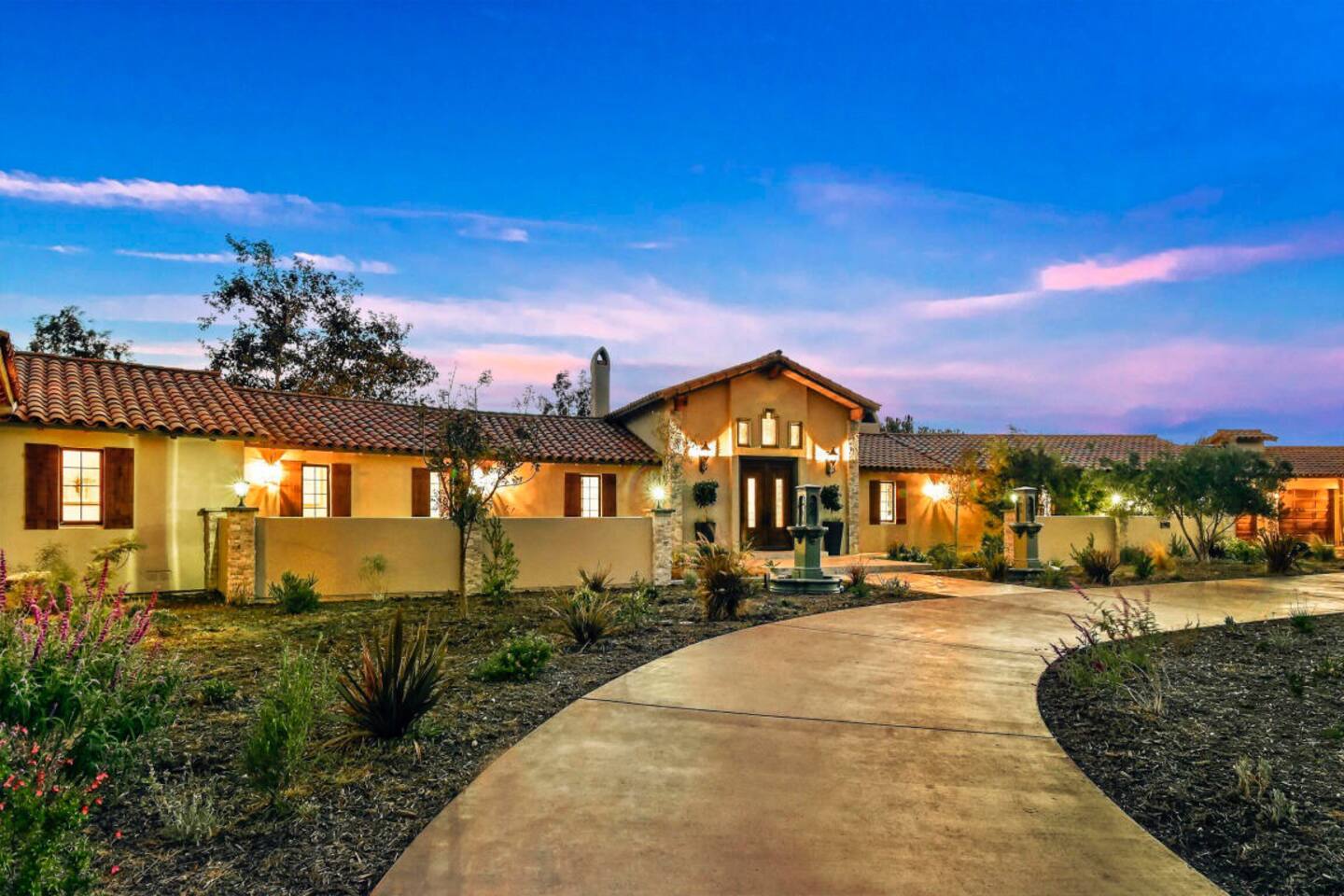 To drive through Solvang is to be transported to early twentieth century Denmark; or, at least, a fairly accurate rendition of it. The town, at once charming and slightly curious, sits in the heart of the Santa Ynez Valley, its unique blend of Spanish and Danish architecture reflecting its colonial history.
It is well worth a visit, but can get pretty busy in high season. If you're eager to experience Solvang but don't want to be troubled by the crowds, then this sprawling estate will suit you well. Set over eight acres on the northern edge of town, it boasts five bedrooms, a fully stocked kitchen and vaulted ceilings.
The Tuscan style design is surrounded by panoramic views of the rolling valley, where wineries, tasting tours and vineyards are within easy reach.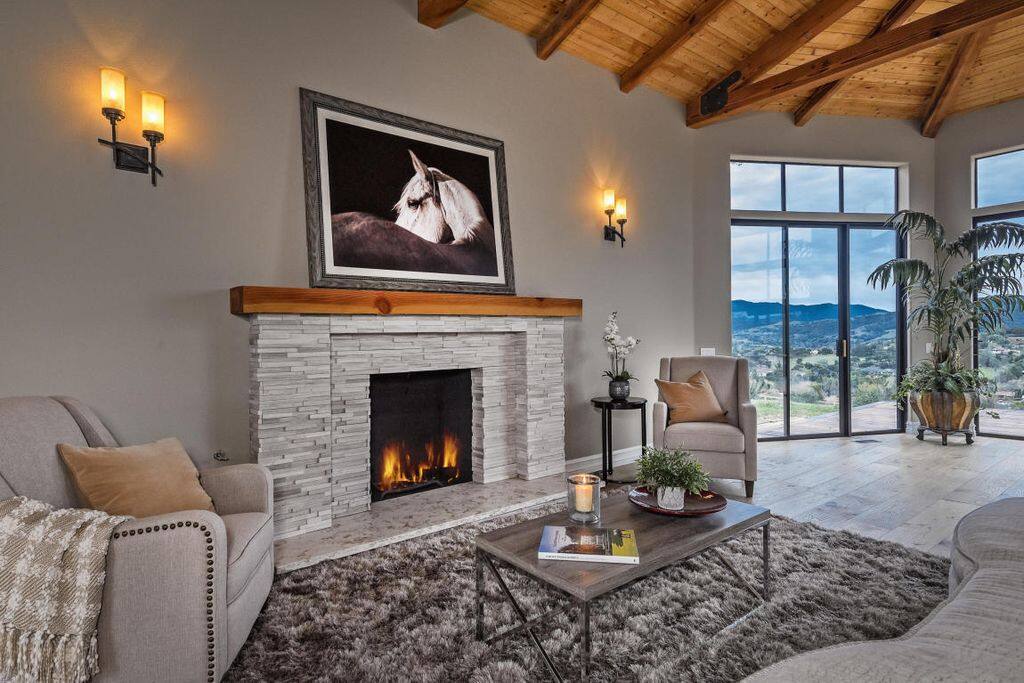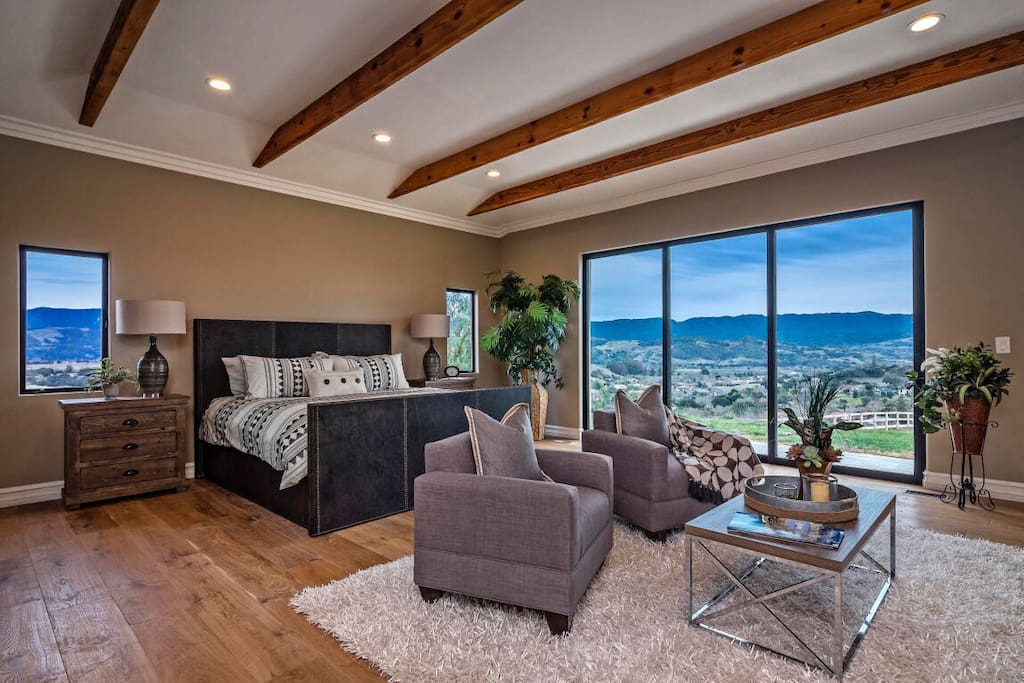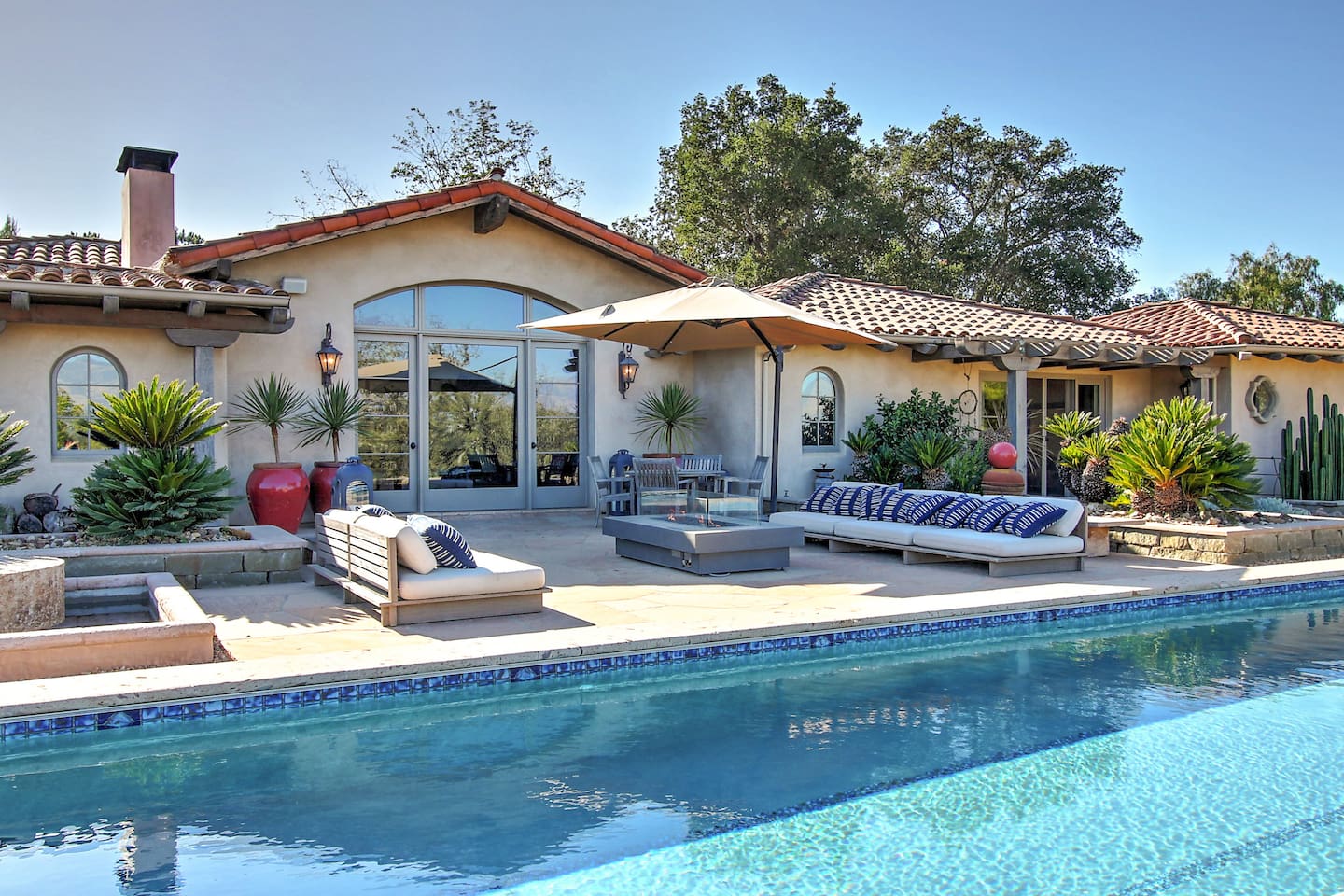 With enough room for 10 guests, and an indoor/outdoor design with space to roam, this Spanish style home in the Santa Ynez hills is perfect for groups who want to sip Pinot as a party.
The entertaining could unfold in the courtyard or by the pool, while the more relaxed guest might unwind in the hot tub. For those looking to capture the calm of the valley with the energy of an occasion, the cabana, complete with fireplace, will warm a group as they sit under the canopy.
The outdoor space is equipped with a grill, smoker and wood-fired pizza oven. So pick up a case after checking out the wineries, because you'll be able to pair your Chardonnay, Merlot and Pinot with some serious alfresco dining.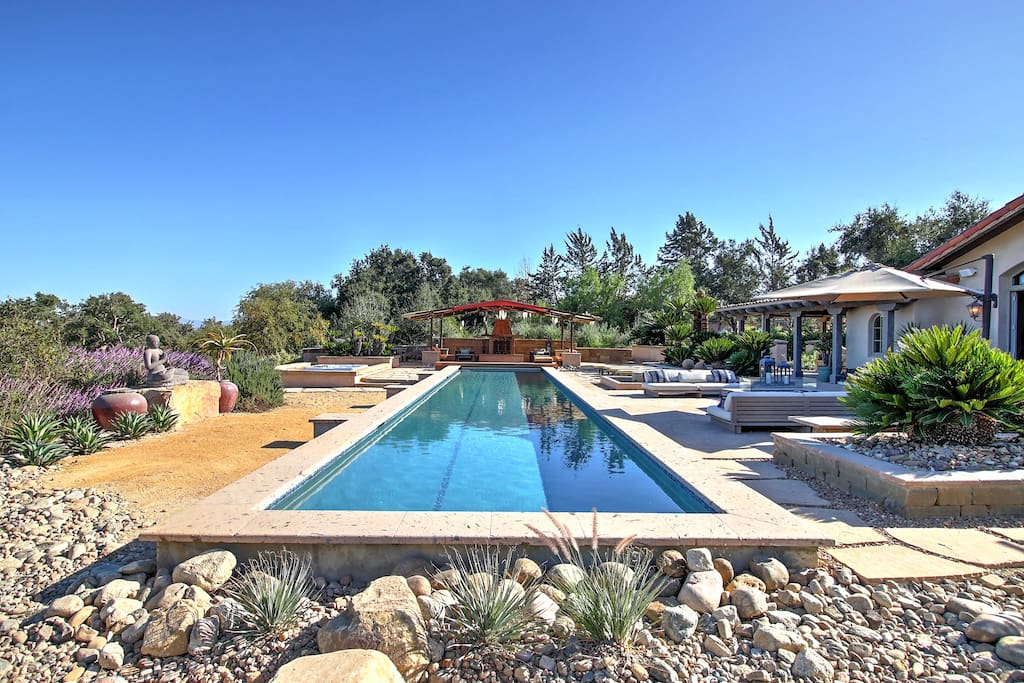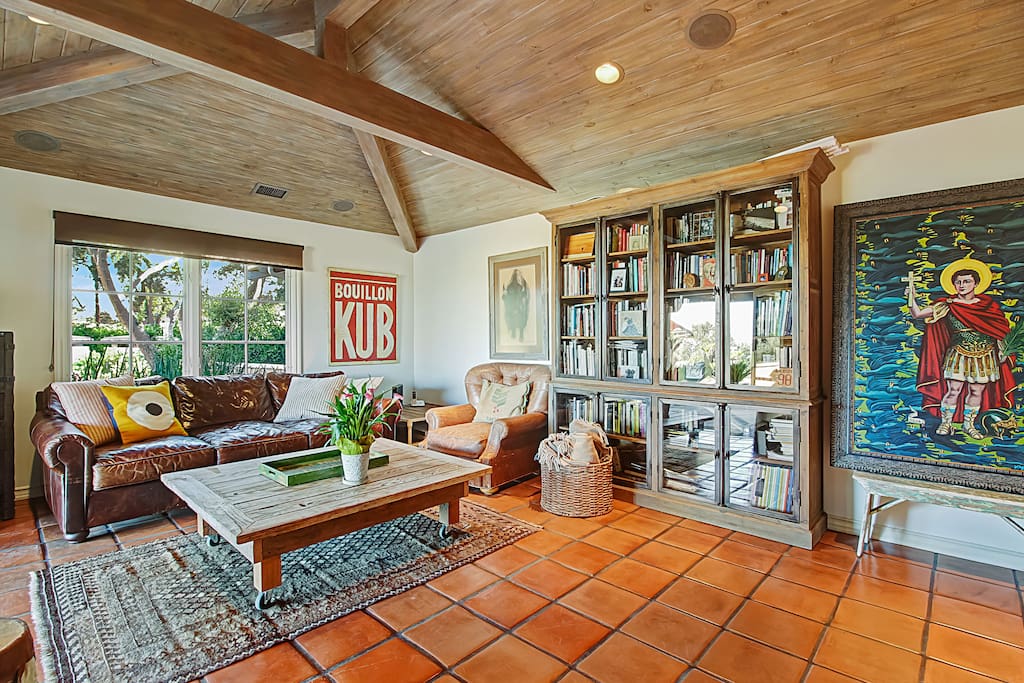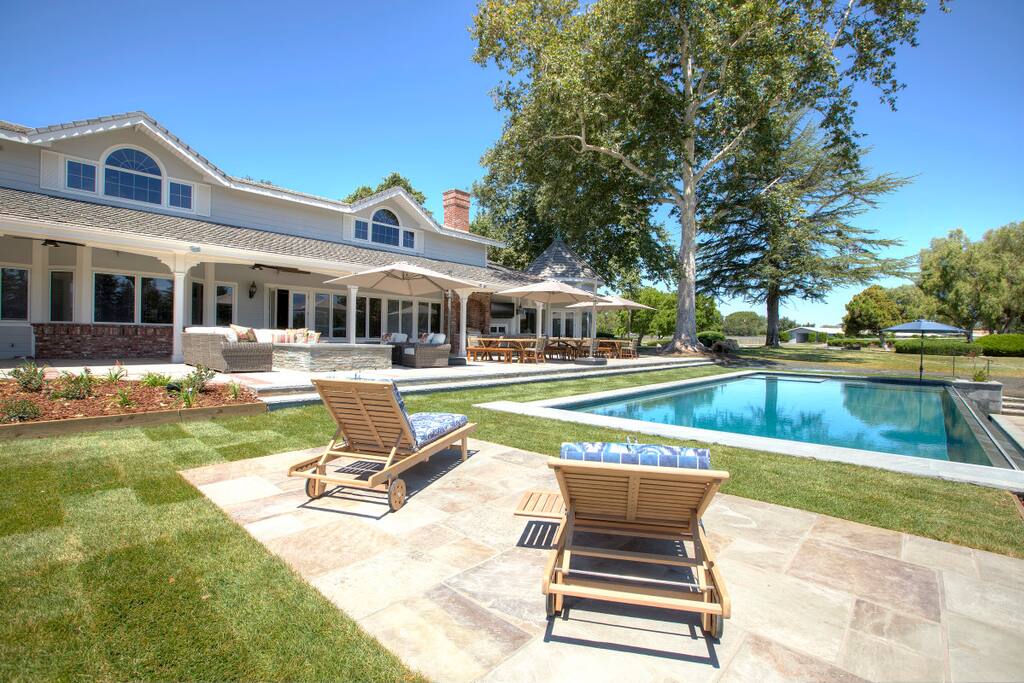 Roblar farms is an extension of Roblar Winery, a Santa Ynez staple known for its Sauvignon Blanc, Viognier, Sangiovese and Syrah; and for the oak trees that dot the estate.
The ranch-style house is a magnificent home that seamlessly aligns modern touches with old-world charm. Dark wood panelling, leather furniture, velvet finishes and cowhide rugs share space with a flat screen TV, state-of-the-art surround sound music system and a contemporary mural of the Santa Ynez Valley.
Outside, a patio and pool look towards the surrounding mountains. If you are seeking authenticity, this rental is still very much a ranch: horse pastures flank the home and guests are welcome to stroll through the working farm. Or, if they'd rather a glass, the Roblar winery is a short walk away.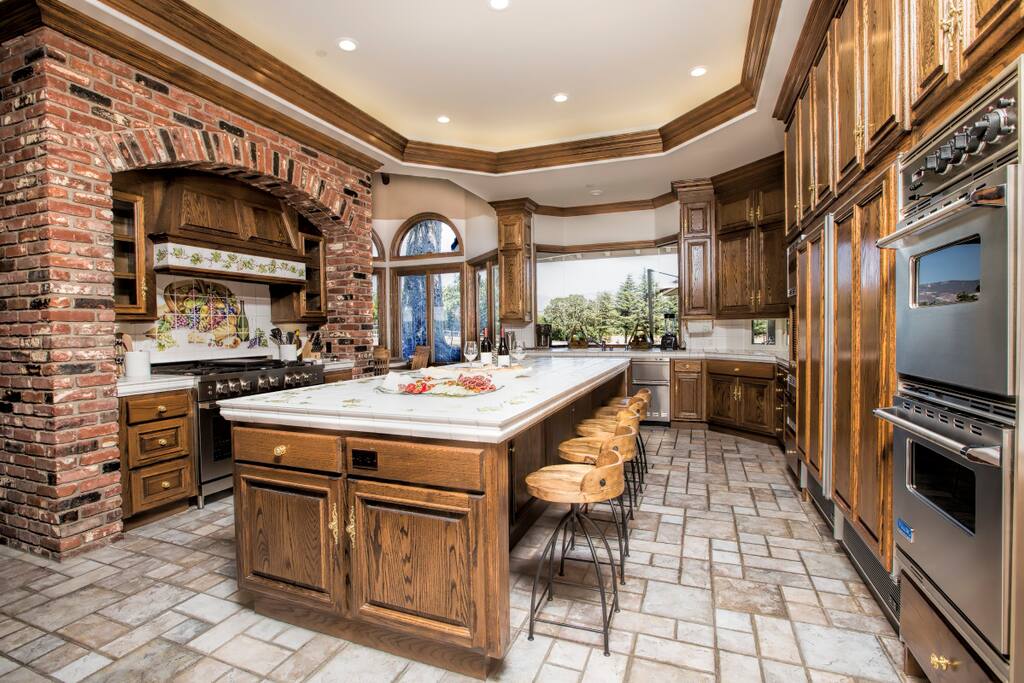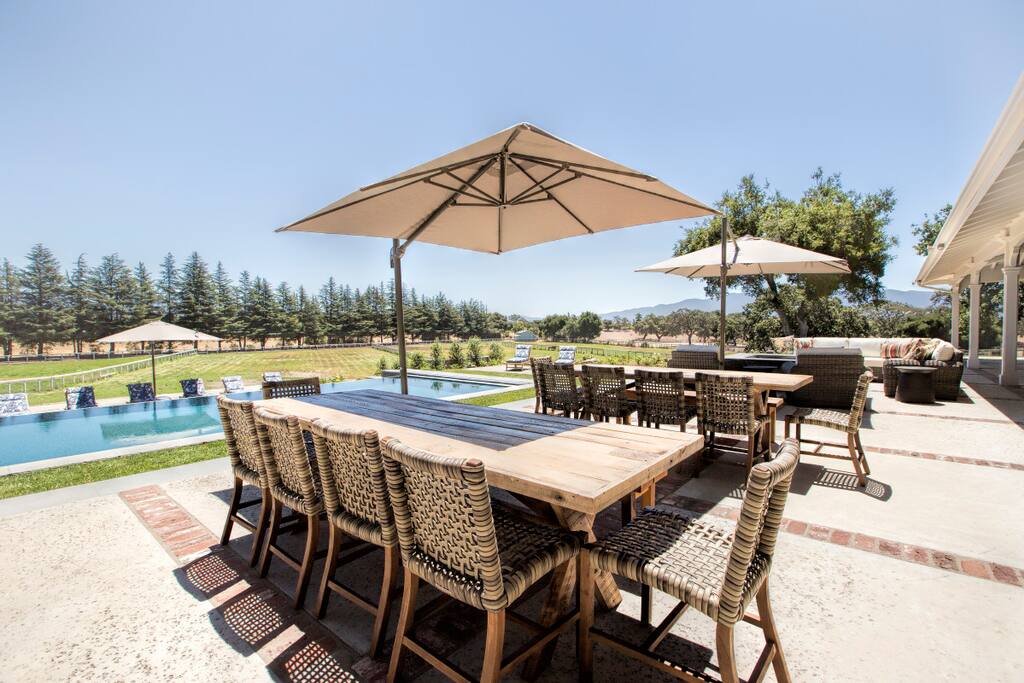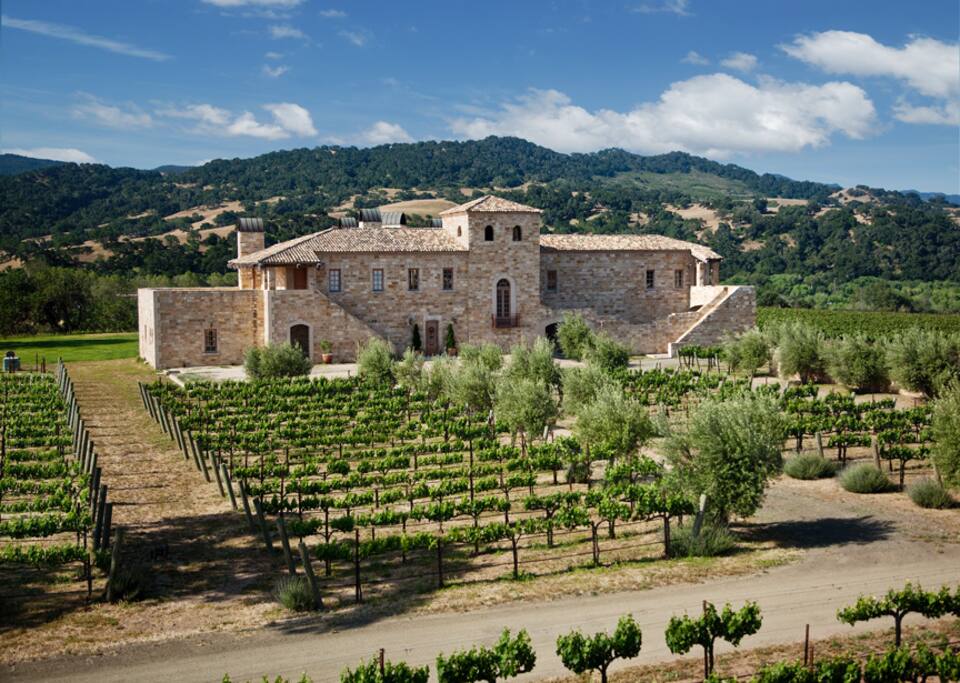 Try not to let the pictures deceive you. Despite what you see, this isn't actually a centuries old chateau in Provence, although it's no less beautiful.
Flanked by vineyards on all sides, the bricks that make up Sunstone villa appear to have been lifted, one by one, from a lavender field in southeastern France. The stone aesthetic is also present on the interior, lending the five suites and farm kitchen a distinctly European air.
Other continental touches can be found in the wood beams that hoist the ceilings and stretch across an enclosed courtyard, the outdoor space only matched by a patio overlooking the surrounding valley.
Figure out which wine pairs best with pizza, as there's also a wood-fired outdoor oven.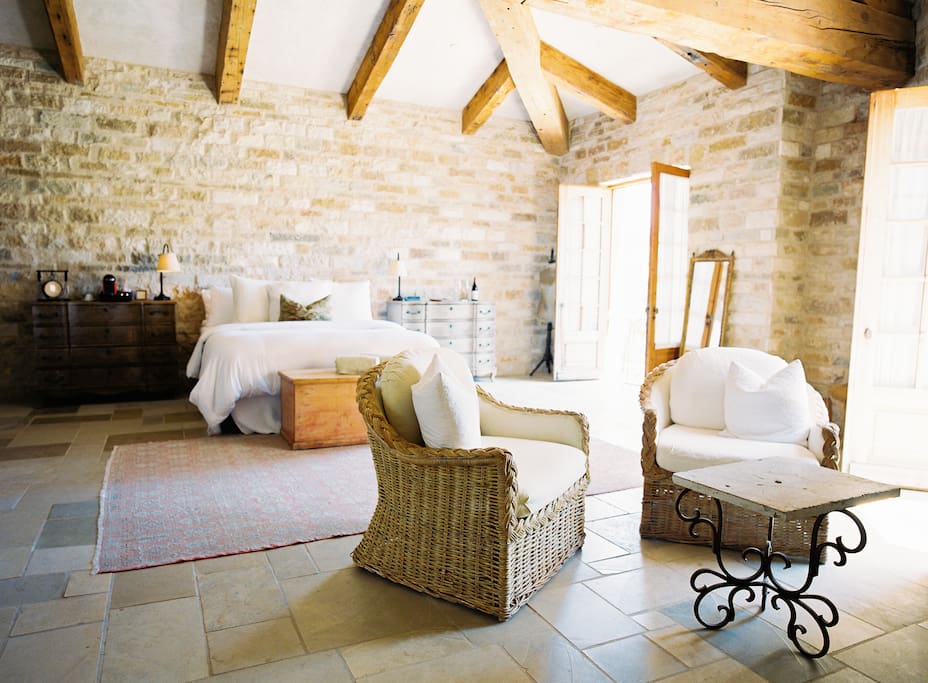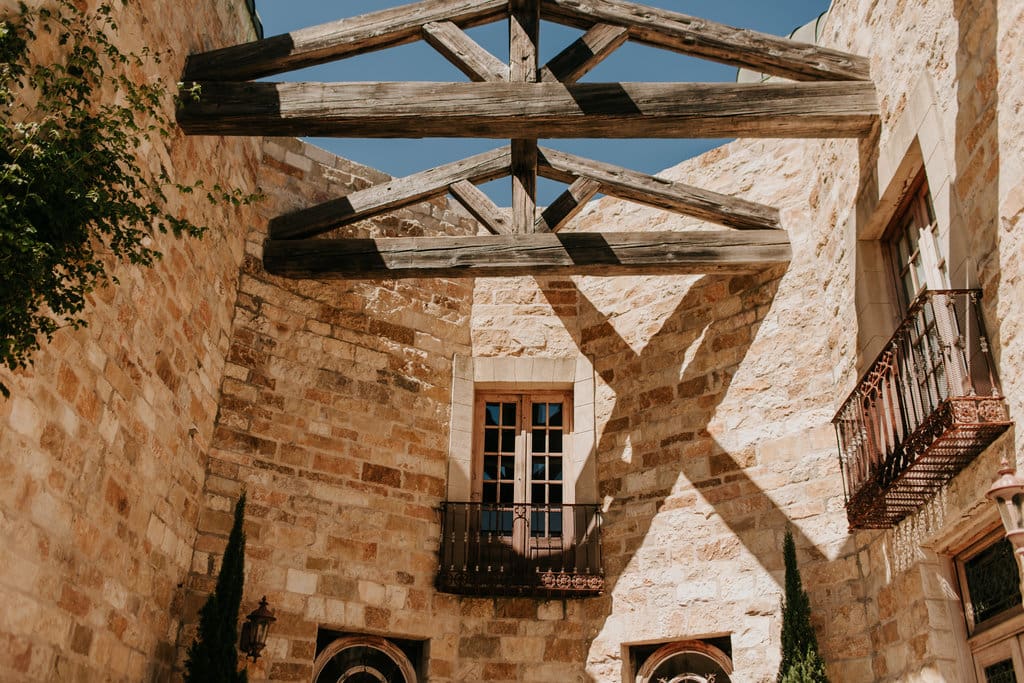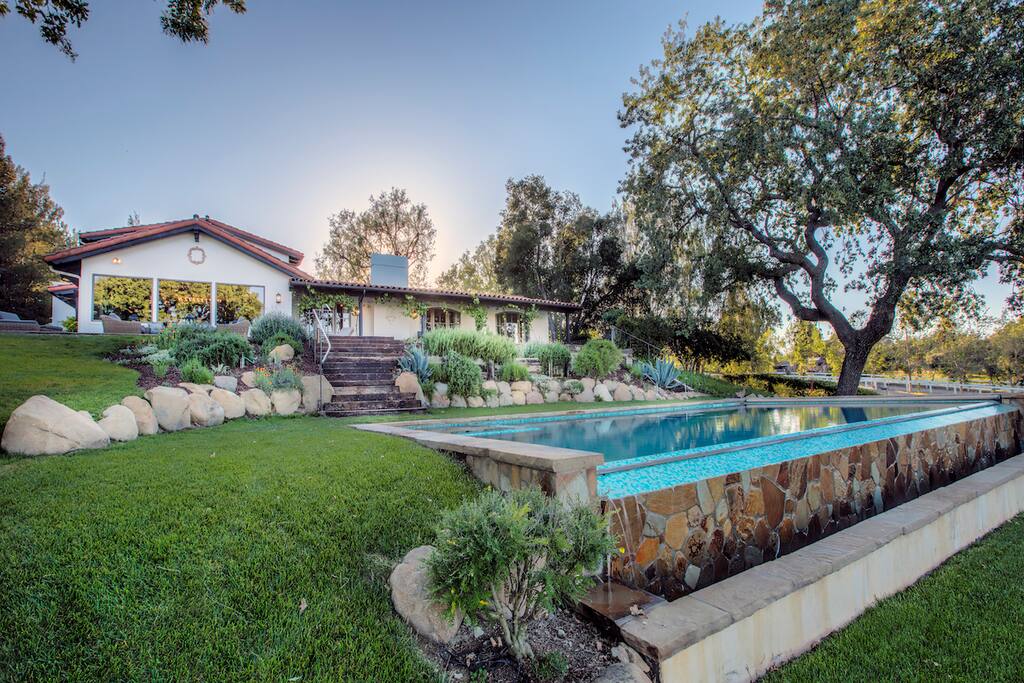 With sweeping views of the Santa Ynez Valley and Figueroa Mountains on its hilltop perch, Rancho Santuario's bucolic setting is ideal for entertaining in an unparallelled landscape.
The ranch-style home sleeps six and offers mountain views everywhere from the dining table to the master suite bathroom. An expansive interior with high ceilings, wooden beams and metallic light fixtures is complemented by a lush outdoor scene, where ancients oaks and apple trees rise above a saltwater infinity pool.
With descending hills rolling away from the home, the rental feels secluded; a heightened oasis where you can drink a bottle undisturbed. Yet if you do need to resupply, the gentle bustle of Santa Ynez and Los Olivos is only five minutes away.