San Francisco has long been considered California's center of counterculture, a place where artists and bohemians have flocked in search of an escape from the norm.
Yet the past decade or so has brought huge changes to the city, both in population and price, meaning SF no longer offers the alternative lifestyle it once did. Luckily, a city 75 miles to the south is doing what it can to keep this dream alive.
Santa Cruz is a coastal community of about 55,000. It's revered for its undisturbed natural beauty and laid-back, ever so slightly unorthodox locals. The place is artsy, hip and—thanks to the University of California at Santa Cruz—forever youthful.
8 Great California Airbnb Properties That Are Perfect for Glamping
8 Super Sunny, Cheerful Silver Lake, Los Angeles Airbnb Homes
Amazing Luxurious Airbnb Rentals in Big Sur, CA
8 Amazing Airbnb Homes in Cambria, California
Despite its low-key vibe, Santa Cruz is still very much a city. There are plenty of attractions, restaurants and bars. On top of this, this scenic beauty and sandy beaches have inspired the creation of some truly luxury homes. If you're looking to visit this relatively unfettered central coast gem, here are a few incredible places to stay.
A contemporary beach estate steps from the ocean for $1,172 per night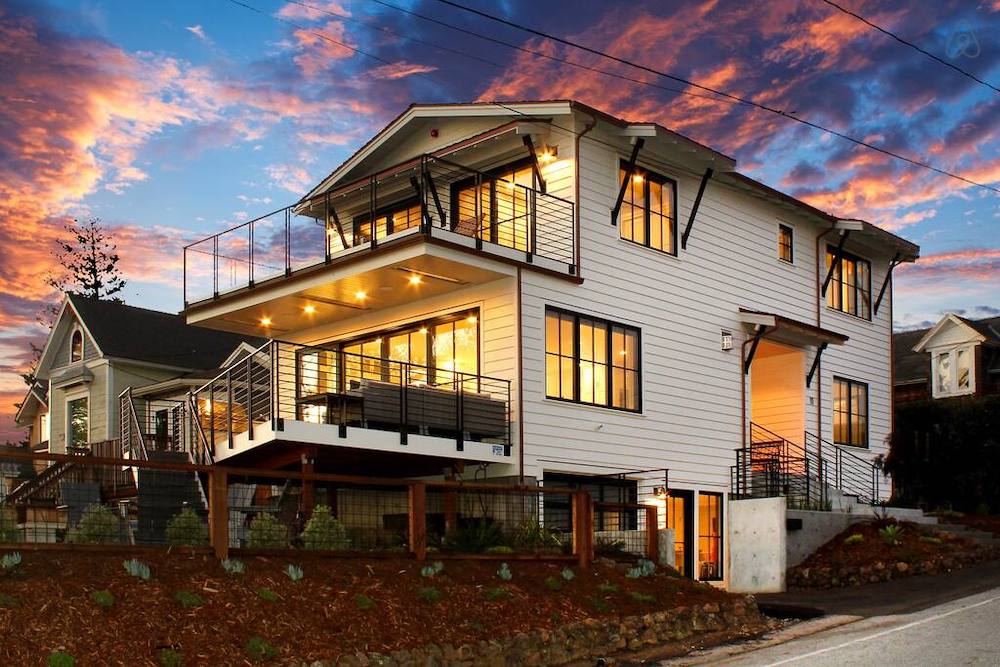 Picture watching a setting sun as you gather around the firepit on the deck of this ocean front property. You'll feel little desire to go inside as the flames flicker and snap into the warm ocean air.
But once the night draws in the temperature begins to fall, the warmth of the house will come calling. Which will be a welcome signal, because this home will probably make you want to stay permanently. The three bedroom home features open plan living spaces and a modern kitchen, all flooded with natural light thanks to the glorious floor to ceiling windows.
All bedrooms are appointed with quality linens while hardwood floors heighten the high-end aesthetic.
The upstairs balcony, complete with four sun loungers, will have you seriously considering a move to Santa Cruz.
A coastal castle ideal for entertaining for $916 per night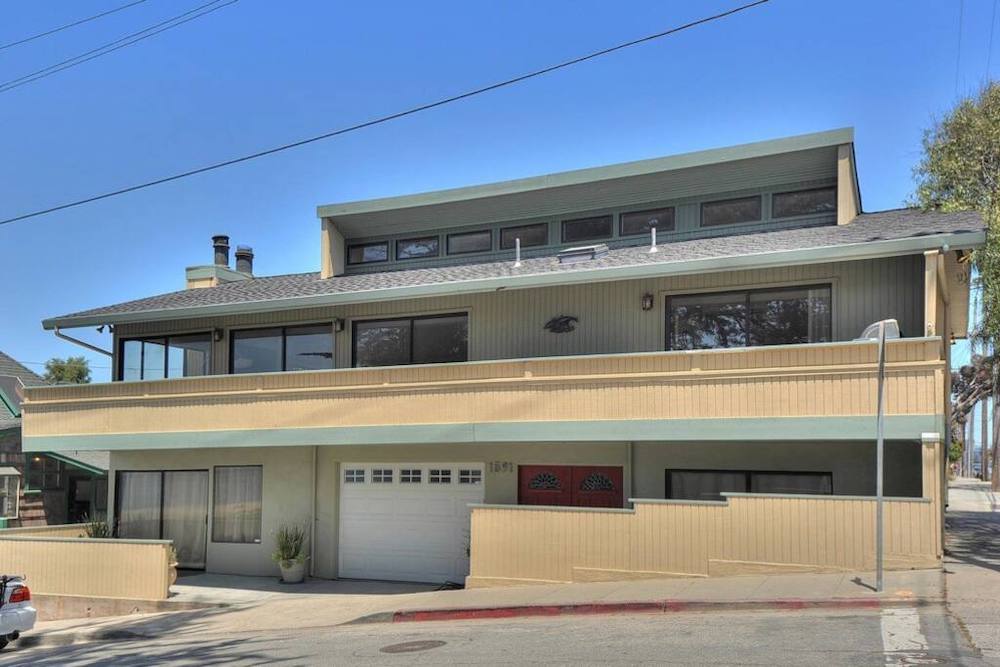 The beauty of this contemporary castle can be found on the main floor, a vast, open plan space that blends the living room, dining area and kitchen into a singular 'great room'. The expansive floor is surrounded by windows and filled with light, making it an ideal location for entertaining.
Outside, the ship-like home is lined with a deck as long as the house, giving way to views of the adjacent Sea Bright Beach, where evenings can be complemented with bonfires in the designated pits.
The downstairs master bedroom is also graced with ocean views; while a basement, fitted with an entertainment center, is an excellent spot for tired kids. On the upper floor, another master bedroom offers resort-style luxury, largely thanks to a spa-worthy bathroom equipped with steam shower, flat-panel TVs and a Sonos speaker system.
A Davenport cabin for in the wilds of California for $850 per night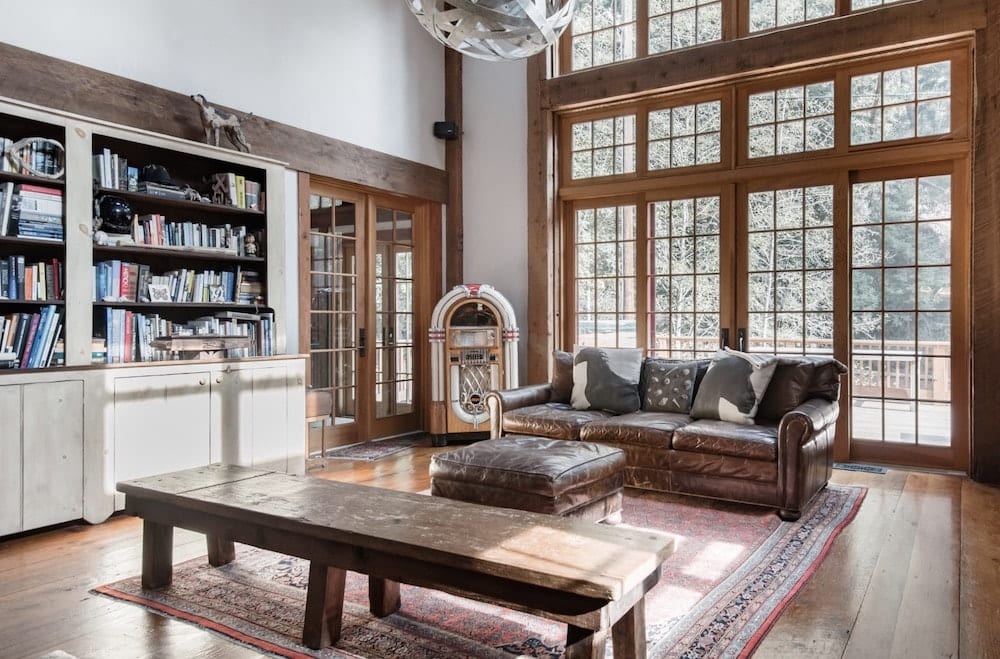 About nine miles north of Santa Cruz lies Davenport, a rural coastal community with a tiny population of 408. It is a picture of calm and tranquility, and the sort of place one might drive by without noticing while heading up Pacific Coast Highway.
In short, Davenport is the perfect escape from the rigors of everyday life, especially if you choose to stay at this cabin. The beautiful home, located on the banks of a gentle stream, is constructed out of reclaimed fir; and its affinity with the surrounding nature can be seen throughout the interior.
It is a marvel of wooden beams, rustic furnishings and contemporary touches that fit seamlessly with the more earthen aspects. The bedrooms exude old coastal charm, with whitewashed walls and wooden finishings, while the bathrooms allude to something more European and rustic, further emphasising the home's identity as a retreat.
The communal areas, which include a fully equipped kitchen, evoke farm houses with wooden counters and stone fireplaces. The main living room, complete with its own towering fireplace, is light filled thanks to floor to ceiling windows.
Outside the house, nature abounds with wildlife and trails filling the area.
A mountain home with stunning views for $890 per night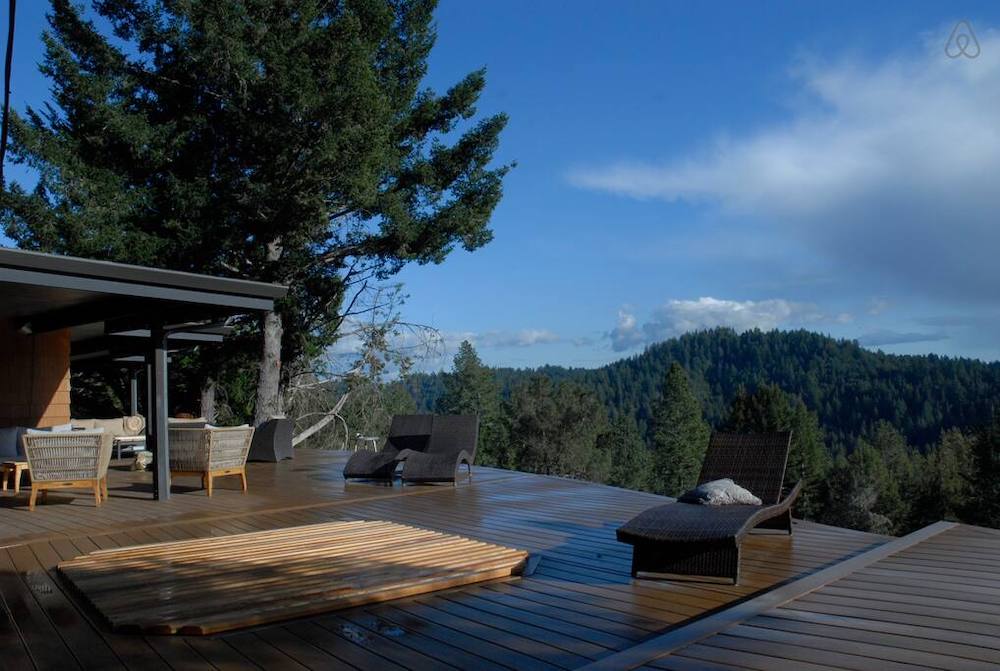 High up in the mountains north of Santa Cruz sits a stunning home. The single level house exemplifies modern luxury, with open plan living spaces, clean lines and a lot of natural light.
The kitchen is fully loaded with contemporary appliances, while leather sofas in the communal area and hardwood floors throughout add to the luxe feel. Each bedroom is elegantly appointed with three of the rooms boasting king size beds. The bathrooms are equally impressive, with walk-in showers, double vanities and beautiful bathtubs.
Most impressive, however, is the outdoor deck. Not only is the expansive space perfect for entertaining, it features a hot tub and a breathtaking view of the surrounding mountains. The vistas are magnificent—perfect for bird-watching, if that's your thing—and, when conditions are right, a layer of fog is suspended just below the home, lending it an almost ethereal quality.
A historic home in Santa Cruz history for $833 per night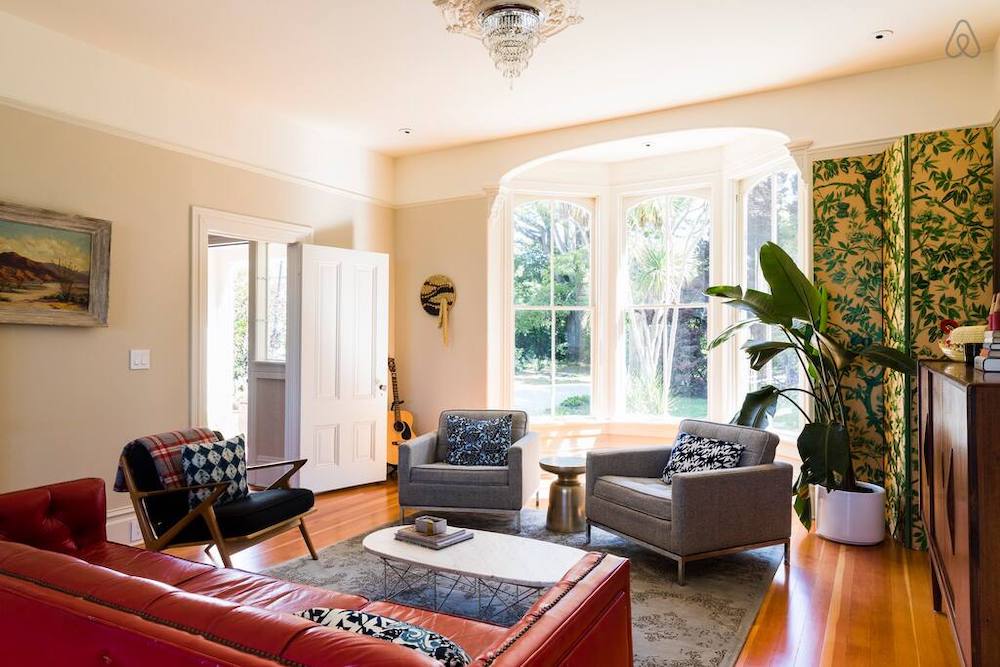 The diverse, continental, ever so slightly transient history of Santa Cruz is bound up in this historic home. The four bedroom house evokes Italianate architecture and old world design with grand bay windows, high ceilings and unique flourishes.
The house serves as a nod to old California. Rather than sprawling, open plan spaces, there are distinct rooms, all of which are flooded with natural light thanks to the large windows. Midcentury touches blend with more traditional features, while modern amenities complement the older character.
The fully fledged cooks kitchen, fitted with a Sub Zero fridge, two dishwashers, three sinks and a Wolf six burner range with griddle top, is perfect for hosting large gatherings. The spacious bedrooms allow the sea breeze to flow through, while a deck is ideal for evening sunsets.
For those looking to explore Santa Cruz or surf its famous breaks, downtown and the beaches are within walking distance of the one acre property.
A Capitola windmill for $895 per night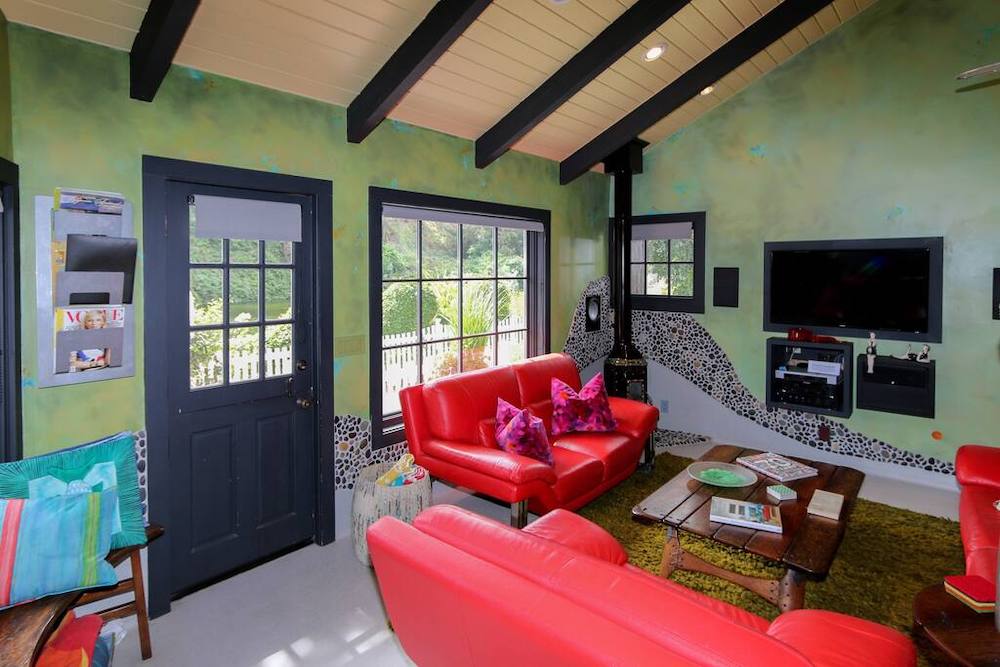 Capitola is a small coastal town just south of Santa Cruz. It famously inspired Alfred Hitchcock to write The Birds, after swarms of poisoned birds attacked the town in the summer of 1961. Luckily, no mass bird attacks have happened since, and Capitola is now best known for its colorful buildings, sandy beaches and quirky architecture—like this windmill.
Yep, it's a windmill. And if that's not enough to make you pull the trigger and make a reservation, then here's a little more detail. The home, which can sleep 12, is located on Soquel Creek. It is split into two buildings: the silo house and the windmills itself. The interior of the silo house is a mess of color and exuberance, a true original unlike anything you will have seen before.
But the design doesn't detract from the function. There is a modern kitchen, ample living space and beautiful bathrooms. Between the silo and windmill sits a patio, complete with deck chairs overlooking the creek and a hot tub. The interior of the windmill is equally bright, matching and mismatching colorful surfaces and materials, without sacrificing comfort and practicality. You could stay in the house for a week and find a new, brilliant detail every day.
If you want to book a rental you and your guests will remember forever, stay at the windmill house.