Santa Fe is the oldest state capital in the USA. It was founded by Spanish colonists in 1610 and its name means White Shell Water Place, which it was called by the ancient Tewa inhabitants. Santa Fe is the capital of New Mexico and home to approximately 83,000 people. These days Santa Fe has become a creative arts mecca and is known for its Pueblo style architecture. Santa Fe is referred to as a high desert area but it does get around 80 days of rain per year. The typical climate in Santa Fe is hot dry summers and mild chilly winters, and the region does see snowfall on occasion.
These are 6 of the best Airbnb homes in Albuquerque
The 8 best Airbnb homes in Mexico City!
8 glamorous Airbnb Tampa properties we'd love to stay in
If you are planning a trip to Santa Fe these Airbnb properties are some of the best in town:
8. A Luxury Santa Fe Adobe with Mountain Views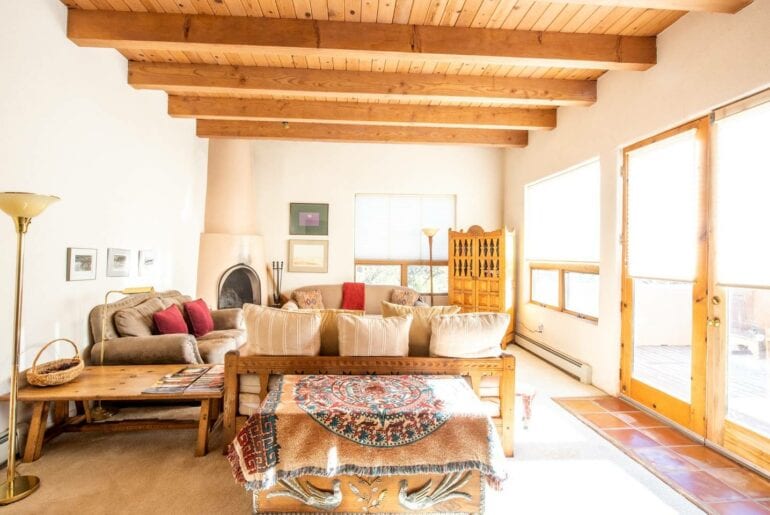 Just steps away from the historic downtown Plaza, as well as all the popular art galleries and restaurants that the city of Santa Fe has to offer. This home has gorgeous mountain Views, soaring high Ceilings with exposed beams. Relax on one of three decks and  and sit by two kiva fireplaces. This home is light, bright and airy and within walking distance to everything you will need. $689 per night.
The Pineapple Palace Double Adobe Home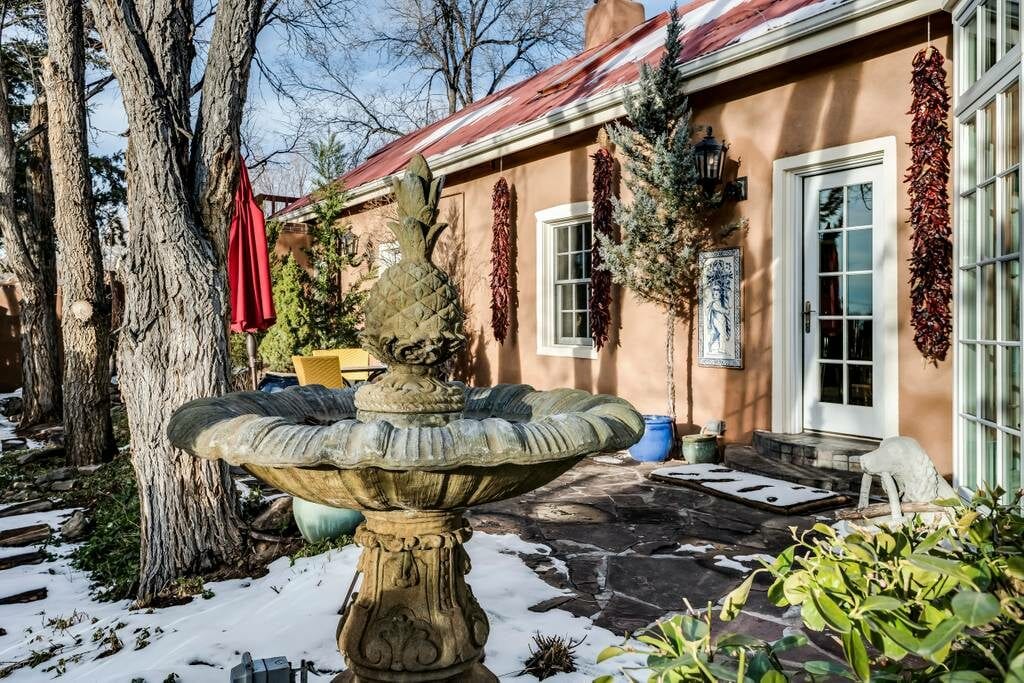 Situated on a hillside above the Santa Fe river this 1800s home features a stunning, modernized interior, and is located on the historic east side of the city. The Plaza is just a short stroll away and the views are spectacular. Witness the glorious sunsets, views of Sun and Moon mountain and relax in the private hot tub. This Santa Fe Airbnb stunner is like having your own private hillside oasis. $654 per night.
A Luxury Property near the Santa Fe Opera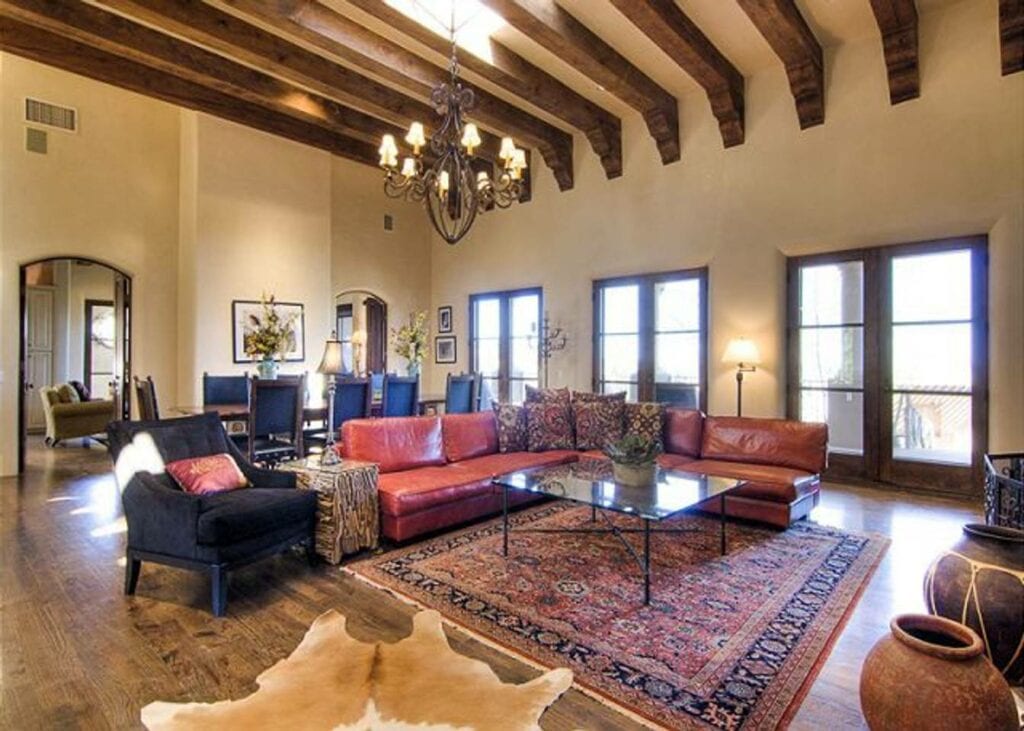 Located in the prestigious Casa de San Juan community this gorgeous airbnb home is located just minutes from downtown Santa Fe. Enjoy stunning sunsets from the beautiful patio, soak in the 6 person hot tub or relax in the tastefully decorated living area. Spend evenings around the fire pit in the large walled private backyard. This beautiful Santa Fe location provides everything you could possibly need for your stay. $981 per night.
Tesuque Estate with Saltwater Pool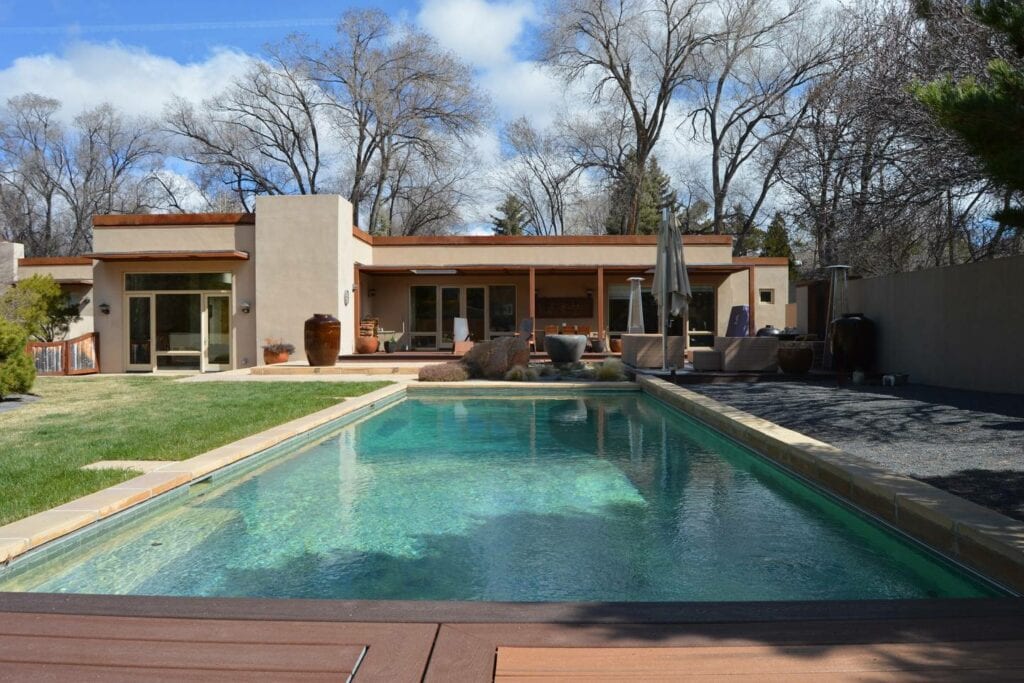 This high end, luxury Airbnb property is located on its own private compound in the Tesuque Estate, Santa Fe.  Enjoy relaxing in privacy in this peaceful and serene home with its own saltwater pool and hot tub. Views of the desert sunsets can be enjoyed from the rooftop deck and this elite home is located just minutes from downtown Santa Fe. $945 per night.
4. A Luxury Home in a Perfect Location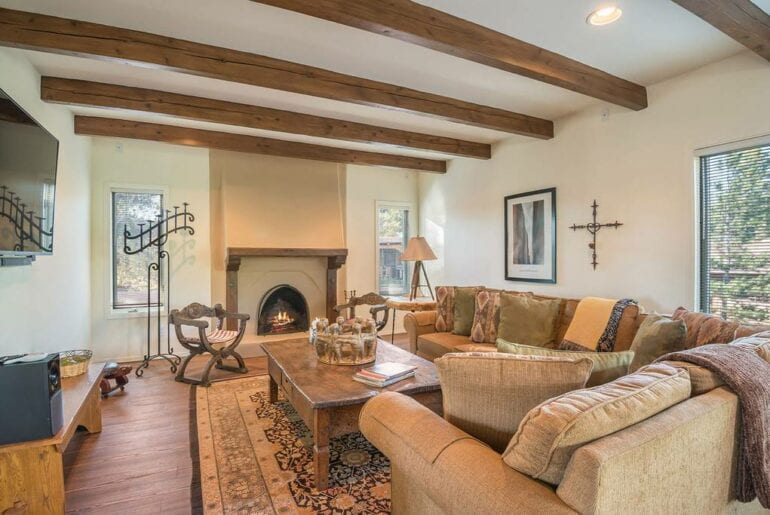 Situated on the highly desirable north side of Santa Fe this Airbnb home provides high end, luxury accommodations. Sprawling over 4000 square feet this elegant property has direct access to Santa Fe's historic plaza. Enjoy views of the city and sunsets from the 2 private balconies, or relax in the private backyard area. There is also a large covered patio to enjoy and entertain guests. $1131 per night.
3. A Santa Fe Estate with Panoramic Views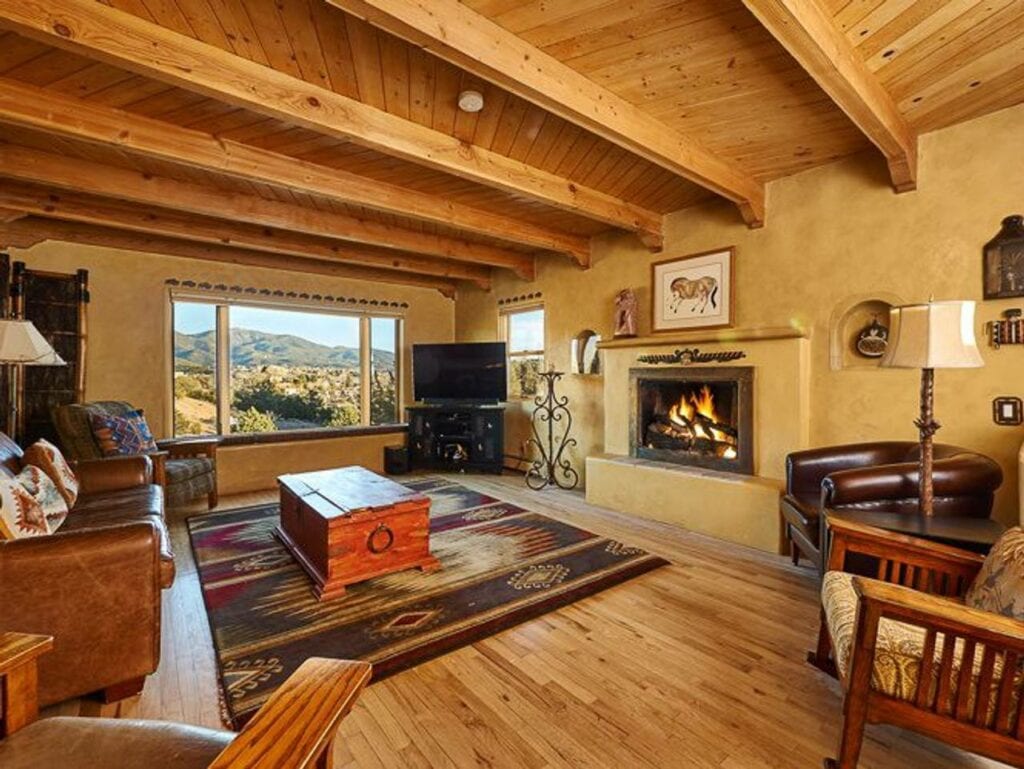 This beautiful Santa Fe Airbnb property offers some of the best views in the area. Experience 360 degree panoramic vistas of the mountain ranges and desert. This tasteful property is decorated in authentic Santa Fe style and is walking distance from the city's historic Plaza area. Great for shopping, dining, bars and everything else that Santa Fe has to offer. $1172 per night.
2. A Lavish Santa Fe Ranch with Pool and Hot Tub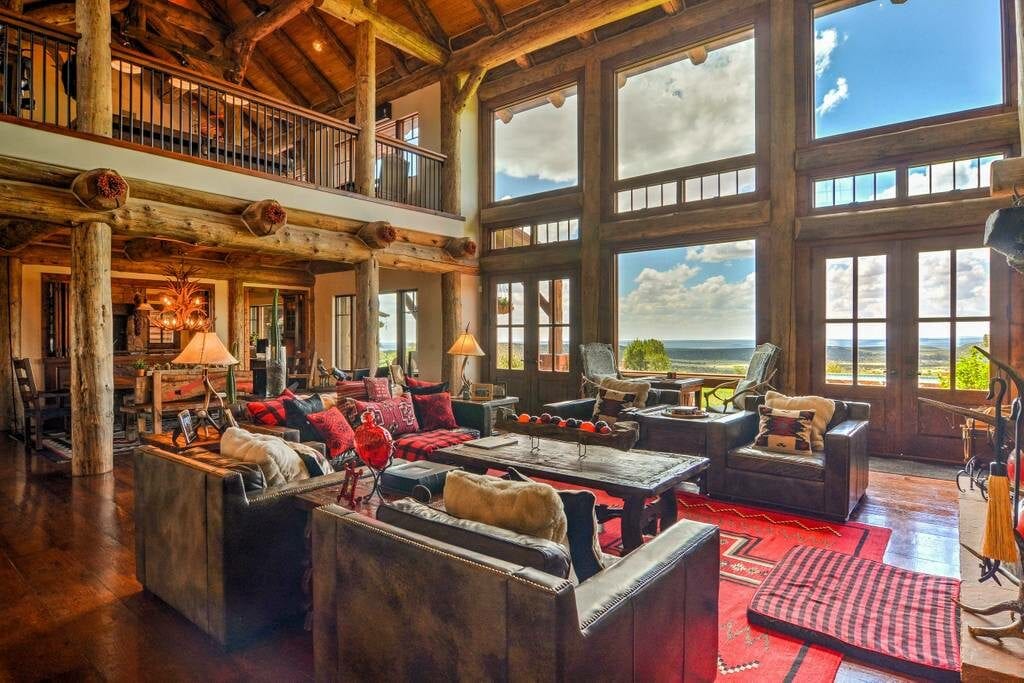 Situated at 7000 feet high on the Glorieta Mesa this vast property features high end luxury amenities like a cauldron hot tub, home theater, and an outdoor pool that has a view for miles. This massive ranch home offers over 9000 square feel of space and is located on over 1600 private acres. How's that for privacy! This stunning Santa Fe airbnb property offers luxury suites, a game room, and unsurpassed luxury furnishings. $3287 per night.
1. A Mountain Retreat with Stunning Views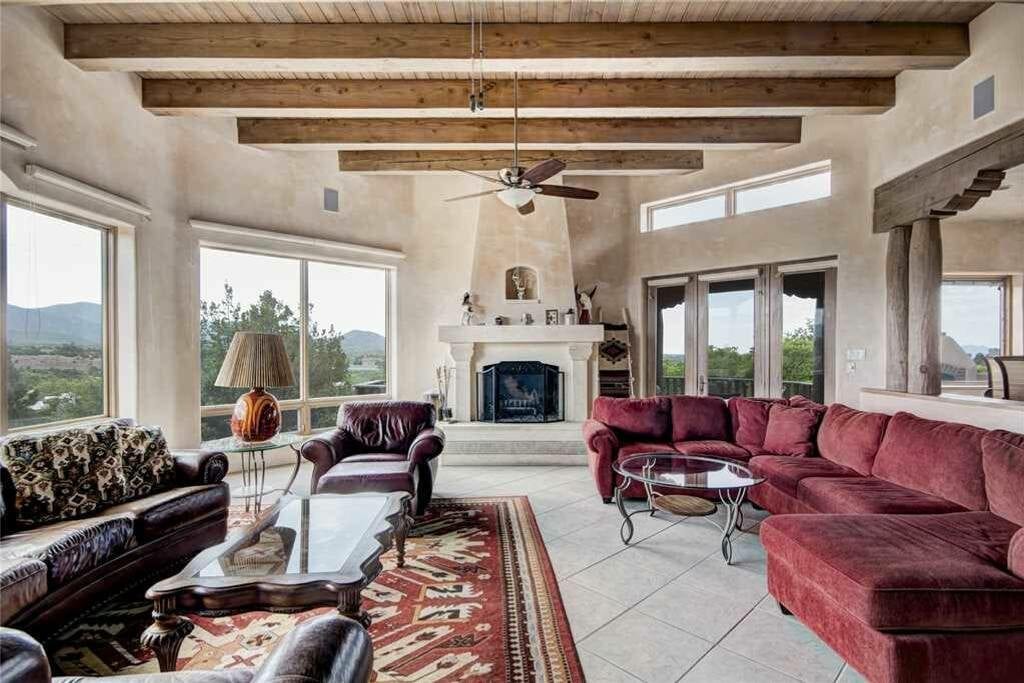 This Airbnb home is situated on over an acre and offers amazing views of Santa Fe and the mountains from its floor to ceiling glass windows. Spacious and glamorous with huge fireplace this home offers the very best in comfort and style. Relax in the jacuzzi tub or spend time on on of the homes many private patio areas. A true garden beauty. $791 per night.