These are the best Airbnb Santa Monica homes we could find for you. If you're looking for luxury, Santa Monica is the place to be.  For the last—oh, shall we say—century, the beachside pocket of Los Angeles County has become a byword for high-end lifestyle, but with a more casual vibe compared to its even glitzier, inland neighbors.
It is a slam-dunk, blue chip, in demand destination: cultural, culinary, shopping, surfing—whatever—thousands of visitors flock to Santa Monica every year to revel in all the of its sun-splashed glory.
Unsurprisingly, it is full of beautiful homes of stunning design and varied architectural heritage. Given Santa Monica's famously progressive outlook, proximity to Venice and cosmopolitan flair, all of these homes are also graced with a certain flair you'll struggle to find elsewhere in Los Angeles.
5 Incredible Los Angeles Airbnbs For Architecture Lovers
Amazing Luxurious Airbnb Rentals in Big Sur, CA
8 Amazing Los Angeles Airbnbs Perfect For A Mindfulness Retreat 
These 9 Los Angeles Airbnbs Will Have You Feeling Like An Entourage Cast Member
A California craftsman on the ocean for $2,206 per night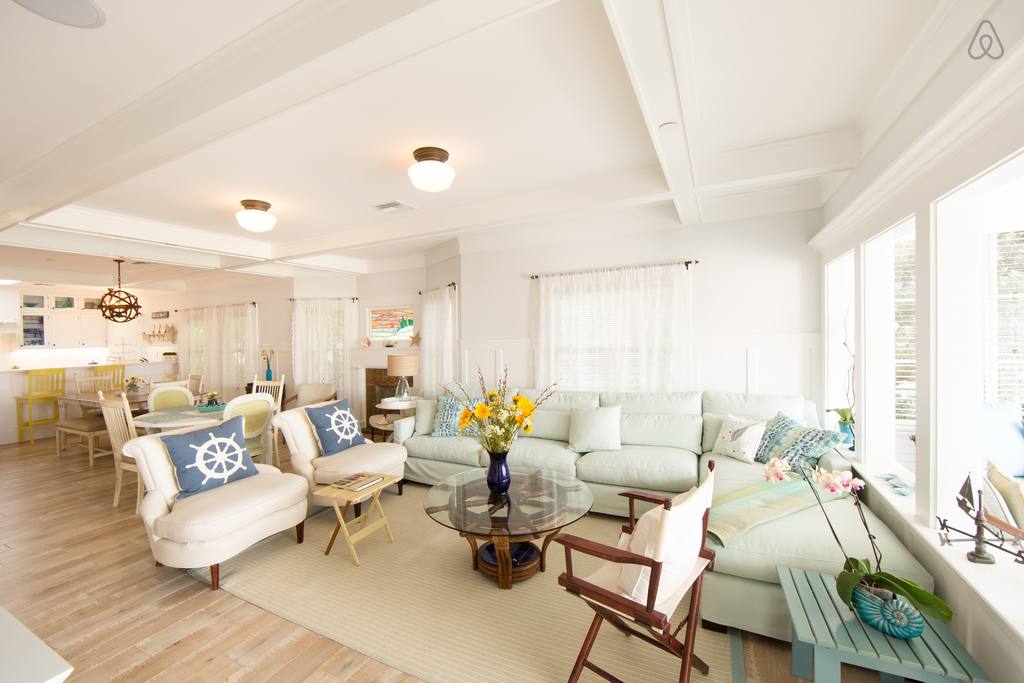 In California, the craftsman is king. This architectural style was dominant in the final years of the 19th Century and remained popular well into the 1930s. Characterised by wooden structures, a pitched roof and a requisite front porch, the craftsman shaped many neighborhoods through Santa Monica and Venice back when they were little more than names on a map.
This traditional example of a craftsman sits right on Santa Monica beach, and its style evokes the Golden West like few other homes on this list. There are pastel colors, nautical touches, hardwood floors and, like any good beachfront home, light, airy rooms and pops of Seafoam Green.
The four bed home has a large open plan living area with a fully stocked kitchen. It sits on a street just across from the sands of Santa Monica beach, and the famous coastal bike path.
A Spanish style mansion for $1,200 per night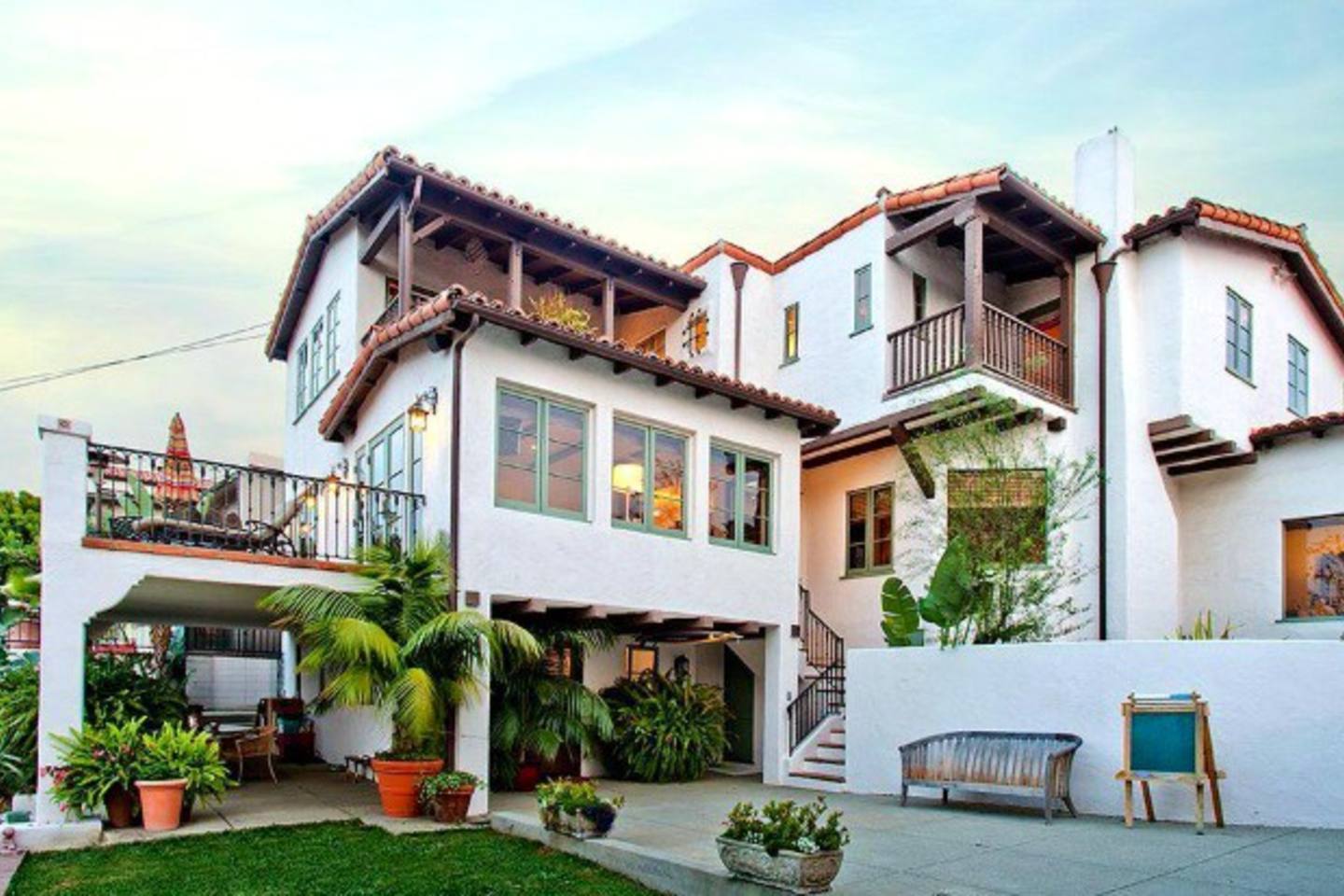 Pushing east towards Brentwood, we find this striking Spanish revival mansion. The turreted design is capped with terracotta tiles and colorful mosaic designs throughout. It serves as a tribute to California's cultural history, and the interior continues this dedication with iron railings, wooden beams and welcome splashes of color.
An outdoor deck and balconies provide views of the surrounding area while serving as serene places to unwind. The interior blends comfort with colonial designs, while each room is painted in a manner that exudes distinct characters.
The kitchen is fit for a professional chef, a grand, statement room that reflects the splendor of the whole home.
A glass marvel for $1,000 per night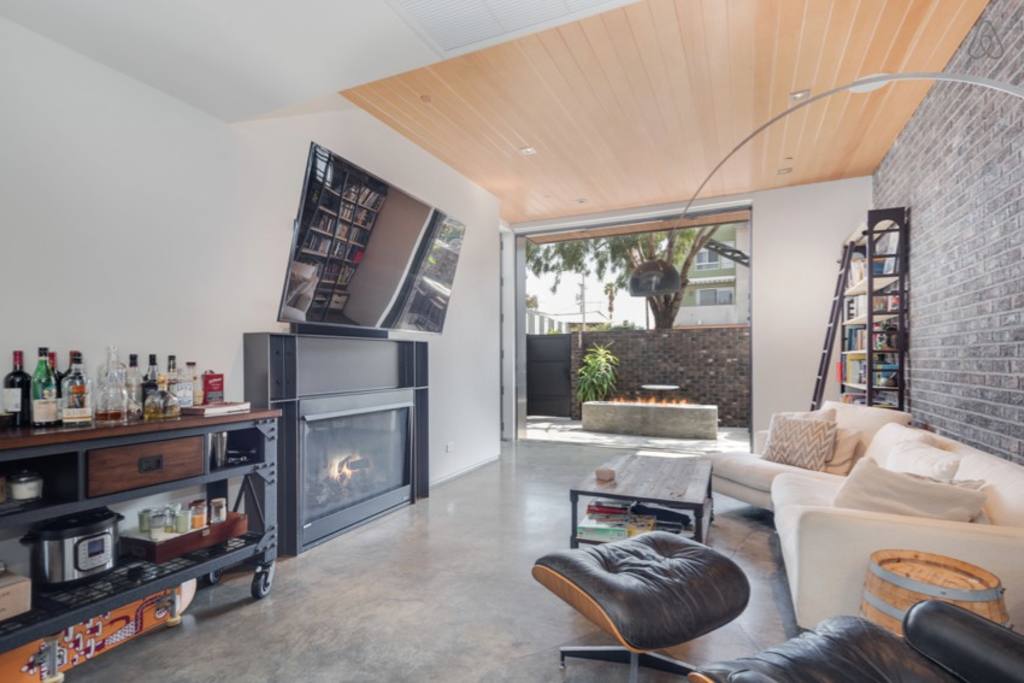 Definitely one of the best Airbnb Santa Monica homes. As Santa Monica merges into Venice, the architecture becomes more unorthodox and experimental. This contemporary home, for instance, seamlessly combines brick, steel and glass to create an impressive living space out of a relatively small plot of land.
The tall slender building conceals a roomy interior with sleek, concrete floors, exposed brick walls and effortlessly stylish furnishings. The living room and kitchen share an open plan layout and serve as a inviting hub for the home. The master bedroom, complete with ensuite bathroom and steam shower, is decorated in elegant, neutral tones; while the other rooms are ideal for young children.
Best of all, the top of the house features a roof deck, where guests can sip margaritas by the fire pit or hop in the hot tub.
A Mediterranean home built in 1926 for $1,100 per night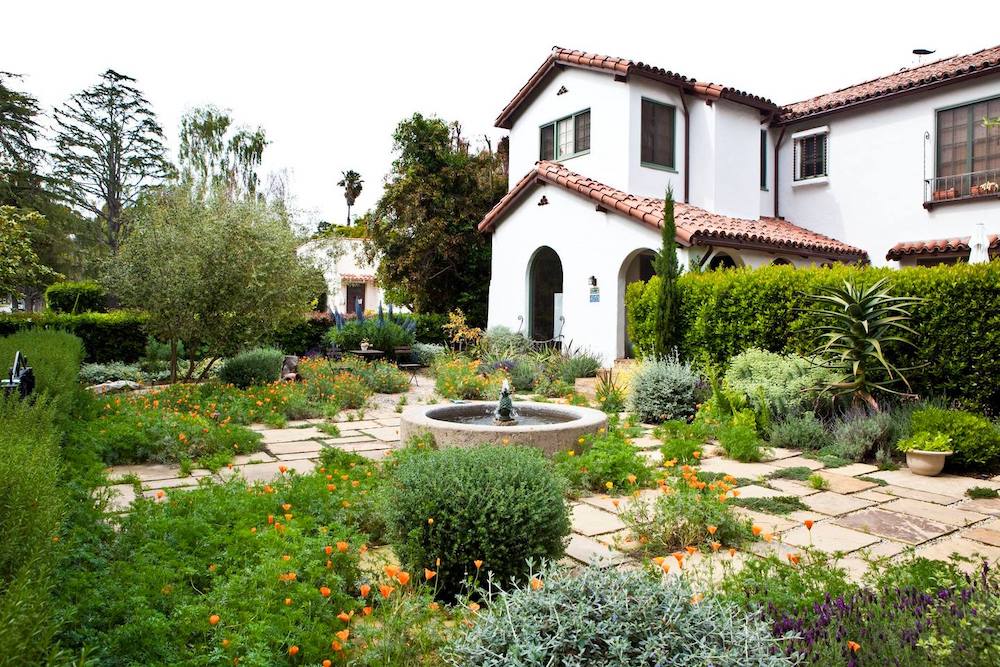 For many, Santa Monica is forever associated with the bustle of the pier, the crowded beaches and the shopping on 3rd Street Promenade. However, many locals will tell you that the city's real charms lies a few blocks inland, where tree-lined streets reveal traditional California homes.
Built in 1926, this Mediterranean home exudes European luxury. The white-walled, terracotta tile design backs onto a lush garden full of succulents, water features and—at the right time of year—blooms of Golden Poppies, the state flower.
It is a tranquil refuge from the busy streets that surround, and the calm continues inside the home. The tastefully appointed interior boasts an impressive range of midcentury modern furniture, while a fully stocked kitchen gives off a country house charm. What would you expect from one of the best Airbnb Santa Monica homes available right now?
Within the middle of the home sits a kitchen courtyard, an outdoor space enclosed by the walls of the villa. It is a beauty: perfect for hot summer days and warm on cooler nights. The space is home to a woodfired Argentinian grill for ambitious cooks.
A modern beachfront property on PCH for $1,200 per night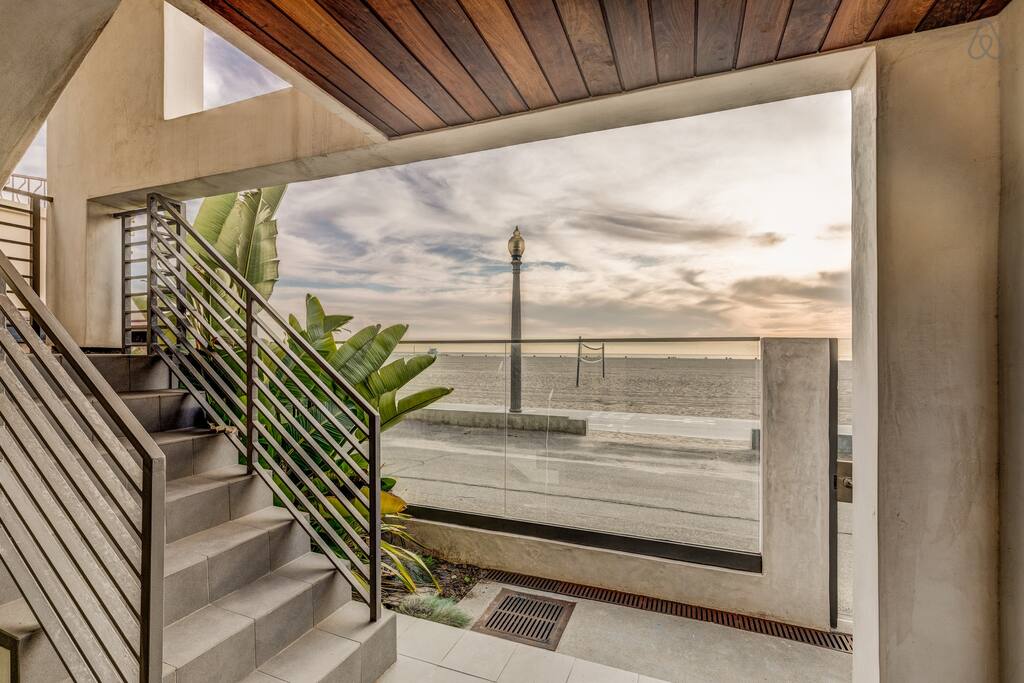 You'll find this home where the end of interstate 10 zips through a tunnel and becomes Pacific Coast Highway. The interior of the three story house is made up of numerous sliding doors, allowing guests to create airy, light-filled open spaces that maximise the home's unmatched beachfront location.
The chromed-out kitchen and elaborate living spaces will make you feel indulgent and excessive in the best possible way, and the master bedroom, with a ocean facing balcony, will give you the chance to observe the beaches of Santa Monica in a manner to suggest you rule over them.
OK that's probably a bit excessive, but if you're in a house like this you might as well stretch the fantasy as far as possible. The rooftop deck isn't too shabby either, giving you a front row seat some incredible sunsets. Another one of the best Airbnb Santa Monica properties we could find.
A spa-style contemporary for $2,150 per night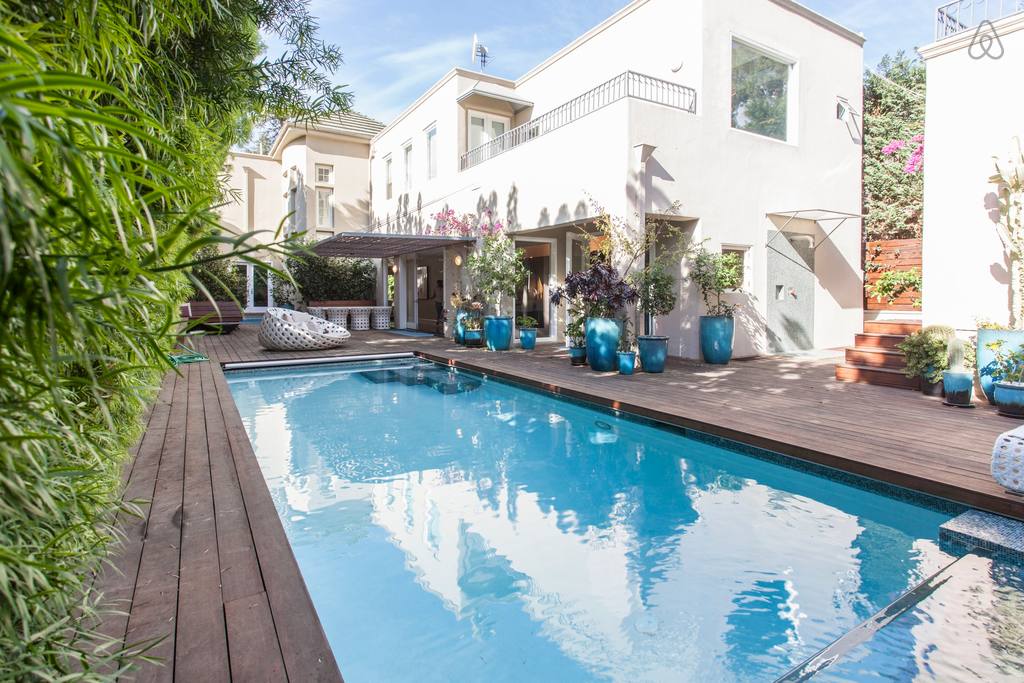 Enjoy the glorious highs of indoor/outdoor living with this elegant contemporary home. The interior is characterised by clean lines, gentle tones and beautiful hardwood floors. The kitchen is especially eye-catching—a marble marvel.
The outdoor area is artfully decorated and features a lap pool. There is also a grill and plenty of space for outdoor dining. The home is an entertainer's dream, but also has an office in case work comes calling.
There are seven bedrooms, including a handful of colorful children's bedrooms. The grand master suite certainly lives up to its name, and it's adjoing ensuite is probably one of the best bathrooms we've ever seen. It's got a rain shower, a steam room and a jacuzzi tub for two, if you're into that sort of thing.