These are the best Airbnb homes in Washington DC. The bustling and busy city of Washington, DC, is the capital of the USA. It is a compact city on the Potomac River, bordering the states of Maryland and Virginia. It's defined by imposing neoclassical monuments and buildings, including the iconic ones that house the federal government's 3 branches: the Capitol, White House and Supreme Court. It's also home to iconic museums and performing-arts venues such as the Kennedy Center. A fabulous location for foodies and travelers and Washington DC attracts.
The 8 Best Luxury Airbnb Homes in Virginia Beach
Check out our selection of the best and coolest Airbnb homes in Washington DC:
8. A Penthouse Unit in Converted Fire House
Exposed brick and wooden beams everywhere. Enjoying staying in this penthouse with big bedrooms and custom designed bathrooms. Sit by the huge fireplace and enjoy the home interior which was designed by a world famous TV celebrity designer. Tons of historic features, the original fire pole still exists in unit, and tons of historic photographs are on display throughout. $924 per night
7.  A Luxurious and Bright Townhome near The White House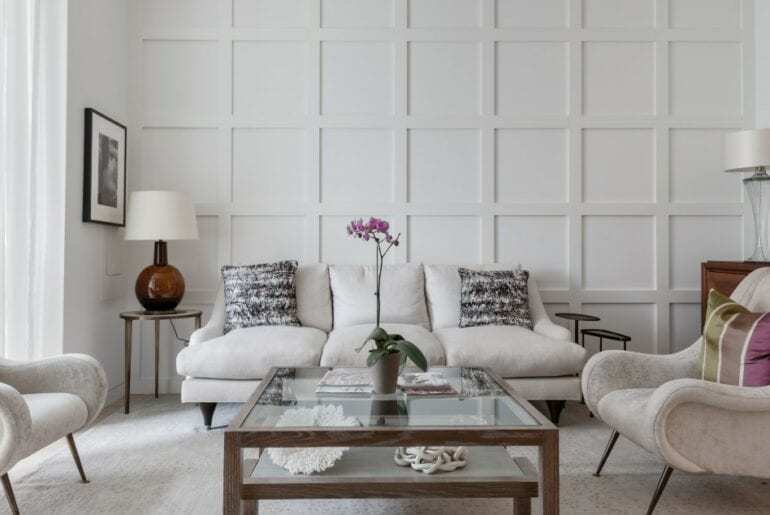 This house lies just a block from Dupont Circle in a vibrant, centrally located neighborhood. Close to popular restaurants and bars and within walking distance to Logan Circle, Georgetown. Visit The White House, and many other area attractions including museums and other family favorites. Perfect for a city break or a weekend getaway. $899 per night.
6. A Parisian style Penthouse near Dupont Circle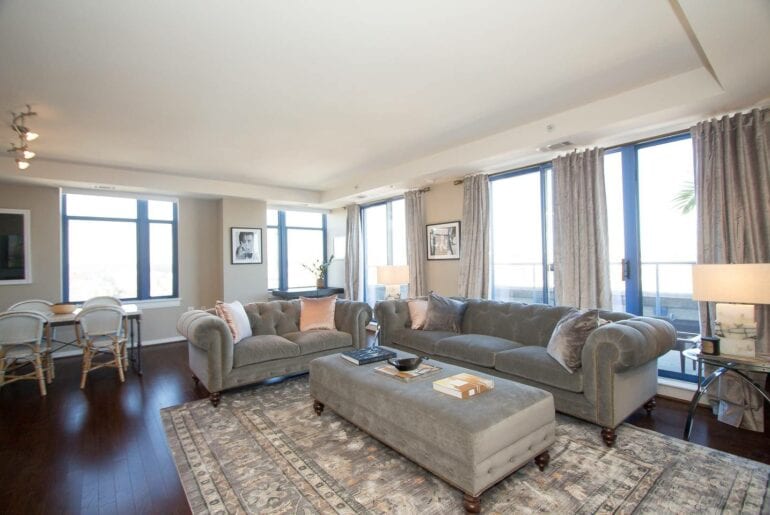 This penthouse apartment provides incredible views across the state capital, Parisian style decor and top class living. Situated in a great location just steps from all the major tourist attractions in Washington DC. The Capitol, the White House, Dupont Circle, the Convention Center, China Town, and Museums are all just short walk away. $795 per night.
5. A Historic and Elegant Washington DC home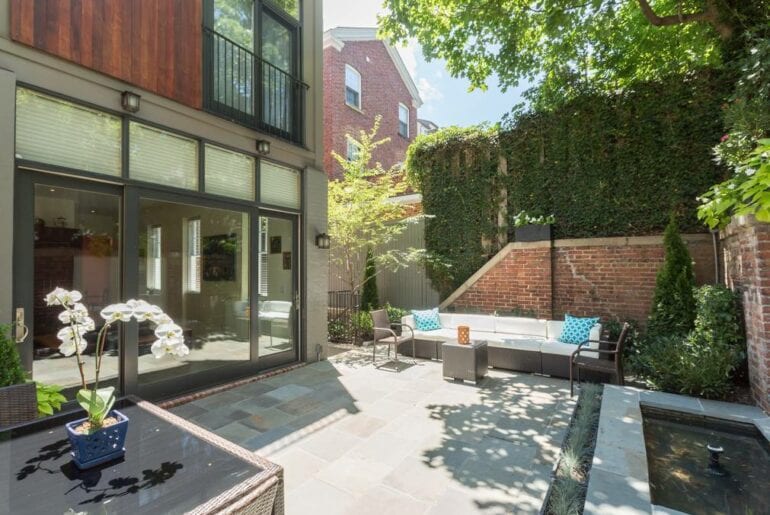 A large historic and elegant house located close to shops, restaurants and the metro. Renovated and maintaining the original character with high ceilings, open spaces, and lots of natural light. Cook in the gourmet eat-in kitchen, relax on the patio, and enjoy elegant living and dining rooms. The master suite overlooks a nice garden, and there is a media room for guests to enjoy. $996 per night. 
4. An Eclectic and Historic Row house in the City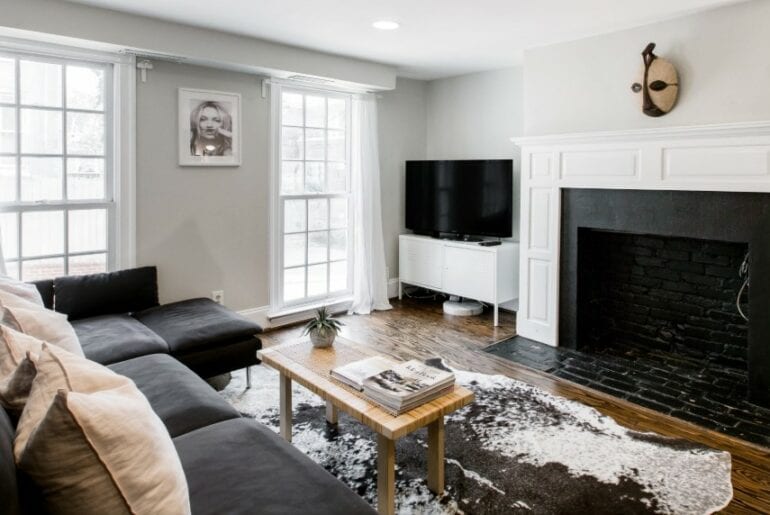 Enjoy this charming and tasteful property situated just one block from the main street in a great area of DC. This home has been designed to retain many of the original features. Located close to many of the popular city attractions this home has been eclectically and elegantly designed with comfort in mind. Just a few blocks to the waterfront and the White House. $1000 per night.
3.  A Renovated and Classy town home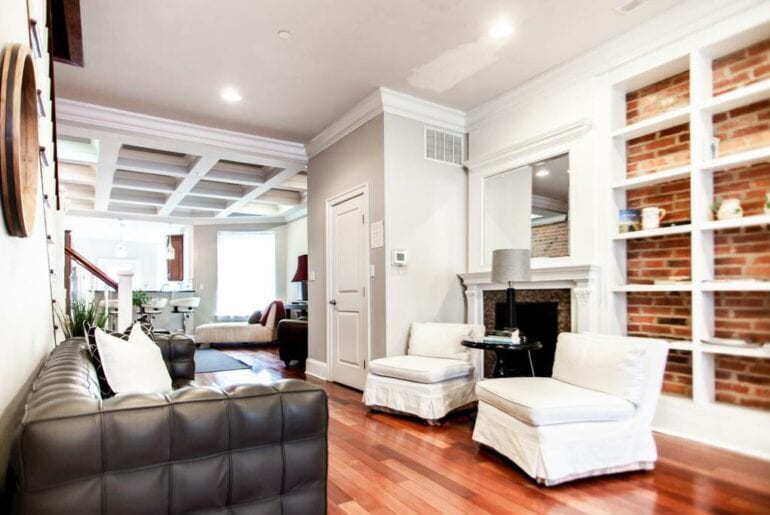 This classy, newly-renovated Victorian townhouse close to downtown boasts 7 bedrooms over four stories. Containing plush furnishings, tons of space, and incredible views across the city. It is a perfect setting for corporate retreats or families looking to explore the city. No car needed, as this home is located in easy walking distance of plenty of shops and restaurants. $734 per night.
2. An Upscale Urban mansion in quiet Neighborhood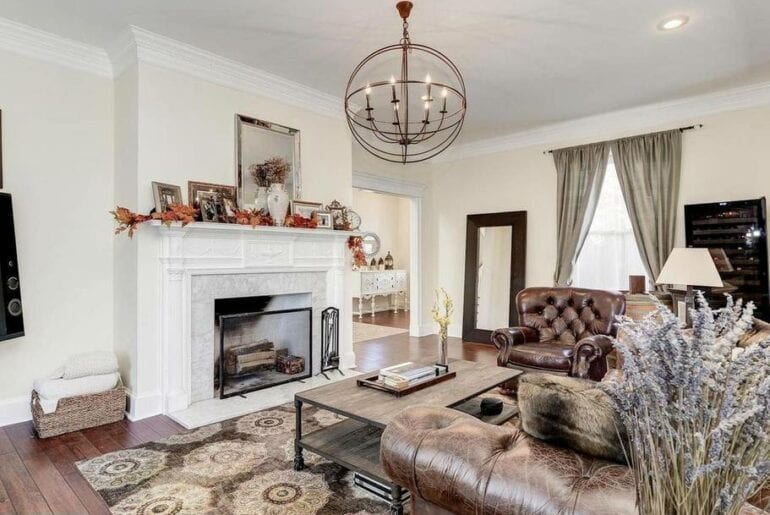 This elite and exclusive mansion is situated in a quiet, upscale Crestwood neighborhood in NW DC. Enjoy the gourmet kitchen, two living rooms, and 6000sf of living space. This is one of the largest homes on 16th Street's Gold Coast. Just a short drive from downtown and the National Mall. Relax in the private fenced yard and enjoy entertaining in this well appointed home. $848 per night.
1. A Mile High Penthouse Suite with Terrace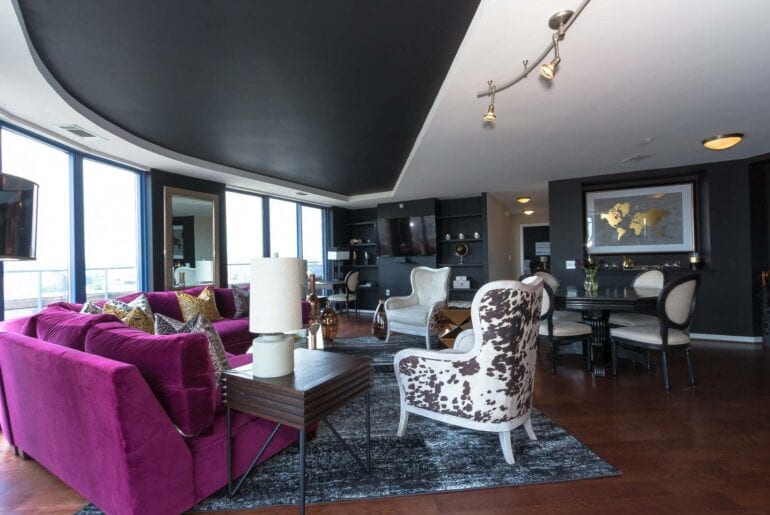 Incredible views and stylish high end living in this Washington DC airbnb. Enjoy fabulous and stunning views of the city from the private terrace. Enjoy relaxing in the modern and moody decor of this tasteful property.  Steps from all the major tourist attractions in DC, close to the Capitol, the White House, and Dupont Circle. $895 per night.