Yosemite National Park is located in California's Sierra Nevada mountains. It has become popularized for its  famed giant, ancient sequoia trees that visitors come to marvel at all year round. It is also the home of Tunnel View, with its iconic views of nearby Bridalveil Fall and the granite cliffs of El Capitan. Yosemite Village provides a nice array of shops, restaurants, and lodging. here you will also find the Yosemite Museum that contains local historic information, and the Ansel Adams Gallery – so named for the photographer that spent much of his career photographing dramtic landscapes in the Yosemite area.
These 8 luxury Airbnb homes are the best in Lake Tahoe!
Amazing Luxurious Airbnb Rentals in Big Sur, CA
Beat The Heat In These 8 Joshua Tree Airbnb Homes With Pools
8 Great California Airbnb Properties That Are Perfect for Glamping
7. A Brand new luxury Mountain Cabin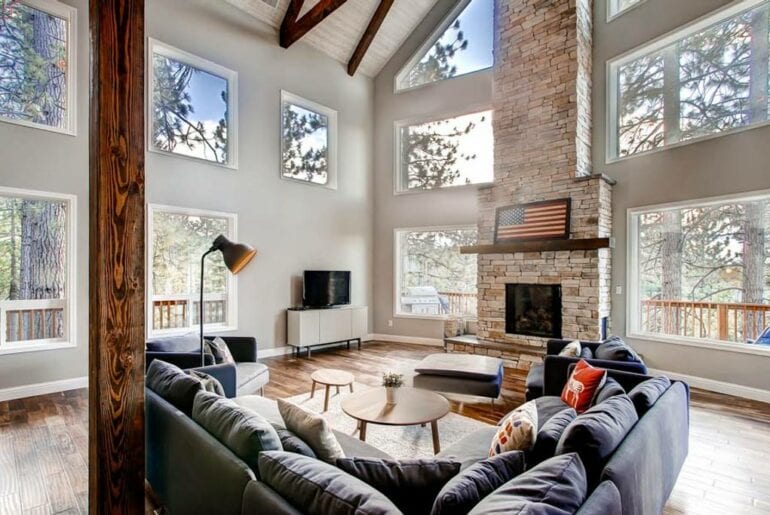 This large mountain cabin rests on top of a rise and offers a spectacular views of the surrounding Yosemite landscape. It has all the amenities you will need including a fully equipped kitchen. This Yosemite Airbnb home is peaceful and quiet living in a tranquil setting. For that reason there is no television or wifi. Enjoy walking and hiking in the local area and explore the impressive natural park area. $632 per night.
6. A Yosemite Home in the Trees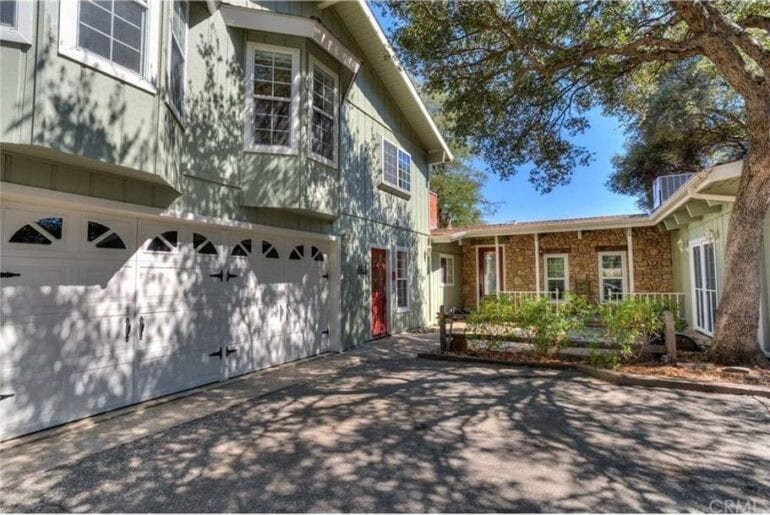 Located just one minute from town but completely private, peaceful and immersed in nature. This unique Yosemite airbnb home is situated on a tree filled lot and offers amazing views. It can accommodate up to 22 guests and is perfect for large groups or family get togethers.  Soak in one of 3 hot tubs, entertain yourself in the game room with pool table and darts, or grill out on one of the charcoal BBQ's. $711 per night.
5. A Newly constructed home in Yosemite West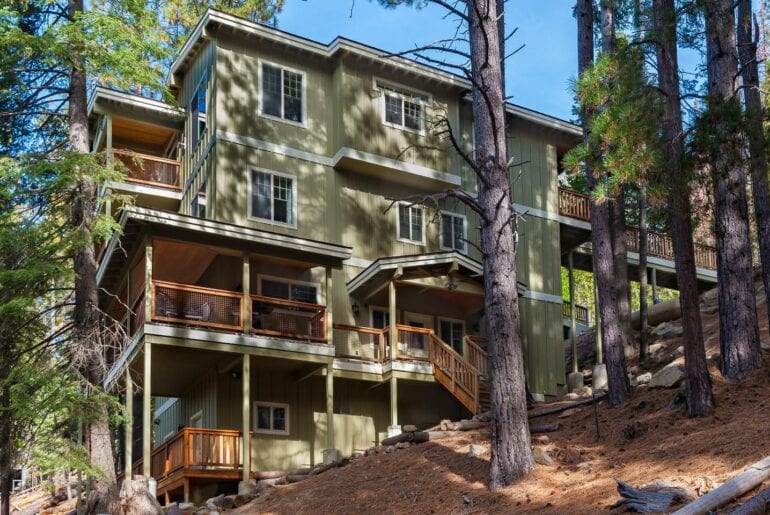 The Cedar Star at Yosemite West was designed and constructed to maximize guest comfort and convenience. This first class luxury home features upscale amenities and large covered wraparound decks to enjoy the view of the nearby Yosemite mountains and sunsets. Relax in one of the 2 steam showers or soak in the whirlpool tub and enjoy being in the peace and nature of the area. $633 per night.
4. The Yosemite Bears Den from Airbnb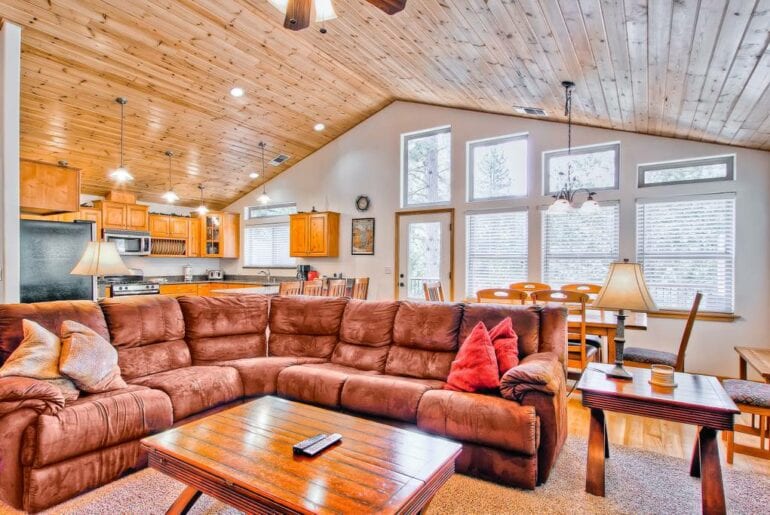 Located not far from the entrance gates of Yosemite. The Bears Den and Little Bear cabin is a duplex home that can accommodate guests and family groups up to 12 people. Enjoy staying in this warm and cosy cabin in the heart of Yosemite. The home provides everything you need and is a perfect location from which to explore the park. Enjoy relaxing by the fireplace at the end of the day. $694 per night.
3. A Luxury Cabin home in Yosemite National Park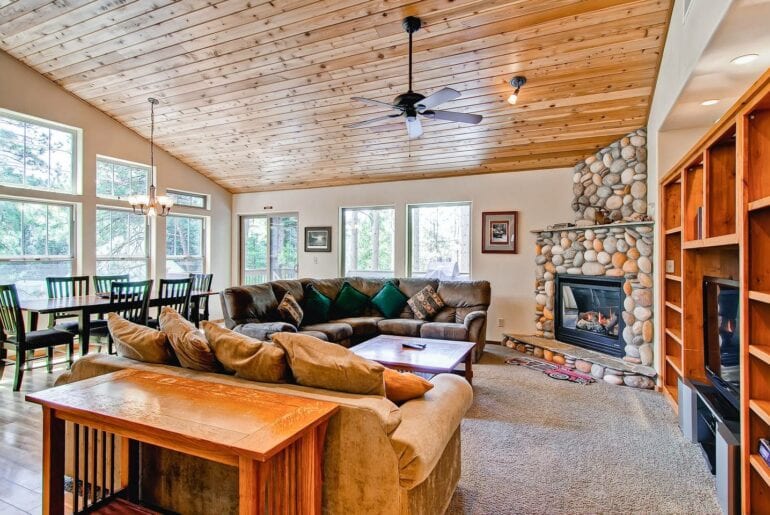 Located on top of a mountain knoll, Yosemite Summit is a large duplex home, that offers great mountain and forest views of Yosemite. Enjoy using the large gourmet kitchen and open floor plan that is perfect for entertaining. This cabin is a warm and comfortable property that is perfectly situated close to the gates of Yosemite National Park. Definitely one of the best Airbnb Yosemite homes we could find. $694 per night.
2. A Cabin with gorgeous Park views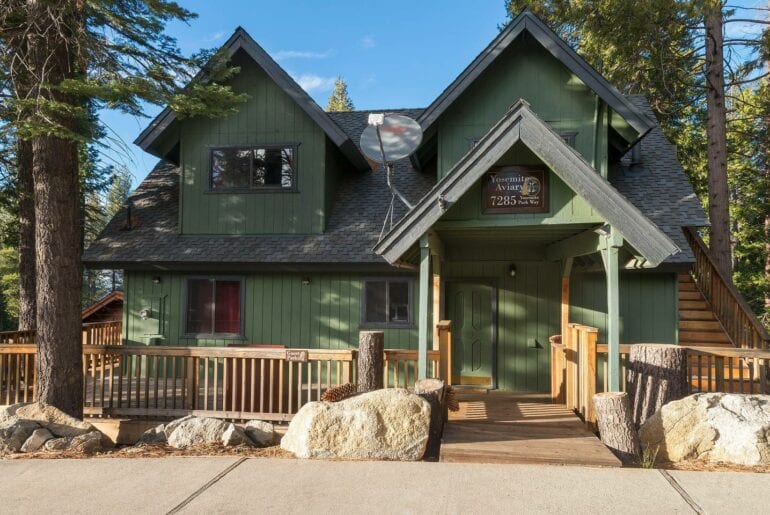 Enjoy fabulous views of the Yosemite National Park from this airbnb cabin home. Sit and sip a cup of coffee of one of the two available decks and relax in this peaceful and natural area. Spend your days walking, hiking, and exploring the park, and in the evenings come back and relax in this warm and cozy home. The cabin has everything you will need to enjoy your stay. $630 per night.
1. A new River Rock retreat home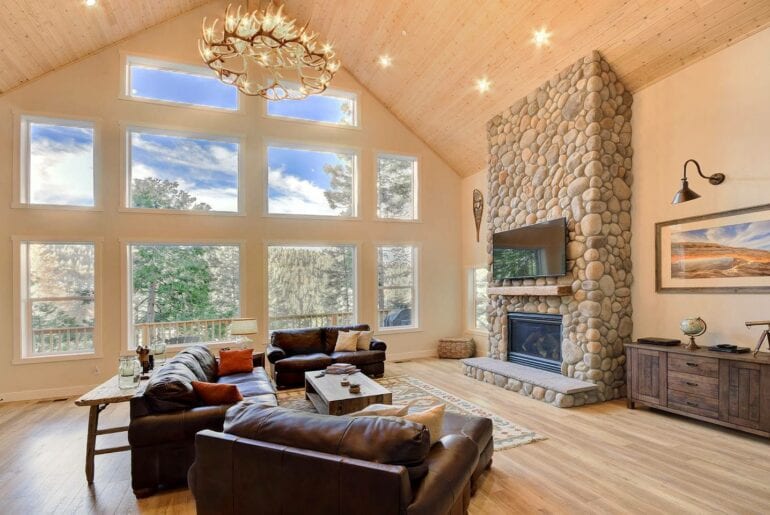 This newly constructed masterpiece is a spacious lodge style cabin with large picture windows offering  gorgeous views of the forest, mountain and sky. Enjoy relaxing in the large great room on comfy leather sofas in front of the large stone fireplace. Sit with a cup of coffee and take in the spectacular views from the front porch and back deck. A great place for a family vacation. $652 per night.